If you are searching for the ultimate Italy road trip itinerary, you have come to the right place! Planning your road trip in Italy should be fun and exciting, not stressful, which is why we put together this detailed post to show you how exactly how to plan your road trip and where to go!
We have visited Italy multiple times over the years so this road trip itinerary includes some of Italy's most famous sites as well as some lesser-known suggestions that may not be recommended by others.
Planning your trip to Italy last minute?
Make sure to book your hotels and tours in Italy in advance to ensure availability! Here are our top picks for your trip!
Tickets you MUST book in advance:
Top picks for places to stay in Italy:
We want you to see the best of what Italy has to offer on your road trip and that includes seeing the highlights as well as seeing some mountain towns and seaside villages.
This guide is not created for a specific time frame. That is for you to modify based on the amount of time you can spend on your Italy road trip. You may only have 5 days or you may have 2 weeks. Choose the stops you want to see and modify the ones you don't have time for. Either way, we are confident that you are going to love planning your perfect Italy road trip.
Don't forget to check out our Detailed Road Trip Packing List so you don't forget any essentials for your trip!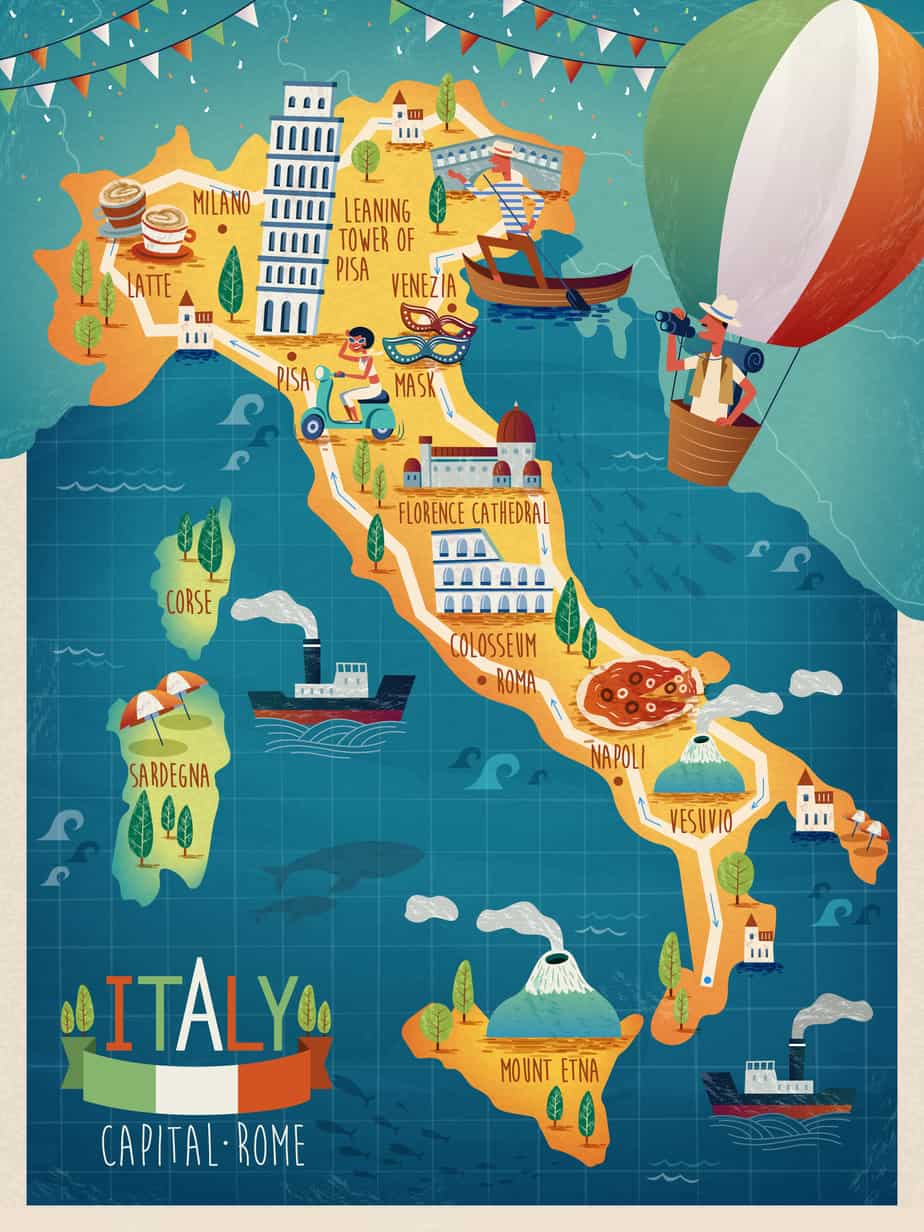 The Ultimate Italy Road Trip Itinerary
Renting A Car In Italy
Before you set off on your Italy road trip, the first order of business is renting a car in Italy! We rent from Auto Europe and have had good luck. This is what we personally use and it allows you to compare rates across a variety of popular car rental websites including Hertz, Sixt, Europcar, Alamo, Dollar, Enterprise and more. This way, you can see a bunch of different prices without skipping around through a bunch of different websites. You can also check out our detailed guide on renting a car in Italy before you book.
The detriment about planning an Italy road trip is finding parking in the big cities. It can be a real pain and can be quite stressful. Under each stop, we are going to place a note about parking so you know exactly what to expect when visiting each city.
A note about one-way car rentals
For the sake of this itinerary, you will be renting a car one way in Italy. This is no big deal and happens all the time, but there is usually an added fee because you aren't dropping the car off at the same location you got it from. The added fee will usually be around $50-$100 depending on how long you will be staying in Italy.
If you really do not want to pay the added fee and want to fly round trip, that is okay too. Italy is pretty small when you factor in driving distance. To put this in perspective, this itinerary begins in Rome and ends in Milan. If you don't want to fly into Rome and out of Milan and want to fly round trip into either, you will complete the itinerary as we have put it and then simply drive back to where you started. From Rome to Milan the drive is only around 4 hours so it really is not that bad!
Where To Rent From
In Italy, we recommend renting your car from the airport whenever possible. This will be the cheapest and best way to complete your Italy road trip on a budget. This is why we like Auto Europe because it allows you to compare prices based on location across many companies. If you rent at the airport you can pick up your car and begin immediately. Otherwise, you will have to navigate into the center of town and the rentals are usually more expensive!
Driving In Italy
Most car rentals are manual transmission and they are the cheapest. If you do NOT drive a manual car, now is not the time to learn. This is also not the place to choose a large SUV! Italy is full of narrow streets and it is essential to pick a compact car. When driving, you drive on the right side of the road and the steering wheel is on the left side of the car.
There are MANY toll roads in Italy so make sure to budget some extra money to pay for tolls. Tolls range from a few euros to up to 20 euros apiece depending on where you are. Keep in mind that driving in Italian cities can become quite hectic and congested. We HIGHLY recommend travel insurance if you are planning an Italy road trip and have never driven in Italy before. This is one of the BEST ROAD TRIPS IN EUROPE so you are in for a real treat and a memorable experience!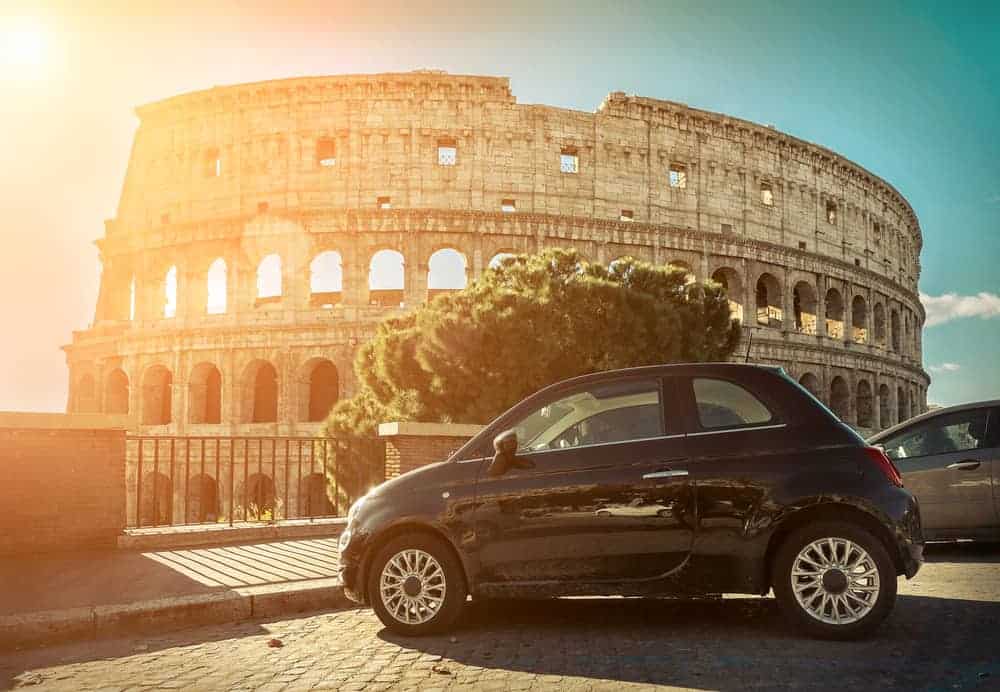 DO NOT Forgo Car Insurance
Okay, you don't HAVE to get car insurance during your Italy road trip, but we HIGHLY HIGHLY recommend it. The streets in Italy are very narrow and the traffic is very bad. We beg you to not travel Italy without car insurance as it is a huge mistake. One ding or dent can set you back hundreds or thousands of dollars. Car rental companies are looking to take your money and will take even the tiniest scratch to do so.
There are two main ways to do this. First and our favorite way and the one we recommend is putting the car rental on a travel credit card with insurance. IMPORTANT!!!!!! Please keep in mind that MANY credit cards DO NOT COVER car insurance in Italy. These are the 5 Credit Cards We Travel With but we recommend the Chase Sapphire Reserve when renting a car for your Italy road trip. As long as you put your Italy car rental on Chase Sapphire Reserve card, you will be covered for collision and theft when driving in Italy up to $75,000. This means if you crack your windshield or get in a fender bender you are covered. All you must do is put the car on your Chase Sapphire Reserve and decline car rental coverage offered through the agency.
We love using a travel credit card because it offers SO many benefits plus you get 3x the points on travel so essentially you are earning a free future trip when you put your Italy trip on Chase Sapphire Reserve. It is so wonderful to know we don't have to pay any foreign transaction fees, get access to lounges, and get car insurance all covered in our credit card! We know that each and every time we rent a car in Italy or any other country, we will be covered and this is huge peace of mind. Remember that MANY travel credit cards do NOT offer coverage in Italy so please keep this in mind when booking your Italy car rental.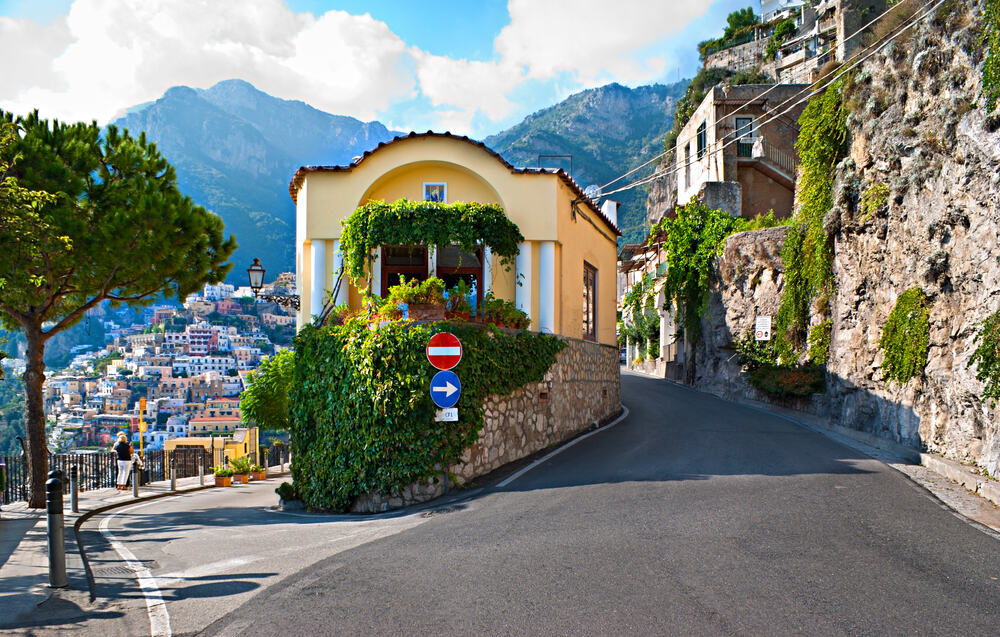 Stop 1: Begin Your Italy Road Trip In Rome
We highly recommend beginning your Italy road trip itinerary in Rome. Rome is the center of Italy and there are any affordable flights that fly in and out of the city each and every day. Budget airlines like Norwegian Air and local European domestic airlines such as Ryanair also frequently fly into Rome. Depending on your interest, we recommend spending either 2 days in Rome or 4 days in Rome and then doing some Rome day trips, but you are free to add more or less time as you see fit.
Parking In Rome
Finding parking in Rome is very difficult. It is impossible to find parking in the historic center so don't even bother! Free parking is a bit hard to come upon as well so ensure you have budgeted money for parking [cash and card] as well as tolls. There is parking near Roma Termini station where you are then able to park and take public transportation around the city. If you are staying at a hotel in Rome, as your hotel if they have on-site parking or recommend where to park. Hotels in Rome are usually quite helpful when it comes to finding this. You can visit this website for more detailed information about parking in Rome.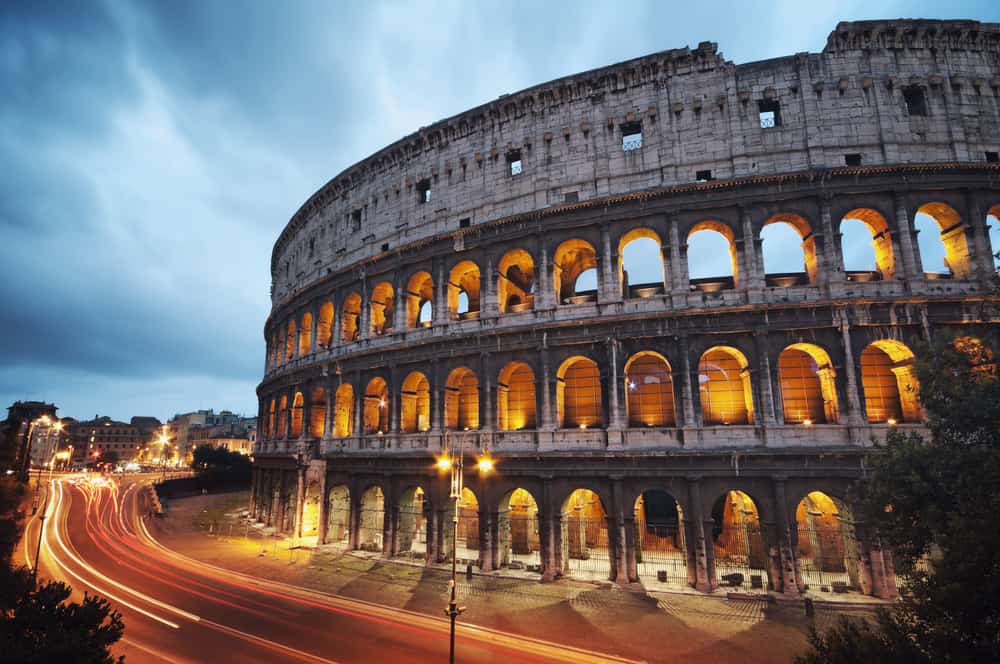 Noteworthy Things To Do In Rome:
Explore The Coliseum
Rome's Coliseum will be one of the most memorable things to do during your time in Italy! You have read about the Coliseum in school or books and now it is your time to step back in history. If you visit during the warmer months, make sure to drink plenty of water. We highly recommend booking your tickets online because the lines can be crazy!
Skip The Line With This Coliseum Tour!
Visit The Vatican
If there is only one thing you can do in Rome during your Italy road trip, make sure to see the Vatican. It is incredibly impressive and well worth the visit. It is still one of our favorite things we have seen in the entire world! There are two main things to do in the Vatican and that Saint Peter's Basilica and the Vatican Museums. If you only have time to do one of these things, we hands down recommend visiting Saint Peter's Basilica.
The Vatican Museums are where you will find lots of art and history as well as the famous Sistine Chapel. You are going to want to buy tickets in advance for the Vatican Museums and you should try to get skip-the-line tickets if possible! You can take an entire day and easily a half-day just exploring the Vatican. It shouldn't be missed!
Recommended Vatican Tours And Resources:
Vatican Museums And Sistine Chapel Fast Track Entry
Reserved Entrance For Saint Peter's Basilica [highly recommend as we waited over an hour!]
Sistine Chapel, Vatican Museums, And Saint Peter's Guided Tour
Throw A Coin In The Fontana di Trevi
Rome's Trevi Fountain is one of her most famous landmarks! During your Italy road trip, make sure to stop here and throw a coin into the fountain. This means that one day you will return to Rome! If you are looking to visit the Fontana di Trevi without other tourists, go early in the morning or late at night! This is how people get those dreamy shots that seem like they are photoshopped. Timing!
Climb The Spanish Steps
You have probably seen the Spanish Steps in a movie or two! They are another famous landmark in Rome you should see during your 10 days in Italy itinerary. There are 135 steps so bring your walking shoes!
Take A Cooking Class
For many people, taking a cooking class in Rome is the highlight of their Italy road trip! You can work with a traditional Italian cook to learn how to create some fantastic Roman-Italian dishes!
Cooking class recommendations:
From Market To Table: 4 Hour Cooking Class In Rome
Where To Stay In Rome
We have an entire guide about where to stay in Rome! This breaks down our favorite neighborhoods in the city so that you can get a feel and choose where you want to stay based on your own wants and needs. If you don't want that much detailed information, we have a few suggestions for you below!
Near the Vatican: Relais Vatican View Hotel Check Rates: Booking.com | Hotels.com
Authentic Guesthouse: Viale Giulio Cesare Guest House Check Rates: Hotels.com
Mid-Range: Radisson Blu Roma. Check Rates: Booking.com | Hotels.com
Upscale: The Westin Excelsior Rome. Check Rates: Booking.com | Hotels.com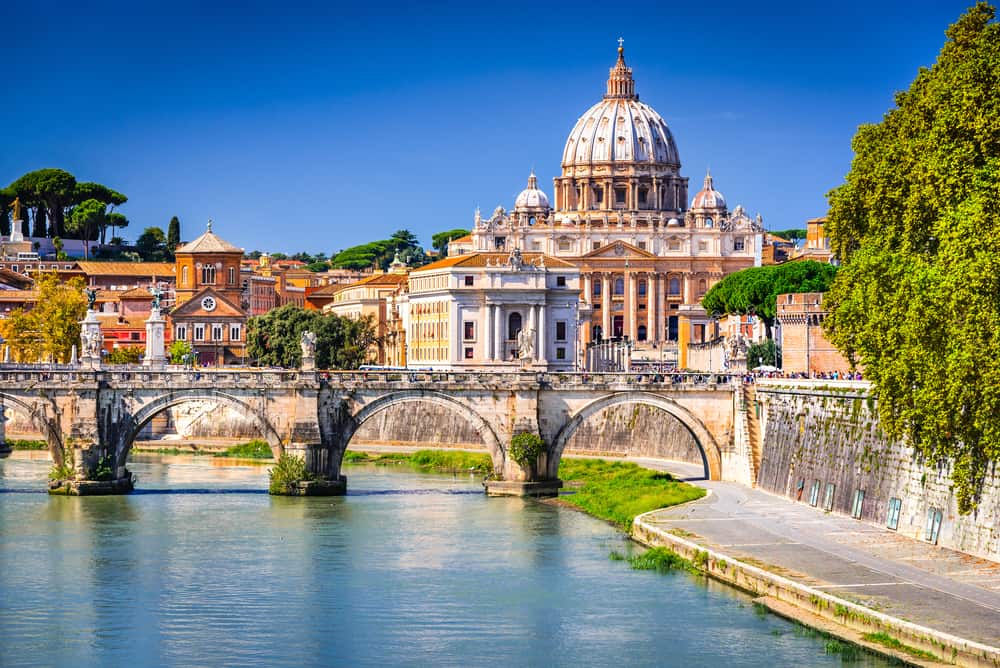 Stop 2: See Rolling Hills In Val d'Orcia
Val d'Orcia is a region of Tuscany that is the most beautiful and famous! It is a UNESCO world heritage site and this is where you go to see the stunning rolling green hills that you see in Tuscany photos. This is going to be one of the best parts of your Italy road trip because the entire point of visiting Val d'Orcia is to drive around and see the cute villages and fantastic sites.
Parking in Val d'Orcia
Luckily, parking in Val d'Orcia is easy to come by and the villages are smaller and less crowded than Rome. This is why we recommend seeing Val d'Orcia on your Italy road trip because it is a relaxed forway into "real" Italy. Some towns may charge for parking so ensure you look into that before you leave your vehicle.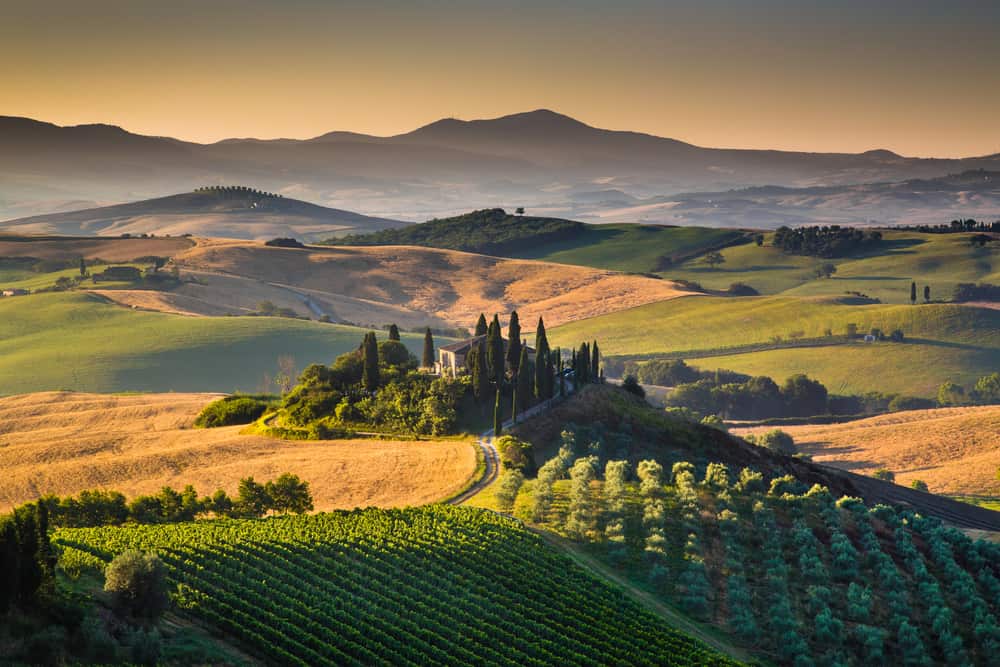 Things To Do In Val d'Orcia
Val d'Orcia Drive
There is a circular Val d'Orcia drive that is the highlight of any Italy road trip. You can complete it in a day although you may want to come back for more. The drive runs through the small villages of San Quirico d'Orcia to Rocca d'Orcia and Castiglione d'Orcia south to Vivo d'Orcia and Campiglia d'Orcia. Simply put these towns in your GPS for easy navigation.
Le Crete Senesi Drive
The Le Crete Senesi drive has a different feeling than the above option. Here you will see houses on top of hills and olives galore. It is unique and very popular. The whole point of an Italy road trip is to drive and explore by car, so why not do that in the prettiest area in the region?
You will drive on SS438 to Asciano and the SP451 to Monte Oliveto Maggiore. As with above, simply put these names into your GPS and you will be well on your way. If you are planning your honeymoon in Tuscany, this is such a romantic drive to take!
Soak In Hot Springs
This region of Tuscany is filled with many incredible hot springs that you won't want to miss. Many people don't even know that Italy is home to hot springs and they are right here in Tuscany! Check out the Best Hot Springs In Tuscany so you can soak during your road trip! Even if a hot spring is out of the Val d'Orcia proper, you can still take a slight detour to visit. We promise it is worth it!
Where To Stay In Val d'Orcia
We LOVE Tuscany! We even put together a full guide on where to stay in Tuscany to help you better choose which area and type of accommodation you are interested in! We also have a list of the best Tuscany villas which are honestly way more affordable than you may think!
15th Century Convent. Relais Il Chiostro Di Pienza. Check Rates: Booking.com
Local Feel. Pacifico. Check Rates: Booking.com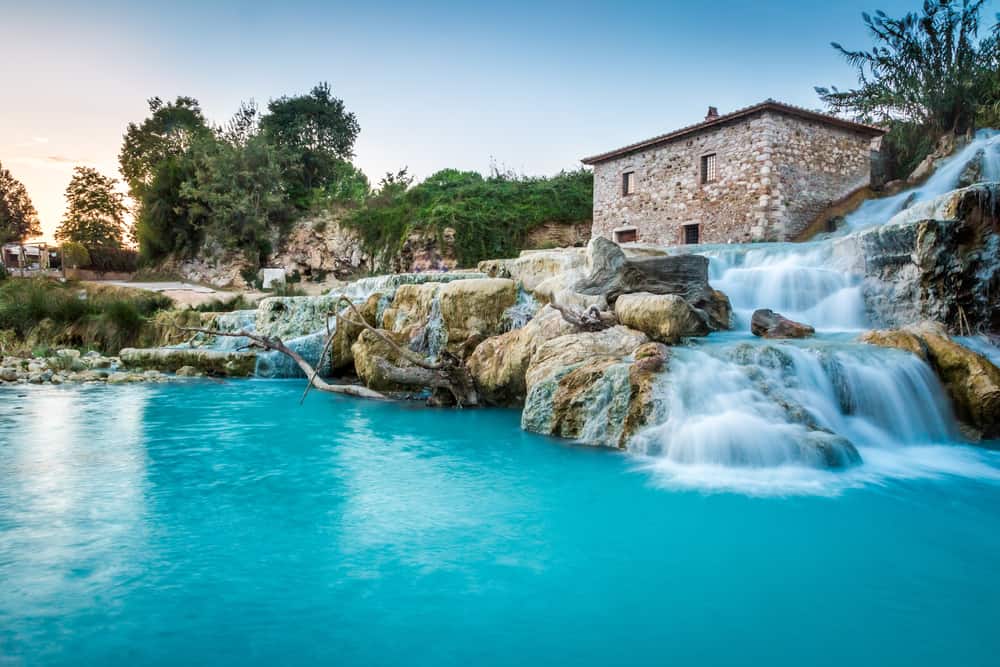 Stop 3: Explore Florence
Florence is the cradle of civilization and one of the best stops on your Italy road trip itinerary. It is less busy than Rome and allows for a more local feel while still having plenty to see and do. If you want to explore Florence in more detail, you can check out our One Day In Florence Itinerary for more detailed information. When visiting Florence, make sure to stop for Gelato as there are many famous shops!
Parking In Florence
It is very difficult to find free parking in Florence during your Italy road trip. The closest parking to the city center is Piazzale Michelangelo but if you are visiting Italy during the summer you will see that it is often used for events and isn't a parking lot at all. The best way to park in Florence is to stay at a downtown hotel that will authorize you to park and drive in the city center.
Driving in the ZTL-zone is authorized to permit holders only and this specific zone is controlled by video cameras so you must follow the law. If you stay in a hotel in the ZTL, ask your hotel with the registration of the license plate number of your car. This is the easiest way to park in Florence.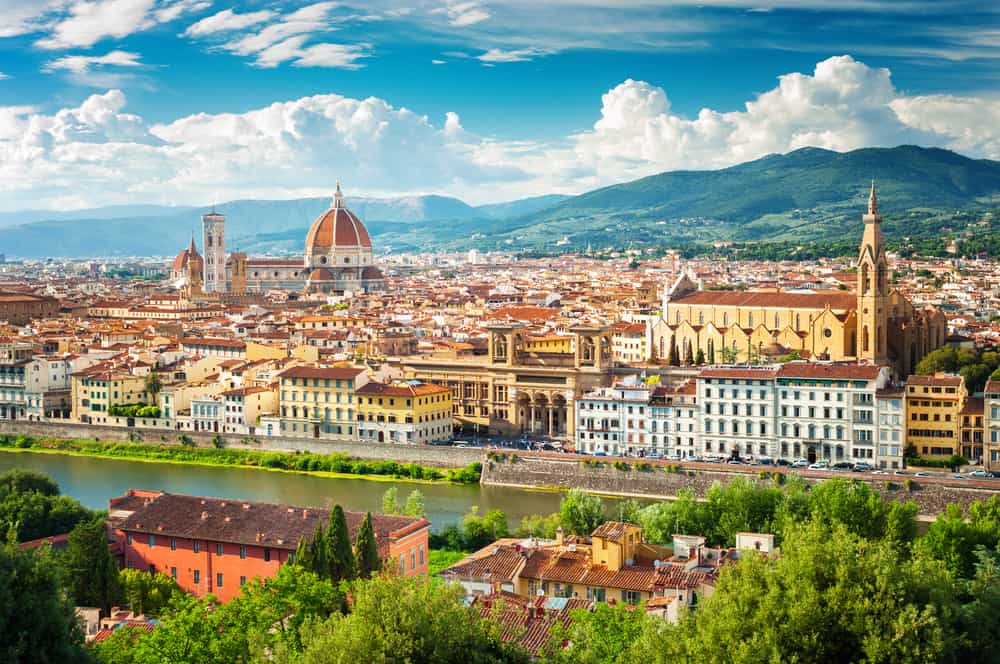 Top Things To Do In Florence
Visit The Duomo
When visiting Florence on your Italy road trip, it is hard to miss the stunning Duomo. This Catholic Church soars over Florence and is the centerpiece for the whole town. You must be completely silent when you enter into this church and must adhere to proper dress code. We recommend taking a tour and buying tickets in advance as it can get very crowded.
Book here: Duomo Skip The Line Tickets And Dome Tour
Walk Across The Ponte Vecchio
This is a popular thing to do in Florence and a great place to easily catch the sunset. Grab a gelato or a drink as you stroll across the famous bridge!
See David At Galleria dell'Accademia On Your Italy Road Trip
Looking to see Michaelangelo's greatest works? Check out the Galleria dell'Accademia during your 10 days in Italy itinerary! If you want to visit the famous "David" statue, this is the time and place to see him with your very own eyes! The Galleria dell'Accademia gets very busy so if you don't want to waste time during your 10 days in Italy, book a timed entrance ticket before you arrive or book a guided tour.
Save Time here: Timed Entrance Ticket For Michaelangelo's David
Where To Stay In Florence
Affordable: Hotel Bavaria. Check Rates: Booking.com
Mid-Range: Globus Urban Hotel. Check Rates: Booking.com | Hotels.com
Upscale: Hotel Garibaldi Blu Check Rates: Booking.com | Hotels.com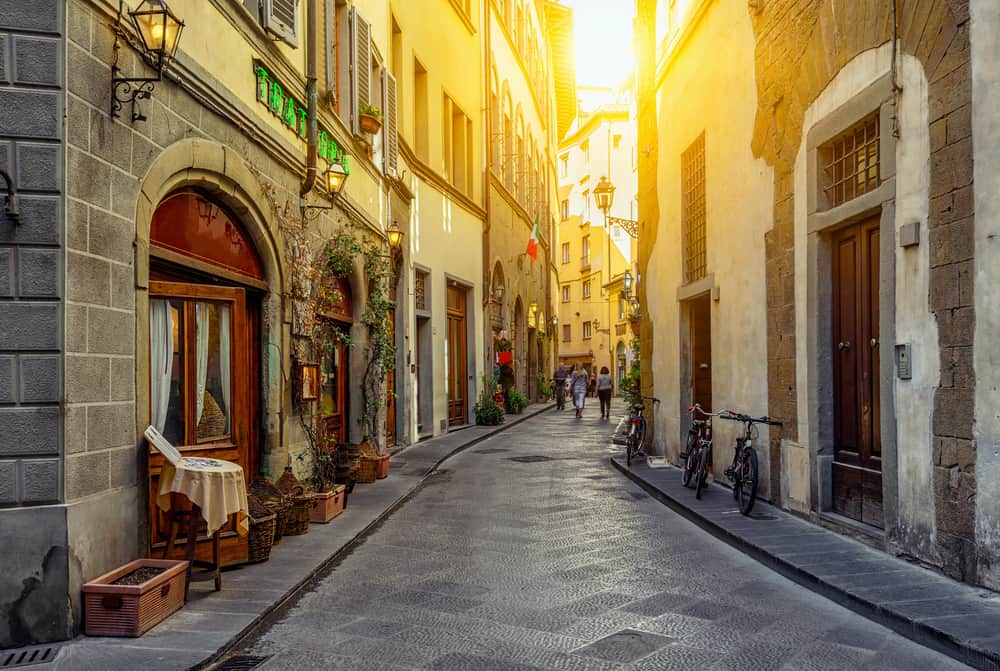 Stop 4: Visit Venice
We are going to be honest, Venice is iconic, but probably one of the more annoying stops to visit on your Italy road trip because unless you are driving a boat, there is no driving in Venice! Not to worry, with the proper preparation, you will be totally fine!
Here is a post we wrote on Exactly How To Get From Florence To Venice which explains all of your transport options!
If you don't do your research and you show up to Venice thinking you just get to drive around at will, you will be in for a rude awakening. Venice is a short drive away from Florence and is a necessary addition to any Italy road trip itinerary. You can discover our One Day In Venice itinerary if you are looking for more detailed information.
Looking to spend a little longer? We also have a 2-day itinerary for Venice you can utilize!
Parking in Venice:
There are tons of parking lots at the entrance of Venice. They cost roughly $30-$35 USD per day. Considering how expensive driving in Italy is, this isn't all that bad! Once you park your car, you will then take a boat public transport to your hotel or accommodation. If you want to visit Venice there is no way to get around the parking fee. Just make sure to know this going in! Autorimessa Comunale, p-europe Autopark Doge, p-europe S.Andrea and p-europe Autorimessa Toderini are the names of some of the more popular parking lots in Venice.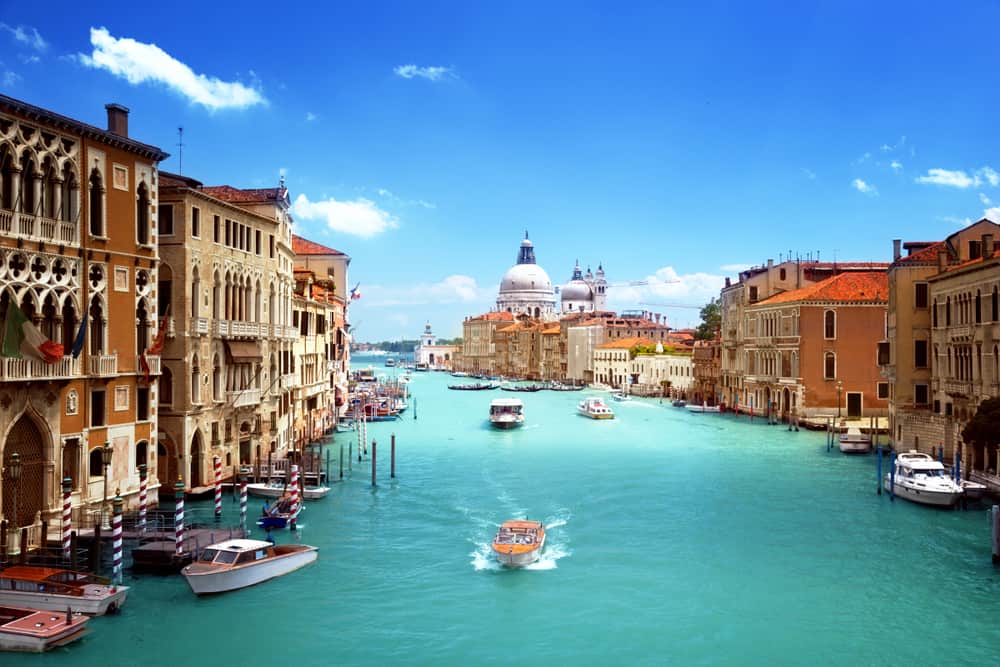 Best Things To Do In Venice
Explore Piazza San Marco
Piazza San Marco is also known as Saint Mark's Square and is the most popular square in Venice, and maybe all of Italy! This iconic square was built in the 12 century and the centerpiece of the square is Saint Mark's Basilica which you can also tour. This is where people feed the pigeons so if you love birds, this is your time to get up close and personal with them during your Italy road trip!
Book here: Saint Mark's Basilica Skip The Line Entrance Ticket
Climb The Campanile di San Marco Bell Tower
The Campanile di San Marco is the bell tower that stands tall over Saint Mark's Square. You have seen it in many photos and a replica is even at Walt Disney World! When climbing the Campanile di San Marco you will get one of the best views in all of Venice! Since you are already in the square, this is the next best option so you can see some impressive views over the city!
Book here: Saint Mark's Bell Tower Skip The Line Ticket
Go On A Gondola Ride
What trip to Venice is complete without going on a Gondola Ride? This is such a fun thing to do during your Italy road trip and although no cars are involved and we highly recommend splurging on one!
These tours provide a unique view of Venice that you wouldn't get walking the streets or from other boat tours. If you are looking for a very unique photo spot in Venice, get on a Gondola!
Reserve Here: 20 Minute Gondola Ride
Discover Doge's Palace
Doge's Palace is an ornate gothic place right on the canals of Venice! It is a museum and showroom and one of the most impressive palaces you will see during your Italy road trip. Doge's Palace holds lacework, paintings, sculptures and more and is a real treat for architecture lovers and is a perfect way to beat the elements when visiting Venice in winter.
Book here: Doge's Palace Timed Admission Ticket
Where To Stay In Venice
We put together an entire guide on where to stay in Venice. Personally, we love San Marco if you want to be in the thick of things, but there are PLENTY of other options that you can choose from, depending on your wants and needs! Check out some suggestions below if you are looking for something quick.
City Center: Hotel Casanova. Check Rates: Booking.com | Hotels.com
Mid-Range: Hotel Al Nuovo Teson. Check Rates: Hotels.com
4-Star: Royal San Marco Hotel. Check Rates: Booking.com | Hotels.com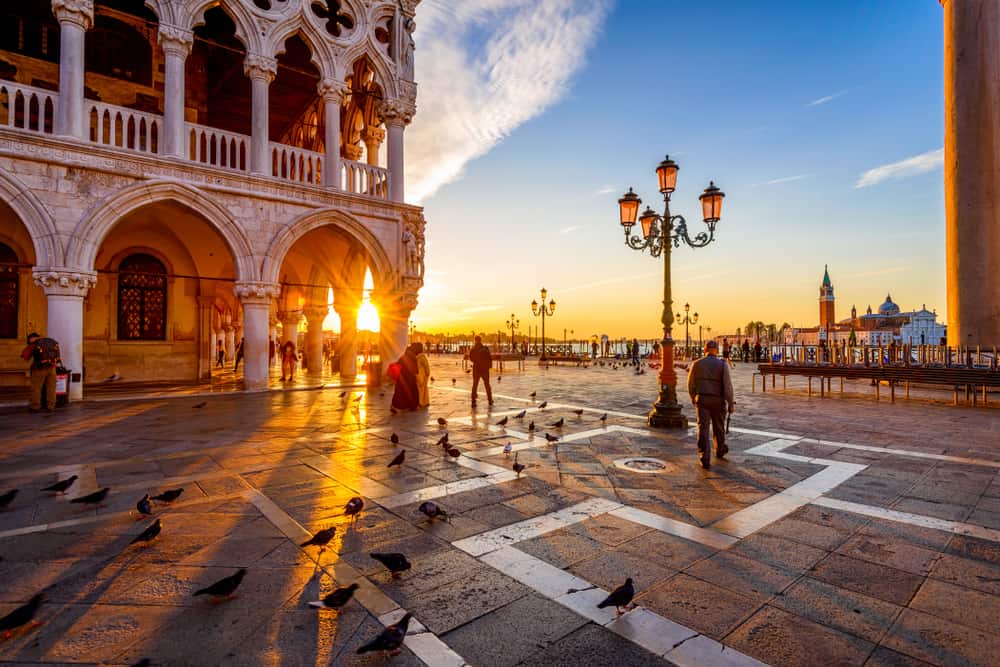 Stop 5: Delight In The Dolomites
Believe it or not, the Dolomites aren't all that far away from Venice! After you walk around on foot or by boat for a few days, you will be ready to continue your Italy road trip up north. This is truly the most breathtaking scenery in the world and you will not be disappointed. The Dolomites span a large region in Northern Italy and we recommend trying to see as much as possible. Make Bolzano your base if you want to be within an hour to all the action, but don't be afraid to stay in more remote villages for a really local feel.
The Dolomites will be one of the best drives on your Italy road trip along with the Tuscany drives. The feels are totally different with jagged mountains instead of rolling hills, but you are truly in for a real treat. If there is one part of Italy not to skip during your road trip, this is truly it. You will not be disappointed. Keep in mind that the best part about visiting the Dolomites is simply getting in your car and driving around and exploring the stunning nature.
We even have a full Northern Italy itinerary if you are interested in exploring this region in more detail. We highly suggest it as it is one of the most beautiful spots in Italy!
Parking in the Dolomites
Luckily, finding parking in the Dolomites region during your Italy road trip is quite easy. This is more of a countryside feel and there aren't as many crazy restrictions like there are in Florence or Rome. It is easy to get around and there are wide stretches of the open road. As always, make sure to pay attention to local signs and laws in the event you are in a "locals only" parking zone. If you are staying in a hotel or local homestay, finding parking should be easy.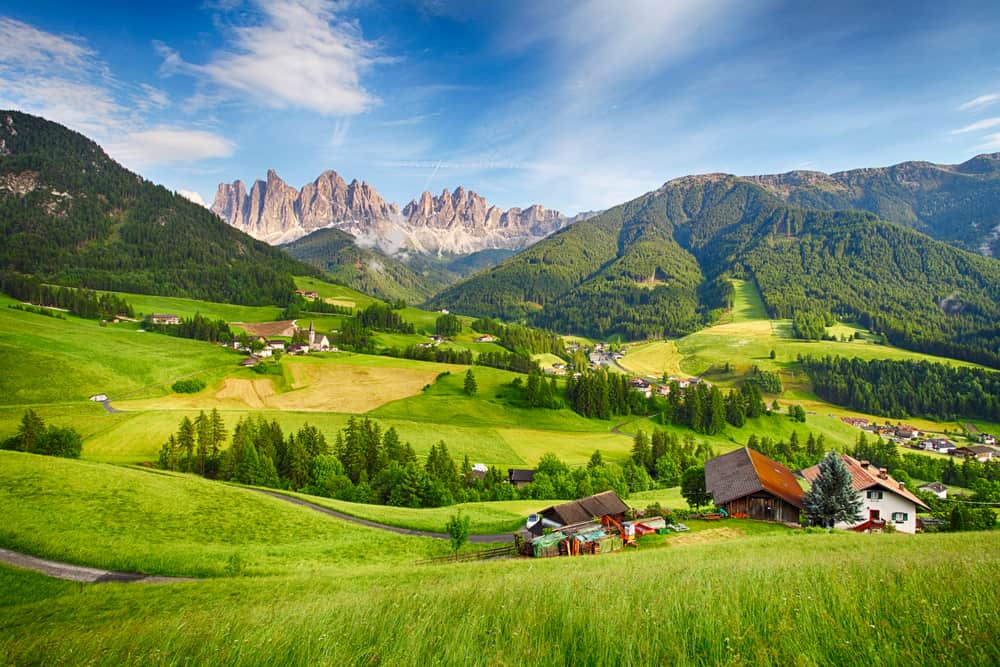 Best Things To See In The Dolomites On Your Italy Road Trip
See The Blue Water At Lago di Braies
Lago di Braies is a stunningly blue alpine lake located in the Dolomites. It is one of the prettiest lakes in Italy and shouldn't be missed! The drive there is lovely and it should top the list of things to see on your Italy road trip.
It is very popular on Instagram and with photographers, but it is famous for a reason. You won't want to miss it as this is one of the prettiest lakes in Italy!
Hike The Seceda Ridgeline
The Seceda ridgeline is easily one of the prettiest views in the Dolomites. The best part? You can take a cable car up to the view so you don't have to walk! This is one of the best things to do in Italy and will take your breath away!
Simply park your car at the cable car station and then ride up. Then you can walk or hike along the ridge of the mountain for as long as you want. If you are visiting in winter or spring, the cable cars will not be open and the only option is hiking up from the town.
Photograph San Giovanni in Ranui
San Giovanni in Ranui is one of the most photogenic churches in Italy. It is located in Santa Maddelena, which happens to be one of the prettiest towns in Italy. The Seceda Ridgeline actually forms the background for the tiny church which makes for an iconic shot. Even if you aren't a photographer, we highly recommend stopping at San Giovanni in Ranui during your Italy road trip as the views are quite impressive.
Pretend You Are Royalty At Castel Roncolo
Castel Roncolo is an impressive castle fortress located just a bit outside of Bolzano! If you love castles and mountain scenes, make sure this stop goes on your Italy road trip itinerary! The Castle is a sight to behold and the mountain vistas don't disappoint. It is located right outside of Bolzano and is an easy drive.
Where To Stay In The Dolomites
Affordable: Residence Fink. Check Rates: Booking.com | Hotels.com
Mid-Range: Gardenhotel Premstaller. Check Rates: Booking.com | Hotels.com
Upscale: Parkhotel Laurin. Check Rates: Booking.com | Hotels.com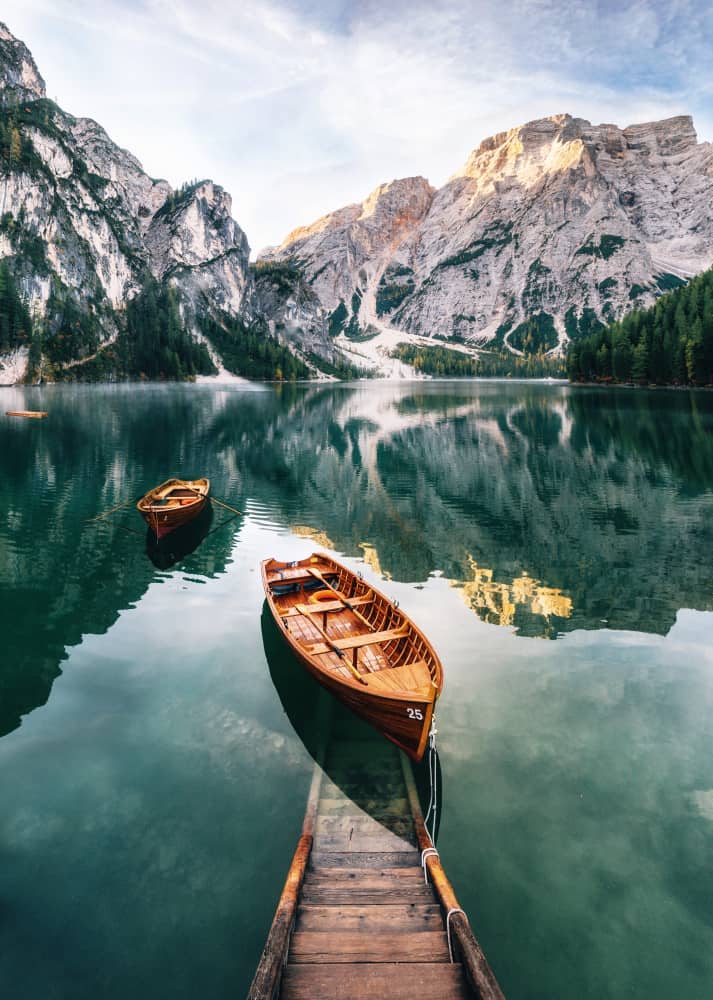 Stop 6: Hit The Coast In Cinque Terre
The drive from the Dolomites to Cinque Terre is about 4 hours and is the longest drive on this Italy road trip itinerary. Compared to the majority of road trips around the world, four hours really isn't that long. The drive to Cinque Terre is filled with tons of fantastic things to see and do. If you want to make stops along the way, stop along Lake Garda, Parma, and Verona. They are some of the best cities and places in Italy to see.
Cinque Terre is kind of a difficult place to visit on your Italy road trip because parking is very hard to come across. We recommend staying out of the Cinque Terre proper area in La Spezia or in Montessero Al Mare which is a more easily accessible Cinque Terre village. Either way, this is a must-see area of your Italy itinerary and the coast will relax you after a long day of driving.
Parking In Cinque Terre
Parking is difficult to find in Cinque Terre. In some villages, you are not allowed to drive at all and you must park about 1-2 km outside of the city and take a shuttle in. For us, this isn't worth the time and struggle as we like having our car nearby during our Italy road trips.
If you are like us, you will want to consider staying in La Spezia where parking is free or very cheap and then taking the train into Cinque Terre. From La Spezia train station to the first Cinque Terre village it is less than a 5-minute train ride. Much better than having to leave your car, but if you must stay in the Cinque Terre villages, pack an overnight bag!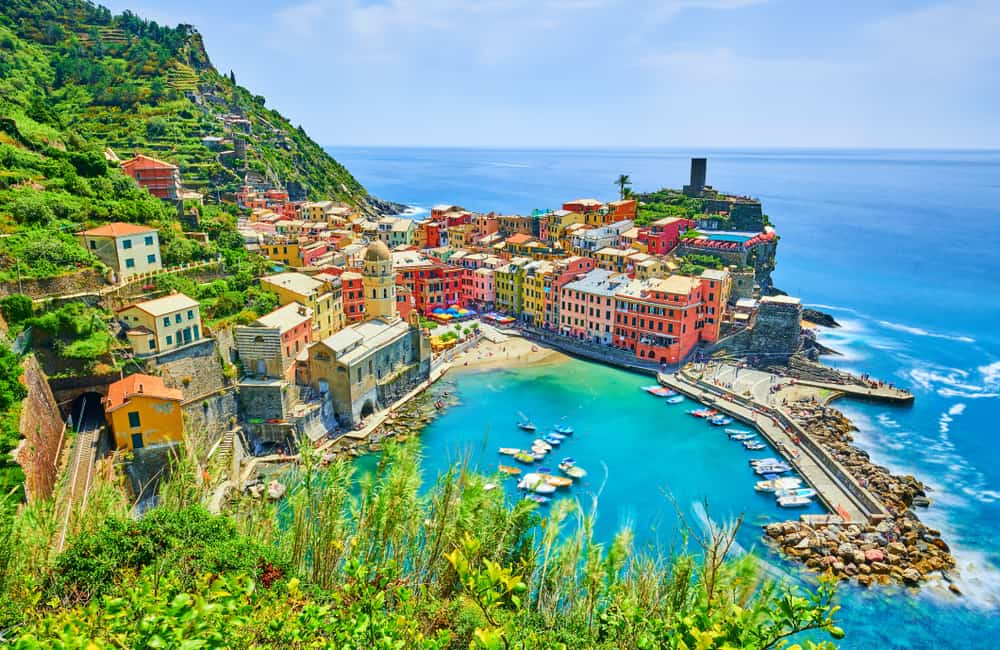 What To Do In Cinque Terre
Hike The Monterosso Footpath
The Monterosso footpath connects the towns of Monterosso and Vernazza and provides stunning views of the towns! This hike is a bit challenging as you are going up the coastal cliffs, so budget at least 1-2 hours to complete it. The views are worth the effort, but bring plenty of water, especially if you visit during the summer! This is the perfect hike during your Italy road trip.
Visit Parco Nazionale Cinque Terre
This National Park is one of the smallest in Italy at only 15 square miles but one of the most popular and most beautiful! Parco Nazionale Cinque Terre is one of the most heavily inhabited national parks in Italy and it is easy to see why! A one day pass costs $9 per person to enter the National Park. Parco Nazionale Cinque Terre is also a UNESCO World Heritage Site. Even if you are staying out in La Spezia, you will be close enough to enjoy yet able to enjoy easier parking and driving.
Book here: Cinque Terre Tour And National Park Card
Relax On The Cinque Terre Beaches
During your time in Cinque Terre, ditch your car and head to the beach! Check out the 7 Best Cinque Terre Beaches so that you can discover the best beaches around. They are all easily accessible via train and walking. Some beaches are sandy and some are rocky and some really aren't a beach at all. No worries, they are still pretty awesome and unique. It will be nice to relax after a long Italy road trip driving around the country.
Take A Boat Tour Of Cinque Terre
If you are short on time during your Italy itinerary, consider taking a boat tour of the Cinque Terre villages. A boat tour will allow you to see all of the towns with ease and speed and you won't feel like you missed a thing! A boat tour is an easy and affordable way to add Cinque Terre to your Italy road trip itinerary even if you are short on time because you can see everything by water!
Learn more: Cinque Terre Boat Tour With Lunch
Where To Stay In Cinque Terre
Choosing where to stay in Cinque Terre can be daunting, but it doesn't have to be! That is why we put together this entire post on that very topic. This post has helped thousands of people plan and book where to stay in Cinque Terre and we hope that it helps you as well! If you want a quick pick, check out the suggestions below!
Upscale: The First – Manarola 5 Terre. Check rates: Booking.com | Hotels.com
Beach Location: Locanda Il Maestrale. Check Rates: Booking.com | Hotels.com
Affordable: Locanda Ca Da Iride. Check Rates: Booking.com | Hotels.com
Mid-Range: Arbanella. Check Rates: Booking.com | Hotels.com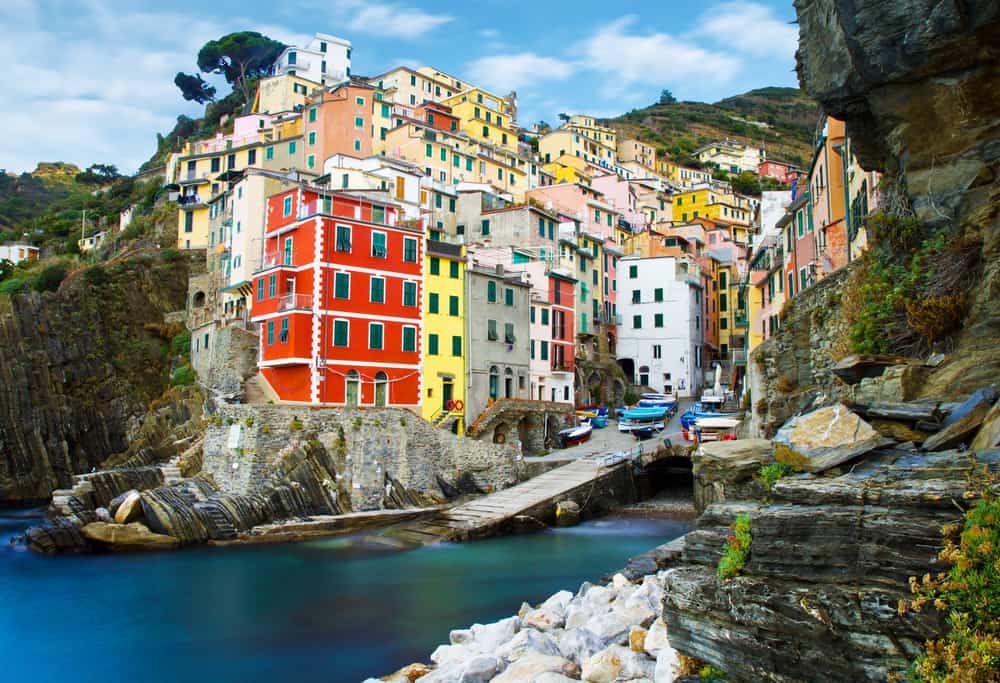 Stop 7: End Your Italy Road Trip In Milan
When you leave Cinque Terre, you will drive back to Milan to end your Italy road trip. We have driven in Milan a few times and it is quite hectic during rush hour. If you are driving in Milan, try to plan your arrival out of these busy times. As usual, if you stay away from the city center, finding parking is easier.
Milan is a very affordable place to rent your car and fly in or out of. If you don't want to do a one-way rental, then enjoy your time in Milan and drive the four hours back to Rome to drop off your car and fly out. Milan is a very underrated Italian city and it is a great way to cap off your wonderful Italy road trip. Don't forget to check out our One Day In Milan Itinerary.
Parking In Milan
Parking for non-residents in Milan can be quite expensive when trying to park near the city center. There are public parking lots in downtown Milan are priced at around $3-$5 an hour. The further you go out of the city center the more affordable the rates get. Driving in Milan isn't that difficult, but you must understand it is a large city with a lot of people. It is a good place to end your Italy road trip! Check out this website for more information on parking in Milan.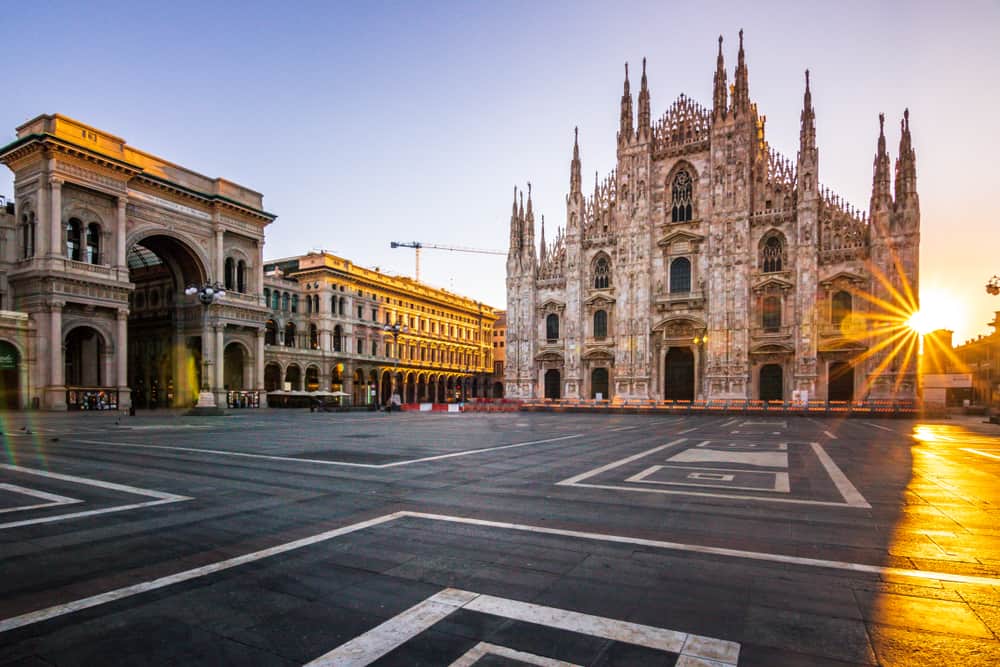 Best Things To Do In Milan
Visit The Milan Cathedral
The Milan Cathedral is an architectural wonder and a breathtaking masterpiece! It is so much bigger in real life than it looks in photos, and you must make it a stop during your Italy road trip, even if you are short on time! The Milan Cathedral is also a popular place to feed the pigeons so if you missed them in Venice, now is your chance!
Book here: Milan Cathedral And Rooftop Entrance Tickets
Shop At Galleria Vittorio Emanuele II
Galleria Vittorio Emanuele II is Italy's oldest shopping mall and a hallmark thing to do when visiting Milan! The Galleria Vittorio Emanuele II is housed in a 19th-century glass-covered arcade and is quite the site to behold! If you haven't had time to do much shopping during your Italy road trip, now is the time to take advantage. Even if you don't want to shop, you must stop by to see the glass-covered passageways.
Explore Milan By Bus
If you are short on time but still want to explore Milan during your Italy road trip, a hop-on-hop-off bus tour is the perfect way to quickly see the city! Why drive in Milan when someone else can drive for you? It will provide insider information to some of the most famous sites in Milan and you will easily be able to get off the bus should you want to explore more!
Reserve here: 1-2 day Hop On Hop Off Tickets
Eat Dinner In The Navigli District
This picturesque district is named after the Navigli Canal is famed for its authentic Milanese Cuisine. This is a wonderful part of Milan to cap off a wonderful Italy road trip itinerary because the food is just splendid. After you are done eating, make sure to walk around and enjoy the shops too. There can never be enough shopping in Italy, right?
Where To Stay In Milan
Milan is one of the larger cities in Italy and it pays to know where to stay! This is why we put together this detailed post on where to stay in Milan to help you choose. We have also provided some quick suggestions below!
Mid-Range: Sheraton Milan Airport Hotel. Check Rates: Booking.com | Hotels.com
Affordable: First Hotel Malpensa. Check Rates: Booking.com | Hotels.com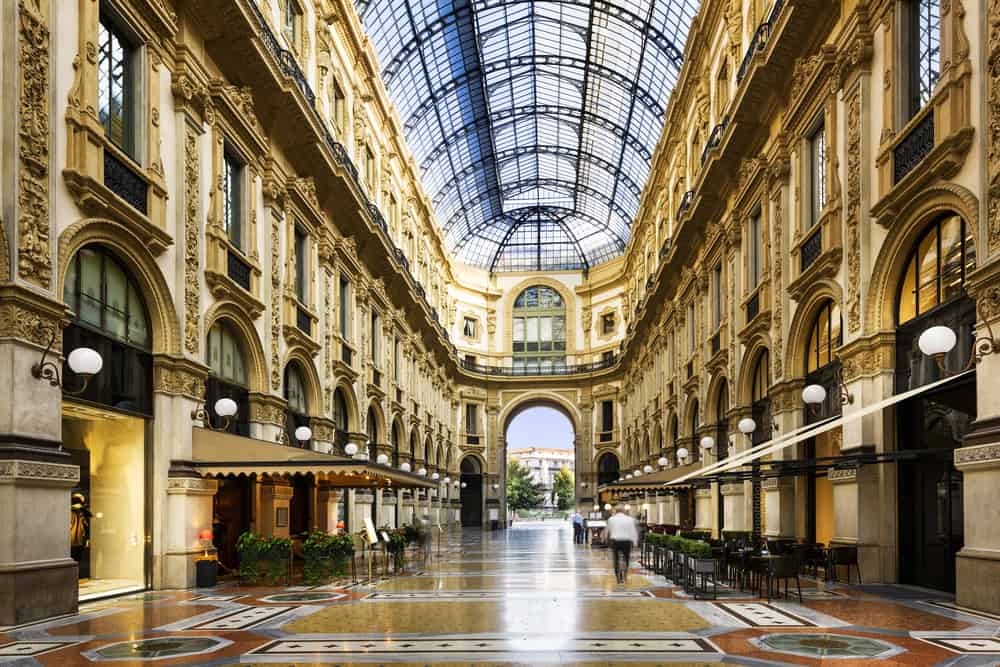 We hope you enjoyed this Italy road trip itinerary. Feel free to modify based on your time and interests. If you could choose only a few places to visit, make sure the drives through Tuscany and the Dolomites stay on your itinerary if possible. The views shouldn't be missed and this is truly the best part of a road trip in Italy. Please let us know if you have any questions about planning your dream Italy road trip and we are more than happy to help in the comments!