Are you looking for the ultimate 2 days in Vince itinerary? Want to visit the most Venice has to offer in only two days? Don't let a limited time-based schedule keep you from visiting some of the best and most famous sites Venice has! You will be wonderstruck by all Venice has to offer, and we promise you can accomplish a lot in just 2 days.
Below we have chosen some of the best things you can conquer in a short period of time– so make sure to follow this 2 days in Venice itinerary to ensure your trip is filled to the brim with adventure. But, of course, feel free to schedule our suggestions in a way that best fits you and your travels!
For context, arrival day is not being considered in this two days in Venice itinerary. The afternoon of your arrival can be utterly exhausting, so it might be best to rest up, as your next 2 days in Venice will be jam packed! And even if you aren't exhausted when you arrive, you can always stroll the streets of Venice, stopping at small shops, for Gelato or even pizza along the way as a way to ease yourself into your upcoming adventure!
Either way, make sure you are ready to explore when the time comes! Conquering Venice in 2 days requires a lot of planning and preparation, so make sure to pace yourself. You and your travel group are going to want to see the best Venice has to offer! And don't forget to check out our
10 Things You are Forgetting to Bring
packing list for Italy before you head out on your adventure!

The Ultimate 2 Days in Venice Itinerary
Day 1: Starting With the Big Landmarks of Venice
Stop 1: Explore the Famous Piazza San Marco
Saint Mark's Square is the most famous landmark in all of Venice, so you must add it on to your 2 days in Venice itinerary! Because of this popularity, we have put this on the top of your list, starting with day 1, as it is a highly recommended "must see" of Venice! And if you're interested, make sure to purchase a skip the line ticket for Saint Mark's Basilica so you don't waste any time!
La Piazza, which translates into "The Square", is the renowned public area in the city. It's historically important to Venetians because it was once the center of both political and religious power. And even with being surrounded by shops, restaurants and other sights (such as Saint Mark's Clock Tower and the Saint Mark Basin), the square is dominated Saint Mark's Basilica.
Whether you are planning your 10 days in Italy, have a bit more time and are spending 2 weeks in Italy, or renting a car and doing an Italy road trip, we recommend seeing Saint Mark's Basilica for every single one of these itineraries!
As a shining centerpiece for The Square, Saint Mark's Basilica is one of the grandest places of worship in the city and therefore is a must see for your 2 days in Venice itinerary! You must see it, as it is one of the best things to do in Venice in two days.
Book Here: Skip The Line Ticket For St. Mark's Basilica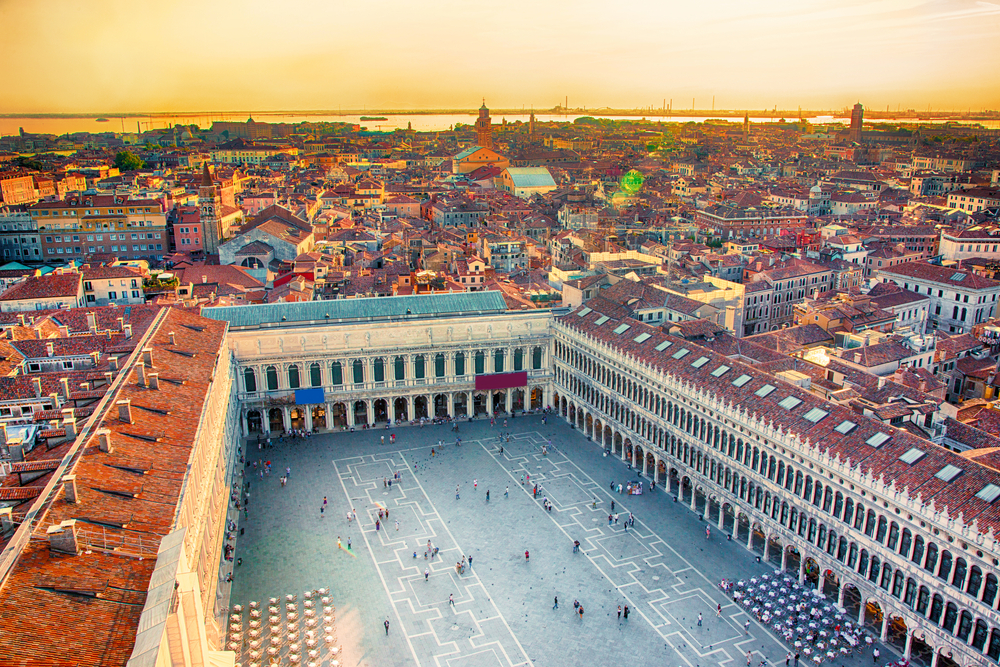 Stop 2: Climb the Companile di San Marco Bell Tower
While visiting St. Mark's Square, you might as well take a quick walk over to the Saint Mark's Bell Tower and climb it! When you reach the top, you will have one of the most beautiful views in Venice, which is why we are adding it to your 2 days in Venice itinerary! These gorgeous views are swoon-worthy and breathtaking since the tower rises high above the square.
Originally built in the 9th century, this tower has been restored many times due to fires that were caused by lightning, but it still stands tall. With its bells being held in the belfry, you can also see the symbol of St. Mark, which is the winged lion, in this area. Each of the five bells were rung for different reasons back in the day, and you can get close to them, but be warned: the line to get to St. Marks Bell Tower can get crowded, so you may want to look into a tour that helps you skip the line!
Book Here: Skip the Line for St. Mark's Bell Tower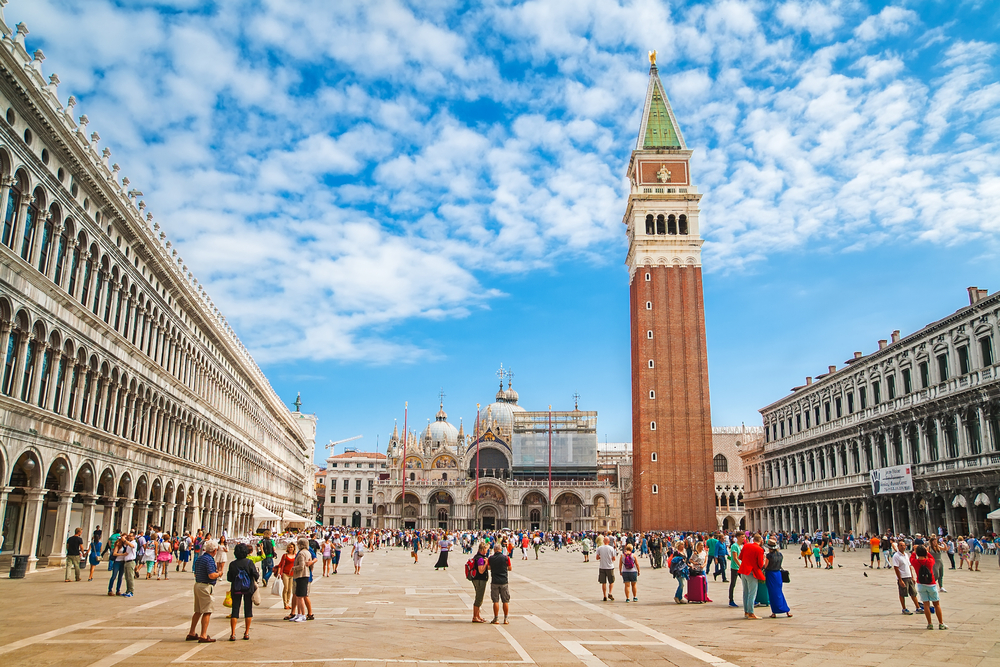 Step 3: Marvel at Doge's Palace
Doge's Place is a beautiful 1,000 year old mansion and is one of Venice's main landmarks, making it one of the best things to do in Venice! You must add it to your 2 days in Venice itinerary. Situated right next to St. Mark's Square, this gorgeous palace is conveniently accessed and a must see. It formerly was used as a residence for the "Doge of Venice," which is the name given to those who were seated as the main authority for the Republic of Venice!
Although this palace was once used as a center of political leadership, today it serves as a museum. This repurposed attraction brings in tourists and citizens alike. Since it's opening in 1923, guests have marveled at this gothic attraction and enjoyed getting a glimpse of the life of Venice's past leadership!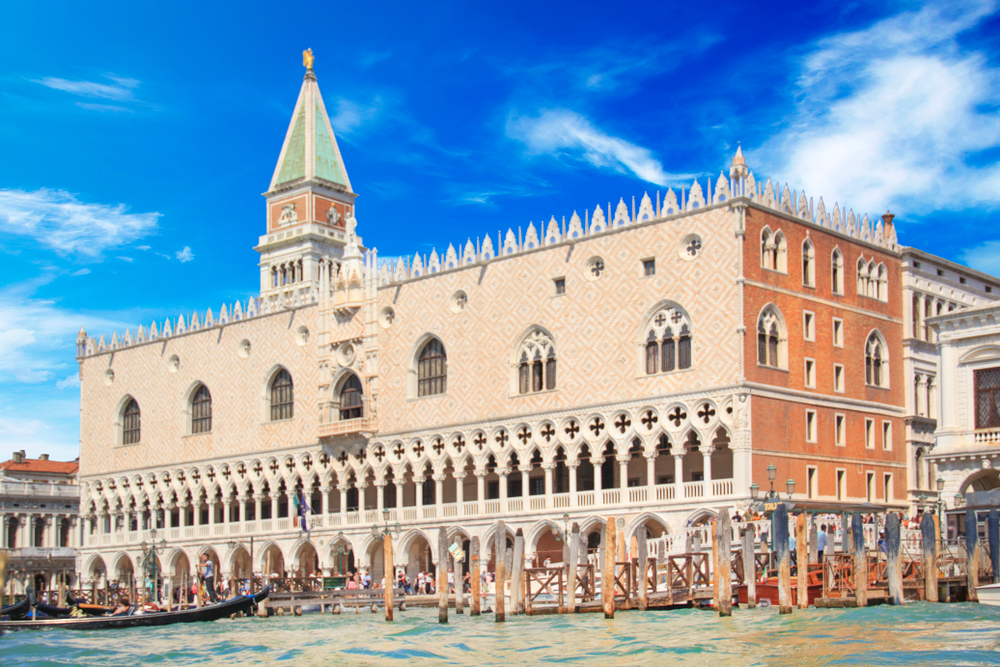 Step 4: Visit the Bridge of Sighs
Another popular feature to add to your 2 days in Venice itinerary is to stop at the Bridge of Sighs. It is connected to the Doge's Palace, so its location is convenient for your first day exploration! Historically, this bridge was used as a walkway for prisoners. After criminals were interrogated and convicted in Doge's Palace, they were walked across this very bridge to prison.
Those prisoners caught glimpses of freedom outside the window's of this bridge, and the Republic used this bridge in particular to remind prisoners that they would not be seeing freedom any time soon, causing them to sigh, which thus name the bridge! During your 2 days in Venice you can take a gondola tour underneath the bridge to get a closer look, as access to it has been prohibited except through means of a particular tour group!
Book Here: Secret Itineraries Tour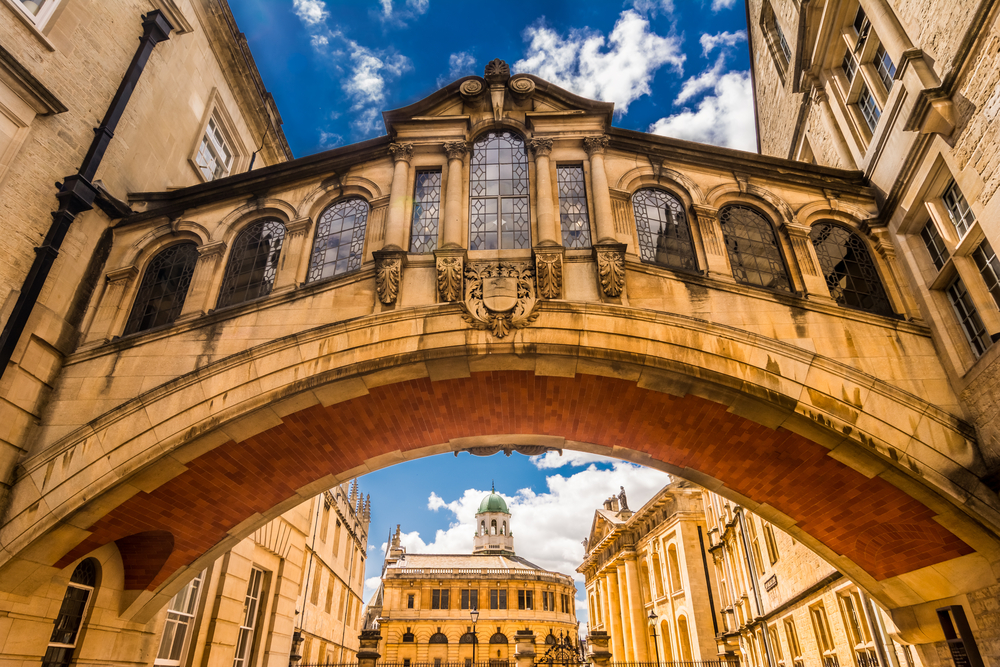 Stop 5: Go on a Gondola Ride
We are sure that when you started planning for your 2 days in Venice, the first thing you wanted to do was ride in a gondola. Gondolas are the most widely known and famous motif of all of Venice, therefore taking a ride on one will surely find a place on anyone's Venice itinerary. Many will argue that 2 days in Venice is not completed without a gondola tour!
For centuries, gondolas have made maneuvered through Venice's tight canals and served as one of the primary modes of transportation. Today they are also popular amongst tourists, as they provide a romantic, photogenic view of the Floating City. But be aware! Gondola tours can be expensive. Make sure to speak to your gondolier before hopping in so you can prevent any unpleasant surprises when you emerge from your romantic tourist dream!
Book Here: 20 Minute Gondola Ride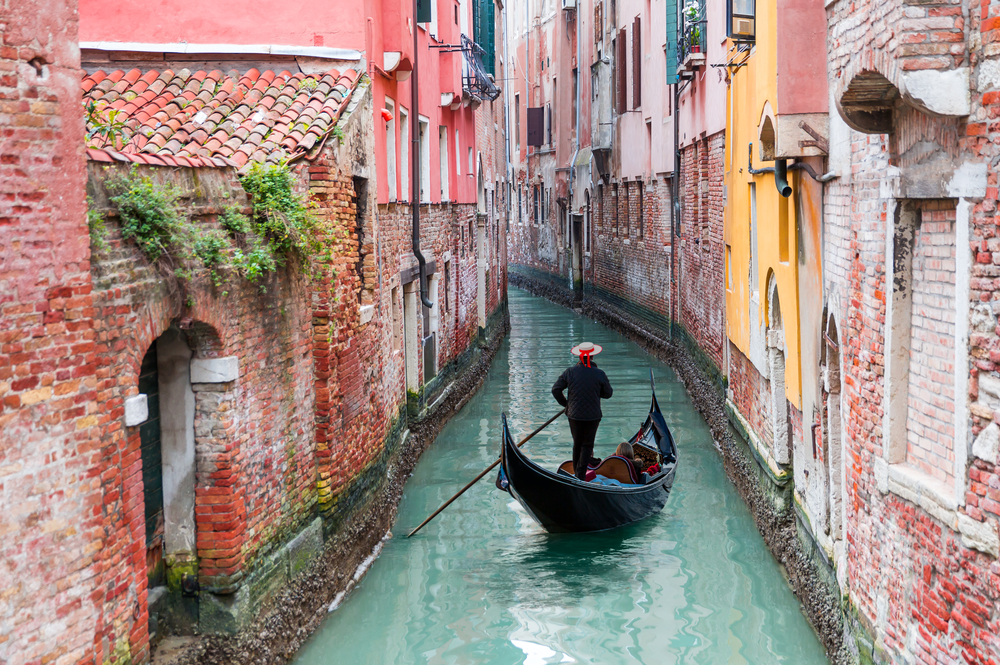 Day 2: Enjoying the City
Stop 1: Take a Tour of the Venetian Island
Since you only have 2 days in Venice, it can be hard to decide what to do! So why not take a boat tour on your second day?? Tours can average about 5 hours in length, so we suggest starting them early in the morning so you have more time to continue to explore in the afternoon!
Cruise to the islands of Murano, Torcello, and Burano in the Venetian Lagoon. These famous Venetian islands are known for their picturesque scenes, home-made mementos, and history. Since Venice is huge and not a fully walkable city, the best way to see these islands is through a boat tour, and with a great guide you will learn so much about Venice and may even pick up on a few more tips and tricks of things to do in Venice during your downtime!
Book Here: Boat Tour of Venice Lagoon and Islands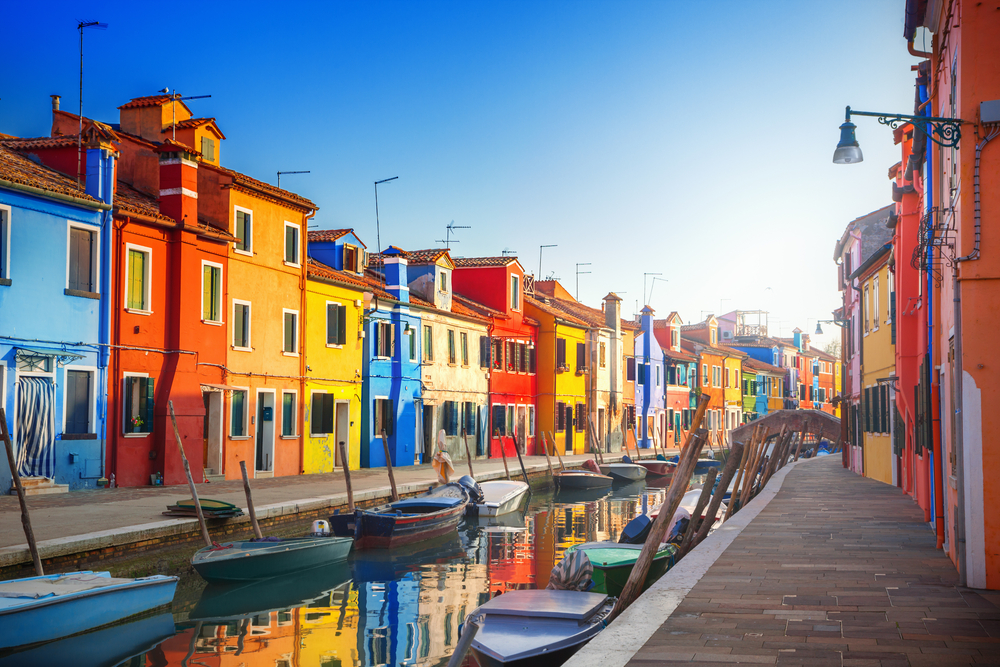 Stop 2: Explore Murano
Whether you get to Murano via boat tour or dedicate some independent time to visit there, you must add Murano to your 2 days in Venice itinerary! Known for its Venetian Glass, this island was once entirely dedicated to the art of glassmaking when all Venetian glassmakers were forced to move here in 1291 to help prevent fires that were starting due to furnaces.
Today, Murano is still the principle hub of Venice's glassmaking and it is a wonderful destination hunt for some incredible treasures. Whether you decide to shop and bring back nice and beautiful gifts, or you want to simply watch an artist blow glass, you must stop by this island during your 2 days in Venice!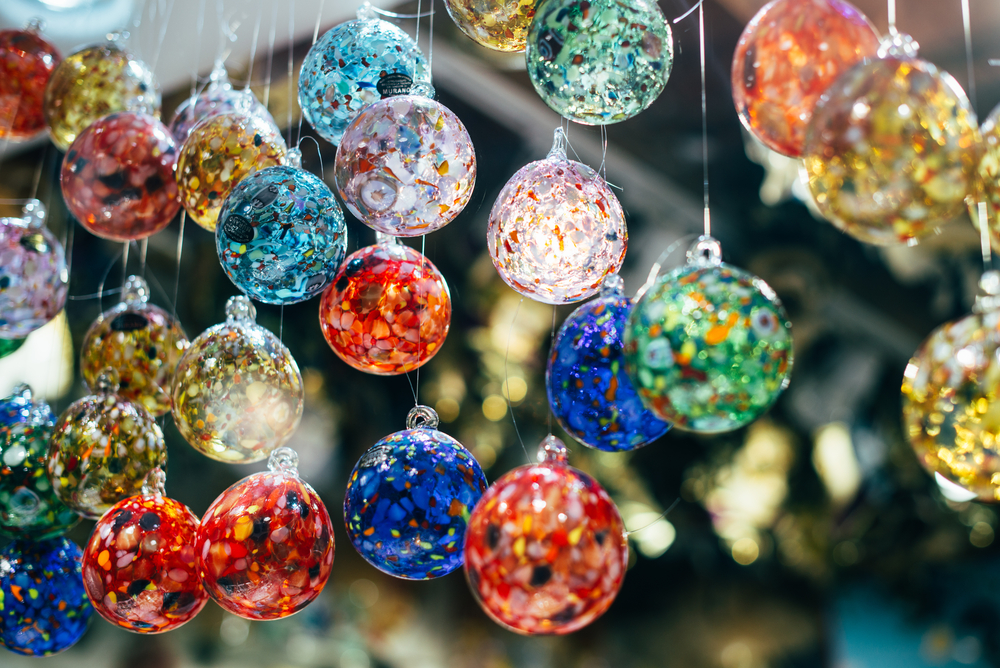 Stop 3: Walk Over Rialto Bridge
Between 1588 and 1591, The Rialto Bridge is the oldest bridge in Venice that crosses The Grand Canal. It is one of the main hubs for a multitude of markets, restaurants, landmarks and more! Despite St. Mark's square being a bit more famous, the Rialto Bridge has been considered the "soul" of Venice!
The Rialto Bridge is one of the best things to do in Venice because it's so well connected to a variety of different places. Surrounding the bridge includes the Grand Canal, the Rialto Markets, the Palazzo Contarini de Bovolo, the Santa Maria Dei Miracle, and Ca Rezzonico. Make sure you give yourself plenty of time to explore this area!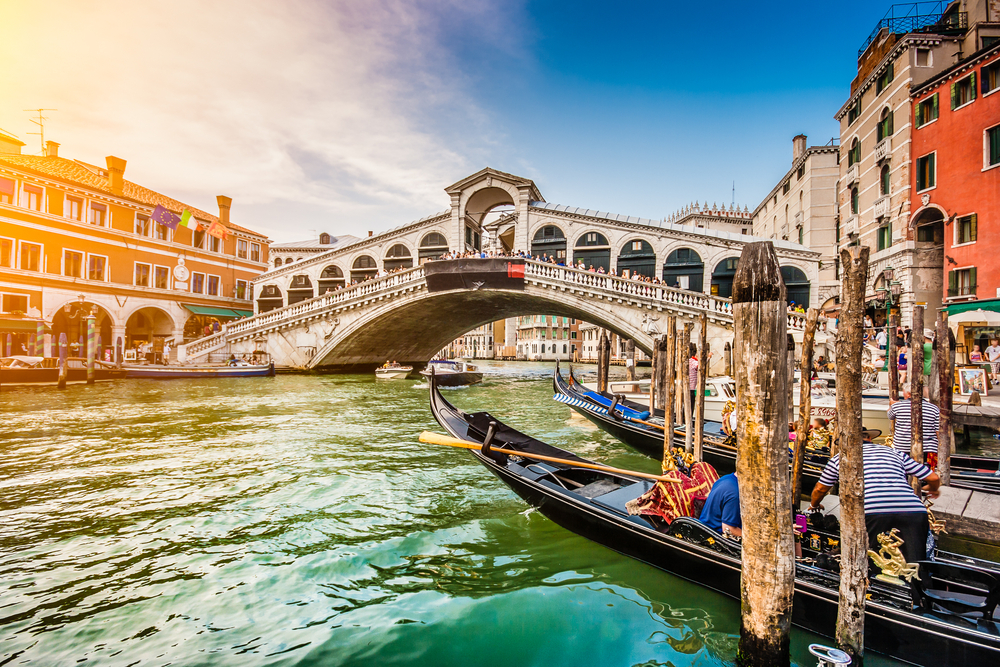 Stop 4: Walk Around the Venetian Ghetto
Known as Europe's first ever ghetto, and famously known as the setting of Shakespeare's "The Merchant of Venice," The Venetian Ghetto is a great place to visit during your 2 days in Venice! This area stays true to its history and is filled with kosher restaurants, synagogues, and more. It is far from any tourist influence and lets visitors see into the true lifestyle and history of Venice's people.
Some of our favorite features of the Venetian Ghetto we recommend visiting include the Jewish Museum, the Jewish Bakery, Gham Gham Kosher (for such incredible food!) and "Birree da tutu il mondo o quasi!" (which is a beer joint that serves beer from all over the world!). You will surely enjoy spending your time in the Venetian Ghetto, as it allows for you to see Venice through a non-tourist lens.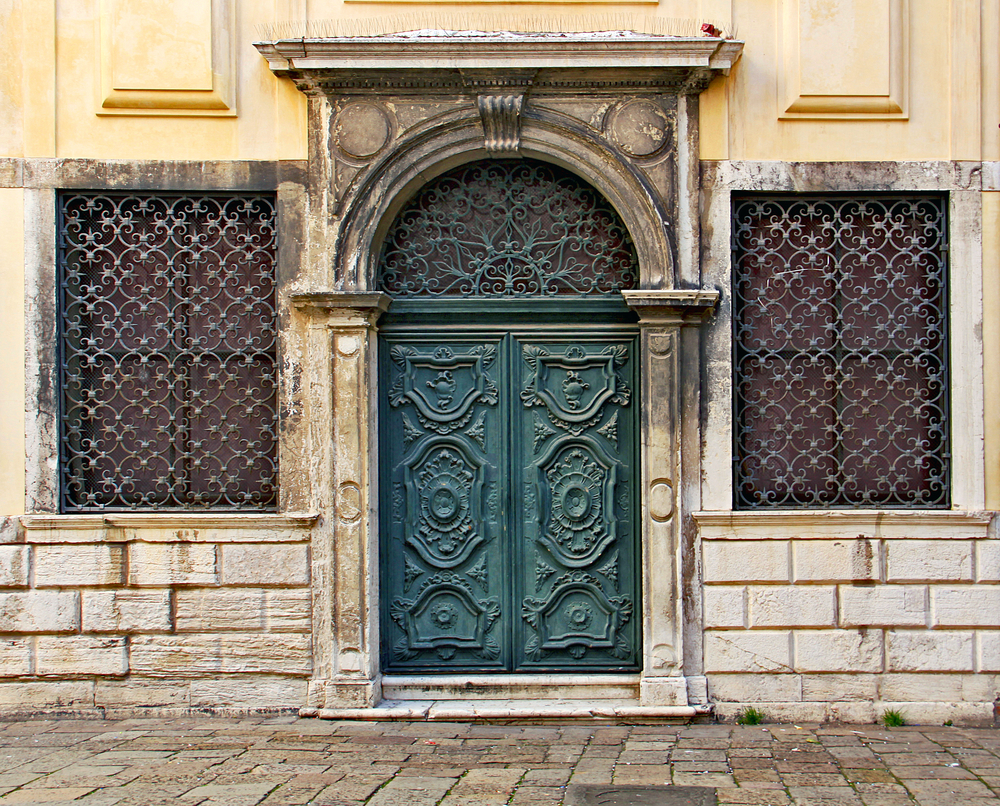 Stop 5: See the Teatro Le Fenice
The Teatro La Fenice has been one of Venice's top theatres for over 300 years! It is a very important piece of heritage to the people of the Floating City with its grand architecture, five tiers, and warm golden accents. Between its history and its beauty, this is definitely a place you want to see in your 2 days in Venice.
Teatro Le Fenice actually translates into "The Phoenix Theater" which is a name this building has historically earned. Devoured in flames and burnt beyond use on three separate occasions (first in 1774, then in 1863, and again in 1996), this theatre continues to rise from the ashes anew! You must go see it!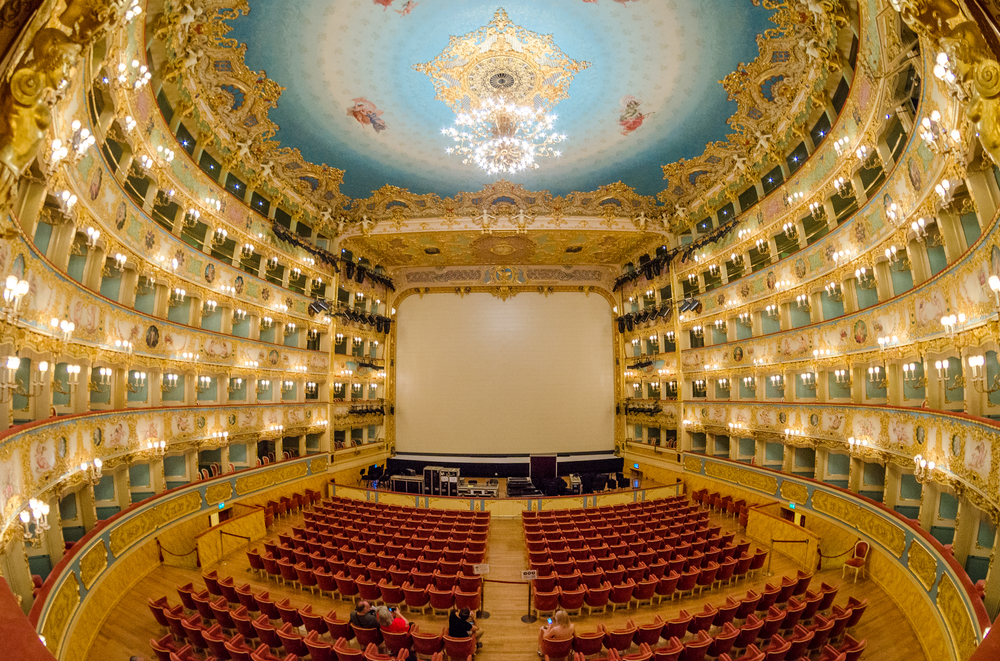 Stop 6: If Visiting in Spring, Check out the Venetian Carnival
If you are spending your 2 days in Venice in the spring, right before Lent, you NEED to spend some time in the heart of Venice so you can experience the biggest and best party of your life. Known for its artisan face masks, the Carnevale di Venezia is a massive celebration that has been a yearly tradition since 1162.
Spring is arguably one of the best times to visit Venice because of this carnival, as everyone is celebrating during this time. Between wild street parties, light shows, boat parades, and concerts, this carnival will exceed your wildest dreams– just make sure you get a Venetian mask to wear during the celebration!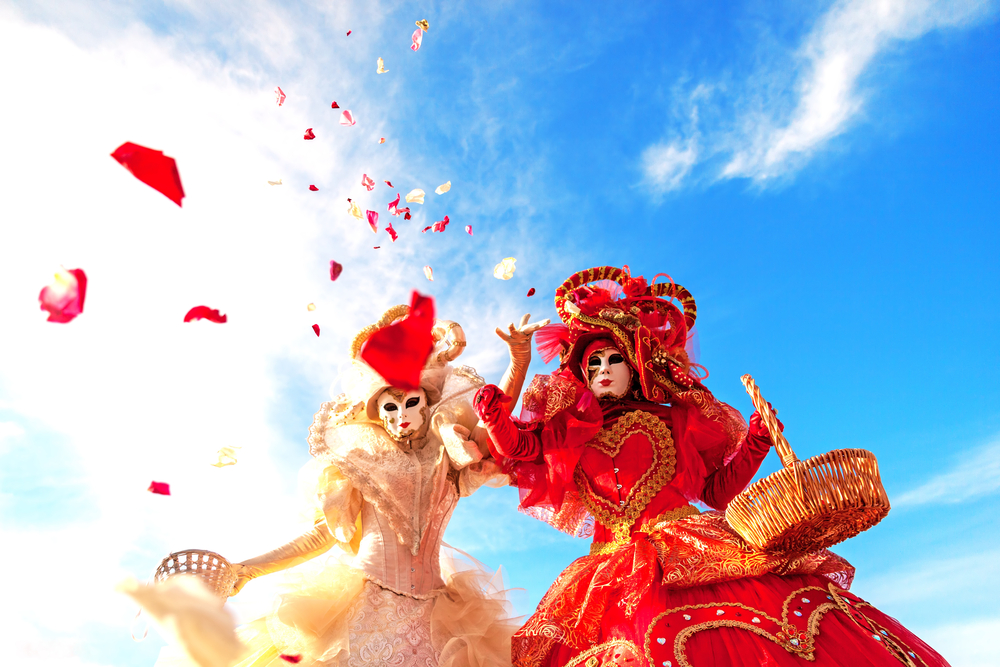 Where to Stay:
When you're staying 2 days in Venice, you'll need a place to stay, and we highly recommend staying in the city center if possible! There are a variety of hotels and Airbnb options in Venice, and they range in price! Whether you are on a budget of $70 a night or want to splurge for $300 a night, your options are endless. Below we have provided a few suggestions, but if you are looking for more detailed information, make sure to check to our guide on Exactly Where to Stay in Venice Italy . There is something for everyone during your 2 days in Venice, so stay where you are comfortable and celebrate that you are in one of the most romantic cities in the world!
Affordable: Piccolo Tiepolo
The Piccolo Tiepolo is located in a historic building from the 19th century in the Castello district. This location is great for travelers who enjoy getting immersed in the culture of Venice, as the ambiance and old-town experience is to die for!
Being only a 2 minute walk from the Piazza San Marco, this hotel is fantastic for 2 days in Venice because the Rialto bridge is also only 2,000 feet away! The rooms in this hotel are private and air-conditioned, comfortable and well furnished.
Check Rates Here: Booking.com
Affordable: B&B Best Holidays Venice
Located in a historic building in the heart of Venice, only 650 feet from the Rialto Bridge, the B&B Best Holidays Venice comfortable rooms for your 2 days in Venice! With breakfast served daily, great reception, and more, this hotel is fantastic for your trip as the location is great for travelers!
The San Polo district is fantastic for tourists interested in exploring the city on foot, as this old town experience offers great opportunity for exploration of the city, markets, nearby restaurants, and more! From wood-beamed ceilings in their rooms to private bathrooms, this location is a bang for your buck!
Check Rates Here: Booking.com
Middle Range: Hotel Anastasia
Only 1,000 feet from St. Mark's Square, the Hotel Anastasia is perfect for your 2 days in Venice with its great location and furnished rooms! And the Le Fenice Theatre is only a 5-minute walk away. From having staff available 24/7 to being close to the Accademia Gallery, this hotel is fantastic!
The rooms here are air-conditioned, have parquet floors and private bathrooms. Guests can enjoy breakfast buffet if they'd like, and the history of the San Marco district offers travelers great insight to the city's best history and landmarks!
Check Rates Here: Booking.com
Middle Range: Antico Panada
Dating back to 1889, the 2 historic buildings that make up the Antico Panda hotel are a mere 100 feet from Saint Mark's Square. The air-conditioned rooms feature refined furniture and the hotel itself overlooks the Calle degli Specchieri, a street that leads directly to the Basilica of San Marco.
Known for its stylish interior with white and red marble, this hole also offers buffet breakfasts, a special Bar that specializes in international cocktails, and more. This area is great for travelers, especially those staying for 2 days in Venice, as it is a great price, has a fantastic location, and the district exudes romance, and history.
Check Rates Here: Booking.com
Expensive: Casetta della Fontana
Doge's Palace is only 1.3 miles from this apartment that you can book for your 2 days in Venice! The Casette della Fontana has accommodations with free WiFi and is a 15-minute walk from Piazza San Marco, meaning its location is great!
This apartment is located on the ground floor and comes with a bedroom, fully equipped kitchen, and more. The Dorsoduro district is full of day time adventures, including restaurants, museums, and churches. This apartment may help you get some privacy during your 2 days in Venice and is a nice option when considering where to stay!
Check Rates Here: Booking.com
Expensive: Margherita House Venice
The Margherita House is less than a 10-minute walk from the Piazzale Roma, and has easy access to a car park and bus stops from the Marco Polo Airport, making getting here easy! St. Mark's square is only 15 minutes away on foot and this hotel is surrounded by interesting restaurants and shops.
The surrounding area, in the Dorsoduro district, also offers great things to do in Venice, such as museums, churches, and hot spots for photography. The rooms here are bright and fun and offer great views of the Campo Santa Margherita square.
Check Rates Here: Booking.com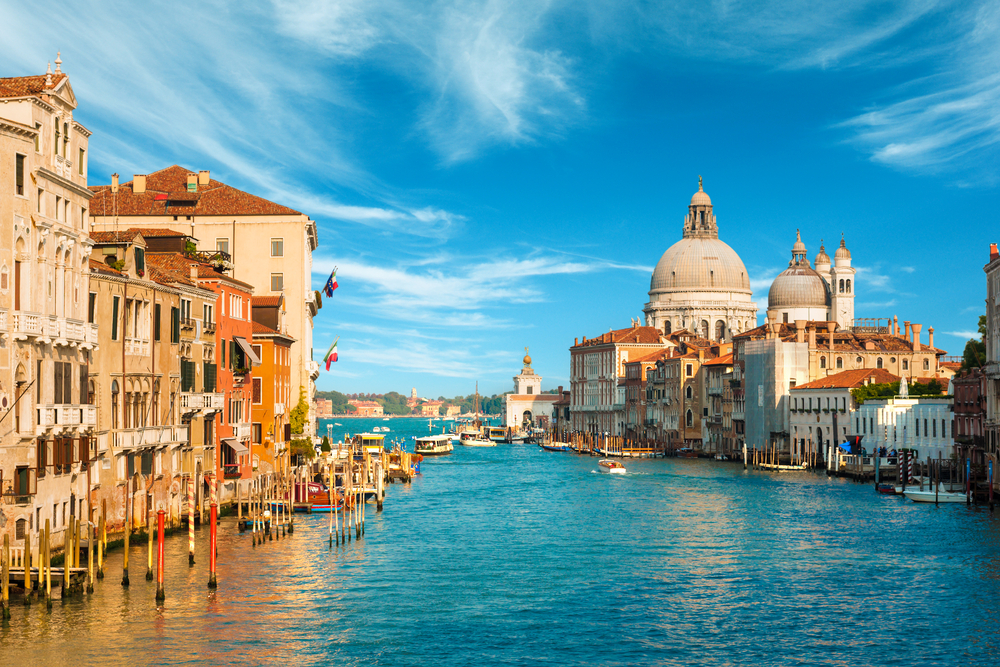 Two days in Venice is ample time for you to visit many of their most iconic monuments, to enjoy the rich history, art and culture of the city! Using this 2 days in Venice itinerary, we do hope you get the chance to visit everything you want to see, as Venice is a fantastic city. Venice will welcome you with open arms, making your two days there special!
And if you decide to continue your adventures in Italy, make sure to check out our 2 weeks in Italy itinerary to help plan a wonderful adventure! We even have a full Northern Italy itinerary if you are interested in exploring this region in more detail. We highly suggest it as it is one of the most beautiful spots in Italy!