If you are looking for where to stay in Venice, you have come to the right place! Venice, located in the north of Itlay, is built on more than 100 little islands in a lagoon in the Adriatic Sea. As you have no doubt seen in a dozen movies, there are no roads in Venice, only canals lined with breathtaking Renassaince and Gothic buildings. Made up of six main neighborhoods, or sestieri, there are many wonderful options for Venice accommodations that we know you will love!
San Marco, San Polo, Cannaregio, Castello, Dorsoduro, and Santa Croce are the main six sestieri that make up the city of Venice, and each has wonderfully unique and charming features! Whether you are spending 10 days in Italy, have a little more time like 2 weeks, or are renting a car and planning an Italy road trip, you are going to want to spend some time in Venice and we are here to help you choose the right place for you to stay!
Below, we will break down the best places for where to stay in Venice by sestieri, price, and feel of the neighborhood. We will tell you the pros and cons of each district and lay out the best places to stay. We want you to get an understanding of the unique feel and vibe each unique sestieri has to offer so you can make a decision that is best for your interests. There is something for everyone and we know there will be something for you too! This breakdown will help you get a feeling for which Venice hotel and neighborhood is best for you and your trip!

Where To Stay In Venice
Understanding The Venice Neighborhoods
Romanticized for generations, Venice is a dream destination situated in a lagoon in the Adriatic Sea in the north of Italy. From Shakespeare to Indiana Jones, the world has been awed by this incredibly unique city built right on the water. And no dought, seeing as you are looking for where to stay in Venice yourself, you are one of those people awed by this amazing and historic place. We are too! So when you're trying to decide which neighborhood is the right for you, just remember each one is AMAZING no matter which one you choose! After all, it is one of the top things to do in Italy for a reason!
Each sestieri in Venice–San Marco, San Polo, Cannaregio, Castello, Dorsoduro, and Santa Croce–has a unique flavor and flair and specific highlights that you will want to know about when choosing between places to stay in Venice. You might want to visit all of the neighborhoods during your trip to Venice, but deciding where to book your hotel is an important step in planning your trip.
Depending on your particular plans, needs, and desires for your trip, understanding the differences of what each district has to offer will really help you when narrowing down exactly which sestieri you want to stay in. Some of the neighborhoods, San Marco, for instance, is by far the most popular and touristy, while Cannaregio is best if you're traveling on a budget. But you really can't go wrong with your choice because each one of these districts has so much to offer. Besides, you'll definitely want to spend some time exploring the city and traveling between districts. Where else will you find amazing public transport on the water?
The Vaporetto boat is Venice's fantastic public transportation on the water, and is the number one transportation in Venice! You'll not only have lots of fun traveling around this way but also enjoy the dreamy sensation of living like a local. On the Canal Grande, Vaporetto line 1 stops at every station, making public transport easy and convenient to use. As you can already see, there really isn't a wrong way to go when deciding between places to stay in Venice!
San Marco Is The Most Popular And Touristy
San Marco is a beautiful town that captures all the idealistic imaginings of a trip to Venice! It's the neighborhood of Venice where iconic sights like St. Mark's Basilica, the Doge's Palace and the Bridge of Sighs are located. It's no wonder, then, that San Marco is known as the tourist heart of Venice. Choose a hotel in San Marco if you want to be in the heart of Venetian atmosphere, enjoy a more touristy setting and don't mind crowds! If you are looking for which sestieri to choose for a first-time trip, San Marco is probably the best option. This district will give you all the touristy options you can imagine, while being home to some of the most famed, iconic, and romantic sites in Europe!
Considering it's the most popular and touristy, expect there to be crowds of people, especially from March-October, and prepare to come with a big budget for anything and everything like food and gondola rides!
Upsides: It's the home to everything you ever dreamed about Venice. Some of the most iconic and gorgeous buildings are located in the sestiere of San Marco. You only have to visit this particular sestiere to feel like you've experienced Venice. It's a great choice for a first-time trip to Venice!
Downsides: Very expensive, plays up to tourists so everything costs more. Less of an authentic, local feel. Extremely busy and crowded, especially between March and October.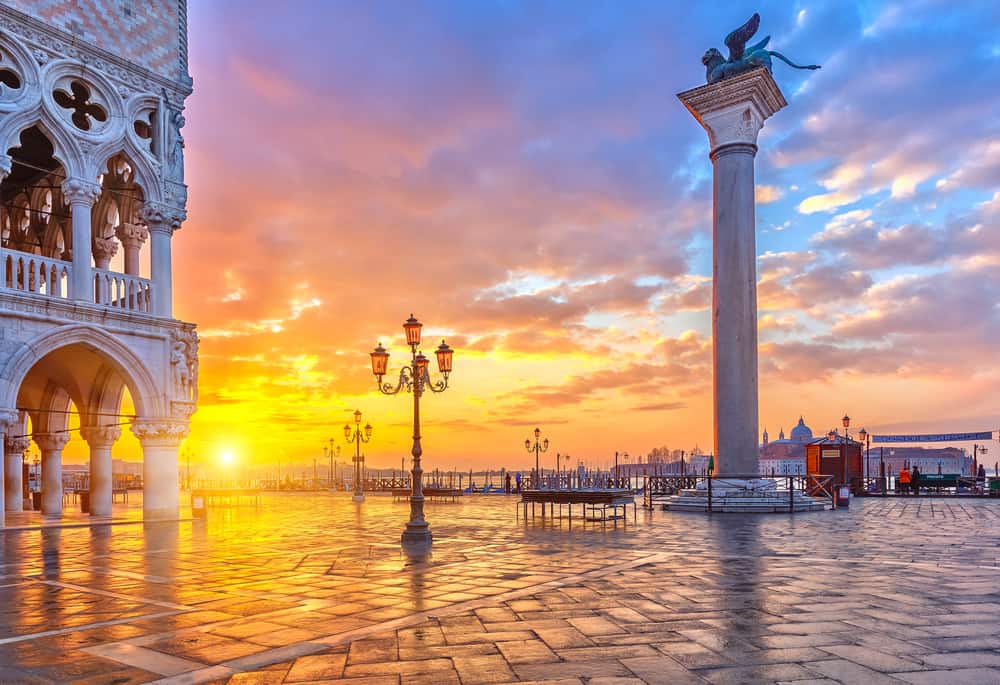 Best Hotels In San Marco
Affordable: Hotel Diana
If you're looking for a more affordable option in San Marco, Hotel Diana is a great choice! Lots of popular restaurants and shops are all around the hotel, Rialto Bridge is just a ten-minute walk away, and the hotel is only 150 from St. Mark's Square! The rooms come with air-conditioning, satellite TV, and free wifi. There is also a continental breakfast for guests to enjoy, And best of all, Hotel Diana is located in a beautiful 15th-century building!
Check Rates: Booking.com
Mid-Range: Hotel San Giorgio
Located in the heart of Venice, right between Rialto Bridge and St. Marks Square, Hotel San Giorgio is a luxurious and stunning place to choose. The lovely rooms are decorated in an 18th-century style, complete with Murano glass and marble furnishings, that will make you feel like you've dreamily stepped back in time! But don't worry, San Giorgio comes with modern conveniences and a delicious breakfast buffet!
Check Rates: Booking.com
Upscale: Residenza Nobile
If you aren't as worried about the price, Residenza Nobile is the perfect choice for you! Only 2,650 feet from Saint Mark's Square, and less than a five-minute walk from Palazzo Grassi Palace, Residenza Nobile offers air-conditioned rooms, flatscreen TVs, and even some rooms with views of Campo Santo Stefano Square. Conveniently, Marco Polo Internation Airport is only 12 miles away.
Check Rates: Booking.com
Very Popular: Hotel Danieli
Oh my goodness! Hotel Danieli is one of the best hotels in Venice and also one of the most popular! If you are looking for a truly unforgettable place to stay in San Marco, then splurge for this fantastic hotel. It is set right on the water and is steps away from the cathedral and all the best sites around. It spans 3 different buildings and the service is truly unmatched! The rooms are beautiful and many are overlooking the Venice canals.
Check Rates: Booking.com
San Polo Is A Great Choice For Families When Deciding Where To Stay In Venice
One of the oldest districts in Venice, San Polo is a beautiful and charming part of town. If your trip to Venice is a bit on the shorter side, you might want to consider staying in San Polo for its overall atmosphere, convenient iconic landmarks, and central locations. The Rialto Bridge may be the biggest highlight of the sestiere, but San Polo is also home to the Church of San Giacomo, which is possibly the oldest church in Venice. The Church of Santa Maria Gloriosa dei Frari, the Church of San Rocco, and the Campo San Polo are all amazing historical landmarks in San Polo.
Its central location makes San Polo a great neighborhood to pick for your stay, and particularly if you are traveling with kids. There is lots to and see and do just in San Polo alone, including enjoying views of the Grand Canal and the Rialto fruit and vegetable and fish markets.
Though it is slightly off the beaten path one might say, San Polo is definitely a very touristy sestiere and can get quite crowded, especially at popular locations like the street from Accademia to the Rialto Bridge. Another big draw to San Polo is that is it where some of the best restaurants in Venice are located.
Upsides: Amazing restaurants and markets. Great place for families. Centrally located. Lots of historic landmarks.

Downsides: Can get very touristy and crowded, especially in certain locations. You'll probably do lots of walking and need to really use public transport while staying in this sestiere.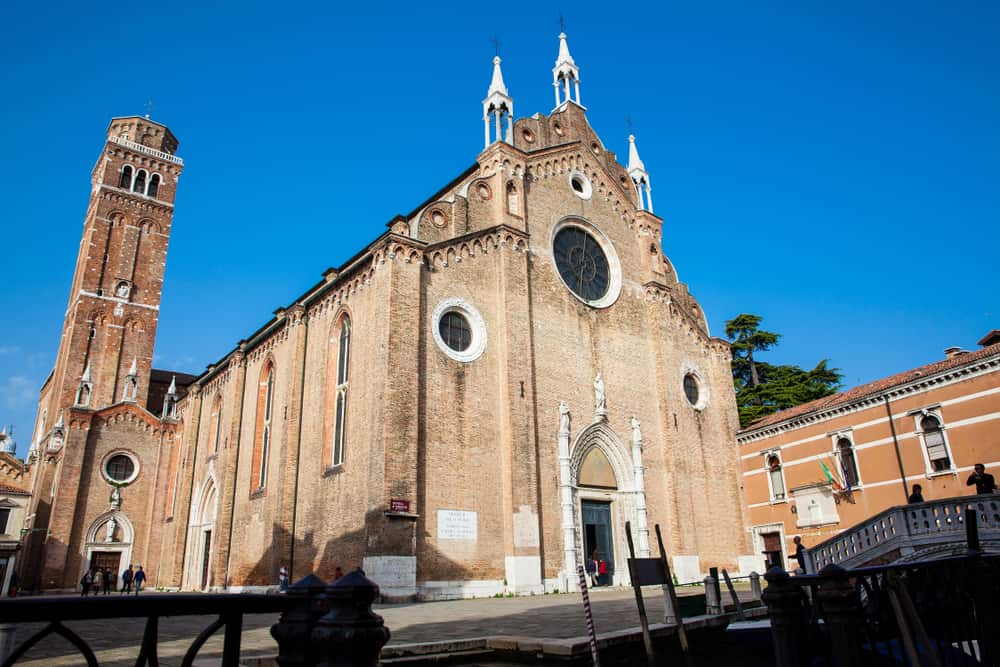 Best San Polo Hotels By Price
Affordable: San Polo Star
San Polo Star is an awesome choice of where to stay in San Polo, being within easy walking distance of lots of iconic sites, and has a very clean and new feel about it. All the rooms come with a desk a private bathroom, flatscreen TVs, air-conditioning, a closet, and some of the rooms even have a little seating area.
Check Rates: Booking.com
Mid-Range: Ca Francesca
Only a six-minute walk from Basilica dei Frari, Ca Francesca is a great choice if you're looking for a very comfortable and conveniently-located room. Other iconic landmarks are also within very close walking distance, such as St. Mark's Basilica, which is only a fifteen-minute walk. This apartment offers two bedrooms, a dining area, and a kitchen with a fridge and microwave.
Check Rates: Booking.com
Upscale: Cà Riva del Vin
If you would like something more than just a hotel room for your stay in San Polo, Cà Riva del Vin is an incredible option! Located close to Ca' d'Oro, this apartment offers beautiful views of the city, is air-conditioned, and comes with a stovetop, microwave, washing machine, and free wifi. It is a particularly good spot for enjoying cooking your own meals that you bought fresh at one of the local markets!
Check Rates: Booking.com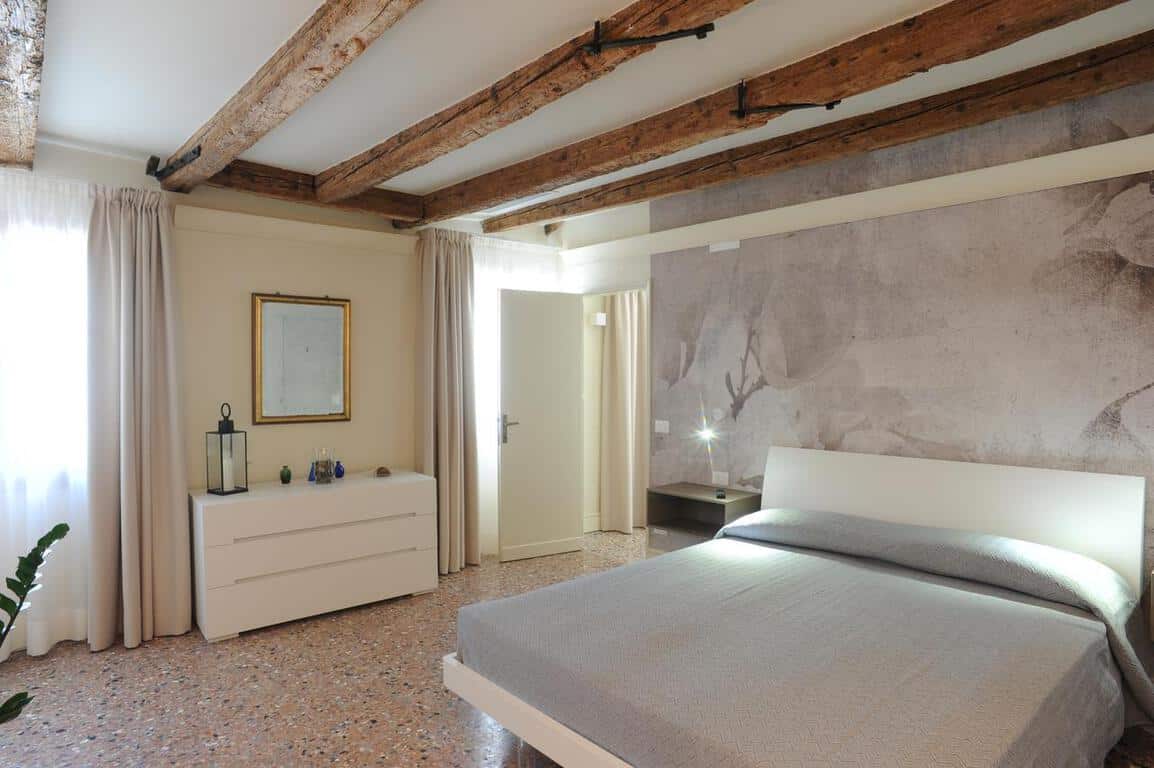 Cannaregio Is The Perfect Spot To Stay For A More Local Feel
If you are looking for where to stay in Venice that is a little less expensive and has a more local feel, then the sestiere of Cannaregio is the place for you! It is the neighborhood of Venice where most of the locals actually live and the home of Venice's Jewish Ghetto. If you visit during December, you might get to experience Cannaregio's incredible Hanukkah celebrations.
There are wonderful sights to experience in Cannaregio, including the Ghetto, Ca d'Oro, an amazing Venetian palace, and the Church of Madonna dell'Orto, which houses some of the works of the famous painter Tintoretto and is his burial place.
Cannaregio is definitely a great choice among the places to stay in Venice if you are looking for somewhere with a quieter, more local atmosphere, and especially if you are on a budget! You can find some great places to stay that are quite a bit cheaper than in other sestieri.
Upsides: Less crowded and touristy than other districts in Venice. Has a very local Venetian feel. It is a cheaper place to stay.
Downsides: A bit of a further walk to some of the most famous spots in Venice. A less iconic, touristy area. Expect to do a lot of walking and take public transport to get to some of the more popular sights.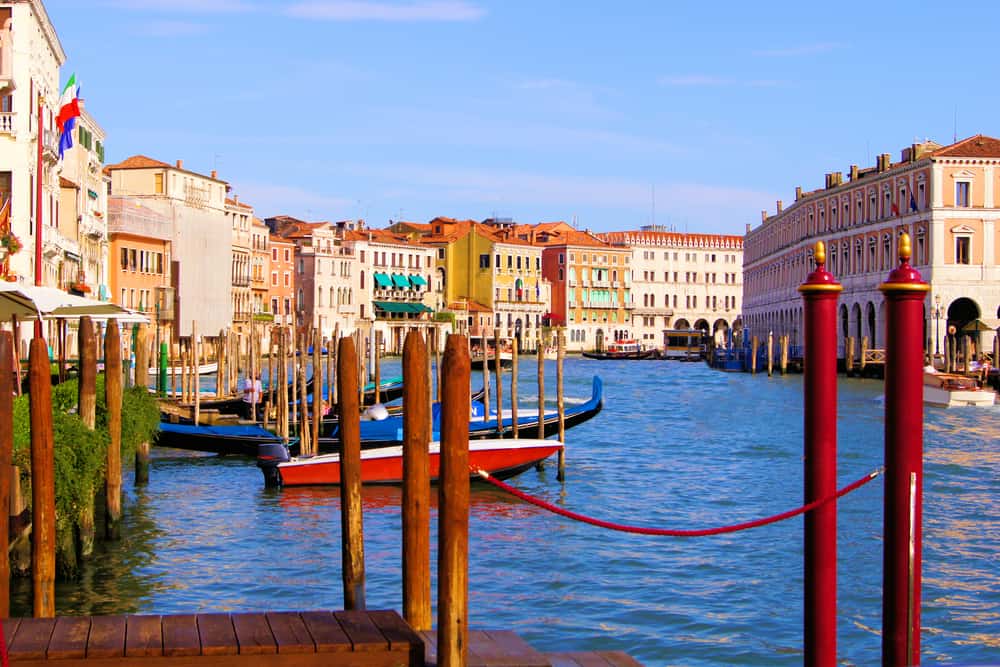 Best Hotels In Cannaregio
Affordable: Antica Raffineria
Located in the Jewish Ghetto of Venice, Antica Raffineria is a charming place to stay. The building is a refurbished sugar refinery, which makes your stay here feel very historical. The rooms all come with air-conditioning, private bathrooms, and a TV. There is a little cafe nearby that provides croissants for breakfast.
Check Rates: Booking.com
Mid-Range: Hotel Agli Artisti
A fabulous location with the Venice Santa Lucia Sation only 659 feet away, the Agli Artisti is a very cozy and convenient place to stay in Cannaregio. Other sightseeing locations, such as the Jewish Ghetto, are just a short walk away. The rooms are comfortable, have wifi access, and some come with a balcony! Be careful when booking your room, because some of the rooms have shared bathrooms. Others, though, come with private bathrooms.
Check Rates: Booking.com
Upscale: Alla Vite Dorata
Located in the Santi Apostoli neighborhood, Alla Vite Dorata is a gorgeous Bed and Breakfast with some of the prettiest rooms you ever saw! Original wood-beamed ceilings and bright, lovely bedding come in every room, and some of them even have a four-poster bed! A continental breakfast buffet is included and served in a beautiful dining room that offers a view of the canal. The B&B is only a ten-minute walk from Rialto Bridge.
Check Rates: Booking.com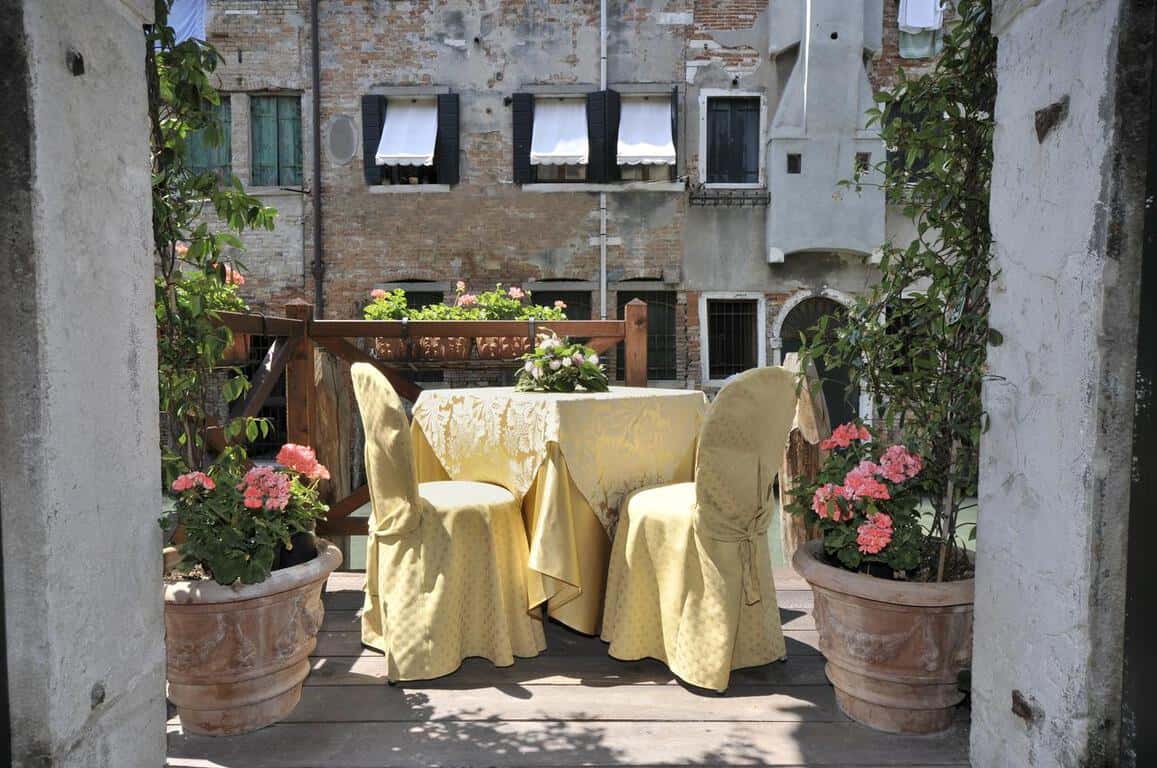 Castello Is Unique And Authentic
The largest sestiere in Venice, Castello is another great choice if you are looking for a district that if a little off the beaten path. While certain sections of the sestiere, such as the western side near St. Mark's, are very touristy, most the neighborhood has much quieter, local feel about it. It's a fantastic choice if you really want that authentic Venetian vibe.
One of the most unique things about Castello is that it grew around a naval dockyard, and the Arsenale was once the largest shipyard in Venice. Particularly if you enjoy history, this will be a huge highlight of your trip, making Castello the perfect place for you. Among the Arsenale, there are beautiful landmarks to see like Basilica of Santi Giovanni Bellini and the Santa Maria Formosa church and campo. Like Cannaregio, you will also find better pricing for your stay, as it is a less touristy and more local neighborhood of Venice.
Upsides: Cheaper than other districts. It has a much more local, authentic feel. The historic Arsensale is located here.
Downsides: A bit of distance to some of the more popular, touristy sights, not as much the iconic Venetian image you see in the movies.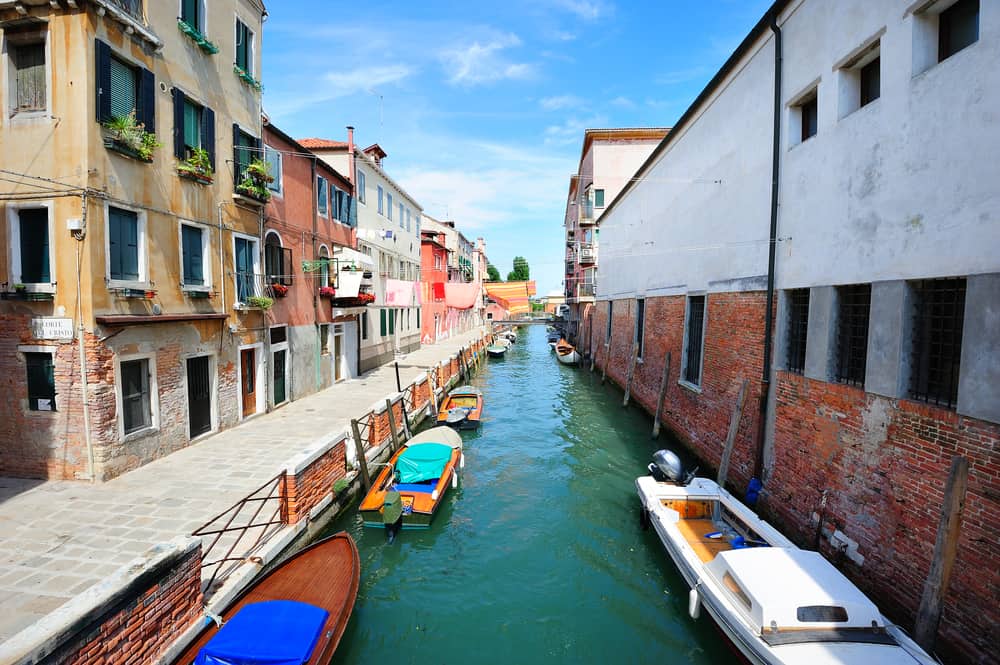 Best Hotels In Castello
Affordable: Locanda Ca'Formosa
Located in a 15th-century building, Locanda Ca'Formosa is a charming hotel with each room uniquely designed with antique furnishings and comes with air-conditioning. There is a breakfast buffet served every morning. This is a particularly nice location for being in a quieter section of town. While most of the rooms have private bathrooms, make sure to check when booking your stay. The internet is accessed through free terminals in the lobby.
Check Rates: Booking.com
Mid-Range: Hotel Locanda Canal
Hotel Locanda Canal is a perfect choice of Venice accommodations if you are looking for a super convenient location. The hotel is inside a building from the 18th-century and located just behind St. Mark's Square! All the rooms come with lovely, old-fashioned furniture, free internet, and even hydromassage showers! There's a very lovely breakfast buffet available.
Check Rates: Booking.com
Upscale: San Lio Tourist House
A reconstructed building from the 14th-century, San Lio Tourist House is a gorgeous choice among the places to stay in Venice. It's conveniently located very close to both St. Mark's Square and the Rialto Bridge, and some of the richly-decorated rooms offer a view of the San Lio Church and the square. The rooms come with free wifi, air-conditioning, and private bathrooms.
Check Rates: Booking.com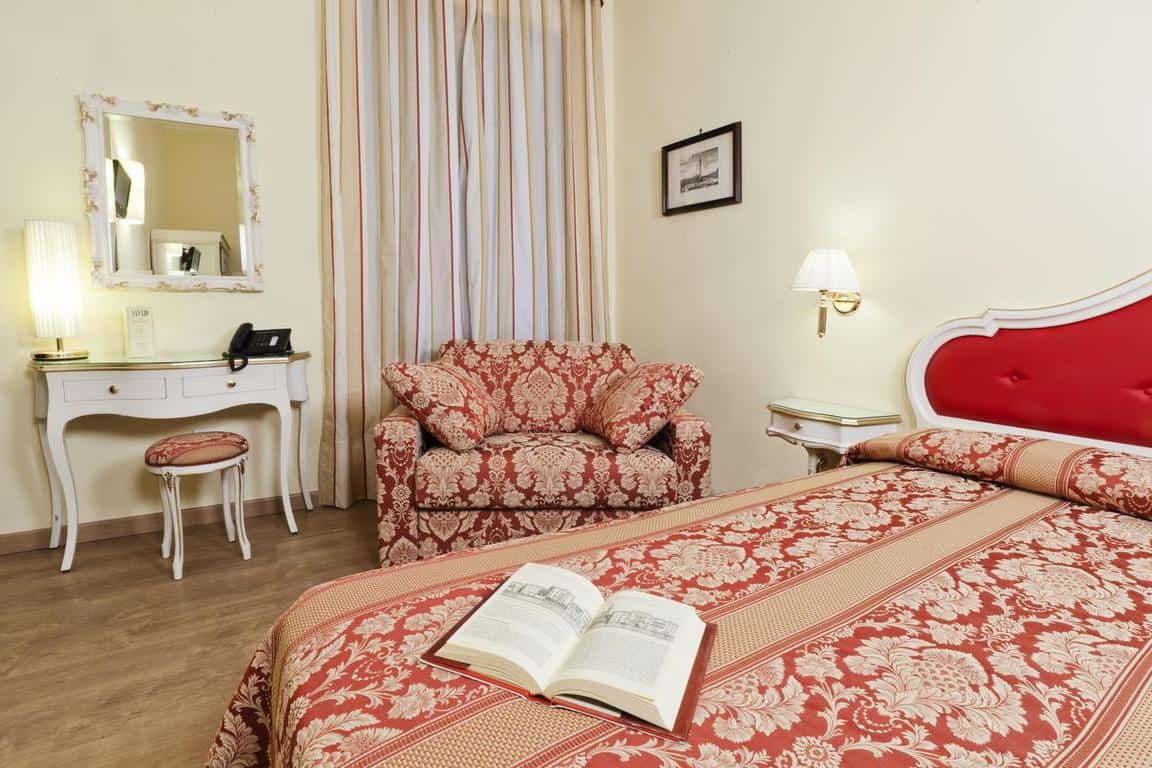 Dorsoduro Is Where to Stay In Venice For Art-Lovers
If you're looking for where to stay in Venice for art-lovers, Dorsoduro is the district for you! It is here in Dorsoduro that the Accademia, Venice's most famous art gallery, is located. The Church of San Sebastiano holds paintings by Veronese, Tintoretto, and Titian, while the Peggy Guggenhiem Collection has famed collections of modern art by artists such as Dali, Duchamp, Picasso, and Mondrian.
But Dorsoduro has lots more to offer than just wonderful art collections. It is a centrally-located, yet vibrant neighborhood, with a laid-back atmosphere in the daytime. At night, however, the district is probably the best for a happening nightlife. If you're looking for the nightlife atmosphere, make sure to check out the Campo Margherita, and if you want to stay somewhere a little quieter and charming, stay in the area south of it!
Another fun part about Dorsoduro is that the island of Giudecca is included in the Dorsoduro sestiere.
Upsides: It has Venice's best nightlife and most famous art gallery. It still has a local, authentic feel. It is near the Grand Canal.
Downsides: Not super close to the Rialto Bridge and St. Mark's Basilica. But really not a lot of downsides!

Best Hotels In Dorsoduro
Affordable: Appartamenti Veneziani
Just one look at the adorable furnishings and decorations of Appartamenti Veneziani will make you want to stay in this super cute apartment during your time in Venice. There are several different Appartamenti Veneziani units around central Venice, and the one near the Peggy Guggenheim Museum will be a great choice of Venice accommodations if you want to be closer to some of the art. The apartments come with different features, such as kitchens with microwaves and coffee-makers or washing machines, so make sure you read the details of your apartment before booking to get what you need!
Check Rates: Booking.com
Mid-Range: Pensione Seguso
A very charming and old-fashioned building, Pensione Seguso is just 650-feet from a Vaporetto (water bus) stop, making it a very convenient location. All the rooms are charming, and most of them have a lovely view of the canal and a balcony. There is free wifi access throughout the building, and buffet breakfast included.
Check Rates: Booking.com
Luxury: Apartment Mymagic Venice
With a beautiful canal view, Mymagic Venice is a gorgeous apartment that will make your trip to Venice extra luxurious. You can make your own meals in your own private kitchen that comes with an oven, dishwasher, and microwave. Only 350 feet from Campo Santa Margherita, Mymagic Venice is the perfect place to stay if you want to be very close to Dorsoduro's nightlife center.
Check Rates: Booking.com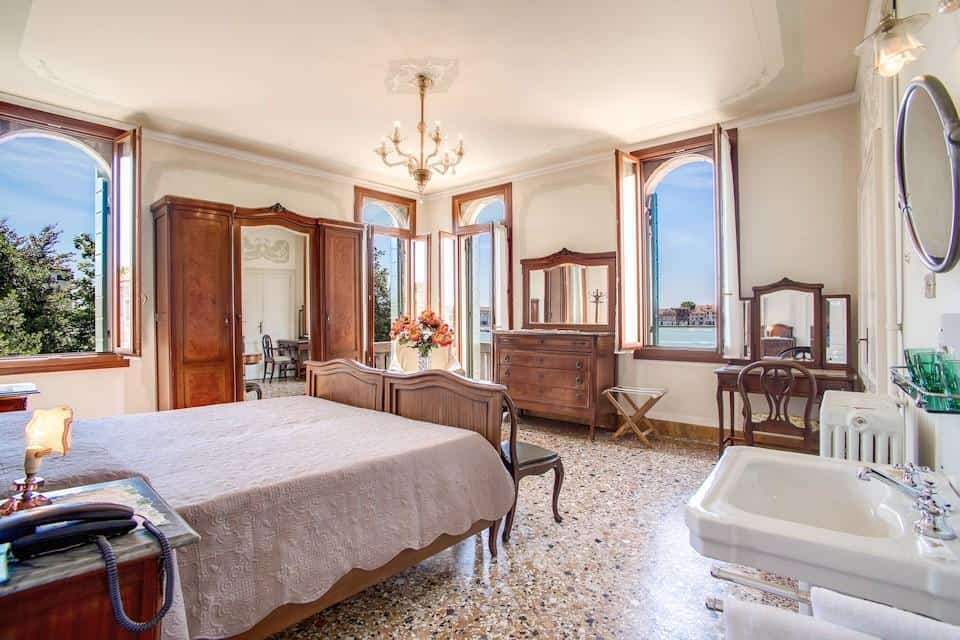 Santa Croce Is The Transportation Hub of Venice
Santa Croce may be the least touristy sestiere in Venice, but that does not mean it isn't a great place to stay! Like the other Venice sestieri, it's full of Venetian charm and beautiful buildings, but since it's less hyped than towns like San Marco or San Polo, it's far less crowded and less expensive! Considering that Santa Croce is the transportation hub of Venice, it's also a very convenient district to stay in!
Though it might not be the tourist center of Venice, there are lovely historic sights to see in Santa Croce. Both the Church of San Giacomo dell'Orio and the Fondaco dei Turchi, a building that was once a one-building ghetto for the Ottoman Turkish population in Venice. Now, it houses the Museum of Natural History, and is a fascinating place to visit.
Santa Croce is an ideal place if you are traveling in a rental car! There are large parking garages, which is where you will be leaving your car during your stay in Venice, and the Piazzale Roma (the bus station) and lots of ferry terminals are in Santa Croce too, making it a very convenient place to stay for easy transportation.
Upsides: Cheaper than San Marco and other sestieri in Venice. Less touristy. Less crowded beaches. A transportation hub.
Downsides: A little far away from some of the more iconic parts of Venice. You'll have to walk a lot to reach some fo the other sestieri, or take public transport.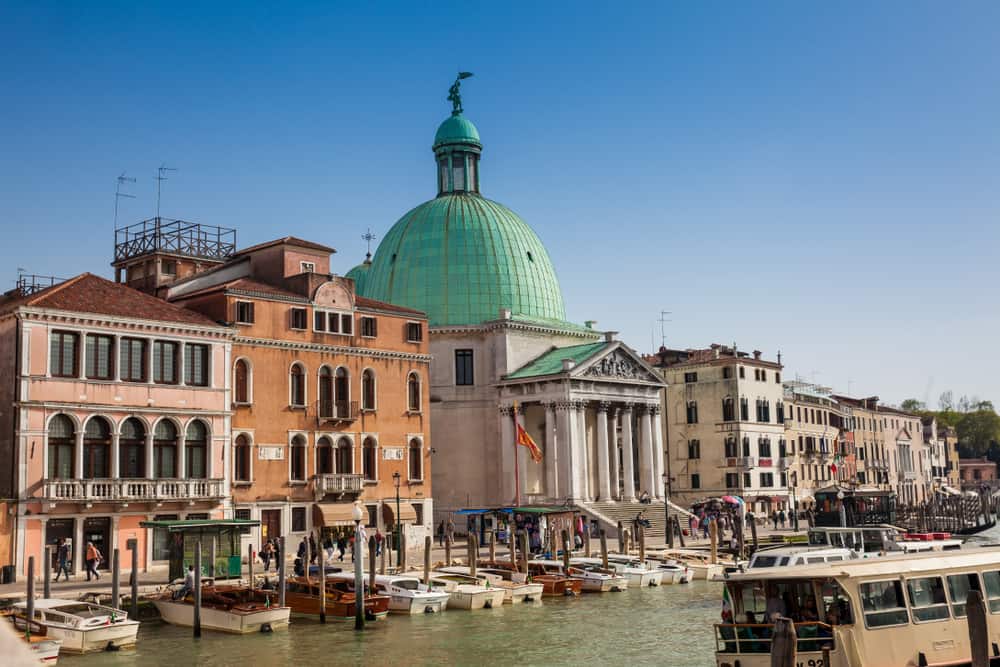 Best Hotels In Santa Croce
Affordable: B&B Venice
Only an 8-minute walk from the Rialto Bridge, B&B Venice is a cute and cozy place to stay in Santa Croce. There are rooms with private bathrooms to rent, and also apartments that come with a kitchen and living room, so there are lots of options depending on your needs. For an extra charge, you can request prepackaged breakfast foods and hot drinks, which is helpful if you are in a hurry to get out the door and begin your explorations of the day!
Check Rates: Booking.com
Mid-Range: Hotel Al Duca di Venezia
With beautiful and ornate rooms, Hotel Al Duca di Venezia is a fantastic choice of Venice accommodations! The rooms come with private bathrooms, antique furnishings, free wifi, and the continental breakfast has vegetarian and gluten-free options. Conveniently, the hotel is located right next to the Museum of Natural History, and the Santa Lucia Train station is only a five-minute walk away.
Check Rates: Booking.com
Luxury: Palazzo Venart Luxury Hotel
It may be pricy, but it will be the luxurious Venetian dream experience! Overlooking the Grand Canal, Palazzo Venart Luxury Hotel is housed in a 16th-century building, complete with private marble bathrooms and a courtyard with a canal view. Thre is an amazing restaurant on-site, where you can enjoy exclusive dishes and not even have to leave the comfort of your hotel for a lovely Venetian dining experience.
Check Rates: Booking.com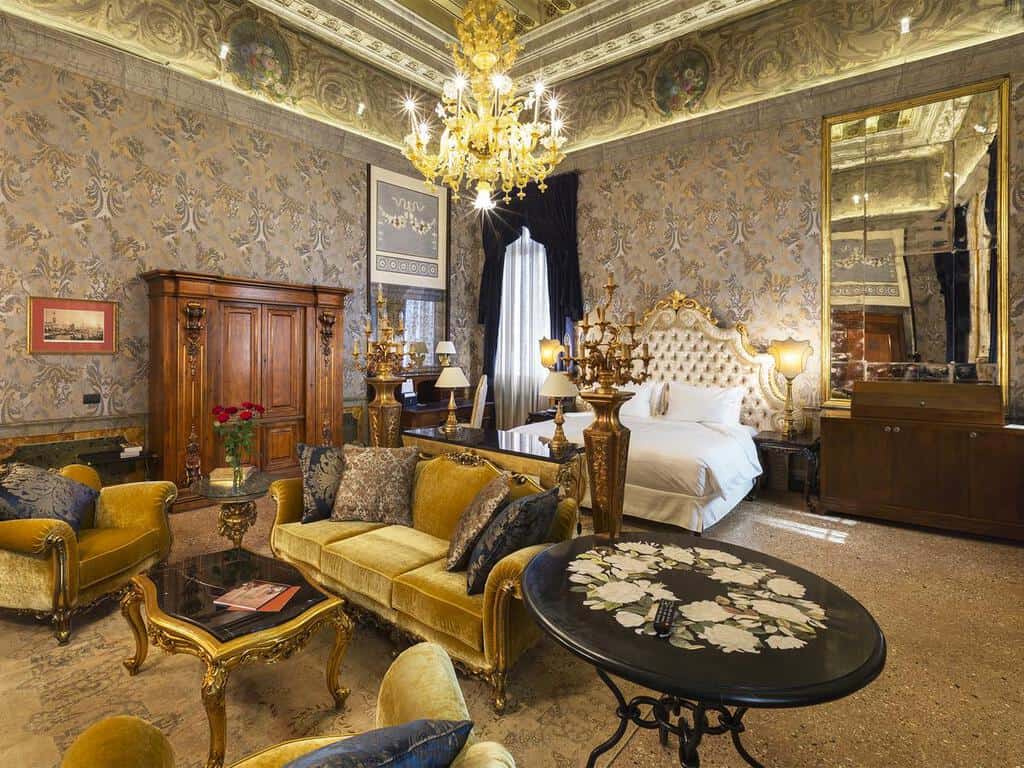 So there you have it! There are so many places to stay in Venice and we know you will find a sestieri that speaks to you! From affordable apartments to luxurious, historic buildings, these Venice accommodations will provide you with tons of options so you can plan your trip with ease. We can't wait to hear your thoughts on visiting Venice. It is an absolutely unforgettable place to visit. We hope this article has helped you decide where to stay in Venice and that you have an amazing trip!
Disclaimer: This post may contain affiliate links. All this means is that we will make a small [super small!] commission at absolutely no cost to you! This helps us be able to continue to run Follow Me Away and we thank you for your help!