If you are looking for where to stay in Milan, you have come to the right place! Milan is located in northern Italy, in the Lombardy region, just south of the Swiss border. A lovely Italian climate, the summers here are warm and humid, and the winters cold and foggy. Rain is possible year-round, but that doesn't take away from any of Milan's historic charm and overall atmosphere. Centro Storico, Navigli, Citta Studi, Brera, Fiera, and San Siro are some of the most popular and beautiful areas in Milan, and this article will be just what you need to decide where to stay in Milan that is perfect for you!
There are so many options for Milan hotels, so planning can get overwhelming, but we are here to make the process easy for you. This is one of the most beautiful parts of Italy and a wonderfully historic place to visit. Any one of these gorgeous areas really is a perfect option for where to stay in Milan and you won't be disappointed!
Below, we will break down the best places for where to stay in Milan by area, price, and the overall feel of the area. We will tell you the pros and cons of each area and lay out the best places to stay. We want you to get an understanding of the unique feel and vibe each section of Milan has to offer so you can make a decision that is best for your interests. There is something for everyone and we know there will be something for you too! This breakdown will help you get a feeling for which Milan hotel and area is best for you and your trip!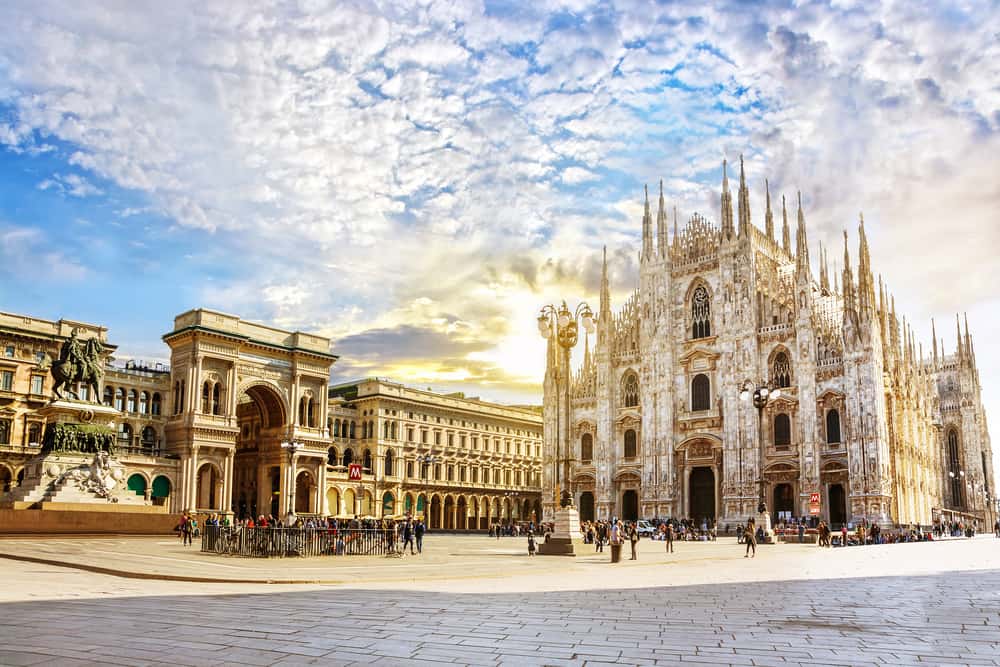 Where To Stay In Milan
Understanding Milan
If you aren't familiar, Milan is a dream destination near the northern border of Italy, just south of Switzerland Take a look at a photo of any one of the gorgeous sections of Milan and you'll think it's from a postcard! When you're trying to decide which area is the right for you, just remember each one is AMAZING no matter your choice of where to stay in Milan!
Whether you are planning your 10 days in Italy, have a bit more time and are spending 2 weeks in Italy, or renting a car and doing an Italy road trip, our itineraries all end in Milan so choosing where to stay by area is very important!
All the areas of Milan have a unique flavor and flair, but we've singled out five stunning favorites for you: Centro Storico, Navigli, Citta Studi, Brera, and Fiera/San Siro. You might want to visit all five of these areas during your trip to Milan, but we recommend choosing 1-2 areas as your home base. Most of the sections are close together and thus make traveling between them a fairly easy and fun part of your trip to Milan.
If you are renting a car in Italy, please be aware that finding parking can be a bit crazy and expensive. And unless you're a driving enthusiast, you should be warned that there are specific driving laws in Milan that might get you in trouble if you're not very careful. The Congestion Charge area (Area C) on Monday, Tuesday, Wednesday, Thursday and Friday at varying times, limits access to Milan's city center. To enter Area C, drivers must purchase a ticket in advance for 5 euros.
We recommend traveling by bus, Metro, and tram while staying in Milan. The public transportation system works like clockwork and, the Metro running on three main lines, and the tram and bus connections fill in where the Metro leaves off. We're not saying you shouldn't drive, but that if you do, make sure you are able to learn the rules of the road quickly. There are always taxi options available, and for days with nice weather, biking around Milan can be a lot of fun.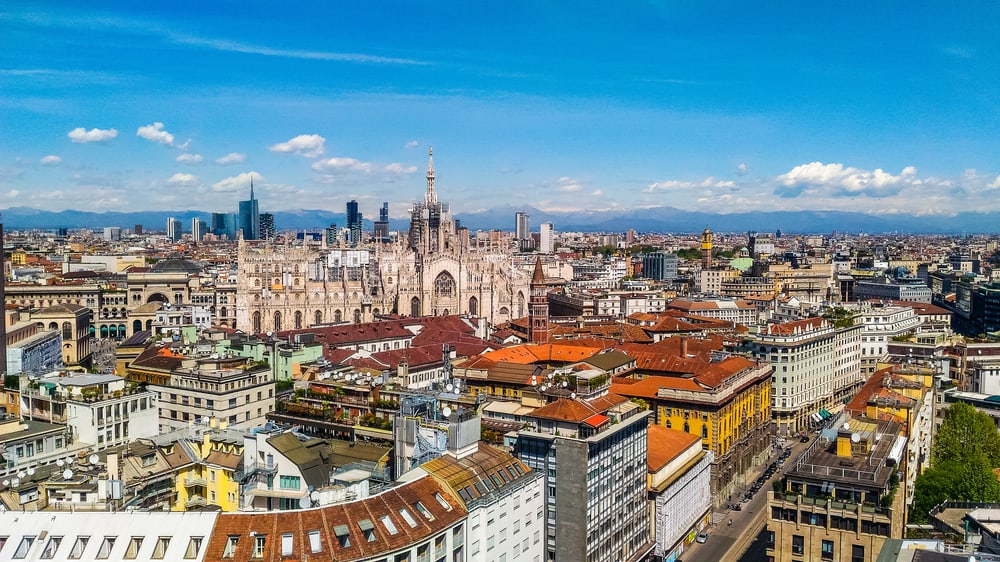 Centro Storico Is All Around Perfect
The historic center of the city of Milan, the Centro Storico is encompassed within the area once defined by the medieval city walls. Today, it's encompassed by the streets that form the Corso Navigli, which are actually quite distinguishable on the map of the city. That fact alone grabs your attention with proof of the city's rich history. Centro Storico also happens to be the zone of Milan that contains the city's most famous tourist attractions and landmarks, including the Duomo (a cathedral), the shopping arcade known as the Galleria Vittorio Emmanuelle, and the Teatro alla Scala opera house.
One of the great things about the Centro Storico is that it's easily walkable, being rather compact in size. Centro Storico is a great choice of where to stay in Milan for many reasons, as you can probably already tell! This section of the city is wonderfully full of historic monuments, designer boutiques, showrooms, restaurants, and cafes. And the best part is that you will find almost all of these amazing things within such a close distance of one another.
Upsides: Centro Storico is at the very heart of Milan. Most of the iconic attractions are located in this section. Everything is within easy walking distance.
Downsides: A very touristy part of Milan, so expect lots of crowds. Things are a bit more expensive.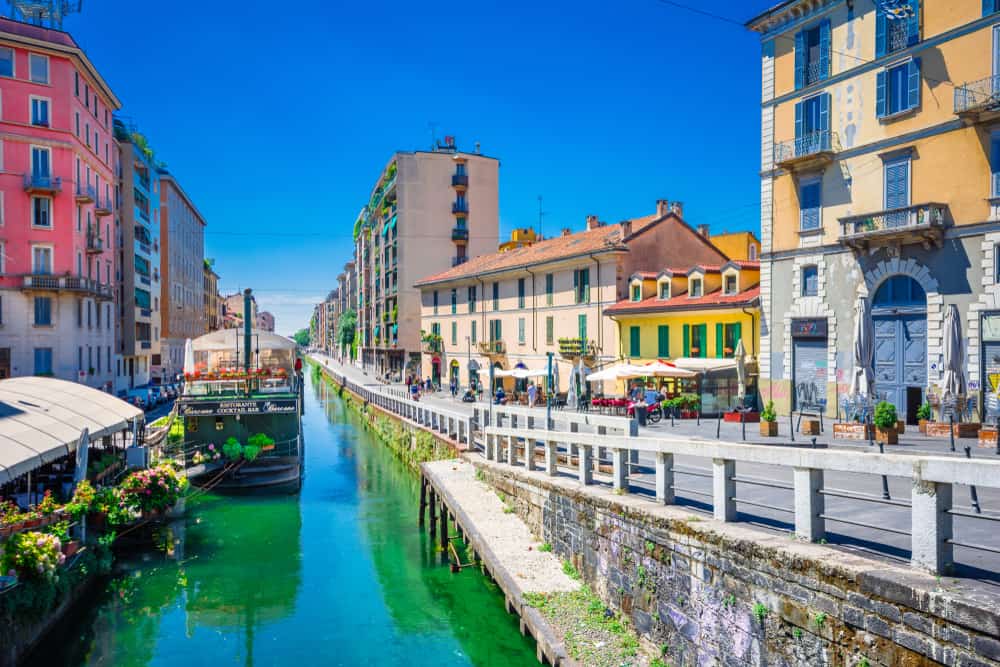 Best Hotels In Centro Storico
Mid-Range: Hotel Brunelleschi
Located only 150 feet from Missori Metro Station and a 2-minute walk from Milan's Cathedral, Hotel Brunelleschi is a lovely hotel with lots of services and is so conveniently located near Milan's best attractions. Brunelleschi Hotel offers a gym, a free internet point in the lobby, a lounge bar with cocktails, and a restaurant. The rooms come with a mini-bar, tv, and private bathroom.
Check Rates: Booking.com
Upscale: Duomo Rooms
Located in the historical city center of Milan, only 1,000 feet away from the cathedral, Duomo Rooms is a luxurious and modern place to stay while surrounded by ancient history. The rooms come with private bathrooms, mini-bar, flatscreen tv, and toiletries that include free slippers! You can enjoy an Italian breakfast served each morning and dine on yummy croissants and sip amazing cappuccinos! Duoro Rooms is also conveniently near the Missori Metro stop and from La Scala Theater, making it a very perfect choice of where to stay in Milan.
Check Rates: Booking.com
Upscale: Suite Milano Duomo
The beautiful Suite Milano Duomo is located only 500 feet from Milan's Cathedral, making it an ideal spot for epic views and easy access to historic landmarks. The rooms have designer bathrooms and showers, free wifi, and air conditioning. There are also apartment options available that come with a balcony and kitchenette. Suite Milan Duomo is just 150 feet from the Missori Metro Station and just a ten-minute walk from Via Montenapoleone and La Scala Opera House.
Check Rates: Booking.com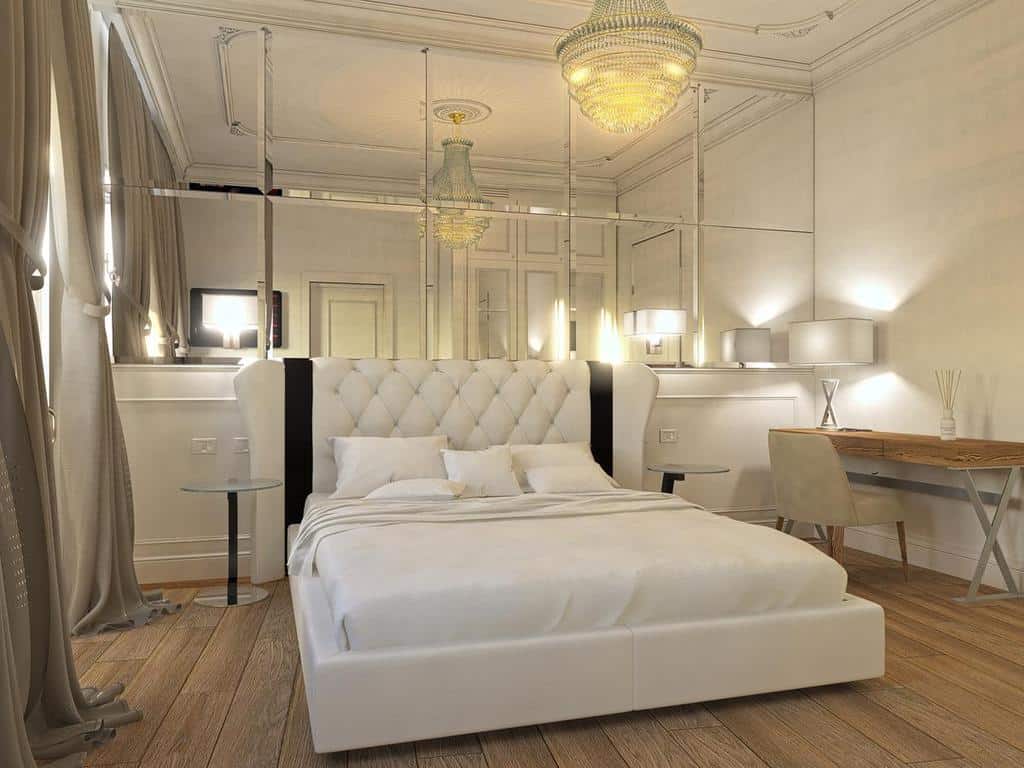 Navigli Is The Section Of Milan For Food And Nightlife
South of Centro Storico is the lovely section of Milan known as the Navigli District in Porta Genova. At the heart of Navigli is the Naviglio Grande Canal, the oldest canal in Milan, which consequentially gives the Navigli area its name. It was built between 1177 and 1257, is more than 50 kilometers long, and used to be used primarily for transporting goods like marble blocks, which, of course, were used to build the amazing buildings in Milan. During the summer, you can take a boat tour down the canal for amazing views of the city and a fun and unique experience.
Not only is the canal fascinating and historic, but today it is lined with restaurants, bars, and shops! The entire area of Navigli is full of charming and unique boutiques, galleries, restaurants, and cafes. You don't have to ride a canal boat to explore this amazing section of Milan, and the city center is within a fairly easy walking distance if you like to walk! Or there are always public transportation options. There are fantastic restaurants with amazing Italian cuisine in Navigli, and if you are really excited about the food experience during your stay in Milan, Navigli is a great choice! And if you're looking for a good option of where to stay in Milan for the nightlife, Navigli is a great choice for you!
Upsides: Lots of amazing restaurants. Great food and shop options. The canal offers a unique and fun experience. Great nightlife.

Downsides: Very crowded, especially at mealtimes. The boat tours aren't super interesting if you don't like history. Not as much to do except for the nightlife.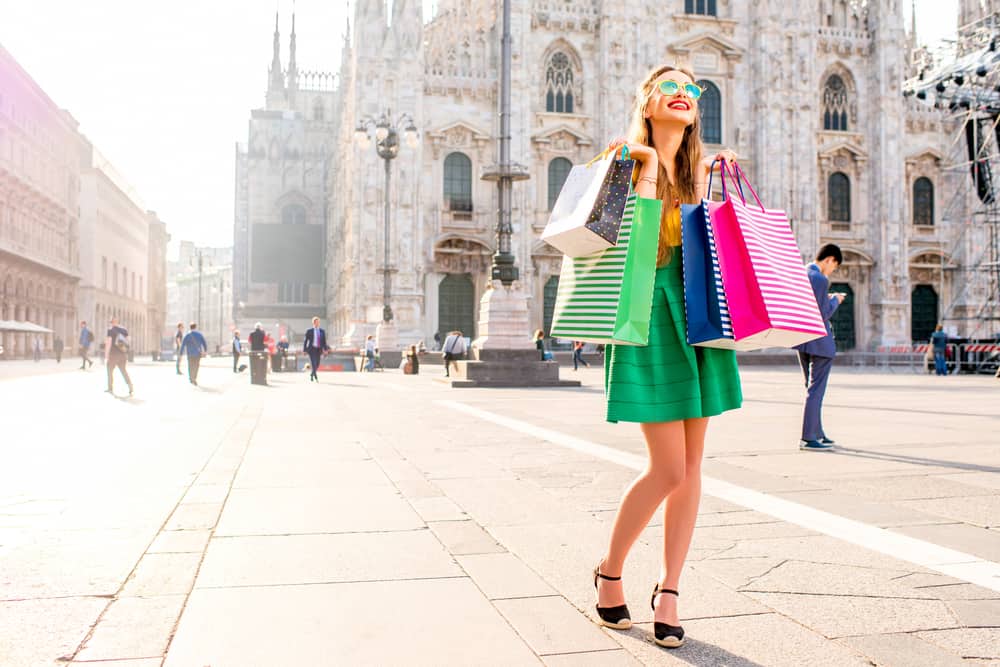 Best Navigli Hotels By Price
Affordable: Navigli House
A fifteen-minute walk from Porta Genova Metro Station and with a bus stop right by the property, Navigli House is a great and a bit more of an affordable choice of where to stay in Milan. The rooms all come with flatscreen TVs, a kettle, a private bathroom, and wifi. There is a shared kitchen where you can find coffee, water, and even fruit available.
Check Rates: Booking.com
Mid-Range: Art Hotel Navigli
The lovely Art Hotel Navigli offers rooms with air-conditioning, a tv, and some rooms even come with private balconies, which provide extra charm to your stay in Navigli! There is a collection of modern art and sculptures in the Art Hotel, which you might have already guessed from the name. An American-style buffet breakfast is offered, there is a terrace and a gym with a Turkish bath on the top floor. The Porta Genova Metro Station is only an easy five-minute walk away from the Art Hotel.
Check Rates: Booking.com
Upscale: B&B Fiori di Grano
This beautiful B&B offers rooms with a garden view, country-style decor, and all the rooms are en suite. You will be provided with a kettle, a fridge, a toaster, a coffee machine, and microwave in your own private breakfast corner. Fiori di Grano not only is a charming B&B to spend your time in Navigli in but one conveniently located only a five-minute walk away from the canal. It is surrounded by all the shops, restaurants and bars, which make it an especially good choice of where to stay in Milan if you're here for quick access to Navigli's nightlife!
Check Rates: Booking.com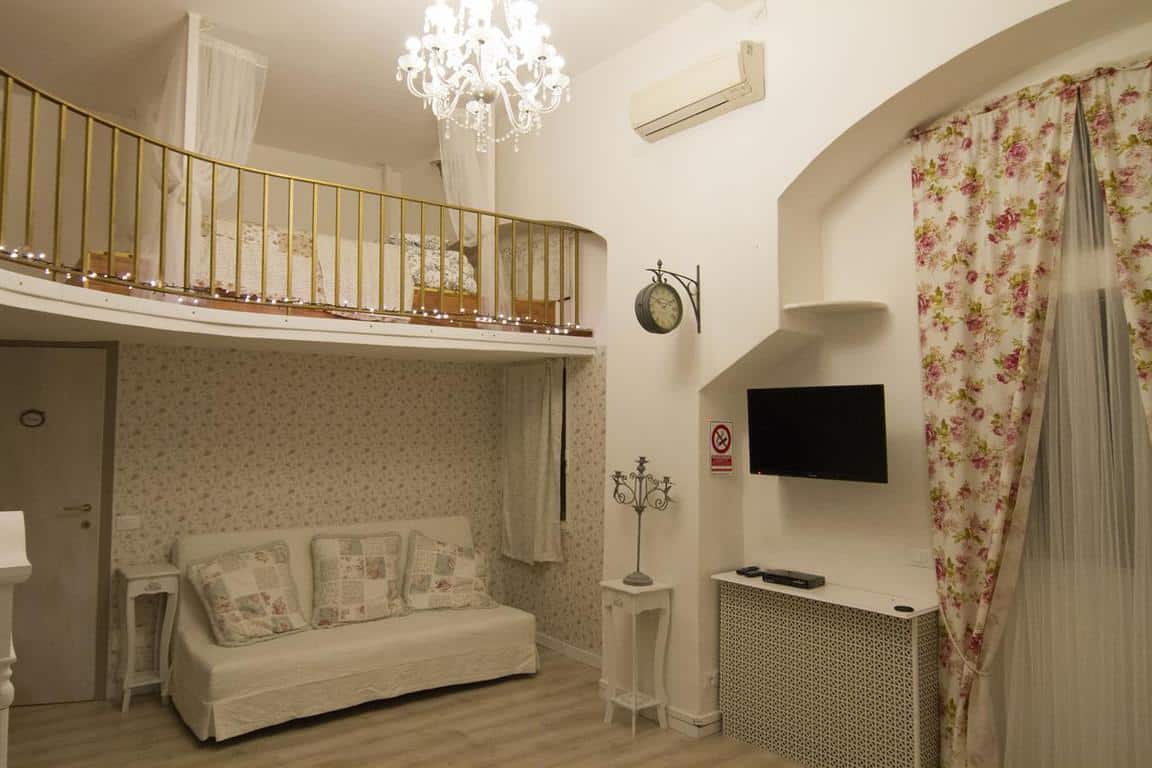 Citta Studi Is A Great Option For A Better Price
If you are looking for where to stay in Milan on a budget, Citta Studi (which literally means "city of the studies") is a great district to choose. Located on the eastern side of Milan in what is known as Zone 3, Citta Studi is the administrative section of the city. Politecnico technical university and other scientific branches of the University of Milan are located in this zone, as well as a few well-known hospitals.
As you can see, Citta Studi is not the top tourist section of Milan, but because of that, you can find Milan accommodation for better prices. If you enjoy walking, you can still get to a lot of the more popular sights, or use the great public transportation system to take you into the city center and other Milan districts. There are still fun things to do and see in Citta Studi! The Politecnico di Milano is a gorgeous campus and building, the campus being a lovely place to take a walk. And there are always amazing Italian dining options everywhere in Milan, and Citta Studi is no different!
Upsides: Much cheaper than other sections of Milan. A great place to stay on a budget. Less touristy and crowded.downsides
Downsides: A bit of a distance from the city center. You'll have a long walk to get to the city center, such as the Milan Cathedral, or have to take public transport. Less touristy options nearby.

Best Hotels In Citta Studi
Affordable: Albergo Leonardo Da Vinci
Rooms at the Leonardo Da Vinci offer free wifi and flatscreen TVs, private bathrooms, and toiletries. There is a snack bar and a shared kettle and tea and coffee offered, as well as an Italian breakfast and vending machines. The hotel is just over 1,000 feet from the Piola Metro, which links to Milano Centrale Train Station. Only, 1,600 feet from the University and Corso Buenos Aires shopping area, the Leonardo Da Vinci is a convenient and affordable option of where to stay in Milan!
Check Rates: Booking.com
Mid-Range: BB Hotels Aparthotel Citta Studi
Just a five-minute walk from Piola Metro Station, and located near the Politecnico University, BB Hotels Residenza Citta Studi is a great Milan accommodation choice! The apartments all have air conditioning, free wifi, wooden floors, and come with a kitchen and bathroom, with free toiletries. The BB Hotel is very close to locations such as the Piazzo Leonardo Da Vinci and public transport options.
Check Rates: Booking.com
Upscale: Don Carlos Apartment
A lovely apartment complete with two bedrooms, two bathrooms, and a terrace, Don Carlos is the best place to stay in Milan if you're traveling with a group or family. There is a patio with awesome views of the city, a fully equipped kitchen, a dining area, air conditioning, satellite TV, and free wifi. It's the perfect place to relax and feel at home while on your Milan trip. And the property is only three miles from Galleria Vittorio Emanuele!
Check Rates: Booking.com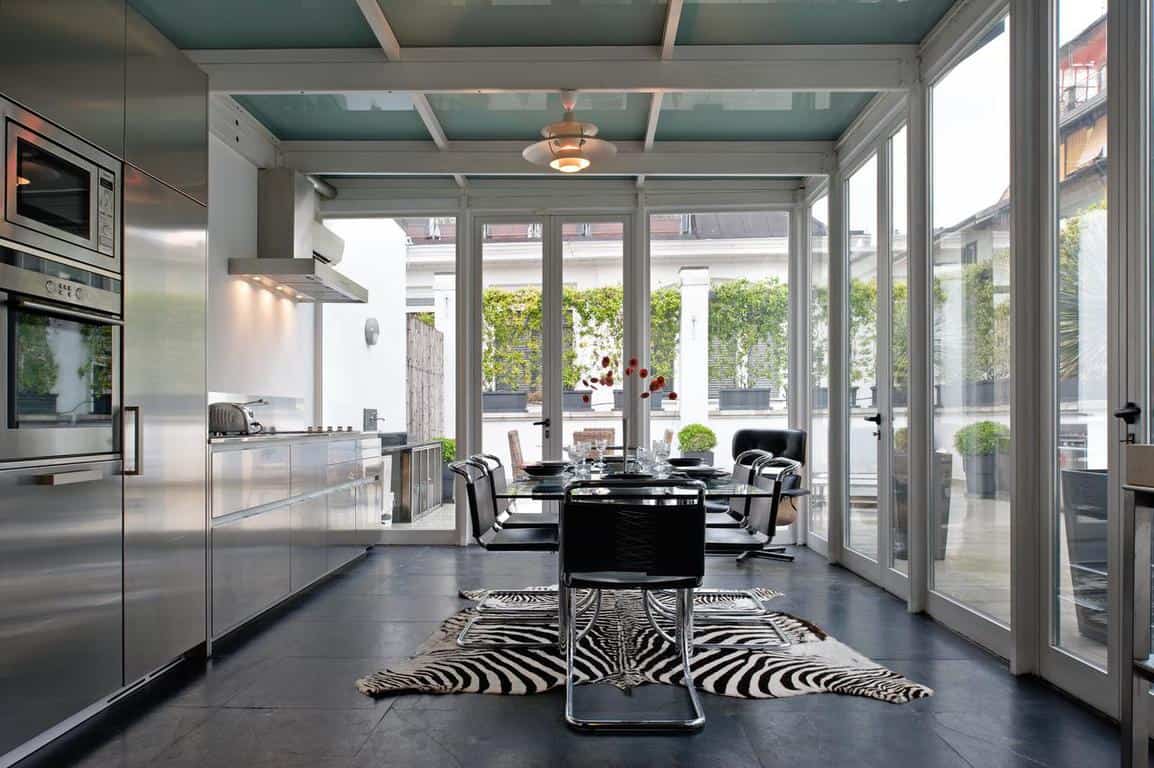 Brera Is Charming And Unique
Not far from the Duomo and still centrally located in the Citta Studi district of Milan, Brera might be considered the artistic capital of the city. It is a lovely, unique, and charming district of Milan, rich in ancient history and modern enjoyments. Like everywhere in Milan, you will find an amazing mix of antique buildings, amazing restaurants, and luxury boutiques. Brera is a fantastic choice of where to stay in Milan for the central location and individualistic charm.
The streets of Breara make for lovely walks, where you can enjoy admiring the ancient architecture as well as charming little art stories and artesian workshops. And consider Brera is really the artistic capital, it is here you will the Accademia di Belle Arti, which is home to the famous art gallery the Pinacoteca di Brera, the national library or Biblioteca Nazionale Braidense, the Museo Astronomico or Astronomical Museum, and the Giardio Botanico or Botanical gardens.
The Brera is also a classy, high-end neighborhood, which makes staying here an especially unique and dreamy experience. You are also located to historic placed like the Duomo, and getting there will be easy and fast.
Upsides: Centrally located. Home of the famous museum. Easy distance to the Duomo. Classy and charming neighborhood.
Downsides: A very touristy area of Milan. Shops and restaurants are quite pricey.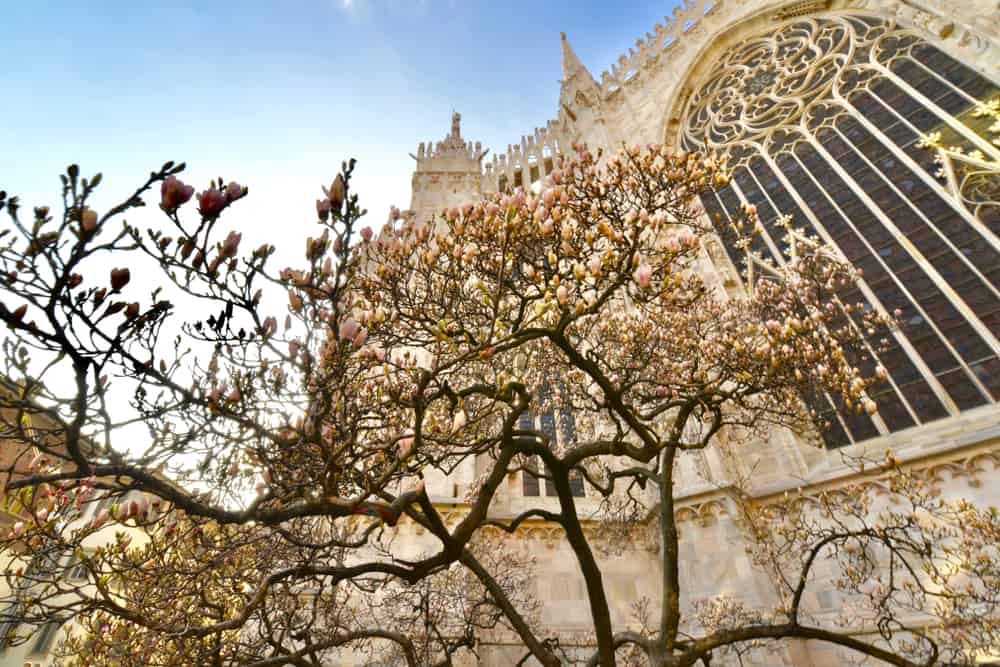 Best Hotels In Brera
Affordable: Splendido monolocale nel cuore di Brera
With one bedroom, one bathroom, a seating area, a dining area, and a kitchen, Splendido monolocale nel cuore di Brera is a great and affordable place to stay in Brera, especially if you plan to do your own cooking! This apartment is centrally located just 1,500 feet from da Vinci's Last Supper, and the nearest airport, Linate Airport, is only seven miles away. The apartment is charmingly decorated, and the kitchen is equipped with a stovetop, microwave, and fridge.
Check Rates: Booking.com
Mid-Range: Locanda di Brera
Locanda di Brera is a bright and lovely apartment located only seven miles from the Linate Airport, and just mere feet from places like Sforza Castle and The Last Supper by da Vinci. The apartment offers private parking, one bedroom, one bathroom, a dining area, and a kitchen complete with an oven, fridge, and microwave.
Check Rates: Booking.com
Upscale: The Unique
Located only 1,600 feet from Sforzesco Castle and a ten-minute walk from the La Scala Theater and the Milan Cathedral, The Unique is a gorgeous choice of where to stay in Milan for a luxury experience! All rooms come with a flat-screen TV, a kettle, coffee machine, minibar, air-conditioning, and a private bathroom. Slipper and bathrobes are included! While all the rooms are gorgeous and spacious, some even have marble half walls and private balconies.
All air-conditioned, rooms at The Unique feature a flat-screen TV, a kettle, a coffee machine, and a mini-bar. The private bathroom is fitted with a shower, free toiletries, and a hairdryer. For your comfort, slippers and bathrobes are also provided. Some units come with a balcony.
Check Rates: Booking.com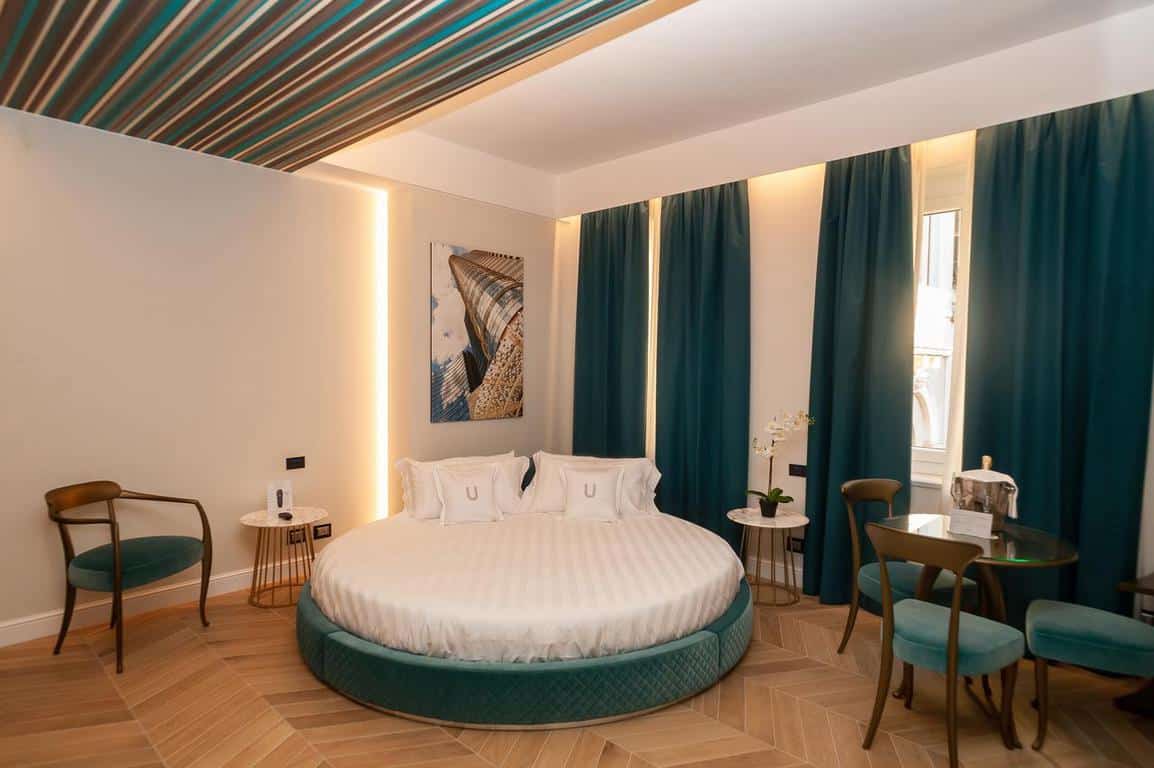 San Siro Is Where to Stay In Milan For Families
Unlike most of the extremely touristy districts of Milan, San Siro is a residential area, consisting of modest trattorias and cheap hotels. Its neighboring district of Fiera offers a similar kind of quiet neighborhood with a much more local feel, fewer tourists, and cheaper options. There is not a lot to do and see in the San Siro district itself except for the famous San Siro Stadium! Its true name is The Giuseppe Meazza Stadium, but everyone calls it the Siro Stadium. It is a football stadium, home of AC Milan and Internazionale. It has a seating capacity of 80,018, which makes it one of the biggest stadiums in Europe, and the very biggest in Italy! You can take tours at the Siro Stadium and see display and trophies in its museum.
Considering San Siro is a bit off the beaten path and an area of Milano with a much more local and chill atmosphere, it makes it an ideal place to say for families, especially with young children. It's still in the Milan area, so taking public transport to get to the city center is an easy option, but you will be able to retreat to a quiet neighborhood when your fun days of sightseeing end.
Upsides: A quiet and more local feel. Off the beaten path. Less touristy. Close proximity to the San Siro Stadium. Cheaper.
Downsides: Farther from the city center. You will need a car or public transport to get to some of the more touristy spots in Milan.

Best Hotels In San Siro
Budget: Residence Desenzano
Recently renovated, Residence Desenzano is a cozy and extremely affordable choice of where to stay in Milan! It's only a five-minute walk from Gambara Metro Station as well as lots of other public transportation services, making it a convenient location. The studio apartments offer free wifi, flatscreen TVs, kitchenettes, air-conditioning, private bathrooms, and balconies.
Check Rates: Booking.com
Mid-Range: Sansiro 47
Sansiro 47 is a cute little B&B just a five-minute walk from Milan's Meazza Football Stadium. Surrounded by quick and easy access to public transport, Sansiro 47's rooms come with free wifi, large flatscreen TVs, and views of the garden. On the shared terrace, you can enjoy Sansiro 47's hot tub after a long day of touring! Private bathrooms are either en suite or external, so make sure to ask when registering if you care where your bathroom is! There's a breakfast buffet served daily, and you can request lunch or dinner as well!
Check Rates: Booking.com
Upscale: L'Antica Corte
If you're looking for a roomy place to stay, especially traveling with kids, L'Antica Corte is a perfect choice! It's just 3.1 miles from San Siro Stadium and 4.3 miles from the center of Milan. Complete with a terrace, garden views, three bedrooms, a bathroom with a bath, a dining area, and a kitchen, L'Antica Corte will make you feel like you're not just a tourist, but have moved to Milan! Not only is the place charmingly furnished and roomy, but the building itself dates back to the 19th century. The apartment comes with free wifi as well.
Check Rates: Booking.com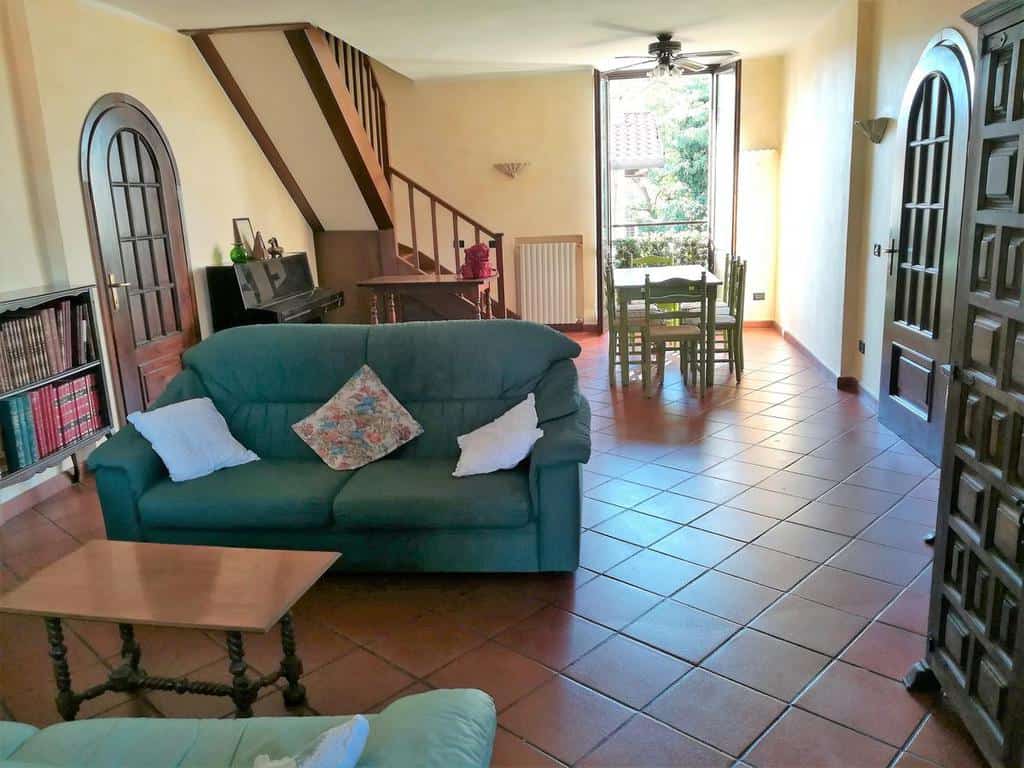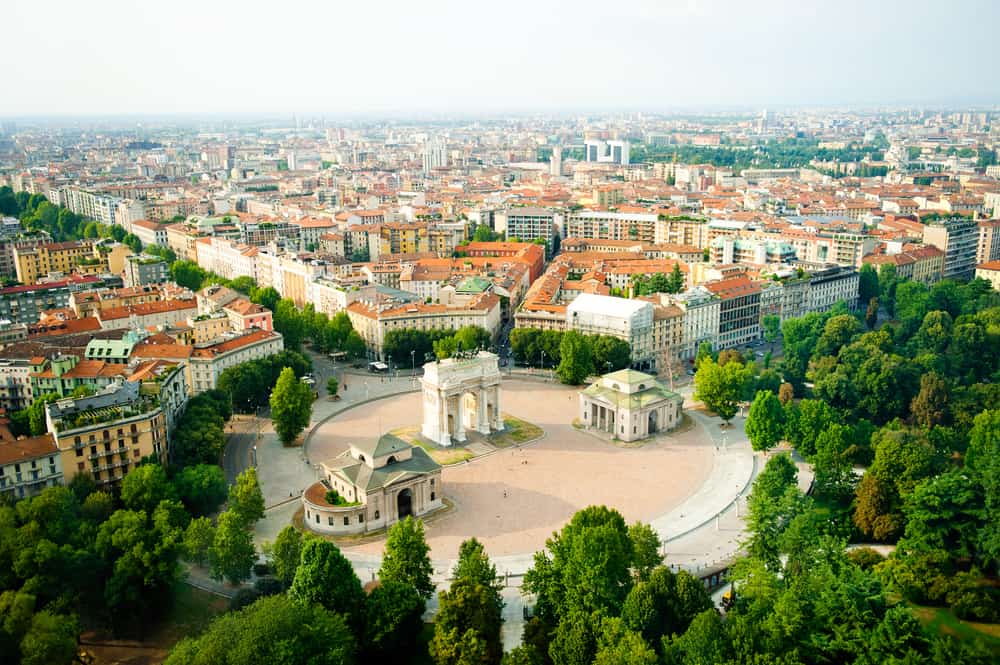 So there you have it! There are so many wonderful places to stay in Milan and we know you will find a district that speaks to you! From affordable hotels to roomy apartments, each Milan accommodation will provide you with tons of options so you can plan your trip with ease. We can't wait to hear your thoughts on visiting Milan. It is an absolutely unforgettable place to visit. We hope this article has helped you find the best place to stay in Milan and that you have an amazing trip!
Disclaimer: This post may contain affiliate links. All this means is that we will make a small [super small!] commission at absolutely no cost to you! This helps us be able to continue to run Follow Me Away and we thank you for your help!