If you are searching for where to stay in Florence, Italy, you have found the perfect article!
We will provide a comprehensive layout of exactly where to stay in Florence by neighborhood.
Florence is such a gorgeous place to visit with plenty of fun and interesting attractions and activities that can be enjoyed year-round.
Whether you are staying in Florence for one day before heading out on a Tuscany road trip or plan on staying longer, this is an amazing city to explore.
Wine tasting, art galleries, museums, indulgent food and gelato, cooking classes, and the opera are just some of the popular activities you can expect to add to your Italy itinerary.
Florence is located 174 miles north of Rome, so you even have the option of taking a day trip from Florence to see the Colosseum.
Below, we will give you a detailed breakdown of where to stay in Florence including affordable, mid-range, and luxury accommodations.
There are a ton of cute, boutique hotels in Florence. Or if you want something homier, you can check out the best Airbnbs in Florence.
We will list options in several different neighborhoods including Santa Croce, Santa Maria, and San Lorenzo just to name a few.
To help you navigate and select the best neighborhoods for you, we will list what is unique and special about each one.
Activities and attractions will be noted, so get ready to discover the best places to stay in Florence, Italy!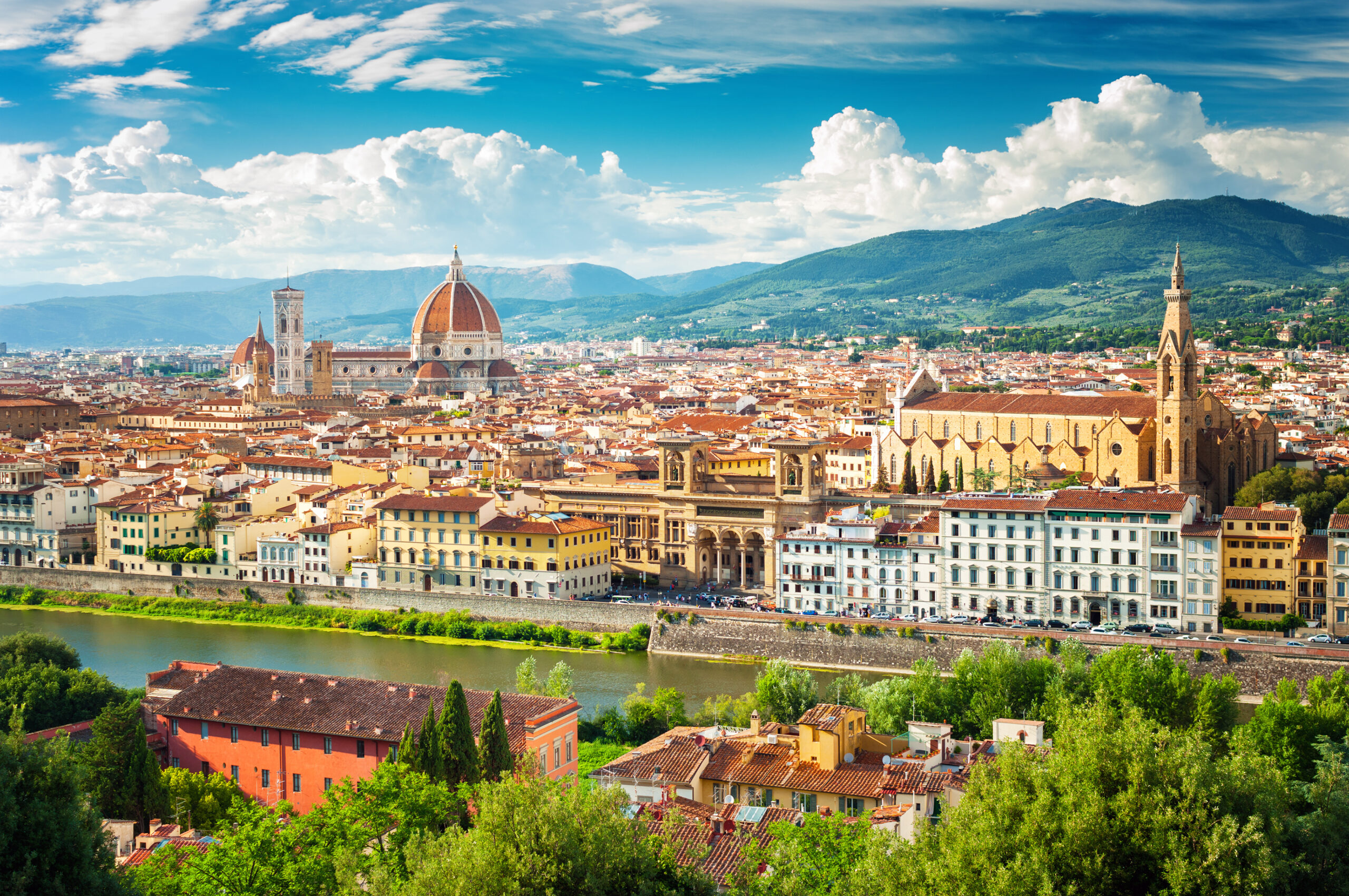 Understanding Florence Neighborhoods
The neighborhoods in Florence vary greatly when it comes to the look and feel of the environment.
The best area to stay in Florence really depends on your personality and what you love to experience.
So, we will explore all of the intricacies of each neighborhood and help you find the perfect one for you.
Whether you want to splurge or be more budget conscious, we will have you covered.
The city center is the best place to stay in Florence for first-timers as it is considered to be close to many attractions such as the Duomo and Piazza Della Signoria.
Looking for a family-friendly neighborhood? Then, Santa Maria Novella is just the spot for you!
Sant'Ambrogio used to have a very prominent Jewish community and this is still reflected in several restaurants that specialize in Jewish cuisine.
Desire something more understated and affordable? Then, Santa Croce is ideal!
Santo Spirito and San Frediano are the best neighborhoods for those looking for a more secluded and off-the-beaten-path vibe.
As you can see, there is such variety that there is truly the best location in Florence for everyone.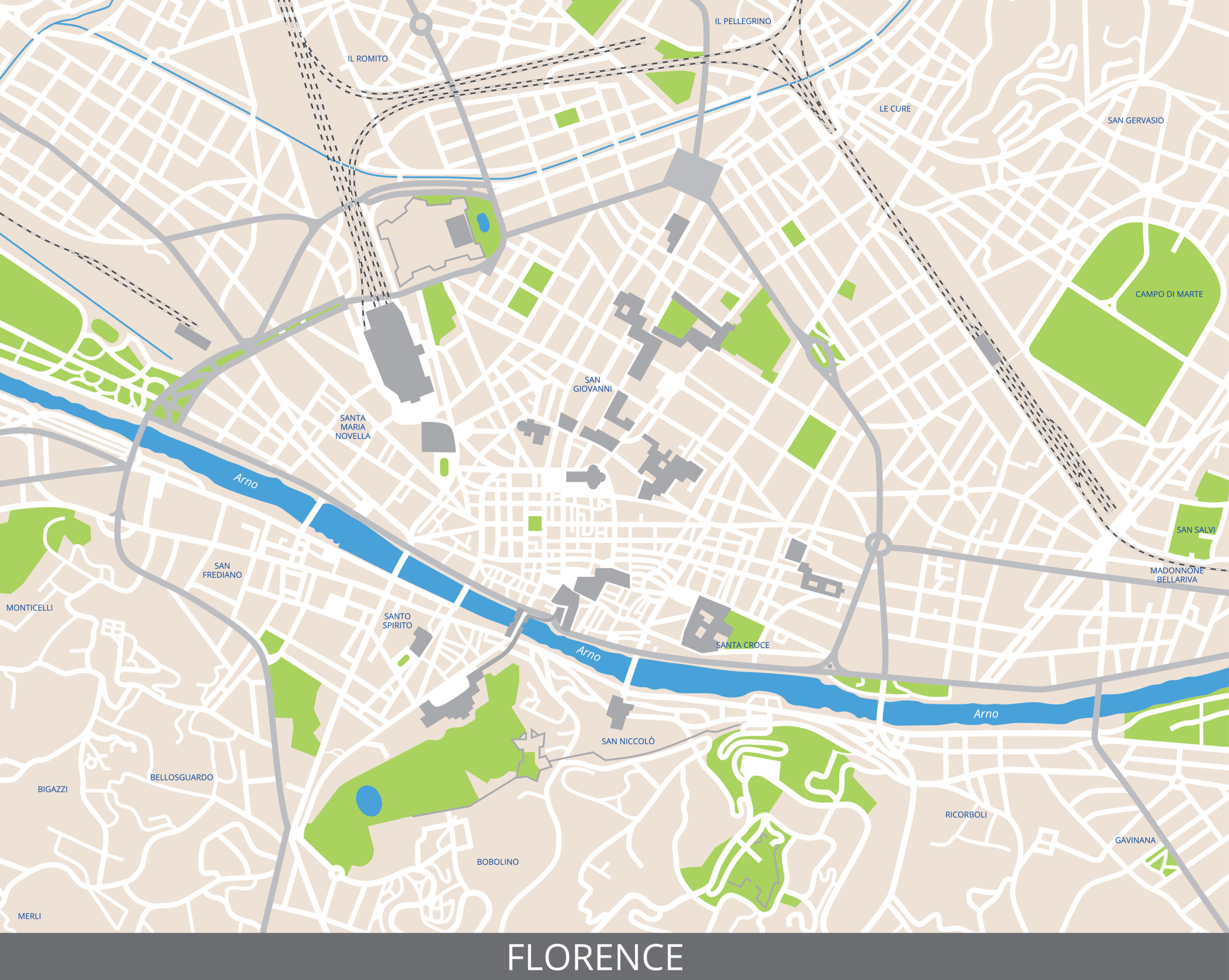 Florence City Center Is Where To Stay For First Timers
The Florence city center is such a great starting point for first-time travelers.
It is an eclectic and busy hub of Florence with many historic sites, museums, and art galleries.
You will be within walking distance of all the best things to do in Florence!
The most iconic landmark is the Duomo cathedral which dates back to 1296. Construction spanned over 150 years and it wasn't consecrated until 1436.
Over 40 stained glass windows are found throughout the cathedral. The red-tiled cupola is quite stunning and is certain to be featured in many of your photographs.
For an incredible panoramic view of Florence, you can climb the campanile which is a very tall and narrow tower.
After touring the Duomo, you can explore other things to do in this area.
When you walk to Piazza Della Signoria from the Duomo there is a covered market that has many vendors selling anything from hats to leather bags.
If you want to bring something home, this is the perfect place to pick up souvenirs.
On the side of the market, you will find a bronze statue of a boar. Local lore states that visitors should put a coin in the boar's mouth, and if it falls down they will have good luck.
Then, you rub the boar's snout to ensure that you will return to Florence.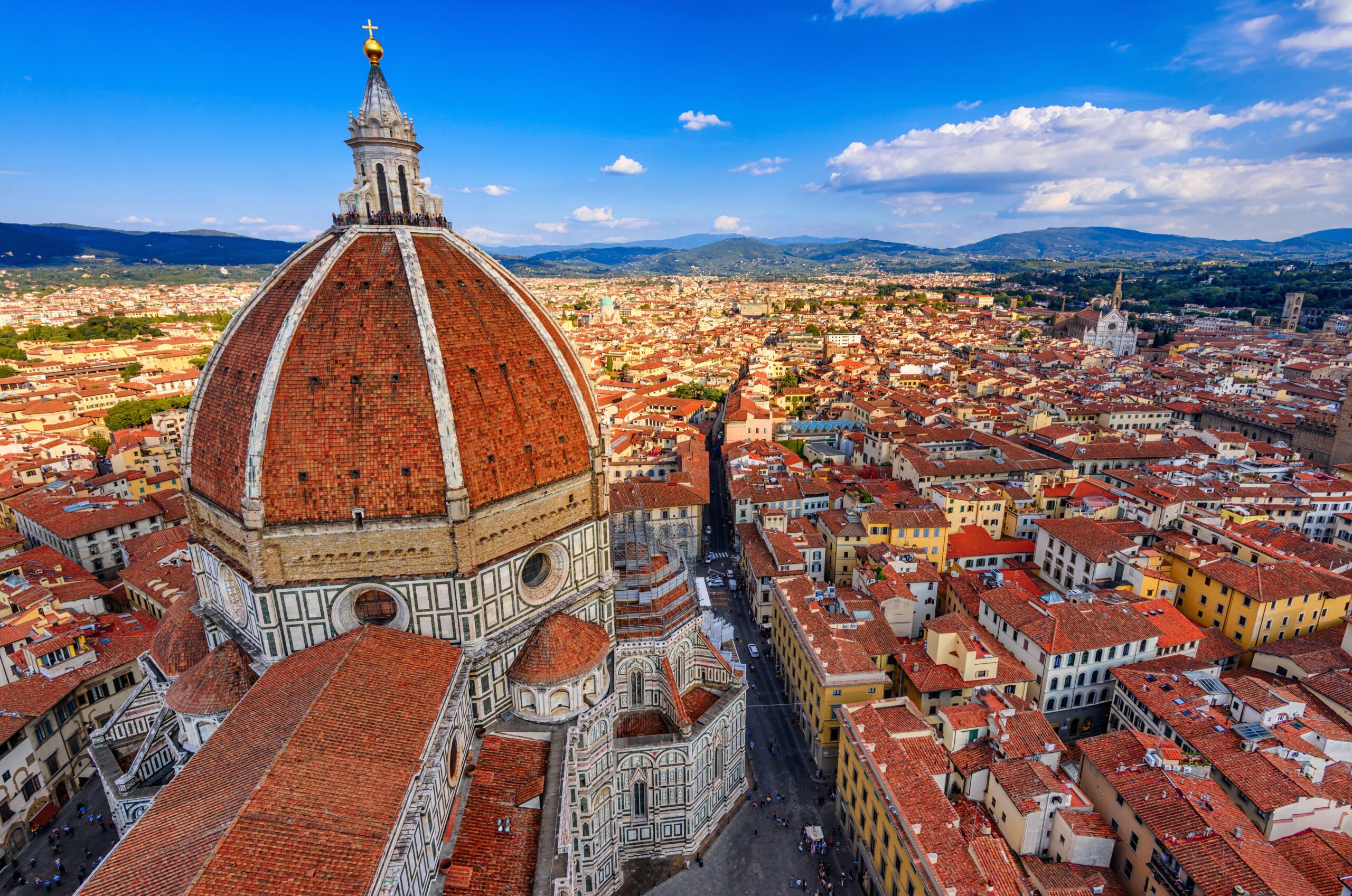 Best Places To Stay In Florence City Center
Affordable: Hotel Dali
If you are looking for a budget-friendly option, then Hotel Dali is one of the perfect Florence accommodations for you.
Hotel Dali provides cozy and comfortable rooms with free WiFi. The rooms are decorated nicely and feel very welcoming.
It is only a 6-minute walk from the Cathedral of Santa Maria del Fiore and a 9-minute walk from Accademia Gallery.
Ponte Vecchio and Sant'Ambrogio Market are reachable within a 16-minute walk.
The staff is very friendly, the location is ideal, and the price is just right!
Check Rates: Booking.com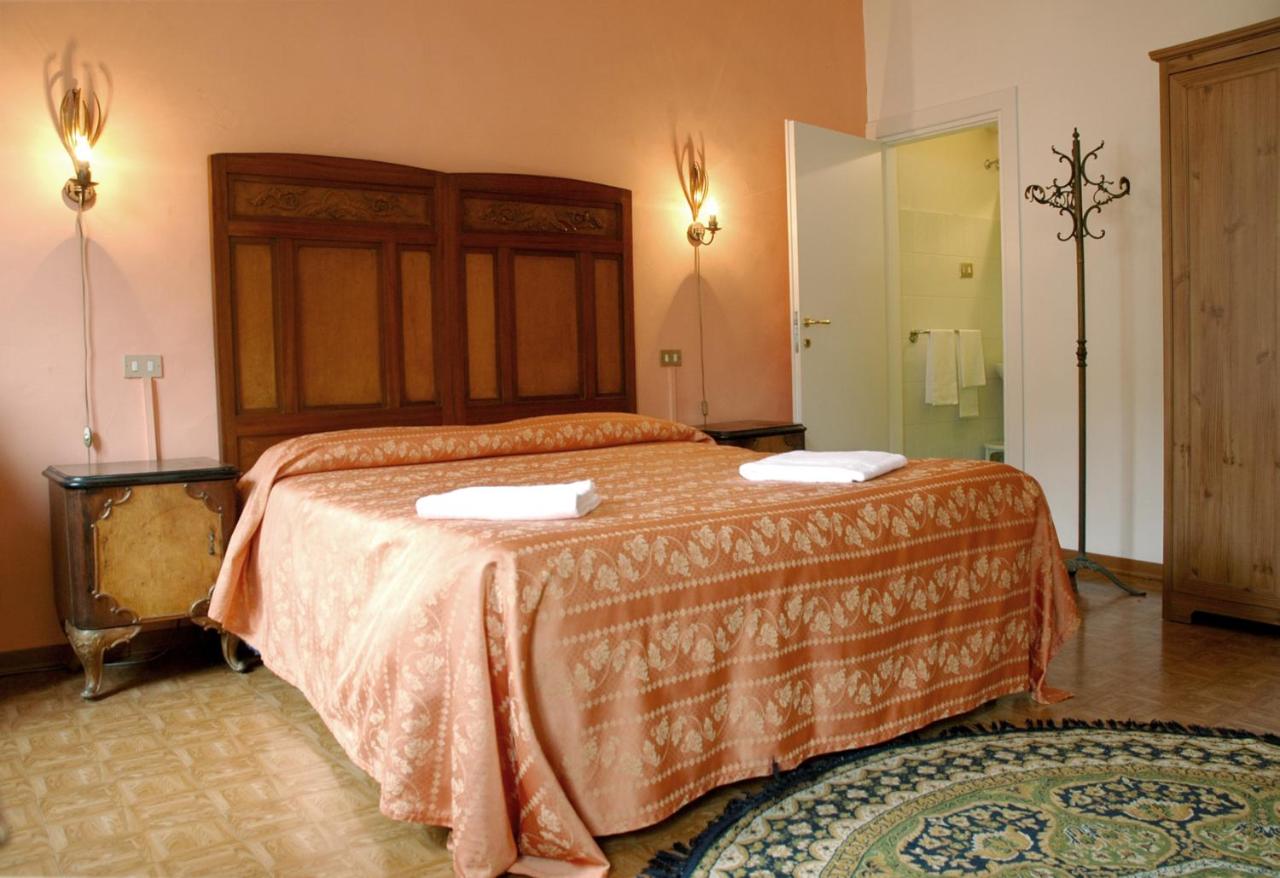 Mid-Range: Hotel Villani
Hotel Villani excels when it comes to simple elegance.
The rooms are appointed in such a delicate way that is very aesthetically pleasing.
Some rooms include balconies and offer views of Florence Cathedral.
Hotel Villani really stands out due to its incredible rooftop terrace. The stunning open-air rooftop terrace offers brilliant panoramic views of Florence.
The notable Piazza Signoria square is only 800 feet away, and you can walk to Santa Maria Novella Train Station in about 10 minutes.
Check Rates: Booking.com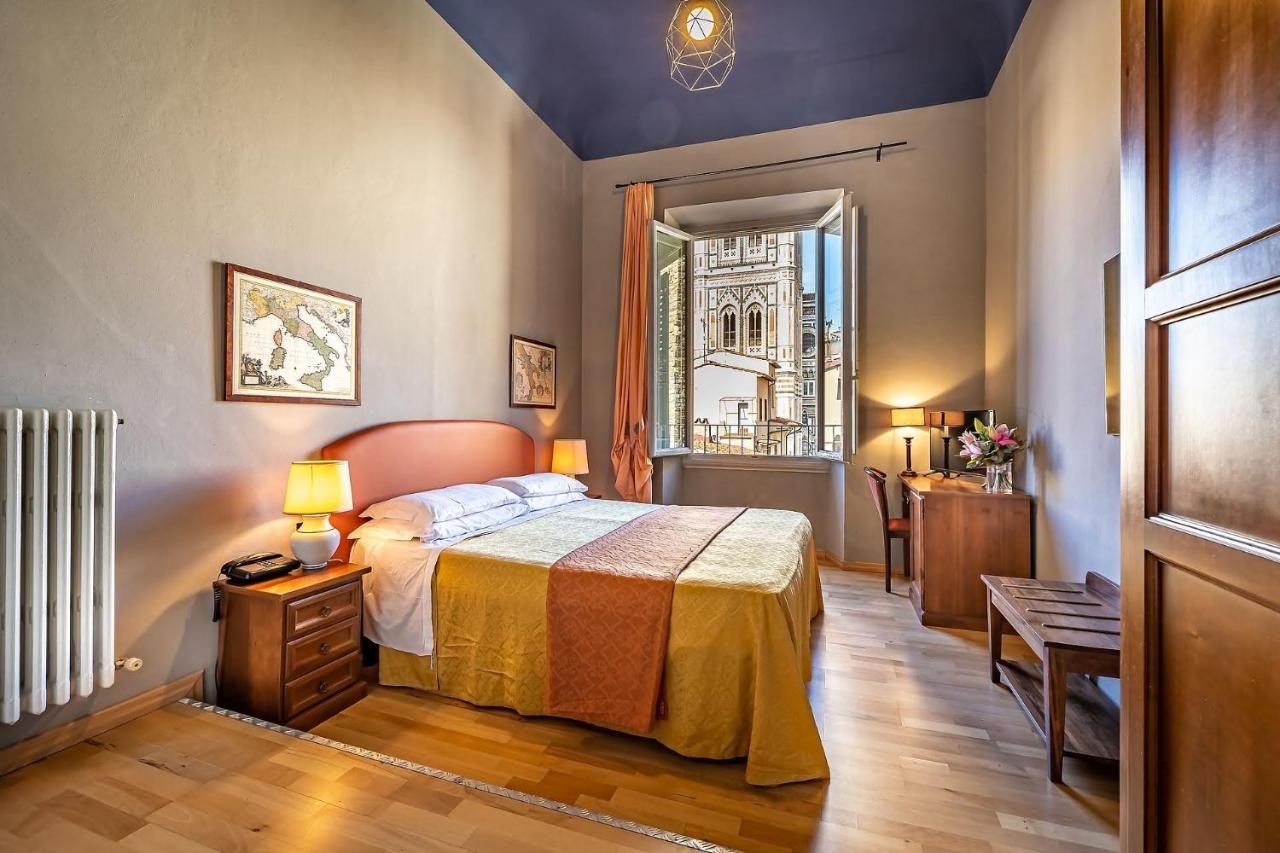 Luxary: Brunelleschi Hotel
Get ready for the most opulent hotel stay ever!
The Brunelleschi Hotel is set in a restored Byzantine tower and Medieval Church overlooking Florence Cathedral.
The rooms are spacious with contemporary designs, luxurious linens, and spectacular showers. 
The Brunelleschi Hotel features two on-site restaurants, Osteria Della Pagliazza serving local cuisine, and the gourmet restaurant Santa Elisabetta.
There is also an on-site bar in the Byzantine tower.
Other amenities include a fitness center, private museum, and 3 meeting rooms.
It is situated only half a mile from Santa Maria Novella Train Station and just a 5-minute walk to Uffizi Gallery.
The Brunelleschi Hotel makes you feel like you are in a fairy tale which is why it is one of the best hotels in Florence. Worth every penny!
Check Rates: Booking.com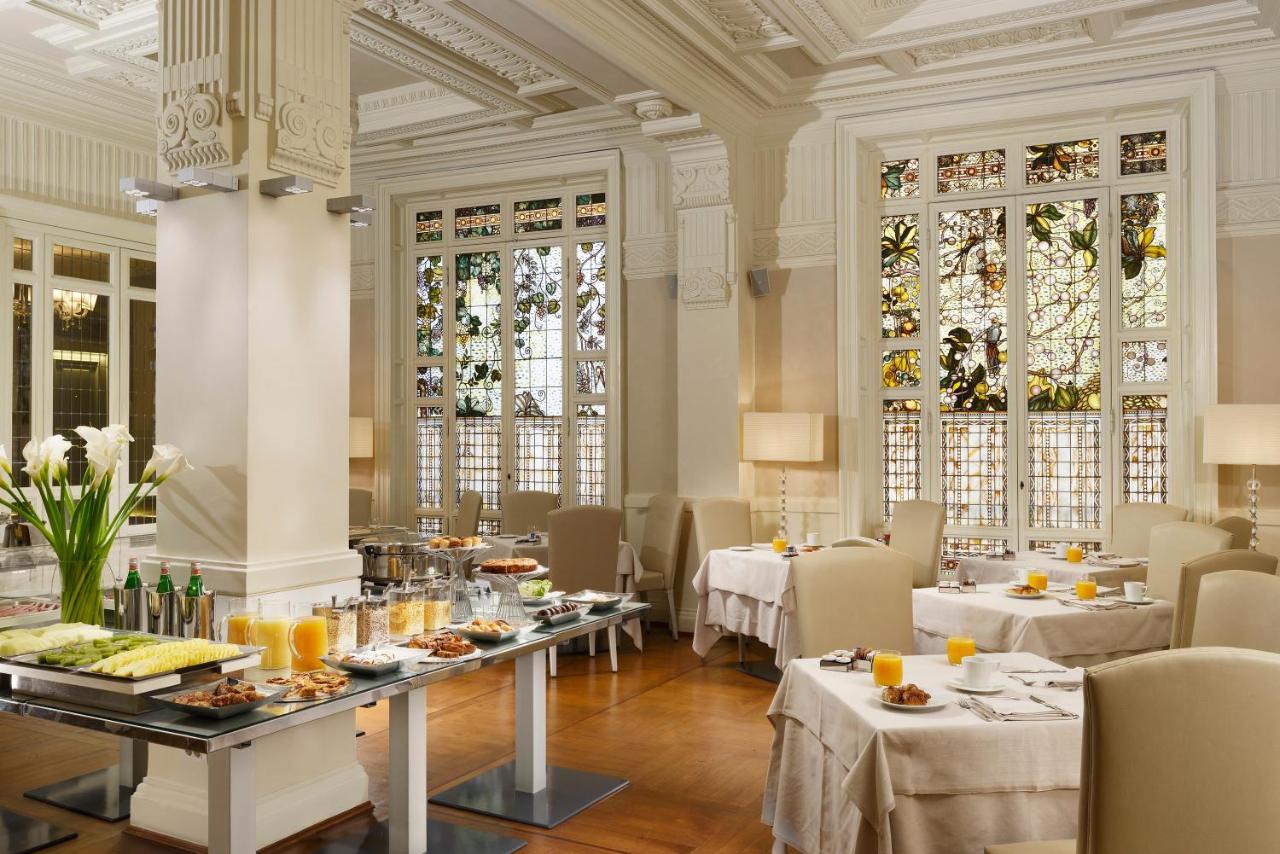 Santa Croce Is Where To Stay In Florence On A Budget
Santa Croce is east of the city center, hugging the river to the south.
It is situated on the southeast edge of the historic area and was built in the Middle Ages.
This district is less touristy than the city center and is one of the best places to stay in Florence, Italy if you are on a budget.
The centerpiece of the neighborhood is the Basilica di Santa Croce which is a massive church with Gothic architecture.
Michelangelo is buried in Santa Croce, as are Rossini, Machiavelli, and Galileo Galilei.
There are daily tours of the Basilica di Santa Croce available at no cost.
Overall, this is a very friendly neighborhood with many small restaurants that offer delicious food at affordable prices.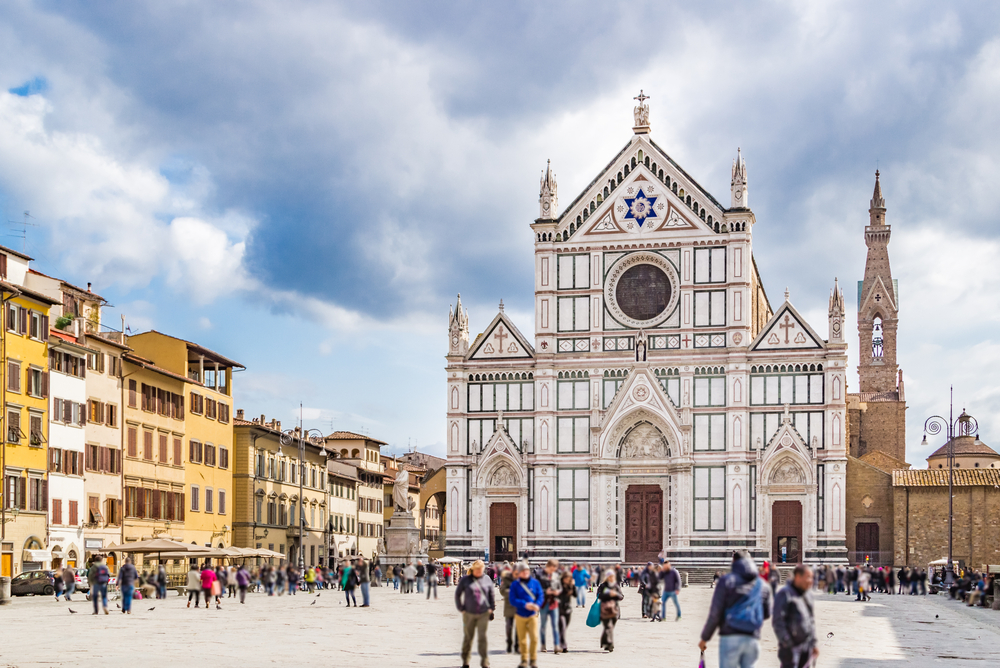 Best Hotels In Santa Croce
Affordable: Hotel Bodoni
Hotel Bodoni is the best place to stay in Florence if you want to stick to a strict budget.
To help with sightseeing, Hotel Bodini offers free city maps to their guests.
The premises also include free WiFi and a buffet breakfast which is served on a terrace with a city view.
Rooms are minimally and simply furnished.
The Bodoni's multilingual staff is available 24 hours a day and they can assist you in booking tickets for events, trains, museums, and flights.
Check Rates: Booking.com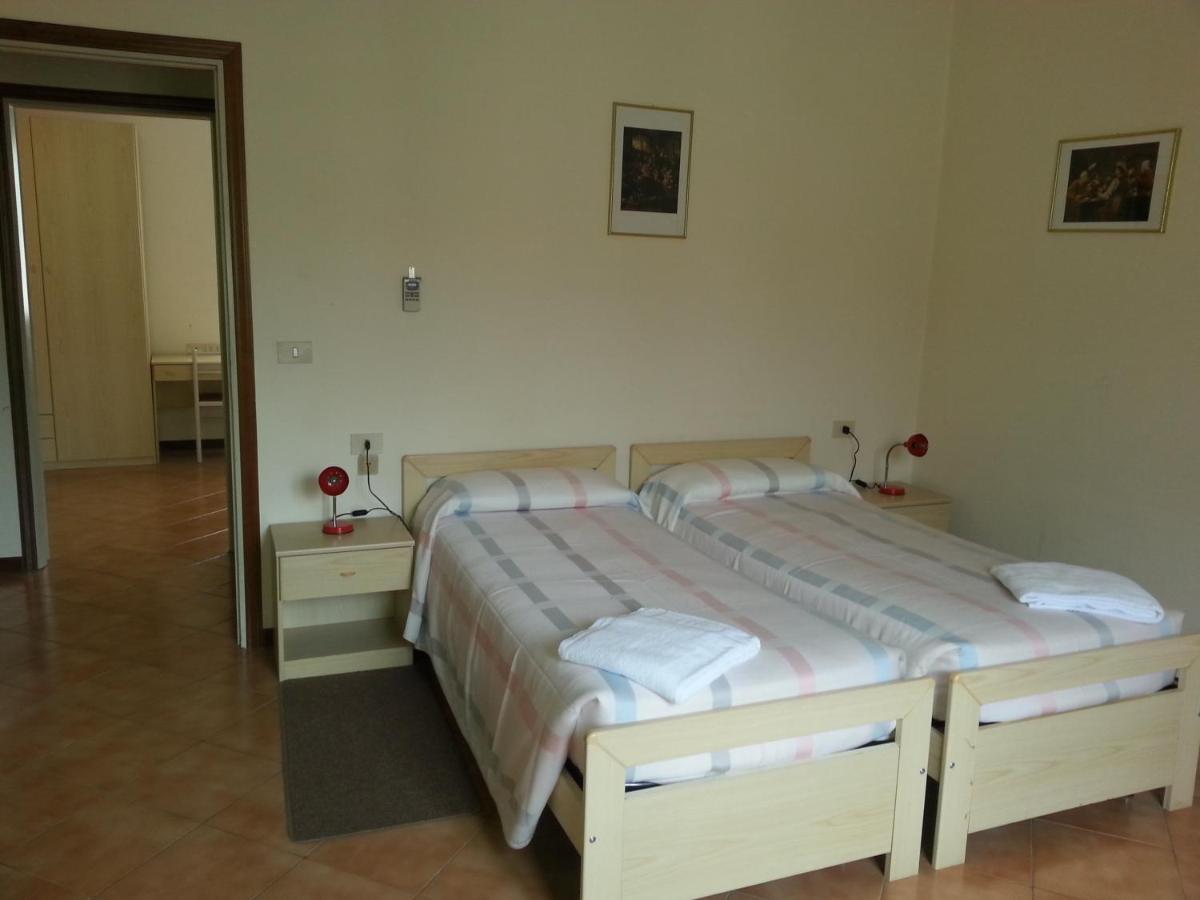 Mid-Range: Eurostars Florence Boutique
The Eurostars Florence Boutique is a splendid accommodation in Florence for couples and solo travelers.
It is close to Basilica di Santa Croce and the Uffizi Gallery as well as public transportation.
The comfortable rooms have a minimalist feel with an almost all-white color palette plus pops of gold and pink.
Book a room with a balcony to enjoy views of the historic center. You will love the buffet breakfast with fresh fruit and yummy pastries.
There is also a beautiful terrace, fitness center, and billiard room.
Check Rates: Booking.com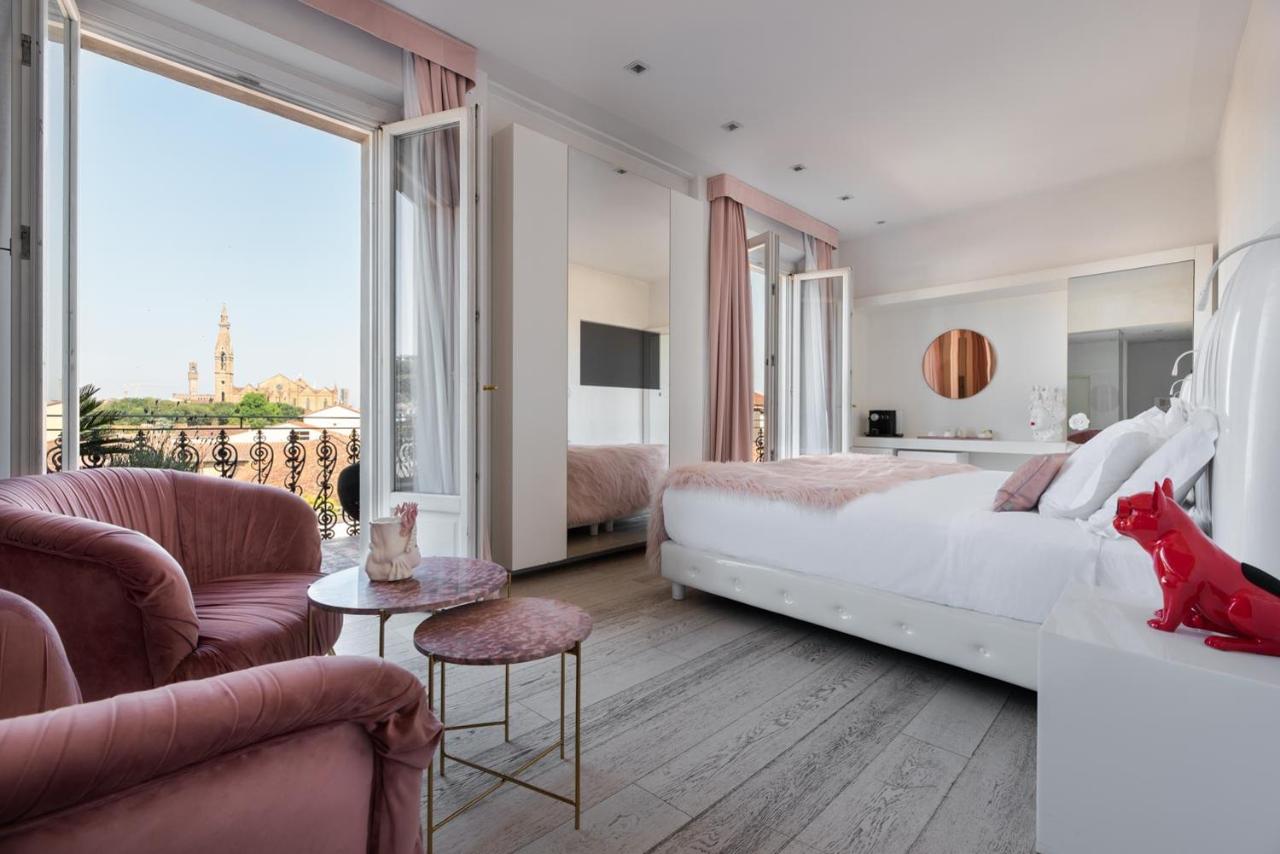 Luxary: Plaza Hotel Lucchesi
Plaza Hotel Lucchesi is an incredibly charming hotel situated right on the Arno River bank.
The decor is exquisitely modern and inviting. Some of the rooms have balconies with either views of the Arno River or the Church of Santa Croce.
There is one on-site traditional restaurant that provides a fine dining experience.
Breakfast is included buffet style and the flavors range from sweet to savory.
You will really feel like you are living the good life when you experience the rooftop pool and bar.
You can soak up the sun in the sparkling water all while taking in the most beautiful views of the historic area.
There is also a large seating area with very comfortable cushioned chairs and benches. Live music is frequently featured after dinner.
Check Rates: Booking.com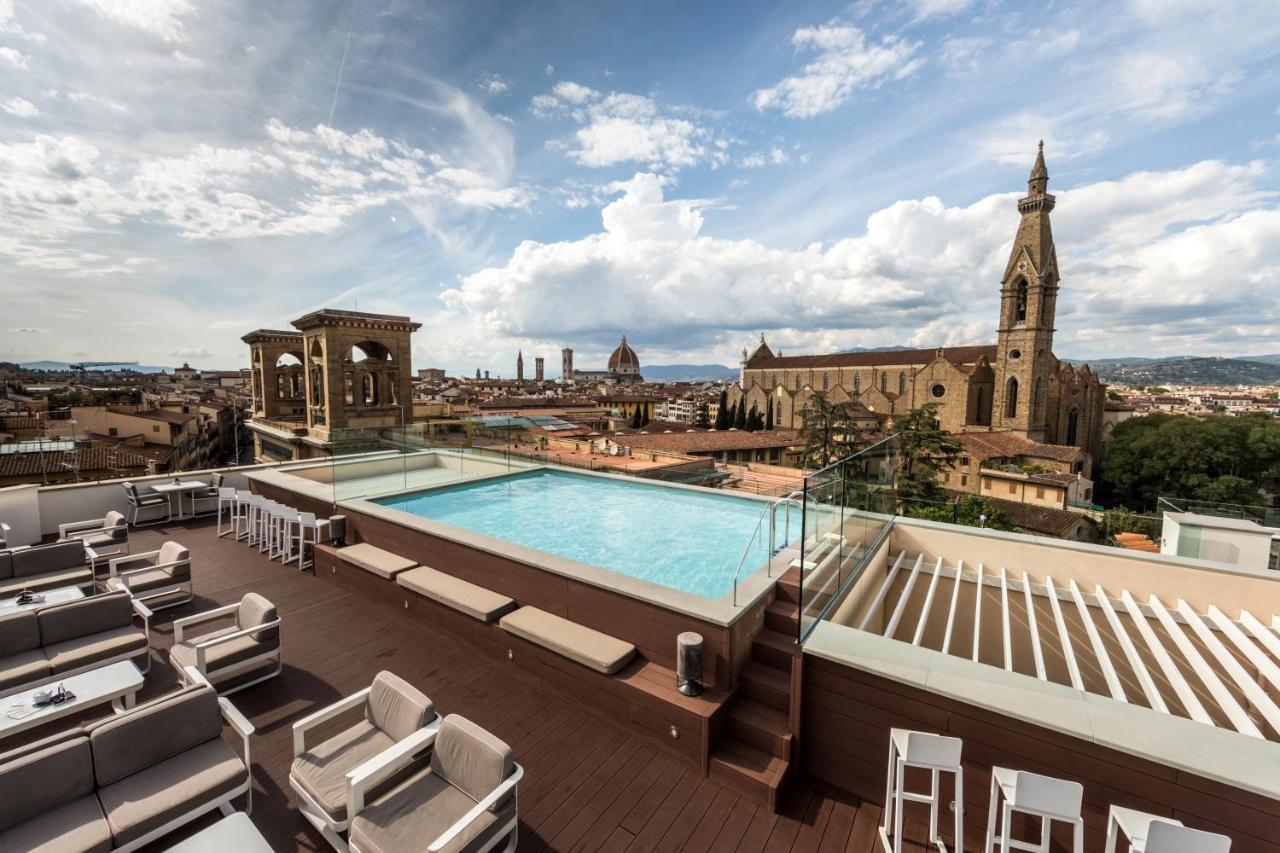 Santa Maria Novella Is The Best Area In Florence For Families
Santa Maria Novella, found to the west of the city center, is a very relaxed neighborhood with casual eateries and small shops.
This area is great for instilling a love of history in children as there are many interesting historic sites in close proximity.
The Basilica of Santa Maria Novella has a brilliant marble exterior and inside you will find many medieval and Renaissance works of art.
The Shake Cafe is the perfect place for an afternoon snack that is tasty and healthy. The cafe includes a small seating area that is ideal for recharging after all of your sightseeing.
The Firenze Santa Maria Novella railway station is a fun destination to add to your itinerary whether you just want to see the station and the trains or if you want a fun way to travel to Rome for the day.
Since this district is quieter and everything is within walking distance, it is great for families.
If you are looking for where to stay in Florence with kids, consider this quiet, safe, and less crowded neighborhood.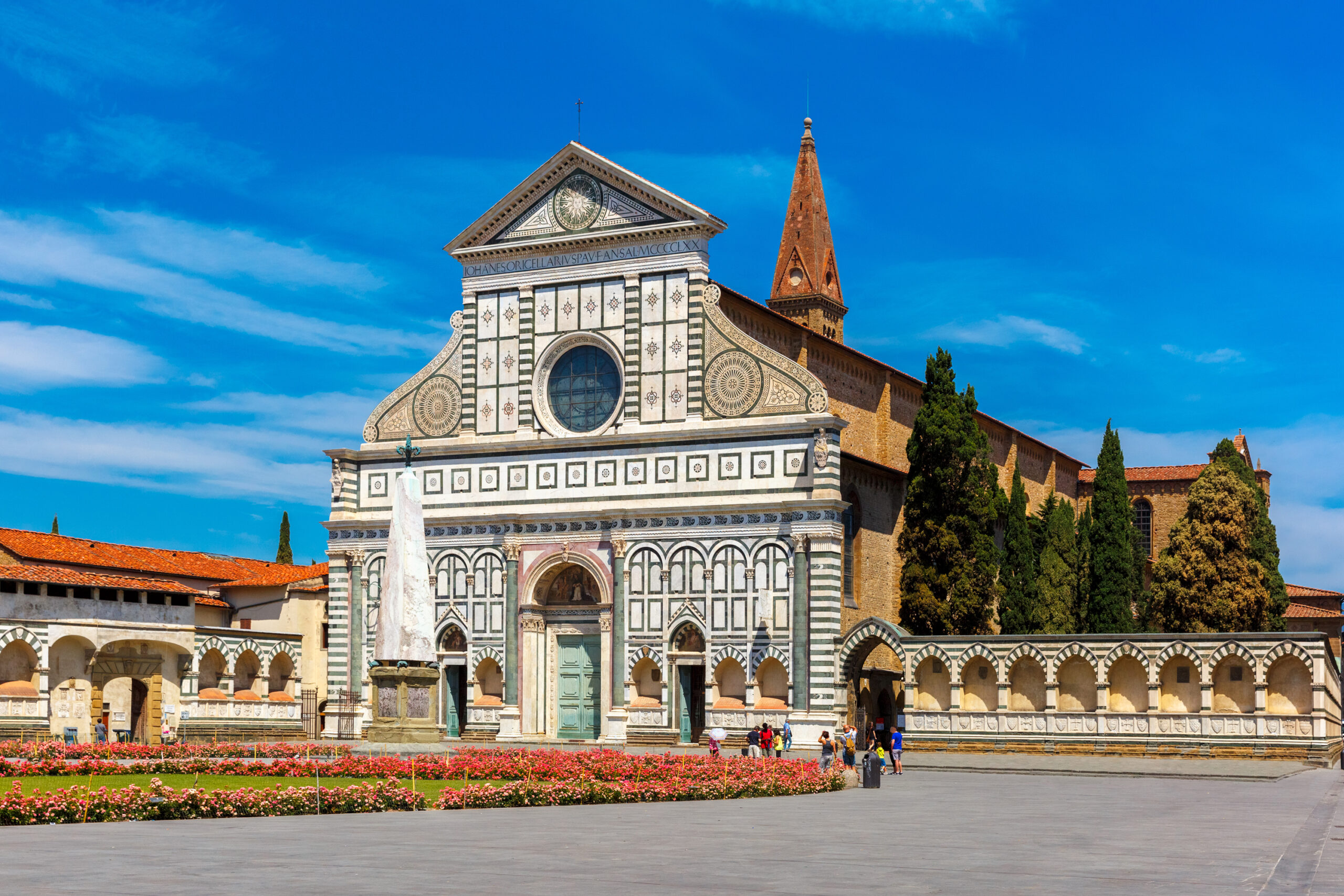 Best Places to Stay In Santa Maria Novella
Affordable: Hotel Palazzuolo
Hotel Palazzuolo is a wonderful option if you're looking for comfortable accommodation that has a lower price point.
Located only half a mile from Santa Maria Novella Station and just a 10-minute walk from Florence's cathedral it is in a very convenient location.
The guest rooms are tidy, simply furnished, and air-conditioned.
Breakfast is available daily for a very small fee.
Other amenities include an airport shuttle, free WiFi, and basic toiletries.
Check Rates: Booking.com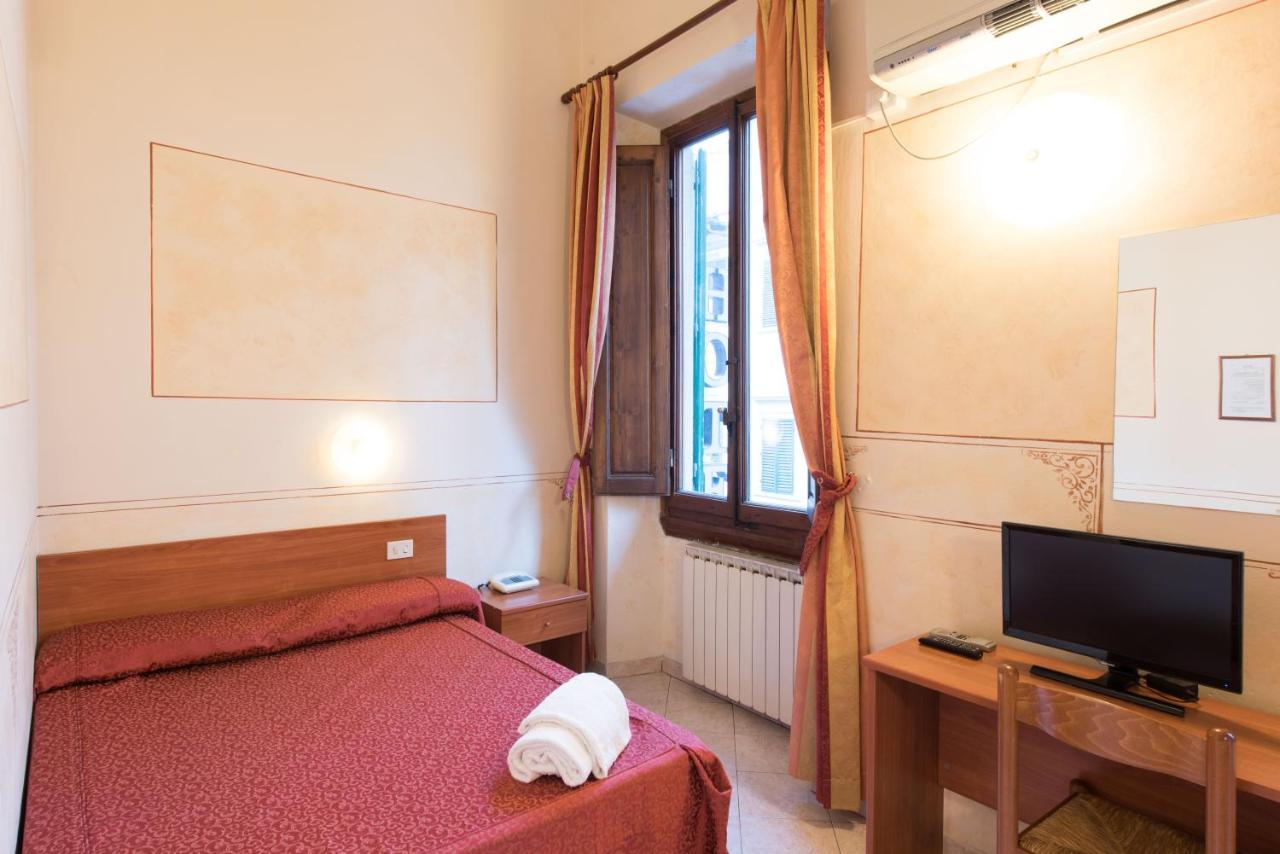 Mid-range: Hotel Unicorno
Hotel Unicorno is located in a 17th Century building and furnished with many intriguing antique pieces.
It is situated right in the middle of some of the most adorable antique shops in Florence, so you will not have a shortage when it comes to window shopping possibilities.
A delicious breakfast is included for all guests. Room service is offered and there is an on-site bar.
Guests can easily enjoy day trips to Siena and Pisa from this lodging in Florence.
Check Rates: Booking.com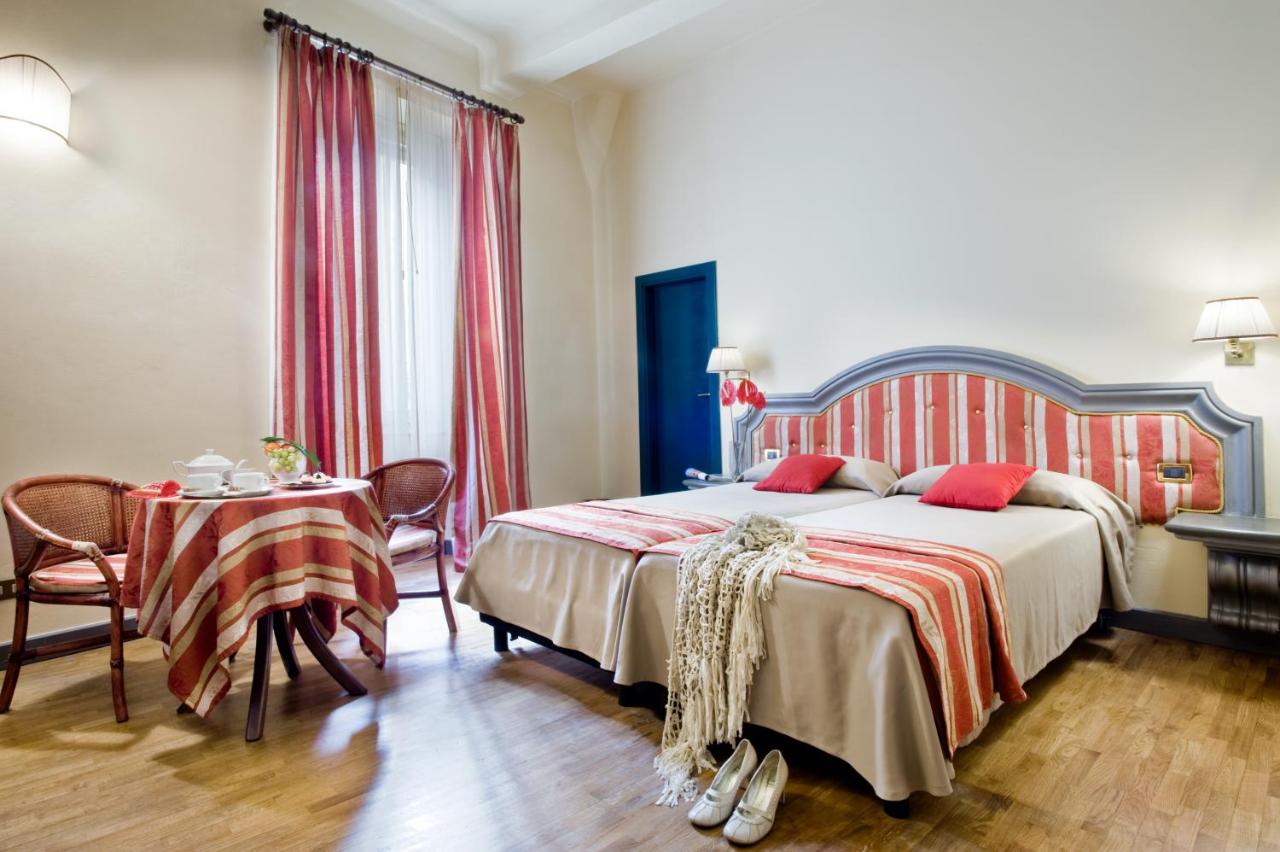 Luxury: Mh Florence Hotel & Spa
Get ready to be enchanted with Mh Florence Hotel & Spa!
You will be captivated by its modern and sophisticated design. The rooms are luxurious and impeccably appointed.
Guests can enjoy a buffet breakfast daily which is included.
The on-site spa offers many services to help you unwind and enjoy your stay including massages, manicures, pedicures, steam rooms, and body scrub treatments.
There is an indoor pool that is accessible year-round. Guests can also enjoy the open terrace and sun deck.
This is easily one of the best places to stay in Florence if you want to treat yourself!
Check Rates: Booking.com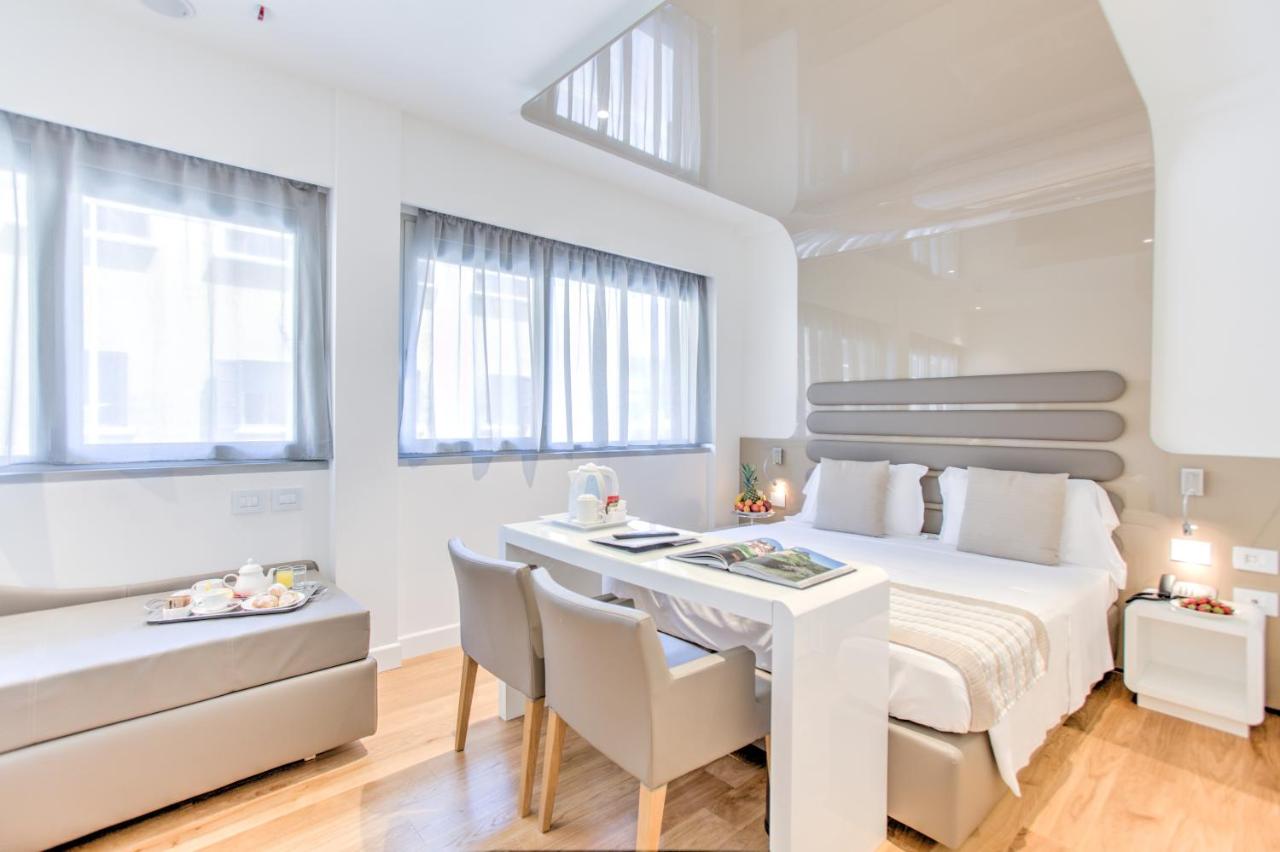 San Lorenzo Is the Best Neighborhood for Food And Shopping
San Lorenzo is situated in between San Marco and Santa Maria Novella.
A shopping lover's dream, Mercato Centrale is a large market with a vast variety of goods and it is located centrally in San Lorenzo.
There are two main sections of the market that split the goods into two categories: food and souvenirs.
Many visitors seek out custom leather jackets or embossed leather wallets. Purses, satchels, and shoes are also among the handmade leather goods you can purchase.
Arrive at the market with an appetite because SandwiChic has the most mouth-watering panini sandwiches you have ever seen!
La Cappelle Medicee specializes in meat dishes with fresh herbs and spices.
My Sugar has your sweet tooth covered with several flavors of authentic gelato.
When you've had your fill of shopping and eating, you should check out Laurentian Library.
It is a very special library that houses some of the most important antique books in all of Italy.
There is even a staircase that was painted by Michelangelo.
If you love to shop and also enjoy history, San Lorenzo is definitely where to stay in Florence!
Shopping is one of the best things to do in Italy and this is where to do it!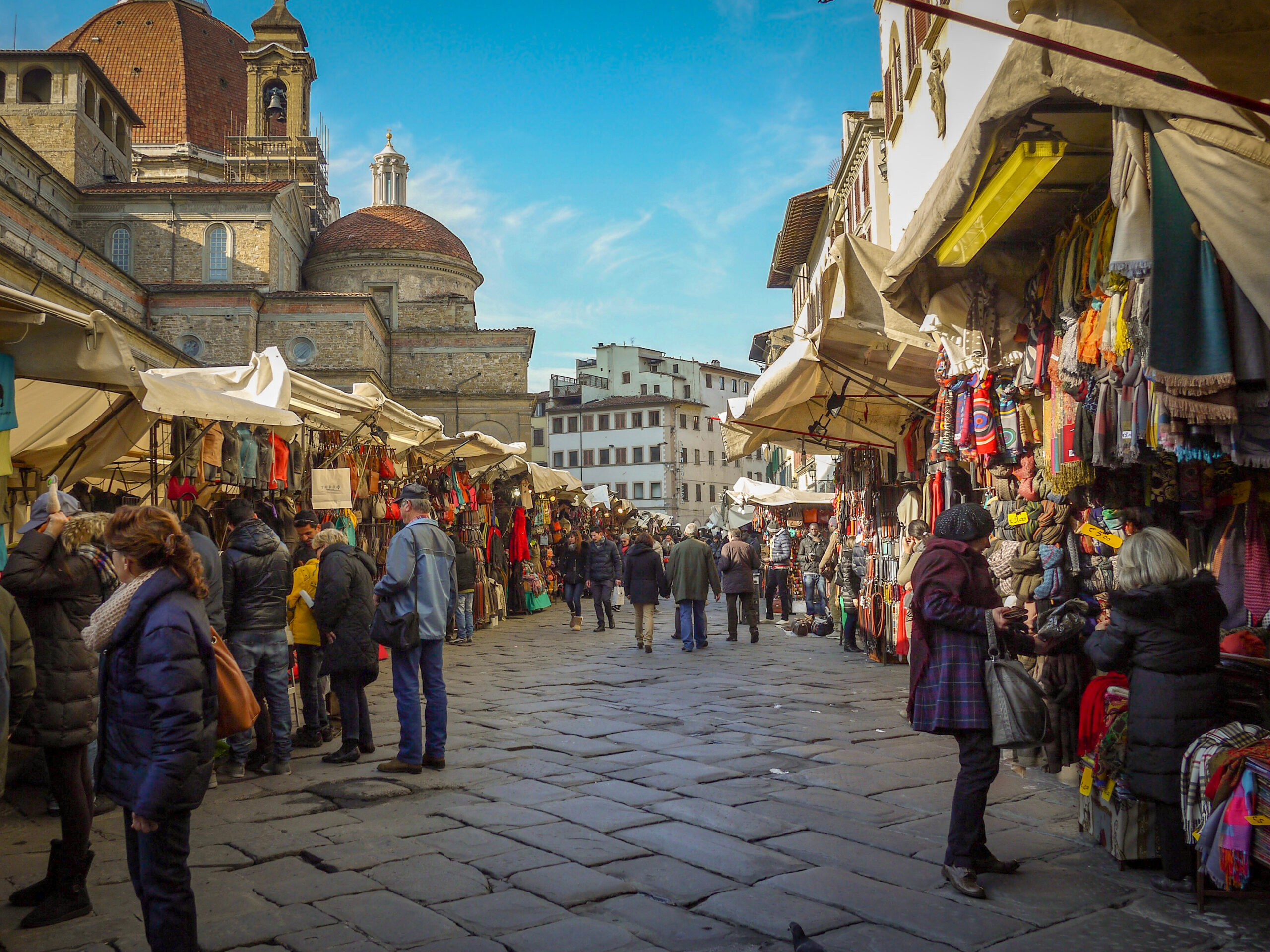 Best Hotels In San Lorenzo
Affordable: Hotel Genesio
Hotel Genesio has a laid-back atmosphere with simple rooms that are extremely tidy.
Staff is available 24 hours a day and the hotel offers free WiFi.
It is a family-run hotel that offers a free breakfast buffet daily including croissants, jam, and butter accompanied by fruit juice, milk, and cereals.
Guests of Hotel Genesio can enjoy discount rates at nearby restaurants.
It is less than a 5-minute walk from the Accademia art gallery and just a 10-minute walk to the train station.
Check Rates: Booking.com
Mid-range: San Lorenzo Five Senses
If you are looking for a home away from home in Florence, book the San Lorenzo Five Senses.
This is a beautiful apartment capable of sleeping up to six guests. There are two bedrooms with large double beds as well as a sofa bed.
The kitchenette allows you to cook your own meals and save money. Plenty of windows let in a lot of natural light.
With 800 square feet of space, this bets a hotel room and there is plenty of room for everyone to spread out.
Check Rates: Booking.com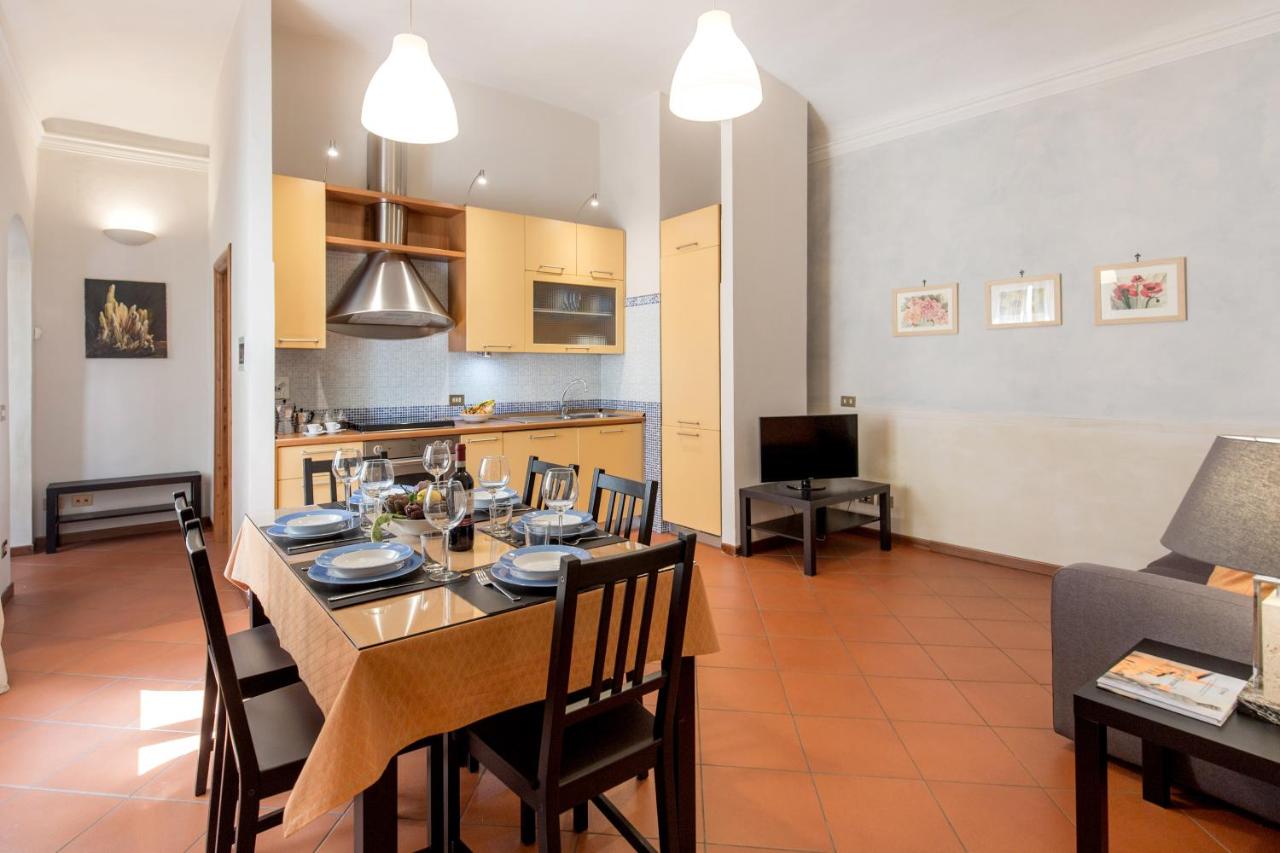 Luxary: Hotel Burchianti
If you are celebrating a special occasion or want to treat yourself like a God or Goddess, then Hotel Burchianti is where to stay in Florence!
Hotel Burchianti excels in creating an ambiance of grand luxury.
The guest rooms have an opulent feel with velvet throw pillows and patterned area rugs. Some of the rooms even feature original frescoes on the ceilings.
Amenities include room service, airport shuttle, babysitting/child services, and an outdoor garden with a seating area.
Breakfast is included daily and can be served in your room upon request.
This is one of the cool places to stay in Florence if you love an artsy feel in your room!
Check Rates: Booking.com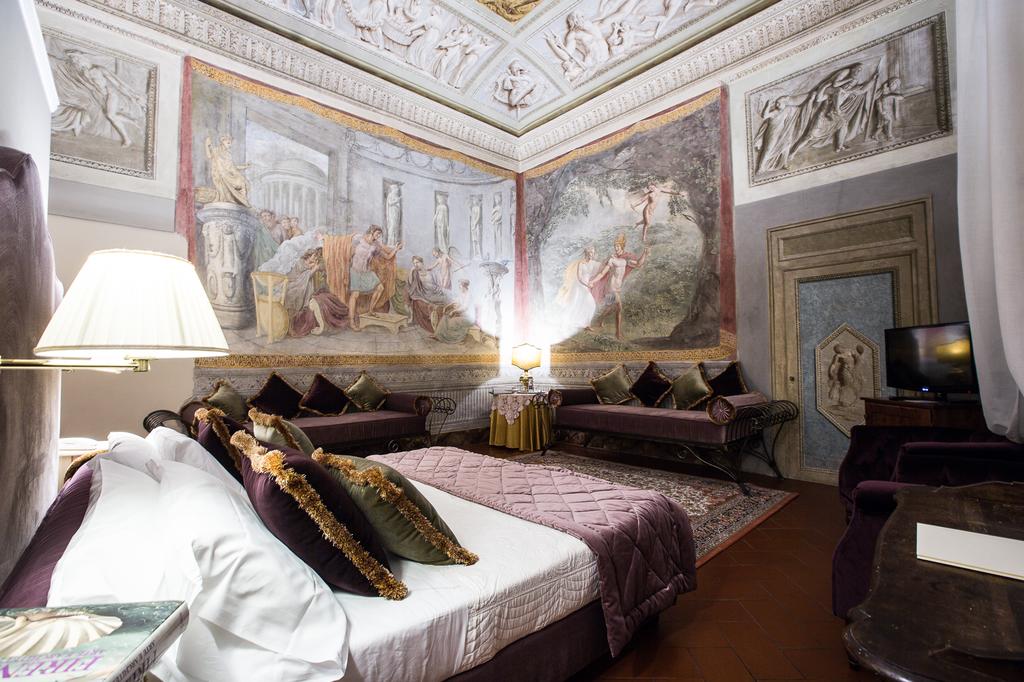 Santo Spirito: The Quiet Area In Florence
Santo Spirito is located on the south side of the Arno River and is known to have less tourist traffic.
This neighborhood is slightly removed, but nonetheless lively. During the summer months, the piazza is home to many concerts and performances.
At the center of the piazza, there is a marvelous fountain made of gray sandstone and marble.
As far as food is concerned, you won't want to miss stopping by Gusta Pizza.
Gusta Pizza is a very well-known and popular establishment that serves pizza pies that are just right! Not too thin and definitely not too doughy.
The church in Santo Spirito was built in 1252 by the Agostinians who dedicated it to Saint Mary of All Saints and to the Holy Spirit.
Over time the church was known to all by only the last of these dedications, to the Holy Spirit or Santo Spirito.
Later on, the square followed suit and was also known by the same name.
This is where to stay near Florence city center if you want a quiet area.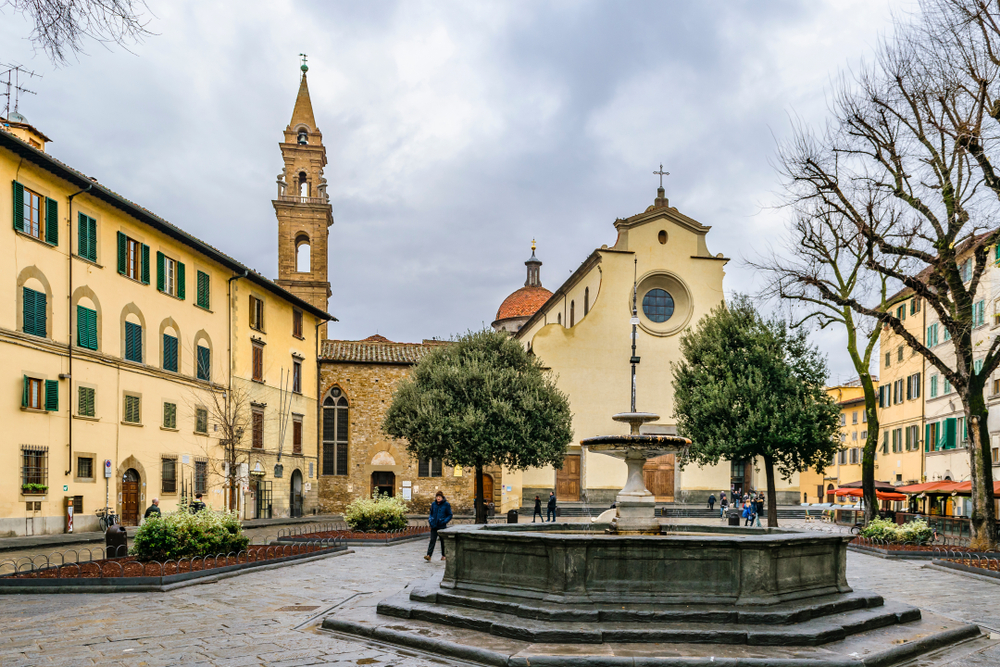 Best Hotels In Santo Spirito
Affordable: Nido de' Pitti
You will have to plan in advance for this property, but it will be well worth the time invested.
Nido de' Pitti is a single apartment that books up quickly due to its amazing price point and charming ambiance.
The one-bedroom apartment is beautifully decorated and is sure to make you feel right at home.
The apartment has a kitchen with a fridge, a stovetop, and a toaster, as well as an electric teapot and a coffee machine.
All bed linens, blankets, and towels are provided.
Check Rates: Booking.com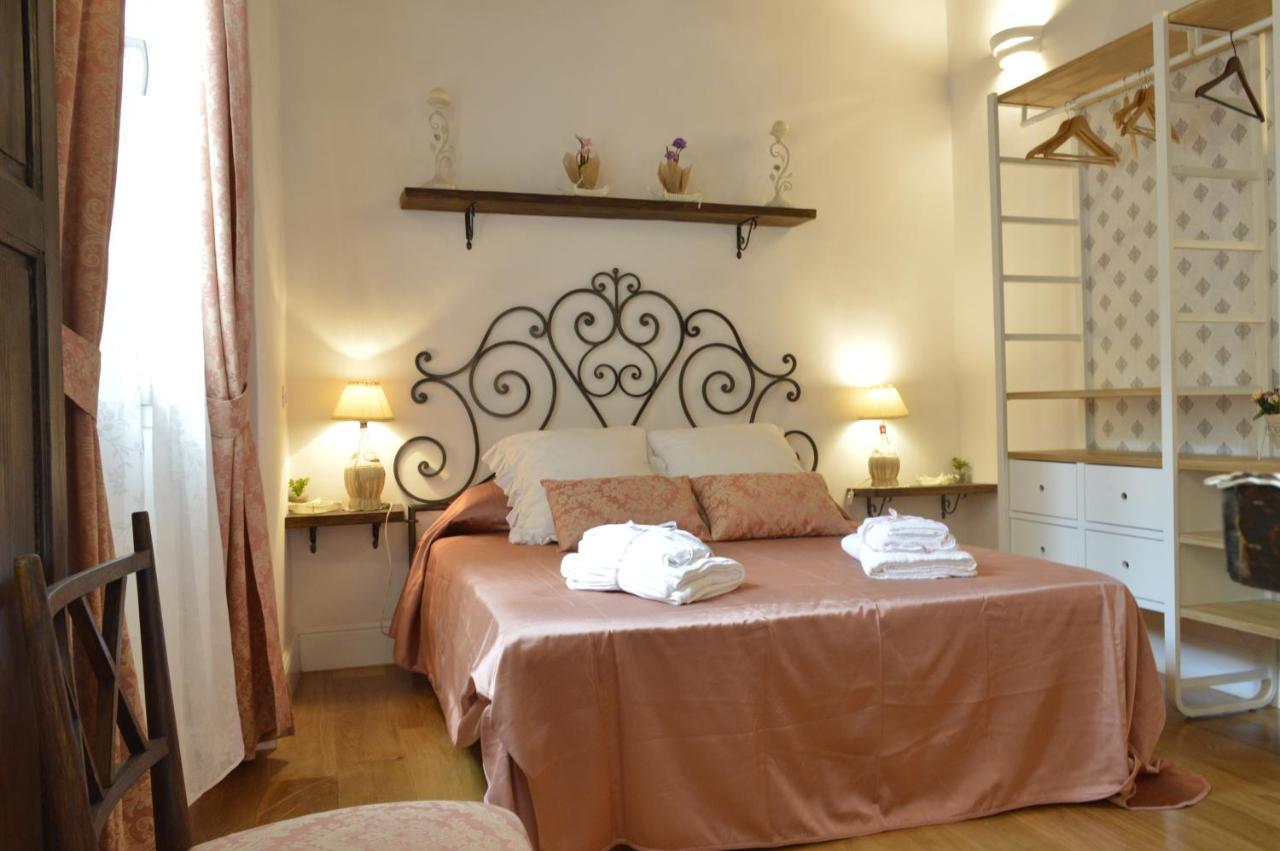 Mid-range: Hotel Annalena
Looking for a quiet and relaxing hotel? Well, then Hotel Annalena is the best place to stay in Florence for you!
Located across from the Boboli Gardens and next to the Renaissance palace of Palazzo Pitti, Hotel Annalena is a historic hotel situated in a very quiet part of Florence.
Each guest room has classic decor, antique furniture, chandeliers, and tiled floors.
A buffet breakfast is included daily for guests.
Check Rates: Booking.com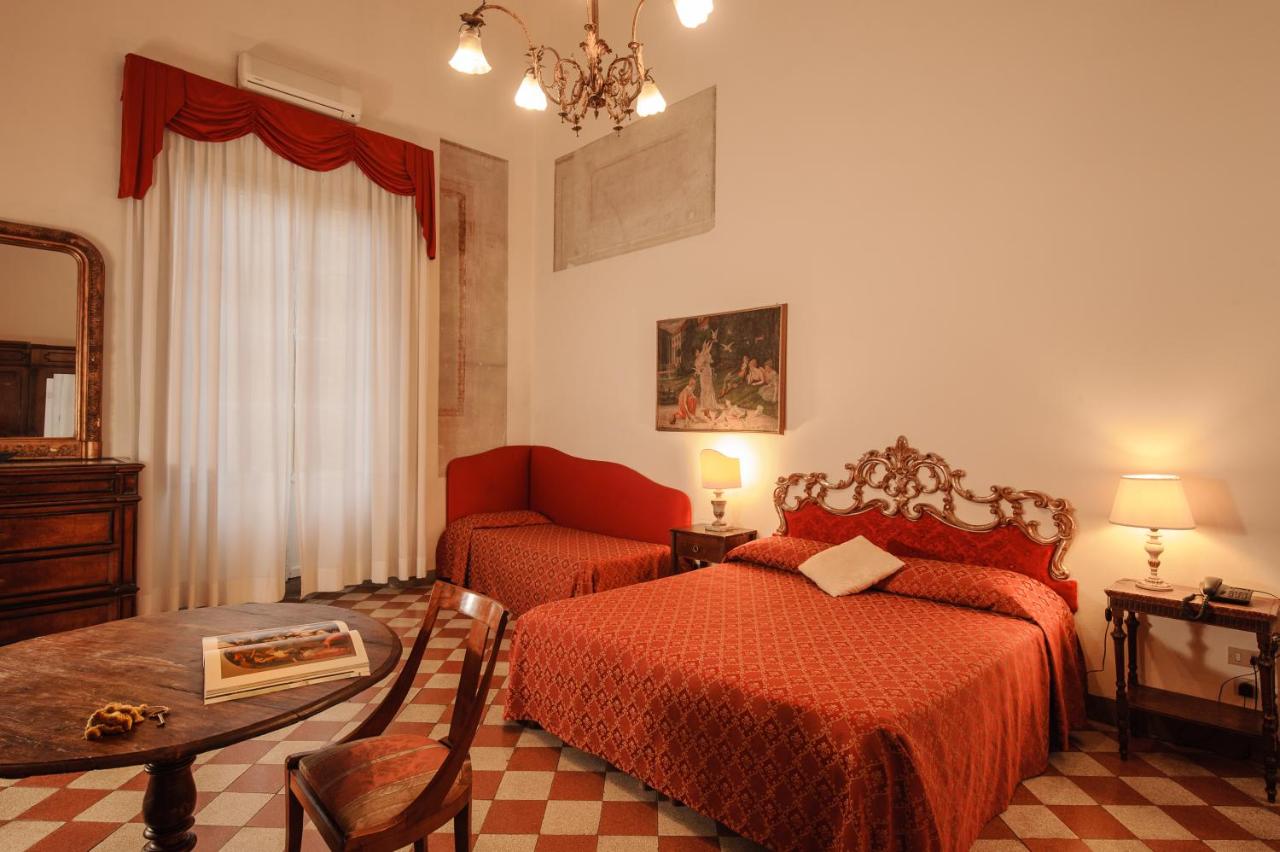 Luxary: Palazzo Ridolfi – Residenza d'Epoca
Palazzo Ridolfi – Residenza d'Epoca is an incredibly beautiful hotel with abundantly spacious rooms.
The guest rooms include king-size beds, claw foot bathtubs, seating areas, and marble bathrooms.
An elaborate breakfast is served daily and included in the room fee.
There is an on-site health and wellness center that offers many different types of massage, make-up styling, hair styling, manicures, and pedicures.
You can arrange entertainment at the ticket service desk and tour desk located in the lobby of the hotel.
Check Rates: Booking.com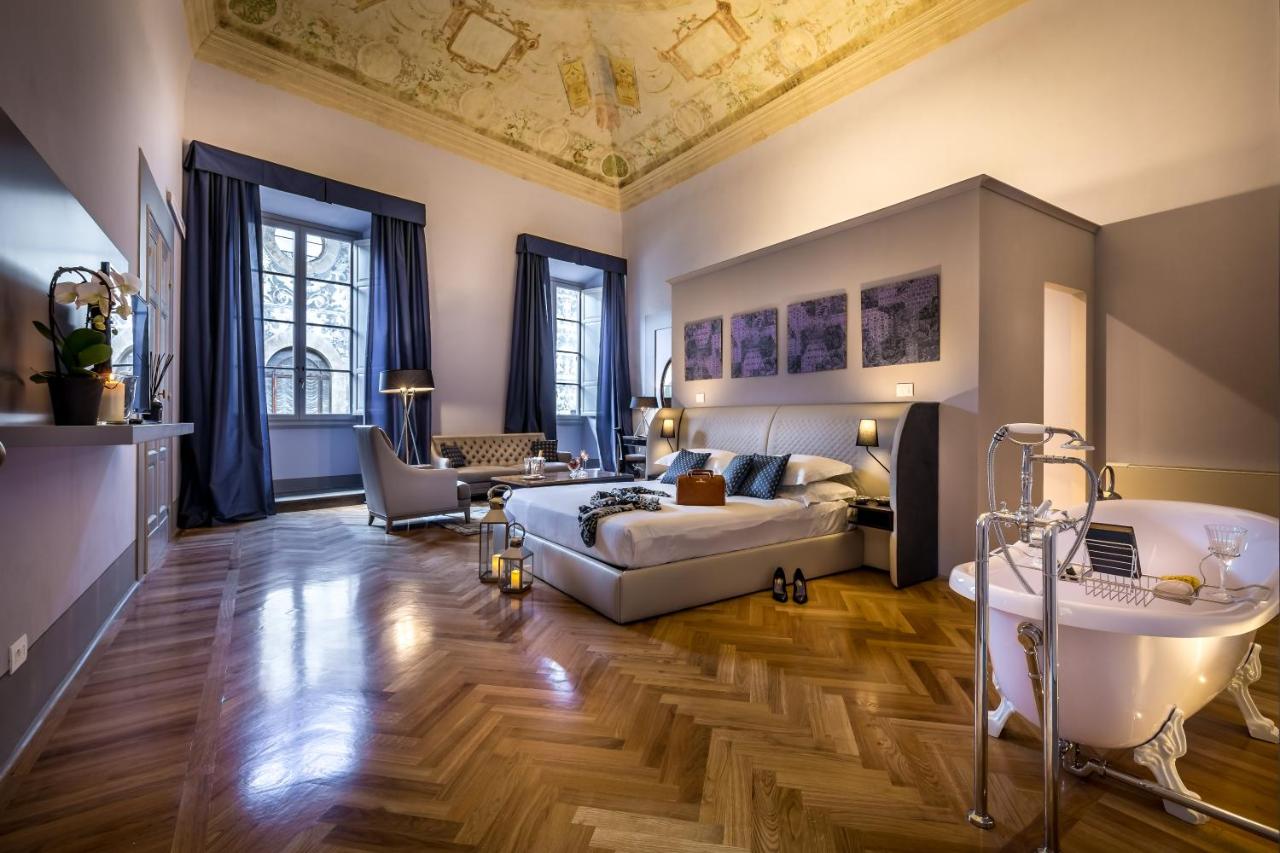 San Frediano Is the Coolest Place to Stay
San Frediano is also situated on the south side of the Arno River making it a bit more secluded.
If you want one of the best areas to stay in Florence for an authentic experience with locals, then you will absolutely love San Frediano.
This neighborhood is upbeat with an exciting mix of local artists, hip bars, and tiny shops.
A real hidden gem, Hemingway Cioccolateria Caffetteria is dedicated the Ernest Hemingway.
It is decorated and furnished like a study and library with bookshelves lining one wall. You really can't go wrong with the mix of rich literature and chocolate!
Notte Bianca is a summer festival that takes place in San Frediano and Santo Spirito.
The streets can become crowded during the festival from 9 pm until 2 am with bands playing music, people dancing, and vendors offering food and drinks.
So, if you may want to avoid the summer months if you prefer a more quiet stay.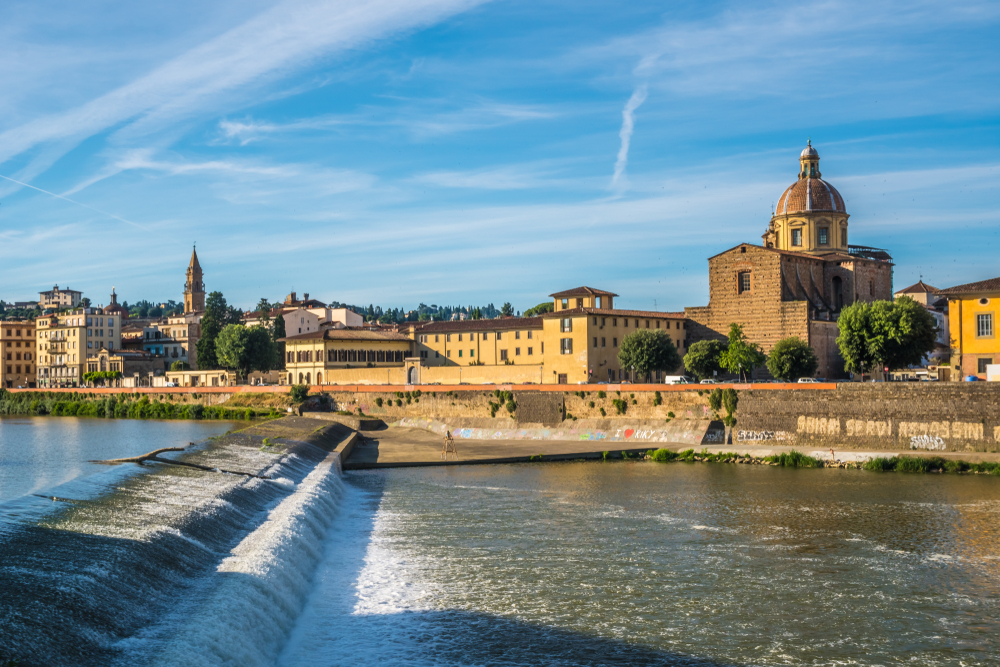 Best Places to Stay In San Frediano
Affordable: Piccolo Iris Firenze
Piccolo Iris Firenze is a beautiful two-bedroom apartment within walking distance of many attractions.
With a kitchenette, washing machine, flatscreen TV, and homey touches, you will find this place to stay in Florence very comfortable.
Each room has a window with great views of the Italian rooftops.
Overall, this is a comfortable place to chill at the end of the night after exploring Florence.
Check Rates: Booking.com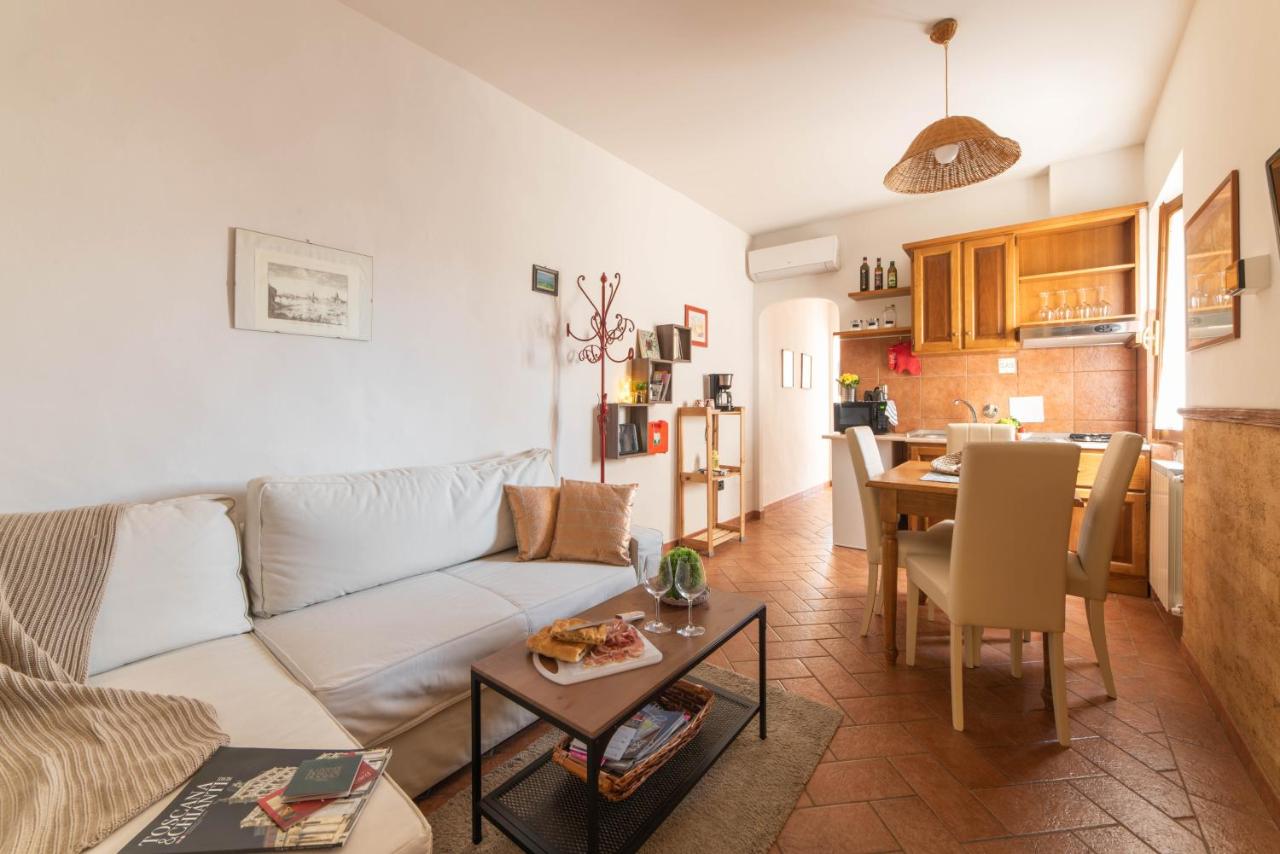 Mid-range: Casa Santo Nome di Gesu
Oh my goodness, you are going to fall in love with Casa Santo Nome di Gesu!
It is a truly stunning property with colorful gardens! The palace has 23 spacious rooms on two floors and no two are exactly alike.
Some have lovely frescoed ceilings, while others offer spectacular views of the gardens or the piazza del Carmine.
The staff is highly professional and trained to take care of your every need to ensure that you have a wonderful experience.
In the mornings, you can enjoy the relaxing atmosphere of the bright and open breakfast room that overlooks a private garden.
Amenities include an on-site reading area and a few meeting rooms. For those traveling with babies, they offer bottle warmers and baby cots.
Check Rates: Booking.com
Luxary: Horto Convento
A one-of-a-kind experience, Horto Convento is an old convent turned into a gorgeous hotel.
You can really feel its history as you walk the lush grounds.
All rooms have garden views and rain showers. The decor is very modern with a slight art deco influence.
Amenities include an on-site coffee shop, breakfast in the room upon request, a special diet menu upon request, and serene outdoor seating areas.
It is only a 15-minute walk from the train station.
You will soon agree this is the best part of Florence to stay in!
Check Rates: Booking.com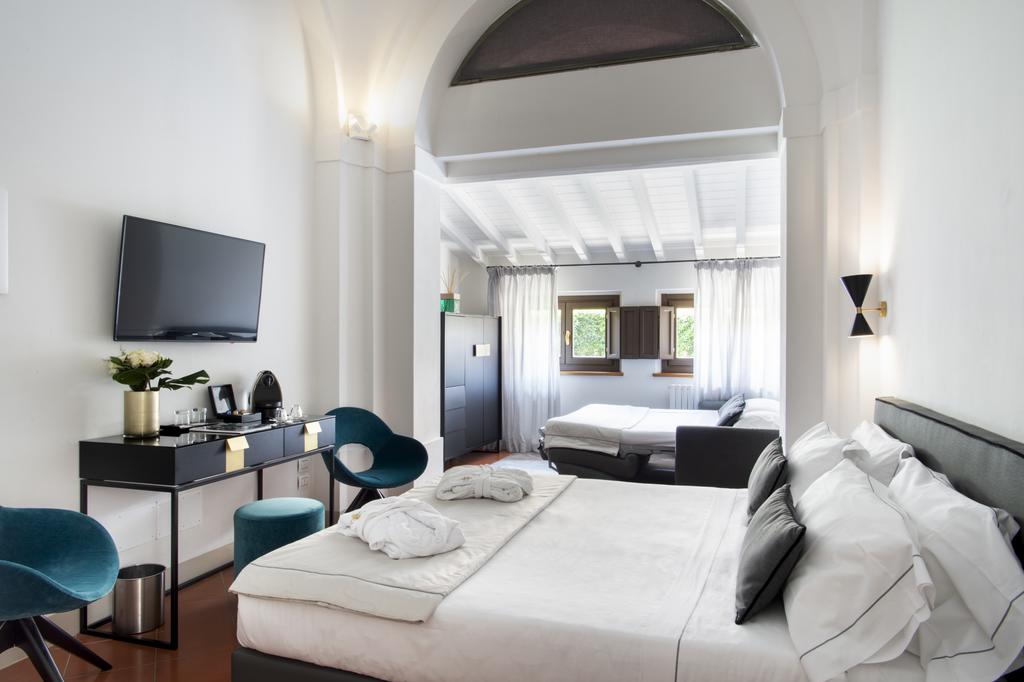 Well, we hope you've enjoyed touring all of these lovely neighborhoods and the best hotels in Florence.
With boundless historic sites, scrumptious food, warm hospitality, and striking scenery Florence have everything you could ever want from a travel destination!
Hopefully, this information has helped you to select the best place to stay in Florence and we wish you a magical visit.