Looking for the ultimate Northern Italy itinerary? You've come to the right place! This fun itinerary stops at some of the most iconic places in Northern Italy, including Milan, Venice, the Dolomites, and so much more!
This Northern Italy has so much to offer – from historical sites to hiking to views to food. As a matter of fact, it's home to some of the best things to do in all of Italy! This Northern Italy itinerary is sure to stop at as many of those iconic attractions as possible.
Although we do layout our suggestions of where to go, what to do, and where to stay on this Northern Italy itinerary, don't be afraid to make changes that you think will you suit you better. For example, if you've already visited Lake Como, consider spending a little more time in Lake Garda! Remember that this Northern Italy itinerary is meant to provide you with a structured idea of what you CAN do on your Italian vacation, not what you MUST do! This is one of the BEST ROAD TRIPS IN EUROPE so you are in for a real treat and a memorable experience!
Lastly, before you go, make sure you aren't forgetting any of these 10 things on your Italy packing list! We just want to make sure you are prepared for this wonderful itinerary!
Experience Italy like a local by staying at an Airbnb! Get a FREE $40 Airbnb Coupon by using our code when you book!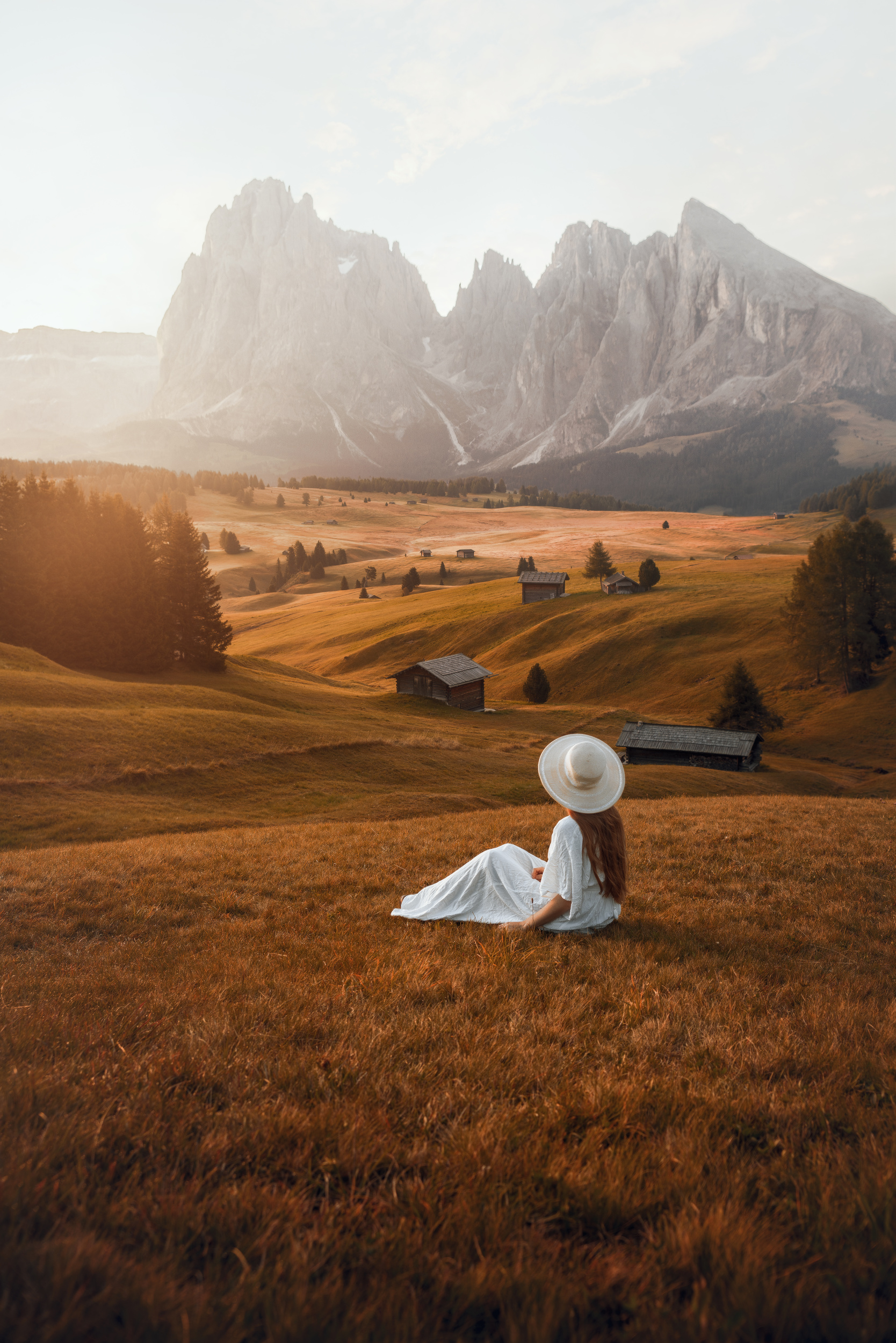 The Ultimate Northern Italy Itinerary
Begin Your Northern Italy Itinerary by Flying Into Milan
For the purposes of this Northern Italy itinerary, you'll fly into Milan. The main airport in Milan is the Milan Malpensa international airport, which has tons of affordable international flights each day!
We recommend checking out Skyscanner to find the best and most affordable flights into Italy. We use this tool to discover the best flights for our trip because you can easily compare rates.
We also suggest booking your Italy Itinerary on a travel credit card so you can earn points towards future travel! These are the travel credit cards we personally use!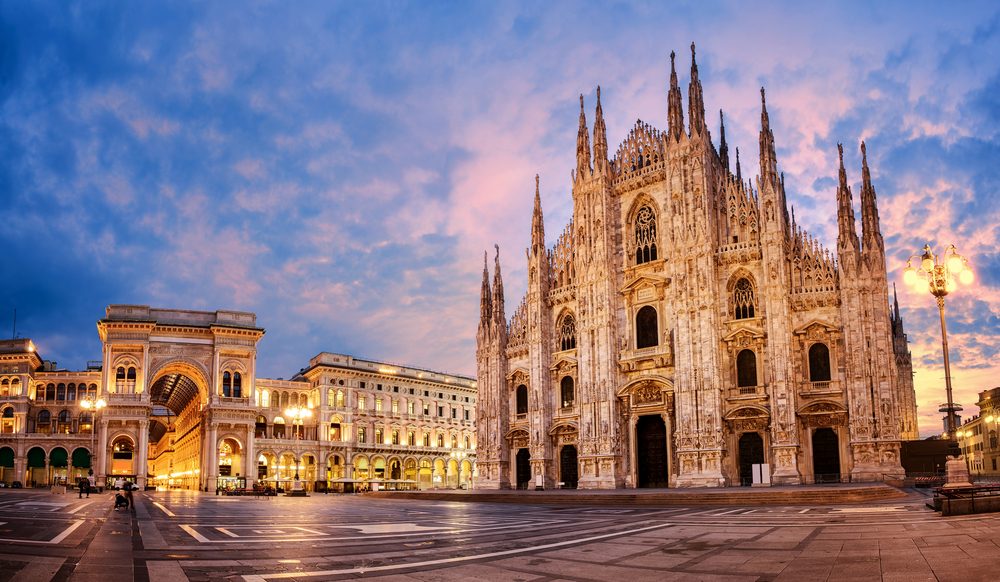 Stop 1: Spend Time Exploring Milan To Begin Your Northern Italy Itinerary
Milan is the perfect place to start your Northern Italy itinerary. It is filled with tons of amazing sights to see and shopping to do. You can see practically everything that you want to see in Milan in one day, making it a great starting point for a Northern Italy itinerary.
Things To Do In Milan
Do A Little Shopping At The Galleria Vittorio Emanuele II
If Milan is known for one thing, it's shopping, and some of the best shopping you can do in Milan is at the Galleria Vittorio Emanuele II. Located just steps away from the Duomo di Milano, the Galleria Vittorio Emanuele II is one of the oldest shopping malls in the entire world! And even though it's been around for centuries, it's still a great place to stock up on the latest fashions or simply do a bit of window shopping.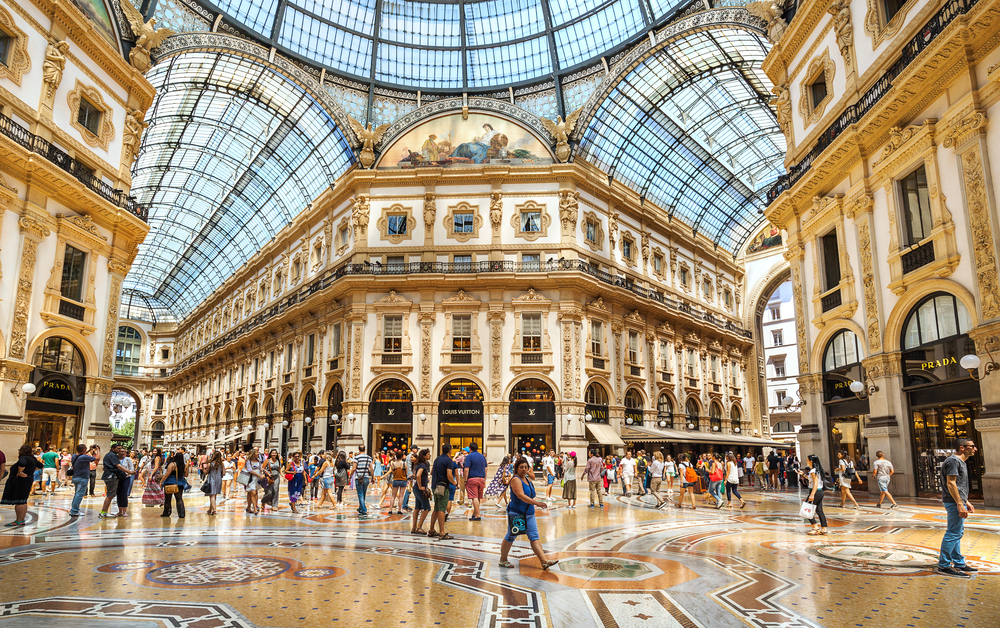 Visit The Amazing Milan Cathedral
The Milan Cathedral, also known as the Duomo di Milano, is an iconic gothic cathedral located right in the center of the city. It took almost 600 years to build this cathedral, and between the intricate details both on the inside and the outside, you can tell! To try to avoid the long lines, try to get to the Milan Cathedral early in the morning.
Pretend To Be Royalty In Castello Sforzesco
The Castello Sforzsco, also known as Sforza Castle, was originally built in the 13th century for Galeazzo Visconti, the Lord of Milan. After undergoing a crazy history of destruction and siege, Castelle Sforzesco is now a gallery filled with museums on Milanese art and history.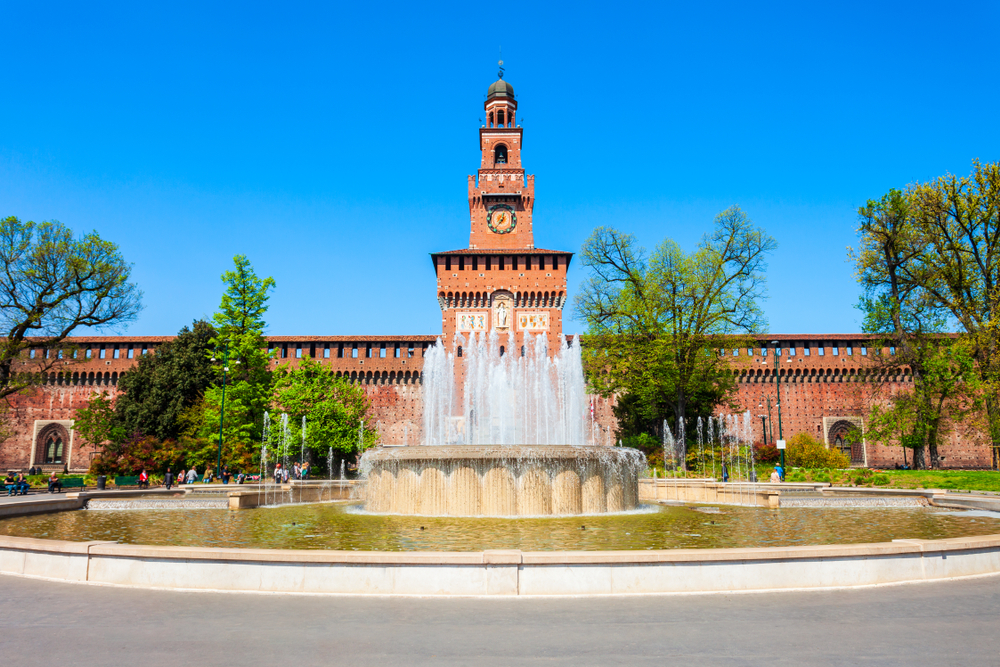 Explore Milan On A Bus Tour
A hop-on-hop-off bus is a great way to explore the city if you have a limited amount of time. Not only will you be able to see many of Milan's sights, but you'll also learn so much about Milan from the audio tours provided on the hop-on-hop-off bus tours!
Book Here: 1-2 day Hop On Hop Off Tickets
Where To Stay In Milan
Since you'll only have a day or so in Milan during this Northern Italy Itinerary, you'll want to stay at an accommodation close to all of the attractions. Doing so will help you make the most of your time in Milan.
If you want to spend a bit more time in this beautiful Italian city or you want to peek into our exact suggestions, check out our post on where to stay in Milan to help you decide!
Upscale: Duomo Rooms. Check Rates: Booking.com | Hotels.com
Midrange: Art Hotel Navigli. Check Rates: Booking.com | Hotels.com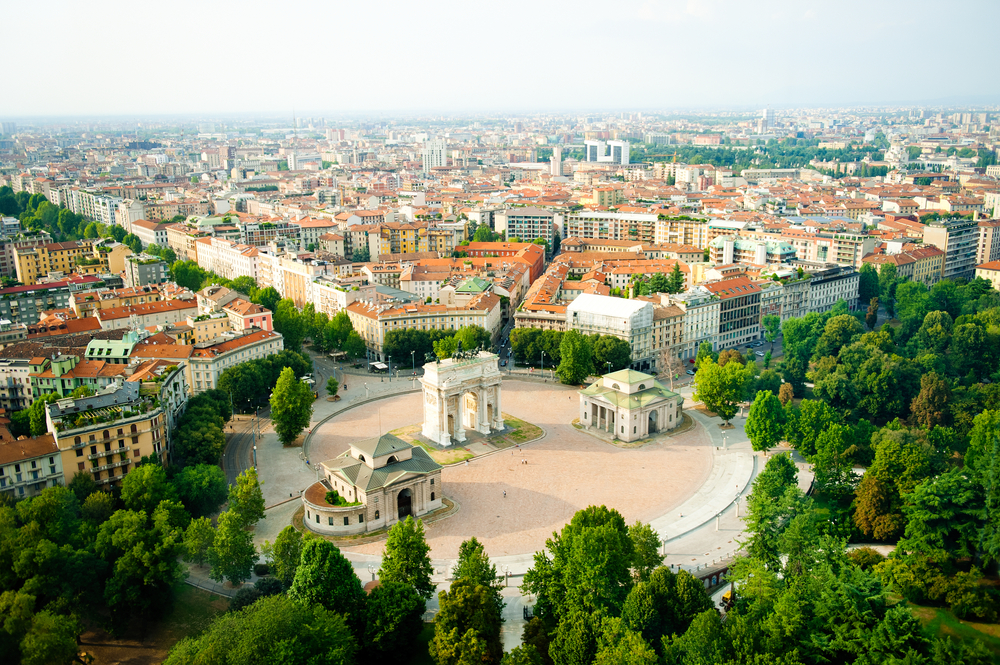 Stop 2: Bask In The Beauty Of Lake Como
Lake Como, also known as Lago di Como, is easily the most famous lake in all of Italy. Lake Como is separated into many different towns, including Como, Tremezzo, Cernobbio, Menaggio, Varenna and Bellagio. For this Northern Italy itinerary, we'll use Bellagio as our base.
Things To Do In Lake Como
Take A Stroll Through The Town's Tiny Streets
There are so many things to see just within Bellagio's old town center. On the old town center's main road, Via Giuseppe Garibaldi, there are cute restaurants to eat at, leather goods stores to shop at, and even historic churches to explore!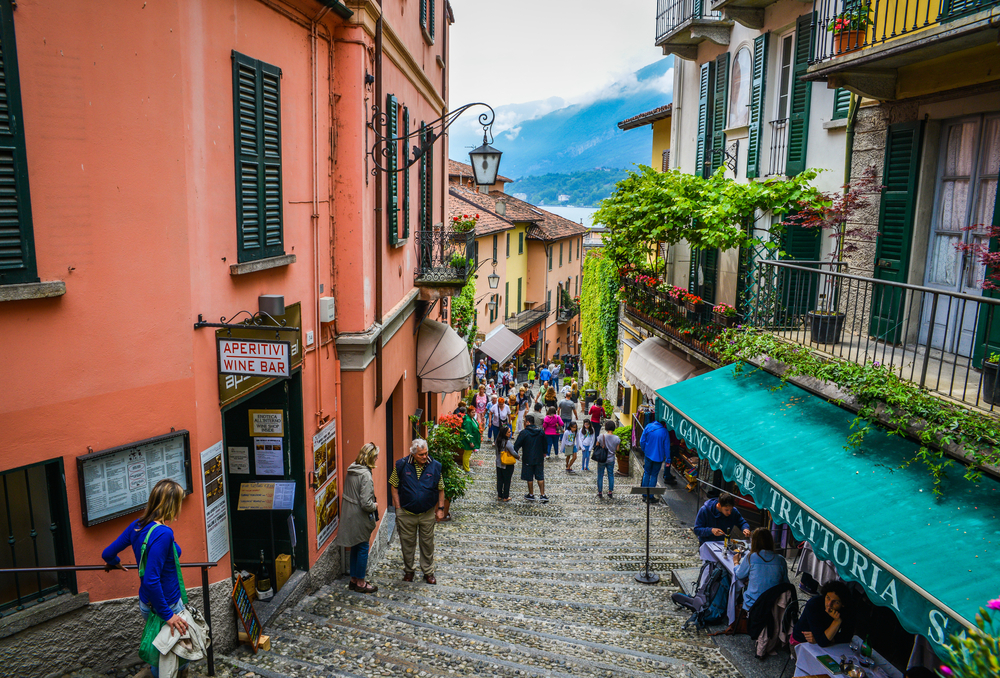 Take A Boat Tour
There are a couple of different options when it comes to taking a boat tour of Lago di Como. While you could, of course, take an information-packed, private boat tour catered to visitors, you could also take a public boat or ferry service by Navigazione Laghi if you're just in it for the views.
Head To Punta Spartivento
Lake Como is shaped sort of like the letter "Y." Punta Spartivento is a little lookout point right in the middle of the three sections of the Y-shaped lake. Take a little bit of time to watch the locals in their boats and perhaps snap a few pictures of the breathtaking scenery.
Wander Around The Villa Melzi Gardens
Open each year from March to October, the Villa Melzi opens its manicured gardens to the public. Filled with bright, blooming flora, including rhododendrons and azaleas, the Villa Melzi Gardens are a wonderful place to visit in Bellagio.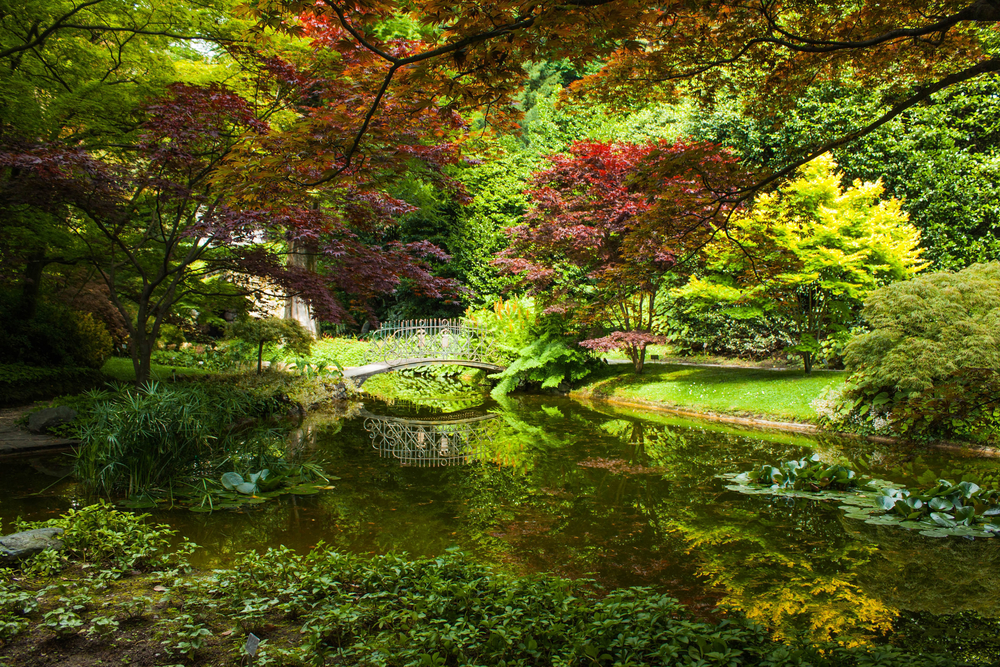 Where To Stay In Lake Como
Because this Northern Italy itinerary is focused on the Bellagio part of Lake Como, the accommodations suggested below are also in Bellagio. That said, there are beautiful places to stay all around Lago di Como.
Upscale: Hotel Du Lac. Check Rates: Booking.com | Hotels.com
Boutique Hotel: Charming Bellagio Boutique Hotel. Check Rates: Booking.com | Hotels.com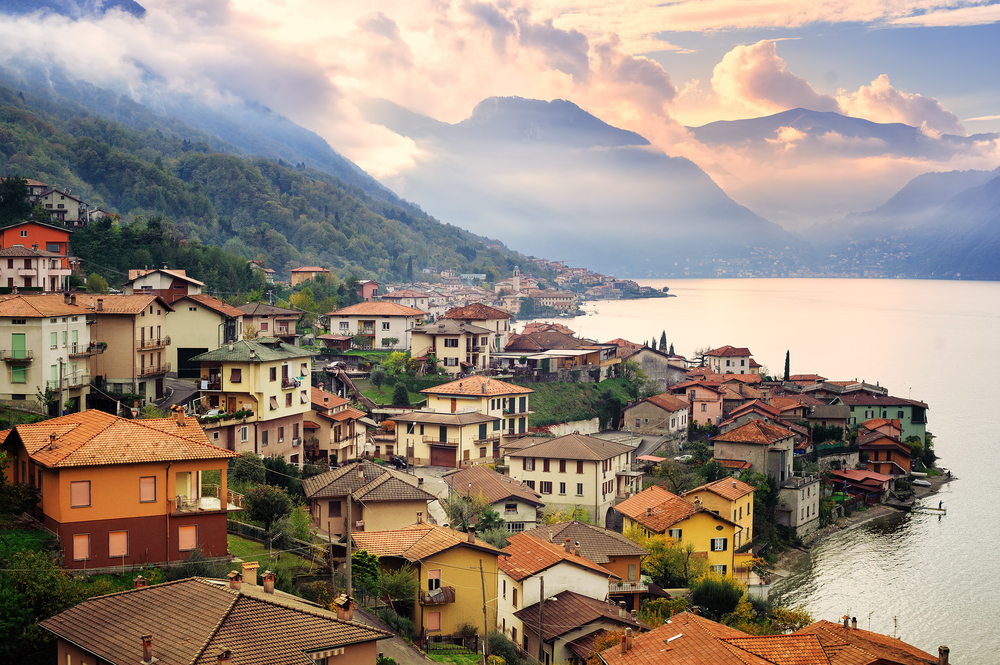 Stop 3: Discover The Charm Of Lake Garda
Along with Lake Como, Lake Garda is one of the most beautiful lakes in Italy. Because Lake Garda is nearly 150 square miles, it's more of a region than a city – and it's definitely more than you can tackle in one or two days. Instead, for the purposes of this Northern Italy itinerary, we'll use the lakefront city of Sirmione as our base.
Things To Do In Lake Garda
Get Transported Back In Time At Scaligero Castle
The most popular thing to do in Sirmione is visit Scaligero Castle. Scaligero Castle has served many functions over the years, including as a port, a fortress, and a castle. Now you too can discover the significance of this Northern Italian castle by exploring within its walls.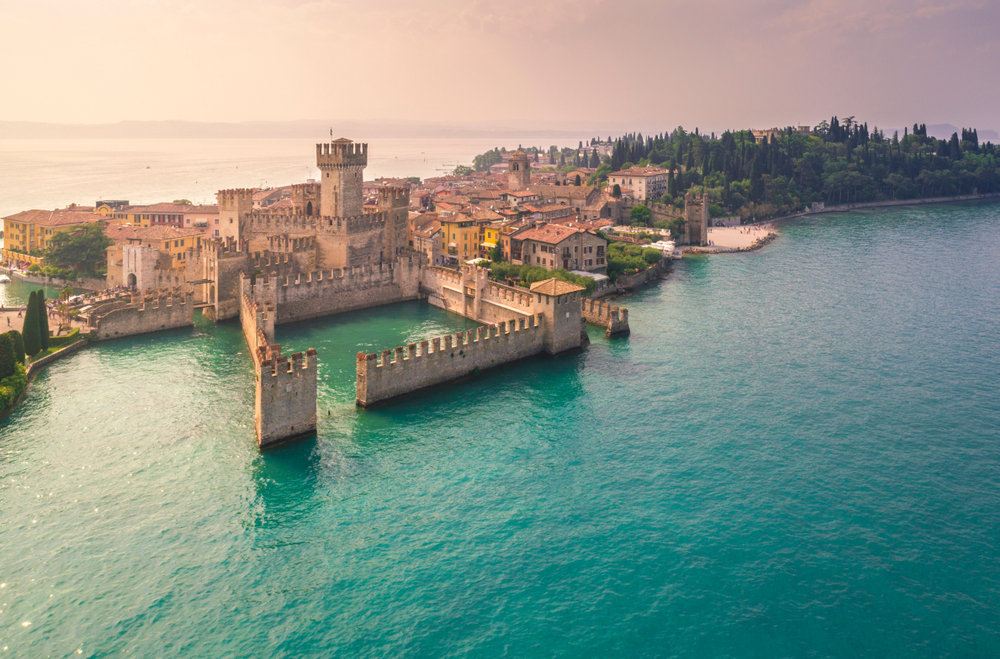 Wander Around Grotte Di Catullo
Built in between the 1st century B.C. and the 1st century A.D., Grotte Di Catullo is easily the oldest part of Lake Garda. Within this archaeological park, there are the remains of a large Roman villa known as Grotti Di Catullo. And you can be sure that a Roman elite in the 1st century with their pick of the land chose the spot on Lake Garda with the very best views.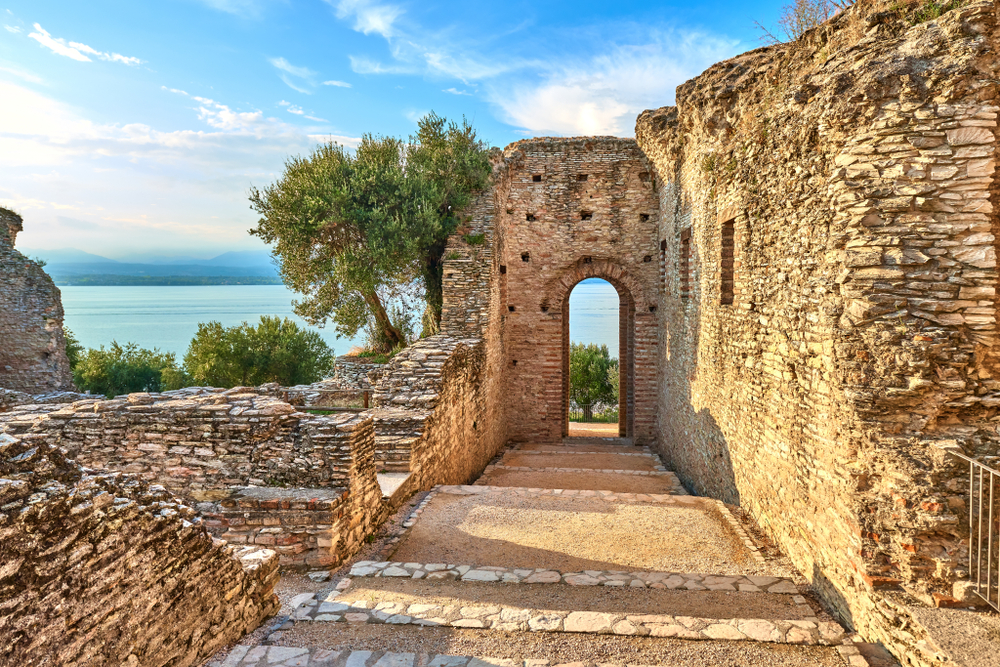 Enjoy The Water
It'd be a shame to visit one of Italy's most beautiful lakes and not enjoy the water! Try out a new water sport, relax on Jamaica Beach, or perhaps take a boat tour of Lake Garda. Which of these amazing water activities will you choose to enjoy?
Book Here: Lake Garda Boat Tour
Where To Stay In Lake Garda
While visiting Lake Garda, you'll want to be as close to the lakefront as possible. Luckily for you, there are accommodations for all budgets right on the water!
Upscale: Villa Cortine Palace Hotel. Check Rates: Booking.com | Hotels.com
Affordable: La Luce Di Sirmione. Check Rates: Booking.com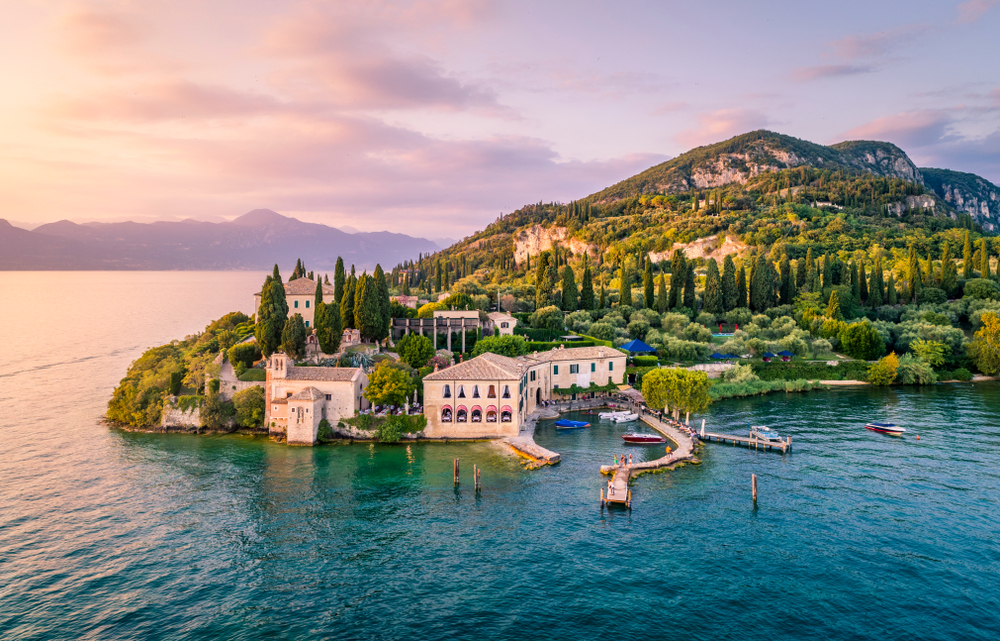 Stop 4: Stare In Awe At Western Dolomites
Before visiting the Dolomites, most people don't actually realize how big this natural wonder is. The Dolomites technically take up over 6,000 square miles. It's HUGE! While you won't be able to explore all 6,000 square miles, this Northern Italy itinerary splits this natural wonder up into the Western Dolomites and the Eastern Dolomites, so you can see a bit more.
Things To Do In The Western Dolomites
Explore Seiser Alm During Any Season Of The Year
Seiser Alm is a mountain plateau in the Dolomites that has something to do no matter what time of year you visit. While in the winter, it's a great place for skiing, in the spring and fall, it's a great place for hiking, climbing, and horseback riding!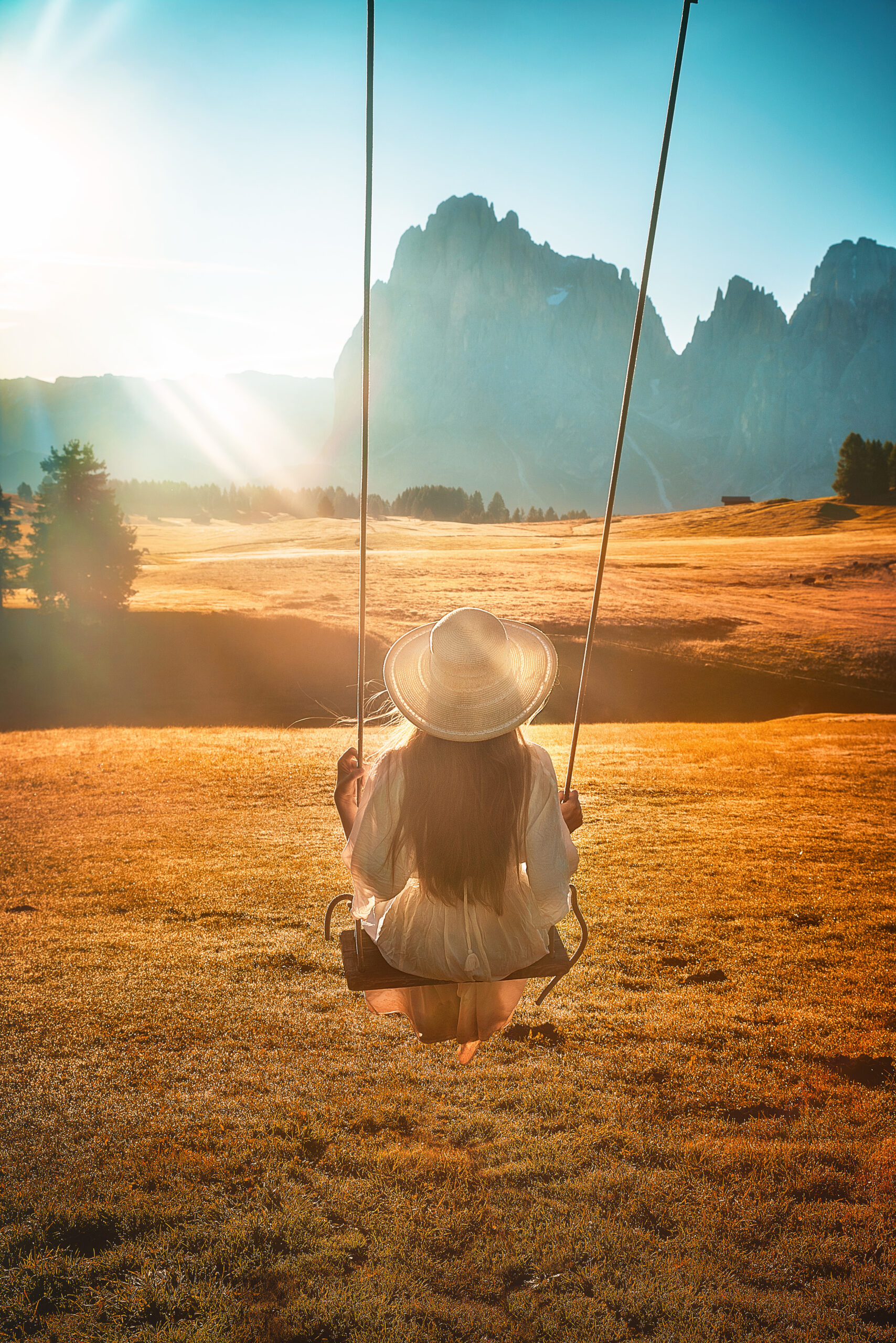 Take In The Stunning Views of Val Di Funes
Val Di Funes is one of the best photography spots in the Dolomites. Situated in a blooming valley with picturesque buildings and towering mountains, Val Di Funes looks like it came straight out of a magical storybook!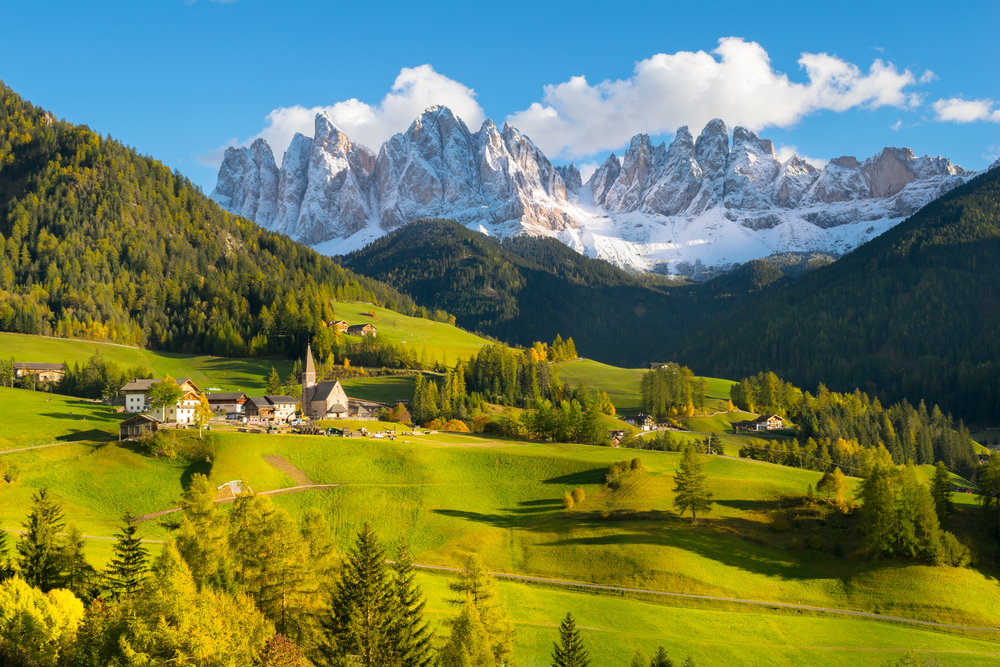 Tackle The Seceda Ridge Hike
The 5.5-mile Seceda Ridge hike is one of the best Dolomites hikes. After hopping on a cable car, you'll reach the trailhead. Along the way, you'll be able to catch unparalleled views of the Dolomites, including the twin spires of Pieralongia, Cisles Alm, quite a few horses and cows, and even several adorable huts.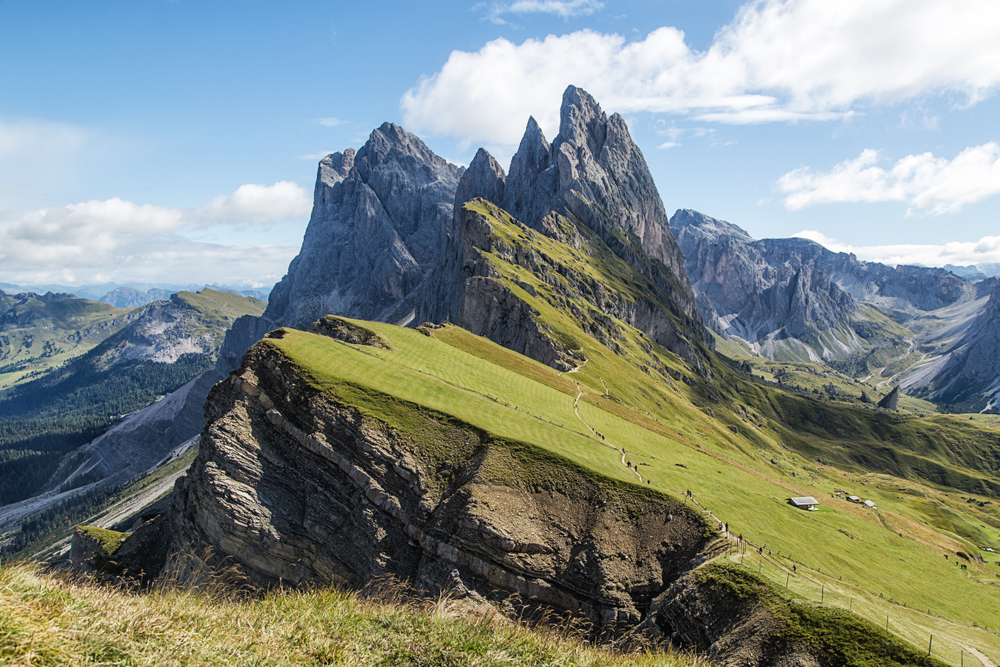 Cycle Along The Passo Gardena
The Passo Gardena, also known as the Gardena Pass, is a famous cycling area in the Dolomites. Each year, it is one of the seven peaks that cyclers must peddle through during the Maratona dles Dolomites, the Dolomites Marathon. But rather than trying to tackle all seven peaks, many visitors just opt to cycle through the Passo Gardena.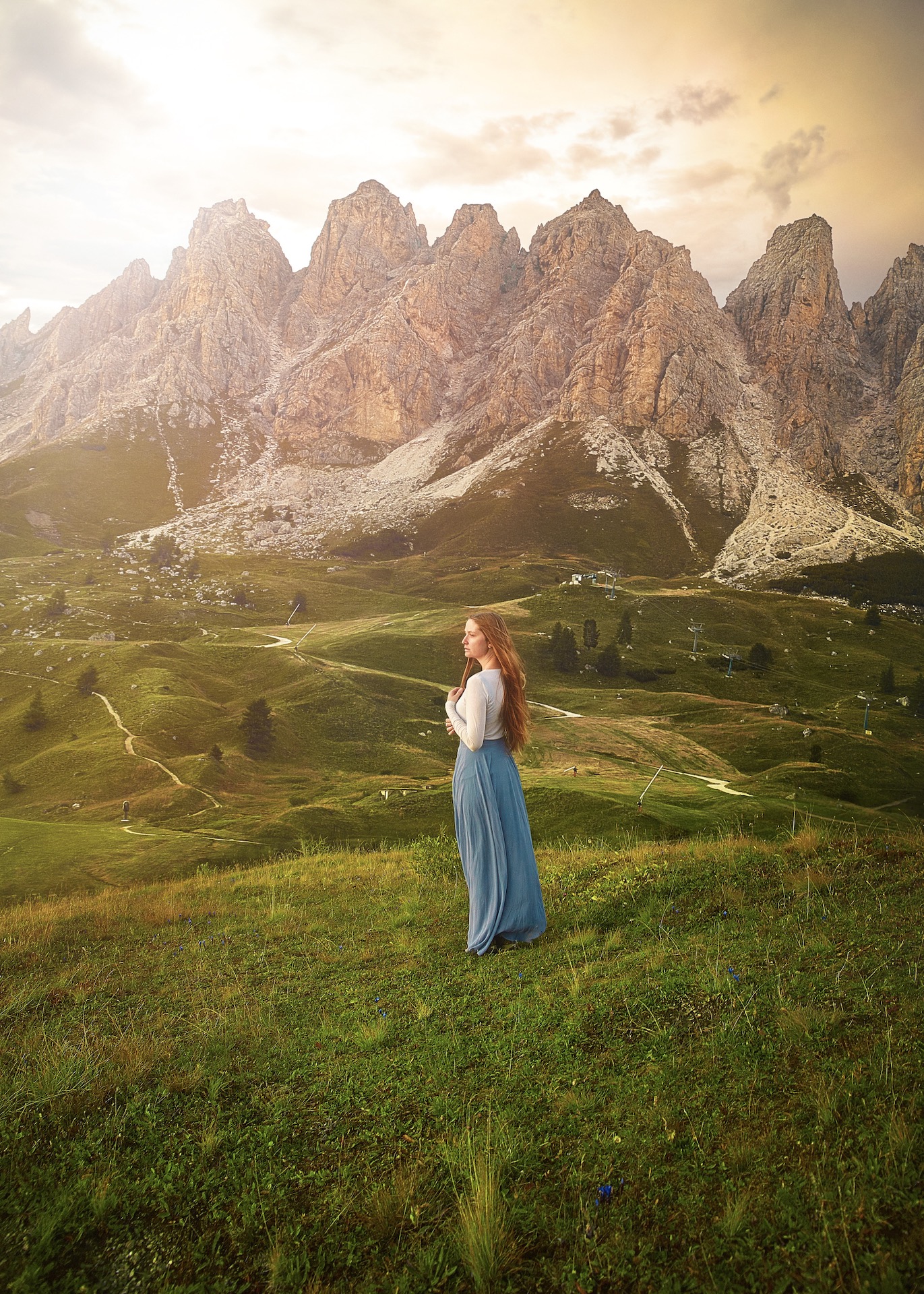 Where To Stay In the Western Dolomites
Because the Dolomites are so large, it's important to find an accommodation that is relatively close to the activities that you want to do that day or the following day. And it's an added bonus if the hotel just so happens to have stunning views of the towering Dolomite mountains.
Upscale: Hotel La Perla. Check Rates: Booking.com
Affordable: Smart Hotel Saslong. Check Rates: Booking.com | Hotels.com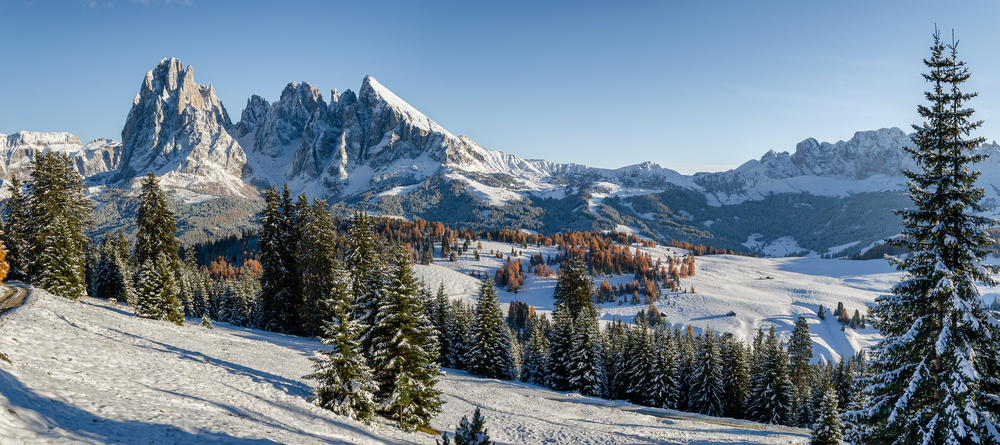 Stop 5: Discover The Stunning Lakes Of The Eastern Dolomites
While the Western Dolomites are filled with towering mountain tops, the Eastern Dolomites have those similar towering mountain tops and a few stunning lakes! Both sides of this natural wonder and UNESCO World Heritage Site have something to offer.
Things To Do In The Eastern Dolomites
Take In The Beauty of Lago Di Braies
Lago di Braies, also known as Pragser Wildsee, is a breathtaking lake nestled in the middle of the Eastern Dolomites. While in the summer, this turquoise lake is perfect for a picturesque boat ride, in the winter, you'll be able to take in marvelous views of the frozen lake and snowcapped mountains from the very same place!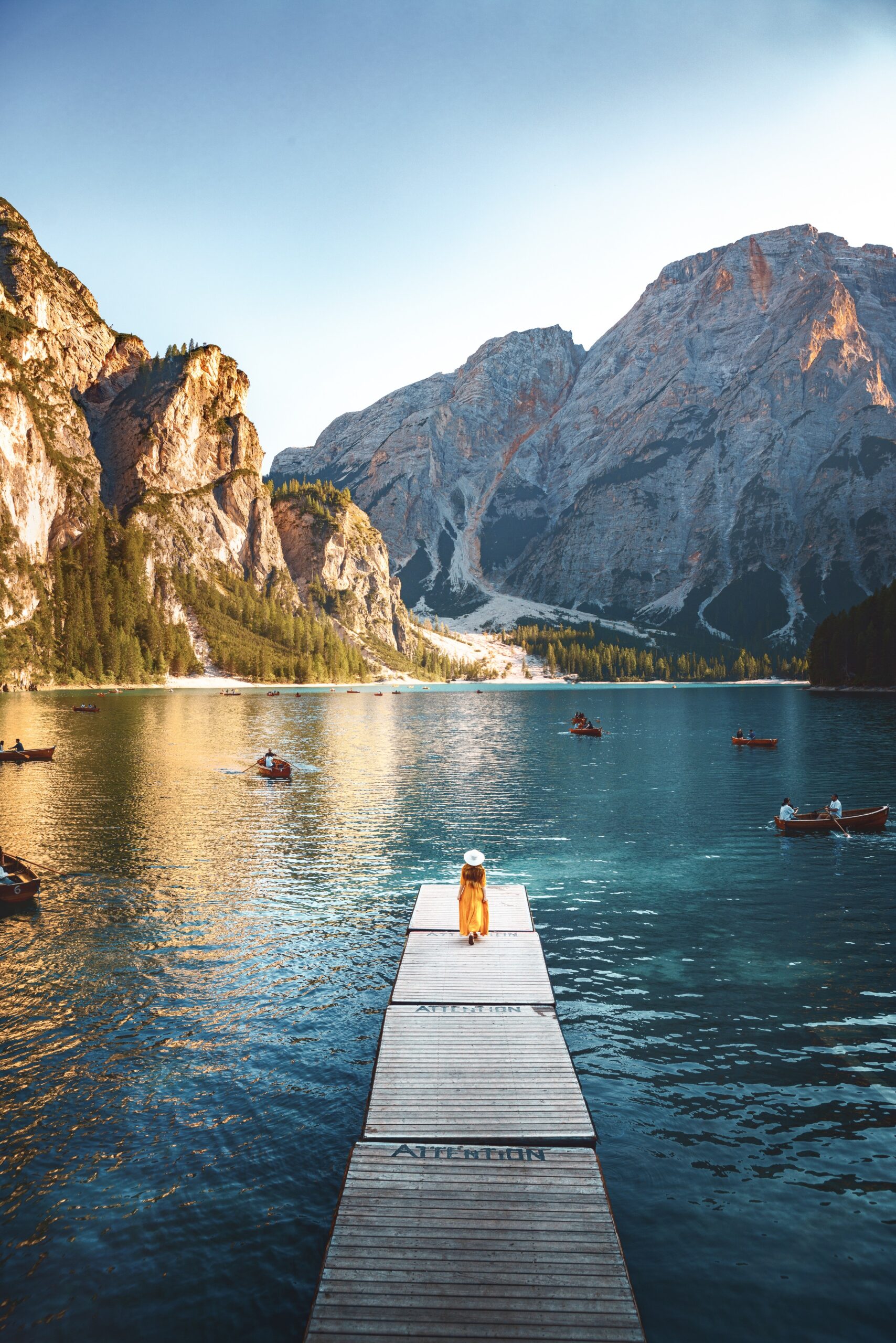 Visit Lago Di Limides
While Lago di Braies has been getting more and more famous, Lago di Limides still manages to slip under the radar for the most part. While it does require a bit of a hike to reach its shores, Lago di Limides is another amazing spot in the Dolomites. Do know that if you visit in the winter, there's a good chance that Lago di Limides will be dried out.
Hike The Three Peaks Of Tre Cime
Tre Cime, which translates to "three peaks," are three of the most iconic Dolomite mountains. There is a flat, six-mile hike that gives you the best views of these otherworldly peaks. And if you happen to visit in the summer, the towering mountains of Tre Cime are accompanied by a beautiful bright carpeting of wildflowers!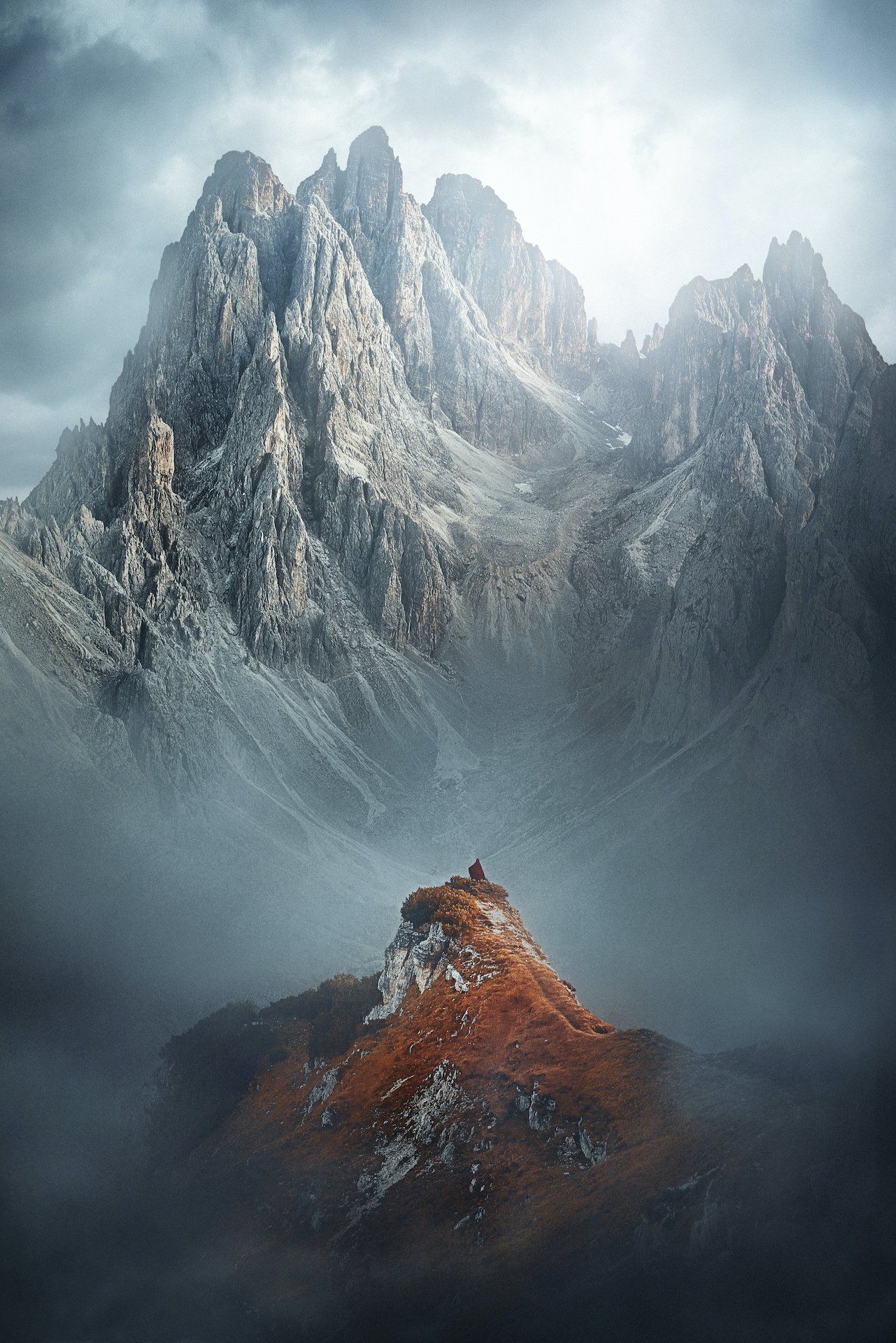 Where To Stay In the Eastern Dolomites
It's a bit harder to find solid accommodations in the Eastern Dolomites than the Western Dolomites. You want a well-rated hotel near the activities, filled with the necessary amenities, and preferably boasting an amazing view.
Mid-Range: Hotel Christof. Check Rates: Booking.com | Hotels.com
Upscale: Park Hotel Bellevue. Check Rates: Booking.com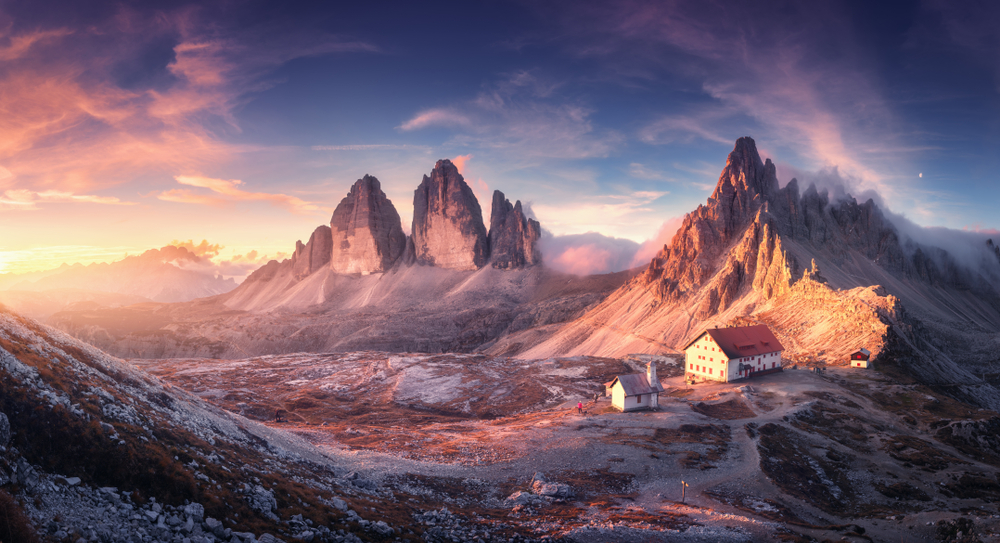 Stop 6: Step Into Shakespeare's Romeo And Juliet in Verona
Verona is most well-known as the setting of Shakespeare's famous play, Romeo and Juliet. But that Shakespeare reference isn't all that this picturesque Italian town has to offer. Visit Northern Italy's version of Rome's Colosseum or climb up a tower that took almost 700 years to build!
Things To Do In Verona
Check Out Northern Italy's Version Of Rome's Colosseum, Arena Di Verona
Everyone knows about Rome's Colosseum – there are lines that last for hours there! Luckily, Northern Italy has its own coliseum, the Arena Di Verona. Built-in 30 A.D., this historic structure is now used primarily as an opera venue. If you're not an opera fan, don't worry! Other performers, including Whitney Houston, Mumford & Sons, One Direction, and Paul McCartney, have performed at the Arena Di Verona as well.
Book Here: Arena Di Verona Skip The Line Tour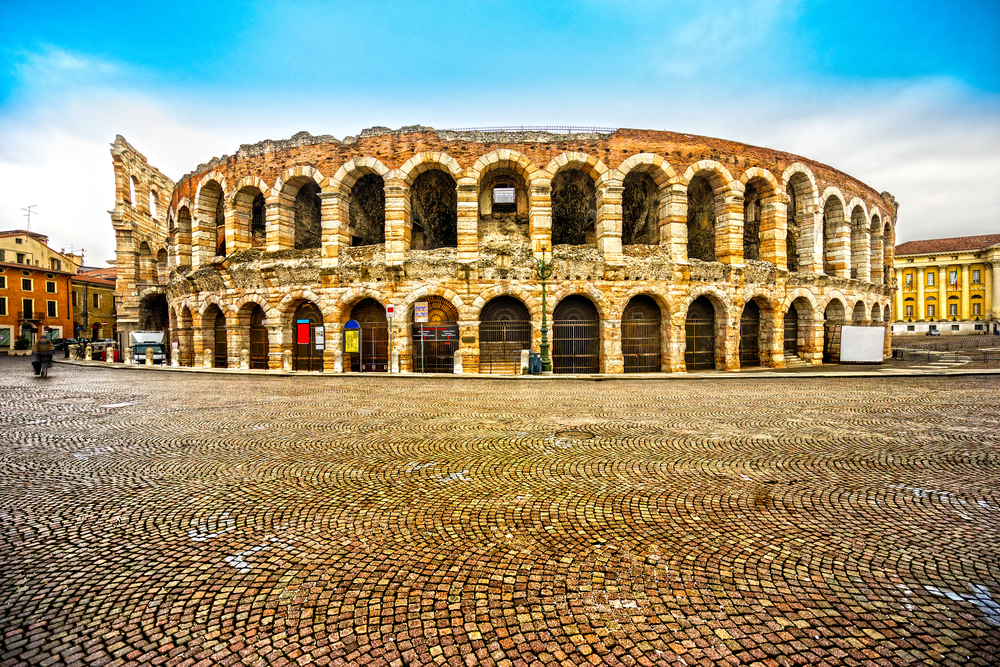 Book Here: Verona Card Priority Entrance
Escape From The Crowds At Giardino Giusti
Odds are Casa Di Giulietta will be packed with visitors. To escape from the crowds, head to the calming Giardino Giusti. This precisely maintained garden gives off vibes similar to that of the Gardens of Versailles, just on a smaller scale. Giardino Giusti is a wonderful place to take a pause from your exciting Northern Italy Itinerary and just enjoy a little bit of stillness.
Wander Through Casa Di Giulietta
Casa Di Giulietta, which translates to "Juliet's house," is believed to be the home of Juliet from Shakespeare's Romeo and Juliet (although Shakespeare himself never explicitly specified where Juliet lived). This house was used in 1968 Romeo and Juliet film, which means you'll be able to see Juliet's iconic balcony while at Casa Di Giulietta. To make the most of your time in Verona, consider purchasing the Verona Card, as it gives visitors priority entrance to Casa Di Giulietta, Arena Di Verona, and Torre Dei Lamberti.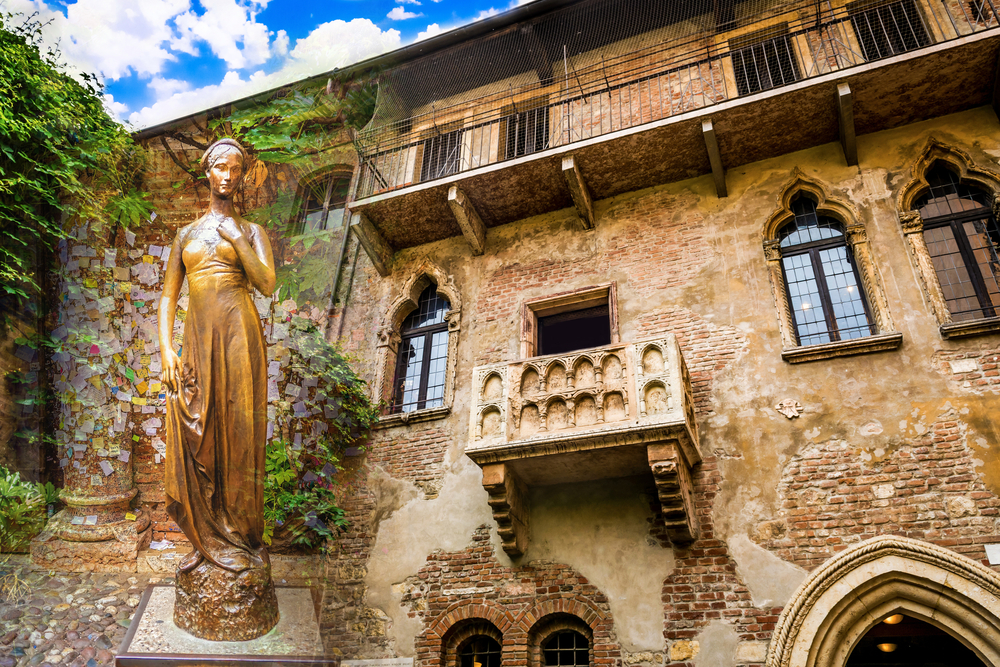 Catch Amazing Views Of The City From The Top Of Torre Dei Lamberti
Standing at 275 feet tall, the Torre Dei Lamberti is the tallest structure in Verona – but it took a while to reach that height. Construction started in 1172, and after a pattern of construction and reconstruction, the finishing touch – a clock – was added in 1798! Now, you can climb this structure that took nearly 700 years to build to catch one of the most amazing views of Verona.
Book Here: Torre Dei Lamberti Skip The Line Entry
Where To Stay In Verona
As a city, Verona embodies romance and classiness, and your hotel should be no different. Just like Romeo and Juliet, you'll want to feel like you're in a fairytale during your stay in Verona.
Upscale: Due Torri Hotel. Check Rates: Booking.com | Hotels.com
Affordable: Hotel Leon D'Oro. Check Rates: Booking.com | Hotels.com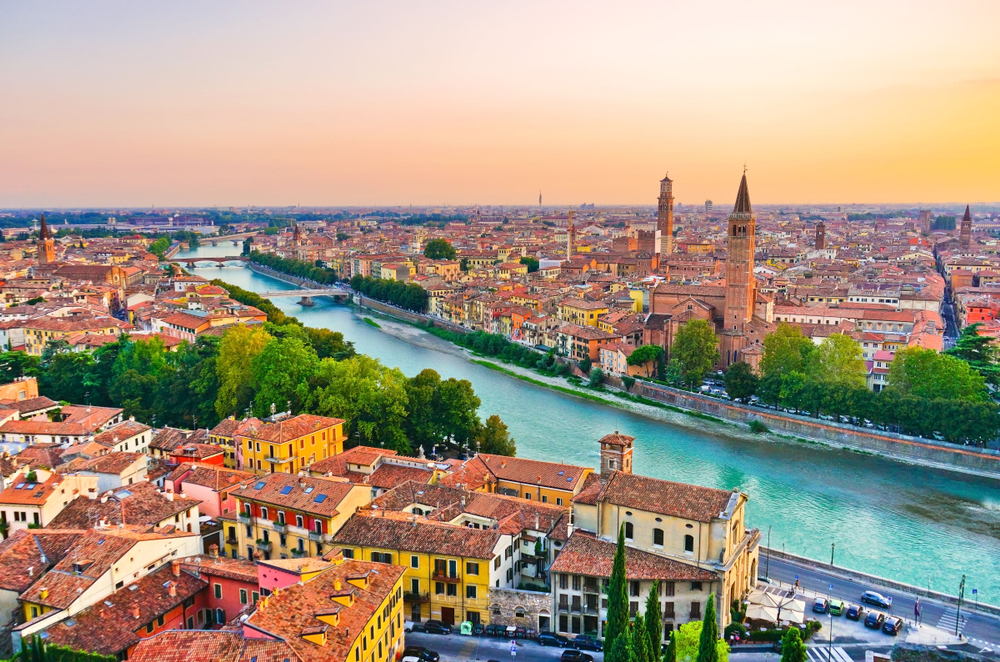 Stop 7: Float Along Italian Canals in Venice
After Rome, Venice may be the most iconic cities in Italy. As a matter of fact, it's so amazing that it made it onto both our ten-day Italy itinerary and two-week Italy itinerary. Between its romantic gondolas and hundreds of bridges, Venice is a place unlike any other. You'll want to dedicate one day or two days of your Northern Italy itinerary to explore this one-of-a-kind city.
Things To Do In Venice
Spend Some Time at St. Mark's Square
St. Mark's Square, also known as Piazza di San Marco, is the center of Venice. It is very important to Venetians for many reasons, one being its dominance as the center of both political and religious power in Venice. From this single square, you can climb the Companile de San Marco Bell Tower, explore Doge's Palace, and wander around St. Mark's Basilica.
Book Here: Skip The Line Ticket For St. Mark's Basilica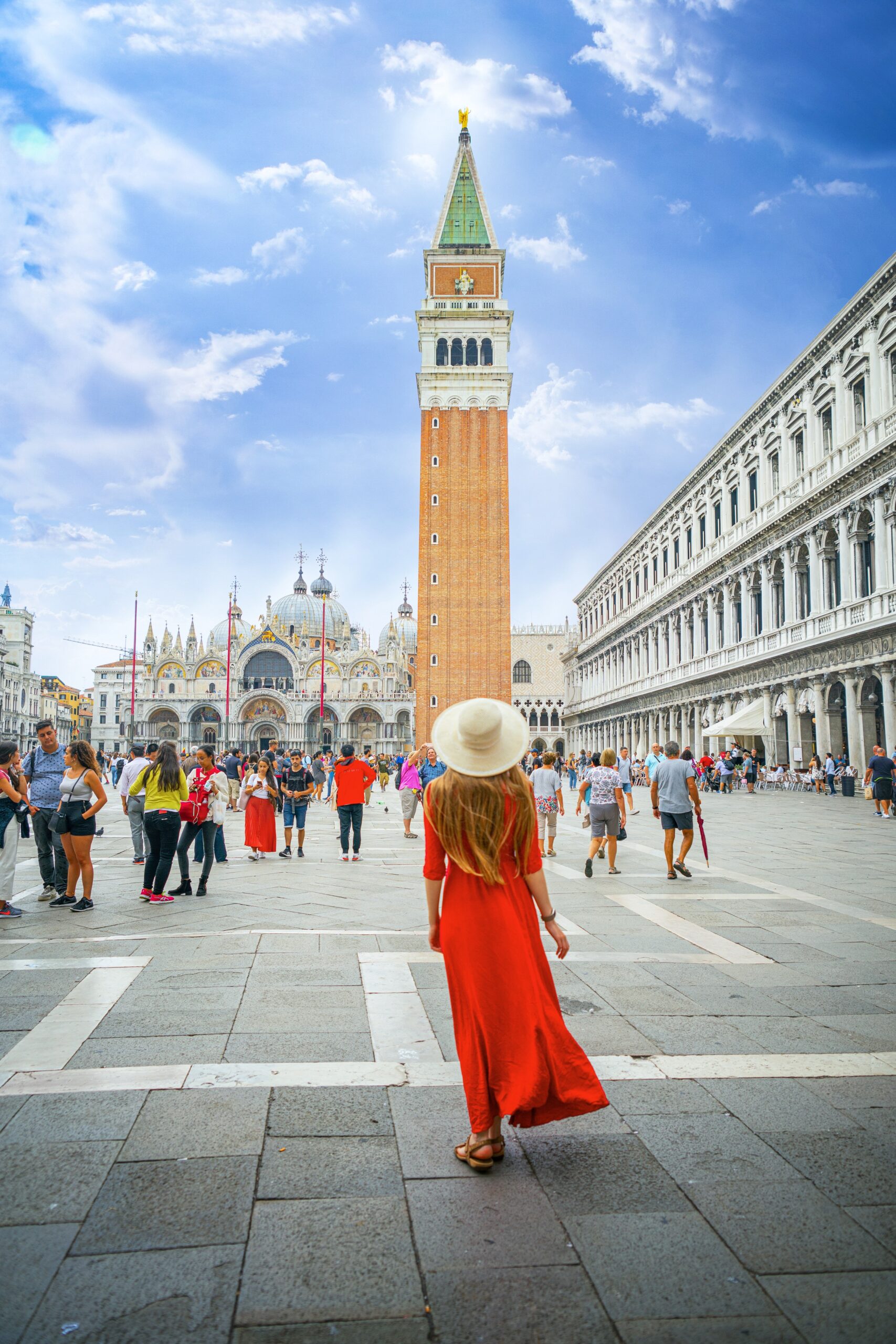 Stare At The Breathtaking Bridge of Sighs
Just steps away from St. Mark's Square and Doge's Palace, the Bridge of Sighs is another fascinating Venetian bridge. Historically, this bridge was used as a walkway for prisoners. After criminals were interrogated and convicted in Doge's Palace, they were walked across this very bridge to prison. According to Venetians, these convicted criminals would see the outside world for the last time on the Bridge of Sighs, hence, causing them to sigh. While most people can't access the Bridge of Sighs, there is one under-the-radar tour that allows you to walk across it.
Book Here: Secret Itineraries Tour
Go On A Gondola Ride
Being practically the only city in the world that uses boats rather than cars, a gondola ride is a must in Venice. Float around Venice's colorful buildings and under the ornate bridges for a tour unlike any other. Do know that gondola rides in Venice can be very expensive, so be sure to ask the gondolier how much the ride will cost before hopping in the boat.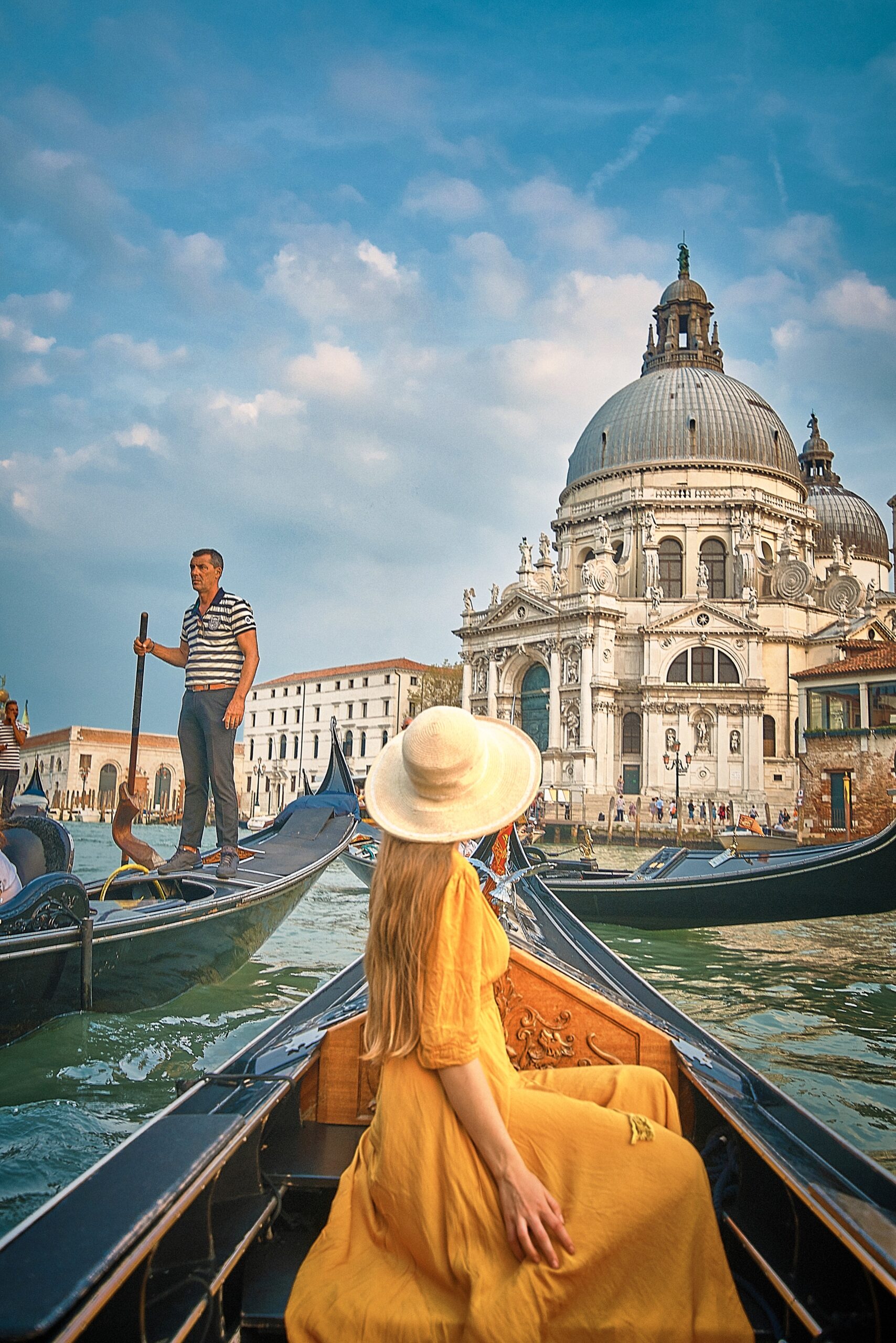 Book Here: 30 Minute Gondola Ride
Pop On Over To Murano
Venice is home to some of the most beautiful islands in Italy, and Murano is one of them! Just a short boat ride away, Murano is home to some of Italy's best glass makers. While you're there you should definitely try to watch a glass blowing demonstration! Seeing a glass blowing artist transform piles of sand into a beautiful piece within just a few minutes is a magical experience. And if you want to purchase a Murano glass piece for your home, you can definitely do that too!
Cross The Rialto Bridge
The Rialto Bridge, also known as Ponte di Rialto, is the oldest bridge in Venice that crosses the Grand Canal. This was quite a feat, as this rather 157-foot bridge was built between 1588 and 1591! Despite its age, the Rialto Bridge is definitely still a stunning sight to see, and that is confirmed by the fact that it also happens to be one of the most popular Instagram spots in Venice.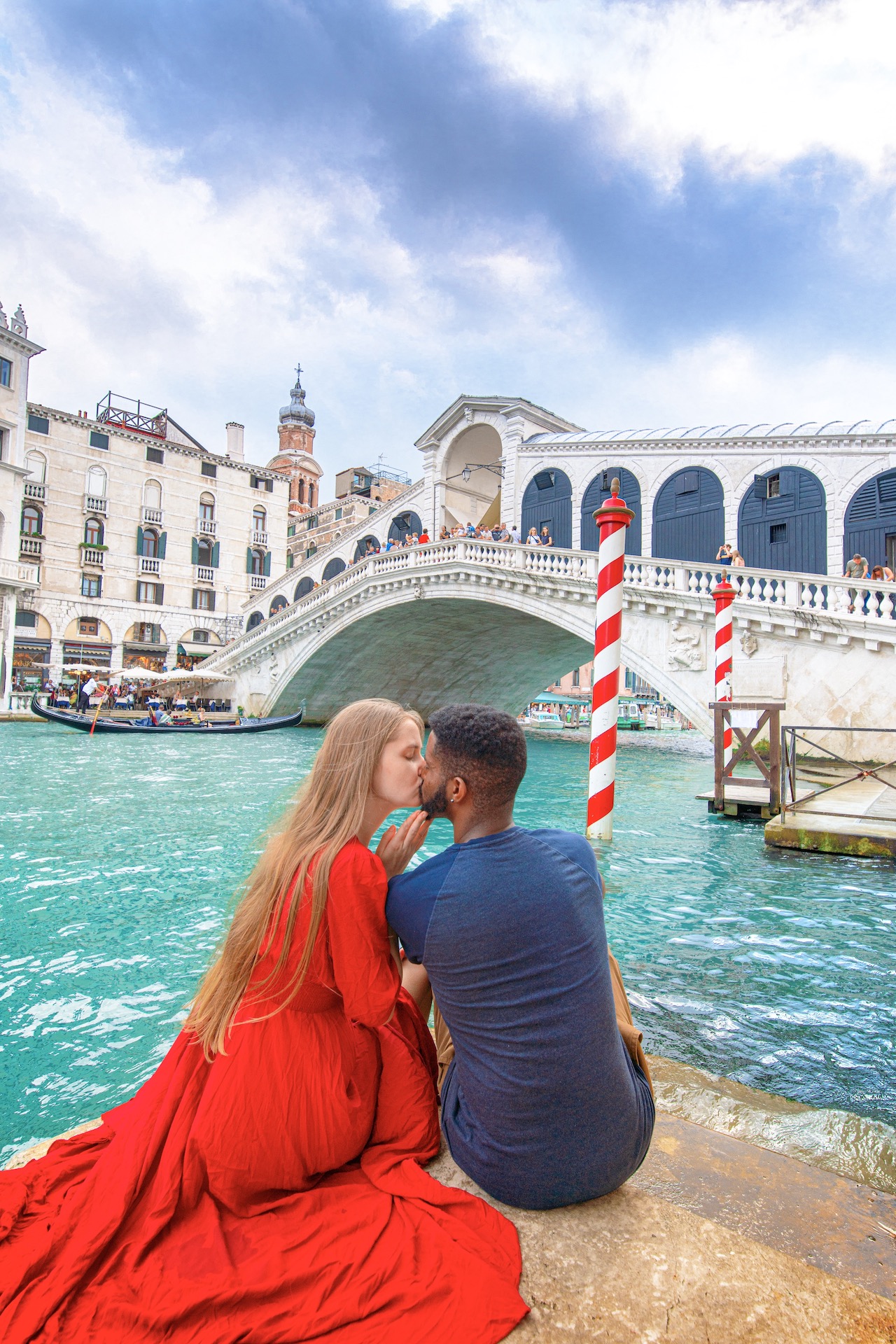 Where To Stay In Venice
When staying in Venice, it's much more convenient to stay in the city center. If you find yourself too far outside of that, you'll end up back in the land of cars and buses, which ruins the canal-based magic of Venice. For a few more options, feel free to check out our guide on exactly where to stay in Venice!
City Center: Hotel Danieli. Check Rates: Booking.com | Hotels.com
Mid-Range: Pensione Seguso. Check Rates: Booking.com | Hotels.com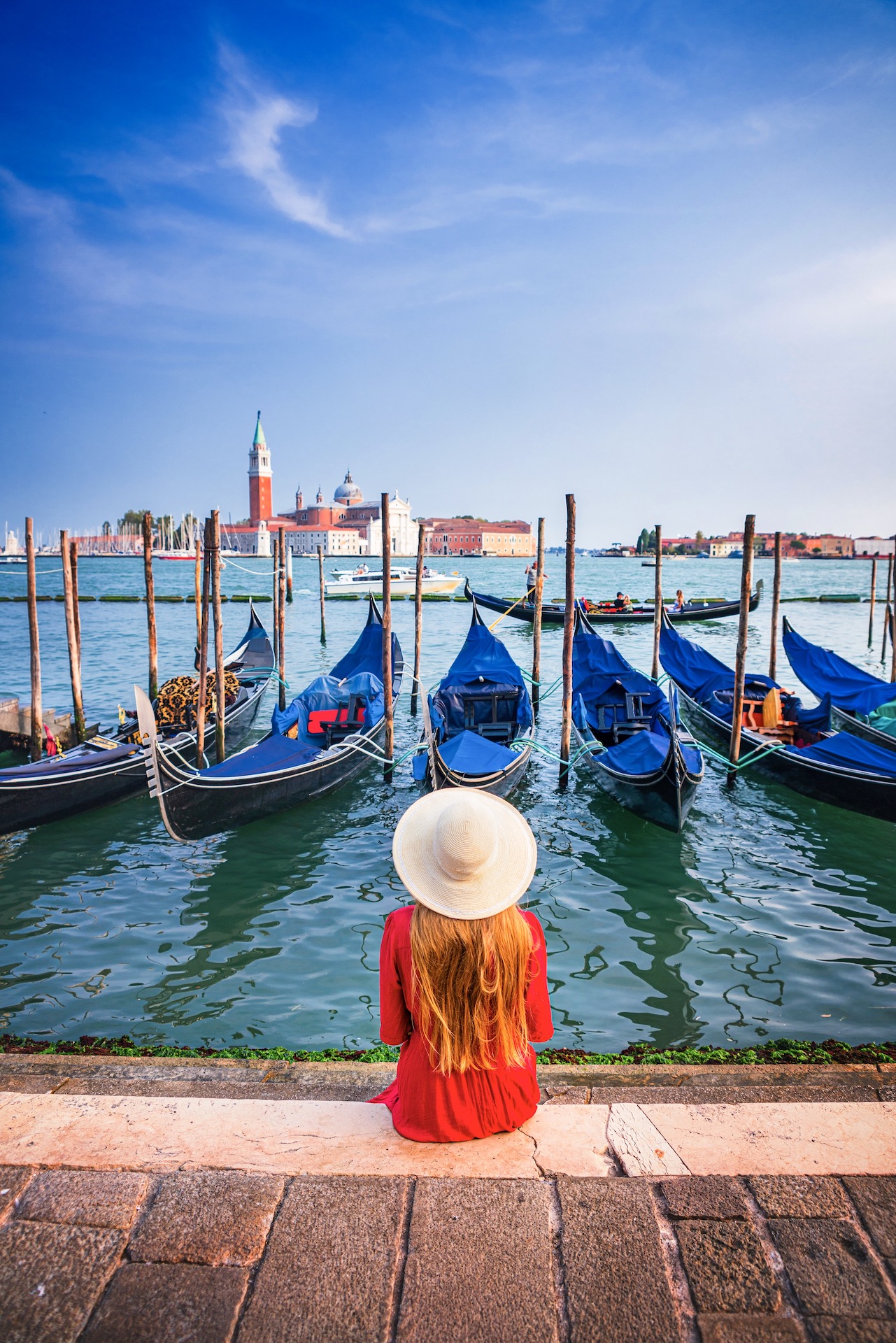 Stop 8: Embrace Your Inner Foodie In Parma
Food lovers! This stop on this Northern Italy itinerary is just for you! Parma is the home of Parmesan cheese and Parma ham. Basically, be sure to taste authentic ingredients and food while you're in this delectable Italian city.
Things To Do In Parma
Take A Food Tour
Since Parma is the land of iconic Italian foods, a food tour is on the top of the list of things to do in this Italian city. Not only will you be able to taste authentic Parma ham and Parmigiano Reggiano cheese, but you'll also have the opportunity to learn how these special ingredients are made.
Book Here: Parma Ham & Parmigiano Reggiano Factory Tour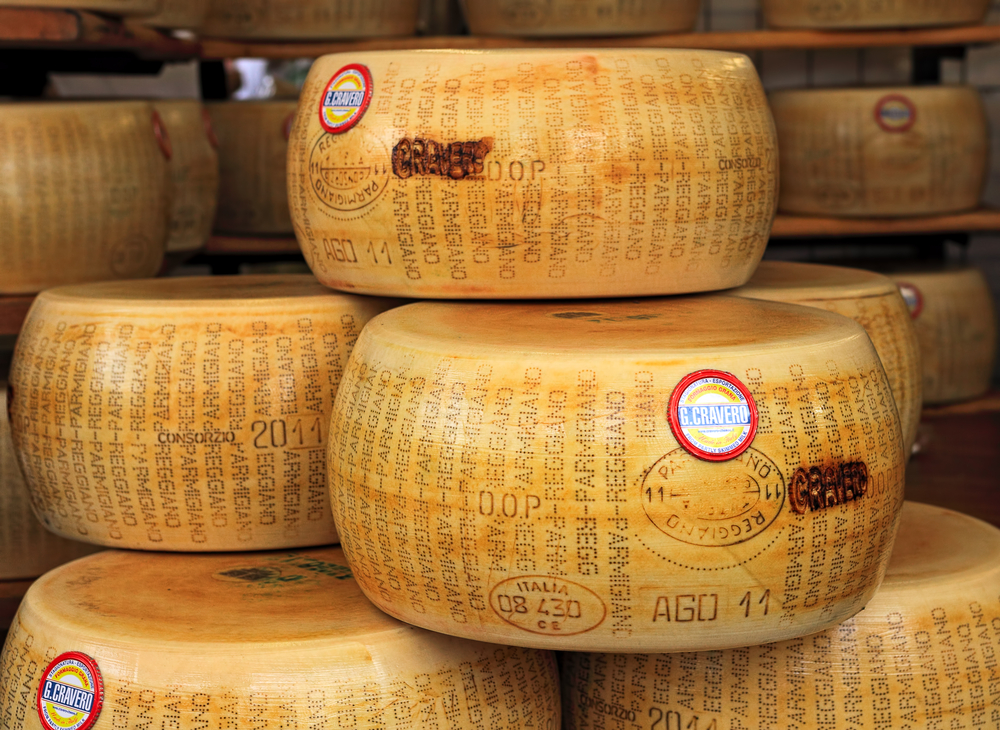 Visit The Parma Cathedral And Baptistry
Located side by side, the Parma Cathedral and Baptistry are monuments for history, religion, and architecture. Built between 1196 and 1216, the Parma Cathedral and Baptistry were constructed as the Romanesque architecture period was ending and the Gothic architecture period was beginning, allowing for the buildings to have elements of both styles.
Wander Through The Cobbled Side Streets
Food isn't all there is to do in Parma, as this hidden gem is one of the most beautiful places in Northern Italy. While Italy is filled with cobbled side streets lined with lovely buildings, it's rare that you get ones as authentic as those in Parma. Many of the side streets of major Italian cities like Rome and Venice are packed with tourists, so while you may encounter bits of cultures from around the world, you won't really experience all that much of Italian culture. In Parma, however, the side streets are filled with Italian locals (mostly students from the University of Parma), who are simply walking through or maybe enjoying a cup of coffee at a small cafe.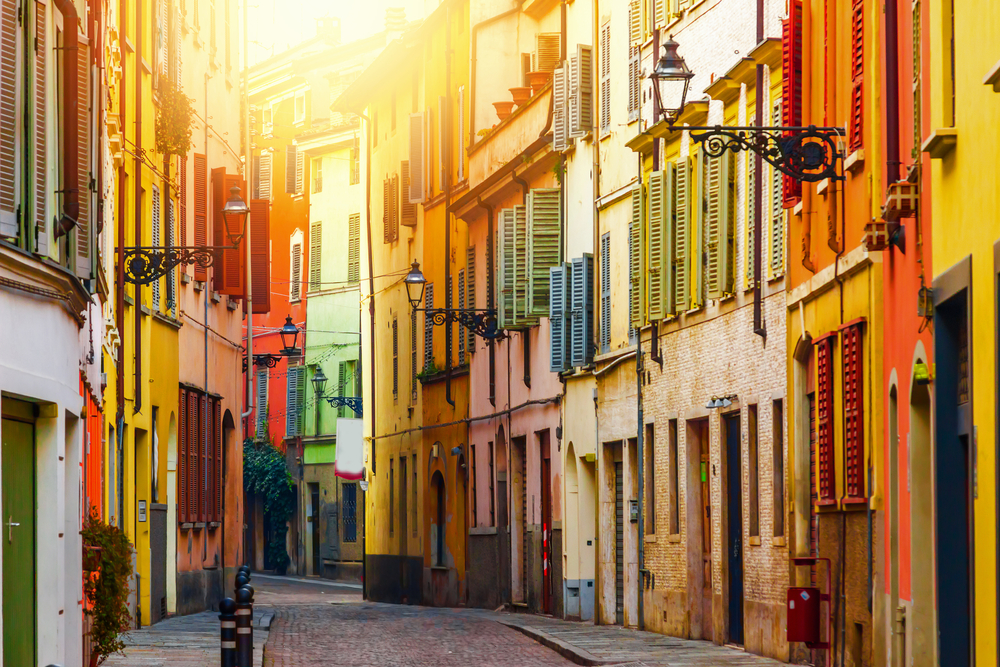 Where To Stay in Parma
Considering that most of the cities on this Northern Italy itinerary have already become well-known to visitors, think about treating Parma as a stop to experience a bit more of Italian culture. After all, you've likely already got the tasty part of culture covered, so why not have Italy's lovely culture seep into your accommodation as well?
Upscale: Grand Hotel de la Ville. Check Rates: Booking.com | Hotels.com
Affordable: Hotel Forlanini52. Check Rates: Booking.com | Hotels.com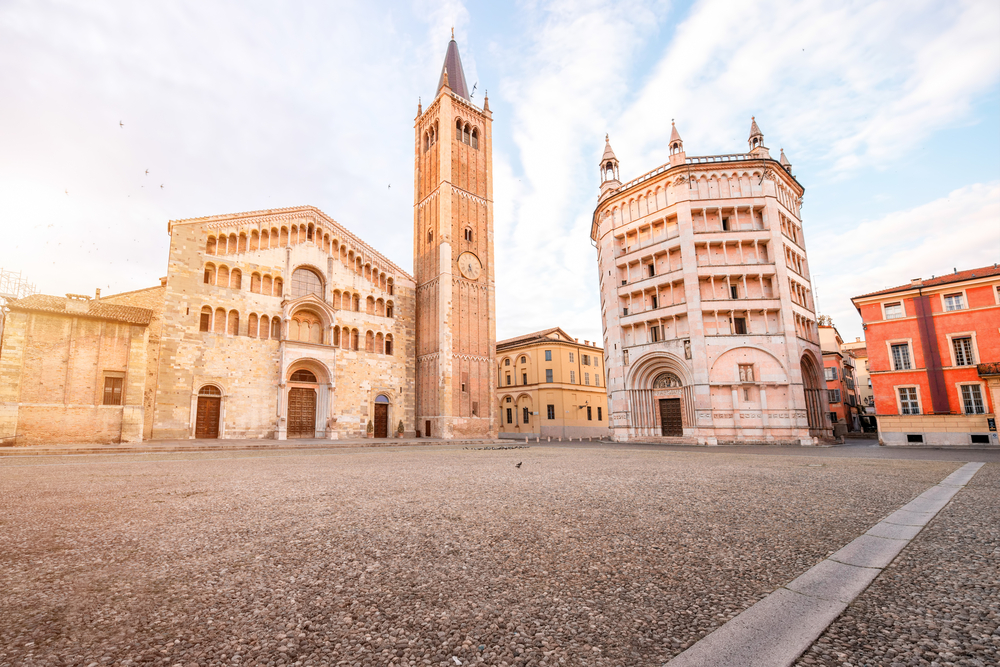 Stop 9: Take In The Picture-Perfect Colorful Buildings In Cinque Terre
The five small Italian towns of Monterosso, Vernazza, Corniglia, Manarola, and Riomaggiore make up the area known as Cinque Terre. Once upon a time, you could only walk between villages, but now that journey is quite a bit easier, as it can be done by train, bus, or car. During this Northern Italy itinerary, you can choose to visit all five of these colorful towns or just a couple of them.
Things To Do In Cinque Terre
Tackle The Monterosso Footpath
Like we said, back in the day, you could only walk between the villages. The Monterosso Footpath, which connects the towns of Monterosso and Vernazza, gives visitors to have a little taste of this experience. And this activity isn't just great for hikers. If you love stunning views, the Monterosso Footpath allows you to see awe-inspiring views of Cinque Terre's colorful villages and the Mediterranean Sea. Be sure to bring a lot of water with you on your one- to two-hour journey!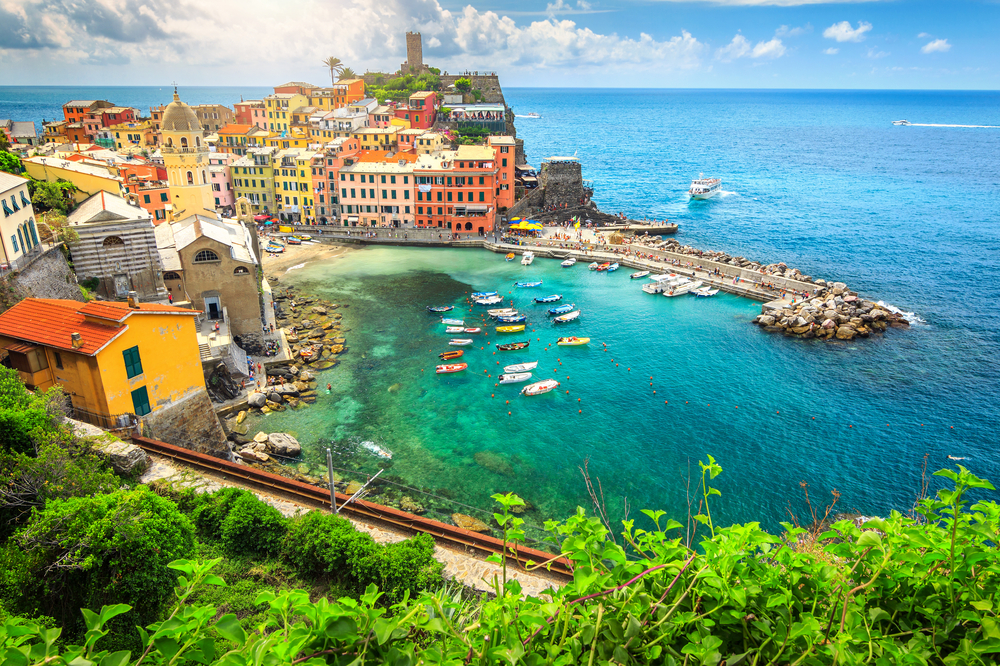 Take A Boat Tour Of Cinque Terre
While you can see a couple of the towns of Cinque Terre from the top while on the Monterosso Footpath, consider experiencing the villages from the opposite perspective – from the water. Instead of exerting a ton of energy hiking, you'll be able to grab a nice comfy seat on a boat and see all five of the breathtaking villages!
Book Here: Cinque Terre Boat Tour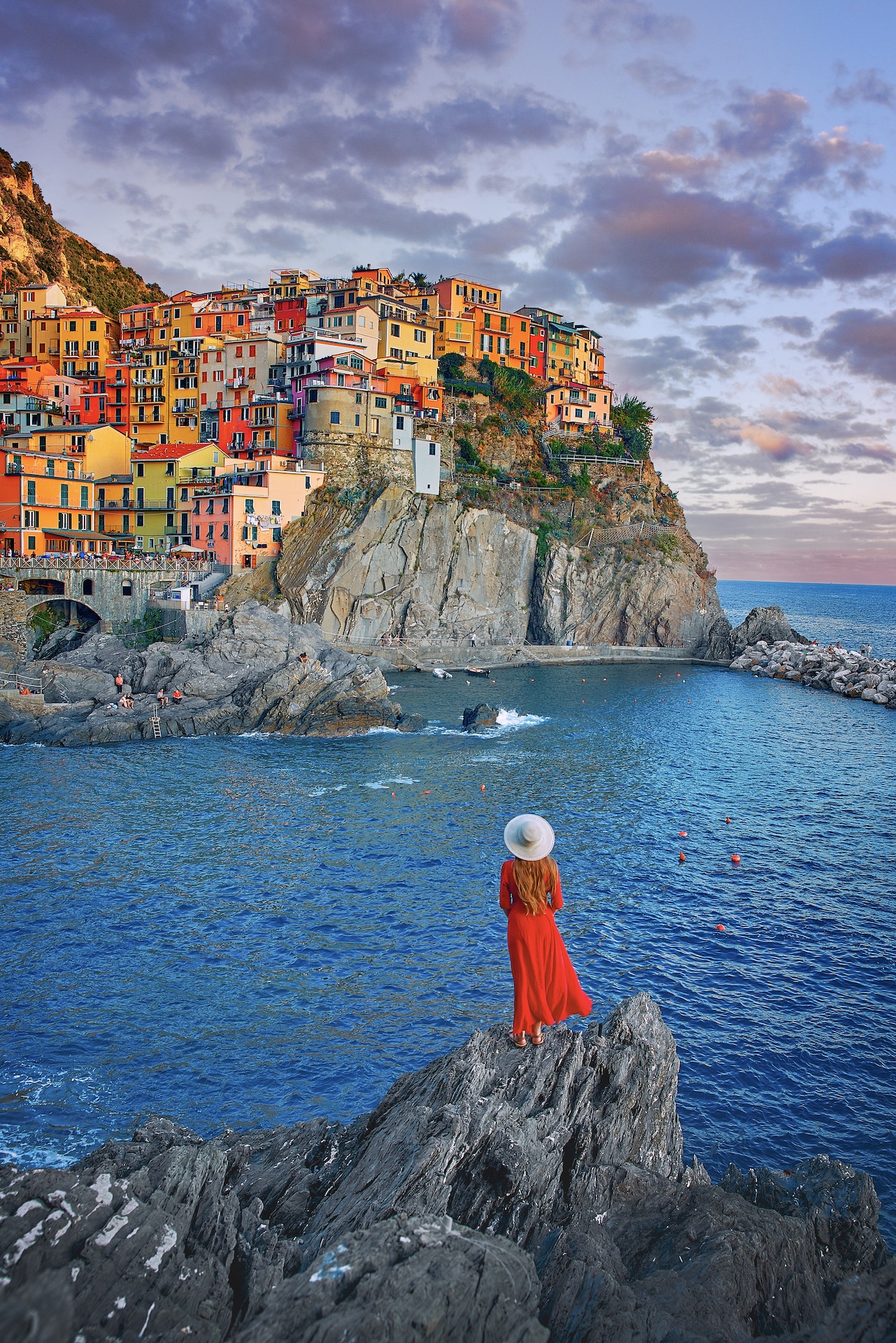 Relax On One Of Cinque Terre's Stunning Beaches
Cinque Terre has so many stunning beaches along its coastline. Some Cinque Terre beaches, like Monterosso Vecchio Beach, are filled with sand, sun, and relaxation. Others, on the other hand, are a little more unique, like Vernazza Beach, which you'll have to cut through the cliffs to experience.
Visit Parco Nazionale Cinque Terre
Parco Nazionale Cinque Terre is one of the most picturesque national parks in Italy. This national park and UNESCO World Heritage Site is meant to showcase the blending of the work of nature and the work of humans, as humans carved the steep slopes into steps in order to plant food. And, of course, the views of the five villages and the Mediterranean Sea don't hurt!
A one-day pass to Parco Nazionale Cinque Terre costs $9 per person.
Book Here: Cinque Terre Tour And National Park Card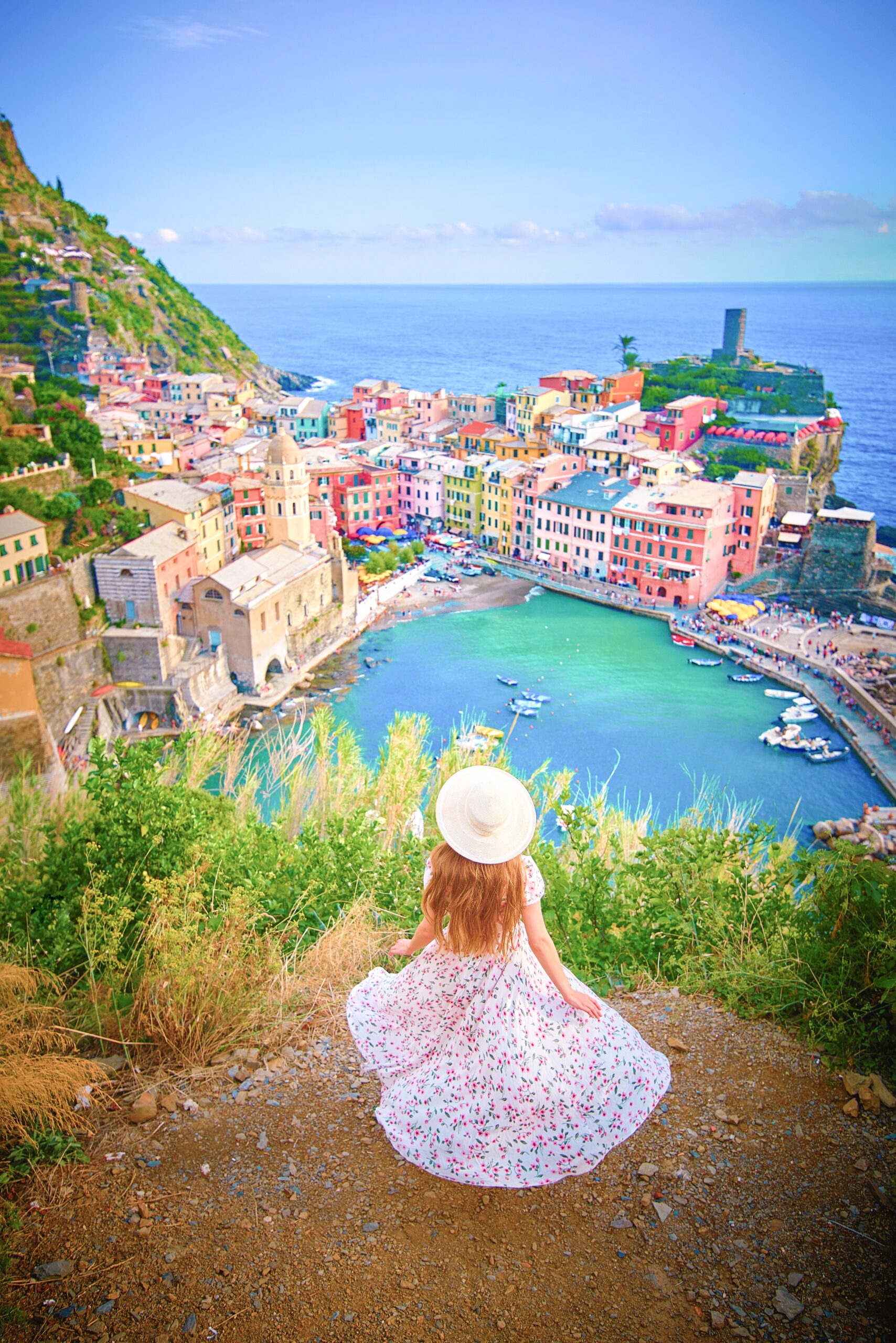 Where To Stay in Cinque Terre
When deciding where to stay in Cinque Terre, the biggest factor is which city you want to stay in. If you're looking for a larger village with shopping and nightlife, Riomaggiore might be your style. On the other hand, if you're looking to escape the crowds, Corniglia might be the town for you! If you'd like a few more Cinque Terre accommodation options, check out our guide on where to stay in Cinque Terre.
Enjoy The Nightlife in Riomaggiore: Appartamenti e Camere Edi. Check Rates: Hotels.com
Catch The Best Views In Manarola: Olimpo Affittacamere. Check Rates: Booking.com | Hotels.com
Escape The Crowds In Corniglia: Arbanella. Check Rates: Booking.com | Hotels.com
Soak In The Sun In Monterosso: Villa Tanca Hotel. Check Rates: Booking.com | Hotels.com
Visit The Most Popular Village Of Vernazza: Rooms Elisabetta Carro. Check Rates: Hotels.com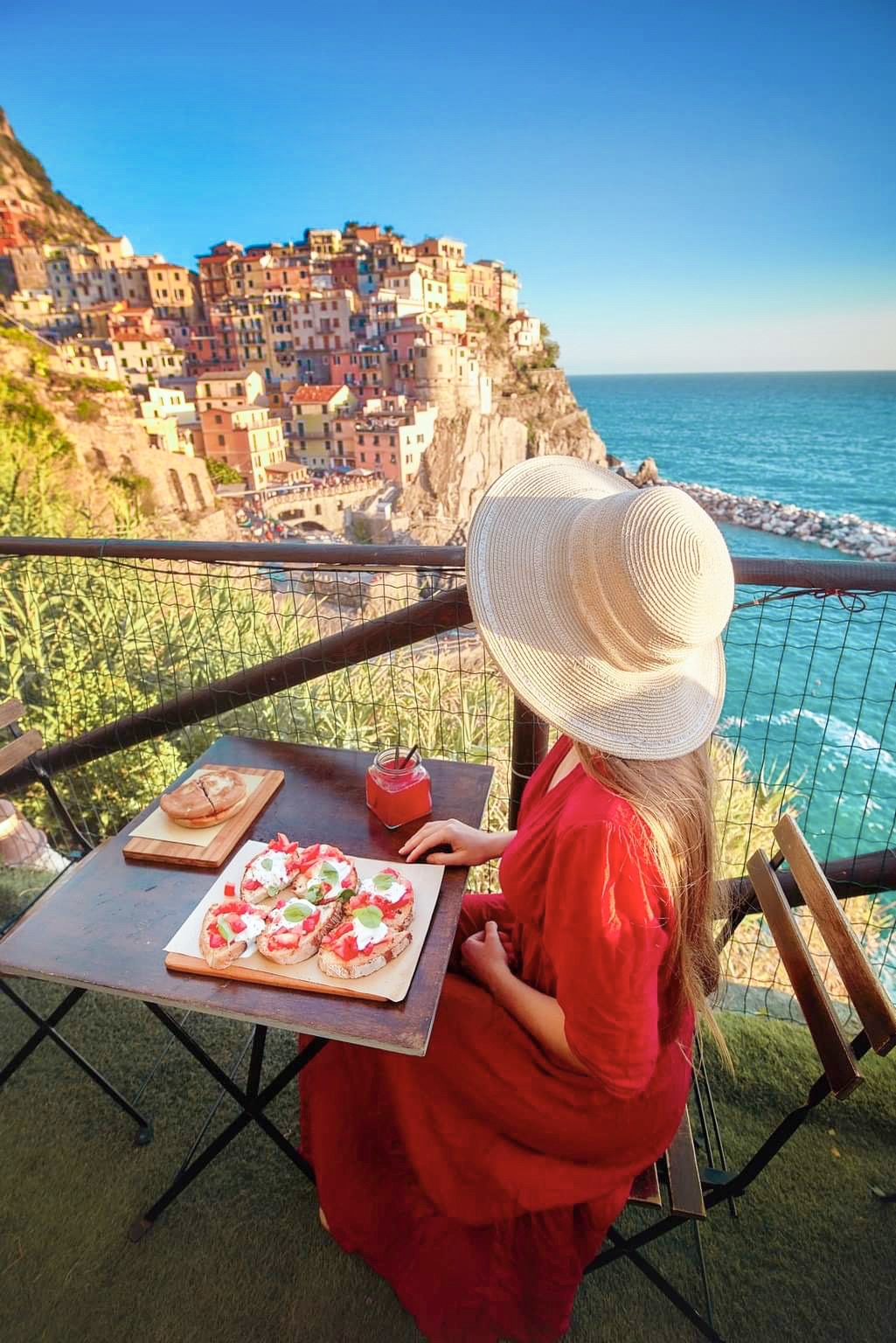 Stop 10: Finish The Northern Italy Itinerary in Milan
You'll finish up your Northern Italy itinerary where you started: in Milan. That way, if you would like, you can book a round trip flight out of the Milan Malpensa international airport. It's also convenient if you choose to do this Northern Italy itinerary by car rather than by train, as you'll be able to drop your vehicle off in the same place (which means you'll avoid that pesky fee that comes with dropping off your car in a different place).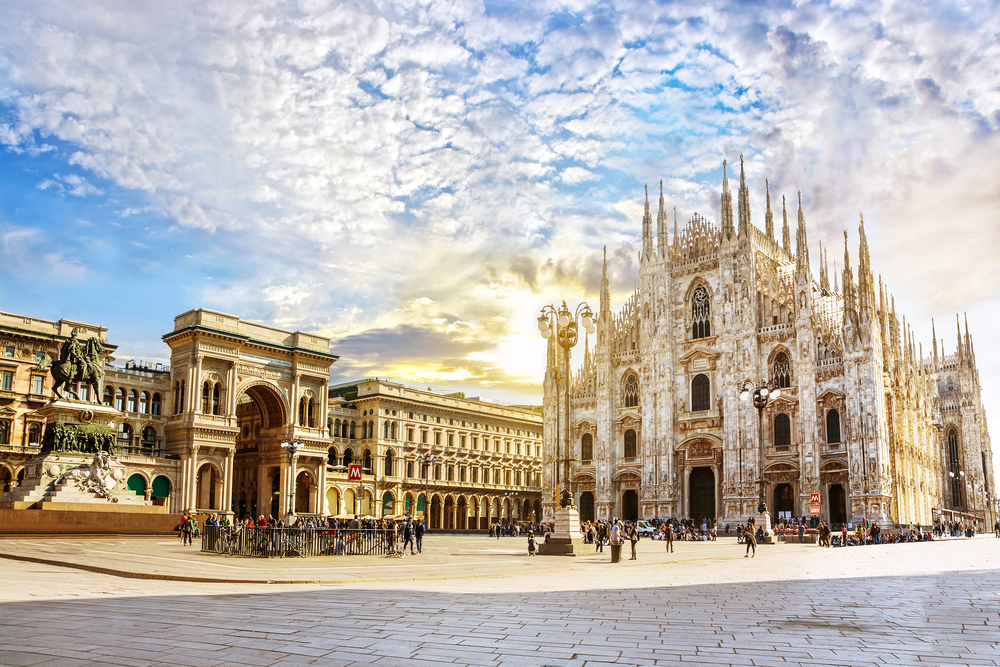 Our Northern Italy itinerary will help you plan your trip to Italy any time of year. Whether it's your first time visiting Italy or you are a seasoned traveler, this Northern Italy itinerary will point you in the right direction! When planning your Northern Italy itinerary, remember that you can budget the days of the trip any way you like, but we do provide our suggestions!