If you are looking for the most Instagrammable places in Venice, you have come to the right place! Venice is a photographers playground, and there is really no bad place to take a photo. This is what surprised us about Venice! Everywhere you turn there is something beautiful and magical to see.
We thought that taking photos in Venice would be difficult and that we would have tons of people in the photos as this is one of the more touristy cities in the world. We were wrong! It was easy to get photos without any people in them because your background is water.
We thought we were going to have to get up for sunrise and then ended up shooting many pictures at 4 pm in the afternoon the first hour we set foot in Venice! We were surprised and loved this fact. Of course, there are some places you may want to wake up early for, but we didn't find it necessary and each shot was taken in the afternoon or early evening.
Whether you only have
one day in Venice
or are visiting as part of your longer
Italy Itinerary
, you really can't go wrong. We recommend 2-3 days in Venice but even if you have one, you can cover a lot of ground!
In this post, we are going to show you some of the best Instagram spots in Venice as well as secret places that you may not have heard about until this post. We will also provide you with a map at the bottom which includes all the Instagram spots for your use in Venice!
Don't forget that Venice is where people live. Stay respectful and don't get rowdy or trespass. Venetians are really nice people but they ask to be respected. Follow the local rules and you should be just fine. Do unto others as you would hope they do for you!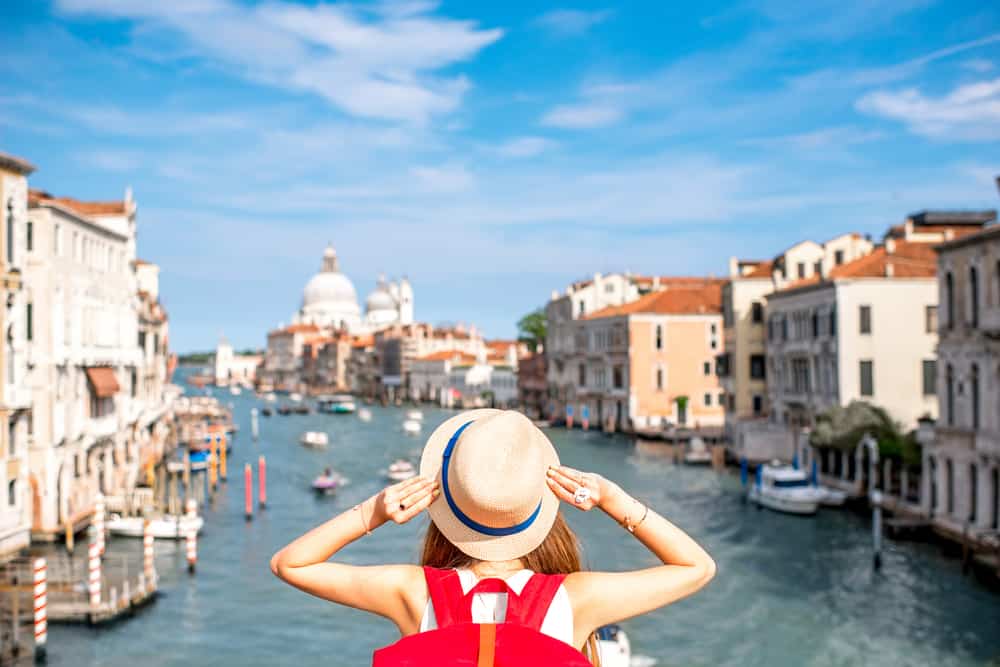 14 Best Instagrammable Places In Venice Italy
This Random Dock That Is Famous On Instagram
There is no name for this place so this is what we named it. It is nothing more than a random dock behind a place called Hotel San Moise. It tops our list because this may be the reason you are coming to this post! This is one of the more highly coveted Instagram places in Venice and we wanted to start this post off with it so you get what you are looking for quickly!
This bridge is not easy to find and there is no real address so you kind of have to wander around until you find it. We found it easily and know that you can too! Once you put in the name of the hotel and see it from the main street, you are going to want to turn either right or left depending on where you are coming from [it is a right from Saint Marks Square] and walk all the way to the end.
Once you are at the end, you will turn and see the canal. Walk to the end and you will have arrived at one of the most Instagrammable places in Venice. I thought there were certain times that you had to wait for the Gondolas to go by, but I quickly learned that they pass by every few moments so there is pretty much always one in your shot.
Take this time to be creative! I thought this dock was okay but found at least 5 other pretty ones during our time in Venice. I didn't take photos of them because I was always rushing to dinner, but keep your eyes open and be creative!
This is the exact address for the spot on Google maps: 2036 Piscina S. Moise Venezia VE, Italy
This is the address for the hotel nearby: S. Marco, 2058, 30173 Venezia VE, Italy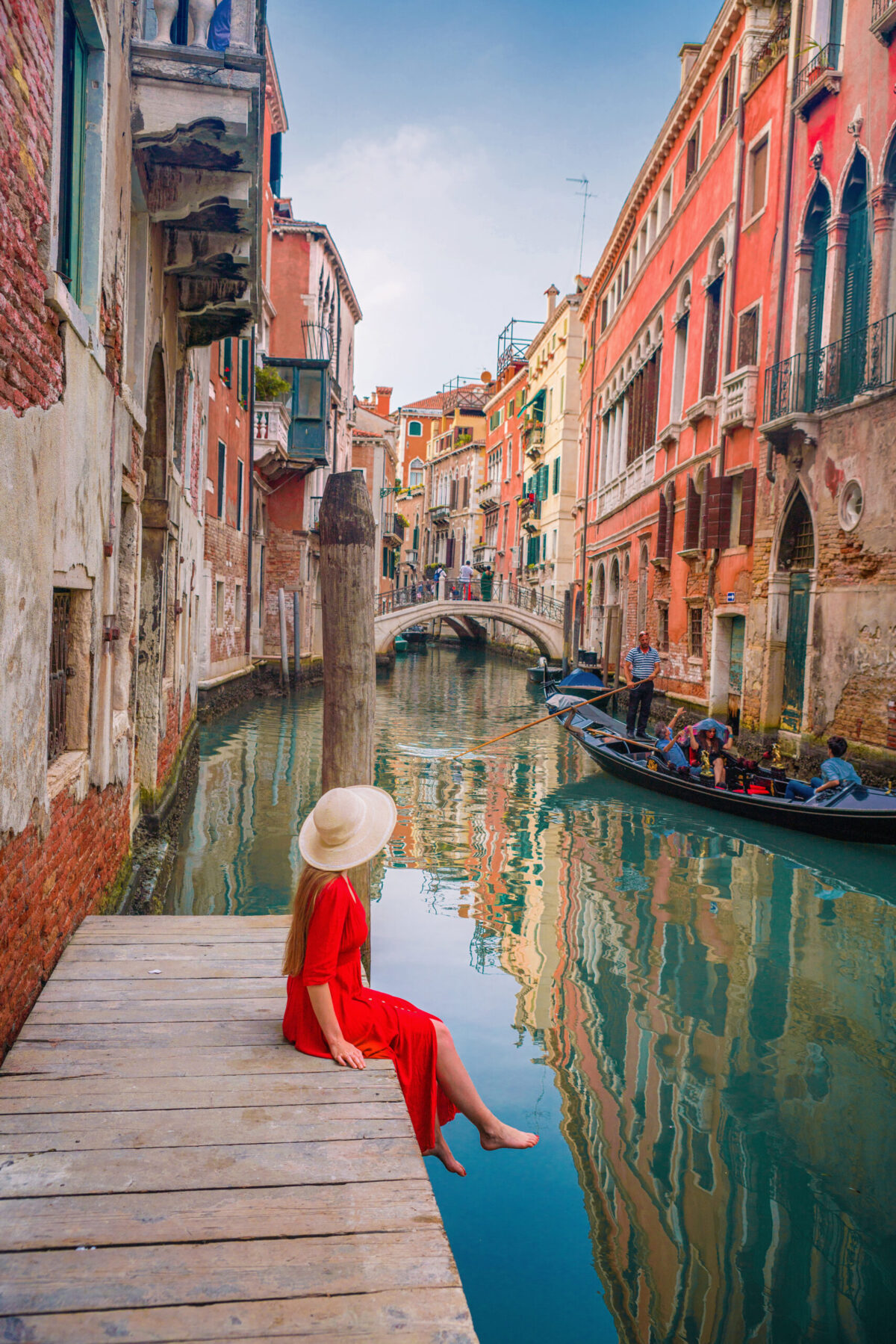 Rialto Bridge Is The Most Famous Instagram Spot In Venice
This is probably the most famous Instagrammable spot in Venice on this list. It is an iconic spot in Venice and everyone flocks to it. It is a bit overrun with tourists and photographers and can be a stress. We recommend seeing it quickly for your shots and then getting out to the quieter Venice photo spots! Rialto Bridge tops our 2 Week Italy Itinerary for things you should see in Venice so at least seeing it once is always nice.
There are a few ways to shoot the Rialto Bridge, first, you can shoot from a dock that is at the "San Marco" neighborhood end. This is a popular spot and there were a lot of people in line so we decided to find a more unique view! We love staying in the San Marco area so check out our list of Where To Stay In Venice By Neighborhood if you are undecided.
We headed across Rialto Bridge to the San Polo side. As you descend the bridge on the San Polo side, there is a stone platform/dock along the right side. This is a great place for Instagram photos in Venice because it is lesser-known and you can escape the crowds a bit. There are plenty of gondolas that are passing by so you can take cool photos of that too!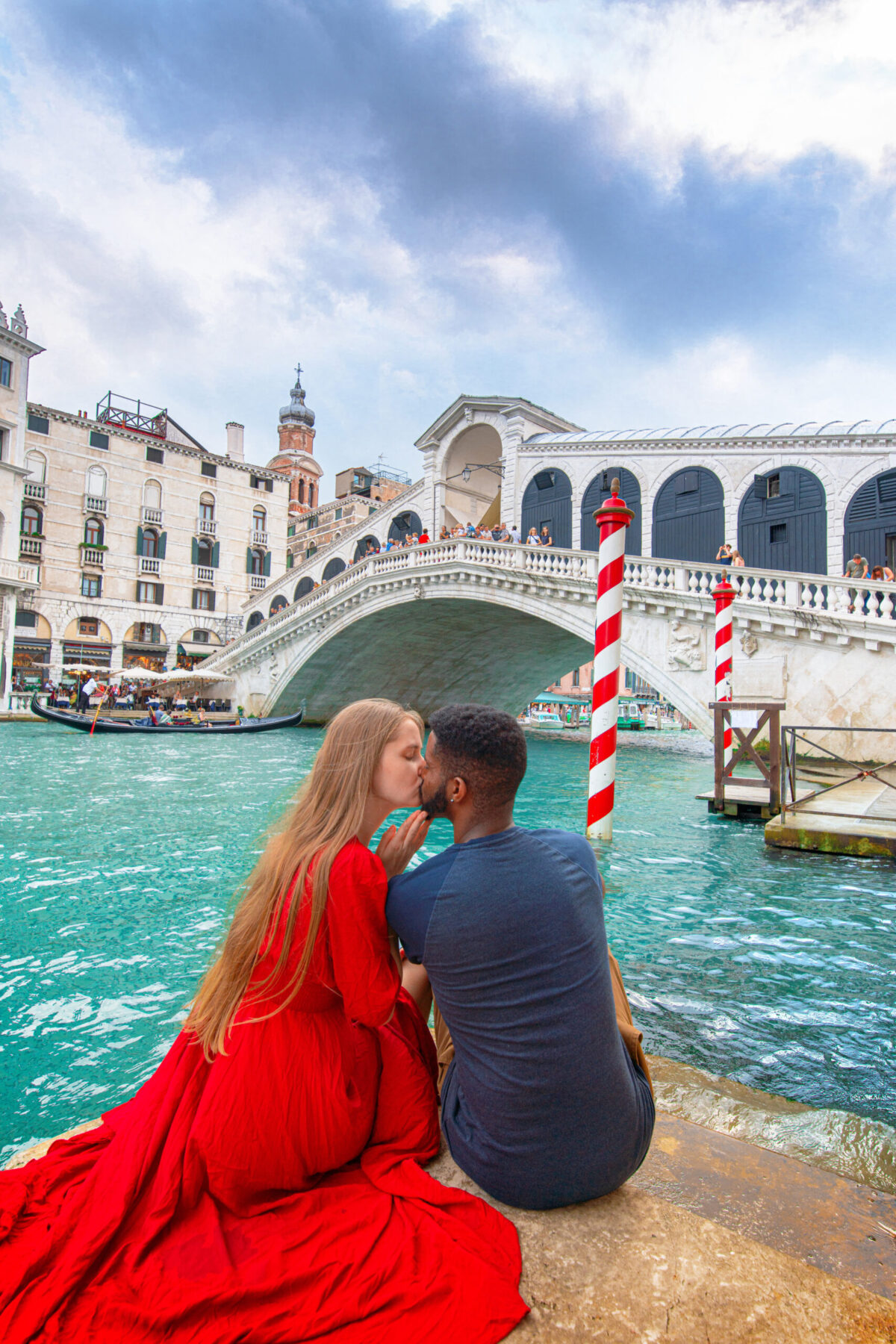 Scala Contarini del Bovolo
Scala Contarini del Bovolo is one of the more unique Instagrammable places in Venice! As you can see, we are showing you both secret and very famous spots! This tower offers some of the best views for Venice photos and many pass it up or don't know that it exists at all!
It is a bit difficult to find this beautiful winding staircase so make sure to put the name Scala Contarini del Bovolo or Palazzo Contarini del Bovolo into Google Maps! There is a small entrance fee if you want to climb the tower to see the views of Venice and the tower usually opens at 10 Am. We recommend going as soon as it opens so you can get photos without any extra guests in them!
If you just want to see this pretty Instagram spot in Venice for photos from the ground, you can choose to do that as well. While the view from the top is stunning, it is a fabulous building to view from the ground as well!
Put either of these in your GPS: Palazzo Contarini del Bovolo OR Scala Contarini del Bovolo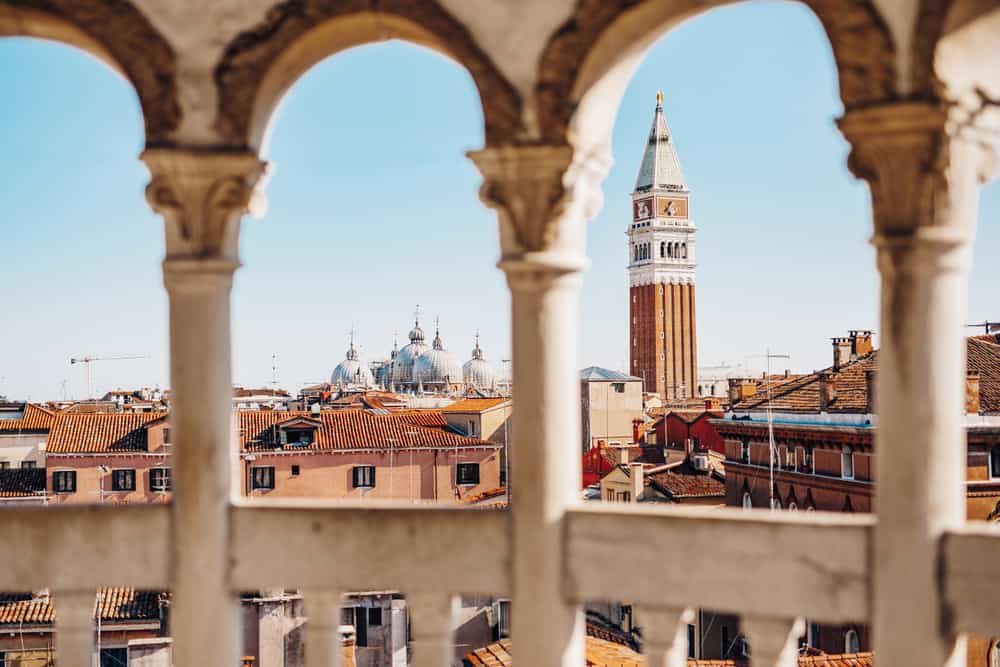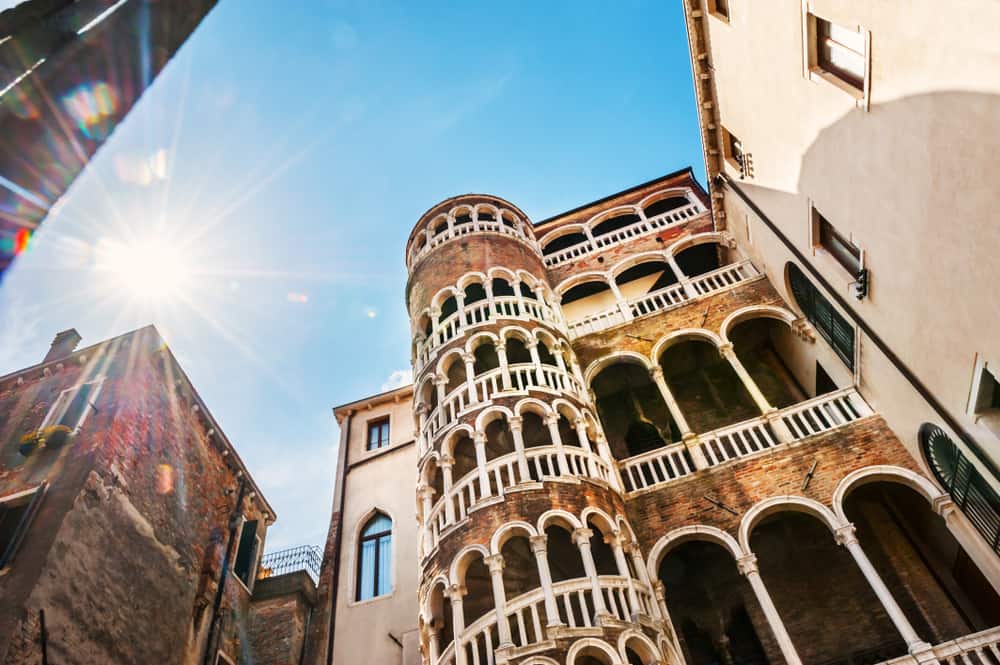 From Ponte Maria Callas
Ponte Maria Callas is a lesser-known Instagram spot in Venice and we are happy to bring it to your attention. The whole fun about Venice photo spots is going off the beaten path and finding your own! This is one that we found and we are now sharing with you.
Ponte Maria Callas is a gorgeous white stone bridge that is in a quieter area of San Marco in Venice. This isn't one of those Instagrammable places in Venice where you have to fight others for a spot. You will be completely alone. We recommend standing or sitting on the bridge and then positioning the camera across the canal.
This way, you can get the pretty towers in the background with the bridge in the foreground. This composition and view was unlike any other photos we have seen on Instagram and we were excited to share it!
If you take photos in Venice here please tag us #followmeaway so that we can see and repost on our Instagram stories!
Here Is the Address: Ponte Maria Callas, Fondamenta Maria Callas, Venice, Metropolitan City of Venice, Italy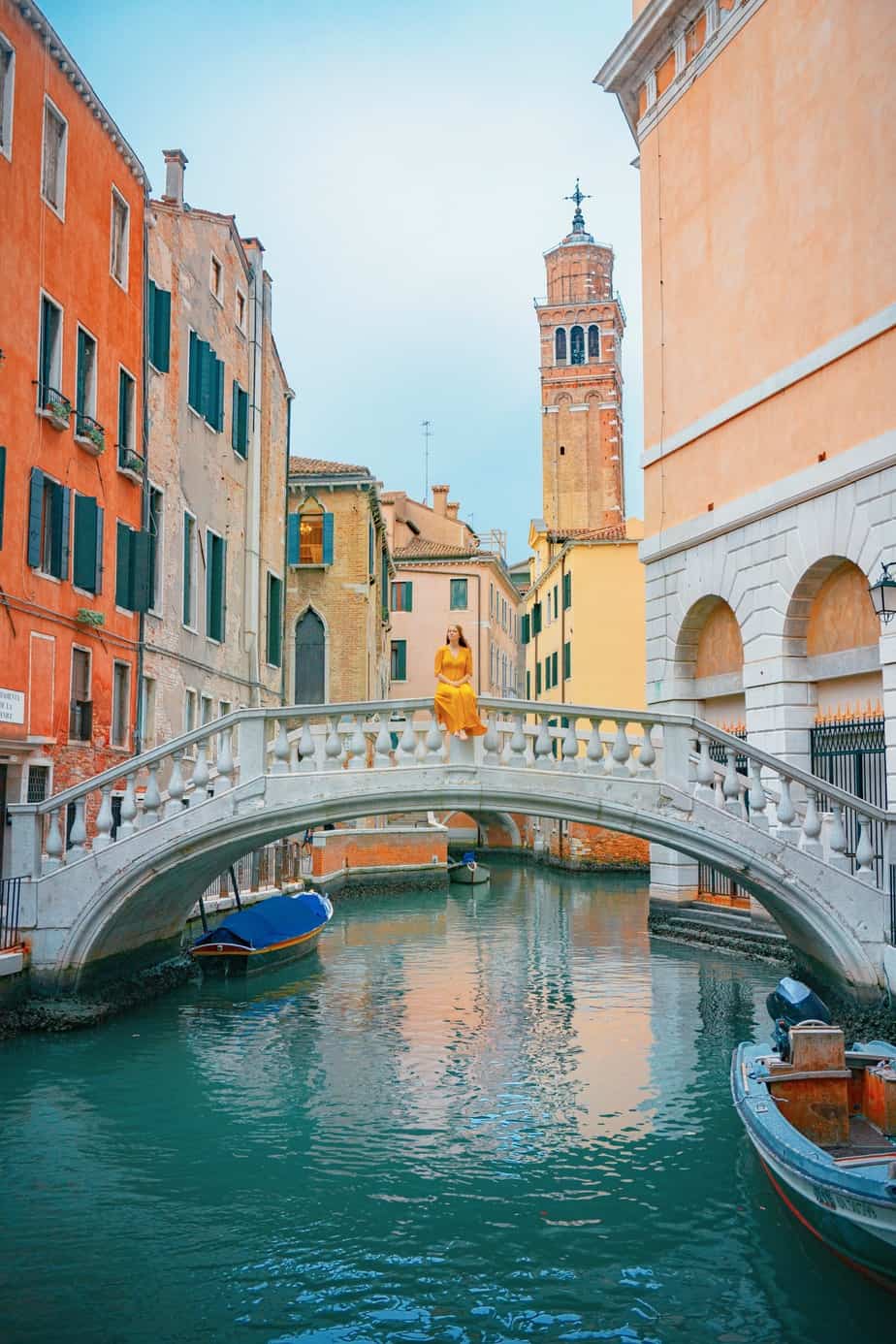 From Beneath The Bridge Of Sighs
Like we said above, the whole fun of taking photos in Venice is to find unique angles and do something different. You wouldn't believe that the photos below were taken when there were literally hundreds of tourists packing the bridges on either side of the Bridge Of Sighs/Ponte dei Suspiri. It is one of the best places to see during an Italy Road Trip which is why so many people visit!
All we did was step off the viewing bridge and walk down under it along the side and bam, the perfect Instagram spot in Venice. There were gondolas rowing by, there were no tourists or other photographers in the photos, and the Bridge Of Sighs was front and center in all its glory!
If you already have the Bridge Of Sighs on your Instagram bucket list for Venice, we highly recommend trying out this unique photo angle. It doesn't require getting up for sunrise and allows you to stand out from all the other photos from Venice! You won't be fighting any other humans for the view and you don't have to wake up early. What could be better?
A quick note from a historical aspect: The Bridge Of Sighs got this name as it was the bridge convicted criminals walked over on their way to jail. This was the last view they would see and they would "sigh" because it was so beautiful!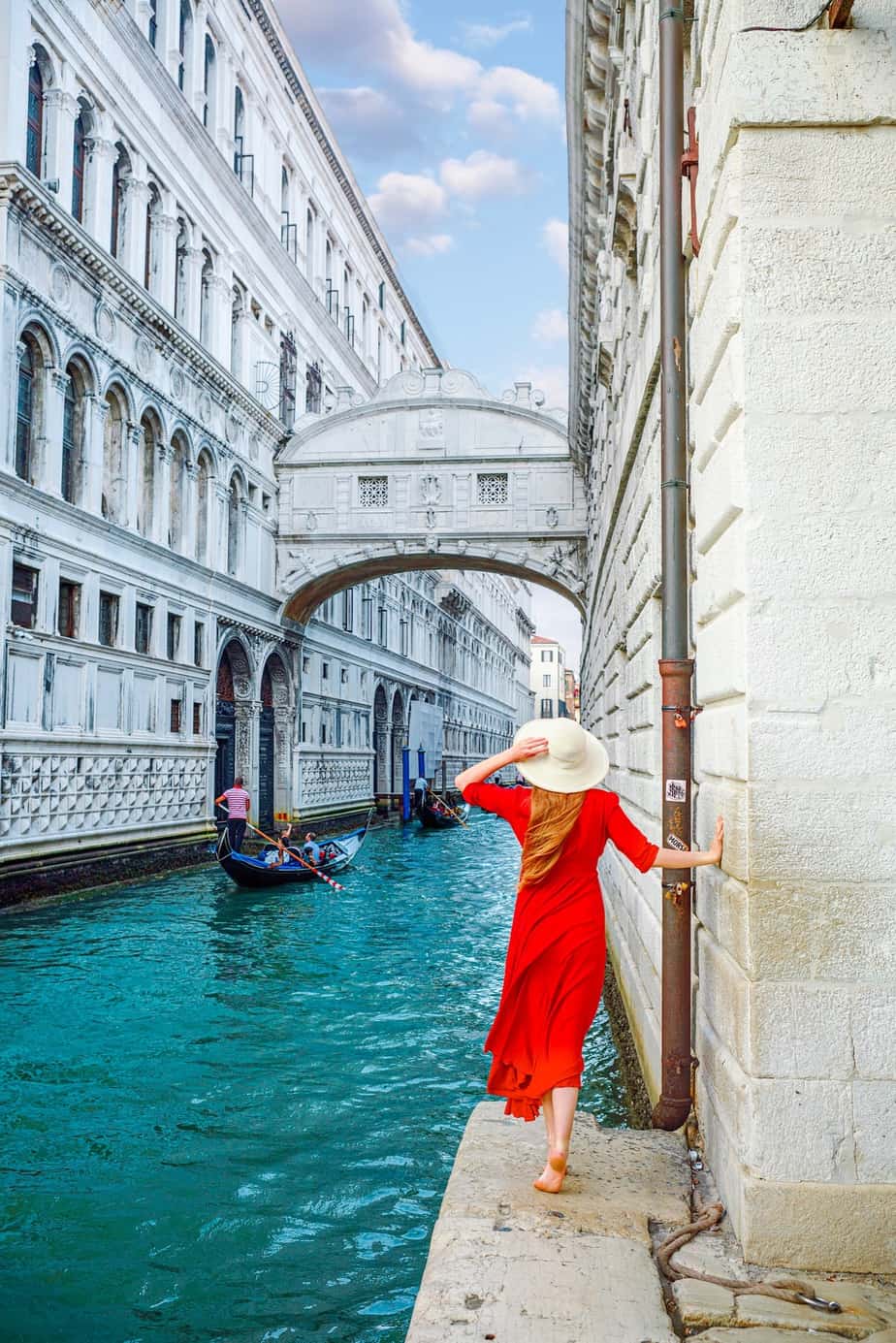 Saint Mark's Square
After you are done with the Bridge Of Sighs, you can walk 3 minutes and you are in the heart of Saint Mark's Square. These new few Instagrammable places in Venice are all packed really close together so you can do them all in a very short period of time.
Personally, we aren't huge fans of Saint Mark's Square so we didn't prioritize it and chose not to wake up for sunrise to shoot it. Literally, every other photo we took on this list was easily taken without another human in sight and we did it in the afternoon. We weren't about to wake up early for one shot without people in it!
If you are wild about Saint Mark's Square, you will want to wake up for sunrise as that is the only time it is free from people. There are many angles that you can take photos from for a unique look to your Venice Instagram photos! If you are visiting Venice in winter, you will find that the square is much less crowded which makes for great photos!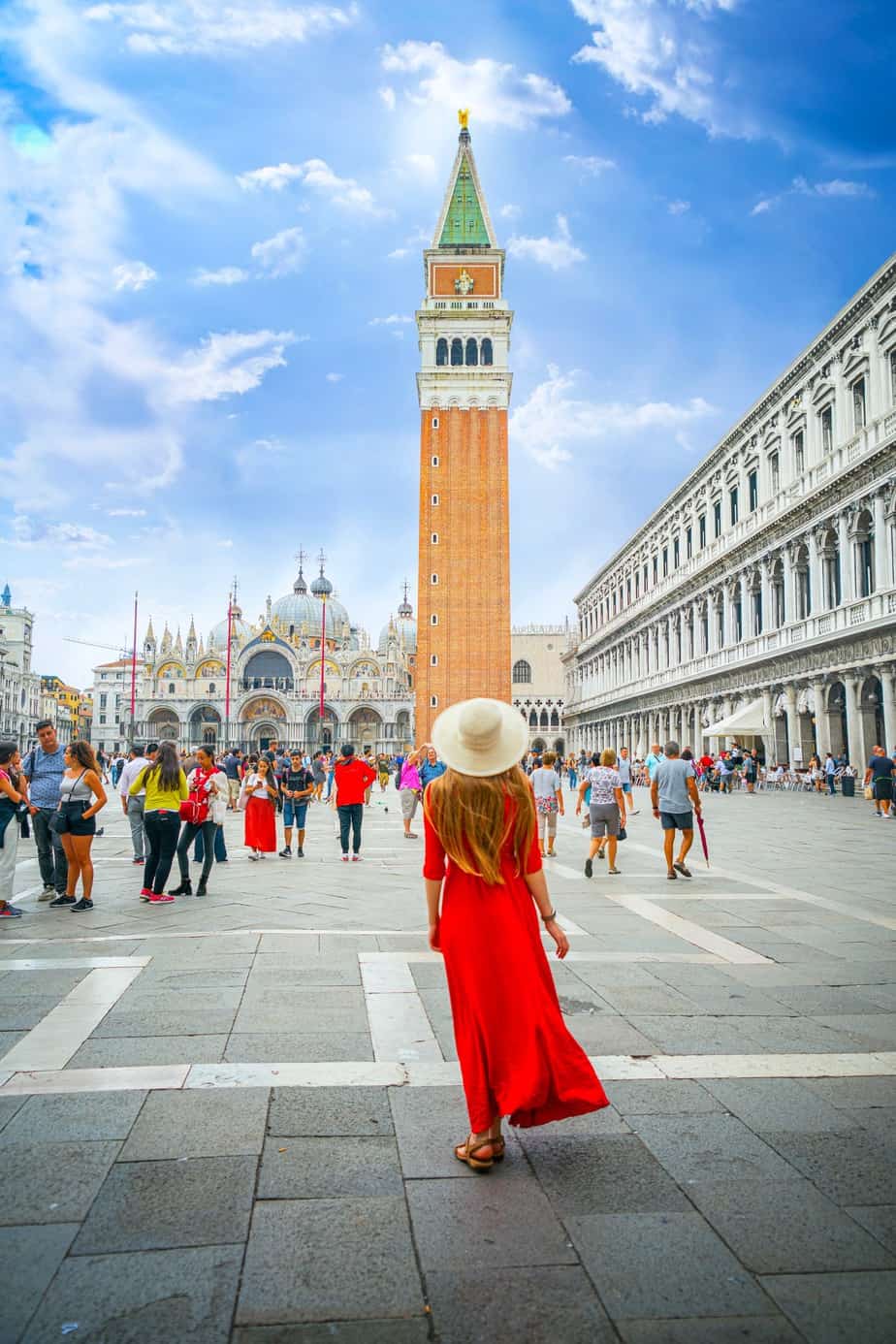 Along The Banks Of The San Marco Waterfront (Riva degli Schiavoni)
We had no idea that there were TWO towers of a similar design in Venice. You see that one in Saint Mark's Square above, but there is another tower across the lagoon on another island in Venice. We wrongly assumed that in order to get the photo below, you must go across the lagoon and shoot backward at Saint Mark's Square.
Nope, this is a totally different tower and you can photograph it easily from the San Marco Waterfront! The San Marco Waterfront or Riva degli Schiavoni as it is called in Italian, can easily be reached by walking a few steps out of San Marco Square toward the Grand Canal and waterfront. It is also less than 1 minute away from the Bridge Of Sighs.
Although Saint Mark's Square is so busy, you can easily snap photos of the Gondolas and the Church Of San Giorgio Maggiore across the lagoon at any time of day. Please note that although you can sit for a few seconds for a photo, sitting for long periods of time to rest your feet or eat a snack is forbidden along this stretch of waterfront.
There are guards who will tell you not to sit for long periods of time. Taking a quick photo sitting is alright, but sitting for a long time won't be allowed. This is one of the most Instagrammable places in Venice for a good reason! It is easy to photograph and you can't go wrong with the beautiful views in the background!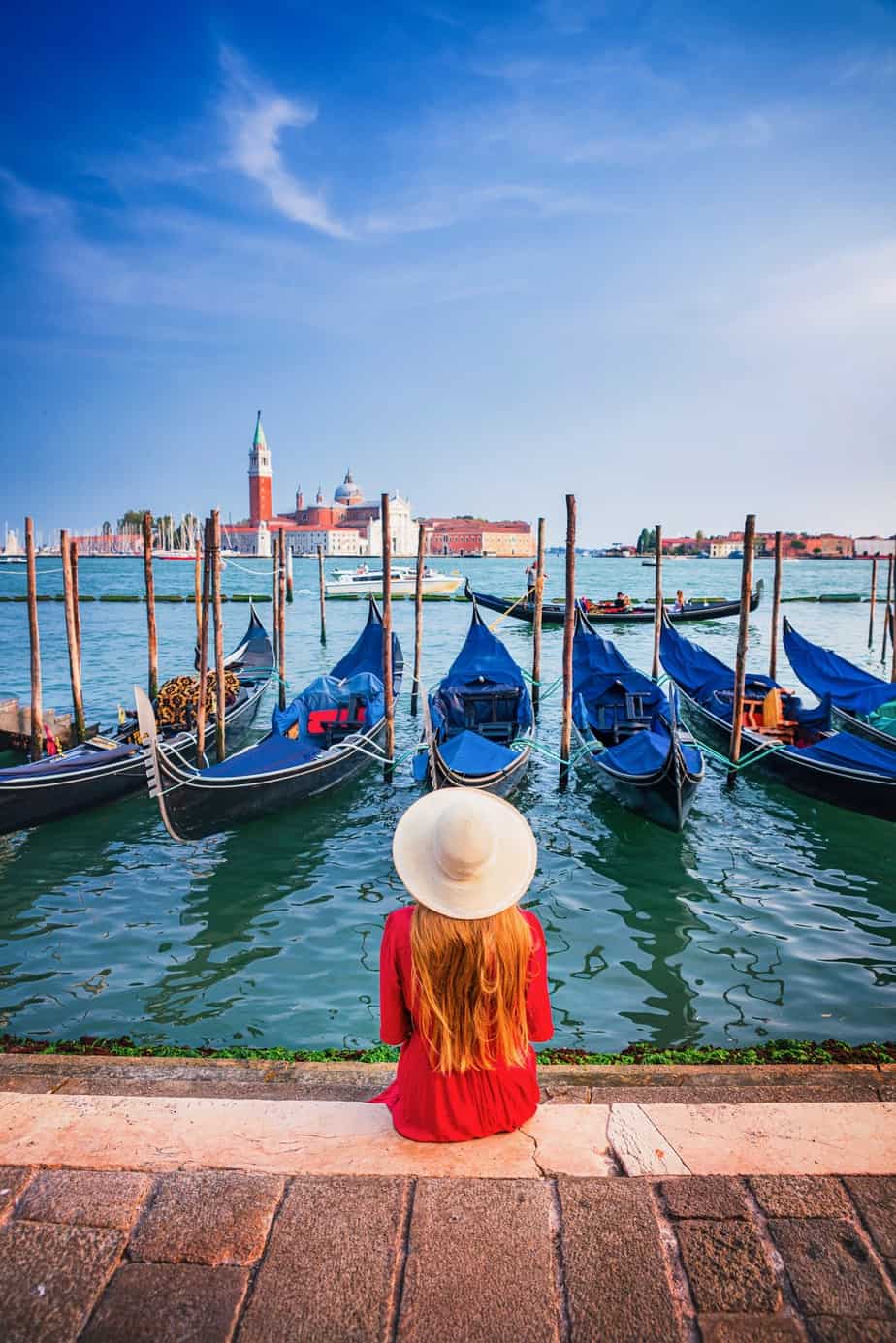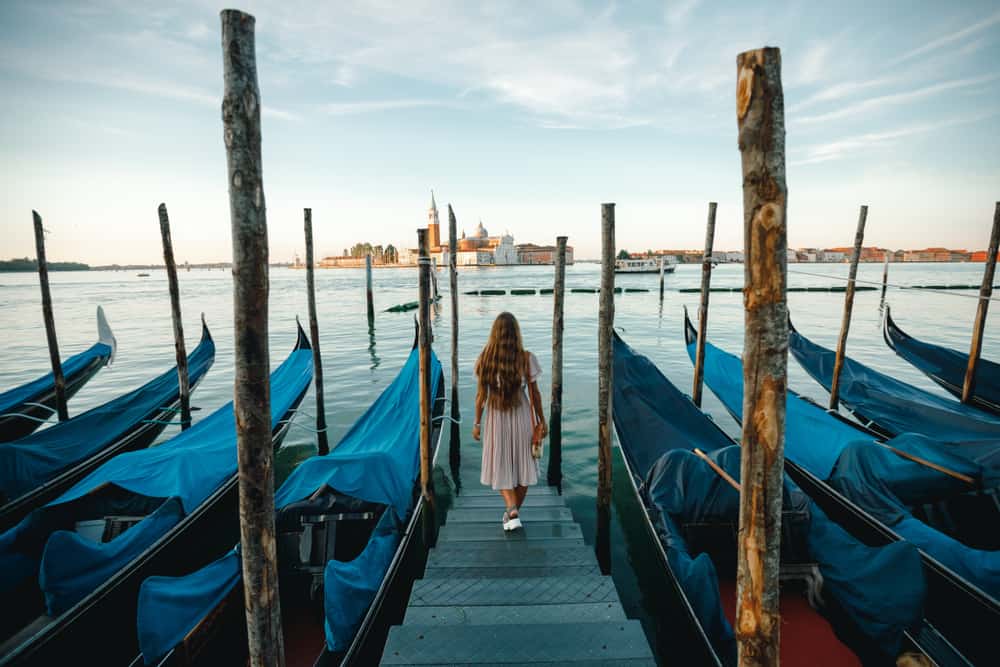 The Books At Libreria Acqua Alta Are One Of The More Unique Venice Photography Locations
Who knew that a bookstore could draw so many people? Libreria Acqua Alta is a lovely and cute bookstore that has rushed onto the scene as one of the more unique Instagrammable places in Venice! While it isn't quite as famous as some of the other places on this list, it is well-known in the photography groups.
We wouldn't exactly call this bookstore a "secret" Venice photo spot, but it is certainly lesser-known and worth the visit. If you love books, spend some time browsing the selection and you may have a really unique souvenir to bring home from Venice in addition to your photos!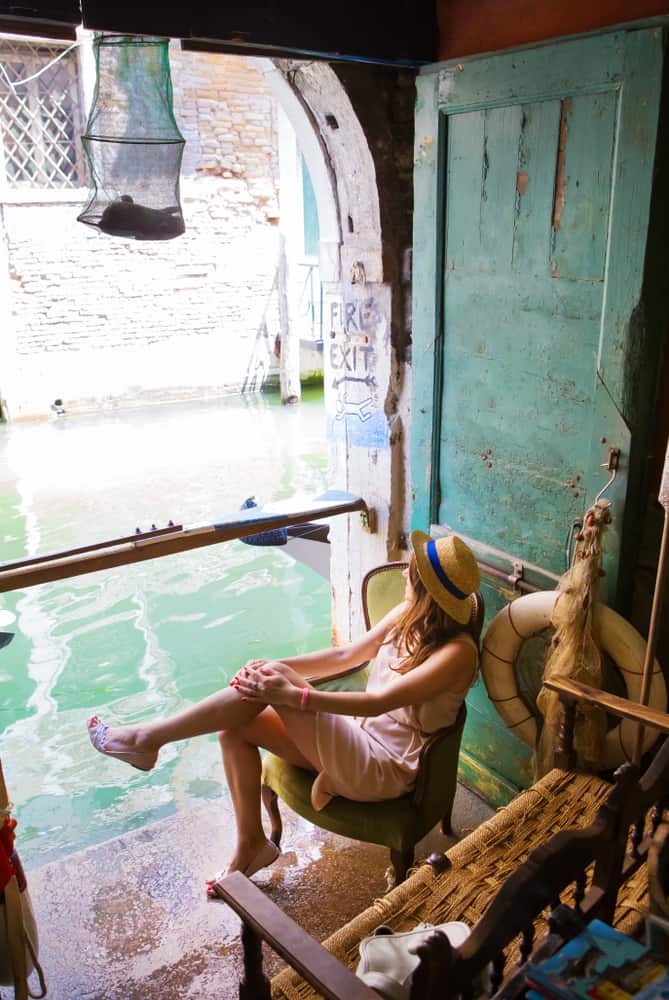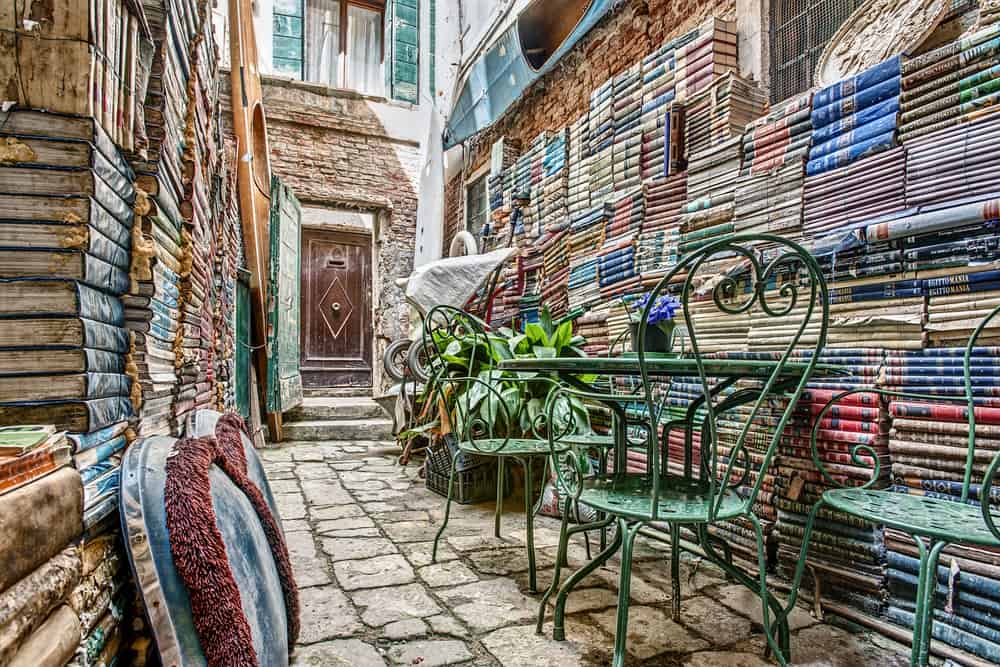 Instagram Photos In Venice From A Gondola Are Unforgettable
One of the most Instagrammable places in Venice for photos is from a gondola. Now, if you don't have the money to drop on a 30-minute ride, we recommend not doing so! There are plenty of other fantastic Venice photography locations on this list that you can visit without breaking the bank!
We knew that we wanted to take photos from a Gondola so we saved up. The price for a private 25-30 minute gondola ride is 80 euros. If you are closer to Rialto Bridge on the Grand Canal, the price rises up to 120 euros and goes up as the evening progresses.
We took our gondola ride near the famous "Instagram dock" that is listed first in this article. We loved it as our ride was quiet along the back canals of Venice and then we ended with a fantastic ride along the Grand Canal. It was perfect and we got to see a lesser-known part of Venice!
If you are looking for the ultimate Instagram spot in Venice, then finding a gondola [there are tons!] and getting your photo from it is the way to go. If you don't have the money or don't want to spend it, don't worry!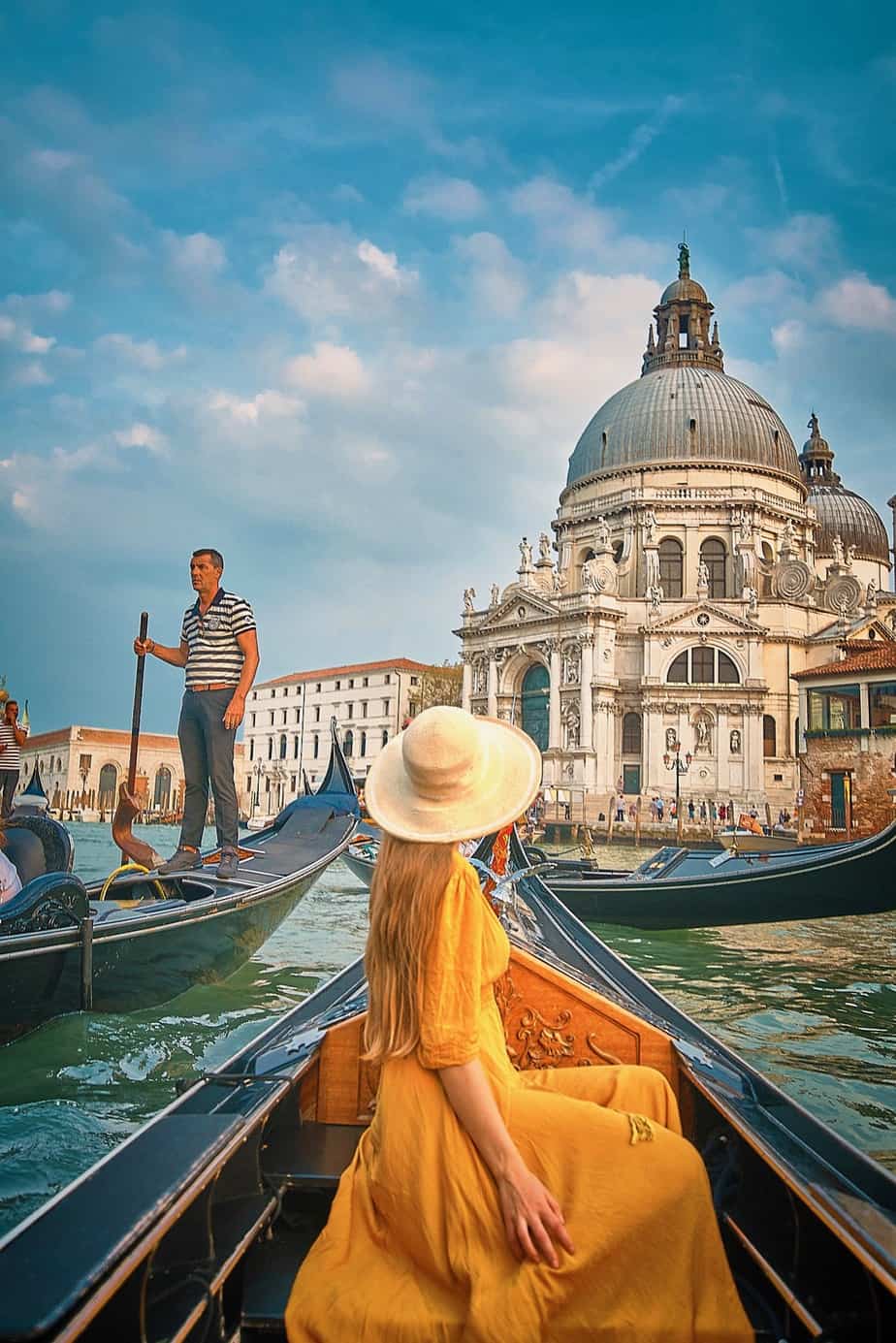 From Ponte de La Verona To The Canal Below
This is another totally lovely Instagram location in Venice that we had never seen before and wanted to add to this list! If you are looking for secret Venice photography spots, add this one to your list! The trick is to head to Ponte de La Verona in the San Marco district of Venice and then stand on the bridge while you are shooting down along the canals.
This provides your shot with a unique "above" angle view. You will put your tripod or the photographer on the bridge itself, you won't be getting it in the shot. Then, you will shoot down with the subject walking along the canal or sitting on one of the edges.
We understand how it feels to see all the same Instagrammable places in Venice in all the same lists so we hope that you like these more unique or secret places that aren't popping up in every single feed.
Address: Ponte de La Verona, Calle de la Verona, Venice, Metropolitan City of Venice, Italy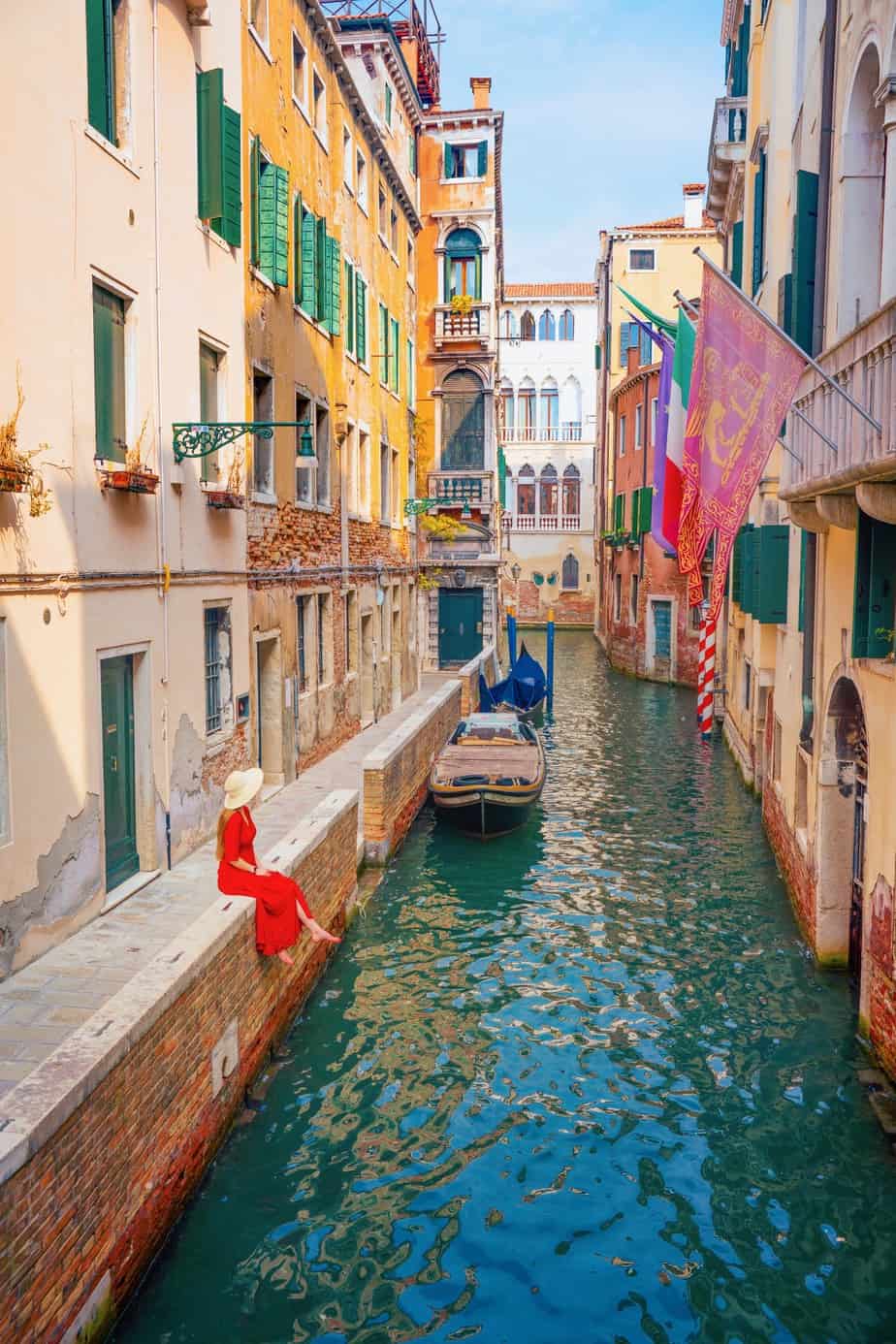 On The Bridge Behind Teatro la Fenice
Behind the famous Teatro la Fenice there is a large platform with beautiful architectural designs. We asked, and the public cannot have access to this platform. That is okay and we didn't think we could but we wanted to try anyway!
Either way, you can still get the beautiful platform behind the Teatro la Fenice in your shot if you stand on the nearby bridge. The bridge is along Calle Fenice and that street runs behind Teatro la Fenice. There is a narrow corridor with a rood that you go through before/after you get to the unnamed bridge.
The person taking the photo will have to walk all the way around in a circle until they are direct across from where you will be standing on this unmarked bridge. This is one of the secret Instagrammable places in Venice so if you want to take advantage, you will have to do a bit of work to find it!
This is the approximate address: Immobiliare Il Giglio [this is the name of a hotel which is directly across from the bridge where your photographer will stand to get this shot!]
Basilica di Santa Maria della Salute From This Unique Viewpoint
We literally stumbled across this view of Basilica di Santa Maria della Salute by complete accident. Now, it often does make the list of the best Instagram spots in Venice, but we didn't know that until long after our trip! If we didn't just happen to walk past it, we probably would have never even known that it existed.
This random corner is the perfect spot to grab a photo of the famous Basilica di Santa Maria della Salute from across the Grand Canal! It is easy to get photos as it isn't popular among tourists and there are no people in the background. The only things in the background of your photo are the Basilica, gondolas, and the Grand Canal, what more can you want?
Even though we didn't know that it existed and stumbled across it randomly, it isn't difficult to find! Simply head to the ferry terminal at San Marco Vallaresso SX and look to your right. You will see the Basilica di Santa Maria della Salute and then you will see this corner. It isn't hard to find and is quite simple once you know what you are looking for!
This is the address for the ferry: Ferry terminal San Marco (Vallaresso) SX, 30100 Venice, Metropolitan City of Venice, Italy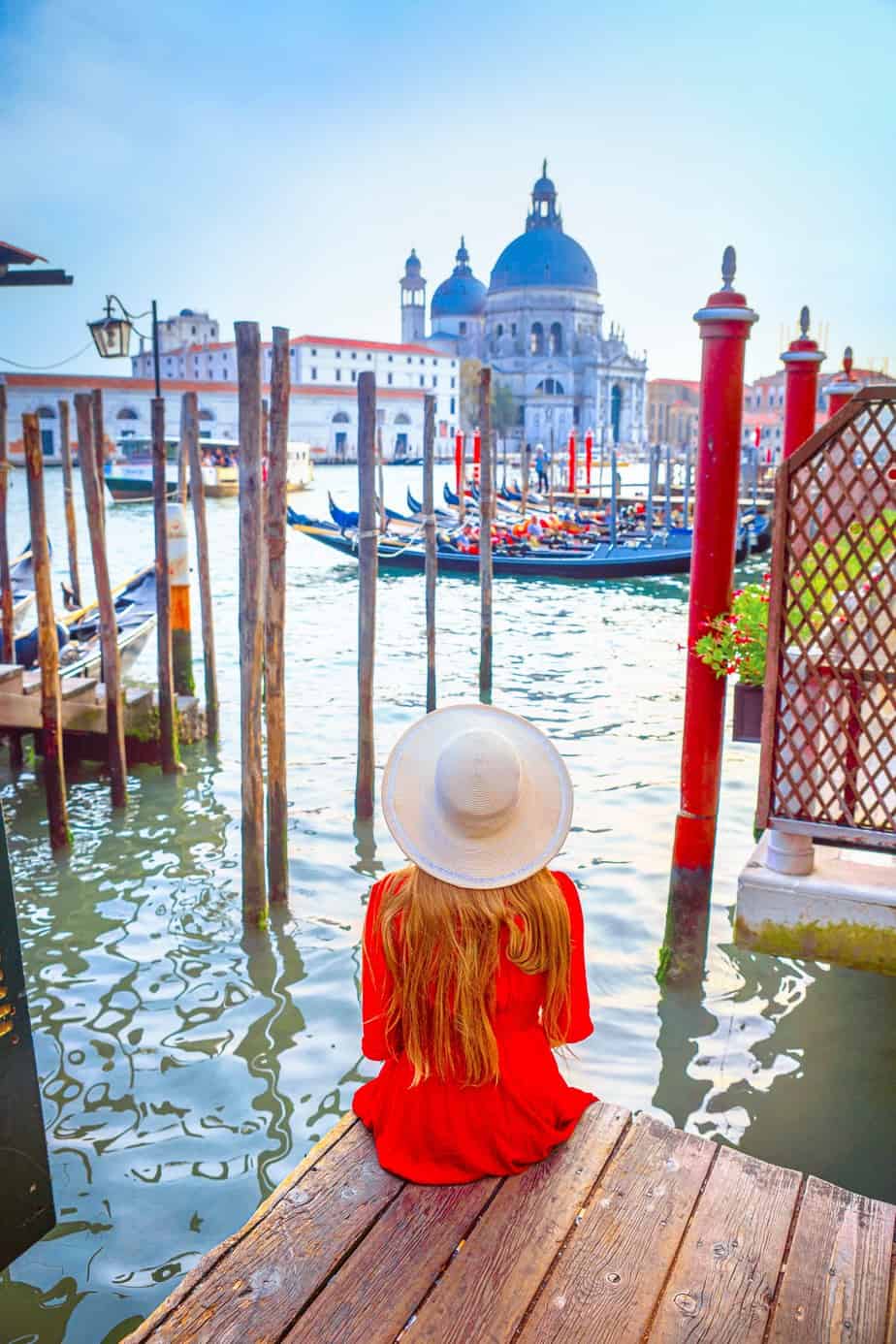 With Gelato Along The Grand Canal
Gelato is pretty much everywhere in Venice and it makes for a totally cute photo opportunity! Proceed with caution! Although it has been on the cooler-end during our trip to Venice, the gelato melts extremely fast. Make sure to choose a gelato shop that is right near the Grand Canal or the canal that you want to photograph.
The moment you get your gelato and pay for it, run outside as quickly as you can to snap the photo. Don't forget to bring tons of napkins so that you can clean up. Don't forget to enjoy eating your gelato in the midst of your Instagram photo session in Venice! The gelato is the best part, after all!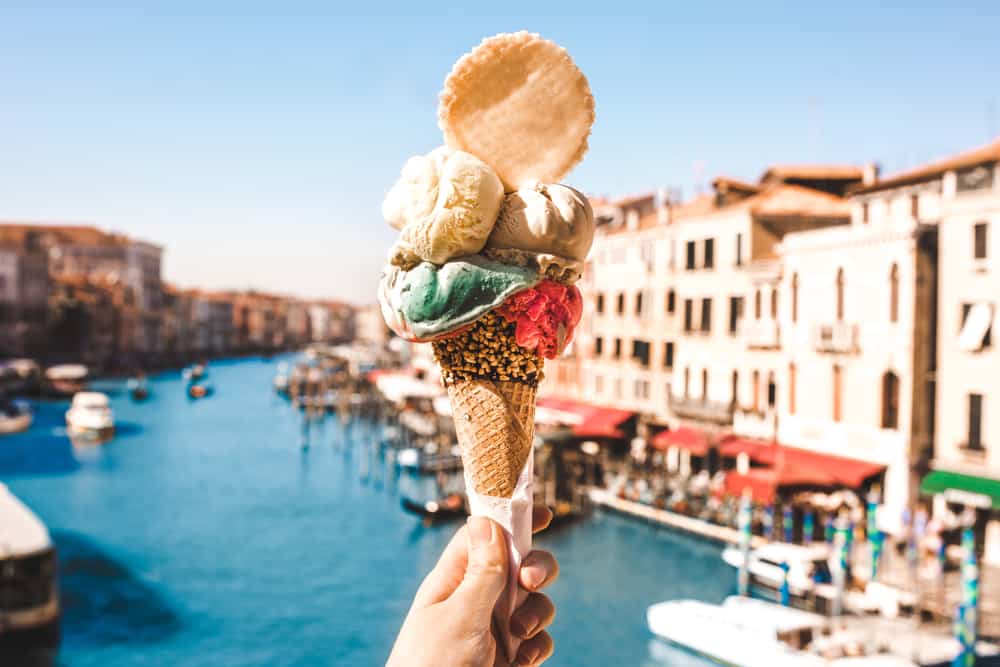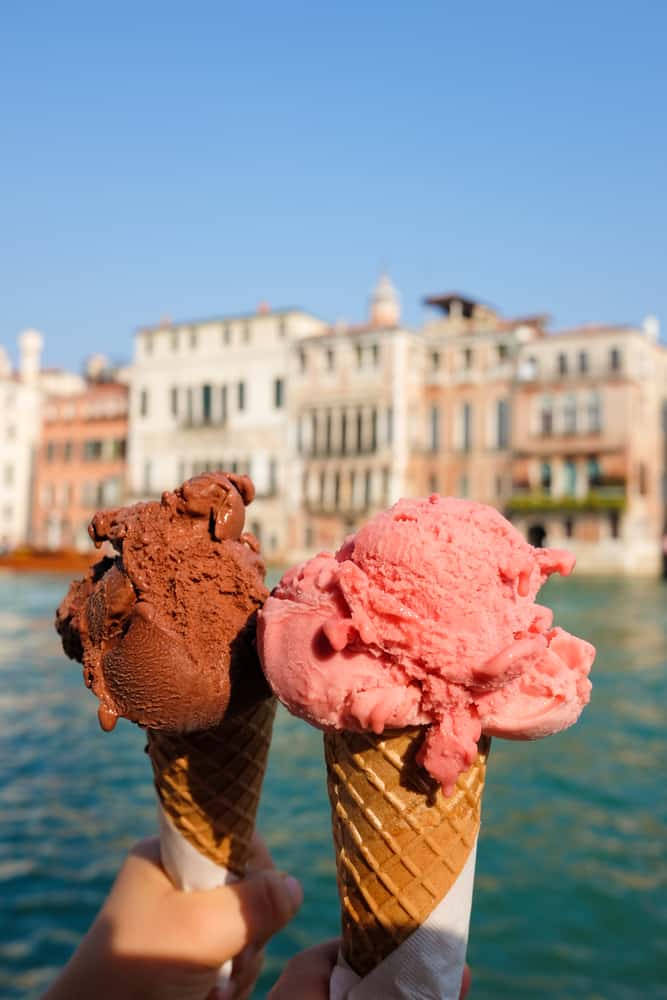 Crossing One Of The Many Bridges In Venice
If you are looking for cute and easy Venice photography ideas, then crossing over one of the many bridges is just the perfect thing. People always shoot the bridge with water in the front, but rarely shoot the Venitian bridges from the side!
We think that they are unique and totally deserve their own photo opportunity. There are so many bridges in Venice and some are more popular than others. We recommend getting away from the center where there are tons of people and finding bridges that speak to you and are more unique!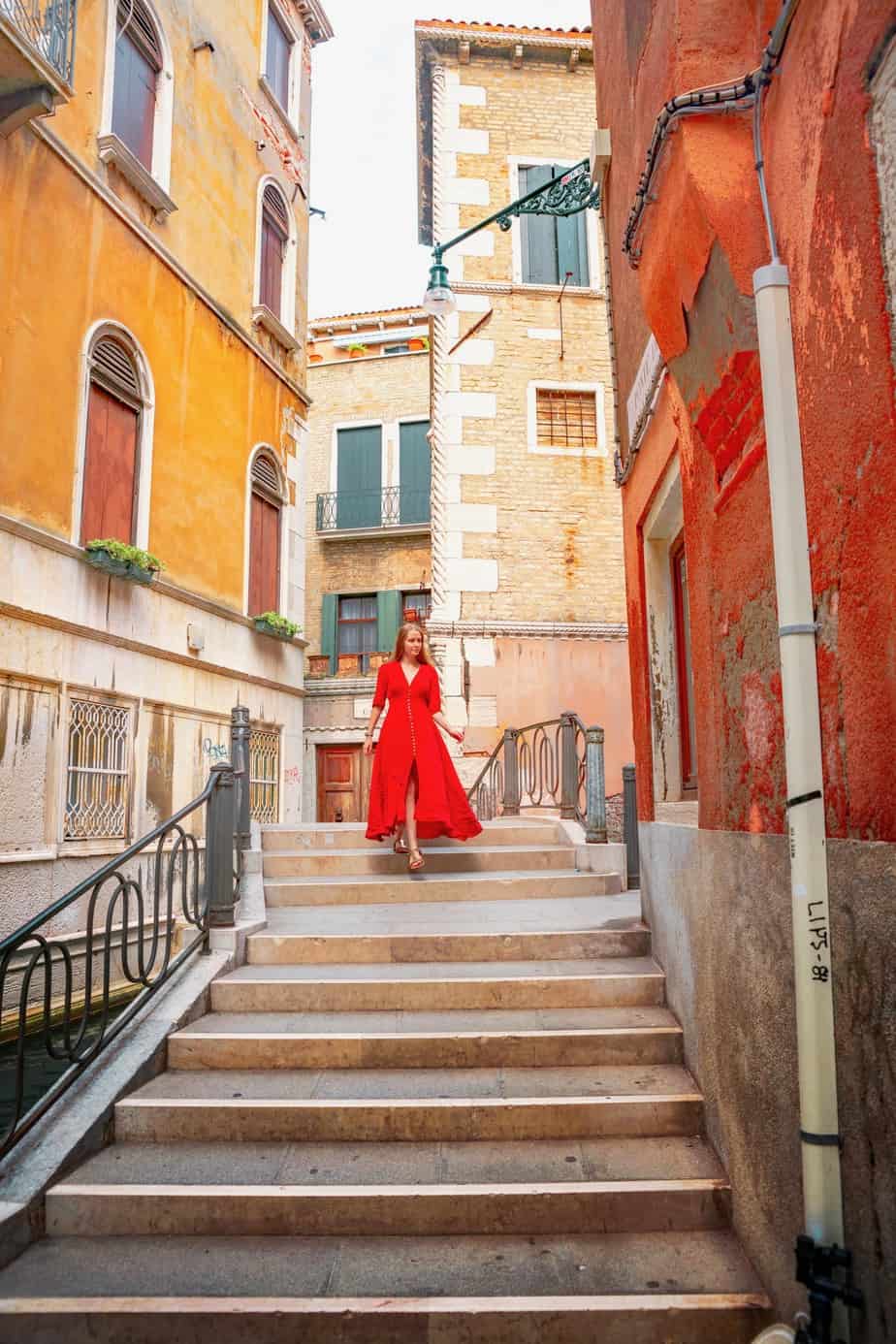 Burano Island Is Venice's Prettiest Photo Spot
Burano Island is a 40-minute water taxi ride away from the Venice mainland. Although there isn't too much to do here besides walking around and maybe grabbing a bite to eat, it is like you stepped into a rainbow painting!
It is an old fishing village and is home to a famous lace-making industry. Come for the rainbow houses and stay for the history! The best way to photograph Burano is during the daytime when the sun is at its highest point or during sunset when the lights begin to come on!
Although it isn't on the Venice mainland, it is one of the most Instagrammable places in Venice for a very good reason. If you are tight on time or only have 1-2 days in Venice, we recommend skipping Burano as it takes a long time to transit there!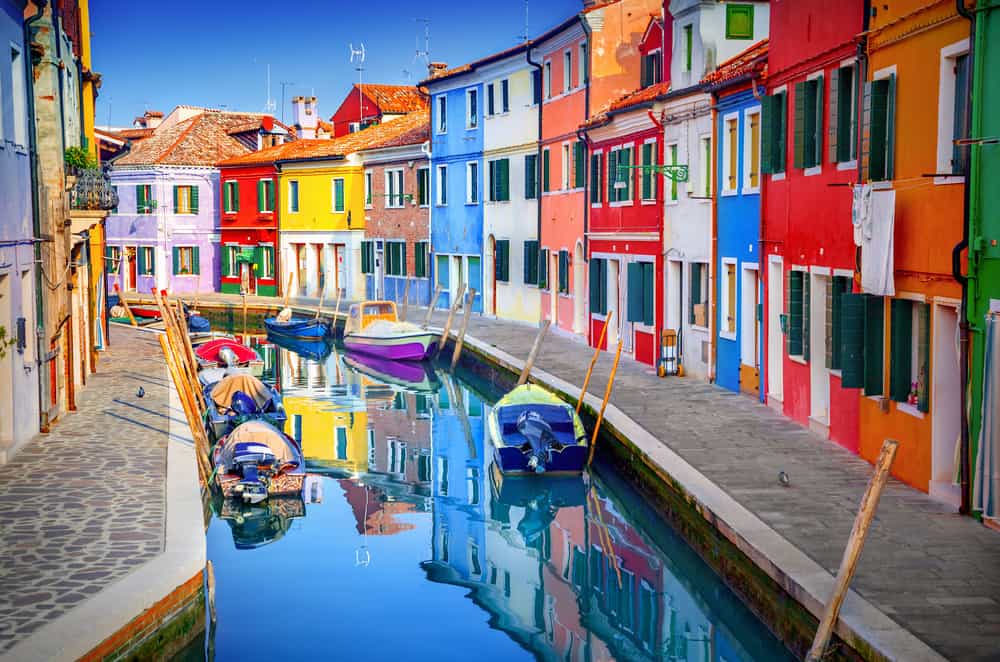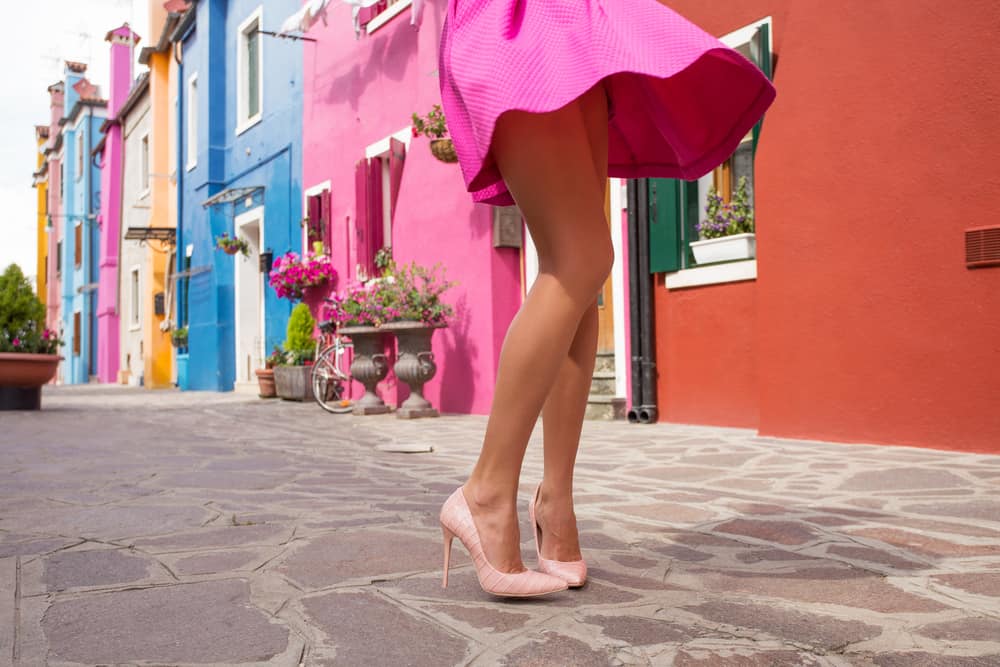 Map Of The Most Instagrammable Places In Venice
We put together this map of the best Venice photography spots to make things easier for your trip! This way, you will spend less time wondering where you should go and more time enjoying Venice and taking some lovely and memorable photos!
CLICK HERE FOR VENICE PHOTO SPOTS MAP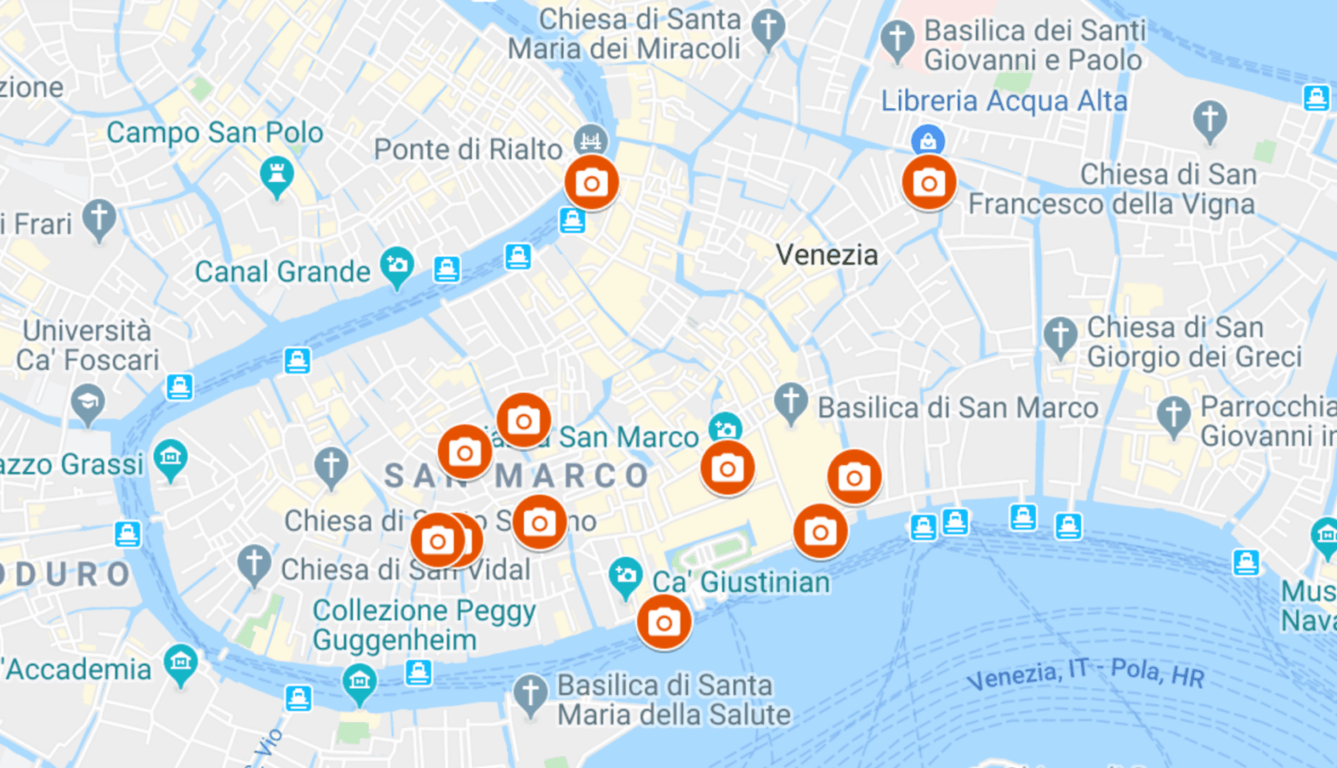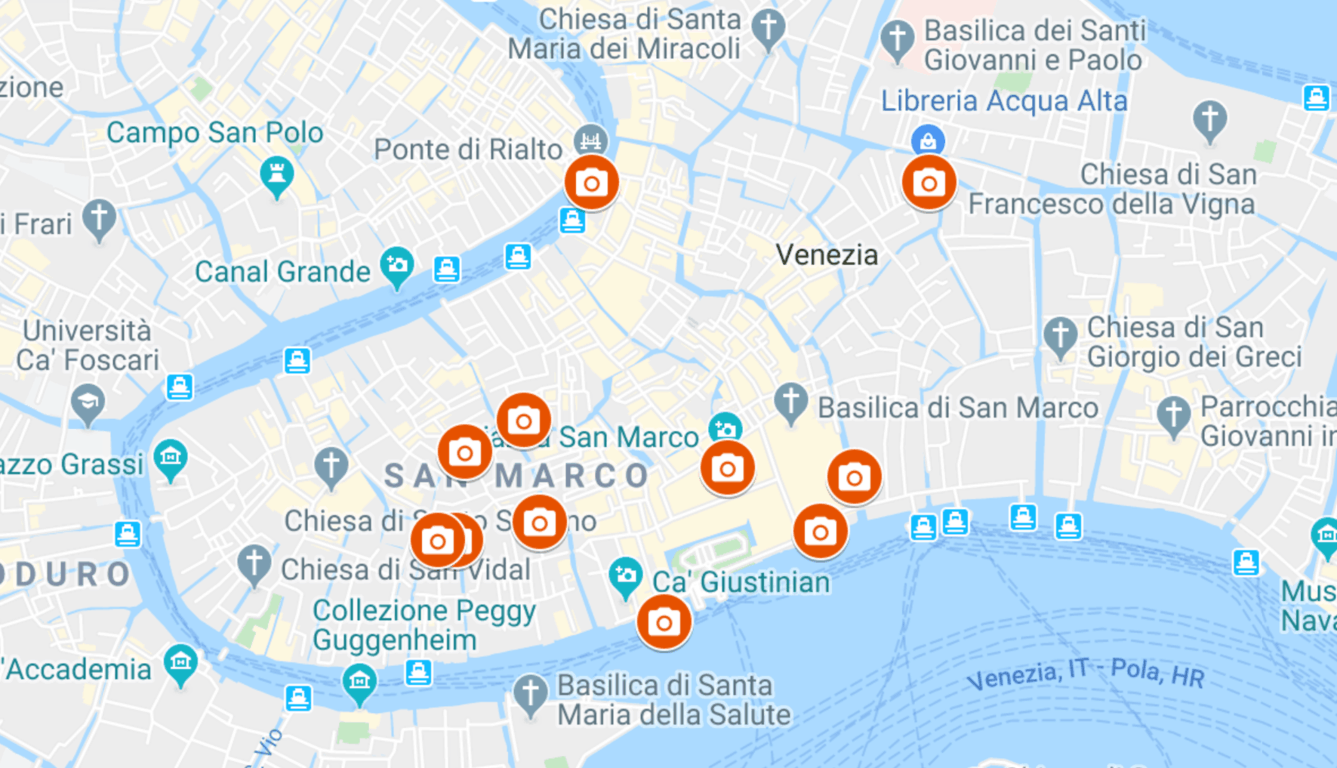 Where to Stay In Venice
We know that you aren't just coming for Venice to take photos! You want to enjoy too! Venice is a fabulous city and a photographers playground, but you are going to have to sleep! We have listed some of our favorite hotels below that cater to a variety of budgets so that you can choose a place that is right for you!
Affordable: Hotel Diana
If you're looking for a more affordable option in San Marco, Hotel Diana is a great choice! Lots of popular restaurants and shops are all around the hotel, Rialto Bridge is just a ten-minute walk away, and the hotel is only 150 from St. Mark's Square! The rooms come with air-conditioning, satellite TV, and free wifi. There is also a continental breakfast for guests to enjoy, And best of all, Hotel Diana is located in a beautiful 15th-century building!
Check Rates: Booking.com
Affordable: San Polo Star
San Polo Star is an awesome choice of where to stay in San Polo, being within easy walking distance of lots of iconic sites, and has a very clean and new feel about it. All the rooms come with a desk a private bathroom, flatscreen TVs, air-conditioning, a closet, and some of the rooms even have a little seating area.
Check Rates: Booking.com
Mid-Range: Hotel Agli Artisti
A fabulous location with the Venice Santa Lucia Sation only 659 feet away, the Agli Artisti is a very cozy and convenient place to stay in Cannaregio. Other sightseeing locations, such as the Jewish Ghetto, are just a short walk away. The rooms are comfortable, have wifi access, and some come with a balcony! Be careful when booking your room, because some of the rooms have shared bathrooms. Others, though, come with private bathrooms.
Check Rates: Booking.com
Mid-Range: Hotel San Giorgio
Located in the heart of Venice, right between Rialto Bridge and St. Marks Square, Hotel San Giorgio is a luxurious and stunning place to choose. The lovely rooms are decorated in an 18th-century style, complete with Murano glass and marble furnishings, that will make you feel like you've dreamily stepped back in time! But don't worry, San Giorgio comes with modern conveniences and a delicious breakfast buffet!
Check Rates: Booking.com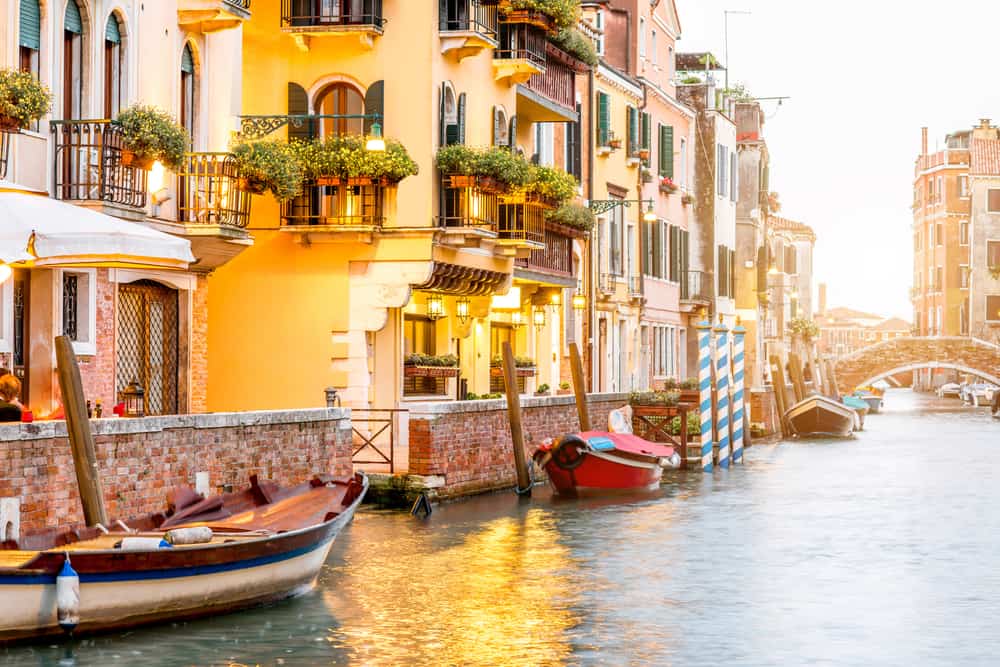 We hope you have a wonderful time visiting Venice! Make sure to stay respectful and understand that people live in Venice when taking photos. Do you think there is a photo spot in Venice that we missed? Let us know in the comments below and maybe we will get to check it out next time!
Pin this post: