Visiting Rome in winter is a magical and memorable experience you won't soon forget. The weather during winter in Rome will be a bit cold [Rome has an average temperature of 45°F in January and 47°F in Feburary], but that doesn't mean you should write off visiting Rome in the winter altogether! Rome is one of the best places to visit in Italy and it is even more magical during the winter when prices are cheaper and the crowds are fewer.
Winter in Rome is generally defined as December to February, but months such as November and March can experience winter weather in Rome as well.  Winter in Rome means Christmas decorations and Valentine's Day treats and the small chance of snow and fewer crowds to fight.  With a few tips and this handy guide by your side, you will be off to an enjoyable trip to the Eternal City during the winter months.
Read more: The Ultimate Guide To Visiting Paris In Winter
The Ultimate Guide To Visiting Rome In Winter
Average Rome Winter Weather
The average weather in Rome in winter is a bit rainy and chilly. It is very rare to see snow in Rome in Winter. Years ago it was virtually unheard of, but now it is becoming slightly more common. If it does snow, it most likely won't be until February or March. December weather in Rome [and in Italy in general] is more on the rainy and warmer [for winter] side.
You can expect the wettest months in Rome in winter to be November and December, but be aware that there will probably be rain into March. If winter is the only time you have to visit Rome, remember that the average Rome winter weather isn't all that bad and is entirely doable with the proper packing and planning!
Whether you are planning your 10 days in Italy, have a bit more time and are spending 2 weeks in Italy, or renting a car and doing an Italy road trip, you can complete these itineraries and visit Rome during the winter months! There are no issues unless there is a freak storm!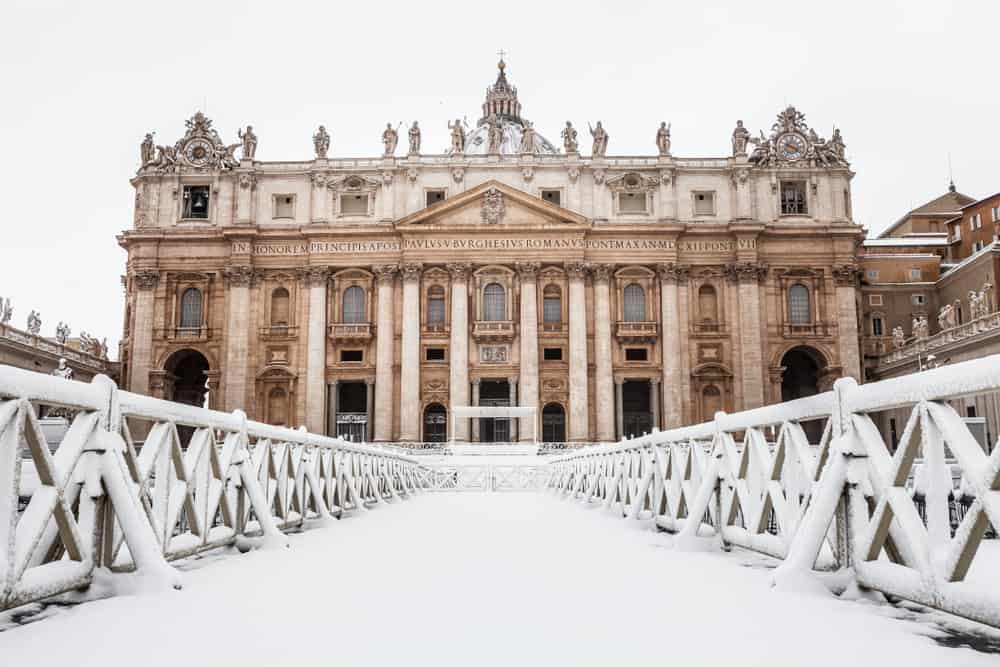 Average Winter Temperatures In Rome
While the weather in Rome in winter is cold, especially compared to the typical temperatures in Rome, it is not freezing. The average temperature of Rome in December is 47°F, the average temperature of Rome in January is 45°F, and the average temperature of Rome in February is 47°F. As you can see, these temperatures are not entirely freezing and are more enjoyable than other popular cities such as New York City, which averages in the mid-to-low 30's during January. Rome in winter is usually just rainy and chilly.
Check out these average Rome winter weather highs and lows to get an idea:
November Temperatures For Rome: 62°F high and 45°F low
December Temperatures For Rome: 55°F high and 40°F low
January Temperatures For Rome: 54°F high and 37°F low
February Temperatures For Rome: 57°F high and 38°F low
March Temperatures For Rome: 62°F high and 43°F low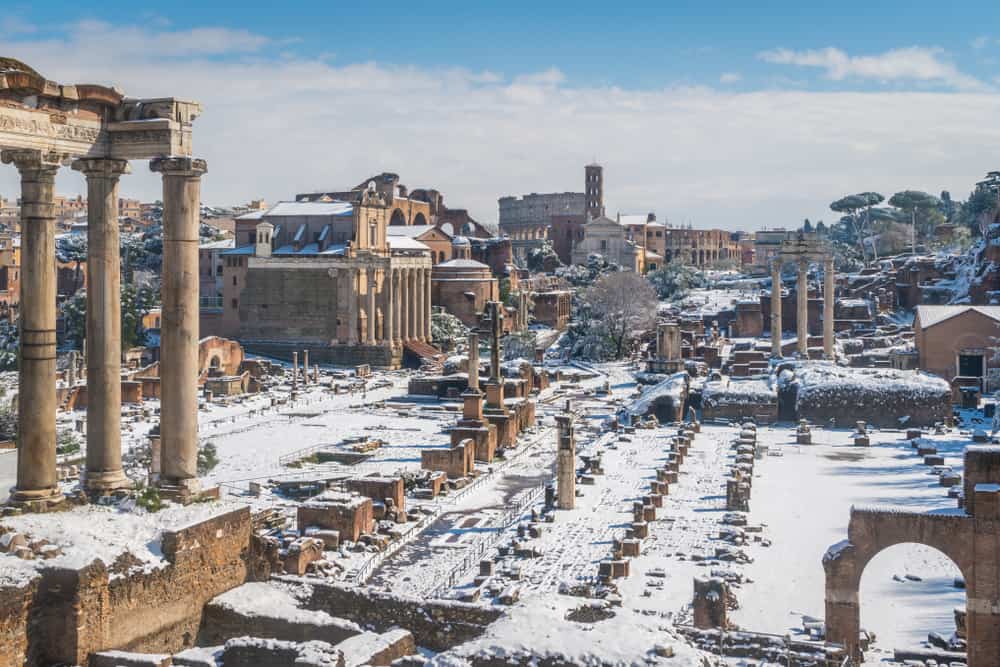 How To Get To Rome In Winter
Getting to Rome in winter is quite easy! Transportation prices will be at a yearly low during the majority of the winter, so you will save a lot of money by booking your trip to Rome in the winter! Roma Fiumicino, also called Leonardo Da Vinci International Airport, is the main airport in which people fly into and the Ciampino airport is also used, but it is mostly for smaller Italian domestic flights. Most flights will be going in and out of Roma Fiumicino. Most of those flights will be in Terminals 1,2, and 3 which are all connected.
If you are flying from or to the United States or Isreal though, the flights will be using Terminal 5 which is a 15-minute shuttle ride from everything else. The shuttle comes by every 20-30 minutes, and it is the only option to get to Terminal 5 because you can't walk it. These flights are separate because of the different security measures required for flights to and from these countries. Most of the smaller or charter flights will be at Ciampino Airport, which is the smaller airport of the two. Once you land, you can take an Uber or Taxi into town or take public transportation, like a train or shuttle, which is easy and affordable!
If you live in Europe or you are already traveling there, you can take one of the many high-speed trains that go in and out of Rome every day! Taking the train is also a great option if you are already in Italy. The central train station in Rome is Termini Station. It is the main transport interchange in Rome. This means that it a great central location because you can change trains, hop on a bus, or get a taxi. There are different options on which train you would like to take, each differing in prices and speed. The "Frecciabianca" and "Eurostar" trains are some of the fastest trains that you can take, but they are also more expensive. The most economical options are usually the "Intercity" or "Regional" trains, but those are slower and make more stops. Spending winter in Rome has never been easier or more affordable!
You can also drive to Rome in winter; however, unless there are specific sights that you want to see on your journey, it is not suggested. There are areas that are traffic camera-surveilled in Rome that you cannot drive in unless you are a resident or have registered your car with the police as a tourist. Be very careful that you don't enter these areas – they are only marked by a small lit sign that says "varco attivo or varco non attivo"- or you will be receiving a hefty fine.
Driving to different cities is also much slower than taking the train, and it saves you a lot of stress learning the rules of the road in a new place. If you do decide to drive to Rome in winter though, no matter which direction you are coming from, you will get on the G.R.A., which stands for Grande Raccordo Annulare. This is a circular road that surrounds Rome. The idea is that when you reach Rome, you get on this bypass and drive around the city so that you can enter at the closest point to your destination. Exits on this road are well signposted, but they come quickly and can be easy to pass by. Make sure you stay in the far right lane so you can exit.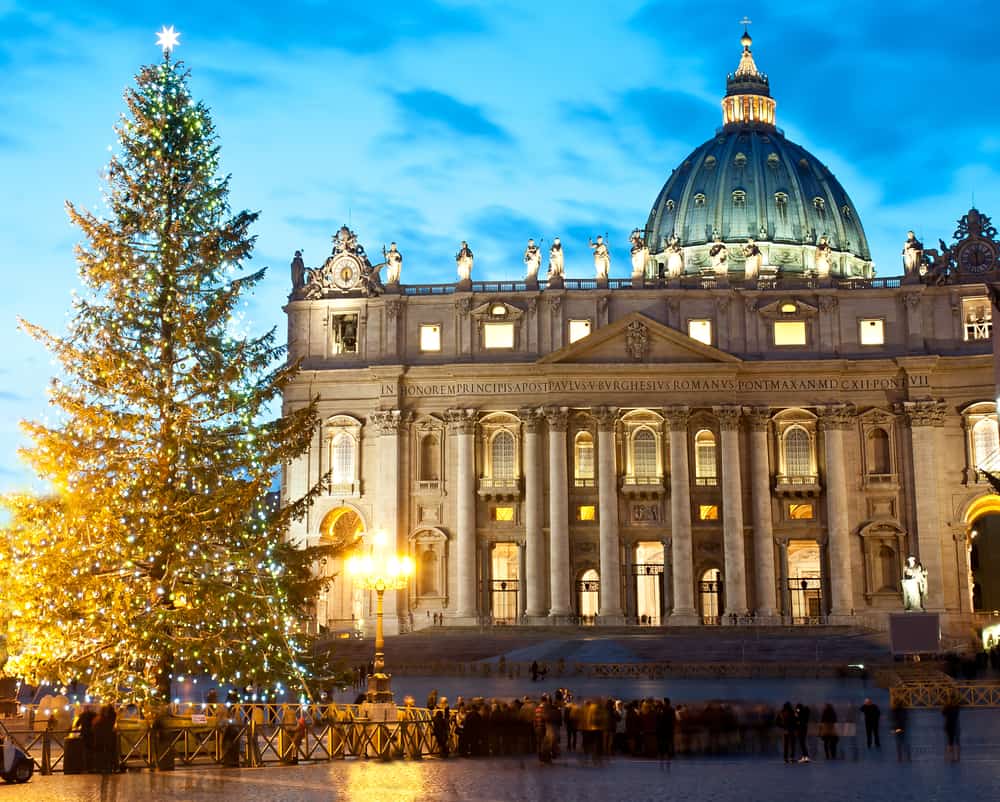 How To Get Around Rome In The Winter
The most popular way to get around Rome in winter is by using public transportation. When in Rome you can get a public transport ticket, which covers most of the public transportation in Rome. What's not included is The Leonardo Express Train running non-stop between Fiumicino Airport and Rome's Termini Station, any airport bus or train to either of Rome's two airports, Fiumicino or Ciampino, the trains to and from Rome's cruise port, Civitavecchia, and Rome's hop-on-hop-off sightseeing buses. Knowing how to get around is one of the most important Rome travel tips you can learn!
City buses and trams, the metro, and some rail services are all included though, making public transportation a great way to get around Rome in winter. When getting a public transportation ticket, you can get single tickets (which last for 100 minutes) or 24, 48 or 72-hour passes or a 7 calendar day travel pass. Once you buy your pass, make sure you stamp it at the machines provided. Traveling with an unstamped ticket is like traveling with no ticket.
Driving in Rome is not suggested. If you think it's necessary, then take a taxi or an Uber, but driving in Rome can be more trouble than it's worth. Rome was not made for cars; the roads are 2,000 years old and cannot handle the number of vehicles in Rome. The gridlocks are constant and everywhere. This is even worse when it rains (a common occurrence in Rome in winter). There is also very limited parking in Rome. You could find yourself searching for an hour before finding a place to park your car. Then there's the fact that traffic rules in Rome are more culture than law. Every Roman knows the rules of the road – they were probably taught while they were young- but don't expect the rules to be easy to learn.
What To Pack For Rome In Winter
If you are heading to Rome in the winter, there are a few packing tips we suggest you adhere to! Visiting Rome in winter is quite enjoyable and magical, but you need to stay warm and dry. Since it is Rome, you will also want to do all these things while looking a bit fashionable too! Dressing in layers is key! This way, you can easily go from warm out on the streets of Rome to comfortable inside a building. If you get too warm or too cold, simply add or take away a layer until you feel better.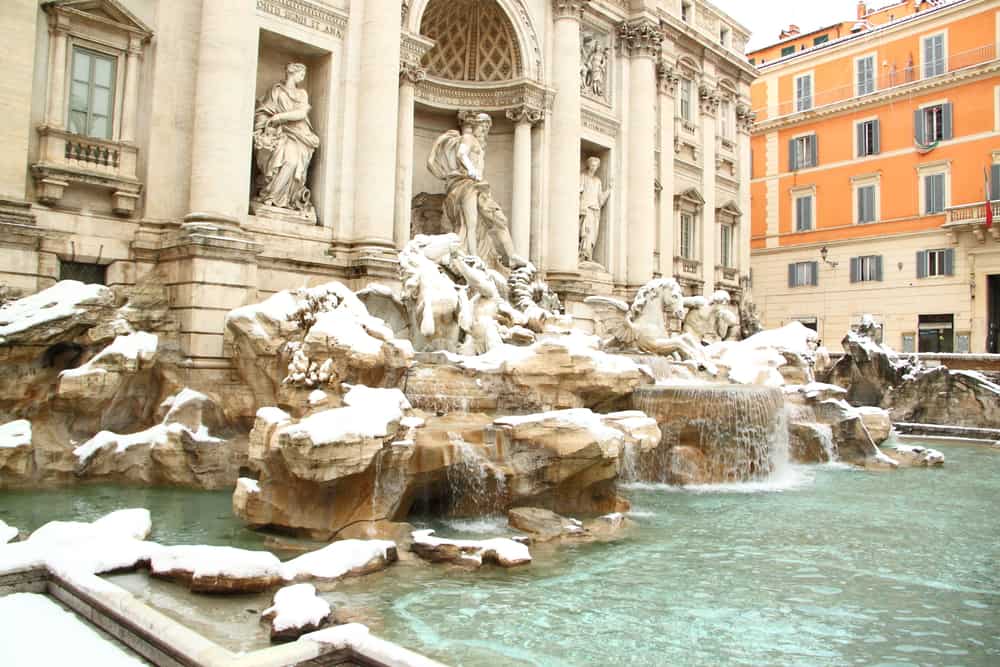 Top Things To Do In Rome During The Winter
Throw A Coin In The Fontana di Trevi
Rome's Trevi Fountain is one of her most famous landmarks! During your trip to Rome in winter, make sure to stop here and throw a coin into the fountain. This means that one day you will return to Rome! Since you will be in Rome in winter, there will be fewer tourists. Still, if you are looking to visit the Fontana di Trevi without other tourists, go early in the morning or late at night!
Explore The Coliseum
Rome's Coliseum will be one of the most interesting things to do during your trip during winter in Rome! This is a place you have heard about in history books, and now it is your turn to explore it all on your own! The Coliseum opens at 8:30 in the morning (except on Christmas and New Year) and closes at sunset which can be early during the winter. This is truly one of the best things to do in Rome!
This means that while you are in Rome in winter, you need to plan your time at the Coliseum earlier in the day before it closes. Winter is one of the best times to explore the Coliseum, because there are fewer tourists than the rest of the year, especially if you go during the week instead of the weekend. There are still tourists, though, so if you would like it to be even less crowded, try going when it first opens or a couple of hours before it closes.
Wander Through The Roman Forum
The Roman Forum is not as popular as the Coliseum, but it is worth seeing during your trip to Rome in winter because it is very impressive and close by! The Roman Forum is steps away from the Coliseum and is a beautiful place to walk around. You can just imagine the Romans here many years ago! The Roman Forum opens at 8:30 in the morning. From the last Sunday of October to February 15th, the last entrance is at 3:30 and closing time is 4:30. Then from February 16th to March 15th, the last entrance is at 4:00 and closing time is 5:00. From March 16th to the last Saturday of March, the last entrance is at 4:30 and closing time is 5:30. The same basic rules for the Coliseum apply for visiting the Roman Forum with fewer tourists. Try going during the week when it first opens or a couple of hours before it closes.
Visit Piazza Navona
Piazza Navona is one of Rome's most famous public squares. It was built in the 15th century and is now filled with cafes, shops, and places to get a delicious bite to eat! While in Rome in winter, make sure to try some of the roasted chestnuts that can be found at Piazza Navona. This is also the location of one of the most well known Christmas markets in Rome. There is entertainment, shops, and amusement rides to satisfy any traveler! It takes place from December 8th to early January, and you must see this Christmas market if you are in Rome at Christmas.
Climb The Spanish Steps
You have probably seen the Spanish Steps in a movie or two! They are another famous landmark in Rome you should see during Rome in winter. Winter is the perfect time to go because the usual crowds won't be as overwhelming. There are 135 steps, so bring your walking shoes!
Shop The Sales
January is when Italy has its winter sales. Sales in Italy are highly regulated and only happen twice a year, so if you love shopping, you should definitely go to Rome in winter. This gives you the opportunity to get great deals on some of the Italian fashion staples.
Visit The Pantheon
The Pantheon is a former Roman temple that is now a church. You should check it out while you're in Rome in winter because it is a famous historical building and another piece of history to admire! You can reserve a super affordable Pantheon audio guide here! The Pantheon usually is open from 8:30 a.m.- 7:30 p.m. (last admission 7:15 pm). On Sunday the Pantheon is open from 9:00 a.m. – 6:00 p.m. (last admission 5:45 pm). For public holidays the Pantheon is open from 9:00 a.m. – 1:00 p.m. (last admission 12:45 pm). During winter in Rome, the pantheon is closed on December 25th and January 1st. Also, when mass is taking place, visitors are not allowed to enter the Pantheon. Mass takes place during holidays at 10.30 am and on Saturdays at 5.00 pm.
The Vatican
There are two main things to do in the Vatican and that is seeing Saint Peter's Basilica and tour the Vatican Museums. One of the best times to visit the Vatican is during the winter. Usually to see the Vatican without hoards of crowds you have to get there very early, and your time without crowds might not last very long. During the winter there are significantly fewer crowds though, allowing you to explore and see the statues, frescoes, and paintings without a wall of bodies and cameras blocking your view.
The Vatican Museums are where you will find lots of art and history as well as the famous Sistine Chapel. You can still buy tickets in advance for the Vatican Museum if that would make you feel more confident, but skip-the-line tickets should not be necessary. The Vatican Museums take about 3 hours to tour and Saint Peter's Basilica takes at least one hour maybe three, depending on what you want to see and do!
Safety Tips
Rome in winter is actually a pretty safe city to visit, but just like any big city, you need to be careful. Most ways to stay safe are pretty universal: don't accept drinks from someone you just met or leave your drink unattended, be aware of your surroundings, and don't keep valuables in plain sight. While traveling, you should also have copies of all essential documents, learn where to stay away from at night, and pick secure accommodations. Also, trust your gut. If you feel like something or someone is not safe, leave.
Just like any big city, there are pickpockets and con artists waiting to take advantage of unsuspecting tourists during the winter in Rome. Make sure that anything important, like money or your passport, is stored securely. It's best if you can use a travelers wallet to keep these valuables under your clothes. If someone on the side of the rode tries to grab your attention, your best bet is to ignore them and keep walking, especially if you don't speak good Italian. Some people might try taking photos of you, but this will most likely end with them demanding a .payment in return, so stay away from it if you can. Be a little wary of the police in Rome as well, as they are not always the kindest to tourists. If something is stolen, filing a police report will probably not do you any good, as they rarely do anything to help tourists.
Rome in winter is truly magical! There is so much that you can do during winter in Rome: you can explore the Vatican, walk the streets, eat all of the Italian food, and shop the rare sales – all with fewer crowds than the rest of the year! Seeing Rome in winter is such a unique experience (especially if there happens to be snow) and it is something that you will never forget! If you have any questions about visiting Rome in winter, just let us know!