There isn't a shortage of memorable things to do in Venice, Italy. Italy is one of the most desired vacation destinations and it's not hard to see why. It has everything you could ever want from an enchanting getaway. Enticing food. Rich history and culture. Romance. That's amore!
Firstly, the food: Spaghetti smothered in tangy marinara, cheesy pizza with all the fixings, a glass of aromatic wine, and of course…gelato. It's almost physically impossible to pass up a visit to one of Italy's specialty sweet treat shops. Imagine it's the perfect sunny afternoon and your belly is full from a tasty meal. What could be better paired with a lovely stroll through town than a fragrant cone topped with scoops of your favorite flavors? Now, that's an experience sure to make your mouth water!
Next, the history and culture. Italian life is brimming with arts, music, and tradition. The numerous museums, theaters, and ancient landmarks scattered across the country are fascinating, bringing in millions of tourists each year. Italy is the place to go for old buildings, colorful palettes, and classical destinations. In Italy an appreciation for life's finer things is compulsory.
Lastly, the romance. Candlelit dinners, a day trip to a local winery, a gondola ride through the Grand Canal at sunset…Italy is full of lovers. Especially, Venice. There's no place in the world quite like Venice, Italy with its dreamlike spaces and evocative city life. Venice is a must-see. Below we have a list of 19 memorable things to do in Venice, Italy. Bella Italia!

19 Memorable Things To Do In Venice Italy
Explore The Famed La Piazza San Marco
La Piazza San Marco or "Saint Mark's Square" is arguably the most famous landmark in all of Venice, so you must add it on your list of best things to do in Venice, Italy! La Piazza, which translates into "The Square", is the renowned public area in the city. It has historical significance to Venetians because it was once the center of both political and religious power in the region.
Even with being surrounded by shops, restaurants, and other sights (such as Saint Mark's Clock Tower and the Saint Mark's Basin), the square's centerpiece is Saint Mark's Basilica. This church is one of the grandest places of worship in the city and therefore is a must visit.

Say A Prayer In Saint Mark's Basilica
Saint Mark's Basilica lies at one end of the Piazza San Marco, which is connected to Doge's Palace. Once a chapel to the Doge this has been the go to the cathedral since 1807 after becoming the seat of the Patriarch of Venice.

Climb The Companile di San Marco Bell Tower
While visiting St. Mark's Square, you'll want to take a quick walk over to Companile di San Marco or "Saint Mark's Bell." This tower was originally built in the 9th century and has been restored many times due to fires that were caused by lightning. Still, it stands proud. If you look up you can see the symbol of St. Mark, which is the winged lion, in the area by the belfry. Each of the five bells were rung for different reasons back in the day, and you can get close to them today, but be warned: the line to get to St. Marks Bell Tower can get crowded, so you may want to look into a tour that helps you skip the line!
Don't let the popularity of this excursion deter you. When you reach the top of the tower, you will have one of the most beautiful views in all of Venice. Trust us, you don't want to miss this view. It is truly one of the most picturesque things to do in Venice, Italy!

Marvel At Doge's Palace
Doge's Palace is a beautiful 1,000-year-old mansion and is one of Venice's main landmarks, making it worthy of the best things to do in Venice, Italy list. Situated right next to St. Mark's Square, this gorgeous palace is conveniently accessible. It was formerly used as a residence for the "Doge of Venice," which is the name given to those who were seated as the main authority for the Republic of Venice.
Although this palace was once used as a center of political leadership, today it serves as a museum. This attraction brings in both tourists and citizens alike. Since its opening in 1923 guests have marveled at this Gothic monument and enjoyed getting a glimpse of the life of Venice's past leadership.

Go On A Gondola Ride
Gondolas are the most widely known and famous motif of all of Venice. Taking a ride on one will surely find a place on anyone's Venice itinerary. Ask those who have been and they will all say that this experience tops the list of things to do in Venice, Italy. For centuries, gondolas have maneuvered through Venice's tight canals, serving as one of the primary modes of transportation. Today they are also popular among tourists as they offer a romantic and photogenic view of the Floating City.
It should be noted that Gondola tours can be expensive. Make sure to speak to your gondolier before hopping in so you can prevent any unpleasant surprises when you emerge from your romantic tourist dream! All prices and expectations should be discussed ahead of the outing.

Visit The Beaches
Venice is easily the most well-known chain of islands in Italy and while it is an amazing place to see it is also incredibly populated. If you need to take a break from it all then one of the top things you can do is plan a trip to a stretch of beach. The proximity of the beaches from the Venice mainland makes them an ideal place to visit.
Lido de Venezia
Lido de Venezia (also known as Lido Island) is located off the mainland. The island is long and narrow and at least half the seaward coast has sandy beaches. Much of the beach at the town of Lido belongs to various hotels but there are large public beaches towards the northern and southern ends.
Lido di Jesolo
Not to be confused with Lido de Venezia, Lido di Jesolo is Venice's most popular nearby beach hands-down. Why? It's close to Venice and is favorable for family vacationers. During the summer months, traffic to this beach may become a problem so keep that in mind. Be sure to explore the nightlife here. Bars stay open until later at night (with lower prices).
Cavallino
Another beach you might enjoy near Venice is Cavallino. It is known for its pristine white sand and calm, clear waters. Cavallino is a camper's dream with fully equipped campsites and has access to quaint seaside restaurants and shopping.
Sottomarina di Chioggia
The beach at Sottomarina di Chioggia is perfect if you're looking for wide, clean strips of sand complete with beach chairs and umbrellas. You can even check out bike rentals from nearby hotels and take a relaxing coastal ride.
Punta Sabbioni
Punta Sabbioni is a lively port on the west coast of Cavallino-Treporti frequented by ferry traffic to and from Venice. The lighthouse is a key attraction that adds character to nearby ruins of historic Venetian forts that were pivotal in protecting the city.
Santa Cristina
In Venice's northern lagoon, the private island Santa Cristina is really the ultimate beach experience for those who want seclusion. The former Swarovski family compound has its own private beach access and a stunning pool with an outdoor lounge.
Isola delle Rose
Another of the closest beaches to Venice is just a mere 25-minute ferry ride from San Marco that is freely accessible by island patrons. It boasts a Michelin-star restaurant and an outstanding spa.
Alberoni
Alberoni, is Venice's most remote beach, but it is free to enter. The reserve is popular with beachcombers and naturalists who revel in the complete peace of it all.

Discover The Leaning Towers In Venice
If you're exploring the streets looking for hidden gems and memorable things to do in Venice, Italy be sure to keep a look out for these three leaning bell towers: Santo Stefano, San Giorgio dei Greci, and San Pietro di Castello. While Pisa may be the most famous leaning tower in Italy, these are worth a peek.

Take A Boat Tour Of The Venetian Islands
You cannot visit Venice without cruising to the nearby islands in the Venetian Lagoon: Murano, Burano, and Lido de Venezia. These famous islands are known for their picturesque scenes, home-made mementos, and history. Since Venice is huge the best way to see these islands is through a boat tour. With a great guide you will learn so much about the city and they can offer your their personal tips on the best things to do in Venice, Italy.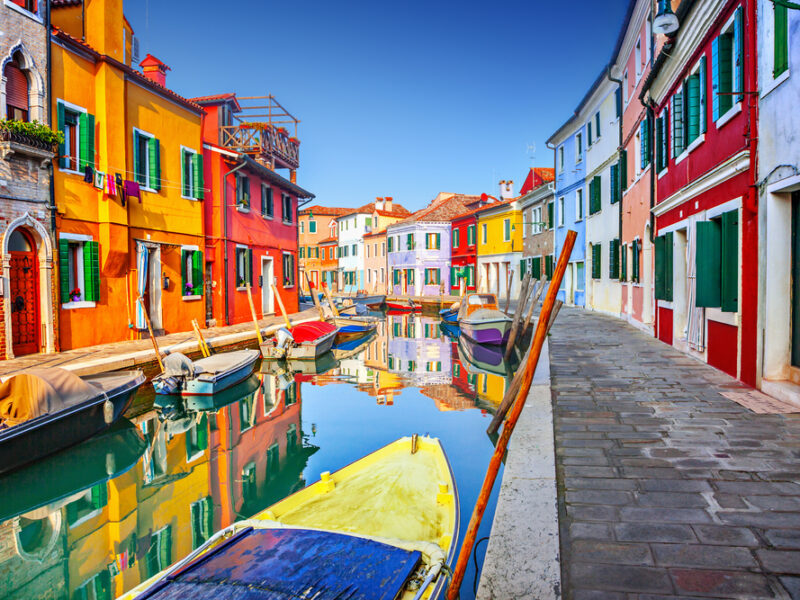 Walk Over Rialto Bridge
If you've ever seen a film shot in Italy chances are there is a scene featuring the iconic Rialto Bridge. Spiderman: Far From Home anyone? This is the oldest bridge in Venice that crosses The Grand Canal. It was built between 1588 and 1591 and is one of the main hubs for a multitude of markets, restaurants, landmarks and more! Despite St. Mark's square being a bit more famous, the Rialto Bridge has been considered the "soul" of Venice.
The Rialto Bridge is one of the best things to do in Venice, Italy because it's so well connected to a variety of different places. Surrounding the bridge includes the Grand Canal, the Rialto Markets, the Palazzo Contarini de Bovolo, the Santa Maria Dei Miracle, and Ca Rezzonico. Make sure you give yourself plenty of time to explore this area!
Go Beneath The Bridge of Sighs
Another popular feature is to stop at the Bridge of Sighs. Connected to the Doge's Palace, its location is convenient to visit both in one sitting. Historically, this bridge was used as a walkway for prisoners. After criminals were interrogated and convicted in Doge's Palace, they were walked across this very bridge to prison.
Those prisoners caught glimpses of freedom outside the windows of this bridge, and the Republic used this bridge, in particular, to remind prisoners that they would not be seeing freedom any time soon, causing them to sigh, which thus name the bridge! Don't worry though, the only sigh you'll experience at your visit will be one of awe. You can take a gondola tour underneath the bridge to get a closer look as direct access to it has been prohibited except through means of a particular tour group!

Enjoy The View From Scala Contarini del Bovolo
Scala Contarini del Bovolo is a unique and Instagrammable place making it one of the most memorable things you can do in Venice, Italy! This tower offers some of the best views for Venice photos and many don't know that it exists at all.
It is a bit difficult to find this beautiful winding staircase so make sure to put the name Scala Contarini del Bovolo or Palazzo Contarini del Bovolo into Google Maps. There is a small entrance fee if you want to climb the tower (it usually opens at 10 am). We recommend going as soon as it opens so you can get photos without any extra guests in them.
If you just want to see this pretty spot in Venice for photos from the ground, you can choose to do that as well. While the view from the top is stunning, it is a fabulous building to view from the ground as well.

Explore Murano And Buy Something Glass
Whether you get to Murano via boat tour or dedicate some independent time to visit there, you must find a way. Known for its Venetian Glass, this island was once entirely dedicated to the art of glassmaking when all Venetian glassmakers were forced to move here in 1291 to help prevent fires that were starting due to furnaces.
Today, Murano is still the principle hub of Venice's glassmaking and it is a wonderful destination for someone on the hunt for some incredible treasures. Shop and bring back one of a kind, beautiful gifts or simply watch an artist blow glass.

Take Photos On Colorful Burano
If you're looking for some colorful content Burano is the place to be. Known for its brightly colored buildings which give the island its trademark vibrant look, this city is one of the most instagrammable places in Venice. As an old fishing town, the natives would traditionally paint their houses with bright paint so they wouldn't have a hard time finding their homes amidst the lagoon's thick fog. These colorful houses attract people, especially photographers from all around the world.
Another thing that Burano is famous for is its fine lace. Watch out because many knick-knack shops in the more touristy areas of Burano will try to sell you cheap, fake imitations of this lace. So, when you're out exploring don't let yourself fall for that. Real Burano lace is extremely expensive because the quality of the fabric is on a completely different level. Even a small sample can take the artist weeks to finish. A fine example of real artisan quality Burano lace can be found at The Museo del Merletto (The Lace Museum).

Try Locally Made Gelato
Gelato is pretty much everywhere in Venice and is an indulgence you shouldn't skip. Make sure to choose a shop that is right near the Grand Canal if you want to take an envy-inducing snapshot of your treat. Take in a fantastic view of the water and the hustle and bustle of the passerby whilst relishing the tasty experience. This is surely the yummiest of things to do in Venice, Italy!

Ride A Vaporetto
A Vaporetto is a water bus taxi that is a convenient, and beautiful, way to get around Venice. Stops are shown on most Venice maps, and you'll see them as you're walking around the city. They are easy to recognize by their yellow-and-white floating platforms. One of the reasons people love traveling by Vaporetto is that rather than just a means to get from here to there it is also a sightseeing adventure.

Go To Gallerie Dell' Accademia
The Accademia Gallery is located on the south bank of the Grand Canal, in the Dorsoduro neighborhood. In the early 18th century painters were members of an artisan union buts there was still no art academy. In 1766 the Senate ordered the construction of an Academy of sculpture, painting, and architecture, somewhat like those of the main cities of Europe. This is it!
Currently the museum is home to a rich collection of Venetian paintings ranging from Byzantine to Gothic. Renaissance artists (and artists influenced by the history of European painting) are featured. From Bellini, Carpaccio, Giorgione, Veronese, Tintoretto and Tiziano to Giambattista Tiepolo, Guardi, Bellotto, and Longhi you can find a good selection of work here.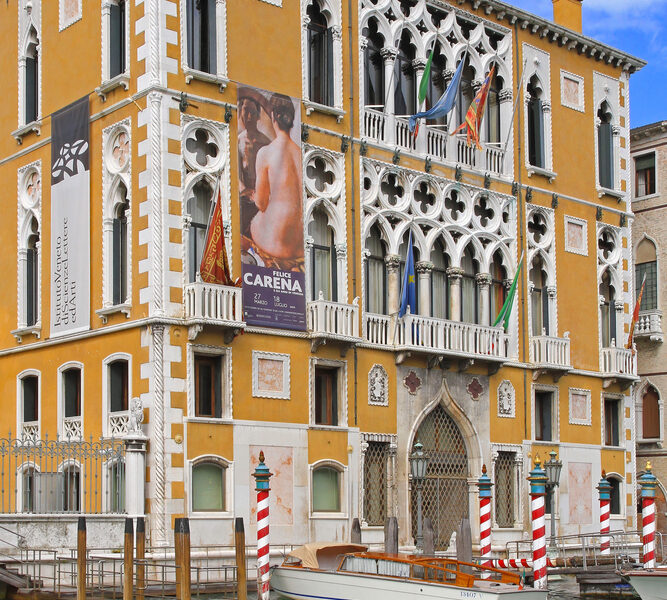 Explore The Grand Canal
One of the most wonderful things about Venice is the fascinating canals. How awesome is it to have a city where the primary mode of transportation is by water? Venturing the Grand Canal with its "S" shape waterway and array of bright colors is an incredible feast for the eyes. Find your way to a dock to take an unforgettable photograph.

Read Some Books At Libreria Acqua Alta
Any Bibliophiles out there? This is your kind of vibe. Libreria Acqua Alta is a lovely bookstore in Venice that has rushed onto the scene as one of the more unique places to visit. While it isn't quite as famous as some of the other places on this list, it is well-known in the photography groups.
If you love books, spend some time browsing the selection and you may have a really unique souvenir to bring home from Venice in addition to your photos!

Getting Lost On Purpose
A trip to Venice will never be complete without getting lost…on purpose. If you have ever heard people talking about getting lost in Venice before, it's an actual cultural thing! Getting lost in Venice easily happens because the small streets are like a maze. The awesome thing about that is, as you're walking around lost you're coming across amazing spaces, buildings, churches, canals, restaurants, etc. that may not have been on your list.
Opening yourself up to unexpected experiences is refreshing and dare we say, magical! Even if you don't plan on getting lost when you're spending time in Venice, don't be too shocked if it just ends up happening. Just let loose and roll with it!

Venice definitely ranks high on the best that Italy has to offer. With its esteemed architectural heritage, spectacular labyrinths of walkways and waterways, plus the unequaled romantic vibes it's understandable why people from all over the world flock here in the masses. The visual delights this urban destination has are endless. Stand anywhere in the cobbled streets or near the canals and you're bound to like what you see.
Perhaps the most memorable part of traveling to Venice is the feeling it brings out in its visitors. Like you're a part of something bigger than yourself, a stroke of paint on a much bigger and alluring canvas. As the largest open-aired "museum" in the world, every crevice seems like your own personal playground of discovery. Isn't it time that you have yourself a bit of fun? Go play!
See More:
Places To Stay In Venice Italy