If you are planning a Tuscany road trip, you are in for a real treat. Tuscany is one of the most famous and beautiful regions of Italy, for a good reason. Whether you have been to Italy multiple times or this is your first visit, the Tuscany region will take your breath away. From cute ancient cities to rolling fields of green, Tuscany as something to offer everyone.
For this Tuscany road trip itinerary, we are not specifying an amount of time so that you can make the drive as time allows in your schedule. If you drive this route straight through, it would take you 8 hours, which really isn't that long, all things considered! If you only have a few days in Tuscany, then modify this road trip route to fit that length of time. If you have a week, consider spending a few days in each location to really take in what each area of Tuscany has to offer. No matter what amount of time you choose to explore this magical region of Italy, your Tuscany road trip will not disappoint!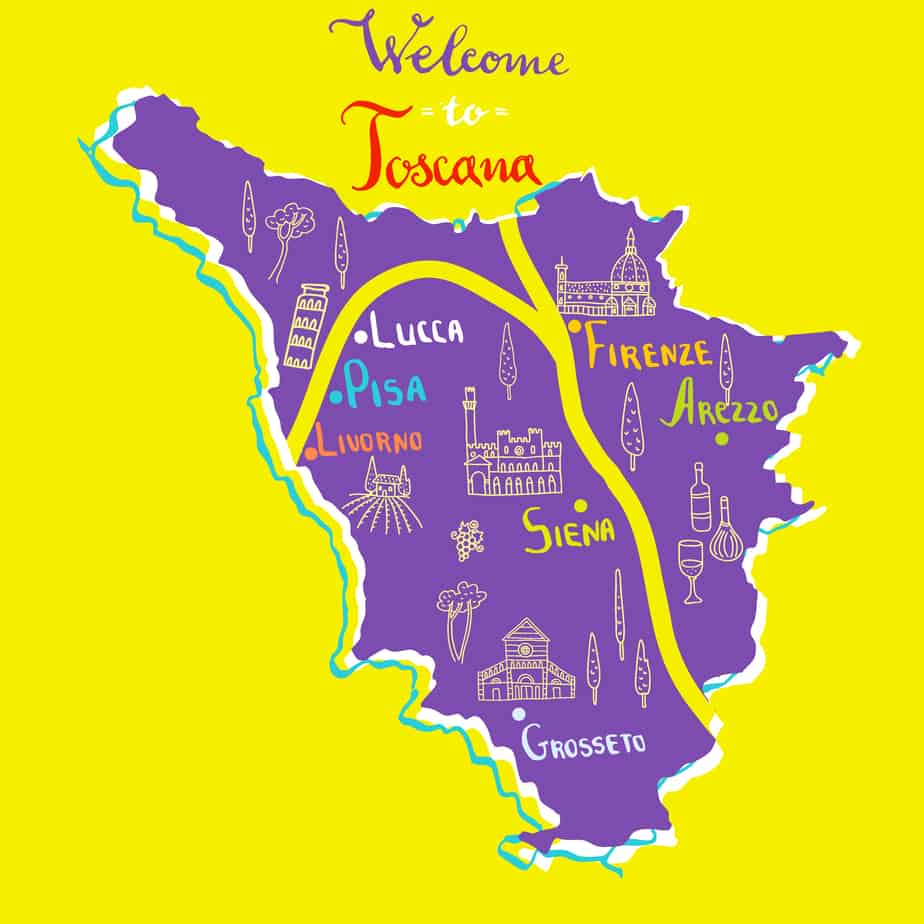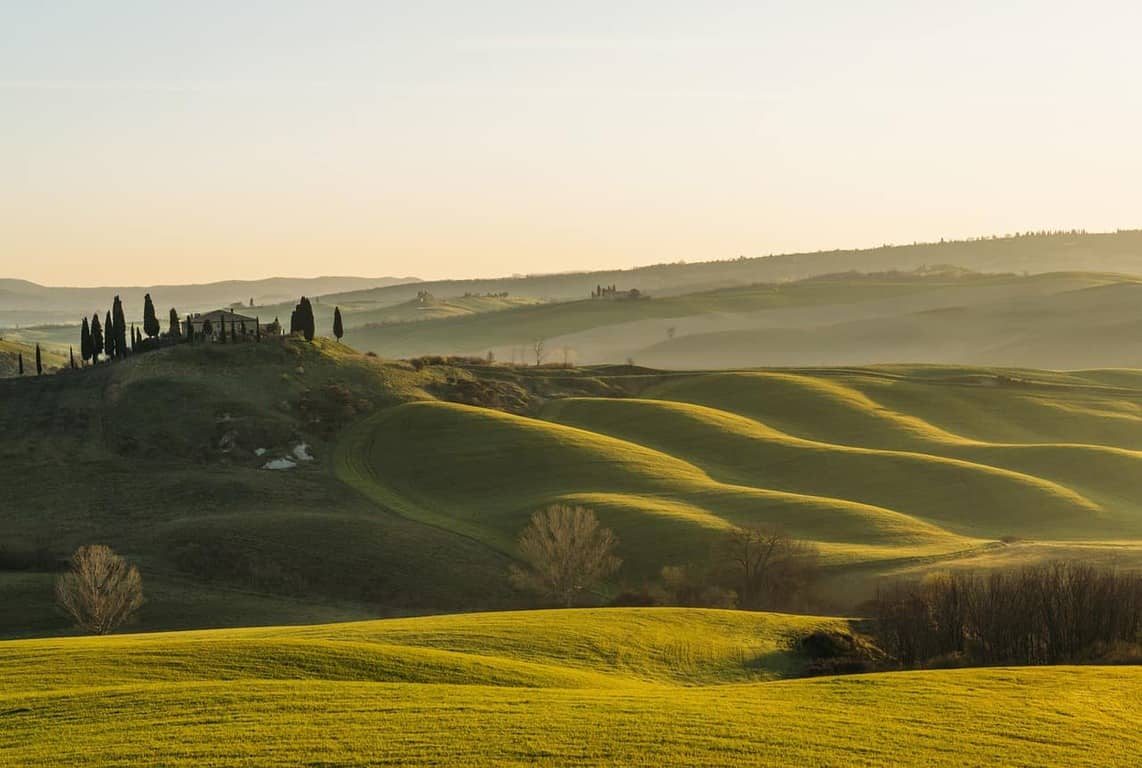 The Ultimate Tuscany Road Trip Itinerary
Begin Your Tuscany Road Trip In Florence
Florence is the birthplace of the Renaissance and the perfect place to begin your Tuscany road trip! While you can fly into Florence, it is much more affordable to fly into one of the large nearby international airports in either Venice or Rome. We recommend checking out Skyscanner to find the best and most affordable flights into Italy. We use this tool to discover the best flights for our trip because you can easily compare rates.
You can also choose to take a short flight directly into Florence if you are local to Italy or even Europe. The airport is a regional one so it is quite small, but there are flights if that is the route you choose. From there, you can simply take the high-speed train in around 2 hours to Florence where you will begin your road trip. We have taken the train from Rome to Florence before and there are many departures every day making it easy to get to/from your starting point. Alternatively, you can rent a car in the city you flew into and then drive to Florence.
Want to spend more time in Italy after your Tuscany road trip? Check out our Perfect 10 Day Italy Itinerary to start planning your trip!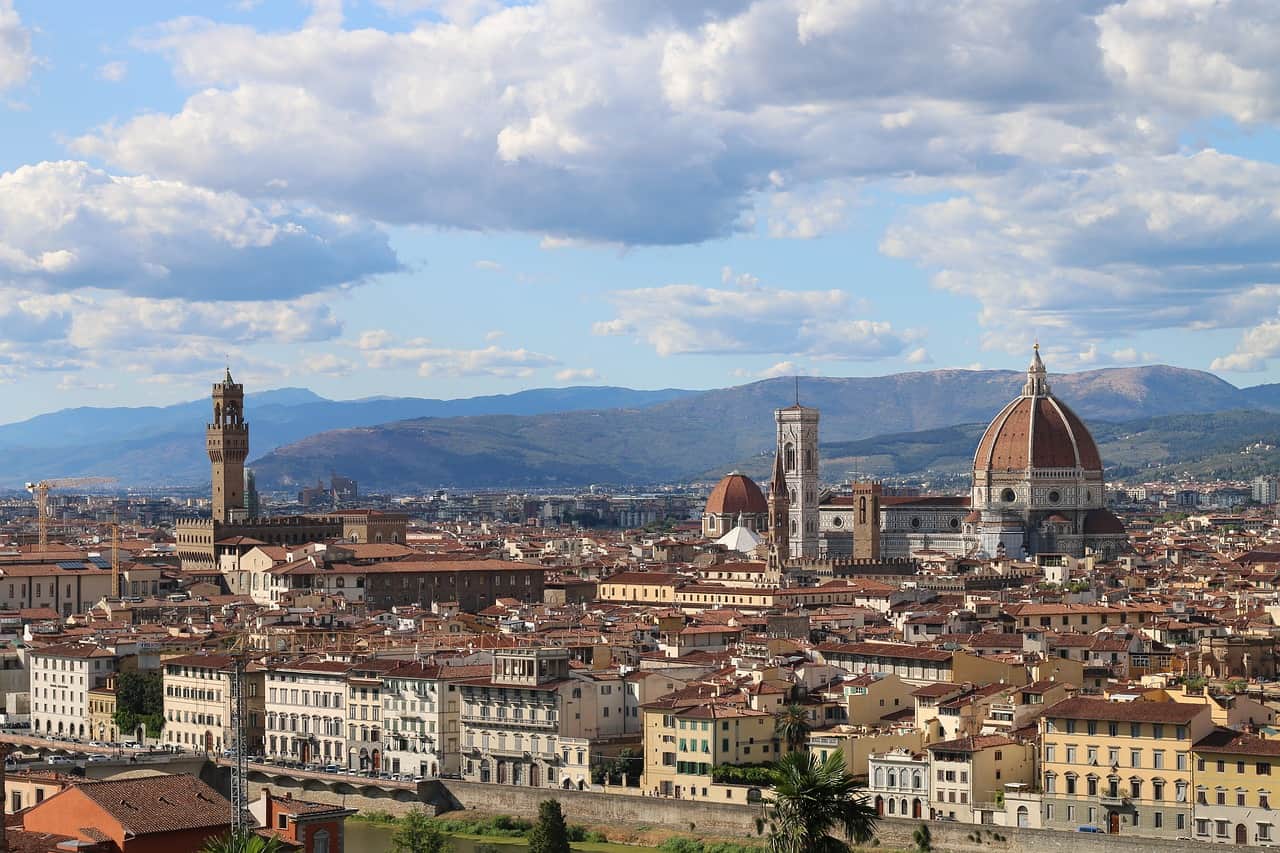 Getting Around During Your Tuscany Road Trip
Since this is indeed a road trip, you will be renting a car or the set of wheels of your choice. If you are only traveling with a backpack or if you are making Florence your home base, you may even choose to take a motorbike instead of a car. We recommend a car as it is easy to store your belongings during the trip and makes for a more enjoyable ride. You can rent your car in a large nearby city, or wait until you are in Florence. It may be cheaper to rent in larger cities such as Rome and then drive to Florence for the start of your Tuscany road trip. Keep in mind that renting a manual transmission will usually always be cheaper than an automatic when renting in Europe.
It is the law to use your headlights at all times when driving in Italy so make sure to have them switched on before you leave. Finally, some of the roads you may drive on during your time in Tuscany will be toll roads. Make sure to come prepared with extra money for the tolls. Tolls in Italy can add up quickly so we want you to be prepared!
We always book our vehicles through Auto Europe. We find that Auto Europe is often the best and most comprehensive booking engine when we plan our European trips including Tuscany road trips. We have booked with Auto Europe in Italy, Iceland, Ireland and more. You can check Tuscany Car Rental Rates Here!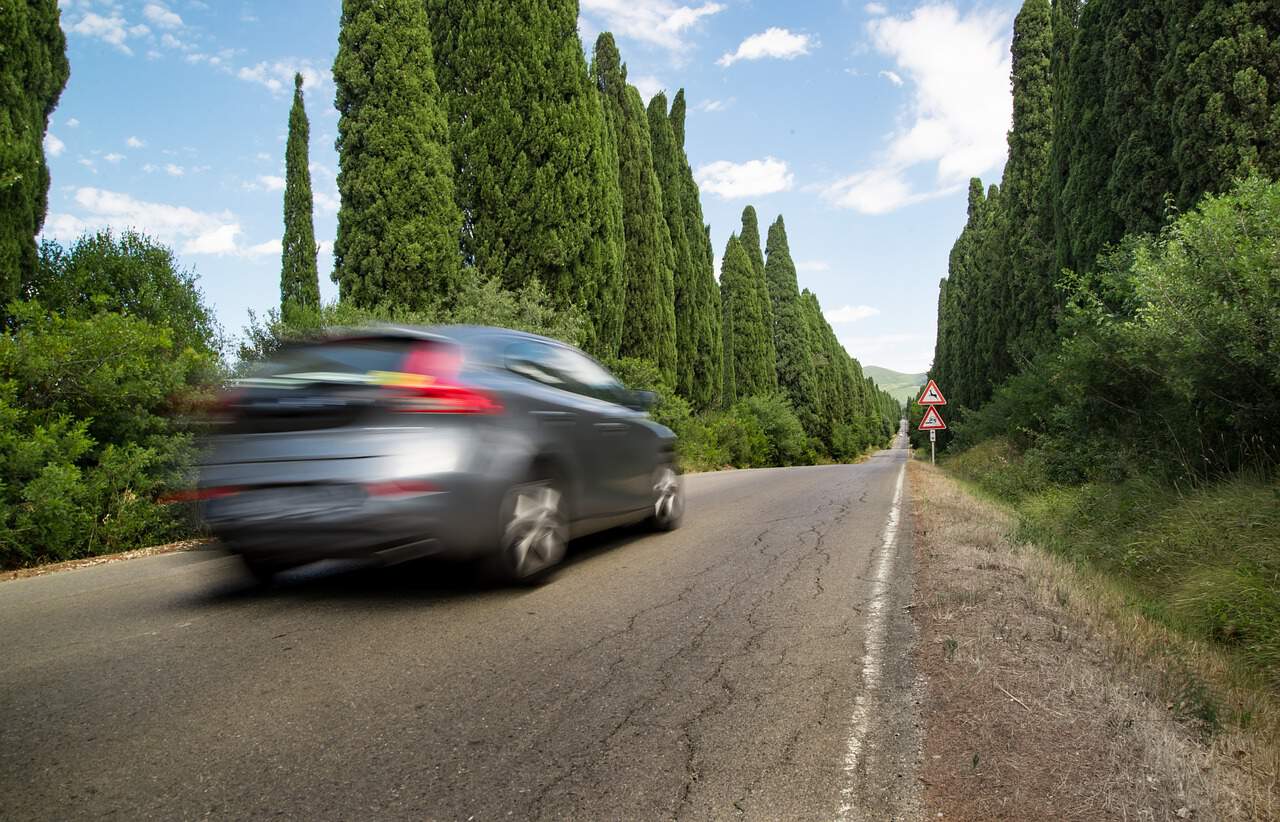 Stop 1: Spend Time In Florence To Begin Your Tuscany Road Trip
You will begin and end your Tuscany road trip in Florence. This city is so beautiful and relaxed when compared to other larger cities in Italy such as Rome, Milan, and Venice, and you will feel welcome the moment you arrive. While you are in Florence, make sure to check out the famous "David" statue at Galleria dell'Accademia. You are going to want to buy tickets ahead of time to beat the lines. Next, we highly recommend checking out Boboli Gardens which is a beautiful ancient garden overlooking the city. Click here to check out our photo shoot in Boboli Gardens!
You should make time to visit the Duomo which is the large Basilica in the center of town. You can't miss it and the outside is so beautifully done and is one of the best things to do in Florence. Make sure to wear modest clothing if you want to go inside. Finally, spend time walking the Florentine bridges such as Ponte Vecchio and relaxing with some gelato as you watch the sunset. You can spend anywhere from 1-3 days exploring Florence at either the beginning or end of your Tuscany road trip itinerary.
We highly recommend booking your tickets in advance to beat the lines and save money:
Book here: Boboli Gardens Skip The Line Tour
Book here: Duomo Skip The Line Tickets And Dome Tour
Book here: Timed Entrance Ticket For Michaelangelo's David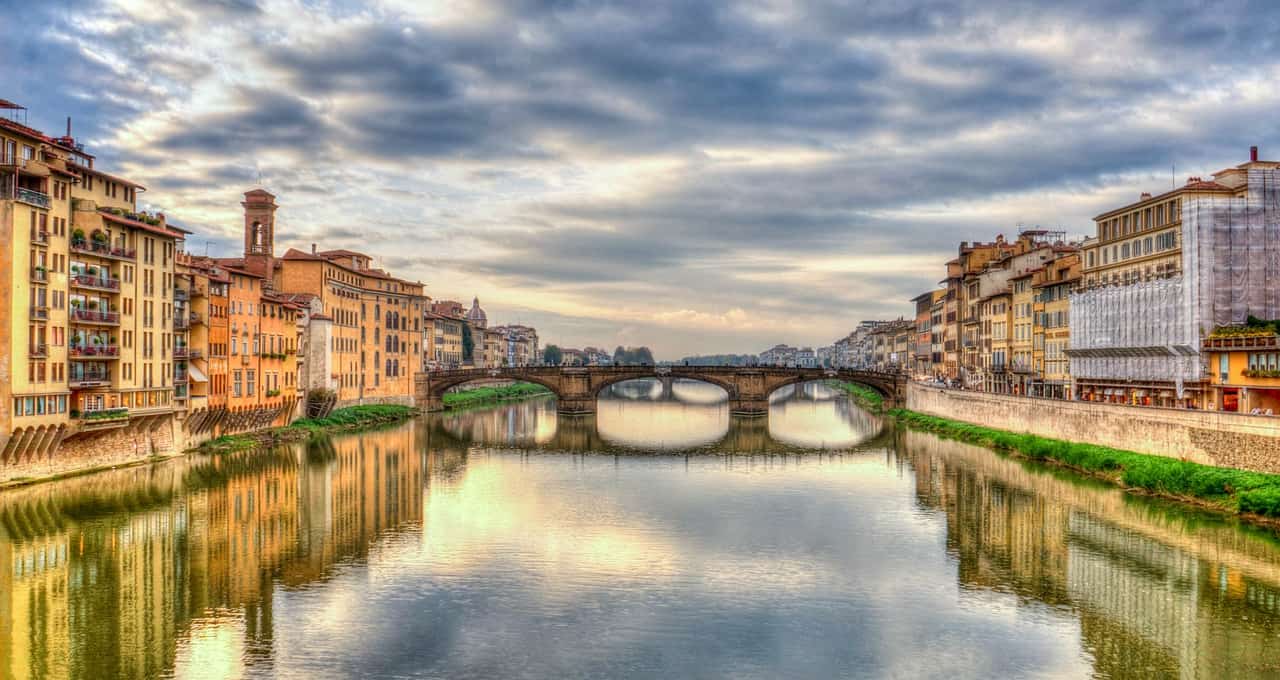 Stop 2: Visit Poppi For Your First Wine Tasting
Located around an hour and a half outside of Florence, Poppi is a stunning little gem of a city and your first taste of Tuscan wine culture. We all know that you are going on a Tuscany road trip for the beautiful views, quaint towns, and of course, wine, so why not kick off the itinerary with all three in one place? Be sure to stop at Brancaia Winery for a tasting and tour. This is a great afternoon activity, especially if you leave a bit earlier on your Tuscany road trip from Florence. You will be able to tour the winery and taste some delicious wine, before heading off for dinner.
The town of Poppi also features a remarkably well-preserved 13th-century castle that towers over the entire city. Be sure to visit the Castle of Counts Guidi during your time in Poppi and marvel at the many small churches that sit in and around the town as well. If you drive out into the distance and stop and look back, you will see rolling green hills and the town in the background. This is the perfect photo point if you are looking to capture some of the romance of Tuscany!
Where to stay in Poppi
Parc Hotel. Check Prices On Booking.com | Hotels.com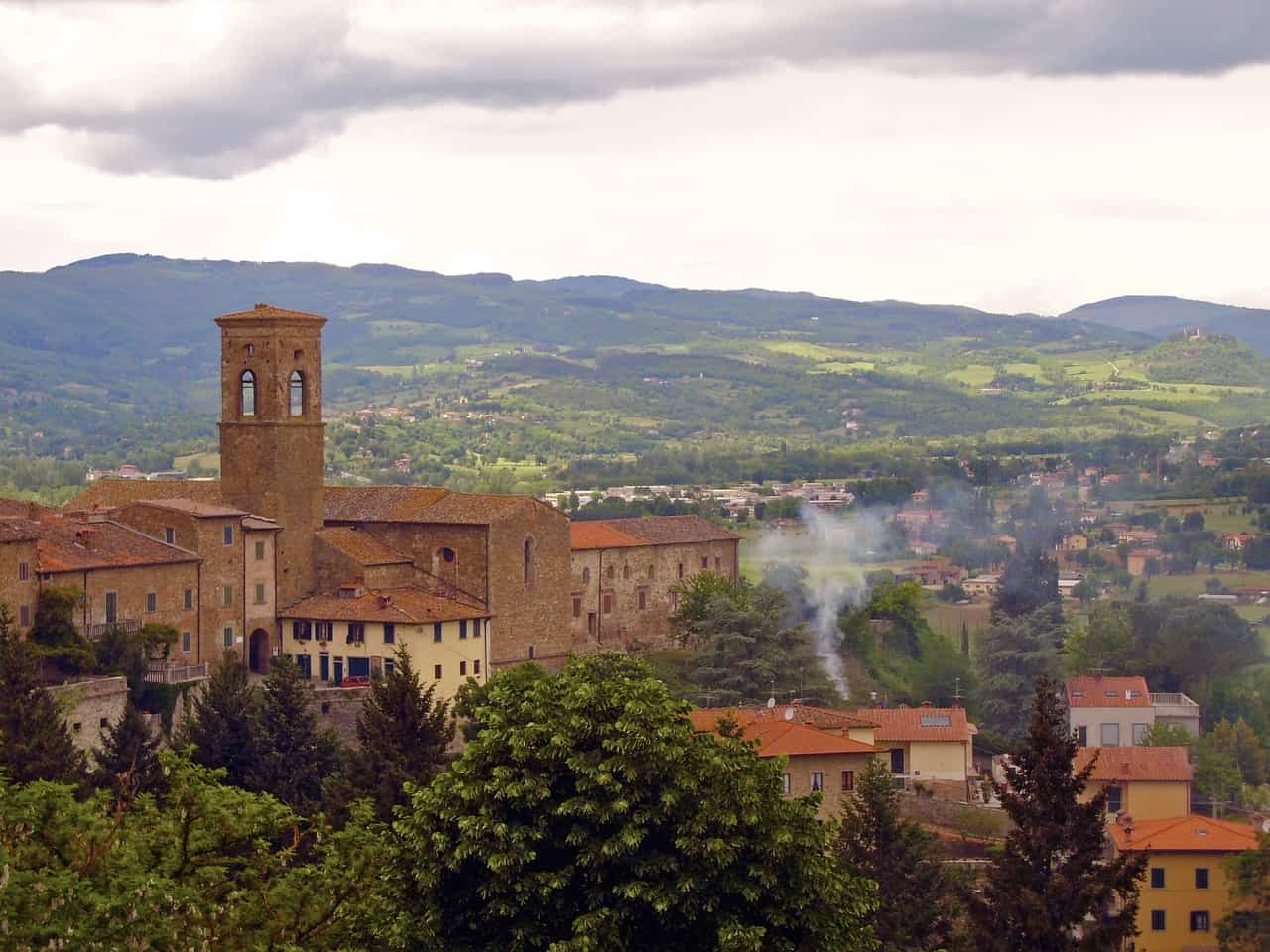 Stop 3: Get Cultured In Arezzo
Just 45 minutes from Poppi, Arezzo is a wonderful stop on your Tuscany road trip because there is so much to see and do! The city is home to so many monuments, churches, monasteries, and viewpoints that you would have to spend a month just to see them all! It is also the wealthiest city in Tuscany due to its history in gold smithery! Arezzo is a larger town than Poppi, so plan on spending a bit more time here.
If you are looking for the best viewpoints, we highly recommend visiting the beautiful hilltop Arezzo Cathedral. If you are a photographer, this is a great vantage point to shoot from! The Basilica di San Domenico contains the 13th-century "Crucifix" painted by Cimabue which is still in fantastic condition and a wonderful work of art to see. Every Wednesday and Sunday, from April to October, I Giorni del Vino Winery opens the doors to the public so if you are a wino, you will be able to visit and see the behind the scenes of this working Tuscan winery. Arezzo provides many options for fun during your Tuscany road trip so there is something for everyone!
Book An Arezzo Wine Tasting Tour
Where To Stay In Arezzo:
AC Hotel Arezzo, a Marriott Hotel. Check Prices On Booking.com | Hotels.com
Graziella Patio Hotel. Check Prices On Booking.com | Hotels.com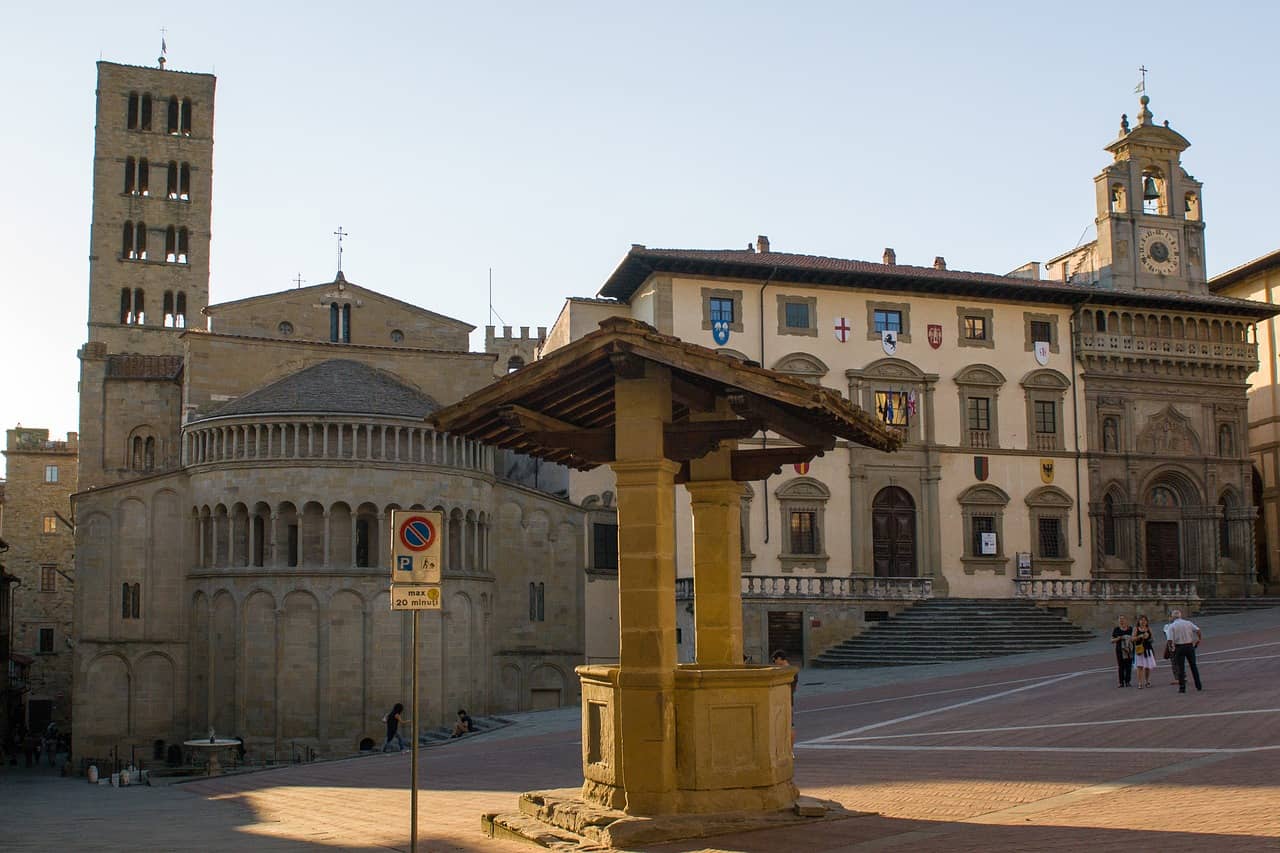 Stop 4: Experience Siena, A UNESCO World Heritage Site
Victoria grew up going to a Catholic Church called "Saint Catherine Of Siena." Of course, the famous Catholic Saint is actually from Siena Italy! She petitioned for peace and was instrumental in persuading the Pope in Avignon to return to Rome back in the 1300s. If you have been to any famous museums, you have probably seen multiple paintings featuring Saint Catherine which makes your visit to Siena even more meaningful! Siena is a relaxing stop on your Tuscany road trip itinerary, and it is just an hour away from Arezzo so the drive is quick and easy.
During your time in Siena, we highly recommend exploring the historic city center which is a UNESCO World Heritage Site. If you found Florence too crowded, then you are going to love Siena. The Duomo, also known as the Siena Cathedral, is a must-see and not easy to miss. If you love palaces, Palazzo Chigi-Saracini is the place to be. And if you are looking for more history on Saint Catherine Of Siena, the Piccolomini Library is home to frescos depicting her.
Book Your Siena Walking Tour Here!
Get Fast Entry Into The Siena Duomo!
Book Your Sunset Tour of Siena!
Where To Stay In Siena Italy:
Affordable: Villa Piccola Siena. Check Rates On Booking.com | Hotels.com
Mid-Range: Hotel Athena. Check Rates On Booking.com | Hotels.com
Luxury: Grand Hotel Continental Siena. Check Rates On Booking.com | Hotels.com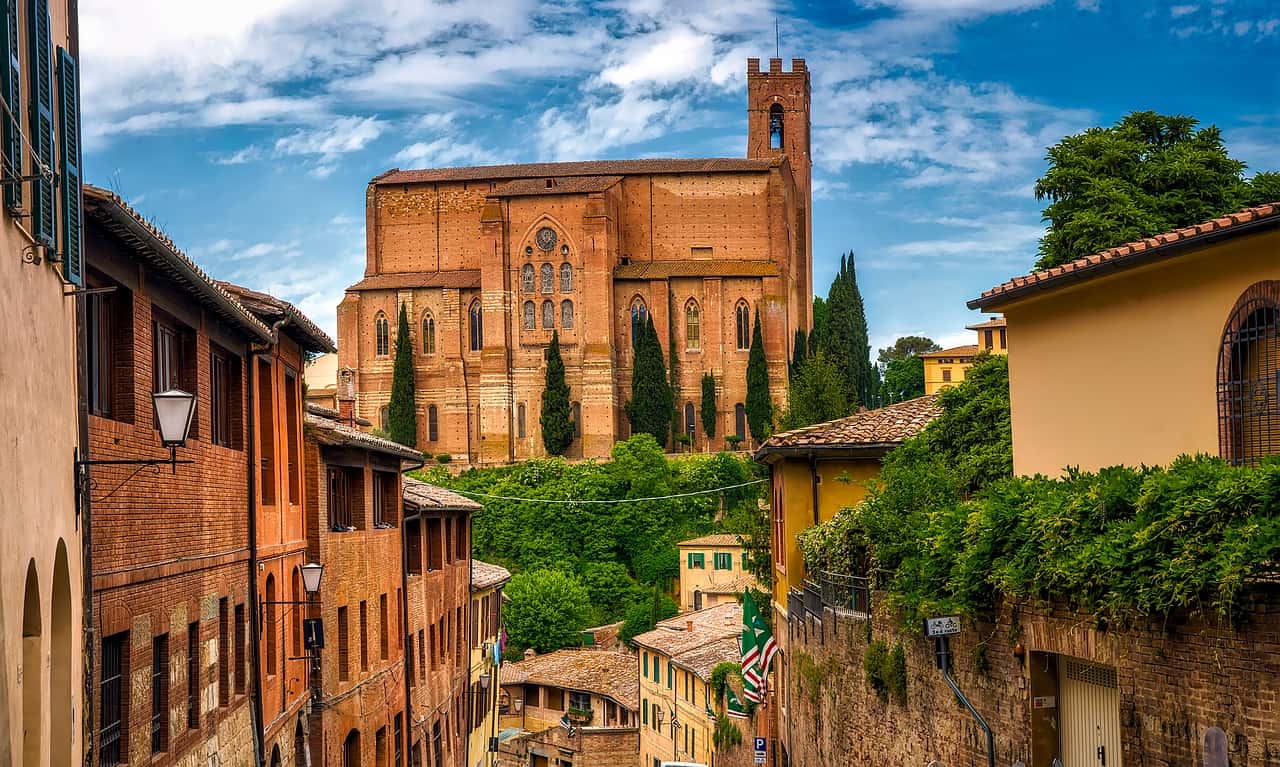 Stop 5: Monteriggioni Is A Quick But Beautiful Stop On Your Tuscany Road Trip
Monteriggioni is one of the quicker stops on your Tuscany road trip, but worth the visit as you head along to your next stop. Depending on how much time you have in Tuscany, you can choose to visit Monteriggioni as a day trip from Siena as the small town is only 25 minutes away. You can also choose to hit Monteriggioni on your way to your next stop and just get out and walk around for a few minutes or a few hours. If you have more time to spend a love cute Tuscan villages, you can even choose to spend the night here and escape the larger cities!
Monteriggioni is a walled castle city that overlooks the region. Stop and explore the watchtowers and walls before heading to Chianti Sculpture Park for some modern art. The way Monteriggioni blends the ancient with the modern is what makes it such a unique stop on your Tuscany road trip itinerary! If you are a photographer, you are going to love this location as it looks like it is out of a postcard.
Explore Monteriggioni & Drink Some Wine On This Amazing Tour
Where To Stay In Monteriggioni:
Romantik Hotel Monteriggioni. Check Rates On Booking.com | Hotels.com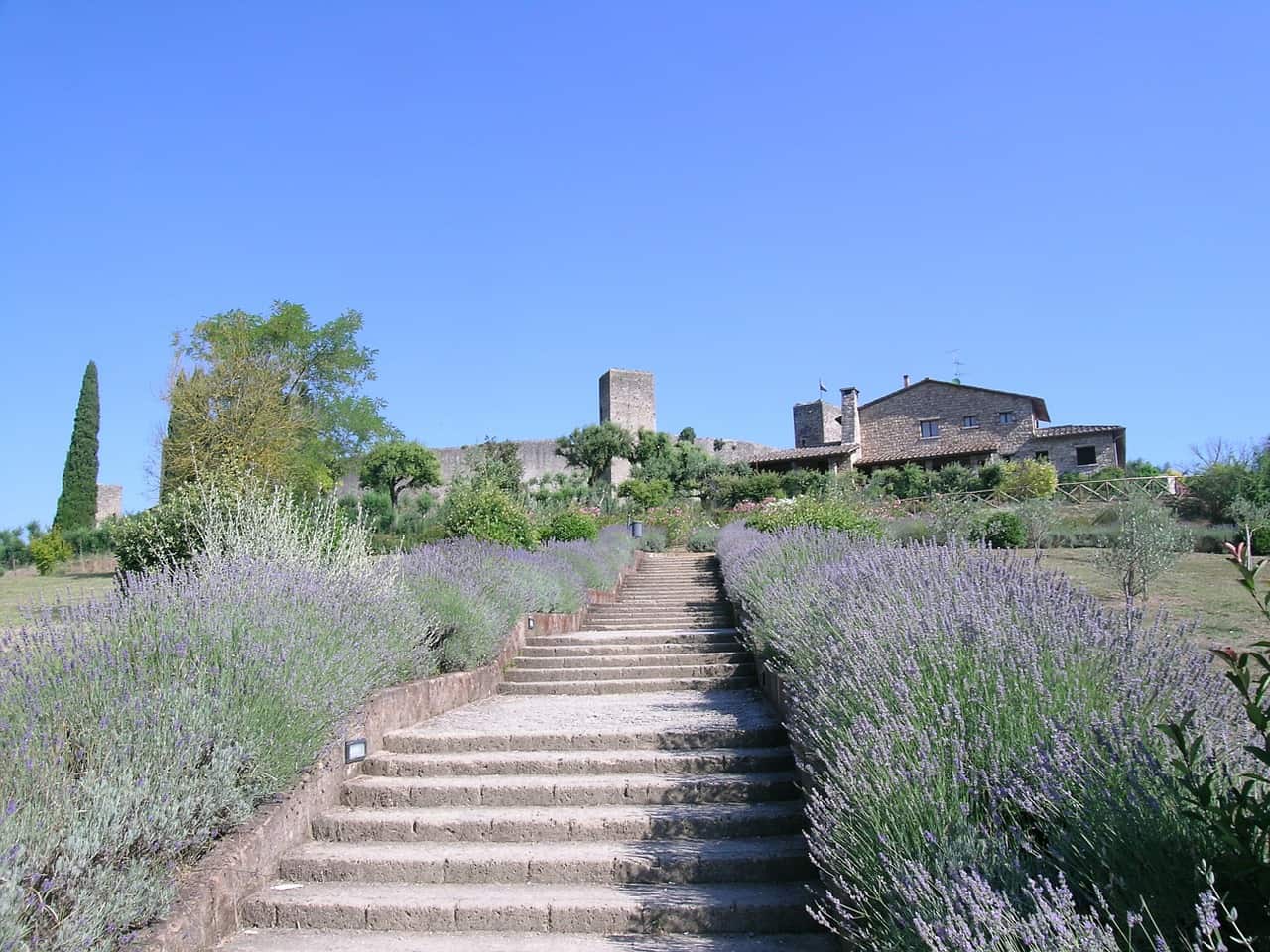 Stop 6: Explore Colle Di Val D'Elsa And Day Trip To San Gimignano
Colle Di Val D'Elsa is a beautiful city in the province of Siena and just a short drive away from Monteriggioni. Colle Di Val D'Elsa is a truly medieval hilltop town in Italy and it is very well preserved. If you are looking to shorten your Tuscany road trip, Colle Di Val D'Elsa is just 30 minutes away from Siena and 45 minutes away from Florence. If you are in either city and want a quick Tuscany getaway, Colle Di Val D'Elsa is the perfect place to visit!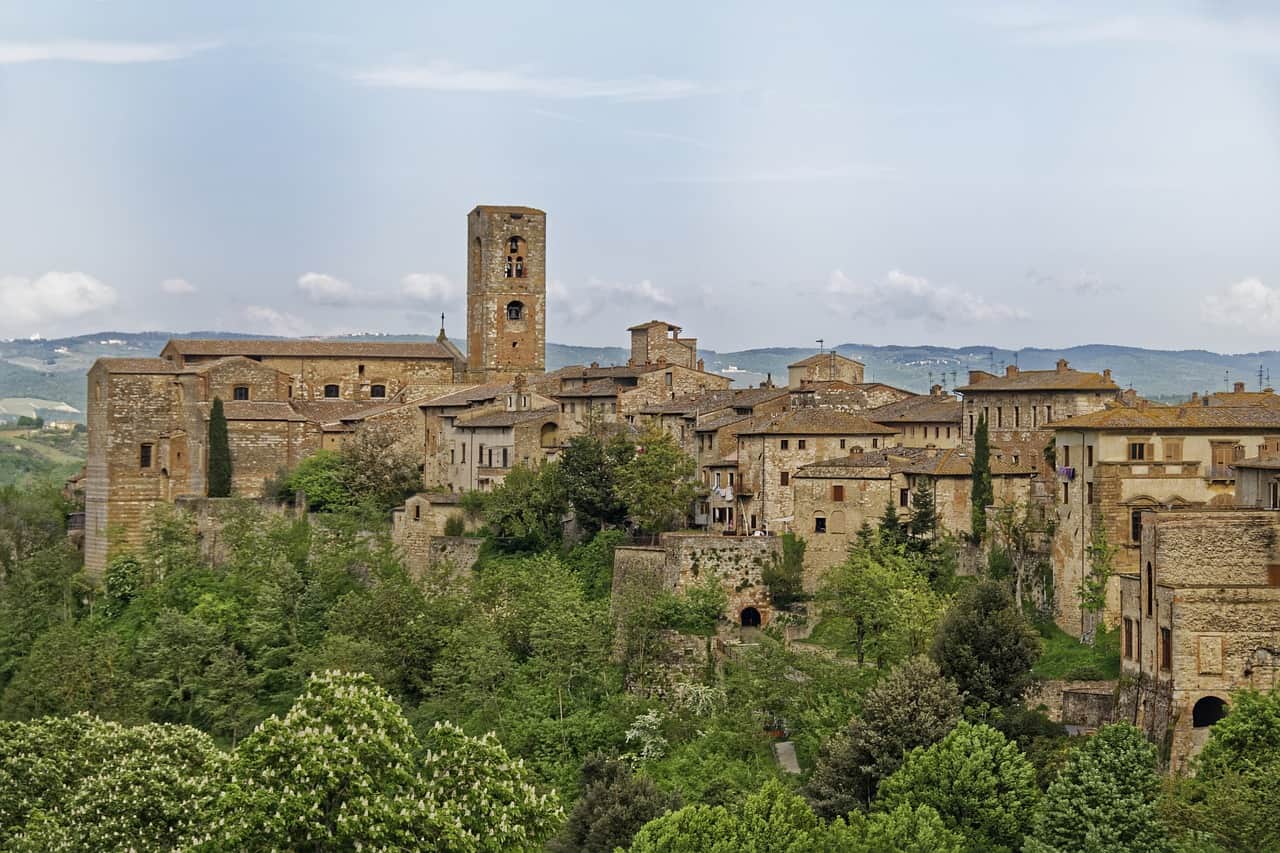 While you are in Colle Di Val D'Elsa, we recommend taking a short day trip or drive up to San Gimignano. It is just 25 minutes away from Colle Di Val D'Elsa, but a little off the main road that the rest of your Tuscany road trip itinerary will be following. San Gimignano is one of the most visited towns in all of Florence and is also known as "The Town Of Fine Towers." There are 14 towers that remain out of the 72 that were built in the 12th century and they are a beautiful sight to behold. If you are looking for something a bit different, you could visit the Museo della Tortura which showcases all sorts of historical facts about medieval torture!
Explore San Gimignano & Taste Some Wine On This Tour!
Book Your Sunset Tour of San Gimignano
Where To Stay In Colle Di Val D'Elsa:
Hotel Palazzo San Lorenzo & Spa. Check Rates On Booking.com | Hotels.com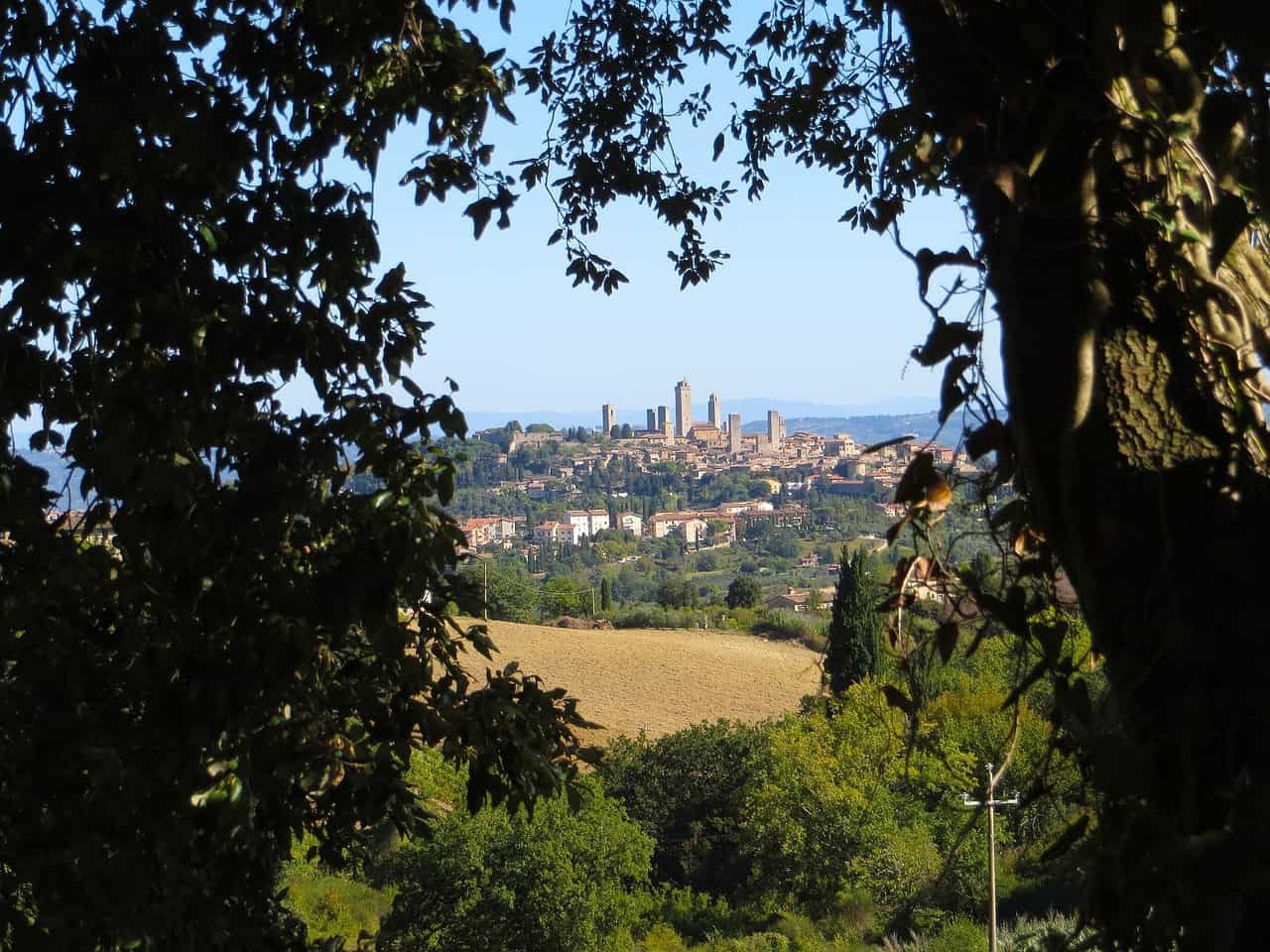 Stop 7: Visit Volterra For An Authentic Tuscan Experience
To visit Volterra on your Tuscany road trip, you will continue down SR68 from Colle Di Val D'Elsa. If you put these three cities in the map, you will see why it makes sense for San Gimignano to be a day trip from Colle Di Val D'Elsa so you can continue straight from Colle Di Val D'Elsa to Volterra during your road trip in Tuscany. Not that all towns in Tuscany aren't authentic, but Volterra really provides the romantic feel you are looking for in the region.
Volterra is actually one of the oldest cities in Europe, dating from the 7th century! It is very well preserved and enclosed in an ancient city wall that dates back to the 4th century. Not much has changed since the town was built, which is why we recommend stopping at Volterra during your Tuscany road trip if you are looking for a truly authentic and ancient Italian experience. Make sure to spend some time exploring the Medicean Fortress and the great Roman Theater. If you are a foodie, make sure to try Zuppa di Volterra which is the delicious local dish! You won't regret it!
Where To Stay In Volterra:
Affordable 4-star: Park Hotel Le Fonti. Check Rates On Booking.com | Hotels.com
Good Location: Hotel La Locanda. Check Rates On Booking.com | Hotels.com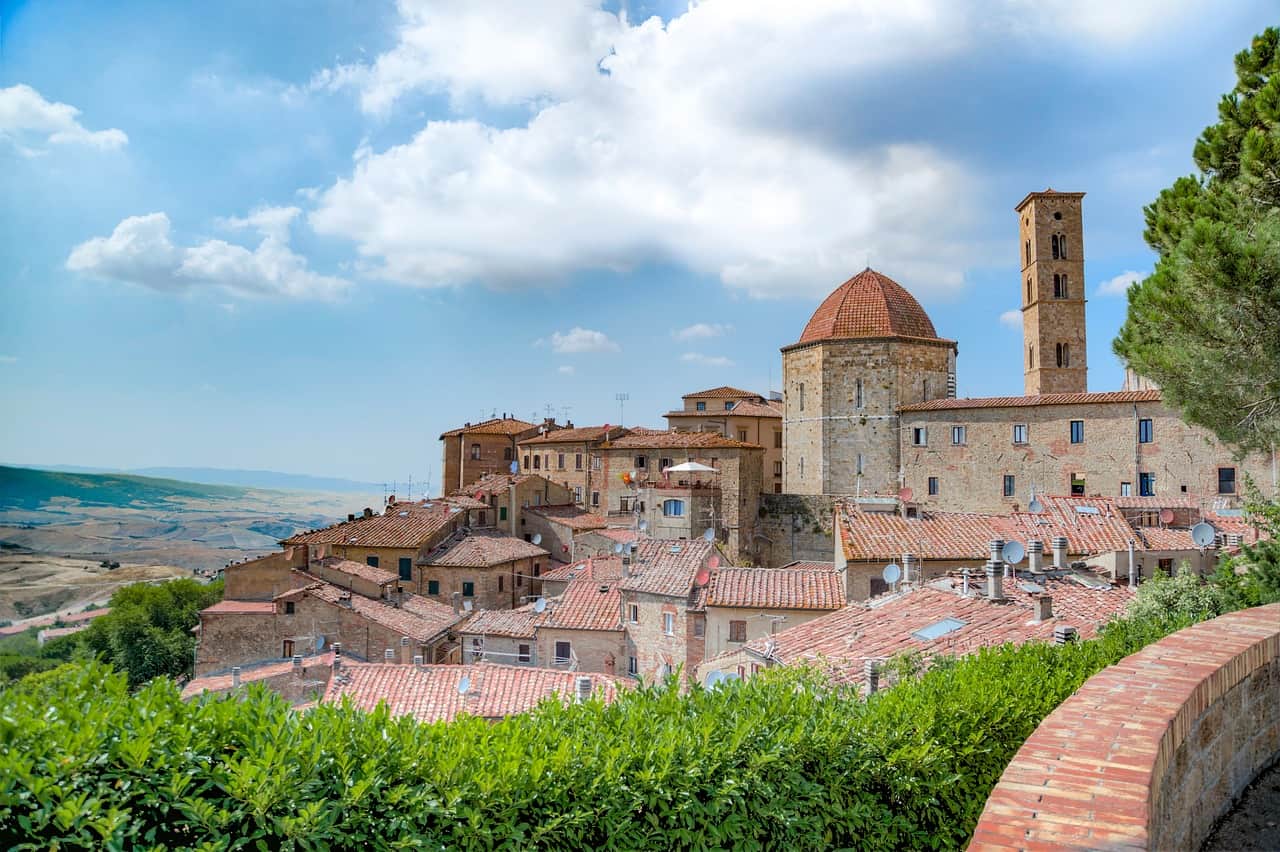 Stop 8: Experience The Ligurian Coast In Livorno
We don't know about you, but we love the water and the Ligurian Coast is some of our favorite stretch of coastline in the world. The Ligurian Coast is set right on the Mediterranian and you are in for a real treat when you come to this part of your Tuscany road trip. After days of seeing fields of green, ancient cities, and wineries, the refreshing breeze of the sea will prepare you to finish out your Tuscany vacation!
Livorno is a port town with a medieval fortress, like most other towns in Tuscany. We highly recommend visiting the Terrazza Mascagni which is a seaside waterfront terrace, similar to a boardwalk, that overlooks the Mediterranian. This is the best place to watch the sunset during your Tuscany road trip and you really should take advantage. If you are looking to step away from history for a moment, you could visit the lovely Livorno Aquarium for a change of pace. This is also a great stop if you are completing this Tuscany road trip itinerary with small children. Finally, if you are looking to head to the beach, Cala del Leone is the place to stop for a picnic or a swim if the weather is warm.
Book Here To Tour The Majestic Views of The Ligurian Coast!
Where To Stay In Livorno:
Affordable And Nice: MAX Hotel Livorno. Check Rates On Booking.com | Hotels.com
Great Reviews: Grand Hotel Palazzo Livorno. Check Rates On Booking.com | Hotels.com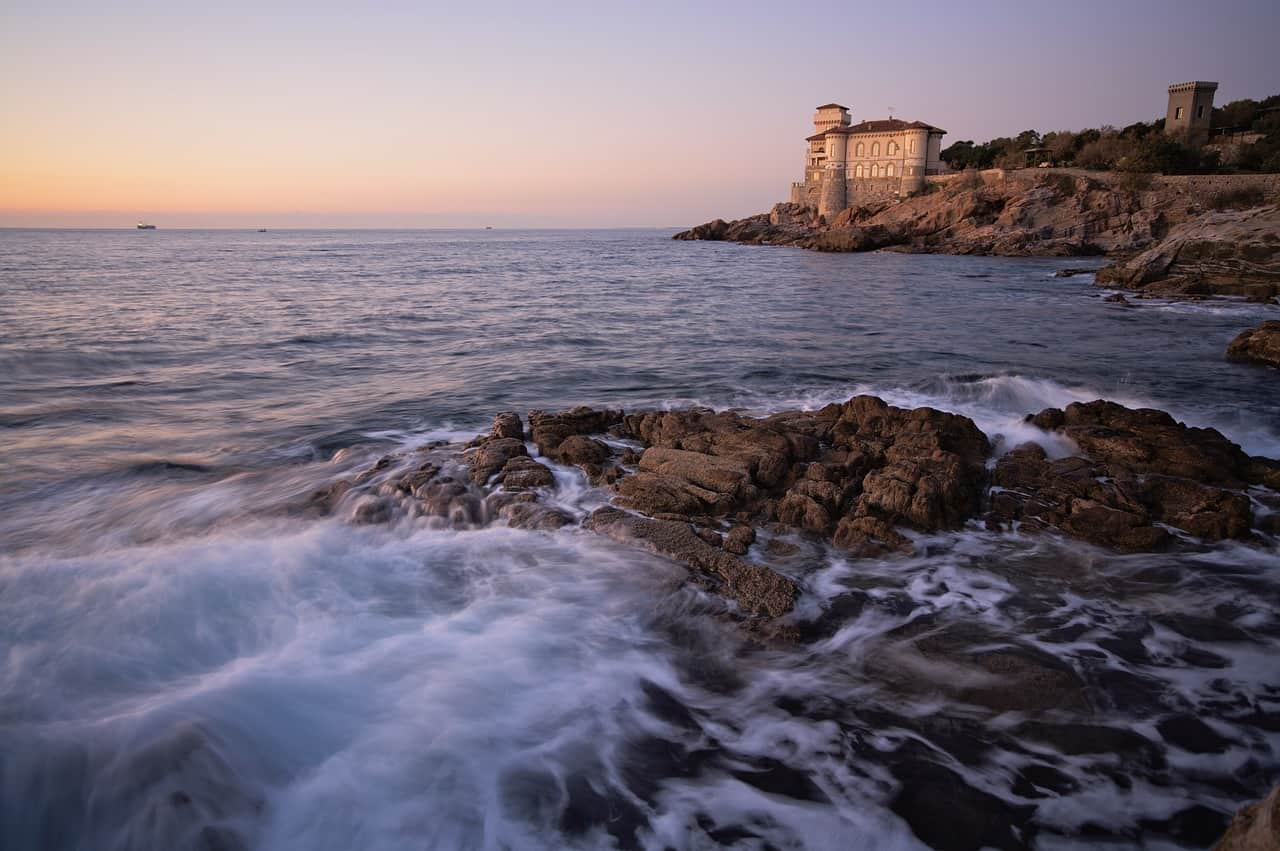 Stop 9: Take A Cheesy Tourist Photo In Pisa
No Tuscany road trip is complete without a stop in Pisa! You would be living under a rock if you haven't heard about the famous Leaning Tower Of Pisa, and since you are road tripping Tuscany, you just have to stop. Now of course, you can't stop at the Leaning Tower Of Pisa without taking a tourist-filled cheesy photo so just get it over and done with from the start. We promise we won't judge you! You are going to want to book your entrance for the Leaning Tower Of Pisa in advance so you beat the lines, especially if you are visiting during the summer months!
Besides the Leaning Tower Of Pisa, there are so many other things to see and do in Pisa which makes it a worthwhile stop on your Tuscany road trip, even if you hate tourist traps. Make sure to stop at Pisa Cathedral, Piza Baptistery, and Knight's Square at a minimum during your time in the city. You can see Pisa in a day, so relax in Livorno and then take on the crowds in Pisa in one day.
Skip The Line With This Ticket To The Leaning Tower of Pisa!
Book Your Pisa Tour Here!
Where To Stay In Pisa:
Affordable Luxury: Allegroitalia Pisa. Check Prices On Booking.com | Hotels.com
Budget Option: AwesHome Hanging Gardens. Check Prices On Booking.com | Hotels.com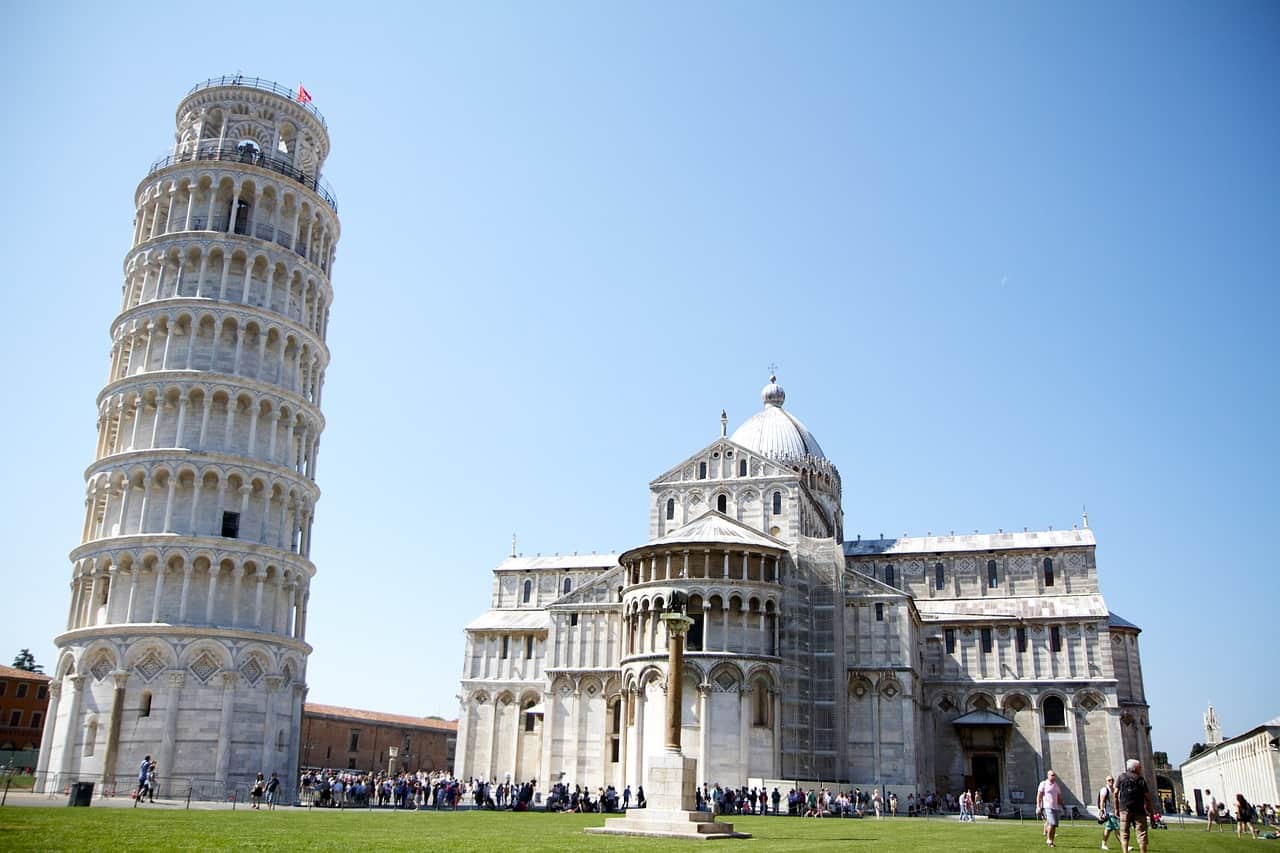 Stop 10: Get Off-The-Beaten-Path In Pistoia
As you drive from Pisa to Pistoia on your Tuscany road trip, feel free to stop along the way at any cute village or shop that catches your eye. Pistoia is one of the least visited towns in Tuscany and a great way to wrap up your Tuscany road trip after the hustle and bustle of Pisa. Pistoia is famous for its world-renowned chocolatiers. The city isn't touristy at all so you will have the chocolate all to yourself. Make sure to stop for a glass of delicious wine to go with it and you will be enjoying an authentic Pistoian snack!
Cathedral of St. Zeno is located in the center of town and was built in the 12th century. The bell tower and colorful facade make for a stunning architectural design. San Giovanni Fuorcivitas is one of the prettiest buildings in Pistoia and you shouldn't miss the exterior design. It is actually quite similar to the Duomo in Florence so when you visit, see if you recognize the design. This building is made out of brick while the Duomo is constructed out of different material on the outside, but it is still quite similar and striking. Pistoia is a wonderfully relaxing way to end your Tuscany road trip without the hustle and bustle of larger cities.
Book Your Private Walking Tour of Pistoia
Where To Stay In Pistoia:
Great Reviews: Hotel Patria. Check Rates On Booking.com| Hotels.com
Affordable But Nice: Hotel Piccolo Ritz. Check Rates On Booking.com | Hotels.com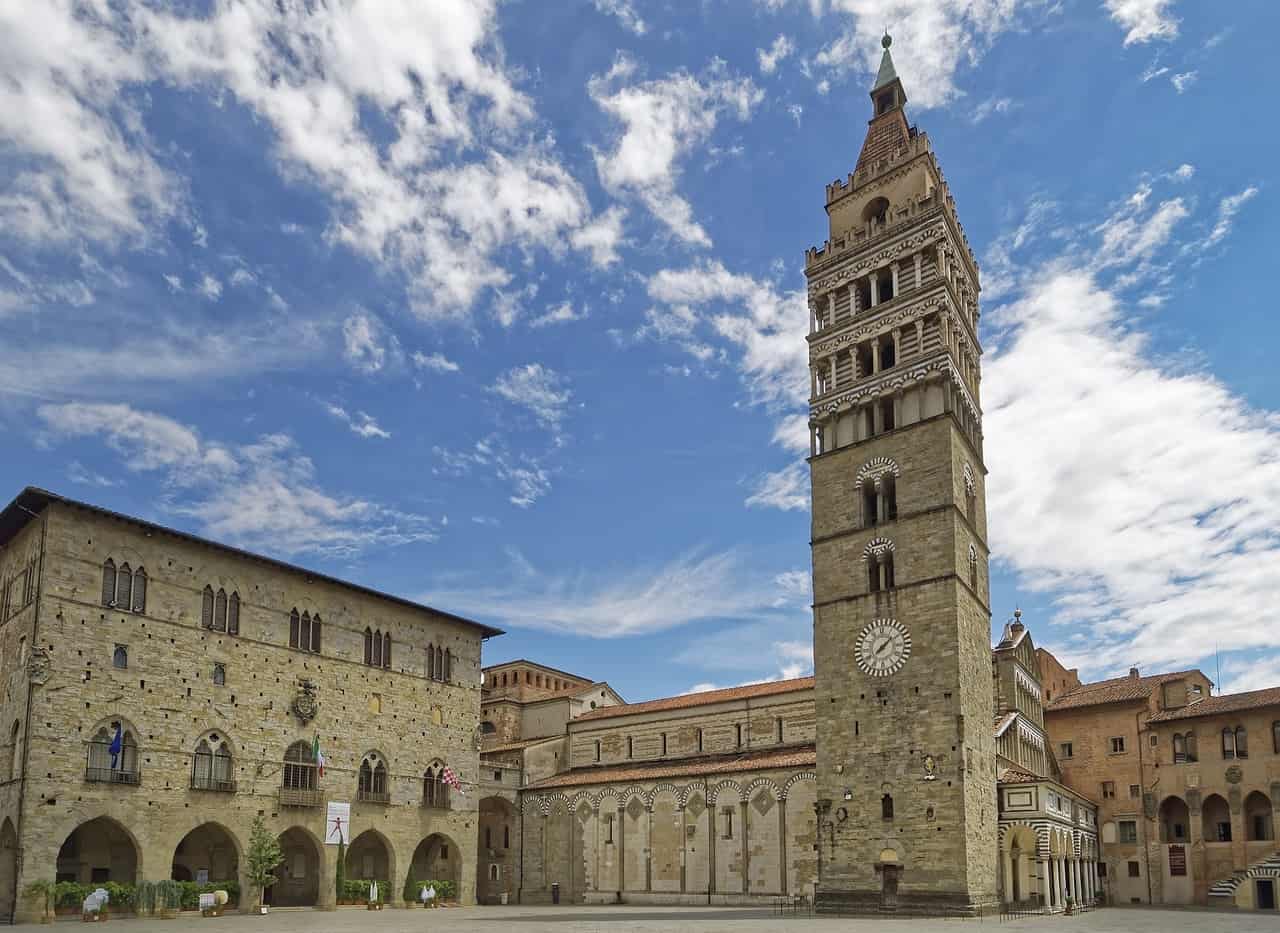 Packing Tips For Your Trip To Tuscany:
Here are some of our favorite items that you should consider packing for your trip to Tuscany! These are essential travel items that we use and love and you should make sure to consider for your travels.
A concealed travel pouch may be one of the most important items you bring with you! This unisex RFID blocking concealed travel pouch is lightweight and comes in several colors. It has lots of organization to give you peace of mind. You can keep your most valuable documents safe and secure next to your body.
If you have a pouch already you may not want to or need to invest in a new one. If it does not come with the RFID protection, these RFID sleeves would be handy to prevent identity theft. This configuration comes with enough passport and credit card sleeves that the entire family would be protected. They are slim too, so they will easily fit into your current pouch or wallet. These are the kind our family uses not only when traveling but at home as well.
If you have a camera on your packing list, you need to add additional memory cards on your list as well. Unless you are packing a computer for your trip, you will not be able to upload photos and clear your existing memory card. Purchasing additional memory cards cost under $20 and take up no space in your luggage. Having a backup can have the potential to save you a lot of heartaches if something goes awry! There is nothing worse than coming across that perfect moment and then finding out you don't have enough space to capture it on your camera!
Similarly, If you are planning to capture your trip on a smartphone, we beg you to bring some way to back up your memories. The best way to do this is with a portable smartphone flash drive. A flash drive is a small storage device that you can connect up to your smartphone and then safely and easily download the photos onto this device.
If you are planning on taking a lot of pictures with your phone you will definitely want to consider an external charging battery. This Anker high-speed phone charging battery is the exact one we carry with us on all of my trips. It can be used on a variety of phones, not just an iPhone like we have. And wow is it fast! We like that it holds its charging capabilities for several uses so we do not have to worry about it while out and about. And if we forget to recharge it at night, it will still be good to go the next day.
My mom was never a fan of packing cubes until she tried them out! Now she is sold. These Bagail packing cubes are the exact ones she uses whenever she travels and she travels a lot. She cannot believe how much more organized she is now! And she will never leave without them anymore.
We never leave home on a trip without our Bobble filtration bottle. The 18.5-ounce size is perfect for travel and it will fit nicely in the pocket of a backpack or your purse. Also when filled with water, it is not too heavy to carry. And the Bobble carbon filter ensures fresh clean water whenever and wherever you fill the Bobble. You can find filter replacements here.
Perhaps you are traveling a long distance and packing space is a premium. Then this set of collapsible silicone foldable water bottles would work well for you. Would not take up much space in your suitcase at all. And you will be receiving a set of two.
You will want to bring a backpack or daypack with you to store snacks, your water bottle, phone, extra clothes, etc.. This foldable water-resistant backpack would be great. It is very affordable and is available in many color options for you to choose from. The fact that it folds down into a zippered pouch will make it easy to pack.
Perhaps you need a more substantial backpack for your international travel. This antitheft backpack has a charging port, is water-resistant and can comfortably carry up to a 15.6″ laptop. It comes in a range of colors to choose from and it is inexpensive as well.
We all need to protect our eyes from the sun's harmful UVA/UVB rays. These unisex polarized sunglasses come in a lot of lens colors and frame designs and are extremely affordable too.
If you are fond of the aviator-style of sunglasses these polarized aviators may interest you. We like polarized sunglasses because they remove the glare off the water and help you to see things more clearly.
Don't forget to bring along a universal power adapter if you are traveling abroad. This worldwide power plug is a great example and will charge your phone at the end of your busy days. And this world traveler adapter kit can charge several devices at the same time. This is what you will need when there are several people traveling in your group, or if you bring several electronic devices on your trip that require charging at the same time.
Tuscany Road Trip Map
Sometimes, seeing a route visually is much easier! That is why we put together this Tuscany road trip map just for you! This way, you can see where each Tuscany itinerary stop is located around the map. We recommend downloading this map "offline" to the Google Maps app on your phone before you leave on your Tuscany road trip. This makes it very easy for you when you are in Italy and your phone service may not be great. You can simply go to your map which will work the same way as if you had internet. We love using Google Maps offline and it was very helpful during our own Tuscany road trip itinerary!
Click Here For Google Map Of Tuscany Road Trip Driving Map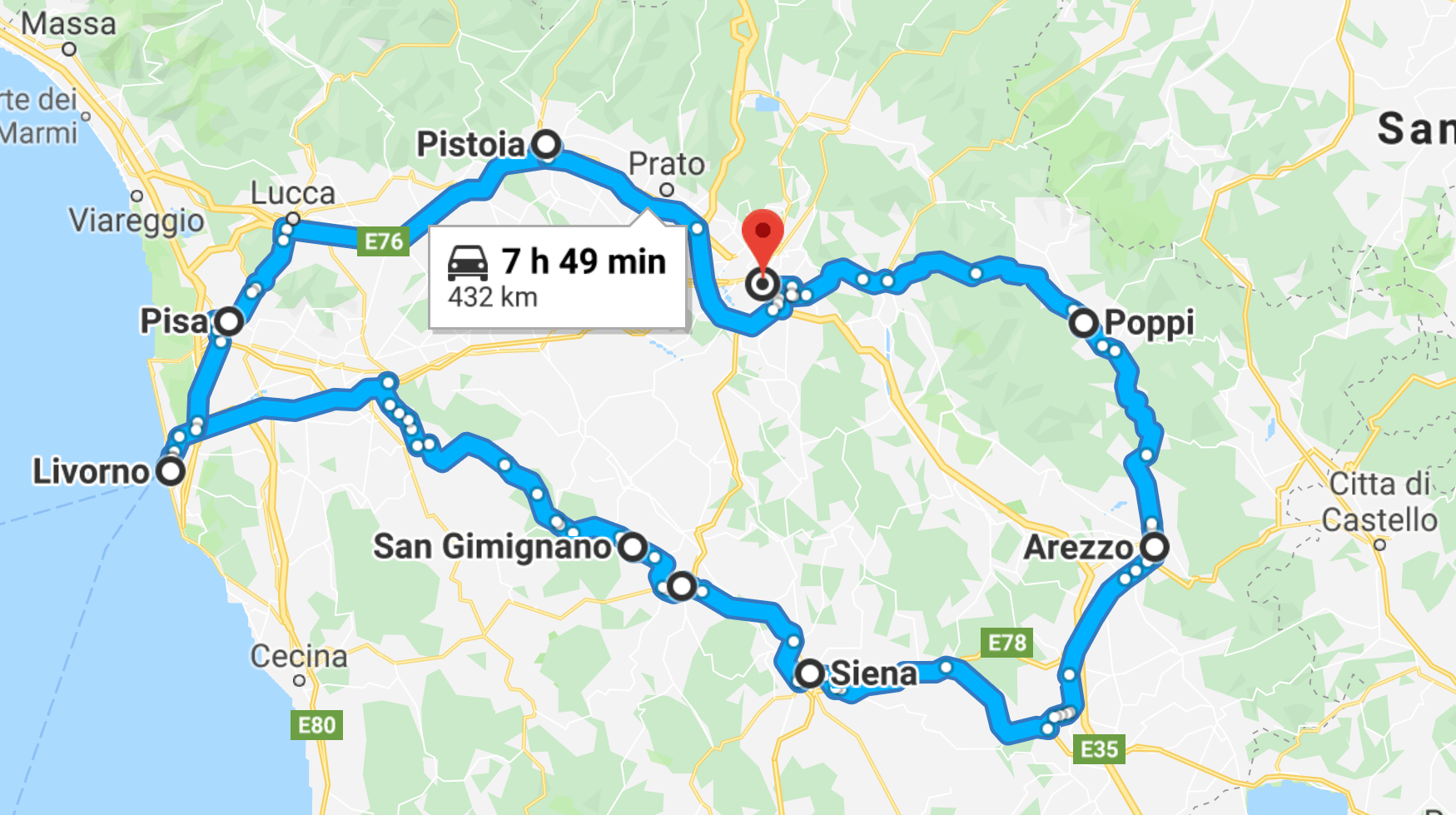 Click Here For Google Map Of Tuscany Road Trip Stops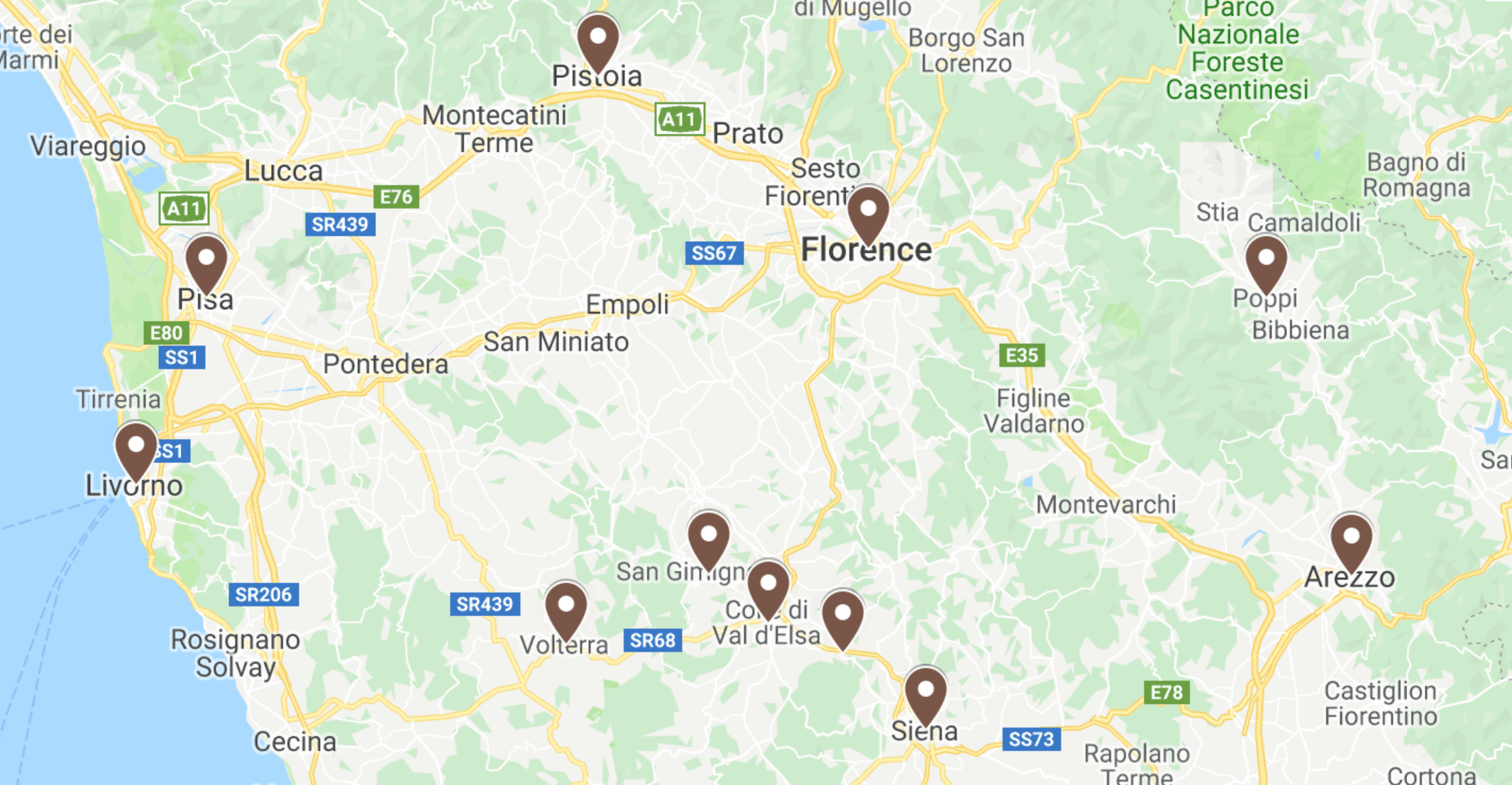 Planning a Tuscany road trip doesn't have to be stressful. We hope with our guide by your side, you will be on your way to having a wonderful Tuscany vacation that you will remember for a lifetime. Keep in mind that you can choose any and all of these Tuscany itinerary stops depending on the amount of time that you have to spend. The entire route takes 7 hours so you could do the entire thing in 2-3 days if necessary and if you don't spend a ton of time in each location. You could also spend a week completing this route. Either way, we know you are going to love this Tuscany road trip itinerary during your trip to Italy.
Pin this post: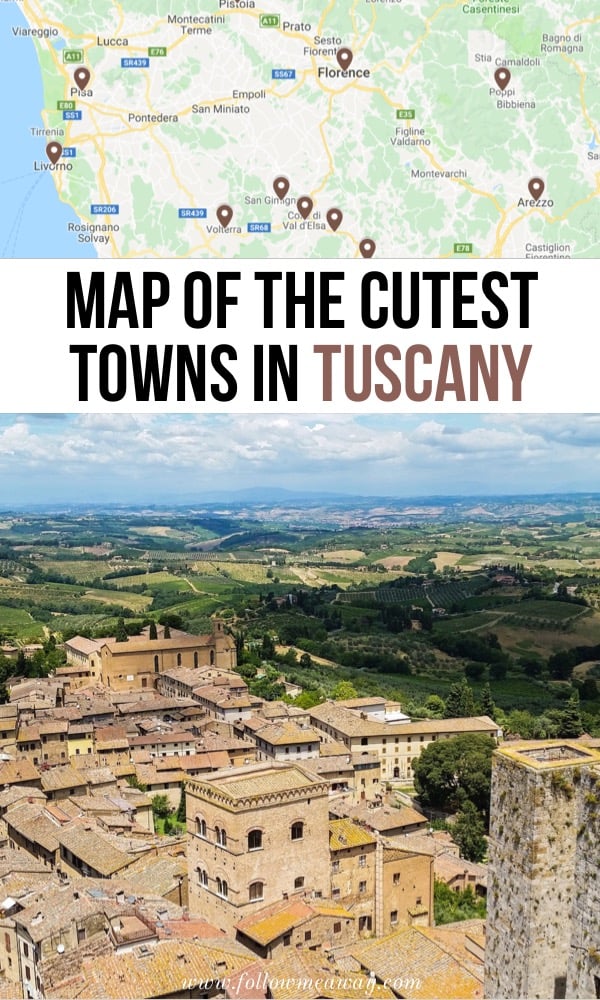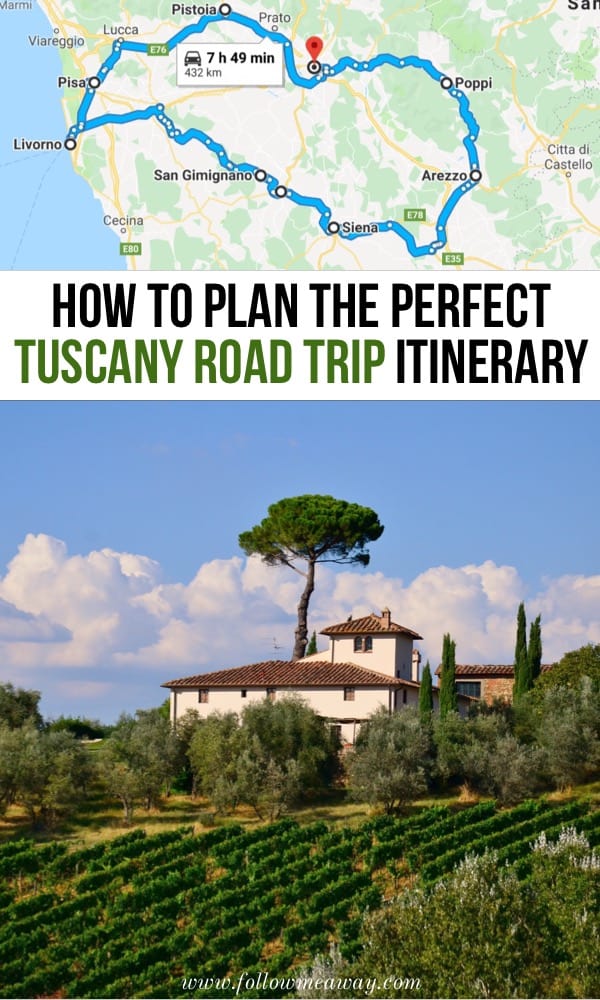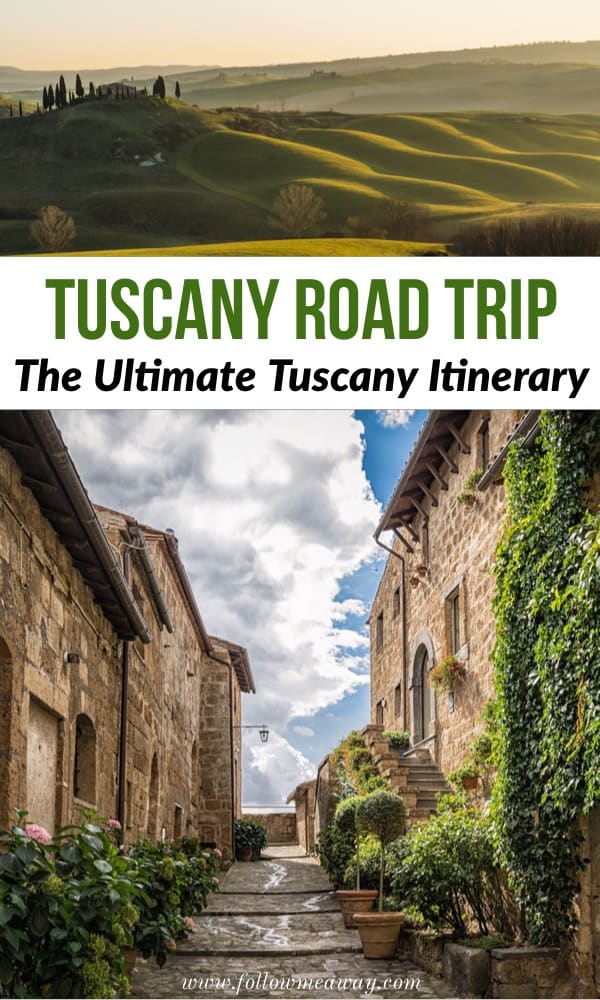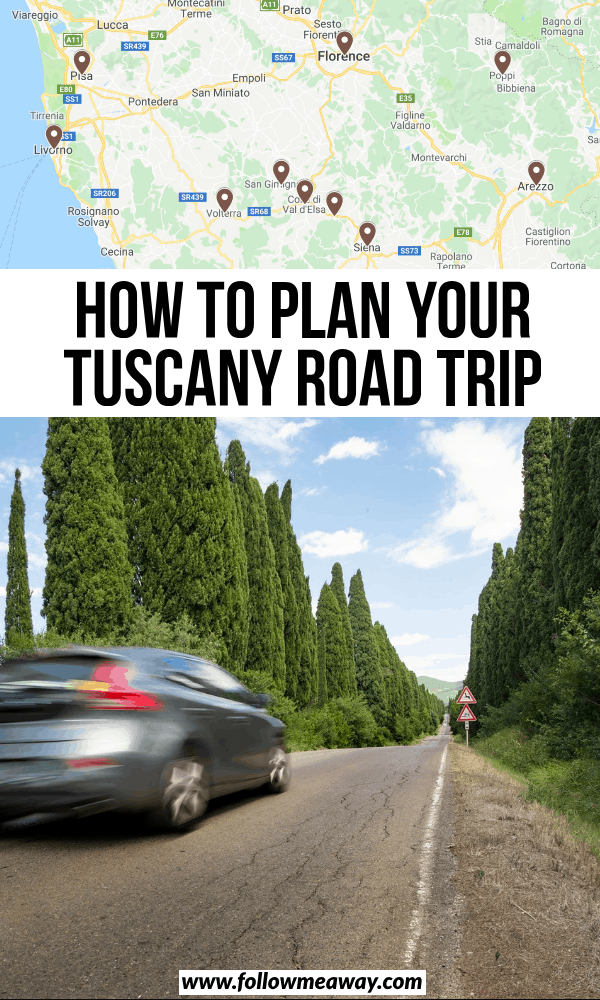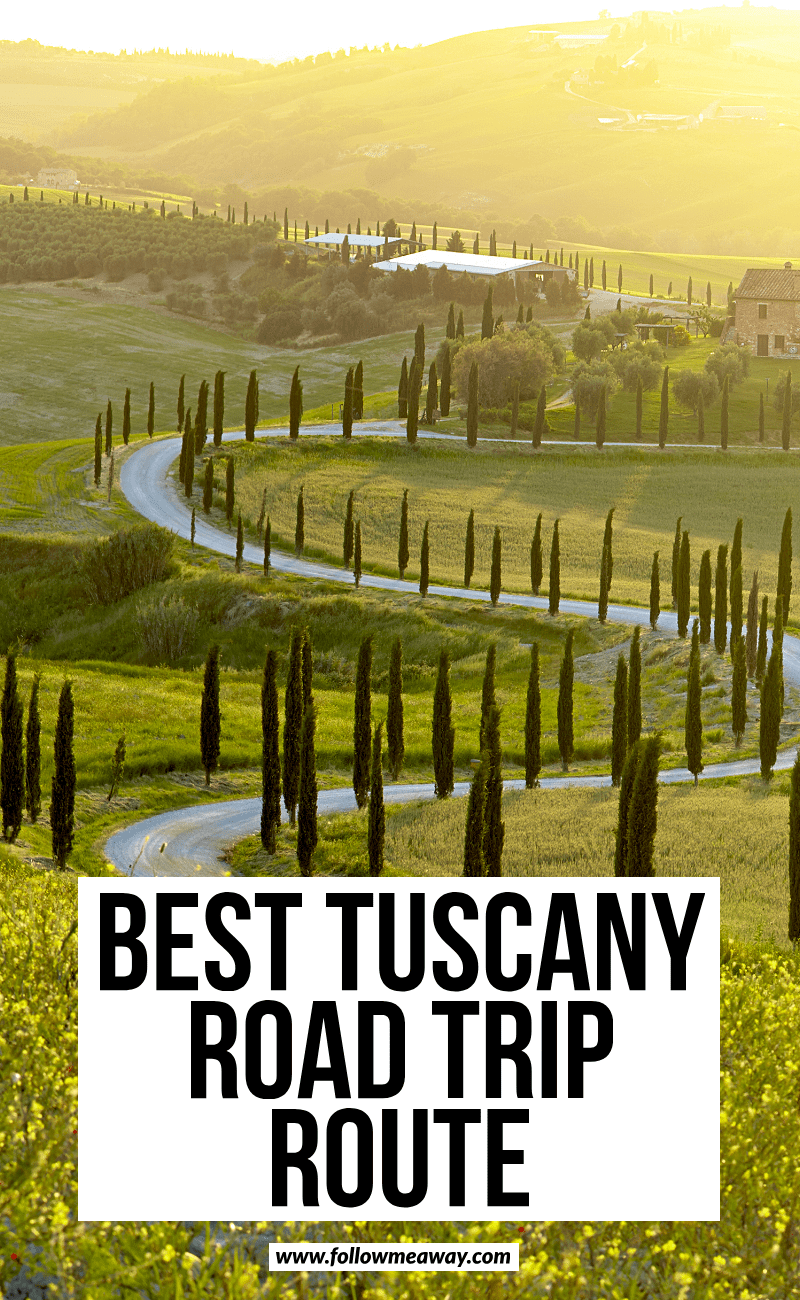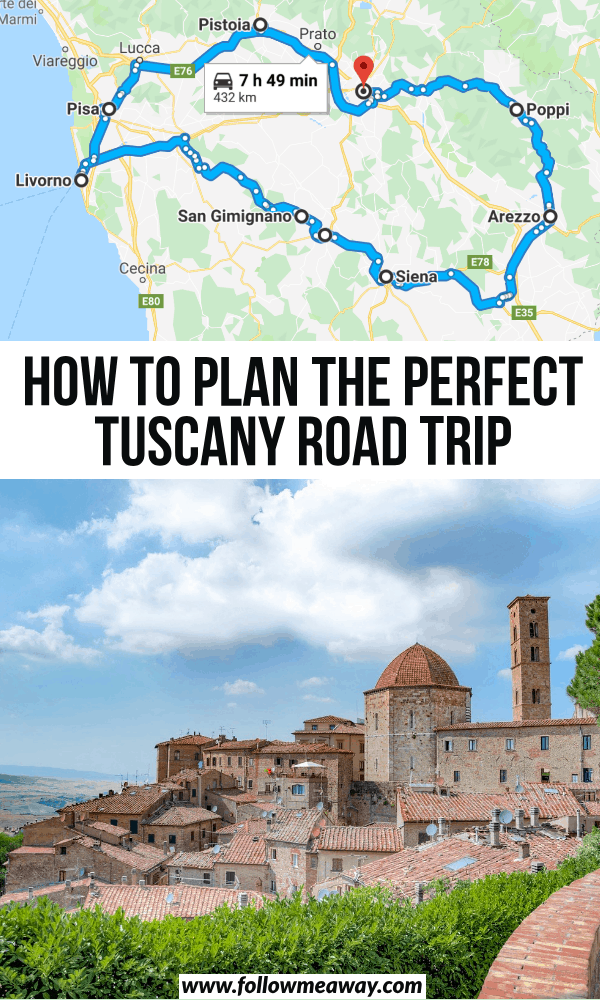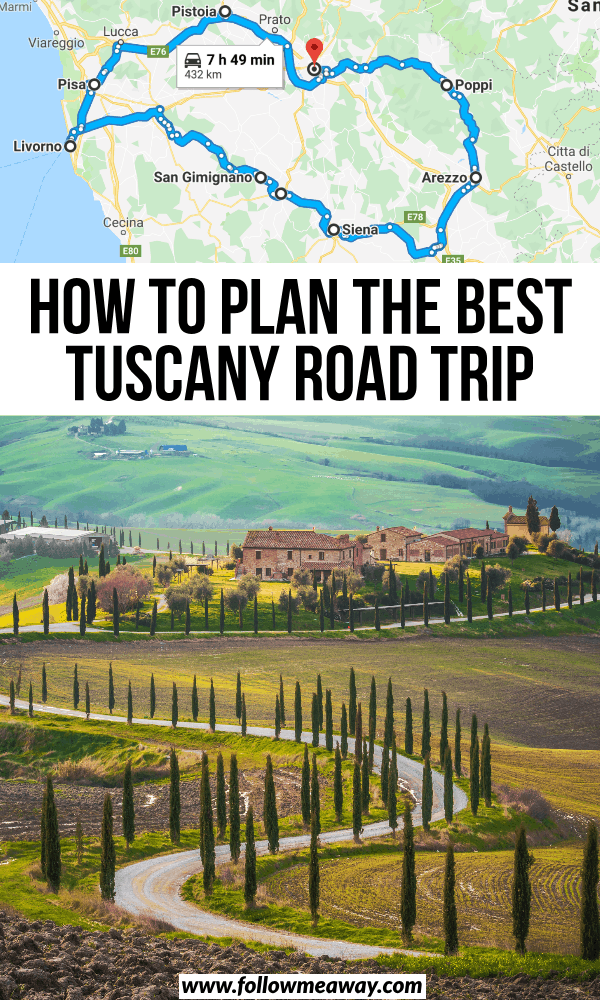 Please Note: Affiliate Links May Be Used In This Article