When people think of Italy, they think of all the culture, history, wine and FOOD (pasta and gelato!!), but there are also so many lakes in Italy that are popular! What is great too is that Italy has even more to offer outside of these categories.
Lagos, aka lakes in Italy are all over the country and like many things in Italy, they are GORGEOUS! Many of these lakes in Italy are alpine lakes and can be found in the northern parts of the country, Italian empires have existed next to these lakes for centuries and drawing on these beautiful backdrops, people today travel to these beautiful locations to indulge and relax.
Determining which lakes in Italy to go to though can be a bit overwhelming since there are just so many to choose from. Each has unique characteristics and stunning view to see. That being said, have no fear! Below is a compiled list of the top 10 Prettiest lakes in Italy you must see.
These Italian lakes are the perfect getaway for visitors who want to experience a more calming trip to Italy. Budget some time in – you will surely enjoy all that the country has to offer!
Whether you are planning your 10 days in Italy, have a bit more time and are spending 2 weeks in Italy, or renting a car and doing an Italy road trip, our customized and free planning itineraries will help you choose the best that Italy has to offer! You can see many of these lakes on our itineraries, or you can make your own and use ours as a guideline!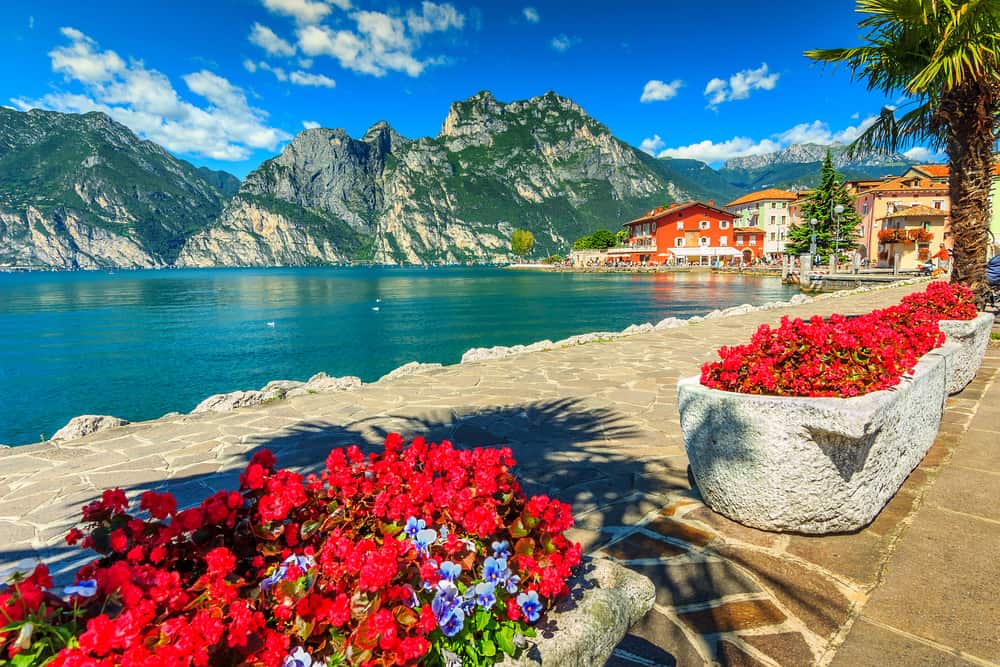 10 Prettiest Lakes In Italy You Must See
Lake Bolsena
Have you ever wondered what a lake made of volcanic activity looks like? Lake Bolsena is one of the lakes in Italy that originated from the movement of earth and is centrally located in the country. This lake is actually one of the biggest lakes in Italy and since this is one the Italian lakes formed by a volcano you can bet there is black volcanic sand everywhere to dip your feet into! The beaches along Lake Bolsena runs for miles and there is incredible beauty everywhere you turn. There are many established places to stay but definitely "off the beaten path" type of adventures here as well.
Lake Bolsena is known locally as a 'miraculous' lake in the Tuscia area, and if you happen to be traveling between Rome and Tuscany, you should stop at least one of the teams that dot the 'path of the Etruscans'. There is a lot of history tied into the lake along with the towns that surround it. If you are into Italian history, especially with the involvement of the Catholic Church -you might be interested in seeing what this area has to offer.
Even though this is one of the bigger lakes in Italy, if you are looking for a more low-key location to visit, this is one of the lakes in Italy you should make time for.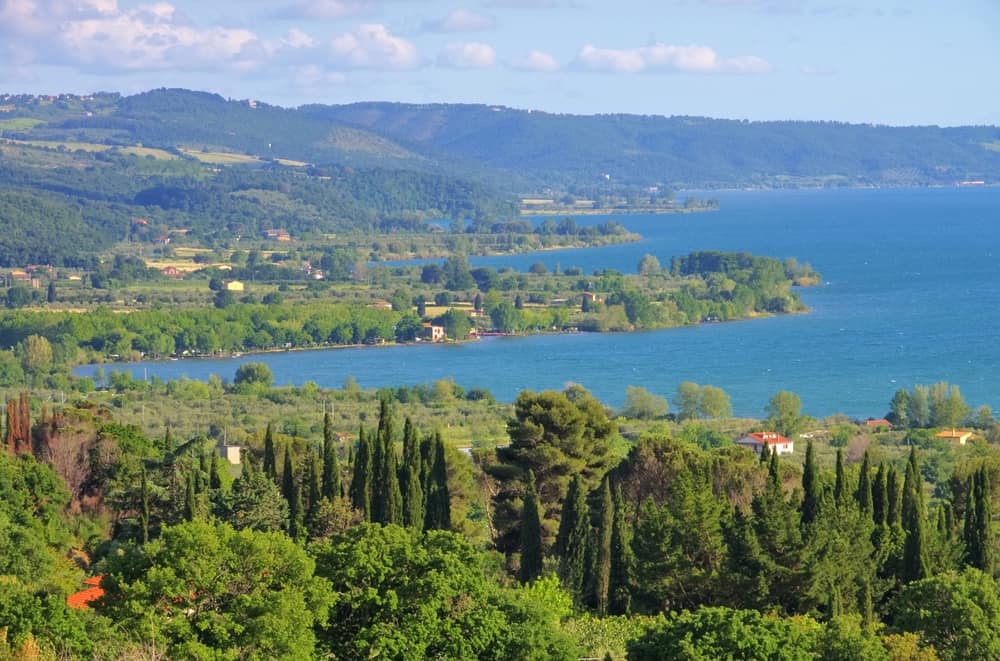 Lake Braies
Located in South Tyrol up in the northeast part of Italy, Lakes Braies is the epitome of scenic, instragrammable lakes in Italy! This lake should top your Italy bucket list! Often referred to as the most beautiful lake in the region, many people have seen pictures of the Dolomites from the Italian side and the lake in the middle of the mountains. Well, that lake in all those pictures is Lake Braies!
One look at this Italian lake and it is obvious why the location has become so popular over social media. The lake reflects the towering mountain peaks, mainly Seekofel, behind it beautifully and there is so much nature around it is easy to imagine being in a quiet and peaceful spot anywhere you go.
Getting to Lake Braies is easiest if you are traveling by car – with driving times about 2-4 hours depending on which major city you are coming from. Of course, there are public transportation options by bus too between June through November, but departures are infrequent so you would really need to plan our time well.
There a few places of accommodation near Lake Braies you could stay at and if you want to make a memorable experience when you visit there, try renting a boat and taking it out on the lake. It is on the more expensive side, but if it is within your budget it is highly recommended. What is great about visiting the Dolomites is that scenic beauty can be found during any season so it is up to you when you feel like checking it out.
We also have a full Northern Italy itinerary if you are interested in exploring this region in more detail. We highly suggest it as it is one of the most beautiful spots in Italy!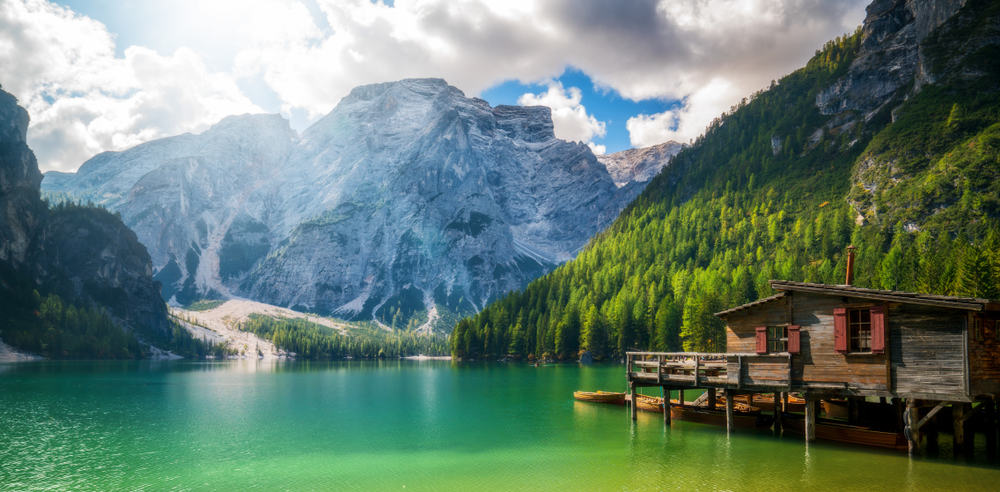 Lake Carezza
About a two-hour drive away from Lake Braies on the western side of the Dolomites is another one of the lakes in Italy, Lake Carezza. This gorgeous alpine lake is surrounded by extremely tall coniferous trees all year round and the lake has a clear, shimmery emerald green hue to it. It is no wonder this Italian lake is known as "Rainbow Lake" and "Fairytale Lake" as well. Depending on the way the sun hits the water, it looks like you can see the spectrum of the rainbow across it. These colors produced have some myths tied with it too! Legend has it these colors come from a tale between a wizard and a mermaid that lived in the lake. Of course, it may be better for a local in the South Tyrol area to share some of the folklore belonging to the diverse lakes in Italy.
Even though this is one of the smaller lakes found in the Dolomites there is still a lot of scenic views to take in as well as explore!. If you are on more of the active side you will be able to hike and enjoy what nature has to offer you in this amazing spot. If you are visiting during the winter months you might be able to see the cool ice layer that develops from the cold weather.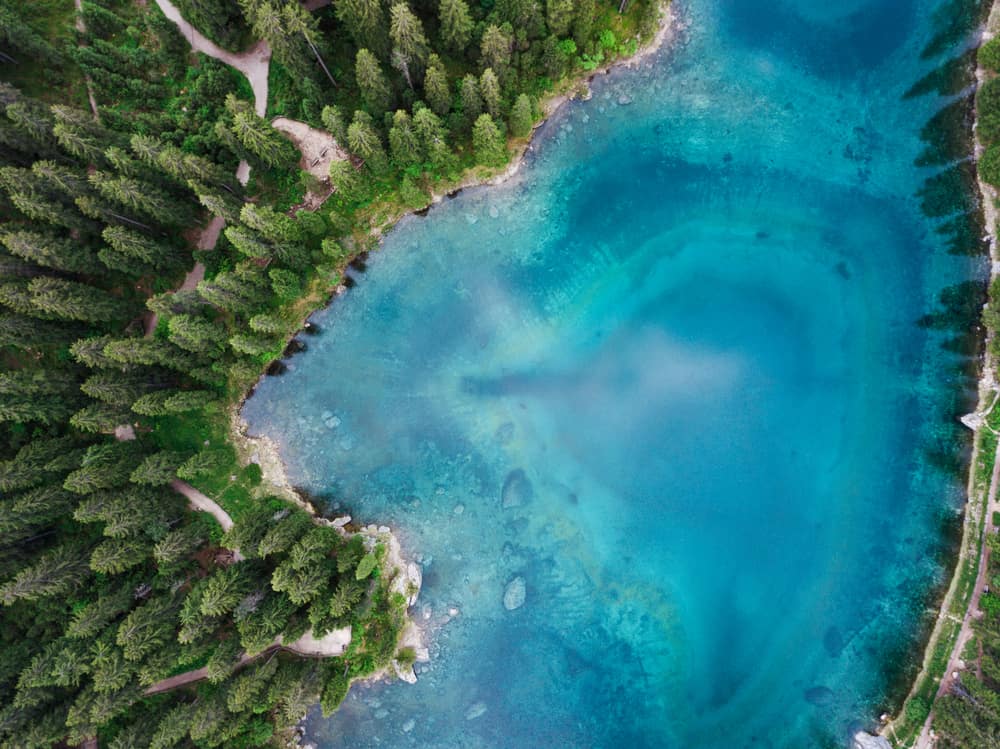 Lake Como
Flashy Lake Como is probably one of the most famous lakes in Italy as well as one of the top tourist destinations. This Italian lake is an idyllic paradise for anyone wanting to live the high life and there are so many things to do in Lake Como!
Shiny, expensive cars weave through the villas while the people in town enjoy an extravagant lifestyle. This is one of the lakes in Italy where celebrities retreat to during the warm weather and where one of the 007 Bond movies was filmed!
It is no wonder why this location was selected for filming, Lake Como sits at the bottom of the Alps so you can bet the view is INCREDIBLE! What is great about this popular destination is that there are so many activities you can do here. This is one of the lakes in Italy where you can enjoy a mix of nature and indulgence. Getting around Lake Como is pretty easy – there are ferry boats everywhere and there are a lot of spots that are walkable. There are a bunch of amazing towns surrounding the lake and each one has their own unique personality so try to visit as many as you can.
There's something for everyone at Lake Como and will not be disappointed if you visit this beautiful lake. There is a reason so many people flock to this special location. See for yourself with a weekend in Lake Como!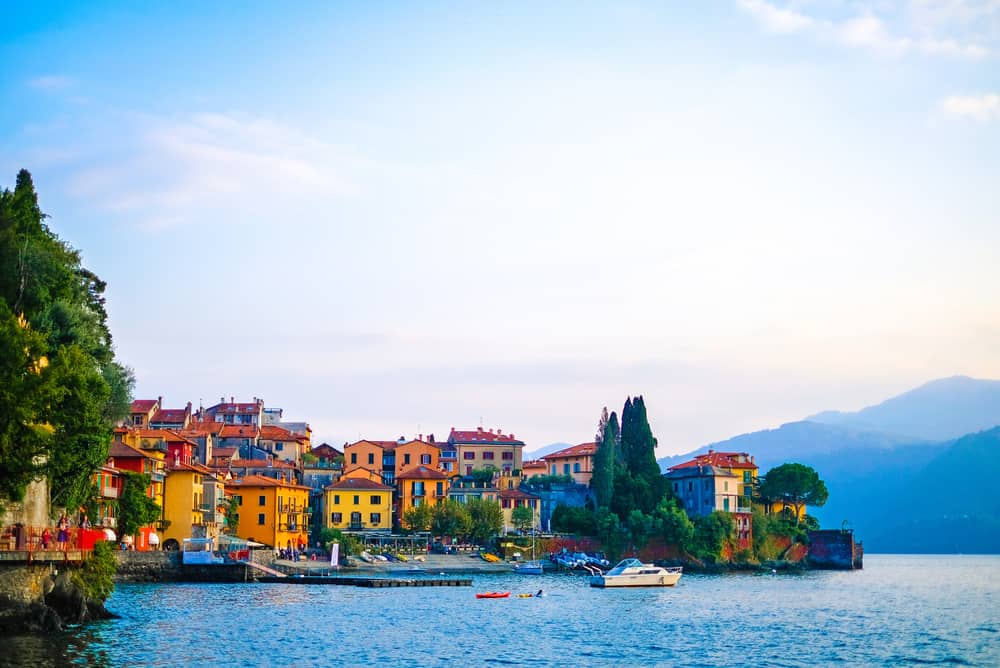 Lake Garda
Of all the lakes in Italy, Lake Garda is the largest! It is located in Trentino Italy and it is a major tourist destination. Rightfully so! This lake has been around for generations and so have the towns that surround it. Lake Garda is so large that it covers three regions and there are so many islands scattered throughout it, with 5 main islands visitors can check out.
These islands are called Isola del Sogno (Island of Dreams), Isola dell'Olivo (Island of Olive Trees), Isola di Trimelone, Isola di San Biagio and Isola del Garda. Lake Garda is also one of the best places to travel with kids in Italy because of all of the fun and relaxing things to do! It is very family-friendly!
The largest island, Isola del Garda is home to a monastery that was founded in 1220! Italy just has so much history! Like many big hubs in Italy, there are plenty of options to get around to the neighboring towns. There is an airport nearby that's easily accessible and moving around by train and bus is best for modes of public transportation. Since this is one of the more popular lakes in Italy there are many people who make their way to visit here and Lake Garda never disappoints. If there is one lake to definitely see in Italy, it is Lake Garda.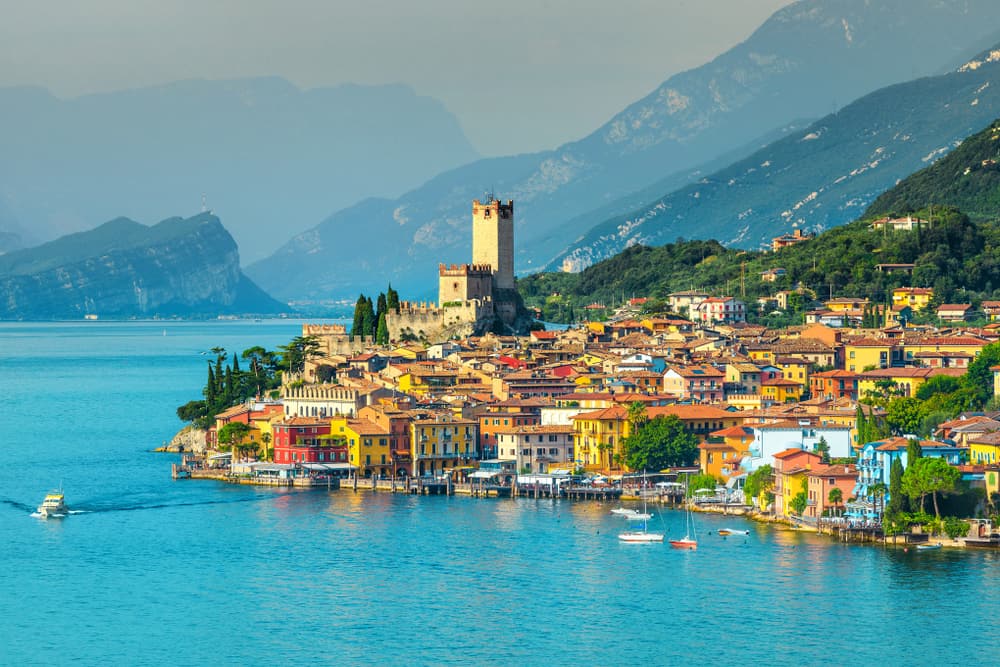 Lake Maggiore
Much like many of the lakes in Italy, Lake Maggiore is another amazing and beautiful lake but it is known for all its GARDENS. Lake Maggiore is part of the "lakes district" and it sits on the south side of the Alps and runs through both Italy and Switzerland! One of the truly awesome things about Europe is the fact that so many countries are interconnected with geographic formations Afterall, these formations existed before humans! This is one of the lakes in Italy that are on the larger side and it is also considered the biggest lake in southern Switzerland.
There is so much to do if you visit Lake Maggiore! Since the weather is pretty mild in the region, there are many gardens to check out. Some grow to produce AMAZING Mediterranean type vegetation and others are for pure enjoyment. There are so many attractions too for any type of trip. If you are short on time there is even an express trip designed to see as much as possible! Through the official Lake Maggiore linked before, this is one of the lakes in Italy that even have options on what you can do if you visit and it happens to rain. Talk about providing the best possible experience for visitors!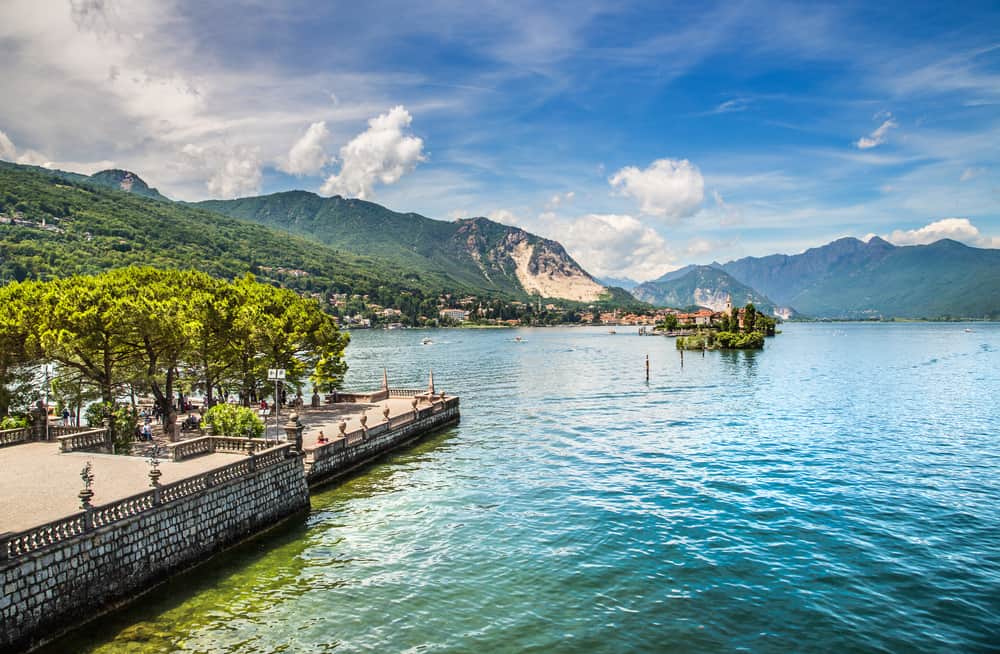 Lake Orta
Lake Orta is one of the lakes in Italy that is a departure from the rest of the lakes listed so far. This Italian lake has a different kind of feel compared to all of the others. Lake Orta surrounds an interesting medieval village, Orta, which transports you back in time. That being said though, the view is very typical of Italy because there are just so many picturesque buildings you can see! Since this is not like the rest of the lakes in Italy, you should think of it as a hidden gem in the country. It is not as popular as Lake Como or Lake Maggio but it offers just as much, if not more, depending on the purpose of your trip. This is the main reason why this Italian lake is also called "Cinderella". It's actually really fitting because it is more peaceful than the bigger lakes in Italy so you will get to enjoy the area without as many tourists bustling around.
Lake Orta is a short day trip away from Lake Maggio so if you want to combine both and see the differences between the two lakes, you can totally do so!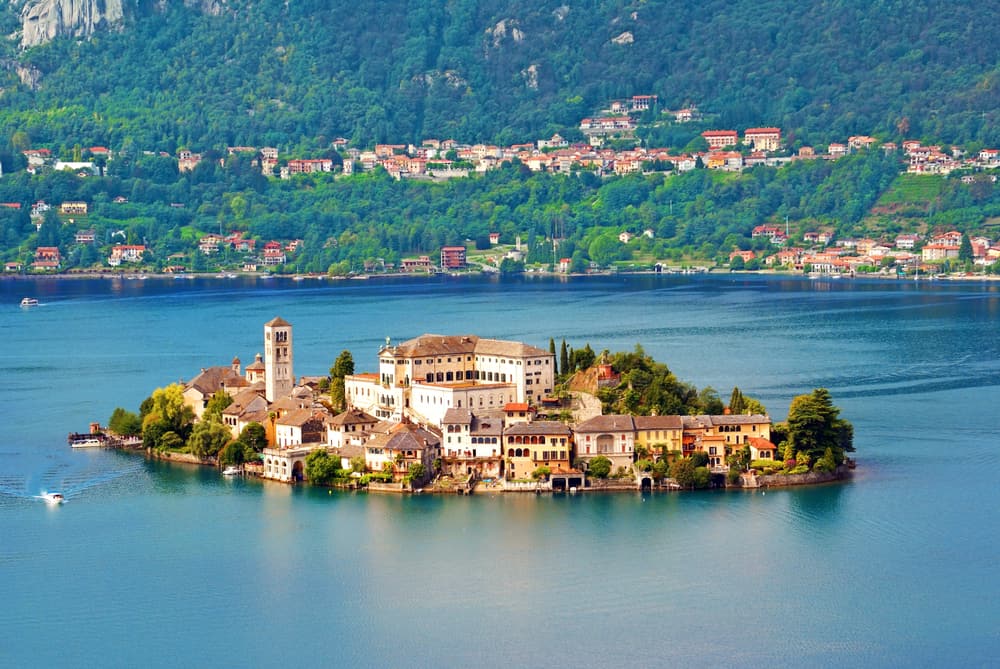 Lake Dobbiaco
A third lake in the Dolomites region (with names in different languages) is Lake Dobbiaco, aka Lago di Dobbiaco in Italian and Toblacher See in German. This is another one of the alpine lakes in Italy and can be considered part of a trifecta of lakes in the region. Lake Dobbiaco sits in a unique spot between the Three Peaks and the Fanes-Sennes-Braies Nature Parks. You can bet there are so many gorgeous scenes to check on out foot! A popular activity people take up when heading toward Lake Dobbiaco is camping. For anyone that is a nature-loving person, this area is the perfect area to add to your list if you are visiting Italy. Just imagine all the peace and quiet and being surrounded by the woods with a magnificent lake right in front of you and a mountain behind it. Surely a sight most do not get to enjoy!
If camping is not for you that's not a problem! There are also accommodations for everyone else who would like to experience nature without having to rough it in the woods. No matter what activity you decide to do while visiting, you will experience the beautiful Dolomites.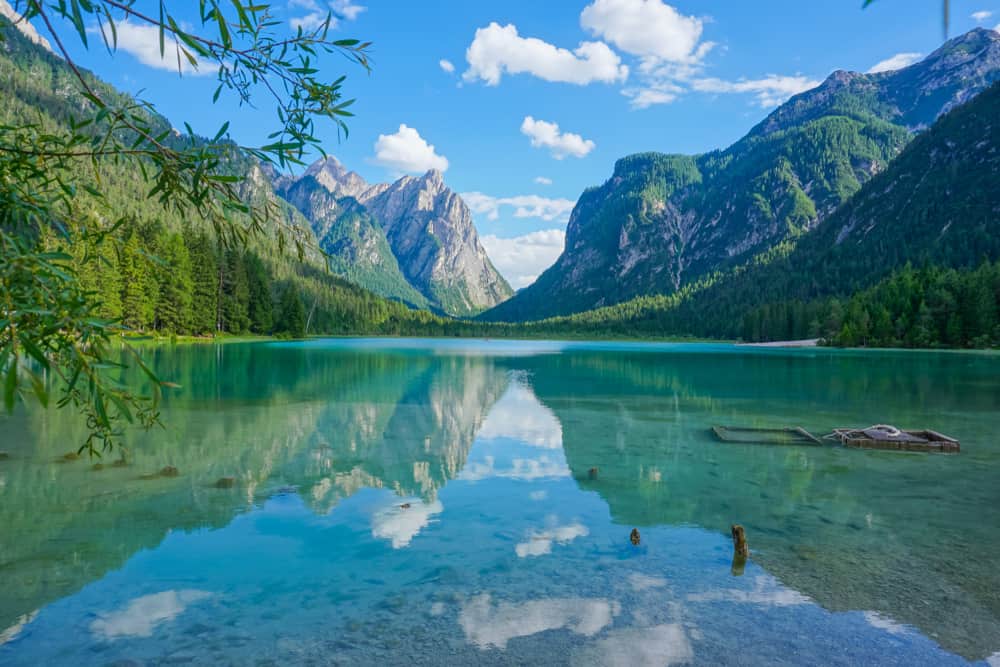 Lake Lugano
Lake Lugano is a pristine glacial lake that is shared between Italy and Switzerland. This is one of the lakes in Italy by Lake Como and Lake Maggiore so you can bet there is just an abundance of beauty everywhere! Just imagine, the serene blue waters, the majestic rising mountains and the quiet air all around you. It is no wonder these areas draw so many tourists annually. Fun fact: even though Lake Lugano is shared between Italy and Switzerland, most of it resides on the Swiss side. That being said, the side that is on the Italian side is considered to be non-territorial so any products and services are duty-free from the EU VAT tax. Can anyone say shopping? There is practicality element for visiting Lake Lugano. This is something that most don't consider when traveling!
Fishing is a popular activity to do at Lake Lugano since this is one of the lakes in Italy filled with healthy fishes swimming along. There are protected areas where fishing is not allowed but that just means stick to the designated spots if you are going to fish!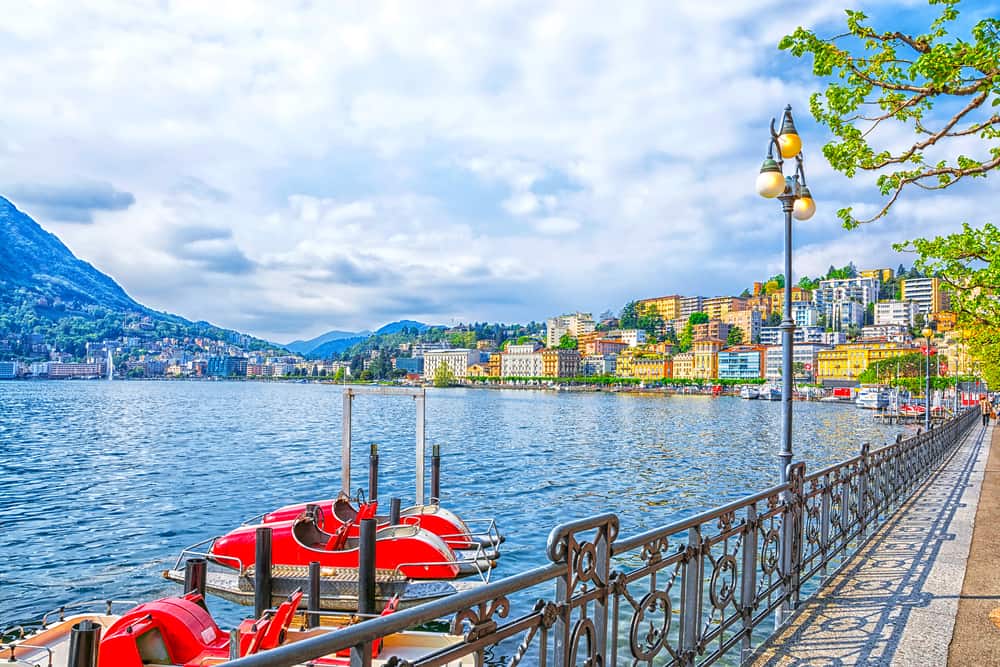 Lake Trasimeno
Unlike many of the lakes in Italy, Lake Trasimeno is not an alpine lake but a more shallow lake categorized as an endorheic body of water. That being said, Lake Trasimeno is still an incredibly amazing lake to visit since it is usually surrounded by olive trees, sunflower fields, and medieval towns. The difference between Lake Trasimeno and the rest of the pretty lakes listed before is that the focus when visiting this Italian lake is about all that surrounds it versus the actual lake itself. This lake is located where Umbria overlaps into Tuscany and the views and lifestyle out there are of a traditional agricultural way. Just imagine, hills rolling past each other with woods, fields and castles dotted around the area. it really gives you a sense of how the local Italians in the area live!
Lake Trasimeno is surrounded by villages that have AMAZING traditional food. Since the lake is surrounded by olive trees you can bet you will be getting the absolute BEST olive oil there. The food is so popular in this area that there is a popular food festival held annually during the month of September. It is during this food festival that the worlds largest frying pan is used to cook up to two tons of fish! TWO TONS!! If you are coming to Italy to eat its food, which most visitors are, then stopping by the Lake Trasimeno area is a must since all popular Italian foods can be found here. What a perk to be living by one of these lakes in Italy!