Looking for the best hot springs in Tuscany? You have come to the right place and we have got you covered! Visiting any of the hot springs in Tuscany is a memorable and magical experience that you must add to your itinerary because we promise that it will be unforgettable.
Planning your trip to Tuscany at the last minute?
Make sure to book your hotels and tours in Tuscany in advance to ensure availability. Things sell out as your dates get closer! Here are our top picks for Tuscany:
Top Tours And Tickets To Book In Advance:
Top Picks For Places to Stay In Tuscany:
While Tuscany is home to a variety of hot springs, we are going to list the top four natural hot springs in the area! And better yet? These hot springs are free!
Whether you are spending 10 days in Italy, have a little more time like 2 weeks, or are renting a car and planning an Italy road trip, you are going to want to stop in Tuscany. Hot springs are one of the more underrated things to see during your trip but you shouldn't miss them!
Tuscany hot springs are breathtaking: imagine steaming water flowing over rocks and surrounding nature, such as forests, preservations, and rock formations. Combine this with the fact that you can relax in the open air, not have to pay an entrance fee, and that you can visit these springs any time you want (seriously! day or night, summer or winter– any time!), and you can see why hot springs in Tuscany are one of the best things to see in Italy! Below we have listed four of the best free and natural hot springs in Tuscany that will make your Italian adventures even more exciting!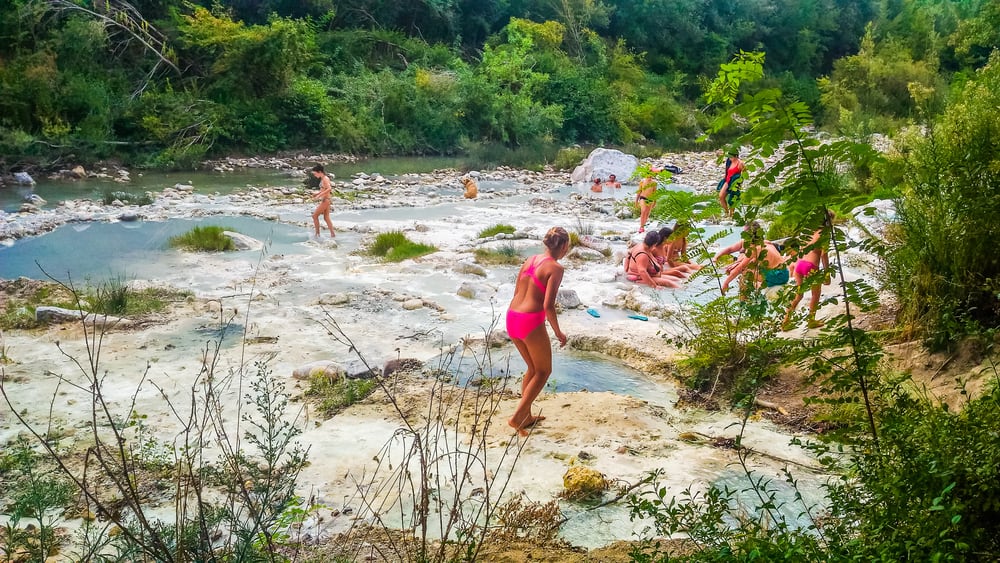 4 Free and Natural Hot Springs in Tuscany
1. Saturina Hot Springs Are A Must See
The Saturina hot springs are famous thermal baths, making them a must see during your Tuscany adventures! The bubbling water seeps through our Earth's crust in a stretch of land that extends from Mount Amita to Talamone. The waters of the Saturina hot springs are rich in minerals, but warning, because they contain a lot of sulphur, you might experience a slight "eggy" smell!
Saturina hot springs have a fairly consistent water temperature of 37.5 degrees Celsius, which makes it the perfect temperature for visiting at any time during the year! Even if it's winter, the hot waters will keep you warm! But warning, these Tuscany hot springs do get a bit busy, especially since exclusive wellness and spa centers have opened in the area, which also feature two free outdoor waterfalls. Visiting during the early morning is usually the best option, as it will be lest busy!
Because we recommend the Saturina hot springs as one of the best hot springs in Tuscany, we should also mention a few helpful reminders: make sure to already be dressed in your swim suit and to wear water shoes to protect your feet agains gravel and sand. Bring your own snacks and know that it is best to get to the Saturina hot springs by car. If you're coming from northern Italy, take the A1 and exit at Florence Certosa. If you're coming from southern Italy, take the A12 and exit at Civitavecchia. These tips can help ensure that you're experience goes swimmingly!
This also makes for a great stop on your Tuscany road trip itinerary! It is a bit further than the rest of the sites in the region which makes for a good road trip!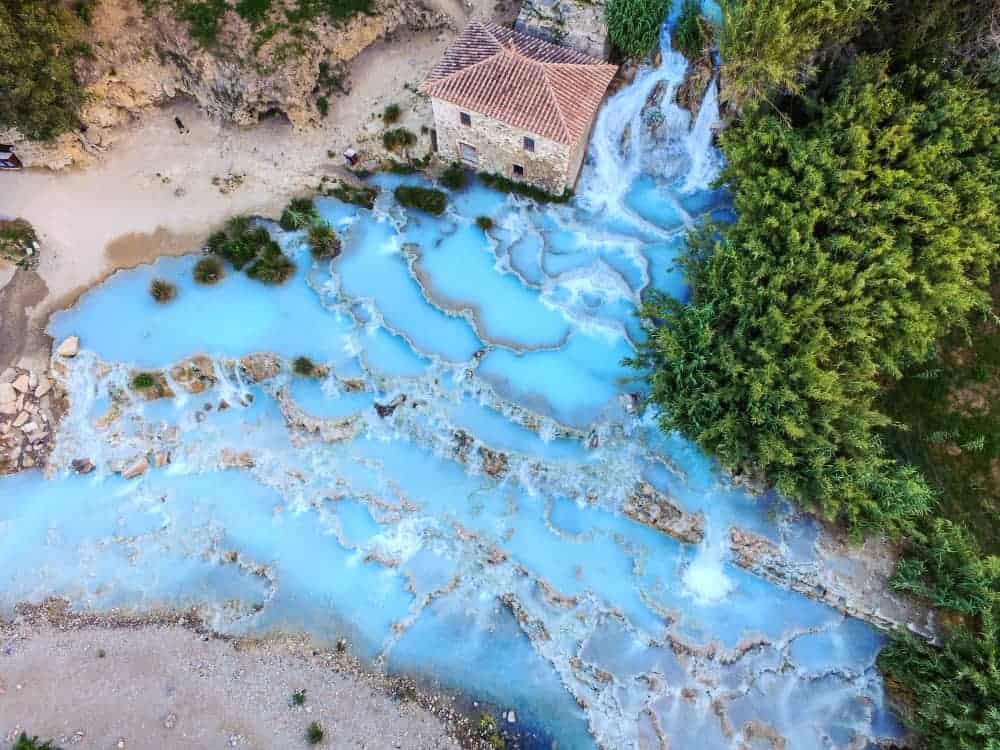 2. Bagno Vignoni Is An Iconic Hot Spring in Tuscany
One of the best hot springs in Tuscany is Bango Vignoni. If you so happen to be visiting the valley of Val d' Orica, you must swing by the main square to see the Bagno Vignoni pool! This pool is in the center of the main square of the town, taking up 49 meters in length. From the bottom, hot springs bubble upward! However, you cannot take a casual swim in the main square pool. You must go down the Parco Dei Mulini to relax at a spring of naturally hot water because the pool itself has been closed for public access.
These springs were known for their healing and refreshing qualities for pilgrims in the past, making it a famous place to relax and this is why we added it to our must-see-list of hot springs in Tuscany! The water typically ranges around 49 degrees Celsius, making it a bit warmer, which also means you can visit at any time during the year! Because you cannot bathe in the main pool anymore, the other springs surrounding the area can get busy, so be careful when planning your timing! Early morning is usually the best time to visit!
Please don't forget shoes, a bathing suit, and sunscreen when visiting hot springs in Tuscany– especially this one! Between the natural sun and stone you'll want to be protected. And as you plan your trip, know that it is best to visit this area by taking the S146 road to Chianciano. Then turn left toward the Tracersa Amita. We promise you will be blown away by the ancient beauty of Bagno Vignoni– it is a famous Tuscany hot spring for a reason!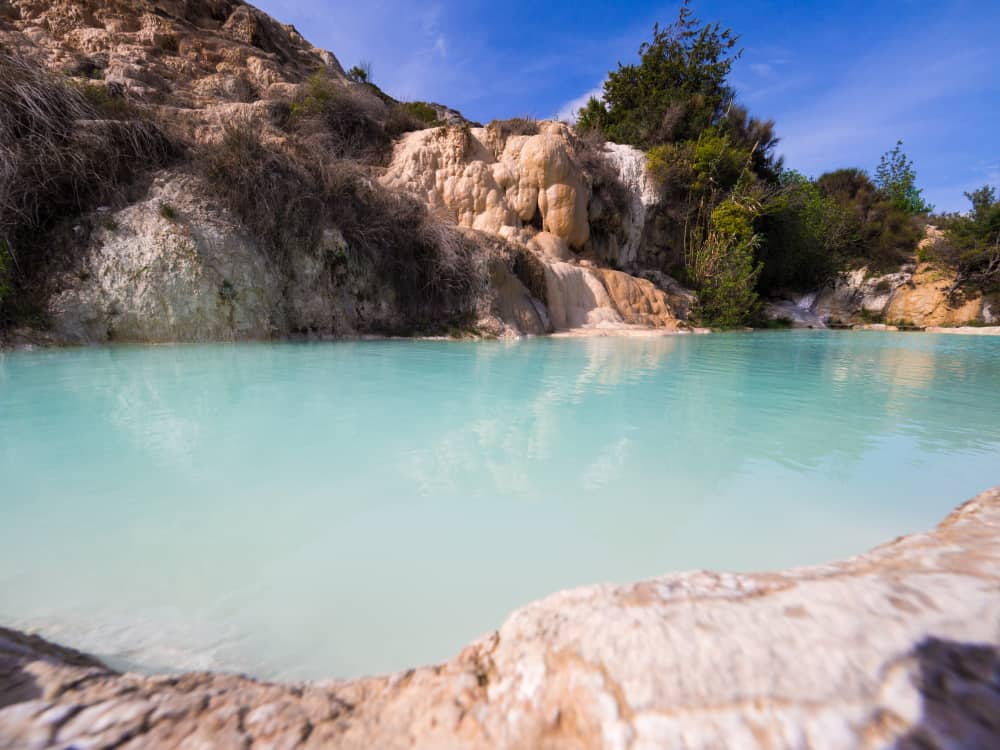 3. Add Bagni di San Filippo To Your To-Do List
The hot springs outside the small town of Bagni San Filippo are breathtaking! They are one of then most popular hot springs in Tuscany and are a must see, especially because of how easy they are to get too, and the sheer length of the hot springs that are accessible to the public!
The first pools you will find near the path just beyond the town of Bagni di San Filippo is shallow, and therefore, don't maintain heat for long periods of time. But, if you keep along the path, to the left, there are huge waterfalls and rocks composed of calcium and even more springs you can explore. This is often referred to as "White Whale" and is where the water of the hot springs meets the water of the river, giving it a white-blue color that is picturesque and unbelievable! These are some of the best hot springs in Tuscany because of those unique qualities.
If you follow the path toward the right, you might find serval new pool areas that have been created by locals. Here you can enjoy pure water as it pours down from waterfalls in a protected area. Because there is no calcium near by either, you can help avoid any scents that may distract you from your relaxation! To get to these springs, head toward the town of Bagni San Filippo, just off of the SR2!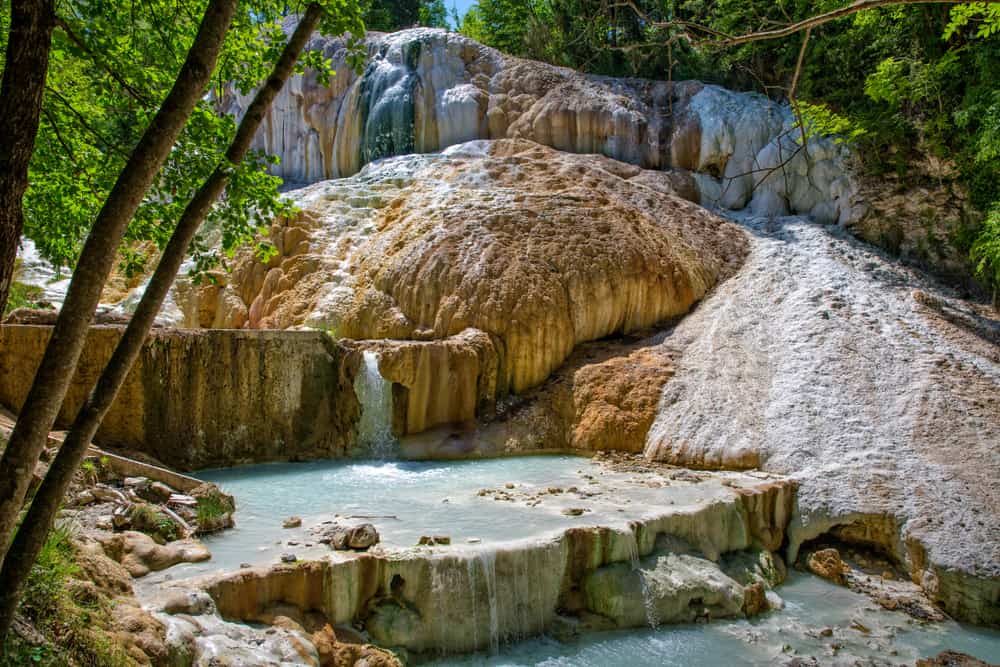 4. Petriolo Is Also A Fantastic Hot Spring To Visit
Last, but certainly not least, we have to recommend the thermal springs of Petriolo. These Tuscany hot springs have been talked about since 1200, dating back to the Roman age with it's wondrous reputation. The natural landscape that surrounds these thermal springs helps create day-long adventures for visitors! You can go on long excursions, hikes, and visit oases, like the Nature Reserve of Basso Merse that is only a short walk away!
The hot springs of Petriolo are typically 43 degrees Celsius, making them fairly warm whenever you may visit (Spring, Summer, Winter– whenever!), and they are well known for the hydrogen sulphide in their water. This makes their water rich in salts, which is therapeutic for all visitors and good for the skin! Because this area is also far way from touristy areas, we highly recommend Petriolo as one of the best hot springs in Tuscany, as it is rarely over-crowded and offers a day of sunshine amid nature! Driving by car is still the best way to get to these hot springs in Tuscany, mainly because if you take public transportation, they will drop you off at a five-star-hotel that is still a four km hike from one of these gorgeous Tuscany hot springs!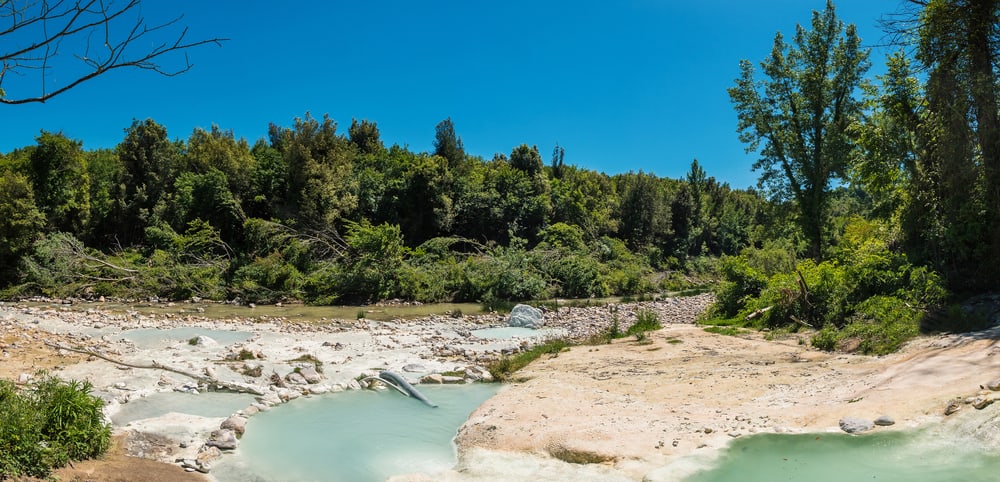 Visiting the hot springs in Tuscany doesn't have to be overwhelming when planning your Italian adventures! We have given you a list some of the best natural hot springs in Tuscany, and better yet, all of these hot springs are free! You can now start planing your dream trip! But please remember to be aware that you are a visitor at these springs: they are natural landmarks, so be kind! Make sure to pick up your trash and respect the land around them. Treat these hot springs in Tuscany with respect so future generations can enjoy them just as much as you do. Happy traveling and relaxing– we promise the Tuscany hot springs are just the place you'll want to visit and unwind at!