Are you looking for the ultimate 2 days in Rome Itinerary?
Want to visit the most Rome has to offer in only two days? Don't let a limited schedule keep you from visiting some of the most famous sites Rome has!
You will be wonderstruck by all that Rome has to offer, and we promise you can accomplish a lot in just 2 days.
Below we have selected some of the best things you can conquer in a short period of time.
Make sure to follow this 2 days in Rome itinerary to ensure your trip is filled to the brim with adventure. But please feel free to schedule our suggestions below in ways that fit best for you!
Whether you are spending 10 days in Italy, have a little more time like 2 weeks, or are renting a car and planning an Italy road trip, 2 days is the minimum time we recommend for spending in Rome!
For context, arrival day is not considered a day in this two days in Rome itinerary. The afternoon of your arrival can be utterly exhausting, and it might be best to rest as your next 2 days in Rome will be jam-packed.
But even if you arrive and aren't super exhausted, you can always stroll the streets of Rome, stopping for a gelato and authentic pizza along the way as a way to ease yourself into your upcoming adventure.
Either way, make sure you are excited and ready to explore!
A Rome weekend trip requires a lot of planning and preparation, so make sure to pace yourself and ensure you and your travel group are ready to see the best of Rome.
Don't forget to check out our Italy packing list before you head out on your adventure!
Keep reading to learn what to do in Rome in 2 days!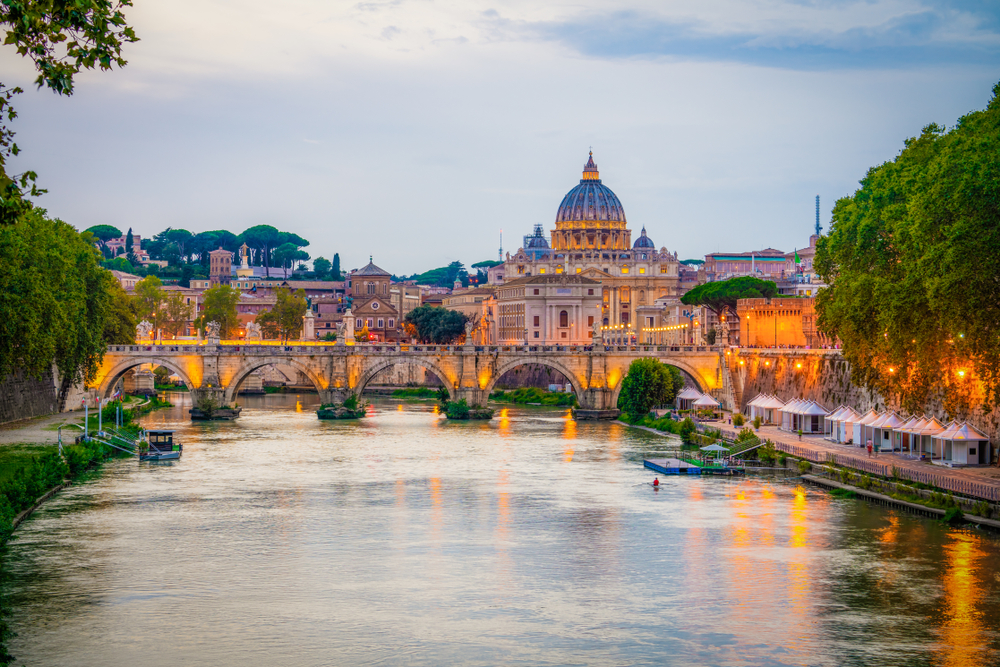 Are 2 Days Enough in Rome?
Two days in Rome can be tight, but it is doable if you make a plan and stick to the main sites.
If this is your first time visiting Rome, two days is a great amount of time for a sampling of the Eternal City.
You will have time to see the most popular attractions and taste some of the best Italian food.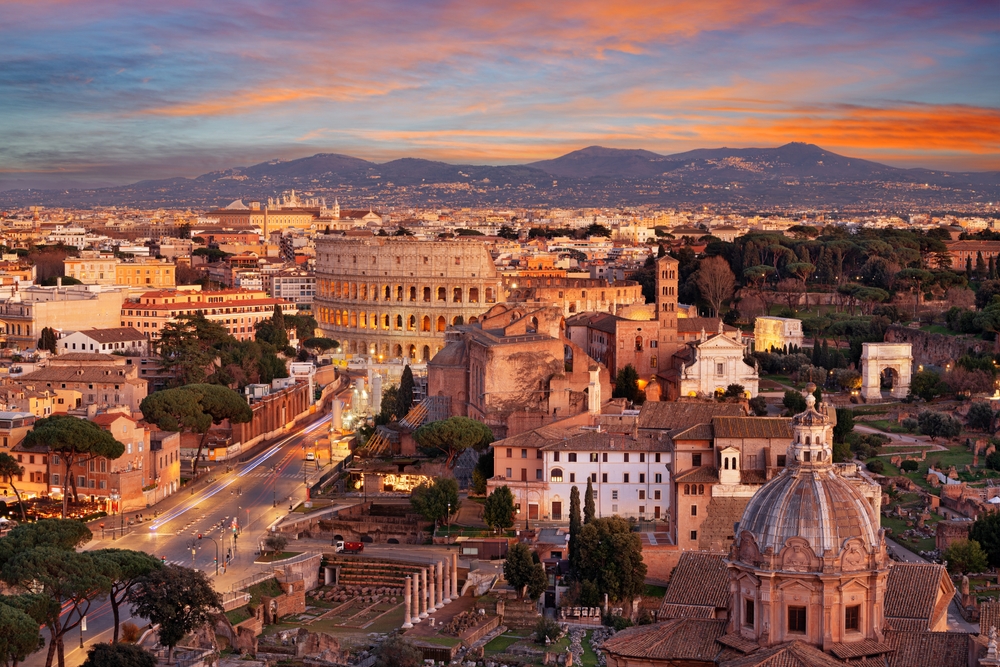 Getting To Rome
There are a few different ways you may get to Rome for your vacation.
If you are flying in, you will land at either Leonardo da Vinci Airport or Ciampino Airport depending on where you are coming from.
Then, you can take a bus, train, or taxi to the city center.
Train travel is also very convenient if you are coming from somewhere else in Italy or Europe. It might take longer than a flight, but it is cheaper, easier, and more scenic.
If you are renting a car in Italy, then you can drive right into the city as well.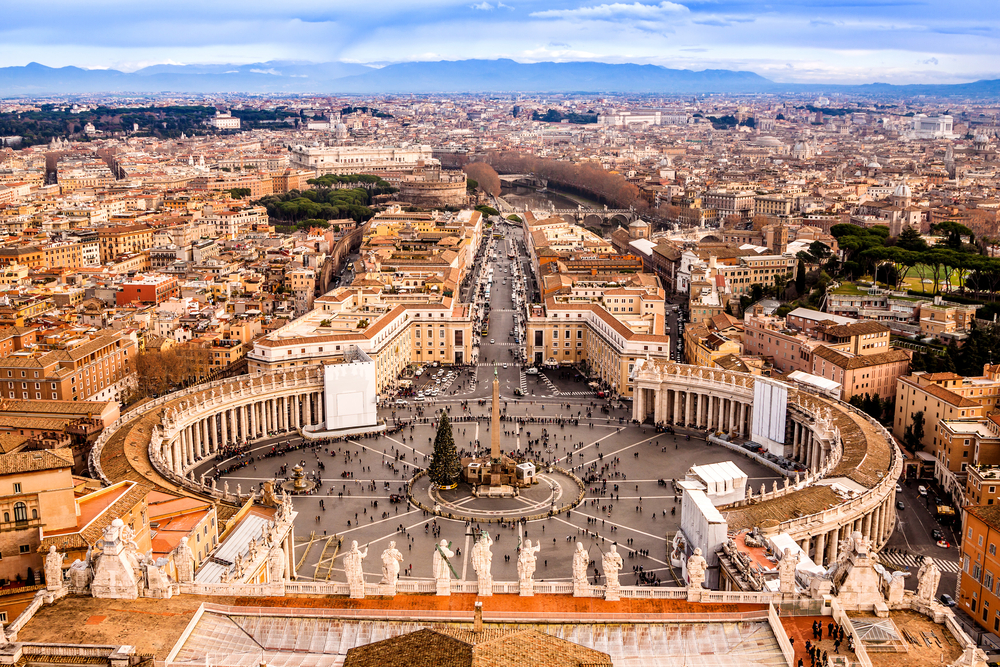 Getting Around Rome In 2 Days
When you are learning how to plan a trip to Rome, you need to figure out how you will traverse the city.
Getting around Rome is easy with an extensive public transport system.
Rome has three metro lines, buses, trams, and three urban railway lines.
The public transport is how to see Rome in 2 days. You can buy single one-way tickets as needed.
However, a 48-hour pass is more convenient. It allows unlimited use of all public transport during that time period.
Walking is also a great way to see the city as well since many top attractions are close to each other.
2 Days in Rome: An Epic First Time In Rome Itinerary
Day 1: Begin Your 2 Days in Rome with Classic and Ancient Rome
Your first day in Rome will encompass some of the oldest and most iconic sights in the Eternal City.
These are some of the must-see attractions not only in Rome but in all of Italy! You do not want to miss out on these experiences.
If this is your first time in Rome, you will be amazed by places you have spent your whole life seeing in books and on TV.
The day is jam-packed but definitely worth it!
Also, check out our guide on the best time to visit Italy!
Stop 1: Climb the Spanish Steps
The Spanish Steps are a great place to start your 2 days in Rome itinerary as they are considered a great gathering place for tourists and locals alike.
Many individuals return to these steps with coffee, sitting on the cusp of these Roman Baroque-style stairs, and relaxing.
The Spanish Steps connect the lower Piazza di Spagna and the upper Piazza Trinita Dei Monti. There are 138 steps in total, giving you lots of space to sit or climb to enjoy the view.
Because of the Spanish Steps' unique design and elegance, many artists sit and paint at this beautiful location, which makes it a popular spot for both tourists and locals.
The special mixture of curves, straight flights, vistas, and terraces give the Spanish Steps a great sense of atmosphere and breathtaking views of the Eternal City.
Starting here can help you get a sense of what Rome is really like, all while relaxing in this famous meeting location.
This is one of the best places to visit in Rome in 2 days!
Stop 2: Throw a Coin in the Trevi Fountain
No trip itinerary for Rome is complete without a visit to the iconic Trevi Fountain, which is why we suggest it for stop number two during your 2 days in Rome itinerary!
The Trevi Fountain is located in the Quirinale district of Rome and is known as one of the most stunning fountains in the world.
The fountain itself is one of the oldest water sources in Rome, and it is made of the same material as the Colosseum.
Because the Trevi Fountain is 85 feet tall and almost 65 feet wide, it is hard to miss!
Factoring in its large stature, the Trevi Fountain spills out over 2,000,000 cubic feet of water every day. But don't worry, this water is recycled!
We highly suggest getting to the Trevi Fountain early as it can get a bit crowded during the day, especially during summer.
And make sure to participate in the tradition of throwing a coin over your shoulder and into the Trevi!
Not only does this make for a great Instagram video, but rumor has it that participating in such a tradition will encourage the gods to favor your journey.
And better yet? The coins thrown into the fountain are collected every night and donated to Caritas, which is an Italian Charity!
Book Here: Trevi Fountain and Underground Guided Tour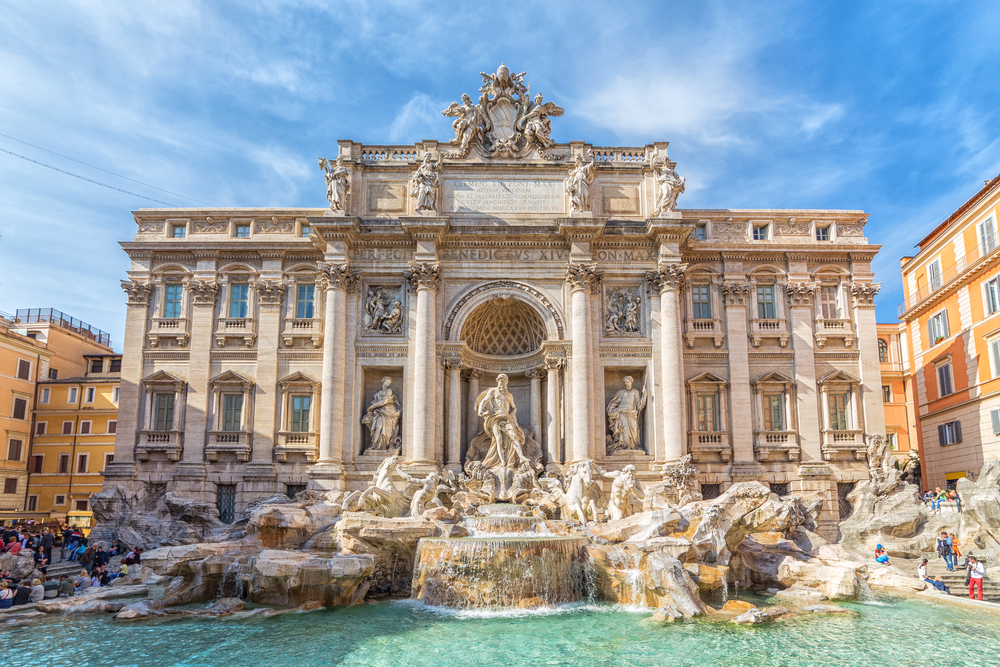 Stop 3: Swing by the Altar of the Fatherland
The Altare della Patria, which roughly translates into the Altar of the Fatherland, is a large monument in Rome created to pay respect to Victor Emmanuel II, who was the first king of Italy after the country's unification.
This large attraction is located in Piazza Venezia. Conquering Rome in 2 days can be difficult, but the Altar of the Fatherland is something you don't want to miss!
Inside this building, there is the Institute for the History of the Italian Risorgimento and the Central Museum of the Risorgimento, which means you can spend some time here!
This monument also holds the tomb of the unknown soldier, a place where an eternal flame shines.
From the places to visit inside the Altar, to the panoramic terrace and breathtaking views this monument has to offer, we highly recommend stopping here and spending a few hours simply learning about Italy's history.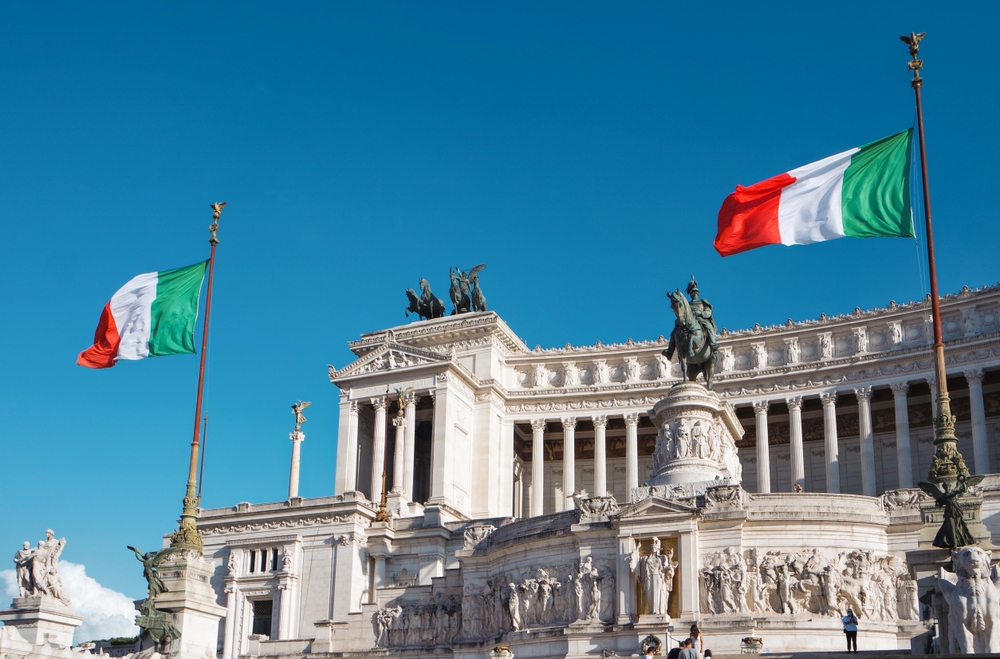 Stop 4: Tour the Colosseum
If you are planning a trip to Italy, you do not want to miss the iconic Colosseum. This ancient structure is arguably one of the most recognizable of Rome's classic buildings.
Even 2,000 years after it was built, it is recognizable at first sight.
Back in its day, this amphitheater could hold 60,000 seats, with room for 10,000 others to stand. It has 80 entrances and was the first permanent amphitheater to be built in Rome.
While it surprisingly only took ten years to build this arena, what is even more surprising is the mix of architectural styles this building holds.
The three tiers of arcades follow the succession of architectural order: Doric on the first story, Ionic on the second, and Corinthian on the third.
The whole building covers six acres in total, and this place was historically popular for its hunting and gladiatorial games.
This is a must-see while you are visiting Rome in 2 days, but please know this iconic monument does get busy.
It may be smart to purchase tickets beforehand and skip the long lines that tend to circle this building.
Lastly, it is important to note that large parts of the Colosseum are accessible to wheelchair users. There are lifts to take you to the upper levels!
Book Here: Colosseum, Roman Forum, Palatine Hill Entry Tickets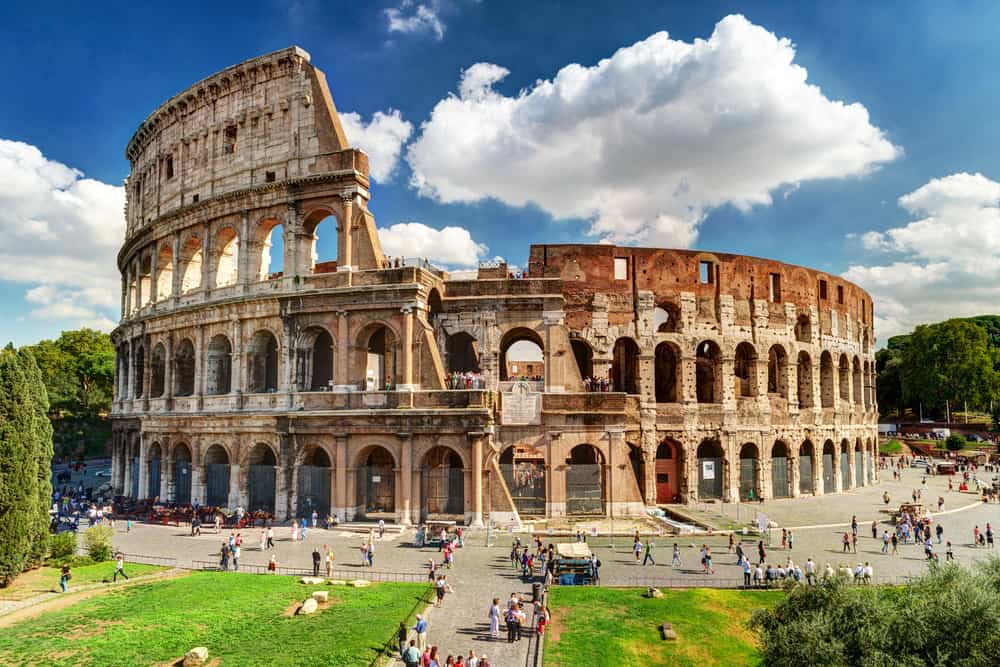 Stop 5: Admire the Arch of Constantine
The Arch of Constantine is situated between the Colosseum and Palatine Hill.
This arch was originally created because the Roman Senate wanted to commemorate Constantine I's victory over Maxentius at the Battle of Milvian Bridge in 312.
This is a must-see during your 2 nights in Rome because the Arch of Constantine is the largest surviving Roman triumphal arch and the last great monument of Imperial Rome.
Throughout history, it has been used for political propaganda as well, representing and sending messages about victory and leadership.
This arch stands about 20 meters high, 25 meters wide, and about 7 meters in width.
Three portals are flanked by Corinthian columns. Moldings and Victoria feature occupying the spandrels above the central archway are breathtaking and worth every second spent looking at them.
The variety in architectural styles is similar to that of the Colosseum, as the arch contains relief sculptures with bold outlines, blocky figures, and some that even lack natural aesthetics or clear form.
Ultimately, this arch represents power and leadership. Its location between the Colosseum and Temple of Venus and Roma helps reinforce its symbolism as it is the connective architecture that links the area of Forum Romanum.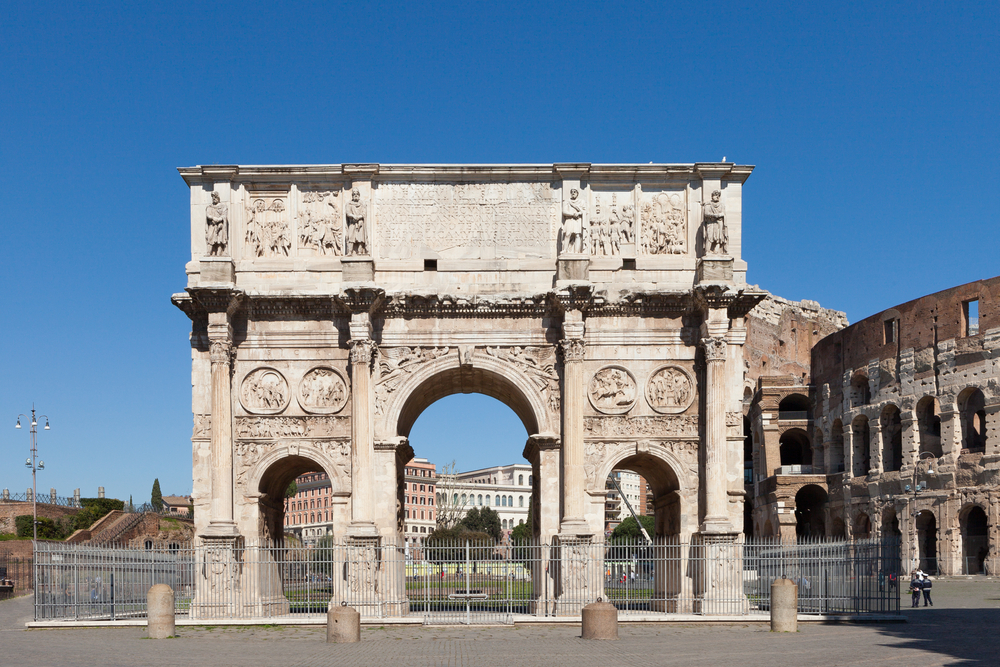 Stop 6: Relax at Palatine Hill
Referred to as "the first nucleus of the Roman Empire," Palatine Hill is the centremost of the Seven Hills of Rome.
It is one of the most ancient parts of the city, standing 40 meters above the Roman Forum.
It looks down upon the Forum on one side of the hill, while the Circus Maximums towers over the other side.
Many tourists tend to overlook Palatine Hill as it is often overshadowed by the Colosseum.
However, we are making sure to add it to your 2 days in Rome itinerary, because it is worth seeing!
The ruins of ancient palaces on this hill are mixed with a green haven. Wildflowers grow amongst the ruins.
It is a beautiful spot to learn about the history of Rome or to simply sit back and relax, seeking shade beneath some trees.
This area is very peaceful and a great place to escape some crowds.
Make sure you don't miss the views from Palatine Hill. You can see the labyrinthine ruins, the Colosseum, and Capitoline Hill from this fresh perspective!
Book Here: Colosseum, Roman Forum & Palatine Hill Priority Access Guide
Stop 7: Finish the Day at the Roman Forum
For your last stop of the day, we recommend swinging by the Roman Forum. This historic site is located at the center of Rome and was originally used as a public meeting place and marketplace around 500 B.C.
The Forum eventually developed and expanded. Statues, arches, and other buildings were built to accommodate the growing crowds.
Julius Caesar and Emperor Augustus also added to the area!
Some of the important sites you might want to see during your 2 days in Rome include the Senate House, the Temple of Saturn, the Arch of Titus, and the Sacra Via.
Although many of these buildings are now ruins, the ruins and the Forum itself have continued to serve as a source of inspiration for artists.
It is the perfect location to wrap up day one in Rome as it has a great dose of history.
You'll see the main road that ran through the Roman Forum and connected the city to other important sites!
It attracts over 4.5 million visitors annually, making it one of the top things to do in Italy.
Book Here: Colosseum Underground & Roman Forum Guided Tour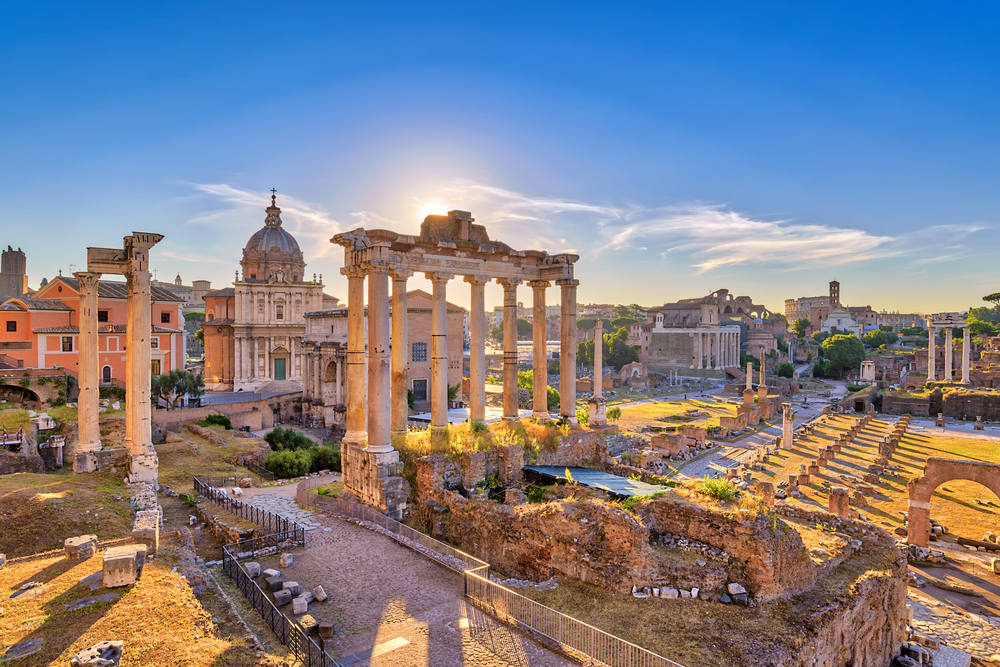 Day 2: Finishing Your 2 Days in Rome with The Vatican and Rome Favorites
The second day of your Rome vacation itinerary will focus on Vatican City and some hidden gems in Rome.
The Vatican City is actually a separate country governed by the Catholic Church.
Vatican City is vast, and thus we recommend spending almost a full day exploring it during your Rome, Italy, itinerary!
Whether you are interested in religious history or exquisite architecture, the Vatican needs to be part of your Rome two-day itinerary.
After exploring the Vatican, you will check out a couple of other things to do in Rome in 2 days.
Stop 1: Starting at The Vatican Museums
We highly recommend stopping at the Vatican Museums as your first stop on day two.
You will find lots of art and history in the Vatican Museums, including the iconic Sistine Chapel!
But be warned, these museums are large and will take up a large chunk of your day! We promise it will be worth it!
These museums contain roughly 70,000 pieces of work, of which only 20,000 are on display.
Several of the most renowned Roman sculptures and Renaissance masterpieces are located here.
It is the fourth most visited art museum in the world. So, make sure to pace yourself and give yourself time to explore everything!
That's why we put it on the list first, so you can take your time and not feel rushed while exploring the museums.
We would also recommend getting tickets in advance, especially skip-the-line tickets, as you don't want to waste time waiting to get inside these gorgeous museums.
Book Here: Vatican: Museums & Sistine Chapel Entrance Ticket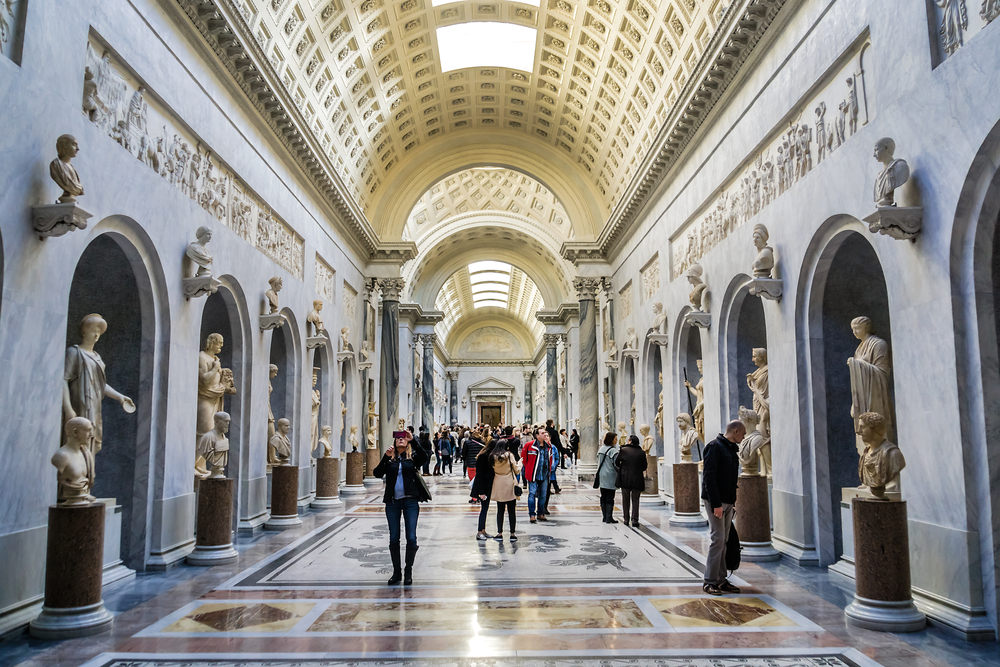 Stop 2: Explore Saint Peter's Basilica
St. Peter's Basilica is one of the world's holiest Catholic shrines and is visited by thousands of tourists every month.
According to Catholic tradition, the basilica is the burial site of Saint Peter, chief among Jesus' apostles. His tomb is supposedly directly below the high altar of the basilica.
Arguably, this is the most prominent building in Vatican City as it is the dominant feature of the skyline of Rome, covering 5.7 acres.
Saint Peter's Basilica is right by the Vatican Museums, so it seems logical for this to be stop number two on your second day in Rome.
You don't want to miss the beautiful art and architecture of Saint Peter's Basilica. The Nave and North Aisle have chapels and statues that are breathtaking.
Not many visitors know it is possible to climb to the top of Saint Peter's Basilica's dome.
Known as the "cupola," this dome is 450 feet off the ground and stretches 129 feet in diameter, making it a hard-to-miss part of Saint Peter's Basilica.
Getting to the top of the dome is a must-do during your weekend getaway in Rome.
It is a great opportunity to enjoy a panoramic view of the city while also admiring a top-down view of the Saint Peter's Basilica Nave.
Saint Peter's Basilica usually has a long line, no matter when you go! We highly recommend booking in advance or arriving early to avoid crowds.
Book Here: St. Peter's Basilica, Dome Climb, and Underground Tour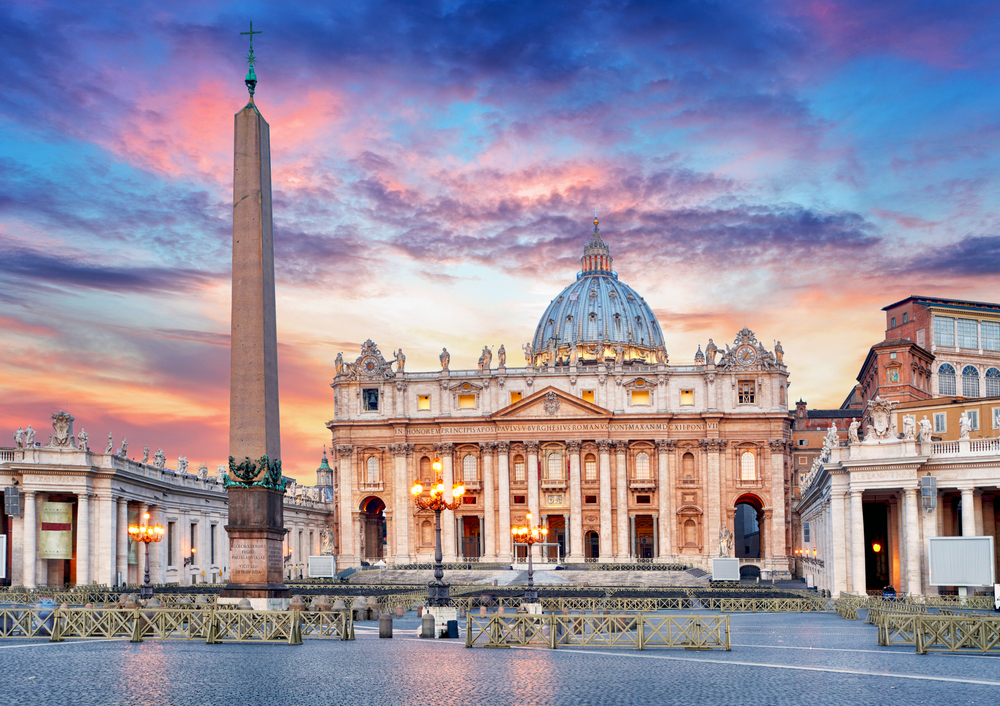 Stop 3: Tour Castel Sant'Angelo
The Mausoleum of Hadrian, also known as the Castle Sant'Angelo, is the towering cylindrical building in the middle of Parco Adriano in Rome.
This building was originally commissioned by the Roman Emperor Hadrian as a mausoleum for himself and his family.
Throughout history, the building was also used by popes and as a fortress and castle but is currently a museum.
This is why we have put it on your 2 days in Rome itinerary. It is beautiful and rich with history!
Castel Sant'Angelo is a fundamental part of history for Rome and the Vatican, as it once was used as a passage for the Vatican Palaces.
Today its five floors are divided and can be accessed through spiral ramps. You can even take one of these ramps to the entrance of a chapter of ashes and cells.
The top of the castle has some rooms once used as Papal residences and are preserved well. You can also visit some of those, as well as the cells where the remains of Hadrian's successors are.
This place is truly filled with history and culture and you must add it to your itinerary for Rome in 2 days!
Book Here: Castel Sant'Angelo Skip-the-Line Ticket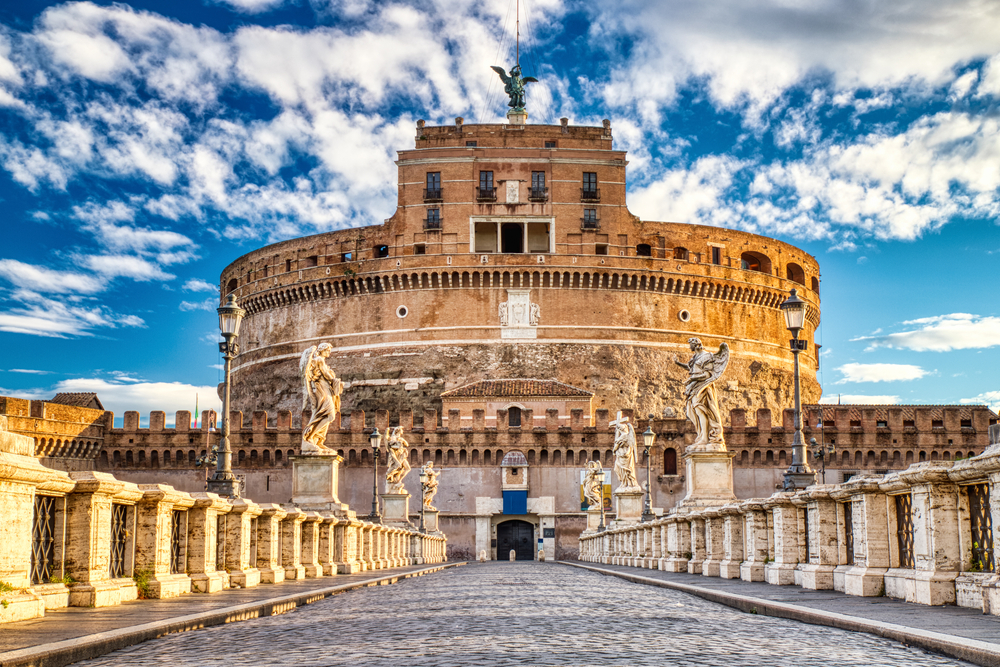 Stop 4: Visit the Pantheon
For the next stop of your Rome two-day itinerary, we suggest stopping at the Pantheon.
The Pantheon is another iconic monument of Rome as it was once a Roman temple.
Originally, this temple was dedicated to all the gods of pagan Rome.
Today it is a church, but the building still holds symbolism as one of the most preserved and influential buildings of Ancient Rome.
Built-in A.D. 118, the spectacular design, proportions, and elegance are a must-see while you're visiting Rome in a weekend.
As mentioned, it is the best-preserved Ancient Roman monument and has managed to survive raids throughout time.
The structure of the Pantheon was ahead of its time.
The exact composition of the material used to make the Pantheon is unknown.
But between its dome, statues, and gorgeous design, this is something you don't want to miss on your weekend guide to Rome.
Book Here: Pantheon Audio Guide Tour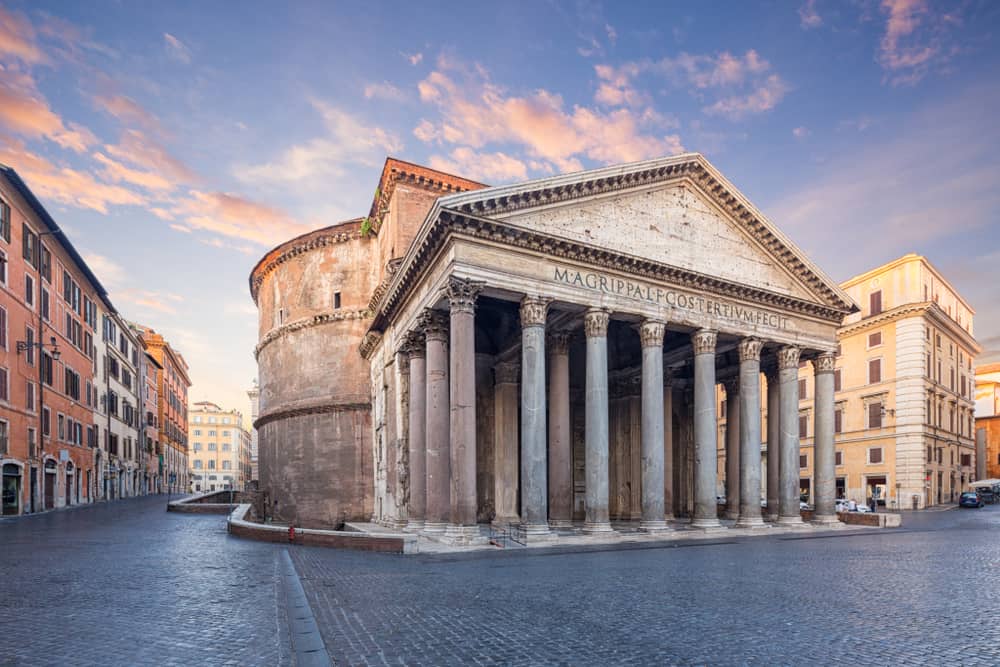 Stop 5: Stroll Piazza Navona
Last, but certainly not least, we suggest stopping at the Piazza Navona to finish your 2 days in Rome itinerary.
The Piazza Navona is a square in Rome built in the 1st century AD.
It follows the space of the Stadium of Domitian, which is located right next to the square.
Ancient Romans came here to watch games, but today it is a public space exemplifying the Baroque Roman architecture due to the Fontana di Quattro Fiumi, or Fountain of Four Rivers, located in the square.
The piazza has many monuments such as the Palazzo de Cupis and Sant'Agneses in Agone.
If you are looking for one of the best stops in Rome for foodies, this is it as there are many restaurants nearby!
It is also a familiar spot in literature and films, making it a popular destination.
The piazza has been featured in films such as Angels and Demons and Catch-22.
It is great to simply walk through the piazza and relax as this is your last stop on the itinerary.
Two days in the city is a great amount of time if you want to consider a Rome walking tour because you can see and learn about all of the sites with an experienced local guide!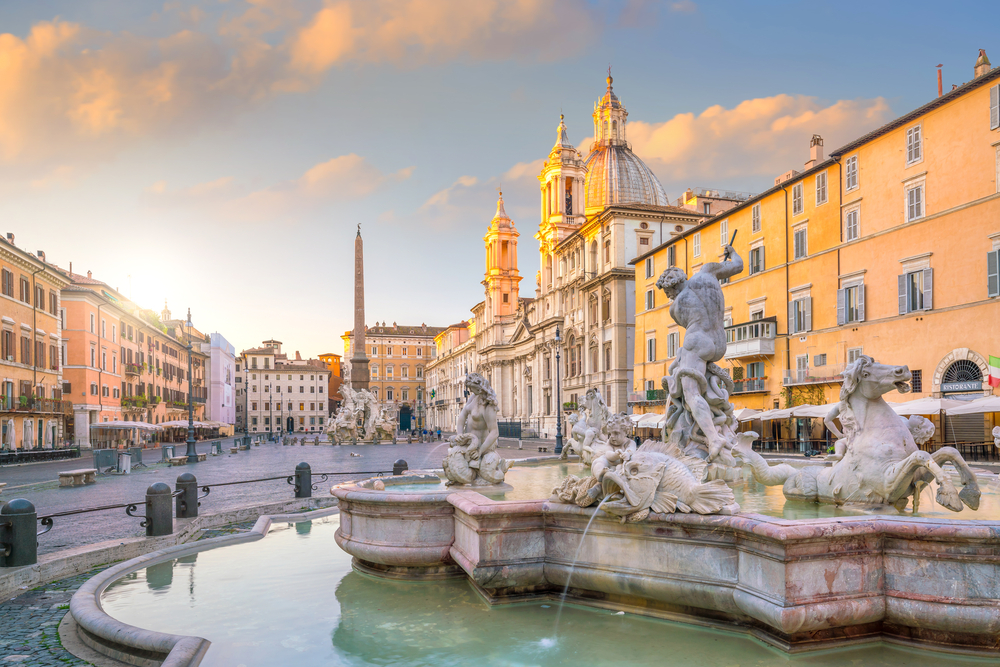 Where to Stay in Rome
Affordable: Relais Palazzo Taverna
If you are looking for where to stay in Rome on a budget, Relais Palazzo Taverna is perfect. It is found in a 15th-century building.
Each of the rooms is uniquely designed and offers a relaxing space for when you are not at one of Rome's many attractions.
It is also only a 15-minute walk from the Pantheon, Saint Peter's Square, and the Trevi Fountain, so you will have many convenient sights to explore.
Check Rates: Booking.com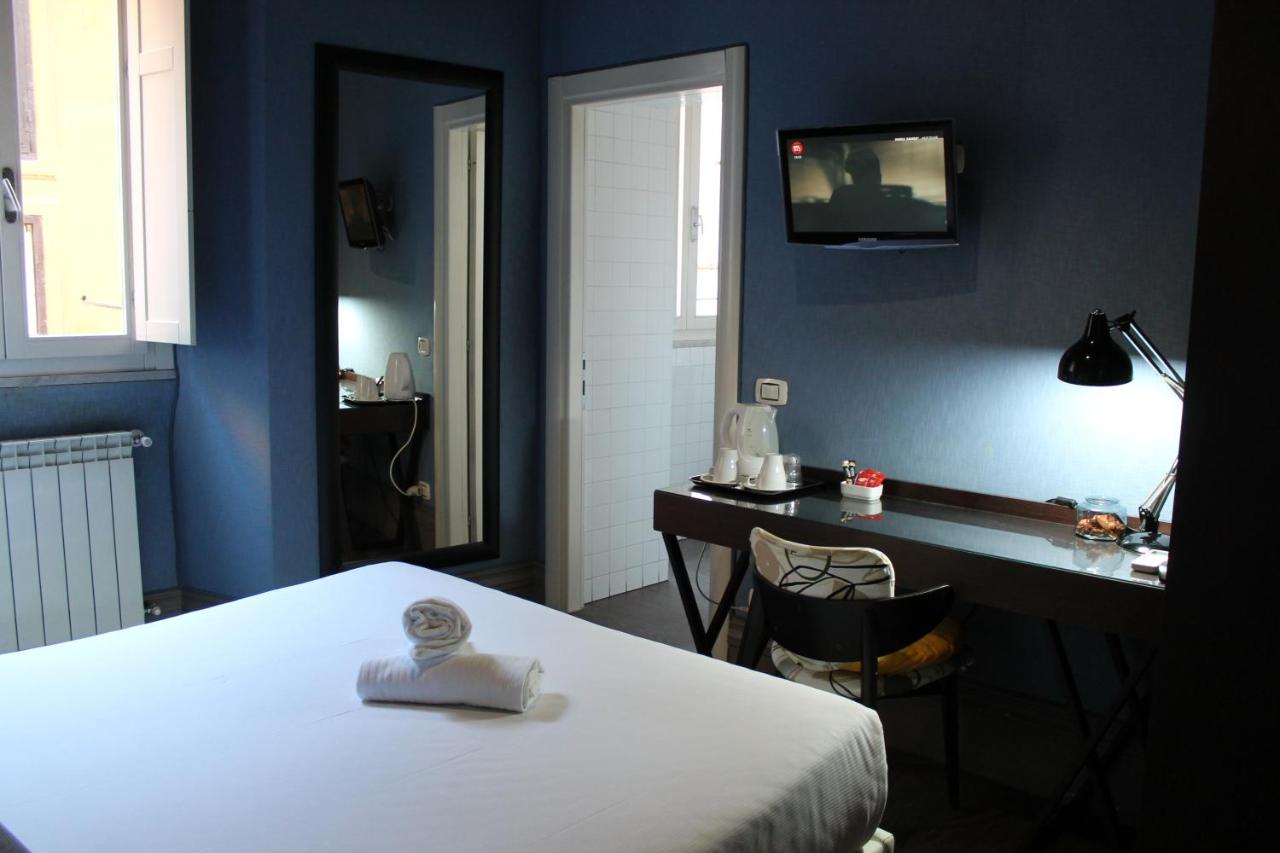 Mid-Range: Soggiorno Downtown
Soggiorno Downtown is a great place to stay in Rome if you want to be close to the Forum and the Collesium. Both are only a short walk away.
Many other Rome attractions are within walking distance as well.
The bright rooms are simple but comfy with everything you need to feel at home.
There is also a continental breakfast served daily.
Check Rates: Booking.com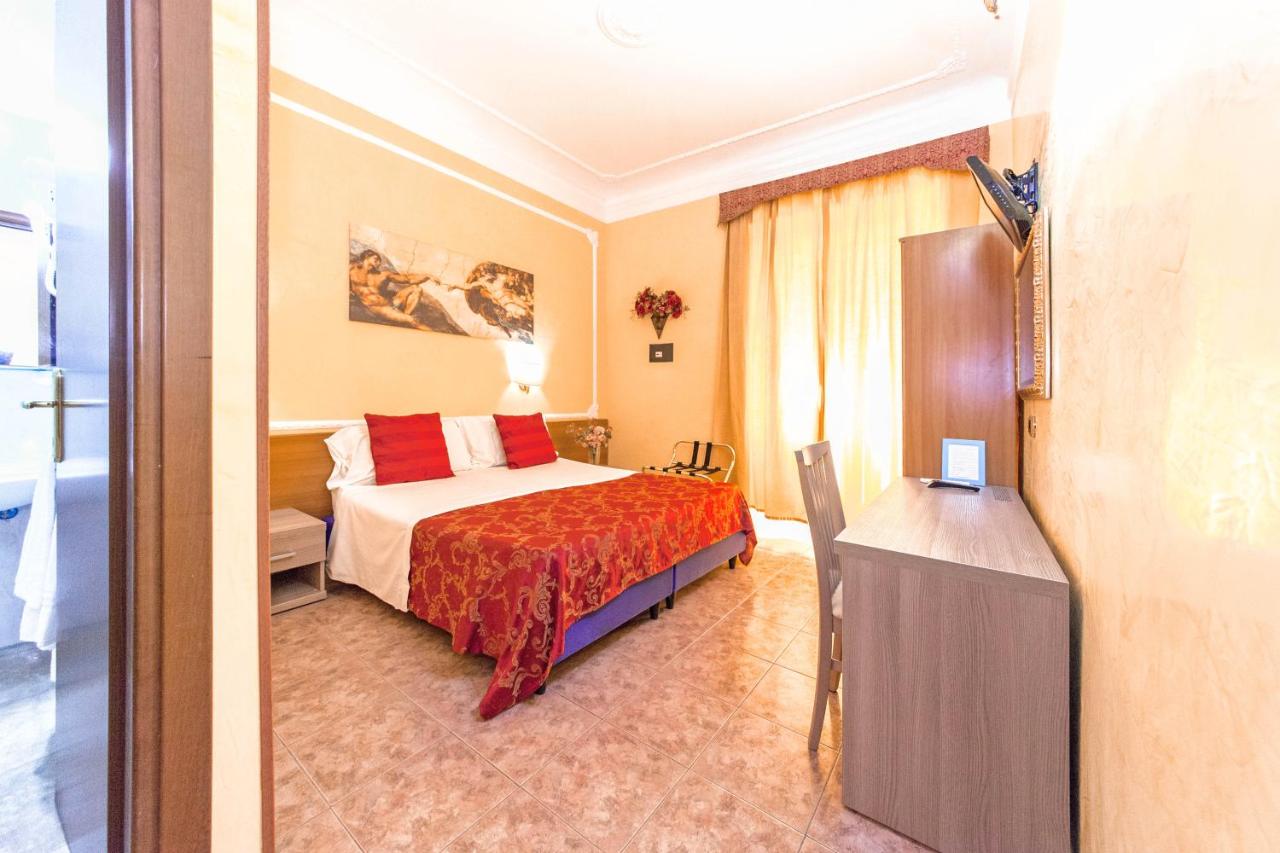 Luxury: Tree Charm
Not only is Tree Charme one of the most charming hotels in Rome, but it is also in an awesome location.
Set on the banks of River Tiber, it is a 15-minute walk to the Vatican, and Campo de' Fiori Square is only 1,800 feet away from the hotel!
The rooms are designed with both comfort and style in mind. You will also love the pretty terrace.
This is a romantic place to stay during a couple's trip to Rome.
Check Rates: Booking.com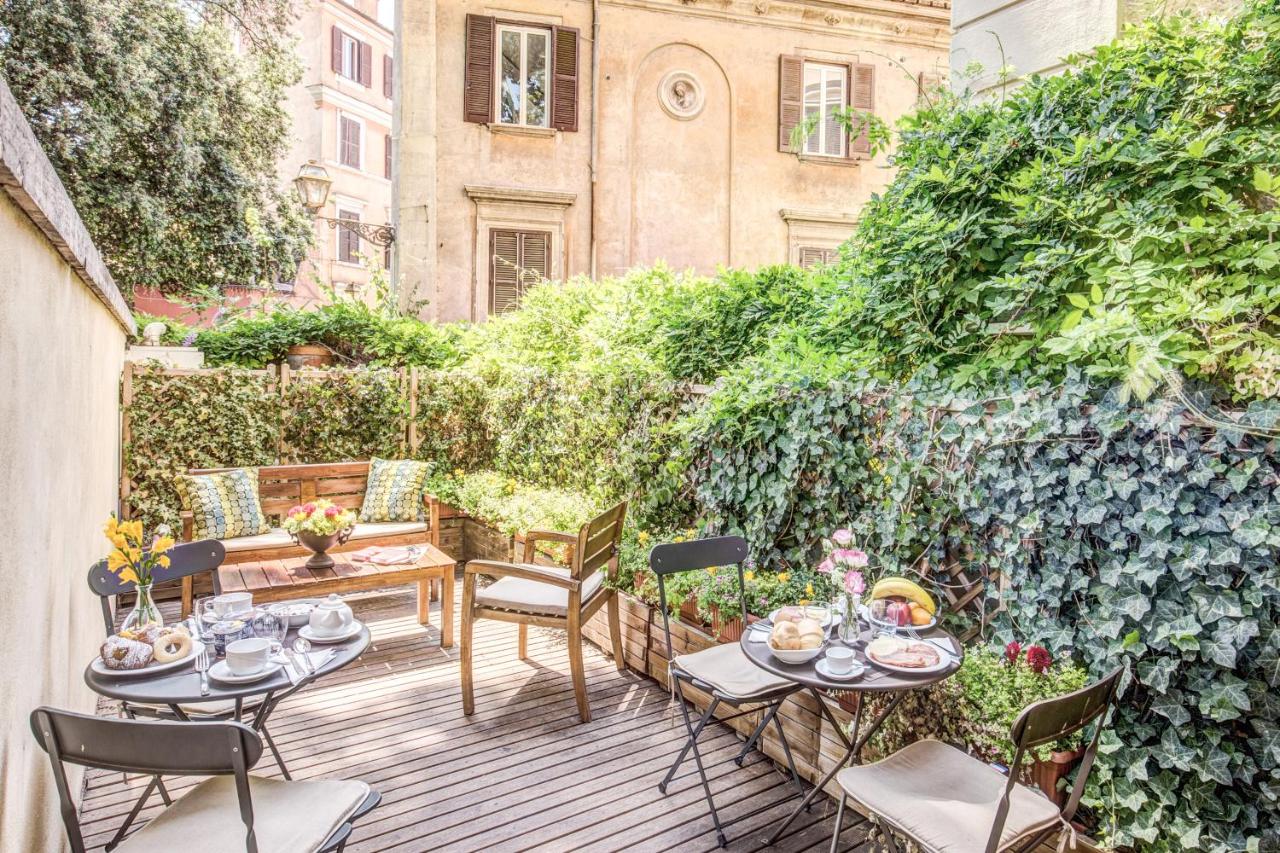 Where to Eat During Your 2 Days in Rome
There are so many choices of where to eat in Rome from street food to fine dining. Here are a few options for you to taste test.
Er Buchetto
If you are looking for a budget place to eat, Er Buchetto offers delicious, authentic porchetta sandwiches that will leave your mouth watering.
The pork is slow-cooked with tasty herbs and spices that come through in each bite.
This restaurant has been open since 1890 and run by the same family for six generations!
If you are looking for a quick bite, this hidden gem is the place to go!
Sbanco
Of course, you will want to try some pizza while in Italy!
Sbanco is one of the best pizzerias in Rome and is sure to satisfy your cravings. It is popular with locals and usually has few tourists.
There are many different pizzas to choose from with all sorts of toppings.
There is also a great selection of beer and desserts. This is the perfect stop during your fun weekend trip to Rome.
Trattoria Al Moro
Near the Trevi Fountain, Trattoria Al Moro is a wonderful place to dine in Rome.
You will enjoy traditional dishes with a modern twist made with fresh and local ingredients.
The menu has an assortment of pasta, meat, seafood, and vegetable dishes.
Don't forget to peruse the wine list and save room for dessert!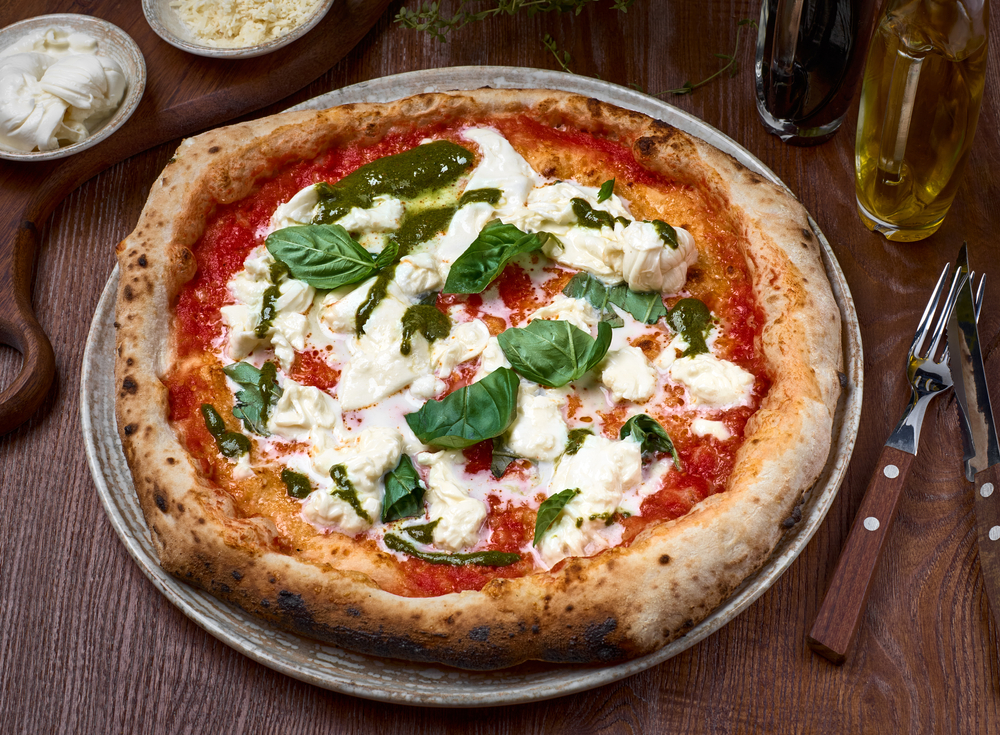 Two days in Rome is ample time for you to visit many of their most iconic monuments and enjoy the rich history, art, and culture of the Eternal City!
Using this 2 days in Rome itinerary, we do hope you get the chance to visit everything you want to see.
Italy will welcome you home with open arms, making your weekend getaway in Rome special!
If you're staying in Rome for more than 2 days, make sure to check out our detailed 10 Days in Rome Itinerary for other places to see!
You can also take some day trips from Rome to see more of Italy!