Italy may be known for its larger cities, but there are so many small towns in Italy you will not want to miss! Italy is one of the world's top tourist destinations, and it's easily one of our favorites! While you may have already added Rome, Florence, or Venice to your itinerary, these Italian towns are full of charm and beauty, and will give you an in-depth look into Italy off the beaten path.
Italy is known for it's long coastline, mountains, vineyards, and islands. There is so much beauty in Italy, it can be overwhelming! That's why we've put together the top list of small towns in Italy to visit for when you want to get away from the hustle and bustle of the more well-known cities. You can add these Italian towns into our
10 day Italy itinerary
, or you can create your own path. If you do choose to visit several of these small towns in Italy on your next vacation, renting a car may be a useful way to travel around the country. Don't make any of these
7 big mistakes when renting a car in Italy
.
Get ready for a lot of beauty, a lot of history, and all the gelato you can stand because here are the prettiest small towns in Italy you must see!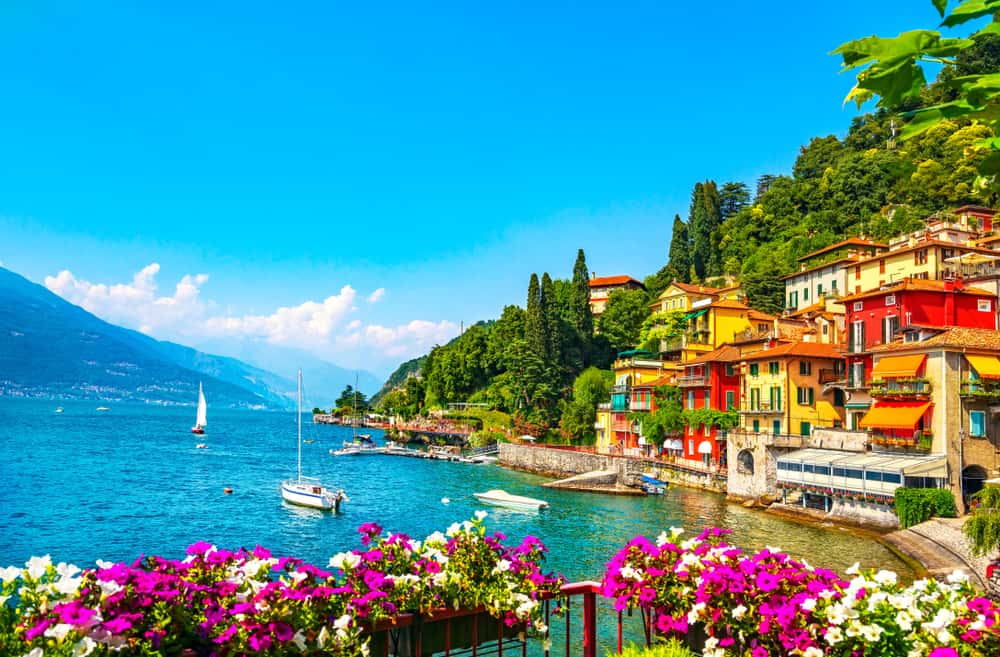 10 Prettiest Small Towns In Italy You Must See
Volterra
Volterra is located about an hour southwest of Florence, so it makes a good day trip if you are visiting the big city and want to see a small town in Italy. Volterra is rich in history – it dates back to before the 8th century BC, settled by the Etruscans. This walled mountaintop Italian town has long fortification walls that were built at the end of the 4th century BC and which can still be seen today.
What to See in Volterra
In the 13th century, Volterra was under the rule of the Republic of Florence, and there are several structures dating back to those medieval times, including the Palazzo dei Priori and the Palazzo Pretorio which stand over the town's central piazza. The Palazzo dei Priori is Tuscany's oldest town hall, although the tower was destroyed by an earthquake and rebuilt in the 1800s. Today, you can tour the interior and even climb the bell tower, although admission is ticketed.
Nearby the Palazzo dei Priori and the Palazzo Pretorio sits the Cathedral of Santa Maria Assunta, which dates back to the 12th century, although much of the interior was modified during the Renaissance.
If you are interested in Etruscan history, this small town in Italy is full of it! Volterra boasts The Guarnacci Etruscan Museum, the walls and gates, and an Etruscan acropolis. Volterra is full of Roman history as well. There is a Roman amphitheater and Roman baths that date back to the 1st century and 4th century, respectively.
Finally, if you are visiting this small Italian town, you won't help but spot the Medici Fortress which rests high above Volterra on hilltop. The older part of the fortress was built in 1342, and the New Fortress in 1475. Although today it is a high-security prison, it is lovely to view from the outside.
Where to Stay in Volterra
As one of the best small towns in Italy, Volterra has plenty of options for where to stay. Our top pick is the Hotel Villa Porta All'Arco,. This villa dates back to the 19th century and is just minutes away from the Palazzo dei Priori and the Palazzo Pretorio, as well as the Porta All'Arco, one of the town's historic gates. Amenities include free WiFi and air conditioning! Parking is available for a small fee, and a breakfast buffet is offered as well!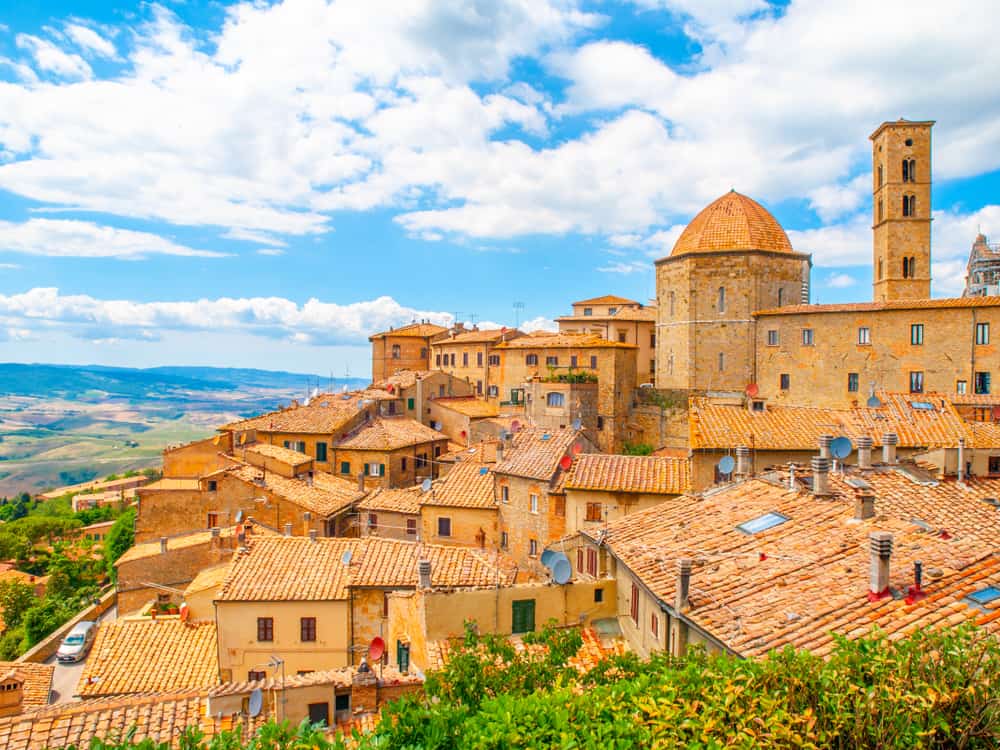 Positano
Positano is a small town in Italy located on the stunning Amalfi Coast. The Amalfi Coast is located on the western side of Southern Italy, about an hour south of Naples and Pompeii. We mention Positano in our blog on where to stay on the Amalfi Coast, but this small Italian town is so beautiful, we couldn't help but mention it again.
Positano enjoys a mild Mediterranean climate, with warm winters and mild summers cooled by the sea breeze, so it is perfect to visit during any season. Positano can be reached by car or ferry from Capri, Naples, Salerno, or Sorrento. As one of the prettiest small towns in Italy, there is no shortage of things to do!
What to See in Positano
This cliffside village is full of steep roads and colorful buildings. Just wandering the streets is a can't-miss experience! You will find delicious restaurants, art galleries, and shops. The beach, of course, is the main destination in this little Italian town. You can rent a beach chair and just relax, or get more adventurous and rent a kayak or paddle board! Another unforgettable experience? Going snorkeling or scuba diving. The views of Positano by boat are amazing, and the views underwater are fun as well!
Where to Stay in Positano
Positano hotels are known for their spectacular seaside views, and
Hotel Savoia
is no exception. Each room comes with a balcony or terrace so you can enjoy the ocean breeze and the views of the water. The location is also spectacular – it sits next to popular Mulini Square but is just 650 feet from the beach. Modern comforts include WiFi and air conditioning.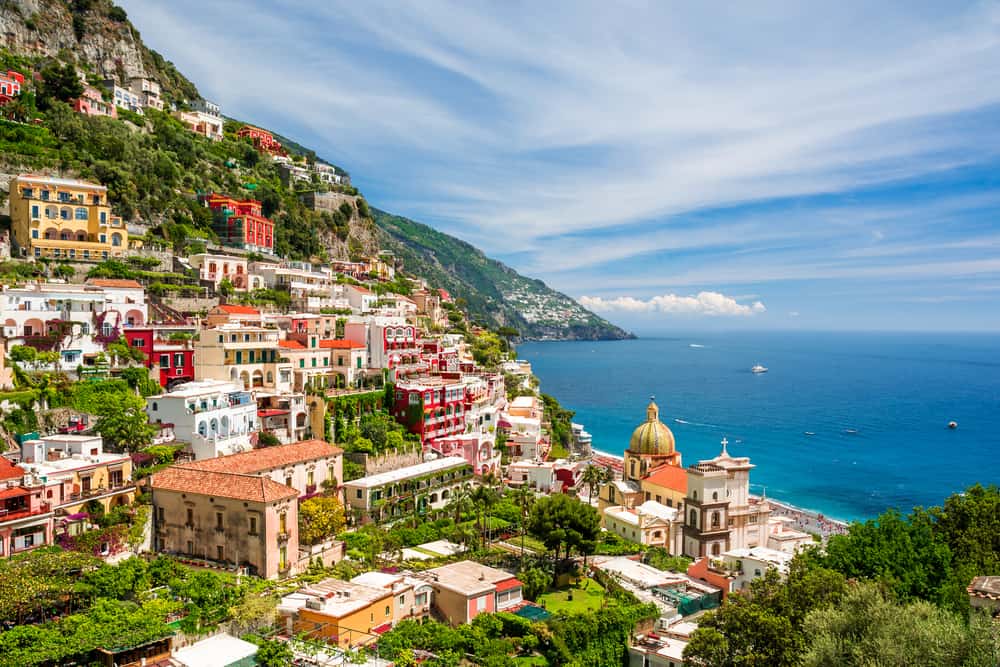 Corricella
Contrasting popular Positano, Corricella is one of the coastal small towns in Italy that you may have never heard of! Corricella is a port on the island of Procida, which is in the Bay of Naples. Although it is quite close to popular Capri, Procida gets relatively few tourists. As you watch the fishermen or take in the view of the many colorful houses, you may feel transported back in time.
What to See in Corricella
The main draw in Corricella is the sea. If you get tired of relaxing by the water, visit the Santa Maria delle Grazie, a church built in 1679. At the highest and northernmost tip of Procida is the Terra Murata, a fortified medieval stronghold and site of one of the best views of the Bay of Naples.
Where to Stay in Corricella
Although it is feasible to see all of Corricella in a day, you may want to stay overnight to fully relax from the hustle and bustle of the more touristic Italian destinations. Because it is so small and sees relatively few tourists, hotels are rare, but we like the small and welcoming Piccolo Bed. You'll enjoy a patio or terrace, and the free WiFi! Guests will also enjoy an Italian breakfast.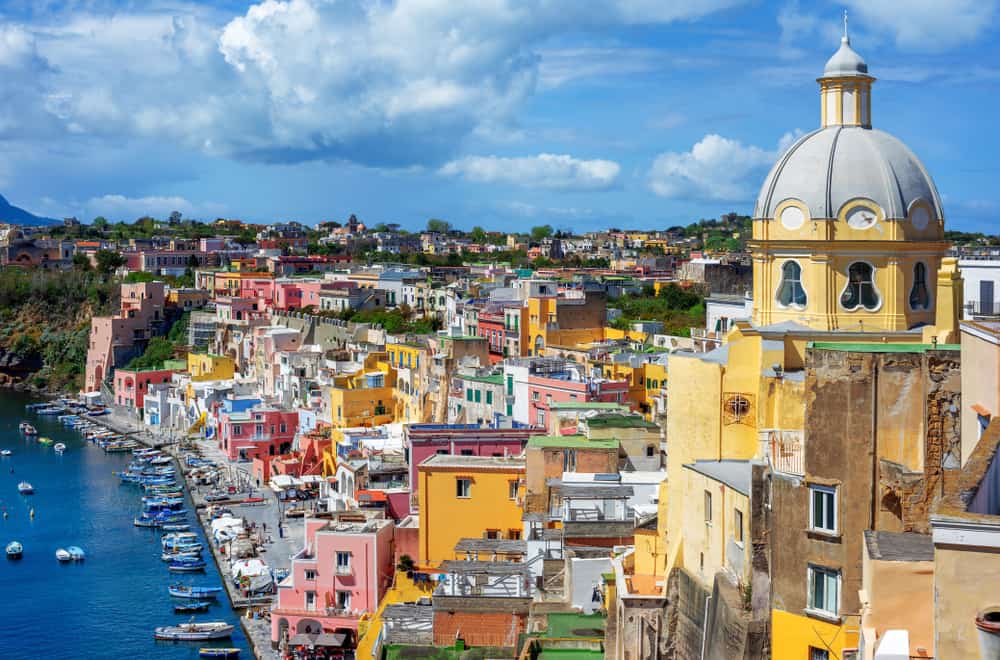 Alberobello
Of all the small towns in Italy, Alberobello may be the most aesthetically interesting! While Positano and Corricella are known for their colorful homes, Alberobello is known for its trulli: white-tipped, cone-shaped buildings that number in the thousands in Alberobello. In fact, and this Italian town as a whole, have been named a UNESCO World Heritage Site. Although the trulli were originally built as dwellings, today they more often take on the form of souvenir shops. Alberobello is located in the southern Italian region of Puglia.
What to See in Alberobello
What to see in Alberobello? Well, Trulli, of course. And there is no better place to see Trulli than the Rione Monti quarter, which has over 1,000 Trulli structures. Wander the streets, taking photographs of these odd yet photogenic buildings. It is in the Rione Monti quarter that you will find the Chiesa di Sant'Antonio, a twentieth-century Trullo church. Further away, but worth the visit, is Trullo Sovrano, a unique two-story Trullo. Due to the growing tourist interest in Alberobello, you will want to time your visit well – we suggest going in the offseason, and venturing out in the early hours to see the town.
Where to Stay in Alberobello
If you are going to stay in Alberobello, you will want to stay in a Trullo! Trulli Lithos Suite offers you that chance! This hotel is located just minutes from Trullo Sovrano and the Trullo Church of St. Anthony, making it an ideal location. This hotel also features free WiFi, free parking, and air conditioning.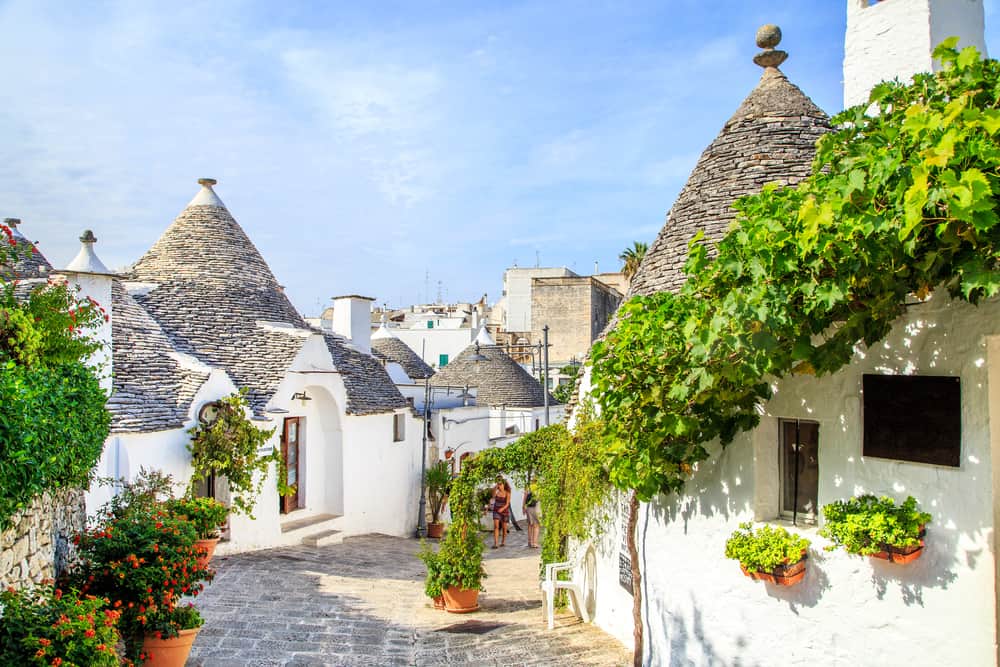 Varenna
Sitting on the eastern coast of Lake Como, Varenna is one of our favorite small towns in Italy. It is about 40 miles north of Milan, so if you're staying in the trendy, fashion-forward city, it's worth it to take a day or two in Varenna – or more! Varenna is also close to the Swiss border, so you can easily travel to many destinations within Switzerland.
Although still small compared to Italy's big cities, Varenna is one of the bigger Italian towns on this list. There are plenty of things to do and places to stay.
What to See in Varenna
Varenna has four major sights. The city center, Castello di Vezio, Villa Monastero, and of course Lake Como!
If you are taking a train to Varenna, the city center is just ten minutes away from the train station. The main square, Piazza San Giorgio, is surrounded by historic hotels and a 14th century church, the Chiesa di San Giorgio. From the city center, go east towards Castello di Vezio to get a panoramic view of Lake Como, or go west towards Riva Grande, the charming lakefront.
You will also want to set aside some time to visit Villa Monastero, an opulent villa that was once a monastery, then a residence, and is now a museum with botanical garden. The gardens, the interiors, and the lake view are all impressive. You can also visit Casa Museo museum. The museum is open to the public Thursday through Sunday, May to August. There is an admission fee.
Finally, beautiful Lake Como is the highlight of this Italian town. Relax lakeside and work on your tan, swim, or take a boat tour. No matter how you choose to enjoy Lake Como, you won't be disappointed!
Where to Stay in Varenna
Remember when we mentioned the historic hotels along the Piazza San Giorgio? You can stay in one of them – the Hotel Royal Victoria, which dates back to the 1800s. Each room is equipped with WiFi and air conditioning, and some rooms offer a balcony with a view over Lake Como. The property features beautiful gardens, a swimming pool, and a wellness center with a sauna and steam bath.
If you're looking for something smaller-scale, Booking.com has several Varenna apartments you can rent for your stay in Varenna.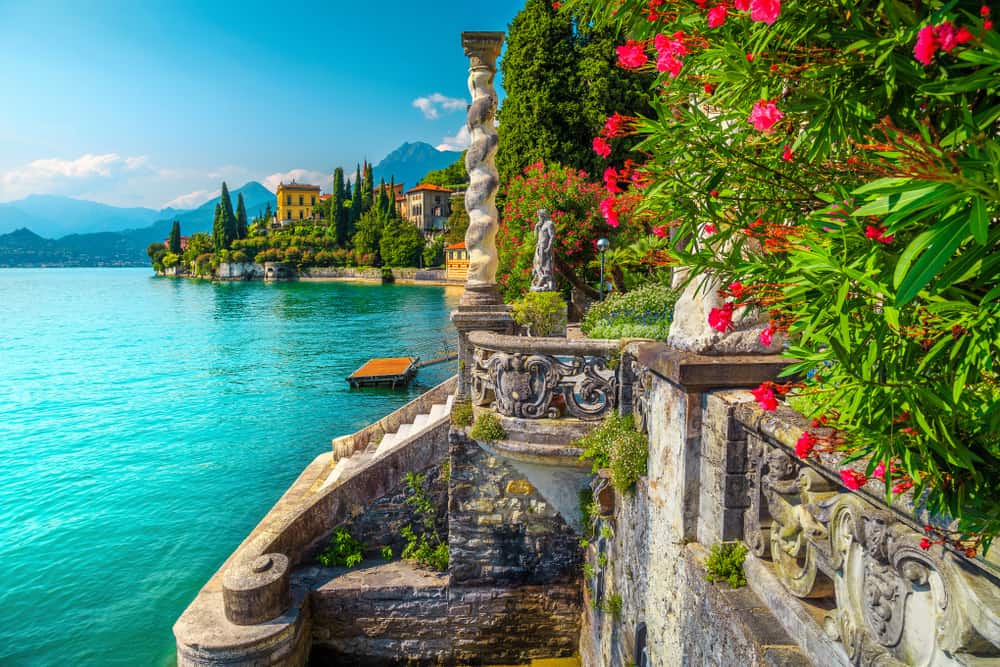 Santa Maddalena
Santa Maddalena, sometimes referred to as Santa Magdalena, is a small town in Italy at the base of the Odle Mountain Group of the famous Dolomites. Located in a valley, the mountains tower above this small town for a view that is unforgettable.
Whether you are planning your 10 days in Italy, have a bit more time and are spending 2 weeks in Italy, or renting a car and doing an Italy road trip, you can visit the Dolomites! They are one of our favorite places in Italy and shouldn't be missed!
We even have a full Northern Italy itinerary if you are interested in exploring this region in more detail. We highly suggest it as it is one of the most beautiful spots in Italy!
What to See in Santa Maddalena
When we call Santa Maddalena a small town in Italy, we mean it! It has less than 400 inhabitants and is not a huge tourist spot either. The main draw in Santa Maddalena is Santa Maddalena Church, which is a popular site for photography. Santa Maddalena is also known for its hiking, and in the winter, skiing.
Where to Stay in Santa Maddalena
La Casies Mountain Living Hotel is one of the top-rated hotels in Santa Maddalena. All of the rooms have balconies that overlook the mountains. The property also has an indoor pool, restaurant, spa, and wellness center. You may never want to leave – but if you do, La Casies offers free bicycles for guests to use. Breakfast and WiFi are included as well.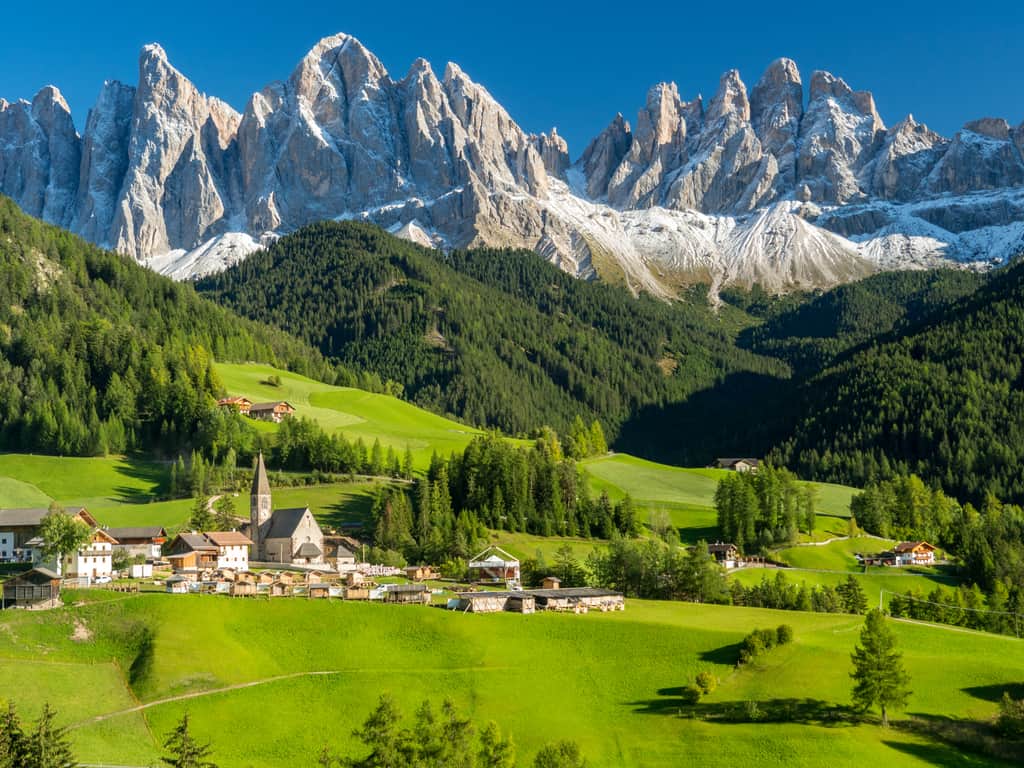 Vernazza
Vernazza is one of the five small towns in Italy that make up Cinque Terre, and its beach is on our list of 7 best Cinque Terre beaches. Cinque Terre as a whole is listed as a UNESCO World Heritage site. With the only true harbor in Cinque Terre, Vernazza is a true fishing village. There is a small beach, but sightseeing is much more popular than relaxing by the beach. Although tourism is the main industry in Vernazza, wine and olive oil production still continue, so be sure to try out these products while you're there!
What to See in Vernazza
Like many small towns in Italy, it is the colorful village itself – and the view of the water – that is the main sightseeing draw. However, if you are looking for historical monuments, Vernazza does not disappoint. Near the harbor, you will find the 14th century Church of Santa Margherita di Antiochia. In Vernazza, you can also see the 12th century fortifications which were built to protect the town, including the tower of the Doria Castle.
Where to Stay in Vernazza
Locanda Valeria is located high in the hills of Vernazza, so you will have to walk a bit to get to town, but the views from this hotel are so worth it. Locanda Valeria is a true boutique hotel with only 6 rooms, most of which have sea views. Locanda Valeria offers free WiFi.
Check out: Where To Stay In Cinque Terre By Village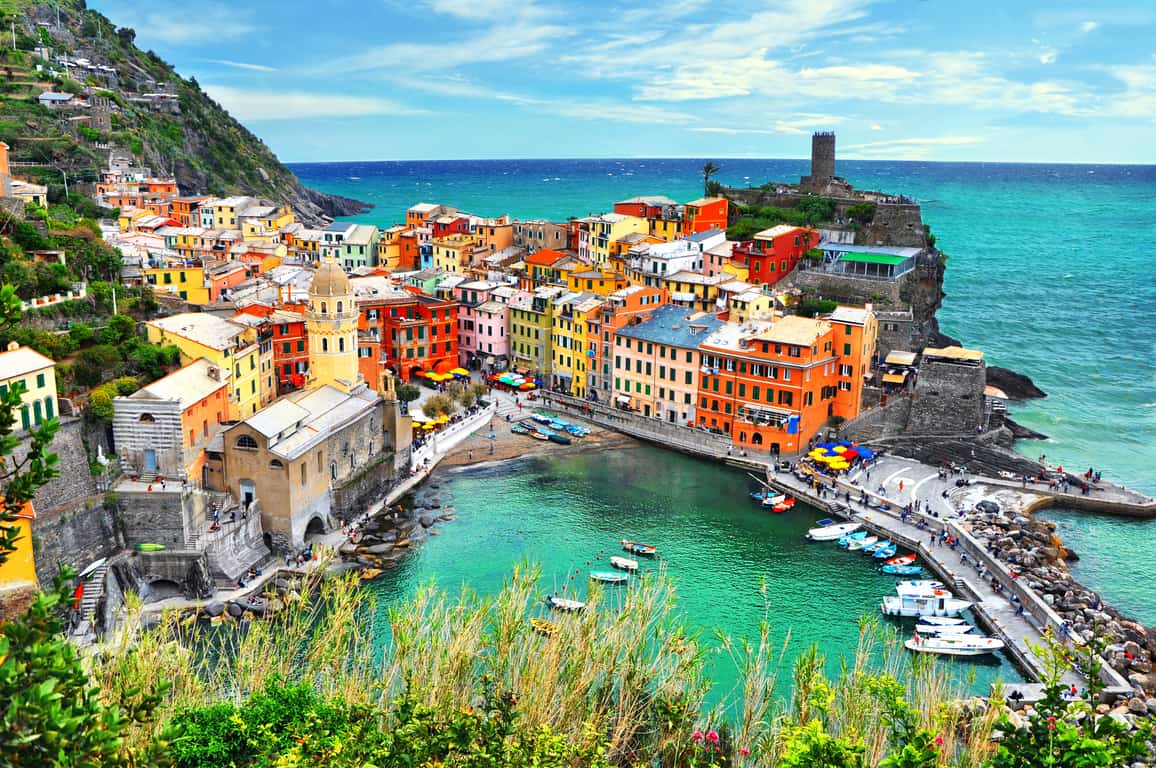 Savoca
If you choose to head south to Sicily, you will not want to miss Savoca! This small town in Sicily in Italy is well-known for being one of the filming locations for The Godfather. This village is perched high above the sea, providing beautiful vistas. Though close to the water, Savoca does not offer a beach – but you can explore our list of 12 beautiful beaches in Sicily if that is what you are looking for.
Things to Do in Savoca
The most popular tourist attraction in Savoca is Bar Vitelli, where a young Michael Corleone, played by Al Pacino, asks Apollonia's father for her hand in marriage. The bar is decorated with stills from the movie, and although it is very touristic, the food and drinks are still delicious and reasonably priced.
Other than its Hollywood claim to fame, Savoca offers many interesting historical sites, including three notable churches. The Chiesa Madre, Savoca's Mother Church, was founded in the 12th century along with the village itself. Next would be the Chiesa di San Michele, which dates back to the year 1250. Finally, the Chiesa di San Nicolò is a 15th century church where Michael and Appollonia get married.
Finally, don't miss the ruins of the Castle of Pentefur, and of the walls and ancient town gate.
Where to Stay in Savoca
San Rocco is a medieval village that has been transformed into a 4-star hotel. Resort Borgo San Rocco has everything you need for a relaxing stay in Savoca. Each room has a balcony, terrace, or patio overlooking Savoca. You'll love the buffet breakfast each morning, as well as the air conditioning and free WiFi.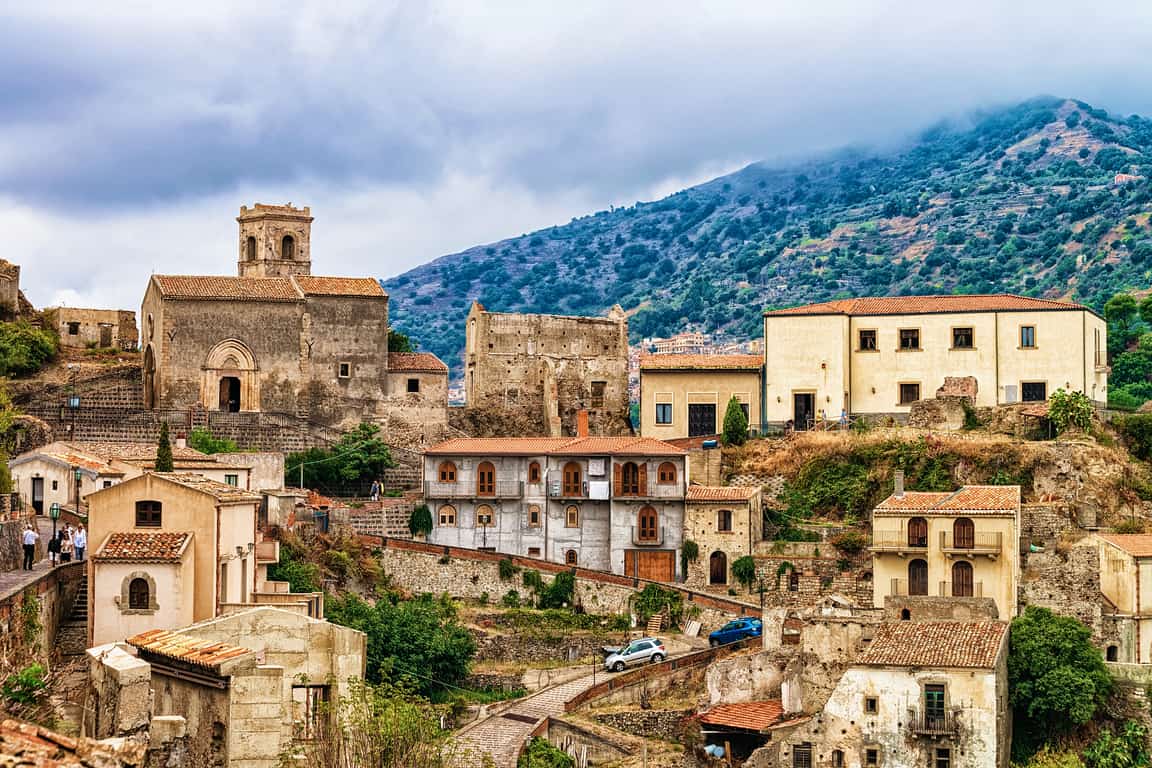 Pietrapertosa
Pietrapertosa is located in the Southern Italian region of Basilicata, just over two hours southeast of Naples. Pietrapertosa is also the highest town in Basilicata, built into a cliff face, giving it the nickname "City in the Clouds."
What to See in Pietrapertosa
Like in most small towns in Italy, Pietrapertosa is full of historical sites, including an ancient Saracen Castle which offers incredible views. There are also three important churches, the Chapel of the Assunta, the Chiesa Madre di San Giacomo, and San Francesco's Church. The most exciting attraction, though, is the high-speed, high-altitude zip line, the Flight of the Angel.
Where to Stay in Pietrapertosa
B&B La Casa Sulla Roccia is a quaint bed and breakfast located in Pietrapertosa. Some of the rooms offer kitchenettes, and there is even a hot tub on site. All of the rooms offer free WiFi.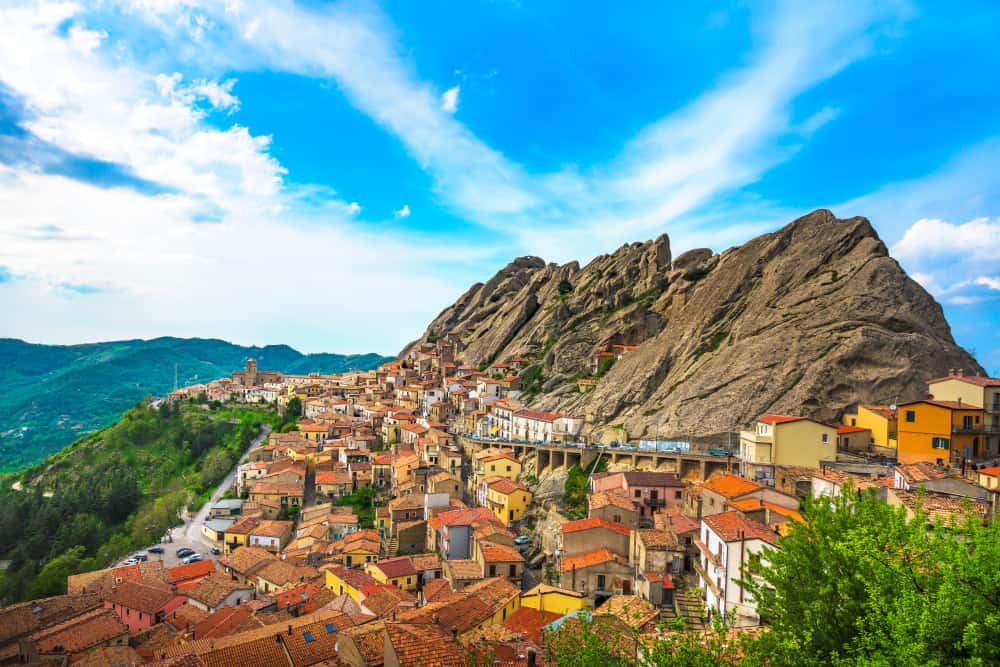 Dozza
Dozza is a small town about forty minutes from Bologna. Every two years in September, the village is home to the Festival of the Painted Wall, where famous local and international artists paint permanent murals on the walls of the houses.
What to See in Dozza
The painted houses in Dozza are a beautiful attraction, but Dozza is also home to a 13th century fortress that now includes a museum and wine cellar. The Rocca is beautiful inside and out and is well-worth a visit. It was a private residence until 1960, but now tourists can tour inside.
Where to Stay in Dozza
Just outside of Dozza is Villa Resta & Dependance, which features lush gardens, an outdoor pool, and a tennis court. The guesthouse offers bicycles to its guests, so you can bike through the Italian countryside. Each room offers air conditioning and free WiFi. Breakfast is available for a fee.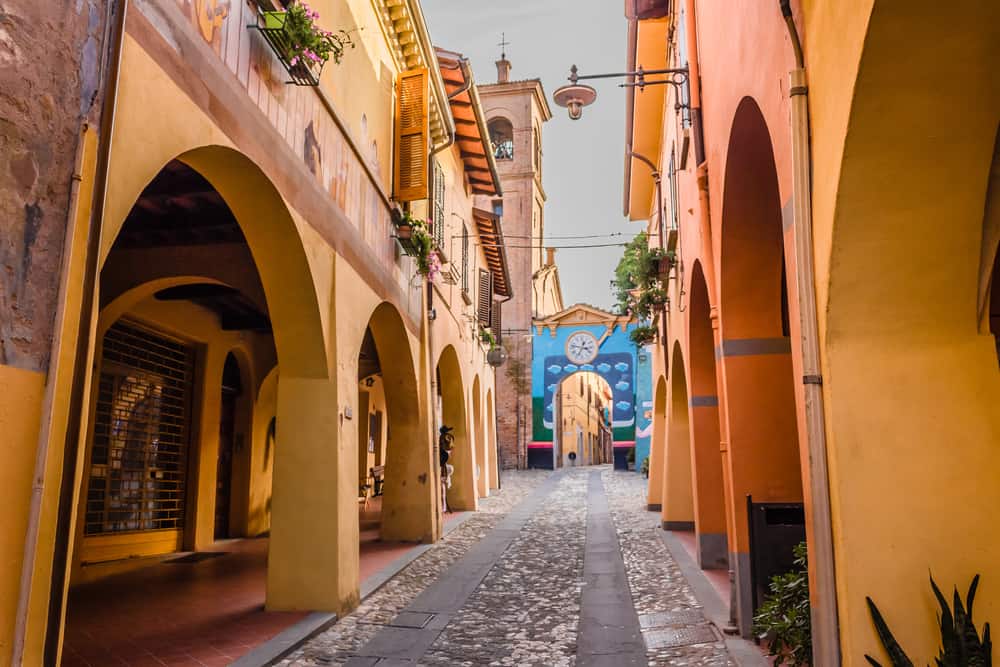 No matter where in Italy you choose to visit, you are sure to have an amazing time. Stunning landscape and a rich history combine to make an Italy trip unforgettable. From north to south, there are many small towns in Italy you will not want to miss!