If you're looking for the best Cinque Terre beaches to catch some sun, you have come to the right place! If you are reading this, you have heard about how stunning Cinque Terre beaches can be, and we are here to tell you that the rumors are right–you want to check these places out.
Planning your trip to Cinque Terre last minute?
Make sure to book your hotels and tours in Cinque Terre in advance to ensure availability! The longer you wait, the more difficult it gets. Here are our top picks for your trip:
Top Picks For Places To Stay In Cinque Terre:
Top Experiences And Tours In Cinque Terre:
Cinque Terre means five lands, referring to the number of coastal villages found in the Italian region of Liguria, but don't worry–there are way more than five Cinque Terre beaches. We have the best ones here for you to read about and as Cinque Terre is one of the prettiest places in Italy, you won't be disappointed!
Do you like sunbathing by the sea, or do your tastes run more along the unique and unorthodox? Either way, there is a Cinque Terre beach for you. Whether you are trying to find your own spot of tranquility, or just trying to figure out what all the hype is about, there is a Cinque Terre beach for you. If you are looking for something that's a little different, but still somehow familiar, you guessed it–there's a Cinque Terre beach for you! Read on to learn more about which one (or ones!) you want to seriously think about visiting.
Whether you are spending 10 days in Italy, have a little more time like 2 weeks, or are renting a car and planning an Italy road trip, Cinque Terre is a fabulous place to stop and we include it on every itinerary. These are the best places to catch some sun!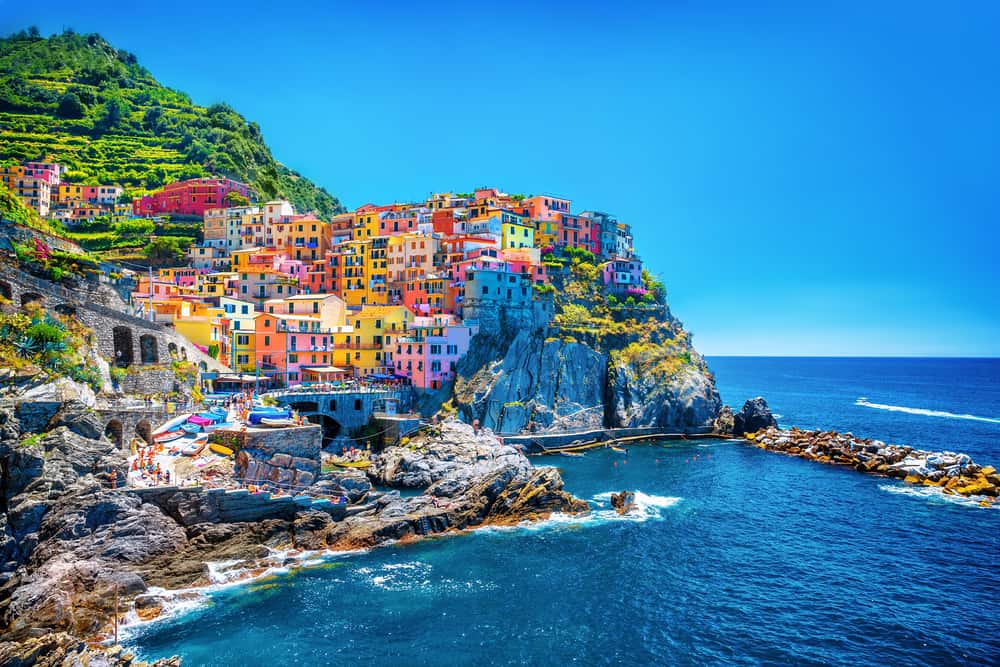 7 Best Cinque Terre Beaches to Catch Some Sun
Vernazza Beach
Vernazza is often referred to as the most beautiful Cinque Terre village. It is riddled with monuments, and Vernazza even has its own olive groves vineyards to visit. This village is little, but packed with things to do and see. With all of its amenities, it also manages to have a more secluded beach. Vernazza beach is the Cinque Terre beach for those who want more easily accessible solitude. If you don't want to rent a boat or have to hike down to the beach, but still like that touch of wilderness, Vernazza beach is the one to visit. There is a small sandy beach at the beginning, but don't let it trick you. Of course, you are welcome to stop here if you want–it has sand and sun, after all. But the real sight to see is located through the cliffs. Passage through them will open up to the remote and stunning beach you have been looking for.
While other Cinque Terre villages have plenty of ancient history (Monterosso Vecchio is coming up and has a lot!), Vernazza beach has its own history at the beach itself. Vernazza beach is the newest out of all the beaches in Cinque Terre. It was created by a flood in 2011 that was so drastic that three locals actually lost their lives. When the flood finally receded, it left a new beach in its place. It is the largest of the Cinque Terre beaches outside of Monterosso. Vernazza beach is a little rough because it is made of the things the flood left behind, but oh so beautiful. From the clandestine entrance through the cliffs to the pebbled sandy beach, to the soothing sea coming in and out, there is very little not to love about this Cinque Terre beach. Its history just adds to the soulfulness of the place.
Keep in mind that September in Italy is basically the last month for warmer water in the country!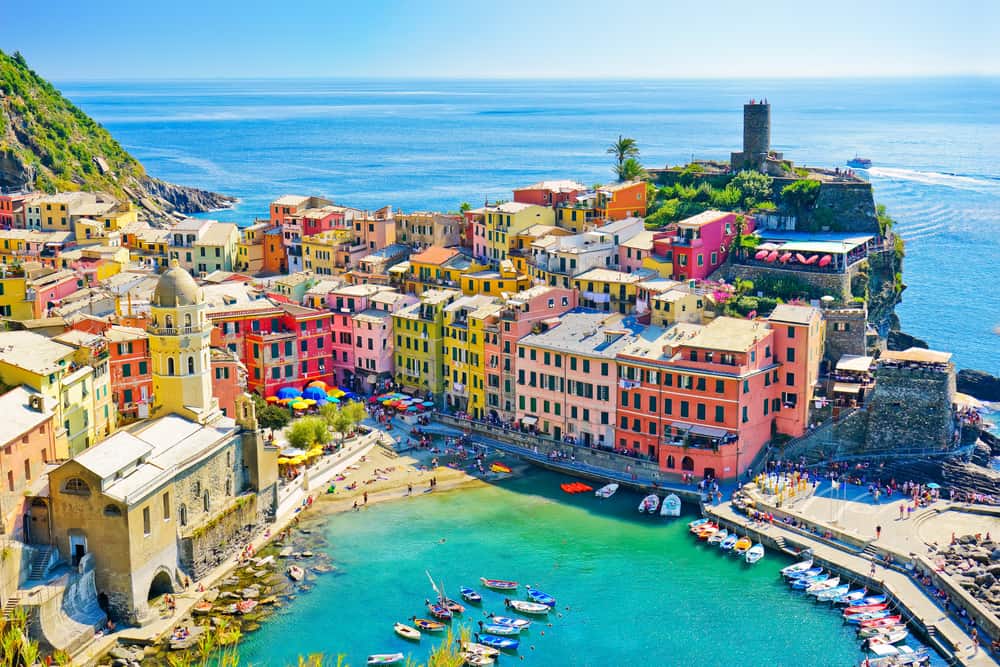 Canneto Beach
When considering which Cinque Terre beaches should be at the top, don't be afraid to look at some of the ones that are a little harder to get to. Canneto beach can only be reached by boat–you read that right, boat. You can't drive, bike, or climb to the beach. Don't let that scare you; the best things in life don't always come easy, right? There are a number of reasons why people go to so much effort to visit Canneto beach. Cinque Terre beaches aren't very traditional in the lots-of-sand sense, but Canneto beach actually does have a sandy beach to lay out on. However, the primary reason people go here is for the beauty of it.
Imagine boating through crystalline waters with nothing but possibility at your fingertips, and arriving at a remote coast with a touch of desertion–that's Canneto beach. The landscape of this Cinque Terre beach is surreal, with trees and shrubbery growing down the hillside to the coast. Turquoise waters greet the narrow beach in a crescent cove that promises a respite from life's daily hustle and bustle. While there is definitely visible evidence of civilization, there is a wildness to Canneto beach that can be hard to find in easier to reach locations. This is the place to come if you want to have a little more privacy than some of the more popular Cinque Terre beaches have to offer.
Make sure to check out our list of the Best Beaches In Italy to find out more epic places to visit!
Fegina Beach
If getting places by boat and boat alone is not your idea of vacation, that is just fine. Monterosso is one of the five villages and the largest at that, and it has two of our favorite Cinque Terre beaches. Fegina beach is on the more modern side of Monterosso and is the Cinque Terre beach for any of you who broke out in a cold sweat when reading about Canneto beach. You can get here by train, and it has much more than a little narrow beach to offer. (Or less, if you're one of those "less civilization is more" kind of people, but that's why we talked about Canneto beach first!)
Fegina beach is popular, and nothing close to the remoteness of Canneto beach. There is plenty of sand to go around here, which is a good thing because there are a lot of people using it most days! Tourists and locals alike flock to Canneto beach. Monterosso is actually the village that Italians prefer due to its ease and modern comforts. Fegina beach is the pillar for these things; it is accessible, beautiful, and has endless possibilities.
Those possibilities may well be why Fegina beach is so loved out of all the Cinque Terre beaches. You can do as little or as much as you want. You can just bring your own towel or rent an umbrella. There are numerous restaurants, casual and otherwise, strewn across the promenade. And of course, plenty of places to find you some classic Italian gelato. A lot of people love Fegina beach, but that doesn't mean you can't still have your own private escape with a good book while enjoying the amenities. You can make Fegina beach into whatever kind of experience you want to, and that is why we love it!
This is truly one of our Favorite Beaches In The World!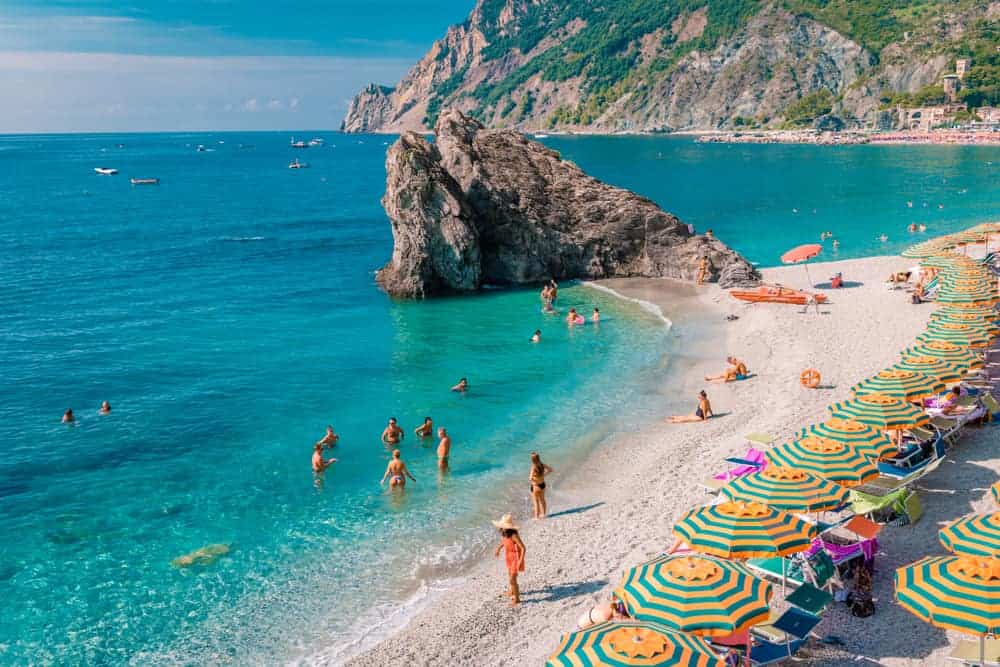 Monterosso Vecchio Beach
Monterosso Vecchio is the historical center of Monterosso, and the beach here is also popular among the Cinque Terre beaches. It has public and private zones, and is a little less touristy than Fegina beach, although not by much. Monterosso Vecchio beach is sandy like Fegina and has ample room to stretch out. You could even build that professional level sandcastle you have been secretly dreaming about. Umbrellas line the sand, their inviting colors a warm welcome to settle in and relax as you look out over the water.
Monterosso Vecchio beach is a great place to visit because of the beauty of the beach, and the quality of the history a short walk away. Visit the beach, and then visit some of the amazing sites this village has to offer. Cobblestone streets lead the way to beautifully maintained landmarks. There are Medieval fortifications, an old Roman basilica, and the quaint Church of San Francesco with its historic cemetery. All of the Cinque Terre beaches offer a hallowed glimpse into another time, but Monterosso Vecchio takes the cake when it comes to amazing history.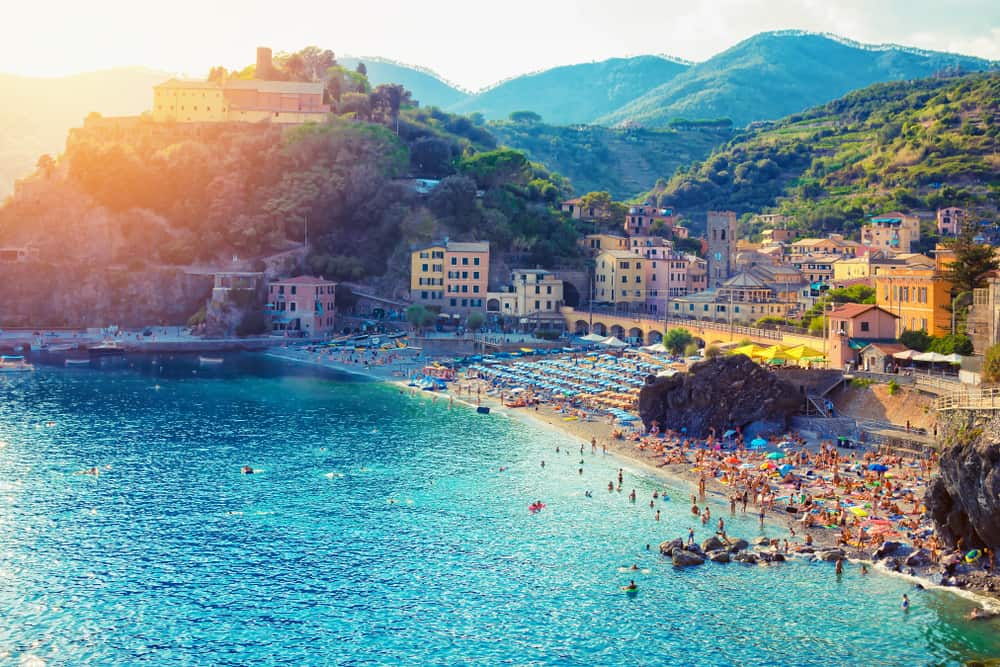 La Fossola Beach
Beaches in Cinque Terre have a reputation for being untraditional, and La Fossola beach is a perfect example of that. Instead of the umbrella lined sand of Monterosso, this beach takes a bit of a hike to get to due to the rocky hillside. You can hike there though, unlike Canneto beach! La Fossola's beach itself is made up of large and small stones. This is not the place for sandcastle dreams, or for laying out on your towel. It is too rocky for that. However, it is a great place for getting in the water and enjoying the Mediterranean Sea. You won't want to go too far into the water, it has a reputation for being very dark and deep, and close to a busy boating pier. But you can still get your feet wet and enjoy the sea. And it is definitely a great place to catch some views and soak up some sun!
This Cinque Terre beach is located by the village of Riomaggiore, which has all the amazing traditional Italian cuisine you could wish for. It is a great place to visit for a casual vacation without as many people as Monterosso but with a generous amount of amenities. Because the beach is a little more difficult to navigate due to all the stones, it is not always as crowded. It offers the rugged hillside of Canneto without all the work. The beaches of Cinque Terre all have varying mixtures of civilization and wildness, and La Fossola beach is a good one right in the middle of the two ideals.
Manarola Beach
Another of the less traditional Cinque Terre beaches is Manarola beach. It actually isn't a true beach at all, but rather a cement ramp that stretches out into the water. The cement is actually a nice feature though, providing comfortable space to lay out. And if you're hoping for a classic Italian village on a hillside, look no further. Beauty is abundant everywhere you look, from the incandescent sea to the picturesque village.
Although Manarola's beach is the least beachy of all Cinque Terre beaches, this village is not one to miss. Manarola's vineyards are more plentiful than any of the other villages, and it is naturally famous for the wines made here. You can sample them on your way to the beach, or as you peruse some of the other features of the village. Manarola's artifacts (and it has plenty of them!) also indicate that it is the oldest of the five villages. There is plenty to do and explore in this hillside village by the sea.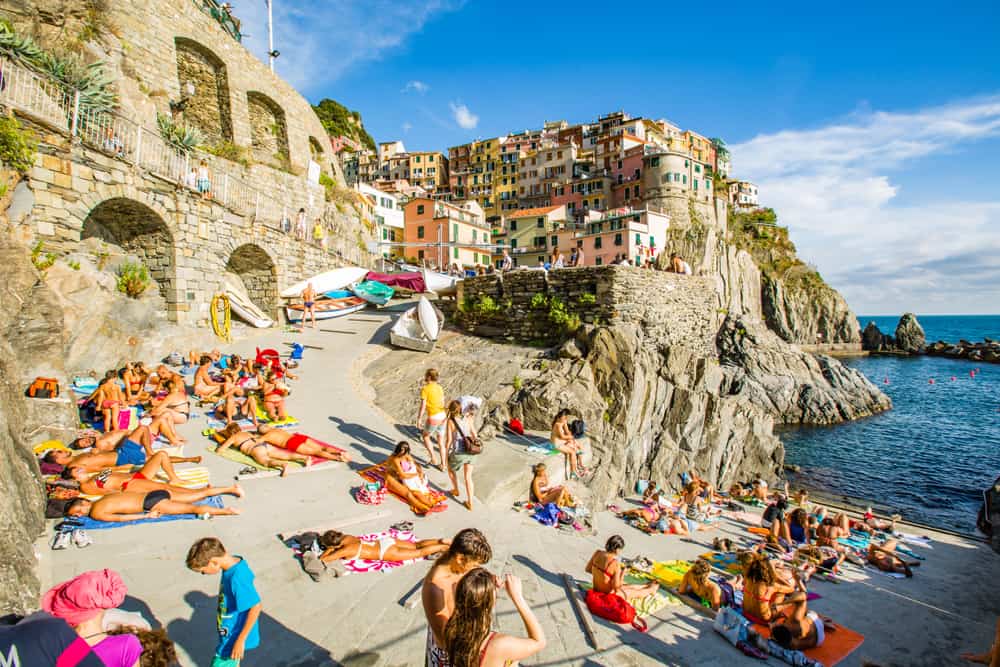 Guvano Beach
We started with Canneto beach to introduce the wildness you can find in Cinque Terre beaches, and end with Guvano beach for the same reason. Guvano beach is most easily reached by boat, but does have a difficult trail if you would rather not rent a boat. Because it is difficult to get to, Guvano beach offers more privacy than many of the others on this list. Do not brush off the difficulty though; the trail is very difficult. The last part of it has to be descended and ascended with the use of a rope, and that's if the trail is open at all. If you are not able-bodied or if the trail has been closed, it would be wise to use a boat to get here. Why take the risk? By now you realize that all Cinque Terre beaches have their own unique beauty to offer, and Guvano beach is no different.
However, Guvano beach has something else up its sleeve that the other Cinque Terre beaches don't. Guvano is an old nude beach. Some guidebooks say that going in the nude is no longer allowed, but Guvano beachgoers still often find undressed folks sunbathing there. This is all the more impressive, because this is not an easy place to sunbathe! The more sandy parts of the beach have eroded over the years, leaving behind more of the rocky pebbled beach that is characteristic of Cinque Terre beaches. People still make it a point to find a way to go here though, even as it becomes more difficult and remote. Possibly for the same reason that people go to the trouble of renting boats to visit Canneto beach–there is something about remote and deserted places that call to our own wild souls.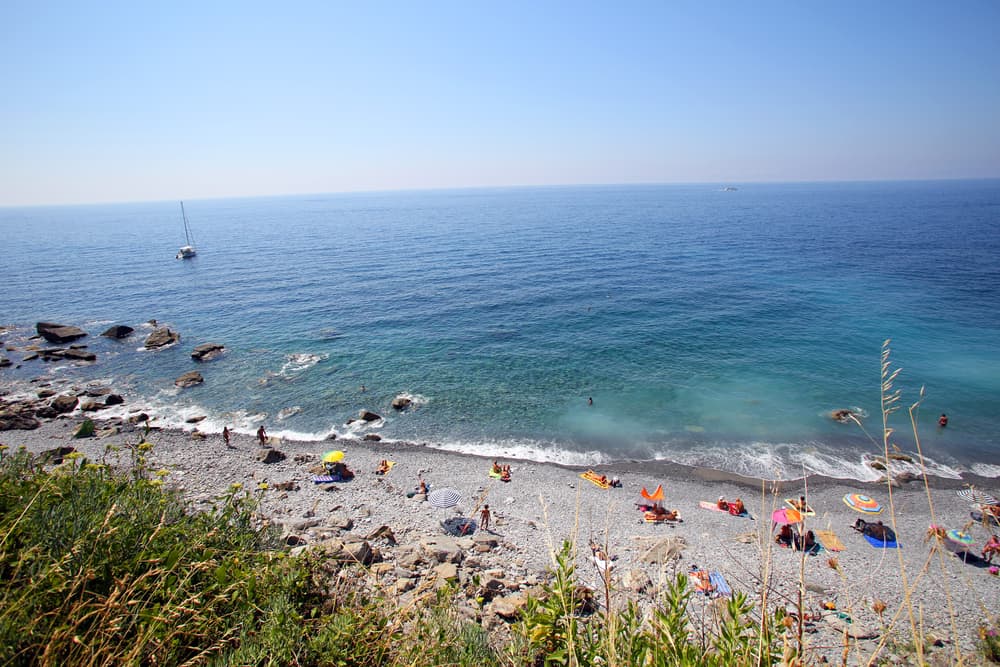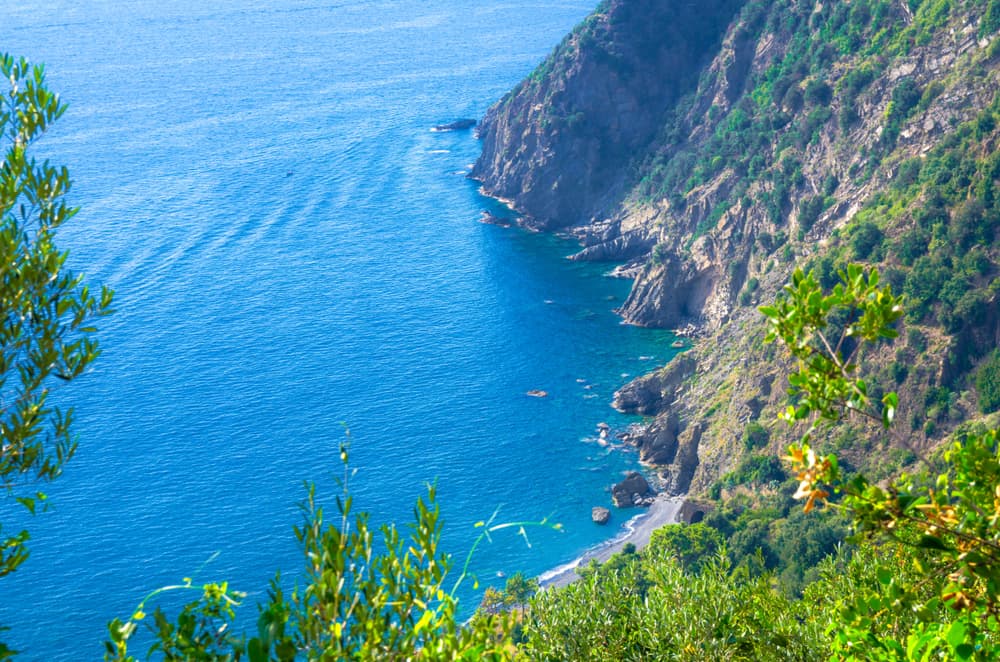 So you have read our list and concluded on some Cinque Terre beaches that you would like to visit. Or perhaps you have decided you would like to visit them all! That is actually very doable. A trail winds around through all of the villages, giving you the ability to visit all of the villages during a day. There are also boat tours that visit most of the beaches on this list. However, if Canneto or Guvano beach is at the top of your list you might want to plan to spend some more time here. Wherever you want to go, whatever you want to accomplish, Cinque Terre has a beach for you.
If you want to learn about other places in Italy to visit while you're considering Cinque Terre beaches, check out some of our other posts here.