Visiting Venice in winter is a magical and memorable experience you won't soon forget. The weather during winter in Venice will be a bit cold [Venice has an average temperature of 38°F in January and 41°F in February], but that doesn't mean you should write off visiting Venice in the winter altogether!
Planning your trip to Venice last minute?
Make sure to book your hotels and tours in Venice in advance to ensure availability! Often, things sell out the closer you get to your trip. Here are our top picks for Venice:
Top Tours And Tickets To Book In Advance:
Best Venice Hotels:
Hotel Gardena (Includes breakfast!)
Carnival Palace-Venice Collection (Close to the water bus stop)
Hotel Firenze (San Marco: Our fave location in Venice)
Winter in Venice is generally defined as December to February, but months such as November and March can experience winter weather in Venice as well. Winter in Venice means Christmas decorations and Valentine's Day treats and the chance of snow and fewer crowds to fight. With a few tips and this handy guide by your side, you will be off to an enjoyable trip to the City Of Canals during the winter months.
Save money in Venice and live like a local by staying at an Airbnb! Get a FREE $40 Airbnb Coupon by using our code when you book!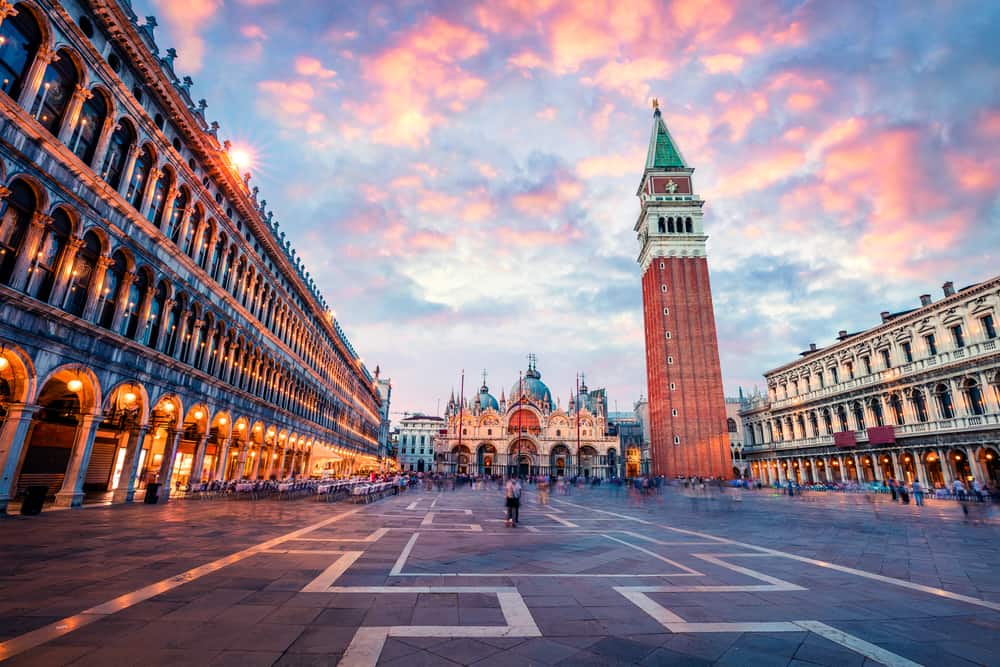 The Ultimate Guide To Visiting Venice In Winter
Average Venice Winter Weather
The average weather in Venice in winter is a bit rainy and chilly. It does snow in Venice in winter but you won't find it frequently and it won't snow until the end of January or February. December weather in Venice [and in Italy in general] is actually more on the windy and damp side, so there is less chance of snow because it is too warm and wet for the snow to form. Even if it does snow in Venice, it is usually just a dusting or 1-2 inches.
Whether you are spending 10 days in Italy, have a little more time like 2 weeks, or are renting a car and planning an Italy road trip, you can still visit Venice during the winter with no issues! The weather isn't that bad compared to other places in Europe, so dress properly and you will be fine!
Since Venice observes Daylight Savings Time, the sun sets quite early during the winter in Venice. If you are visiting Venice in winter, understand that the sun will set by 6 pm at the latest, as it gets closer to spring. Sure, this gives you shorter daylight hours, but it offers more time to explore the city by night and the rain and cold allow you a unique way to enjoy what the city has to offer. If winter is the only time you have to visit Venice, just remember that the average Venice winter weather isn't all that bad and is quite doable with the proper packing and planning!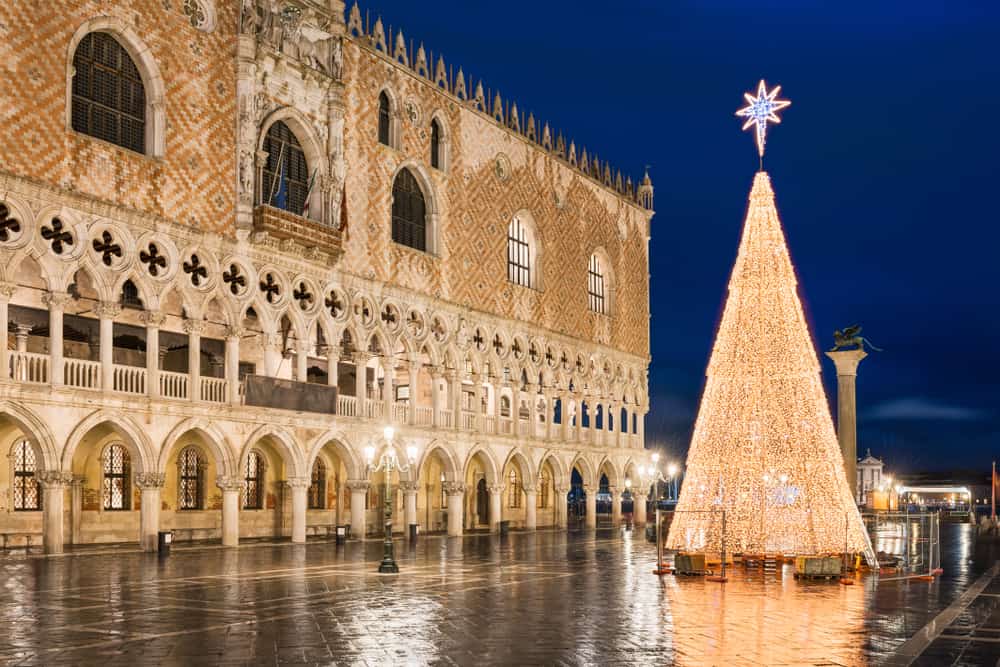 Average Winter Temperatures In Venice
The temperature of Venice in the winter is actually relatively reasonable, especially for a northern city in Italy. The average temperature of Venice in December is 39°F, the average temperature of Venice in January is 38°F, and the average temperature of Venice in February is 41°F. As you can see, these temperatures are not entirely freezing and are actually more enjoyable than similar cities such as New York City, which averages in the mid-to-low 30's during January.
If you are looking to visit Venice in the winter, rest assured that it is no colder than any other large northern city. You won't show up to your Venice winter trip and be shocked by the temperature change, especially if you already live in a place that experiences winter. We are from Florida and have visited Venice during the winter and survived just fine so if we can do it, you certainly can!
Check out these average Venice winter weather highs and lows to get an idea:
November Temperatures For Venice: 54°F high and 41°F low
December Temperatures For Venice: 46°F high and 33°F low
January Temperatures For Venice: 45°F high and 32°F low
February Temperatures For Venice: 48°F high and 34°F low
March Temperatures For Venice: 55°F high and 40°F low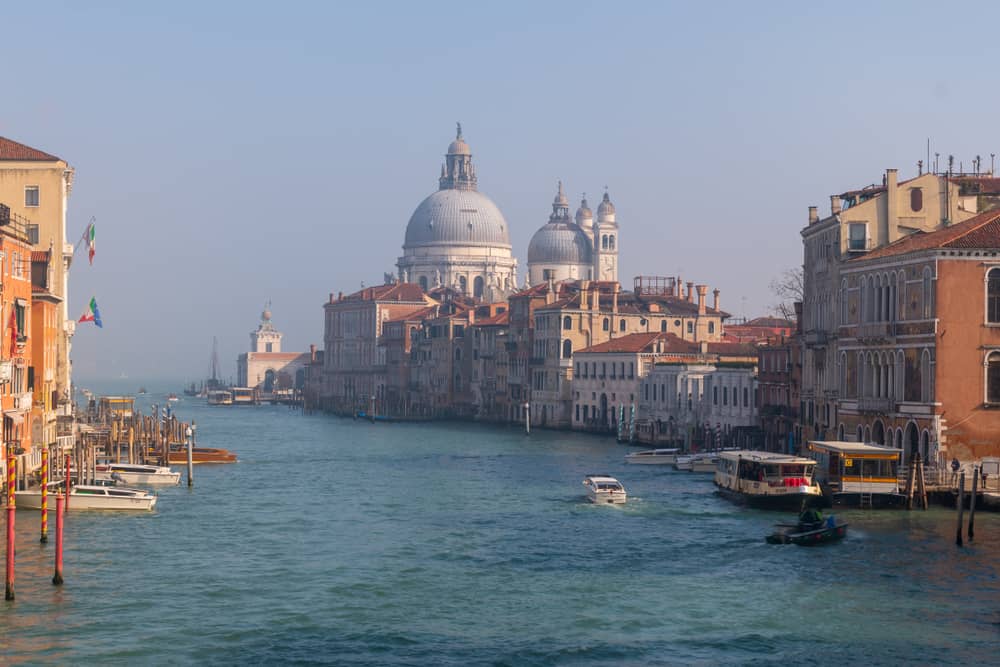 How To Get To Venice In Winter
Getting to Venice in winter is quite easy! Transportation prices will be at a yearly low during the majority of the winter, so you will save a lot of money by booking your trip to Venice in the winter! Venice Marco Polo is the main airport in which people fly into and the Treviso Airport airport is secondary and a bit further out of town. Once you land, you can take an Uber or Taxi into town or take public transportation, which is easy and affordable. If you live in Europe or you are already traveling there, you can take one of the many high-speed trains that go in and out of Venice every day! The main train stations in Venice are Venezia Santa Lucia and Venezia Mestre. Spending winter in Venice has never been easier or more affordable!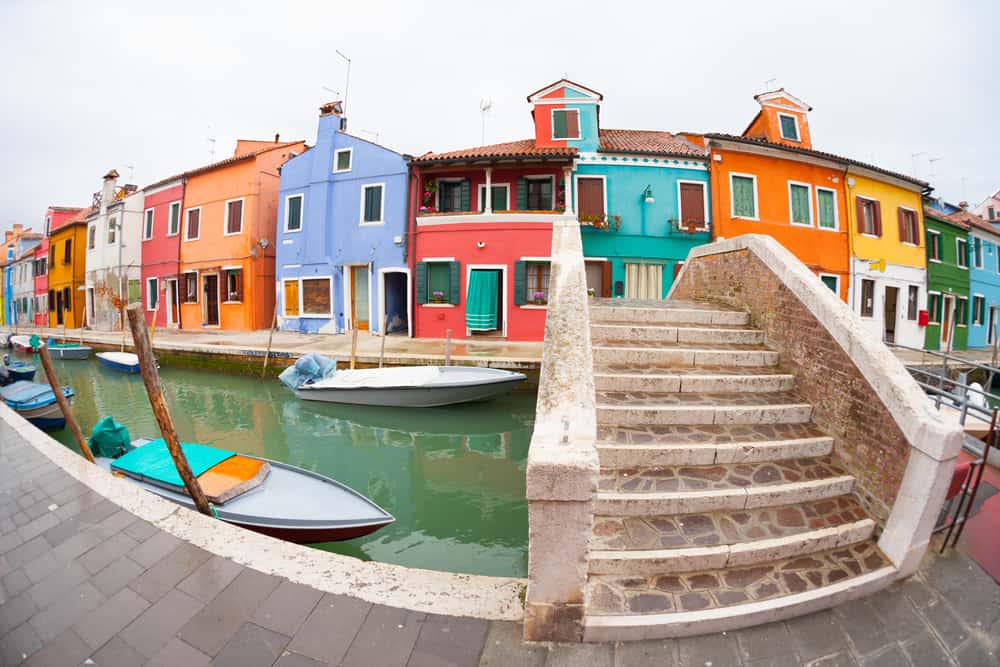 How To Get Around Venice In The Winter
If you are in good fitness Venice is a walkable city and consider taking the Vaporetti [water busses]! Vaporetti are a fast, affordable, and easy way to get around, even in winter! Vaporetti will run rain, shine, snow, and sleet, so it is pretty reliable! You can purchase a ticket for 7.50 Euros or a Travelcard with different numbers of days, depending on your needs.
Walking around Venice in winter is quite enjoyable because the city will be decked out for the holidays and then may be blanketed in snow during the early months of the year. Venice is actually a small city but surrounded by water, so if you plan to walk, remember to wear good water resistant walking shoes and to dress appropriately. Finally, depending on the weather, you can also choose to rent a bike and bike around Venice. Biking is very popular and there are many local bike stands you can rent from.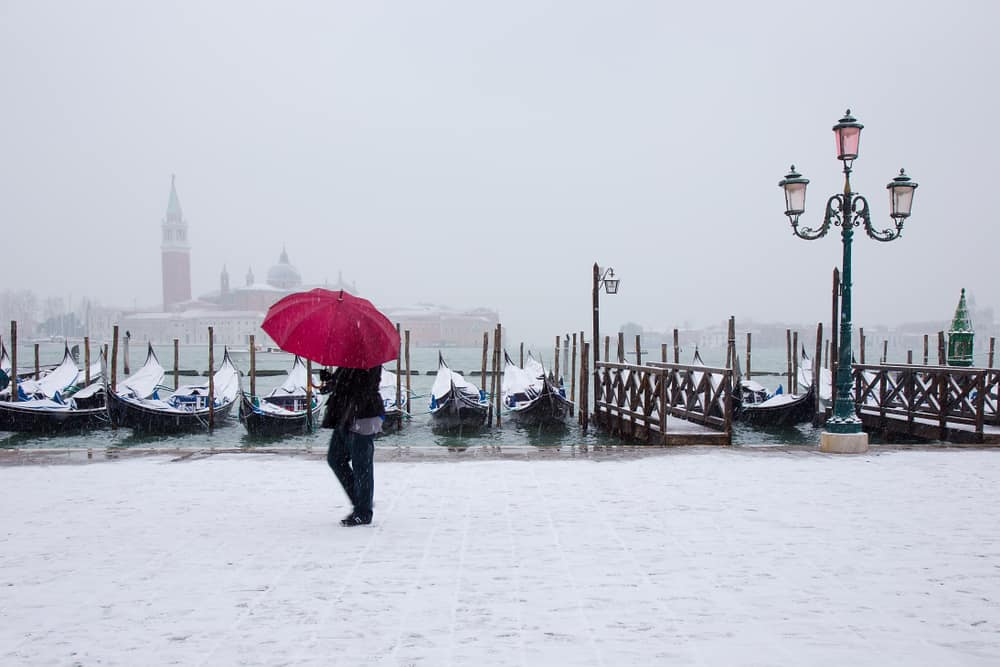 What To Pack For Venice In Winter
If you are heading to Venice in the winter, there are a few packing tips we suggest you adhere to! Visiting Venice in winter is quite enjoyable and magical, but you need to stay warm and dry. Since it is Venice, you will also want to do all these things while looking a bit fashionable too! Dressing in layers is key! This way, you can easily go from warm out on the streets of Venice to comfortable inside a building. If you get too warm or too cold, simply add or take away a layer until you feel better.
Both times we have visited Venice in winter, we packed our entire wardrobe in carry-on luggage! If you want to pack in a carry-on, know that it is totally doable! If you want to bring a checked bag, that is even better as you will have more space!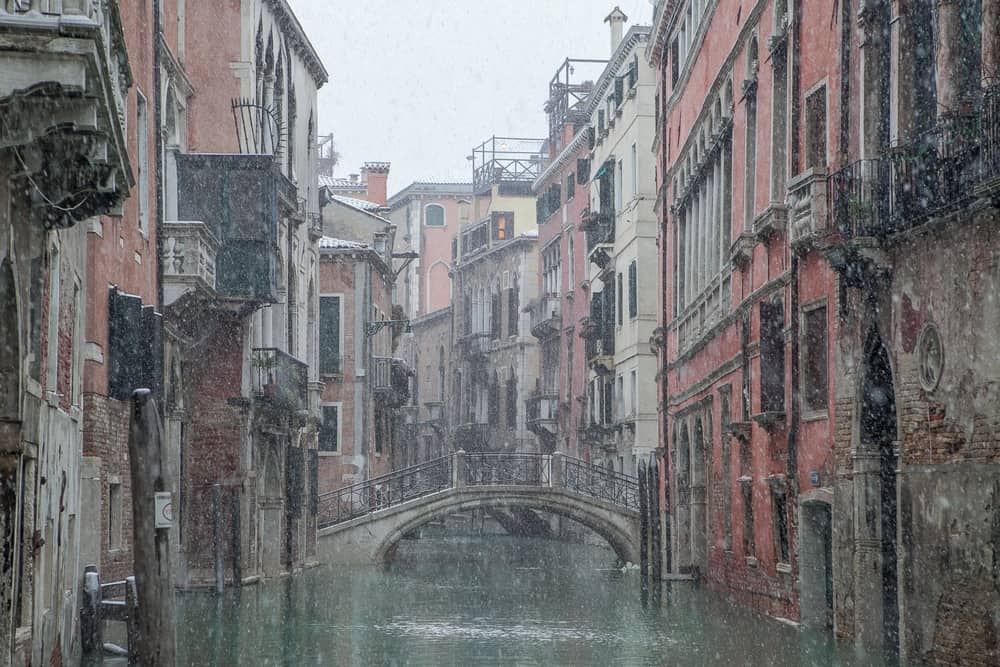 Top Things To Do In Venice During The Winter
Visiting Venice during the winter presents a unique opportunity to explore parts of the city that you may have otherwise passed up. While the weather is cold and possibly inclement, head indoors to one of the many things to do in the city! If the weather is great, you can take to the streets and explore, all while being dressed appropriately! Whether you are looking to spend one day in Venice or have 10 days to visit, there is plenty to see and do!
Bundle Up and Explore the Rialto Bridge Area
The Rialto Bridge is the oldest bridge in Venice, built between 1588 and 1591, that crosses The Grand Canal, the main channel that divides Venice, and the most famous. One of the main hubs in the city it is full of markets, restaurants, landmarks, and more so you won't want to miss this spot even during Venice in winter. The stairs onto the bridge on either side are lined by shops as well making it a unique experience to cross this bridge, a popular destination these shops are in a prime location and don't have the most affordable wares. There are tons of restaurants in the area with views of the bridge if you'd like to sit and enjoy, however, if you're looking for more affordable and authentic cuisine continue a bit further on!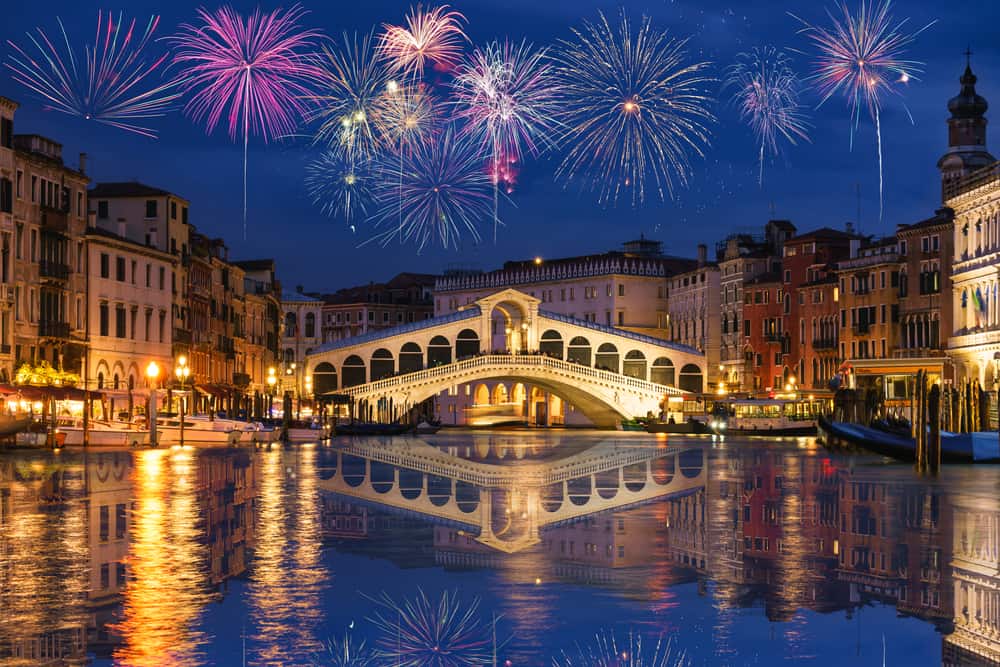 Grab a Blanket and a Gondola Ride
When in Venice hop on a gondola ride! Don't allow the weather of Venice in winter stop you from fulfilling this quintessential experience when Venice. The waterways will be far less crowded when visiting during this time of year and there will be blankets available for you to keep warm. Gondolas have been the main mode of transportation in Venice for centuries, navigating the narrow canals, becoming synonymous with and an icon of The Floating City. Be sure to check the rates online before going and double check with the gondolier before getting on so there are no surprises later about the cost.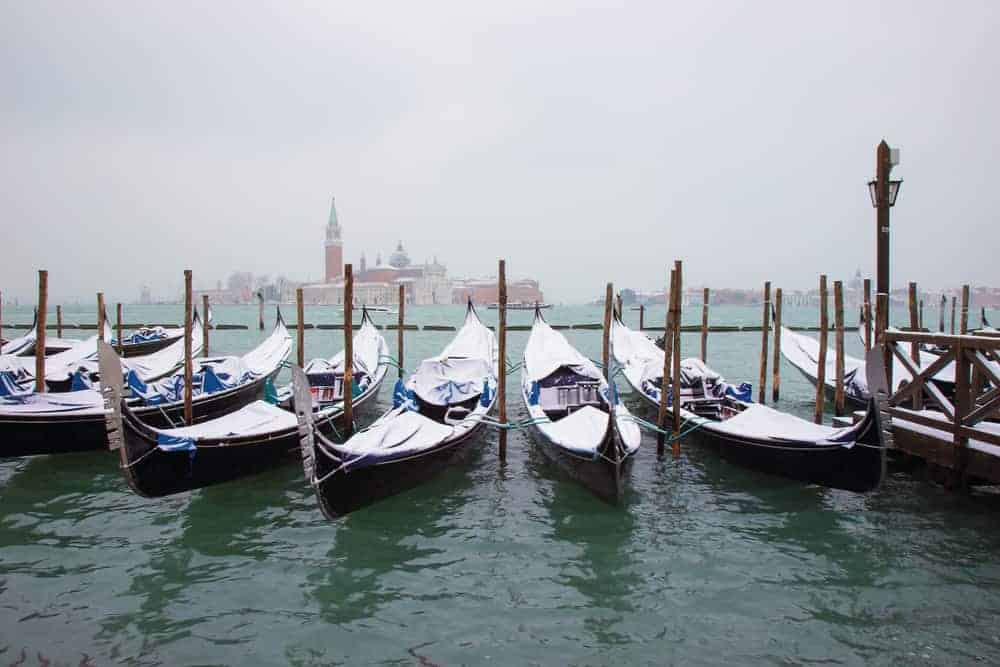 Saint Mark's Square and Basilica
The most famous landmarks in the city, Saint Mark's Square and Basilica, will be a top stop on your trip while visiting Venice in winter as you'll want to check them out without the usual crowds. La Piazza is the main public area in the city due to it's political and religious seats of power as well as the shops, restaurants, and historic buildings. Saint Marks Basilica is the main historic building on the square and the Cathedral of Venice. You can admire the Italo-Byzantine architecture just from the outside while walking by or if you have more time get a ticket and visit inside as well. The basilica was built to house the remains of Saint Mark and embellished over many years. Inside you can visit a collection of mosaics and Byzantine treasure.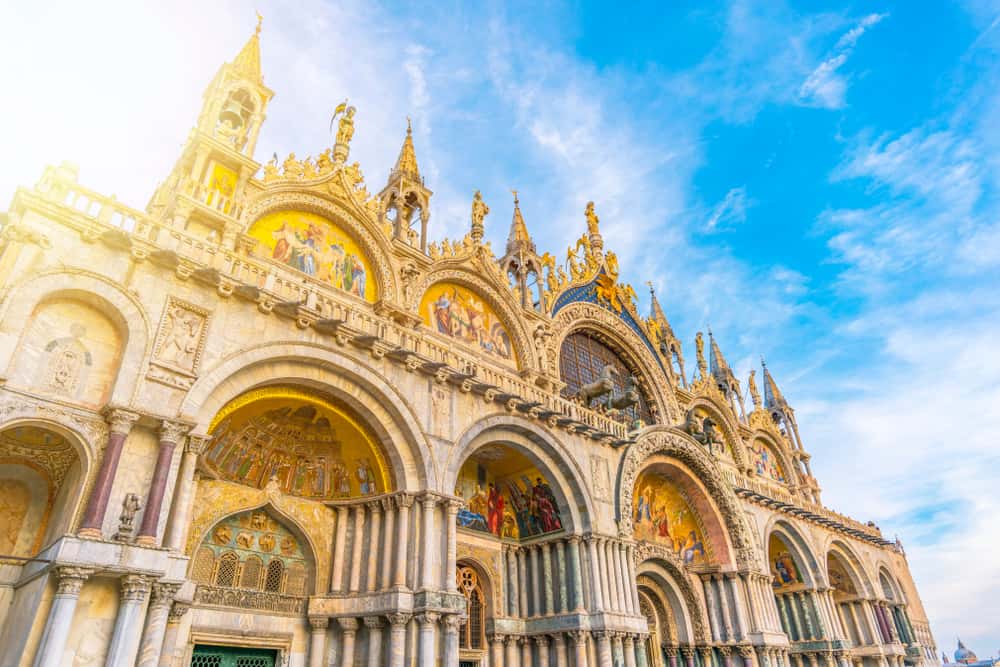 Shop for Venetian Glass in Murano
If you like to bring home souvenirs and gifts for friends while traveling Venetian Glass is one of the local goods you should consider. A local tradition, possibly for as long as 1500 years, some of the most beautiful glass in the world Venetian glass. Today glassmakers or artisans work on art glass but historically many innovations in glass making were discovered here. Venetian glass is not actually produced in Venice but rather on an island about a mile north of Venice called Murano. The glassmakers were moved here because of the fire hazards their studios posed for the city. Murano is a beautiful area to visit and see glass factories, artist's studios, the Glass Museum, and snag a handcrafted piece to bring home.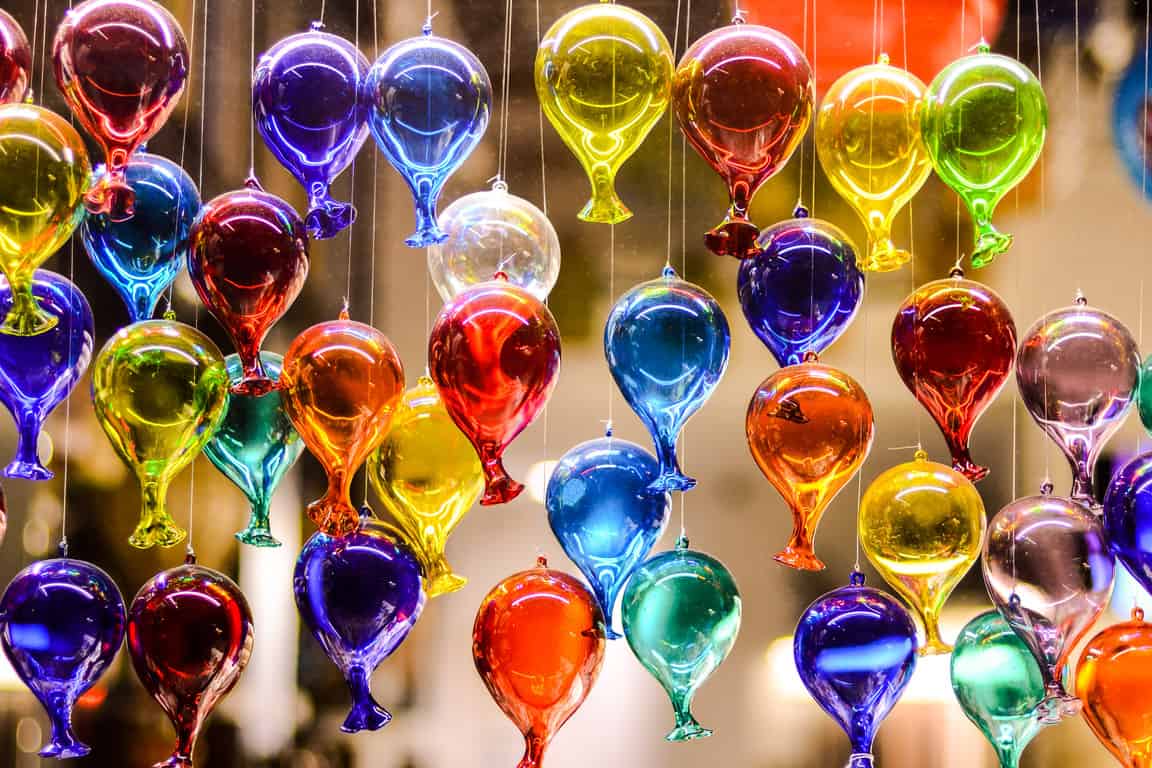 For Color in Winter Visit Burano Island
To discover some color even during winter in Venice stop by Burano Island which is famous for its vibrantly colored buildings. Burano is an old fishing town where traditionally the occupants painted their houses bright colors so they would be easy to find even in dense fog. This also means that even on a foggy winter day in Venice the facades of the homes will shine through for you to experience. A picture perfect stop for anyone who wants photo mementos and a moment of exuberant and joyful color during potentially grey winter days, Burano Island should be a must stop for a visit to Venice in winter.
If that's not enough to sway you, Burano is also famous for its exquisite delicate handmade lace. Just don't be fooled by shops trying to sell cheap fake imitations of this lace, real Burano lace is very expensive since it is handmade from high-quality materials. To admire some of the best examples visit The Museo del Merletto (The Lace Museum) which can also teach you about the different qualities of lace so you can tell the difference while shopping.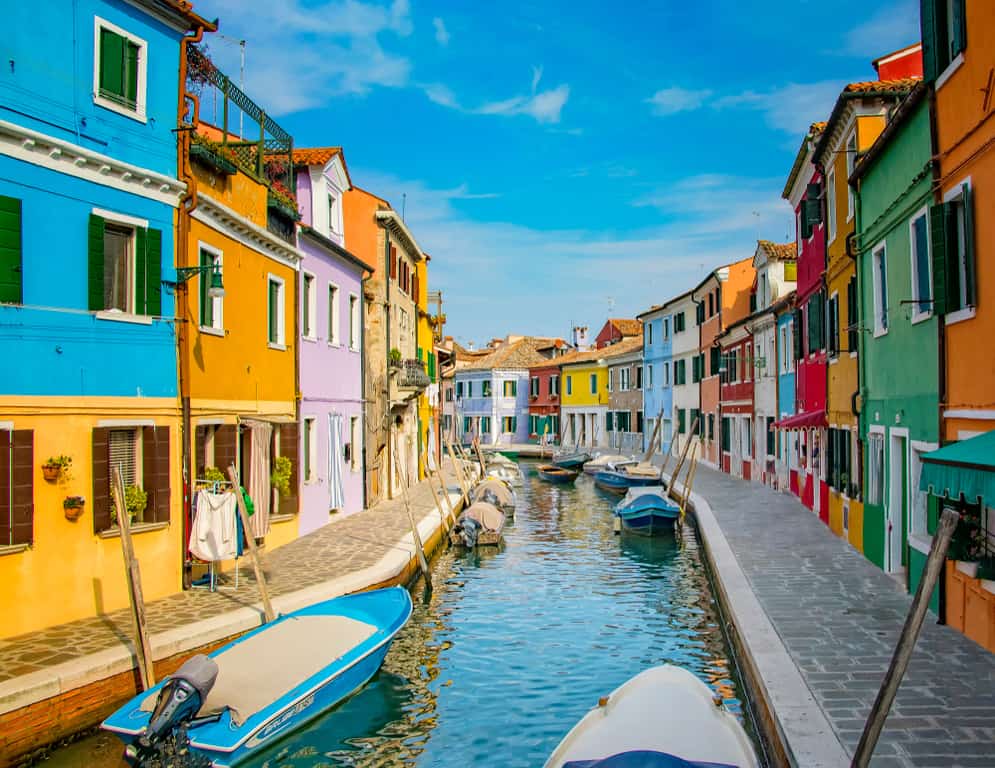 Teatro La Fenice
A grand, orante, and historic building, Teatro La Fenice has been Venice's main theater for almost 300 years! For an indoor activity during your visit to Venice in winter look no further than "The Phoenix Theater." Aptly named after the Phoenix given its sad history of being damaged beyond use by fire on three different occasions in its history and rising rebuilt again from the ashes. The most recent fire was in 1996! Given its history with flames maybe one day this theater will be reborn again so we'd suggest paying a visit to this theater while you are Venice.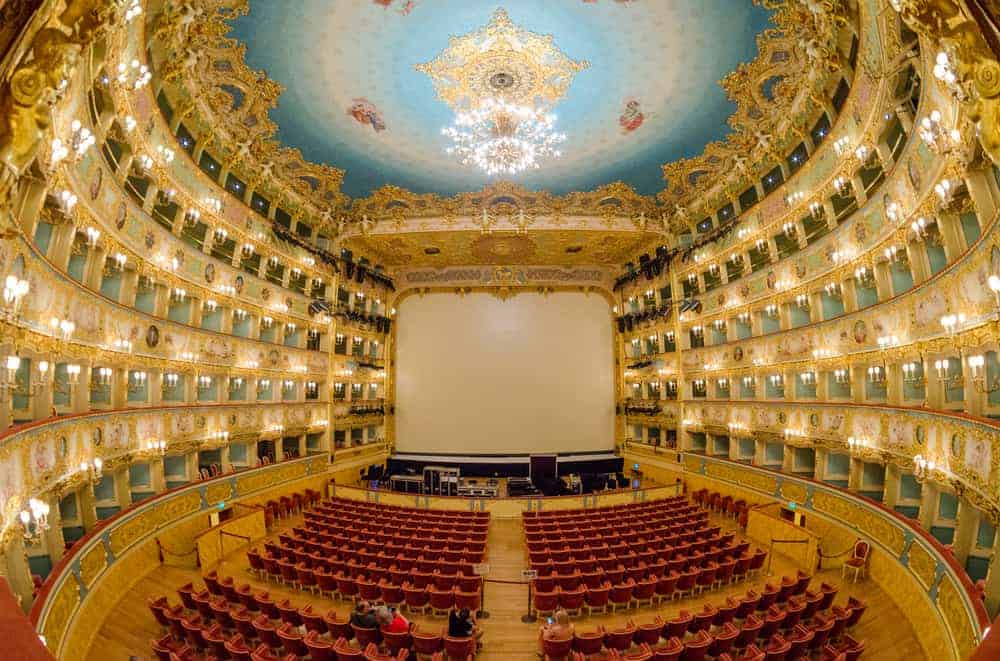 Doge's Palace and The Bridge of Sighs
A 1,000-year-old mansion, Doge's Palace is unsurprisingly one of the city's landmarks. Located next to Saint Mark's Square you can conveniently visit one and then the other during your visit to Venice in winter. Although once the seat of the main authority for the Republic of Venice, the "Doge of Venice," in 1923 it was repurposed as a museum showing a peek into the lives of Venice's past political leaders. Another popular location that is connected to the Palace is the Bridge of Sighs. In the past, once a criminal had been convicted at Doge's Palace they were walked over the bridge and into the prison. Walking over the bridge was their last glimpse of the outside world while they served their time. Today some gondola rides will tour underneath the bridge giving you a unique look at this famous bridge.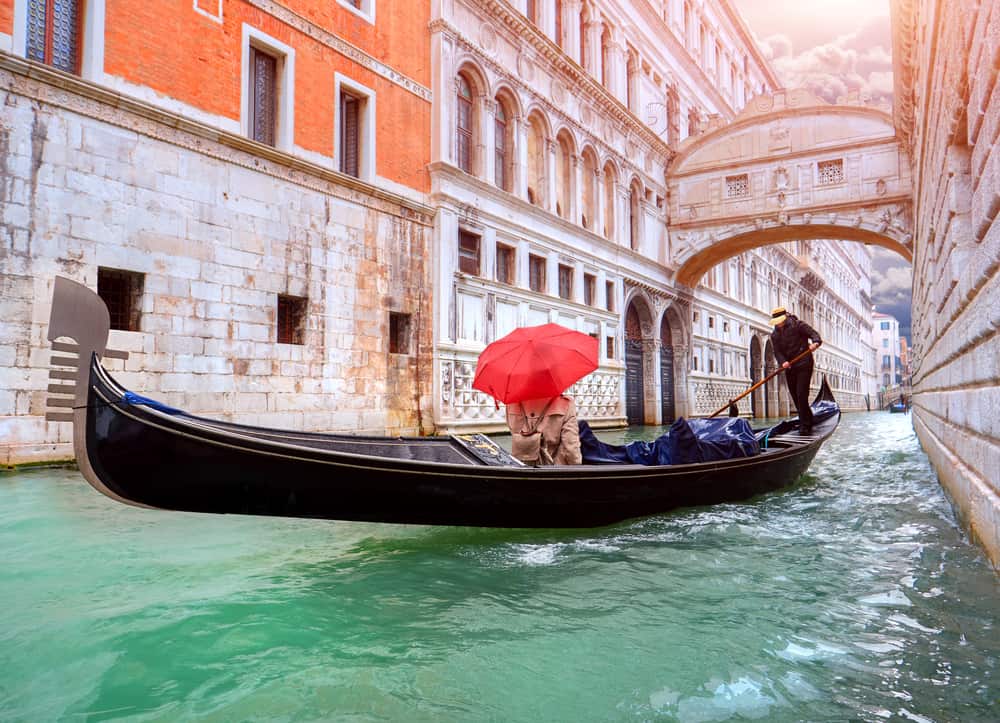 Winter is an amazing time to travel, with fewer tourists around you can experience the traditions of different cultures, avoid the crowds at popular locations, feel less guilty for being inside all day while visiting a museum, and so much more. Venice in winter has so much to offer and relatively mild winter weather too! Don't miss out on unique experiences because of the weather, all you need is a little preparation and you'll have an amazing time.