Are you trying to plan a wildly romantic honeymoon in Tuscany but wondering where to start? We get it, there is a lot to take in when planning the best Tuscany honeymoon ever. That is why we have taken the time to do some of the legwork for you. You have already done plenty, what with finding your forever someone and all. Relationships take some serious work.
Planning your trip to Tuscany at the last minute?
Make sure to book your hotels and tours in Tuscany in advance to ensure availability. Things sell out as your dates get closer! Here are our top picks for Tuscany:
Top Tours And Tickets To Book In Advance:
Top Picks For Places to Stay In Tuscany:
The fact that you have made it this far says some pretty great things about you and your love. You have come a long way! Take a deep breath, relax for a minute, and revel in the fact that you have made it to honeymoon planning. You have made it to honeymoon planning!!! You got this!
And may we say, you especially got this because we have your back. A Tuscany honeymoon might seem daunting at first between all the options for places to stay and things to do, but we have curated a list of the absolute best ones for you. Your honeymoon is one of the most special times of your life and Tuscany is the perfect place to spend it.
Whether you are planning your
10 days in Italy
, have a bit more time and are spending
2 weeks in Italy
, or renting a car and doing an
Italy road trip
, our customized and free planning itineraries will help you choose the best that Italy has to offer for your honeymoon!
It is one of the most beloved Italian destinations, and for good reason. From its world-renowned wine to its picturesque rolling hills, Toscano Italia is an experience to be had and a sight to be seen. See it with your love in celebration of your relationship, and revel in the romance of a Tuscany honeymoon.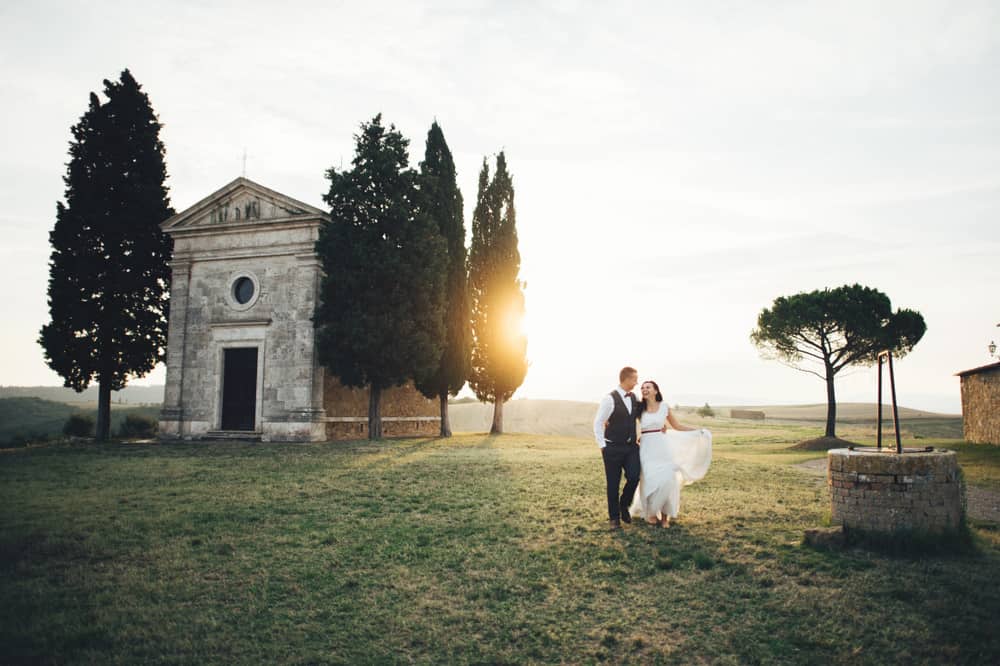 How To Plan A WILDLY Romantic
Honeymoon In Tuscany
Ultimate Honeymoon Itinerary
There are way too many amazing things to do and see in Tuscany to fit it all into one article! If you want to check out our top recommendations in more depth, check out our Ultimate Tuscany Road Trip Itinerary. You can complete this itinerary by driving yourself or by taking the train! It is easy and affordable!
This Tuscany itinerary includes Florence, Arezzo, Volterra, Pisa, and the Ligurian Coast. You can easily modify by adding something and taking something away depending on how you want to spend your honeymoon in Tuscany. Italy is an absolutely beautiful country, and Tuscany takes the cake in regards to stunning scenery. That is why we made an entire road trip itinerary, and it has all kinds of useful information. Click the link below to start planning the exact itinerary for your dream honeymoon in Tuscany!
THE ULTIMATE TUSCANY ROAD TRIP ITINERARY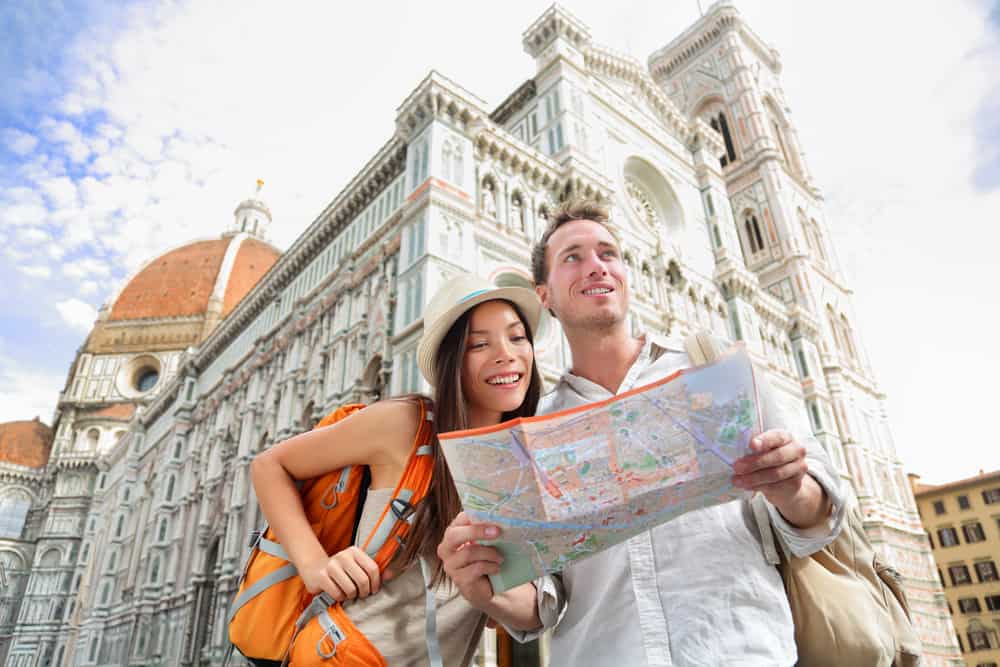 Best Times To Honeymoon In Tuscany
In general, there is not really a bad time to be traveling around Italy. Beautiful landscapes abound that are only improved by moody skies and clouds. Those are exactly the prime requisites for a breathtaking sunset photo, after all. However, depending on your preferences, some periods of the year might be better for your Tuscany honeymoon. Here are some details to help you better figure out when you would like to come and what to expect depending on how flexible your schedule is.
Best Weather: Late Spring, Early Fall.
The weather in Tuscany is prime during the months of May, September, and October. This is the perfect timing for a late spring or early fall wedding. Keep in mind that Italy, and especially Tuscany, are very popular during May and September. You will have to contend with crowds during these months. If that sounds less than romantic but you really want the traditional seasonal beauty, we recommend planning your honeymoon for October. Things are still busy during this time, but the crowds are starting to dwindle as autumn starts weaving her web.
Best Deals: Late Fall, Winter, Early Spring.
Planning a honeymoon can become significantly cheaper just by heading over to your destination in its down season. If picture-perfect weather is not an absolute must for you (or you like those moody sunset pics!), try having your honeymoon in Tuscany around late Fall, Winter, or early Spring. You will find these times to be less expensive, and even better, less crowded. If losing some of the crowds while experiencing some off-season beauty is appealing to you, try planning during these times.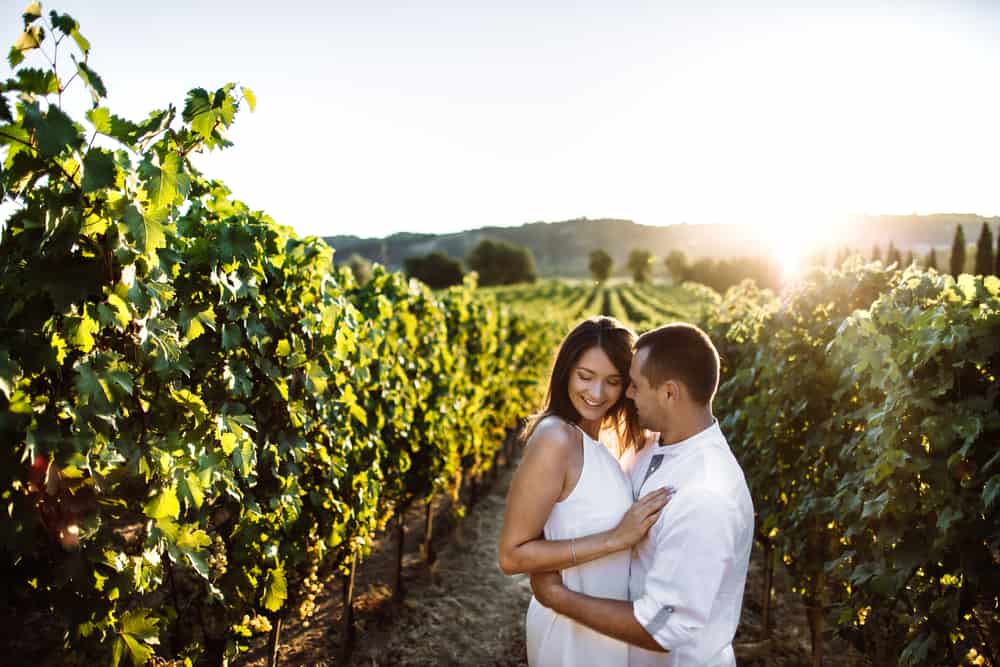 Romantic Hotels For Your Honeymoon
Whenever you choose to honeymoon in Tuscany, you will find an absolute abundance of places to stay. This can be one of the most overwhelming parts of honeymoon planning because of all the options, so we have really taken the time to comb through all of them and to find the best ones. Whatever your budget, there is something in this list for you. Whether you are looking for a place to stay at night that puts you in a great location to explore, or for more of an all-inclusive resort experience, we have some great suggestions for you.
Hotel Italia
We know some of you are looking for an excellent place to stay that does not come with quite so heavy a price tag. Look no further than the Hotel Italia in Siena. Siena is one of Tuscany's central cities, making it a great place to stay for easy access to all of Tuscany's beauty. Hotel Italia is located right next to the city's historical center. It offers an extensive breakfast buffet, giving you and your spouse a great start to all the exploring you are sure to do during your honeymoon in Tuscany.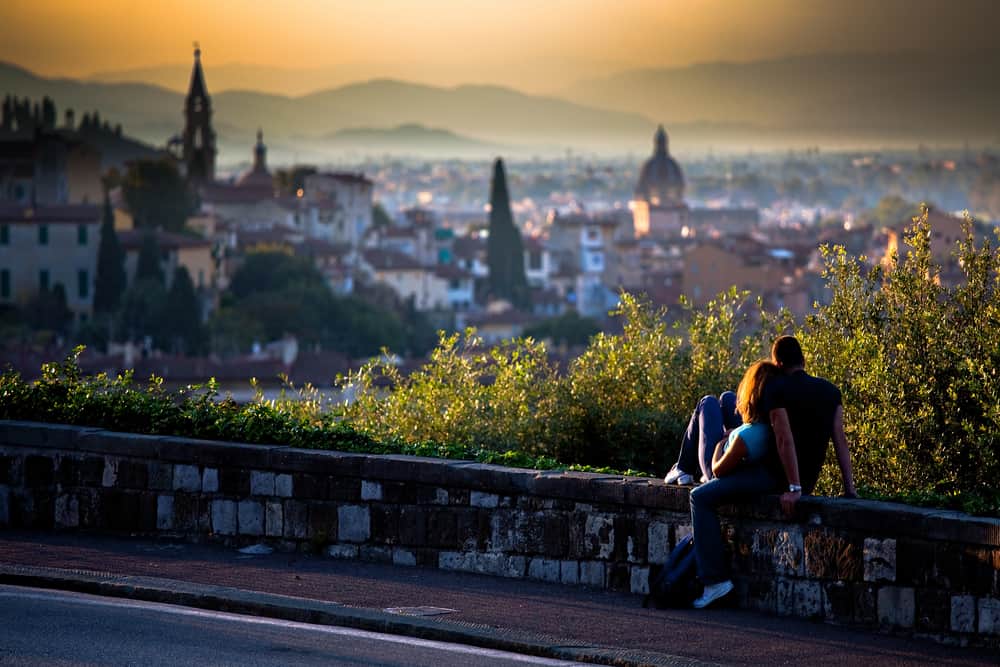 Hotel Bavaria
For a fresh breath of affordability, check out the Hotel Bavaria. It is located in Florence, one of the primary cities in Tuscany. Many of the best things to do in Tuscany are located in Florence, and you could honestly do the whole of your honeymoon in this city alone. Seriously, we have so many articles about Florence because this city is packed with things to do. You can find all of our Tuscany and Florence articles here if you want some more information about all the experiences this beautiful part of the country offers.
Hotel Garibaldi Blu
If you want to stay in Florence, but want more of a luxe experience, we recommend Hotel Garibaldi Blu. This hotel is an experience in and of itself, with architecture that mixes very modern vibes with very traditional frescoes. It is conveniently close to the train station, making it easy to get around without renting a vehicle. The Hotel Garibaldi Blu is also located very close to the Piazza della Signoria and Uffizi Gallery, which we recommend as something to do during your Tuscany honeymoon. You cannot beat the location or the style of this hotel for easy access to all the great things Florence offers.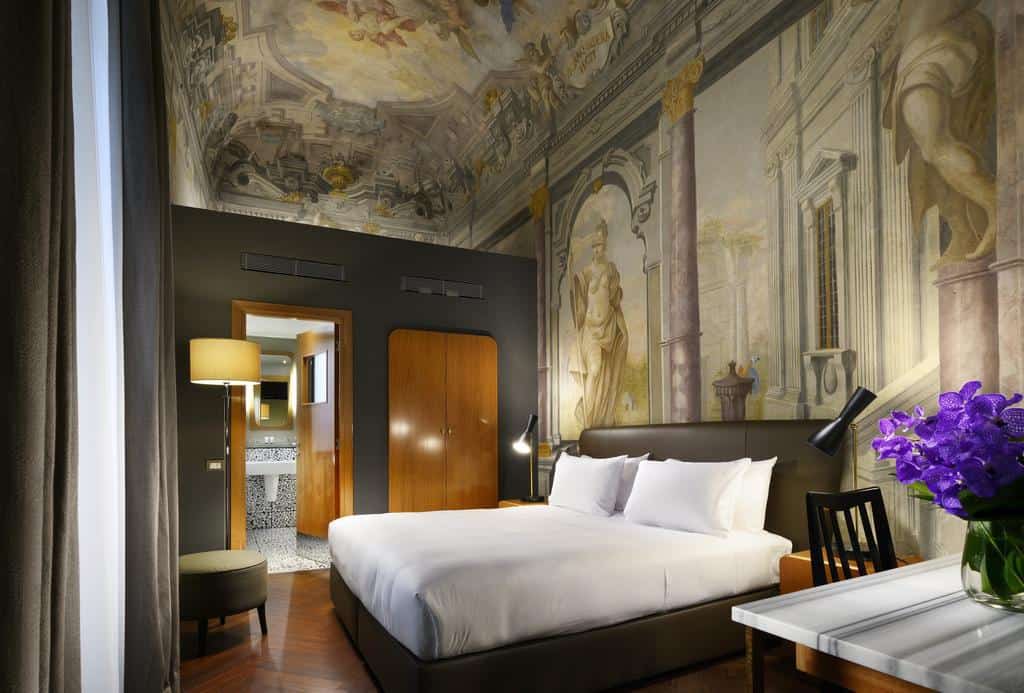 Globus Urban Hotel
Another great place to stay in Florence, with more of a mid-range price tag, is the Globus Urban Hotel. Very close to the Church of San Lorenzo (another experience we highly recommend!), this hotel also offers great access to the wonders of Florence. With an emphasis on contemporary design, everything here is clean-cut and attractive. Not only that, but their breakfast menu changes every day! We do not know about you, but we love having options. If you are wanting to get a whole lot of Italian culture during your Tuscany honeymoon, you cannot go wrong with staying at the Globus Urban Hotel.
B&B Le Stanze del Duomo
B&B Le Stanze del Duomo is a fun choice for more of a personal setting in the heart of Florence. It is more of an apartment setup than a hotel, and may even feel like a home away from home. B&B Le Stanze del Duomo has excellent prices combined with a great location. Furthermore, people rave about how comfortable the rooms and beds are! It is a great place to stay if you are planning to spend most of the day out and about, but want a reliable and comfortable place to spend your nights during your honeymoon in Tuscany.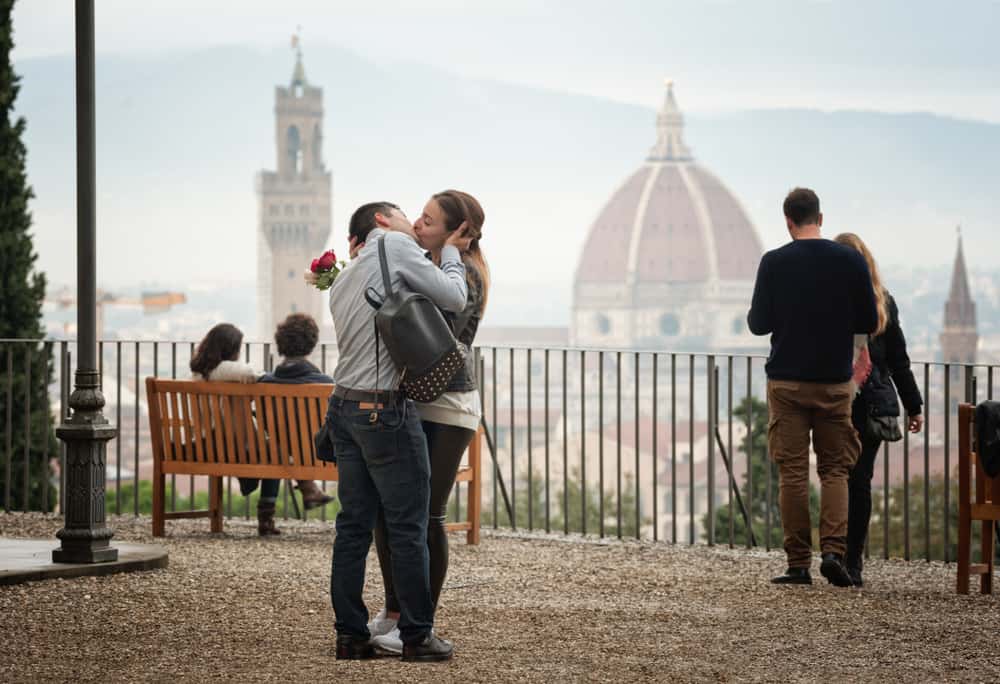 Hotel Lungarno
If a romantic setting is at the top of your list of requirements for where you will stay during your Tuscany honeymoon, definitely check out Hotel Lungarno. It is located right next to the Arno River. Between the river and the breathtaking views offered by Hotel Lungarno's location, there are not many places more romantic than this. We are telling you, the very walls ooze romance. As if that is not already enough, this hotel's restaurant is Michelin-starred and has a wide range of offerings that are sure to satisfy.
Palazzo Graziani
Palazzo Graziani is a dream. A wonderful, traditional, comfortable dream. Sit on the terrace for amazing views, or take a short walk to see some of the cherished sites of Florence. Between the wooden ceiling beams and the warm colors and decorations, it is the coziest escape you will find. The views are nothing to snuff at either. It is the bed and breakfast that all bed and breakfasts should be based on. On top of all of that, it is very fairly priced as well!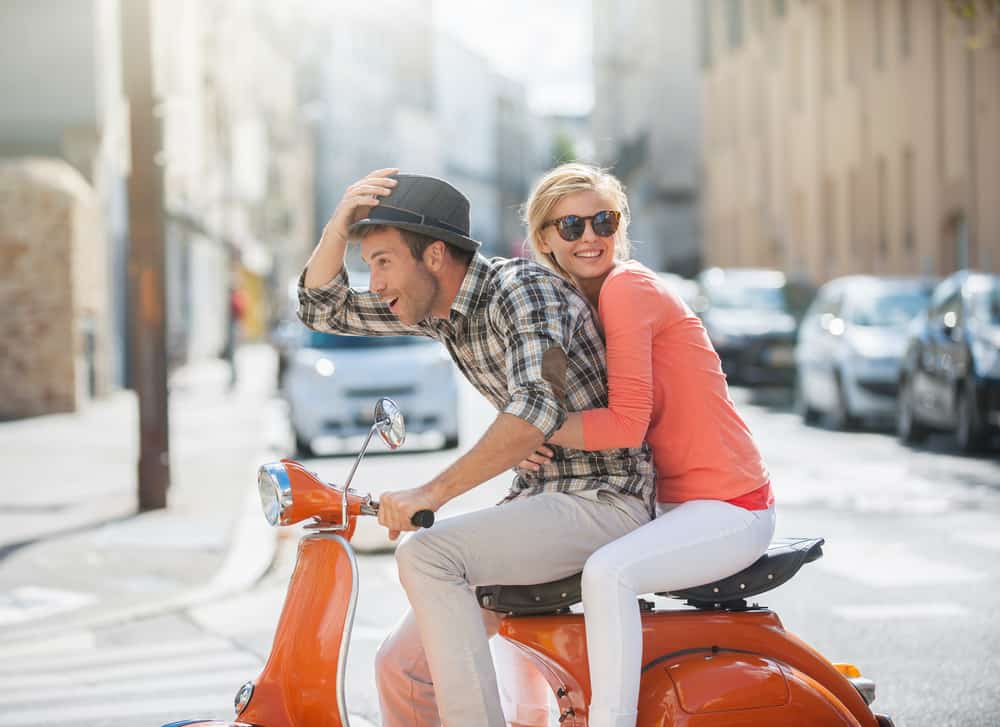 Hotel Santa Catarina
Why not end on an affordable note that takes us back to the pretty town of Siena? Hotel Santa Catarina has its own terrace from which you can sit in awe of the beauty of Tuscany. You can even eat breakfast out there! Hotel Santa Catarina is very traditional in its decorations, giving you a beautiful taste of the local culture. The hotel is not very big, but it still packs a romantic punch. Additionally, the staff are amazing and helpful, making it easy to get local advice on where to go and what to do.
What To Pack For Your Tuscany Honeymoon
#1. A Travel Adaptor Specifically Designed For Italian Outlets
Listen, not all outlets are designed equal. If you are coming to Italy from another country, especially if you are coming from the USA, you are going to need a travel adaptor! Make sure to add a travel adaptor specifically designed for Italian outlets to your Italy packing list. You don't want to have dead electronics during your Italy honeymoon, so make sure to invest in an adaptor!
#2. Reusable Filtered Water Bottle To Save Time And Money
While the drinking water in Italy is considered safe, it will still be different than where you are from. As a result, if you have a sensitive tummy, you may pick something up when drinking unfamiliar water. And here is another hard truth: many restaurants in Italy CHARGE MONEY for a basic glass of water. This may come as a shock to anyone who isn't from Europe or a country that does this, so if you don't want to pay for water every single time you go out to eat, simply bring a reusable filtered water bottle and drink that while you dine.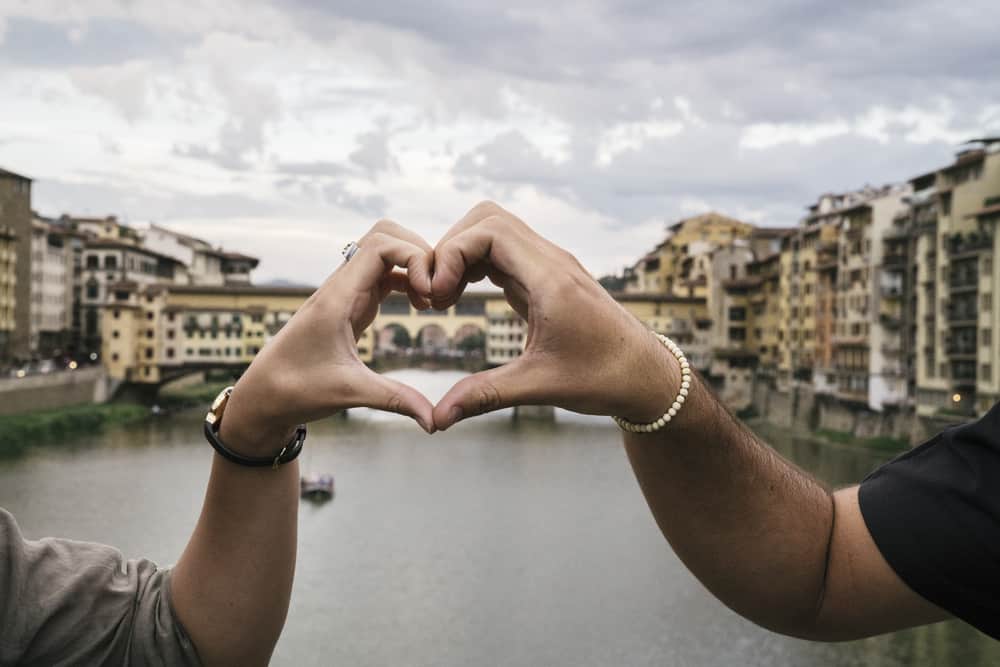 #3. Add A Poncho, Instead Of An Umbrella, To Your Tuscany Packing List
Have three hands? Unlimited space? No? Then pack a poncho. Ponchos have tons of benefits in addition to keeping your hands free to do more important things (like taking selfies!). They also save space. Trust us, they fold up teeny tiny and can absolutely go everywhere with you. Also, they will keep you so much better covered than an umbrella! If you like actually staying dry and doing whatever you want with your hands while you are at it, bring a poncho. And while you are at it, pick a poncho that is made of quality material so it doesn't rip when you put it on.
#4. When Packing For Italy, Don't Forget A Portable Power Bank
Whether you are going on one of the many tours during your Tuscany honeymoon your phone is probably going to die quickly. You will not regret purchasing a portable power bank to bring along for the trip. Portable power banks generally cost from $10-$40 and will help you recharge your phone on the go. Please do not forget to add this to your Tuscany packing list, even if you aren't usually on your phone, because you don't want to miss the chance to take photos, document, and post on social media!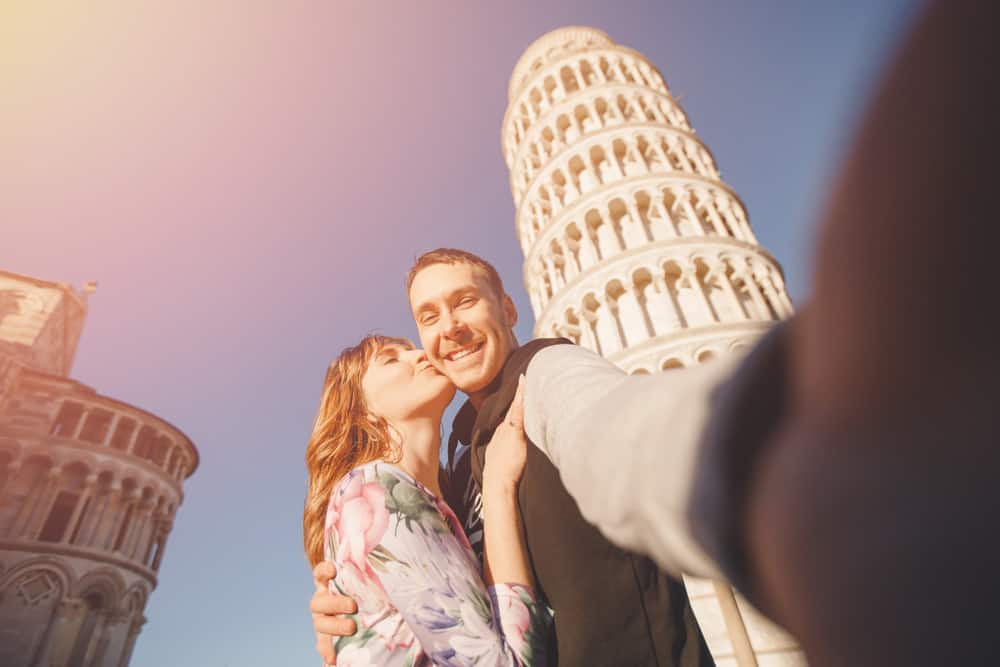 #5. An Anti-Theft Bag To Keep Your Valuables Safe
Theft and pickpocketing are big in many major European cities, not just Italy, so this is the best practice for traveling around the world no matter where you are. That being said, pickpocketing is particularly bad in Italy, especially in larger cities. Simply wear a cross-body bag [never a backpack] and keep your hand on the zipper at all times. If you don't already have an anti-theft cross-body bag added to your Tuscany packing list, now is the time to make some adjustments. You want to be safe and secure during your Tuscany honeymoon!
#6. At Least One Pair Of High-Quality Walking Shoes
How do we know that many people forget this on their Italy packing list? Because we did on our first trip to Europe! We thought basic sneakers such as Converse and crappy $15 flip flops would do the trick and it was honestly a huge mistake. You can be walking up to 20,000 steps a day and covering many miles while you are in Italy. Do yourself a favor and invest in at least one pair of high-quality walking shoes for the trip. You want to save your legs, back, and feet, from pain– so make sure to pack good shoes for your Italy honeymoon!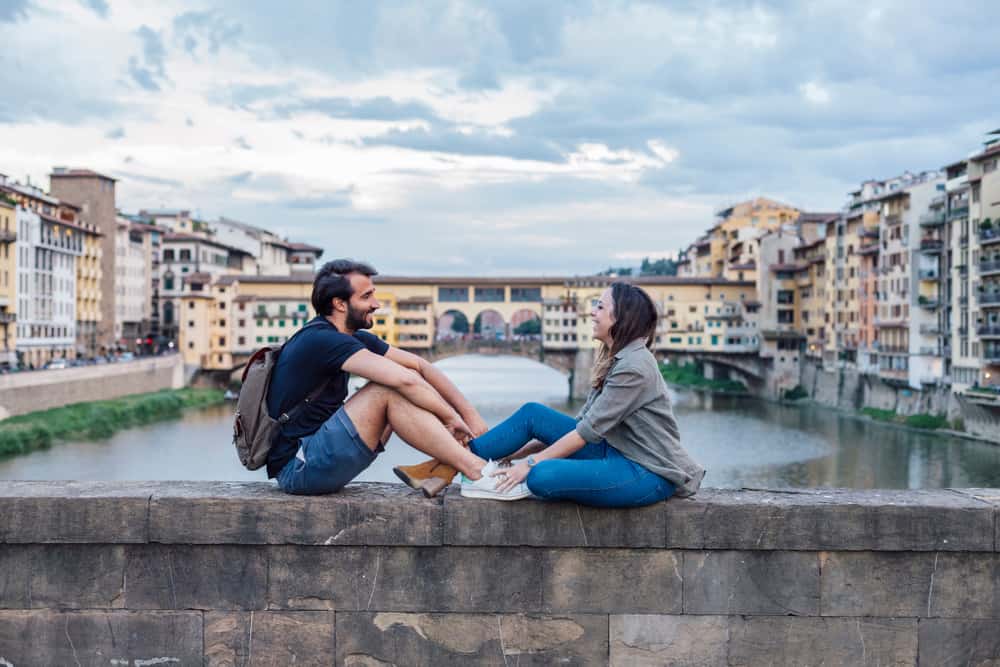 What To Do On Your Honeymoon In Tuscany
Visit Some Hot Springs
One of the most romantic things to do in Tuscany is to visit at least one of their famous hot springs! People come from all over the world to check them out, and for good reason! There are so many to choose from, some which cost and some which do not. Given that there will be plenty of other things to spend your money on during your Tuscany honeymoon, we have listed our three favorite free hot springs for you. Check out our article on Tuscany hot springs to learn about a fourth!
Saturina hot springs are classic because they are the perfect temperature year-round. Not only that, but they have two waterfalls you can also visit for free! As is common with hot springs, there is a scent of sulfur in the air here. It will cling to your bathing suit, so come prepared for that. These hot springs are well worth it though–they are truly a sight to behold and an experience you will not forget.
The hot springs of Bagno Vignoni are in the valley of Val d' Orica. Pilgrims have come here in centuries past for the renowned healing and refreshing qualities these hot springs are said to offer. They are even warmer than the Saturina hot springs, but still definitely bearable and pleasant. Come in the morning, because this place is popular and gets busy quickly!
For the most beautiful, romantic hot springs in Tuscany, check out Bagni di San Filippo. Between the huge waterfalls and inspiring rock formations, these hot springs are stunning. Absolutely breathtaking. If you can only visit one hot spring during your Tuscany Honeymoon, this is the one to come to. Besides the absolute beauty of the place, they also lack the usual scent that comes along with hot springs! You really cannot go wrong with Bagni di San Filippo.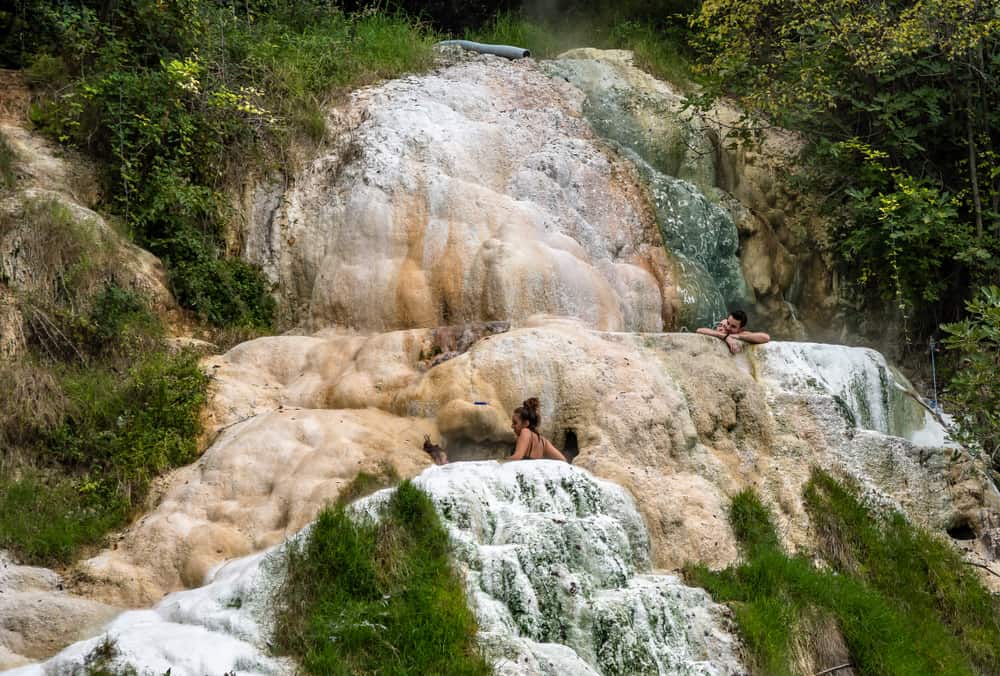 Check Out the Florence Cathedral
Referred too as "the jewel of the city," the Florence cathedral is an extraordinary site to see during your honeymoon in Tuscany. Constructed in 1436, many travelers are surprised to find that the building itself, which is also referred too as the Duomo, had actually begun construction in 1296. It was not structurally complete until 1436, and then it took even longer to finish, taking on it's full and complete form in the 19th century. It is one of the best things to do in Florence and you shouldn't miss it!
True to its date of completion, the Florence Cathedral pays tribute to Gothic styles with it's exterior being composed of marble panels that vary in colors, including green and pink. These colors are bordered by white, providing great contrast to the vibrancy of the marble panels. Despite the fact that the inside of the Cathedral isn't as colorful as the exterior, the inside of the church is worth visiting, as it has historical and large-scale art and architecture, such as the Last Judgement fresco that covers the underside of the dome.
Within the Cathedral's complex, there is also the Baptistery and Giotto's Campanile. Together, these three buildings are a part of the UNESCO World Heritage Site, making it a major tourist attraction. The Cathedral itself is one of Italy's largest churches and the dome itself remains the largest brick dome to ever have been constructed. It can be seen from miles around the city! From the colors and gorgeous architecture, this place is a great way to add some culture to your Tuscany honeymoon!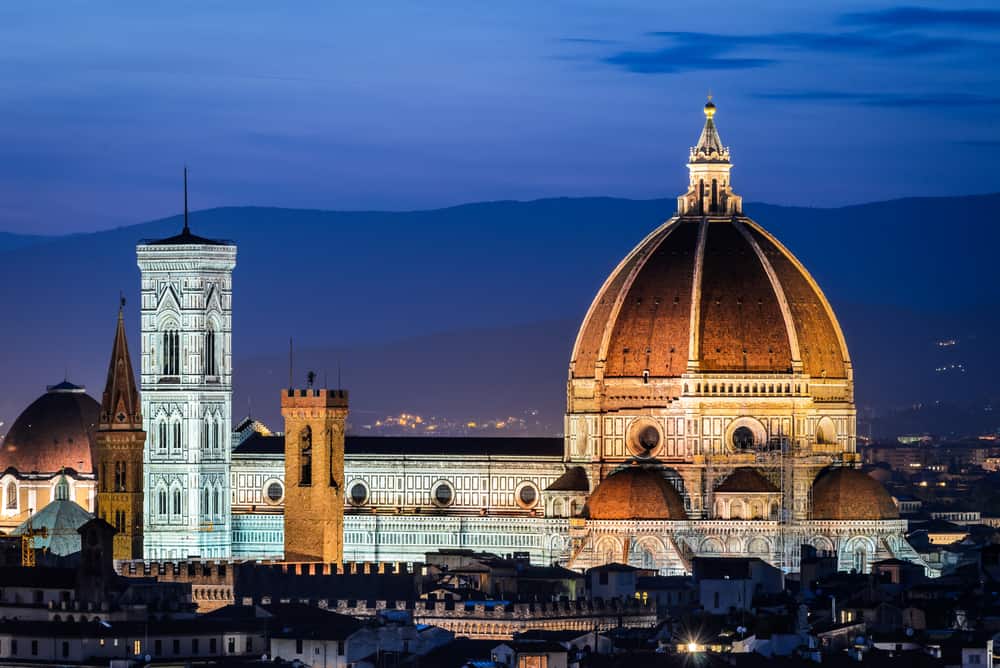 Bask in the Uffizi Palace and Gallery
Speaking of culture, another amazing place to visit during your time in Tuscany is the Uffizi Palace and Gallary in Florence. It is arguably one of the most renowned art museums. It is considered to be one of the most important Italian museums not just in Italy, but in the world. This museum had to be opened to visitors by request in the 16th century and was officially opened to the public in 1765. But it wasn't until 1865 that it formally became a museum, and since then, it has become one of the most visited art museums in the world.
This museum contains gorgeous collections, presenting work from Botticelli, Da Vinci, and Titain. It takes pride in housing key work such as: Madonna and Child, The Birth of Venus, Flora, and The Annunciation. Because this gallery contains many pieces of Renaissance Art, it can provide hours of entertainment. But the art isn't the only beautiful thing about this building: the design and structure of the Uffizi Palace and Gallery is more than enough reason to put this on your Tuscany honeymoon bucket list! Between marble statues, intricate columns, high ceilings with designs, patterned floors and a gorgeous courtyard, this is not a place to miss.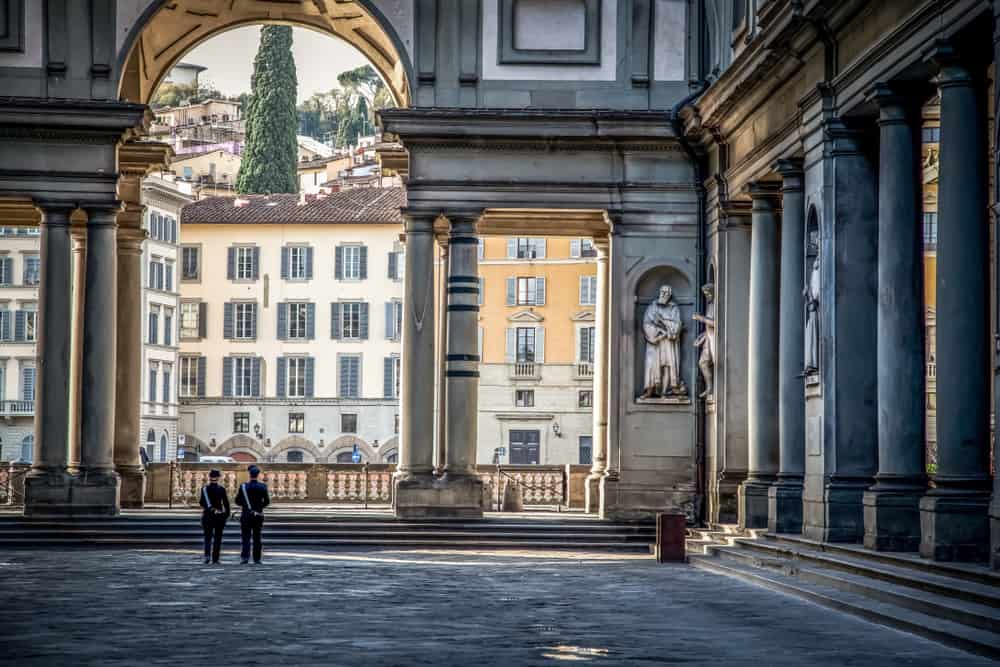 Enjoy Wine Tasting in Poppi
Located around an hour and a half outside of Florence, Poppi is a stunning little gem of a city and your first taste of Tuscan wine culture. We all know that you are going on a honeymoon in Tuscany for the beautiful views, quaint towns, and of course, wine, so why not do all three in one place? Be sure to stop at Brancaia Winery for a tasting and tour. This is a great afternoon activity. You will be able to tour the winery and taste some delicious wine, before heading off for dinner.
The town of Poppi also features a remarkably well-preserved 13th-century castle that towers over the entire city. Be sure to visit the Castle of Counts Guidi during your time in Poppi. You will marvel at the many small churches that sit in and around the town as well. If you drive out into the distance and stop and look back, you will see rolling green hills and the town in the background. This is the perfect photo point if you are looking to capture some of the romance of Tuscany!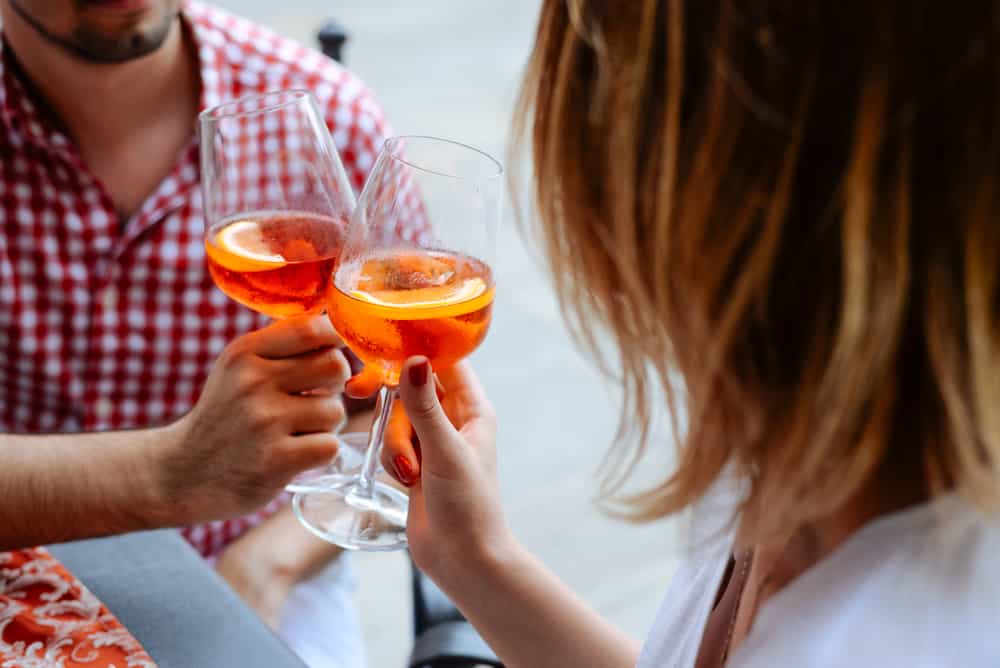 Experience the Ligurian Coast in Livorno
We don't know about you, but we love the water. The Ligurian Coast is some of our favorite stretch of coastline in the world. The Ligurian Coast is set right on the Mediterranian and you are in for a real treat when you visit during your Tuscany honeymoon. The refreshing breeze of the sea is a brilliant way to relax and get some restorative time in during your honeymoon in Tuscany.
Livorno is a port town with a medieval fortress, like most other towns in Tuscany. We highly recommend visiting the Terrazza Mascagni which is a seaside waterfront terrace, similar to a boardwalk, that overlooks the Mediterranian. This is the best place to watch the sunset during your Tuscany honeymoon and you really should take advantage. Visit the lovely Livorno Aquarium for a change of pace. Finally, if you are looking to head to the beach, Cala del Leone is the place to stop for a picnic or a swim if the weather is warm.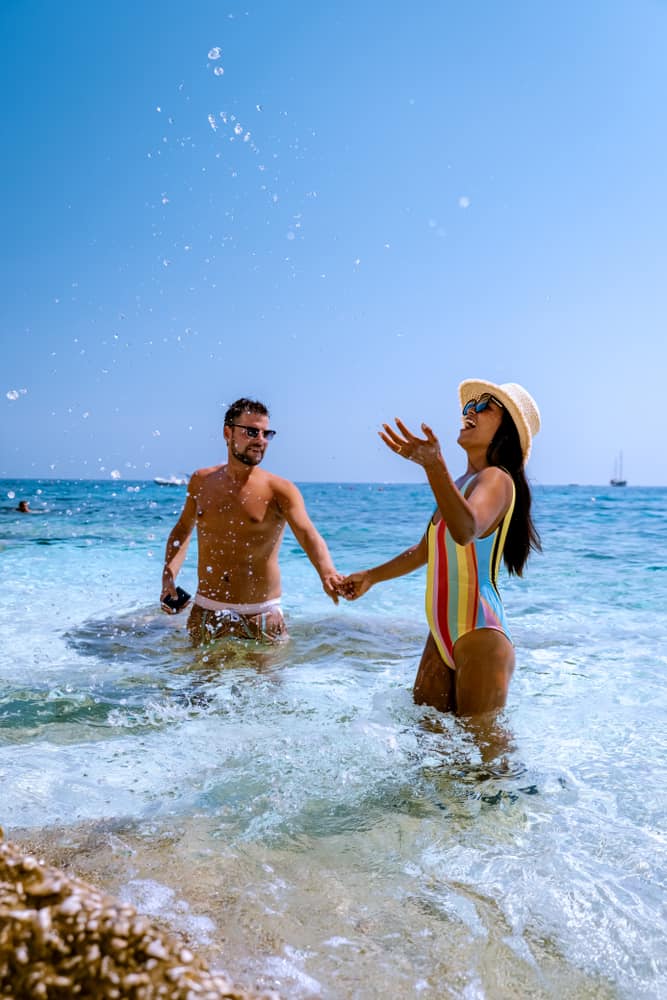 Getting To Tuscany
Generally flying into an international airport is the best bet for keeping your flights affordable. We recommend flying into either Venice or Rome to begin your Tuscany honeymoon. There is a high-speed train that goes from Rome to Florence, with many departures, making it very easy to begin your Tuscany honeymoon without too much trouble. Alternatively, you can rent a car in the city you flew into and then drive to Florence. We recommend checking out Skyscanner to find the best and most affordable flights into Italy. We use this tool to discover the best flights for our trip because you can easily compare rates.
Getting Around During Your Honeymoon
Italy has a pretty great train system. If you prefer not to drive in a foreign country, traveling by train is an excellent alternative. If you are planning to spend a good amount of time in the countryside during your Tuscany honeymoon, we do recommend renting a car. You can rent your car in a large nearby city, or wait until you are in Florence. It may be cheaper to rent in larger cities such as Rome and then drive to Florence. Keep in mind that renting a manual transmission will usually always be cheaper than an automatic when renting in Europe.
It is the law to use your headlights at all times when driving in Italy so make sure to have them switched on before you leave. Finally, some of the roads you may drive on during your time in Tuscany will be toll roads. Make sure to come prepared with extra money for the tolls. Tolls in Italy can add up quickly so we want you to be prepared!
We always book our vehicles through Auto Europe. We find that Auto Europe is often the best and most comprehensive booking engine. It really helps you make sure you have everything you need to make traveling in another country successful. We have booked with Auto Europe in Italy, Iceland, Ireland and more. You can check Tuscany Car Rental Rates Here!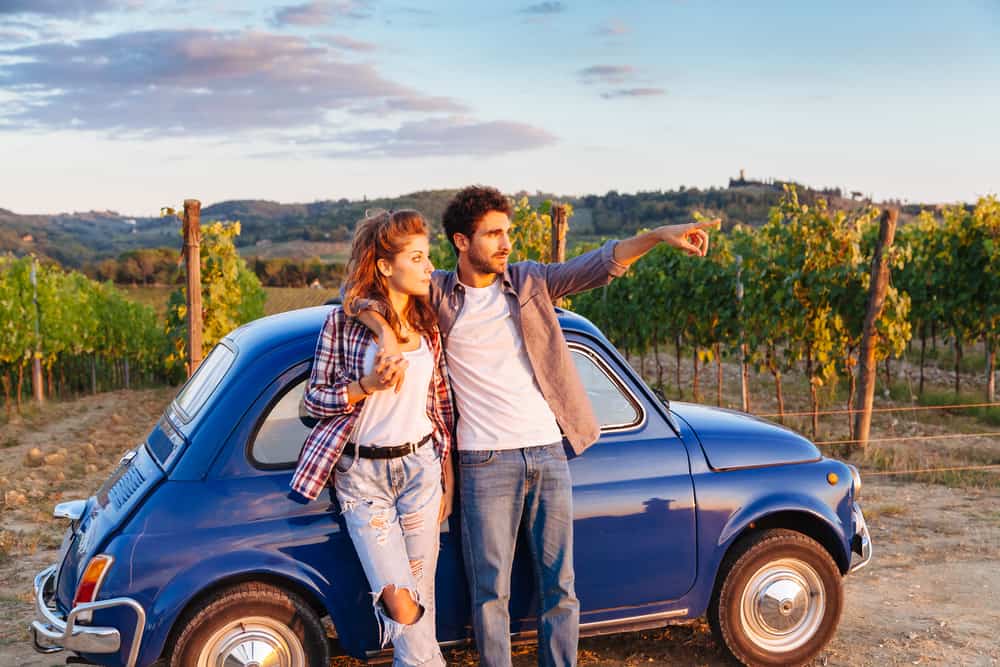 Travelers from all across the world venture to Tuscany for a chance to experience the Bella Vita and now it's your turn. The biggest congratulations on your new marriage from all of us at Follow Me Away. We wish you an abundant life together, happiness, and a fun honeymoon in Tuscany! Safe travels and enjoy yourself!