If you are looking for where to stay in Cinque Terre, you have come to the right place. Cinque Terre, located on Italy's Ligurian Coast, looks like it is straight out of a postcard.
There are so many options for Cinque Terre hotels, so planning can get overwhelming, but we are here to make the process easy for you. This is one of the most beautiful parts of Italy and the perfect place to visit all year round.
Below, we will break down the best places to stay in Cinque Terre by village, price, and feel of the town. We will tell you the pros and cons of each village and lay out the best places to stay. We want you to get an understanding of the unique feel and vibe each Cinque Terre Village has to offer so you can make a decision that is best for your interests.
There is something for everyone and we know there will be something for you too! This breakdown will help you get a feeling for which Cinque Terre hotel and village is best for you and your trip!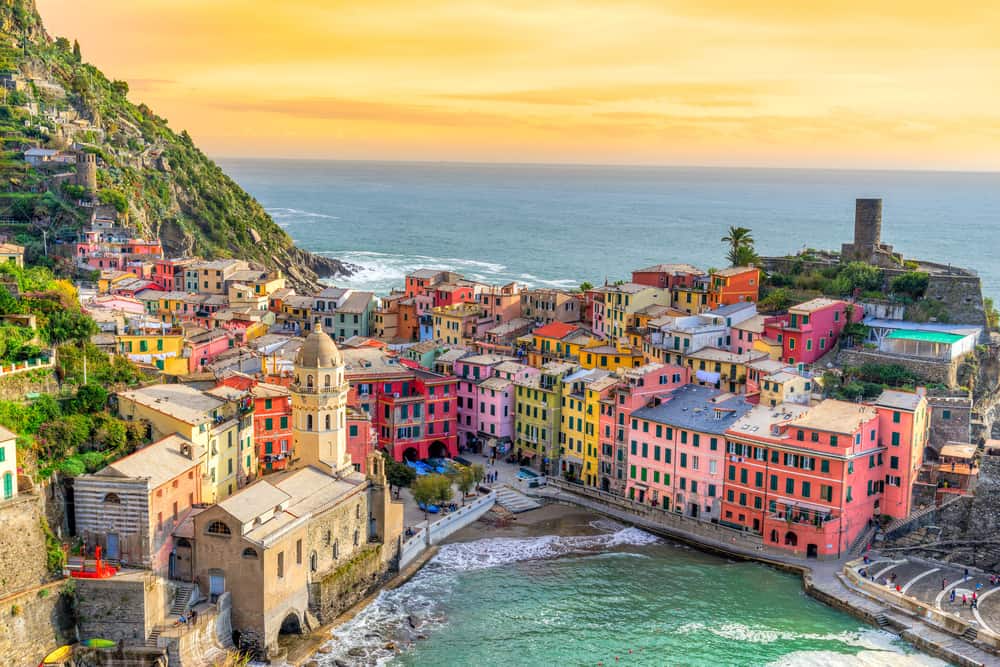 Where To Stay In Cinque Terre By Village
Understanding The Cinque Terre Villages
If you aren't familiar, Cinque Terre is made up of 5 small villages or towns. These towns are Monterosso, Vernazza, Corniglia, Manarola, Riomaggiore. Each town in Cinque Terre has a unique flavor and flair. Of course, you are going to want to visit all five of them during your time on the Ligurian Coast, but we recommend choosing 1-2 towns as your home base. Since they are so close together, choose 1-2 hotels in Cinque Terre and then explore the other neighboring towns on your own.
There are FIVE villages in the area. Cinque means 5. Terre means village. So essentially this area translates to "the five villages." We were oblivious to this fact for a long time but now that we know it makes so much sense and is so simple! We hope you can learn something if you didn't know this fact either!
Whether you are spending 10 days in Italy, have a little more time like 2 weeks, or are renting a car and planning an Italy road trip, you are going to want to know the breakdown to help you choose exactly which Cinque Terre village is right for you. Or perhaps, you will decide to stay outside of the villages, as we often do!
If you are renting a car in Italy, please be aware that finding parking in the villages is a bit crazy and expensive. Sometimes it isn't possible at all and you need to get a shuttle from the parking lot. In that case, we recommend staying on either end of Cinque Terre either in Levanto or La Spezia. It is a bit outside of Cinque Terre proper but still within a 5-minute train ride!
Cinque Terre villages are connected by a train that is VERY simple to navigate. We were shocked at just how simple it was! The villages are just minutes away from each other by train! If you stay out of the Cinque Terre proper area in La Spezia, rest assured you are a FIVE MINUTE train ride into town! Same with between the villages! The train rides are between 5-10 minutes and the train runs quite often! Cinque Terre is truly one of the best places in Italy so get ready to have a fantastic visit.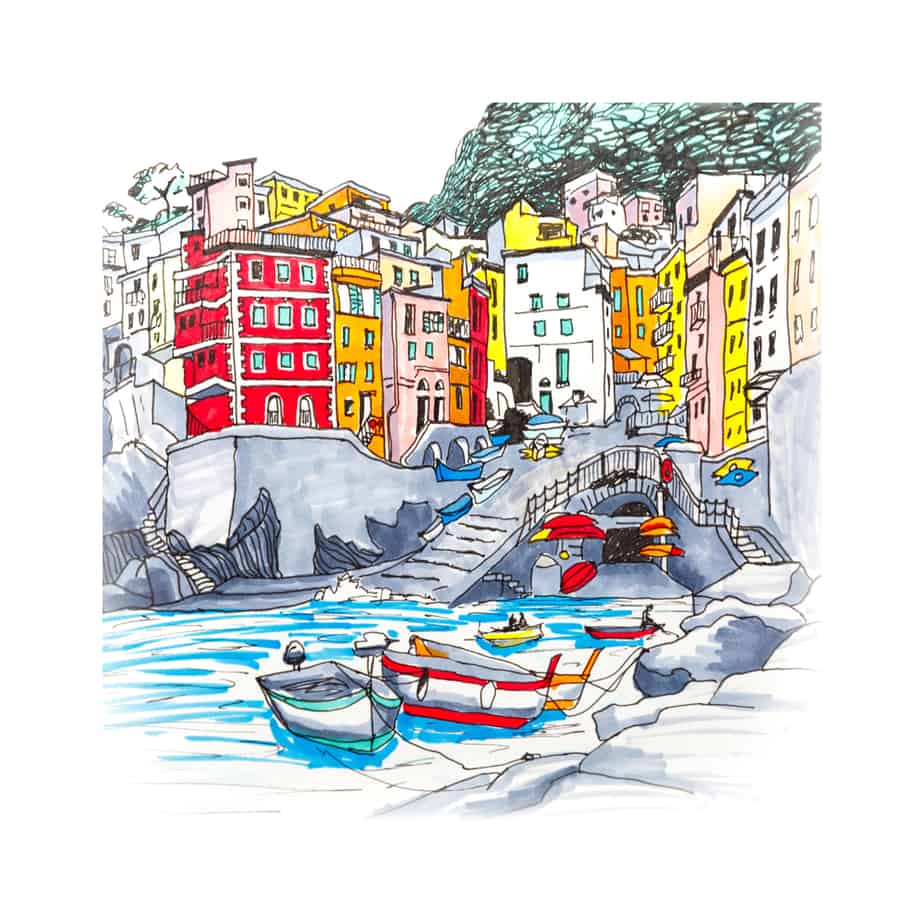 Riomaggiore Is Where To Stay For Nightlife
Riomaggiore is the second largest of all of the five Cinque Terre Villages. It is used as the starting point for exploring Cinque Terre. Choose a hotel in Riomaggiore if you prefer a slightly larger city feel with lots of options for dining while still getting that quaint feel of the Italian coast. If you are looking for where to stay in Cinque Terre to start off your explorations, Riomaggiore is a great choice. The pastel-hued buildings and picturesque views make this village a popular choice. There is even a cliff-side bar located along the Cinque Terre trail if you wanted to indulge with a view.
Make sure you are in good fitness when choosing to stay in Riomaggiore because there is a high chance you will have to trek your luggage up stairs as this town is built into the side of a cliff. This is the easternmost point in Cinque Terre, so Riomaggiore makes a great base for exploration. If you are interested in Scuba Diving, there is a large dive shop located here as well.
Upsides: One of the larger villages in Cinque Terre. First stop on the train from La Spezia. Lots of shops and restaurants and lively nightlife. Good base for exploring.
Downsides: Nightlife may make it louder at night. Steep hills and stairs make it hard to get around for some.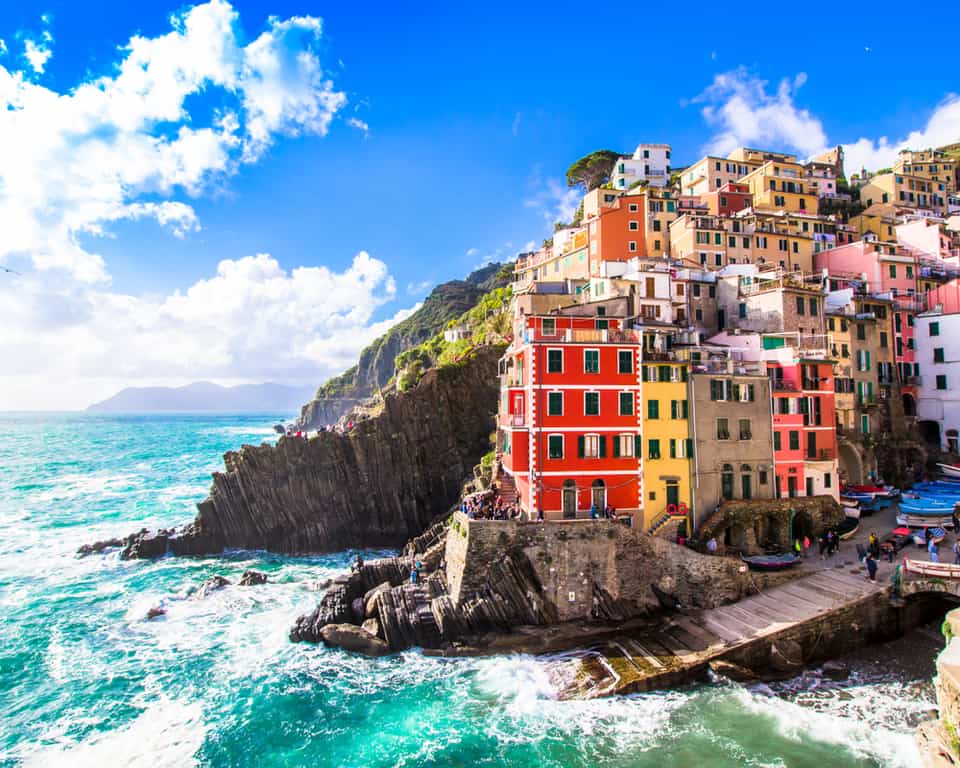 Best Hotels In Riomaggiore
Affordable: Locanda Ca Da Iride
Locanda Ca Da Iride is the best budget option in Riomaggiore. The budget option does NOT mean boring or without charm! This hotel is just 0.3 miles from the city center and comes equipped with sea views, wifi, breakfast, and terraces. If you are looking for where to stay in Cinque Terre on a budget, this hotel will fit the bill! The city center location makes for a wonderful and intimate experience when staying in Cinque Terre!
Check Rates: Booking.com | Hotels.com
Mid-Range: Appartamenti e Camere Edi
Appartamenti e Camere Edi is the Cinque Terre hotel for you if you are looking for a great mid-level hotel. Appartamenti e Camere Edi in Riomaggiore is a must! The prices are great and the view is beyond stunning. You are located right in the national park with a terrace overlooking the beach and a kitchenette in case you want to cook your own dinner. The views are the best part of this lovely location!
Check Rates: Hotels.com
Upscale: Crêuza de mä
The views from this luxury hotel in Cinque Terre just can't be beaten. With a hot tub overlooking the Ligurian Coast, Crêuza de mä is a luxury lovers dream. Rooms are modern and updated and the hotel is set apart from Riomaggiore so you are just a quick walk away from your own private oasis. This Cinque Terre hotel comes equipped with Wifi, a rooftop terrace, garden and more. If you are looking for where to stay in Cinque Terre for a luxury getaway, this place is perfect!
Check Rates: Booking.com | Hotels.com
Book Your Cinque Terre Sunset Boat Tour!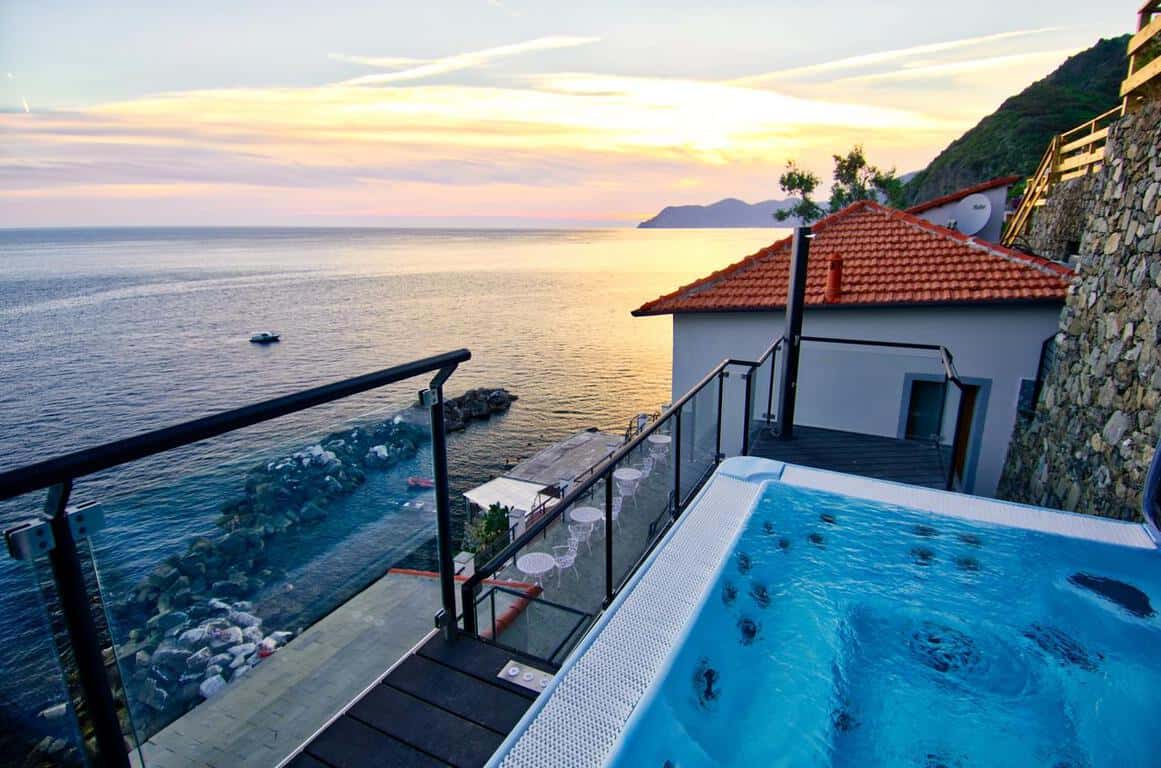 Manarola Is Where To Stay In Cinque Terre For The Best Views
Manarola is one of the most well-known towns in Italy. Although you may not know it by name, chances are you have seen it in a painting, postcard, or photograph somewhere in your life. If you are looking for where to stay in Cinque Terre that is picture-perfect, then choosing a hotel in Manarola will be the best option for you. Manarola is known for its wine production and the way the buildings are built as if they were sliding down off the cliff that hugs a cute inlet.
Unlike Riomaggiore, Manarola has fewer shops and bars and nightlife so if you are looking for a quieter experience, this is where to stay in Cinque Terre for you. This village books up fast so you should make your reservation as early as possible if this is the hotel you want to stay at during your visit!
If you are looking for the best views that don't require lots of hiking, choose Manarola when searching for your Cinque Terre hotels. There is a wonderfully easy loop that takes you from the town along the Ligurian Coast so you can experience a scenic and peaceful walk. Manarola is one of the best places to stay in Cinque Terre for photographers and nature lovers due to its proximity to postcard-worthy views.
Upsides: Picture-perfect village. Good location in the center of Cinque Terre. Quaint and authentic Italian feel. Easy hiking and easy to walk around.
Downsides: Fewer nightlife and bar options. Hotels book up quickly so you must book well in advance.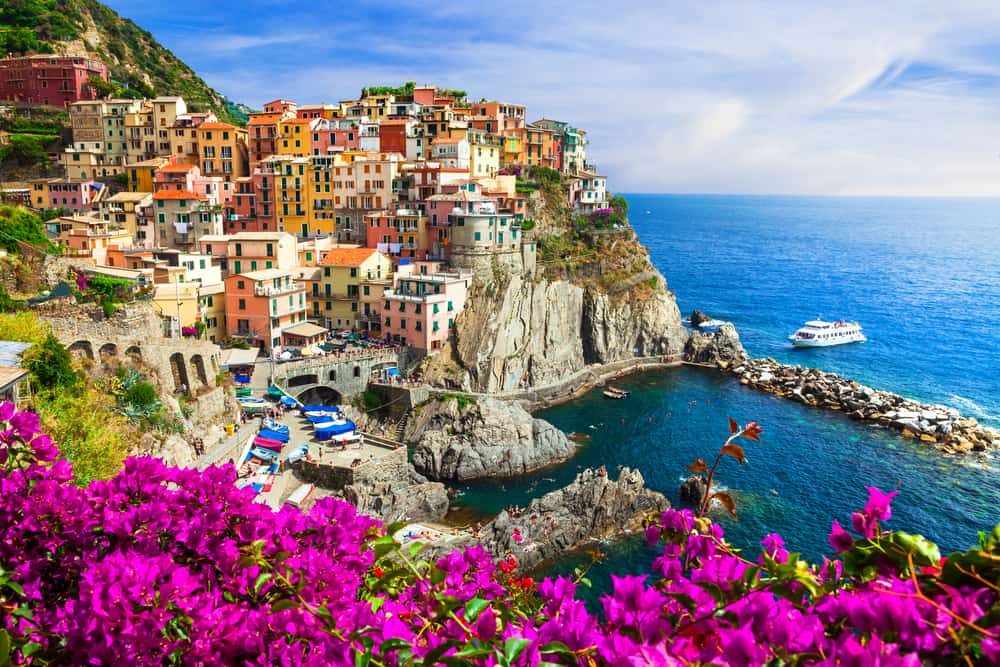 Best Manarola Hotels By Price
Budget: Affittacamere San Giorgio
Keep in mind that budget hotels in Manarola fill up quickly. If you are looking for where to stay in Manarola on a budget, make sure to book early before your trip. While Affittacamere San Giorgio does not have a sea view, it has a city view and is very well located in the center of town compared to other budget options. There are balconies that overlook the city streets as well as a rooftop terrace and air conditioning. Hotels in Manarola with sea views are very hard to come by and for the price this place is perfect! Book ASAP!
Check Rates: Booking.com | Hotels.com
Mid-Range: Olimpo Affittacamere
Olimpo Affittacamere is a wonderful mid-range hotel in Manarola with wonderful sea and village views. This Cinque Terre hotel is close by the train station and near the top of the hill where Manarola is located. It offers modern fixtures and balcony views. There is a 24-hour desk attendant in the event you need to arrive late or leave early.
Check Rates: Booking.com | Hotels.com
Upscale: The First Hotel
Just because The First Hotel is a luxury option does not mean that it will break the bank. Depending on what time of year you visit, some of the best places to stay in Cinque Terre may come out more affordable than you expect. The First is an absolute luxury, with just three private apartments that overlook Manarola. You will have your own terrace and lounge chairs and everything is brand new and beautiful! If you are looking for where to stay in Cinque Terre for a luxury getaway, this is the perfect spot!
Check Rates: Booking.com | Hotels.com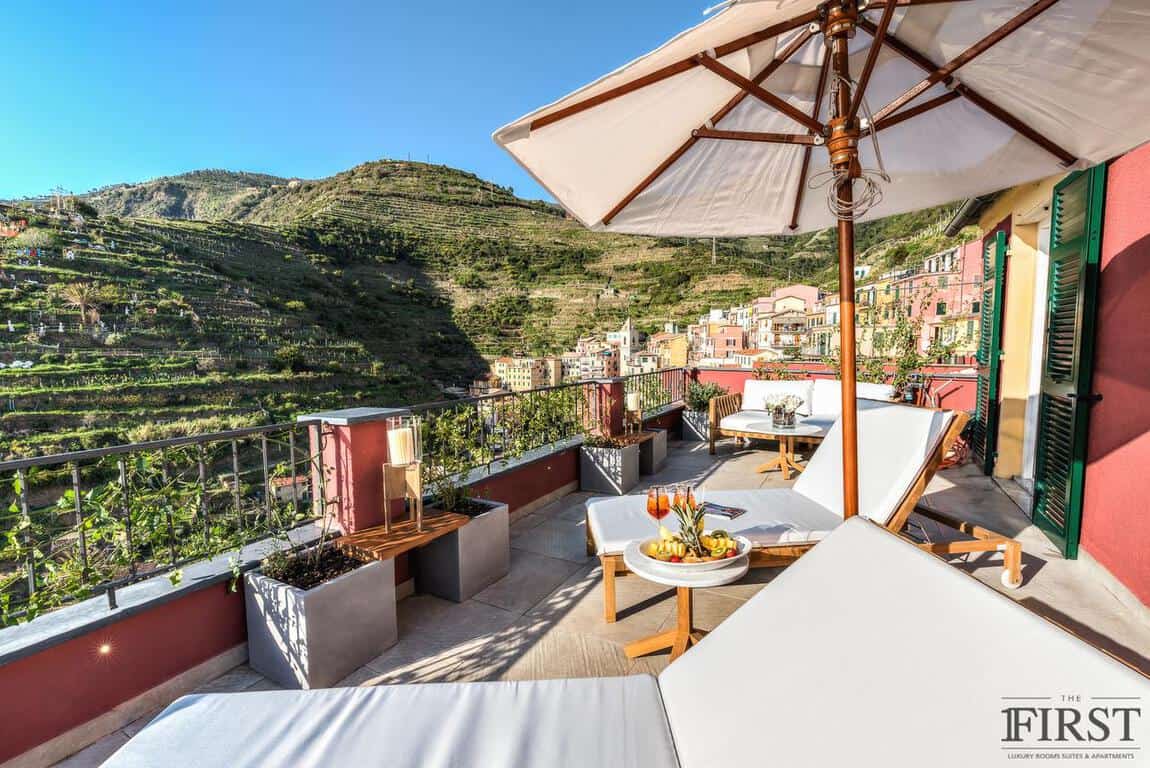 Corniglia Is The Best Place To Stay In Cinque Terre To Escape The Crowds
If you are looking for where to stay in Cinque Terre that is off-the-beaten-path and not popular with other tourists, Corniglia is the perfect place for you. It is rare for people to choose Corniglia when figuring out their Cinque Terre accommodation, so if you want to escape the crowd, then this cliff-top village is the perfect choice for you. Hotels in Corniglia are often more affordable than other villages as well.
Corniglia is the only village in Cinque Terre that is not on the water. Instead, it is high up on a cliff. You must walk over 350 steps to get here, but that makes the payoff so much more worth it. The unique charm of Corniglia is that it is the smallest of all the Cinque Terre villages and a bit more remote and rustic than the other four. If you walk down the main alley in Corniglia, you will come to a stunning view of the other four villages below you. If you are looking for where to stay in Cinque Terre then this is the perfect village if you are active and love hiking and a more authentic Italian experience.
Upsides: Quieter Cinque Terre Village. Off-the-beaten-path. More local experience. Fantastic views. Popular for vineyards. Very peaceful
Downsides: Not on the water like other villages. Must walk over 350 steps [or take bus] from the train station. Some people don't like the quieter feel.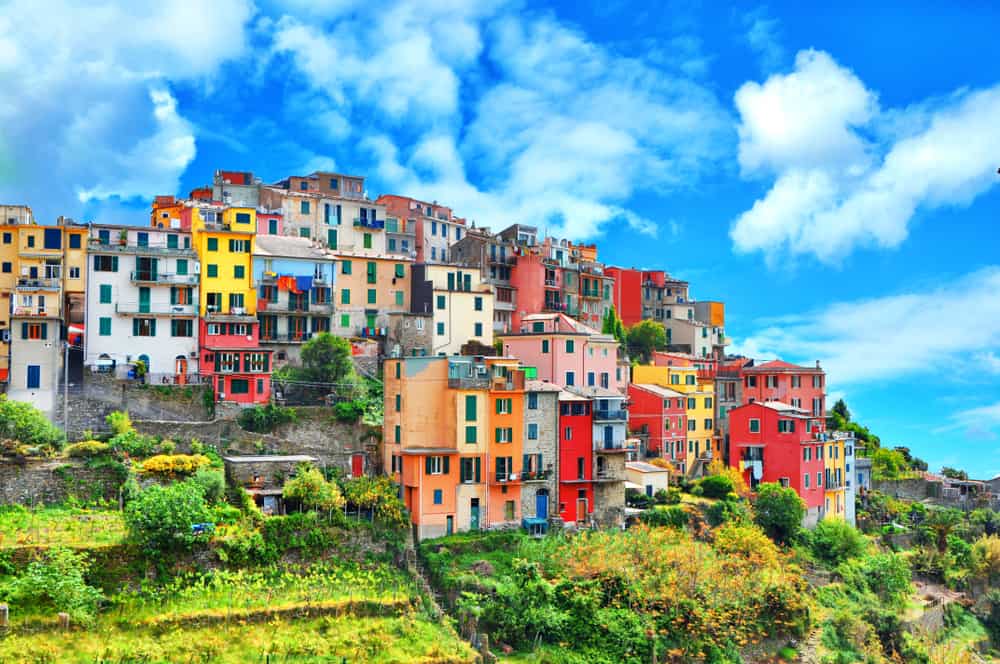 Best Hotels In Corniglia
Affordable: Hanging Garden Hotel
Hanging Garden is an affordable hotel option located in the heart of Corniglia. You are steps away from the city center and are perched high atop the hill in Cinque Terre National Park. There is a rooftop terrace and rooms come complete with kitchenettes if you want to learn to cook like the locals. This is where to stay in Cinque Terre if you want true local Italian charm.
Check Rates: Booking.com | Hotels.com
Mid-Range: Arbanella
Arbanella is a lovely property is higher-end than the one listed above but still affordable compared to other Cinque Terre accommodation options. If finding a view is on your bucket list when choosing where to stay in Cinque Terre, Arbanella will not disappoint. The view from this hotel overlooks vineyards and green hills plunging straight into the sea. The guestrooms are comfortable and free wifi and housekeeping are included.
Check Rates: Booking.com | Hotels.com
Affordable: Punto Zero
Punto Zero is a wonderfully affordable hotel in Cinque Terre and offers stunning views! Many rooms offer ocean views so be sure to ask if this is what you choose for where to stay in Cinque Terre. Punto Zero also organizes tours for guests so if you are looking for a local experience, this is the place to stay for you!
Check Rates: Booking.com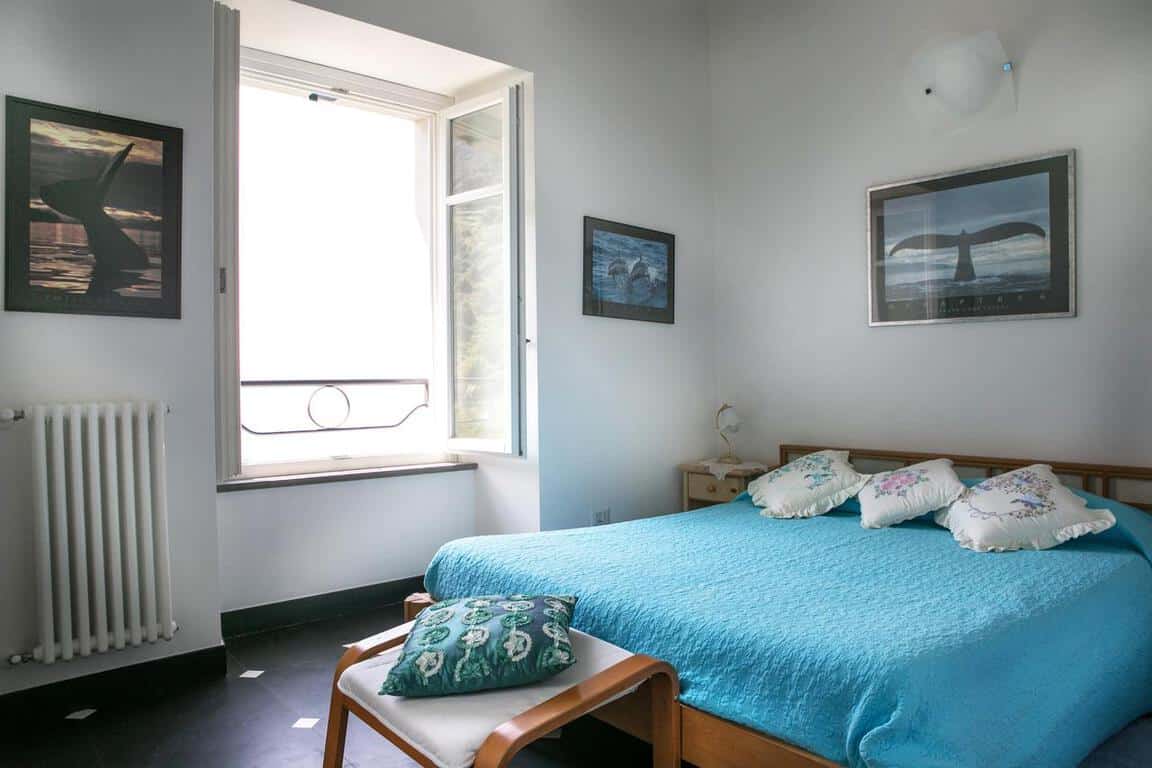 Vernazza Is The Most Popular And Crowded Village In Cinque Terre
Vernazza is one of the best places to stay in Cinque Terre. It is a beautiful and picturesque town with Italian charm and beauty. Vernazza is home to the only natural port in Cinque Terre and was once a fortification in medieval times. Choose Vernazza when figuring out where to stay in Cinque Terre if you are looking to do lots of hiking and want to be near a beach. This village is home to not one but two beaches so if you want a relaxing day, you have options. Please keep in mind that since Vernazza is so picturesque, hotels are a bit more expensive here so even a more affordable option may be pricey to some.
Vernazza is one of the more well-known Cinque Terre villages so it does become busy during the day with people coming in from surrounding towns for day trips. The traffic usually alleviates come sunset time, but this is one of the busier villages. The best part about staying in Vernazza is that the majority of the hotels overlook the city and lagoon so you are usually always going to have a view. Like Manarola, hotels book up quickly in Vernazza, so be sure to have your dates set early when planning your trip to Cinque Terre. Another fun fact about Vernazza is that there are no cars allowed in the small town so it is foot traffic only! How neat is that?
Upsides: Heartbreakingly beautiful. Quaint little town. Flat so easier to walk around. Near a lovely beach and wonderful hikes. Hotels with ocean views abound. No cars so safe for walking around.
Downsides: Must park out of town if you have a car. Extremely busy with tourists. Hotels sell out quickly and early.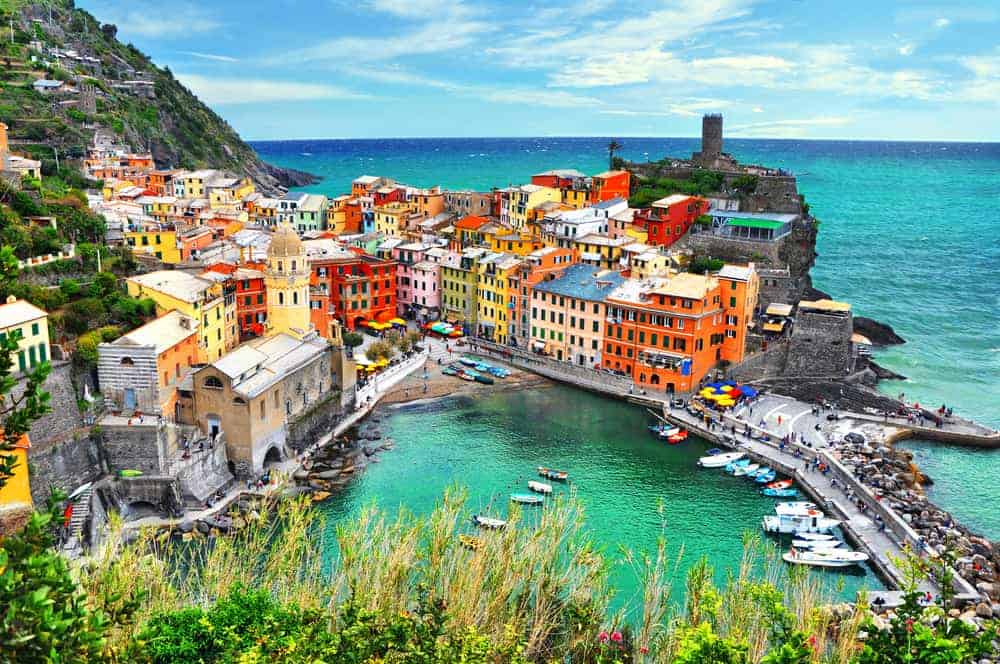 Best Hotels In Vernazza
Budget: Rollando Affittacamere
When choosing a budget-friendly hotel in Vernazza, don't be afraid to sacrifice the sea view for affordability and location. While Rollando Afittacamere doesn't have a sea view, it does have terraces that overlook the village of Vernazza itself and that is just as cute and authentically Italian. There are free wifi and refrigerators and the hotel is less than a 3-minute walk away from the beach. This is a great option for where to stay in Cinque Terre on a budget.
Check Rates: Booking.com | Hotels.com
Mid-Range: Hotel Gianni Franzi
Hotel Gianni Franzi is one of the best mid-range affordable hotels in Cinque Terre. Many more affordable hotels start to take you off the main city-center area, but Gianni Franzi is located less than 5 minutes walk from the main beach. It comes with wifi, AC, and daily housekeeping, as well as terrace views of Vernazza. The best part? The hotel is pink and perched on top of a cliff overlooking the Mediterranean. What more can you ask for when choosing where to stay in Cinque Terre?
Check Rates: Booking.com | Hotels.com
Upscale: Rooms Elisabetta Carro
Rooms Elisabetta Carro is where to stay for the views! Do you know all of those famous photos of Vernazza? When you book at this Cinque Terre accommodation you will actually be staying in that famous grouping of buildings on the little peninsula jutting into the Mediterranian. This upscale hotel offers ocean views, a rooftop terrace, and an intimate setting. It is also marked as being 0.1 miles away from the beach which equates to a one minute walk. You really can't go wrong with the view and setting for the price!
Check Rates: Hotels.com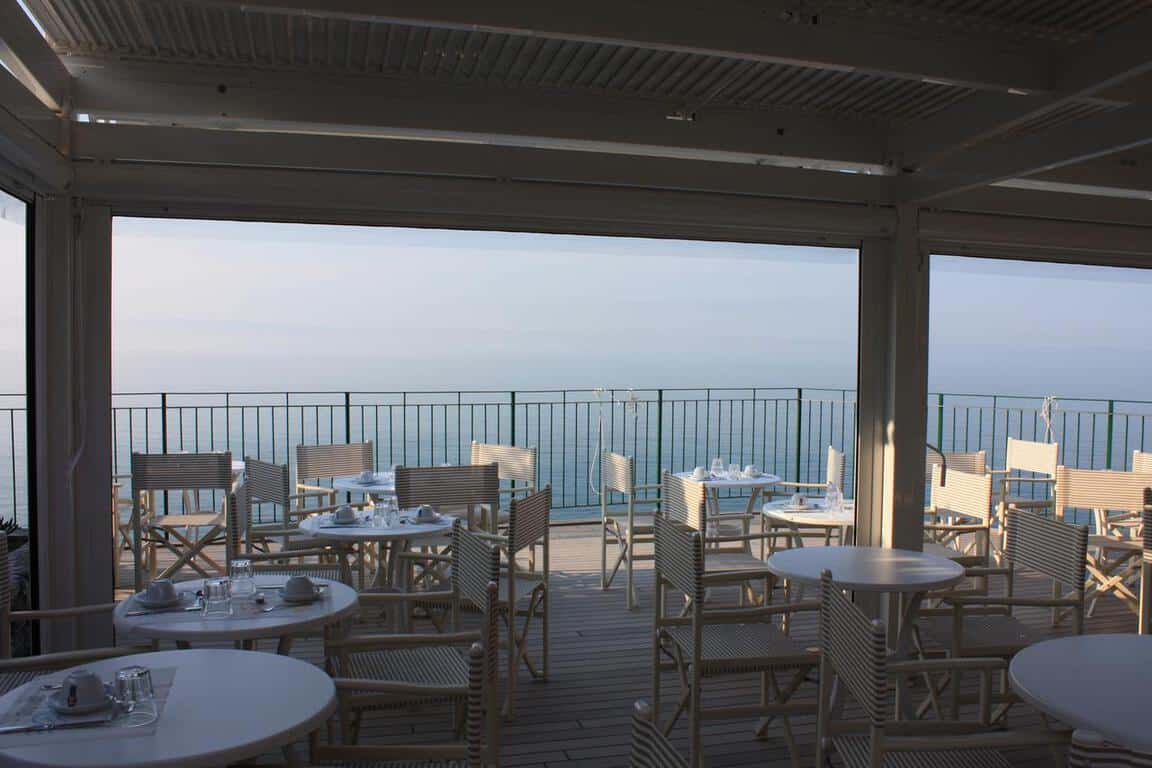 Monterosso Is Home To The Best Beaches In Cinque Terre
Monterosso is the largest village and has the most options for hotels and things to do. It is split into two sections, an older and a newer section, and a small tunnel connects the two. Monterosso is the westernmost Cinque Terre village so if you are visiting the area from the general areas near Milan or Genoa, this is the first town you will come across. Since Monterosso is the largest village, it is a great option for families or larger groups traveling together so that there are more choices for all. When looking for where to stay in Cinque Terre, keep in mind that Monterosso offers the widest range of Cinque Terre accommodation prices.
During your time in Monterosso, make sure to head to the beach. While other Cinque Terre towns have their own beaches, they are generally more rocky and pebbly than sandy. Monterosso is home to Cinque Terres only true sandy beach. Unlike the other towns, Monterosso isn't built on a high cliff so if you want to visit but you aren't able to hike or climb lots of stairs, this may be the perfect village for you. Make sure to wander through the ancient ruins and check out the large statue of Neptune in the city center.
Upsides: Flat so perfect if you have any mobility issues. Wide variety of hotel options. Largest and best beaches in Cinque Terre. Many things to see and do. Many places to eat. Real "Italian Riviera" feel.
Downsides: Fewer nearby hiking trails. Larger city so less "quaint" vibes. Not many downsides!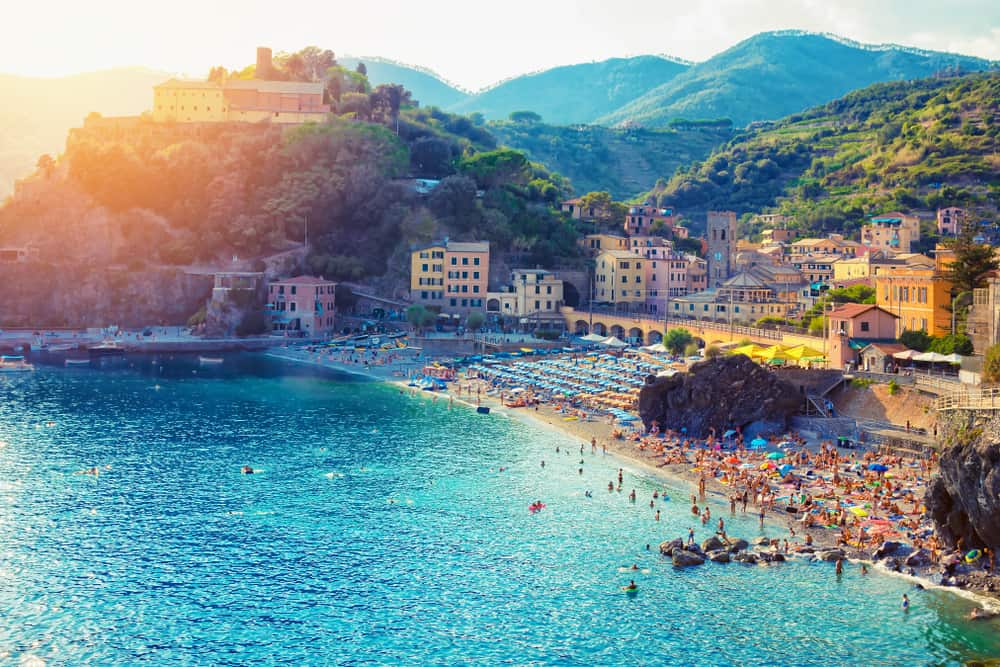 Best Hotels In Monterosso
Affordable: Raggi Di Sole
Raggi Di Sole is a wonderful budget-friendly Cinque Terre accommodation and is touted for the quality of customer service. The check-in process is extremely smooth with maps and guides for guests to get the lay of the land. There is a sea view peeking through and you are less than a 10-minute walk away from the Monterosso beach. There is also free wifi and a luggage storage in case you need to leave early. If you are looking for where to stay in Cinque Terre on a budget, this is a fantastic place!
Check Rates: Booking.com | Hotels.com
Mid-Range: Hotel Villa degli Argentieri
If you are looking for a mid-range family-friendly hotel in Cinque Terre, look no further than this lovely hotel! Villa Degli Argentieri offers on-site child care [for a fee] and there is a playground and beach right out the window. For the adults, there is a terrace for sunbathing and the hotel just steps away from the beach and city center. This Cinque Terre accommodation is also located right new the Monterosso train stop so you are in great luck!
Check Rates: Booking.com | Hotels.com
Luxury Villa: Villa Tanca Hotel
Cinque Terre Riviera Luxury Villa Tanca is a luxury villa option in Monterosso al Mare that offers you both sea views and views of homes spilling over the Cinque Terre cliffside. It is perfect for families or large groups and there is on-site childcare [for a fee] as well as a kitchen and self-serve laundry options. This accommodation in Cinque Terre is located a few minutes walk away from Monterosso Beach and other popular sites without being in a noisy part of town. This is where to stay in Cinque Terre for villa views and luxury treatment!
Check Rates: Booking.com | Hotels.com
Book Your Cinque Terre Sunset Boat Tour!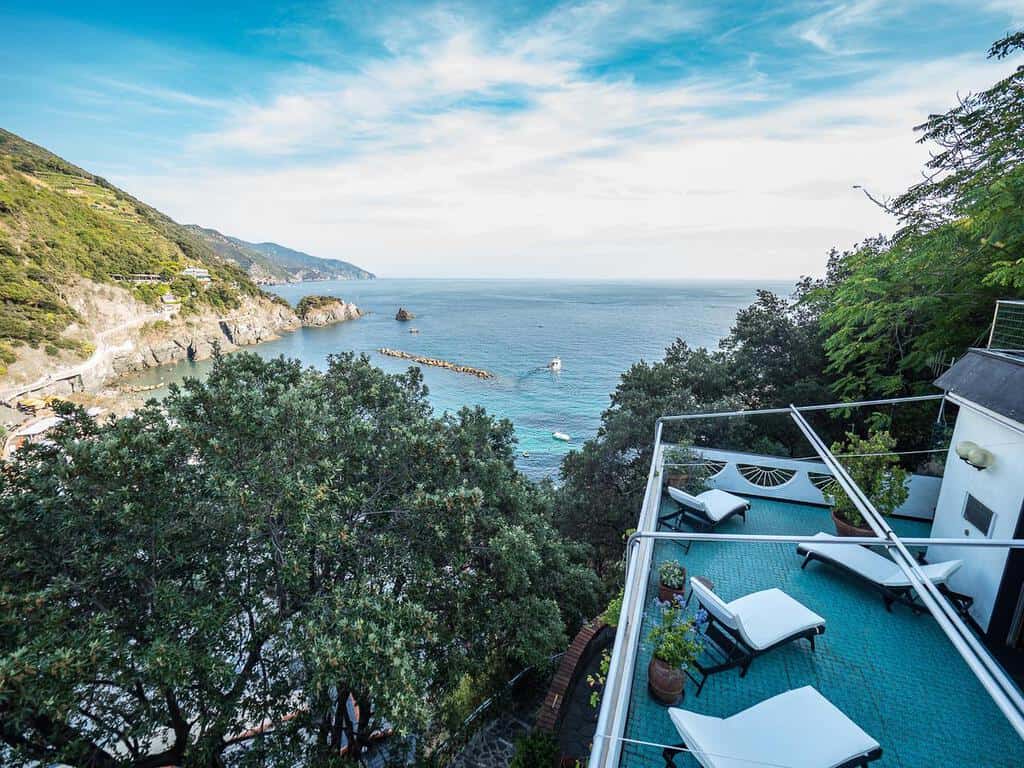 How To Get Around Cinque Terre
Once you have figured out where to stay in Cinque Terre and nailed down your accommodations, you are going to want to figure out your transportation. Luckily, there are three very easy options that are perfect for you. The first option is to drive. If you are flying into Milan or Rome you can simply rent a car for an affordable rate and drive a few hours to Cinque Terre. Having a car will allow you with the freedom to transit among the Cinque Terre villages where and when you want. We have driven along the Ligurian Coast and it isn't that bad or stressful and we always prefer having our own car.
If you don't want to rent a car, then the train is a wonderful option. Train travel in Italy is easily accessible and well-connected and Cinque Terre is no different. There is a train that travels through and stops in each one of the Cinque Terre villages so you can easily explore each one and then hop back on the train to continue along to the next stop. Depending on where your Cinque Terre accommodation is located, you may have quite a walk from the train station, so keep this in mind when figuring out the best place to stay in Cinque Terre and make sure to pack light!
Finally, you can get between the Cinque Terre villages by walking or hiking on your own two feet. This is a great way to get in some exercise and see what this beautiful part of Italy has to offer. If your hotel in Cinque Terre is located in one town, make sure not to stray too far. If you are choosing where to stay in Cinque Terre because you want to get in a lot of hiking and outdoor activities, make sure to check our suggestions above on which village is best for those looking to be in nature.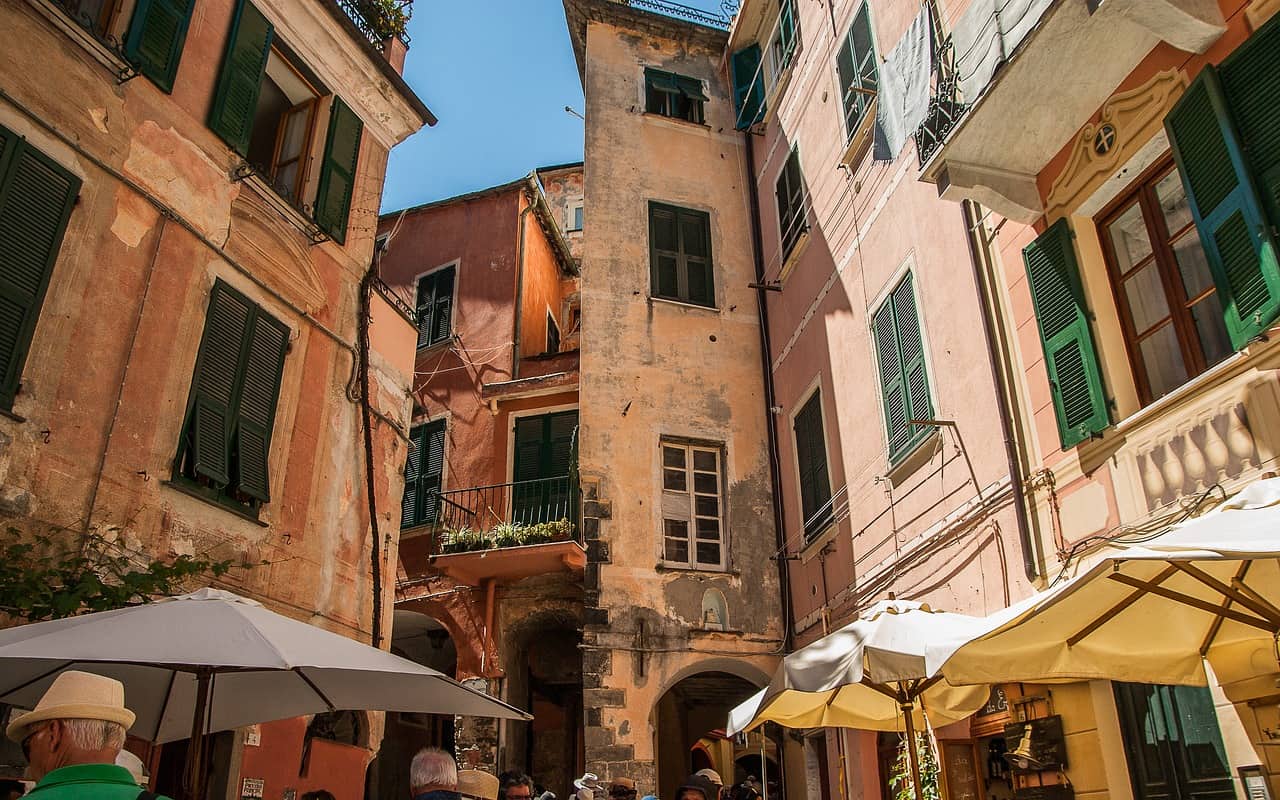 How Long To Spend In Cinque Terre
You can spend as little or as long as you want to spend in Cinque Terre! If you only have one day, it is totally possible to visit Cinque Terre on a day trip from either Genoa area or the Tuscany region. It will be a long day, but it can be done. Just make sure to choose which villages are of high priority to you and then spend the most time in those places.
If you are looking to spend a few days, we recommend spending 2 nights and 3 days minimum to really experience what Cinque Terre has to offer. If you are visiting the Ligurian Coast as part of our 10 Day Italy Itinerary, then we recommend at least 1-2 nights, depending on your priorities elsewhere in Italy. We absolutely love the Ligurian Coast and could easily spend a week seeing all this part of Italy has to offer. However, due to the popularity of the area and the higher cost of Cinque Terre accommodations, if you can spend 2 nights, we highly recommend it!
So there you have it! There are so many places to stay in Cinque Terre and we know you will find a village that speaks to you! From affordable apartments to luxury villas, these Cinque Terre accommodations will provide you with tons of options so you can plan your trip with ease. We can't wait to hear your thoughts on visiting Cinque Terre and the Ligurian Coast. It is one of our favorite spots in the world!
Packing Tips For Your Trip To Cinque Terre:
Here are some of our favorite items that you should consider packing for your trip to Cinque Terre! These are essential travel items that we use and love and you should make sure to consider for your travels.
A concealed travel pouch may be one of the most important items you bring with you! This unisex RFID blocking concealed travel pouch is lightweight and comes in several colors. It has lots of organization to give you peace of mind. You can keep your most valuable documents safe and secure next to your body.
If you have a pouch already you may not want to or need to invest in a new one. If it does not come with the RFID protection, these RFID sleeves would be handy to prevent identity theft. This configuration comes with enough passport and credit card sleeves that the entire family would be protected. They are slim too, so they will easily fit into your current pouch or wallet. These are the kind our family uses not only when traveling but at home as well.
If you have a camera on your packing list, you need to add additional memory cards on your list as well. Unless you are packing a computer for your trip, you will not be able to upload photos and clear your existing memory card. Purchasing additional memory cards cost under $20 and take up no space in your luggage. Having a backup can have the potential to save you a lot of heartaches if something goes awry! There is nothing worse than coming across that perfect moment and then finding out you don't have enough space to capture it on your camera!
Similarly, If you are planning to capture your trip on a smartphone, we beg you to bring some way to back up your memories. The best way to do this is with a portable smartphone flash drive. A flash drive is a small storage device that you can connect up to your smartphone and then safely and easily download the photos onto this device.
If you are planning on taking a lot of pictures with your phone you will definitely want to consider an external charging battery. This Anker high-speed phone charging battery is the exact one we carry with us on all of my trips. It can be used on a variety of phones, not just an iPhone like we have. And wow is it fast! We like that it holds its charging capabilities for several uses so we do not have to worry about it while out and about. And if we forget to recharge it at night, it will still be good to go the next day.
My mom was never a fan of packing cubes until she tried them out! Now she is sold. These Bagail packing cubes are the exact ones she uses whenever she travels and she travels a lot. She cannot believe how much more organized she is now! And she will never leave without them anymore.
We never leave home on a trip without our Bobble filtration bottle. The 18.5-ounce size is perfect for travel and it will fit nicely in the pocket of a backpack or your purse. Also when filled with water, it is not too heavy to carry. And the Bobble carbon filter ensures fresh clean water whenever and wherever you fill the Bobble. You can find filter replacements here.
Perhaps you are traveling a long distance and packing space is a premium. Then this set of collapsible silicone foldable water bottles would work well for you. Would not take up much space in your suitcase at all. And you will be receiving a set of two.
You will want to bring a backpack or daypack with you to store snacks, your water bottle, phone, extra clothes, etc.. This foldable water-resistant backpack would be great. It is very affordable and is available in many color options for you to choose from. The fact that it folds down into a zippered pouch will make it easy to pack.
Perhaps you need a more substantial backpack for your international travel. This antitheft backpack has a charging port, is water-resistant and can comfortably carry up to a 15.6″ laptop. It comes in a range of colors to choose from and it is inexpensive as well.
We all need to protect our eyes from the sun's harmful UVA/UVB rays. These unisex polarized sunglasses come in a lot of lens colors and frame designs and are extremely affordable too.
If you are fond of the aviator-style of sunglasses these polarized aviators may interest you. We like polarized sunglasses because they remove the glare off the water and help you to see things more clearly.
Don't forget to bring along a universal power adapter if you are traveling abroad. This worldwide power plug is a great example and will charge your phone at the end of your busy days. And this world traveler adapter kit can charge several devices at the same time. This is what you will need when there are several people traveling in your group, or if you bring several electronic devices on your trip that require charging at the same time.
Disclaimer: This post may contain affiliate links. All this means is that we will make a small [super small!] commission at absolutely no cost to you! This helps us be able to continue to run Follow Me Away and we thank you for your help!