Are you trying to make the most of one day in Florence but feeling slightly overwhelmed with the seemingly endless options the city has to offer? Don't worry– we've got your back! This article will take a look at ten of the best things to do while visiting Florence in one day, highlighting some of the best stops to make!
Whether you are spending 10 days in Italy, have a little more time like 2 weeks, or are renting a car and planning an Italy road trip, one day is the minimum that you should spend in Florence as it is a stunning city!
Because Florence is a city well known for its culture and history, being considered one of the most important cities in history during the 16th century, it is easy to feel as if there are too many options to choose from, especially when planning your one day in Florence.
However, within these endless options are places you must stop and see.  From paying respects to the Renaissance movement, which was birthed in Florence, to ogling at classic Roman architecture, there are certainly many sites to see. Keep on reading to find out what stops and sites rank in our top ten must-see places for conquering Florence in one day.
Make sure to check out our list of the Best Places to Stay In Florence!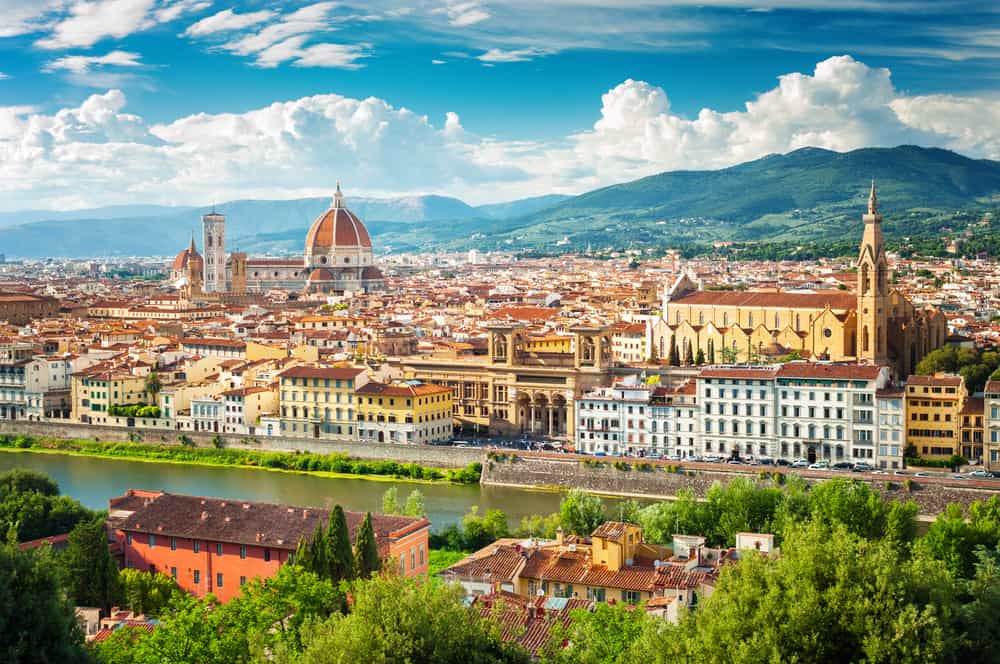 How To Make The Most Of One Day In Florence 
Visit The Florence Cathedral
Anything that is referred too as "the jewel of they city" must be on your to-do list for one day in Florence. Constructed in 1436,  many travelers are surprised to find that the building itself, which is also referred too as the Duomo, had actually begun construction in 1296. It was not structurally complete until 1436, and then it took even longer to finish, taking on it's full and complete form in the 19th century. It is one of the best things to do in Florence and you shouldn't miss it!
True to its date of completion, the Florence Cathedral pays tribute to Gothic styles with it's exterior being composed of marble panels that vary in colors, including green and pink. These colors are bordered by white, providing great contrast to the vibrancy of the marble panels. Despite the fact that the inside of the Cathedral isn't as colorful as the exterior, the inside of the church is worth visiting, as it has historical and large-scale art and architecture, such as the Last Judgement fresco that covers the underside of the dome.
Within the Cathedral's complex, there is also the Baptistery and Giotto's Campanile (both of which will be talked about later!). Together, these three buildings are a part of the UNESCO World Heritage Site, making it a major tourist attraction. The Cathedral itself is one of Italy's largest churches and the dome itself remains the largest brick dome to ever have been constructed. It can be seen from miles around the city! From the colors and gorgeous architecture, this place is not to miss and should be added to your one day in Florence plan!
Still need convincing? Read our article on 5 Reasons to Take a Duomo Tour in Florence Italy!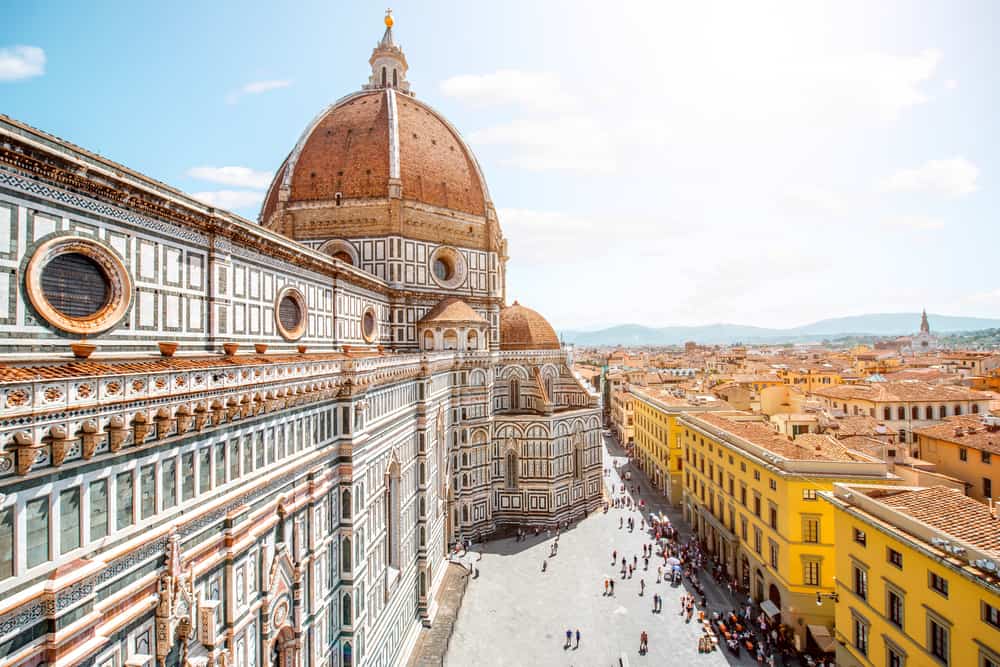 Walk to the Baptistery of St. John
As mentioned, within the Cathedral complex, there are three buildings: The Florence Cathedral, Giotto's Campanile, and the Baptistery of St. John. As these three beautiful sites are so close to one another, it only seems fair that you take a quick walk from one to another in order to complete your one day in Florence!
The Baptistery is a completely separate building from the cathedral, sitting in the front of the church, and is one of the oldest buildings in Florence. It's exterior mimics that of the Cathedral and Giotto's Campanile (which will be touched on more in a bit!), but the Baptistery has some flares of its own as well. The bronze doors of the Baptistery are a must see for visiting Florence in one day, as there are three sets of them and each door depicts a variety of different religious scenes.
Keeping on theme with Florentine design and architecture, the inside of the Baptistery pays tribute to its Roman roots with Byzantine-like art on the ceilings and walls, depicting stories from the book of Genesis. What makes this so interesting, however, is that the Byzantine art is more abstract and symbolic in nature, making it a must see on your one day in Florence, as it is slightly different than the classic Roman art Florence's history is most familiar with.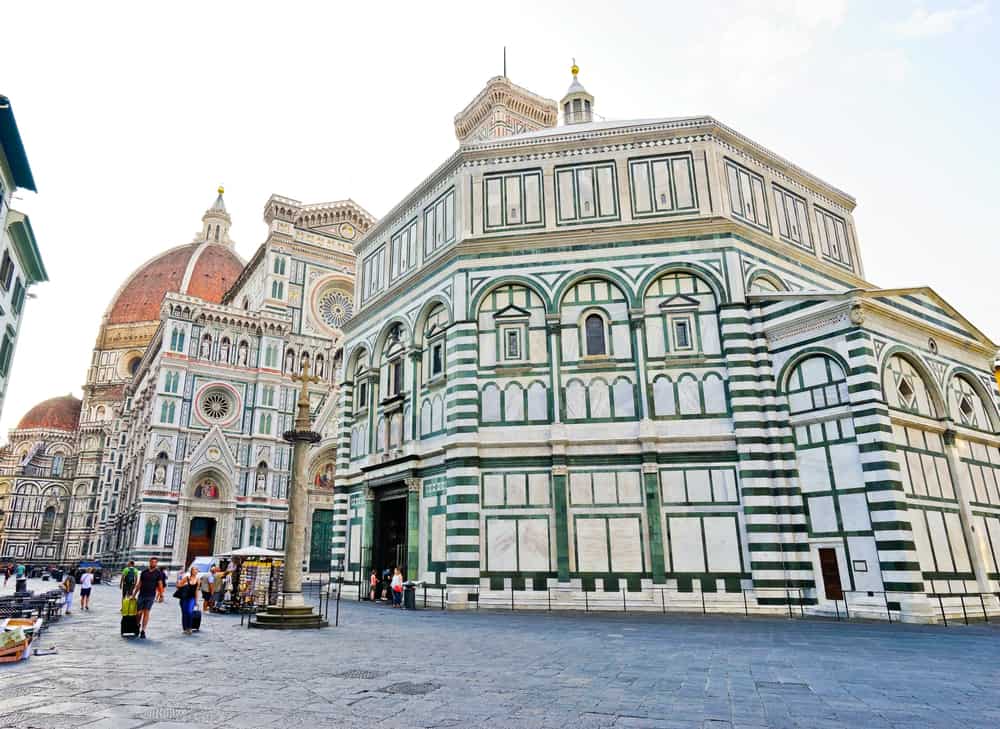 Explore Giotto's Campanile During Your One Day in Florence
To finish up the Cathedral complex, you also must walk to Giotto's Campanile during your one day in Florence! Despite the fact that many people think Giotto's Campanile is connected to the dome of the Florence Cathedral, this too is an independent building, just like the Baptistery. Giotto's pays tribute to Gothic architecture and is split into five levels. Giotto, the designer of the building, unfortunately, passed away during construction, but another famous artist, Talenti, added the last three levels to ensure that this building stood out in the city. These last three levels may look equal in size but each level is larger than the lower one, which gives it the perception that they are of equal size when looking up at the top level from the ground. In actuality, each level varies in dimensions!
It is the various hues of greens and pinks that connect Giotto's Campanile to the Cathedral, and it's polychrome marble may be one of the reasons why many people associate the two buildings together, but it is the sculptures and artwork, such as the four Prophets and Patriarchs, that cover the tower in unique niches that make this building stand out. It truly pays tribute to it's Renaissance nature.
But the best part about this building? You get to climb the 414 stairs in Giotto's Campanile's tower, which offers a breathtaking view of both the cathedral and the city of Florence. And is there a better way to see the city of Florence in one day than via a birds eye view?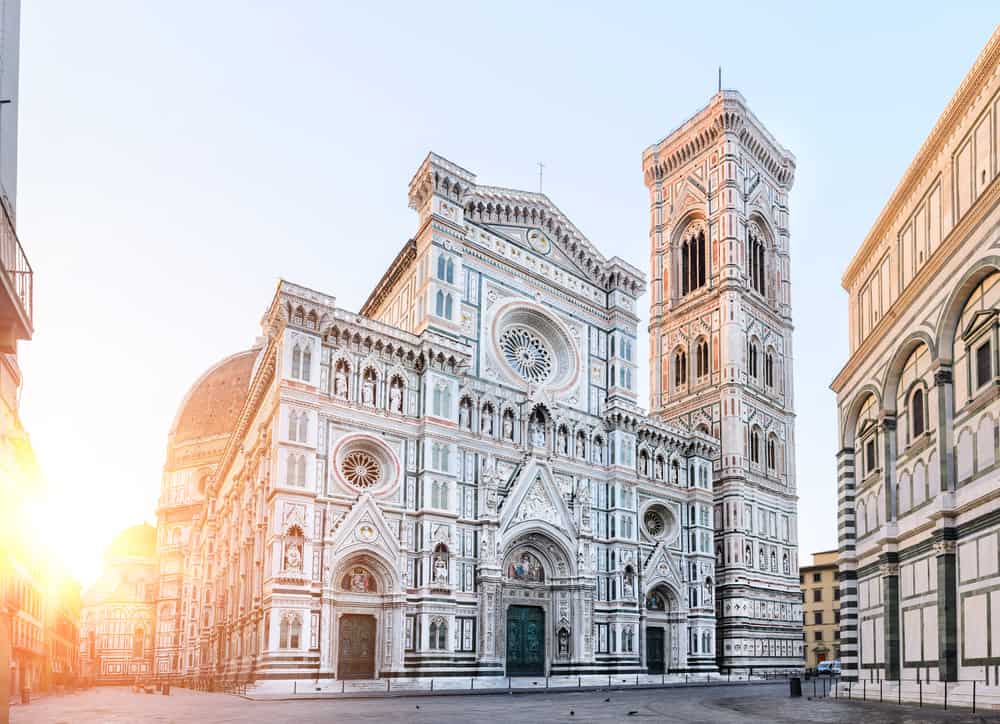 Admire Art at the Uffizi Palace and Gallery
Because Florence was the birthplace of the Renaissance Art movement, it only seems right to go to a gallery during your one day in Florence! The Uffizi Palace and Gallery is arguably one of the most renowned art museums and is considered to be one of the most important Italian museums not just in Italy, but in the world. This museum had to be opened to visitors by request in the 16th century, and was officially opened to the public in 1765. But it wasn't until 1865 that it formally became a museum, and since then, has become one of the most visited art museums in the world. So why not stop by during your one day in Florence?
This museum contains gorgeous collections, presenting work from Botticelli, Da Vinci, and Titain. It takes pride in housing key work such as: Madonna and Child, The Birth of Venus, Flora, and The Annunciation. Because this gallery contains many pieces of Renaissance Art, it can provide hours of entertainment. But the art isn't the only beautiful thing about this building: the design and structure of the Uffizi Palace and Gallery is more than enough reason to put this on your one day in Florence bucket list! Between marble statues, intricate columns, high ceilings with designs, patterned floors and a gorgeous courtyard, this is not a place to miss.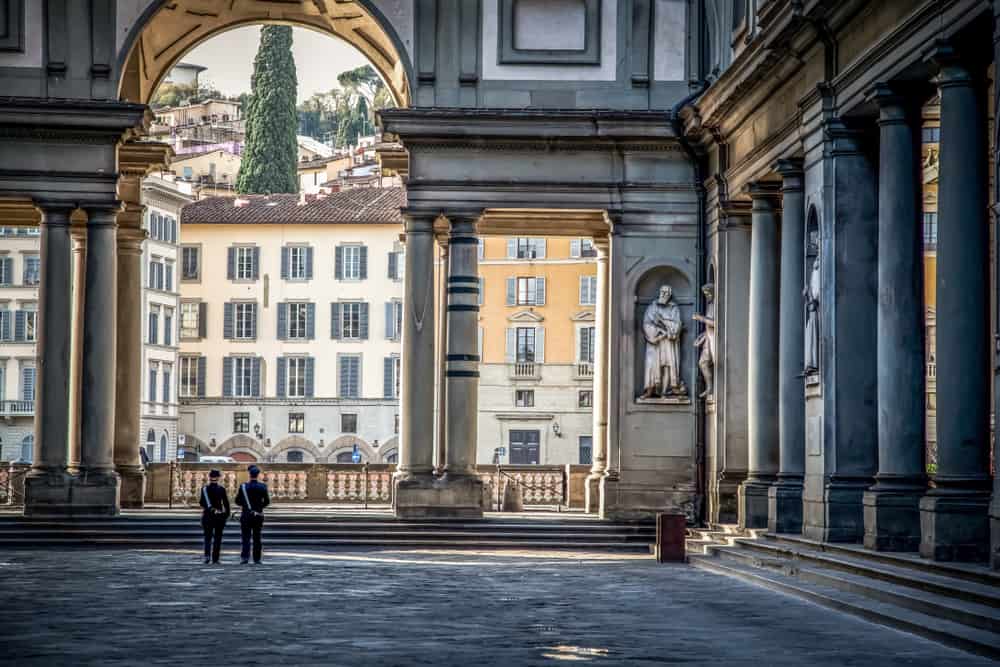 Don't Forget to Walk By the Galleria dell'Accademia  
If you truly love art, you don't want to miss the Galleria dell'Accademia during your one day in Florence! But be careful– one can easily mistake this building as something else! It is easy to simply overlook this gallery, walking right by it, but you do not want to miss it.
This gallery is closely located to the Piazza del Duomo and is considered an important museum for the sole purpose of the fact that it contains masterpieces of Renaissance Art. You can find much of Florence's most prized pieces here, including pieces that pertain to the 14th century time-period of Florence and the original Michelangelo's David sculpture. This museum is considered smaller and much more specialized than the Uffizi Palace and Gallery, adjoining the Accademia de Belle Arti (the academy of fine arts of Florence), but it has no affiliation with the academy itself.
Lastly, if you are a music fan, this gallery has a section that allows for you to look at Florence's musical instruments and inventions over the course of their history. It is a must see when you spend one day in Florence– but be careful! You might spend a bit too much time here if you get caught up in staring at David too long. It is the second most visited art museum in Italy after all!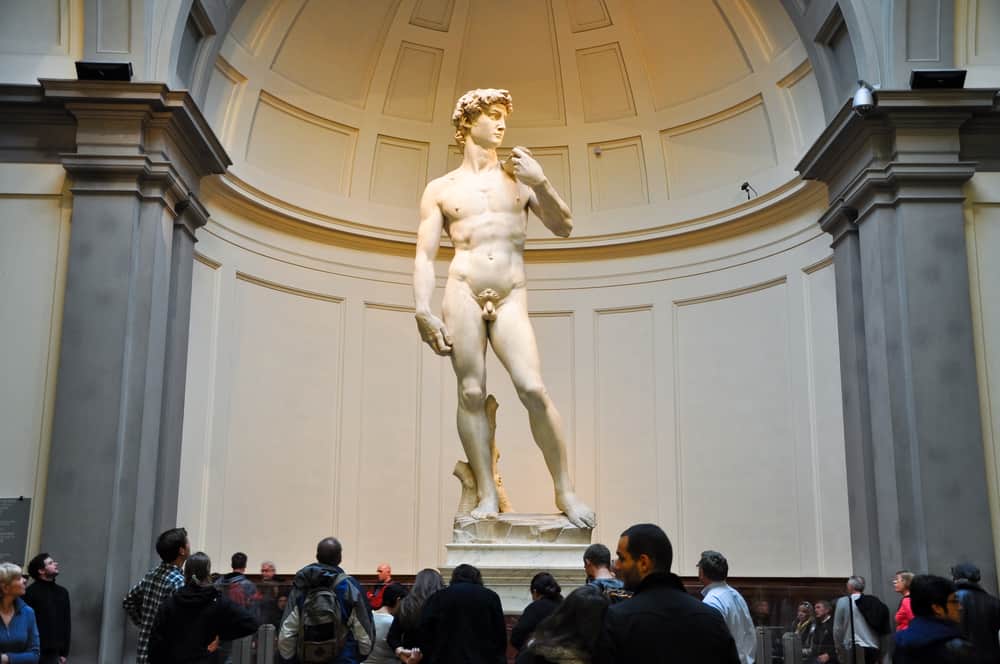 Stroll Through the Boboli Gardens
45,000 meters may seem like a long walk for most travelers, but when these 45,000 (that is 111 acres!) meters are filled to the brim with art and nature, you don't want to miss out. The Boboli Gardens are some of the largest gardens in Florence and provide a nice break from the city, making it a must-see while you spend one day in Florence.
Over the years, the gardens have received a lot of restructuring work, including enlargement, but have now settled and become a wonderful monument for Florence, encapsulating a variety of trees, flowers, and art. In fact, the gardens have come to form a sort of outdoor museum with all of its sculptures they now include. These 16th and 17th antiquities include famous statues of Perseus and Andromedae, and these are just the beginning of the beauty that these gardens hold. If you want to enjoy some time outside, the gardens are the place to go– especially when all those flowers are in full bloom!
It should be noted that due to the nature of these gardens, constant restoration and and maintenance are required, so make sure to check for announcements on periodic renovation and upkeep before just popping in so you don't miss out!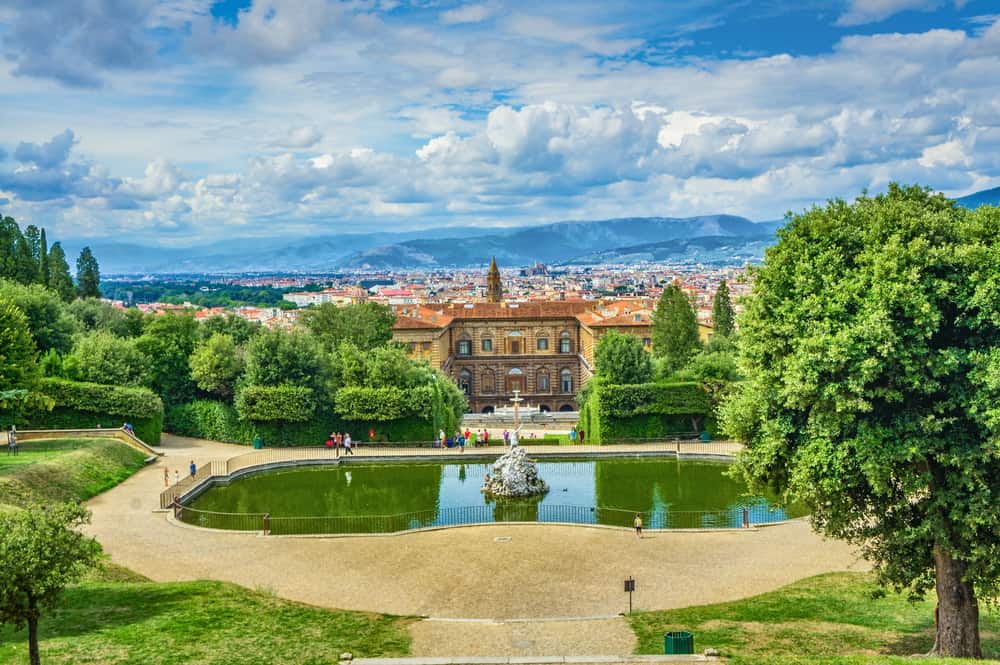 Wander Through the Corridoio Vasariano
The Corridoio Vasariano was originally designed as a private walkway, stretching from the south side of the Palazzo Vecchio and ending at the Palazzo Pitti. This passageway is elevated and enclosed, and was originally used by high ranking individuals in the 1500s, as many of those individuals were skeptical to walk around in public. The walkway provided the opportunity for monarchs to move freely between their residence and government place, and you can follow in their footsteps– literally!
The Corridoio Vasariano offers breathtaking views for your one day in Florence, as its series of panoramic windows face the Arno River, and the walkway itself passes over the church of Santa Felicita. At the end of the walk way is a balcony which allows you to look into the church. This was originally used by the Grand Duke and his family: they were able to attend church without mingling!
But just a warning: the Corridoio Vasariano gets narrower and narrower as it stretches on, so watch your step! It was also closed in 2016 for safety reasons, but good news– just this year the Uffizi Gallery announced that the walkway will reopen for tourists soon, so make sure this is on your to-see list for one day in Florence before you miss the chance to walk with Royalty again!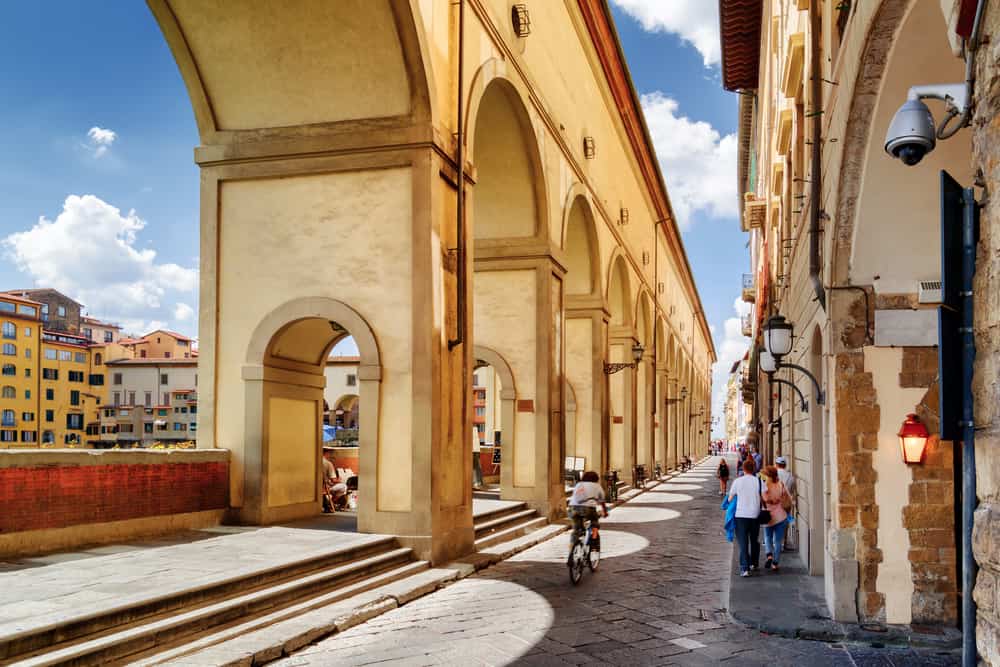 Cross the Ponte Vecchio
During your one day in Florence you are not going to want to miss crossing the Arno River on one of the oldest bridges in the city. The Ponte Vecchio is a medieval stone bridge, architecturally noticeable by it's close-spandrel and segmented arch. It crosses the Arno River at the river's most narrow point, and historically, was filled with butchers.
Thankfully, butchers no longer occupy the bridge, but tenants now sell jewelry, art and other souvenir items, making this bridge the perfect place to stroll, admire and shop! Considering that Ponte Vecchio translates into "old bridge" this historical monument is a must see during your one day in Florence, as records of it first appear in documentation in 996. Walking across this 30 meter (98 feet) long bridge can give you a wonderful insight to the history of the city, as well as offer a breathtaking view of the Arno river and give you a chance to leisurely enjoy some shops!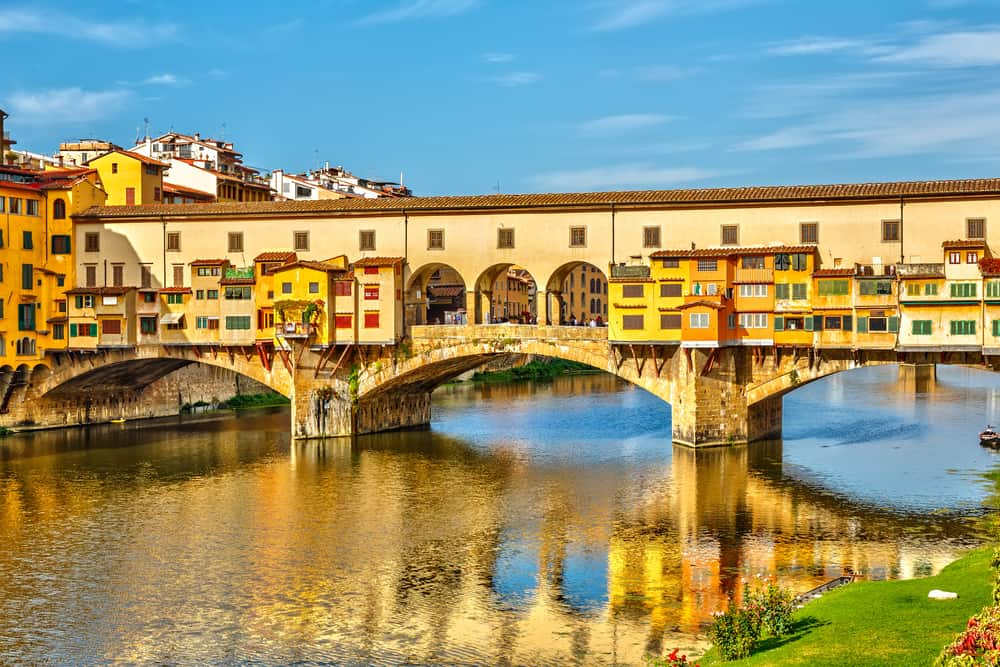 Grab a Bite at Pizzeria Santarpia
After a long day of site-seeing in Florence, you might want to stop, rest, and grab some grub. The  Pizzeria Santarpia has been voted as one of Florence's best pizzerias around, turning out around 150 pizzas a night. All ingredients used in this restaurant are authentic to traditional Neapolitan pizza pie recipes: from the organic tomatoes harvested from Vesuvius and fresh mozzarella from Campania, as well as anchovies from a fishing village in Cetara, the fresh ingredients provide mouthwatering flavors that you must not miss during your one day in Florence.
But between the organic ingredients and the endless list of toppings (can you say yum to the lemon and parsley pesto?), there is also a dessert menu that cannot be missed. The chocolate based Sette Veli cake is wonderful, and there are also gluten and lactose-free options on the menu. This is a fantastic place to sit back, relax, and enjoy some authentic Italian food!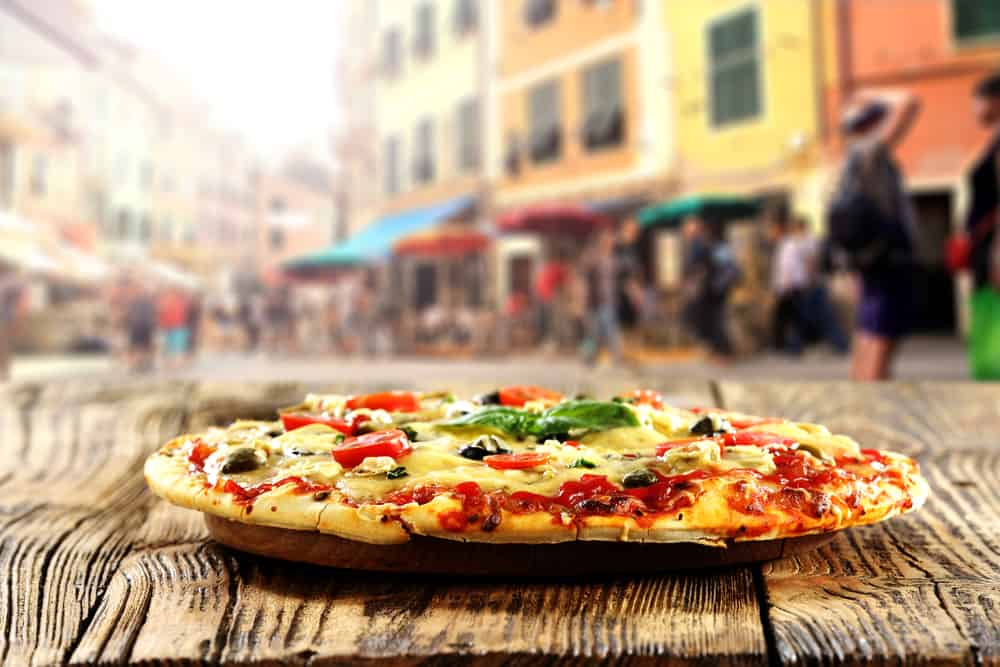 See It All From the Piazzale Michelangelo
Giuseppe Poggi built the Piazzale Michelangelo in 1869, just on a hill south of a historic center. During this time, Florence was the capital of Italy, and Poggi designed this square to oversee the entire city. Because this square offers a panoramic view of Florence, it is a must-see for any one who is visiting Florence in one day.
While the view alone may capture the heart of the city, the square itself is dedicated to Renaissance sculpture, Michelangelo. It contains bronze copies of his original marble works that can be found elsewhere throughout Florence (see the art gallery's listed above!). Poggi designed this square as a tribute to Michelangelo, and even constructed a loggia to house some of his works. This loggia was later turned into a restaurant that visitors can happily rest, relax and eat at– just watch for one thing! On the wall of the balcony, under the loggia itself, there is an epigraph to look out for. Poggi later turned this epigraph and area into a monument for Michelango and it remans a common tourist stop for one day in Florence.
As mentioned, the heart of Florence can be seen from the Piazzale Michelangelo: from the Forte Belvedere to across the bridges of the Arno and beyond the city, covering the hills of Settignano, this place just might be your last stop on during your one day in Florence. How else would you be able to see it all?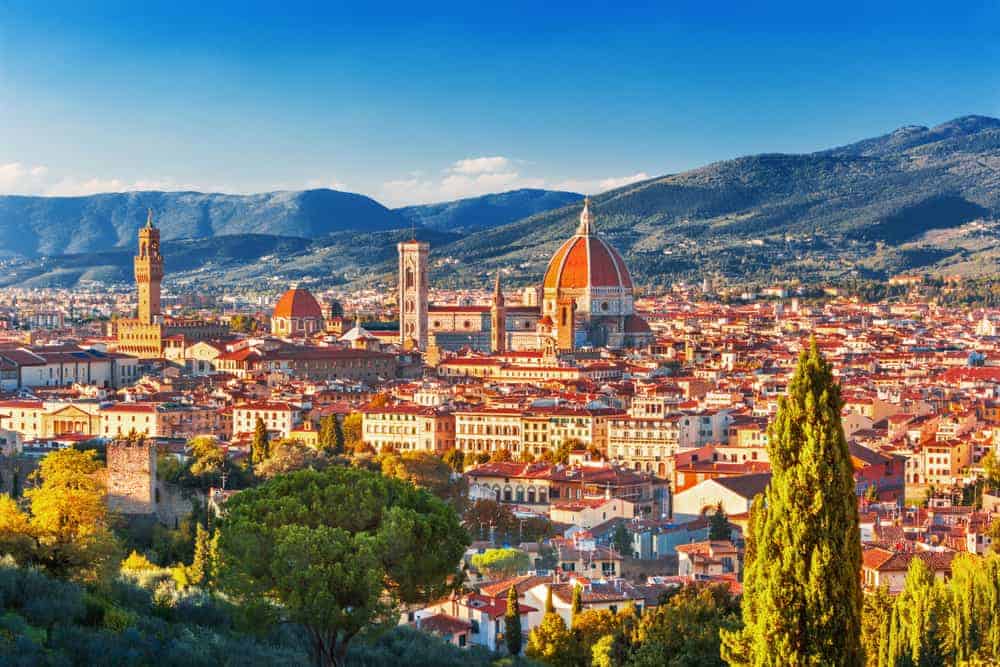 Florence is a city that thrives off of its history and culture. It is filled with rich history, gorgeous architecture, traditional and unconventional art, and some classic Italian food. Even if you only have one day in Florence, the opportunities this city offers are wonderful and provide great insight to the charm of this popular city. So take your time and explore! Enjoy walking from building to building, stare at some art, eat pizza and expand your horizons all in one day in Florence.
Still nervous about traveling? Here are some tips about what to pack when visiting Italy! Safe and fun travels!