Are you planning a day trip and trying to decide on what to do with only one day in Venice? Well, look no further! We absolutely love Venice. It's a city unlike any other and has so many things to do, see, and experience that will allow surely anyone to enjoy their time there.
Planning your trip to Venice last minute?
Make sure to book your hotels and tours in Venice in advance to ensure availability! Often, things sell out the closer you get to your trip. Here are our top picks for Venice:
Top Tours And Tickets To Book In Advance:
Best Venice Hotels:
Hotel Gardena (Includes breakfast!)
Carnival Palace-Venice Collection (Close to the water bus stop)
Hotel Firenze (San Marco: Our fave location in Venice)
Day trips are exciting, yes, but it can be a little difficult trying to decide what and what not to make time for with only one day to spend. Luckily, we have been to Venice many times and we are here to spill the beans on how to make the most of one day in Venice.
Whether you are spending 10 days in Italy, have a little more time like 2 weeks, or are renting a car and planning an Italy road trip, we recommend at least one day in Venice, if not more! The city is so fantastic and you won't regret visiting!
Venice is a city in the North-Eastern region of Italy which consists of hundreds of small islands joined together by bridges to create one large cohesive city. Ancient Italians had fled to the Venetian lagoon in the early fifth century to escape from invaders after the collapse of the Roman Empire.
As they sought refuge upon the islands of that lagoon, they eventually made the decision that it was best not to go back to the Italian mainlands due to fear of Atilla The Hun who was currently pillaging the place. Little did these ancient settlers know, their temporary island get-away would become something much more than temporary. The city of Venice was built, and now 1500 years later, their sanctuary has become one of the worlds most popular tourist destinations.
Regardless of what your interests may be as a traveler, spending one day in Venice is a unique experience guaranteed to make lasting memories for everyone! So, if romantic gondola rides, mysterious masked street parties, amazing shopping, and beholding the magic of one of the most unique cities in the entire world sounds like your cup of tea, please enjoy this article on how to make the most of one day in Venice! We hope you find it helpful!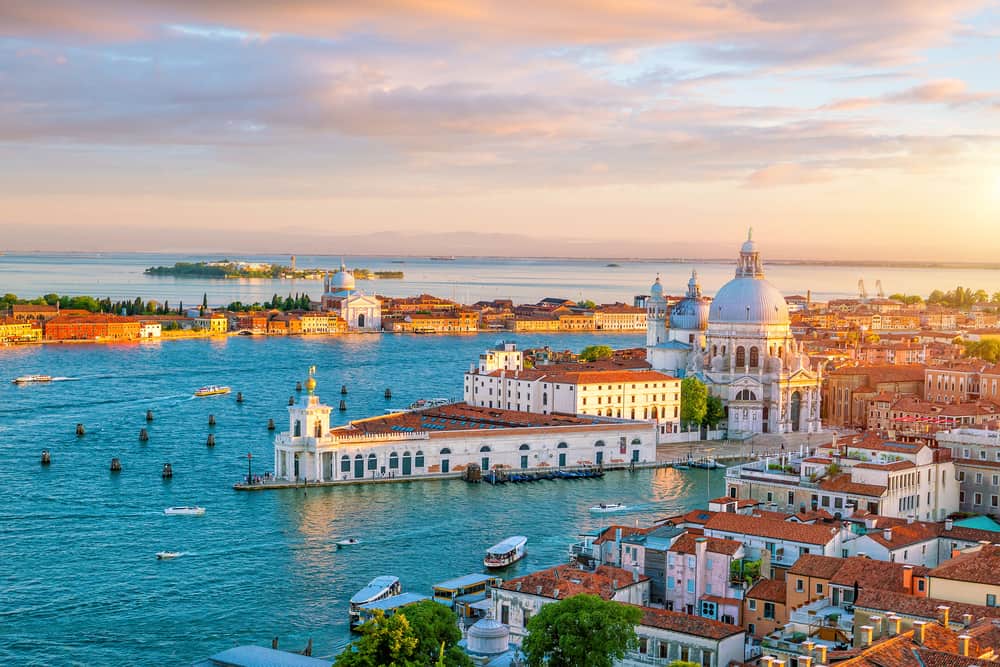 How To Make The Most Of One Day In Venice
Visit Saint Mark's Square and Basilica
If you remember reading about Saint Mark's Square and Basilica in our 10-day Italian itinerary, we are about to talk about it again! Without any denial, Saint Mark's Square and Saint Mark's Basilica are the most famous landmarks in the entire city. Because of their popularity and fame, we have put them at the top of the list of our recommendations on how to spend one day in Venice.
La Piazza (Or, "The Square" in Italian) is the renowned main public area in the city which was believed to have once been coined by Napoleon himself as "The Drawing Board of Europe". This quote has never been proven as factual, but if you ask any citizens about it on your one day in Venice trip, I'm sure they will go on and on about how the claim is indeed factual. The Square is important to Venetians for many reasons, one being its poignancy as the center of both political and religious power for the city as one. Even though La Piazza is surrounded in many cool shops, restaurants, and sights (Including Saint Mark's Clock Tower, and The Saint Mark Basin), the square is dominated by the magnificent Saint Mark's Basilica.
Serving as the shining crown of the centerpiece for The Square, Saint Mark's Basilica is probably the grandest place of worship in the entire city and a must-see for your one day in Venice itinerary. You can spend quite a lot of time marveling at the ornate intricacies of the church's exterior, but if you have spare time during your one day in Venice, we recommend going inside too. It is just as grand on the inside as the outside and you will be able to see the basilica's insane collection of mosaics and a Byzantine treasure that puts the English Crown Jewels to shame, the golden Pala d'Oro.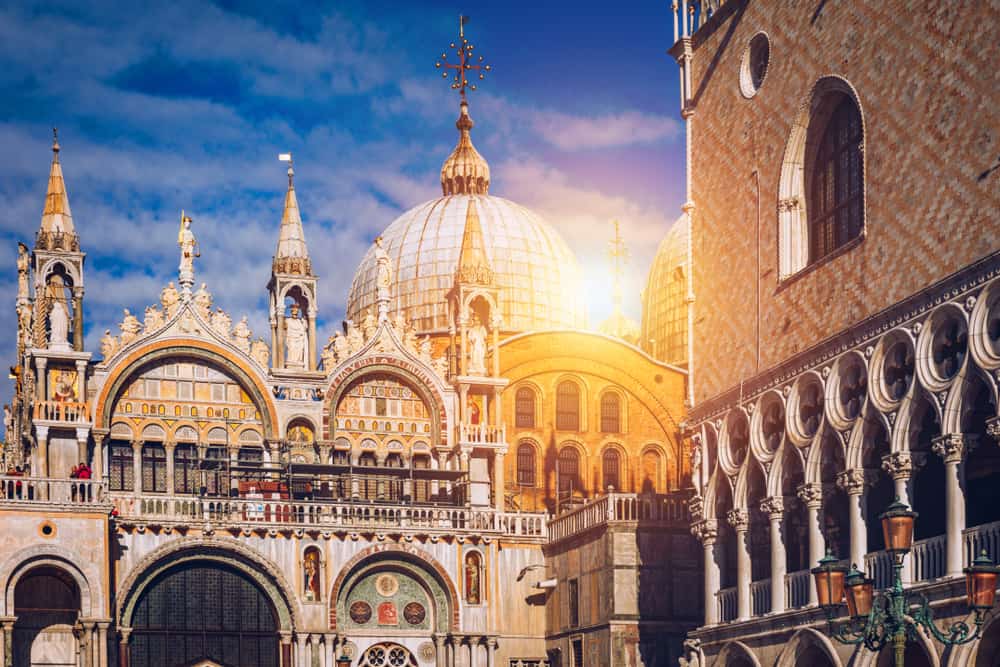 Browse the area around The Rialto Bridge
Built in three years between 1588 and 1591, The Rialto Bridge is the oldest bridge in Venice that crosses The Grand Canal and one of the main hubs in the city for a variety of things such as markets, restaurants, landmarks, and more. Even though Saint Mark's Square is more famous, Ponte di Rialto is considered by the locals as the true soul of Venice. The Rialto Bridge is the ultimate place to go if you're spending one day in Venice because it's so well connected to a variety of different places. Here is a list of some of the things you can find in the area surrounding the bridge.
The Grand Canal, The main channel which divides Venice. You can take some lovely Instagram photos here.
The Rialto Markets, a collection of outdoor shops where you can purchase pretty much any kind of produce.
Palazzo Contarini de Bovolo, the former residence of the Contarini family which features some really photogenic views from its spiral staircase, the perfect stop for Instagram pictures.
Santa Maria dei Miracoli, a gorgeous 500-year-old marble church.
Ca' Rezzonico, A beautiful museum overlooking the grand canal which is a fine example of the 18th century Rocco and Baroque style.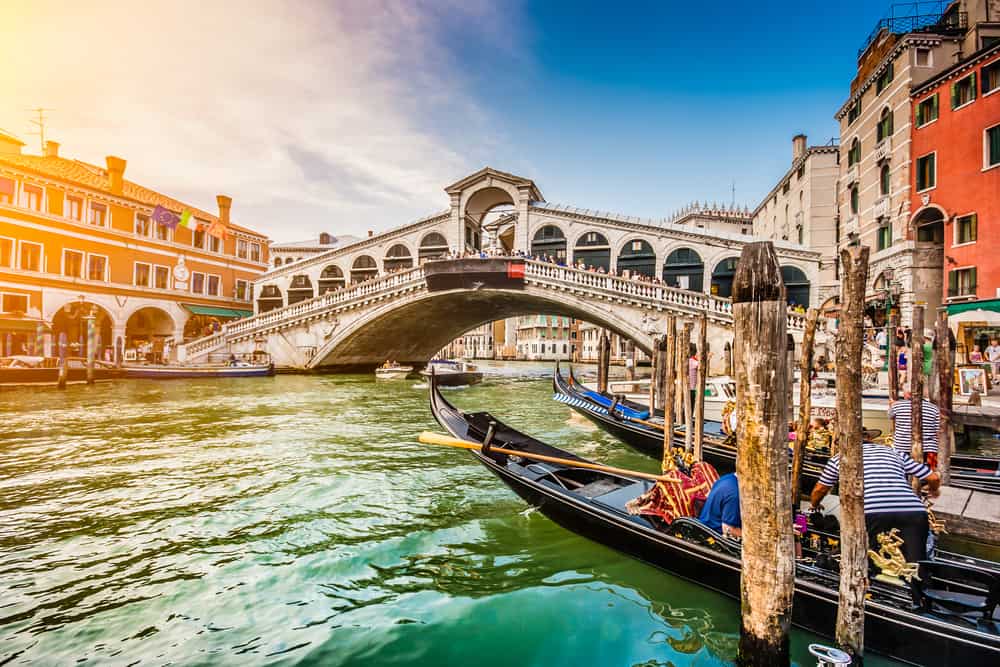 Go on a ride in one of the famous gondolas
We are sure that when you started planning for one day in Venice, the first thing you wanted to do was ride in a gondola. Gondolas are the most widely known and famous motif of all Venice, therefore taking a ride on one will surely find a place on any list of "Things To Do In Venice". Many will argue that one day in Venice is not complete without this traditional, little tour. In fact, when we mention Venice in our list of Stunningly Beautiful Places in Northern Italy, gondolas were the first thing we talked about!
For centuries, gondolas have been maneuvered through Venice's tight canals serving as one of the primary modes of transportation. Although less and less native Venetians are learning how to operate gondolas as the years go by, your one day in Venice will still be filled with an abundance of gondoliers in their iconic stripped garb clamoring at you to take a ride through the picturesque canals in their pretty boats.
Yes, gondolas are gorgeous, romantic, photogenic and an icon of The Floating City, but they can be expensive too. Considering this, make sure to speak to your gondolier about the price of your ride before you hop in so you can prevent any unpleasant surprises when it comes time to emerge from your romantic tourist dream. After all, unpleasant surprises aren't helpful when you're trying to make the most of one day in Venice.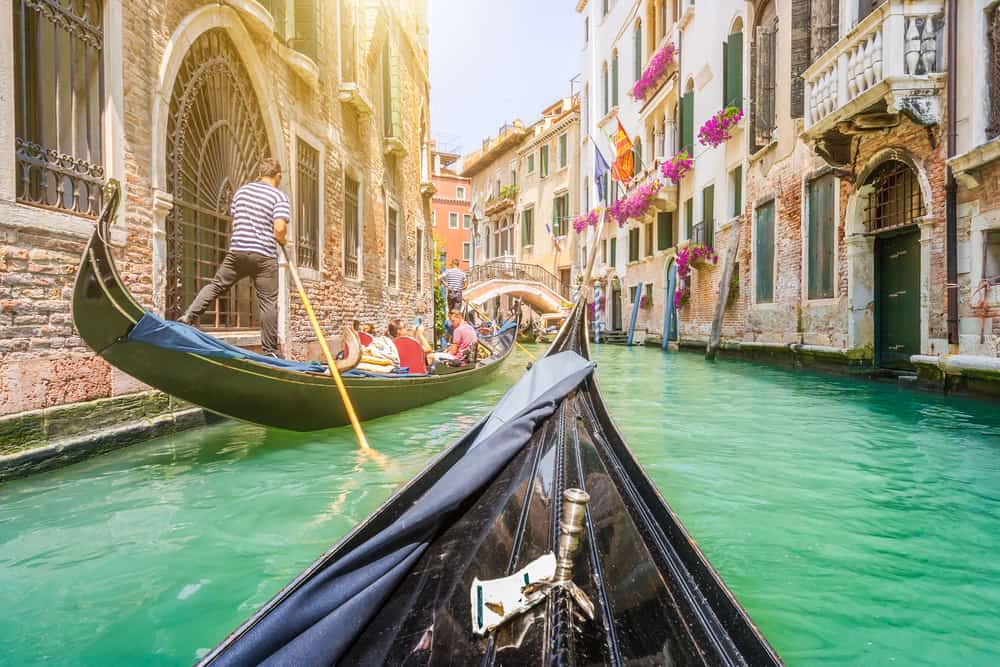 Do not dare miss the Venetian Carnival if you're there during the Spring
If you are in Italy right before Lent, then you need to immediately go to spend one day in Venice so you can experience the biggest and best party of your life. Known for its iconic artisan face masks, Carnevale di Venezia is a massive celebration which has been a yearly tradition in Venice since 1162. This is arguably the best time to plan for one day in Venice as everywhere you look in the city you'll see a celebration. Festivities of The Carnival include but are not limited to, wild street parties, awesome light shows, boat parades, concerts of all sorts, and if you're lucky and you know someone, lavish masquerade parties which exceed your wildest dream.
So, get yourself one of those awesome Venetian masks and let loose for a while in the streets with everyone else!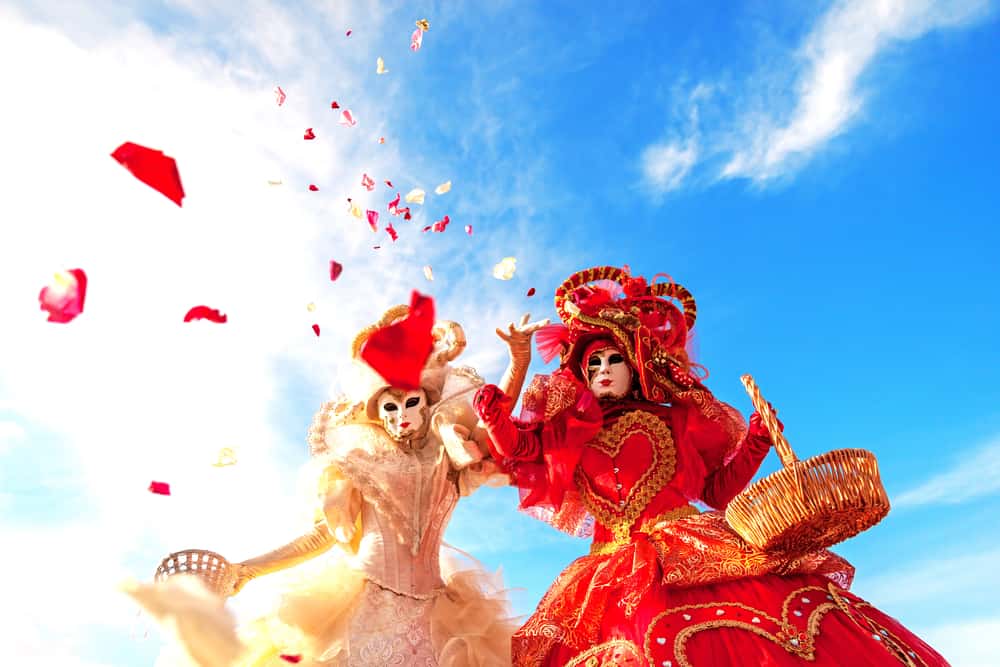 Explore Murano and shop for glass treasures
If you are looking for something unique and beautiful to bring home to your friends and family as a souvenir from Venice, you should definitely keep an eye out for some nice Venetian Glass. With glassmaking traditions having allegedly been around for 1500 years, Venetian Glass is some of the best in the world and is a staple to the city to this day. Although it's called Venetian Glass, the vast majority of its production isn't actually done in Venice. Instead, the glass is primarily made on another island almost one mile north of Venice called Murano which is a place we highly recommend you make some time to visit during your one day in Venice trip.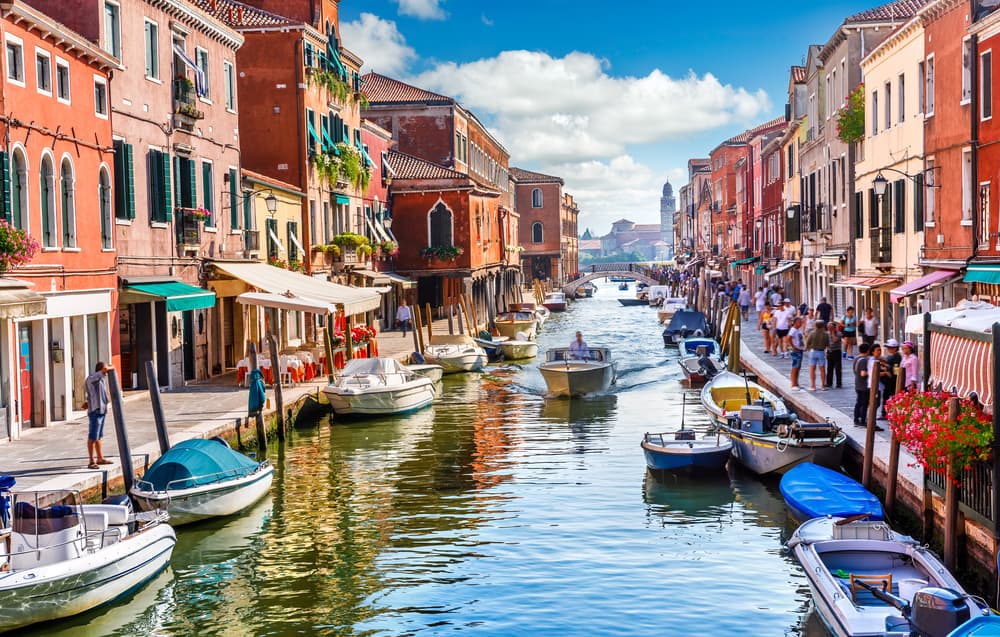 Murano was once entirely dedicated to the art of glassmaking when all Venetian glassmakers were forced to move here in 1291 to prevent fires from starting due to all the furnaces. Today Murano is still the principal hub of all Venice's glassmaking and an awesome destination to go hunt for incredibly beautiful treasures hand created by the glassmaking artisans, some of the best in the world.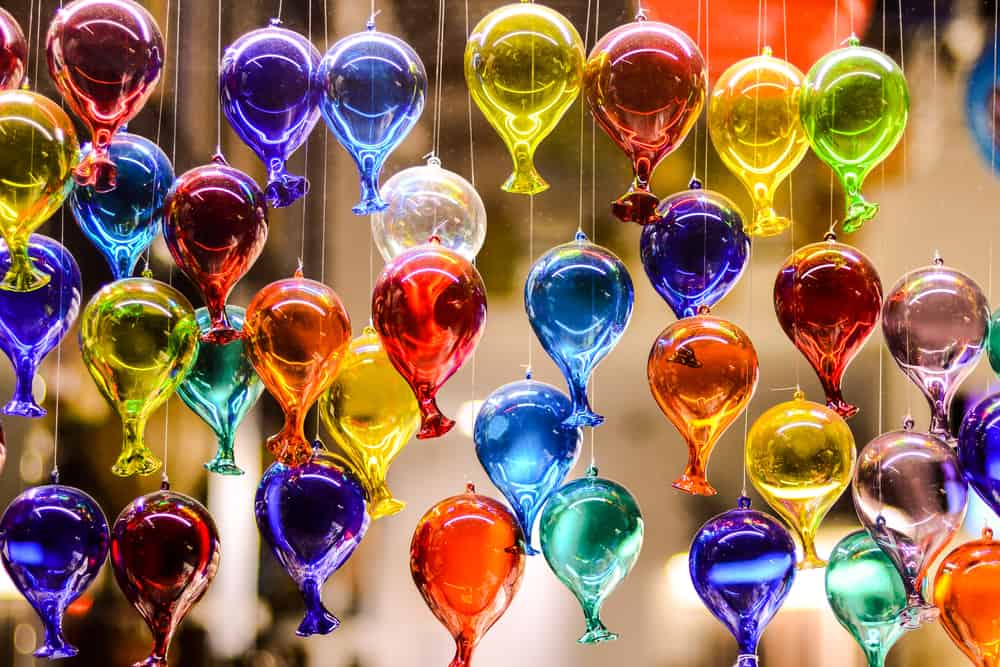 See lots of colors while visiting Burano Island
If you're looking for some colorful content while you spend one day in Venice, Burano is the place to be. Famous for its brightly colored buildings which give the island its trademark vibrant look, this city is an Instagrammer's dream. As an old fishing town, the natives would traditionally paint their houses with bright paint so they wouldn't have a hard time finding their homes amidst the lagoon's thick fog. Today, these colorful houses attract people from all over the world as one of the most Instagramable spots in Italy. If any of that interests you, we highly recommend heading over to check out Burano because capturing pictures of this pretty town will be a great way to remember the good time you had when you spent one day in Venice,
Another thing that Burano is famous for is its fine, delicate lace. Fair warning, many knick-knack shops in the more touristy areas of Burano will try to sell you cheap, fake imitations of this lace made in places like China. So, when you're out exploring don't let yourself fall for that. We don't want any funny business, we are trying to make the MOST out of one day in Venice, not get ripped off.
In all seriousness though, real Burano lace is extremely expensive because the quality of the fabric is on a completely different level. Even a small sample of Burano lace can take someone weeks to finish. If you are interested to see some fine examples of real artisan quality Burano lace, pay a visit to The Museo del Merletto, or The Lace Museum. The museum will teach you how to see the difference in the quality of the laces, so, now if you feel so inclined, you can hit up one of the real Burano lace shops and browse. Since you don't need to worry about being tricked, you can now carry on spending your one day in Venice in a good mood! Yay!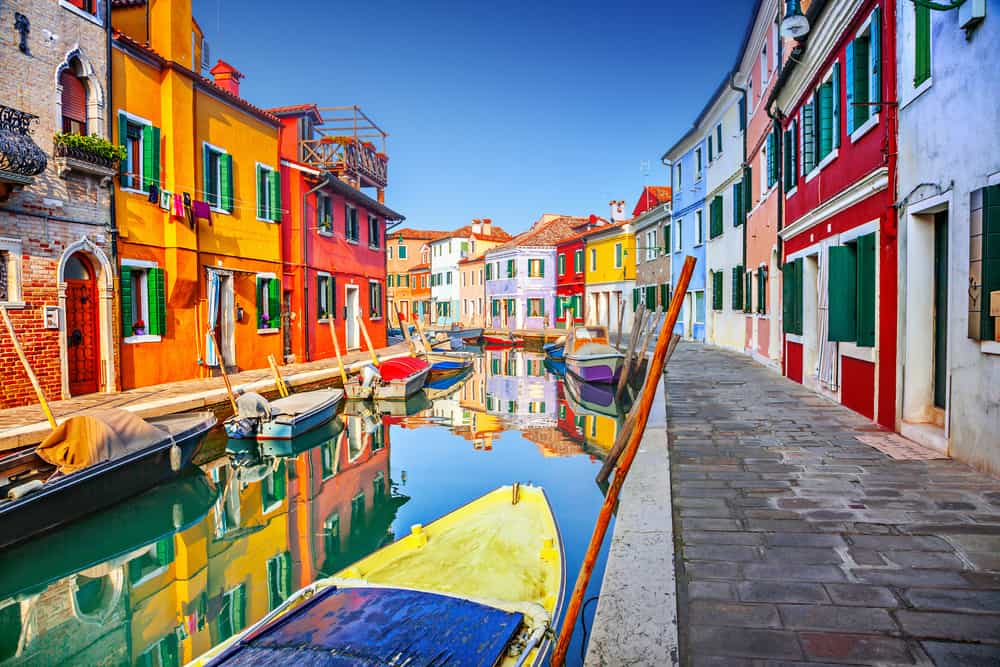 See the Teatro La Fenice
Having been seated at the top as Venice's main theater for almost 300 years, Teatro La Fenice is a very important piece of heritage to the people of the Floating City. It's a grand, stunning, and proud building with seating stacked five tiers and warm accents of gold to be seen everywhere you look. There are many reasons to visit Teatro La Fenice when you're spending one day in Venice. As you can probably assume, this building is undeniably beautiful (As are most ancient European theaters), but this one in particular has an interesting history that some find just as incredible as the building itself.
Teatro La Fenice translates directly to "The Phoenix Theater," a name that this building has rightfully earned. You see, just as a Phoenix bird emerges from the ashes anew, so does this theater. It has been devoured in flames and burnt beyond usage on three separate occasions throughout its existence. The first fire wrecked the place in 1774, then there was the fire of 1836, and then the third being relatively recent in 1996. So, we're not totally sure if or when the theater will next become reborn, but go visit it when you're spending your one day in Venice before it does! Don't worry, fire extinguishers are not necessary!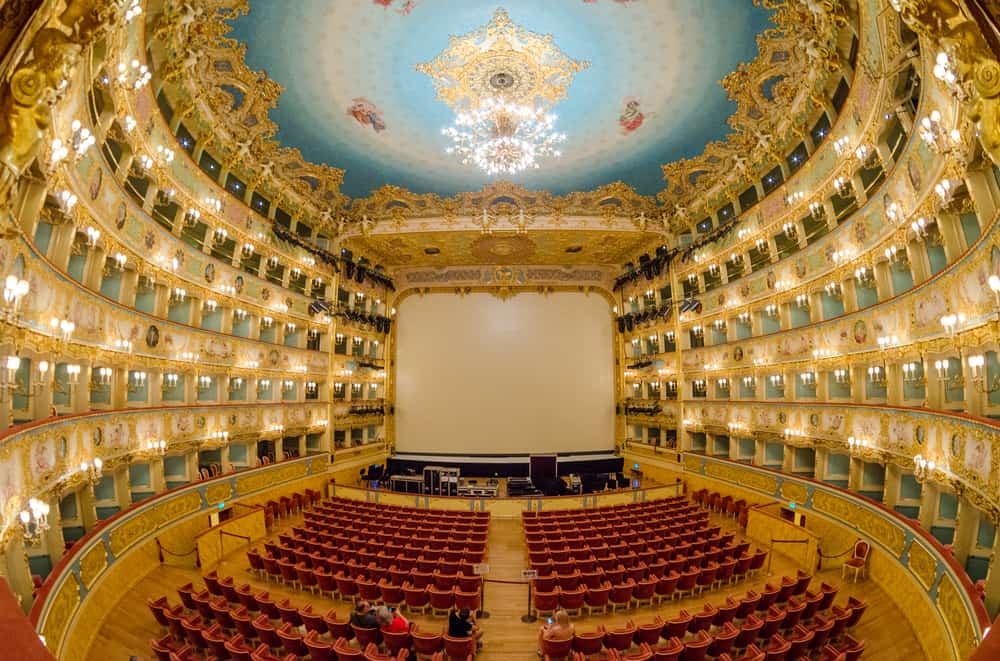 Walk around The Venetian Ghetto
Known as the Europe's first ever ghetto (Having been around for over 500 years,) and also famously a setting featured in Shakespeare's "The Merchant of Venice", The Venetian Ghetto is a really cool place to visit when you've got one day in Venice. Mainly inhabited by Venice's ever growing Jewish community, you'll see many kosher restaurants and synagogues as you pass through the streets. These are great places to stop in and get a little look at the real life and history of Venice's people in a setting as far from touristic influences as you can find. The reason for the strong concentration of Jewish People is because five hundred years ago, the Roman Catholic church wished to eradicate them but instead thankfully just gave them their own place on the Floating Island and called it "The Jewish Ghetto". This is where they remain today.
Some of our favorite features in the Venetian ghetto that we recommend you visiting when you're spending your one day in Venice are the Jewish Museum, The Jewish Bakery, Gham Gham Kosher (For incredible food staples in Jewish heritage), and "Birre da tutto il mondo o quasi" which is a beer joint serving beer from all over the world! You will surely enjoy spending your time in The Venetian Ghetto. For those who wish to see Venice through the non-touristy lens, this is definitely the place for you!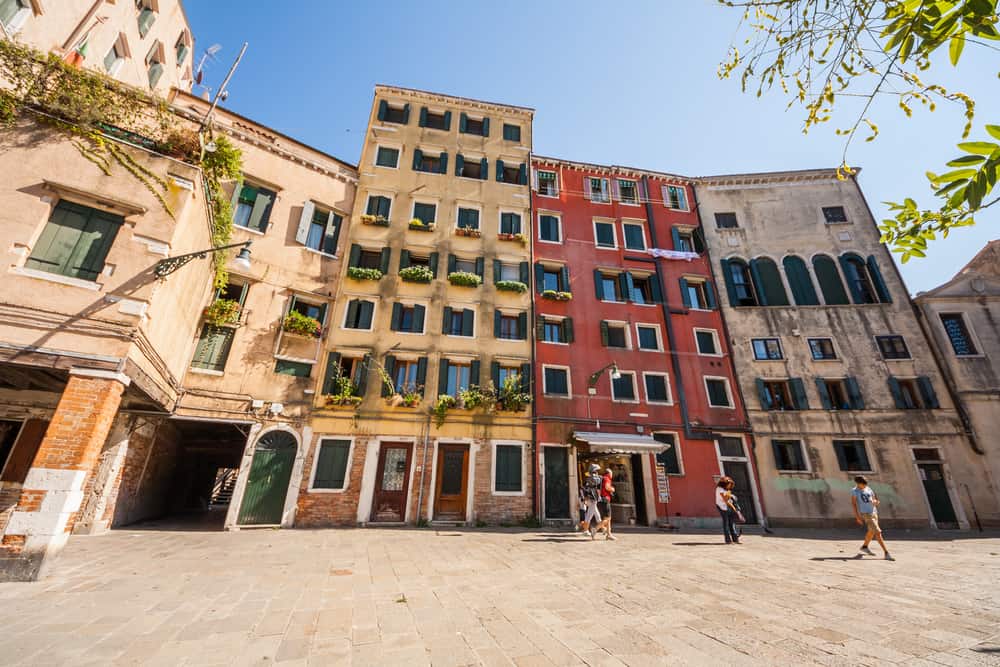 Visit Doge's Palace and The Bridge of Sighs
Doge's Palace is a stunningly beautiful 1000 year old mansion and one of the city's main landmarks. Being right next to Saint Mark's Square, this gorgeous dwelling is a convenient to access and must-see place to hit up when you're spending one day in Venice. Formerly, this palace was the residence of whomever held the title of "Doge of Venice". The Doge of Venice is the name given to the one who was seated as the main authority for the Republic of Venice. Although for centuries this palace served as the center for political leadership, in 1923 it was repurposed as a museum in which tourists and citizens alike can visit to get a glimpse of the life of Venice's past leadership.
Another very popular feature which is actually connected to Doge's Palace is the bridge of sighs. Many people find the significance of this bridge interesting because after criminals were interrogated and convicted in Doge's Palace, they were walked over this very bridge to the prison. The glimpse of freedom outside the windows of this bridge would cause them to sigh knowing they were no longer able to access this freedom. On your one day in Venice you can take a gondola tour underneath the bridge to get a closer look. Access to the inside of the infamous bridge is prohibited except through means of a particular tour group which you can find information about right here!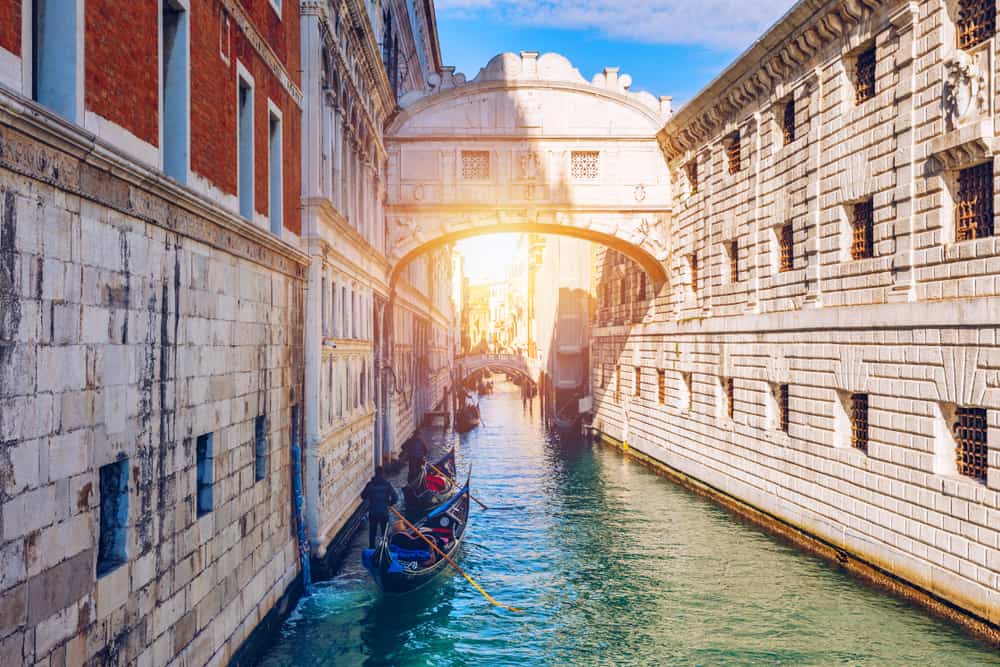 Get lost.
One day in Venice will never be complete without simply getting lost. I'm sure you have heard of people talking about getting lost in Venice before, it's an actual cultural thing! Getting lost in Venice is something that so easily happens because the small streets are like a maze sometimes. The awesome thing about that is, as you're walking around lost, you're coming across amazing spaces, buildings, churches, canals, restaurants, etc. So, you could definitely see the reasons why getting lost in Venice really isn't something many mind at all.
Personally, a way we have heard numerous people describe Venice is "Getting lost in a Pirates of the Caribbean movie," and honestly that's pretty darn accurate. So maybe when you're spending one day in Venice, you will feel like turning the GPS off for a while and just letting your eyes and feet guide you. You'll take a chance to experience Venice by immersing yourself in the feeling of Venice, the feeling of a unique brand of magic you could only find there. Even if you don't plan on getting lost when you're spending your one day in Venice, don't be too shocked if it just ends up happening, because not too many people leave Venice without having got lost at least once! Just let loose and have fun with it!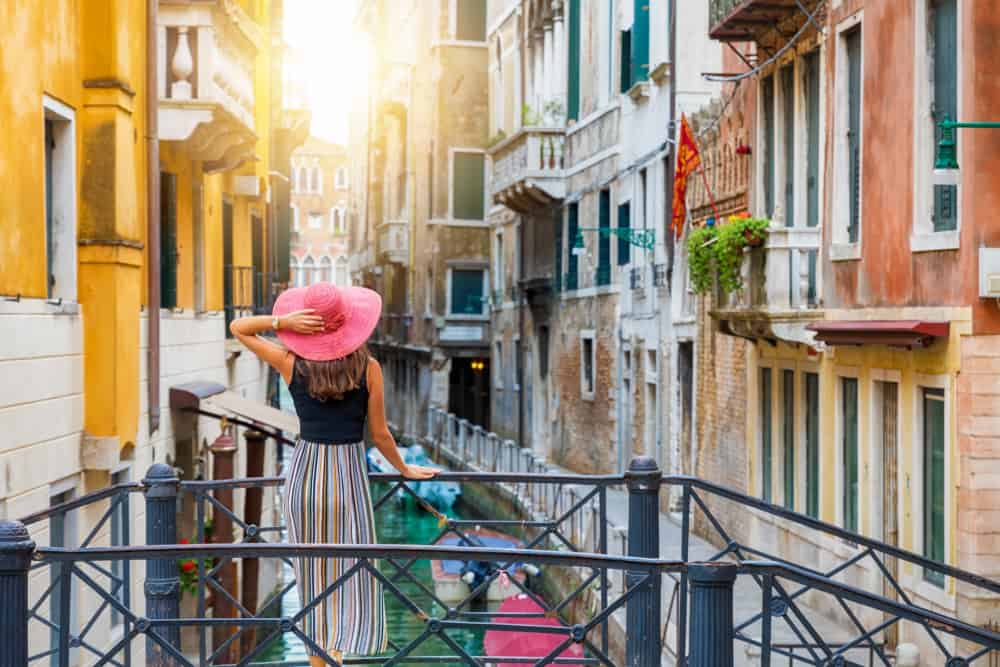 Venice is such a fun and unique city to spend a day because there are so many things to do! You surely wont find many places like it in the world and certainly nothing exactly similar! You will have your one day in Venice and as you watch the sun set over the grand canal you will wish you had maybe just one more! Traveling is so bittersweet like that, you visit places and you fall in love with them and then you feel sad as you leave. But, the good news is, there's so many adventures to be had, and even if after your one day in Venice you are heading home, home is where the heart is! As always, enjoy your travels and have a safe trip!
A helpful suggestion for you, make sure that before you set off to Italy you check out our article on the 7 biggest mistakes you should refrain from making in Italy. We want to make sure you make the most of every trip, Italy is no exception!