Are you planning a trip to Europe and looking for the best things to do in Italy? If so, then you need to look no further than right here!
Traveling abroad can be overwhelming when deciding where to go and what activities to pursue.
Let this be your guide to find the hidden gems, plan a road trip when deciding what to do in Italy. These best places in Italy will take the worry out of your planning and make it easy to build the perfect travel plan.
It doesn't matter where in the country you are traveling, there are many places to see in Italy. This country is a timeless place with a lot of visual stimulation and historical curiosities.
From the top of the boot to the heel and toe, there are a depth of wonders to behold and enjoy when planning your itinerary.
Let us take you on a journey to see the best landscapes, beaches, villas, and activities that are sure to make your trip the most memorable. This list will explore the most magical aspects of Italy's tourist attractions and be sure to make your trip the most memorable!
Whether you are planning your 10 days in Italy, have a bit more time and are spending 2 weeks in Italy, or renting a car and doing an Italy road trip, our customized and free planning itineraries will help you choose the best that Italy has to offer! Many of these top things to do in Italy are included!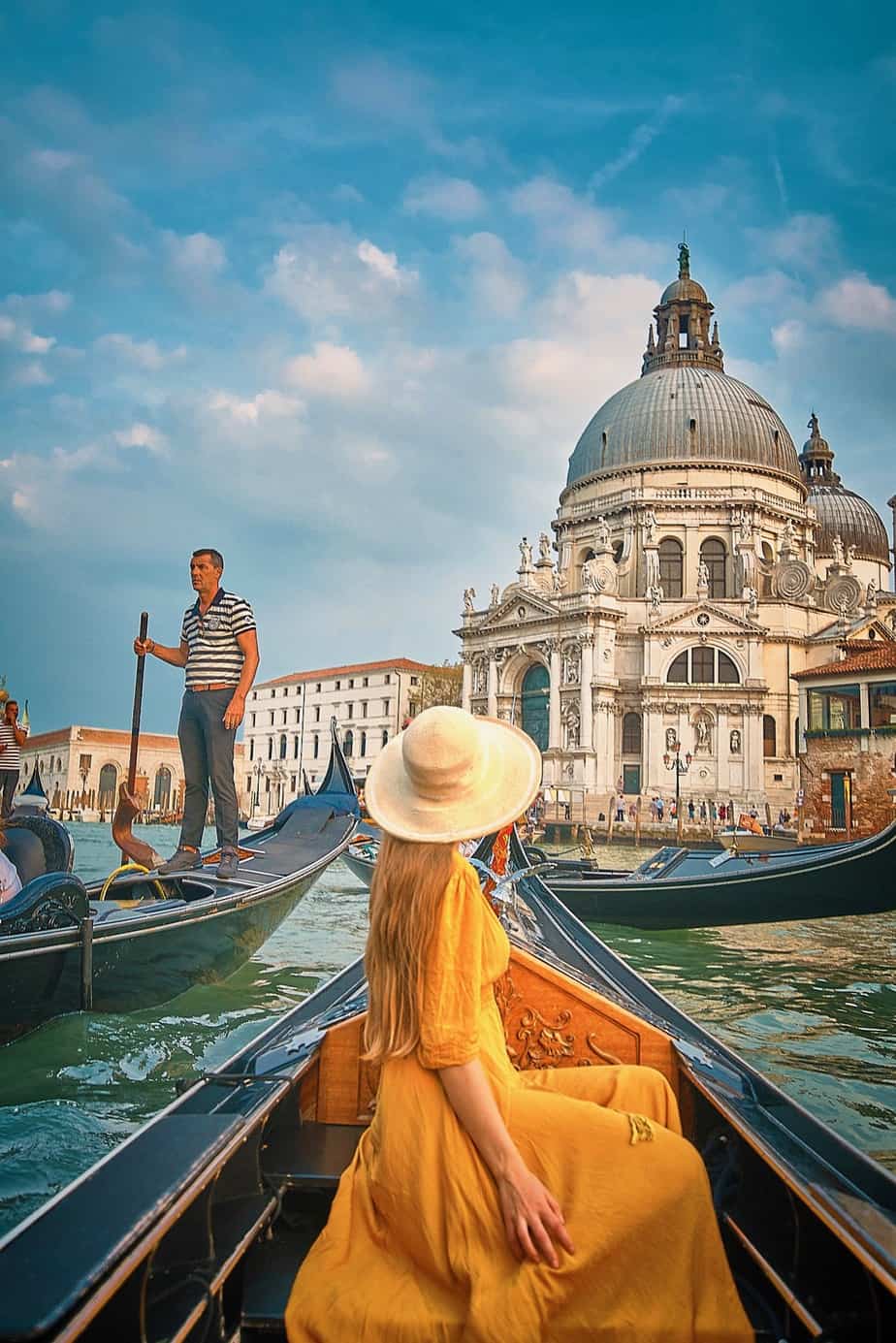 26 Best Things To Do In Italy: The Ultimate Bucket List
Tour the Colosseum
Italy is a country rich in history and tradition, the Colosseum is no exception to both of those. When looking for things to do in Italy, the Coliseum should be on the top of your list. The Colosseum is located in Rome, in the very center of the city. The Colosseum was built from travertine, volcanic rock, and brick faced concrete.
It is the largest amphitheater ever built, designed to hold 50,000 spectators. This architectural marvel was built to host re-enactments of hunts, battles, and the very well know gladiatorial events! Very little of the main arena floor exists now, but you can still see the hypogeum.
There is a reason that Rome is one of the best cities to visit in Italy! The history is unmatched.
When visiting the Colosseum, for the best and least crowded experience visit during the tourist off-season, typically November to February and during its first or last hour of being open; be aware that there is no visiting this beauty and Wonder of the World on Christmas or New Year's Day.
We highly recommend booking a Coliseum Tour to get the most out of the experience. During the summer, they even have sunset tickets so you can visit after hours! No matter when you visit Rome, make sure the Coliseum is on your list of things to do in Italy!
Skip The Line With This Coliseum Tour!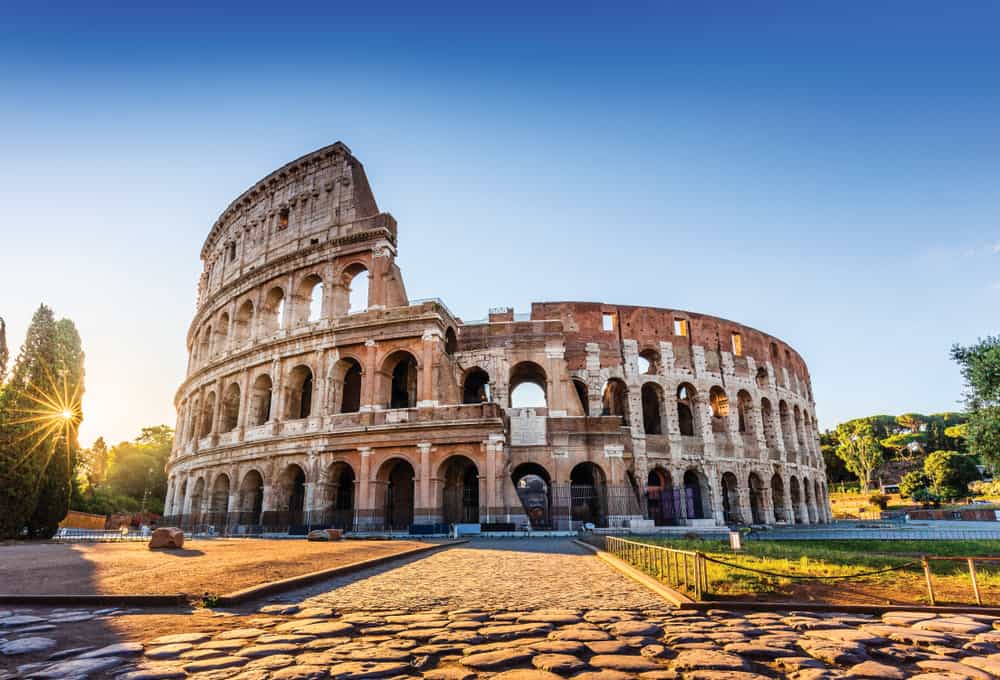 Explore Boboli Gardens
Next on your list of things to do in Italy is explore the Boboli Gardens in Florence. Another great attraction in Italy that is founded in history and intrigue. These gardens were built in 1594 and are located adjacent to Palazzo Pitti. Boboli Gardens are known as a beautiful open-aired museum and the largest green space in Florence.
The Boboli Gardens are open every day and offer never-ending visual and sensory stimulation for the most casual to the most engaged of visitors. When exploring the gardens, make sure to see the famous Fountain of Neptune, the Viottolone, the Boboli Gardens Amphitheater, the Fountain of Ocean with the Isolotto, and Grotta Grande.
These multiple attractions make the Boboli Gardens one of the top things to do in Florence!
This wonderful pit stop on your journey is well worth your time and schedule. If you have time for only activity or destination when in Florence, this is the place to see. As museums go, Boboli Gardens is top of the list and will definitely be one of the best things to do in Italy.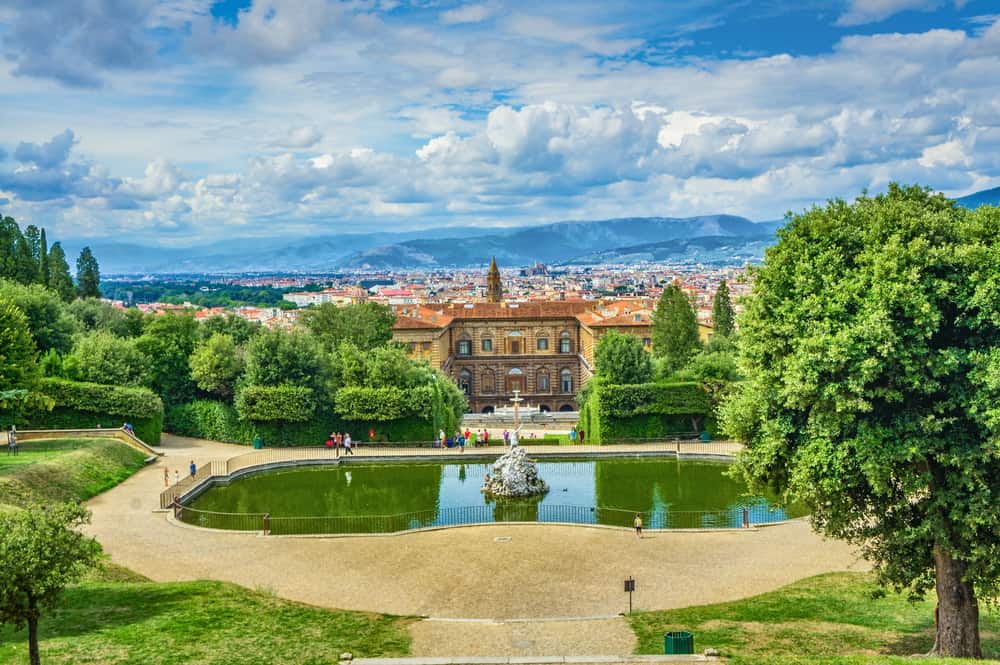 Visit the Island of Capri
The Island of Capri, located in the Bay of Naples is a must-see on your things to do in Italy list. If you are looking for the beautiful jewel tones of the Mediterranean, Capri is the perfect spot. This island is one of the most well-known islands in Italy and one visit here you can see why.
Known for its rugged landscapes and incredible cliffs, this small getaway off the coasts of Sorrento and Naples offers the perfect escape. It is one of the prettiest places to visit in Italy!
This small island is a playground for the fun-loving adult with a taste for the finer things. Capri is full of boutique shops and hotels and is not short of fine dining. If you're not staying for the night, even a day trip is necessary when you plan your schedule.
Once on the island, take a dip in the warm waters of the royal blue Mediterranean and if you're interested enough, ride in a rowboat to explore the famed Blue Grotto, which in of itself should be on your list of sites to see in Italy!
This absolutely stunning grotto is resplendent with crystalline blue waters. If a boat ride isn't your thing, check out all the boutique and kitschy shops throughout the island. Or stop and grab gelato at one of the many gelato shops dotted along the island. This small but gorgeous Italian island deserves to be in the top of your places to visit in Italy.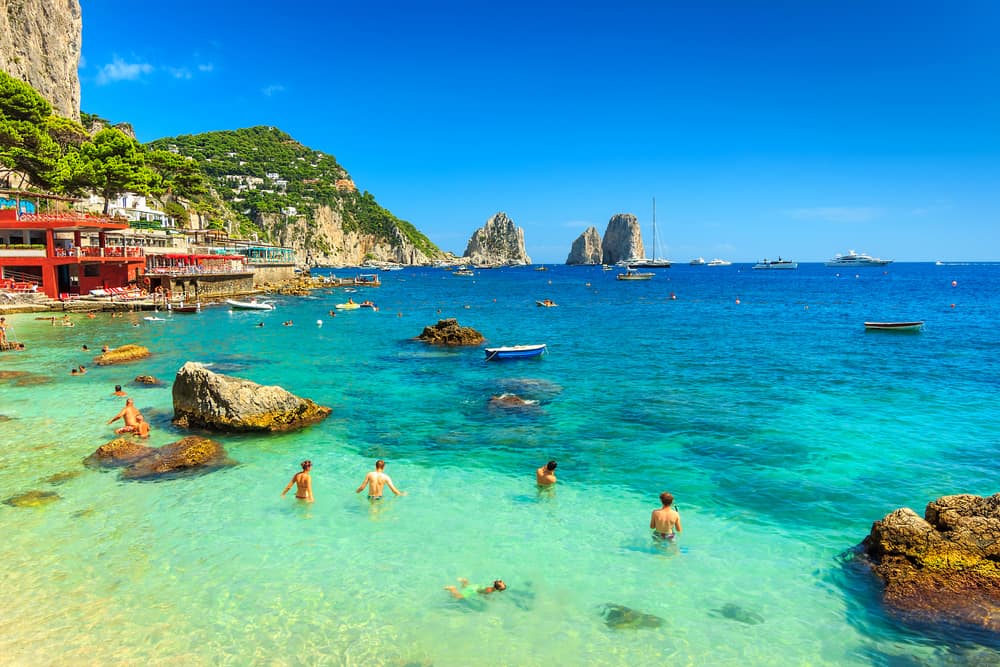 Go on a Gondola Ride in Venice
Are you planning a honeymoon or romantic getaway and looking for memorable things to do in Italy? Or just something to do with some friends to explore the city with waterways for streets? If you answered yes to either of these questions, a gondola ride in Venice is an absolute must.
It may be a little expensive, but it is one of the best things to do in Venice! After all, Venice is one of the best destinations in Italy for a reason!
With this unique infrastructure, gondola rides make for a very easy going or romantic way to travel through the city. This easygoing way to travel allows you to see the city without the noise of a boat motor behind you.
If you're feeling swept up in the atmosphere of one of the oldest cities in Italy, ask for your gondolier to sing for you. One of the best things to do in Italy, gondola rides can vary in price, distance, and offerings.
The city does have set rates, but during peak times are considered a polite suggestion and not guaranteed. Make sure you fine-tune the price and length with the gondolier before you begin your trip. You will see why Venice is one of the best places in Italy to visit!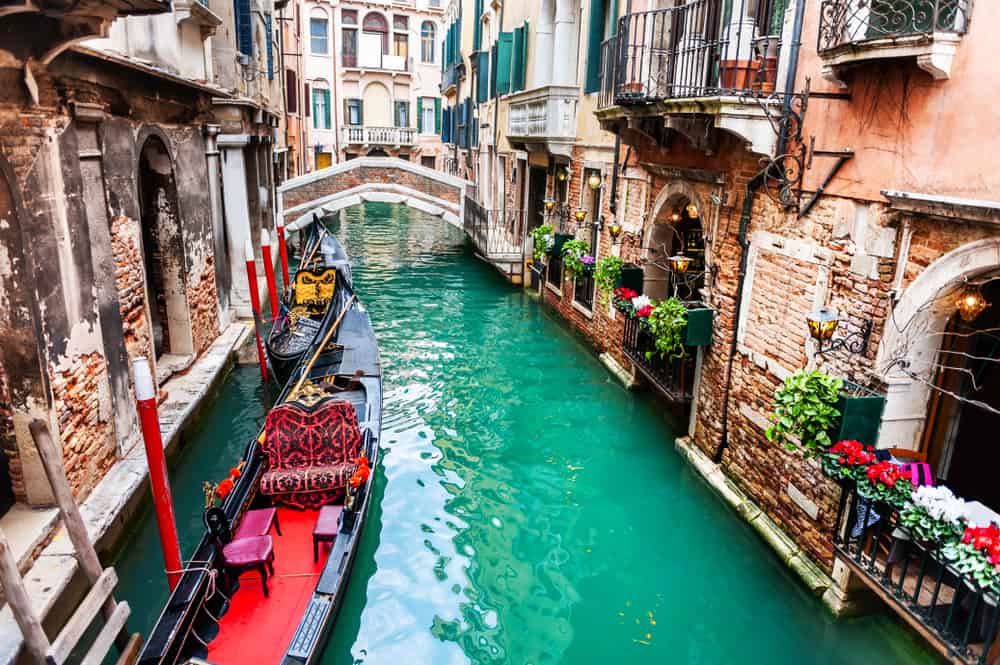 The Ruins of Pompeii
If history is your thing, the ruins of Pompeii is definitely a destination on your things to do in Italy. Located at the base of Mount Vesuvius, this once coastal and ancient city was buried under lava and ash in 79 A.D.
The eruption and lava happened so fast that many citizens were buried in the instance of whatever activity they were doing. This lead to the ability for excavators to see Roman life in real-time, so to speak.
You can tour Pompeii on your own or with a guided group. See the remarkable casts of the Pompeii citizens, or view the amazing frescoes that are throughout the city. If you happen to notice graffiti, rest assured it is from the original citizens of Pompeii. It is one of the best places to visit in Italy if you love history!
If touring on your own, allow for three to four hours of exploring. Make sure to wear sturdy footwear and respect the area, no littering or other actions that can harm this preserved city.
Pompeii ruins are definitely unique, as no other location exists like it anywhere in the world, which is why it makes the list of the best destinations in Italy!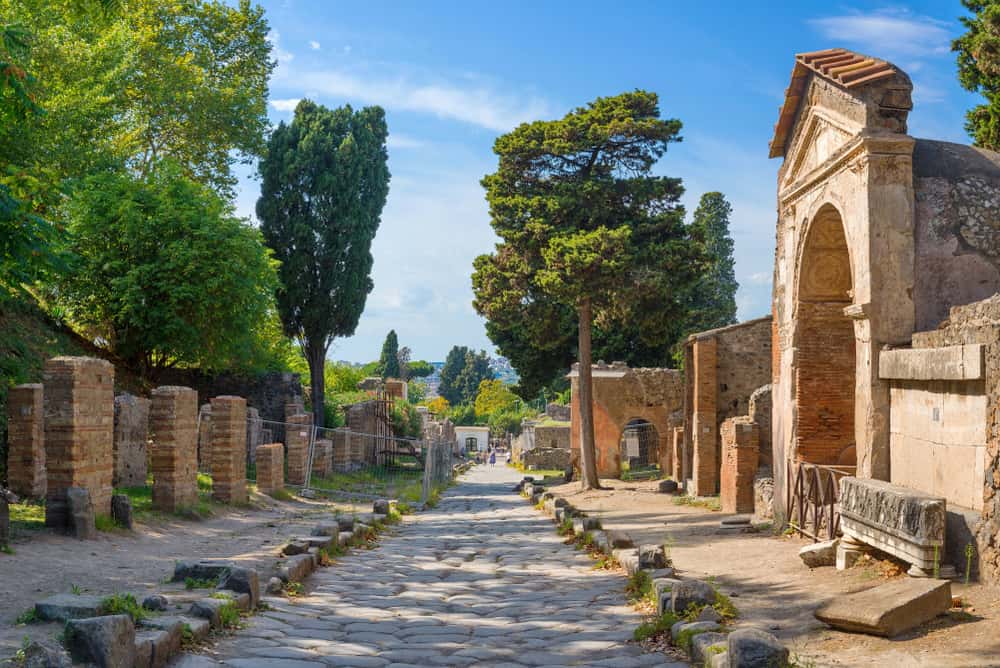 Visit Volterra for Authentic Italy
Just south of Florence, located in the Tuscany region, is the walled town of Volterra. It is one of the best places to visit in Tuscany!
This city is guessed to be an inhabited location since 8 B.C. and became part of Rome at the end of 3 B.C. Volterra remained part of the Florence region and rule until the 15 A.D. century. You will see why it is one of the cutest cities in Italy!
When creating your memorable list of best things to do in Italy, make sure to stop at this ancient city. While there, explore the Piazza dei Priori, is a Tuscan medieval town square.
This Piazza hosts the Palazzo dei Priori, which is the oldest town hall in Tuscany, built in 1257 A.D., this fine building is where the citizens went to handle city business and disputes. Next, tour the Volterra Cathedral, which was enlarged in the 13th century after being damaged by an earthquake to see one of the most interesting places to visit in Italy!
This cathedral houses amazing frescos and works of arts that are a must-see in Italy! If you have time for only one more activity, make sure you look at the Etruscan Walls of Volterra.
These ancient walls, which house the entire city of Volterra are preserved and worth a study as you walk the perimeter of the city. You will see why this made our list of the most interesting places in Italy!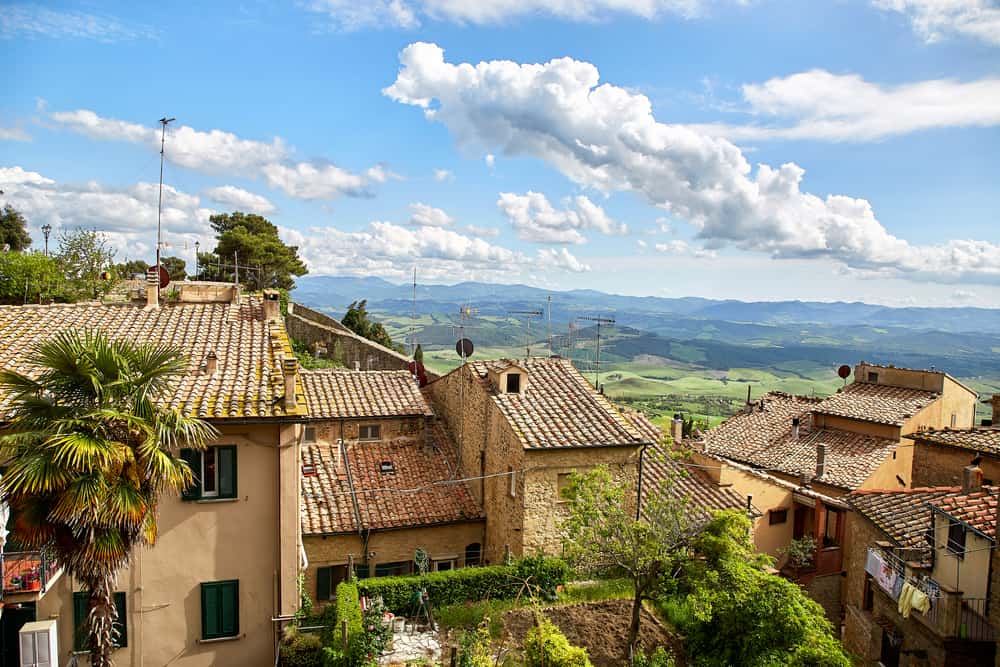 Stay on the Cliffside in Positano
When you think of the best things to do in Italy and look for images, few things are more iconic than Positano. It is one of those places in Italy that you will never forget!
This colorful city was built in the 13th century on the side of a cliff along the Amalfi coast. This city is lined with narrow streets that trail down to the pebble-covered beach.
When traveling up and down this cliff, there are many little boutique hotels and shops for you to admire and appreciate. We have an entire post on Where to Stay In The Amalfi Coast to help you choose!
When finding a place to stay, pick a hotel or vacation home that offers a panoramic view of the coast. The beautiful sapphire waters will give you a definite memorable sunset on your vacation.
If you pick a higher location on the cliff, you will be sure to see over the other buildings and have that amazing view of the Mediterranean and that famous Amalfi coast, one of the best Italy vacation spots!
While there, make sure to explore the warm waters of the beach or visit the Church of Santa Maria Assunta. This church was built during the Byzantine Empire, it is a very welcoming church with a lot of architectural interest.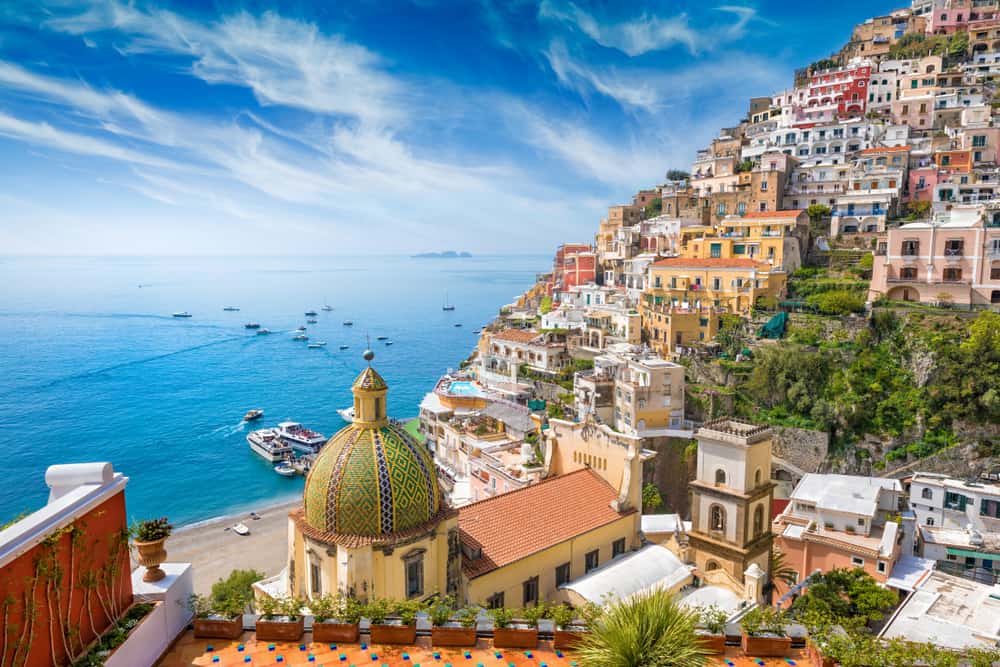 See How the Other Half Lives On The Amalfi Coast
While in Positano and scratching this stunning seaside destination off of your things to do in Italy list, take a step back and observe how the other half-life and experience the luxurious life in one of the top Italian destinations!
After picking your luxe cliffside hotel, explore like only the rich and famous do. From seaside fine dining to sunning yourself on a terrace overlooking the Mediterranean, there are many things you can do to experience this glamorous life.
Start your day with a nice cafe and breakfast by the shore. After that explore and shop in the little boutiques; purchase handmade leather shoes. After a light lunch, hop on a boat and sun yourself on the deck, then jump into the warm sapphire waters, and you will see why this is one of the best places to visit in Italy!
After a nice day on the water, head in for dinner and sunset at a posh sea-view restaurant, followed by a fun-filled evening where you can kick off your shoes and dance the night away at a local disco.
Finish your long and luxurious day, by heading back to your panoramic hotel room and enjoy the plush bedding. Wrapping up your time in Positano, one of the best cities in Italy!

Discover the Vatican
Visiting the Vatican is one of the best things to do in Italy that you should not miss! It is one of those places in Italy, that actually isn't even in the country! The Vatican is actually a country of its own which is unique and very cool to see.
Vatican City, founded in 1929, covers just 109 acres and an approximate population of 1000. Vatican City houses museums, sculptures, and the infamous Sistine Chapel. This city is ripe with history and architectural interest; making this one of the most culturally dense places to visit in Italy.
When thinking of the best things to do in Italy, Vatican City is worth the effort. Located in the Piazza San Pietro, St. Peter's Basilica was built in 1506 during the Italian Renaissance. The sculpture and architectural design will definitely enflame your historical intrigue. After that, take the time to explore the Vatican Museums.
The Vatican Museums are where you will find lots of art and history as well as the famous Sistine Chapel. You are going to want to buy tickets in advance for the Vatican Museums and you should try to get skip-the-line tickets if possible! This is truly one of the best destinations in Italy and you shouldn't miss it.
Recommended Vatican Tours And Resources:
Vatican Museums And Sistine Chapel Fast Track Entry
Reserved Entrance For Saint Peter's Basilica [highly recommend as we waited over an hour!]
Sistine Chapel, Vatican Museums, And Saint Peter's Guided Tour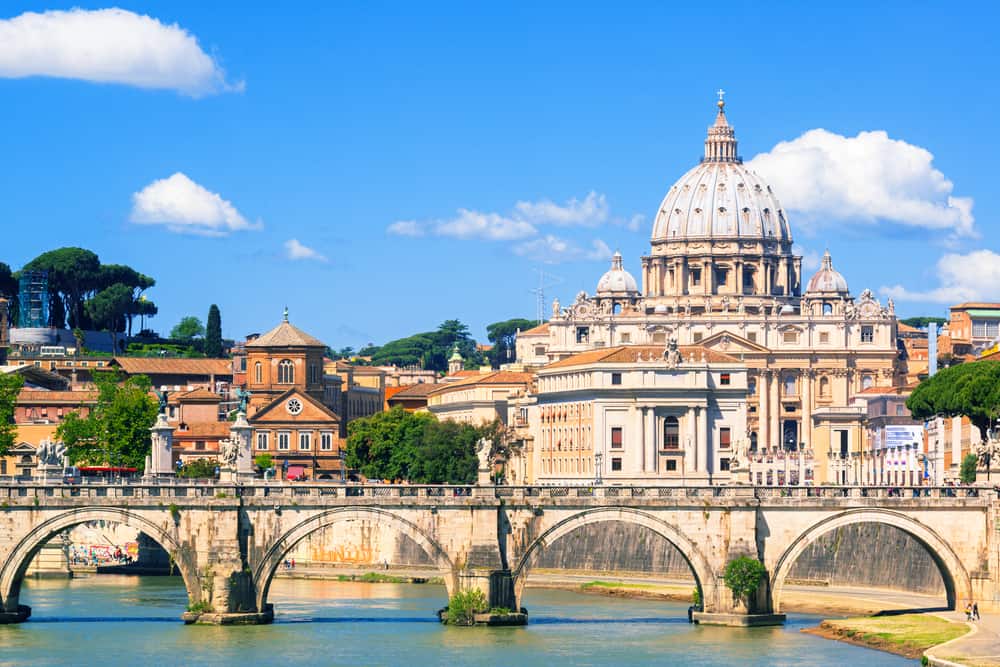 See the Fairytale Castles in Tuscany
There are eighteen total castles in Tuscany and there are two that are right out of fairytales that you need to see! These two castles will definitely be happy editions to your best things to do in Italy list.
Castello di Malaspina, located in Fosdinovo, was built in 1340. This castle sits on top of a rocky hill overlooking the Tyrrhenian Coast.
Once a military vantage point became a prison until 1946. Castello di Malaspina is a beautiful fortress with amazing gardens and a very well-preserved brick structure. It is one of the most stunning places to see in Italy!
You can explore this castle and it is well maintained. From the top turret, be swept away into the world of imagination and think of how Rapunzel might have viewed the coast.
Castello del Boccale, established in the 16th century by the Medici family is one of the most visually stunning castles. It is one of the best places to go in Italy if you are a fan of fairytales.
Located on the edge of a rocky cliff, you are most sure to see mermaids swimming in the waters around it. This castle is amazing to view from the shoreline or the water, unfortunately, you cannot go inside, as it now hosts private residents.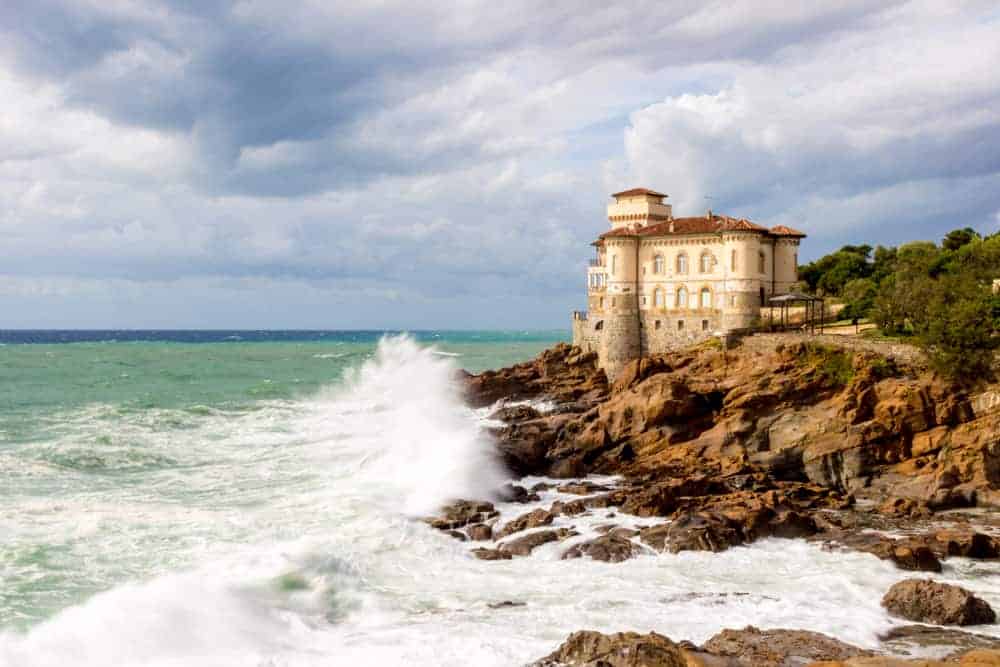 Leaning Tower of Pisa
Pretty much everyone has heard about the Leaning Tower Of Pisa, and there is a reason! It is one of the unique places to see in Italy and it lives up to the hype. This experience is one of the things to do in Italy that cannot be skipped. The City of Pisa is located in Tuscany and was established in 1372.
This city is specifically known for the Leaning Tower of Pisa and its no wonder why. This architectural anomaly has inspired many photographs of visitors creating the illusion that they are holding this tower up.
The tower took 199 years to complete, due to various issues with stability, ownership, and squabbles over who should complete it.
The tower currently has a four percent tilt due to soft ground not able to hold the weight of the structure during its construction. The tower has survived four substantial earthquakes, due to its very stiff building and the soft subsoil, it absorbed the vibrations and kept it still standing.
Shockingly, the soft sand that almost caused it to fall, is what allowed it to stay standing. If you are looking to visit a classic tourist attraction in Italy, this is it!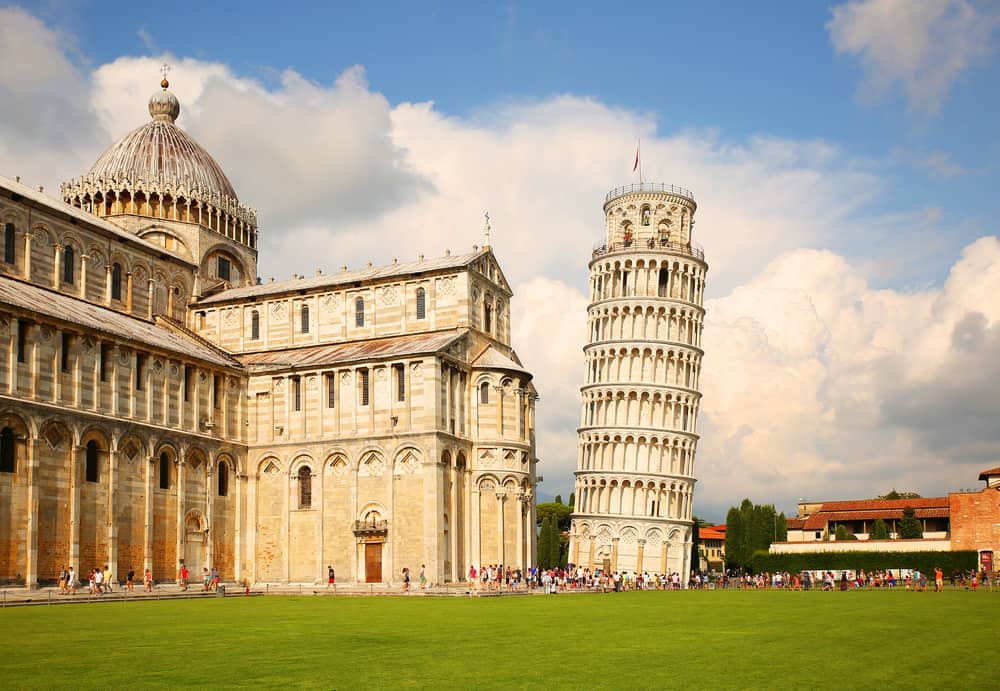 Lago di Braies in the Dolomites
Lago di Braies is one of the most epic things to do in Italy! It is one of those places in Italy that you think can't possibly look better than it does in photos but it is true!
Lago di Braies is a glacial lake and has the most beautiful turquoise waters. It makes our list of one of the prettiest lakes in Italy!
Since this is a glacial lake, in the winter it is covered in ice and snow, but in the summer has the most breathtaking blue and green water. This lake is located at 1500m above sea level. Part of Pragser Wildsee, Lago di Braies attracts all adventure seekers and outdoor enthusiasts.
If you are willing to make the hike around the lake, you will not be disappointed by the stunning nature that surrounds you and the lake. And while the lake is considered to be a bathing lake, be aware that that water is cold, even in the summer.
We even have a full Northern Italy itinerary if you are interested in exploring this region in more detail. We highly suggest it as it is one of the most beautiful places in Italy to visit!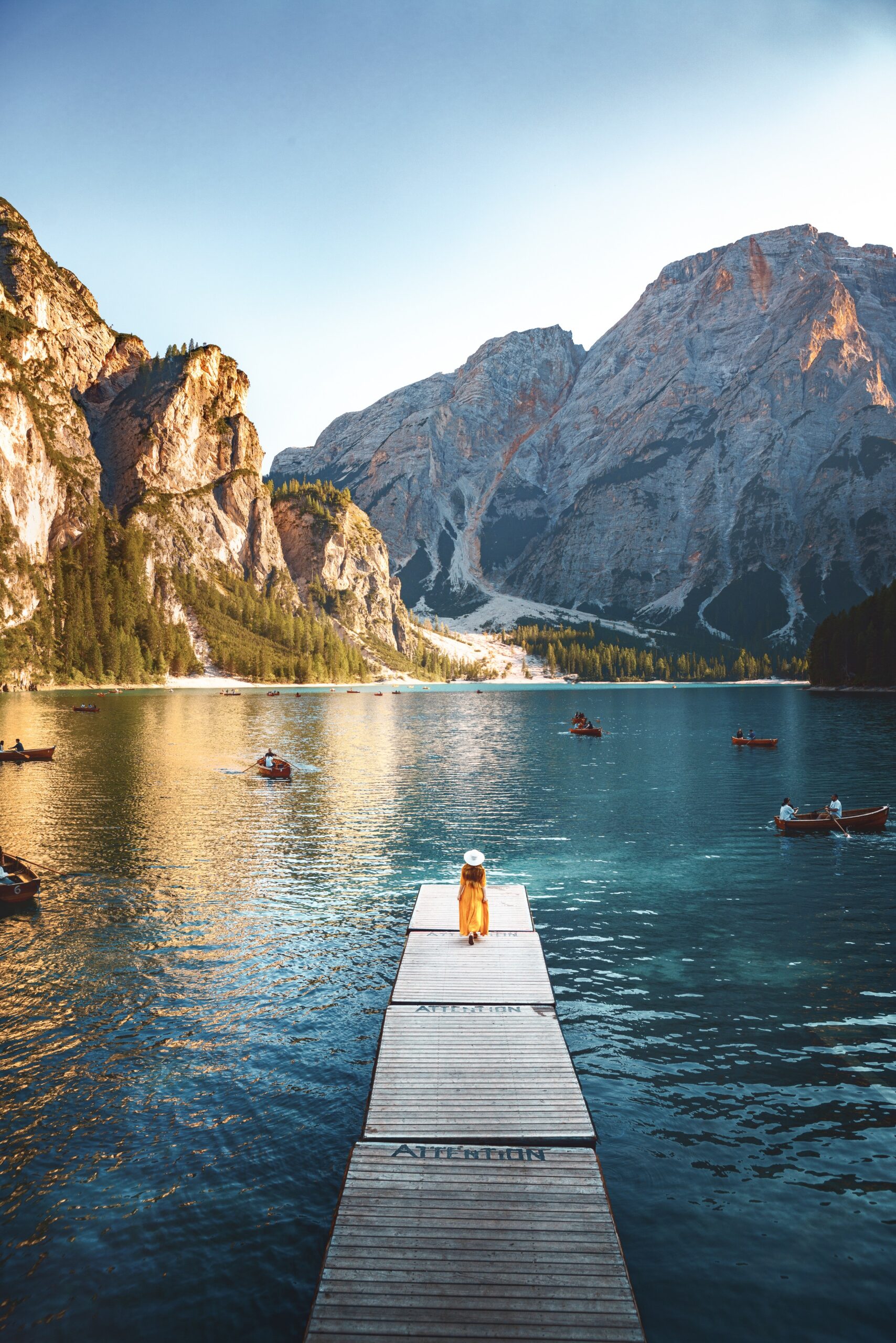 Soak in the Tuscan Hot Springs
After braving a visit to Lago di Braies, now it's time to enjoy the warmth of the hot springs in Tuscany. There are four hot springs that are free to access and provide amazing thermal bathing. One of the best things to do in Italy is to allow yourself time to relax and enjoy the hot baths that Mother Nature offers.
The hot springs in Bagni di San Filippo are not only a nice warm soak but also interesting natural views. These spring are easy to find and access. Exploring them you can find waterfalls and pockets of cool water mixing with the warm, creating beautiful blue waters.
Saturina Hot Springs is another location worth visiting. These hot springs are warm year-round and worth visiting. Make sure to come early to avoid the crowds. This is one of the most unique places to visit in Italy and really shouldn't be missed.
The other two that are free and worth visiting are Bagno Vignoni and Petriolo, both are also stunning to visit and definitely worth the stop on your hot spring tour.
For more about the springs please see our article here. Remember, these are natural environments, so please respect the surroundings and leave nothing behind. This is one of the best things to see in Italy and we want to leave it better than when we arrived.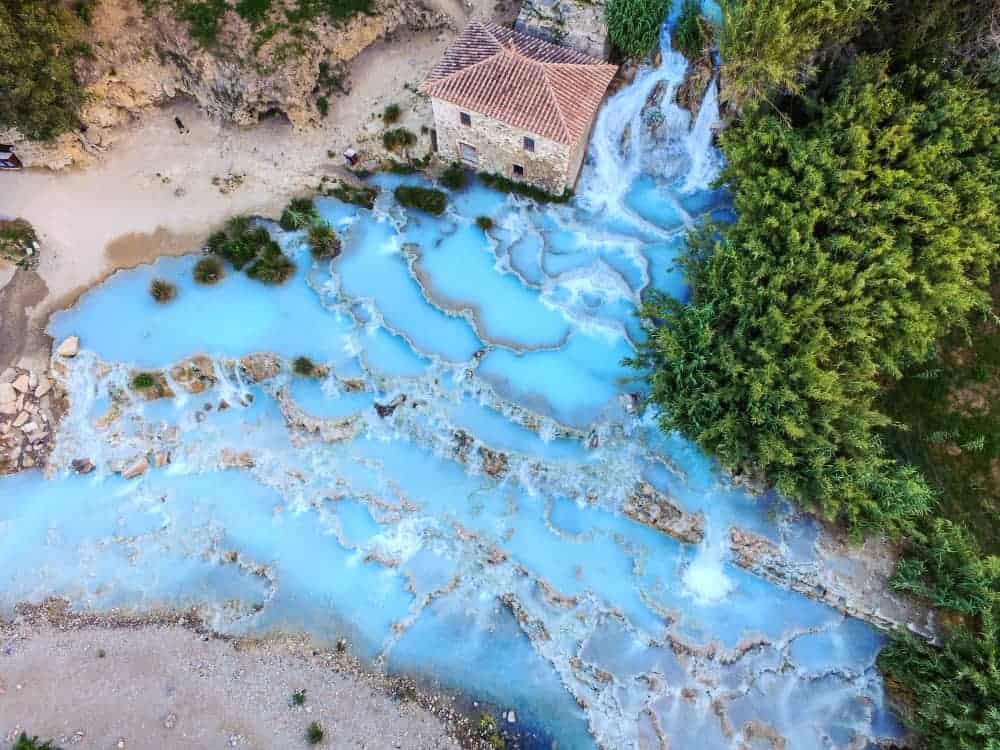 Shop in Milan's Galleria Vittorio Emanuele II
If exploring the countryside and ruins are not for you, there is the Galleria Vittorio Emanuele located in Milan. Milan is one of the most iconic cities in Italy and you won't be disappointed!
The Galleria is the oldest active shopping mall in the country. Designed and built by architect Giuseppe Mengoni in 1867, this Galleria was named after the first King of Italy, Vittorio Emanuele II.
This shopping mall is more than just a place to shop, but a place to marvel and architectural ingenuity and feats. It features two four-story glass domes, This structure covers a pedestrian street and connects The Duomo and the Teatro Alla Scalla. Even if you only have one day in Milan, you should still visit!
Most of the shopping and amenities are luxury company's and brands, but don't let your pocketbook stop you from visiting this place and it is one of the most intriguing things to in Italy.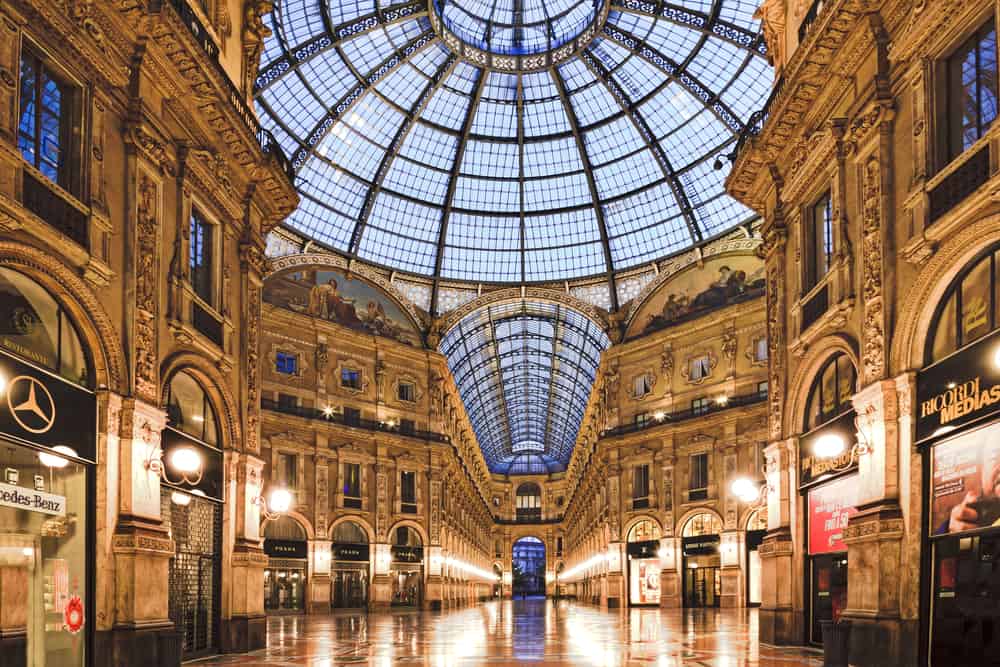 Taste the Wines of Val d'Orcia
If traveling along the hills of Siena to Monte Amiata, you will be passing right through Val d'Orcia. This area has inspired everything from Renaissance art to modern-day photography making it one of the most stunning destinations in Italy!
This hilly nation is broken up by quaint and picturesque little villages. These breathtaking green hills are filled with sunflowers and vineyards and encompass the Orcia river, of which its name was derived.
Once you get to this peaceful and seemingly untouched valley, visit Pienza, "the Ideal City." This majestic locale hosts the Pienza cathedral and the Piccolomini Palace.
After checking out these historical sites, head to a wine tour and tasting. With many wines coming from this valley, you will be sure to enjoy the flavors of Tuscany while soaking in the awe-inspiring scenery, making this one of the most memorable things to do in Italy.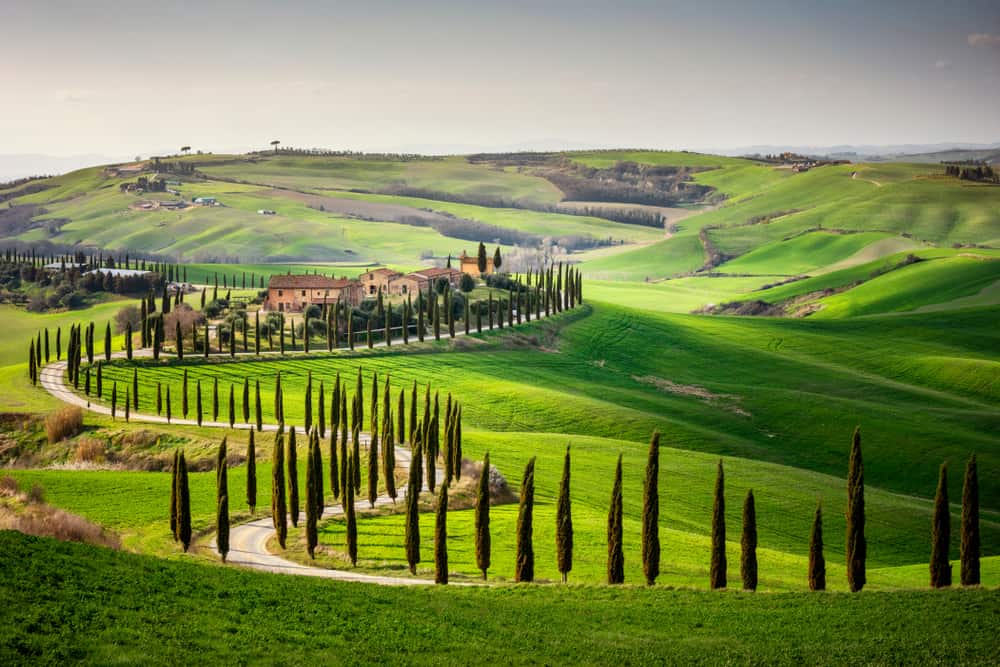 Relax on a Sicilian Beach
Sicily is the largest island in the Mediterranean, located at the edge of the "toe" in Italy. If you are looking for a true Italy vacation spot, this is it!
You can get to Sicily by car over a large bridge connecting the mainland to island, by ferry, by train, and by plane. There is really no reason you shouldn't visit this amazing island and no excuse to miss the best beaches in Sicily!
Sicily is surrounded by the most beautiful and clean beaches. The Sicilians are friendly and the food is amazing. Once you're there, visit the town, but really just be ready to relax on the beaches of this island.
There are many beaches to visit on Sicily, but let's focus on the three best ones. If you are traveling with your family, all the beaches are great, but one stands out as the best.
Cefalu, is located in Palermo, and the beaches here are soft and sandy with clear blue water meeting its shoreline. This makes it an ideal place to visit in Italy!
This beach offers the scenic background of the city of Cefalu. There is also Scala dei Turchi, this location is off a rocky cliff of Realmonte. The white cliffs surround an endless crystalline blue water making it one of the best destinations in Italy.
The water is so perfect, you will hardly be able to believe you are on the planet Earth.
And last, Torre Salsa, just south on Montallegro, you are transported to another time. Virtually unmarked, this beach has sandy shoreline as far as the eye can see and is surrounded by amazing sea cliffs and sand dunes.
As the deep turquoise water laps at your feet, you will not regret your decision to visit this location, marking it as one of the best things to do in Italy.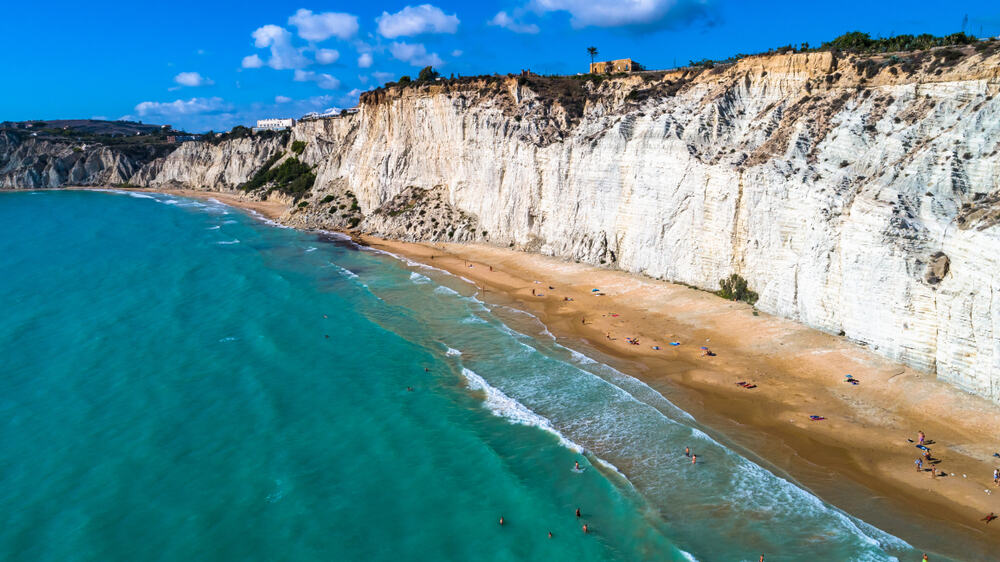 Explore the Cinque Terre Villages
Cinque Terre is another beautiful location carved out of the rugged seaside of northwestern coast of Italy. There are so many epic things to do in Cinque Terre and we have a whole blog post on that to help you!
Located along the famous Riviera, the Cinque Terre consists of five separate villages. These villages are not reachable by car from the outside and can only be accessed by walking paths, trains, and boats.
Start by exploring Doria Castle, located in Vernazza it is guessed to have been built during the 13th century, this castle is surrounded and built into rock edifices and worthy of your time. After this exploration, head to Via Fegina beach in Monterosso al Mare.
This beach in Cinque Terre is beautiful, surrounded by warm blue waters, the village of Monterosso creates the perfect backdrop to a relaxing day. When in Manarola, walk along the Via dell'Amore street.
This street runs about a kilometer long and overlooks the sea, we suggest you do this at sunset and take in the majestic sunset this coast has to offer.
Riomaggiore is the largest of the five villages and has a boasting nightlife. This village has a plethora of places to eat and drink. With the abundance of locations to go, getting a table at a restaurant last minute is usually no issue. The oldest of the five villages is Corniglia. It is lesser known but still one of the best places to visit In Italy!
Located in between all the villages, this location sits on top of a hill and has a 370 step staircase leading from the bottom to the top, or the top to the bottom depending on how you look at it. This small little village is often overlooked due to its location, but don't let that fool you.
If you are willing to put in the effort, you will be rewarded with less crowded streets and sites as tourism is less here than the other five villages.
This little collection of villages will captivate you with their quaint mountainside establishments, hillside vineyards, docks full of boats and spectacular seafood; putting this on your Italy bucket list!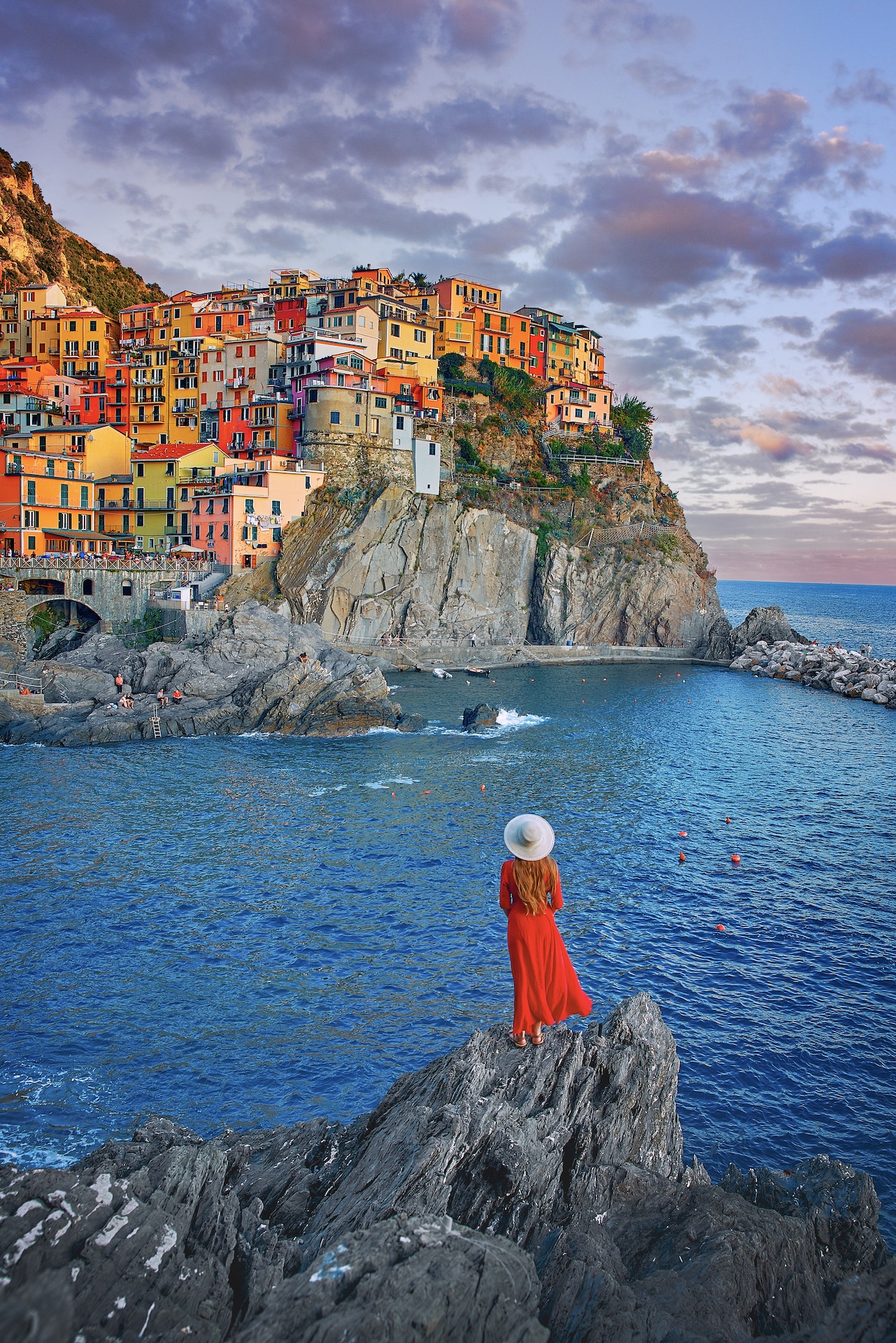 Bask in the beauty of Lake Como
Lake Como, also known as Lago di Como, is one of the most famous lakes in all of Italy, and thus, you need to add it to your things to do in Italy itinerary! Lake Como is separated into a variety of different towns including Como, Tremezzo, Cernobbio, Menaggio, and more.
Here you can take a stroll through any of the town's tiny streets, visit old centers, eat at good restaurants, explore old churches and more! You can also take a boat tour of Lago di Como or visit the Villa Melzi Gardens (if you are visiting during the right seasons, of course!). It is one of the top destinations in Italy for the rich and famous too!
If you need more details about visiting Lake Como, make sure to check out our Ultimate Northern Italy itinerary, and if you are really into visiting lakes/bodies of water and want to add it to your things to do in Italy, check out our article on the 10 prettiest lakes to see in Italy!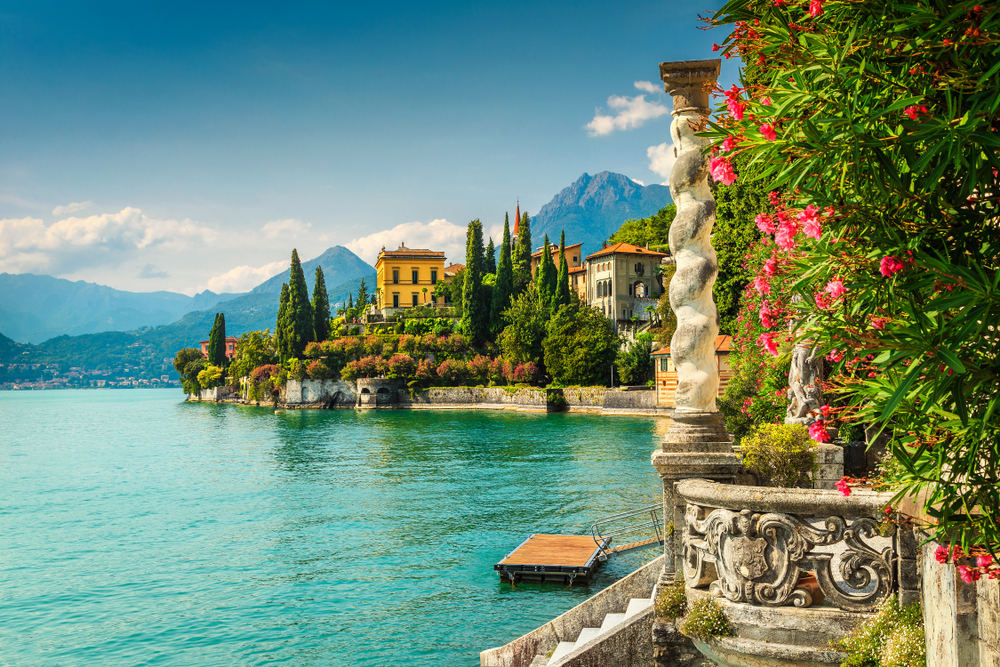 Visit Verona
Of all things to do in Italy, you must check out Verona! Known for being the setting in Shakespeare's Romeo and Juliet, this picturesque Italian town has loads to offer when visiting Northern Italy.
One of the best things to do in Verona is to visit the Northern Italy version of the Colosseum. The Arena Di Verona was built in 30 A.D. and is still used as a stage. Whitney Houston and Paul McCartney have performed here!
Visiting Verona can help escape the crowds of other touristy and busy cities and towns. You can also visit the Giardino Giusti, which is similar to the Garden of Versailles, and walk through the Casa Di Giulietta– which is arguably what inspired "Juliet's house" in Romeo and Juliet! It is such a fun Italian city to visit if you like history!
 Like we said, there are tons of places to go in Italy, specifically in Verona, so you don't want to miss out on it, and maybe you can even check out our Northern Italy Itinerary to get more ideas about what to visit when you're close to this wonderful town!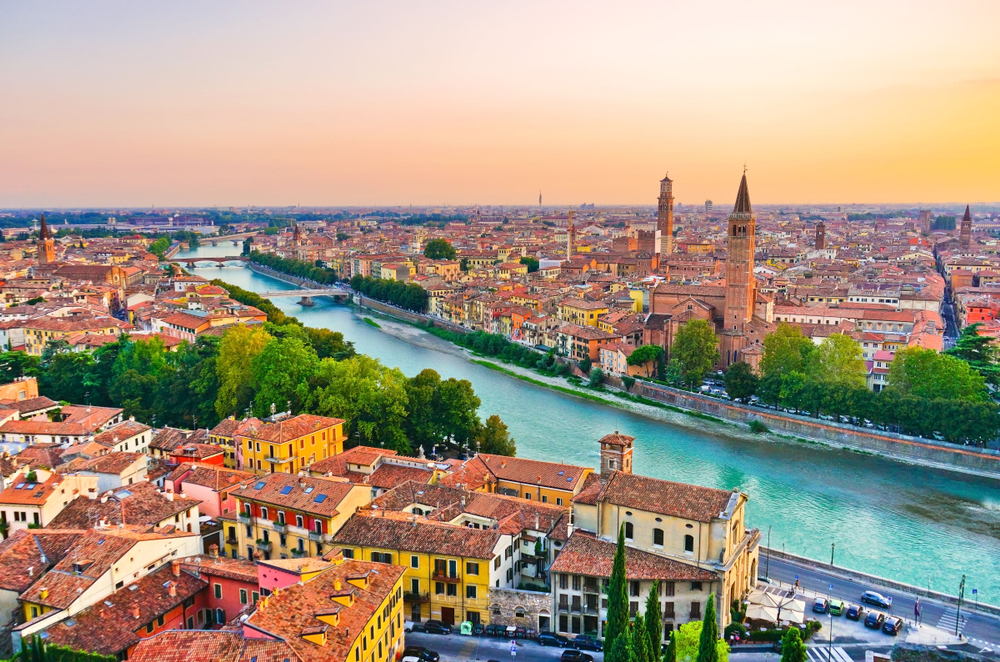 Make a Stop and Eat Your Heart Out in Parma
For all you food lovers, this is one of the things you must stop and do in Italy: visit Parma! Parma is home to Parmesan cheese and Parma ham, making it the MOST authentic place for these famous ingredients. We highly recommend taking a food tour, but also know that there are other things to do in Parma as well!
From visiting Cathedrals to a Baptistry to exploring the cobbled side streets of Parma, this location is a hidden gem. The town is filled with lovely buildings and isn't packed with tourists, which makes it the perfect experience for an authentic visit and a total must-see in Italy!
Between eating your heart out and marveling at the architecture and ambiance, we highly recommend checking Parma out– and if we've convinced you, you can find out more information about this town (such as where to stay!) and its surrounding locations when we talk about some of the best things to do in Northern Italy.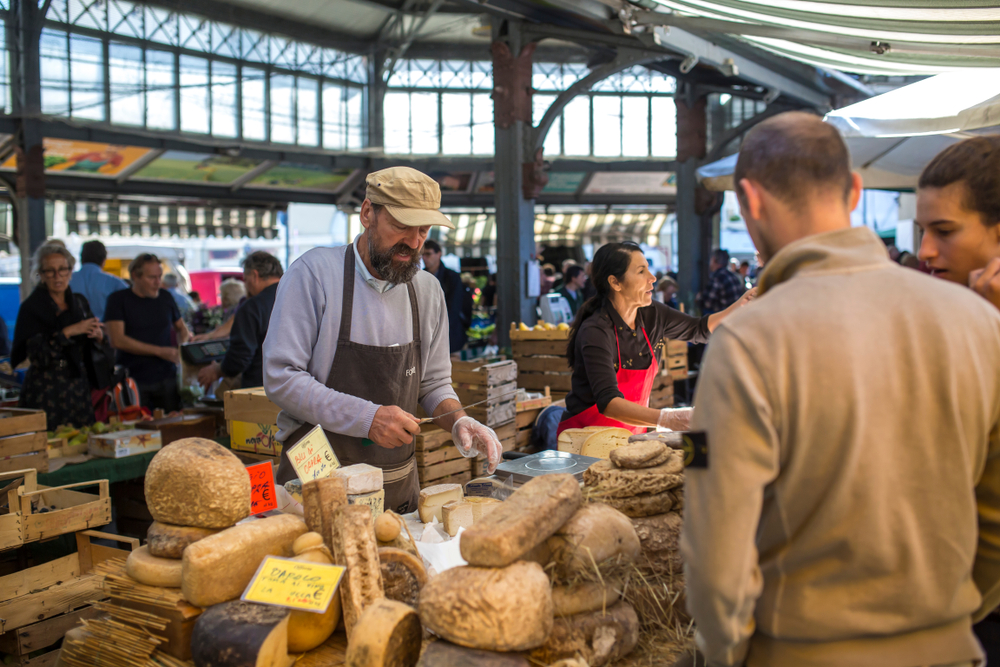 Travel Back to the Renaissance in Florence
Although we have already mentioned visiting the Boblio Gardens above, we want to circle back around and highlight some of the other things to do in Florence that will make your Italy trip memorable!
When looking for things to do in Italy, Florence offers so many options: from visiting the picture-perfect bridge of the Ponte Vecchio, to spending a day in the Galleria dell' Accademia, your time will be filled to the brim with adventure.
We recommend checking out some of Florence's most iconic pieces of art and traveling back in time to the Renaissance. While in Florence you can visit Michelangelo's famous "David" statue, as well as other famous paintings in the Palazzo Pitti. You will see many points of interest in Italy all in one place!
These locations will have your art-heart soaring, and we've linked for a timed entrance ticket below, but if you want more, make sure to check out our Ultimate 10 Days in Italy Itinerary!
And don't forget that there are even more things to do outside of the art world, such as visiting the Santa Maria Novella Pharmacy, which is one of the more unique places to see in Italy!! If you want more information on Florence, check out our piece on the memorable things to do in Florence! 
Book Here: Timed Entrance Ticket For Michelangelo's David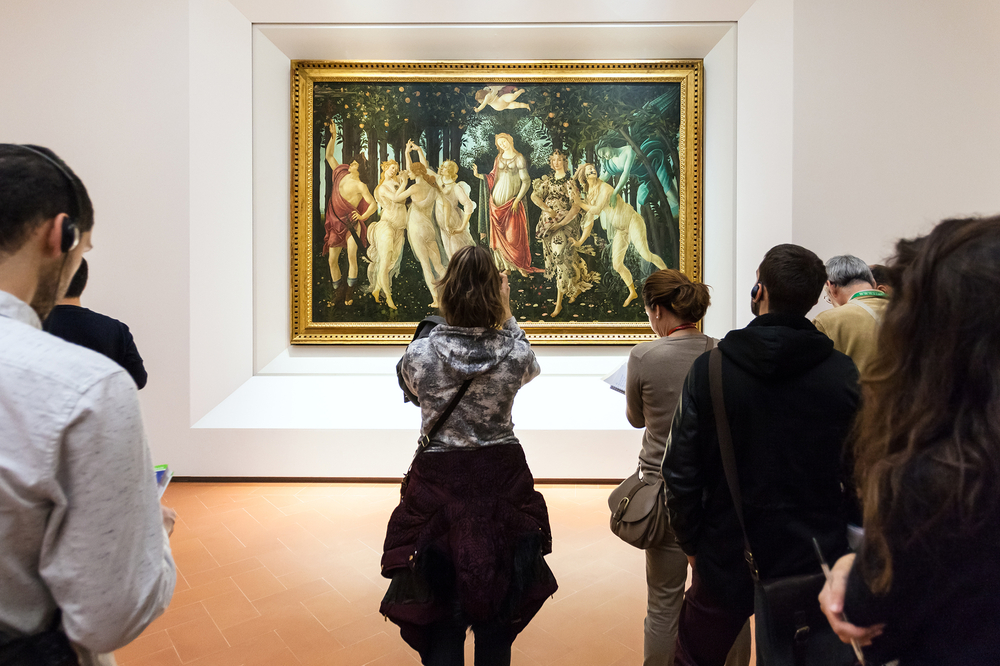 Marvel at the Buildings in Naples
While Naples is known for its pizza, as it is the birthplace of the delicious food, there are also plenty of things to do in Naples (we go into great detail about it in our 2 weeks Italy Itinerary article!), especially when it comes to the buildings and architecture in this wonderful city!
We highly suggest stopping here, as the sights you can see are breathtaking and informative. It is located nearby several famous Italy tourist attractions and makes a good home base while you visit the nearby areas.
Of all the things to do in Italy, you can specifically visit the Church of San Francesco di Paola, the Royal Palace, the San Carlo Theater and the National Archaeological Museum of Naples all in one trip to the Naples. And better yet, you can take a day trip from Naples to Pompeii (which we already discussed above!).
The relics and architecture put on display on Naples won't disappoint you– so grab some pizza, visit some churches and palaces, and maybe even see an opera while exploring one of the best cities in Italy to visit!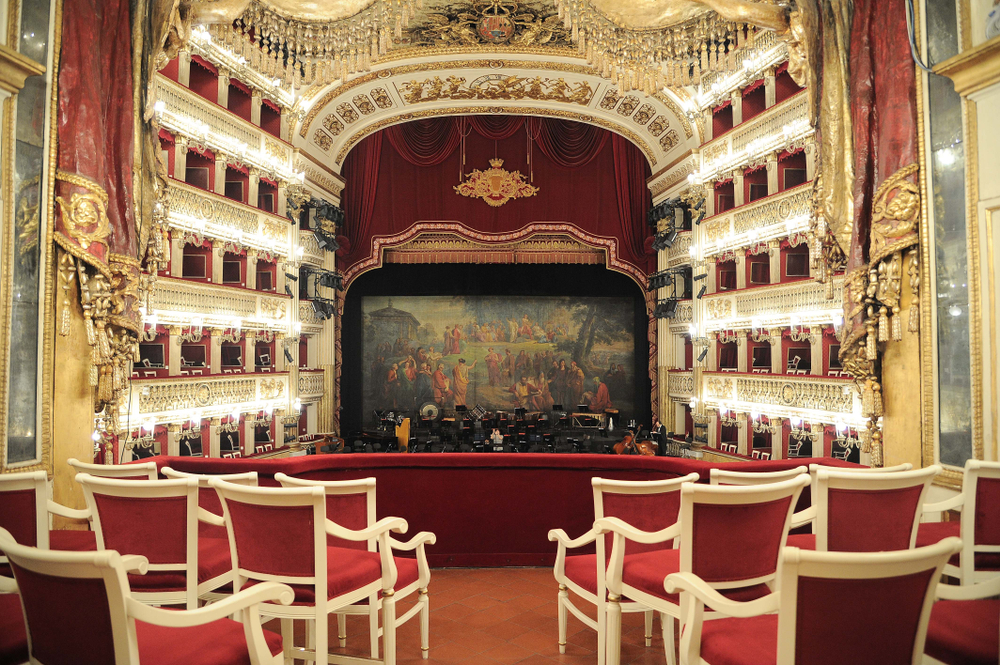 Stop by the Small Town of Corricella
Corricella is probably a town you haven't heard of, but that is okay, because we are telling you that you should add it to your things to do in Italy right now!
This port is located on the island of Procida, which is in the Bay of Naples, and because it is close to the ever-popular Capri, it is typically less busy and perfect if you want to explore in a relaxing environment. It you are looking for a slower Italy vacation spot, this is it!
While the view of the sea, the colorful houses, and the local fisherman draw many people to this town, there are other things you can do here as well. From visiting the Santa Maria Delle Grazie and seeing the tip of Procida, known as the Terra Murata, you can visit churches and see the fortified medieval stronghold.
If visiting small towns is of interest to you and your Italian vacation, make sure to look at what other towns we recommend visiting in our article that talks about the prettiest towns of Italy! They are some of the best places to visit in Italy.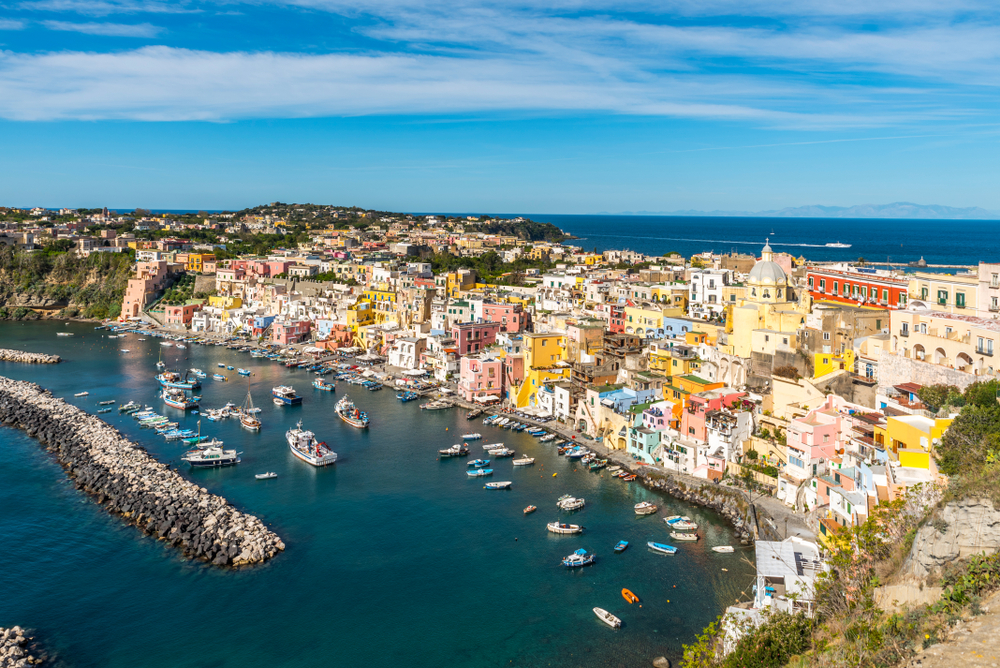 Take a Trip to the Fairytale Lake of Lake Carezza
If you are near the Dolomites and don't mind driving a bit, you can always visit Lake Carezza and add it to your things to do in Italy itinerary. This lake is gorgeous and is surrounded by tall coniferous trees. The lake itself has a green hue to it, making it stand out and giving it the nickname "Fairytale Lake." In fact, legend has it that a mermaid and a wizard may even live in lake!
Despite this being one of the "smaller" lakes to visit, this is a must-see in Italy, as there are so many scenic views for you to explore! You can also hike and enjoy what nature has to offer. And the best part?
Whether you visit in the spring, summer, or fall, you'll always get to be able to witness the gorgeous waters– just with a different perspective. It truly is magical and one of the prettiest destinations in Italy!
And if you're interested in spending more time around the lakes of Italy, check out our article on the prettiest Italian lakes you can visit!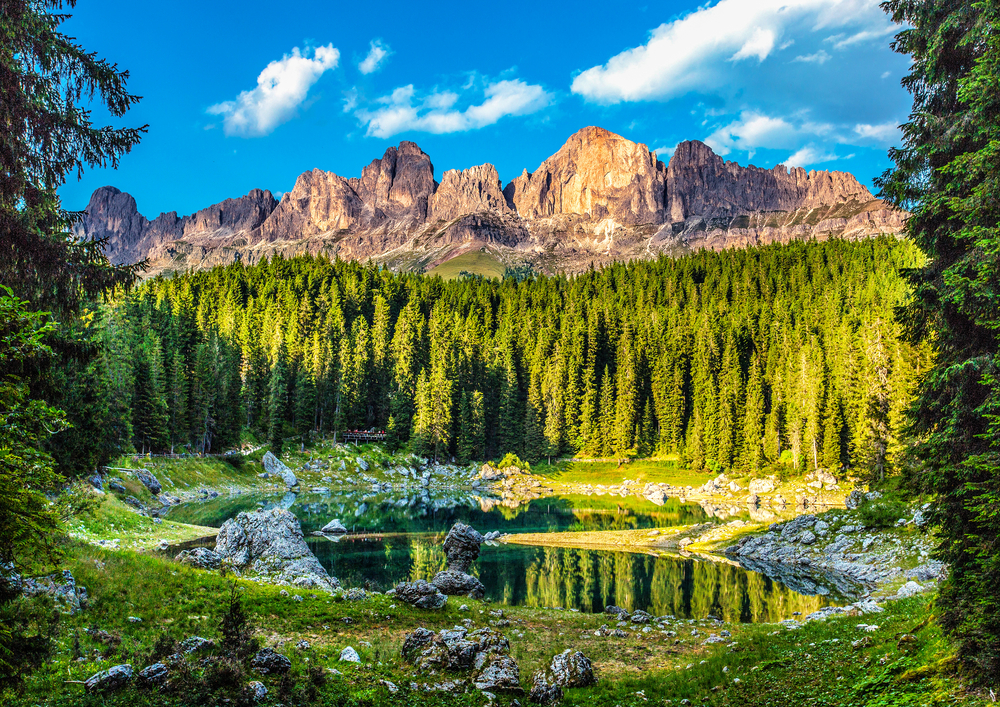 Taste Wine and Enjoy the Romance of Poppi
Tuscany is well known for its wine, and better yet, the town of Poppi is a romantic destination for anyone who wants to experience a wonderful vacation, with some delicious wine! There are so many things to do in Poppi, but wine tasting is one of the most famous!
Be sure to stop at the Brancaia Winery for a tasting and a tour, and then don't be afraid to check out the Castle of Counts for a tour of the 13th-century castle. Tuscany is one of the best Italian places for those who love wine and food.
You'll also get to bask in the gorgeous, famous rolling green hills of Tuscany while visiting Poppi. What can we say? It's romantic and a great Italy activity! And if you want to know of the other most romantic spots to visit in Italy, you can always slide over to our article on Italian Honeymoons to add to your list of the best things to do in Italy!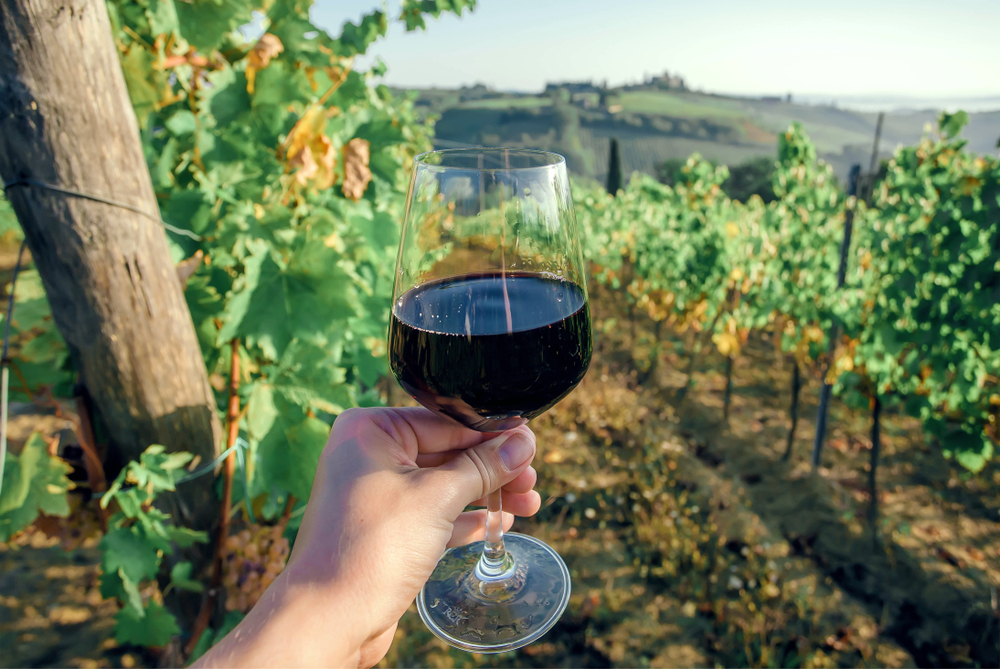 If In Season, Don't Miss The Venice Christmas Market!
Traditionally, Christmas markets in Italy run from the end of November until early January, so we are adding this to your list of things to do in Italy just in case you are visiting during that time! Venice is already one of the best cities to visit in Italy, seeing it at Christmas just makes it even better.
It's a bonus suggestion! The Christmas markets in Italy are gorgeous and are so festive, that you must check them out. In particular, we recommend stopping by to see the Venice Christmas Market. If you are visiting Venice in Winter, make sure to add this to your list of places to see in Italy!
During the Holiday season, the Campo Santo Stefano is transformed into a Christmas Village with Kiosks, craftsmen, and more! From being able to shop for Murano glass, to eating traditional foods (try the balsamic vinaigrettes!), and enjoying concerts and entertainment, this is a must!
But if you aren't near Venice during Christmas, don't worry– there are plenty of other Christmas markets around Italy you can check out!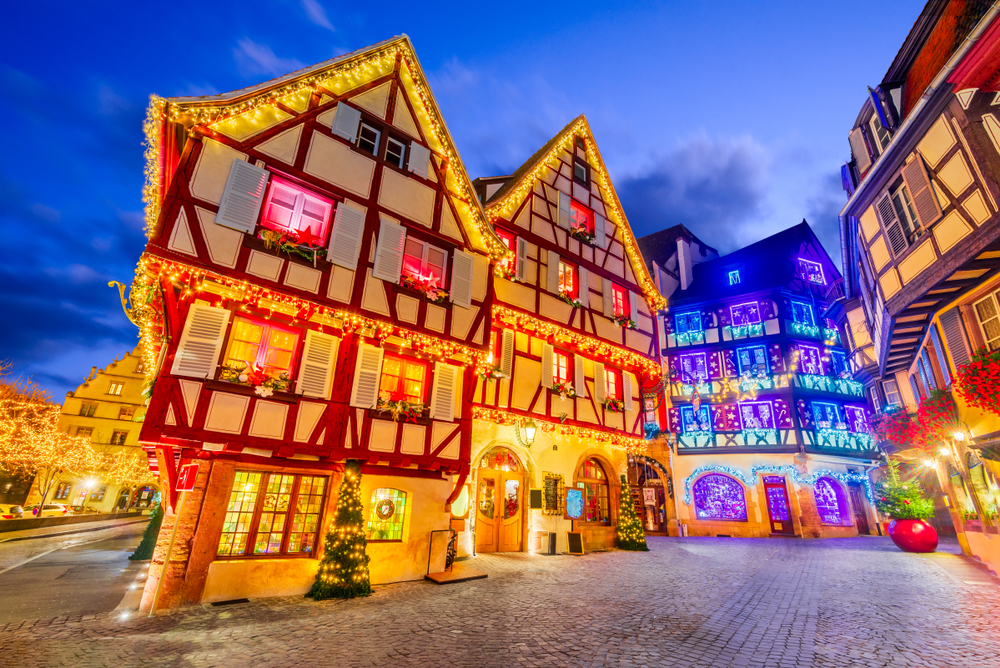 As you can see, there are limitless activities and things to do in Italy, that truly make this a destination country.  Whether you want to rub elbows with the elite, take a scenic ride and see the vistas, engage in activities like hiking, shopping, exploring, whatever you want to do, there are so many places in Italy that fit the bill!
Remember to plan ahead to make the most of your trip and be kind to the natural environments. Leave them just as you found them and help protect all these beautiful places for future generations.