You would be hard-pressed to find a more idyllic, classically beautiful place than Tuscany. Located in central Italy, Tuscany is a romantic collection of historic cities, rolling hills, and breathtaking countryside.
Planning your trip to Tuscany at the last minute?
Make sure to book your hotels and tours in Tuscany in advance to ensure availability. Things sell out as your dates get closer! Here are our top picks for Tuscany:
Top Tours And Tickets To Book In Advance:
Top Picks For Places to Stay In Tuscany:
From the architecture to the vineyards, there is something for everyone to love. In fact, it is these unforgettable features that can make it so hard to figure out where to stay in Tuscany.
Whatever the time of year, this land of wishes and dreams is full of remarkable places to stay.
Keep on reading to get a simple breakdown of what to expect from different towns and villages in the Tuscany region. We will answer the question of "Where to stay in Tuscany?" along with several others. By the end of this article, we hope to give you a good idea of where you want to go and where to stay in Tuscany. We have also made sure to provide you a range of options. Whatever your budget, there is something for you. Tuscany is such an amazing region, and we are so excited to explore it with you here!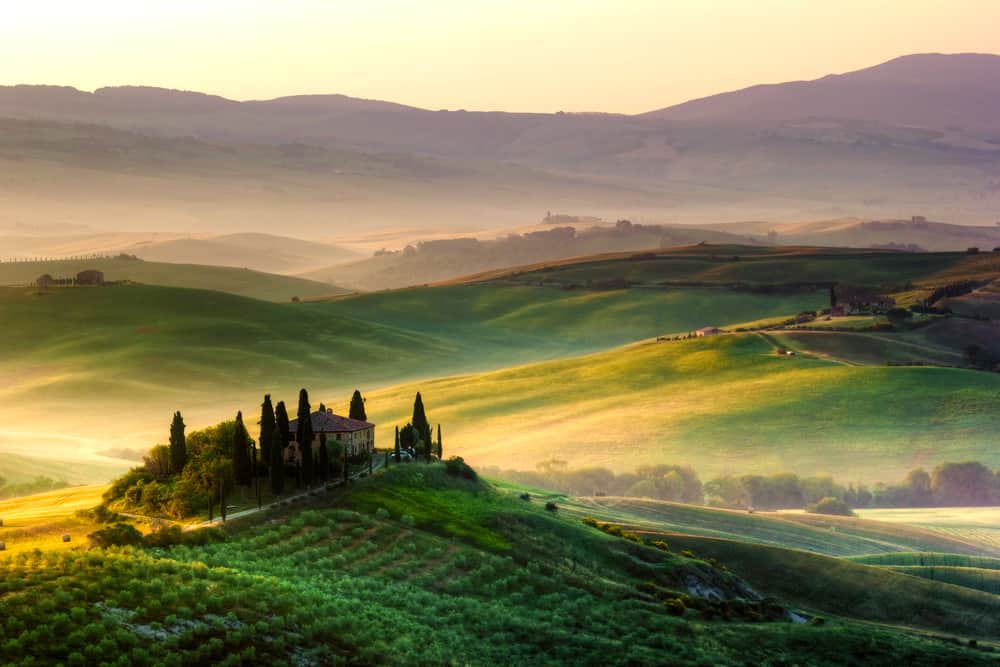 Where to Stay in Tuscany
Understanding the Tuscany Region
The first, most important thing to understand about Tuscany is that it is a region, not one singular place. Rather, it is a collection of cities, towns, and less populated pieces of countryside. It includes the world-renowned cities of Florence and Pisa, as well as lesser-known but equally beautiful Siena and Terme di Saturnia. We recommend picking a couple of places that you would really like to spend some serious time in and making those your base.
Whether you are planning your 10 days in Italy, have a bit more time and are spending 2 weeks in Italy, or renting a car and doing an Italy road trip, all of our itineraries recommend a stop in Tuscany in some way, shape, or form. This is because the region is stunning!
We are going to cover seven different places in the region to help you figure out where to stay in Tuscany. If you are planning to spend a good amount of time in the countryside during your time in Tuscany, we do recommend renting a car. It may be cheaper to rent in larger cities such as Rome and then drive to your Tuscany destination. Keep in mind that renting a manual transmission is generally less expensive than an automatic when renting in Europe.
Another good thing to remember is that it is the law to use your headlights at all times when driving in Italy so make sure to have them switched on before you leave. Finally, some of the roads you may drive on during your time in Tuscany will be toll roads. Make sure to come prepared with extra money for the tolls. Tolls in Italy can add up quickly so we want you to be prepared!
We always book our vehicles through Auto Europe. We find that Auto Europe is often the best and most comprehensive booking engine. It really helps you make sure you have everything you need to make traveling in another country successful. We have booked with Auto Europe in Italy, Iceland, Ireland and more. You can check Tuscany Car Rental Rates Here!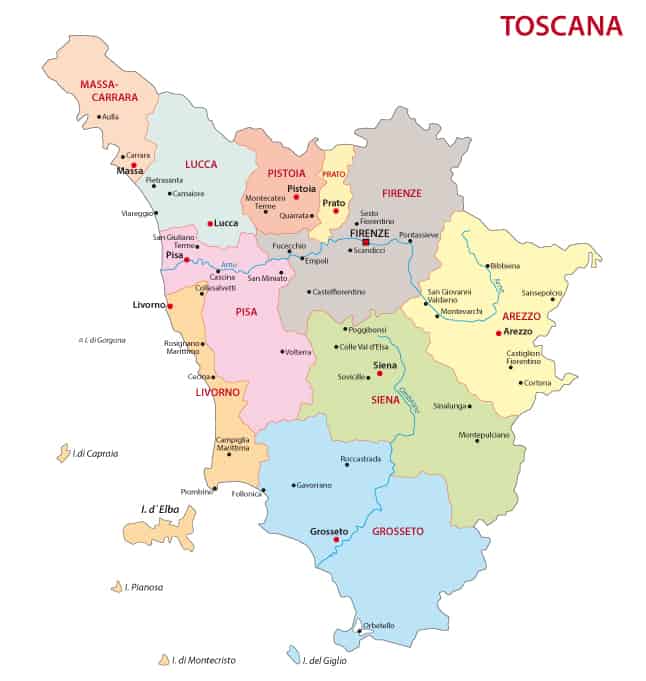 Stay in Florence for Art, History, and Culture
The fact that Florence is the most popular and largest city in Tuscany is the least impressive thing about this place. Florence is home to the world-famous Florence Cathedral, locally known as Santa Maria del Fiore, or the Duomo. Florence is the perfect base for beginning or ending your Tuscany road trip itinerary if that is why you are in this region!
This city is so packed with history that its historic center has been declared a UNESCO World Heritage Site. When considering where to stay in Tuscany, Florence has to be at the top of our list. Stay here, and you will never run out of spectacular sites to see. Because it is such a large and popular city, there are also basically endless choices for places to stay here.
Even if you are coming to Tuscany more for the beauty and aesthetic than for history, Tuscany is still a worthwhile consideration. The weather here is seasonal and lovely. You will still want to dress for the season you arrive during–cool breezy clothes for summer, warm cozy clothes for winter–but Florence does not generally see temperatures below freezing or over 100° F. If you want some more ideas for things to do in Florence, check out the article we wrote all about it!
Upsides: Good weather. Tons of things to do and see. Easy access to transportation and car rental services.
Downsides: Lots of tourists–lots of people in general. Can become quite humid.
Best Hotels in Town
Affordable: Villa Aruch
Part of figuring out where to stay in Tuscany is figuring how much time you want to spend in one place. Florence is an amazing place to stay because of the sheer number of things to do here. Villa Aruch is a condo-style hotel that offers studio living in close proximity to Florence. Although it is a little removed from the most popular places, transportation via bus or tram makes everything easily accessible.
Check Rates: Booking.com
Midrange: The Frame Hotel
Location, location, location. Seriously, if you want to stay right in the heart of Florence, the Frame Hotel is the way to go. It is 800 feet away from Florence Cathedral. The Frame Hotel is also built in the same building that the Mona Lisa was stored in after it was stolen in 1913. It simply does not get much more awesomely historic than this. We are honestly impressed with how much this hotel offers for its reasonable price.
Check Rates: Booking.com
Luxury: Four Seasons Hotel Firenze
If you are looking for a world-class spa and Michelin-star restaurant, as well as a place to stay, we absolutely recommend the Four Seasons Hotel Firenze. You will find acres of majestically maintained gardens here, right in the heart of the city. Stepping into the lobby is like stepping into a fancy museum with its pillars and sculptures. The entire hotel is a Tuscan retreat. Should you decide at some point to leave the luxury available to you here, the most famous sites in Florence are an easy 15-minute walk away.
Check Rates: Booking.com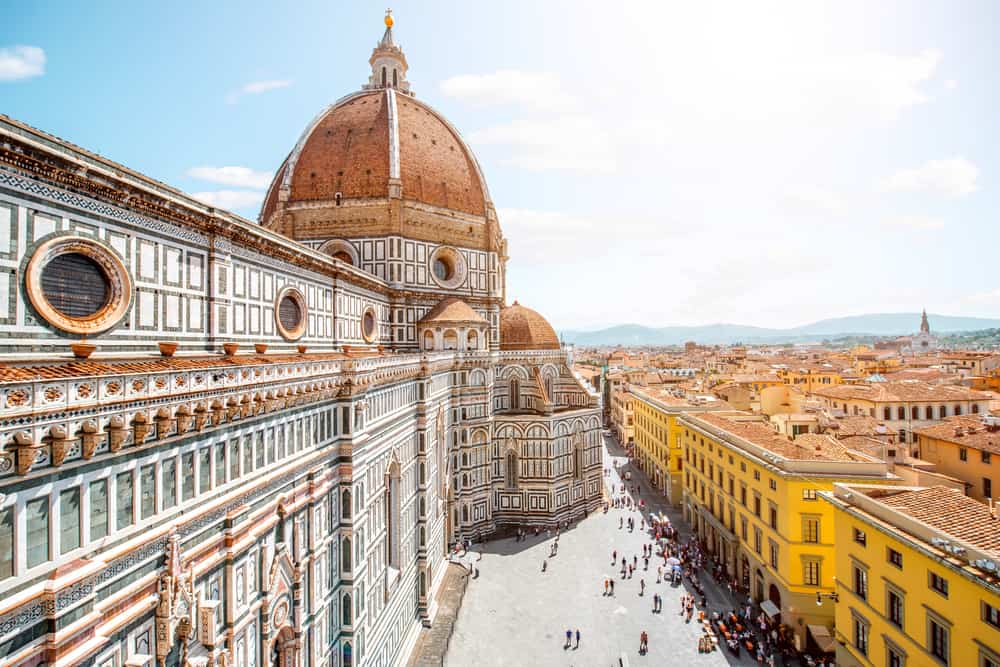 For Scenic Sunrises, Stay in Asciano
Many people think of absolutely stunning countryside when they think of Tuscany. If the beautiful fields and hills are the whole reason you are interested in spending time here, definitely consider staying in Asciano. A stark contrast to the bustle of Florence's crowded streets, Asciano is a quiet little medieval town. As with basically all Italian towns, Asciano has plenty of history. Consider staying here if exploring ancient streets and churches is your idea of a good time.
Asciano is also a great choice for where to stay in Tuscany because it is centrally located. If you are interested in visiting a variety of Tuscany locations, Asciano makes a great base. It is not as expensive as Florence and gives you the chance to really get to know the Tuscany countryside. Asciano also offers the advantages of being far more rural than many of our other suggestions.
Upsides: Not as busy and populated as larger cities. Offers easy access to the rest of Tuscany. Very affordable places to stay across the board. Off the beaten path.
Downsides: Not as many amenities as in larger cities. Does not offer as many things to do in the immediate vicinity.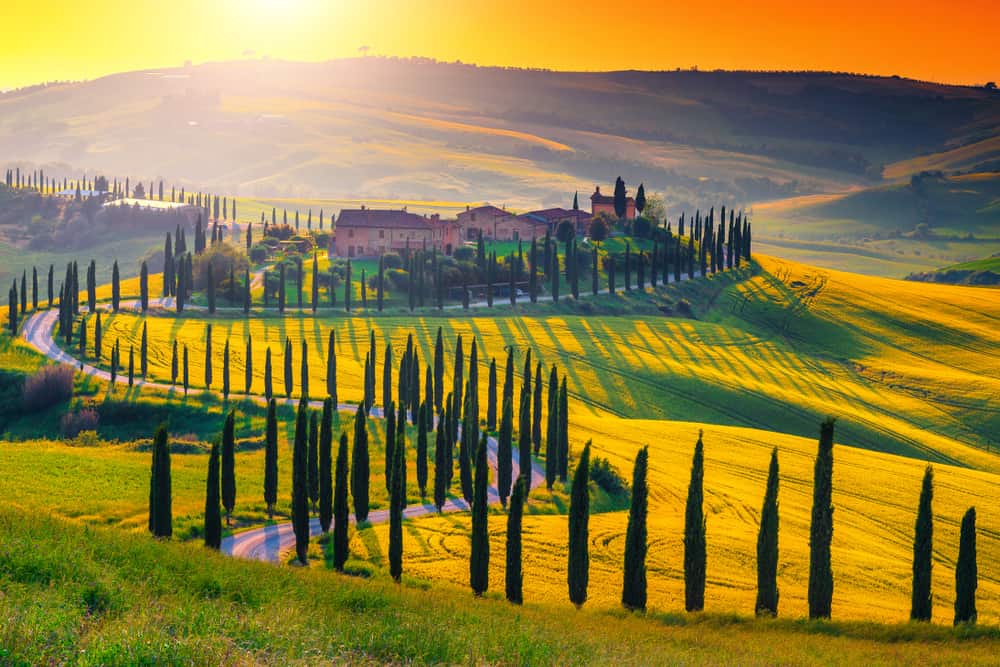 Best Hotels in Town
Affordable: Costaregoli
Asciano is not pulling any punches when it comes to affordability. Costaregoli offers an apartment setup at an astoundingly affordable price. Each comes with a kitchen, living room, and private bathroom. Stay here and you can go swimming in the garden pool. Watch the stunning Tuscany sunrises and sunsets from the terrace.
Check Rates: Booking.com
Midrange: Agriturismo Dipinture
Taking a little tiny baby step up on prices, Agriturismo Dipinture is another fantastic option for where to stay in Tuscany. It is still less expensive to stay here than in our affordable option for Florence. Agriturismo Dipinture is a farm with a great range of different types of units to stay in. Each has a kitchen and a private bathroom. Enjoy the beautiful farm and garden views from this unique location.
Check Rates: Booking.com
Luxury: Casa Country House Girasole
We mean, if you can book an actual house, why not? Especially at the extremely affordable rates that abound in Asciano. Casa Country House Girasole offers two bedrooms and two bathrooms, with a garden available to wander through. Take a dip in the outdoor pool, or make some comfort food with the available grill. Casa Country House Girasole offers the opportunity to make your time in Tuscany an extra level of personal and comfortable.
Check Rates: Booking.com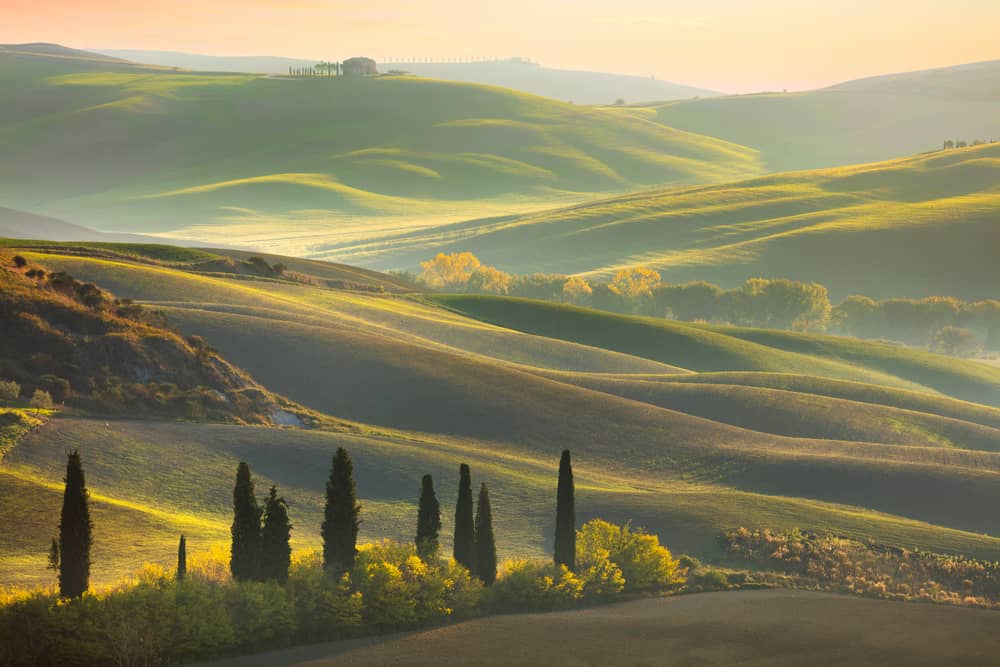 Stay in Siena for a Taste of Tradition
If traditional culture is a mainstay in your considerations for where to stay in Tuscany, Siena will absolutely exceed expectations. A step down from the crowdedness of Florence, Siena still draws plenty of crowds. This city is built around its historic center and still has different wards within the city. These wards have their own boundaries and mascots and often come to head in the competition each year at the annual horse race. This race has been taking place since medieval times and is a great way to experience some of this region's culture.
Siena is a great place for tradition and culture even if you do not visit during the races. Visit the Piazza del Campo and the Palazzo Pubblico to experience the beautiful architecture inherent to Siena. The Siena Cathedral is filled with relics and artifacts integral to the Cathedral's history. You will be greeted by mosaic floors, the historic pulpit crafted by Nicola Pisano in the 13th century, and all kinds of works of art. Wherever you go in this medieval town, you will find bits of history calling your imagination to a different time.
Upsides: Great weather without extremes. Not quite as big as Florence but still very popular. Good central location. More amenities than Asciano.
Downsides: Busier than Asciano, can get crowded especially during the horse races. Traditional destination.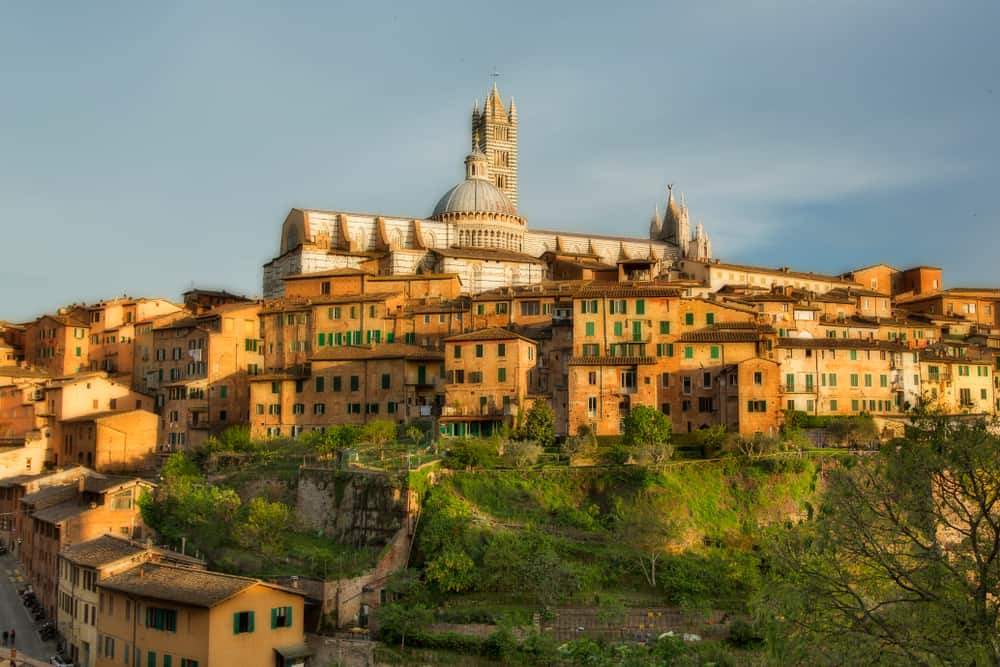 Best Hotels in Town
Affordable: Sangallo Park Hotel
Sangallo Park Hotel is proof that you do not have to pay a lot of money for stellar views. This hotel is set at the top of a hill so that you can see both the city and the countryside. It also offers a breakfast buffet! It is hard to go wrong with a hearty breakfast, breathtaking views, and a local bus that will take you right into the city.
Check Rates: Booking.com
Midrange: Palazzo Ravizza
The nice thing about Siena is that it is really easy to stay near all the famous sites. Palazzo Ravizza is no exception. Stay here and you will be thrilled with the short walk to the Piazza del Campo. You can also spend some time in the private garden, which has excellent views of the countryside. Whether you want a peaceful, beautiful place to relax or easy access to the city's amenities, Palazzo Ravizza is a great option.
Check Rates: Booking.com
Luxury: Grand Hotel Continental Siena
Built in a building from the 1600s, Grand Hotel Continental Siena offers nothing but luxury and class. As with Palazzo Ravizza, Grand Hotel Continental Siena is located right in the middle of Siena. The location combined with the building, attention to detail, and stunning setting of this hotel make it a knockout. When you visit you will love the artwork on display throughout the hotel, terracotta floors, and the traditional restaurant available inside.
Check Rates: Booking.com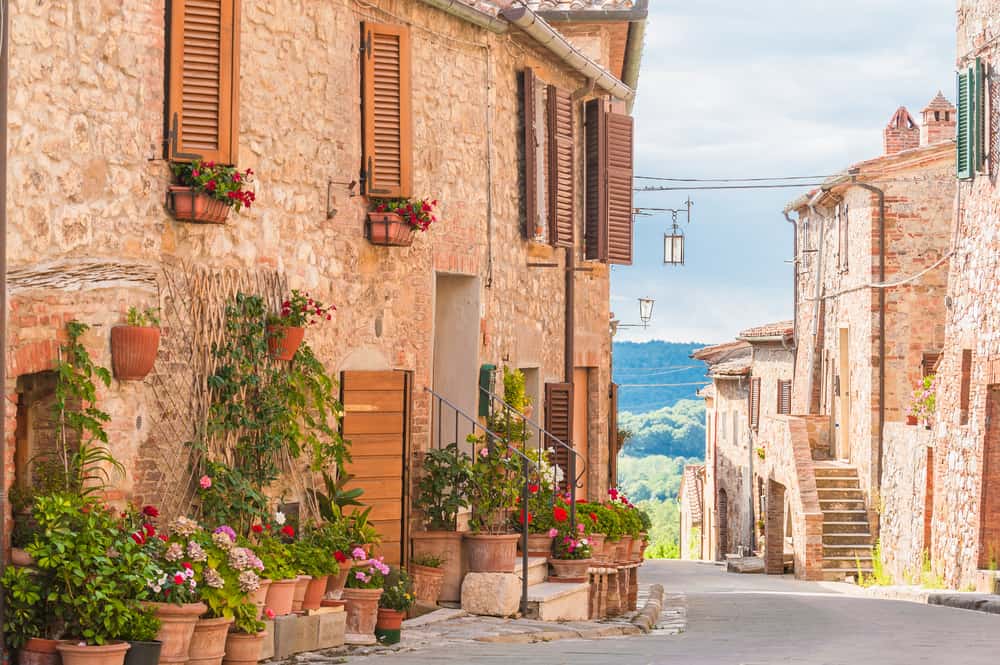 Pienza is the Ideal Renaissance Town
Located in the same province as Siena, Pienza is another town in Tuscany that will steal your heart. Siena and Pienza are both part of the region of Val d'Orcia, a region famous for pretty views and rolling hills. Pienza is built on one of those sprawling hills and takes full advantage of the scenery this region is renowned for. People come from all over the world to experience the beauty, serenity, and wonder of this place.
Before the 1400s, Pienza was actually known as Corsignano, a town that had been in existence from at least the 9th century. Pope Pius II was born there, and rebuilt the place after becoming pope. He wanted it to be the ideal Renaissance town, and we think he succeeded! Visit it yourself and you will see why. While you are at it, visit the Palazzo Piccolomini, the cathedral in the center of the piazza, and the Palazzo Vescovile. For a pretty little town, there are plenty of things to see and do here.

Upsides: Views for days. Less touristy. Romantic, relaxed atmosphere. Surrounded by countryside and vineyards, making everywhere you look gorgeous. Fun culture and places to eat.
Downsides: Even though fewer people means fewer crowds, it also means fewer amenities. Further away from major cities. Takes a little longer to get here from more major destinations.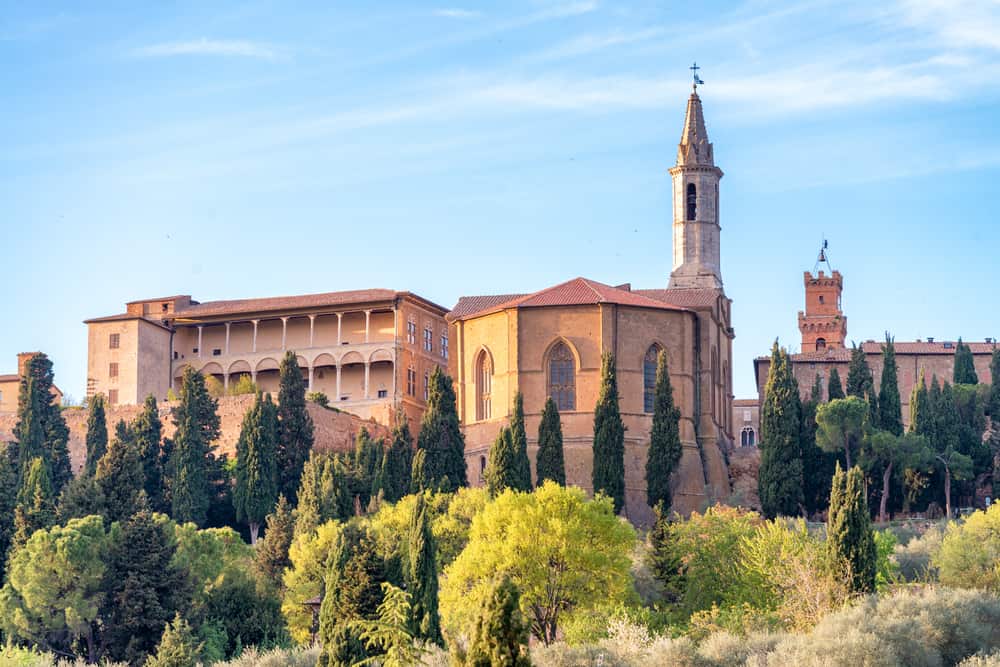 Best Hotels in Town
Affordable: Hotel Corsignano
Although it does not offer hot tubs in your room like our midrange recommendation coming up, Hotel Corsignano does offer terraces with hot tubs! Some of the rooms come with private terraces too! It is family-run and offers a fantastic traditional restaurant. While you visit be sure to take advantage of the buffet-style breakfast. You will be ready for whatever adventures your day brings!
Check Rates: Booking.com
Midrange: La Saracina
Not many locations receive as high of reviews as La Saracina. We recommend getting one of the rooms that come with a hot tub if you can! If those are already taken, do not worry, you can still go swimming in the hotel's pool. There are even guides to take you on the local paths in the area. When you visit you will fall in love with all the amenities here. All the rooms are decorated in traditional Italian style, and will totally cement your complete Tuscany experience.
Check Rates: Booking.com
Luxury: La Bandita Townhouse
Not only does La Bandita Townhouse have an amazing restaurant, but you can also take cooking classes here! We love the idea of going to Tuscany for a vacation and coming away with skills that will bring a piece of it home with you! Beyond that golden nugget, this place also offers true comfort. Some of the rooms even come with terraces, so that you take in the beautiful countryside with some privacy.
Check Rates: Booking.com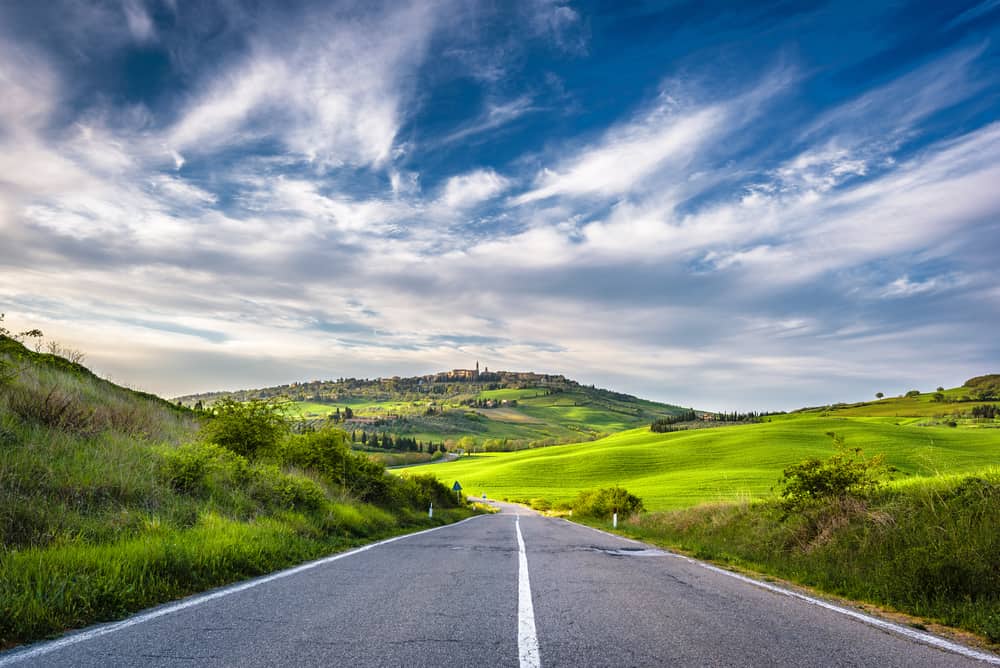 Soak in Terme di Saturnia's Hot Springs
While most popular locations in Tuscany are more central, Terme di Saturnia is a collection of springs much further to the south. We urge you to at least consider visiting this area when deciding where to stay in Tuscany. It is an extraordinary experience. As if the mere existence of hot springs is not enough, there is also a myriad of waterfalls you can visit in the area. Terme di Saturnia is a great way to get out of the cities and towns, but is not too far from the town of Saturnia. Spend some time in the great outdoors, soaking up the natural relaxation and therapeutic properties of these springs.
Out of all the hot springs in Tuscany, the Saturnia hot springs is one of the best. Even better, it is free! Some of the hot springs in Tuscany have an entry fee, but you can avoid that by going to Saturnia hot springs. We love that you can get such an amazing experience for free! We do recommend coming earlier in the day, as this is a popular spot. Check out our article on hot springs in Tuscany if you would like to know our other favorites.
Upsides: Hot springs–need we say more? Gets you outside. A unique way to experience the countryside. Endless beauty. An all-encompassing experience.
Downsides: More removed from most other popular destinations in Tuscany. Not as many amenities as larger cities.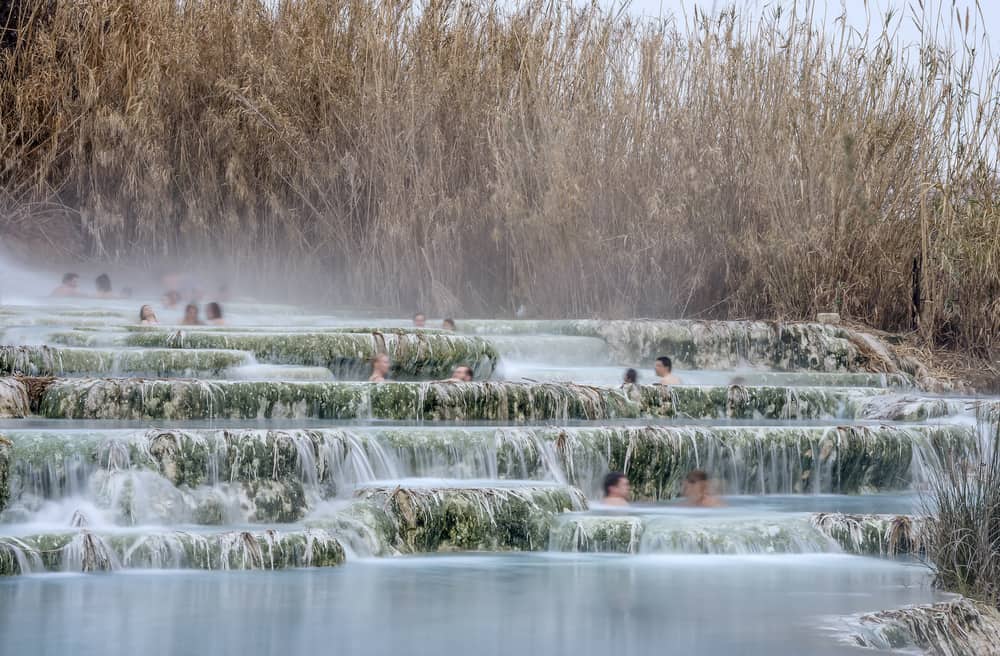 Best Hotels Around
Affordable: B&B 8380 – Pian Del Molino
What if we told you that you can stay 650 feet away from the hot springs and that it is one of the least expensive options for lodging in the area? B&B 8380 – Pian Del Molino offers just that. Some of the rooms even come with a balcony! Explore the hot springs, and then spend the evening relaxing in the garden or the gazebo. You will be hard-pressed to find anything with this value anywhere else.
Check Rates: Booking.com
Midrange: Agriturismo Bio Aia Della Colonna
Agriturismo Bio Aia Della Colonna carries on the great Italian tradition of producing wine on the same site of the agriturismo. The building's walls are from the 1300s, and you will find all the charm of Tuscany inside. With vineyard views for days, you will love the time you spend here. The family who runs the agriturismo offers a breakfast made up of homemade, organic products. The lounge even has a fireplace to relax by during chilly evenings or early mornings.
Check Rates: Booking.com
Luxury: Terme di Saturnia Spa & Golf Resort
If you would like to spend some time in the hot springs, but also some time golfing in one of the most beautiful golf courses in Tuscany, you will love Terme di Saturnia Spa & Golf Resort. Even if golf is not really your thing, this place is still worth considering! They have a thermal spa, juice bar, and a wellness center. Stay here, and you will not feel the need to go anywhere else. With massages, natural swimming pools, and gardens to explore, what more could you want?
Check Rates: Booking.com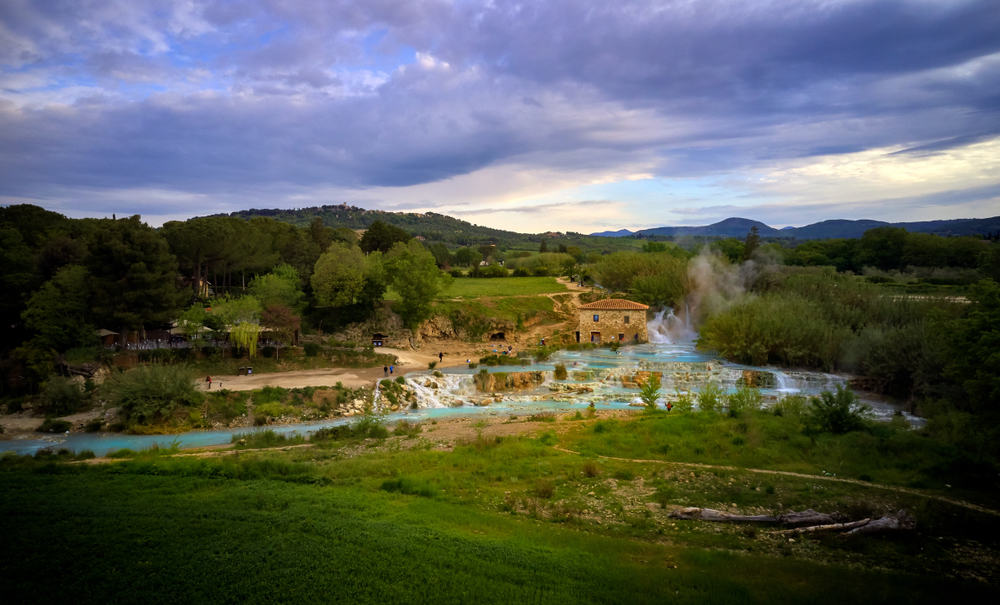 Stay Inside Lucca's Medieval Walls
On the other side of Tuscany, far to the North, we have Lucca. This city's history goes way back to Roman times and beyond, and it has the relics and artifacts to prove it. Traces of an early colony in the same location as today's Lucca date back to the 3rd century BC! The medieval walls were designed by none other than Leonardo Da Vinci. If you choose this for where to stay in Tuscany, you will immediately be able to tell why people have existed in this region for so long. Lucca is a remarkably beautiful place. It is sometimes referred to as the city of 100 churches, and it has tons of towers that you can visit as well. One of which even has a rooftop garden complete with mature trees!
Lucca is also great because it is very close to a lot of other famous and beloved places in Tuscany. Pisa is very close (site of the Leaning Tower of Pisa!), and Florence is only about an hour away. So if you are wanting to spend some time checking out Florence, but do not really want to stay right in the city, Lucca offers a great alternative! Drive for half an hour in the other direction, and you will find Viareggio on the coast of the Ligurian Sea.
Upsides: Scathes and scathes of ancient sites to visit. Close proximity to Pisa, Florence, and the Ligurian Sea. Excellent starting point to go pretty much anywhere else.
Downsides: Some roads in the city can only be walked, not driven. Some popular places in the city might be closed in the winter.

Best Hotels in Town
Affordable: Hotel Villa San Michele
Hotel Villa San Michele is a great place when considering where to stay in Tuscany. While it is not as close to popular destinations in Lucca as the following recommendations, it is a destination in and of itself with its garden and traditionally decorated rooms. It is still quite close to the attractions of Lucca too! The staff are helpful, the food offered in the restaurant is amazing, and you will find absolutely everything you need here.
Check Rates: Booking.com
Midrange: Le Dimore del Borgo
Imagine staying in the nostalgic city of Lucca with your own condo to return to. Le Dimore del Borgo is a condo-hotel that offers accommodations that come with private kitchens, bathrooms, and living spaces. You will love the studio living setup here. It is hard to feel more at home than when you can cook whatever you want in your own kitchen! Not only that, but it is mere thousands of feet away from some of the most popular destinations in the city, including Guinigi Tower! Remember the tower with the rooftop garden we mentioned above? That is Guinigi!
Check Rates: Booking.com
Luxury: Hotel Alla Corte degli Angeli
If you would like to stay in a hotel that embodies all the charms of Lucca in one place, do yourself a favor and check out the Hotel Alla Corte degli Angeli. Keep in mind that luxury in Lucca costs much less than luxury in Florence. This hotel offers class, refinement, comfort, and ease. All within close proximity to some of the most visited sites in Lucca. You will love every minute that you spend in this place.
Check Rates: Booking.com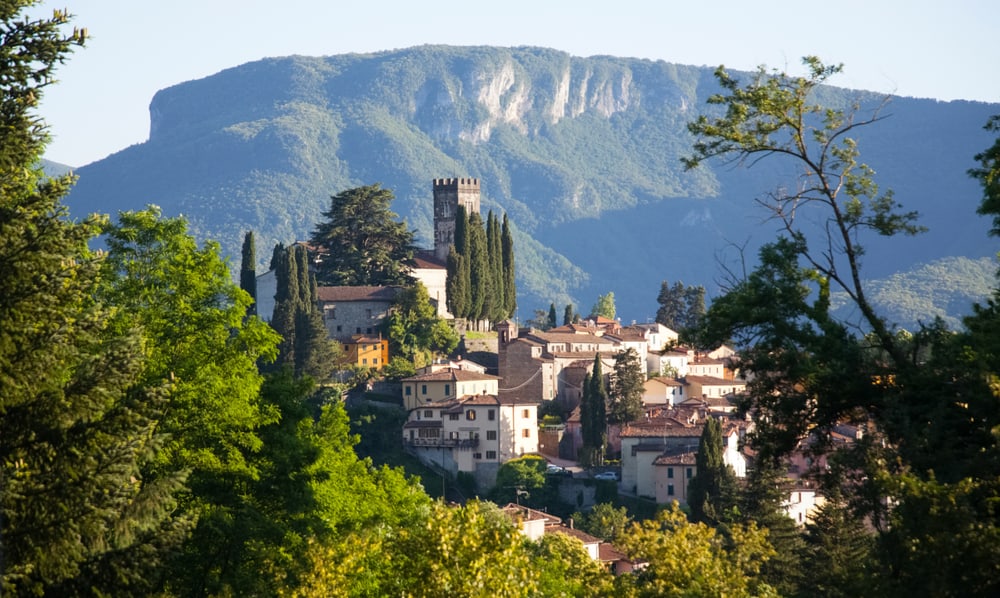 Get Away in Arezzo
One of the least touristy destinations on our guide for where to stay in Tuscany, Arezzo is a city packed with tradition and culture. Arezzo is located in the far east of Tuscany. Situated on the road between Rome and Florence, it manages to be close to the beaten path, but still removed from it. Stay in Arezzo and you are guaranteed to get a feel for Tuscany culture without having to fight crowds to find it. Like Asciano, things in Arezzo tend to be very decently priced and affordable.
Locals and tourists alike love to visit the Arezzo Cathedral, found at the top of a hill in the middle of the city. The people here know they have something good and celebrate often with food festivals throughout the year. There is no end to things to do in Arezzo. When you visit, you will find plenty of boutiques, bookshops, and art venues as you explore the ancient streets. If you are lucky enough to visit during June or September, you will be just in time for the medieval jousting tournament!
Upsides: Less touristy. Lots of things to see and do. Close to other popular locations and destinations. Reasonable prices for lodging and activities.
Downsides: Not as big as Florence, but not as removed as Asciano. Popular events, like the jousting tournaments, are booked up quickly.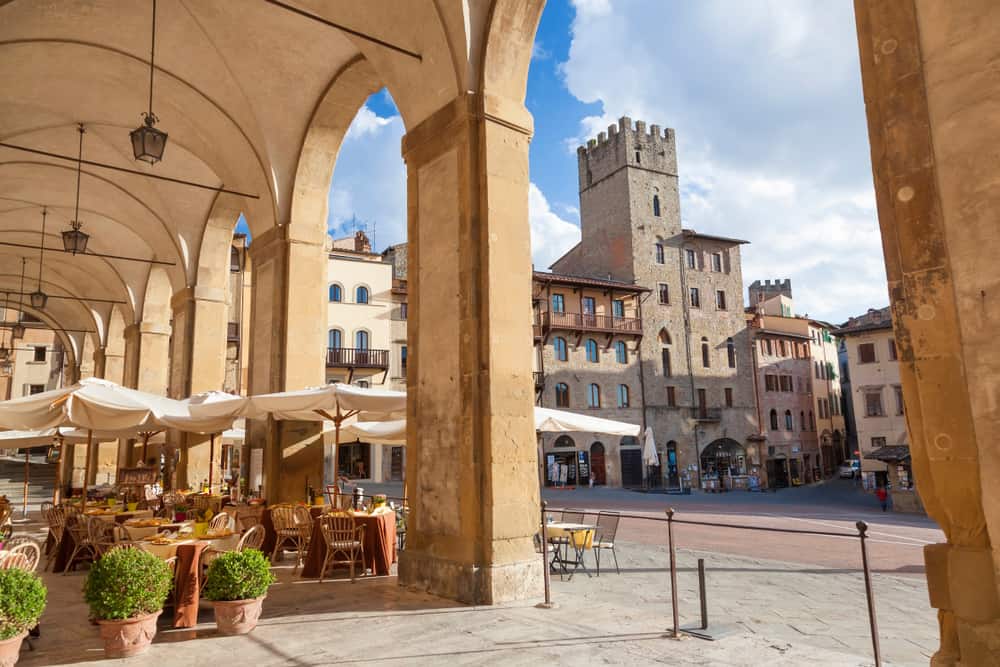 Best Hotels in Town
Affordable: Garden Hotel
Sometimes all you need is an affordable place to sleep at night. And sometimes, the most affordable places come with buffet breakfasts, great locations, and comfort too! Welcome to the Garden Hotel. When figuring out where to stay in Tuscany, you can not ignore the great value available here. You will love the easy access you will have to Arezzo, Florence, and Siena from this great hotel.
Check Rates: Booking.com
Midrange: Graziella Patio Hotel
If you are staying in Arezzo because you wat to truly experience Arezzo, we recommend staying at the Graziella Patio Hotel. It is located in Arezzo's historic center, and as such is very close to many of the greatest things Arezzo has to offer! The frescoes of Piero della Francesca, for example, are a short walk away. All of the rooms here are inspired by the writer Bruce Chatwin. You will love the charm and location of this great hotel.
Check Rates: Booking.com
Luxury: Badia di Pomaio
Folks, you can stay in an Abbey. An Abbey. From the 17th century. Not only that, but this abbey has an infinity pool, artisan furnishings, a world-class restaurant, and gardens to relax in. Have we sold you yet? Badia di Pomaio is the place Tuscany dreams are made of. You will reminisce on your experience here for years to come. When you visit you will be able to eat vegetables grown in the gardens and drink wine from the cave wine cellar below. Stay here and you will not regret it.
Check Rates: Booking.com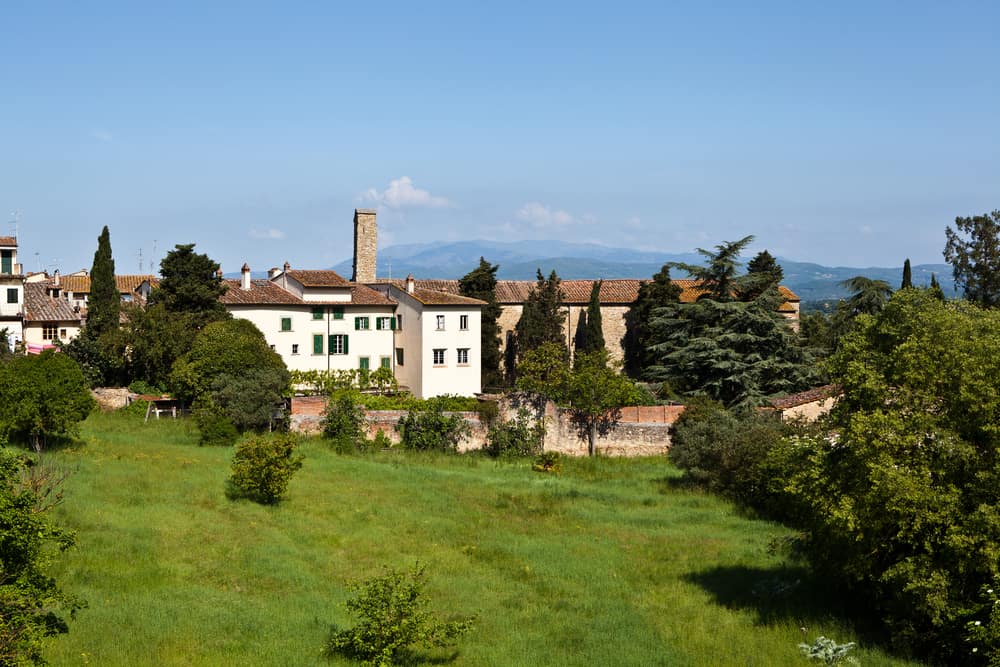 We sincerely hope we have helped you narrow down where to stay in Tuscany! From Florence to Asciano, we love how varied this historic region is. We hope you will find many things to love too! Let us know if you choose to stay at any of our recommendations. We would love to hear what you think!