Are you looking for the perfect 4 days in Rome itinerary? If so, this is the post you need to read!
If you are looking to book a quick trip to Italy or have a quick stopover between destinations and want the biggest bang for your time in Rome, this 4-day itinerary is ideal for you.
Italy is one of the number one destinations for travelers. With all of its history and captivating beauty, it is no wonder people seek this country out in their travels.
While Italy has many provinces with many things to enchant the traveler and inspire the wanderer, Rome is undoubtedly the hub for it all.
This extensive Rome trip planner will help you map out the perfect vacation to the Eternal City!
With international travel and time zone changes, your arrival day should not be the first day of your tour of the city. Use your arrival day to acclimate and prepare yourself for this perfect 4 days in Rome trip.
Explore the area around your accommodations, find some good local food, and get a good night's rest before your amazing Rome vacation begins!
Whether you are spending 10 days in Italy, have a little more time like 2 weeks, or are renting a car and planning an Italy road trip, Rome should 100% make it on your itinerary!
Keep reading for what to do in Rome in 4 days!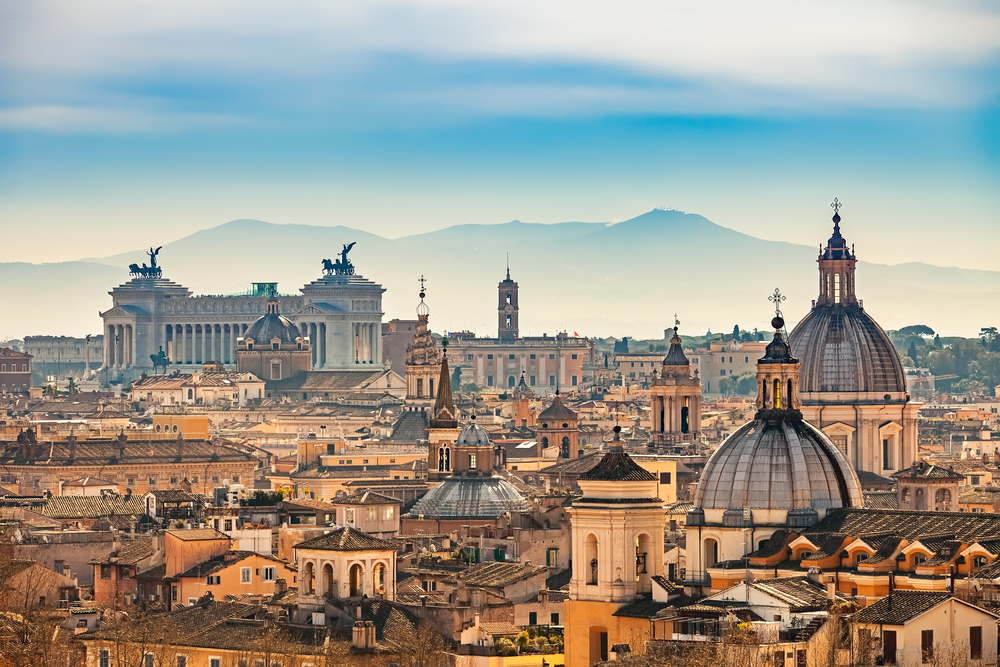 Are 4 Days Enough in Rome?
Four days in Rome is the perfect amount of time to explore the Eternal City.
This will give you time to visit all of the classic attractions as well as many hidden gems in Rome. You will not feel rushed or be forced to choose between tour options.
Our 4 days in Rome suggested itinerary is perfect if this is your first time here and want to see all the best spots in just a few days.
When planning a trip to Italy, you have to include Rome!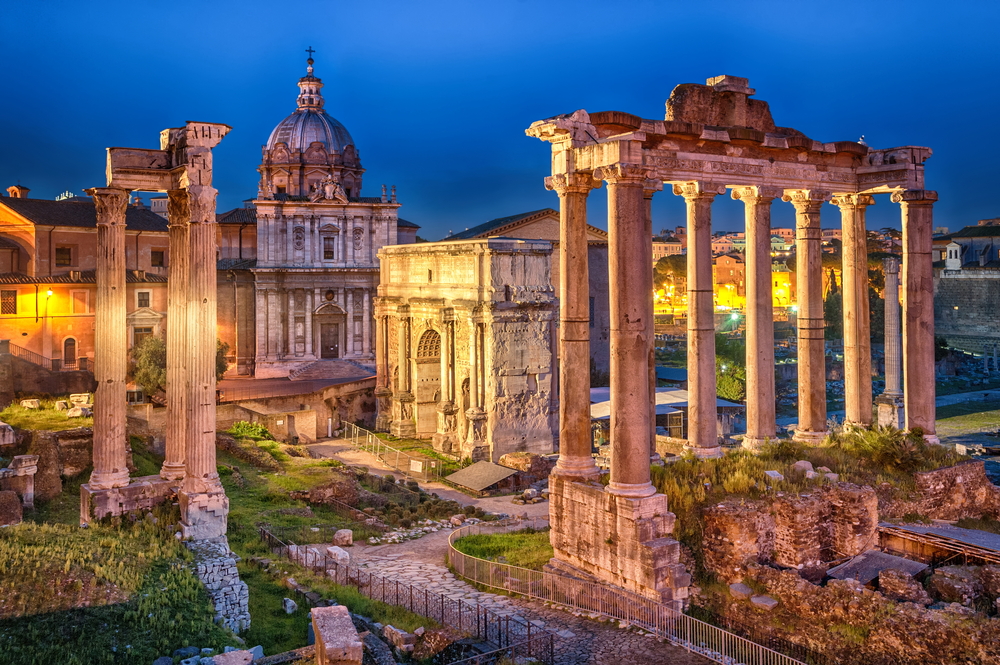 Getting To Rome
There are a few different ways you may get to Rome for your vacation.
If you are flying in, you will land at either Leonardo da Vinci Airport or Ciampino Airport depending on where you are coming from.
Then, you can take a bus, train, or taxi to the city center.
Train travel is also very convenient if you are coming from somewhere else in Italy or Europe. It might take longer than a flight, but it is cheaper, easier, and more scenic.
If you are renting a car in Italy, then you can drive right into the city as well.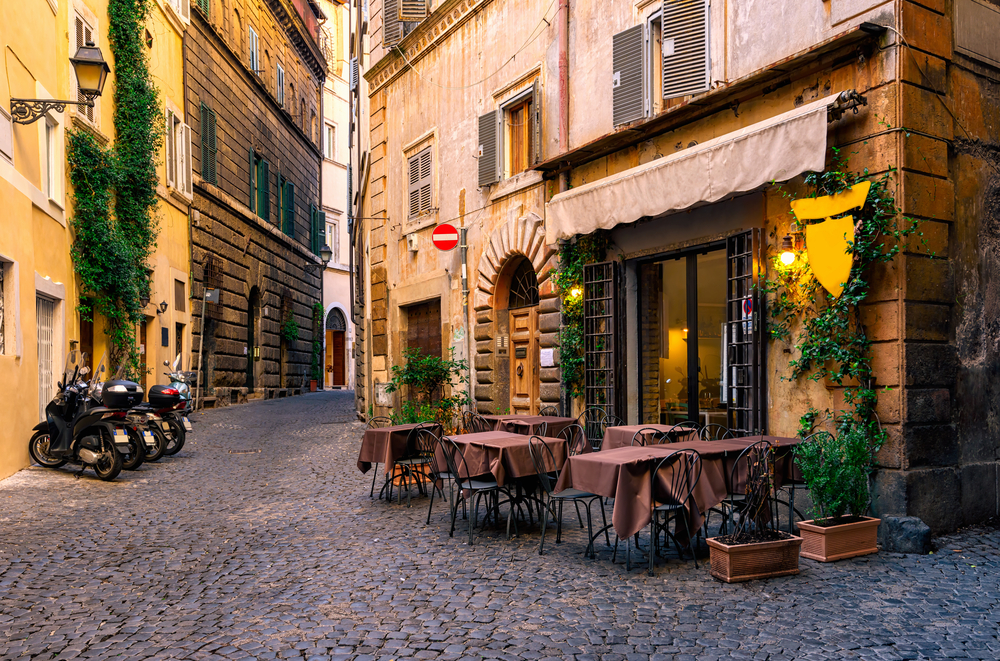 Getting Around Rome In 4 Days
When you are learning how to plan a trip to Rome, you need to figure out how you will traverse the city.
Getting around Rome is easy with an extensive public transport system.
Rome has three metro lines, buses, trams, and three urban railway lines.
The public transport is how to see Rome in 4 days. You can buy single one-way tickets as needed.
However, buying a week pass is more convenient. It allows unlimited use of all public transport during that time period and is about the same price as two 48-hour passes.
Don't forget to check out our guide on the best time to visit Italy!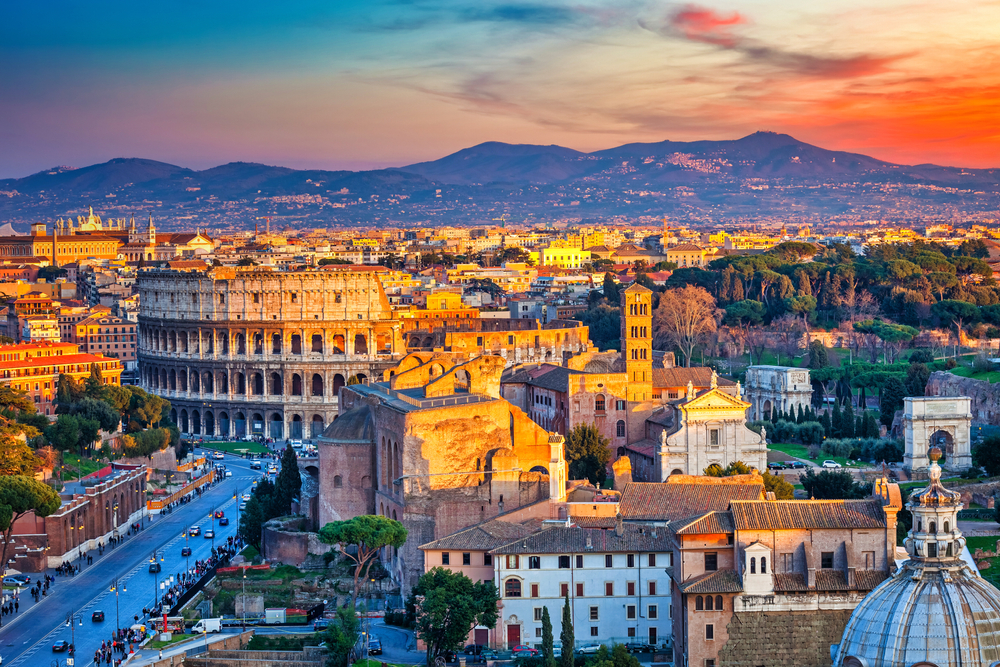 4 Days in Rome: Bucket List First Time In Rome Itinerary
Day 1: Begin your 4 days in Rome With History and Visit Ancient Rome
To start day one of your Rome vacation itinerary, get up early and be prepared to excite your imagination as you are transported back to Ancient Rome.
On this first day, you will get to see ancient architecture and lifestyles, and see how early Romans conducted politics and business.
As mentioned, an early start is best to fully experience this excitingly packed day.
Stop 1: The Colosseum
Italy is a country rich in history and tradition, and the Colosseum is no exception to both of those.
When writing your 4 days in Rome itinerary, the Colosseum should be on the top of your list. This ancient stadium is located in the center of the city.
The Colosseum was built from travertine, volcanic rock, and brick-faced concrete. It is the largest amphitheater ever built, designed to hold 50,000 spectators.
This architectural marvel was built to host re-enactments of hunts, battles, and well-known gladiatorial events!
Roman architecture was ahead of its time, using underground tunneling systems (hypogeum) to transport its animals, competitors, and actors, which would then be elevated above ground through a shaft.
Very little of the main arena floor exists now, but you can still see the hypogeum.
The Colosseum is one of the busiest destinations in Rome. For that reason, you will want to go early and start your day there.
There are many tours available that allow you to skip the line and bypass all the general tourism.
Book Here: Rome: Skip-the-Line Tour to Colosseum, Forum, Palatine Hill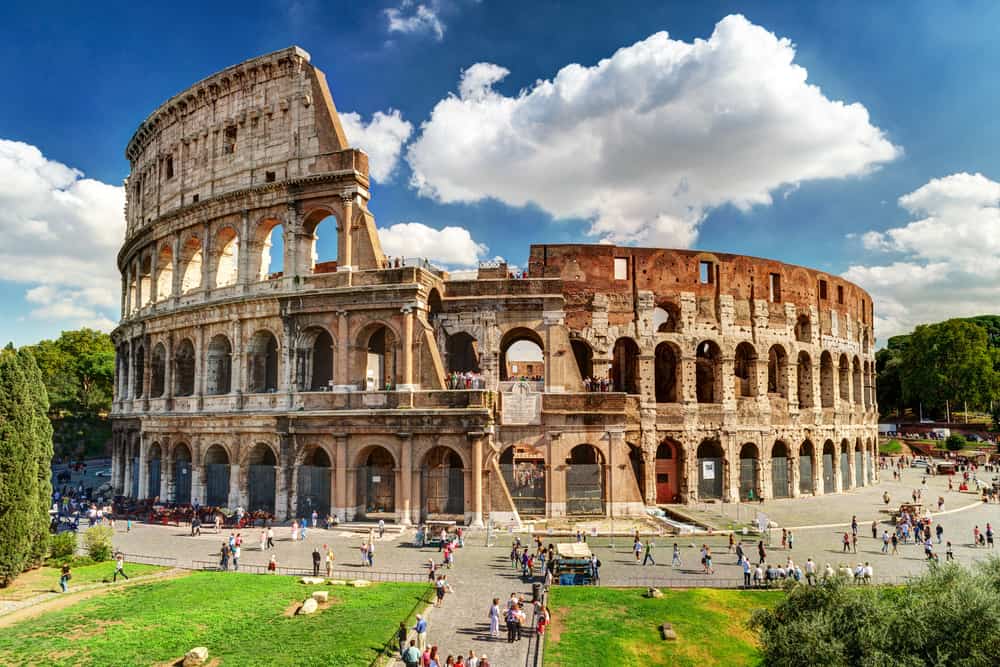 Stop 2: Arch of Constantine
Next to the Colosseum is the Arch of Constantine, a great second stop during your 4 days in Rome itinerary.
This arch was a tribute to Constantine and includes a collage of Roman history carved into its edifices.
This is the last standing triumph arch in Rome. It has three archways all made of brick and faced with marble.
When looking at the arch, make sure you take in the details of Roman history.
The Arch of Constantine is located between the Colosseum and Palatine Hill. It is not as heavily trafficked as the Colosseum but still has a lot of visitors.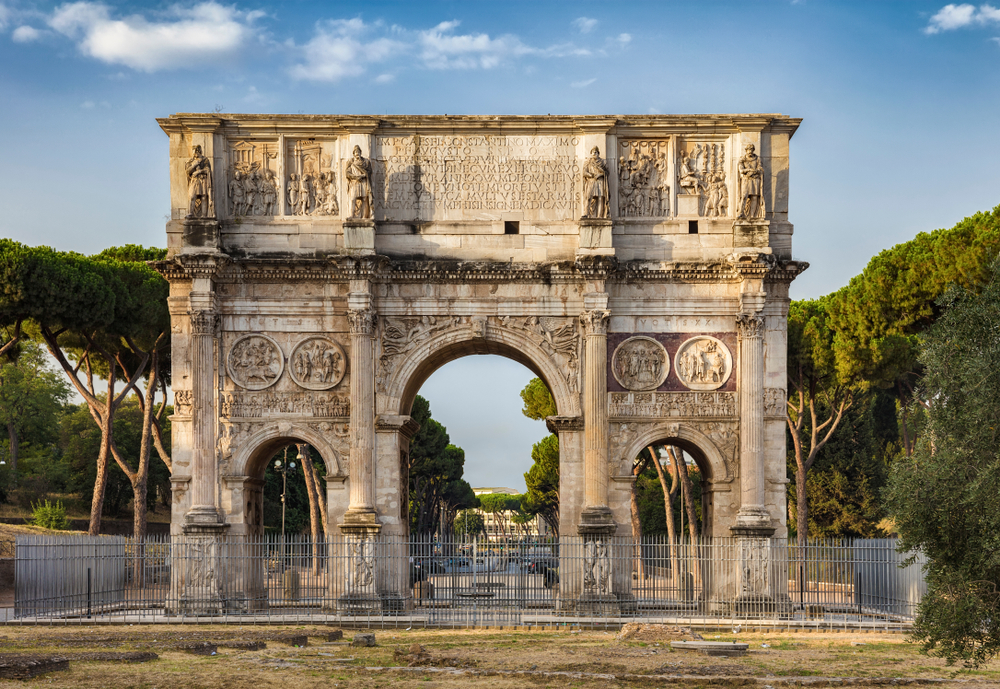 Stop 3: Palatine Hill
As you work your way down the list for your Rome in 4 days tour, Palatine Hill is right after the Arch of Constantine.
Palatine Hill is the center of the seven hills of Rome. From the top of the hill, you can see the Roman Forum.
This hill was the ancient Roman Beverly Hills and is where the rich and important built their homes and lived.
Palatine, meaning palace, is where the mythological battle between Hercules and Cacus occurred.
Through excavation, this hill has been shown to have inhabitants up to a century before the early establishments of Rome.
Make your way to this majestic hilltop to see how ancient celebrities lived.
Book Here: Rome: Palatine Hill, Colosseum, Roman Forum Skip-the-Line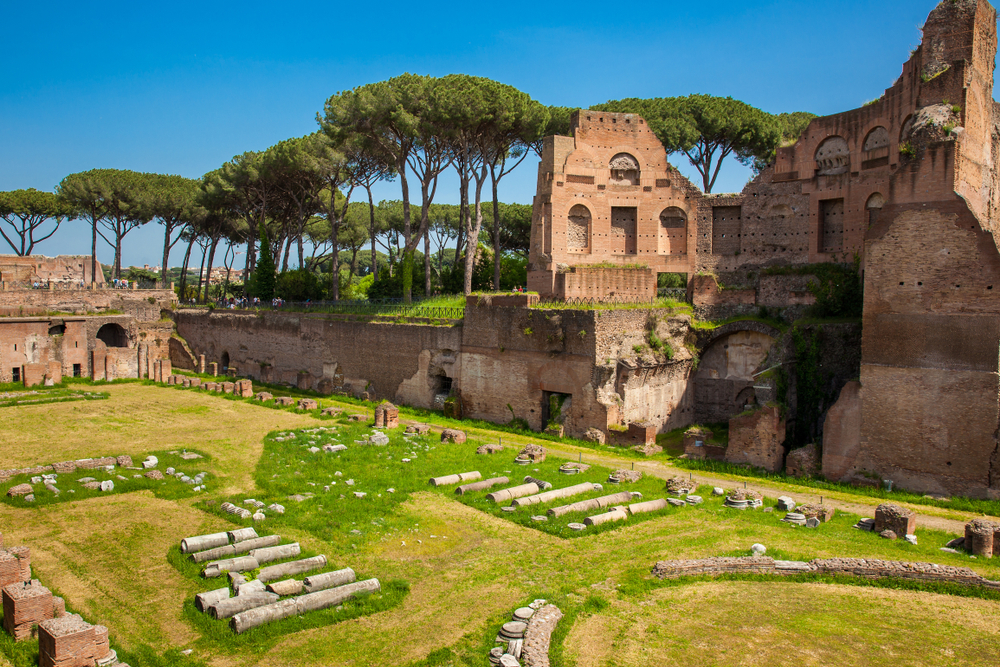 Stop 4: Roman Forum
The original town center for Rome, the Forum area housed government buildings, a marketplace, and a gathering place for town socializing.
The forum hosted elections, public trials, gladiatorial trials, and speech-making.
Many important and ancient buildings are in the forum, including the Temple of Vesta, the surrounding complex of Vestal Virgins, the Comitium, and the original Senate.
This destination definitely needs to be on your list of things to do in Rome in 4 days!
Book Here: Colosseum, Roman Forum & Palatine Hill Priority Access Guide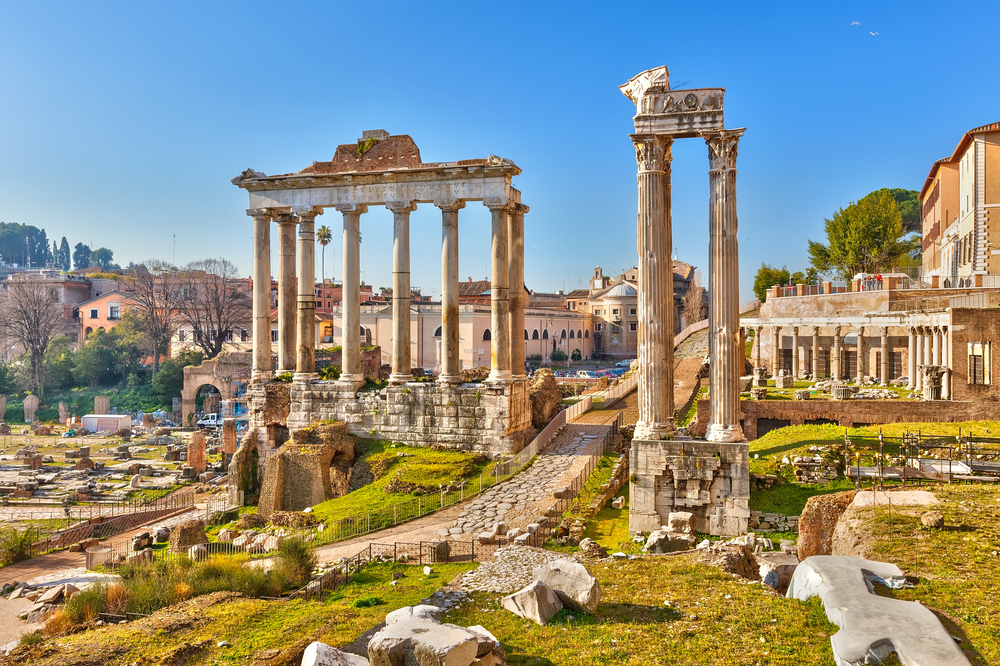 Stop 5: Trajan's Market
Trajan's Market is a large collection of ruins sitting at the opposite end of the Colosseum.
Once thought to be the oldest shopping mall, these ruins help to unearth new secrets during excavation and rehabilitation.
These buildings are also now thought to house administrative offices, living quarters, a library, and even a shopping mall.
You won't be able to shop at this mall, but you will definitely get to explore all the areas of Roman life and how Romans interacted in their day-to-day activities.
You can still access much of this multilevel structure. If you go exploring, please remember to be respectful of these ancient and time-captured buildings!
Book Here: Rome: Trajan Markets Experience with Multimedia Video
Stop 6: Jewish Ghetto
This area is also known as the Roman Ghetto and was established in 1555.
Due to a Papal Bull, this area was constructed to house the nearly 2,000 Jewish citizens of Rome and confine their living to one area of the city.
The ghetto was a walled area with gates that were locked at night to keep the Jewish community segregated.
While there are no great buildings of note in the ghetto, there is plenty of architectural beauty to mystify the mind and stun the eye.
Make sure to check this neighborhood out and see how the communities lived less than 500 years ago.
Book Here: Rome: Jewish Ghetto Walking Tour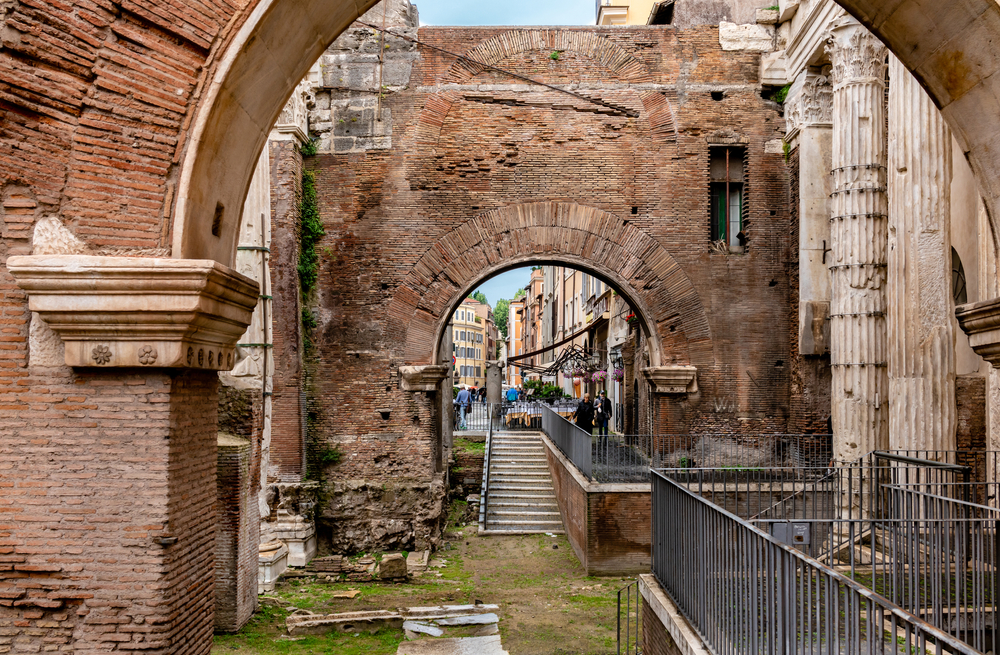 Stop 7: The Pantheon
The Pantheon was built sometime around 126 AD. The exact dates are unknown as it replaced an older building and those original inscriptions were kept and dedicated to the new building.
The Pantheon, once a temple to honor the Roman Gods, is now a modern church.
As one of the best-preserved buildings in Ancient Rome, you can be transported back in time to see how the Romans saw the world around them.
Make sure you stop here and see the granite Corinthian columns and coffered concrete dome, truly amazing architectural wonders!
Book Here: Discover Pantheon: Guided Tour of the Glory of Rome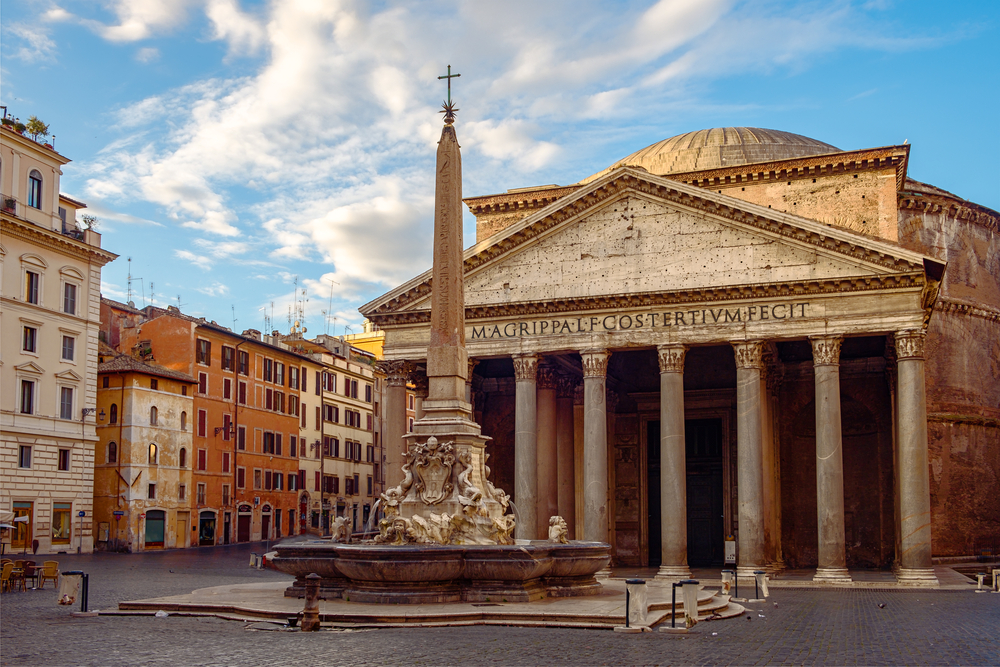 Stop 8: Piazza Navona
Built to house small games for the viewing pleasure of the Romans, this piazza houses three fountains.
Two are at the southern end of the piazza, one of which is the Fountain of Neptune.
In the center of the Piazza Navona is the Fountain of Four Rivers with an Egyptian obelisk rising from the center.
This mixing of cultures truly defines how far the Roman reach was and how much other cultures influenced their world.
The Piazza Navona is beautiful to behold at sunset and will be a perfect way to cap off the first day of your 4 days in Rome itinerary.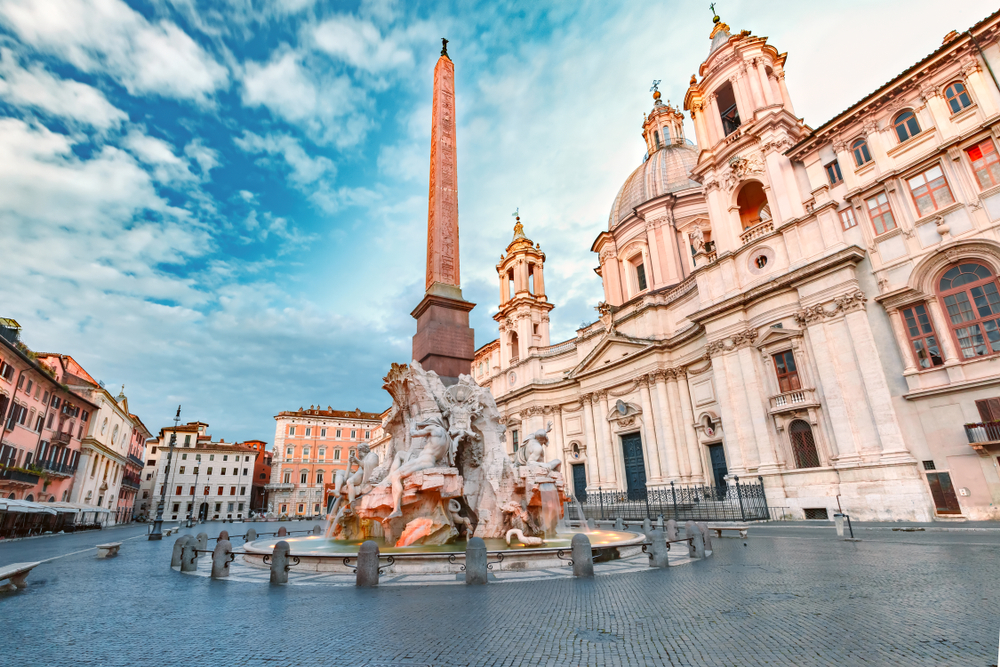 Day Two: Holy Rome and The Vatican
Day two of your 4 days in Rome itinerary will be dedicated mostly to the Vatican Museums and St. Peters Basilica.
Vatican City is technically its own country and one of the best places to visit in Rome in 4 days!
Even with tickets to skip the line, these are heavily trafficked destinations and will require your patience and planning.
After dedicating time to the first three stops, finish up your day with some lighter-trafficked destinations.
Stop 1: The Vatican Museums
Located within the city walls of Vatican City lies the Vatican Museums.
You will want to plan on starting early on day two and be prepared to spend the bulk of your morning exploring the Vatican Museums.
Go back in time with history as you see the vast collections of art and sculptures of Popes of the past. This stop is sure to be one of the time-worthy events on your 4 days in Rome.
Tickets sell out fast, so you will also want to get your tickets in advance.
Book Here: Rome: Vatican Museums, Sistine Chapel, and Basilica Tour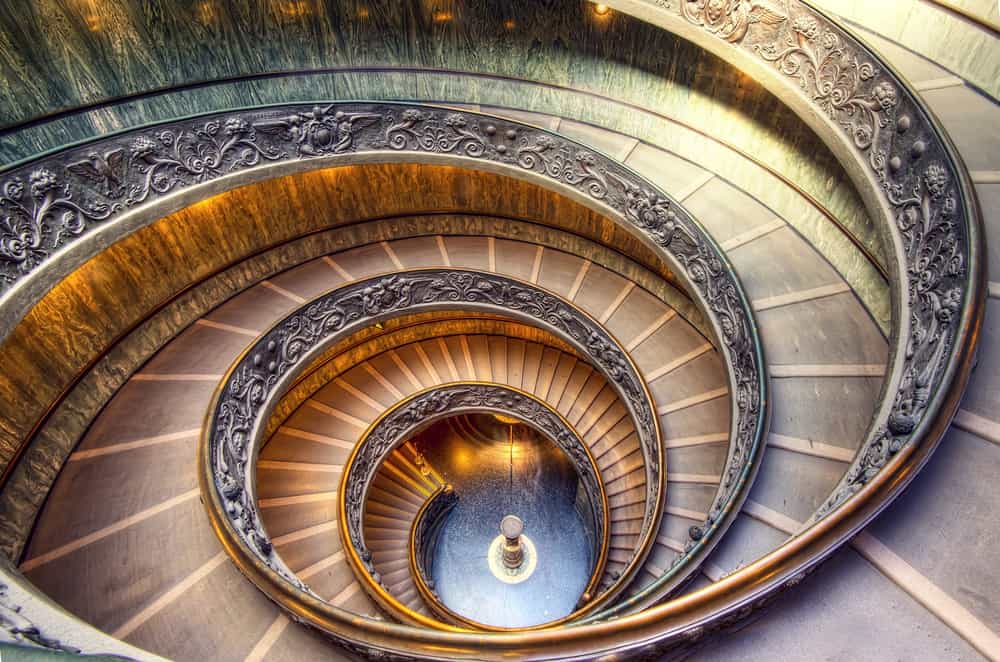 Stop 2: St. Peter's Basilica
Located in the Piazza San Pietro, St. Peter's Basilica is regarded as one of the holiest Catholic shrines.
This stunning shrine was built in 1506 during the Italian Renaissance. Visually stunning, the interior of the Basilica is jaw-dropping and will not disappoint.
Catholic tradition holds that Saint Peter, one of the Apostles of Jesus, is buried here, making it a desired stop for many tourists and those of the Catholic religion.
Finishing your visit to St. Peter's Basilica MUST include climbing the dome!
While the entrance to the Basilica is free, there is an admission cost to climb the dome, and it's cash only so make sure you are prepared.
The price is worth it though to get to the top and see amazing vistas of Vatican City and Italy.
Book Here: Rome: Guided Tour of St. Peter's Basilica with Dome Climb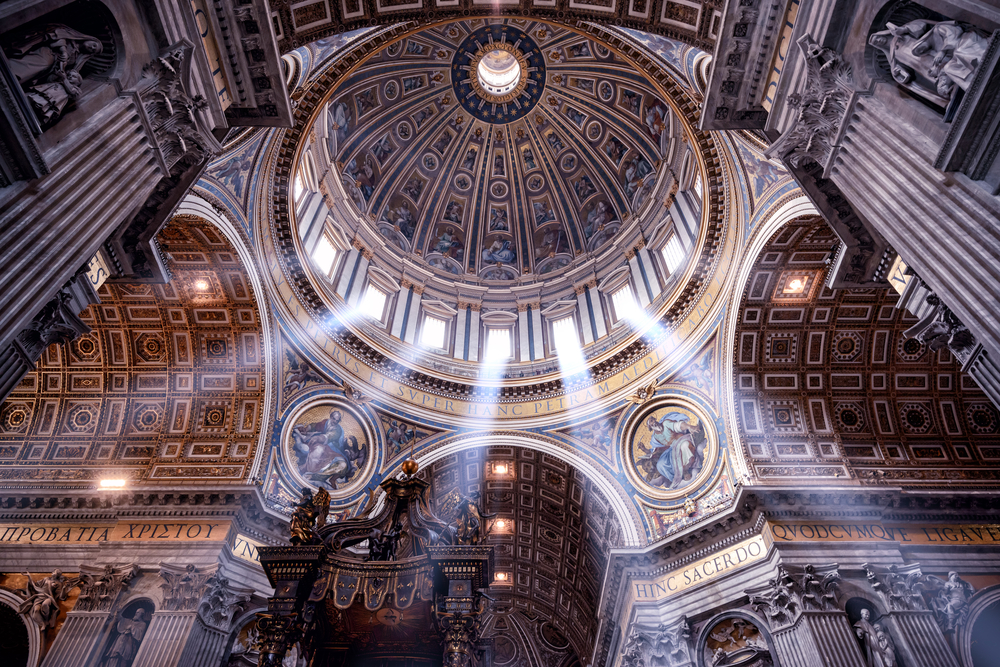 Stop 3: Villa Farnesina
For the next stop during your Rome weekend trip, visit Villa Farnesina.
Built during the Renaissance, this villa is located in Trastevere. This villa was built for Pope Julius II's treasurer.
The stunning building will captivate you and make you think of a modern castle.
This villa was decorated with a stunning garden and amazing frescoes.
After the overwhelming size and magnitude of the Vatican Museums and St. Peter's Basilica, this will be a nice reprieve from the overwhelming spaces.
Don't let that fool you though, this villa is stunning and its architecture will dazzle you.
Book Here: Rome: Villa Farnesina Renaissance Tour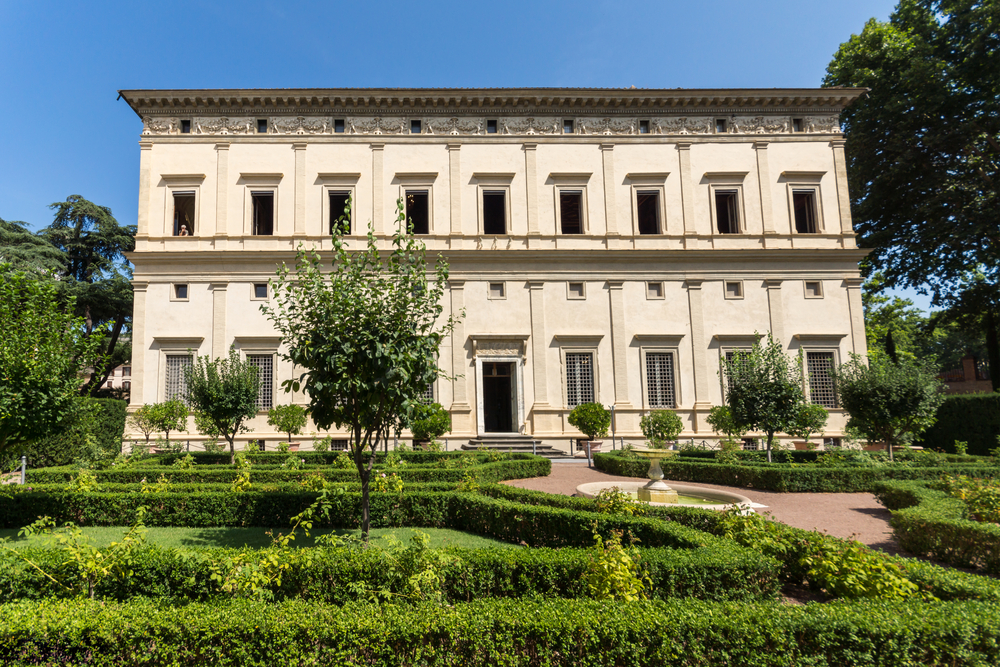 Stop 4: Basilica of Santa Maria in Trastevere
Santa Maria Trastevere is a smaller basilica but filled with amazing art. Your last stop of day two for your 4 days in Rome itinerary will not disappoint.
On the throne, there is an inscription stating it was the first church dedicated to the Mother Mary in Rome. They put all their heart and soul into resining this artistic masterpiece.
While very common and simple on the outside, the inside will leave you breathless with its stunning and amazing mosaics.
The stunning artisan work will leave your head reeling.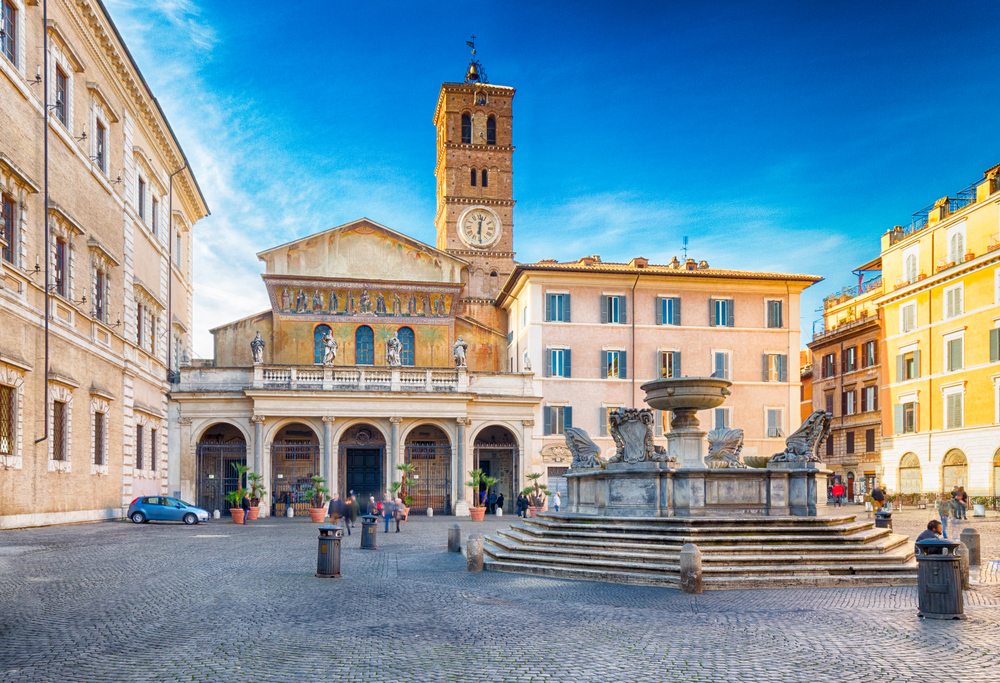 Day Three: Classic Rome
An itinerary for Rome would not be complete without experiencing classic Rome.
When you think of old black and white movies, or Roman Holiday, or any stories referencing the romance of Rome, classic Rome is where it all takes place.
The six stops on the third day of your 4 days in Rome will not disappoint.
Stop 1: Spanish Steps
The iconic Spanish Steps is a steep staircase with 174 steps from bottom to top.
This impressive staircase connects Piazza di Spagna and the church Trinita dei Monti.
A common meeting ground for locals and tourists alike, the stairs offer a nice seating space for those who wish to take a break on their whirlwind tour.
Make sure to start your day as early as possible to see the Spanish Steps. This popular spot is sure to be bombarded by locals and tourists, so you will want to get there early.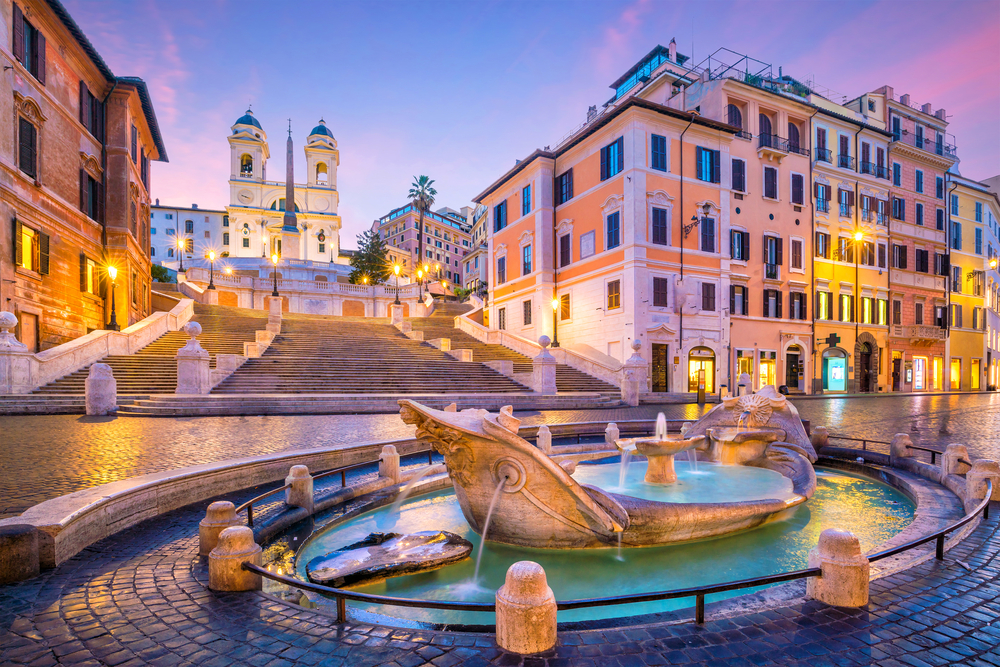 Stop 2: Trevi Fountain
After visiting the Spanish Steps, you will want to make your way to the famous Trevi Fountain, which has been featured in many movies.
You will also want to get here early in the day as it gets very crowded.
The original sketches for the Trevi Fountain were found inadequate by Pope Urban VIII and so he commissioned to have something more grandiose designed and erected.
Without his foresight, we would not have the architectural marvel we have today.
While you cannot wade in the blue waters of the fountain, you can certainly sit by it and have your picture taken.
Throwing a coin in the fountain means you will return to Rome one day.
Book Here: Rome: Trevi Fountain and Underground Guided Tour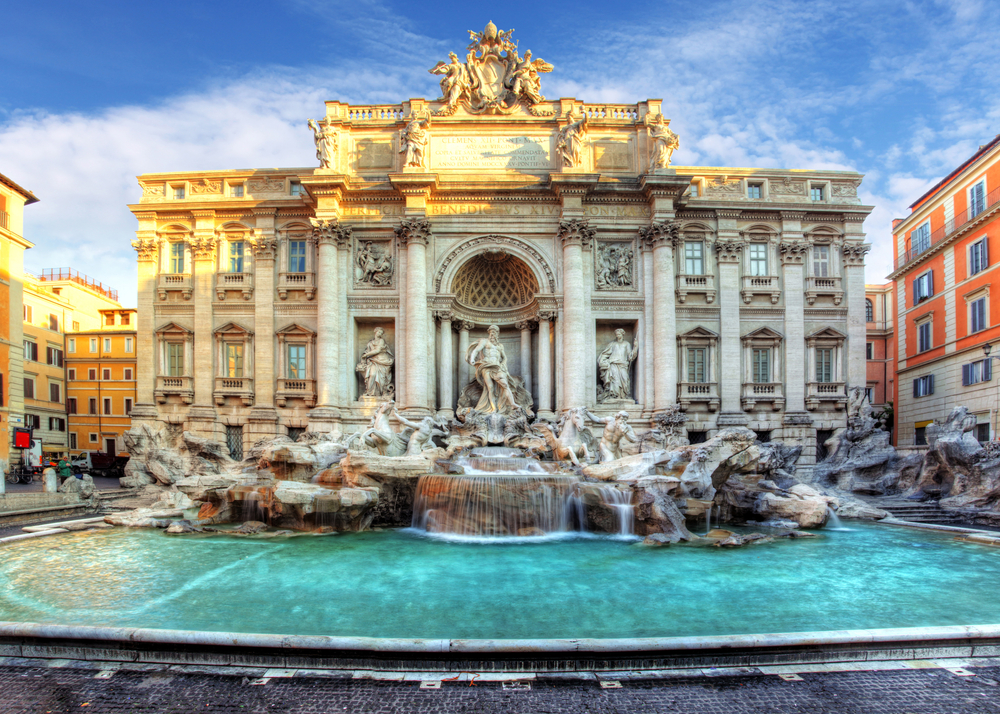 Stop 3: Altar of the Fatherland
The Altar of the Fatherland, also known as the Vittorio Emmanuele II Monument or Altar della Patria, was built in a neo-classical rendition of the Roman Forum.
This monument is revered by Romans and all Italians alike. It represents the unification of Italy and the strength of being one country in solidarity.
This establishment is very much Italy's sign of patriotism.
While there, make sure you take time to look at the fountain and all the sculptures, including the bronze rendition of Victor Emmanuel II.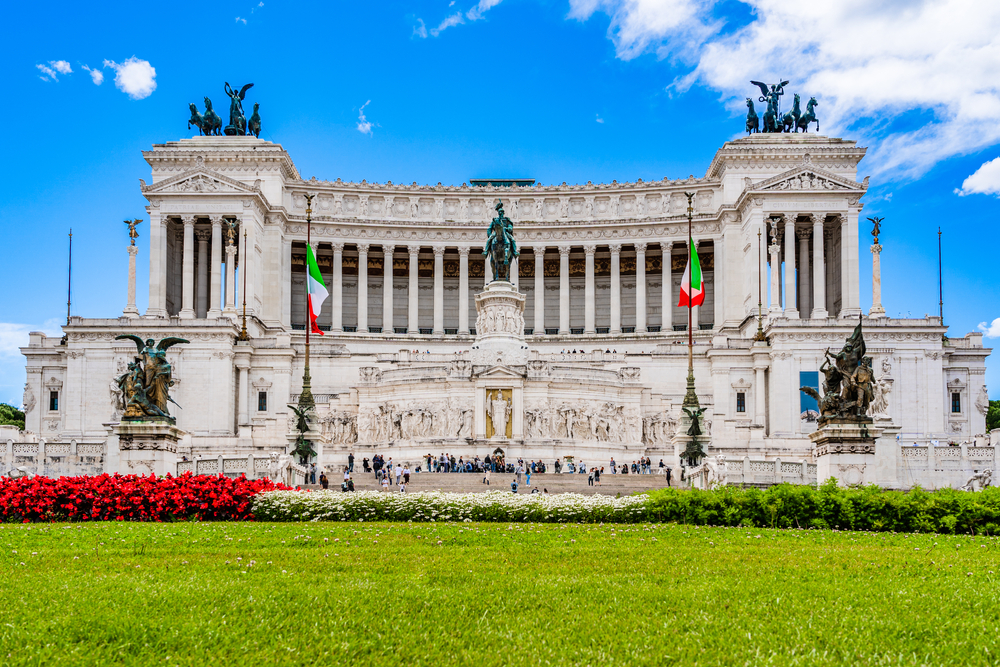 Stop 4: Castel Sant'Angelo
For the fourth stop for your 4 days in Rome, visit the Castel Sant'Angelo.
This towering building is a mausoleum and contains the tomb of Roman Emperor Hadrian.
This mausoleum has had a variety of intended uses, from military staging to castle. Castel Sant'Angelo is also the site for many sculptures, including the famous Michael the Archangel sheathing his sword.
Definitely worth a stop to see the history, sculptures, and Tiber river.
Book Here: Rome: Castel Sant'Angelo with Priority Entrance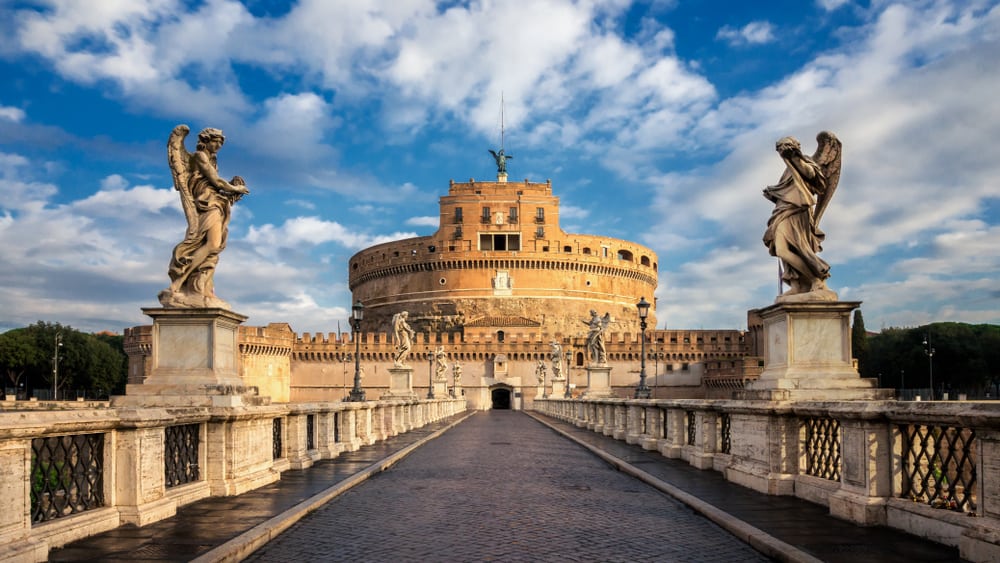 Stop 5: Piazza del Popolo
The Piazza del Popolo, or the "peoples square," houses the twin churches.
These two side-by-side churches are separated only by the Via del Corso exits.
In front of these two churches also rests the Egyptian Obelisk of Ramses II.
Walk through the Porta del Popolo to explore this amazing spot. After viewing the churches and the obelisk, make sure you explore and see the various fountains that decorate the square.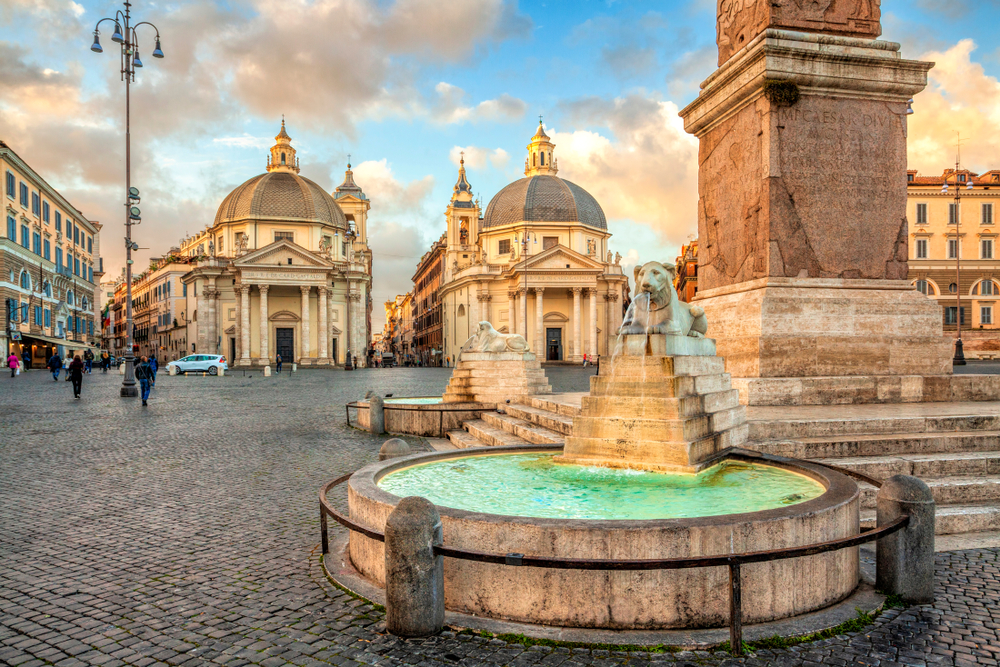 Stop 6: Walk Around Vatican City at Night
There are few things more stunning or as awe-inspiring as the Vatican at night.
While the buildings themselves are closed at nighttime, you can explore the city and take in the absolute serene beauty of the lit-up buildings and piazzas.
There are guided tours that sell tickets to take you around this amazing city, and we recommend finding tickets and joining one of these tours.
While tourism may be less at night, there are still quite a few people roaming around this Roman destination.
Book Here: Vatican City: Night Tour at the Sistine Chapel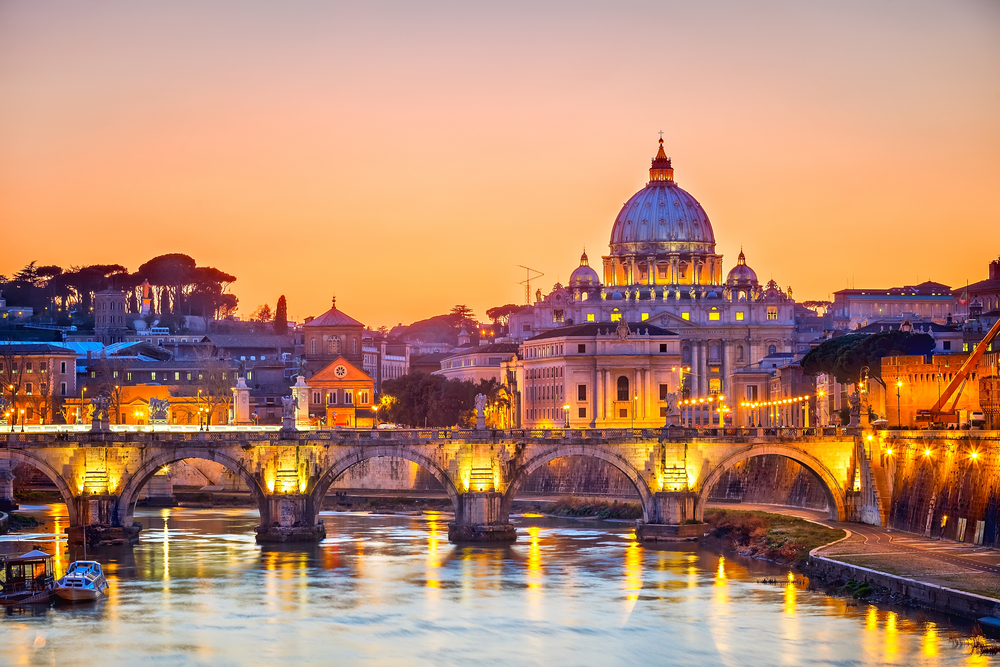 Day 4: Offbeat Rome and Day Trips
The fourth and final day of your Rome, Italy, itinerary sets you up to see some unique sights or explore surrounding areas.
This is a perfect day to see some more obscure aspects of Rome or some additional destinations to round out your trip.
In addition to the below recommendations and stops, we added a couple of other quick day trip stops to wrap up your day.
Stop 1: The Pyramid of Gaius Cestius
With modern Rome surrounding this ancient pyramid, you will find it hard to believe it was built in 12-18 BC.
This pyramid stands 100 Roman feet high with a 125 Roman feet base.
A tomb for Gaius Cestius, the inside of the pyramid has a burial chamber.
When opened in the 1600s, it was discovered the inside was covered with multiple frescoes and nothing else.
While you cannot access the inside, the outside is definitely worth checking out.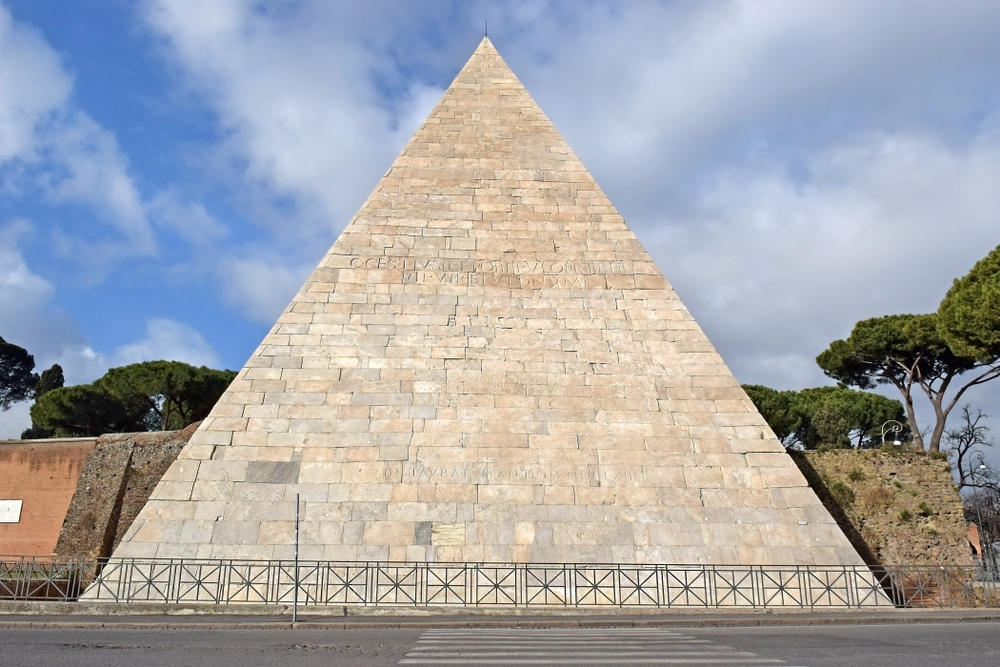 Stop 2: Aventine Hill
One of the seven hills and sister to Palatine Hill, Aventine Hill is the southernmost hill in the chain.
The hill, originally not included in the city of Rome, is now encapsulated in the city.
This hill houses elegant residences, churches, gardens, and the Basilica of Santa Sabina.
This hillside attraction marries modern Rome with ancient Rome and allows you to enjoy and experience both in one stop on a tour for 4 days in Rome.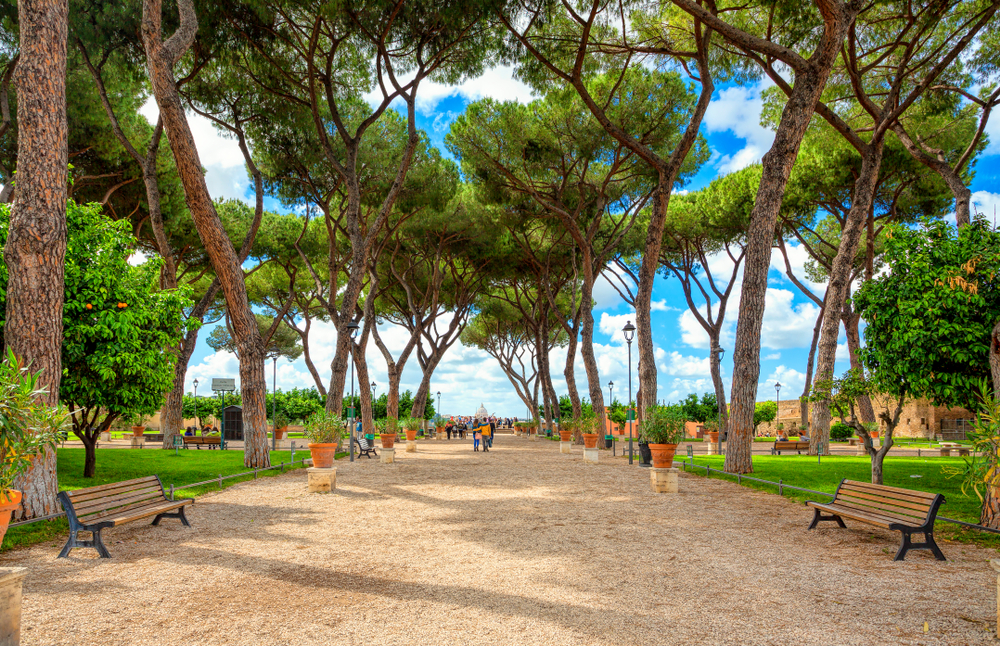 Stop 3: Villa Borghese/Galleria Borghese
This stop is really two in one!
Galleria Borghese Villa was built at the start of the Renaissance and houses Borghese sculptures, paintings, and antiques.
After viewing this amazing gallery of artistry, venture into the Borghese Gardens, which have become a tourist attraction of their own.
The gardens are the third-largest in Rome and feature expansive landscapes and feature fountains.
Take a step back in time and wander this amazing villa and gardens.
Book Here: Borghese Gallery Masterpieces & Gardens: Skip-the-Line Tour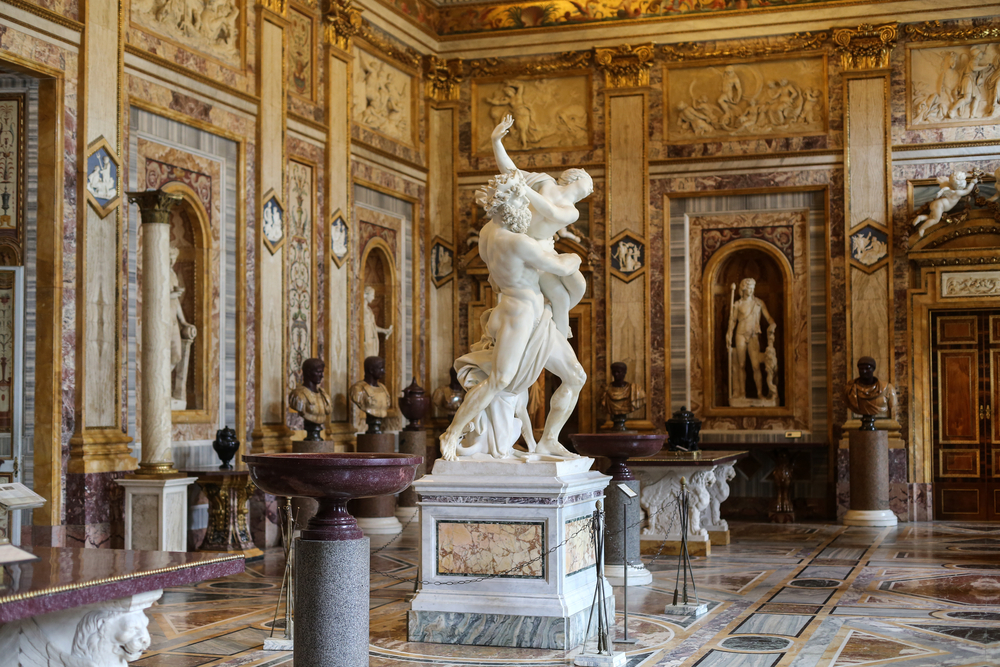 Stop 4: Take a Food Tour
Who doesn't want to experience the best food there is to offer in Rome, Italy?
When seeing Rome in 4 days, a food tour MUST be one of the activities you partake in.
There are plenty of tours with local guides to choose from depending on your budget and how much time you have.
No matter what tour you go on, you will have a delicious time tasting the flavors of Italy.
Book Here: Rome: Street Food Tour with Local Guide
Book Here: Rome: Trastevere Sunset Food Tour with Guide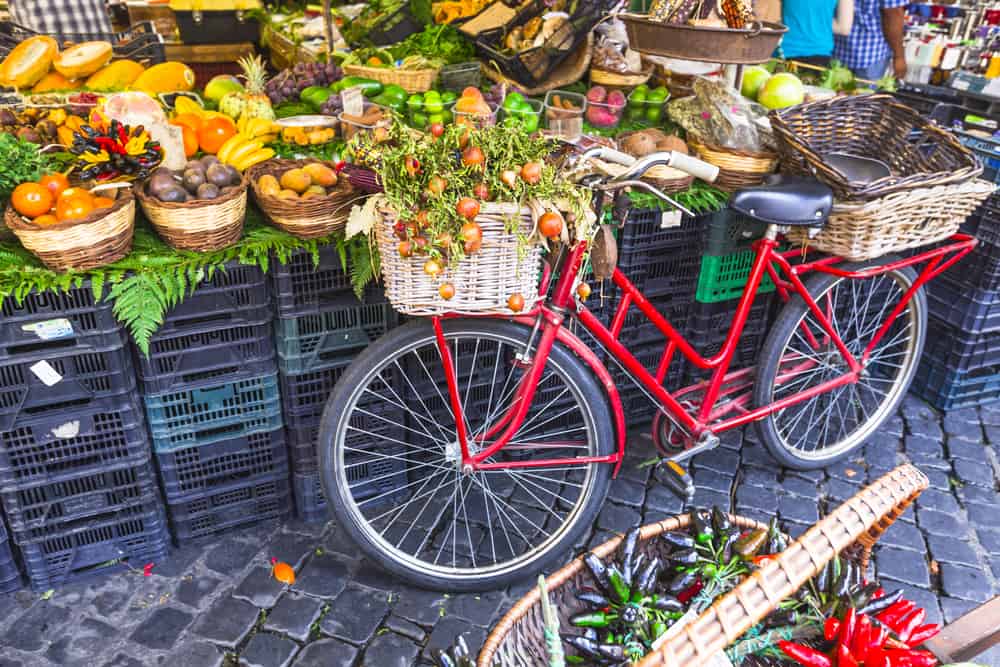 Optional Day Trips from Rome
If you want to get out of Rome and see more of what Italy has to offer, there are plenty of great day trips from Rome to love.
Take a trip to the historic commune of Tivoli and explore. This little jaunt is just under an hour.
The Amalfi coast will be a little longer so plan for just over two hours to drive it and a little longer if you want to stop and eat. There are also amazing beaches on the Almali coast!
Also, Orvieto is also just under an hour from Rome. This is one of the prettiest small towns in Italy near Rome.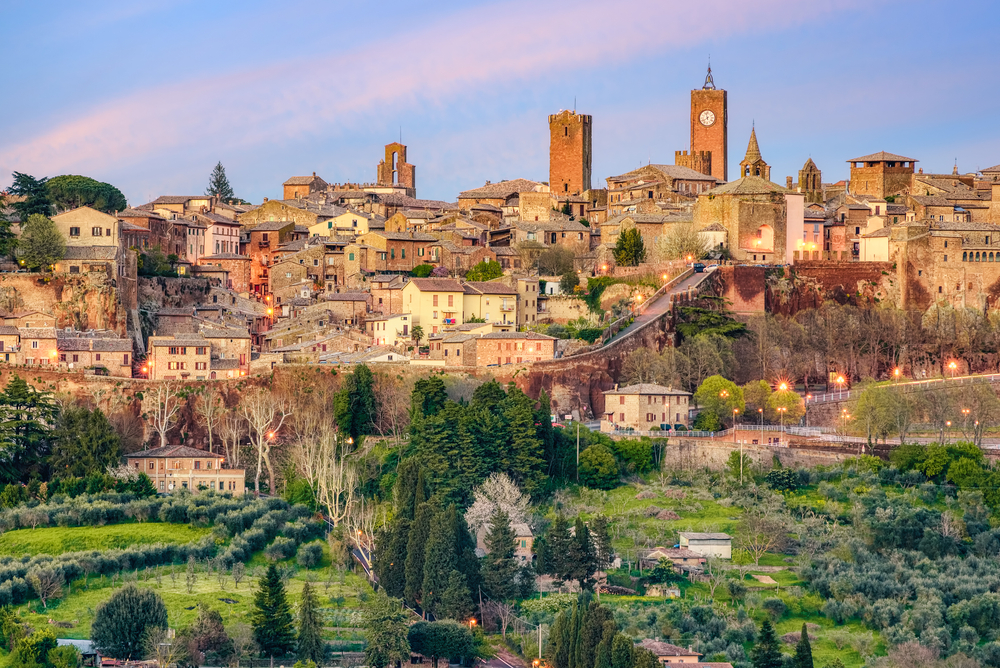 Where To Stay In Rome
When staying in Rome, you need to consider your budget and preferred location. Here is a brief list of hotels that cover the gamut in neighborhoods and prices.
For a more in-depth review of these accommodations and neighborhoods, we have a complete guide for Where to stay in Rome By Neighborhood.
Affordable: Relais Palazzo Taverna
Set in a 15th-century building, Relais Palazzo Taverna is a convenient and affordable option for accommodation in Rome.
Each of the rooms is uniquely designed and offers a relaxing space for when you are not at one of Rome's many attractions.
It is also only a 15-minute walk from the Pantheon, Saint Peter's Square, and the Trevi Fountain, so you will have many convenient sites to explore.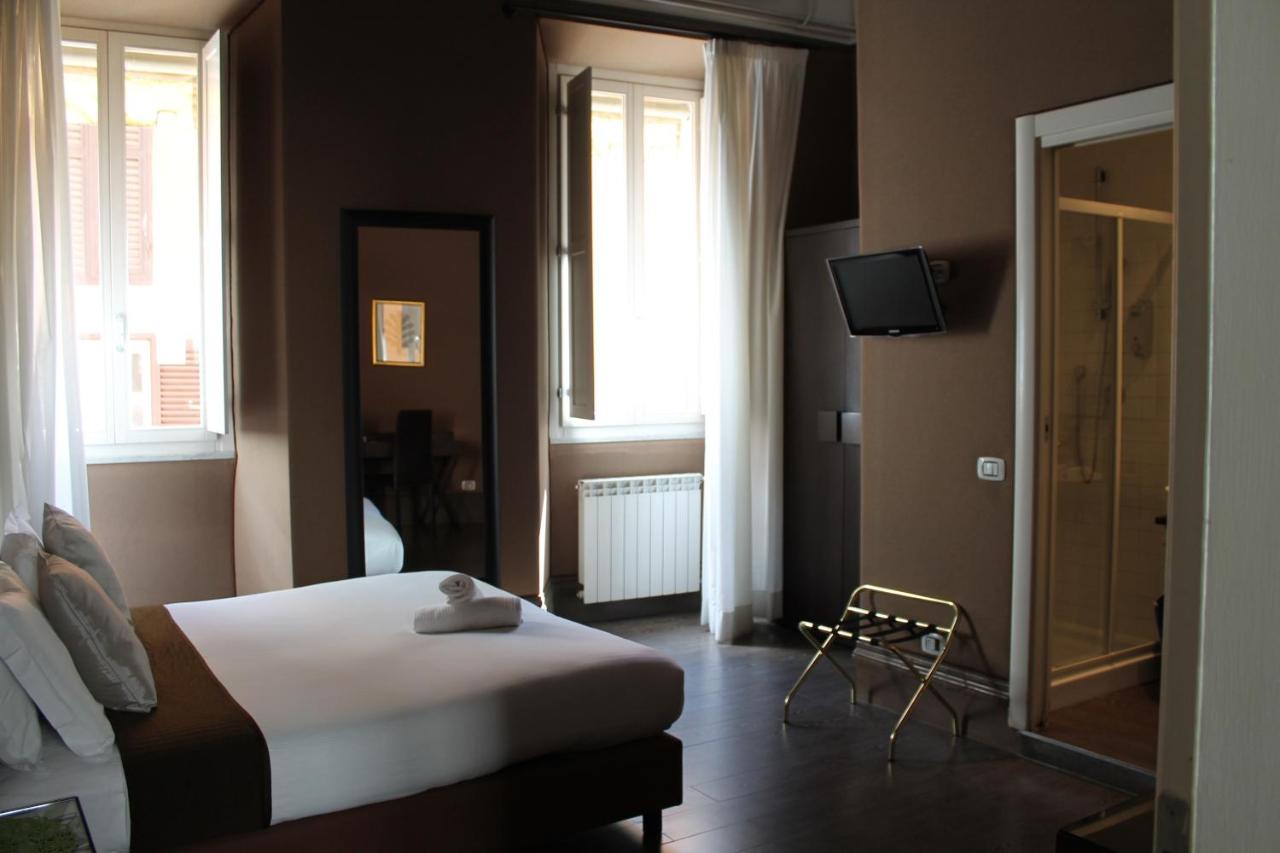 Mid-Range: Le Meridien Visconti Rome
Set between the Vatican on one side and the Spanish Steps on the other, Le Meridien Visconti Rome is the perfect place to stay while exploring Rome!
If you are an art lover, you don't even have to leave your hotel to enjoy the local artwork. There is a collection of contemporary Italian artwork in the lobby.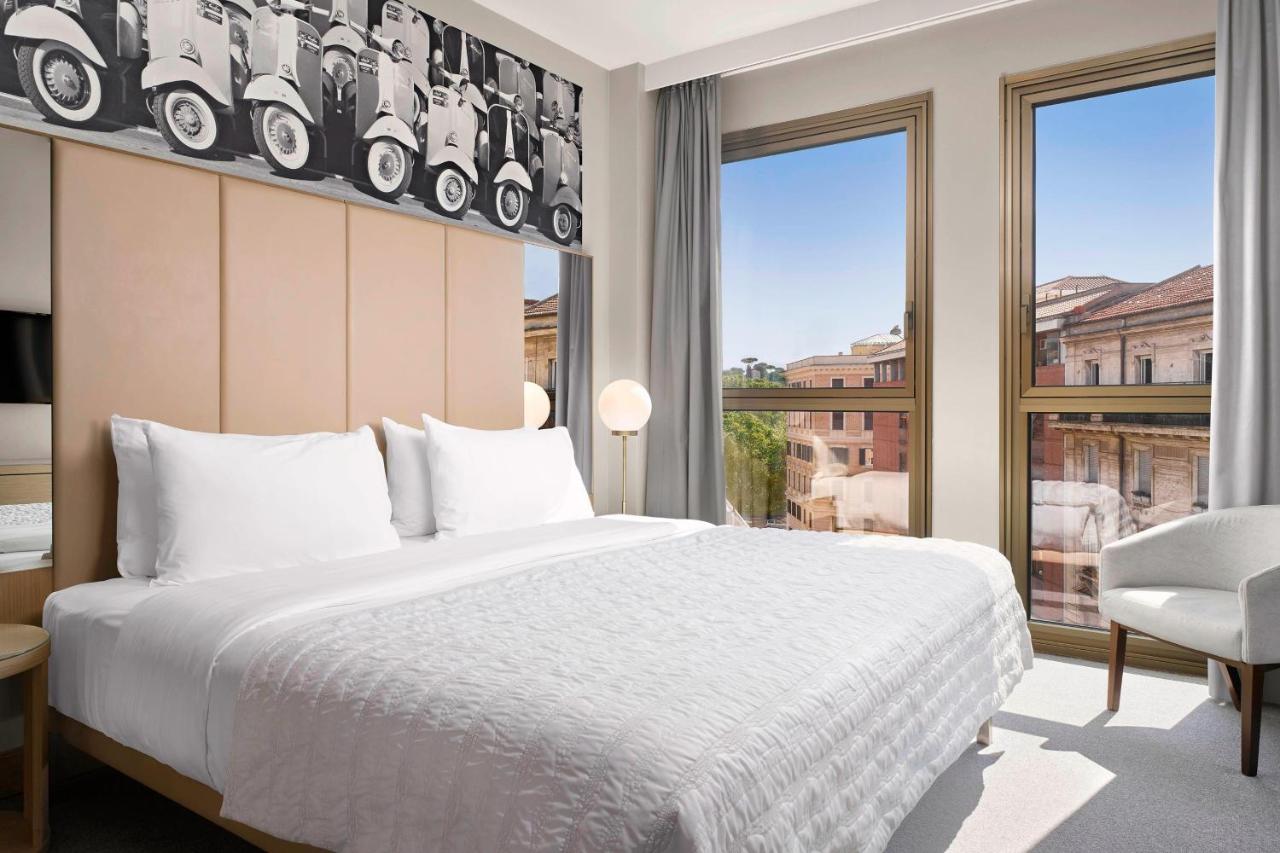 Luxury: Monti Palace Hotel
Set conveniently in Monti, the Monti Palace Hotel is the perfect base for exploring Rome.
The Colosseum is only a short walk away, and with the metro stop so close, seeing the rest of Rome is incredibly easy!
The rooms are stylish and create a relaxing atmosphere for your 4 nights in Rome.
This is really one of the best places to stay in Rome because it is close to everything and the amenities are wonderful.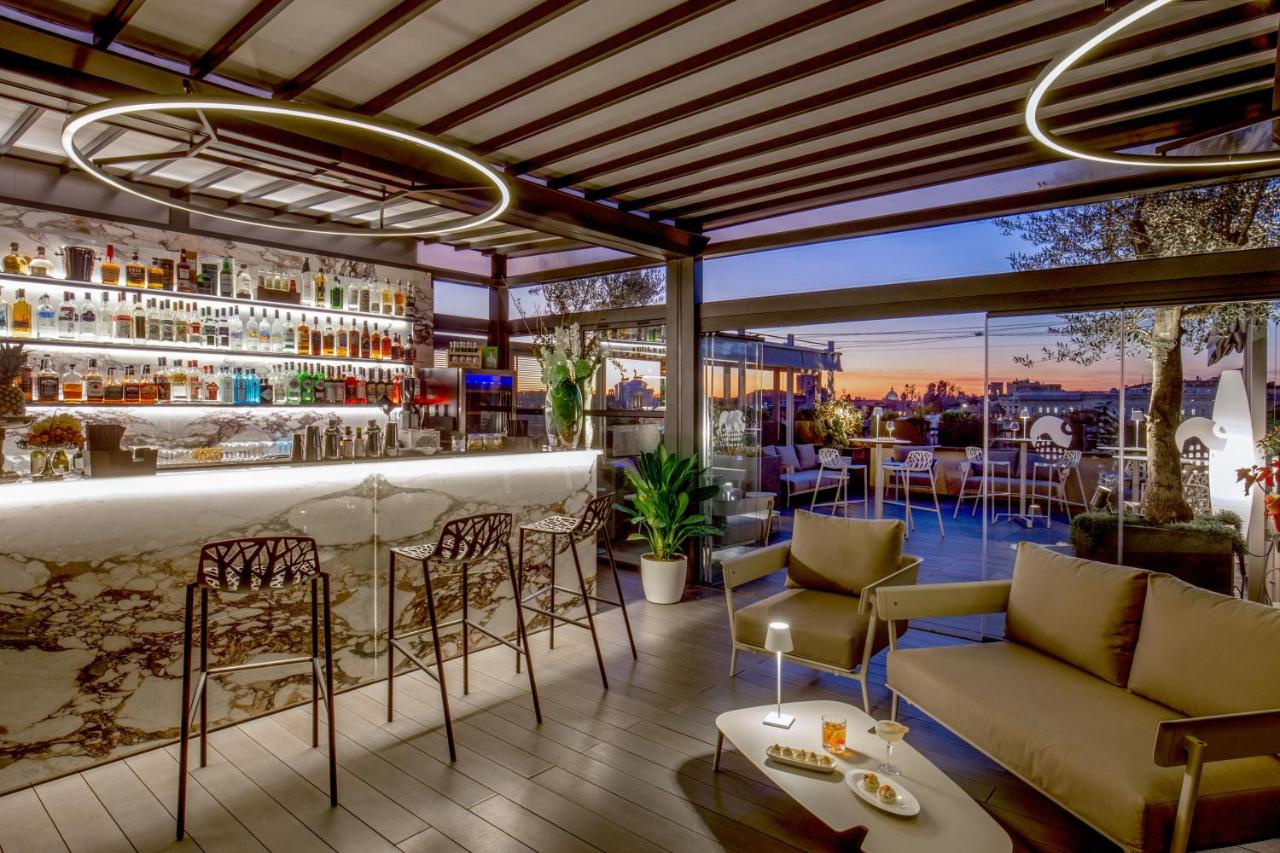 Where to Eat During Your 4 Days in Rome
There are so many choices of where to eat in Rome from street food to fine dining. Here are a few options for you to taste test during your Rome four-day itinerary.
Er Buchetto
If you are looking for a budget place to eat, Er Buchetto offers delicious, authentic porchetta sandwiches that will leave your mouth watering.
The pork is slow-cooked with tasty herbs and spices that come through in each bite.
This restaurant has been open since 1890 and run by the same family for six generations!
If you are looking for a quick bite, this hidden gem is the place to go!
Sbanco
Of course, you will want to try some pizza while in Italy!
Sbanco is one of the best pizzerias in Rome and is sure to satisfy your cravings. It is popular with locals and usually has few tourists.
There are many different pizzas to choose from with all sorts of toppings.
There is also a great selection of beer and desserts. This is the perfect stop during your fun weekend trip to Rome.
Trattoria Al Moro
Near the Trevi Fountain, Trattoria Al Moro is a wonderful place to dine in Rome.
You will enjoy traditional dishes with a modern twist made with fresh and local ingredients.
The menu has an assortment of pasta, meat, seafood, and vegetable dishes.
Don't forget to peruse the wine list and save room for dessert!
Add this nice restaurant to your itinerary for Rome in 4 days if you are planning an Italy honeymoon.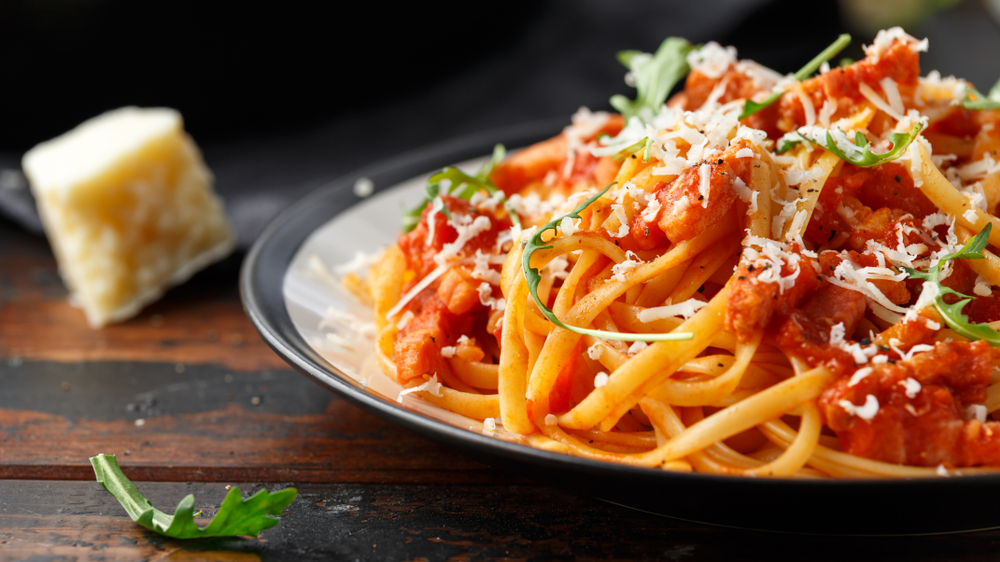 This activity-packed and inclusive guide to your 4 days in Rome itinerary is perfect for any first-time visitor.
This trip is sure to be nonstop fun, treating you to history, culture, and modern Italy all topped off with amazing food!
Whether traveling on a tight or generous budget, this guide gives you all you need to know to make sure you make the most of your time. Let us know how your 4 days in Rome go!