If you are struggling to plan day trips from Rome, don't worry, you've come to the right place! Whether you're in the city for a long period of time and are looking for Rome day trips to fill your vacation, or if you are simply using Rome as a hub, we have provided some of the best day trips from Rome below and know you will find your perfect fit!
Broken down by distance away from the city, this article will look at seventeen of the best day trips from Rome, including famous locations such as Pompeii, and maybe some not so famous places, such as Orvieto. Whether you decide to tackle all of these day trips from Rome or just pick a few to visit during your time abroad, we promise each trip is well worth it.
If you are spending around
4 days in Rome
, these are some of the perfect experiences to hit on your last day for something different from the Eternal City! If you are staying
2 weeks in Italy
, you may hit some of these fabulous stops on your itinerary as well!
From day trips from Rome that are within 1 hour in the city's limits, to those that stretch 2 plus hours away, we highly encourage you to go beyond the city and explore the beauty Italy has to offer!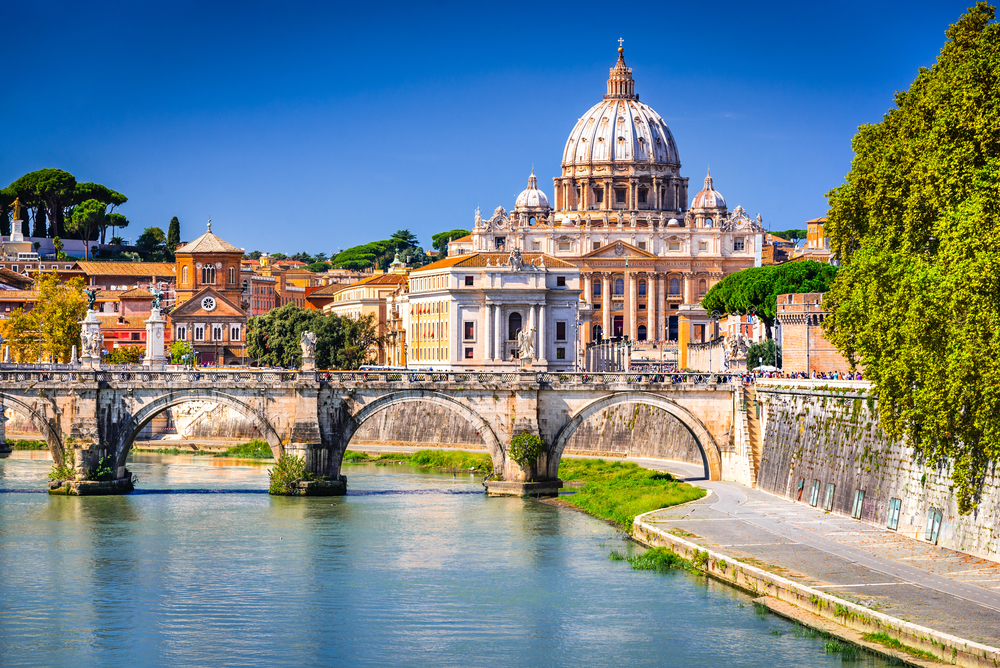 17 Best Day Trips From Rome Worth The Effort
Rome Day Trips Within 1 Hour
Orvieto 
Orvieto is a beautiful Italian city, situated on a flat summit of volcanic tuff and is well known for the way it rises into an almost-vertical perch on its rocky cliffs. This city has two distinct parts: the old-town hilltop and the new town below. If you are spending three days in Rome, this is a great day trip!
Most travelers start at the bottom of the valley, where visitors can be dropped off by train or park their cars for free, and begin the track up the hillside during day trips from Rome. While the trek to the hilltop can be steep, it is only a ten-minute walk, and you DO NOT want to miss out on what this city has to offer.
During this day trip from Rome, you must visit Orvieto's Cathedral. Its gothic facade and pillars are a masterpiece, and it features the Chapel of San Brizio, which features the Day of Judgement and Life After Death. Going beyond the church, during one of your day trips from Rome, you can also look into the underground of the town as well!
Since Orvieto sits on top of an underground network of caves, wells, and tunnels, you can take guided tours of the medical caves and see St. Patricks Well, which is 175 feet deep! If you're interested, you can book something like the Underground Tour! With so much to do, you also don't want to miss trying out Orvieto's Classico wine– it will make this trip one of the best day trips from Rome!
Book here: Underground Tour and Light Lunch at Cantine Foresi
You may also love: Private Walking Tour With a Local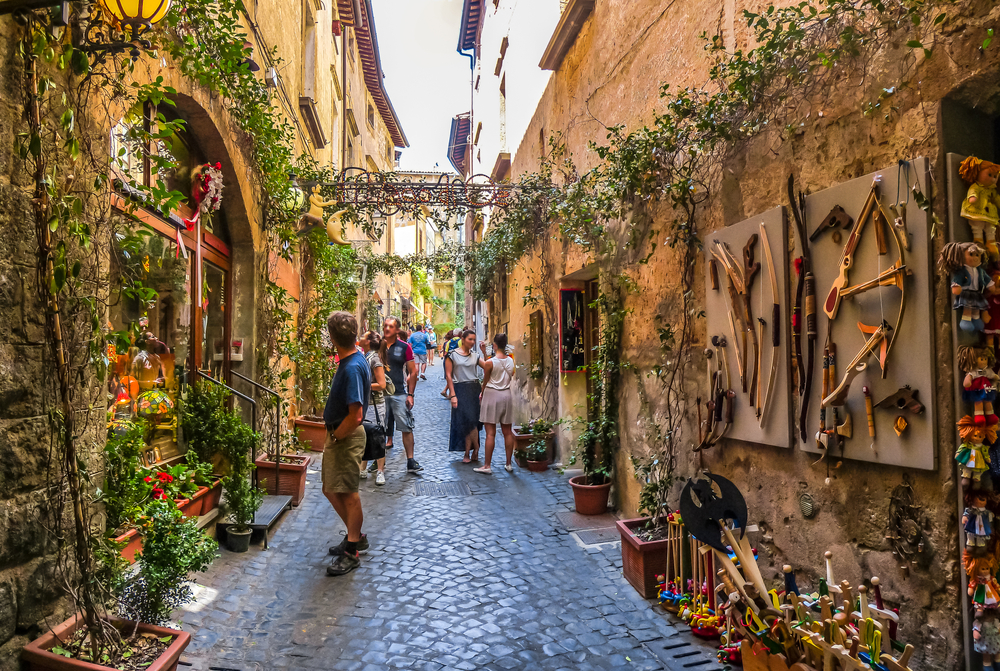 Ostia Antica
Just 30 minutes from the Colosseum, Osita Antica is one of the best day trips from Rome as it is close to the city and has countless things to see! Sitting at the top row of the ruins of Osita's ancient areas, you can almost imagine this area as it once was with 60,000 people moving through the commercial center.
Famous for its ruins, Ostia Antica is a Rome day trip that is packed with history and beauty. You can see the remains of docks, warehouses, old homes, shopping areas, and even baths!
When Rome fell, the port of Ostia Antica was abandoned, and yet today it is packed with some of the most beautiful and historical sites in Italy. Ostia's small museum shows tourists the mythological beliefs from 620 BC and statues and busts of royal families that once held power.
During this Rome day trip you can also visit one of the oldest brick theatre, the Forum Baths, and the Square of the Guilds. From the moment you step foot in Ostia Antica, you are transported back in time, and the liveliness of these ruins echo in Ostia. You must check it out as one of your day trips from Rome and we recommend doing a private tour with an archaeologist! 
Book here: Ostia Antica Guided Tour with Local Archaeologist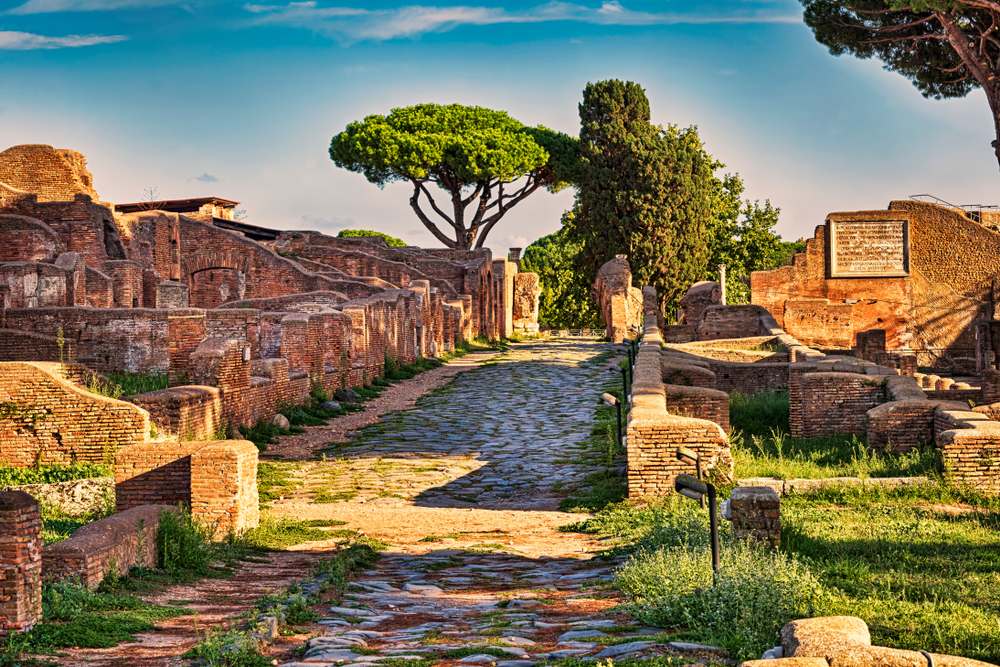 Tivoli
Not to be confused with the Tivoli Gardens in Denmark, Tivoli is close to Italy's eternal city, which makes it great for day trips from Rome. Tivoli is a commune of the greater metropolitan area and is on the smaller side, but that doesn't mean there aren't great adventures that await within this Rome day trip!
Tivloi actually has a fantastic range of sites to visit. Originally founded during Roman times as a settlement, this once historically important area now offers great insight to the past's architecture, has waterfalls, and is well known for its food and drinks!
Specifically, you can visit the Villa d'Este Gardens, the Villa d'Este Palace, Rocca Pia, the Tivoli Cathedral and more when visiting Tivoli! From medieval fortresses to the complex that was once created for the Roman Emperor Hadrian, Tivoli is one of the best trips from Rome to take, as you can bathe in the sun, explore the architecture and area, and appreciate the art and history of Roman times. We would, however, recommend looking into tours such as the Skip the Line tickets to visit the Villa d'Este so you can see everything this beautiful area has to offer!
Book Here: Tivoli: Skip the Line Villa d'esme Ticket with Audioguide
You May Also Love: Market Tour and Home Cooking Class with Dinner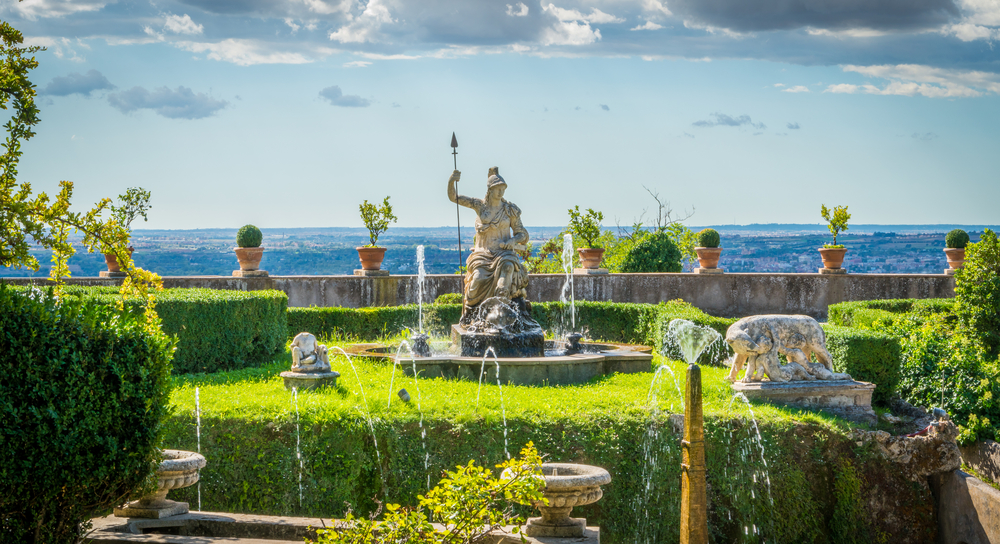 Grottaferrata
Grottaferrata is also situated in the commune in the Metropolitan City of Rome, making for a quick and easy Rome day trip, as it is only 12 miles from the heart of the city. Known for its romantic ambiance, this area of Italy offers great beauty in their historic sites, gardens, and more. A perfect balance of both outdoor and indoor adventures, this is a great day trip from Rome as the town offers adventures for everyone!
Whether you decide to visit the Villa Aldobrandini or Exarchic Greek Monestary of Grotaferrata and the nearby Frascati Cathedral, the architecture and historical elements to each building is beautiful and breathtaking.
But, if you and your traveling group are looking for more outdoorsy things to do, we highly recommend going to Grottaferrata to visit the Seminarie as well as the Parco Regionale Dei Castelli. And if you're really feeling adventurous, you can check out the Parco viviaventura or the Old Frascati Winery. From ropes courses to beautiful cathedral designs, gorgeous views and a classic glass of wine, this is one of the best day trips from Rome!
Whether you are planning your 10 days in Italy, have a bit more time and are spending 2 weeks in Italy, or renting a car and doing an Italy road trip, a quick 1-hour day trip from Rome is quite doable on your itinerary!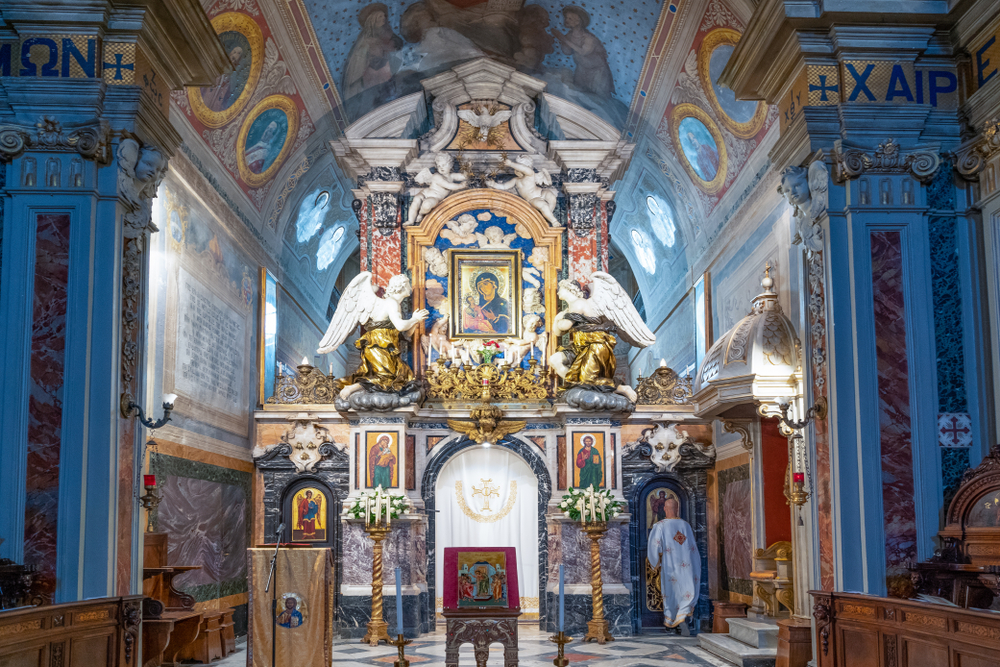 Calcata
Less than 40 kilometers away from the hustle and bustle of Rome sits Calcata, a tiny and nearly deserted village that sits on a hilltop and gives off medieval vibes. Once described as one of the "grooviest villages" in Italy, this village is home to a small but eclectic community after it was deserted for more than three decades. From the cobbled streets to stacked stone homes, this unique village must be added to your day trips from Rome itinerary.
But beyond the tiny village, which features mouth watering cafes and small village shops, visitors can also visit waterfalls, nature preserves, and historical sites. From the Parco Suburbano Valle de Treja to the Cascate di Monte Gelato, these woodland waterfalls and preserves are a great outdoor adventure for tourists who want to get out of the bustle of Rome for a quiet, more down to Earth, day trip.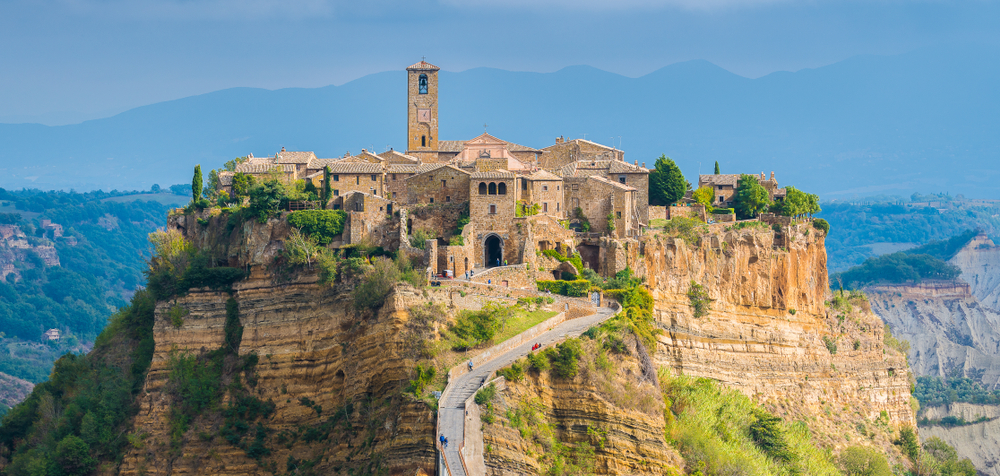 Rome Day Trips Under 2 Hours 
Terme di Saturnia
Terme di Saturnia is JUST over 2 hours from Rome, but it is one of the best day trips from Rome as it is home to Italy's most famous thermal springs. Dating back 3,000 years, Saturina's thermal water helps tourists restore harmony, smooths their skin, and facilitates their breathing. This day trip is made for those who are looking to relax and de-stress, as the springs contain natural antioxidant properties.
While many tourists are aware of the 5-star hotels surrounding the springs, tourists can also get away from the commercialized adventure and explore the hot springs and waterfalls of Cascate de Mulion nearby, rather than spending time at the spa and resort– unless you want to golf and dine during your day trip from Rome as well!
There is also a beautiful catholic church you can visit when here, called the Chisea di Santa Maria Maddalena, as well as the Saturina Spa Public. There is so much to do in this area, and we highly recommend adding it to your itinerary of day trips from Rome. Just don't forget your bathing suit!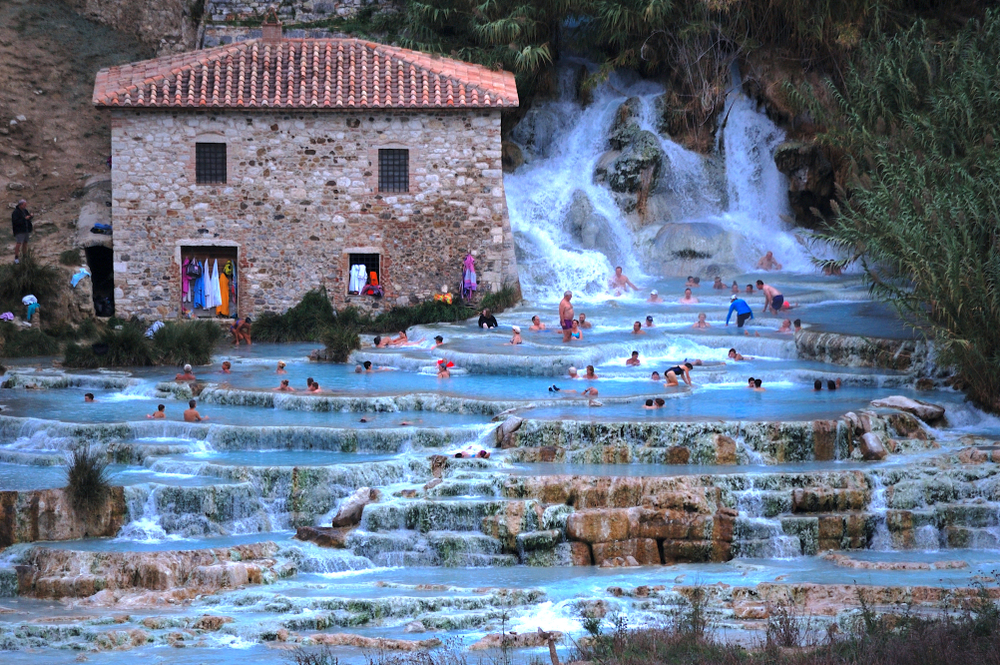 Florence 
Everyone is fairly familiar with Florence, the capital city of the Tuscany region, and lucky for travelers, it is less than a 2 hour train ride away from Rome, making it one of the best day trips from Rome you can take! Florence is one of the most populated cities in Tuscany, so be prepared for some crowds when you visit. But despite the crowds, we promise this day trip from Rome is worth it!
There are so many fabulous things to do in Florence! The city is well known for its art and history, so when visiting, you must swing by the Uffizi Gallery, the Accademia Gallery, the Ponte Vecchio and the Florence Cathedral, which features a bell tower, St. Johns Baptistery and Brunelleschi's Dome! Better yet?
Florence is home to Michelangelo's David, so this day trip from Rome is one of the best day trips from Rome if you are interested in art and history, as well as beautiful architecture. But be aware– due to its crowds and popular attractions, lines can get long. You might want to secure your space in these museums and attractions by booking a tour to see David and skip some of the long lines!
Book Here: Florence: Michelangelo's David Guided Accademia Gallery Tour
You Might Also Like: Florence Dome Climb: Priority Entrance Tour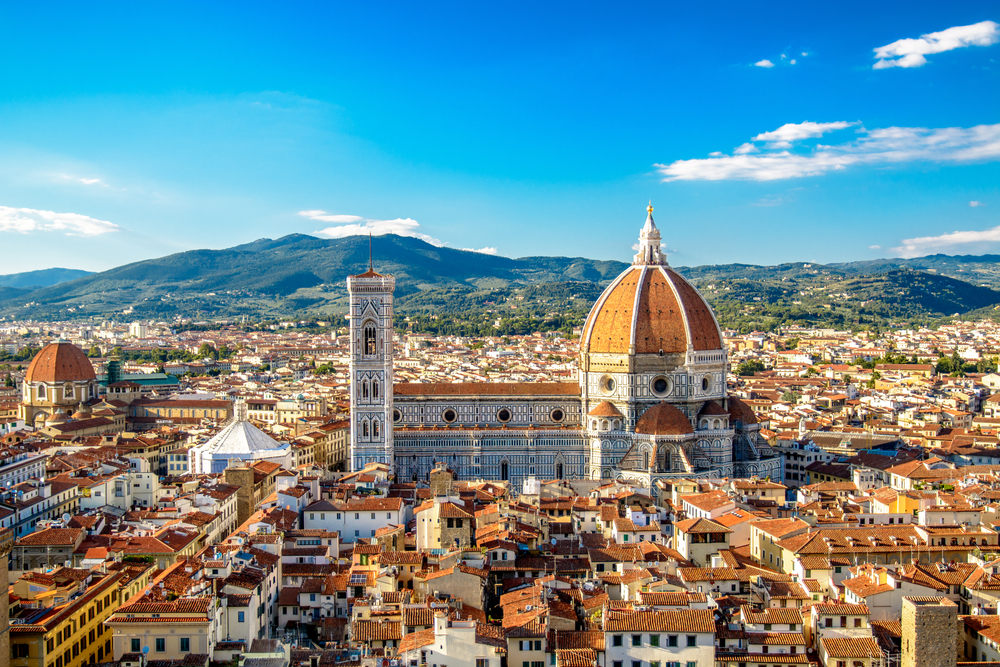 Naples
With an hour and a half train ride, you can quickly be in Naples, Italy, home to the best Italian Pizza! This is one of the best day trips from Rome to take, as the city sits on the western coast, facing the Tyrrhenian Sea, giving it some beautiful views. There are so many things to do in Naples so you really cant go wrong!
From sea bound castles to the waves crashing against the coast, this city is not only known for it's gorgeous landscape, but also for it's rich history and yummy food! We highly recommend stopping to get classic pizza here! Better yet, you can take a tour of the underground of the city and then get pizza after! 
When looking for things to do in Naples, you can easily visit Naples Harbour, the Piazza del Plebiscito, the San Domenico Maggiore, the Naples Cathedral, the Castle Nuovo and more! From ruins to renaissance styled architecture and great sunsets and sunrises across the sea, this is a day trip from Rome you don't want to miss.
Book Here: Naples Underground Tor with Transfer and Pizza
You May Also Like: Naples: Herculaneum Skip-the-Line Tour with Archaeologist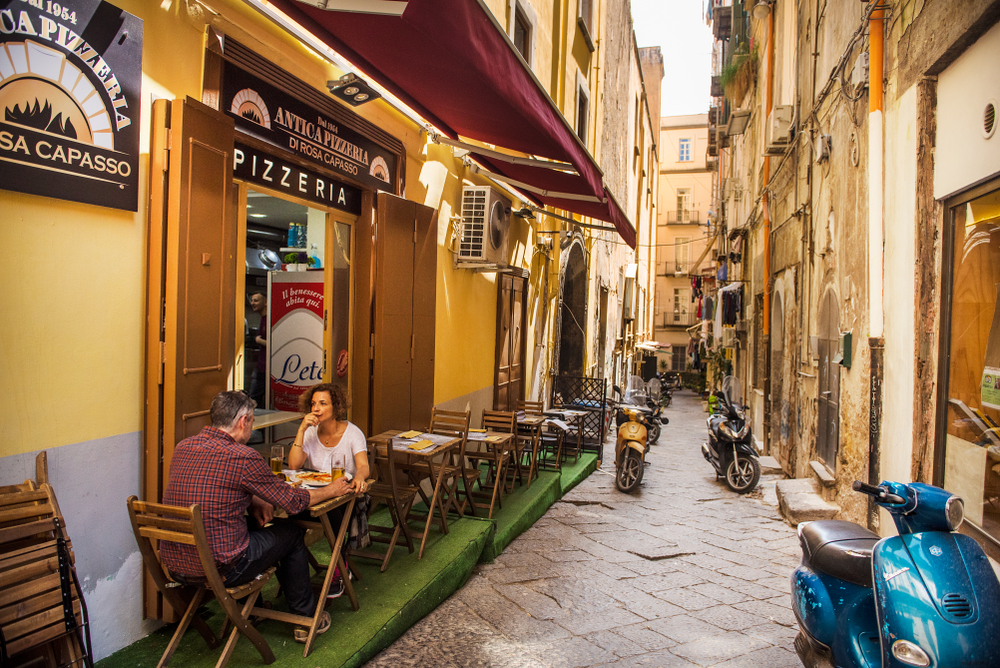 Bagnaia
Bagnaia is a little village just 48 miles outside of Rome, making it great for a day trip from Rome. This gem of a village isn't as busy as the crowded streets of the eternal city and can be one of the best places to relax and visit without the peek tourist attractions being overwhelmingly busy.
Strolling around the narrow streets of Bagnaia can make you feel like you are lost in time: this village gives travelers a glimpse into Italy's rural everyday life. You can enjoy gelato or pizza from brick fired ovens at family run restaurants, or you can visit the Villa Late, which are small yet stunning nautically themed fountains and gardens in the area. And if you are feeling even more adventurous, Bagnaia is also surrounded by other small villages, and thus you can expand your day trips from Rome and go beyond the scope of Bagnaia!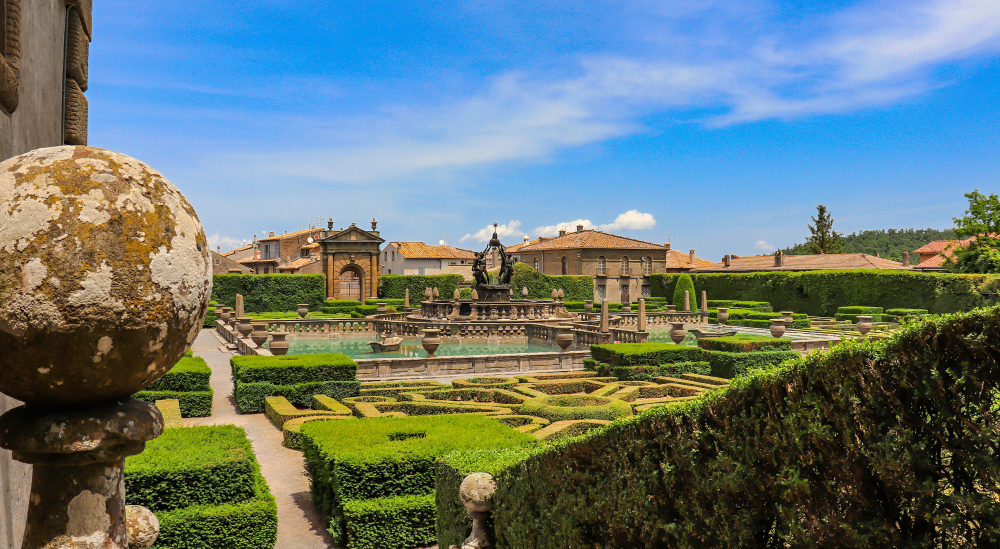 Bomarzo
Speaking of going beyond the scope of Bagnia, Bomazro is close to Bagnia, but is located in the lower Valley of the Tiber. The natural location of this village makes for one of the best day trips from Rome, as the rocks, stone, and landmarks feel medieval and historic at the same time.
Here you can visit Mostri Park, which is famous for having sculptures that look like monsters. Reviewed as being a surreal and fantasy garden, this is one of the top things to do in Bomazro! We do recommend booking your tours ahead of time though if you want to visit the Monster Park!
You can also visit the Orsini Palace, the archeological site of Etruscan Pyramid and the Warka Water, which is a beautiful landmark. For such a small village, there is so much to see, making it a day trip from Rome worth the effort to go see!
Book Here: From Civitacvecchia: The Dying City and Monster Park Tour
You May Also Like: Bomarzo Park and the Monsters and Viterbo Old Town Tour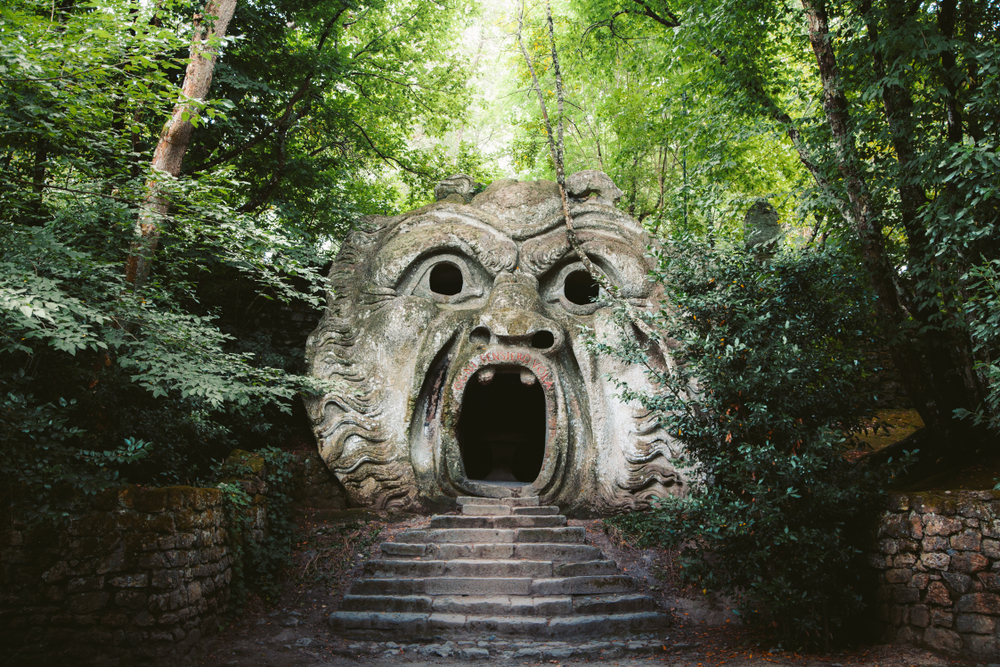 Civita di Bagnoregio
Rome day trips can be difficult to plan with so many options, but we highly recommend visiting the Vivid di Bagnoregio, which is a hilltop village in central Italy. Warning, however, you can only access this village from a pedestrian bridge, and a ticket is required from the nearby ticket office in the heart of Bagnoregio village.
The Porta Santa Maria Gateway was built in the seventh century and offers great insight to the history of this village. From the Romanesque San Donato Church that sits in the main square, to the nearby Geological and Landslides museum, this tiny village is often referred to as a jewel on the hill, and it is one of the best day trips from Rome you can take! But remember, the trek to it can be long, so you might want to consider doing an e-bike tour!
Book Here: Orvieto and Tiber Valley Full-Day E-Bike Tour 
You May Also Like: Private Tour of Lazio and Umbria Regional Gems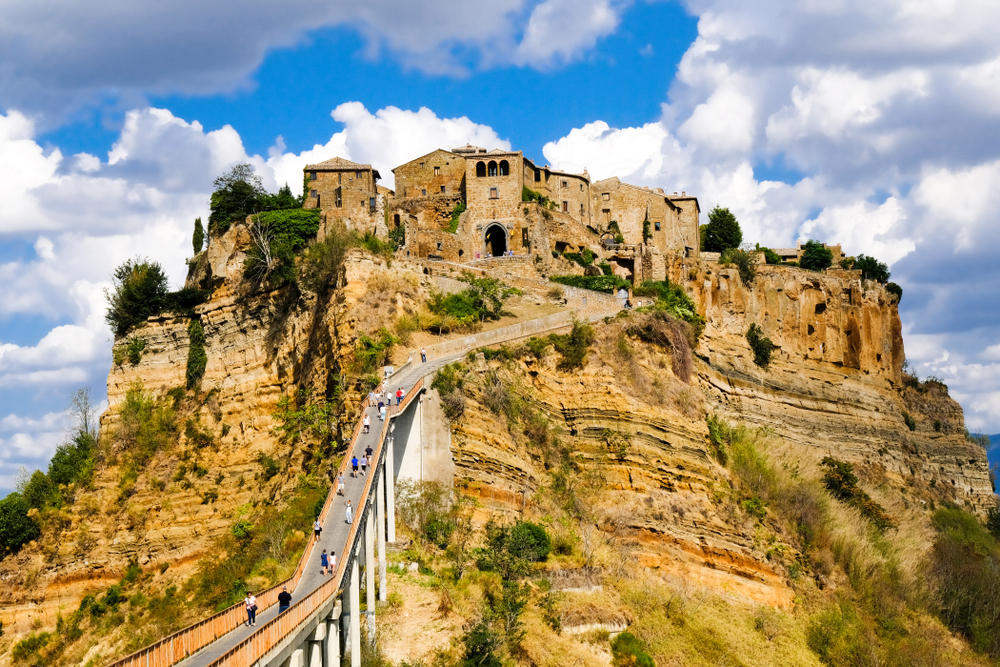 Cortona
Cortona, Italy is a hilltop town in Tuscany, and we recommend adding it to your day trips from Rome itinerary as there is so much to do here! Cortona is the main cultural and artistic center of the Val di Chiana, giving it a rich history and art lifestyle that you don't want to miss! It is a lovely town with so much to offer.
From the Diocesan Museum to the Accademia Etrusca Museum, you have the chance to see a vast collection of bronze, ceramic, and funerary items of the town's past. There are also a variety of parks in this town, such as the Archelolgical park that has multiple sites like the city's fortifications and a walkway to scenic spots such as Villa Bramasole and Santa Margherita Cortona.
Beautiful for photos– you mustn't forget your camera during this day trip from Rome! You may even want to consider combining this day trip with other day trips to nearby towns, such as the Cortona and Arezzo full day tour!
Book Here: Cortona and Arezzo Full Day Tour From Rome
You May Also Like: Assisi and Cortona Full-Day Guided Tour From Florence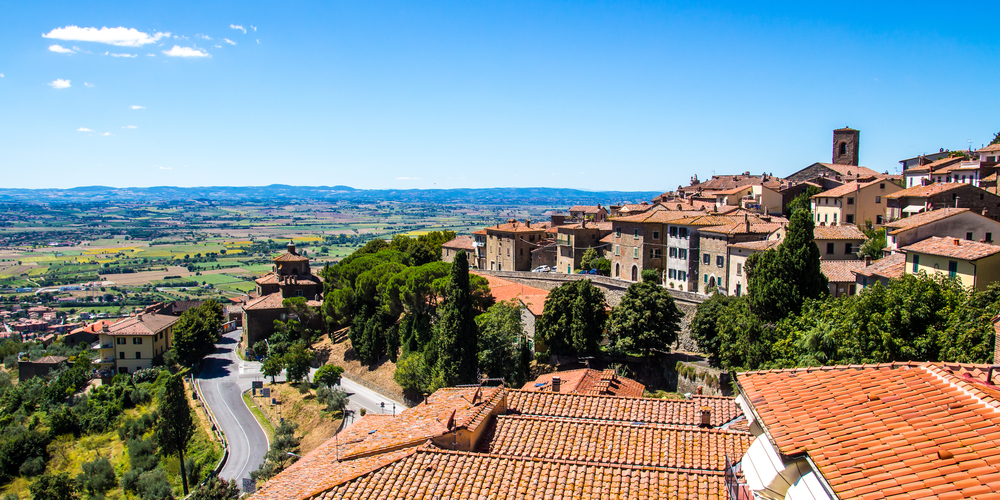 Marmore
The Cascata delle Marmore, also known as the Marmore falls, a man-made waterfall that was created by ancient Romans. It totals in 165 meters in height, making it the tallest man-made waterfall in the world, so it must be added to your day trips from Rome! You don't want to miss this opportunity! Better yet, you can add this stop to other day tours if you're interested, stopping at Cascia, Norica and more!
Marmore falls is divided into three sections, with the top section being the tallest at 83 miles long. All three sections are immersed in a natural scenery of nearby forests and trees, making it a beautiful site to visit! However, be aware that the spectacle of the waterfalls can only be admired during opening hours.
This is due to the fact that the abundance of these waters are used to generate electricity! So make sure to check hours before you begin your trek to the falls during your day trip from Rome!
Book Here: Cascia, Norica, and Marmore Waterfalls Full-Day Tour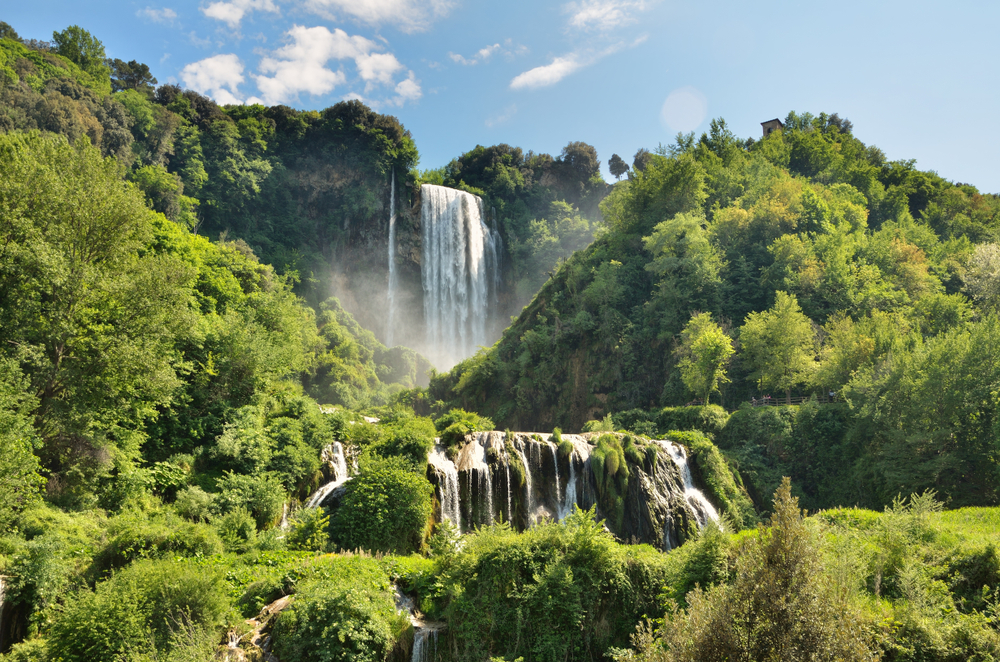 Rome Day Trips Over 2 Hours 
Arezzo 
Of all the options of day trips from Rome you can take, Arezzo should be considered! A city located in eastern Tuscany, this location is well known as a quantity medieval town, and tourists have raved about great wines and fantastic landscapes. Many tourists love walking the streets of this city, and you can even book a private walking tour if it's of interest!  Recently, Arezzo has become home to a newly re-discovered artists, Piero Della Francesco as well!
Arezzo offers great art and sweeping views of the city. On top of a hill shits the Arezzo Cathedral which features painted vaulted ceilings of Mary Magdalene by Piero Della Francesco, and the chapel itself is also decorated with many other of his artworks. The Basilica di San Domenico contains a 13th-century old crucifix and offers a great view of the city in its fortress. From art to views and history, Arezzo is one of the best day trips from Rome you can take!
Book Here: Arezzo 2.5 Hour Private Guided Walking Tour
You May Also Like: Arezzo: Market Tour, Cooking Class with Original Recipes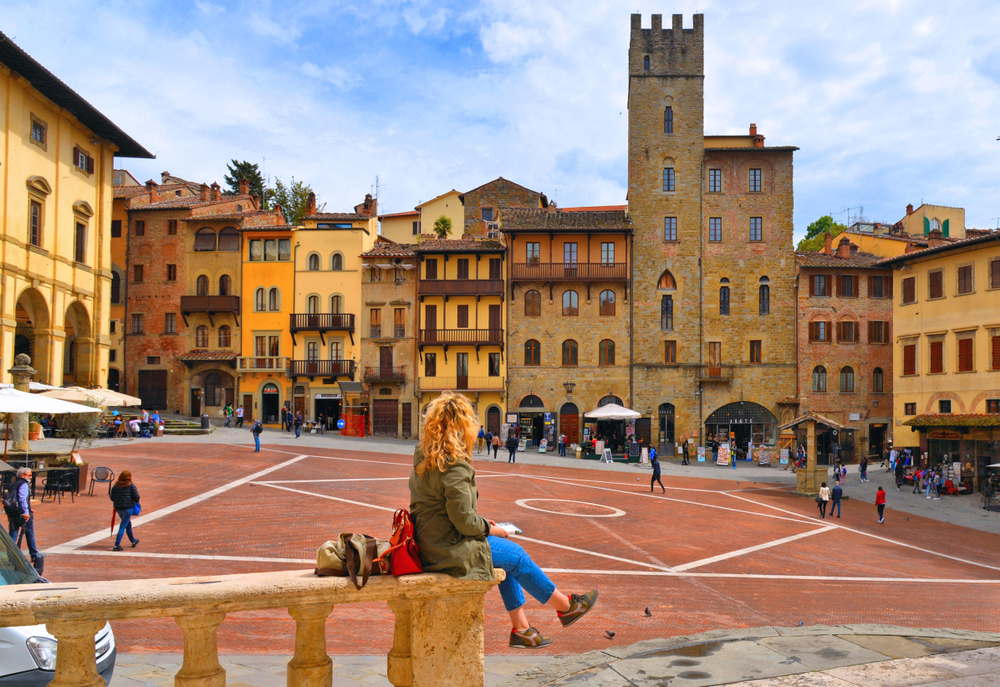 Amalfi Coast
Rome day trips are always worth the effort of traveling– especially if you are visiting the Amalfi Coast! The Amalfi Coast is a 50 kilometer stretch of coastline along the southern edge of Italy's Sorrentine Peninsula. While it is often viewed as a holiday destination (hello, honeymoon!), that doesn't mean the coast cannot make for one of the best day trips from Rome too!
Well known for its sheer cliffs, rugged shoreline, beaches and fishing villages, the coastal roads between the port of the city and clifftop can help you wind past grand villas, vineyards, and cliffside groves. Just don't get lost in the beauty of this coast– make sure to pay attention to the pastel collars, lemon groves, and sea-salt on your skin. You can even sign up for a drive tour so you don't have to be distracted with a car! Enjoy every moment of this day trip from Rome!
Book Here: Amalfi Coast Tour- All Inclusive From Naples
You May Also Like: Marina del Cantone: 4-Hour Transparent Kayak Tour to Jeranto 
Pompeii
Pompeii is famously known for being the ancient city that was buried by the 79 A.D. eruption of Mount Vesuvius. Today, you can visit the ruins of the city, ruins that include the frescoed Villa of the Mysteries and the city's once popular and populated amphitheater. But be warned– it can get a bit busy, so you may want to book your tickets beforehand!
Visiting Pompeii is such a unique experience! Despite the fact that the city was once covered in a thick carpet of volcanic ash, the ruins are still fairly intact, and you can see the Temple of Apollo, the House of Faun and more! From statues to pillars, to even the casts of people who perished during the eruption, this location is beautifully tragic and a unique trip. We highly recommend visiting during one of your day trips from Rome.
Book Here: Pompeii: Fast Track Entrance Ticket With Audio Guide
You May Also Like: Naples: Day-Trip to Mount Vesuvius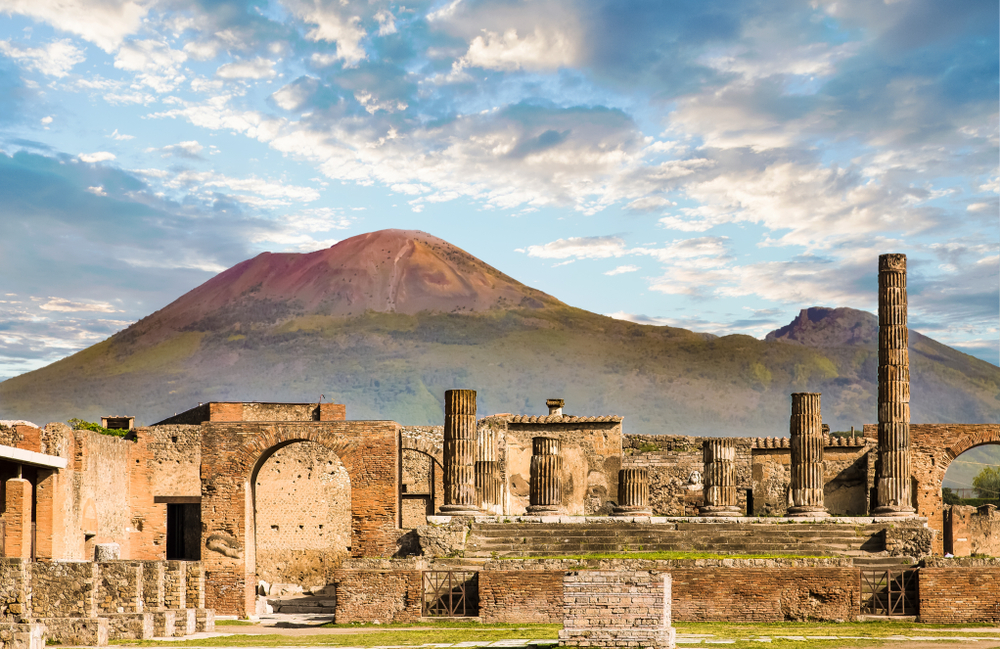 Abruzzo
Lastly, if you are looking for outdoor adventures for you day trips from Rome, we recommend traveling to Abruzzo! This Italian region is east of Rome and features an Adriatic coastline and the Apennine Mountains. National parks and nature reserves cover much of its area, so make sure to bring good walking shoes!
Beyond the outdoors, though, this location is also home to hilltop towns, ones that have been around since the medieval and even the Renaissance period. This town is a step away from modern Rome and puts Italy's green region on the map, taking you by surprise! Without crowds, and with easy access, this day trip from Rome can offer great adventures, which include the local cuisine, the idyllic beaches, and the natural lakes and springs!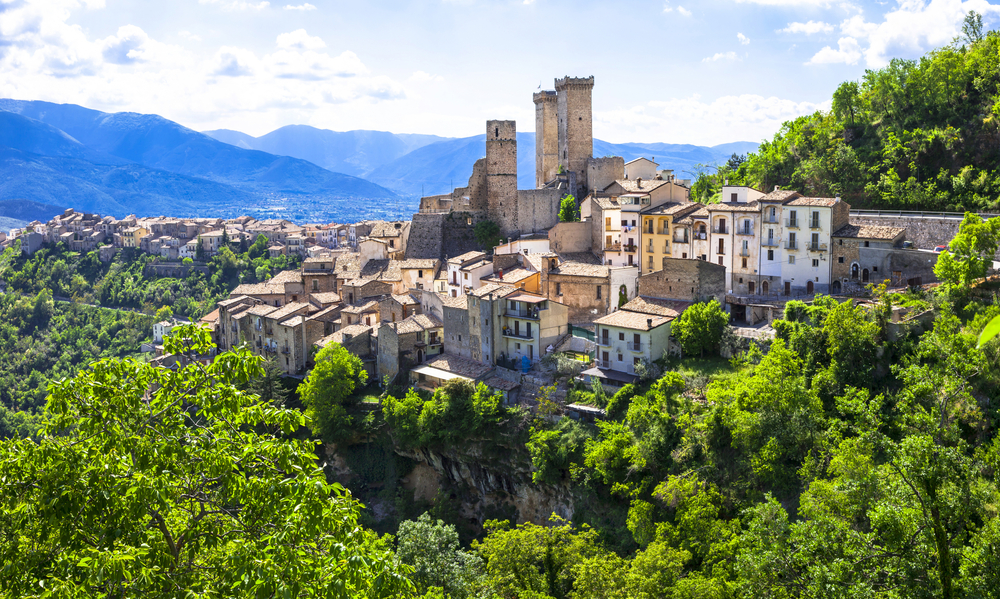 And there you have it! Some of the best day trips from Rome! Depending on your stay, budget, and willingness to explore the outer regions of the eternal city, there are truly so many adventures you can take when considering Rome day trips. Whether you want to take in some art, visit historical sites, or see some greenery, you don't want to miss out on day trips from Rome, as they are all truly worth it!