Are you looking to make sure your road trip packing list is complete before packing a bag, the car, and starting your long drive? Whether you're traveling the east coast or doing a cross country trip, we've perfected this list so it fits for any road trip your heart desires.
We've seen many people forget road trip essentials when packing for their vacation, and we want to help you avoid this to ensure you are well prepared for your trip!
Reviewing these 25 road trip essentials will have you ready to take on the road for any length of time, and you will thank yourself later for the thought and effort you put into packing. So please avoid becoming stressed will packing, and take this list of things to bring on a road trip as advice so there are no mishaps on vacation.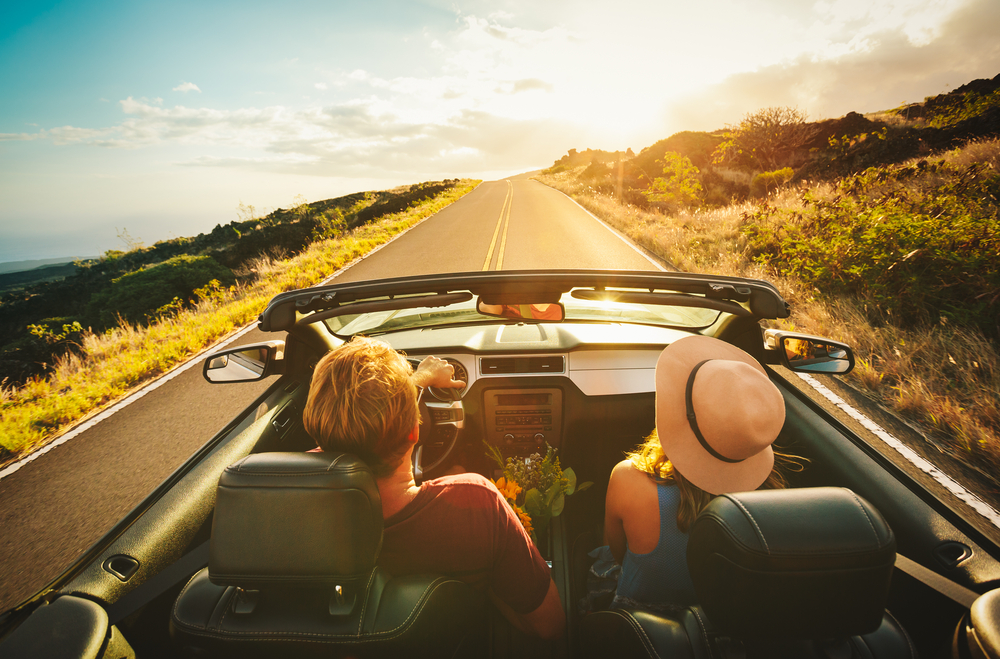 25 Road Trip Essentials You Don't Want to Forget
1. Bring Along a Portable Smartphone Charger
Portable power banks are a must for traveling anywhere, road trips included, so make sure to add this to your road trip packing list! Whether you are riding shotgun, in the backseat, or have parked your car and are exploring, portable power banks are perfect to ensure your battery never dies.
These chargers can range from $10-$40 but will help ensure you've got a fully charged phone! Between taking photos and updating social media to share with your friends back home, avoid a dying battery by adding a charger to your road trip packing list. You will thank us later!
Specially, we recommend the Anker Powercore 1000 and use it during all of our travels. While it is more expensive, its quality is fantastic and should be added as a road trip essential to help keep your phone alive and usable no matter where you end up!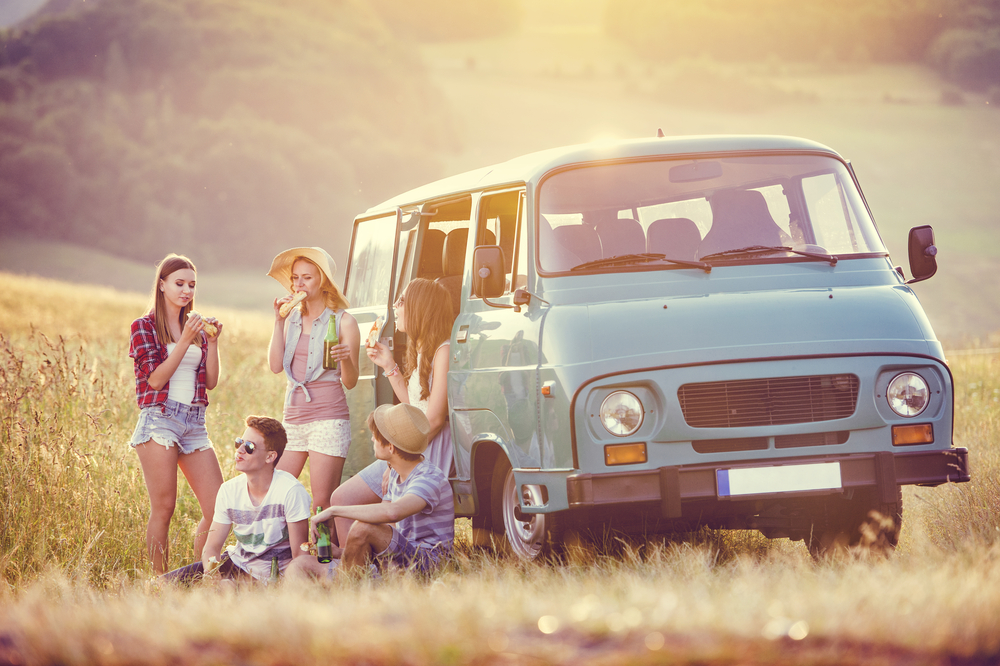 2. A Reusable Water Bottle is a Must
Driving can be exhausting and there is no way to avoid long stretches of road that aren't littered with stops where you can sit and rest and hydrate. Therefore, you must add a reusable water bottle to add to your road trip packing list!
While you can most likely find free water at some spots and stops, you don't want to find yourself stranded during the afternoons or evenings without water. By simply having a sip every thirty minutes or so, you will ensure you're feeling more prepared to take on any adventure.
Bringing a reusable water bottle, and especially a filtered one is great preparation when packing road trip essentials as it will force you to drink and help combat any heat or exposure when free water is not readily available. Stay hydrated by easily adding a filtered water bottle to your packing list, but remember to not drink too much– your bladder (and travel companions!) will thank you later!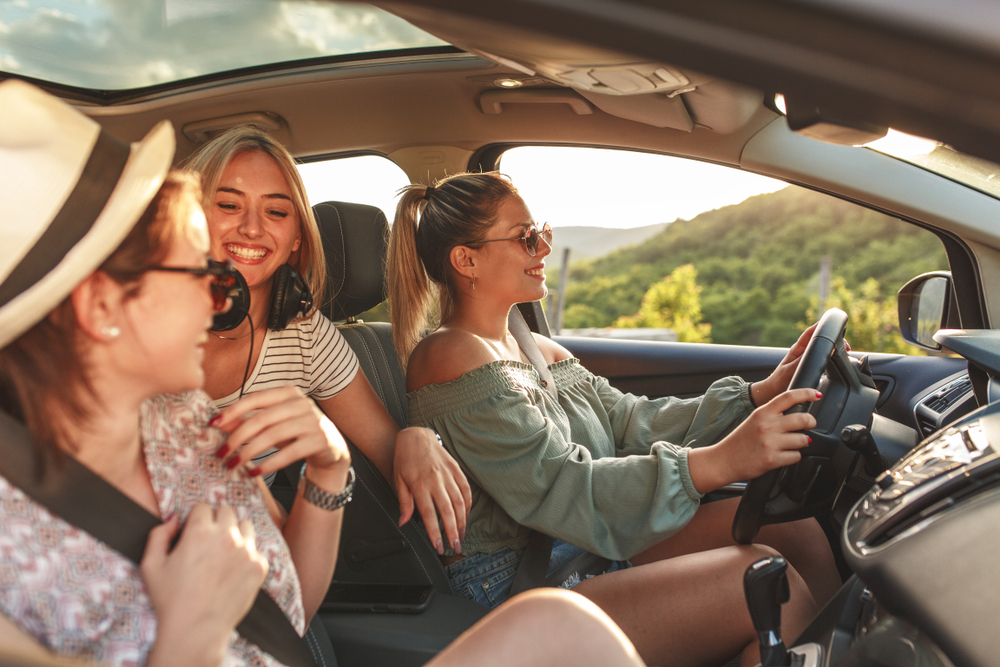 3. Multiple Memory Cards are Great For Backup!
There is no doubt about it: you're going to want to document every inch of your road trip! From stunning sights to the unique hole-in-the-wall shops, to the car jam sessions and everything between, you'll want to capture every moment.
Purchasing additional memory cards can cost as little as $20 and takes up little to no space when packing for a road trip. Having back up can save you a lot of heartaches when things to awry too! There is no worse feeling than coming across a perfect photo or moment and realizing you don't have enough space to capture it.
We have been there before and we want to make sure you don't experience this. So, add extra memory cards to your road trip essentials. After all, the more pictures, the better! You'll be able to hold on these memories forever!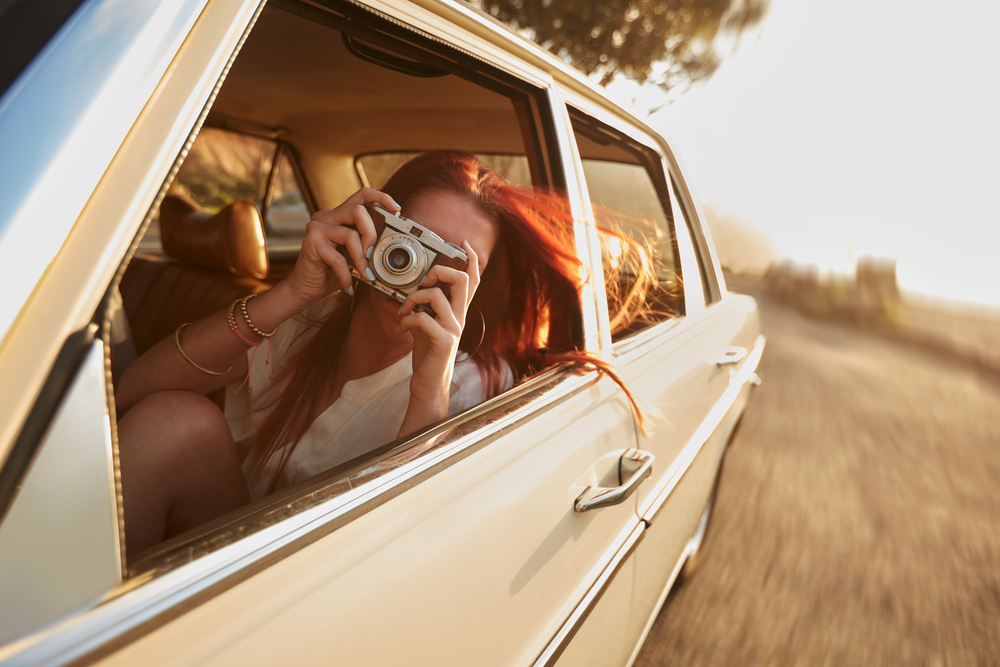 4. Don't Forget Extra Smartphone Storage
Our #3 road trip essential is great to consider when you are using a nice, fancy camera. However, you may want to consider adding a portable smartphone flash drive to your road trip packing list too!
With the quality of smartphone cameras increasing, its no longer necessary for you to bring all of your camera equipment with you. If you're looking to save space in your car during your traveling adventures, you can easily slide a portable smartphone flash drive into your bags indenture your memories are saved!
Again, there is no worse feeling than losing your photos from a trip. We recommend the Disk 3.0 12 GB as it is a certified device. Using it can allow you to document your vacations and we truly recommend using one. Add this to your road trip packing list, even if you traditionally utilize cloud storage. Internet may be limited when driving and we don't want you to rely on fast and secure connections to save your memories– just do it with the aid of a flash drive!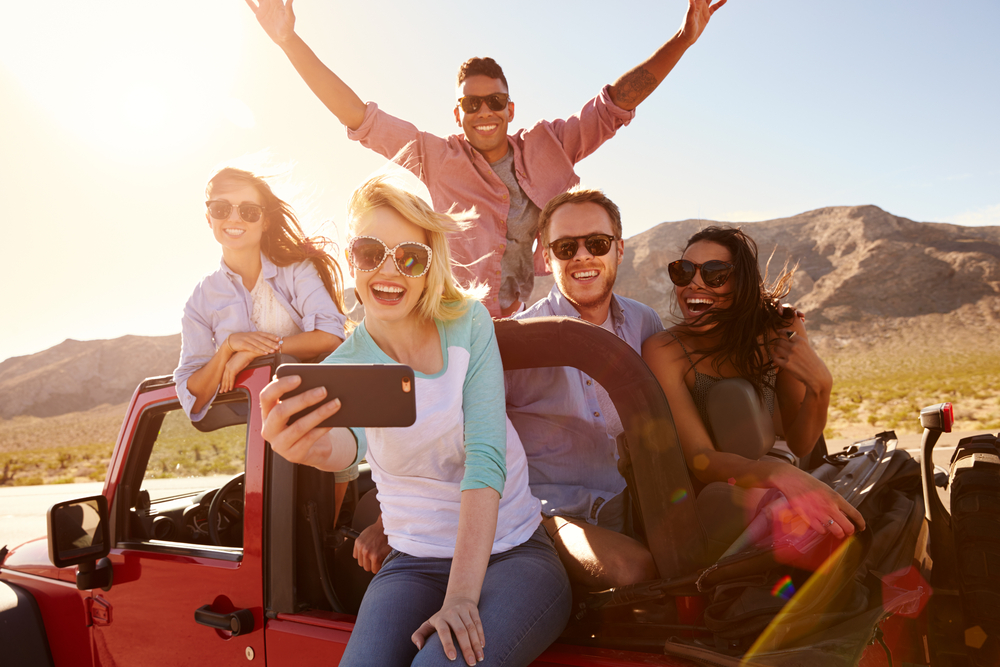 5. Bug Spray and Sunscreen are Needed for Protection
Don't forget that when driving, the sun is glaring right at you through windshields and windows! So make sure to invest in sunscreen for your road trip packing list because you don't want to become burnt or worn out from all this exposure!
When you aren't in the car, also make sure to put on sunscreen. We recommend looking into reef-safe sunscreen in case you end up at a beach where there are corals growing, just so you can protect your skin and the fragile ecosystem!
Speaking of fragile ecosystems, don't forget about bugs! Adding bug spray to your road trip essentials will help protect your skin even more, especially from pesky mosquitos and sand gnats. Try to be aware of climate in which you are driving through and stopping at, as this may affect what kind of bug spray you should use!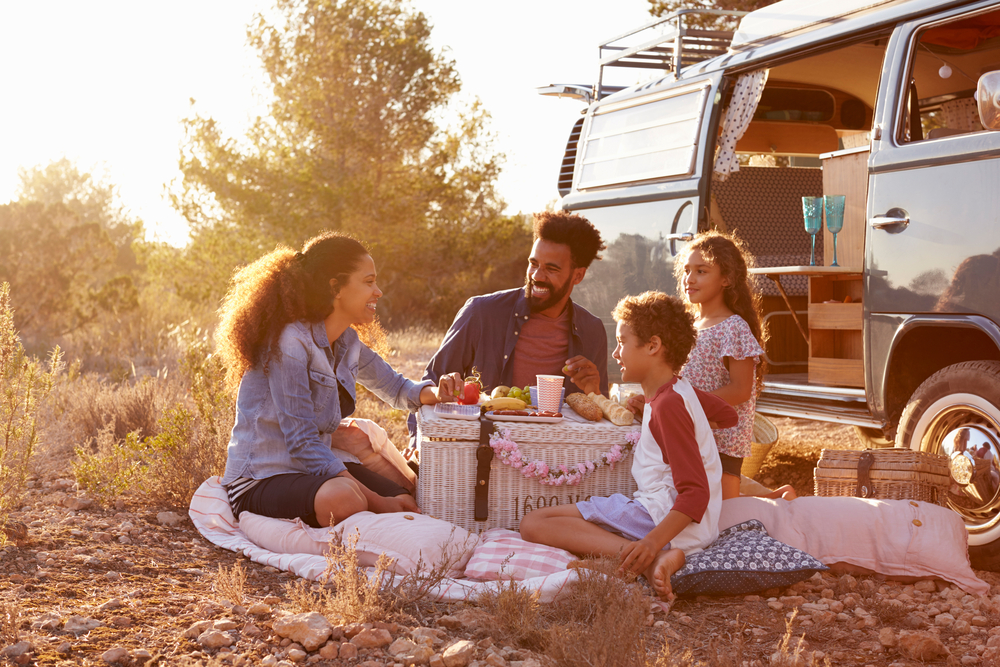 6. Waterproof Dry Bags Will Save Your Stuff
While a backpack or purse may offer some storage during your travels and adventures, we love to recommend waterproof dry bags. These are one of the best investments to make for any trip, road trip included, and thus we want you to add it to your road trip essentials.
Dry bags are inexpensive, can be cleaned easily, and work well. They can be dropped in water– submerged even– and your belongings will not get wet! While you may not be traveling to places with lots of water adventures during your road trips, these lightweight bags are also super easy to carry and ensure your items are safe with great security.
Due to the fact that these dry bags fold up and latch tightly, they are easy to pack and are secure against any theft attempt in addition to being waterproof. Do yourself a favor and invest in a waterproof dry bag for your road trip packing list!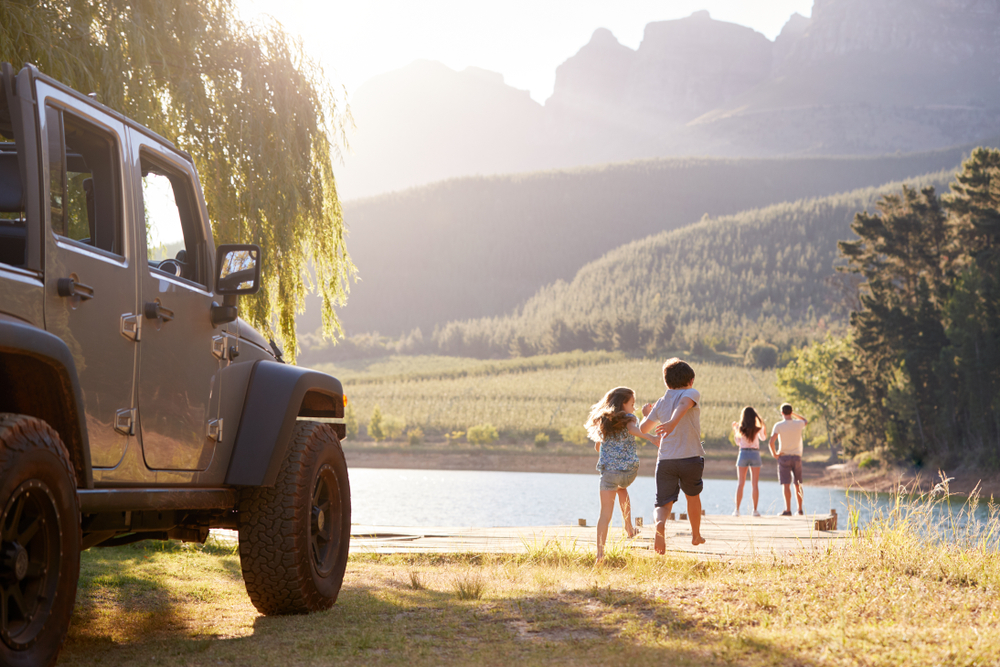 7. A Secure Phone Case Can Save Your Phone (And Memories!)
As we mentioned earlier, you're more than likely going to be using your phone a lot during your road trips, so we highly recommend investing in a secure phone case that can protect it during your journey! Adding a waterproof phone case is a must for road trip essentials.
Not only will the waterproof elements give you the chance to get closer to lakes, rivers, beaches, and more, but it will protect against any car spillage– and we know this happens on road trips!
Better yet, most of these phone cases double as shock-proof or sand-proof, ensuring your phone will not be damaged by grains or a great fall. We want you to be safe with what could be your GPS, camera, and contact with family and friends back home! Add on that extra layer of security to your phone for your road trip adventures.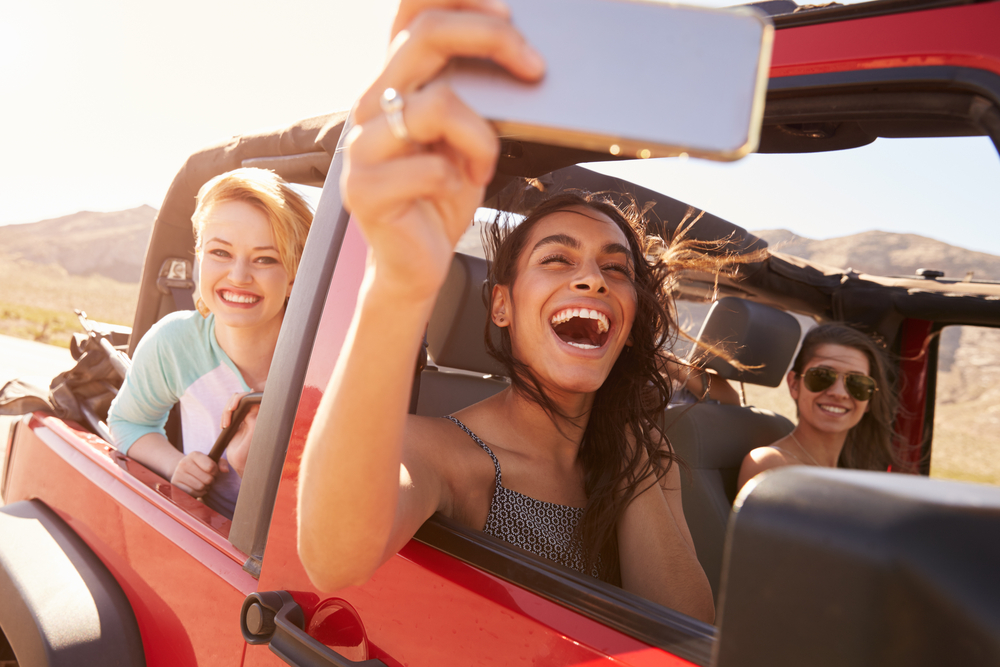 8. Stay Dry with Ponchos or Rain Jackets!
You may not think to add ponchos or rain jackets to your road trip packing list when you are thinking of things to bring on a road trip, but we promise this is a great investment! You never know when a sun-shower or thunderstorm might hit, and it might coincide with times when you are out of the comfort of your vehicle.
Ponchos are lightweight and easy to pack– unlike an umbrella. You can fold it with ease and have it secured and save space in your car too! It is quick to whip out and put on, and often offers more coverage than an umbrella.
But do make sure to pay attention to what kind of poncho you are purchasing! You don't want to buy a cheap poncho that will rip easily– look for quality and don't forget to add this to your road trip essentials so you never have to slide back into your car's seats wet!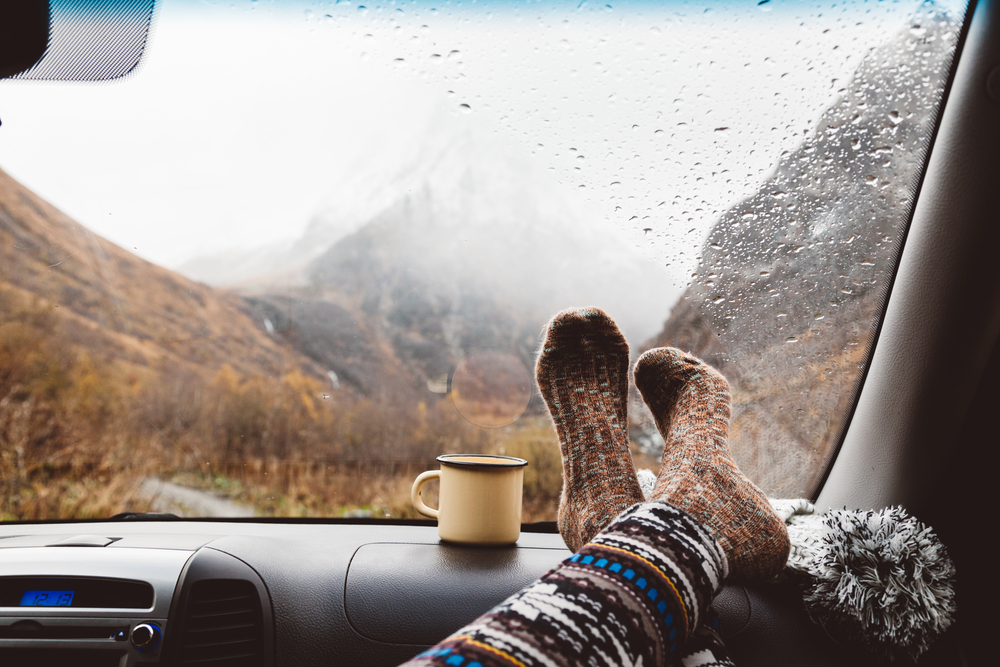 9. A Flashlight (Or Two!) To Help Illuminate!
Whether your battery dies in the dead of night or you simply can't find your fallen phone in the crevices between your seat, a flashlight is one of the best road trip essentials and you don't want for get one. We even recommend maybe purchasing two so you have a spare!
Handheld flashlights are easy to use and portable, and many feature an adjustable focus or multiple light modes so you can adjust the level of brightness during any situation.
Being prepared with a flashlight, especially one that features long-endurance, can save you from some heartache during your trip. With large floodlights, cast light up no matter the time or place and add this to your road trip packing list– just don't forget extra batteries too!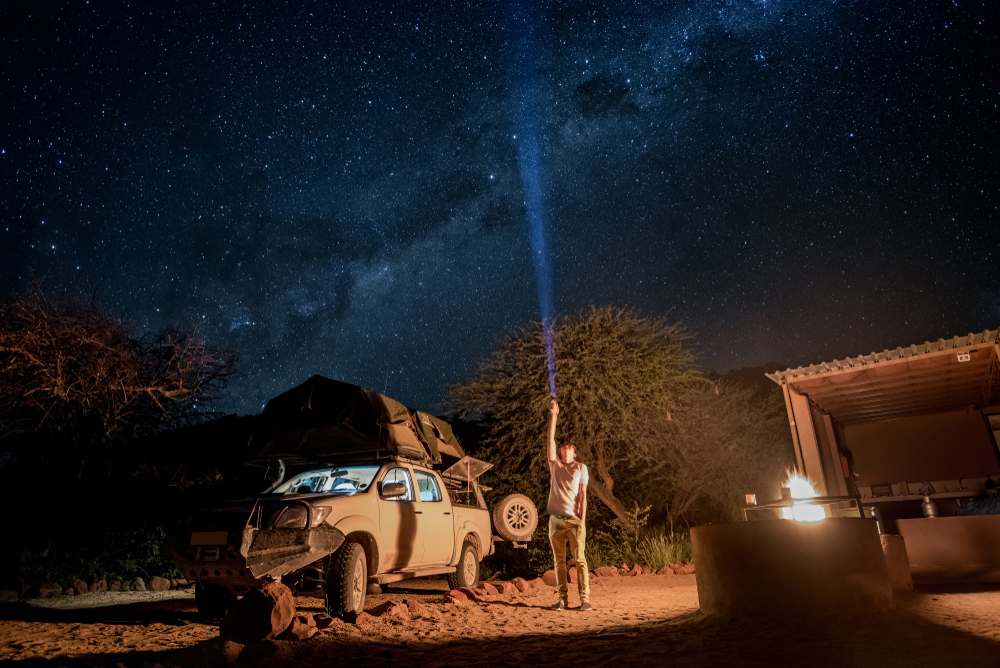 10. Be Prepared With a First Aid Kit
Although we don't want to think about needing a first aid kit during our adventures, it is often better to be prepared rather than stuck in a situation we can't fix. By adding a first aid kit to your road trip essentials, you can help protect yourself and loved ones no matter what happens!
Basic supplies like band-aids, bandages, antiseptic, and even safety pins can help stop bleeding or patch a wound or two, making them invaluable when you hit the road.
By simply sticking up on a 120 piece first aid kit, you are prepared for emergencies in a compact and organized way. This can help, especially when in the car, or when the closet town is still 3o minutes out. So be safe and add this to your road trip packing list, today!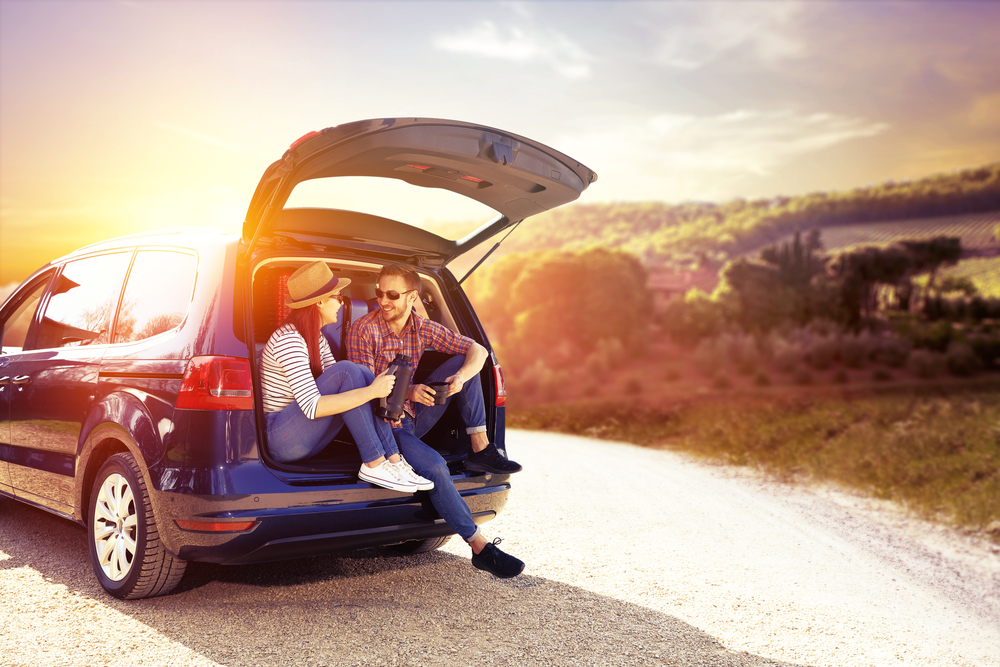 11. A Notebook, Pen, and Pencil Can Entertain and Encourage Creativity!
While we know you'll want to document your adventures via phone with social media posts, photos, and more, you can also document your road trip by adding a notebook and pencil combo to your road trip packing list!
The Rite in the Rain Kit is a weatherproof kit that can help protect your writings or sketches or journaled thoughts throughout your adventure no matter what your days are looking like With a spiral notebook, and everything you need to stay organized, this is great for the daydreamers!
In this kit, you get a waterproof pen, a notebook, and fabric cover. You can conquer the field in any weather condition and store more writing instruments in the kit as well. While this isn't typically road trip essentials, you might want to try your hand at something fun and creative during your trip!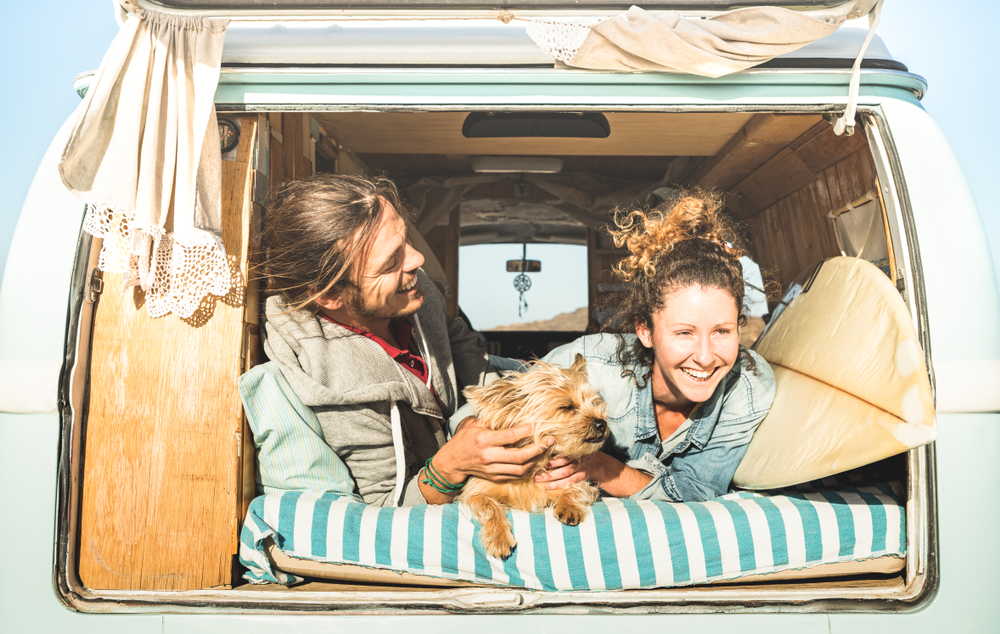 12. Snacks Are Yummy!
Road trips can become expensive, especially if you're stopping every hour or so for snacks at local stores or gas stations. We recommend prepping for your trip by adding prepurchased snacks to your road trip essentials.
This way, you won't have to continuously stop and add time (and gas and mileage!) to your trip. Ease those growling tummies with road trip snacks, that way they are in the car and easily and readily available to you!
The best thing about road trip snacks is that by adding them to your road trip packing list, you can pick your favorite treats to have handy in the back seat. From chips to granola to trail mix and everything in between, stock up and enjoy!

13. Travel Games Can Entertain for Hours!
When you're stuck in the car for hours upon hours, we know that listening to the same podcasts or playlist can get a bit… redundant. Make time pass quicker by getting everyone in the car involved with some travel games!
Whether you are are the passenger or the kid in the back, games can bring the whole family and traveling crew together to make even more memories, which is why we recommend adding it as a road trip essential.
These games on the go are often compact in design and family-friendly, making them easy to add to your road trip packing list, as they don't take up much space and can truly add some fun as you cross state lines or wait on interstate traffic!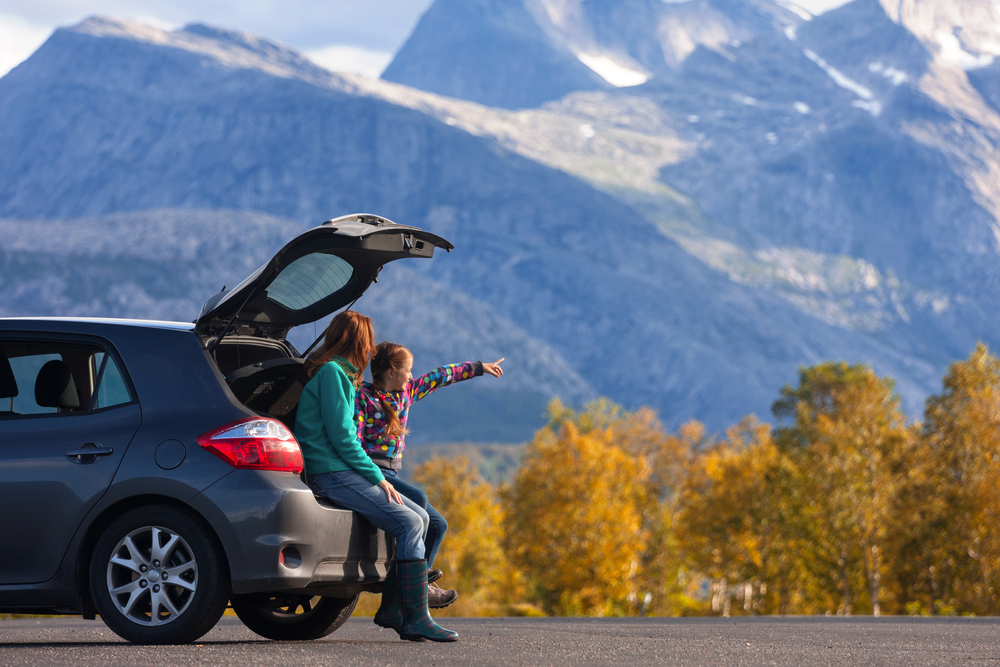 14. Travel Pillow and Blankets Are Needed for Comfort!
Would a road trip really be a road trip without someone taking a nap in the backseat? We recommend investing in a great travel pillow and blanket kit so you can rest in comfort as you continue traveling!
Whether the AC is just too high for you, or you want to rest against the window, making a blanket and pillow a part of your road trip essentials will have you ensure you are comfortable no matter where you are or how long you are traveling.
These are also great for when you stop– you will always have an extra blanket and pillow backed and ready for you!
15. Sunglasses and Chapstick For Your Face Are Great
We've already talked about how the sun is bright through the windshield, and how you should invest in some sunscreen, we also think adding sunglasses and chapstick are great for road trip essentials as they help protect your eyes and lips!
Driver, passenger, or even kid in the back seat, no one likes to squint! When that sun is too strong, protect your eyes with a good pair of sunglasses and some chapstick that will provide you comfort (and style!) during your adventures.
Having these on your road trip packing list is easy– they are small and take up no packing space, but they will save you from sun visors, hands in the face, cracked lips and more!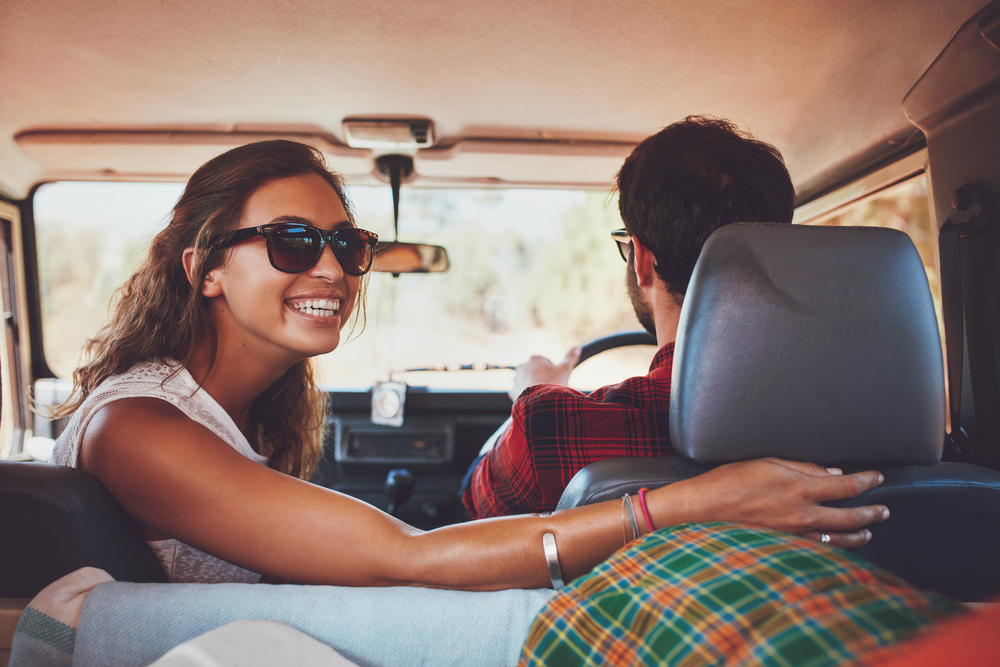 16. Car Cooler Will Help Keep Drinks and Snacks Cold
Although we already talked about snacks, we forgot to mention drinks! You may have invested in a nice water bottle that will help keep your water cold, but when you are picking fruit, soda, yogurt, or other items that need to stay refrigerated, make sure you add a car cooler to your road trip packing list.
Whether you invest in a collapsible cooler bag or a hard electric cooler, these leakproof totes will have your snacks safe and cool and ready to eat!
There are some even designed to hang on the back of seats, so your car cooler takes up limited space but still keeps your food and drink comfortably. Whatever type of cooler you decide to buy, make sure to purchase one when you're on the go– no one likes drinking warm Coke or eating browning banana, anyway!
17. Also, Be Prepared with a Roadside Emergency Kit
You can always be prepared during your road trip by purchasing and packing a roadside emergency kit. Worried about a flat tire, jumper cables, or just about anything else? This roadside emergency kit is an all-in-one solution.
Small, easily packed, and versatile, this kit has 125 pieces including all in one auto, jumper cables, visibility safety, and more, meaning it is perfect for your roadside essentials! Feel protected where ever you go by packing this kit.
With life-saving battery and cables, this kit truly protects as it also features safety vests, booster cables, 2 light sticks, a mylar blanket, and whistle. No matter what happens on the road, be prepared by adding an emergency kit to your road trip packing list.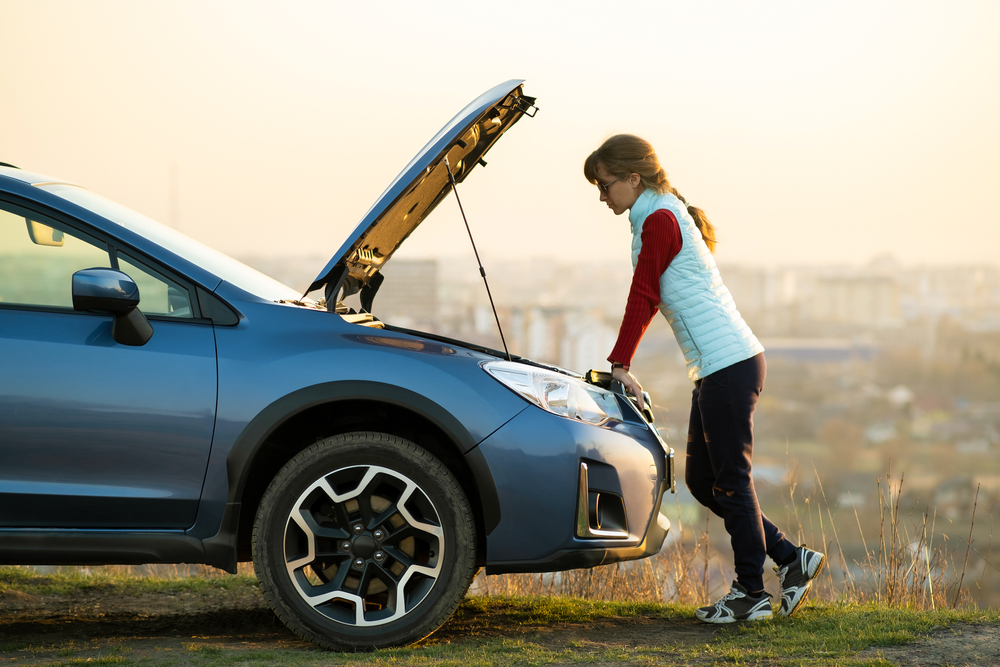 18. Paper Maps or Maps.me?
Although many of us rely on our phones or Google Maps or a GPS to guide us along our road trip, paper maps are something you may want to consider adding to your road trip essentials. There isn't always going to be reliable sell service, and with detours and unexpected stops needed, having a paper map can really help!
Better yet, you can also check out Maps.me, which is a free app that lets you download detailed maps that can work and be used offline. By not using cell service, this app acts as a GPS!
Whether you decide to purchase paper maps or download the app itself, both will secure your sense of direction and may even encourage you to go off-roading! But be prepared and study your routes carefully while adding a paper map or app to your road trip packing list so you don't get lost!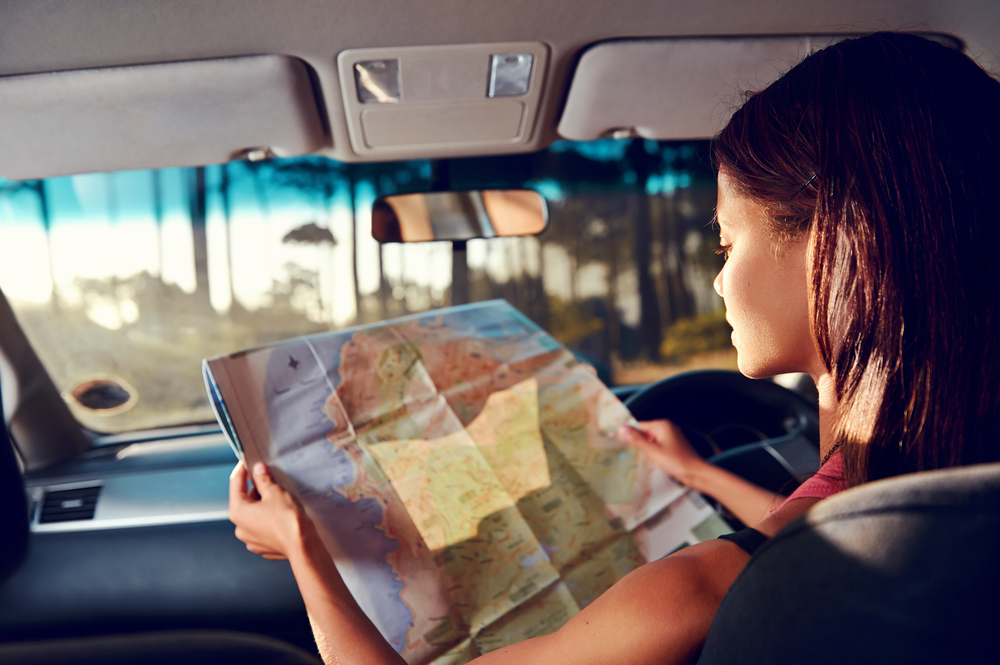 19. Car Diffuser Can Help Control Smell
When considering what things to bring on a road trip, we recommend investing in a car diffuser. There are some pretty fancy ones out there, but car humidifiers can distribute essential oil throughout your contained vehicle, keeping things smelling fresh!
You want the air in your car to be breathable, so consider adding a car humidifier to your road trip essentials as a way to eliminate smells and keep your air quality top notch all while not taking up little space.
Humidifiers clean are, refresh, and add moisture and oxygen to the air. This can help ensure you and your travel companions are safe and comfortable as you travel, and you can all load up on your favorite fragrances for the perfect aroma!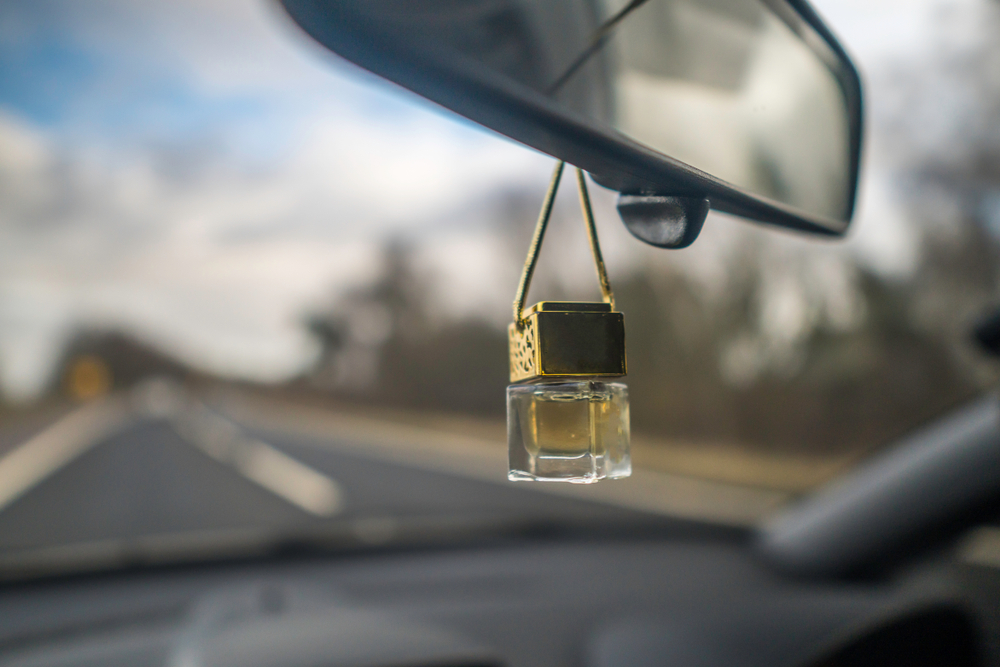 20. Slip-on Shoes For Comfort
Tying and retying shoes every time you stop during a road trip is frustrating and time-consuming. You also don't want to mark up your car's seats with sneakers, so investing in a pair of slip-on shoes is great for road trip essentials.
This way, no matter where or when, you can simply slip on shoes and be ready to go. They are quick and easy, and often comfortable.
AND, if you're anything like me, you love being barefoot anyway, so having the freedom to easily navigate what types of shoes you are wearing and the quick ease you can have to change into them is a great option. Add some easy slip-on shoes to your road trip packing list today!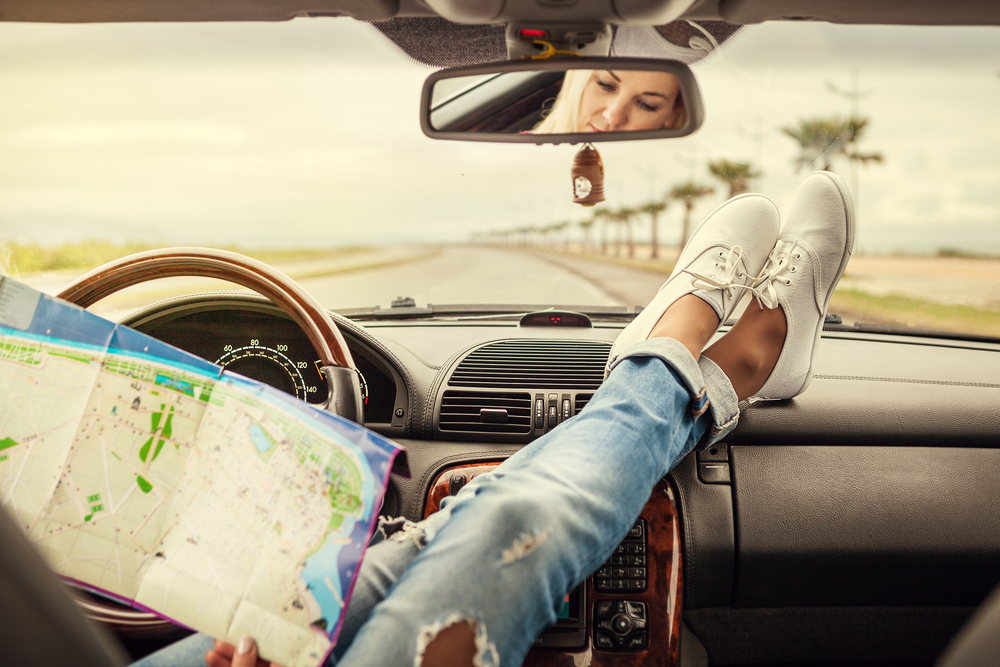 21. Mesh Lumbar Support Is Good for Your Back!
Several hours behind the wheel, or just sitting upright, can leave your back in some pain. By adding lumbar support to your road trip essentials, you can wrap it around your seat and make your ride much more comfortable!
These supports help cradle your back, and with it, you cannot sink into your seat, so you can improve your posture while driving through your road trip.
Better yet, the mesh material and fabric is cool enough and breathable to avoid sweating when you're driving during the day! Because these supports are also easy to add and remove, you can take them off your seat at any time, making it perfect for your road trip packing list.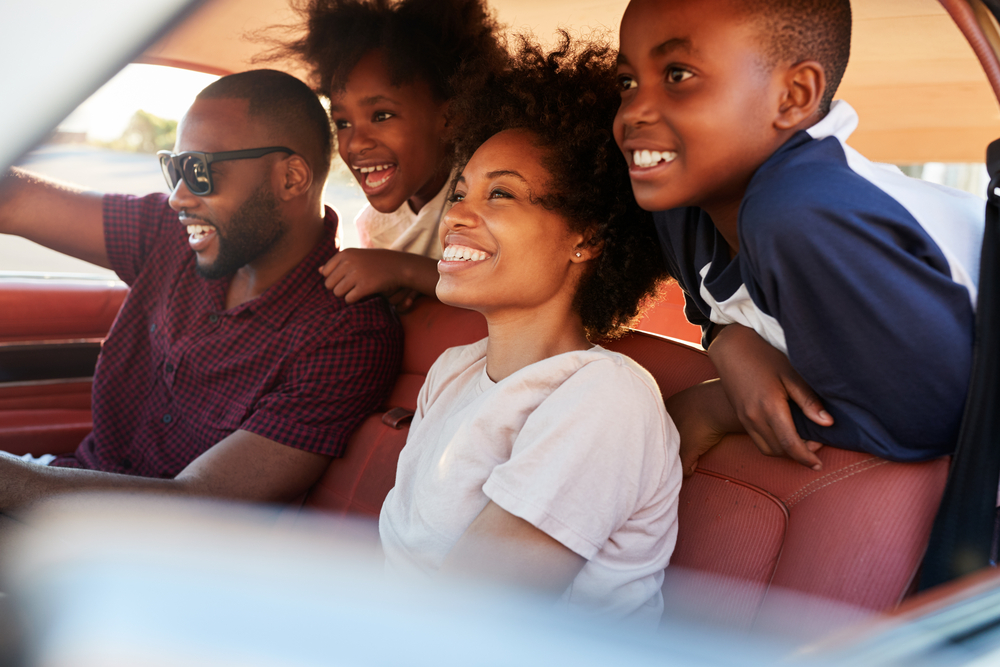 22. Seat Cushion May Help Support Your Back and Butt!
We've already talked about helping support your back, but don't forget about your butt too! Seat cushions that are gridded help making sitting for extended periods of time so much more comfortable.
They are breathable with air circulation because of their gridded design, and easy to fold up for quick and compact transport.
These cushions help absorb pressure points and ease the pressure you are putting on your spine with a unique flex-grip that stays cool to the touch and is strong and durable for a long-lasting investment. Save your butt some pain and add a seat cushion to your road trip packing list today!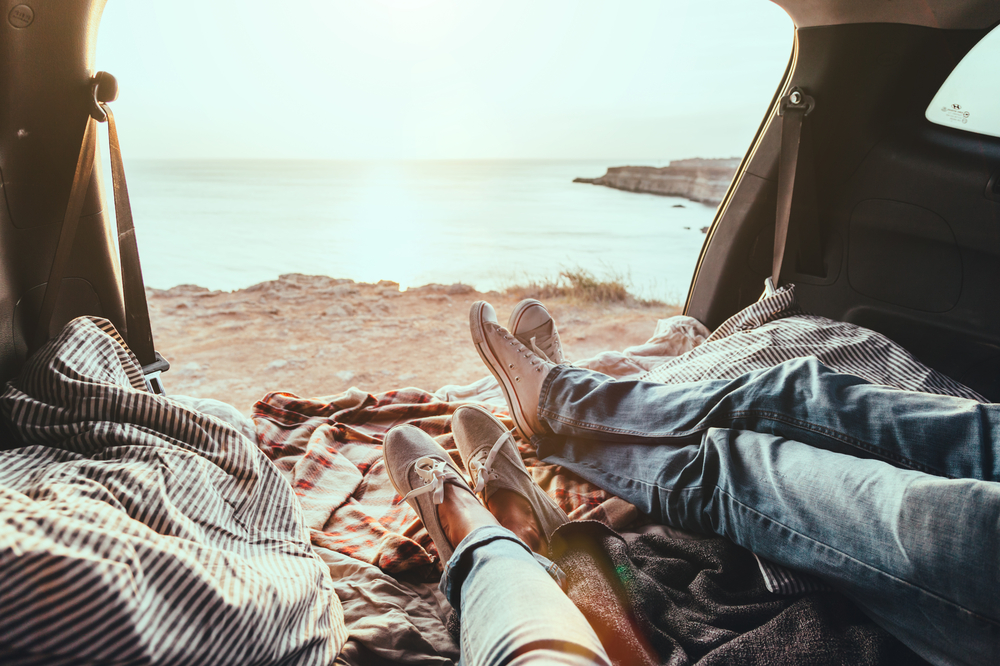 23. Compression Socks are so Helpful
We all think of adding compression socks to our travels when we are flying, but what many don't realize is that compression socks are great for road trip essentials too! These socks work well at keeping blood flowing and help reduce swelling.
During long stretches in the car, you can't get up and walk around. Investing in a pair of socks that can help reduce swelling and encourage your circulation is great for protecting your legs during your drive.
Pick your favorite pair and invest in some fantastic comfort when packing your road trip packing list! With a variety of colors and lengths, these compression socks will save you from camps and irritation during your drive!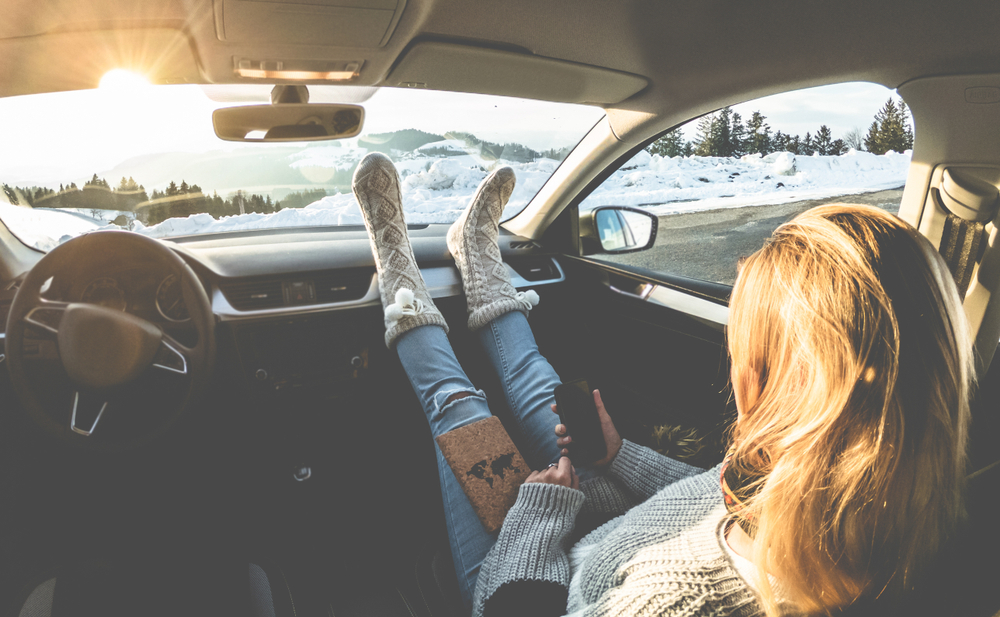 24. Toilet Paper or Wipes Just Incase!
Have you ever been caught short in an un-stocked bathroom at a gas station or rest stop? You don't want to find yourself in that situation! This is why we recommend adding wipes or even toilet paper to your road trip essentials.
The best thing about adding toilet paper or wipes to your road trip packing list is that they can be used for more than one thing– whether you have sticky fingers from snacks, need to do a quick "on the go" shower or wipe down, or you really need to use them for the bathroom, they've got you covered!
Be prepared and add toile paper or wipes to the things you need to pack for a road trip. We promise you won't regret it!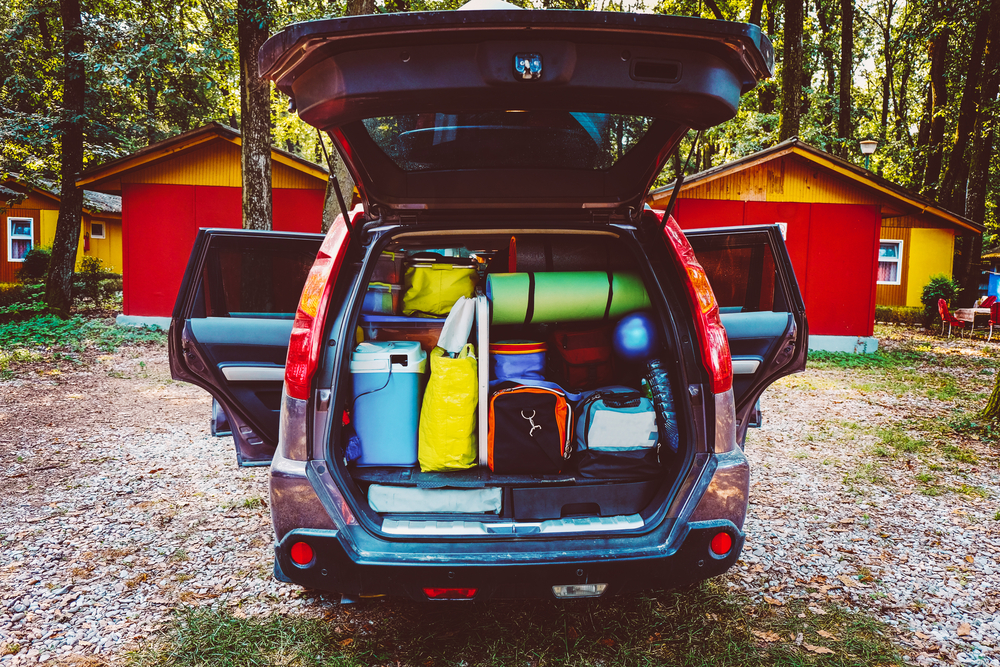 25. License, Registration, and Proof of Insurance Are Necessary
Although packing your license, registration, and insurance policy may seem intuitive, do not forget them– they are road trip essentials! You don't want to end up pulled over, stopped, or caught up on the side of the road without your appropriate contact information.
Having multiple copies and having them in your car or even on your person as you travel can help stop some heartache. You may even want to ensure your car's manual is in your dashboard in case a light pops on and won't shut off!
Although this doesn't require purchasing anything, packing your insurance, license, and registration for your road trip packing list can save you trouble during your adventure and make sure you are safe and secure no matter where you go!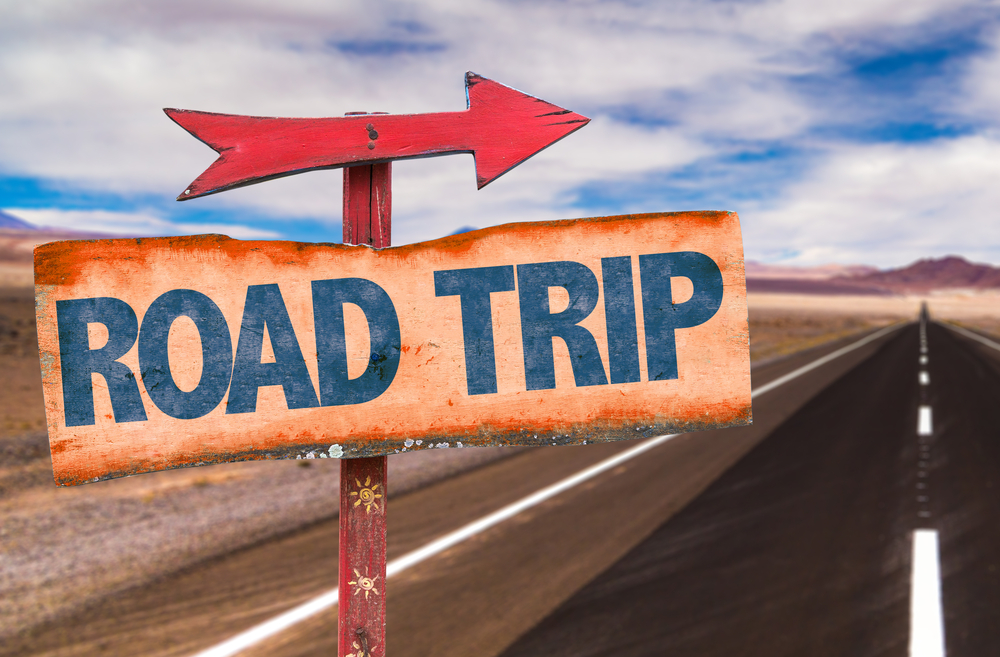 Planning your road trip packing list doesn't have to be as stressful as it sounds. By following these simple tips, you will be well on your way for packing like a pro for your next adventure! These items are often forgotten or overlooked by travelers, but they can save your vacation from heartache if added to your road trip essentials.
Of course, you can always stop in stores and purchase things you may have forgotten, but also consider how stores may not be open or how their stock may be limited. Consider price too! Do yourself a favor and add these items to your road trip packing list and enjoy your vacation!