Are you trying to plan one of the best road trips in the USA?
There is so much to see in this big, beautiful country and a road trip is the best way to do it.
With so many states and so many fantastic routes, there's a lot to choose from. To make your job easier we've put together the best road trips in the USA we feel you shouldn't miss!
From the vistas of the Blue Ridge Parkway to "America's Last Frontier" of Alaska, anywhere across the country is ideal for a road trip.
The diverse landscapes do not just vary from state to state but can be wildly different within a single state.
You truly can't go wrong when choosing an American road trip. Each one will leave you stunned in the best ways for entirely different reasons.
So pack your car and let the adventures begin!
Don't forget to check out our detailed Road Trip Packing List so you don't forget any essentials for your trip!
Now, let's take an in-depth look at the best USA road trips!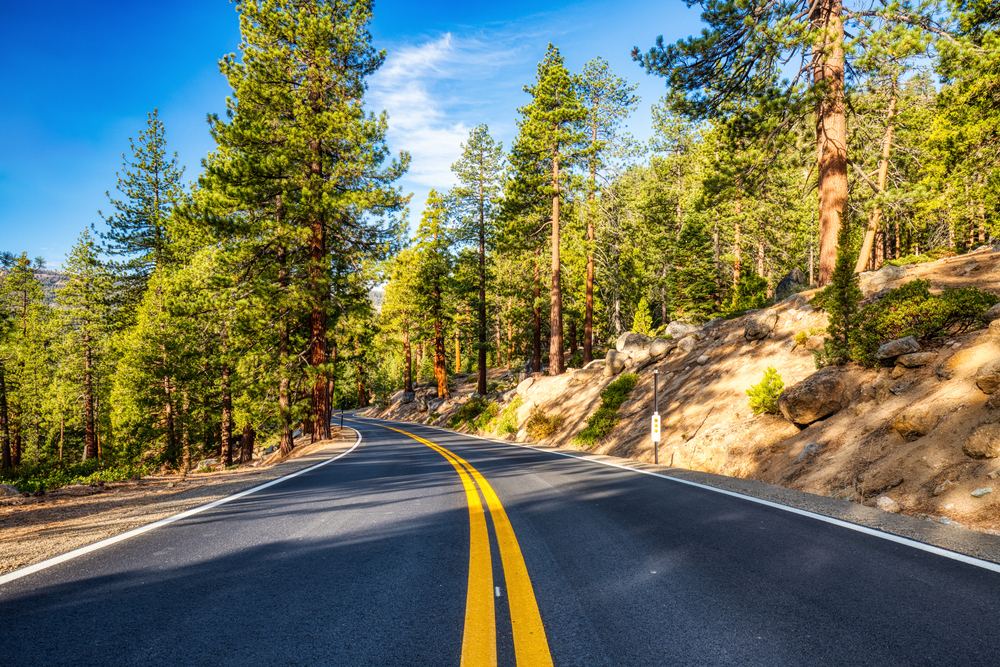 18 Best Road Trips In The USA: Ultimate Bucket List
Northern California Road Trip Highlights
San Francisco
Point Reyes National Seashore
Redwood National Park
Lassen Volcanic National Park
Northern California is incredibly diverse, offering a variety of stunning natural landscapes all along your route.
If you are planning a California road trip, consider heading to Northern California to escape the crowds and heat often found in the southern part of the state.
A Northern California road trip along Highway 101 and down through the Cascades is the perfect way to see some of the best that California has to offer while making memories that last a lifetime.
This road trip will take you to the magical Cypress Tree Tunnel at the Point Reyes National Seashore.
It will have you laughing at the wildly loud sea lions at San Francisco's Pier 39.
Then find yourself wandering the Jurassic Park landscape of Fern Canyon in Redwoods National Park.
You'll also marvel at volcanoes and waterfalls and find marine life in tide pools at low tide.
After all that, we have no doubt you'll be booking your next American road trip to come back for more.
This is also one of our favorite Summer Trips in The USA!!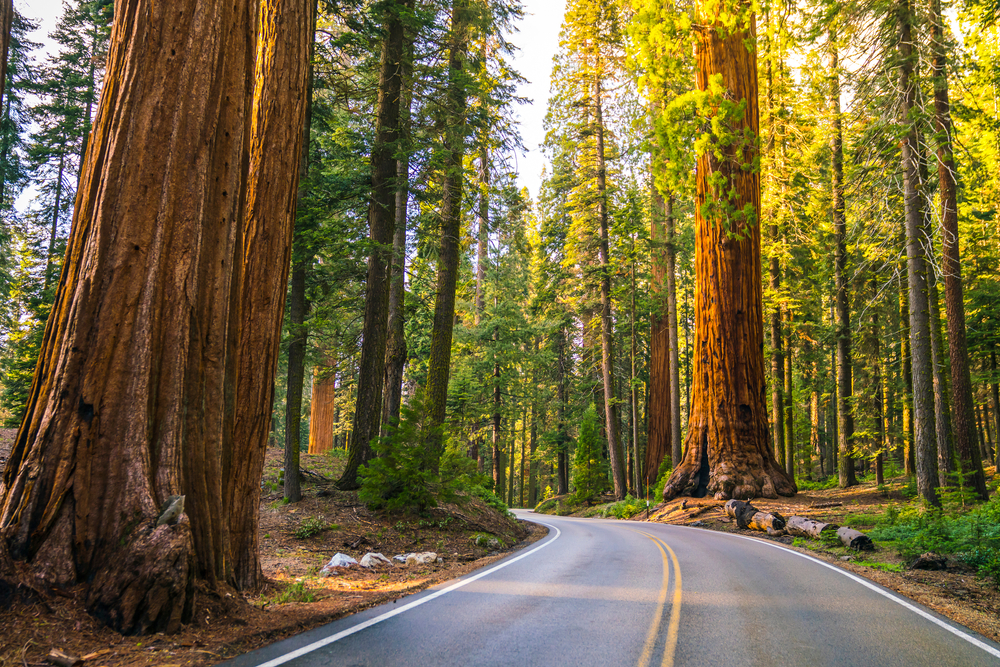 Oregon Road Trip Highlights
Portland
Columbia River Gorge
Samuel H. Boardman State Scenic Corridor
Cannon Beach
We have explored Oregon from top to bottom and have yet to be disappointed by a single location.
Its greenery and waterfalls tend to remind us of Iceland in summer. The natural beauty is stunning.
Our Oregon road trip is written in a clockwise manner around the state, beginning and ending in the Portland area. Feel free to adapt the route to fit your needs.
From the funky, colorful city of Portland, you'll leave the city streets for the marvelous outdoors starting your road trip off right with some of the most spectacular waterfalls you've ever seen.
The magical waterfalls, such as Multnomah Falls, alone are enough to land this among the best road trips in the United States.
You might be surprised to find your road trip route then ventures away from the forests and lacy waterfalls to the unique Oregon desert landscape of the Painted Hills and Smith Rock State Park.
But don't fret, the trip continues with more vibrant blue natural pools, more waterfalls of course, sandy beaches along the coast, and more cities full of life.
The beauty of Oregon's natural landscape is enough to make anyone swoon. We're in love with Oregon and know you will be too.
From the coastal waters to the relaxing hot springs you're in for a marvelous road trip USA adventure.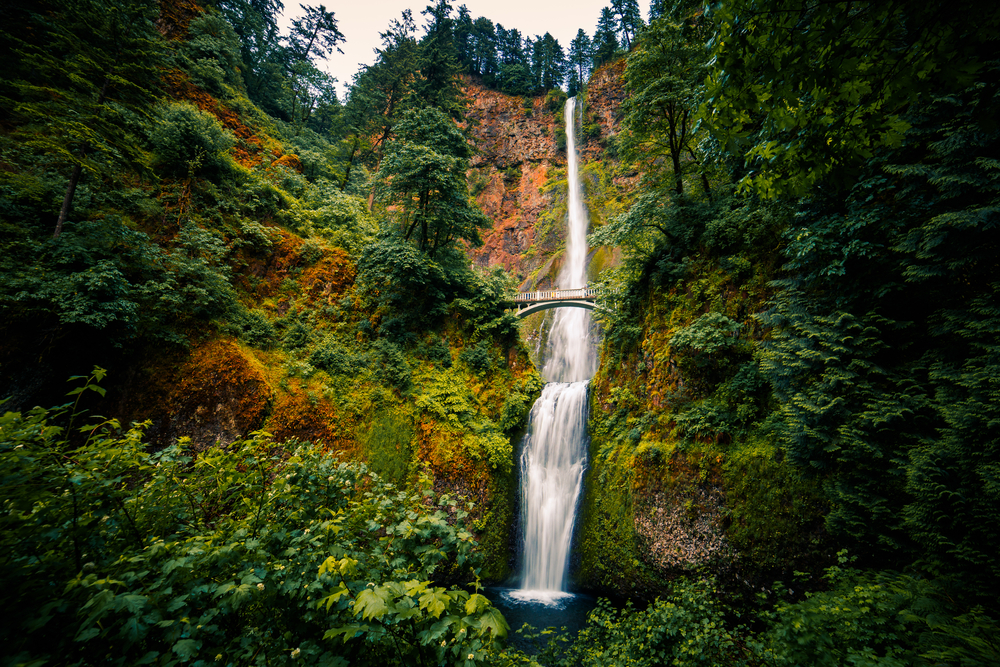 Arizona Road Trip Highlights
Flagstaff
Sedona
Grand Canyon
Arizona is a dry desert with many cacti such as ancient saguaro, photogenic prickly pear, and sun-drenched jumping cholla.
But Arizona is also vibrant red rock, stunning waterfalls, refreshing swimming holes, and lush forests of pine and aspen.
One of the top attractions is Grand Canyon National Park with its awe-inspiring views and challenging trails.
A Grand Canyon road trip is one of the great American road trips for the whole family. Check out the best Grand Canyon hikes.
An Arizona road trip is the best way to experience a slice of each of these remarkably unique landscapes that will have you at a loss for words.
Arizona is perfect for hiking, swimming, and enjoying nature's true beauty and artistry.
Though the state is certainly known for its heat, particularly in Phoenix in the summer, the winter could not be more ideal with highs in the upper 60s.
If the summer heat is particularly fiery, you can always spend more time up north in Flagstaff, Sedona, or at the Grand Canyon where summer temperatures are more pleasant.
These are some of the best stops on any Southwest road trip!
With sunshine all year long and an abundance of outdoor activities, how can you not include this among the best road trips in the USA?
Grab your hiking poles, boots, and sunscreen and soak up the diverse landscapes of Arizona.
Utah Road Trip Highlights
Arches National Park
Canyonlands National Park
Capitol Reef National Park
Bryce Canyon National Park
Zion National Park
There's no better way to experience a handful of the country's most breathtaking national parks in one trip than embarking on a Utah road trip.
The combination of Arches, Canyonlands, Capitol Reef, Bryce Canyon, and Zion National Parks are referred to as the Big 5.
We can assure you they'll occupy a big place in your heart after you return from your great American road trip.
You'll start your Utah road trip with the stunning arches and vast landscapes of Arches and Canyonlands National Park. They'll leave you in awe at the ability of nature to create masterpieces.
In between hopping from one impressive national park to the next, you'll visit state parks and national monuments that easily hold their own among the Big 5.
You'll finish up your journey at the most famous of all the stops, Zion National Park.
The views from Zion's abundance of fantastic hikes are the stuff of dreams. These are some of the best hikes in the USA!
Hop in your car to begin one of the most popular road trips in the USA as you find the best places to visit in Utah!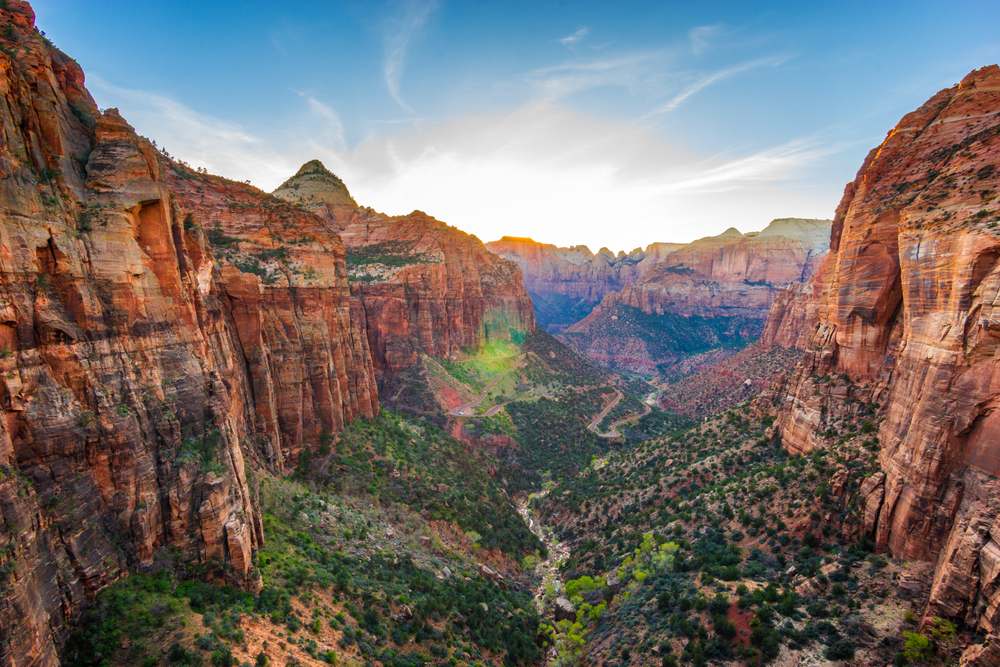 Alaska Road Trip Highlights
Talkeetna
Denali National Park
Seward
There's nothing quite like visiting "America's Last Frontier." We suggest setting aside at least a week for your Alaska road trip, though two weeks would be ideal.
We've visited Alaska multiple times and can assure you that you're in for an incredibly unique experience when visiting the rugged 49th state.
It's one of the best road trips in the USA for lovers of the outdoors. There are plenty of adventures to be had, mountains to explore, and the occasional moose or bear to happen upon.
The highlight of your trip will likely be the unmatched beauty of Denali National Park.
With stunning backcountry hikes, glaciers, and an abundance of wildlife, it offers a dream landscape for nature lovers.
When you're not exploring the national park you'll be visiting charming towns, walking along the beaches, fishing, and enjoying every moment of your drive through the undisturbed natural landscape.
Check the weather, drive safely, respect the animals, and bask in Alaska's wild beauty. This is one of the unique American road trips you will love!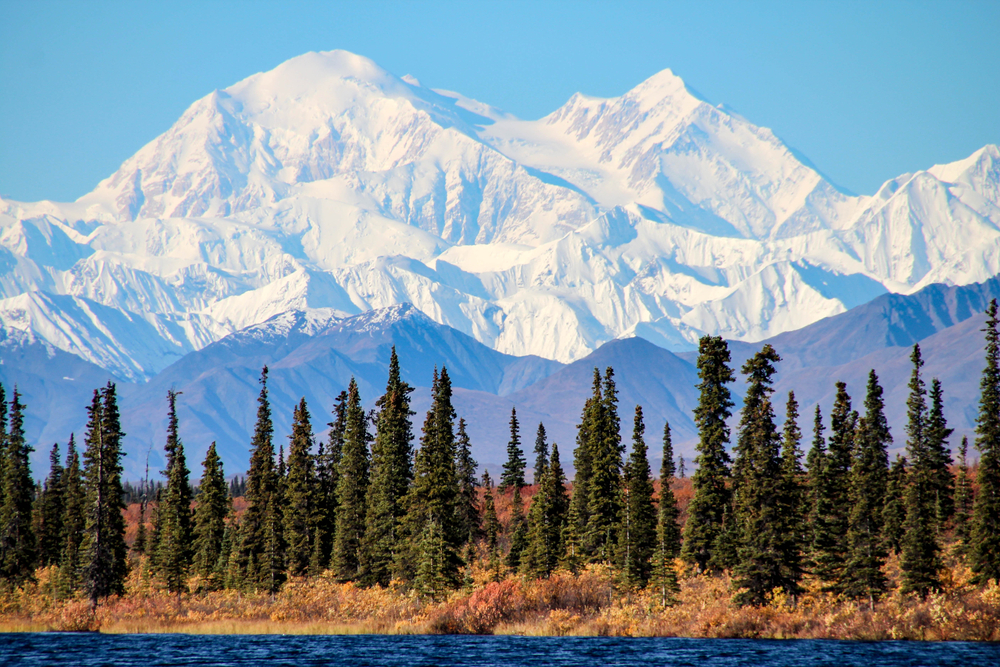 Colorado Road Trip Highlights
Denver
Great Sand Dunes National Park
Mesa Verde National Park
Black Canyon Of The Gunnison National Park
Rocky Mountain National Park
Your Colorado road trip will feature the state's finest, from stunning landscapes and bucket list hikes to delicious food and city vibes.
National parks are also plentiful giving you more than enough opportunities to immerse yourself in Colorado's natural beauty.
You can pick and choose from the stops and activities depending on how much time you have to spend in each place.
Colorado is a playground for adventurers and lovers of the great outdoors. There are a ton of epic hikes in Colorado!
The landscape will continue to change throughout your drive taking you from one spectacular scene to the next.
It is one of the best road trips in the USA because it has a little bit of everything including thriving cities, mountains, lakes, snowshoeing, backpacking, skiing, fishing, sand sledding, ruins, and rock art.
It's hard to go wrong exploring this wonderful state. Bring your hiking shoes and an adventurous spirit. Prepare for the American road trip of a lifetime.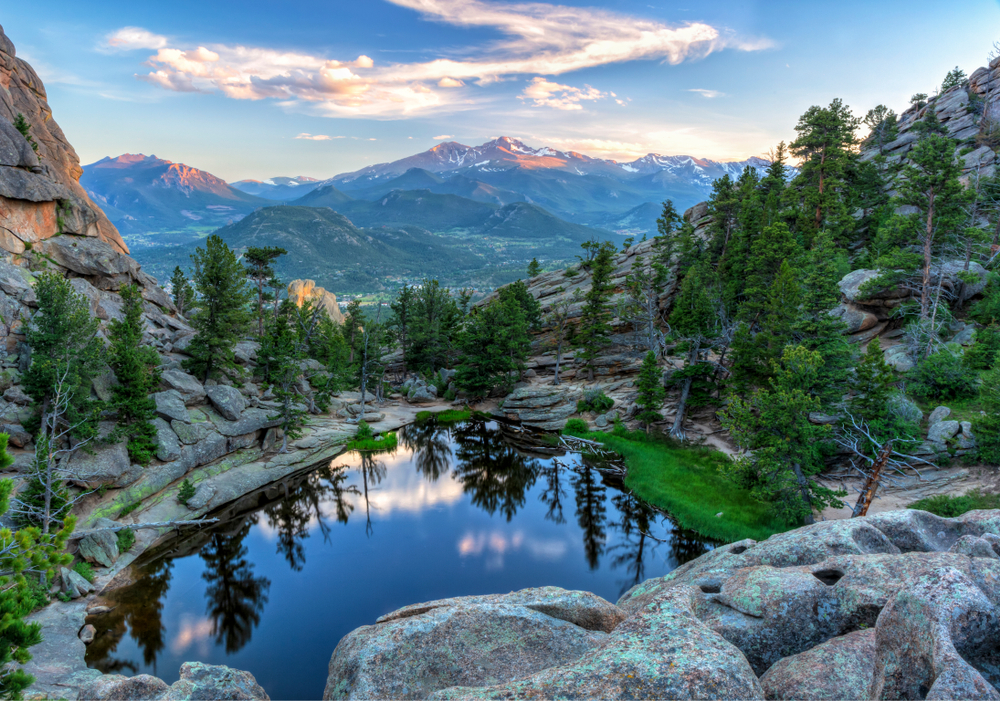 West Coast Road Trip Highlights
Yosemite National Park
San Francisco
Redwood National and State Parks
Portland
Seattle
You are spoiled for choice when visiting the West Coast of the United States.
The scenery is stunning. There are redwoods, beaches, beautiful gardens, and towering rock formations.
Our West Coast road trip route will begin in San Diego and take you up the California coast through Oregon and up to Washington where you will finish this wild ride and fly out of Seattle.
With all it has to offer, you could spend a lifetime exploring the West Coast and still not see and experience everything.
Yosemite's imposing rock domes, San Francisco's iconic bridges, the magic redwood forests, and the funky Portland vibes help make this one of the best road trips in the USA.
There's no shortage of incredible stops that will stay in your memory for a lifetime.
This road trip only brushes the surface of all the spectacular things you can do, but we've chosen stops that will leave you in awe and hungry for the next adventure.
So pack up your bags and start the car because you're about to embark on one of the most unforgettable US road trips.
If you only want to do part of this trip, you will love our San Francisco to LA road trip for a shorter version!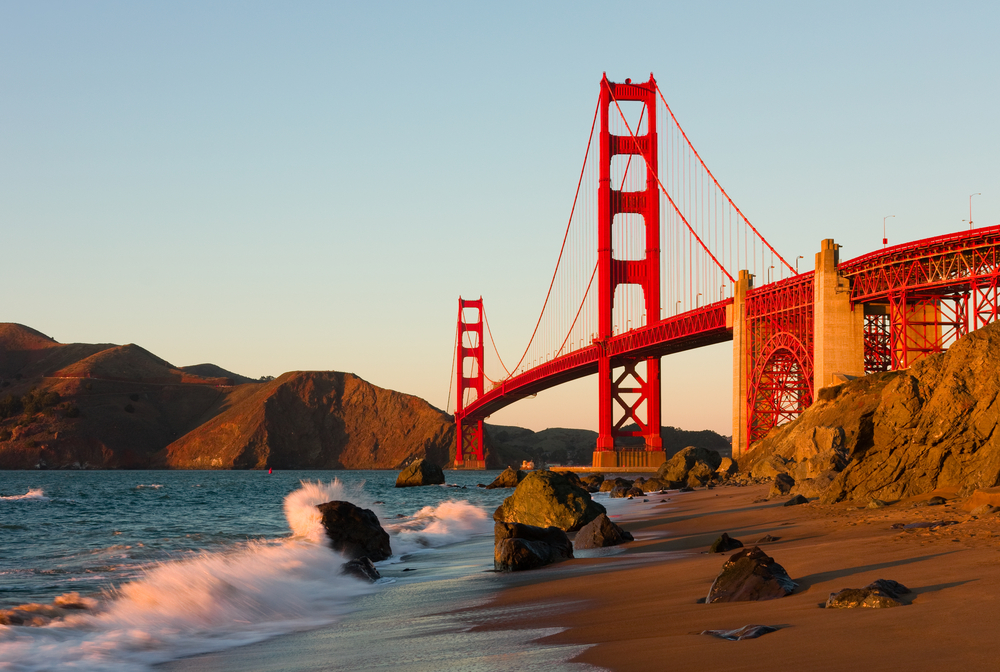 Oregon Coast Road Trip Highlights
Samuel H Boardman State Scenic Corridor
Bandon
Oregon Dunes National Recreational Area
Devil's Punchbowl State Natural Area
Cannon Beach
The Oregon coast is made of charming coastal towns, the famous haystack rock of Cannon Beach, natural rock bridges, secluded beaches, crashing waves, and historic lighthouses.
While traveling in Oregon, you will walk in the footsteps of explorers Meriwether Lewis and William Clark, explore sea caves at low tide, and witness the tempestuous ocean sucking water into its depths.
An Oregon coast road trip is the perfect getaway to calming natural landscapes where you'll be met with impressive ocean views and refreshing salty air.
There's nothing like a good walk along the beach to keep spirits high as you road trip the USA.
From scenic viewpoints to an abundance of hiking trails in Oregon, there's no shortage of things to do along the coast.
We guarantee you won't regret basking in the beautiful natural landscapes of the Oregon coast on one of the best USA road trip routes.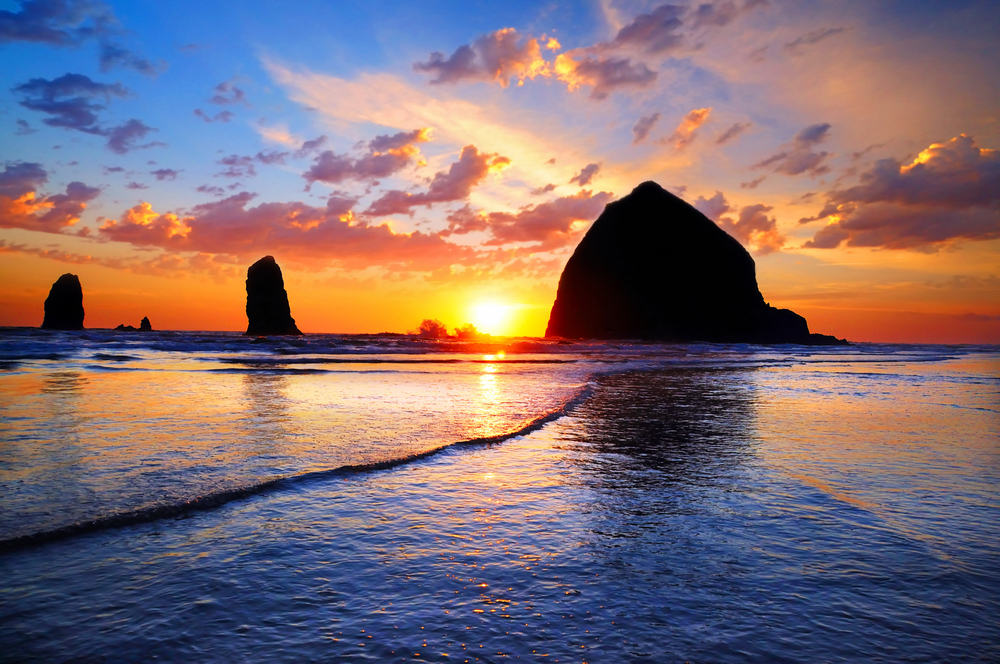 Idaho Road Trip Highlights
Boise
Shoshone Falls Park
Craters of the Moon National Monument
Sawtooth National Forest
Coeur d'Alene
If you have never visited Idaho, now is the time to add it to your bucket list!
This Idaho road trip will show you everything this beautiful state has to offer including gushing waterfalls, lush forests, vibrant cities, and so much more!
Idaho is a nature lover's dream with so many amazing landscapes to explore.
At Shoshone Falls Park, you will find a 212-foot waterfall with multiple streams cascading into an epic gorge. There are many trails with different viewpoints to discover.
Then, at Craters of the Moon National Monument, you will feel as if you have crash landed on the moon as you walk around a rugged landscape formed by ancient lava flows.
Sawtooth National Forest offers a ton of outdoor recreation such as hiking, swimming, boating, and soaking in some of the best hot springs in the USA.
In winter, Idaho is also one of the best places for skiing in the USA.
End one of the most adventurous USA road trips by relaxing in the lake town of Coeur d'Alene. Spend the day unwinding at the beach or taking a boat tour.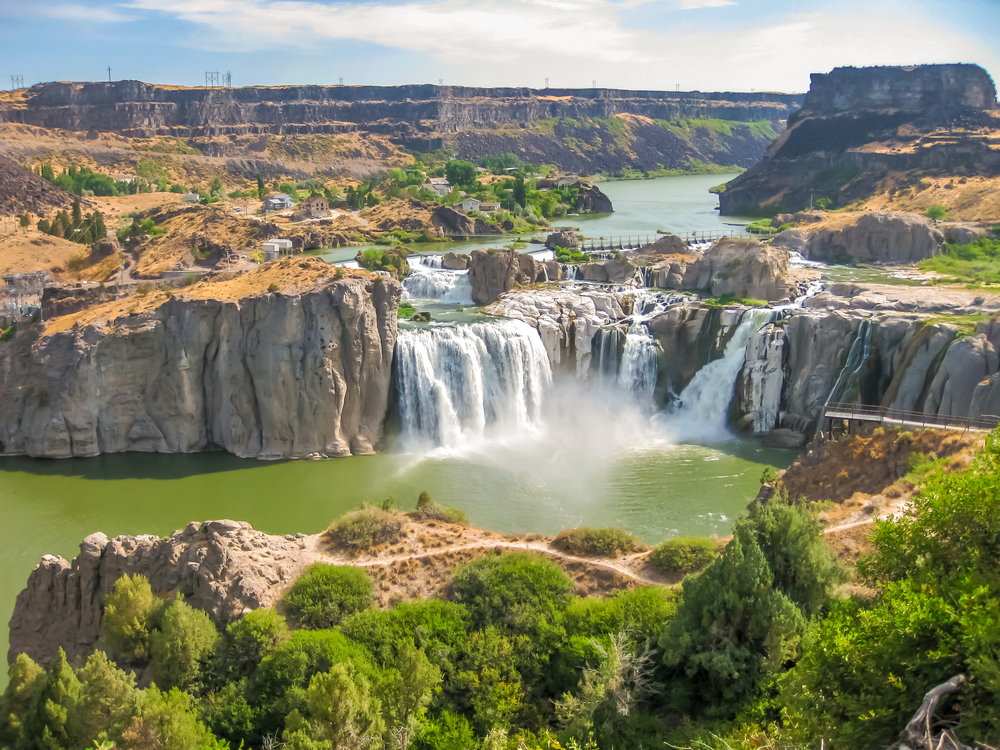 Yellowstone Road Trip Highlights
Old Faithful
Mammoth
Boiling River Hot Springs And Lamar Valley
Tower Fall And Dunraven Pass
Yellowstone National Park is found on many bucket lists and is a dream destination for many.
It has an abundance of jaw-dropping sights, and our Yellowstone road trip has all the best ones.
Taking a trip to Yellowstone is the ultimate summer activity.
Along the way to the famous national park, you'll stop in Salt Lake City, Jackson Hole, and Grand Teton National Park where you can hike, camp, drive scenic routes, and watch the magical landscapes reflect on the water of incredibly picturesque lakes.
But the highlight of this trip that lands it among the best road trips in the USA is of course Yellowstone National Park.
If you're planning a Yellowstone road trip, you've no doubt heard of Old Faithful, the famous geyser charming crowds with its powerful eruptions.
But the spectacular national park has so much to offer besides its iconic geyser.
From flowing waterfalls and hikes through pine forests to glorious meadows and relaxing hot springs, you can't help but be swept up in the beauty of this natural wonderland.
Overall, Yellowstone is one of the best places for road trips in the USA!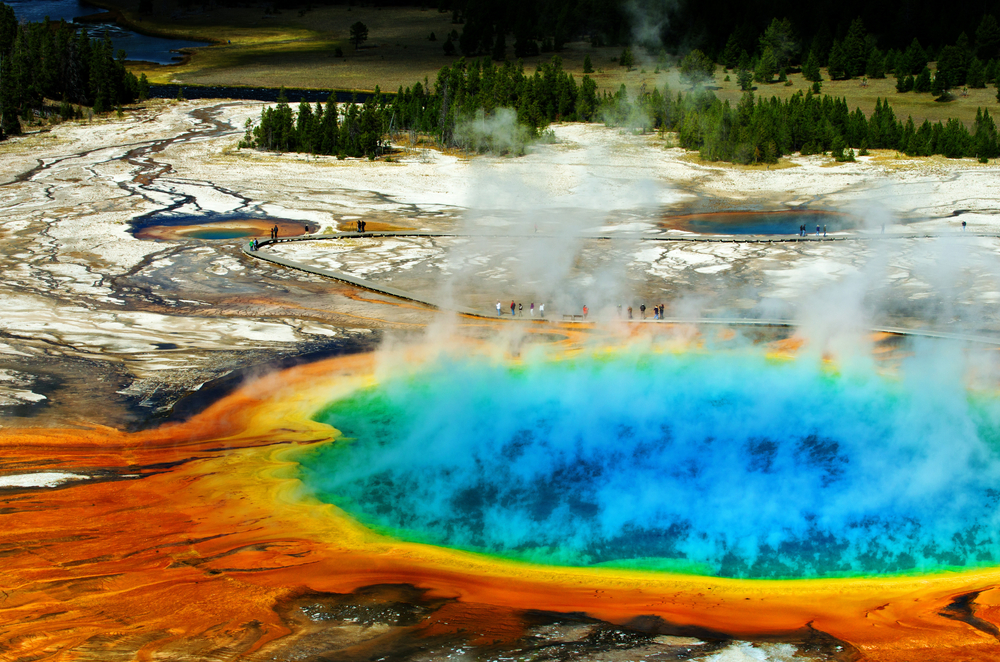 Florida Road Trip Highlights
Ginnie Springs
Orlando
Miami
Everglades National Park
Key West
Dry Tortugas National Park
Millions of people flock to Florida each year to enjoy the tropical weather and beaches as well as the many amusement parks, fun cities, and national parks.
Florida is one of the best road trips in the USA if you're looking to combine plenty of rest and relaxation with the chance to release your inner adventurer.
Though your Florida road trip begins in the large city of Jacksonville, you'll quickly find yourself heading for less populated territory as you venture to the coastal city of Saint Augustine.
Next, Ginnie Springs is your first dose of the beautiful outdoors where you can snorkel, kayak, or just relax in an inner tube while the water gently carries you along.
Perhaps you've always had the urge to swim with manatees. That can be done at the Crystal River National Wildlife Refuge.
Or maybe you're looking forward to taking the kids to Disney World in Orlando. Don't forget to read our tips for planning a Disney trip!
The incredibly scenic hiking trails at Everglades National Park await you as well.
There's no shortage of adventures to be had during your Florida road trip. Pack your bags because it's time to make some memories in the Sunshine State!
If you want to do an even cooler trip, why not add on a Florida Keys Road Trip?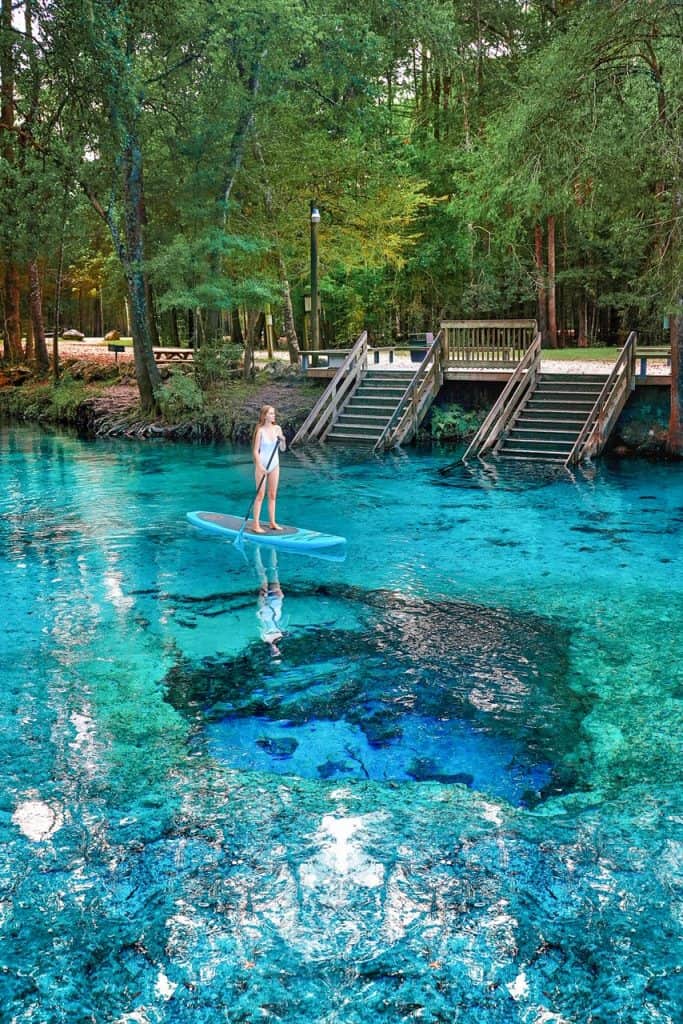 East Coast Road Trip Highlights
Acadia National Park And Bar Harbor
Boston
New York City
Washington DC
St. Augustine And Key West
Our East Coast road trip has you starting in Maine, passing through New York, then down to the Carolinas and Florida.
You're in for a real treat exploring the wide variety of sites and attractions that the East Coast has to offer.
From the mountain peaks and pristine beaches of Acadia National Park to the rich history of cities such as Boston, New York City, and Washington DC, there's more to do along the coast than you can possibly see in one trip.
If you are doing this trip during winter, you can catch Christmas In Washington DC as well as Boston and NYC which is incredible and night of lights in Saint Augustine is incredible too!
The stops we've laid out for you make for the perfect introduction to one of the best road trips in the USA.
Though the West Coast is more widely known for its stunning natural beauty, the East Coast has plenty of gems of its own.
It should not be counted out when contemplating which USA road trip routes are worth your time.
Set out to begin this truly wild American road trip ride.
Prepare for your belly to be filled with the most delicious food, your eyes to feast on the most mesmerizing landscapes, and your heart to fall in love with the East Coast.
Whether you are looking for a weekend getaway on the East Coast or want a longer trip, you will have fun!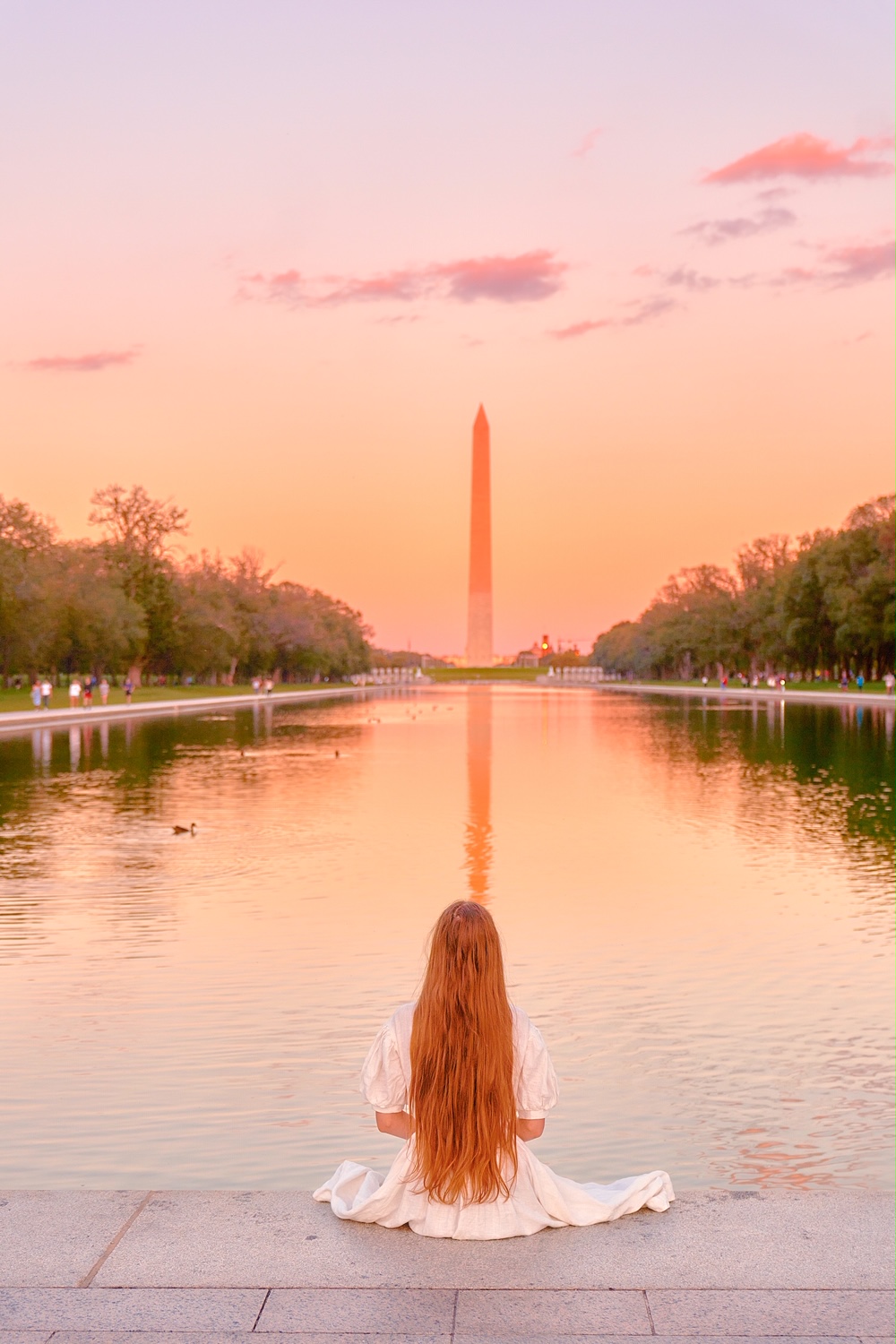 Montana Road Trip Highlights
Glacier National Park
Yellowstone National Park
Helena-Lewis and Clark National Forest
Montana is among the best road trips in the USA because of its captivating wilderness, national parks, and wildlife.
It's the ultimate location for those who love the outdoors and hiking.
Your Montana road trip will take you from Glacier National Park to Missoula with irresistible stops in between.
You'll see sights such as the famous geyser Old Faithful in Yellowstone National Park and the beautiful freshwater spring of Giant Springs State Park.
The landscape will continue to change throughout your drive as you pass from one spectacular location to the next.
The state has a little bit of everything including charming cities with interesting local shops and cozy small-town vibes, miles upon miles of great hiking trails, and fantastic places to eat, stay, and relax.
If you're ready to road trip the USA and explore the great outdoors of Montana, pick your favorite road trip playlist and hop in the car.
With so many great things to do in Montana, you will not want to leave!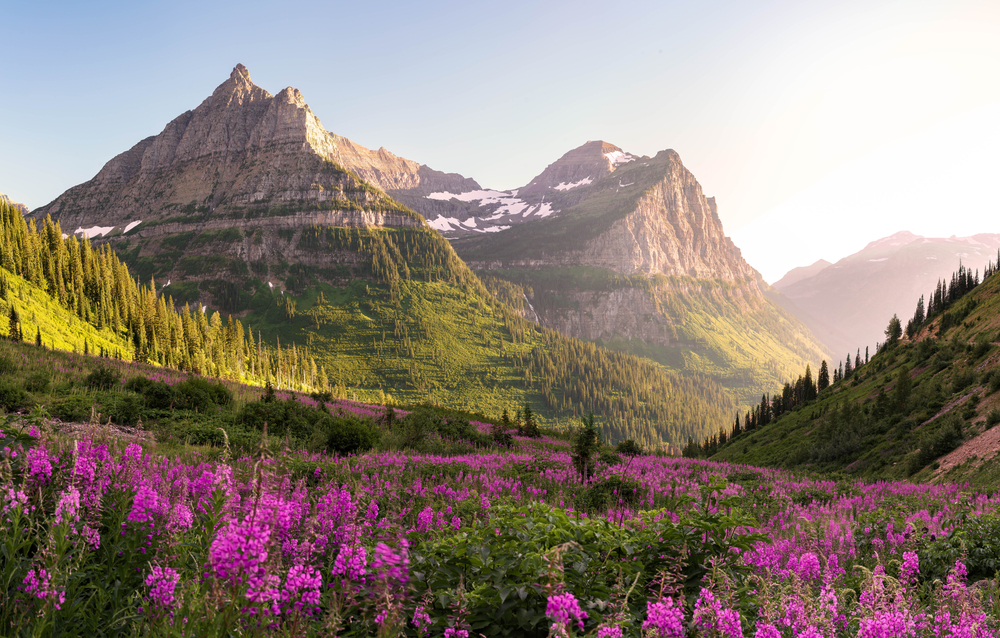 New Mexico Road Trip Highlights
Santa Fe
Chaco Canyon
White Sands National Park
Carlsbad Caverns
This New Mexico road trip is among the best road trips in the USA with an impressive three UNESCO World Heritage Sites along the route.
You'll start your road trip in Albuquerque where you'll want to visit Old Town and grab a margarita at Monroe's.
From there you'll be cruising down desert roads.
Admire artwork at the Georgia O'Keeffe Museum in Santa Fe.
Check out the turquoise jewelry in Madrid or stargaze at the Very Large Array.
Hike the dramatic dunes at White Sands National Park. Make sure to explore the caves at Carlsbad Caverns as well.
There's even a place called Pie Town! There's nothing better than loading up on delicious pies before heading to the Gila National Forest.
Chaco Canyon, home to a remarkably large collection of ancient ruins including Pueblo Bonito, Chetro Ketl, and the Fajada Butte to name a few, is just one example of the rich history of New Mexico.
Beyond that, the state is incredibly unique. For starters, there's an International UFO Museum and Research Center dedicated to the famous Roswell crash of 1947.
Whether you're looking for family-friendly activities, outdoor adventures, or fascinating small towns, New Mexico has something for everyone.
This is the best road trip itinerary in the USA for hidden gems and unique landscapes!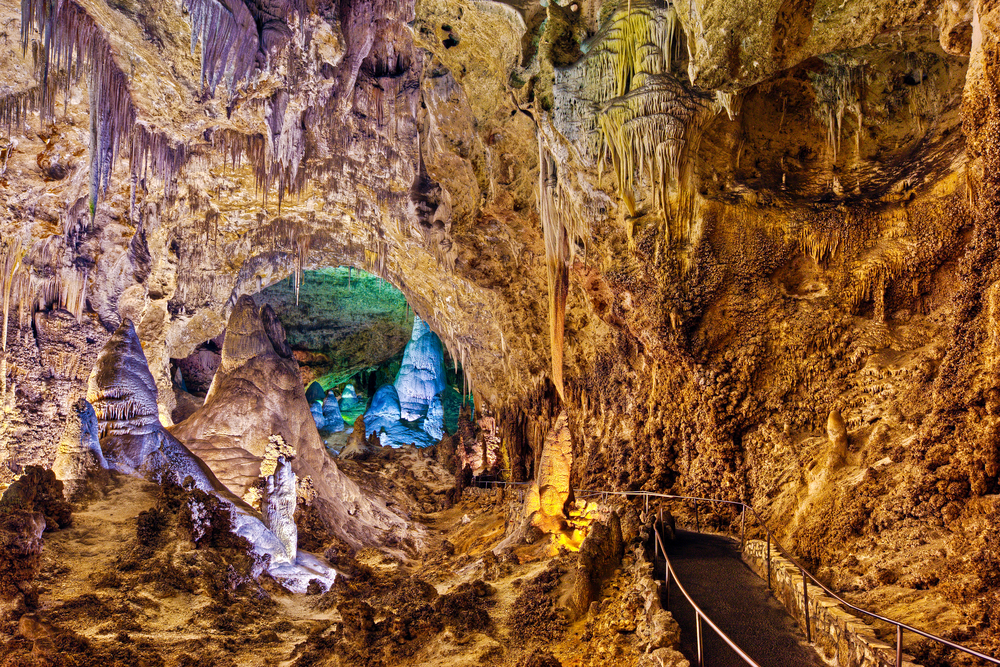 Blue Ridge Parkway Road Trip Highlights
Skyline Drive And Shenandoah National Park
Mile High Swinging Bridge at Grandfather Mountain
Great Smoky Mountains National Park
Looking for one of the best road trips in the USA for scenic views and vibrant fall foliage?
The 469 miles of the Blue Ridge Parkway might just be the perfect adventure for you.
Mile markers will make it easy for you to identify stops along the way.
From Shenandoah National Park to the Great Smoky Mountains National Park and everything in between, you're in for some of the most idyllic views you've ever seen.
It's every perfect Bob Ross landscape painting times ten and in real life.
This is the kind of trip where you'll enjoy your time spent in the car soaking everything in with your eyes just as much as the time spent exploring each destination.
To really savor every moment we suggest taking a week to complete your trip, but the route can easily be enjoyed with fewer days as well.
Though this road trip passes through the occasional town or city, its highlights are the natural beauty of the area.
You will see so much from cascading waterfalls and endless mountain ranges to mist hanging over mountain peaks and forests and encounters with wildlife.
There is an abundance of fantastic hiking opportunities showcasing the landscape along the route in addition to picturesque camping spots.
This Blue Ridge Parkway road trip is peaceful and soul-stirring, and we suspect it might make its way to the top of your US road trips list.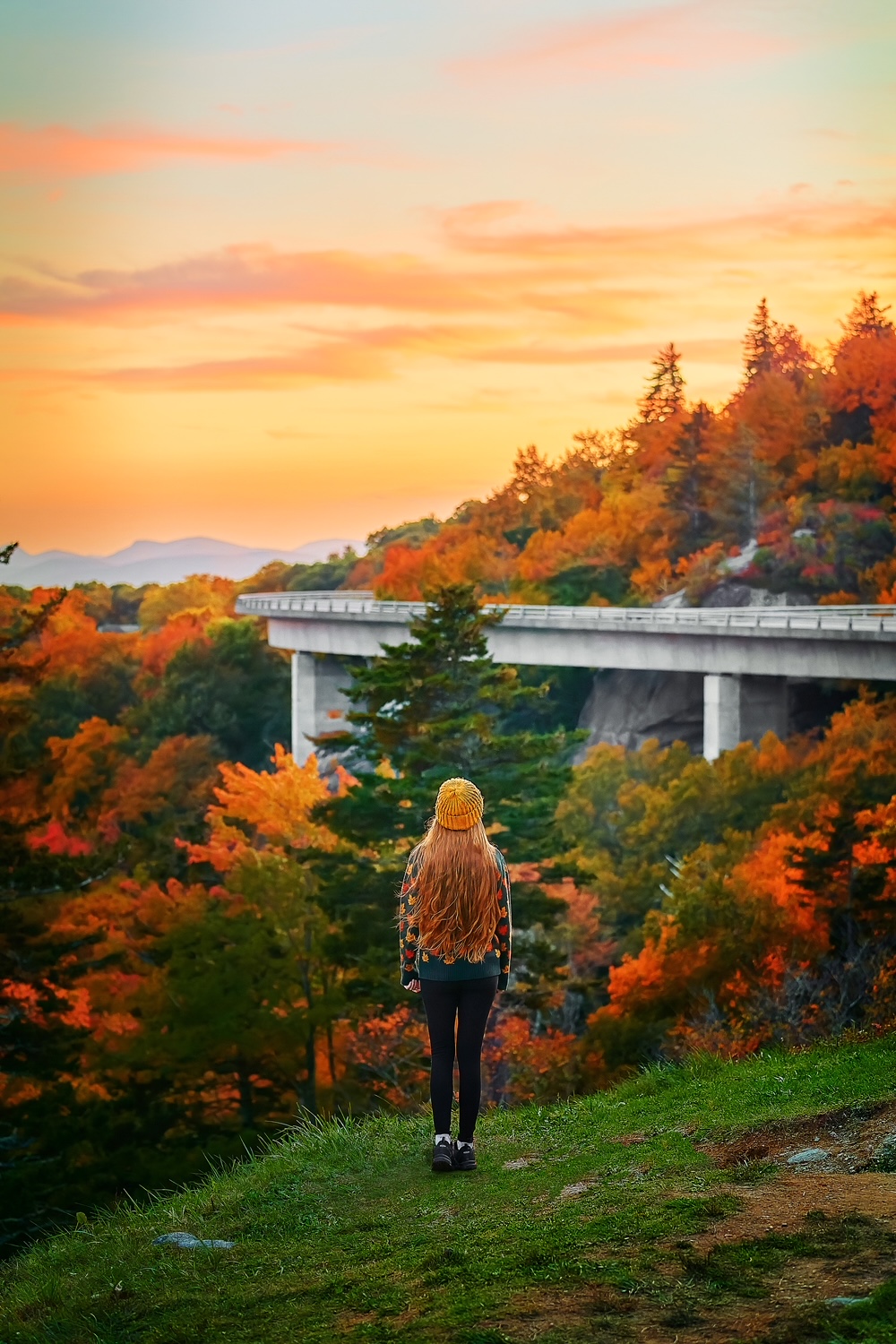 Route 66 Road Trip Highlights
Chicago
St. Louis
Cadillac Ranch
Petrified Forest National Park
Santa Monica
For the classic cross-country road trip in the USA, set out on the iconic Route 66.
Stretching for 2,400 miles between Chicago, Illinois, and Santa Monica, California, this route is one of the best ways to experience the country.
You will see a mix of lively cities, beautiful nature, and unique road side-attractions.
Whether you drive the whole route or only a portion, you will have a great time finding photo-worthy stops.
Spend time in Chicago before heading south to St. Louis, Missouri, and Gateway Arch National Park.
As you continue towards California, you will find many one-of-a-kind attractions such as Cadillac Ranch, the Ed Galloway Totem Pole Park, Elmer's Bottle Tree Ranch, and more.
Stop at Petrified Forest National Park in Arizona to appreciate a diverse and colorful landscape including fossilized wood.
Once you make it to Santa Monica, enjoy some time at the pier and take in views of the Pacific Ocean.
You will agree this is the best road trip across the United States!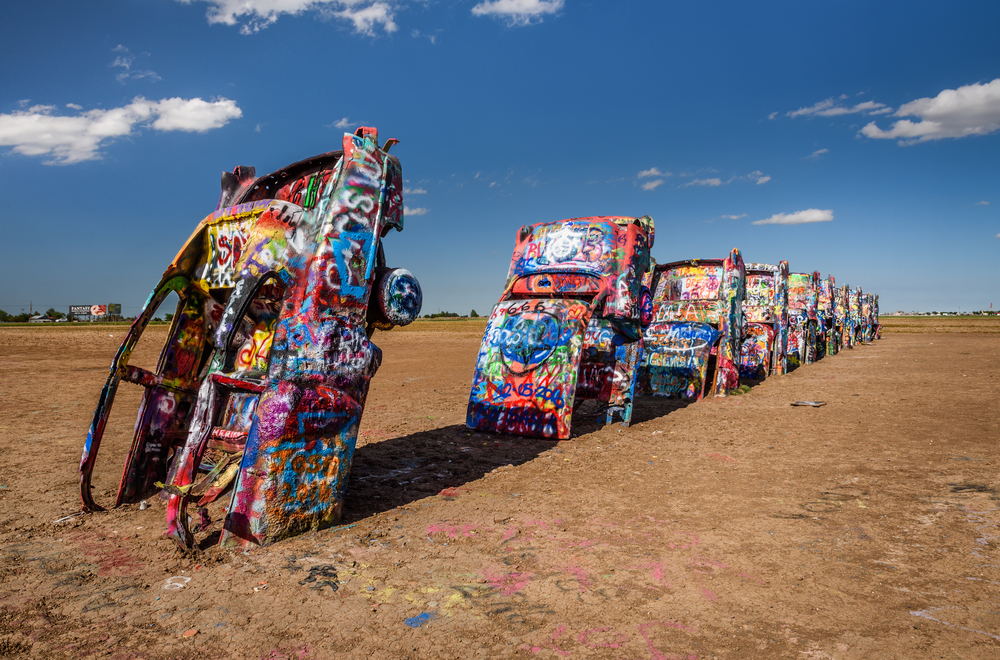 Big Sur Road Trip Highlights
Carmel-by-the-Sea
Point Lobos State Natural Reserve
Bixby Creek Bridge
Julia Pfeiffer Burns State Park
A Big Sur road trip is one of the best ways to take in the majesty of the central California coast.
Big Sur is about 90 miles of undeveloped coastline perfect for disconnecting and discovering gorgeous natural scenery such as pretty waterfalls, pristine beaches, and epic rock formations.
There are many places to stop on this US road trip.
Start in the adorable Carmel-by-the-Sea, one of the best small towns on the West Coast. Check out the shops and art galleries before heading to the historic Mission San Carlos Borromeo de Carmelo.
You will have an amazing time photographing and hiking in Point Lobos State Natural Reserve. Keep an eye out for wildlife such as sea lions, sea otters, and seals.
For beach views and an amazing waterfall, visit Julia Pfeiffer Burns State Park. The 80-foot McWay Falls cascades directly into the ocean.
As you enjoy one of the best driving trips in the USA, you will fall in love with the sweeping views of where the mountains meet the ocean.
This might be the best American road trip route for ocean lovers!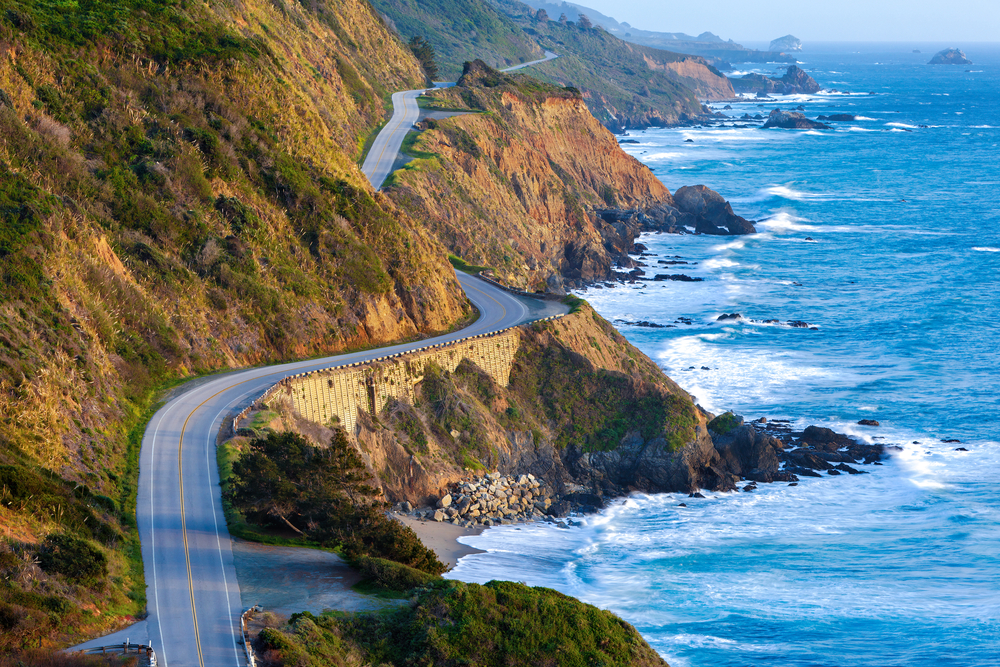 New England Fall Foliage Road Trip Highlights
Kancamagus Highway
Woodstock, VT
Acadia National Park
The Berkshires
New England is one of the best places to experience fall in the USA. If you want to see fiery colors, add this region to your bucket list!
New England consists of Connecticut, Maine, Massachusetts, New Hampshire, Rhode Island, and Vermont.
As you road trip through these small states in the fall, you will see many cute, small towns and state parks full of color.
Make sure to check the fall foliage report before setting out as peak time varies from year to year.
There are so many scenic drives to choose from including Kancamagus Highway in New Hampshire, Route 100 in Vermont, and Coastal Route 1 in Maine.
Some of the best New England towns for fall foliage include Stowe and Woodstock, Vermont; Meredith, New Hampshire; and Litchfield, Connecticut.
The Berkshires region of Massachusettes is also pretty with small towns and farms.
As you drive, make stops for scenic hikes, jaw-dropping overlooks, fun apple orchards, and delicious pumpkin-flavored donuts!
Traveling to New England in the fall is truly one of the best road trip ideas!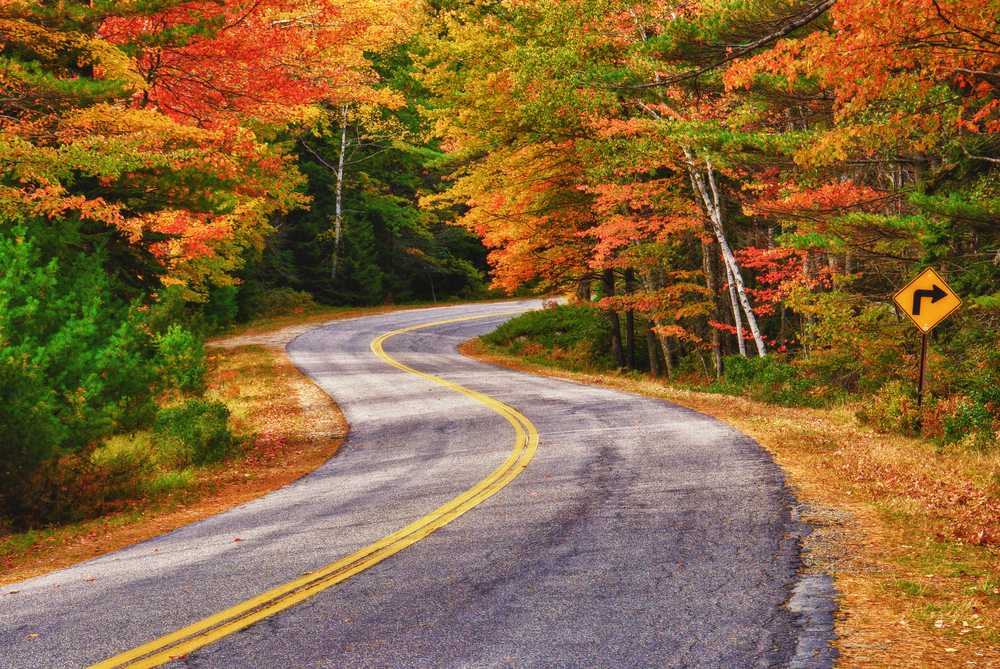 We hope you have found US road trip inspiration!
You will experience the rich cultures, powerful history, and jaw-dropping landscapes that make the country so wonderful.
These are America's best road trips for a reason, and we have no doubt that as you wind your way through the country with your favorite road trip playlist blasting from the speakers, you'll see why.
If you have any questions or would like to tell us about your own American road trip experiences, feel free to comment below.