Are you looking for the best spots to go skiing in the USA? Then you'll want to check out this guide for the top ski resorts in America to help you plan your perfect cold weather vacation!
There's no denying that skiing is one of the most enjoyable and refreshing winter time activities. Between the thrill of the sport itself, the beauty of fresh powder on the ground, the adorable and quaint ski towns, and the coziness of curling up with some hot cocoa at the lodge, the best ski resorts in the USA offer something fun for everyone.
With so many places to go around the country, it can feel a little overwhelming trying to decide which one to go to. Luckily for you, we've narrowed down the options to make this comprehensive list of the best places to go skiing in the USA. Grab your snow boots, and let's go!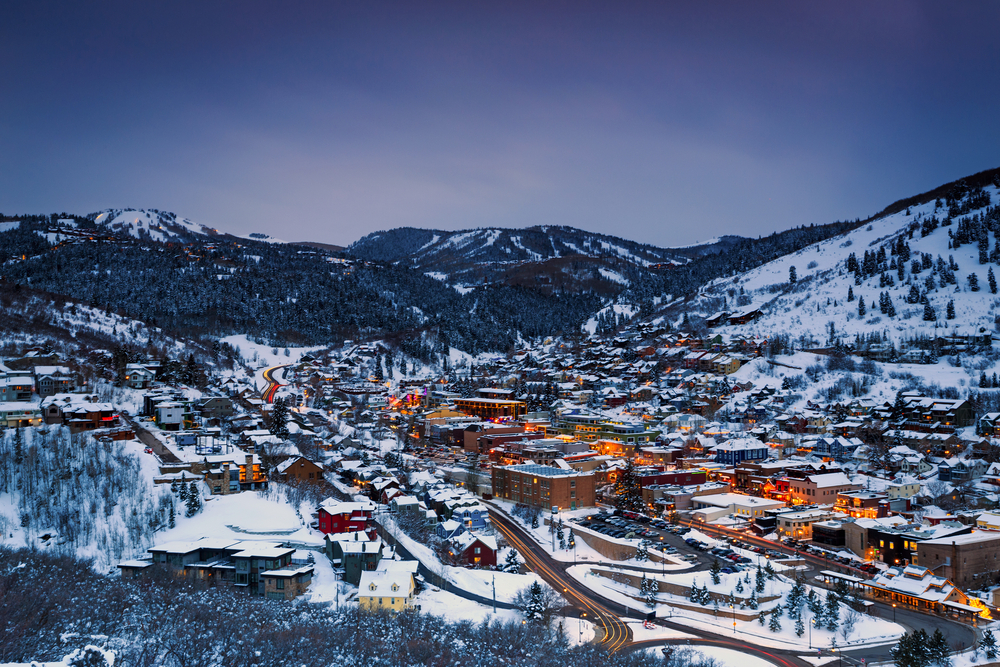 15 Epic Places To Go Skiing In The USA
Vail
Nestled in the heart of the Rocky Mountains, Vail is perfect for anyone looking for a luxury skiing experience. With over 5,000 ski-able acres, it is not only one of the best places for skiing in the USA, it is also Colorado's largest.
Whether you're looking to challenge yourself or visit with the whole family, it offers a diverse selection of slopes for skiers of all levels. It is the perfect thing to add to your winter bucket list!
If you want something to do between hitting the slopes, the European-inspired architecture of the town makes it a great backdrop for some excellent shopping and high-end dining, not to mention the vibrant nightlife. If a Vail vacation sounds like your cup of tea, check our perfect Colorado road trip itinerary for more stops along the way!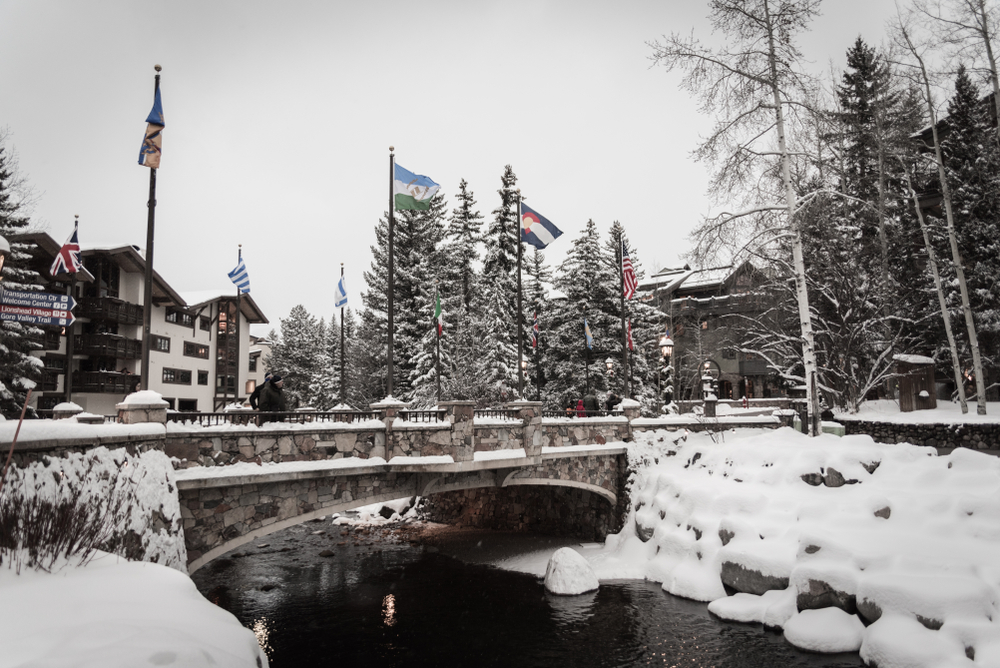 Montana Snowbowl
Are you looking for a skiing challenge? Then Montana's hidden gem, Snowbowl, might be the ski stop for you. At only 12 miles away from the historic town of Missoula, this awesome place to go skiing is a great stop on any Montana road trip.
Snowbowl boasts some seriously steep slopes, including a 2600 feet vertical drop! The reasonable price of the lift passes (starting at $49 for adults) as well as the nearby economical hotels make it an appealing spot for advanced skiers.
If a rustic lodge is more your speed, try staying at the quaint Gelandesprung Lodge at the base of the mountain. It has some of the most affordable accommodations of any ski resort in America.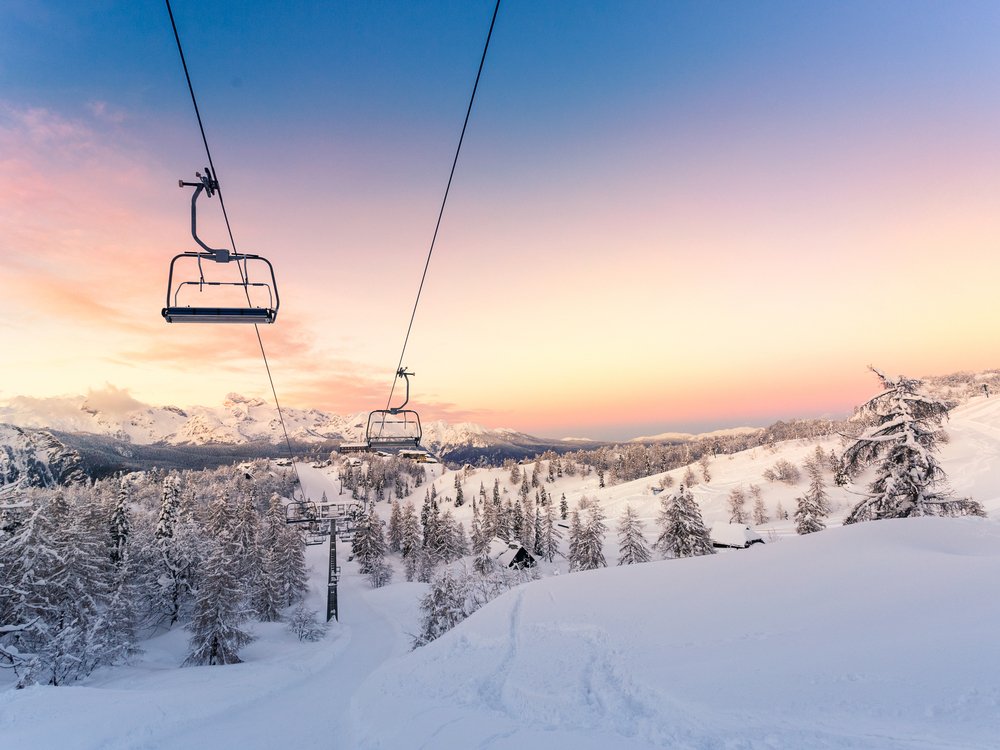 Sugar Mountain
Picture this: you and the family skiing atop the beautiful Blue Ridge Mountains on some of the most well-maintained ski slopes in the USA. Sugar Mountain in North Carolina has all this and more.
While North Carolina might be more well known for its great road tripping stops than its snow fall, Sugar Mountain continually works to coat their slopes in the best quality man-made snow. Their knowledgeable ski school and 21 trails of various difficulties make it a great place to go skiing for all ages.
Consider planning your vacation around Sugar Mountain's famous SugarFest. Usually held in December, this event has ski demos, live music, Olympic skiers doing demonstrations, and even fireworks. You won't want to miss it!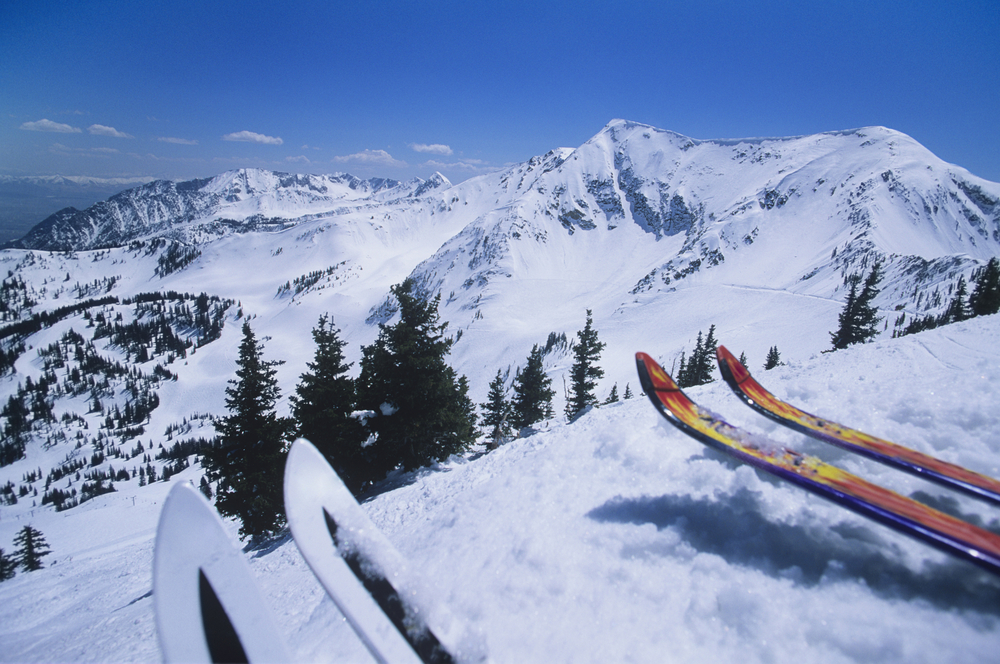 Gatlinburg
Gatlinburg is the ONLY ski spot in the whole of Tennessee, if you can believe it. The town itself is known as the gateway to the Great Smoky Mountains, while its Ober Gatlinburg Amusement Park and Ski Area is a favorite regional attraction.
The warmer months are reserved for Ober Gatlinburg's amusement park, but once winter hits, this resort is all about the winter sports. This top American ski resort features 10 ski trails with 100% man-made snow. We recommend taking the Aerial Tramway from downtown Gatlinburg (and all its fun activities). You'll soar over 2 beautiful miles before landing right in the ski area.
If the gorgeous drive to Gatlinburg makes you want to explore more of this breath-taking state, make sure to check out our ultimate Tennessee road trip itinerary.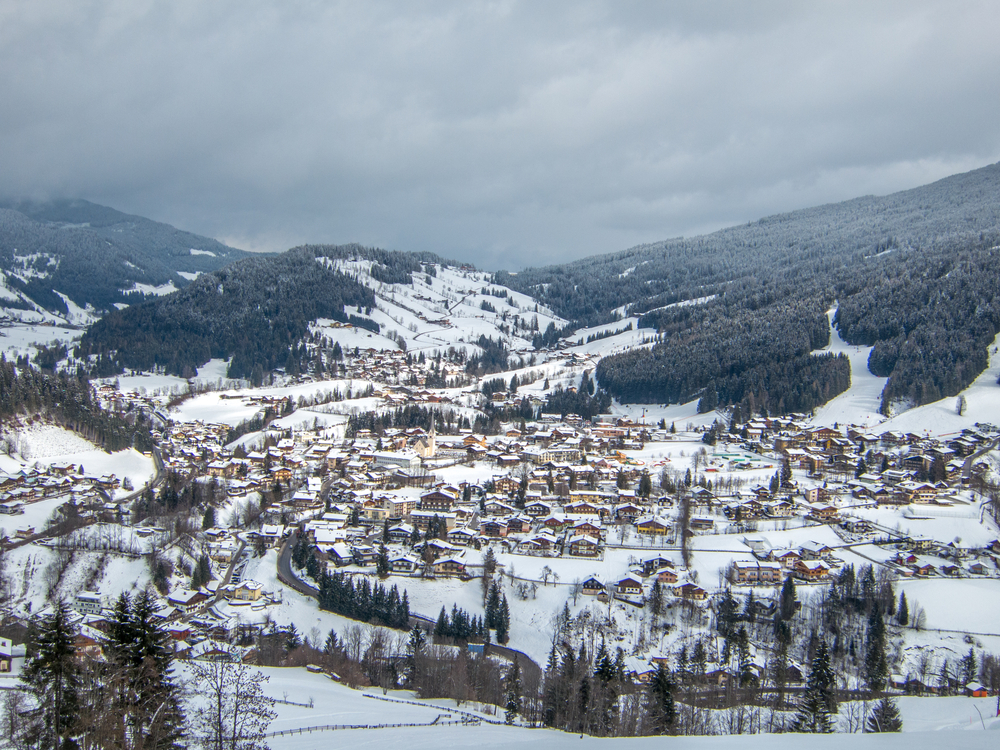 Gore Mountain
After 8 decades in operation, Gore Mountain in New York is still one of the best places for skiing in the USA this side of the Mississippi. It has 4 peaks and 9 mountain sides to choose from, with 14 lifts and 97% snow making that produces fresh powder regularly.
The slopes themselves are also awesome! The longest run measures 4.4 miles. With a 2500 feet vertical drop, it has the 6th greatest drop in the east. Kiddos 6 years old and under ski free, and they offer top notch lessons. Hungry after some serious exertion? Six on-mountain eateries will keep will keep you and your family fed and ready for another round.
Gore Mountain is just an hour outside Saratoga Springs, making it the perfect side trip when on an epic New York road trip!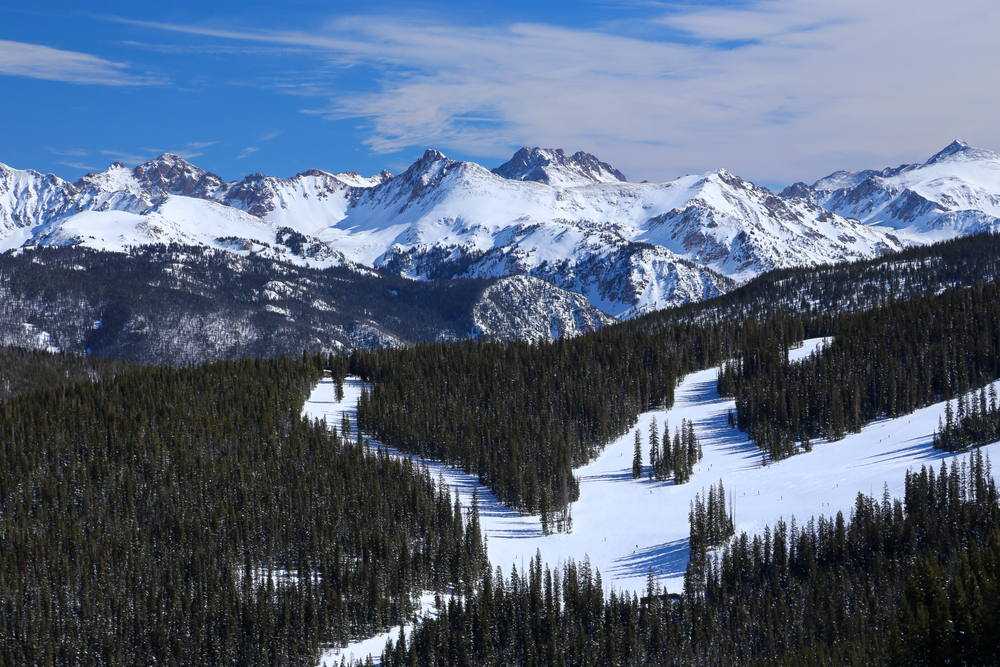 Flagstaff
Most people think of desert when they think of Arizona, but what if we told you that one of the best American ski resorts was there? That's right– we're heading down to Flagstaff. Flagstaff is located in the middle of Arizona and next to not one but two great ski areas.
Arizona's Snowbowl is located a short 20 minute drive from the city's downtown. The famous peak at Snowbowl is 11,500 feet in elevation, the highest peak of any ski resort in Arizona! Two lodges service Arizona's Snowbowl, if you want to stay as close as possible to the slopes.
The other popular ski area by Flagstaff is the family-oriented Elk Ridge Ski Area. It may be the smallest ski area in Arizona, but don't let that stop you! It's only a 50 minute drive from Flagstaff and conveniently located right next to the entrance of the Grand Canyon. Definitely worth a look on a whirlwind road trip around Arizona!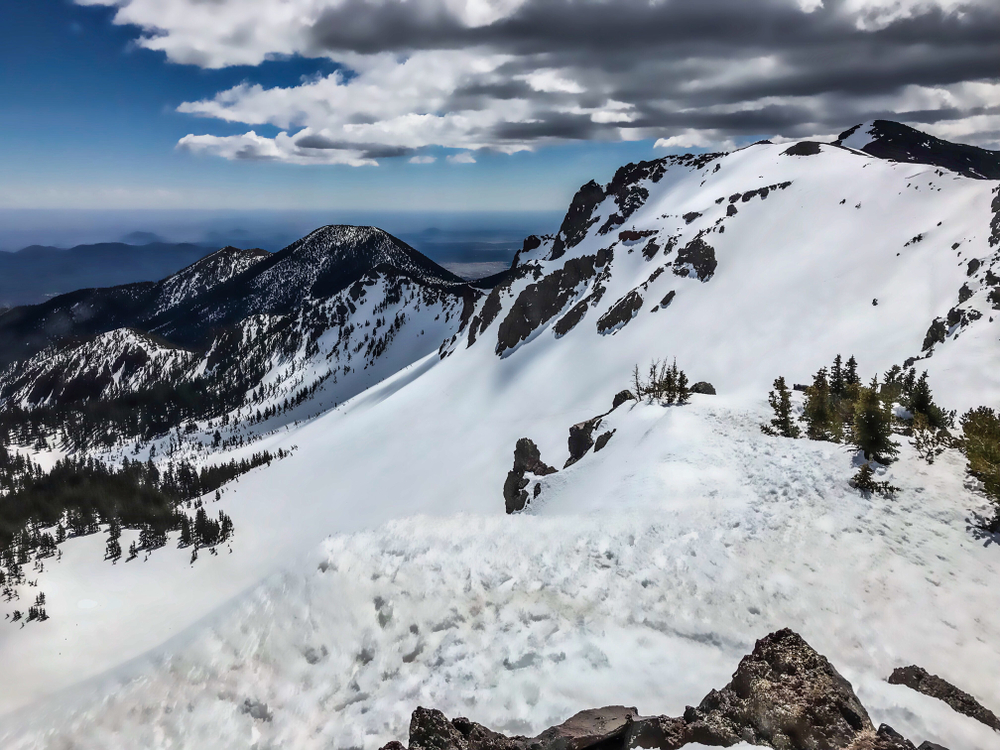 Mammoth Lakes
Is there anything better than warm weather skiing? Mammoth Lakes in California averages 300 days of sunshine each year and is only 45 miles from Yosemite National Park (a perfect stop on your epic Northern California road trip!).
You have the option of choosing between the two local resorts, Mammoth Mountain Ski Area (which has more difficult runs) or the nearby June Mountain (which is more family-oriented with easier slopes). Its legendarily long ski season along with its yearly average of 400 inches of snow makes it a great place to go skiing in the USA.
If that sounds like a great vacation to you, you'll be happy to know that the quaint town of Mammoth Lakes offers free public transit all around the town, including to restaurants, shopping, and the three wonderful lodges.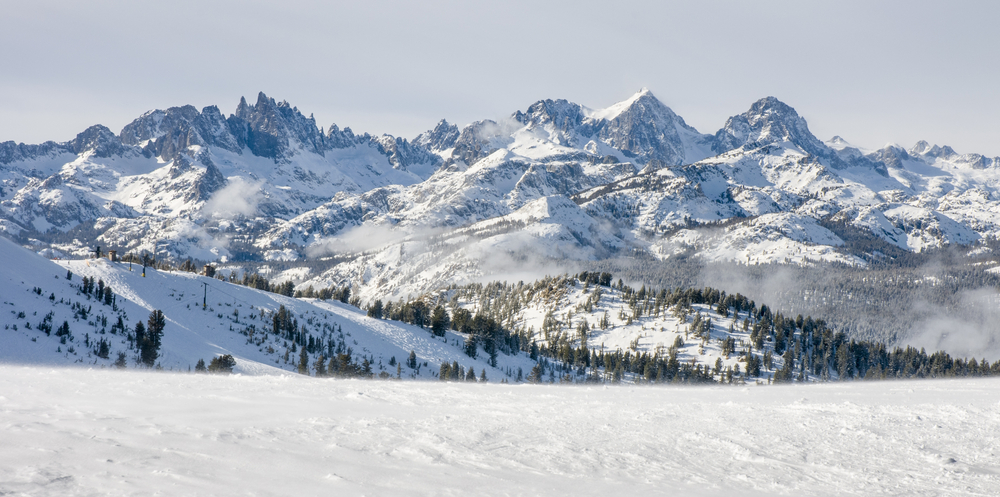 Mount Hood
With 12 glaciers and 6 ski areas, Mount Hood is certainly one of the best places in America for skiing. It is also the highest mountain in all of Oregon. Skiers love this spot because of the large array of terrain, perfect for skiers of all skill levels. While Mount Hood Meadows is the largest ski area and resort, all 6 of the ski areas offer a unique and enjoyable experience.
Government Camp is an adorable village that serves as a base camp for the countless outdoor recreational activities that the area is famous for. There you'll find plenty of great dining and lodging options. One lodge in particular, the historic Timberline Lodge, you might recognize as the setting of the movie The Shining.
The best part is that Mount Hood is only 50 miles from Portland, so if you decide to give it a try, check out our ultimate Oregon road trip guide to make your vacation even better!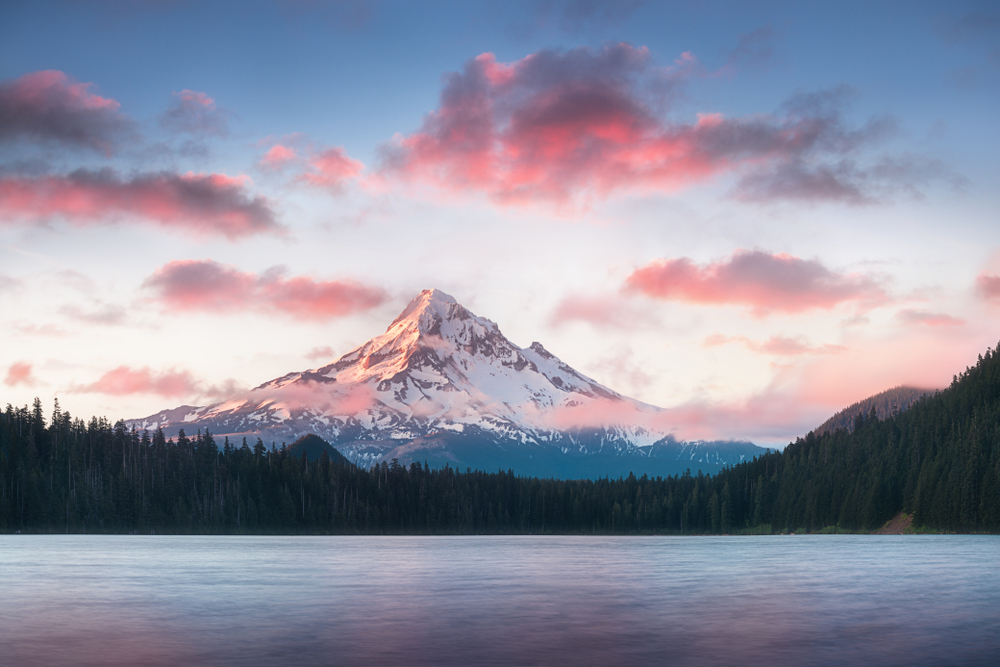 Snoqualmie
The Summit at Snoqualmie prides itself on being super easy to get to with only 50 minutes of driving from Seattle (talk about being the perfect stop on an awesome Washington road trip!). The famous Alpental ski area can be found here, which is legendary for how difficult and steep its terrain can be.
If you or your family aren't expert skiers though, don't worry. There are plenty of other summits that are great for beginning or intermediate skiing. When you're done for the day, you'll have over 18 different restaurants to choose from around the base area. The season typically runs from early December to mid April, giving you some flexibility when planning your winter getaway.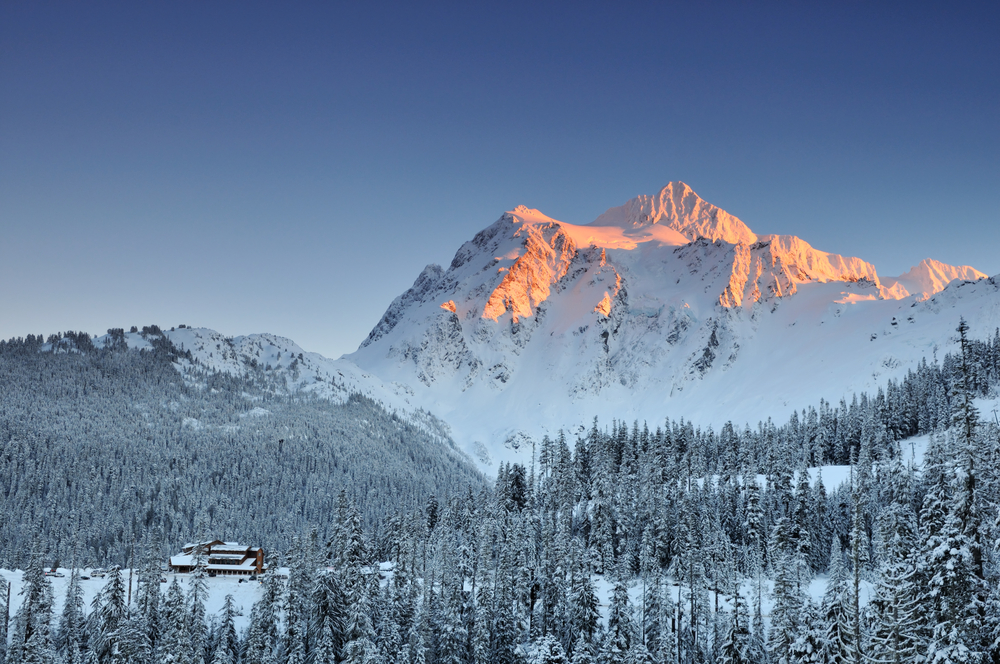 Jackson Hole
Jackson Hole in Wyoming is one of the best ski resorts in America because it offers something for everyone. This area is known for its spectacular views and is right next to the breath taking Grand Teton National Park. The ski resort is only 15 miles from the Jackson Hole Airport, which has to be one of the shortest drives to go skiing that we've ever heard of. Once you get to the city itself, you can't miss the many luxurious hotels and lodges to stay at.
What makes Jackson's Hole one of the top places for skiing in the USA is how difficult the skiing can be. In fact, there is only one beginner terrain! Be ready for some extreme skiing. You won't regret popping by one of Jackson Hole's many world-class spas after your hard day of skiing.
If adorable small towns like Jackson Hole are your idea of a perfect vacation, take a look at our list of cutest small towns in America.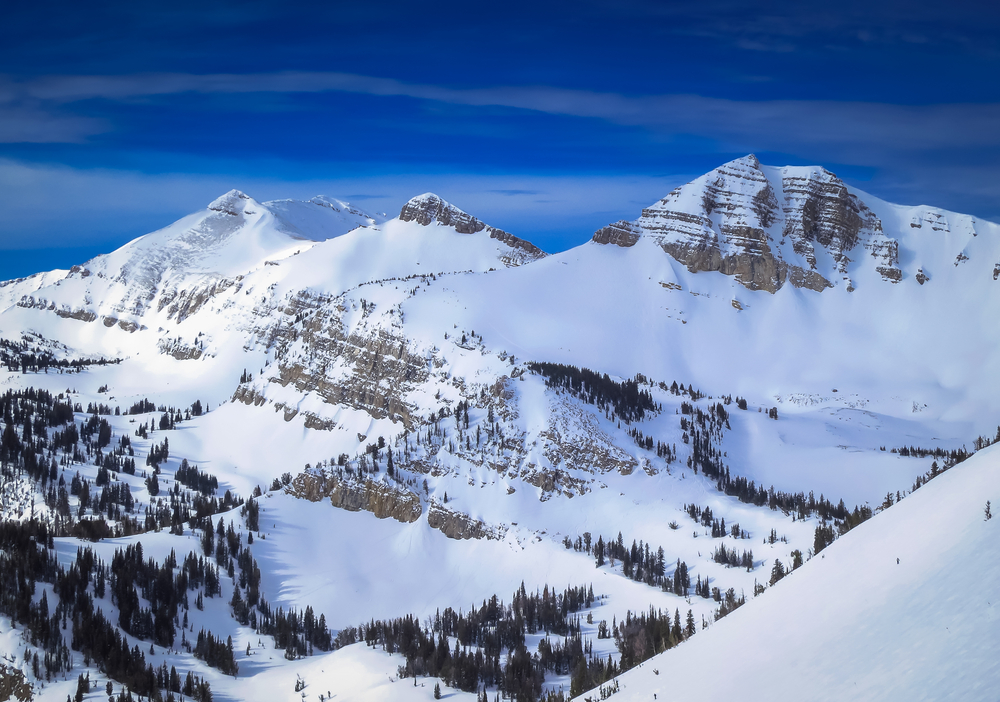 Breckenridge
Called Breck by the locals, the town of Brackenridge is worth visiting. At just over 80 miles from Denver, this is one of the most friendly and laid back ski town's you'll ever go. There is a lot to do here, like outdoor festivals, fabulous dining, ghost tours of the old mining town, and dogsledding!
Did you know Breckenridge is home to the highest chair lift in the USA? It's true! This top American ski spot also boasts some of the highest annual snow totals per year in the state of Colorado. The snow itself is some of the best quality in the West! The 5 peaks are home to many beginner and intermediate runs, making it a great place to bring the whole family.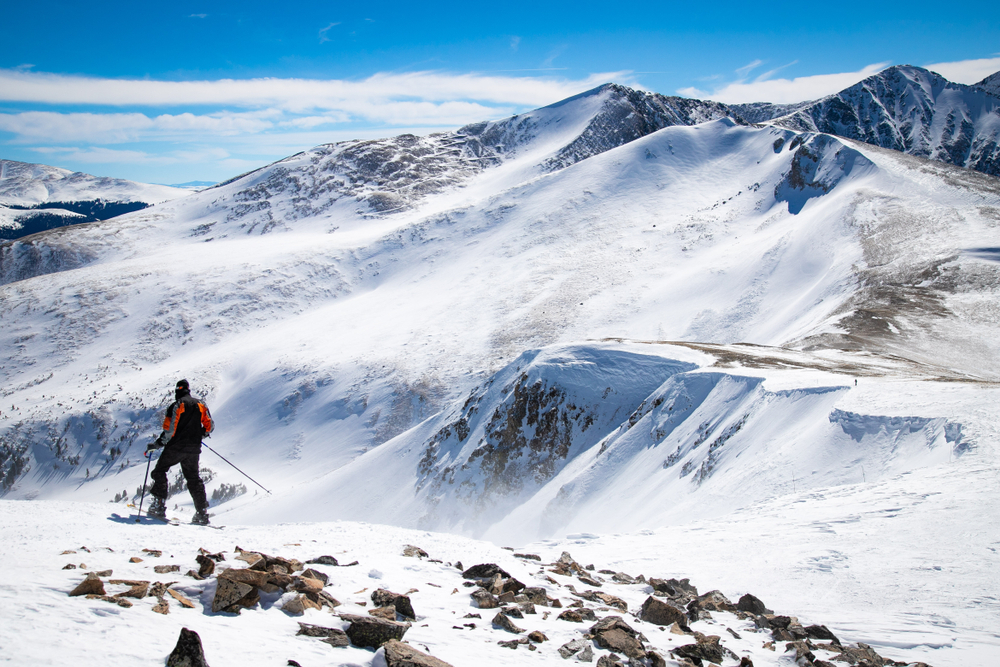 Park City
You might remember Park City as the host of the 2002 Winter Olympics. This historic mining town is 40 minutes from Salt Lake City, Utah and is one of the best places to go skiing in the USA! The ski area stretches over a tremendous 7,300 acres of skiable area as well as an insane 17 mountain peaks!
Looking for a fun and free adventure? Park City offers a guided ski tour that allows you to explore the historic mining sites around the ski resort for no charge! If you come for Christmas, you might even see Santa on skis! (Park City made our list of top picks for festive Christmas vacations in the USA!)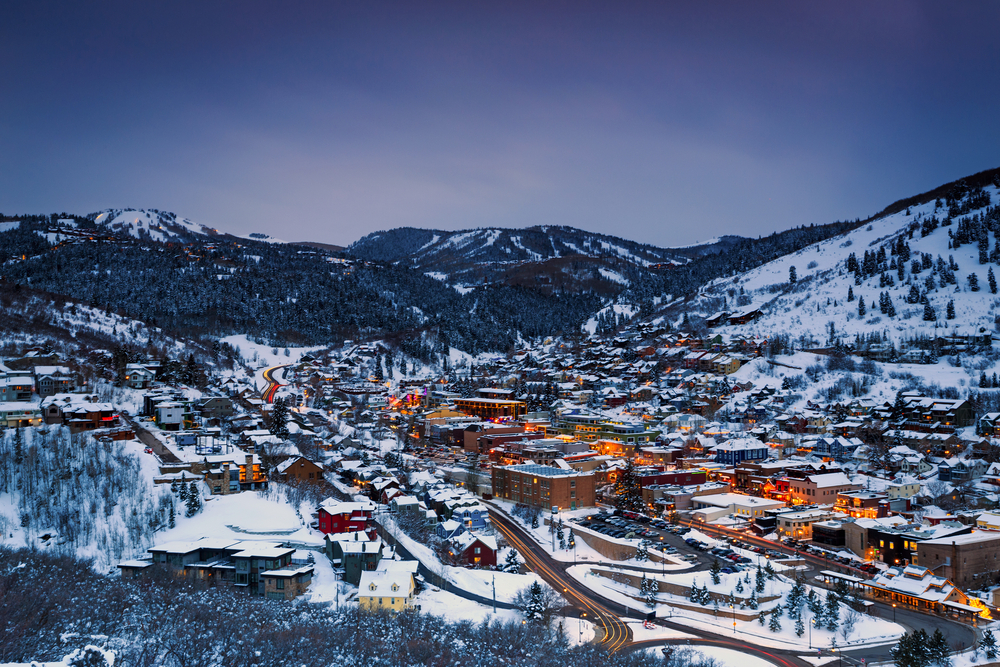 Big Sky
Hate crowded ski resorts? Then Big Sky is the place for you! Located only an hour outside Yellowstone in Montana, Big Sky prides itself on its minimal wait time and congestion thanks to its over 5000 skiable acres to spread out on as well as its quick and efficient 36 lifts (7 of which are high speed).
If you want some serious skiing, their notable 4366 feet vertical drop might be the challenge you're craving. Their dining options are the perfect way to end a long day on the slopes, with a side assortment ranging from sushi to pizza to a three course dinner in a yurt on the side of the mountain. You'll love this favorite American ski resort!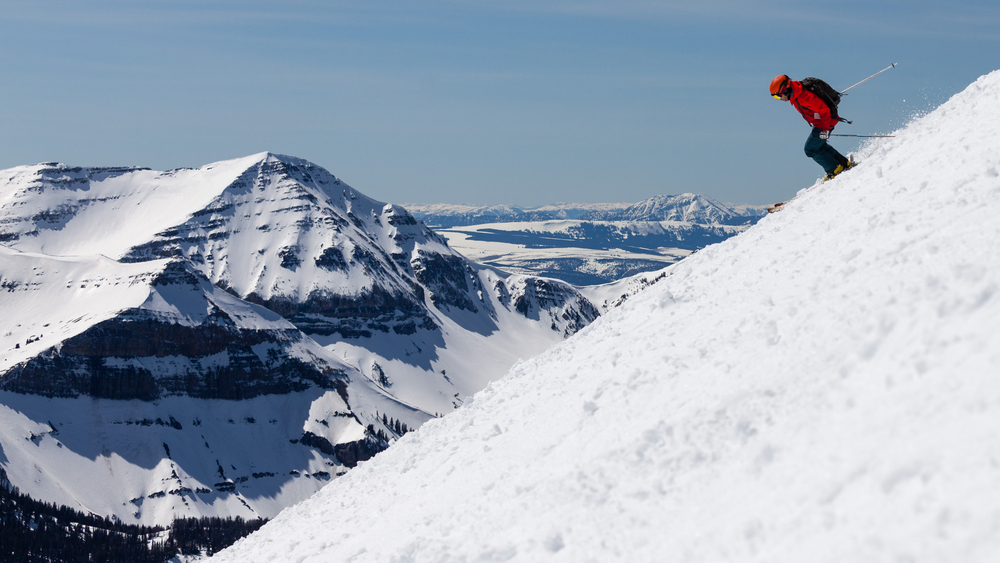 Sun Valley
The story behind this top ski resort in the USA goes like this: in 1935, Count Felix Schaffgotsch set out to find the perfect place in western America to build a ski resort. After searching high and low, he chanced upon the beautiful Ketchum Valley in Idaho and realized it was everything he could have wanted. Thus Sun Valley was born.
This ski resort is still popular for good reason. Located next to the Sawtooth National Forest (which is one of the best stops on our perfect Idaho Road Trip Itinerary), Sun Valley has 2 mountains, Bald Mountain with its challenging terrain and Dollar Mountain which is a great spot to learn to ski on.
There are tons of rustic and quaint lodges, inns, and cottages to stay at here. The fine restaurants are top notch! Two eateries to try are The Ram (Sun Valley's original historic restaurant that embodies elegant lodge vibes) and Konditorie (which looks just like an Austrian café, complete with delicious pastries).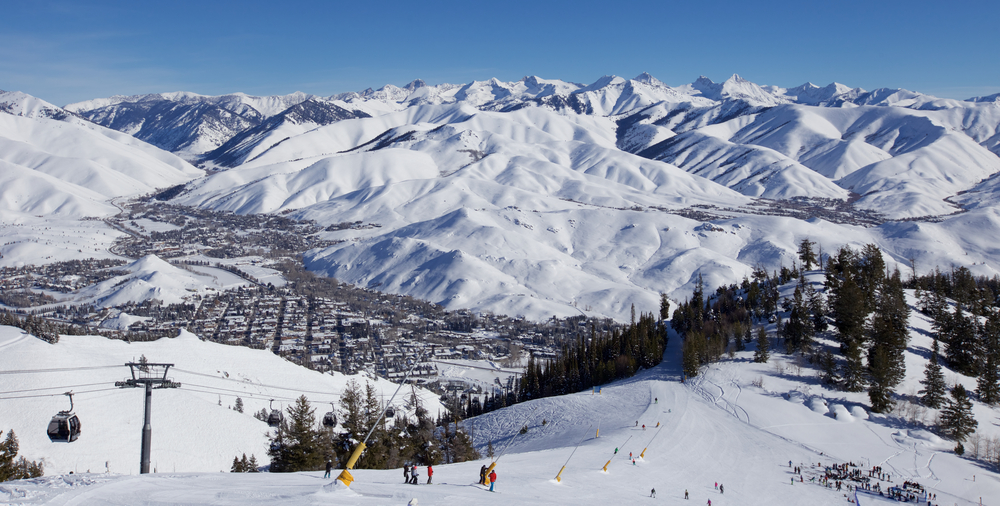 Snowbird
Forty minutes outside Salt Late City is this winter sports paradise. Snowbird is renowned for its annual snowfall which averages 497 inches per season! With so much snow, it's no wonder Snowbird has one of the longest ski seasons in Utah.
Snowbird has some particularly tough terrain. Almost one third of its runs are labelled as beginner level, but be warned! Snowbird's beginner runs might be considered intermediate at other ski resorts in America. At the end of the day, relax in the heated pool at Snowbird's lush Cliff Spa and take in the beautiful mountain views!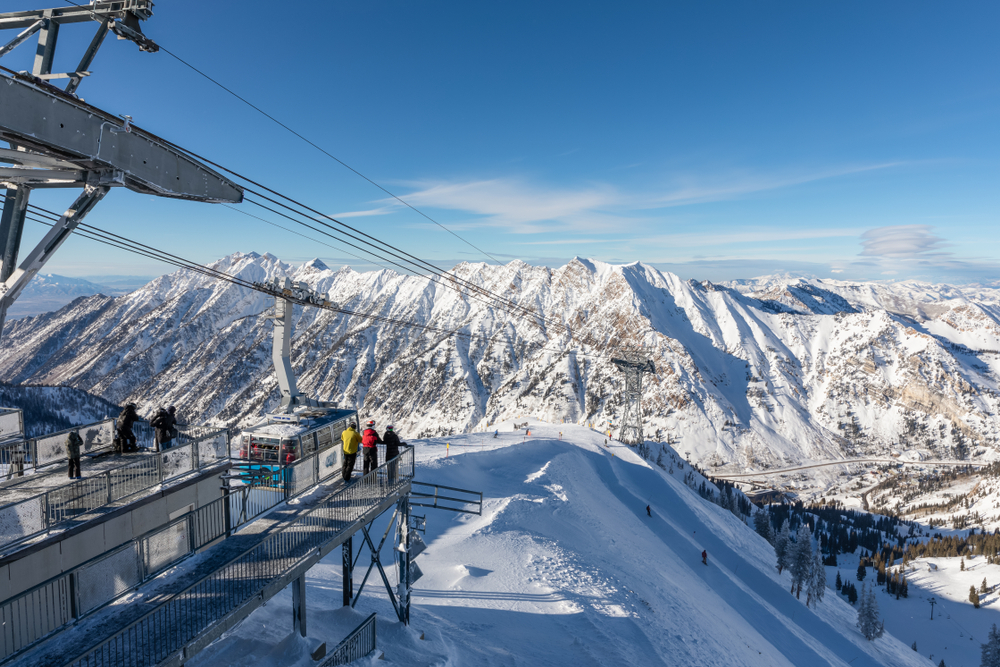 Now that you know a little more about some of the best places to go skiing in the USA, we hope you have the best winter vacation ever! Every ski spot has something unique and fun to offer, whether that's an incredible range of slopes, a quaint base town, or wonderful après ski. No matter which resort you choose, you're bound to have a great time. Happy trails!