There's no better way to relax and unwind than taking a delightful visit to one of the soothing hot springs in the USA. Warm water and beautiful scenery? Sign me up to soak!
Visiting hot springs anywhere in the world can have its own perks and delights, but the US surprisingly has a variety of hot springs that are perfect for visiting! From Utah to Oregon or Alaska and Colorado, you'll be surprised at the diverse geography and locations you can visit.
They say there is a bath for every bather, so whether you want a spa-worthy dip in a geothermal pool, or something that looks across a desert landscape, there are countless options for you to explore! So don't wait: check out the best hot springs in the US today. Make a splash and have fun; you don't want to miss this!
And don't forget, as you visit these natural wonders, please make sure to pick up your trash as you leave, and to keep these places clean and beautiful: leave them better than you found them!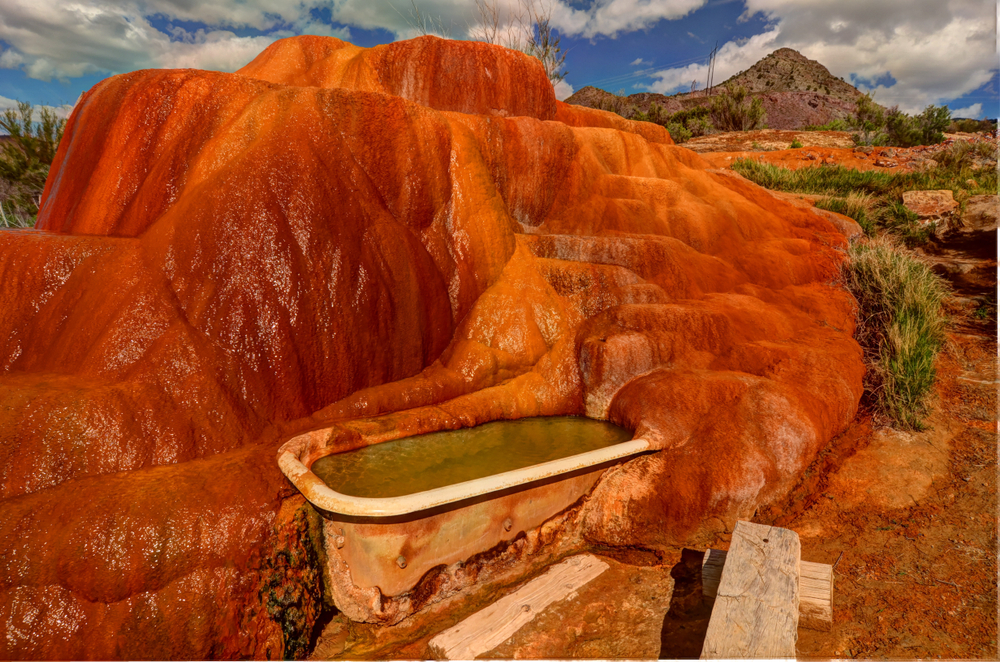 18 Coolest Natural Hot Springs in the USA
1. Diamond Fork Hot Springs
If you're looking for one of the best hot springs in the US, you must check out Utah's Diamond Fork Hot Springs. This is truly a destination for nature lovers. It is tucked securely in a picturesque canyon and is eye catching with its blue waters. And if you're a fan of waterfalls, this location has a gorgeous ones!
Getting here isn't too difficult, as the springs are just an hour outside of Salt Lake City. The trailhead to the springs is about a 4.5 mile hike. But just be warned, if you visit in the winter, your hike may increase to 12.5 miles as you may have to park further away! Either way, these free hot springs are some of the coolest hot springs in the USA to visit!
And if you're going to stay in Utah, make sure to check out our article on the other hot springs in Utah that you can visit!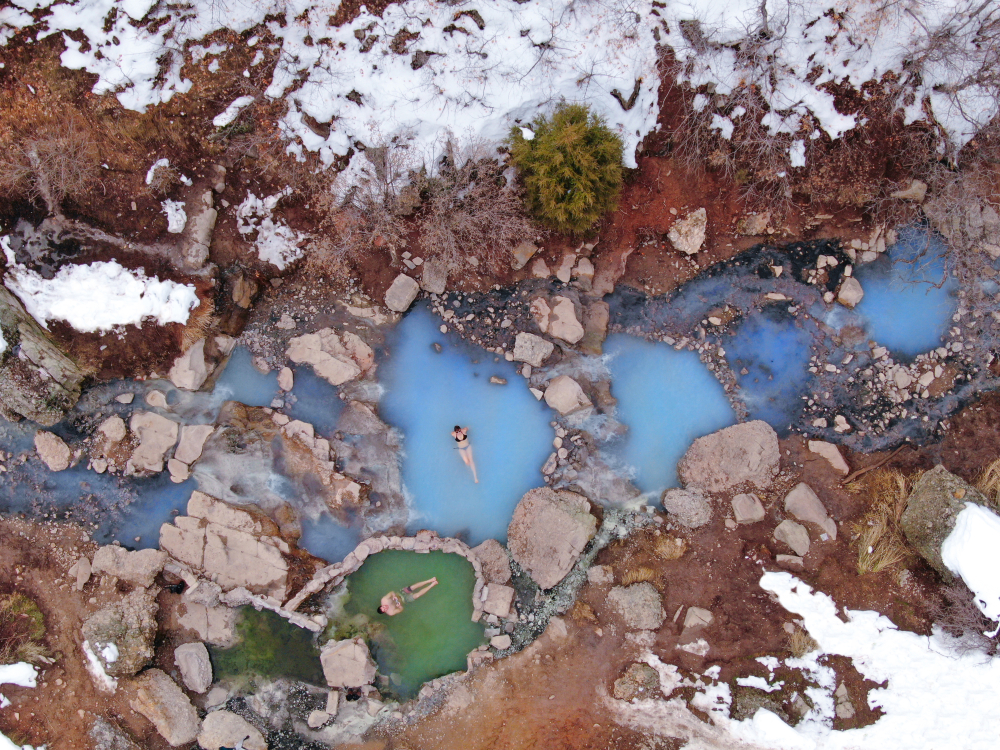 2. Terwilliger Hot Springs
Terwilliger Hot Springs, also known as Cougar Hot Springs, are located in the Willamette National Forest in Oregon. These geothermal pools are some of the most famous of natural hot springs in the USA, as springs drain into Rider Creek, which then turns into Cougar Reservoir.
It costs seven dollars a person to enter, and we promise they won't disappoint. The drive to the springs includes a bunch of winding roads through a beautiful gorge. The springs themselves are easily accessible and open year round. They are also clean and silt free. But don't forget, these springs are also one of the few natural hot springs in the USA where clothing is optional while you soak!
Check out our notes about these springs (and more in Oregon!), and how to appropriately approach clothing optional springs here!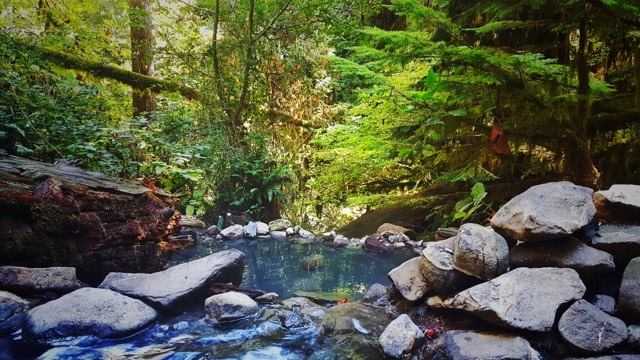 3. San Antonio Hot Springs
When you think of hot springs in the USA, we bet you typically don't think of New Mexico! However some of the best hot springs in the US are in San Antonio. The San Antonio hot springs are tucked into the mountainside and provide great views while soaking.
The 0.7 mile hike to the springs is only moderately trafficked, and is located near Los Alamos. This trail is mainly used for hiking and nature trips, and following it will lead you to 4-5 pools that all vary in temperature. They are accessible all year long for your enjoyment!
And if you're in the New Mexico area looking for more to do, make sure to check out our New Mexico road trip itinerary for more places to explore!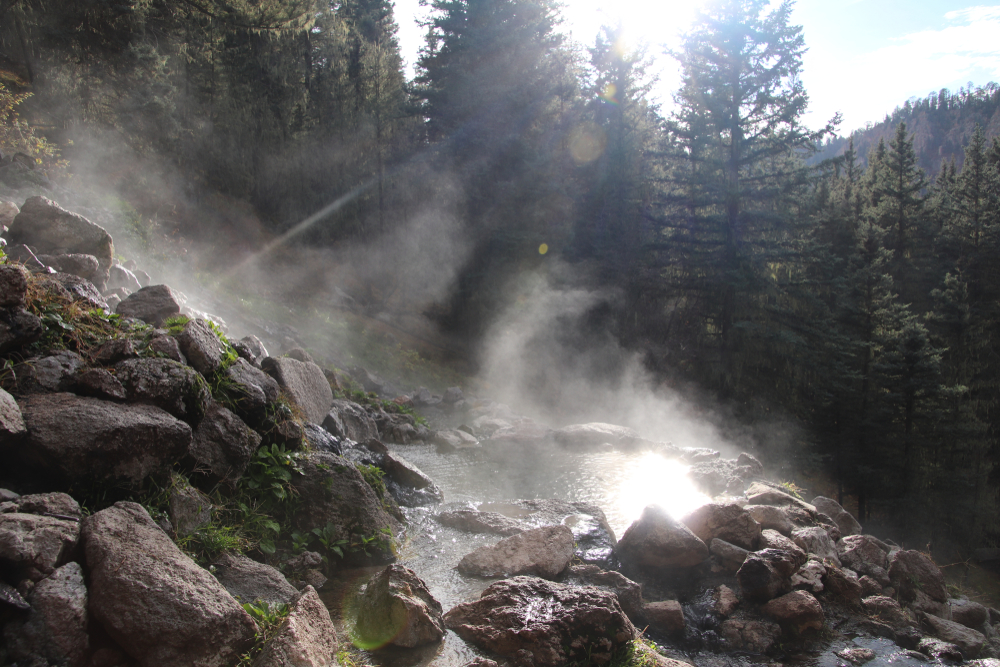 4. Meadow Hot Springs
Meadow Hot Springs are located in Utah, on a private property, and are just a quick drive south of Fillmore. These three soaking areas are famous hot springs in the USA, known for their clear water, depth, and temperatures that hover at about 100 degrees.
These springs are accessible year round, and while driving to the Meadow, there is a short half-mile walk to get to the springs that we promise is worth it! Parking is available, so don't worry, but because these springs are on private property, make sure to read and obey posted signs as well as respect the area and use it responsibly!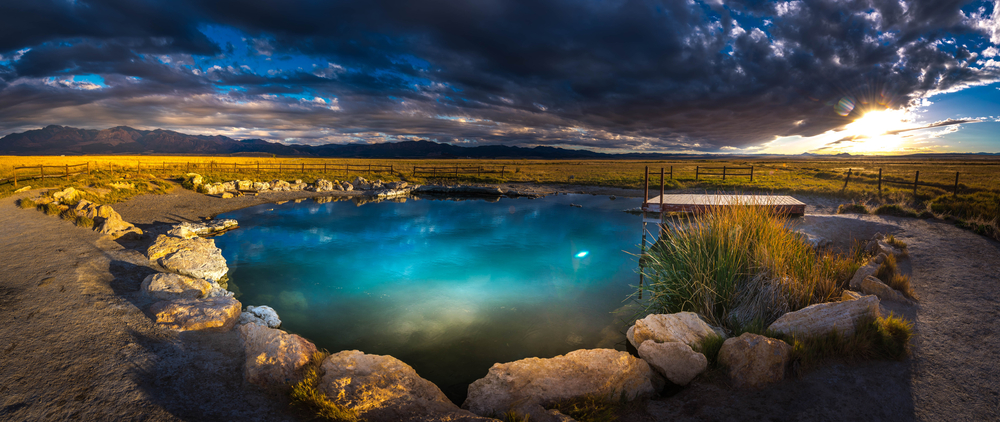 5. Wild Willy's Hot Springs
Located near Mammoth Lakes in California, Wild Willy's Hot Springs are hot springs in the USA that are ripe with adventure! These springs are free and are only a .25 mile walk from where you park. This hike includes an elevated wooden walkway and beautiful landscapes, so it's easily accessible.
There is a small creek that feeds the hot springs at the end of your trail, and after crossing it, one of the first pools you will see is about 10 feet wide as well as 3 feet deep.
It is fairly shallow, but the water is warm and relaxing. Better yet? There are more pools! As you go past this first pool, each of the other pools will vary in size, depth, and temperature. Check them all out as this is one of the Best Hot Springs In California!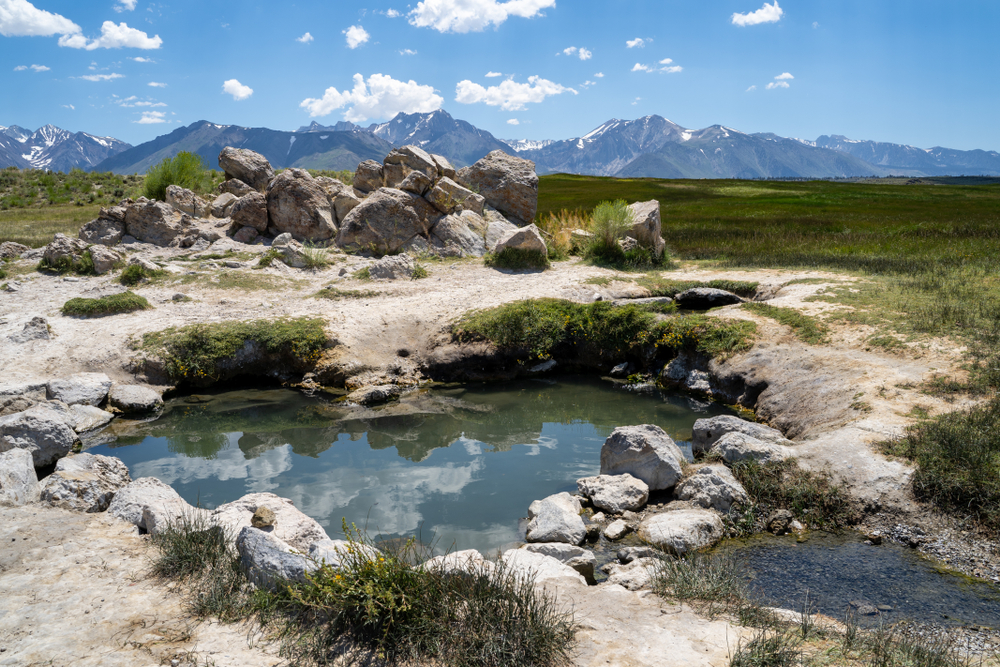 6. Umpqua Hot Springs
Located in the central Oregon Cascades, the Umpqua Hot Springs are accessible year round and feature 3 hot pools– one of which is covered– and all of which are situated on a mineral deposits above the North Umpqua River.
It costs five dollars a vehicle, per day, to access these springs, and if you're traveling during the winter, the gate can be closed! This will add an additional 1.5 miles to the trailhead that leads to the hot springs, so just be aware. But we promise that these beautiful springs are some of the best natural hot springs in the USA so that hike is worth it! Don't be afraid to contact the Toketee Ranger Station for updates on the latest conditions too!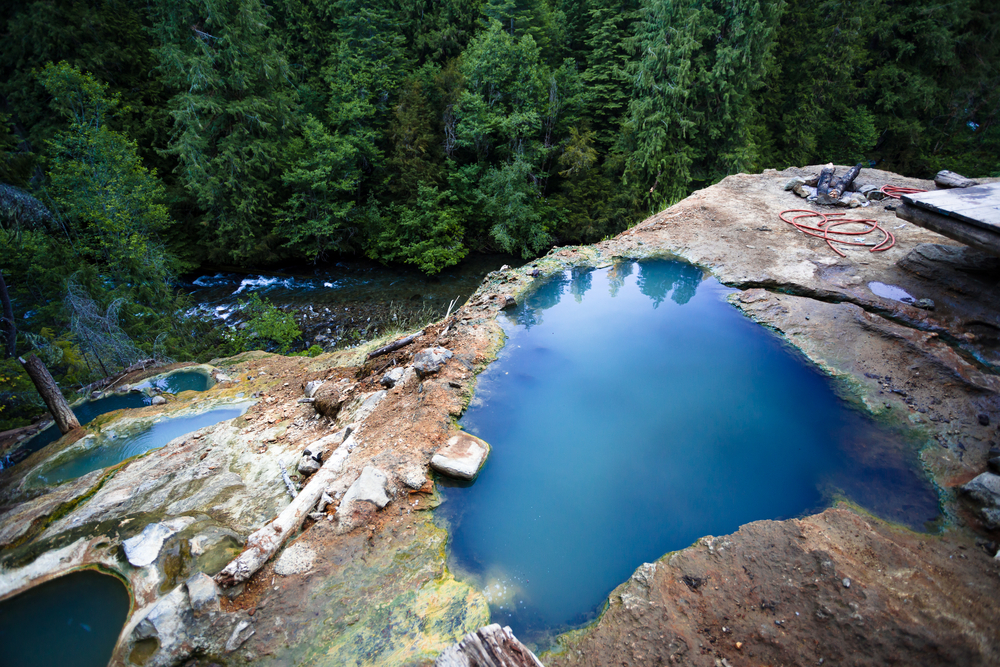 7. Wall Creek Springs
It shouldn't come as a surprise that some of the best hot springs in the US are located in Oregon, and the Wall Creek Springs are no exception! These springs are located on the bank of Wall Creek and are easily accessible through a 0.4 mile trail through the iconic Willamette National Forest.
The bottom of these pools are made of sand, gravel and rocks, and the water can bubble up to 104 degrees. The warm creek welcomes everyone, and in the winter, temperatures can drop to 90 degrees. 12 feet in diameter and 3 feet in depth, these are some of the more private and comfortable hot springs in the USA. They are also surrounded by a stunning rocky bank and you don't want to miss these views!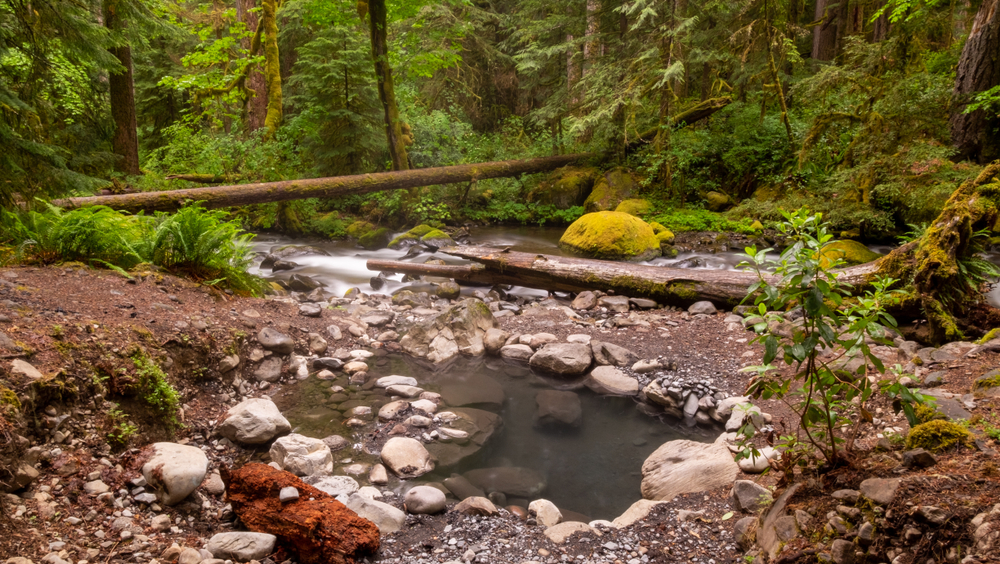 8. Deep Creek Hot Springs
The landscape surrounding Deep Creek is stunning and it supports diverse wildlife habitats, calling all tourists to California year round. However, many people love to come to Deep Creek for the thermal hot springs– they are one of the best hot springs in the US!
These springs are located in the Deep Creek drainage: just take a 2.5 hike to the springs or hike the Pacific Crest Trail eastward (this is a 6 mile hike though, so be warned!). This unique place offers great hikes, with a fantastic soak after! Private, calm, and collected, you don't want to miss these geothermal pools!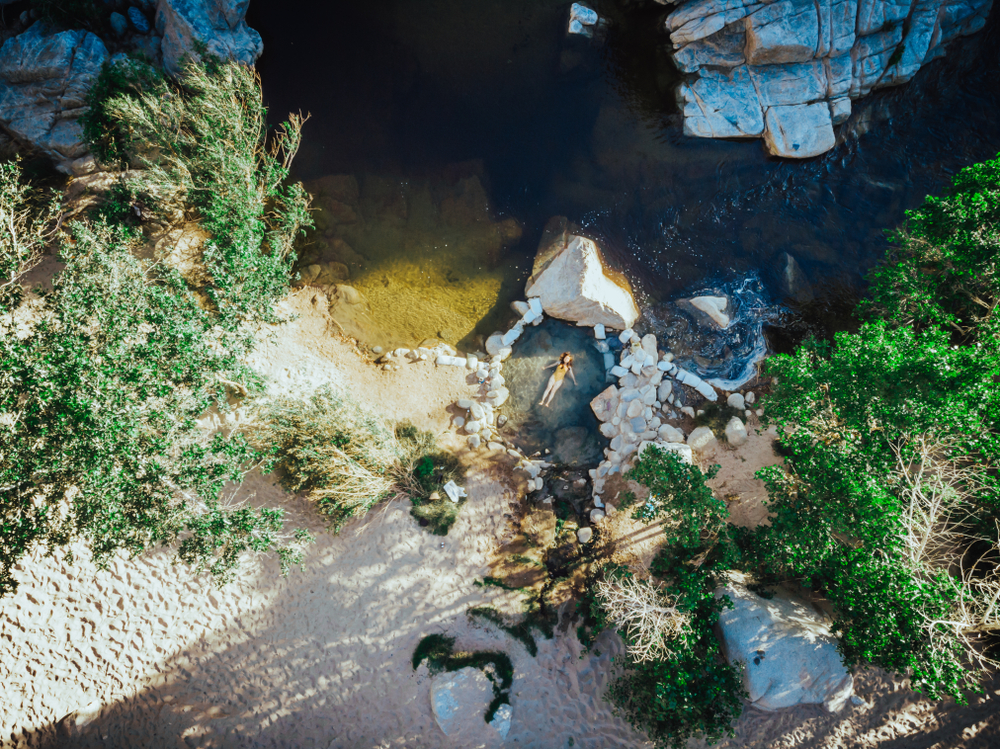 9. Chena Hot Springs
Chena Hot Springs is a community in the Fairbanks North Star Borough that is well known for its private resort and hot springs. These Chena Hot Springs are some of the best hot springs in the US, famous because of the forest-flanked paved roads, alpine areas, and recreational areas that allow you to hike, canoe, and fish before taking a nice, relaxing soak.
The springs are located at the center of a 40-square-mile geothermal area. This complete area produces water at 165 degrees: it must cool before you enter! Do not burn yourself and please test the waters! The facility has several indoor and outdoor tubs, and great vantage points for watching the northern lights in winter too! It costs about $15.00 to enter here.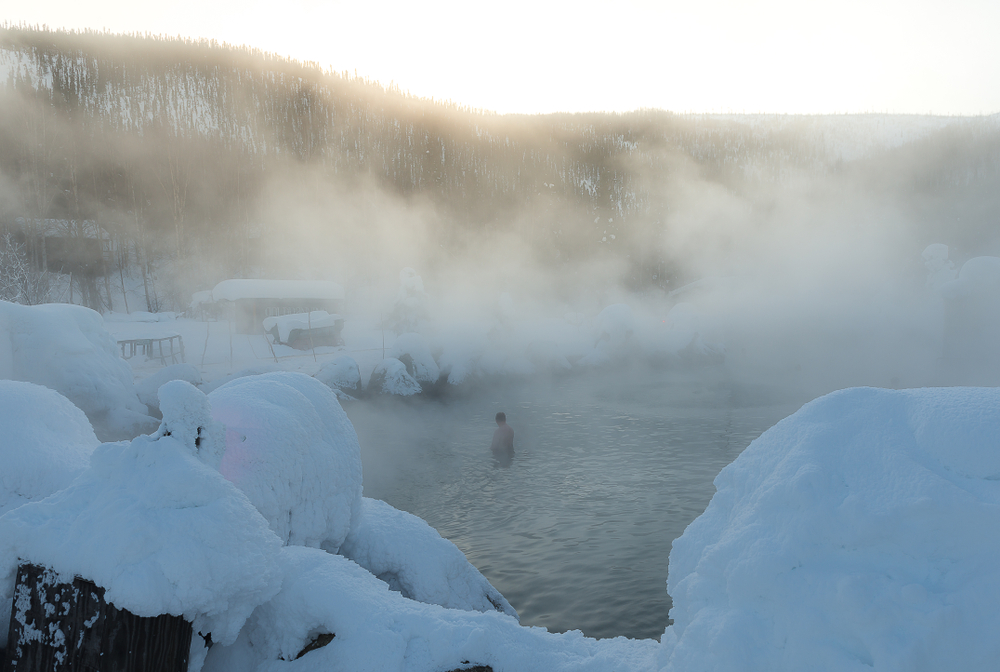 10. Valley View Hot Springs
Valley View Hot Springs is a unique place that encourages visitors to immerse themselves in nature while connecting with sustainability. The natural resources, diverse ecosystem, and pure pools and showers make this location one of the top natural hot springs in the USA.
To help preserve this ecosystem, visitation is managed through a guest quota for each day. This means reservations are highly recommended! All ages are welcome, but clothing is optional here. So come, sit, and soak in pools that are surrounded by gorgeous Colorado forests and wilderness, as well as valley views.
And if you're staying in the Colorado area, make sure to check out our Colorado road trip article for tips on your travels!
11. Astoria Mineral Hot Springs
If you're looking for some of the best hot springs in the USA, look no further than Wyoming! The Astoria Mineral Hot Springs here are located near Jackson, Wyoming, and feature hot springs and hikes that are good for all skill levels.
The trail to the pools are used primarily for walking and are accessible year round, stretching for 1.7 miles. It is 14$ a person to get in here, and make sure to take advantage of the fact that there are 5 pools here: the Leisure pool, the children's pool, the meadow pool, and the river soaking pools! All vary in temperature, depth, and overall size.
And if you are staying in Wyoming for a bit don't miss the chance to explore Yellowstone: our Yellowstone Road Trip Itinerary has it all!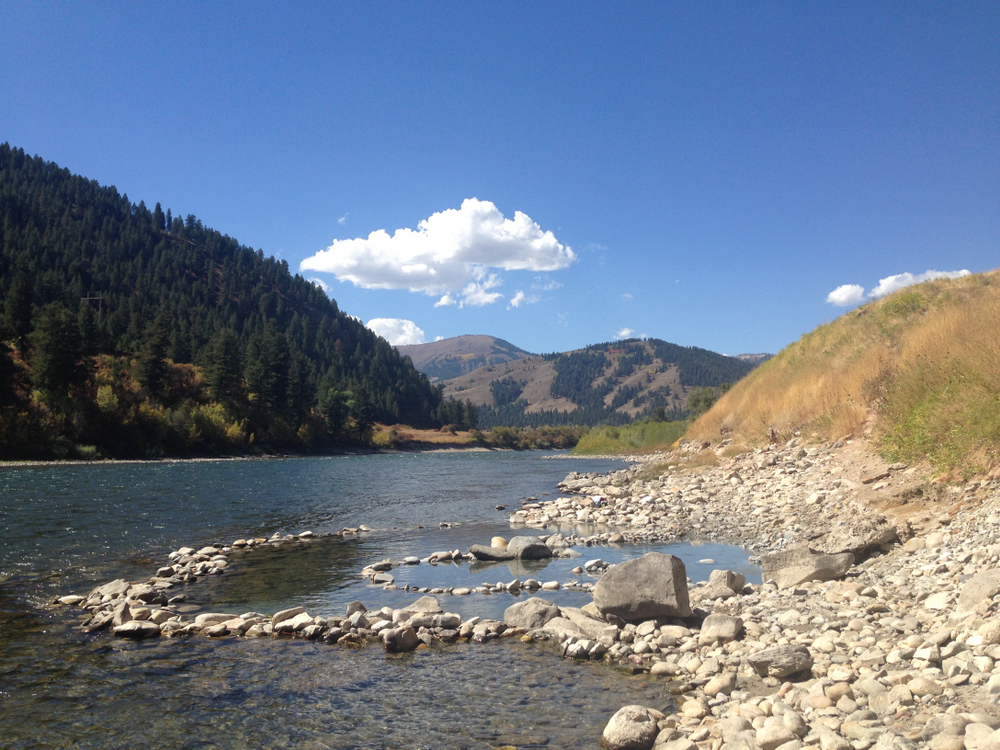 12. Boquillas Hot Springs
Are you looking to soak in geothermal hot springs that sit on the Rio Grande? Look no further! The Boquillas Hot Springs are some of the best hot springs in the US and stay at about 105 degrees year round.
Arguably, these springs are one of the most famous hot springs in the USA because they are located on the big bend of the Rio Grande River. The trailhead is only a half of mile and is flat, meaning it is an easy walk to these springs. This is truly the perfect area to soak after a day of hiking in Big Bend National Park!
And if you're going to stay in Texas for a bit, we recommend exploring the state some more! Check out our Texas Road trip Itinerary!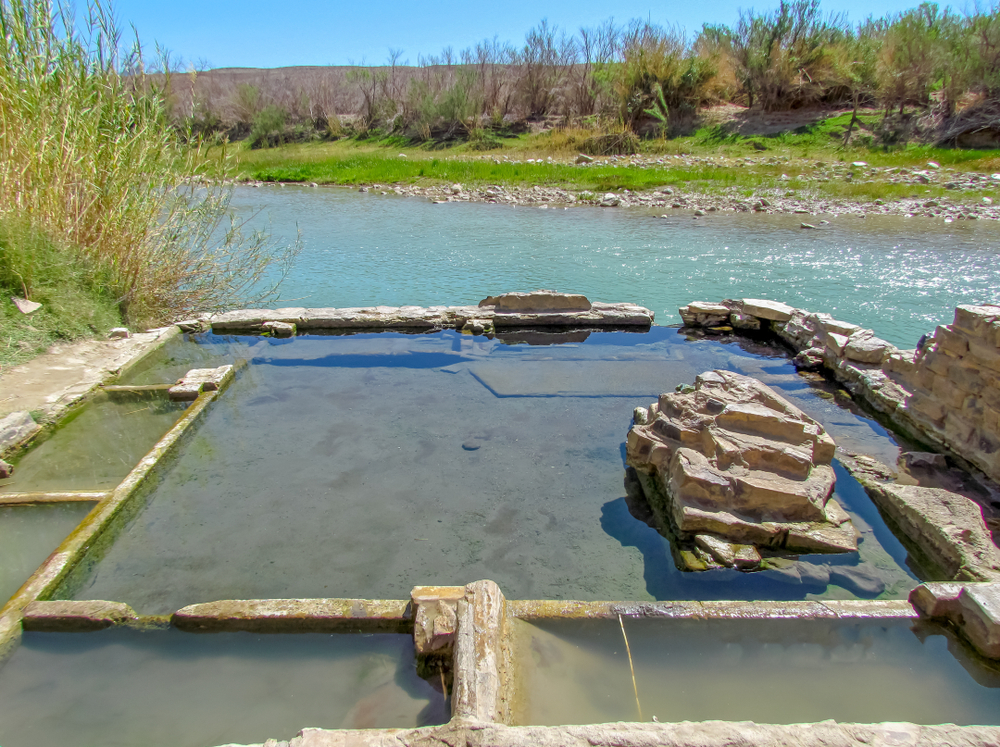 13. Travertine Hot Springs
The Travertine Hot Springs of California State Park are just south of Bridgeport and it is one of the easiest hot springs to get too. It features stunning views of the Sierra mountains, and campers, rangers, families, and more always come to soak and take in the views.
As one of the most famous hot springs in the USA (and in California!), the several natural pools are tucked away in the limestone and feature pleasant water temperatures. The pools do vary in temperature and size, so be careful! But also don't be afraid to rub yourself in the mud on the bottom of these pools– they claim to have healing properties!
And if you choose to stay in California for a while, check our our Cali Road Trip for tips on itinerary and where to explore while in this wondrous state!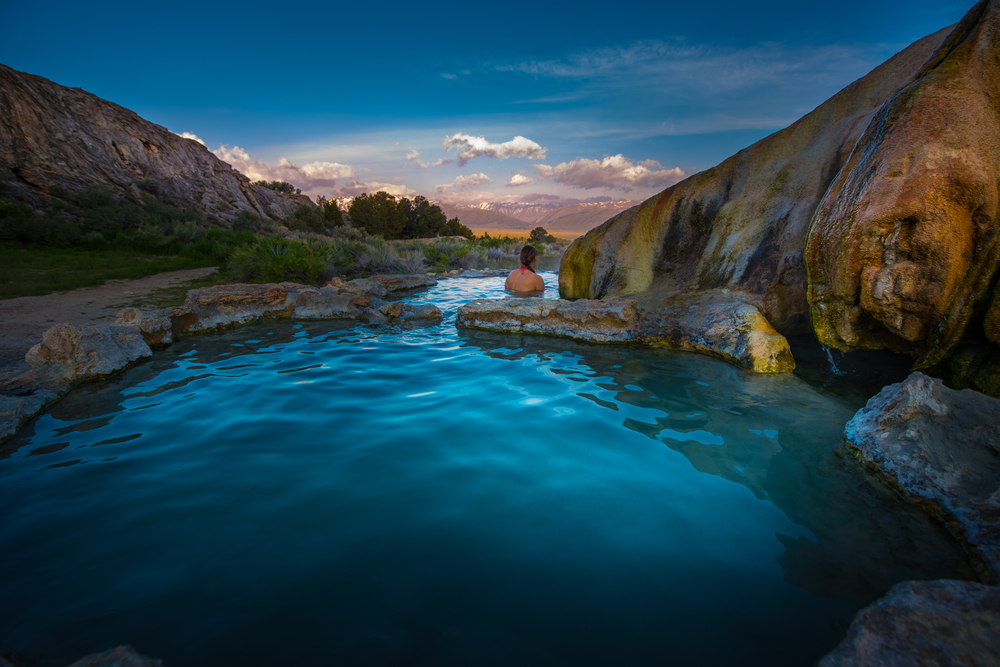 14. Trail Creek Hot Springs
Trail Creek Hot Springs is a 0.1 mile hike that leads you to a variety of hot springs. While the hiking trail is heavily trafficked and used for walking and nature trips due to its close proximity to Cascade, Idaho, the springs conditions are worth the trip! They really are some of the best hot springs in the USA!
There are two pools here, varying in sizes and location. They can accommodate about 6-10 people, but both are beautiful. Hot water enters the pools from either below– on the sandy bottom– or slides down colorful algae laden rocks. The soothing sound and presence is perfect for relaxation.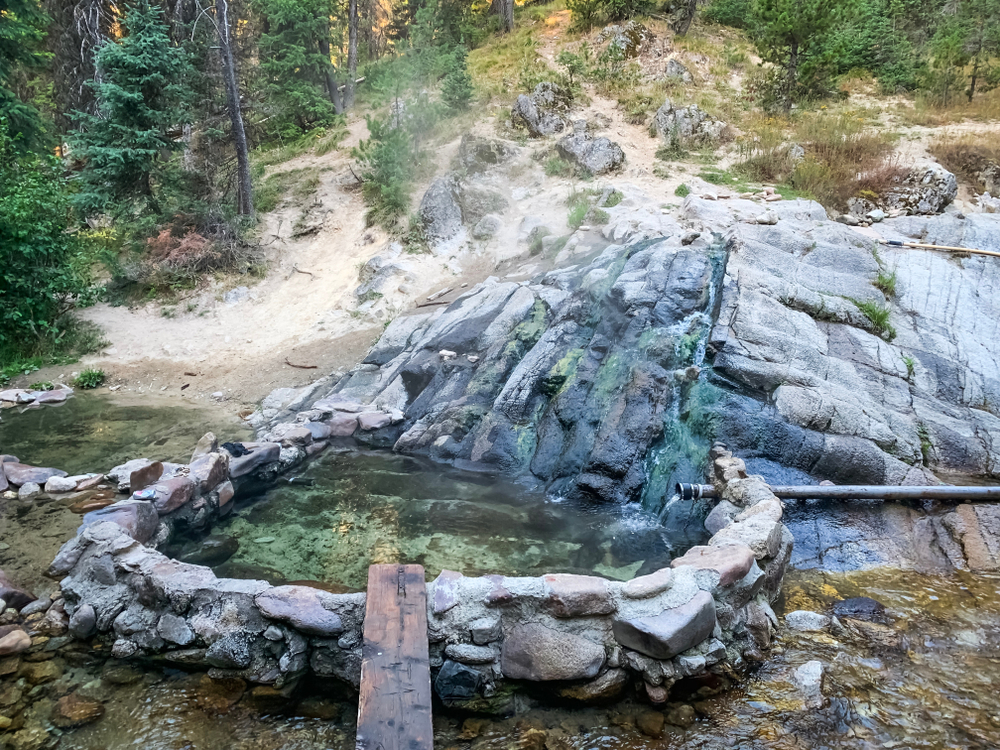 15. Hot Springs National Park
Next up on our list comes hot springs from Arkansas! This area is known as one of the best hot springs in the USA, because it is truly where history and nature meet. The architecture of the historic bathhouses here is only amplified by the thermal springs that feature mountain views, nearby forest hikes and an abundant amount of creeks.
There is no entrance fee for the hot springs here, but if you do choose to camp, you are charged 10$ a night. The waters also tend to get extremely high in temperature here, so while it is okay to take a dip, long exposure of soaking can be a bit dangerous, especially on certain days! But these springs are nestled in the heart of the Ouatchita Mountains and feature a diverse range of animals and ecosystems, so make sure to soak for at least 15 minutes and enjoy those views!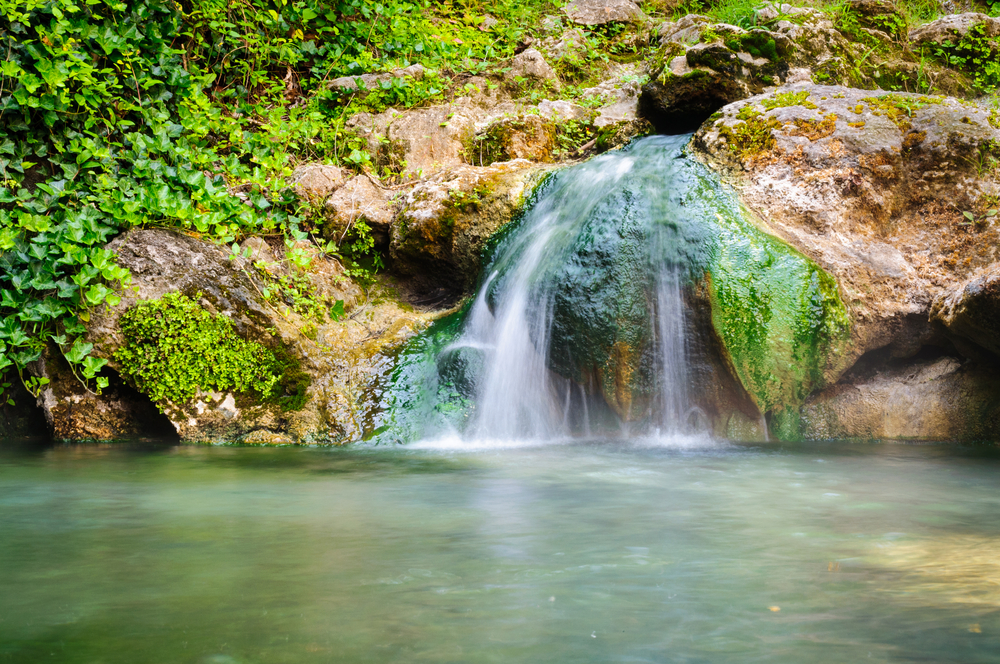 16. Conundrum Hot Springs
Who wouldn't want to visit hot springs in the USA, especially those that located at 11,200 feet in elevation? The Conundrum Hot Springs in Colorado are a part of the Maroon Bells-Snowman Wilderness and is protected with its undeveloped land.
Be prepared though! The hike to these springs is about 8.5 miles (one way) with an elevation gain of over 2,000 feet. You'll cross 3 creeks before reaching the springs, and the best time to visit is in the summer, as the winter months bring snow to the surrounding areas. But we promise that steep hike is worth it: just look at those views!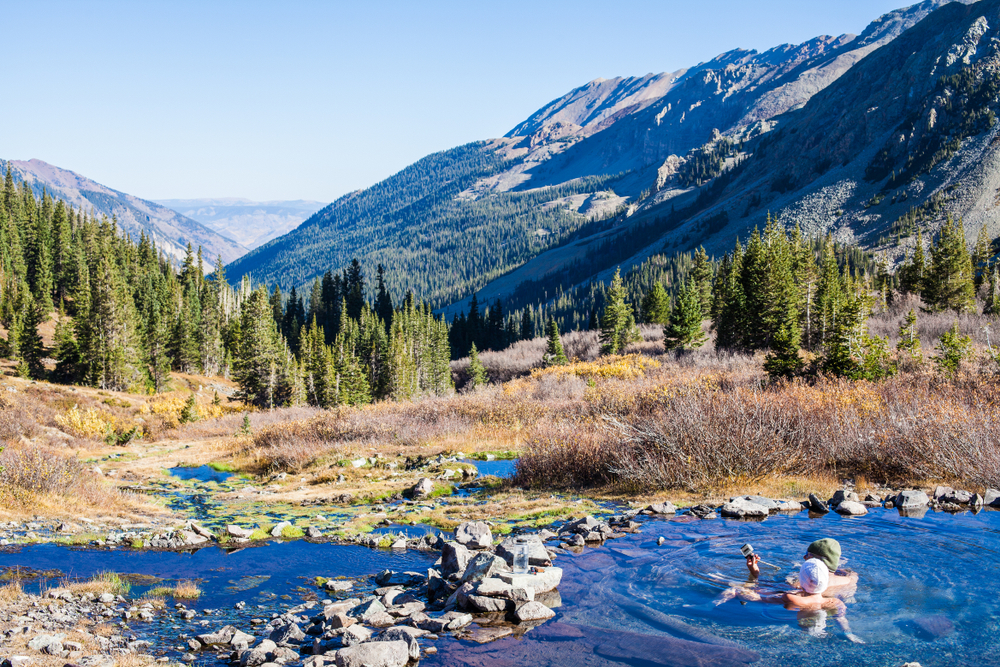 17. Olympic Hot Springs
The Olympic Hot Springs are hot springs in the USA that are a popular destination for visitors from all over the world because there is a variety of things to see on the hike up! From Madison Creek Falls to the Elwha River and the Glines Canyon, the road to the trailhead is paved and gorgeous.
On the other side of Boulder Creek (about 2.1 miles) is where you enter hot spring territory: there are pools along the trail, and others spread out for some more seclusion. Make sure to check temperatures though– some of them can get as hot as 118 degrees!
And if you're looking for things to do in Washington, look at some of the best things to do in this gorgeous state in our article!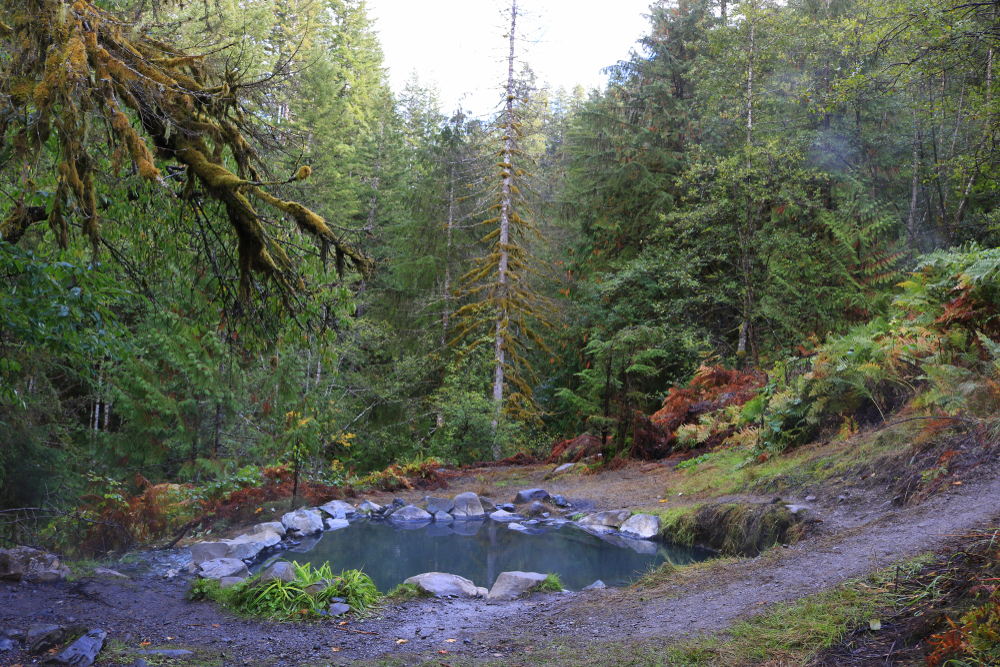 19. Kirkham Hot Springs
To wrap up our list of some of the coolest hot springs in the USA, we are ending in Idaho, with the Kirkham Hot Springs! Exploring these hot springs is amazing: they are nestled on the South Fork of the Payette River, right below a highway campground, and a staircase leads you down to the pools and small waterfalls.
This is a legendary hot spot with its geothermal pools and waterfalls of varying temperatures. 5 miles from the trailhead is where you will see the Kirkham Campground that will lead you too the pools. And if the pools look crowded, don't worry! There are pools scattered around this area: just look for steam rising to find another one. And don't forget your 5$ parking fee!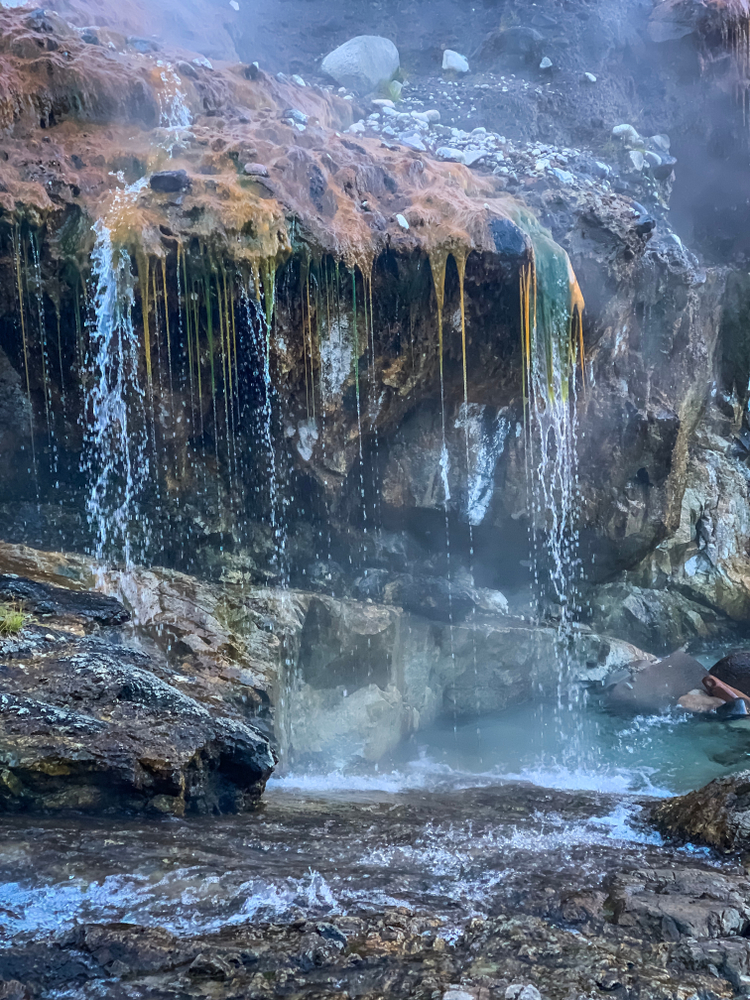 And there you have it: 18 of the coolest hot springs in the USA! We promise that no matter what pool you visit, you are bound to enjoy the warmth of the water, the stunning views, and even the hikes to these pools!
From Idaho to Oregon and Colorado and California, the best hot springs in the US are just under our noses! So take a hike and go explore the warmth these waters have to offer– we promise you will leave feeling relaxed and at ease! Just don't forget to leave each natural spring better than you found it!