Planning a west coast road trip can be overwhelming. You are spoiled for choice when visiting this part of the United States. The scenery is stunning. There are redwoods, beaches, beautiful gardens and towering rock formations.
We're here to help so you can focus on looking forward to exploring all of these breathtaking locations without the stress of planning a route. Our suggested west coast road trip route will begin in San Diego and take you up the California coast through Oregon and up to Washington where you will finish this wild ride and fly out of Seattle.
With all that is has to offer, you could spend a lifetime exploring the west coast and still not see and experience everything. This road trip only brushes the surface of all the spectacular things you can do, but we've chosen stops that will leave you in awe and hungry for the next adventure. So pack up your bags, and start the car because you're about to embark on an unforgettable west coast USA road trip.
This is truly one of the Best Road Trips In The USA so you are in for a real treat!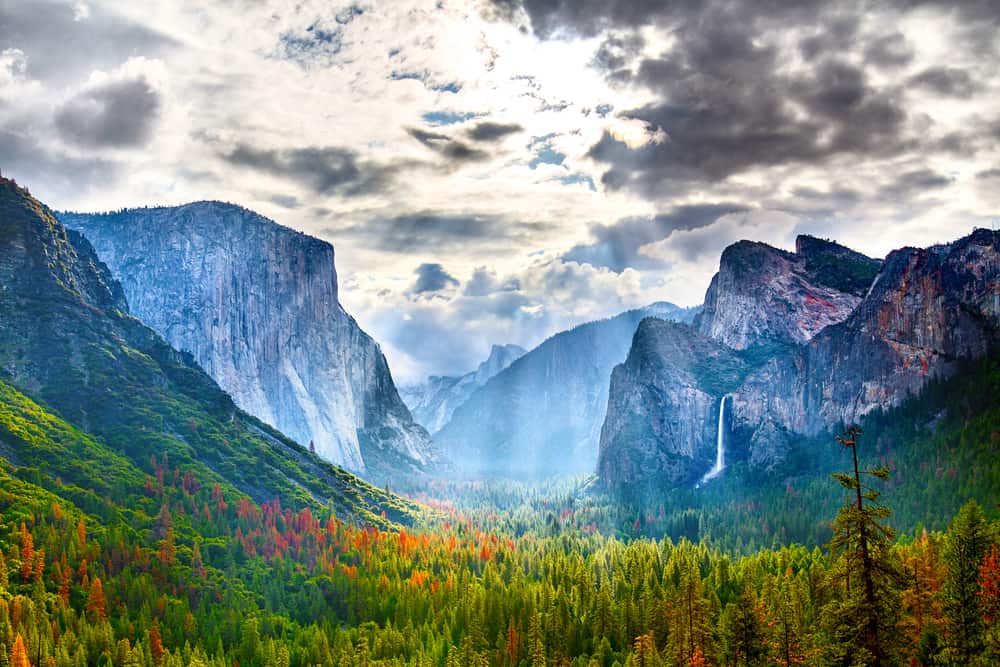 The Ultimate West Coast Road Trip Itinerary
Stop 1: Begin Your West Coast Road Trip With A Walk On The Beach Or A Visit To The World Famous Zoo In San Diego
San Diego will be the first stop on your west coast road trip. This wonderful city is a beach lover's paradise. There's also a very high probability you'll be greeted with beautiful weather. For these reasons among others, San Diego has become a favorite getaway for so many people.
San Diego has such a wide variety of activities making it the perfect destination for everyone. It is also one of the cheapest places to live in California if you are looking to stay forever!
You can spend the morning hiking along a cliff's edge looking out at the Pacific Ocean, and by the afternoon, you might be face to face with an adorable red panda at the world famous zoo. To get a taste of San Diego's charm, Balboa Park is a good place to start. Don't forget to check out some of the amazing beach houses in San Diego to stay at during your trip!
Balboa Park has a little bit of everything from walking trails, to beautiful gardens, museums of all kinds, and the top notch San Diego Zoo. You could spend an entire trip to San Diego just making your way through the activities available in Balboa Park. If you're looking to make your trip to the park educational, we suggest spending some time at one or many of the 17 museums in the park including the Rueben H. Fleet Science Center, The San Diego Museum of Art, The San Diego Museum of Man, and the San Diego Natural History Museum.
For nature lovers, the rose garden alone is enough to make a visit to the park worthwhile. The flowers are vibrant, stunning, and so artistically arranged. You might also try checking out the Japanese Friendship Garden. If you're looking to stretch your legs, Balboa Park is home to 65 miles of hiking/walking trails. You can wander the park on a casual stroll or get a good sweat going on slightly more challenging hikes. This park has so much to offer and is great for visitors of all ages and interests.
The world famous San Diego Zoo is conveniently located in Balboa Park and is a must see for zoo lovers. The zoo covers a 100-acre area and is home to a whole array of animals, from meerkats whose adorable mob playtime is comedy gold, to irresistibly cute red pandas and the beautiful snow leopard.
It is also known for its remarkable botanical collection with 7,000 plant species. The zoo is well kept with large animal enclosures and a layout that is easy to navigate. There's so much to see and we encourage you to spend a full day at the zoo so you're not rushing from one place to the next. Whether it's your first time at the zoo or you're a returning visitor, you're sure to love your time at this spectacular zoo among some truly magnificent animals.
You can't go to San Diego and not see the beach. For a taste of some of the best natural landscapes that the city has to offer, head over to the Torrey Pines State Natural Reserve Park. Torrey Pines is a special spot for a number of reasons including the fact that the Torrey pine is extremely rare and can only be seen here and at the Channel Islands. The park also has stunning ocean views, and a total of 8 miles worth of beautiful hiking trails. This is a great place to lounge at the beach, dip your toes in the cold Pacific Ocean or break a sweat on a hike. It's the perfect spot for visitors of all ages to take a moment to appreciate nature's beauty.
Sunset Cliffs Natural Park is another great spot that's a huge draw for locals and tourists around the world. This 68-acre park also offers breathtaking views of the Pacific Ocean. The cliffs are striking, but dangerously unstable and often wet, so be careful and don't walk too close to the edge. You'll find large sea caves worth exploring at Sunset Cliffs, as well as a nice trail for walking along the coastline. As the name implies, the park is also the perfect place for watching the sunset.
The Cabrillo National Monument honors Juan Rodriguez Cabrillo who was the first European to explore California's coast. The reason this has become a popular tourist spot however is because of the spectacular, sweeping views and the access to tide pools. There are hiking opportunities as well. Visiting the tide pools can be a great activity particularly for children. Be sure to time your visit with low tide, and you'll be rewarded with the opportunity to see a variety of different sea creatures. Even if you are not fortunate enough to visit at low tide, the views of the Pacific Ocean waves crashing on the cliffs make the visit worthwhile.
For those interested in naval aircraft carrier history, the USS Midway Museum is worth a stop. The Midway aircraft carrier is the museum, and it is home to a number of different exhibits including a collection of over 30 restored aircrafts and helicopters. You will experience the museum through an incredibly informative self-guided audio tour that will take you through the flight deck, hangar deck and below deck. This tour allows you to appreciate the remarkable size of the ship. Many of the guides are former service veterans and are fascinating to talk to. You can easily spend half a day exploring this museum.
When you're ready to take a break from exploring the museum, we suggest heading over to Phil's BBQ. Phil's is very popular and very often has a long line out the door of people waiting to be seated. You can sometimes bypass a lot of the line if you're willing to sit at the bar. They're good at moving the line along however, and we think their mouth watering BBQ is worth the wait. The barbeque sauce is excellent and their portion sizes are quite large. You're sure to leave this restaurant stuffed and satisfied.
Where to stay in San Diego:
Mid-range: Courtyard San Diego Old Town. Check rates: Booking.com
Mid-range: Inn by the Sea, at La Jolla. Check rates: Booking.com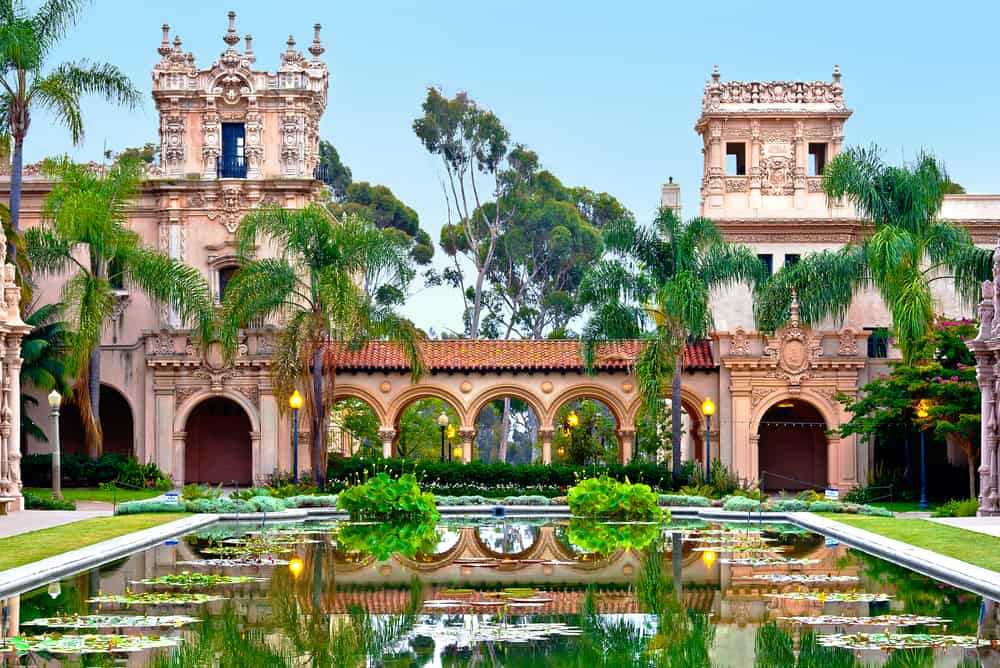 Stop 2: Take Advantage of Monterey's Marine Life And The Charm Of Carmel-By-The-Sea
Sea lions lounge on the rocks as you dine along the water in the popular coastal town of Monterey. From the Monterey Bay Aquarium, to Fisherman's Wharf and Cannery Row, there's no shortage of things to do during your visit. Monterey is located just 10-15 minutes from Carmel-By-The-Sea, a charming town full of art galleries, shops, and beautiful beaches. With plenty of enchanting natural scenery and activities for all, this coastal stretch of California makes for the perfect stop on your west coast road trip.
Cannery Row is a place full of history and is also the subject of John Steinbeck's novel "Cannery Row." Cannery Row (then called Ocean View Avenue) began in 1850 with a thriving fishing industry. In the early 1900s, the canning industry kept the area alive and well. By the 1950's and 60's, riding on the shoulders of the publicity of Steinbeck's novel, Cannery Row said goodbye to its past and moved forward with restaurants, shops and hotels. Cannery Row saw its fair share of bad times through World Wars and the Great Depression among other things, but ultimately it held its head above water long enough to become the tourist hot spot it is today.
As you start your day, consider driving to the Wave Street Café for some delicious food and your first taste of Cannery Row. Once here you can park your car and leave it for the rest of the day as you walk around the area. Another alternative is to walk to Cannery Row, in which case we suggest heading to Fisherman's Wharf first and walking from there. It's a beautiful walk along the water. Be sure to watch for sea otters and seals along the way!
Once at the restaurant, you're given the option of an outdoor or indoor table. The patio tables have a wonderful view of Monterey Bay. This lovely restaurant is very conveniently located and allows you to begin exploring Cannery Row immediately after breakfast. Take some time to walk along Cannery Row, take in its history and explore its shops. The Monterey Bay Aquarium is located at the end of Cannery Row and is definitely worth your time.
The Monterey Bay Aquarium is an extremely popular attraction, and with increasing crowds in the summer months and early mornings, it can be beneficial to plan out your visit ahead of time. Many of the exhibits can be easily seen at all times of day, but if you plan to watch any of the daily feedings it helps to check the aquarium website ahead of time. The aquarium has daily feedings at the sea otter, penguin, open sea and kelp forest exhibits. Particularly if you have small children, consider arriving early for the feedings to get optimal viewing spots.
One of the wonderful things about the aquarium is that it is actually located on the Monterey Bay which means not only can you see marine life inside the aquarium, but you can also view the animals of Monterey Bay in their natural habitats from the ocean-view decks lining the back side of the aquarium. The bay is home to a whole host of animals including the southern sea otter, humpback whale, northern elephant seal and white shark.
Besides the abundance of bird species, you're most likely to spot the harbor seals or sea otters from the viewing deck. As you wrap up your day and search for dinner options, consider heading to Montrio Bistro for a romantic dinner or Namaste Indian Bistro for a delicious wide array of Indian food.
If you're looking to spend some time at the beach, there are some great beaches just a short drive away from both Monterey and Carmel-by-the-Sea. We suggest walking around Lover's Point Beach and watching the waves crash on the rocks. You might also try Asilomar State Beach, which has some great walking paths for taking in the views as well.
Don't forget to check out our Detailed Road Trip Packing List so you don't forget any essentials for your trip!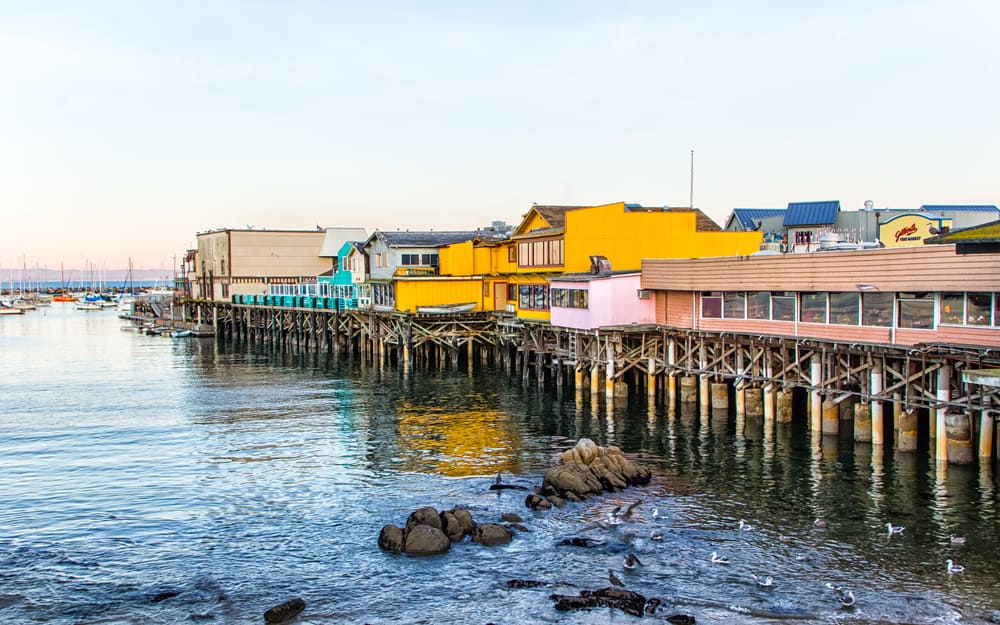 When you're done exploring Monterey, head to Carmel-by-the-Sea to experience a wonderful collection of shops and galleries, eat at some delicious restaurants, and spend some more time at the beach. When you first arrive you'll want to find a parking spot along Ocean Avenue. If you're arriving around lunchtime, head over to the Treehouse Café, a rooftop restaurant with a wide-ranging menu. It can be a great place for dinner too. When you're full and content, walk back to Ocean Avenue to walk around, explore the shops, and grab a coffee.
If you're burnt out on shops, Carmel has a beach of its own, so you can always walk down to the beach and relax there. As dinner rolls around we have a couple of restaurants you won't want to miss. You'll find upscale dining at Mission Ranch, which is located in the heart of Carmel Valley. The Mission Ranch is both a hotel and restaurant in a beautiful setting with live piano music often being performed inside. We suggest sitting outside if you have the choice. Another great option is Village Corner. This restaurant is located right off of Ocean Avenue and is the perfect romantic setting as you sit outside next to a cozy fire pit.
Roughly 15-20 minutes south of Ocean Avenue you'll find some wonderful hiking opportunities at Garrapata State Park. The Soberanes Canyon Trail will take you on a beautiful 1.25 mile out and back hike through redwood forests. Admittedly this is more of a warm-up for the upcoming stop on your west coast road trip at the Redwood National and State Parks, but these redwoods are still spectacular in their own right. Unfortunately much of this State Park was closed after a highly damaging fire in 2016, but the 1.25 mile section of the Soberanes Canyon Trail is now open and definitely worth the experience.
Where to stay in Monterey:
Mid-range: Monterey Tides. Check rates: Booking.com
Luxury: InterContinental Hotel. Check rates: Booking.com
Luxury: Portola Hotel & Spa. Check rates: Booking.com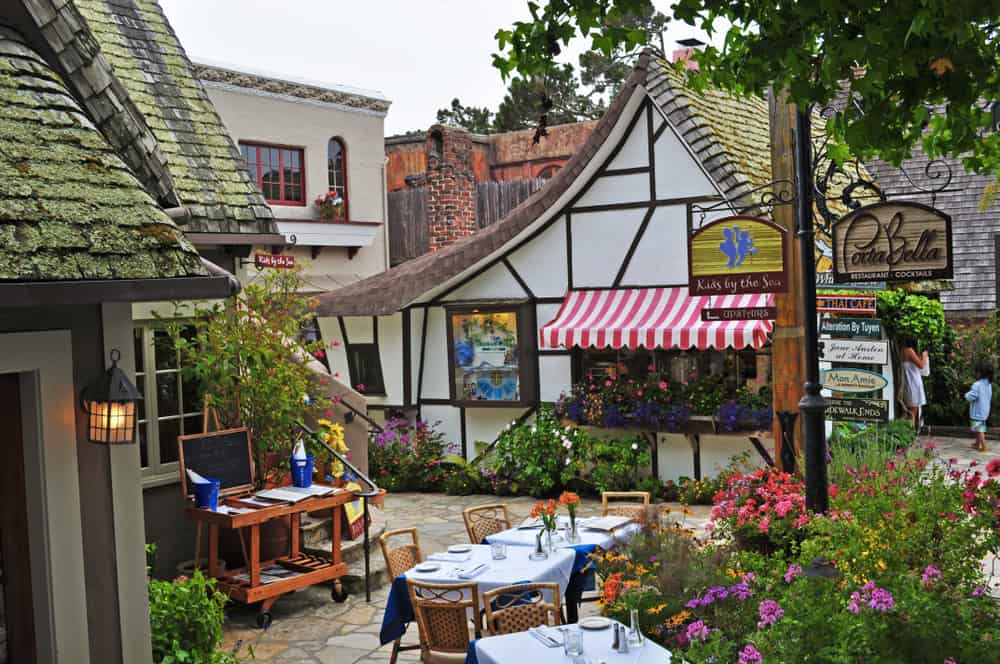 Stop 3: Hike The Spectacular Trails Of Yosemite National Park
Perhaps you've heard of the giant sequoia trees and stunning waterfalls, or maybe you've just watched Alex Honnold climb El Capitan in the film Free Solo. Most everyone has heard of the beauty of Yosemite National Park at some time in their life, and now as the 4th stop on your west coast USA road trip, you'll have the chance to experience it first hand. With all the adventurous activities the park has to offer, it's no wonder it attracts roughly 4 million people a year. You're in for the experience of a lifetime at this famous National Park.
Best Hikes in Yosemite
Hiking is one of the best ways to experience the draw-dropping beauty of Yosemite. We'll start with two wonderful sunset hikes (though they're also spectacular at any other time of day). Taft Point is similar to Glacier Point but there's far less separating you from the edge of the cliff. This means the views of Yosemite Valley are that much more sweeping and impressive, but it also means you absolutely have to be alert, careful and use common sense so you don't venture too close to the edge. As you head to Taft Point, you'll also encounter some relatively deep fissures that are worth checking out. This hike is 2.2 miles round trip and is easy to moderate in difficulty.
Sentinel Dome is another 2.2-mile hike that shares a trailhead with Taft Point. Speaking of sweeping views, the view from the top of the dome has the most stunning 360 views where you can see Yosemite Falls, Half Dome and El Capitan. It's hard not to take a moment to soak in the remarkable job nature has done in creating a masterpiece. This hike is also easy to moderate and very worth your time.
If you are an avid, fit hiker, then the famous Half Dome hike should be at the top of your Yosemite hiking bucket list. Half Dome is one of Yosemite's most iconic landmarks, and hiking this towering dome is a true accomplishment. This is a full day, strenuous hike of 14 miles with a roughly 5,000-foot elevation gain. To reach the top you'll take the Mist Trail. Before you're even halfway to the top you'll pass both Vernal Fall and Nevada Fall. Be extremely careful hiking the sections by the waterfalls, as the ground is usually wet and prone to being slippery.
The hike only gets more and more difficult as you continue up. You'll encounter a lengthy, challenging series of steps leading up the sub-dome before hitting one of the most thrilling but also dangerous portions of the Half Dome hike. We're referring to the cables that lead up to the top. The cables (which are only up from late May to early October) require upper body strength to pull yourself up and sure footing to keep yourself from slipping. If there's poor weather you need to turn around. When the ground is wet, it's easy to slip and if there's lightning, you become a prime target.
As with most long, day-hikes, please remember that once you reach the top, you're only halfway done with you hike. Use the same amount of caution and common sense hiking down as you did hiking up and be sure to bring plenty of water and food to last all 14 miles. Because the hike takes most people between 10 and 12 hours, it's crucial that you start your hike early in the morning to avoid hiking back in the dark. And high quality hiking shoes are a must. As long as you're prepared, this hike is sure to be one of your most treasured west coast road trip memories.
The hike to Mirror Lake can be a great option in the spring or early summer when there's likely to be the most water in the lake. This hike is a little over two miles round trip and is easy to moderate in difficulty. While it's still a pleasant hike any time of year, it captures the beauty of Yosemite best when the water level is higher. As its name so aptly implies, it is during the spring and early summer that the water mirrors the stunning nature surrounding it. This is a popular hike so be prepared to share it with other tourists.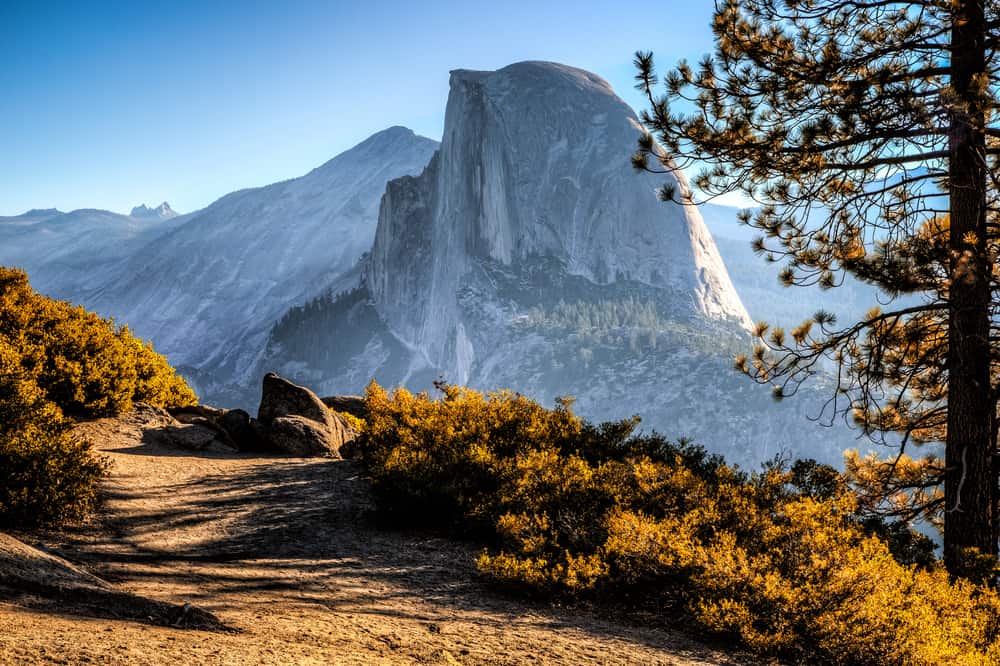 Yosemite's Other Points of Interest
Glacier Point is the most popular viewpoint in Yosemite National Park. At this viewpoint you can see incredible, sweeping views of Yosemite Valley, Yosemite Falls, Half Dome and other impressive Yosemite landmarks. Though it is possible to hike to Glacier Point through fairly strenuous routes, it is easily accessible by car as long as the Glacier Point Road is open. The road is generally open from late May to sometime in October or November unless otherwise closed for road construction. Because of its popularity and accessibility, you should be prepared for large crowds at the viewpoint.
Tunnel View is another popular viewpoint known for its spectacular views of El Capitan, Half Dome, and Bridalveil Fall. From here, the views of Yosemite look like something out of a dream. The scene is truly impressive. You'll find this viewpoint at the east end of the Wawona Tunnel. Make sure to bring your camera. This spot offers some of the best photo opportunities in the whole park. As you look out at this view, you'll understand exactly why the photographer Ansel Adams was so drawn to Yosemite as the subject of so many of his photographs.
Yosemite is full of spectacular waterfalls and Yosemite Falls and Bridalveil Fall are two of the best. There are many different places throughout the park where you can view Yosemite Falls, but if you're looking for an up close look at the falls you can follow a one mile loop that will take you to the Lower Fall. The Upper Falls are accessible but only via a strenuous hike. There are three separate falls that make up the complete Yosemite Falls, and the combination of them all adds up to a 2,425 foot drop.
Bridalveil Fall will be your first waterfall encounter upon entering Yosemite Valley and is even easier to access with a short .5 mile round trip walk to the base. It flows all year long, but like the rest of Yosemite's waterfalls, its flow is the strongest in the spring.
El Capitan is one of the most iconic landmarks in Yosemite National Park and was recently thrust into the limelight in the film Free Solo documenting Alex Honnold's harrowing climb without ropes or other protective gear. Rock climbing is a popular activity in Yosemite. Though scaling El Capitan is a feat for only the most serious and talented of rock climbers, you can pay for rock climbing lessons of differing levels with the Yosemite Mountaineering School to get your own taste of Yosemite rock climbing in a safe and monitored environment. El Capitan Meadow is a great place for watching climbers with binoculars.
If you're a photographer, you've probably heard of the famous and somewhat elusive Horsetail Fall Firefall. In order to experience the firefall, a number of things need to occur including the perfect angle of the sun, water falling at Horsetail Fall (the waterfall that streaks down the side of El Capitan) and clear evening skies as the sun sets. When everything lines up perfectly, it appears as though there's a steady stream of vibrant orange fire streaking down the side of the rock. People wait in anticipation for this illusion to occur sometime in the final weeks of February. Viewing the firefall is a once in a lifetime kind of experience and will probably leave you with stunning photographs and a deep love for Yosemite.
Though you'll see more impressive trees than you can count at the Redwood National and State Parks, the Mariposa Grove of Giant Sequoias is always a popular and worthwhile stop in Yosemite. There's not always enough parking here, but there is a free shuttle bus that will take you to the grove. One of the most famous attractions is the Grizzly Giant, currently ranked among the largest living sequoias. There are a number of different hiking options in the Mariposa Grove including a 2-mile Grizzly Giant Loop Trail. The lower grove, which houses the Grizzly Giant, is particularly crowded during the summer. If you're looking for a little more peace and quiet try the upper grove.
Where to stay near Yosemite National Park:
Mid-range: Yosemite Westgate Lodge. Check rates: Booking.com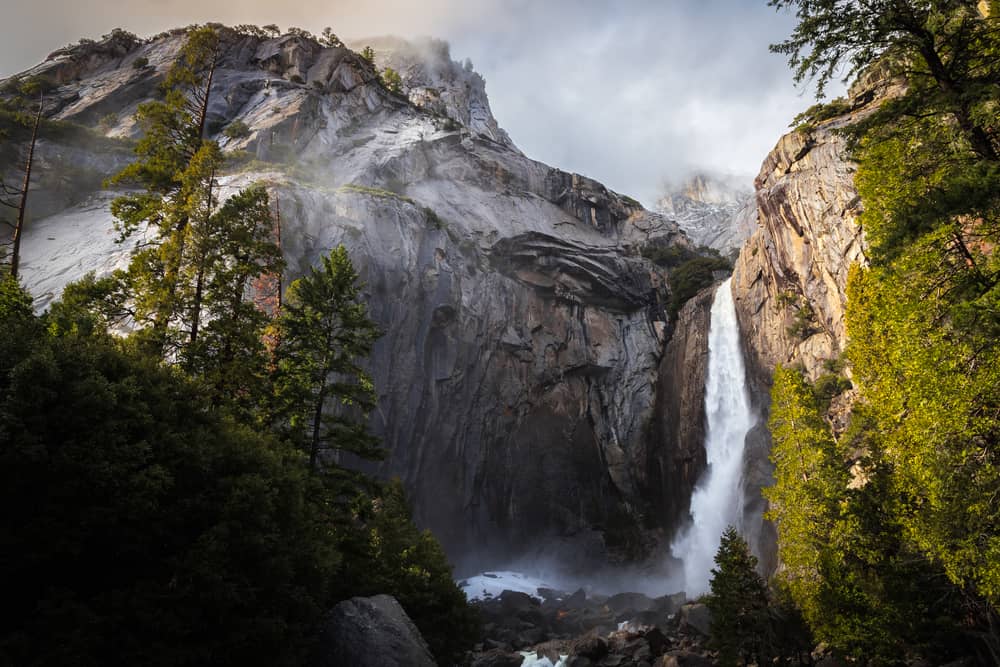 Stop 4: Visit The Exciting, Diverse City Of San Francisco On Your West Coast USA Road Trip
Your next west coast road trip stop is in San Francisco, the land of golden gates, cable cars, great food and irresistible chocolate. It's a diverse city full of excitement, with a population density rivaling New York's. There's something for everyone with National Recreation Areas, intriguing islands, plenty of hiking trails, informative museums and famous landmarks. It's impossible to explore all that San Francisco has to offer in one trip, but you can certainly start your SF experience with a bang by partaking in the following activities.
The Golden Gate Bridge is the iconic San Francisco landmark connecting San Francisco to Marin County. Whether it's shining brightly in its full glory or peaking through the ever-present San Francisco fog, it is clear that the bridge is a truly beautiful piece of architectural work. You'll no doubt be photographing it from every angle possible over the course of your trip, but if you're looking for an up close and personal experience, try walking or riding a bike across the bridge. Pedestrians are allowed on the east sidewalk. The bridge is 1.7 miles long, and walking or biking the length of it helps you to get a true feel for the full size and scope of this impressive structure. On top of that, the views from the bridge are pretty spectacular.
Fisherman's Wharf can be overwhelmingly full of tourists, but if you're looking for delicious clam chowder in bread bowls and sea lions, than this is your spot. For all your clam chowder needs we suggest heading to Boudin Bakery. They offer other soups, sandwiches, and salads, but their New England style clam chowder in a sourdough bread bowl is the ultimate menu item. When you're all full of soup, wander over to the Pier 39 K-Dock to see the famous playful, barking sea lions.
San Francisco's Exploratorium Museum of Science, Art and Human Perception is a place both children and adults love. There's an abundance of hands on activities and plenty to explore. The optical illusion exhibits are particularly thrilling. For adults looking for even more excitement, the Exploratorium has after dark hours on Thursday nights where you can still explore the over 650 exhibits as well as sip on drinks, and take part in the adults-only program of the week which can include music, guest speakers, films, etc.
For the best, unobstructed views of the San Francisco Bay, head up to Twin Peaks (the peaks are called Eureka and Noe). From the top, you can see the Golden Gate Bridge, Alcatraz and the whole city. Its location near the geographical center of the city makes it a prime viewing location as well. There are a number of different hiking trails, but the main path to the summit and back is .7 miles one way. Most people arrive at the base of the peaks by car. You can also park elsewhere and extend your hike by walking to the base and then up to the summit, or ride your bike, which is a popular way for people to get around the city.
Angel Island State Park is worth a visit not just for the spectacular views of the bay but also for the incredible history of the island. The island has drawn Spanish explorers, served as a cattle ranch and with the establishment of Camp Reynolds in 1863 became a place full of US military history. From 1910-1940, Angel Island became an immigration station, primarily interrogating the influx of Chinese immigrants in an effort to exclude them. Many citizens resented the immigrants because they feared they would take their jobs away from them. Most Chinese immigrants were detained from 2 weeks to 6 months.
Now the island is a State Park with historical and cultural sites, tours, hiking trails and more. We recommend that you tour the Immigration Station and Barracks where you can still see the moving classical Chinese poetry inscribed on the walls by disheartened detainees. It is accessible from San Francisco via ferry. Be sure to check the ferry schedule for times and rates.
While we're on the subject of islands with rich history, let's talk about Alcatraz. Alcatraz Island is now part of the Golden Gate National Recreation Area and the site of an abandoned prison, but it was once a fully active military prison housing Civil War prisoners and treasonous private citizens among others. The island is isolated, the wind relentless, and the water violent, making it the perfect location for a prison. In 1934, Alcatraz became a federal prison. The prison became home to difficult and infamous criminals including Al Capone and the Birdman of Alcatraz (Robert Stroud). Today, like Angel Island, Alcatraz is also accessible via ferry from San Francisco. The ferries leave from Pier 33.
Ghirardelli Square is a popular tourist spot home to restaurants, shops and hotels. But let's be honest, the real star of the show is the Ghirardelli chocolate. You can get ice cream, sundaes, fudge, and more kinds of chocolate than you can possibly imagine. Ghirardelli Square is the home of Domenico Ghirardelli's original Ghirardelli Chocolate Factory. The factory had a number of different locations before settling in the spot that is now the Chocolate Manufactory & Soda Fountain. If you love chocolate, Ghirardelli Square might just be the place for you.
Perhaps you'll want to take your newly acquired chocolate collection and head to the beach. Though the rough waters at Baker Beach make it a poor location for swimming, its views of the Golden Gate Bridge and Marin Headlands make it a worthwhile stop while in San Francisco. It is a picturesque location surrounded by serpentine rock. If you're looking for a hiking option in this area, you should definitely try the 3.9-mile Fort Point-Baker Beach Coast Trail, which gives you a workout and equally stunning views. This trail makes up a small section of the 1,200-mile California Coastal Trail.
When you're tired of clam chowder and chocolate, (is that even possible?) you can get some delicious burritos and tacos at La Taqueria in San Francisco's Mission District. This very popular taqueria has gigantic burritos that will definitely satisfy your hunger. The burritos are served without rice, providing extra room for your favorite ingredients. You can also ask for it "El Dorado-style" where they'll essentially fry the outside to a crisp golden brown. With limited seating and many customers, it can be tough to find a seat initially, but the turnover rate is fast.
Where to stay in San Francisco:
Mid-range: Seaside Inn. Check Rates: Booking.com
Mid-range/Luxury: Hotel Nikko San Francisco. Check rates: Booking.com
Luxury: Huntington Hotel. Check rates: Booking.com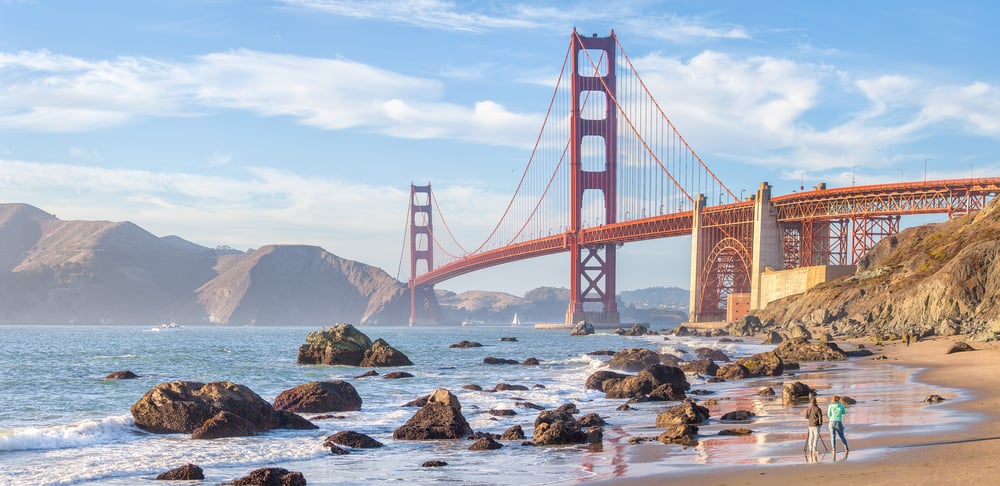 Stop 5: Immerse Yourself In The Strikingly Beautiful Redwoods At The Redwood National and State Parks
As preparation for the breathtaking beauty in the Redwood National and State Parks, make sure you're driving the west coast road trip route that will take you along the 31-mile scenic drive known as Avenue of the Giants. This section of road running parallel to the 101 Highway has some of the most stunning redwoods you'll ever lay eyes on. The road is surrounded by the Humboldt Redwoods State Park. There are hikes and sites in the area, but since the Redwood National and State Parks are the next stop on your west coast road trip, it's probably enough to take in the sites of the Avenue of the Giants from your car en route to your next destination.
If you've now arrived at the Redwood National and State Parks and are looking for the best ways to explore this spectacular natural landscape, we have you covered. Hiking is the ultimate way to experience all that the parks have to offer, and boy do we have some fantastic hikes for you. Believe it or not, the redwoods, while indisputably spectacular, are not the only showstoppers in the parks.
We're speaking of Fern Canyon located in the Prairie Creek Redwoods State Park. This is a 1.1-mile loop hike through lush walls of ferns dripping with water, and a gently moving creek. This also happens to be one of the filming locations for Jurassic Park 2: A Lost World. Be aware that it's unlikely you'll finish the hike without getting your feet a little wet. While there are some footbridges, it's nearly impossible to escape the creek altogether. But that adds to the adventure of it all. You're sure to enjoy your time navigating through the towering walls of this beautiful, green landscape.
One of the most spectacular and diverse hikes in this area is the Miner's Ridge and James Irvine Loop hike also located in the Prairie Creek Redwoods State Park. Over the course of roughly 11.5 miles you will get a taste of all the best sights the park has to offer from towering redwoods, to vibrant green ferns, and peaceful beaches. The hike starts with a bang, offering you views of spectacularly large redwood trees. As the hike continues, the trees get narrower until you hit Fern's Canyon and Gold Bluff's Beach.
Take a minute here to enjoy the sandy beach and the views of the Pacific Ocean. When you're ready to start your hike back, look for the Gold Bluffs Beach campground. It is here that you'll find your connection to the Miner's Ridge trail that will take you back through old-growth redwoods to finish your hike. With all the spectacular views and contrasting scenery, it's no wonder this is one of the best redwood hikes in the world.
You'll find that many of the best hikes are found in the Prairie Creek Redwoods State Park, and our next hike suggestion is no exception. Combine the Prairie Creek and Cathedral Tree trails for a 3.2-mile loop that will take you through some beautiful scenery and past the Big Tree. The Big Tree is a famous tree with an impressive circumference of 68 feet, though we suspect you'll find the collection of sturdy, towering redwoods along the trail to be equally impressive. This trail is easy, very popular, and will take you through many of the most spectacular redwoods this area of the park has to offer.
If you're looking to venture outside the Prairie Creek area, the Lady Bird Johnson Grove Hike is a great option in the Redwood National Park. The main difference with the Lady Bird Johnson Grove is that it's located 1,000 feet above sea level and the change in elevation creates a slightly different climate. If you've been walking among the most impressive redwoods at Prairie Creek, you might find the redwoods here to be a little underwhelming, but they're still worthy of your attention. In the Lady Bird Johnson Grove, the redwoods are also combined with other tree and plant species to create a uniquely wonderful scenic hike. It's a short 1.5-mile round trip hike, and if you're looking for beautiful scenery in a peaceful setting, you'll find it here.
Where to stay near Redwood National and State Parks:
Affordable: Lighthouse Inn. Check rates: Booking.com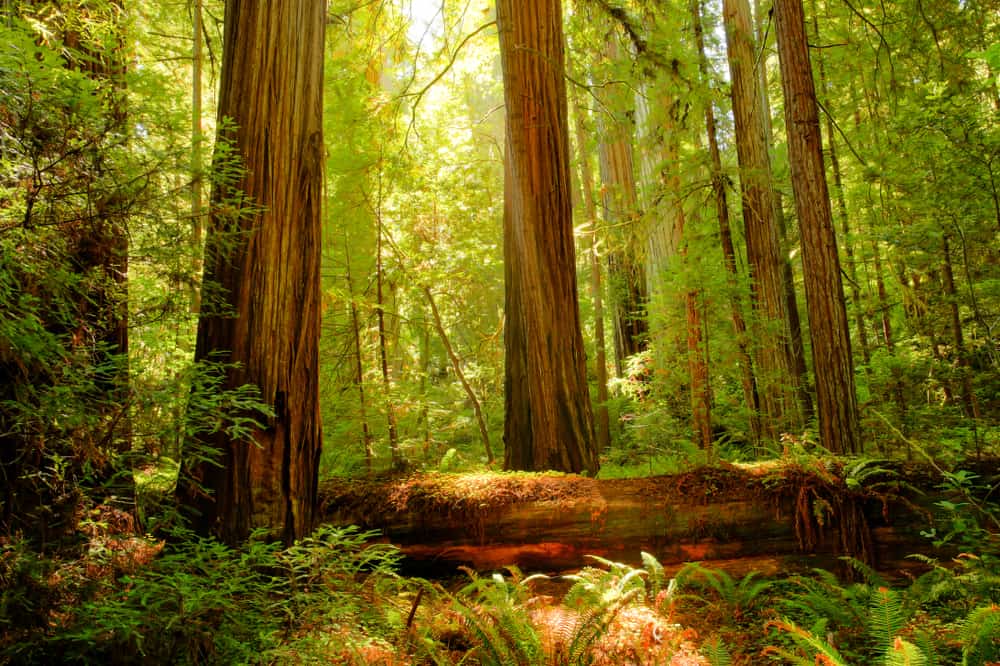 Stop 6: Visit Eugene Where University Life, Art, and Nature Beautifully Coexist
As one of the largest cities in Oregon, Eugene offers an abundance of activities. Eugene has the University of Oregon in the heart of the city, the beauty of nature right in its backyard, and a thriving arts scene that includes the Hult Center for the Performing Arts. You can spend the morning wandering along the river or finding fresh produce in a farmer's market, and then spend the afternoon viewing the city from above from the rocky summit of Spencer's Butte. There's something for everyone in this thriving city.
The University of Oregon is a centerpiece of the city and worth spending some time exploring. It's a beautiful campus located along the Willamette River with lush trees dispersed across the grounds. There's running and walking trails nearby, and impressive views. If you're a football fan, check the game schedule for the University of Oregon football team and go cheer on the very successful Oregon Ducks. In addition to their dominance on the field, the team is known for their flashy, constantly changing uniforms. The campus is also home to two museums including the Jordan Schnitzer Museum of Art and the Museum of Natural and Cultural History.
Does a hike through beautiful maple trees and Douglas firs with a spectacular view of the city from above sound appealing to you? You'll definitely want to hike Spencer's Butte during your time in Eugene. If you start at the South Willamette Trailhead, the hike will take you switch-backing through the lush forest for a total of 1.7 miles round trip. The trail is moderate in difficulty with quad burning stairs as you approach the summit, but the 360 view is more than worth the effort. If you're looking for a longer hike, you can start from the Willamette Trailhead for a total round trip hike length of just over 5 miles.
If you're looking to continue your outdoor adventures, the Mount Pisgah Arboretum is the perfect spot to appreciate the natural beauty of the area. With stunning trees, plant life, beautiful wildflowers and a pavilion, it's no wonder the Arboretum is a common site for weddings. There are 7 miles of hiking trails including a roughly 1.5 mile West Summit Trail. At the trailhead, you'll need to pay a $4 parking fee before beginning your hike. It's the most popular trail up to the summit of Mount Pisgah and you'll be greeted with spectacular panoramic views. The Arboretum is the perfect place to break a sweat, or just sit or stroll in peace and quiet surrounded by nature.
There are a number of benefits to being a part of a University town including the fact that you have access to the University's museums. The Jordan Schnitzer Museum of Art is located on the University of Oregon Campus and is definitely worth a stop. The museum was initially constructed to display the Murray Warner Collection of Oriental Art. Warner's greatest hope was to unite cultures through art. The highlights of the museum today are the Chinese, Japanese and Korean artwork, but the museum is home to so much more including American and Pacific Northwest Art. You'll also likely spot an iconic piece of artwork here and there from artists such as Picasso or Van Gogh. Admission to this wonderful museum is also very affordable at $5 a person.
For a uniquely Eugene shopping experience head over to the open air 5th Street Public Market. The Market is beautiful and filled with boutique shops, restaurants and cafés. Even if you're not looking for anything in particular, it can be fun to wander through the interesting stores. During the holidays, it is wonderfully lit up at night. Just across the street from the market is a great hip coffee shop called Tailored Coffee Roasters. You'll love the atmosphere and the friendly staff.
You'll find your arts and theatre needs met at The Hult Center for the Performing Arts. The performance space was built for optimal acoustics and aesthetic beauty. The architecture of the building is something to be appreciated starting with its beautiful glass lobby. The Hult Center has six residence groups, which include the Ballet Fantastique, Eugene Ballet Company, Eugene Concert Choir, Eugene Opera, Eugene Symphony and Oregon Bach Festival. For lovers of musical theatre, you'll be happy to know that the Hult Center is also the location of all the Broadway National Tours coming through the area. For a complete list of all the upcoming events, take a look at their website.
If you're visiting Eugene between April and November, stop by the popular Eugene Saturday Market. With roughly 300 vendors selling their unique work each week, there's plenty to catch your eye as you stroll through the aisles. The market also has food booths and live music. This is a perfect, relaxing way to kick off your weekend. Though the market is closed for most of the winter, it reopens briefly for the Holiday Market from mid-November up until the day before Christmas. You'll find detailed information on exact dates and hours on the market website.
Alton Baker Park is a fantastic park located right on the beautiful Willamette River. It is Eugene's largest developed park and has just about everything you can want in a park. It has great running trails, duck ponds, disc golf courses, plenty of space for dogs to run around, large open green space for playing sports and biking and walking trails. The entire park is a little over 400 acres of beautiful landscape. The park is also right next to the Autzen Stadium (University of Oregon's football stadium) and the rest of the University of Oregon Campus. So grab your picnic baskets and Frisbees and head to Alton Baker Park for a fun filled day sharing the beauty of nature with the squirrels and ducks.
When you're exhausted from the day's activities and are looking for a place to eat, we suggest Sabai Café as a great dinner option with fantastic Thai food. There are plenty of delicious menu options and a number of the items can be made vegan upon request. The restaurant has a very modern feel and the staff is attentive and very friendly. This restaurant is very popular so you might want to consider making a reservation, otherwise you might be in for a long wait.
Where to stay in Eugene:
Affordable: Best Western New Oregon Motel. Check rates: Booking.com
Mid-range: EVEN Hotel Eugene. Check rates: Booking.com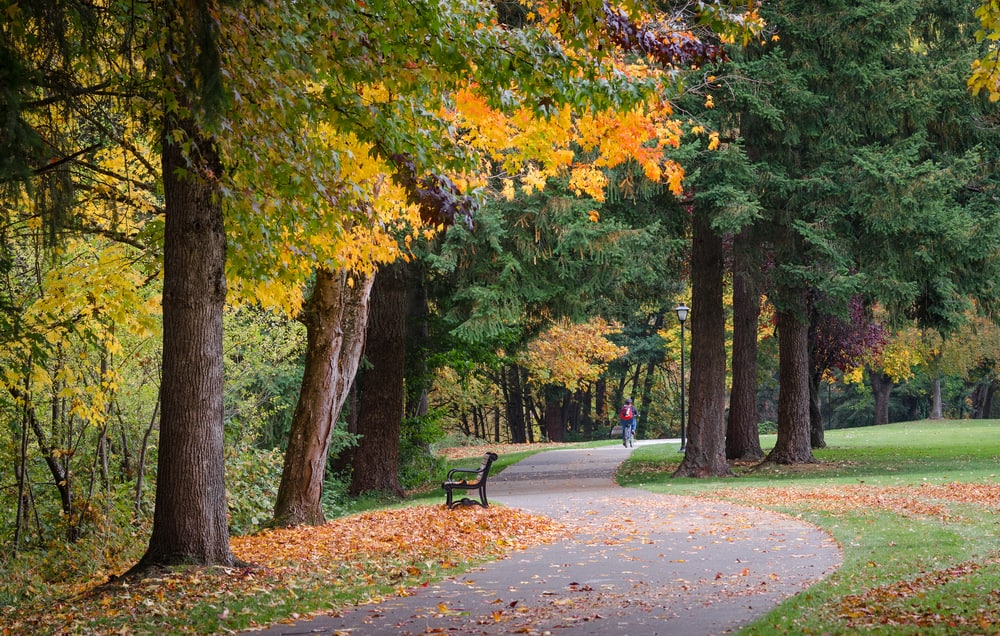 Stop 7: Visit Portland For A Funky, Hip Vibe That's Easy To Fall In Love With
The next stop on your west coast road trip is Portland, one of the most popular cities in the United States. There's no city like it and there are tons of things to do in Portland!
It's colorful and eccentric, and is surrounded by unbelievable natural beauty. The city is environmentally conscious, has food trucks popping up on every corner, lines down the street for Voodoo Donuts, a startling number of strip clubs, a city-block-sized bookstore you can get lost in, an abundance of craft beer, and a giant sign that says "Keep Portland Weird." There's something for everybody in this wonderfully thrilling city.
Book lovers are in for a real treat at Powell's City of Books, the largest independent chain of bookstores worldwide which spans a whole block and is three floors high with 9 rooms each representing different genres. Each room is color coded, and the store provides maps to help you find your way around. As other bookstores fail to survive, Powell's continues to thrive. It's everything you could want in a bookstore, with millions of books to spend hours perusing, and a coffee shop in which to chat and relax. The staff members are always eager to help, and with that size and variety of book selection, it's hard not to walk out of there every time carrying an armful of books!
For families with children, or for anyone who loves a good zoo, the Oregon Zoo should definitely be on your Portland itinerary. The Oregon Zoo is in a prime location in Washington Park. It is home to almost 2,700 animals including the much-adored Asian Elephants and is known for its conservation efforts. The zoo also puts on a ZooLights holiday event from Thanksgiving to New Years Eve lighting up the whole park in spectacular fashion. In the summer the zoo has a Summer Concert Series outdoors.
If you're looking for stunningly beautiful gardens to relax in and wander through, Portland has both a Japanese Garden and a Chinese Garden. It is often said that the Japanese garden is the most authentic recreation of a Japanese garden outside of Japan. The gardens are a place for learning about Japanese culture and for taking a moment out of your busy Portland itinerary to experience serenity and tranquility in a beautifully and meticulously constructed sanctuary.
The Lan Su Chinese Garden is a work of art as well. You'll find this beautiful garden in Portland's Chinatown. There are public tours throughout the day that are included in the price of your admission as well as other scheduled events. There's also a beautiful Teahouse. Whether you're enjoying the Teahouse on your own, or are attending a scheduled event there such as a performance of traditional Chinese music, you're required to purchase tea as part of your complete experience. Check the garden's calendar for other wonderful scheduled events throughout the year such as celebrating the Autumn Moon Festival or Tea and Poetry.
Looking to relax in a soaking pool, eat a burger, drink some craft beer, watch a movie, and attend a concert? Look no further than McMenamins. McMenamins has locations throughout both Oregon and Washington. The buildings it occupies are often historical buildings that have been restored. As you might guess, The Kennedy School in Portland was once an elementary school.
Now you can stay overnight in a room with a chalkboard, have a drink in an old classroom, watch a movie in the old auditorium, soak in a beautiful relaxing pool, and have a meal at the Courtyard Restaurant. McMenamins has a style distinctly its own and is a treasured part of each community it inhabits. You might even purchase a passport and get your stamps and collect your rewards as you make your way to each of the McMenamins locations.
We mentioned that Portland is surrounded by natural beauty. If you have the time to drive a little bit outside of the city, you have to experience the Columbia River Gorge (a National Scenic Area) and its stunning waterfalls. There's more to see in the Columbia River Gorge than you can possibly have time to explore, but we have a suggestion of where to start.
Drive along the Historic Columbia River Highway and stop at the Multnomah (the most famous of the falls), Bridal Veil and Latourell falls. If you've spent all the time you'd like at these waterfalls and are still hungry for more, there's a number of other easily accessibly waterfalls you should check out including Horsetail Falls, Wahkeena Falls, and Shepperd's Dell Falls.
For more local outdoor fun we suggest heading to Forest Park. Forest Park covers 5,200 acres of land and is full of hiking trails. The Leif Erikson Drive Trail is a great option and is perfect for runners, though it sees plenty of hikers and bikers as well. It's just over 12 miles long and allows you to enjoy the beautiful scenery at the center of Forest Park. Another great area with beautiful ridges, plant life and trails is the Hoyt Arboretum. The Arboretum is conveniently located near downtown Portland in Washington Park, right by the Oregon Zoo and Japanese Garden.
Portland has no shortage of great food from food trucks, to restaurants and breweries. If you're looking for delicious Mexican food, head to ¿Por Qué No? Taqueria. This is a popular spot, and there's often a long line out the door to order. But the line usually moves quickly, and the food is worth the wait. When you're ready for ice cream after your meal, you have to try Salt and Straw. Some of the flavors are more standard (Chocolate Gooey Brownie) and some are more outrageous (Pear and Blue Cheese or Strawberry Honey Balsamic with Black Pepper), but all are delicious.
Alberta Street in Northeast Portland is another restaurant and bar hot spot. Besides dining options, this street is unique and colorful with a vibe that's all its own. We have a few suggestions for places to try on Alberta Street. If you're in the mood for biscuits that will make you drool, head to Pine State Biscuits for all kinds of biscuit sandwiches and biscuits and gravy. Another great option for food is the Tin Shed Garden Café, a dog friendly café with fresh American food. To satisfy your alcohol desires, try Great Notion Brewing, or find a spot around the fire pit with a slider and cocktail at The Knock Back.
Where to stay in Portland:
Mid-range: McMenamins Kennedy School. Check rates. Booking.com
Mid-range: Hampton Inn And Suites By Hilton Portland-Pearl District. Check rates: Booking.com
Midrange/Luxury: The Paramount Hotel Portland. Check rates: Booking.com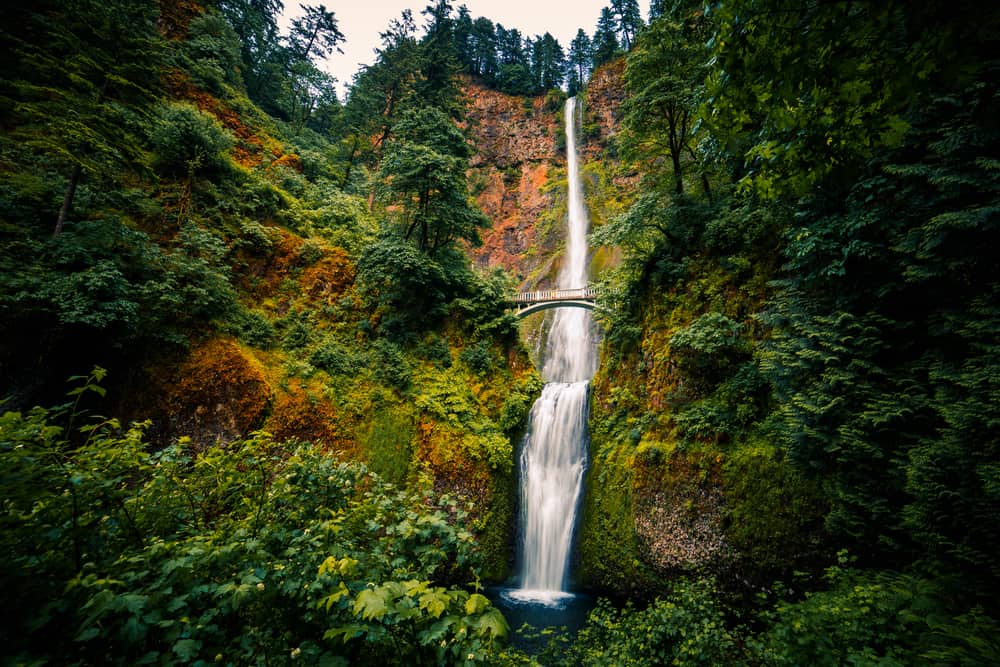 Stop 8: Finish Your West Coast Road Trip By Viewing Seattle's Iconic Landmarks and Architectural Works
For the final stop on your west coast road trip, you'll head to Seattle to experience the fresh food, beautiful waters and creative architecture of this popular urban city. There's no shortage of activities to do and plenty of iconic sites you shouldn't miss. If you're looking for green public parks, Seattle has plenty. Mountains and forests? It has that too. And if you're a coffee lover you've certainly come to the right place. Now's your chance to look past the dreary, rainy stereotype and embrace the exciting, unique qualities of this Pacific Northwest beauty.
Pike Place Market with its vibrant red signage, fresh food, intriguing shops, and waterfront location make it a favorite Seattle spot for both visitors and locals. This is one of the best things to do in Washington and you don't want to miss it.
Be prepared to experience the top echelon of farmer's markets. Among the Pike Place's top attractions are the fresh produce, beautiful flower bouquets and the famous flying fish tossed by fishmongers at the fish market.
For Starbucks aficionados, you'll be pleased to discover that Pike's Place is home to the first Starbuck's location, which is still standing and fully operating. Below the main market stalls are unique shops that are worth perusing. If nothing else, the market is a great place to people watch and soak up the wonderful Seattle community vibe.
If you're looking for green park space in the urban city, you should definitely spend some time at the Seattle Art Museum's (SAM) sculpture park. This impressive piece of land is a large zigzagged pathway filled with a handful of sculptures and plenty of green park space. It leads from the museum all the way down to the water, connecting the city to nature. The park appeals to art enthusiasts for obvious reasons, but is also the perfect relaxing space for anyone. When you visit, check the park's schedule to see if you'll be around for any of the events including food trucks, live music, fitness classes and park tours.
If you're interested in viewing some of the spectacular architecture that Seattle has to offer, there are a couple of places to check out. The first is the Seattle Public Library in downtown Seattle. This modern behemoth complete with glass and steel has the capacity to house an impressive 1.5 million books along with more updated technologies creating a harmonious mixture of the two. This library is meant to engage you with your surroundings.
Another fascinating collection of structures worth your time is the Amazon spheres, a grouping of 3 glass domes that make up a section of the Amazon headquarters campus. Each dome consists of pentagonal hexecontahedron panels. The spheres are home to an abundance of plant life as well as more practical spaces designed for the Amazon employees to use for meetings and working. Twice a month on Saturdays, the Amazon Spheres are open to the public and you can make reservations to tour the place yourself.
Seattle's Ballard Locks continue to be a top tourist attraction. These locks allow boats to pass back and forth between Lake Union and the Puget Sound. Children particularly love observing the operating of the locks. During certain times of the year, you can also watch the salmon traveling upstream on the fish ladder. There's an underwater viewing area to watch the action up close. The Ballard Locks also have a visitor center with historical information on the locks and a botanical garden surrounding the locks.
For those outdoor enthusiasts looking for a particularly fun bike ride, we suggest riding from the SAM Sculpture Park we mentioned earlier all the way to the Ballard Locks. It's roughly a 4.5-mile ride. Another great outdoor activity is renting kayaks or paddle boards at the Northwest Outdoor Center (NWOC) to paddle on Lake Union. You can find more information including rental rates on the NWOC website. There's nothing quite like paddling among houseboats and float planes surrounded by iconic buildings such as the Space Needle.
Your outdoor adventure options continue at Discovery Park with a hike to the lighthouse. The huge park alone is beautiful with beaches and meadows. It's the perfect place to relax and take a break from city life. If however you're looking to break a sweat, the park offers a number of trail options. We suggest taking the Loop Trail, which is the most popular of the trails. You don't have to take the loop to the lighthouse, but it's definitely a worthwhile stop. Signs along the trail will point you to the lighthouse. The hike is roughly 3.5 miles round trip and though not particularly difficult, will give you a bit of a workout and gorgeous views.
The Museum of History & Industry (MOHAI) is a great way for both adults and children to learn about the history of Seattle and the surrounding area. The museum is divided into sections with each section representing a different time in the city's history starting from the native people and early settlers all the way to modern times. You're sure to be fascinated by the growth and resilience of this wonderful city. Admission is $21.95 for adults, free for children under 14 and free for everyone on the first Thursday of each month.
Seattle's maritime history is an important part of the city. The Center for Wooden Boats is a museum dedicated to preserving this history. This museum provides exciting hands on experiences such as a chance to rent any of their wooden boats including rowboats, canoes, double kayaks, sailboats, and pedal boats. On Sundays you can sign up to ride for free with a museum volunteer in a sprit boat, steamboat, electric boat, schooner, ketch, yawl or yacht. The museum also has ongoing programs for all age groups that include toy boat building and guest speakers.
When you're ready for a food break and are looking for a place to eat we suggest checking out Westward for a beautiful waterfront dining experience on the edge of Lake Union. With a fire pit and Adirondack chairs, this restaurant is sure to win you over if not with the great views then perhaps with their oyster bar. Another great option is Matt's in the Market. It's the perfect lunch or dinner stop if you're exploring Pike Market Place. Matt's gets its ingredients from the market and you can enjoy your fresh food with beautiful views of the Olympic Mountains. It's the perfect recipe for a great meal.
Where to stay in Seattle:
Mid-range: The Mediterranean Inn. Check rates: Booking.com
Mid-range /Luxury: Silver Cloud Hotel. Check rates: Booking.com
Luxury: Thompson Seattle. Check rates: Booking.com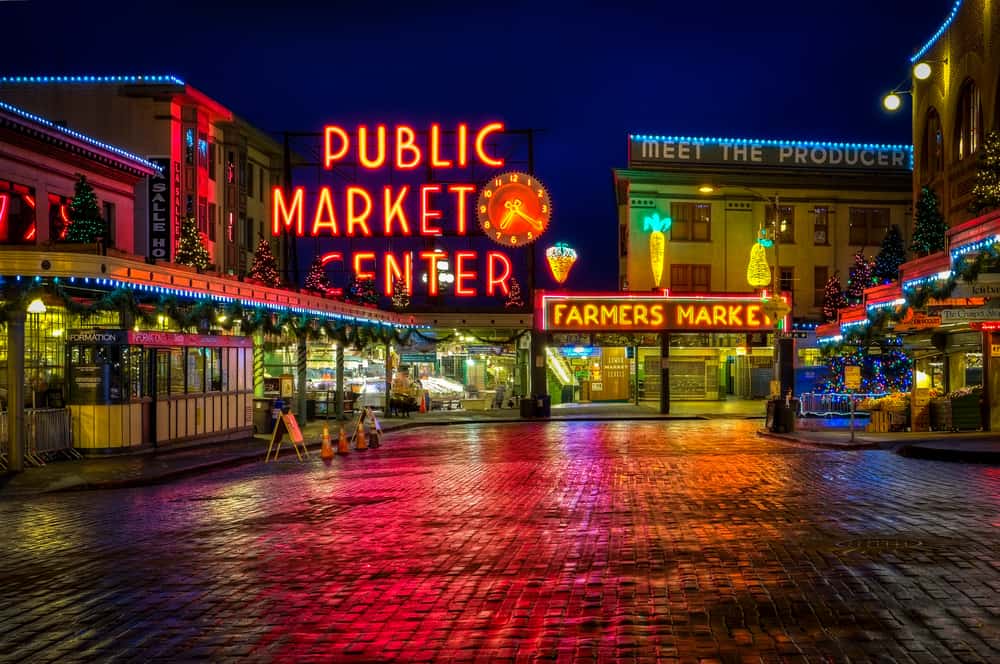 West Coast Road Trip Map:
If you're more of a visual person, we've provided this west coast road trip map below so it's easier for you to see where each stop is located. For exact driving times between locations, check out the link to the map.
Click Here For West Coast Road Trip Map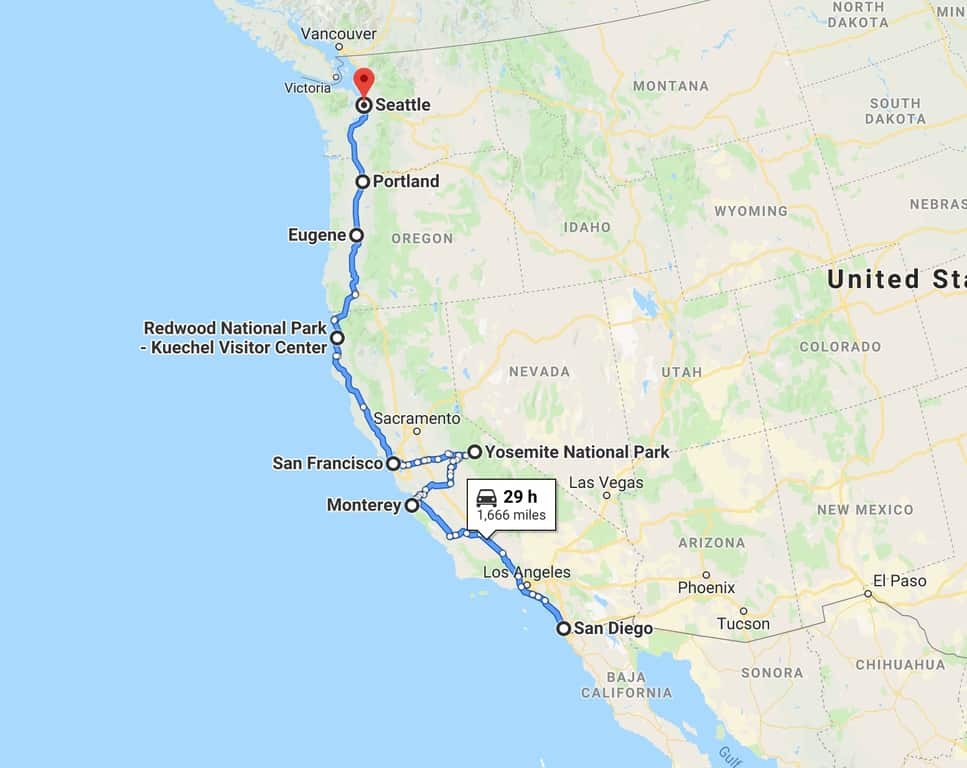 We're so excited you've chosen to embark on a west coast road trip, because it's a truly remarkable part of the country. As we mentioned earlier, this guide only touches the surface of all the spectacular sights and adventures the west coast has to offer, but we think these 8 stops are certainly a great place to start. We know you'll love the beaches, towering redwoods, impressive pieces of architecture and great food along with everything else you'll experience over the course of your trip. Feel free to ask us any questions or let us know about your personal experiences in the comments. And most importantly, have fun on your west coast USA road trip!