Are you on the hunt for the best Alaska road trip itinerary that showcases the best the "Last Frontier" has to offer? When planning your trip, feel free to modify our Alaska itinerary based on the amount of time you have to spend in the state.
We recommend visiting Alaska for at least a week, but two weeks is an ideal amount of time for an Alaska vacation. No matter how long you have to spend in the state, you are in for a real treat when visiting America's 49th state!
We have been to Alaska multiple times and are recommending exactly what to do based on experience. There are some "boring" things to do that are left off this list so you simply see the best of the best that Alaska has to offer!
You are in for a real treat because Alaska is so diverse and offers stunning nature and wildlife like you have never seen it before.
Here is our Alaska road trip guide!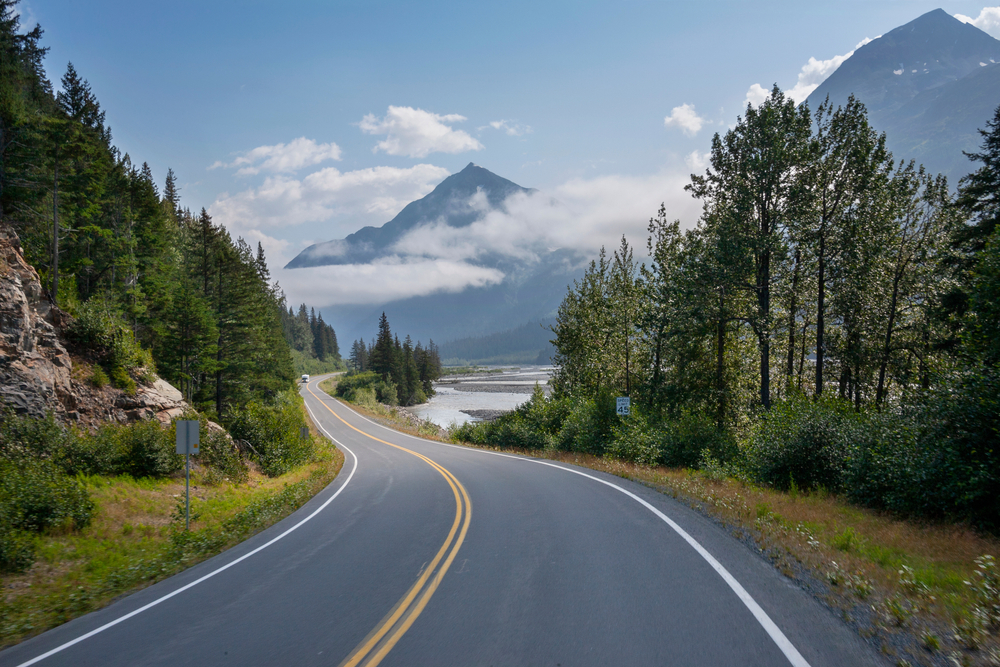 The Ultimate Alaska Road Trip Itinerary (Can't Miss Stops!)
Best Time Of Year For An Alaska Road Trip
When you are planning your Alaska road trip, the time of year is something you should totally consider. The best time of year for traveling Alaska is easily summer or fall. Winter is not a good idea for obvious reasons. The weather is harsher and the many Alaska driving routes are impassible because of snow.
Spring can still be very cold in Alaska as well. Depending on where you want to go, spring in Alaska can be quite snowy and cold. If you want to drive into the mountains, the snow may not have melted just yet and you will be limited in what you are going to be able to do.
Late summer and early fall are an ideal time for taking a road trip in Alaska because the weather is good, the snow is gone, and the animals are out and about. The downside is that this is high season and prices will be at their most expensive, but it is for a good reason. If you can visit Alaska later in the year, like September or even October you will have the chance to experience the state with lower prices.
A word of caution, if you go later in the year you will have to deal with closures as many companies shut down for the season. You are safe to travel in late summer and early fall so keep this in mind when choosing what time of year to plan your Alaska road trip.
This is also one of our favorite Summer Trips in The USA!!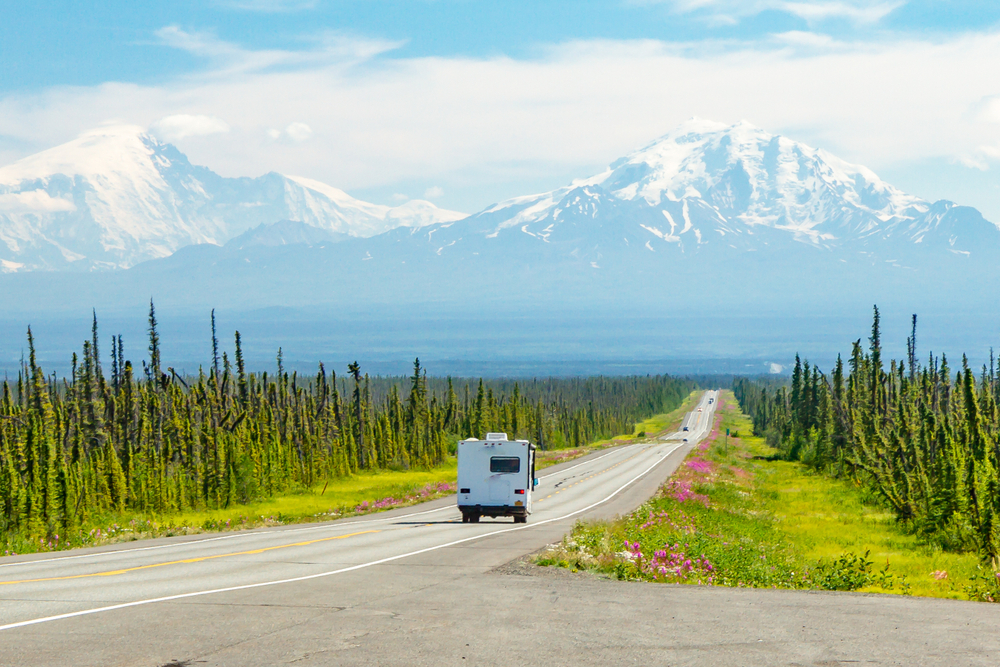 Begin Your Alaska Road Trip By Flying To Anchorage
When we initially considered traveling to road trip Alaska, we never thought we would find cheap flights to Alaska! Considering how far it is away from Florida, we thought the prices would be crazy high.
We recommend checking out Skyscanner to find the best and most affordable flights into Alaska. We use this tool to discover the best flights for our trip because you can easily compare rates.
Alaska Air flies direct from Tampa [where we are from], with one layover in Seattle, and the prices rang in at about $600-$700 per person, round trip.
Considering that Alaska is much further from Florida than Europe, we thought this was actually quite an affordable price! We were thinking airfare to Alaska would be more like $1500-$2000 per person.
This is truly one of the Best Road Trips In The USA so you are in for a real treat!
If you aren't looking to visit Alaska on a budget or are looking to splurge, Alaska Air offers a wonderfully spacious first-class option with meal service on most flights to Alaska.
The meals are expertly curated with locally sourced choices and vegetarian options and you have access to unlimited beverage options. Since some flights arrive into Anchorage in the wee hours of the morning, stretching out is never a bad idea!
Don't forget to pack a neck pillow like this crazy cool futuristic one for a comfortable night sleep and bring your airplane blanket if you are in coach!
You are going to want to fly into Anchorage because flights to Anchorage are affordable and the city is centrally located. It is the perfect base to explore and start a road trip!
When renting a car in Alaska, don't worry about getting anything fancy if you don't want to. Roads in Alaska are very good so you don't need a 4×4 car. A simple economy car does the trick if you are looking to visit Alaska on a budget.
We did this entire Alaska itinerary in a Nissan Centra with no problems! The car got fabulous gas mileage to boot! Remember that you can spend as little or as long as you want on an Alaskan road trip! From 10 days in Alaska itineraries to 7 days in Alaska to even shorter getaways, take as little or as much time as you need!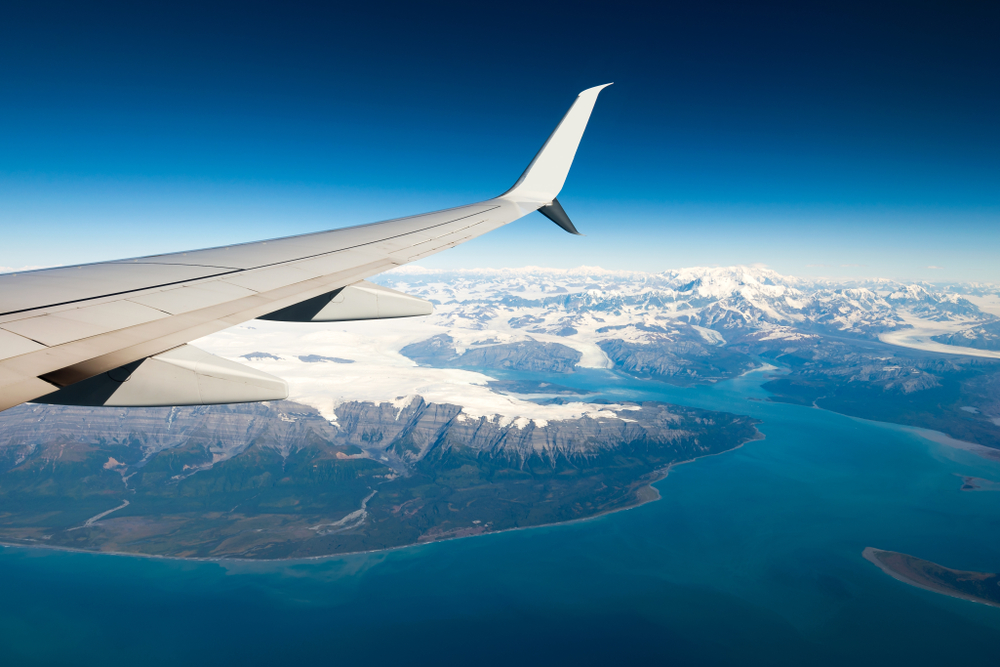 Stop 1: Anchorage
You will start and end your Alaska road trip in the city of Anchorage. There are plenty of things to do in Anchorage and the town is full of all the comforts you could ask for such as large grocery stores, a mall, museums, shops etc. while still being very close to all the nature you could possibly want!
Most Alaska road trip itineraries begin and end in Anchorage because it is convenient and the international airport is nearby.
If you are looking for some of the best things to do in Anchorage, consider going to the Anchorage Museum which has something for the whole family! Fascinating art and cultural exhibits, a planetarium, and an entire kids section make it a great day trip for all ages!
Don't forget to check out our Detailed Road Trip Packing List so you don't forget any essentials for your trip!
If you want to see more of the city, Anchorage Trolley Tours is a fun and affordable way to take a tour! We learned all about how Anchorage was founded, saw crazy cool local homes, and drove on an actual small plane runway!
This was certainly one of the most fun Alaska tours in town and one of our favorite things to do in Anchorage. You can book your trolley tour online and save time when you arrive. This is a great family-friendly thing to do!
Finally, if you are looking to get active in Anchorage, this 3-hour City And Coastal Bike Tour may be perfect for you.
It is educational and fun and a great way to see the city while getting some exercise. The coastal parks are BEAUTIFUL in Anchorage and filled with tons of wildlife. Keep your eyes peeled and you may even spot some moose!
Anchorage is a fun and educational place to begin your road trip in Alaska!
Best Vrbo Rentals In Anchorage
Best Hotels In Anchorage
Stop 2: Talkeetna
If you haven't yet heard of Talkeetna, you are in for a real treat! It is the cutest town in Alaska and is the base for people who are hiking the mountain of Denali. It is eclectic and so cute and a wonderful place to visit before you head to Denali National Park.
The food in Talkeetna is some of the best in Alaska so you will certainly want to try to eat at as many places as possible during this stop on your Alaska road trip.
One of the best things to do in Talkeetna is to take a flight tour of Denali. This Talkeetna: Denali 1-Hour Flight Experience is based out of Talkeetna This is the best way to see Alaska from the air. If you want the chance to walk on a glacier, you can also choose the Talkeetna: Grand Denali Flight Tour with Optional Landing.
If you are taking a flight, understand that a glacier landing will up the price of the flight. If you have seen enough glaciers, we recommend sticking to the flight to save money!
You can also go fishing or whitewater rafting along the nearby lakes and rivers. Many people stop in Talkeetna for a quick stop and that is fine if that is all the time you have, but we highly recommend spending at least one night in this unique little Alaskan city!
Best Vrbo Rentals In Talkeetna
Best Hotels In Talkeetna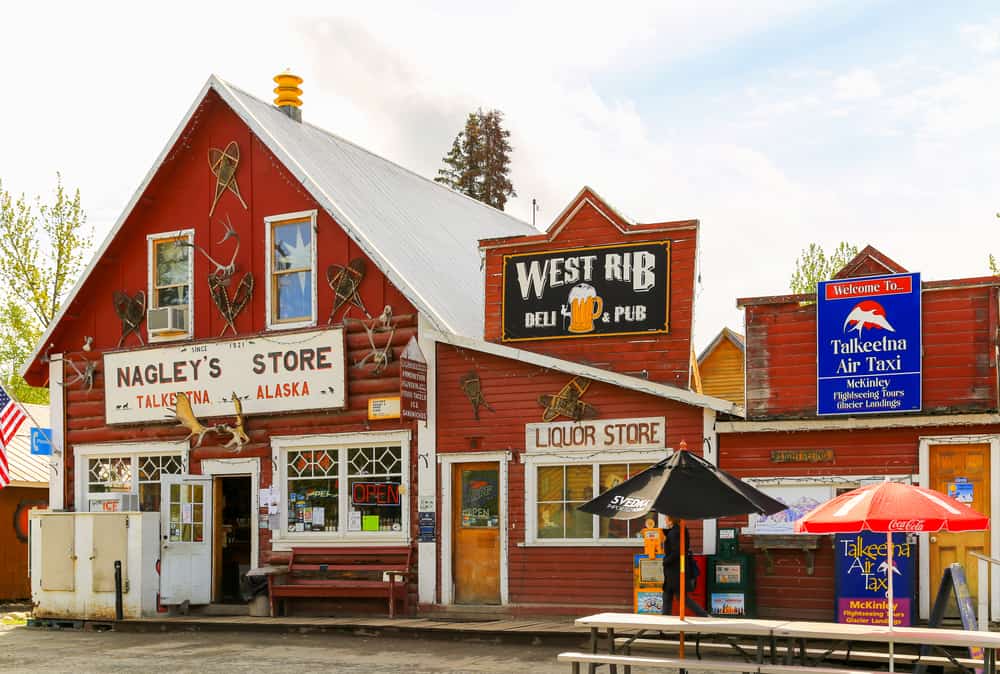 Stop 3: Denali
After spending time in Talkeetna, the next stop on your Alaska road trip itinerary is to head north to Denali. The drive is a bit long, so make sure to budget at least four hours of driving for this part of your Alaska trip. This is truly one of the best things to do in Alaska!
Both times we drove from Anchorage to Denali, it was raining, so we had to drive slow. If it is a clear day, you are going to want to stop to see all the stunning mountains once you get further north!
When you are in Denali National Park, you have the option to drive your car 14 miles in the park, but after that, you have to either hike or pay to take a National Park bus. If you really want to try something fun, consider taking a Denali Highway Jeep Excursion.
The drive is over 100 miles and shows you the best of what Denali has to offer from glaciers to the best wildlife you will ever see! You can check rates online and make sure to book early as this one fills up quickly!
If you want to do some hiking but are a little tentative about being among wildlife such as bears and moose all alone, consider taking a guided hike.
This Denali: 5-Hour Guided Wilderness Hiking Tour is a great introduction and a wonderful way to get active within the park. If you are a novice hiker or even a pro looking to find the best spots, a guided hike in Denali is a great thing to do on your first day or two to get a lay of the land. It is also one of the best ways to see Alaska in all her beauty.
Denali is the highlight of many traveler's Alaska itineraries, so choose the top things to do in Denali that suit your needs and don't forget to pack a balaclava for when the wind picks up!
Sometimes you want to have fun on your trip and that is okay! That is why we recommend the Denali Park Zipline Adventure. Ziplining is SO MUCH FUN and it is even better in Alaska because of the views and amazing cool air. No matter what you decide to do in Denali, this must be a stop on your Alaska road trip. You won't be disappointed because the nature is truly incredible.
Best Vrbo Rentals Near Denali
Best Hotels Near Denali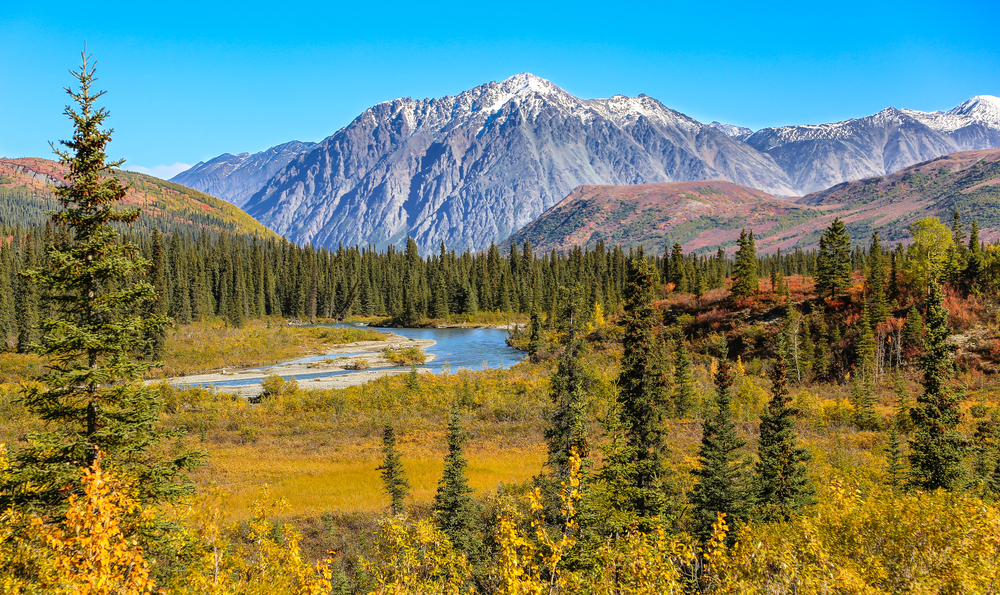 Stop 4: Seward
Seward should top every Alaska by car itinerary! You can head there from Denali, but that is an 8-hour drive, or you can spend another night or two in Anchorage or the nearby towns of Wasilla or Palmer to cut down on the drive.
The drive down the Turnagain Arm is one of the top drives in the world, and the highlight of many Alaska road trips. Even if it is cloudy or rainy, the Turnagain Arm will be a memorable part of your Alaska vacation itinerary.
This drive is totally doable in a day and we have done it before and many friends too. If you want to stop and take your time, there are plenty of other cute towns that you can visit along the way.
The road winds underneath glaciers and next to mountains and along the water. If you have time, stop at the Alaska Wildlife Conservation Center, where you can see bear, wolves, moose, bison, and more up close and safely! You are going to want to pack your GoPro for some cute animal selfies!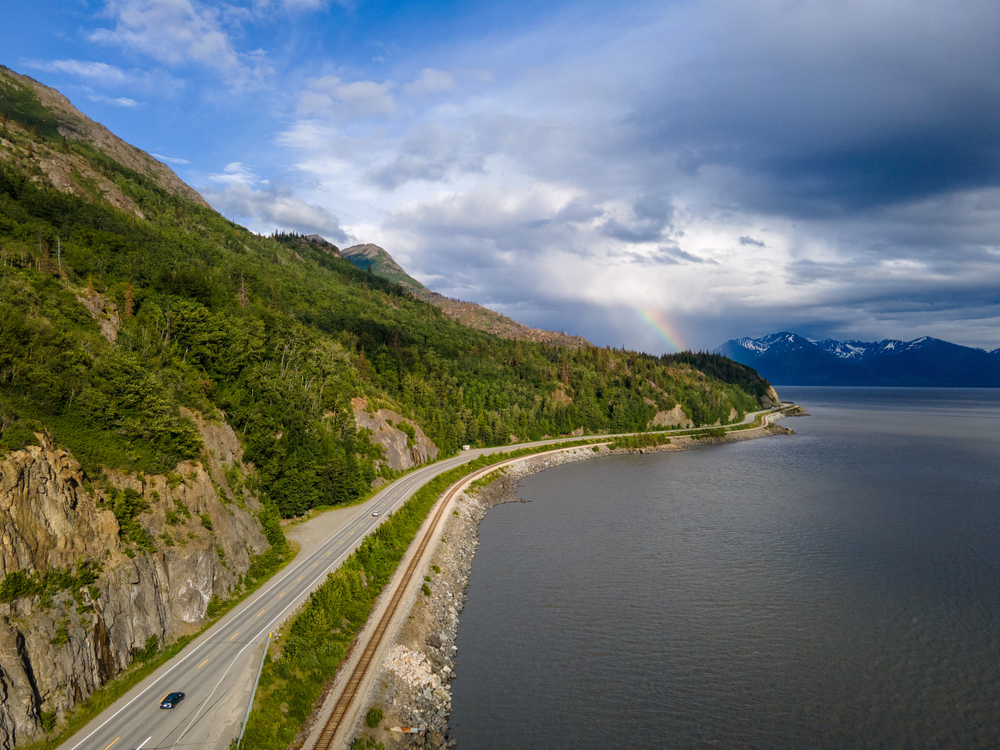 In preparation for your visit, we recommend this Seward Self-Guided Audio Tour. You get to download it immediately after booking, and it is an affordable and fun way to explore the city. If you want to save money, just download it for one person in your group and then you can all listen to the guide on the speaker as you explore what Seward has to offer.
When people set out on an Alaska vacation, they want to see glaciers! There is no better Alaska tour to see glaciers up close and personal than taking a boat ride in Seward!
While there are many companies, Major Marine Tours is hands down the best company for Alaska tours of glaciers in Seward.
We went on the Kenai Fjords National Park 7.5 Hour Glacier Cruise. We are here to tell you honestly that almost 8 hours on a boat is long. HOWEVER, you get to see glaciers AND animals.
You can also take a shorter tour that focuses on one or the other, like this 4-hour Seward: Kenai Fjords Half Day Wildlife Cruise. If you want to see both you will want to do the longer tour that we did.
We usually have terrible luck with wildlife, but since we had more time, we were able to see many cute sea otters, multiple humpback whales, dal porpoise, and puffins!
If you want to see two glaciers and have a higher chance of seeing wildlife, this Seward Glacier tour is the best option for you.
Just by walking the marina docks in Seward, you can see that the Major Marine Tours boats are in top quality condition, while others are rusting, the paint is peeling off, and the interior is older.
We were thrilled when we walked up to our clean and modern boat! This is one of those Alaska tours where you are going to want to bring a good camera with you!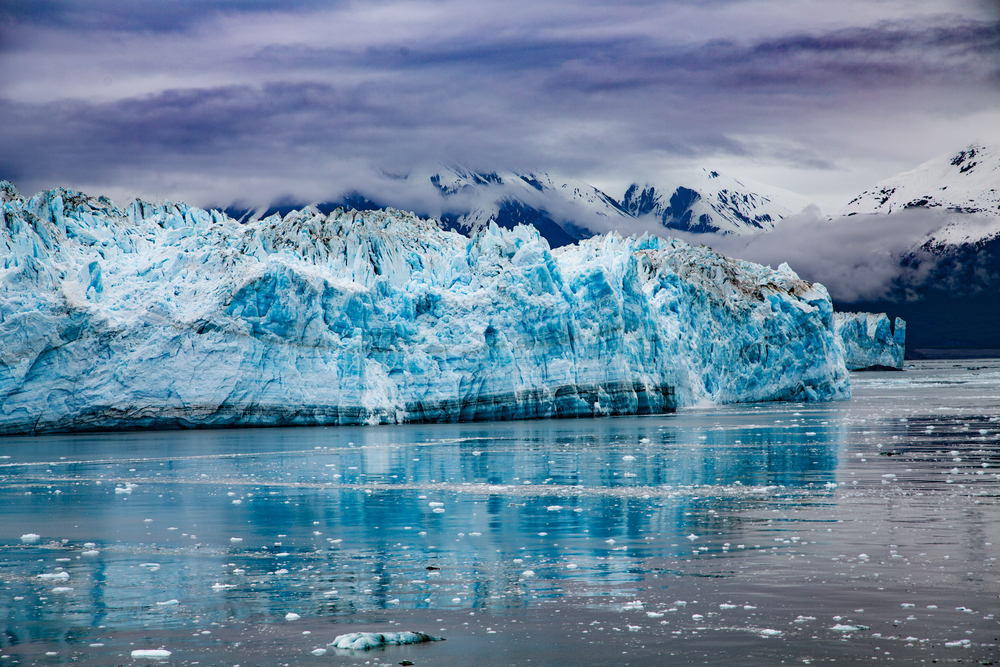 If you are looking to see glaciers from above instead of at sea, add a helicopter tour to your Alaska itinerary! Flying over mountains, the ocean, and glaciers is one of the top things to do in Alaska and Seward is a wonderful choice for a flight.
If you are looking to do a helicopter tour of Seward and the surrounding glaciers, make sure to book with Marathon Helicopters.
We had never flown in a helicopter before and while we know it would offer us stunning views for photography and a once-in-a-lifetime experience, we were a little afraid! The owner, Mike, is a professional pilot and his takeoffs and landings were as smooth as butter!
You didn't even know you were moving and the ride was so smooth and fun! We went on a 30-minute glacier landing tour which involved 15 minutes of flying and 15 minutes of landing at the foot of a glacier so remote it doesn't even have an official name! Don't forget to pack a windproof jacket if you plan to land on a glacier!
Best Vrbo Rentals in Seward
Best Hotels In Seward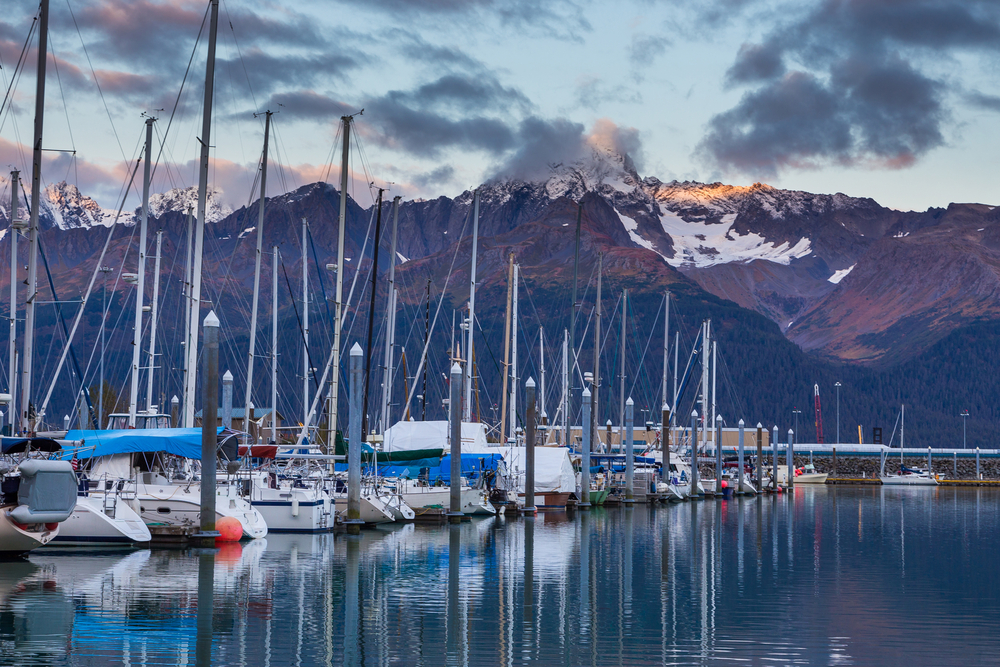 Stop 5: Homer
Homer is an essential stop on any Alaska itinerary and is easy to drive to which makes it the perfect place to visit when taking an Alaska road trip. Homer is about a 2-2.5 hour drive from Seward, making it an easy place to drive to.
One of the top things to do in Homer is to go fishing for halibut. Since we don't fish, we spent our time walking the beach, taking in the stunning mountain and glacier vistas, visiting the famous Salty Dog Saloon, and meandering through Homer's Wednesday Farmer's Market.
Homer is one of the best places to see in Alaska because of its proximity to the mountains and ocean. Don't forget to check out Homer's crazy tides and beautiful sunsets if you happen to visit when it isn't raining! Many Alaska road trip itineraries don't include Homer and if they do, it may only be a day trip.
We urge you to add more time to your vacation to see this unique and eclectic town since it is one of the best things to do in Alaska.
Best Vrbo Rentals in Homer
Best Hotels in Homer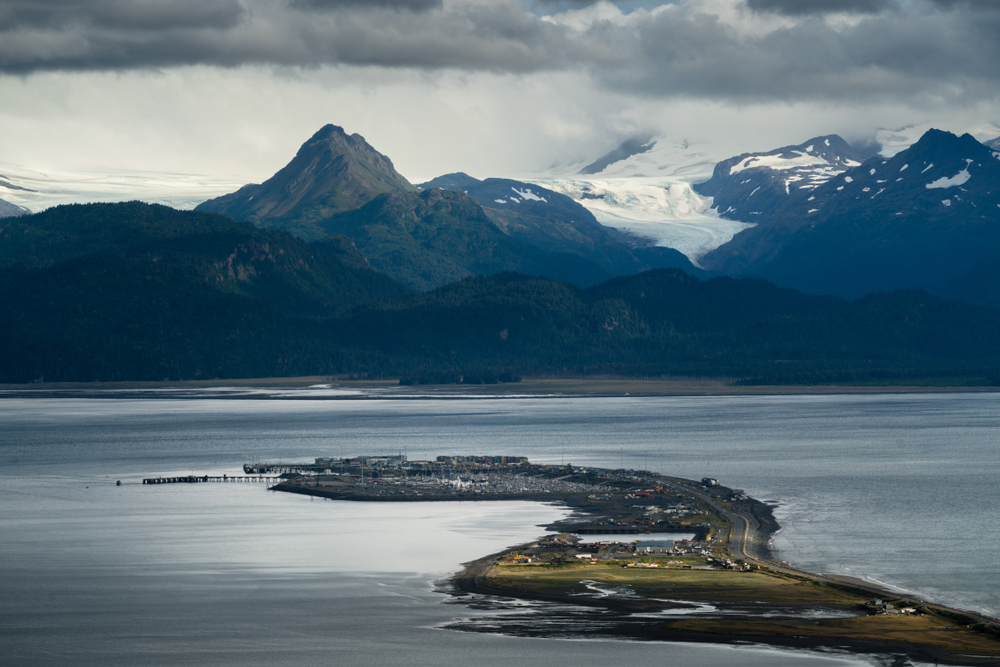 Stop 6: Soldotna
One of the top Alaska attractions in Soldotna is the Kenai River and the Salmon Fishing Run. Whether you fish or just want to enjoy the town and the stunning [active!] volcanos in the distance, Soldotna is one of the best Alaska road trip ideas.
On your way to Homer, you will pass through Soldotna, but it is better to leave this part of your Alaska road trip itinerary for on the way back to Anchorage so you can break up the driving time.
The drive from Homer to Soldotna is only 1.5 hours, so you will be hanging out in this cute Alaskan town before you know it! Keep an eye out for moose and bear, as animal watching is one of the top things to do in Alaska, and Soldotna is the perfect place for wildlife viewing! What better way to enjoy your Alaskan vacation than with some local moose?
If you choose to stop in Soldotna on your itinerary, we highly recommend checking out the Kenai National Wildlife Refuge. It is a wonderful spot for hiking and exploring and should be on your list of best things to do in Alaska.
In addition, the Soldotna Historical Musem is home to vintage log cabins and more which tell about what local life was like in the past. Break up your exploration with a little history. Soldotna is home to MANY incredible parks that go along the Kenai River so there is plenty of space for hiking, biking, and fishing on this stop.
Best Vrbo Rentals in Soldotna
Best Hotels In Soldotna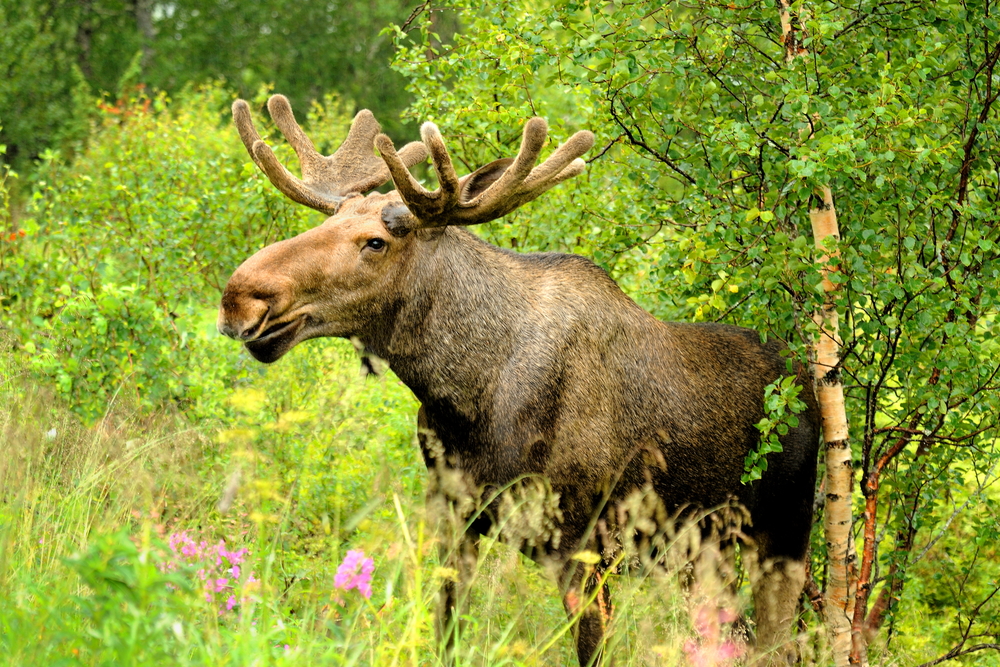 Stop 7: Anchorage
You will end your Alaska road trip in Anchorage where you started. If you fly Alaska Air, many flights are red eyes, leaving after midnight. The benefit to this is you have the entire day to explore, drive slowly back to Anchorage, and still make your flight back home without missing any fun!
When flying on a red-eye, you are going to want to pack a sleep mask for extra comfort! Alternatively, you can add one extra day in Anchorage to your Alaska itinerary if being closer to the airport the day of your flight is important to you.
No matter how long you choose to stay in Alaska, you won't forget the experiences you had in this beautiful state! Make sure to bookmark this Alaska itinerary for future reference when planning your dream vacation and ask any questions in the comments below!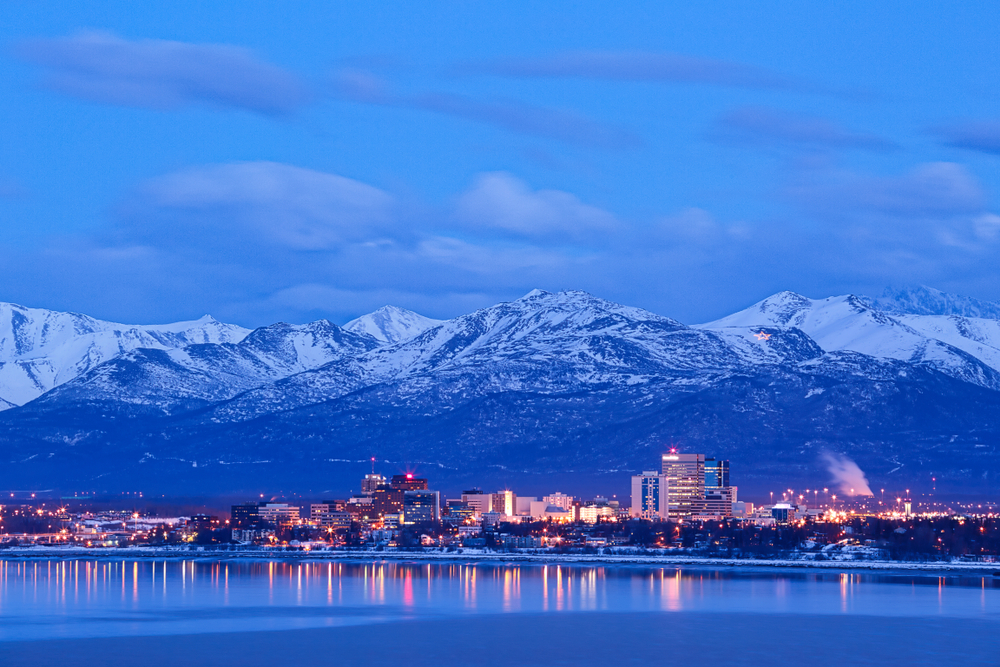 What To Pack For Your Alaska Road Trip
Chances are you are taking your Alaska road trip in summer or late spring/early fall. If you aren't, more power to you and let us know how it is!
If you are going in the summer, Alaska isn't as cold as you may think, but it is still chilly for those of us who live year-round in warmer climates. The weather in Alaska during the summer will range from 45-70 degrees Fahrenhiet along this route. The weather during the late summer in Alaska can also get rainy too, so make sure to stay prepared and you will have a great time on your Alaska driving trip!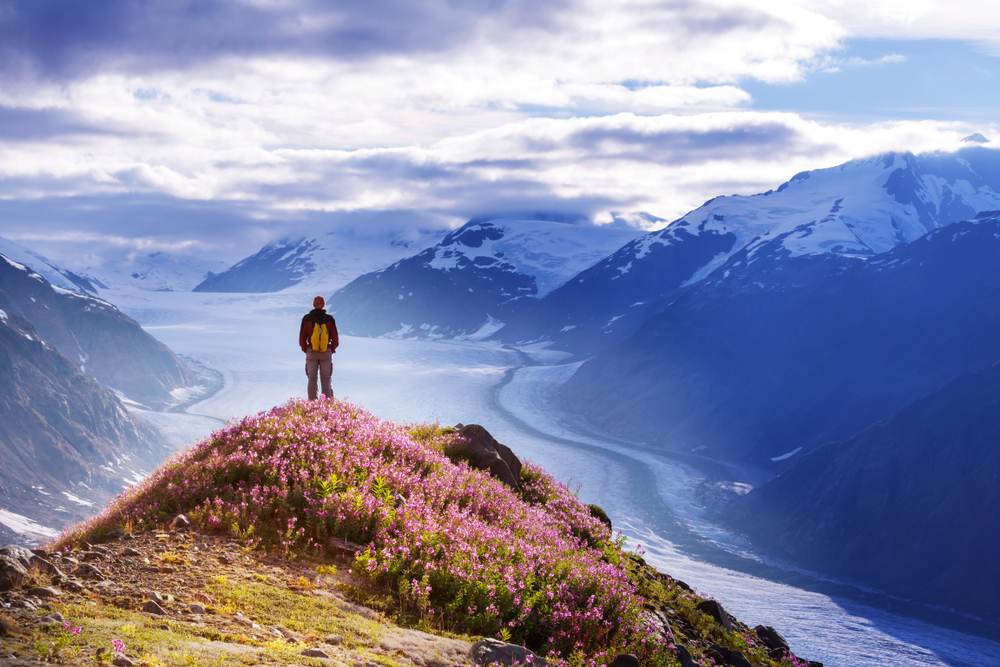 Safety Tips For Your Alaska Road Trip
An Alaska road trip planner would not be complete without some safety tips that are essential to consider. Alaska is a beautiful but harsh state at times and it is important to be prepared. First off, you are going to want to watch the weather closely. The weather can change quickly during your trip and can range from sunny to freezing and windy. Make sure you dress in layers so you can easily take off or put on clothes based on the weather. Download a weather app to keep track of local weather during your road trip in Alaska so you don't venture out when it is too dangerous.
Always let a family member or friend know if you choose to go hiking during your Alaska itinerary so if something happens, someone knows where to find you. The phone service in Alaska is incredibly crappy and a tunnel under the water in Iceland had better 4G so go prepared knowing this! Use wifi to let someone know where you will be
Always ensure that you have extra food and water in the car in the event you get into an accident and are stranded for a long period of time. You don't want to be stuck without food and water while you wait for help. We recommend a reusable water bottle as well as an emergency bottle of water during your drive.
Finally, make sure to make noise and respect the animals. When you are hiking, sing or wear cans on your backpack to make noise and alert animals that you are on your way so you won't surprise them. As usual, NEVER feed any wild animals and never get out of your car to walk up to an animal to view it more closely.
Taking these precautions to heart will help you have a safe and fun time on your road trip in Alaska!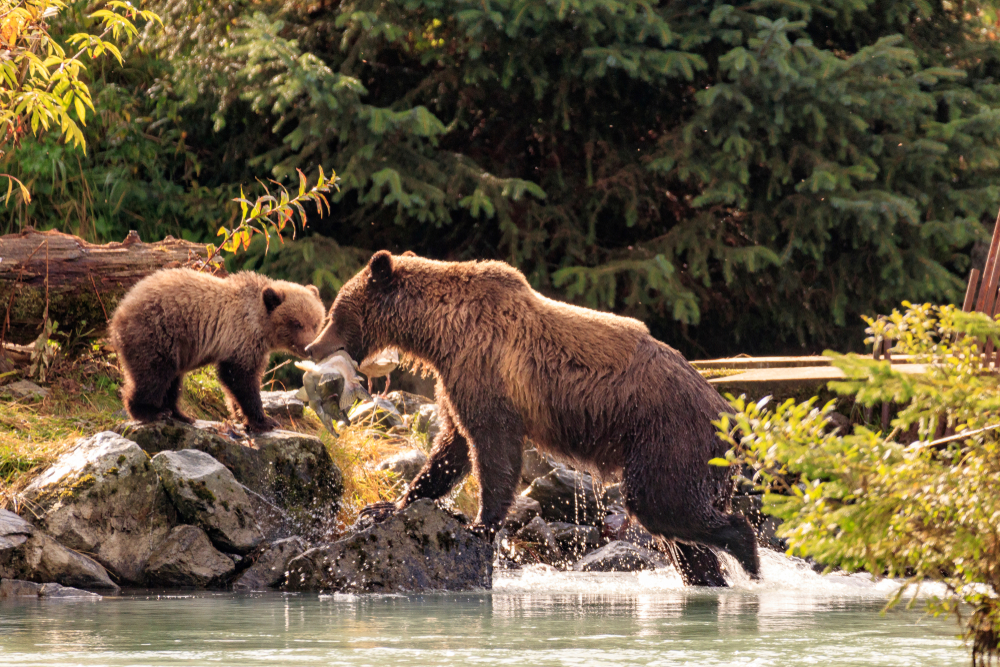 Now you should hopefully be armed with the knowledge you need to start planning your Alaska road trip. We love Alaska and have been multiple times so we hope you take the tips to heart and keep an open mind to learn some things along the way too! Alaska is a fantastic state and we know that you are just going to love it as much as we do. We hope you have the best road trip in Alaska!
Pin this post: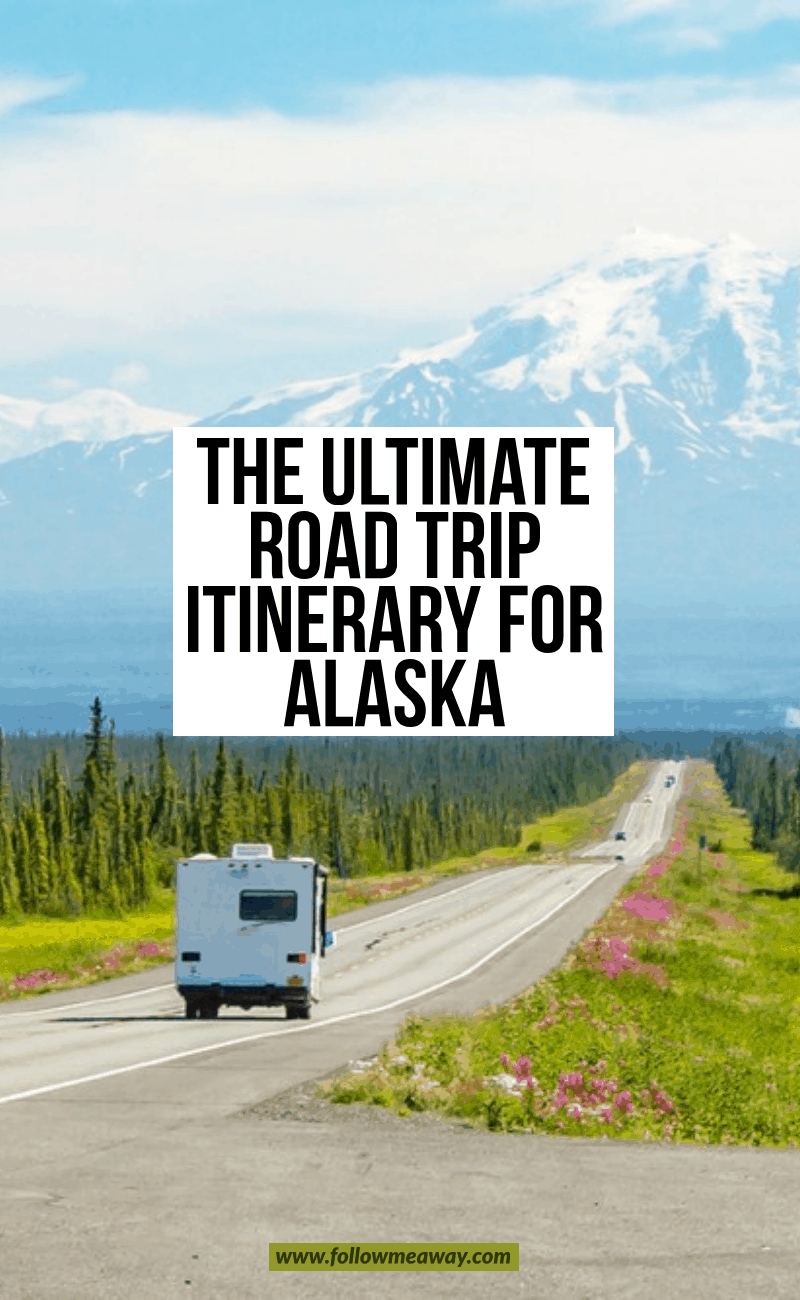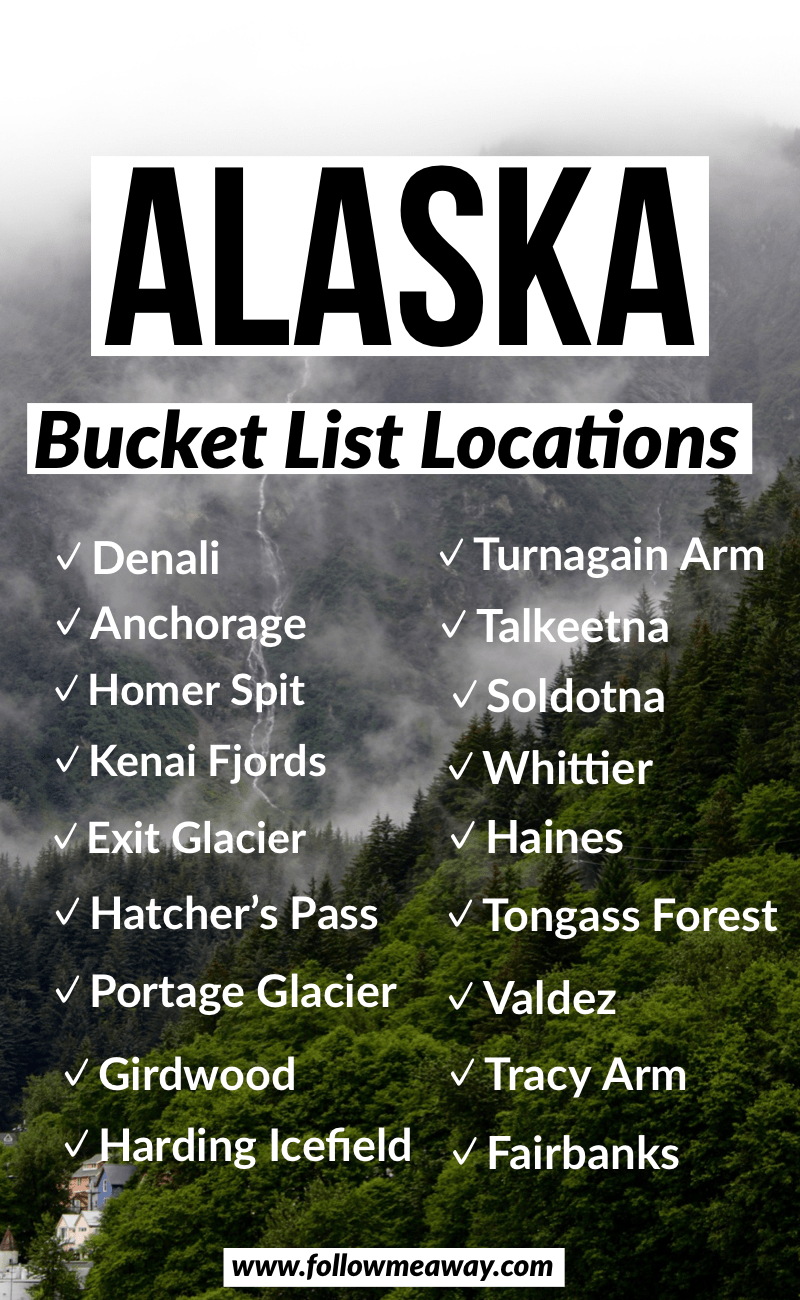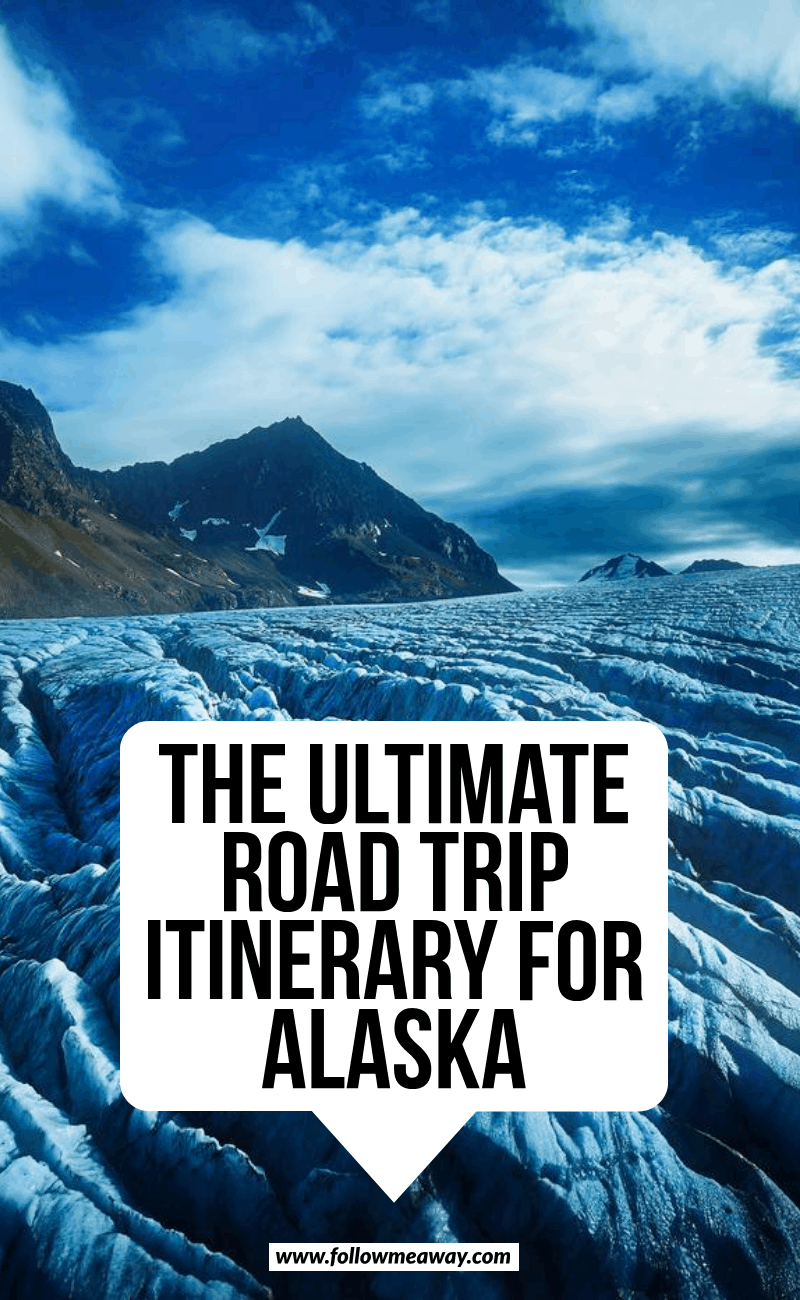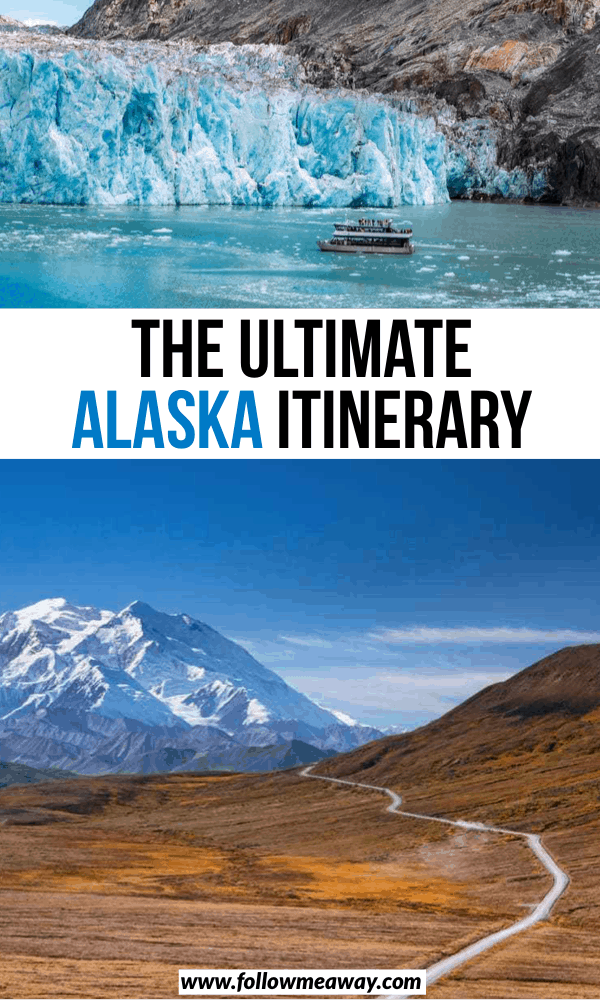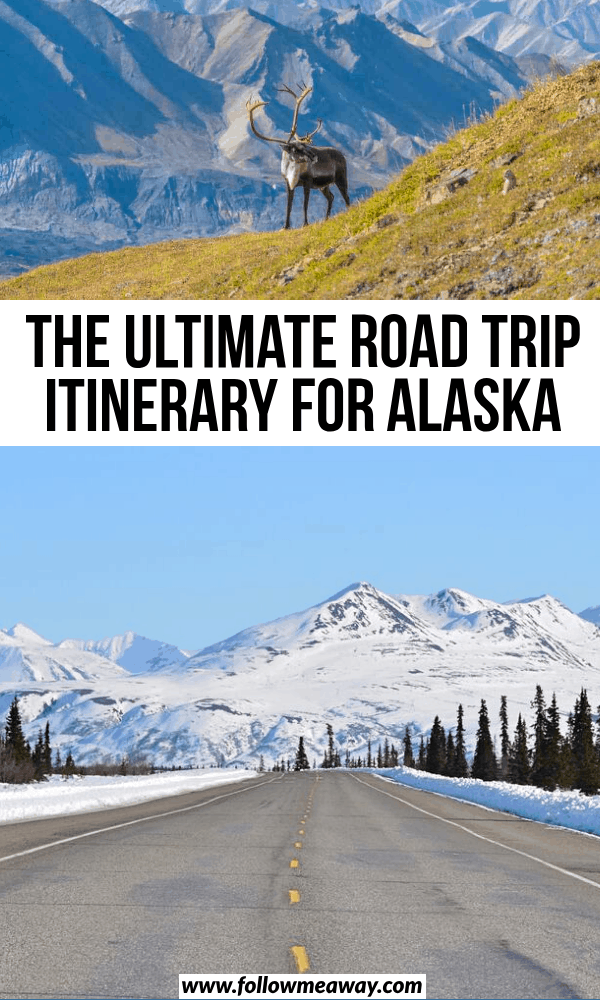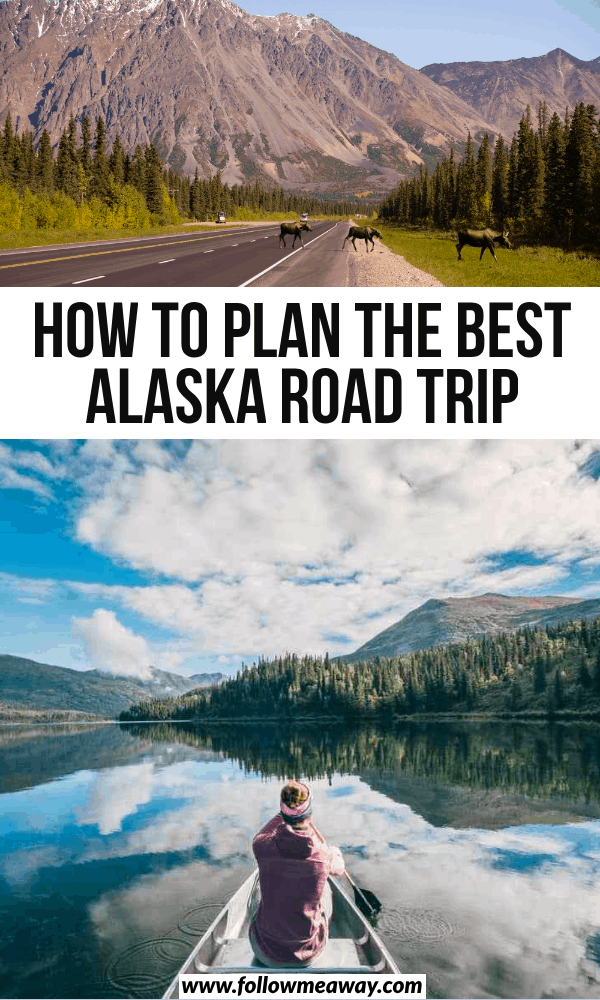 A special thanks to our partners Alaska Air, Major Marine Tours, and Marathon Helicopters. All opinions are our own and are honest because lying sucks! Please note that some links may be affiliate links which means that we may make a small profit of the sales at no additional cost to you. All the products we recommend are what we personally use and trust. As an Amazon Associate, we earn from Qualifying Purchases.