Are you looking for a list of some of the cutest small towns on the West Coast of the USA? Then look no further, because this list of the best small towns on the West Coast is perfect for you!
One of the best things about the United States is its diverse geography. You can drive for a few hours in any direction and typically find yourself somewhere that looks completely different then where you just were. This is especially true when it comes to exploring small towns on the West Coast.
While big cities may be your go-to when travelling, small towns can actually have a lot, if not just as much, to offer. So keep that in mind when you decide to travel to one of these cute towns on the West Coast. A lot of small towns have a really unique history, so you may want to check out their local museums to learn a little bit more about them.
If this list inspires you, and you want to get more insider tips on what some of the town's hidden gems are once you're there, try starting a conversation with a local. They are generally excited to see that others are interested in their hometown, and want to show it off. Or spend an afternoon in the local coffee shop or resturant, they typically display a lot of the town's history on their walls.
On this list, you'll find small towns on the West Coast nestled in the mountains of the beautiful Pacific Northwest or find yourself in a cute small town, listening to the sound of waves crashing in the background. Whichever town you choose to visit on this list of West Coast small towns, you're guaranteed to have a good time.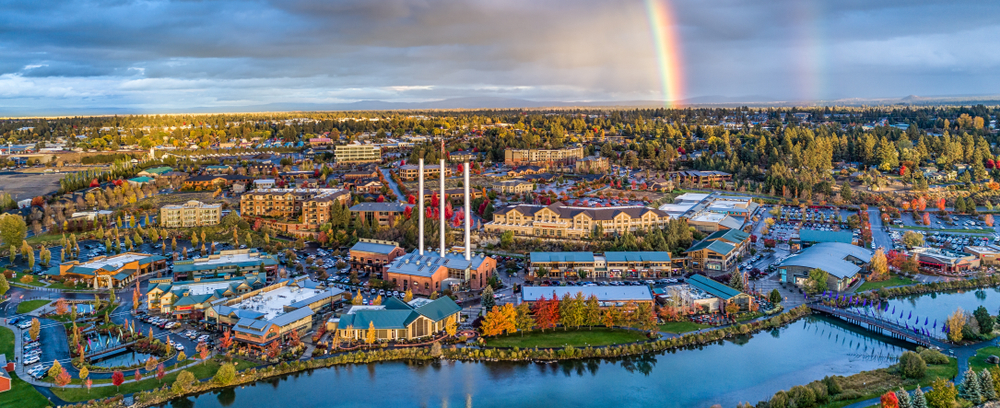 12 Cutest Small Towns On The West Coast, USA
Leavenworth, WA
Leavenworth Washington is an incredibly unique west coast small town. Nicknamed 'Bavaria', this small town is nestled in the heart of the Cascade Mountains, between Spokane and Seattle. Its proximity between the two makes it the perfect detour on any Washington road trip.
This charming West Coast small town wasn't always a picturesque replica of Bavaria. That change happened in the 1960's, and with it came a lot of new traditions that travelers love to take part in. Some of the most popular festivals include Maifest, the Autumn Leaf Festival, and the widely popular Christmas Lights Festival.
Now, Leavenworth is a small town bursting with activities for visitors. Besides the seasonal festivals, you can find breweries and distilleries, wineries, beautiful spas, state and local parks, family friendly activities and museums, and so much more.
There is even a place for you to dress up in Victorian Period dress and get your photo taken. There truly is an endless list of activities in this cute West Coast small town.
Stay Here: Private Cabin Check Rates: Airbnb.com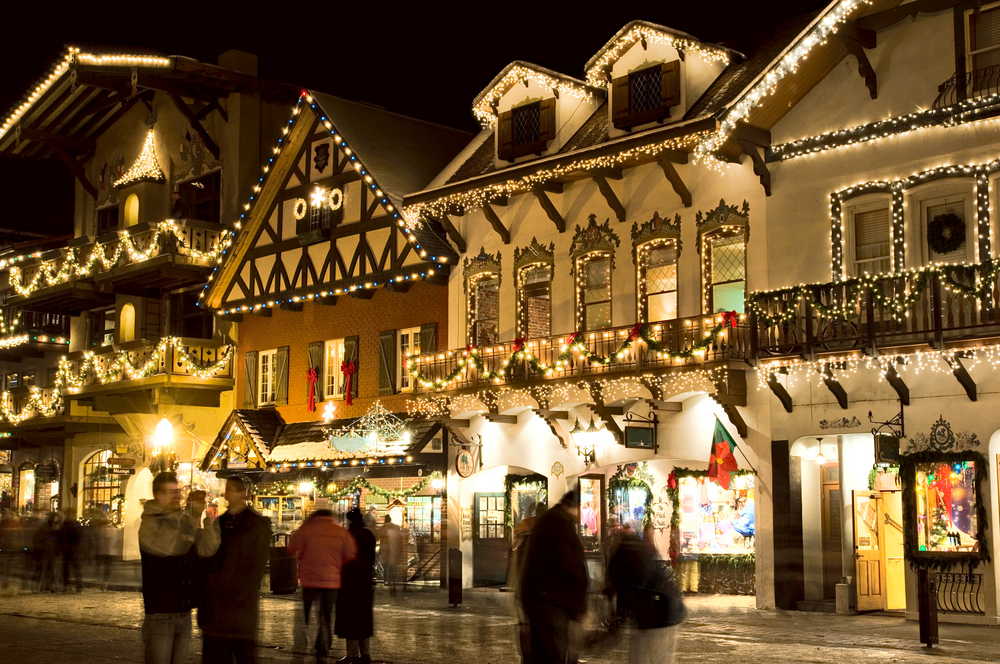 Seaside, OR
Seaside Oregon is a perfect example of a quaint little west coast beach town. On the Northern tip of Oregon's coast, it is just a slight detour if you're interested in doing this coastal Oregon road trip, and worth it.
Seaside is full of incredibly unique history, from the original Native American nations, a visit by Lewis and Clark, an attack by the Japanese during WWII, tsunamis, and even a riot.
This unique cultural history has made for an even more unique town. You can visit museums showing how the Native American nations and eventual European settlers lived.
Or if you're a music fan, you can walk in the footsteps of Duke Ellington, Glen Miller, and a plethora of other musicians who made Seaside a must-stop for performing in the Pacific Northwest. Military and history buffs will enjoy learning about the Japanese submarine attack of Fort Stevens.
If you're interested in more modern activities, this small West Coast town has that too. One of Seaside's most popular attractions is its large carousel, which is just two blocks from the beach.
There is also an aquarium where you can feed seals, a bustling shopping district, a picturesque oceanfront Promenade, and the historic Tillamook Rock Lighthouse. No matter your interests, you and your family are bound to find something you love about this small West Coast town.
Stay Here: Moby Dunes Check Rates: Airbnb.com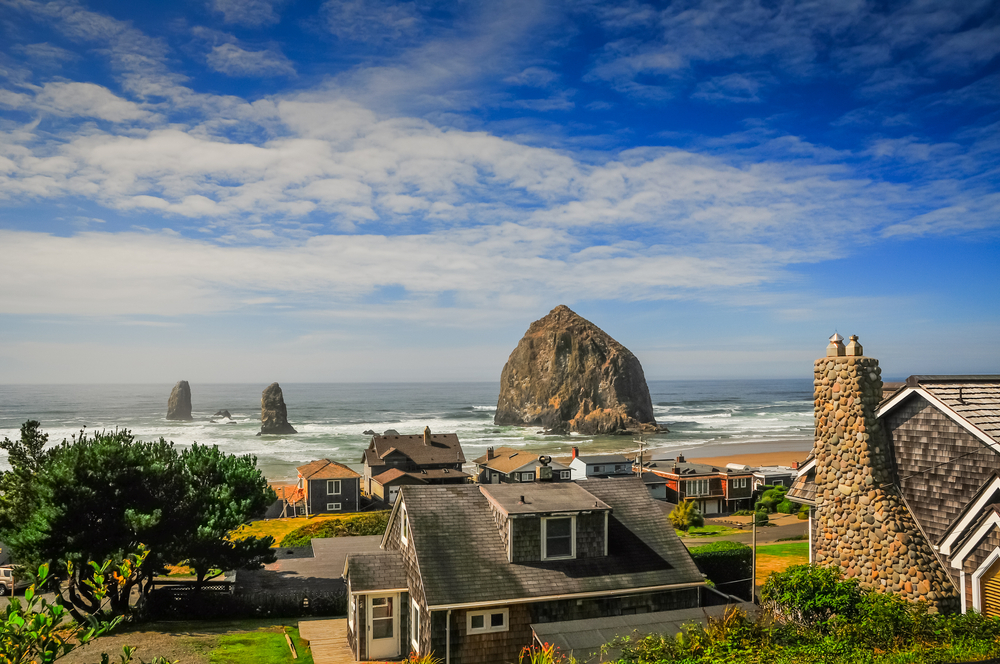 Solvang, CA
"A little slice of Denmark in Southern California" is a quote used to describe the idyllic Solvang, a small town on the West Coast. It is another small town packed to the brim with activities for travelers.
Taking advantage of its Danish background, Solvang offers seasonal festivals like the Solvang Grape Stomp in October, Danish Days in September, and Julefest in December. But even if you can't make it out to these popular festivals, you can still find plenty of things to do in Solvang!
You can visit one of the five authentic Danish bakeries and enjoy Danish pastries and aebleskiver, browse in the 150 unique boutique shops, hit up a tasting room downtown and enjoy local wines and beers, or explore one of the local museums.
If you're looking for the perfect small town on the West Coast to visit while you're in California, you should definitely add Solvang to your itinerary.
Stay Here: Solvang Ranch Check Rates: Airbnb.com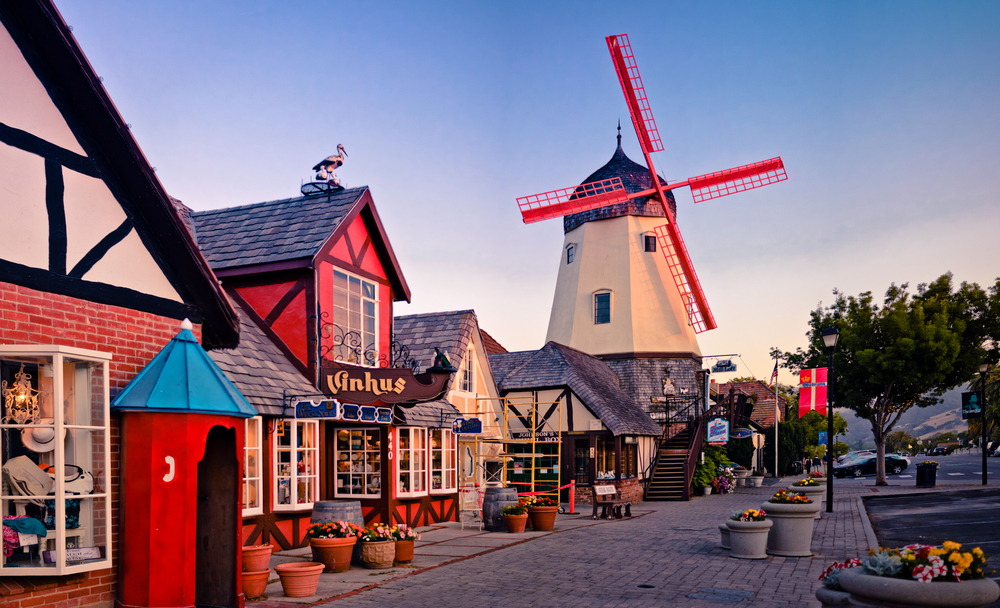 Carmel-by-the-Sea, CA
Nestled in California's Central Coast you'll find this one square-mile town, packed with charm. Carmel is an incredibly walkable small town on the West Coast because of it's size, but don't let that fool you. There are still plenty of interesting activities squeezed into that one square-mile.
Visit the historic Mission San Carlos Borromeo de Carmelo, take in a live performance at the Sunset Center, find beautiful art pieces at one of the local galleries, or stroll down Ocean Avenue and pop into one of the hundreds of unique boutiques.
Carmel also has several opportunities for wine tastings, lively happy hours, and some incredibly delicious restaurant options. At the foot of Ocean Avenue you'll find access to the local beach.
You can stroll down the beach to the South and find yourself admiring a Frank Lloyd Wright-designed house. Or if you take a stroll to the North of the beach, you'll find the famous Pebble Beach Golf Links, home of the US Open and AT&T Pro-Am. No matter your interest, this West Coast beach town has something to strike your fancy.
Stay Here: Charming Breadbox Cottage Check Rates: Airbnb.com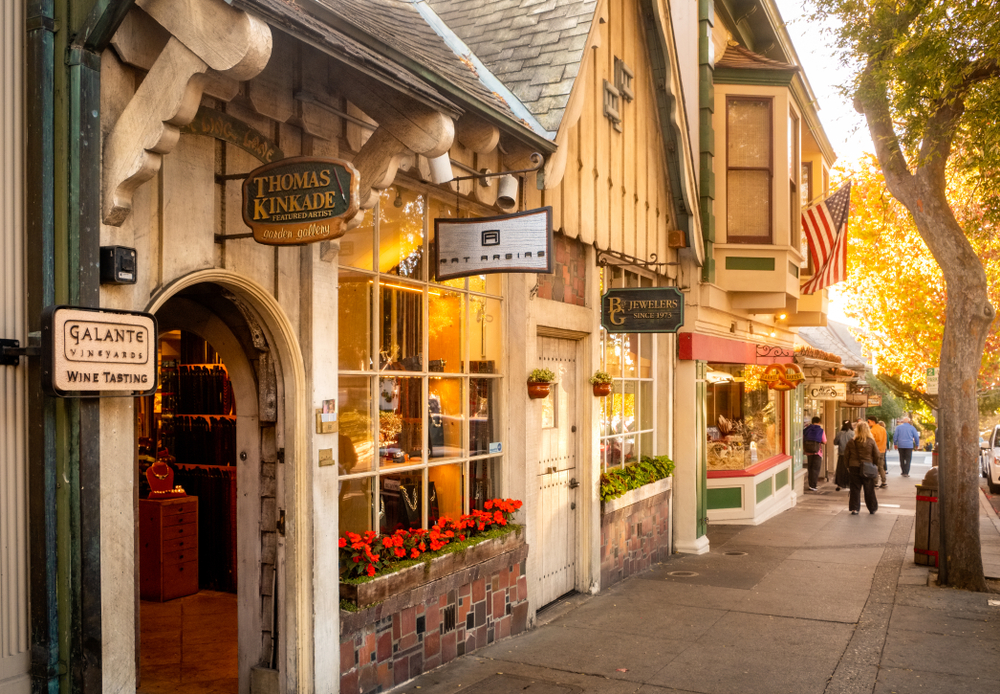 Sausalito, CA
Near the Northern end of the Golden Gate Bridge, you'll find Sausalito, a cute small town on the West Coast. Sausalito is also another West Coast beach town with an interesting history.
Sausalito was home to the Liwanelowa Nation before Spanish settlers arrived in 1775. The Spanish settlers left a mark on the small West Coast town that can still be seen today in architecture. It also became a major fishing and transit hub before the Golden Gate Bridge was built.
Even after the bridge was built, this made it a popular spot for bootleggers and rum runners during the prohibition era. During WWII it became more industrialized with the opening of several shipyards.
Now, Sausalito is a charming small beach town on the West Coast full of charm. One of the most interesting sights is the over 400 houseboats docked around the city.
You can spend some time at the Bay Area Discovery Museum, go kayaking in the ocean, try your hand at sailing, and enjoy the ocean view as you dine at one of the amazing restaurants.
Stay Here: Beach House in the Trees Check Rates: Airbnb.com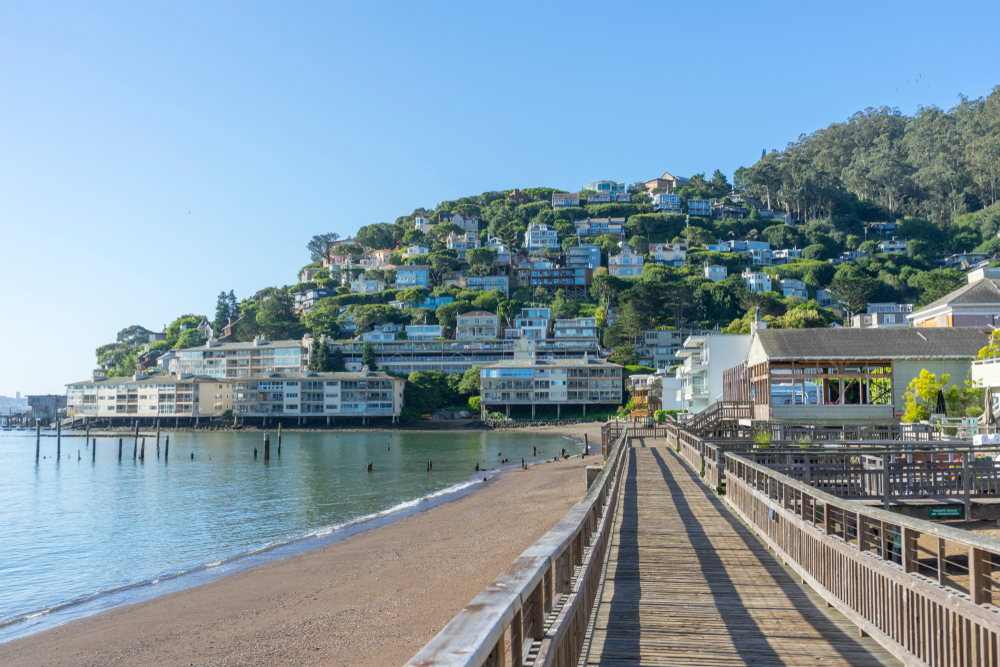 Port Townsend, WA
Port Townsend is a West Coast beach town full of charm. It is two hours from Seattle, nestled between the Pacific Ocean and Olympic National Park, making it a perfect detour on your Washington road trip. In Port Townsend, you can enjoy miles of beaches, activities for the whole family, amazing resturants, and so much more.
If you're visiting with your family, check out the Northwest Maritime Center, where you'll find a pirate ship the kids can explore. Or take a look a the vintage planes in the Port Townsend Aero Museum. Looking for a more romantic adventure? Enjoy a traditional High Tea and then take a salt water soak at one of the nearby spas, or take a sunset cruise.
If you're looking for outdoor adventures, you'll find excellent hiking on the Larry Scott Trail, which is part of the Olympic Discovery trail. You can go kayaking in the Port Townsend Bay or explore Fort Worden State Park.
There is truly so much to do and see in this cute little West Coast beach town.
Stay Here: Bird's Nest Cottage Check Rates: Airbnb.com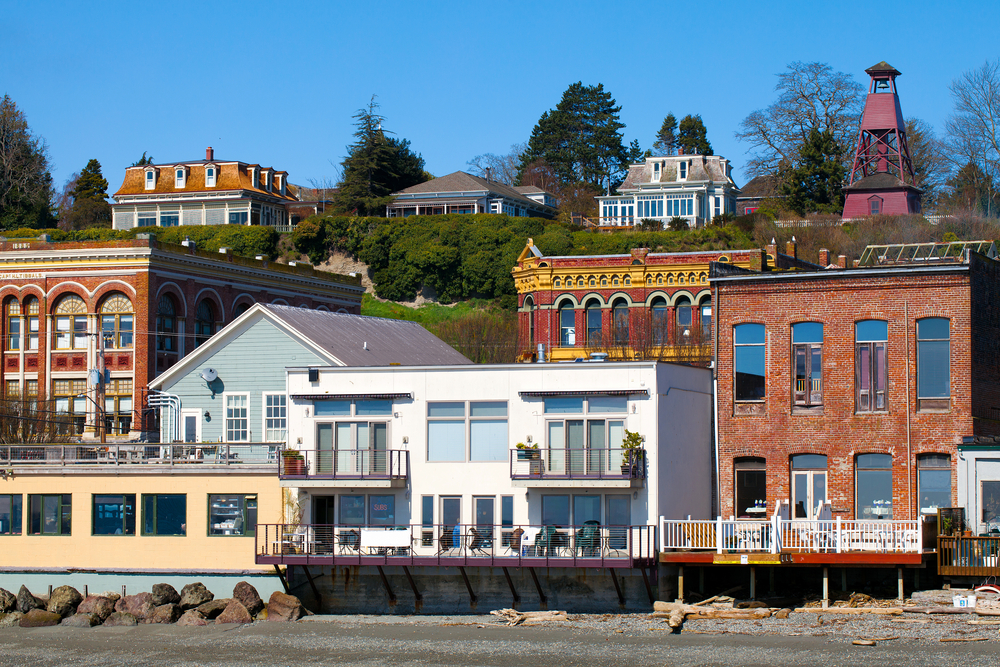 Hood River, OR
At the foothills of Oregon's highest point, Mount Hood, you'll find the small town of Hood River. Aptly named, Hood River is located along the Hood River, which offers plenty of water sports for you and your family to enjoy in the summer months. You can try windsurfing, kiteboarding, sailing, rafting, kayaking, and even fishing.
If water sports aren't your thing, not to worry, there are still plenty of things to do in Hood River. Depending on the season, you can explore some beautiful fruit farms, including cherry, pear, and apple farms. Learn about Hood River's Barrow Road, a stop on the Oregon Trail, or explore the Hood River History Museum.
Hood River also has some incredible breweries, wineries, and restaurants. If that's more your speed, enjoy a guided wine tour or take a trip to one of the local breweries or cider makers. Along the way, stop into one of Hood River's delicious restaurants.
No matter your interests, this cute small town on the West Coast has a reason for you to visit.
Stay Here: Hawks Landing Townhouse Check Rates: Airbnb.com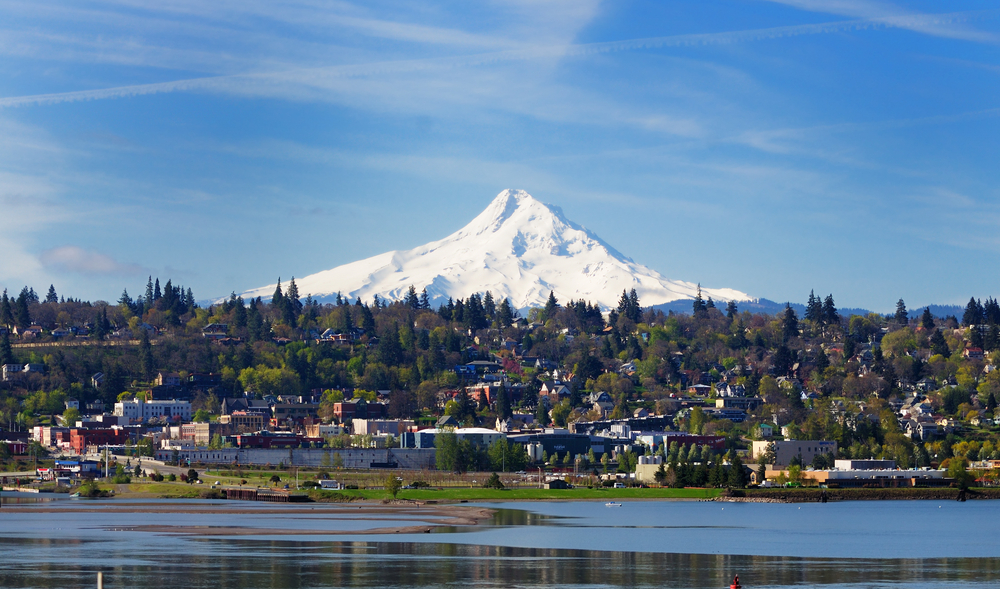 Langley, WA
On Whidbey Island you'll find the waterfront village of Langley, Washington. It is about an hour away, via car ferry, from Seattle, so it's another great detour on your Washington road trip. In this perfectly picturesque town, you'll find plenty of things to do, all while soaking in the charming atmosphere.
In the shopping district, you'll find unique boutiques such as a specialty knitting store, clothing stores, art galleries, an independent book store, and plenty of other cute shops.
Grab a bite to eat at one of the locally owned and operated restaurants and bars, each distinct in their own way. From April to October, you can even stop by the local Farmer's Market and enjoy wares from local famer's and artisans.
If you're looking for more outdoor activities, take a walk around the local gardens, go kayaking in the bay, or experience whale watching in the Puget Sound.
Stay Here: Ocean Front Cottage Check Rates: Airbnb.com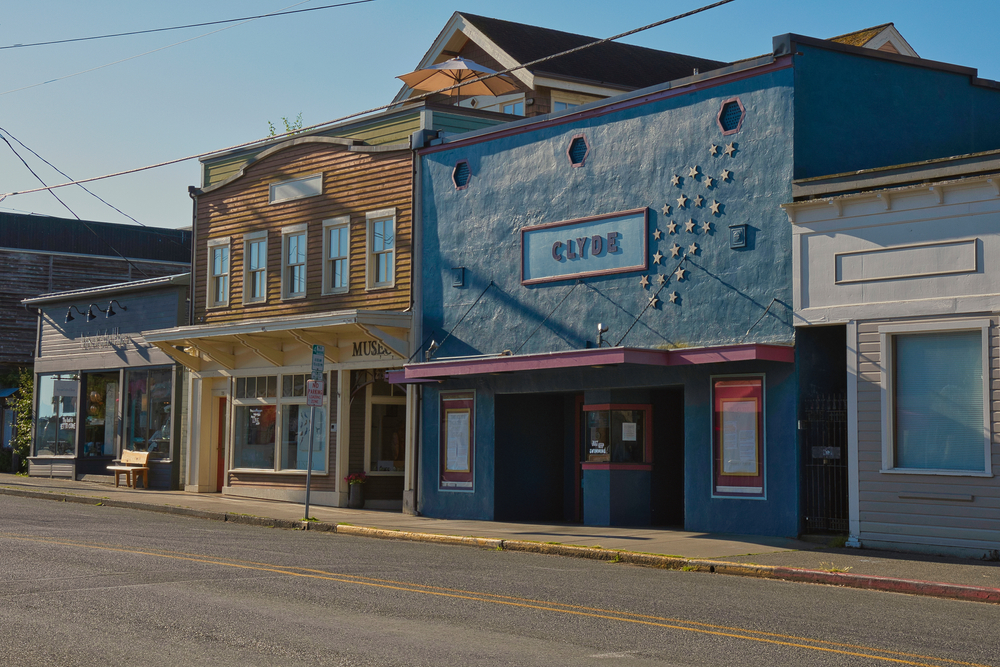 Bend, OR
If you're looking for a combination of outdoor adventures and small-town charm, then Bend Oregon is the perfect place for you. It's a perfect stop if you're doing an Oregon road trip, or you can make a whole trip out of this amazing small town on the West Coast.
Enjoy outdoor adventures all year round, whether that's hiking, biking, or water sports. Bend also offers the opportunity to experience two types of landscapes as it is located between the Cascade Mountains and desert plateaus. This mixture of landscapes makes for even more interesting outdoor activities.
If you prefer window shopping and restaurant hopping, Bend's got plenty of that too. Explore antique shops, clothing boutiques, book stores, toy stores, and so much more.
Take a break from all that shopping at one of the unique and amazing restaurants, or stop by one of the many bars for a drink or a night out. Bend is a small West Coast town that truly has it all.
Stay Here: Unique Dome House Check Rates: Airbnb.com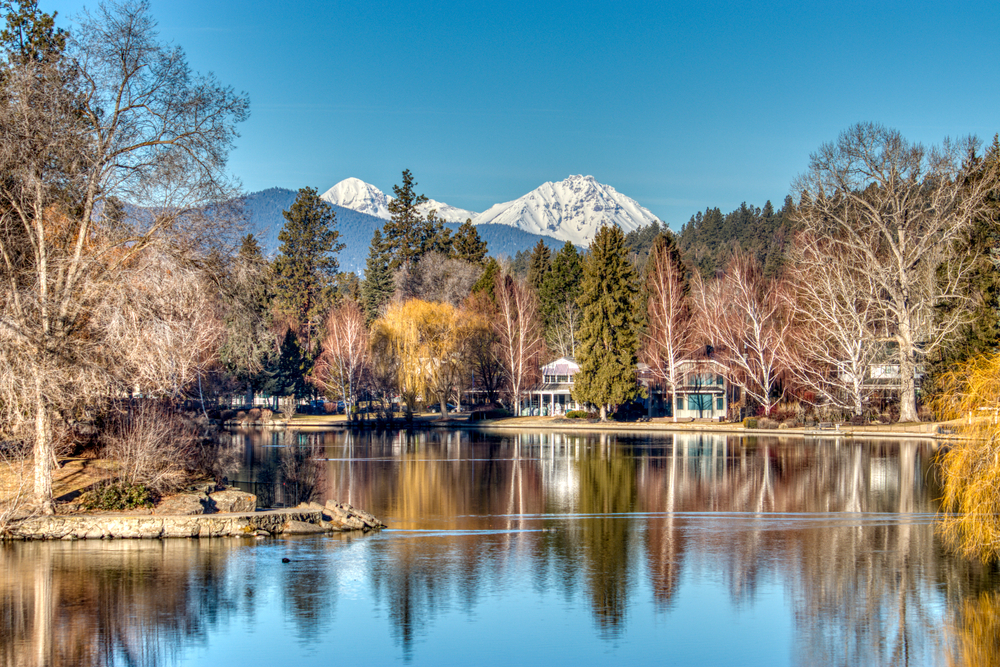 Gig Harbor, WA
Gig Harbor is a city located on the Puget Sound and is one of the cutest small towns on the West Coast. Once a hub for shipyards, Gig Harbor is now a delightful little town full of the history and advantages you might expect from a small beach town on the West Coast.
Taking full advantage of it's waterfront history, Gig Harbor is full of seasonal festivals such as the bi-annual Waterfront Sip & Stroll, the Gig Harbor Paddlers Cup and Expo, and so much more. If you can't make it to one of their many festivals, not to worry, there is always something to do.
Walk along the waterfront and enjoy window shopping at any one of the unique boutiques or art galleries. Stop into one of the nearby restaurants or bars and enjoy live music. Or rent a classic boat and sail around in the Puget Sound. From family activities to exciting night life, this small town on the West Coast has something for everyone.
Stay Here: Waterfront Cabin Check Rates: Airbnb.com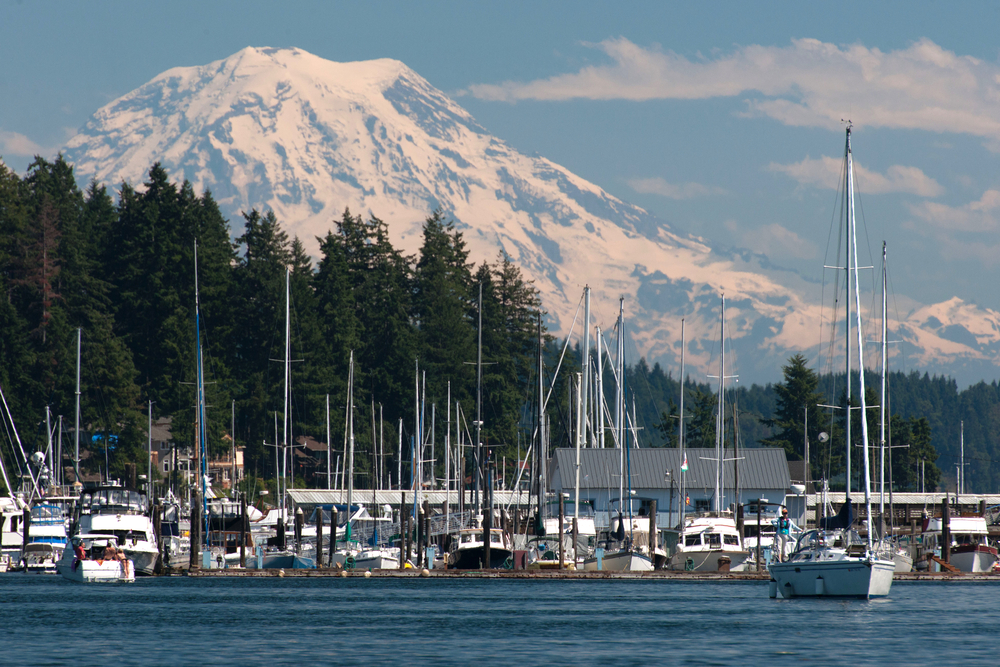 Mendocino, CA
Lovers of architecture will be surprised when they visit Mendocino California. What makes it different than some of the other small beach towns on the West Coast is that it actually has many architectural features you typically expect to find in New England. Mix that with the downtown area's Hippy past, and you've got yourself a truly unique small-town experience.
There are plenty of things to do in Mendocino as well. Check out the coast and maybe even get the chance to see some seals playing and barking on the beach. Stop into the Mendocino Art Center, founded by San Francisco artists in the 1950s, or pop into the Ford House Visitor Center and Museum.
In Downton Mendocino, you'll find remnants of it's Hippy past and boutiques full of one-of-a-kind items to remember your stay. Enjoy a meal with an ocean view, or go to one of the Happy Hours at any of the nearby breweries. Mendocino's proximity to San Francisco makes it perfect for a quick stop, but its full list of activities will have you wanting to make your stay a bit longer.
Stay Here: Alegria Oceanfront Inn and Cottages Check Rates: Rates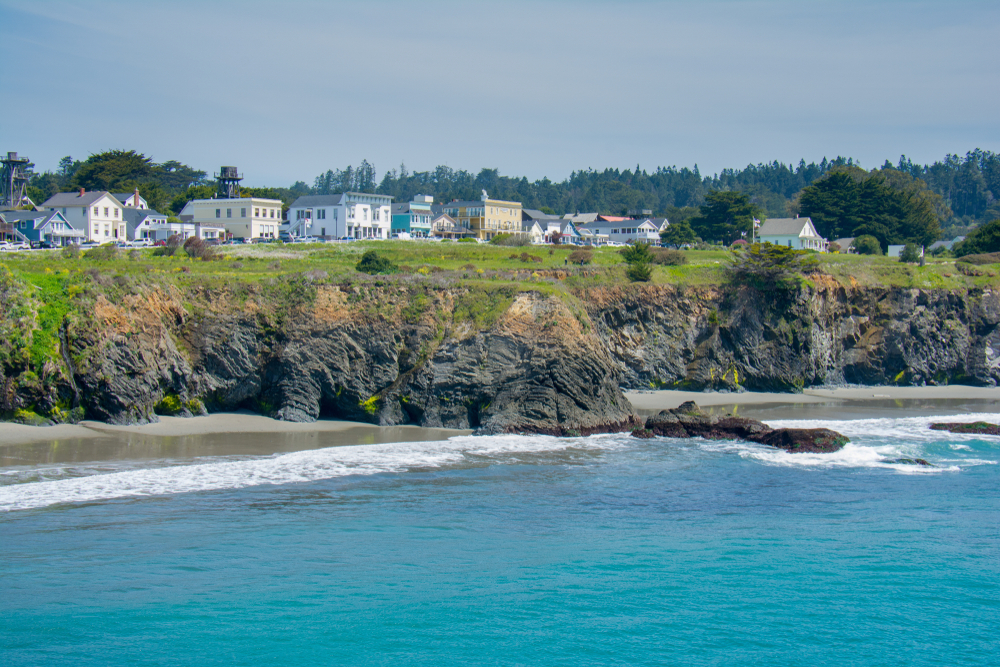 Silverton, OR
Nicknamed "Oregon's Garden City" is Silverton. One of the town's most notable features is the Oregon Garden, a partnership between the private garden creators and the City of Silverton.
Today, the Garden is a beautifully lush landscape full of wetlands that benefit the local ecology and economy. The Garden is easily the thing most tourists come to visit.
But Silverton has even more to offer if botanical and wetland gardens are really your thing. In Silverton's main shopping district you'll find an independent bookshop, a chocolatier, antiques, a flower shop, and so much more.
Stop into one of the art galleries featuring local artists, or visit the Gordon House, designed by famed architect Frank Lloyd Wright. After you spend the day shopping or admiring the local art, have dinner and drinks in one of the many locally-owned restaurants.
Stay Here: The Mahosky House and Garden Check Rates: Airbnb.com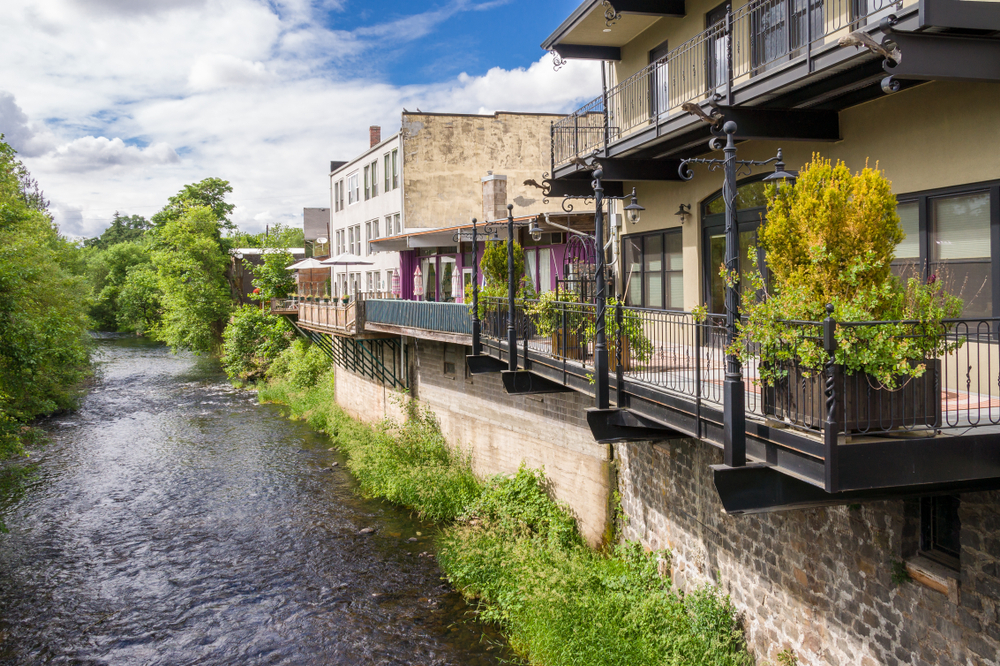 We hope you enjoyed these adorable small towns on the West Coast USA! Leave us a comment and show us your favorite ones!