It is easy to say that a Grand Canyon road trip is the classic American vacation for many families. The awe-inspiring scenery of this location has been featured in countless movies and TV shows. Photographers dream of capturing it and nature lovers want to bask in its glory. If you have yet to visit this amazing natural wonder, what are you waiting for?!
We are here to walk you through each stop you can make on your road trip as you drive to the Grand Canyon. This article will give you two options of where to start your trip, either Las Vegas or Phoenix. Although, if you plan on driving in from farther away, you can easily adjust our suggestions to fit your needs. You can visit the Grand Canyon as a wider American Southwest road trip as well.
Don't forget to check out our Detailed Road Trip Packing List so you don't forget any essentials for your trip!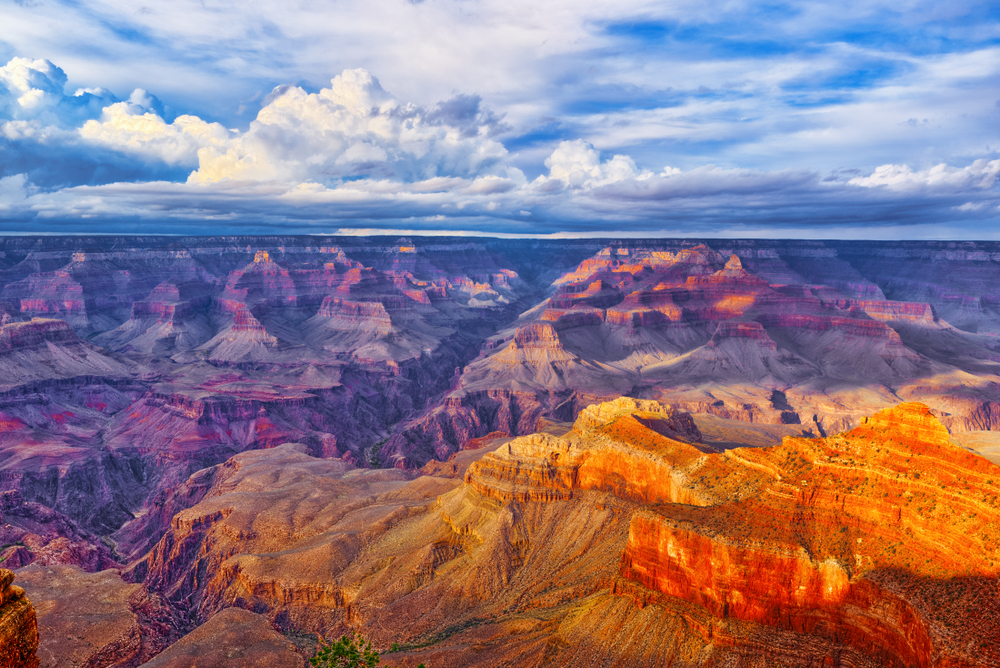 Grand Canyon Road Trip From Las Vegas
Stop 1: Begin Your Road Trip In Las Vegas
Flying into Las Vegas, Nevada, is usually a pretty cheap option, especially compared to other cities in the area. Check out Skyscanner before booking your flight to assure you get the best deal possible! Once you land at the airport, pick up a rental car and get ready to hit the road!
Las Vegas, also known as Sin City, is well known for its long list of fun things to do, and you will definitely want to spend some time in this crazy city before you embark on your road trip proper. From gambling at casinos to being awestruck at a variety of shows, there is something for almost everyone.
However, if you are not much of a party person or are looking for free things to do in Las Vegas with kids, you can get out of the city and into nature. With Red Rock Canyon National Conservation Area to the west and Sloan Canyon National Conservation Area to the southeast, there are plenty of beautiful landscapes to explore. Or drive a little farther south to find the unique Seven Magic Mountains art installation.
Book Here:  Helicopter Flight at Night over the Las Vegas Strip
Where To Stay In Las Vegas:
Luxury: Bellagio. Check Rates: Booking.com
Affordable: Hilton Garden Inn Las Vegas Strip. Check Rates: Booking.com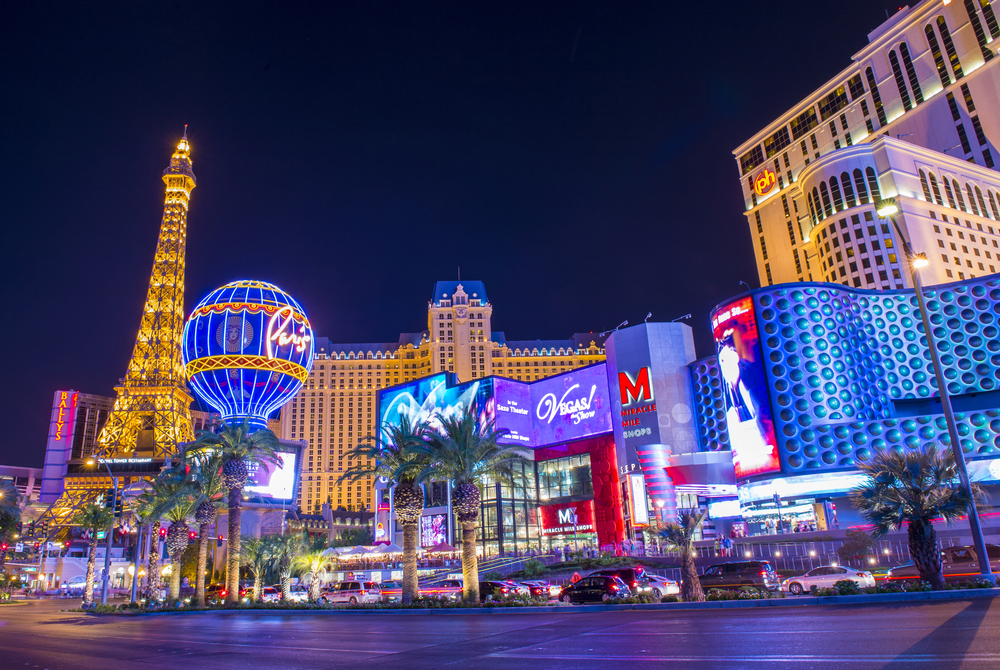 Stop 2: Valley Of Fire State Park
A short drive northeast on Highway 15 will lead you to the Valley of Fire State Park. The rock formations here and their gorgeous colors are worthy of a pit stop on your Grand Canyon road trip. Spend a few hours here hiking into the past as you discover ancient petroglyphs carved into the rocks and petrified trees.
If you are a movie buff, you might be interested to know that many movies have been filmed here. Some of these films include Total Recall, Star Trek Generations, and Viva Las Vegas starring Elvis Presley.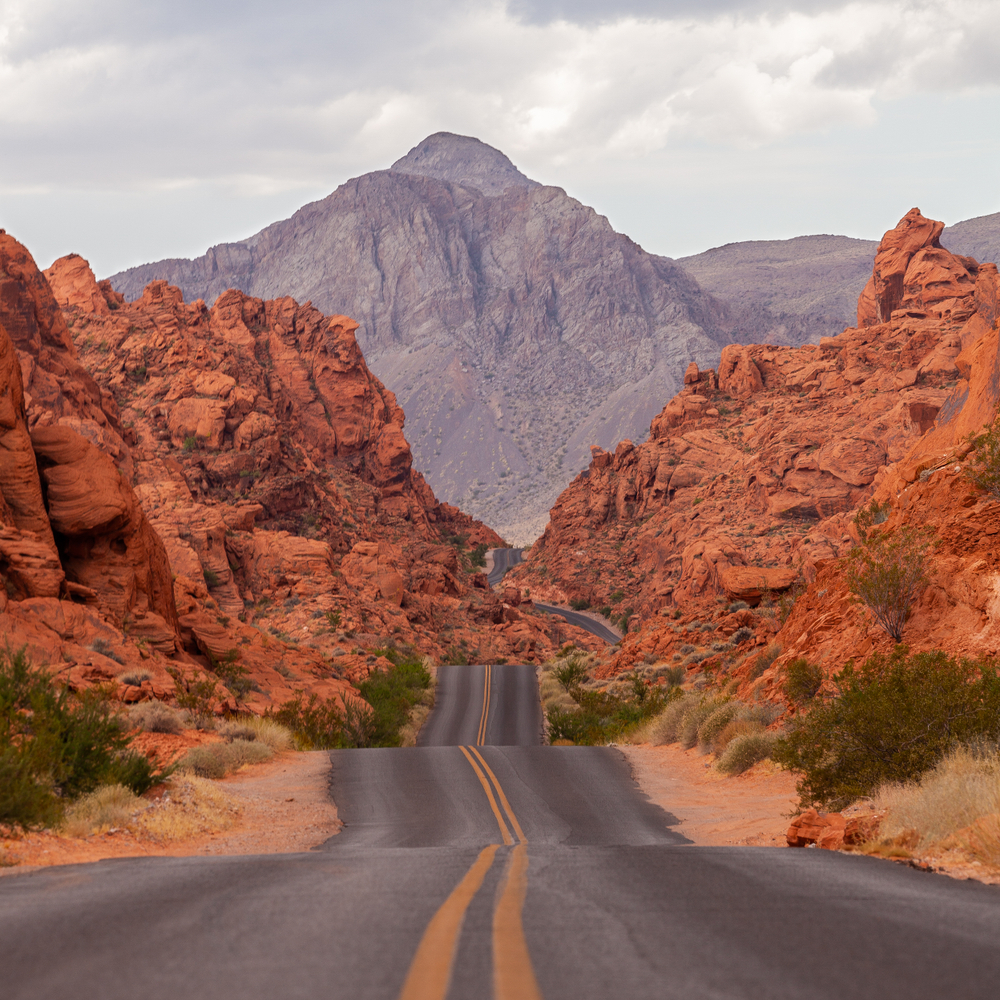 Stop 3: Hoover Dam
While a Grand Canyon road trip involves a lot of incredible natural wonders, this next stop features manmade ingenuity. The Hoover Dam was built in the 1930s and is found on the border between Nevada and Arizona. To get to this marvel of engineering, take a scenic drive south from the Valley of Fire State Park.
When you arrive at the Hoover Dam, you can just drive over while enjoying the sweeping views of the Colorado River and surrounding mountains or you can stop and take a tour. On the tour, you will learn about the extensive Depression-era history of the dam. You will also be treated to unique viewpoints perfect for snapping some photos.
Book Here:  Hoover Dam: 3-Hour Small-Group Tour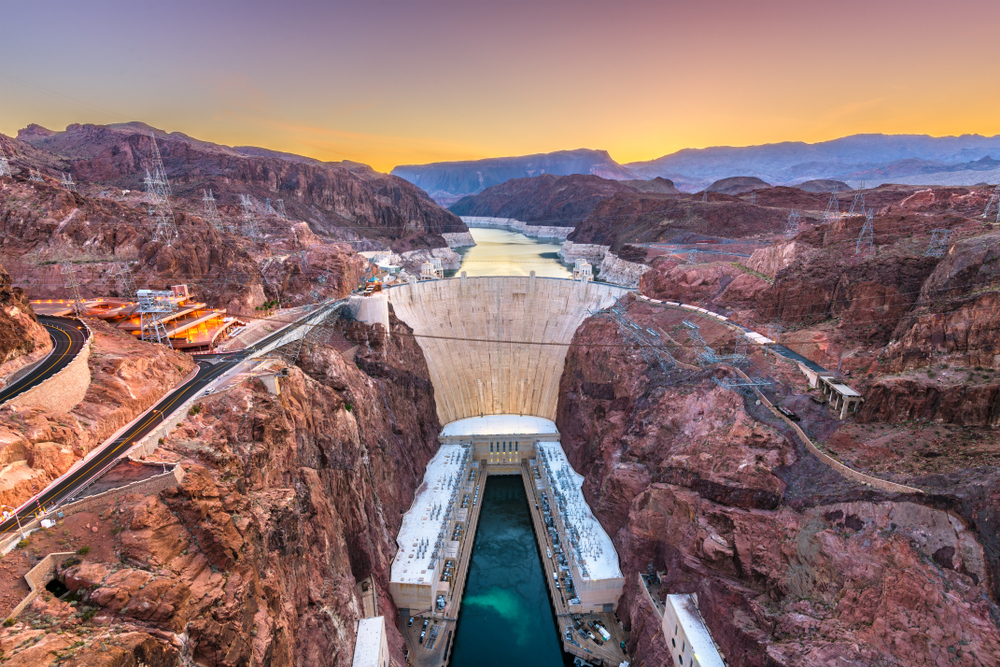 Stop 4: Flagstaff
Flagstaff, Arizona, is the next city on your road trip to the Grand Canyon and is most likely where you will spend the night before continuing on to the ultimate destination! Flagstaff is a lively city nestled in the mountains and is a great place to enjoy some bar hopping or a meal at a delicious restaurant. Though, you may not want to stay up too late because you will want to have an early start in the morning to get to the Grand Canyon before it gets too crowded with tourists.
After a day at the Grand Canyon, you will want to spend at least one more night in Flagstaff before heading home. Because Flagstaff is so centrally located, it is not far from a number of other fun activities. If you have time, you can hike the nearby Humphreys Peak, check out the Walnut Canyon National Monument, walk the city's historic downtown, or visit the Lowell Observatory where Pluto was discovered.
Where To Stay In Flagstaff:
Budget Option: Travelodge Flagstaff. Check Rates: Booking.com
Affordable: Hampton Inn Flagstaff. Check Rates: Booking.com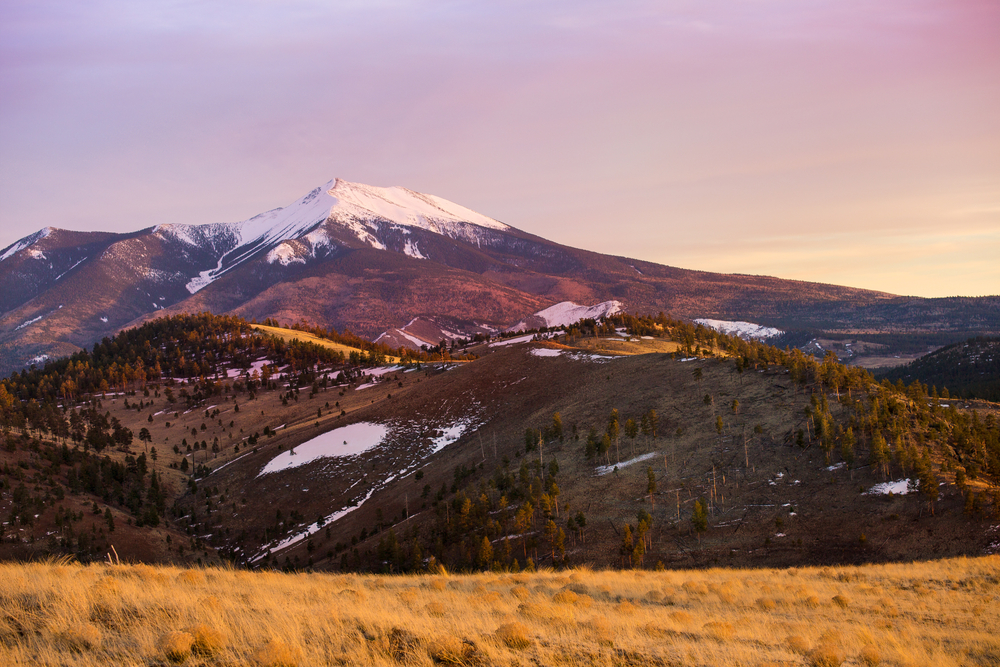 Stop 5: Grand Canyon
At last, it is time for the star of this road trip:  The Grand Canyon! This bucket-list location is about an hour and a half drive north of Flagstaff so it will not take long to get there. This is great because by now your anticipation will be at an all-time high! As soon as you see this incredible natural wonder, your breath is guaranteed to be taken away! You will want to take your time to really soak this wonder in, but it is possible to see the Grand Canyon quicker as well.
Below is a list of some of the viewpoints along the rim of the Grand Canyon and what you can expect from each one. Please remember, under no circumstances should you go to the edge of ANY canyon, mountain, or ledge ESPECIALLY when it is snowing or raining. It may look safe, but there could only be a thin layer of snow covering an unstable part of the ground or simply a tree branch you could trip on. Stay safe and stay away from the edge!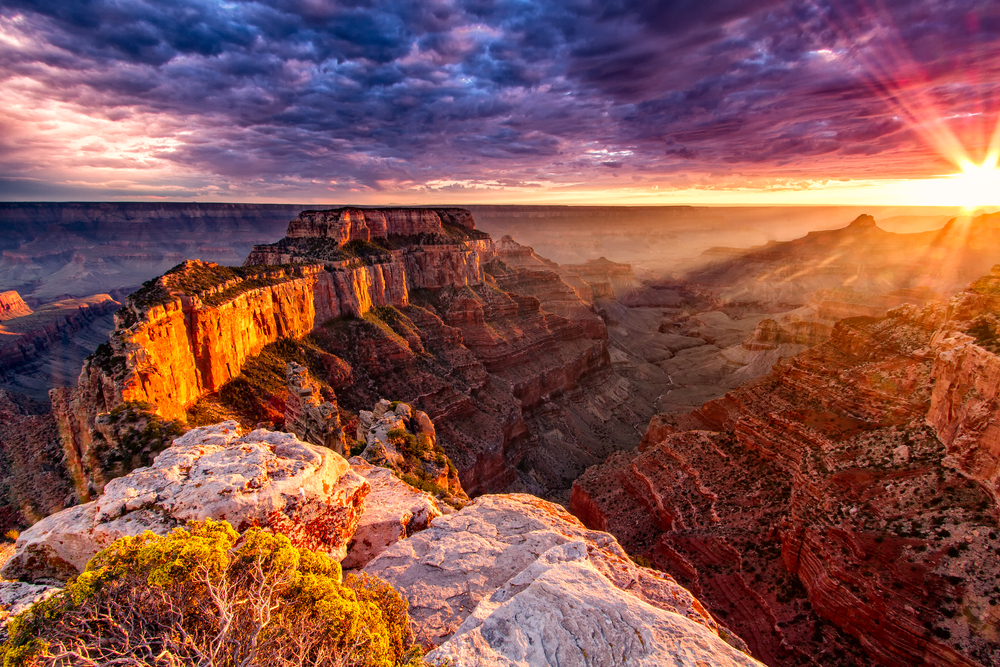 Our Favorite Grand Canyon Stops:
Yaki Point is the first stop in the Grand Canyon National Park and is near the Visitor Center. Because of this, it is bound to be crowded. Even so, you should take the time to check out this viewpoint. When you get in the National Park the first thing you are going to want to do is actually see the Grand Canyon and this is the quickest way to do that!
Grandview Point is a great stop on your Grand Canyon road trip because it gives you a chance to explore some walking paths. These are relatively safe if you are careful, but always make sure to keep an eye or hand on any small children you have with you. You can easily spend an hour wandering in this area. This point is popular as well, so do not expect to have it to yourself.
Moran Point is one of our favorite viewpoints and provides jawdropping views of the Grand Canyon free from obstructions. There is a railing and rock barrier you can walk along for different views. You better have your camera ready!
Lipan Point is nice, but can't be compared to the ones mentioned so far. You can skip this Grand Canyon stop if you don't have time or want to spend more time at one of the better viewpoints.
Navajo Point is another of our favorites. There are tons of small hiking trails around this point if you want to explore different views of the Grand Canyon. They provide great lookouts and you can see really far into the north-eastern part of the Grand Canyon. This is a fantastic stop for photography as well to capture images that perfectly show off your Grand Canyon road trip! Remember to practice safety as you explore!
Desert View is the last stop on the journey. This is the eastern-most point of the Grand Canyon, and you can see beautiful vistas all up and down the Canyon. It is even possible to see the prairies on the north side. Desert View is beautiful at sunset, so if you can time it right, we suggest stopping here at the end of the day! There is even a watchtower at this location that kids love so if you are doing your Grand Canyon vacation as a family, this stop is a must!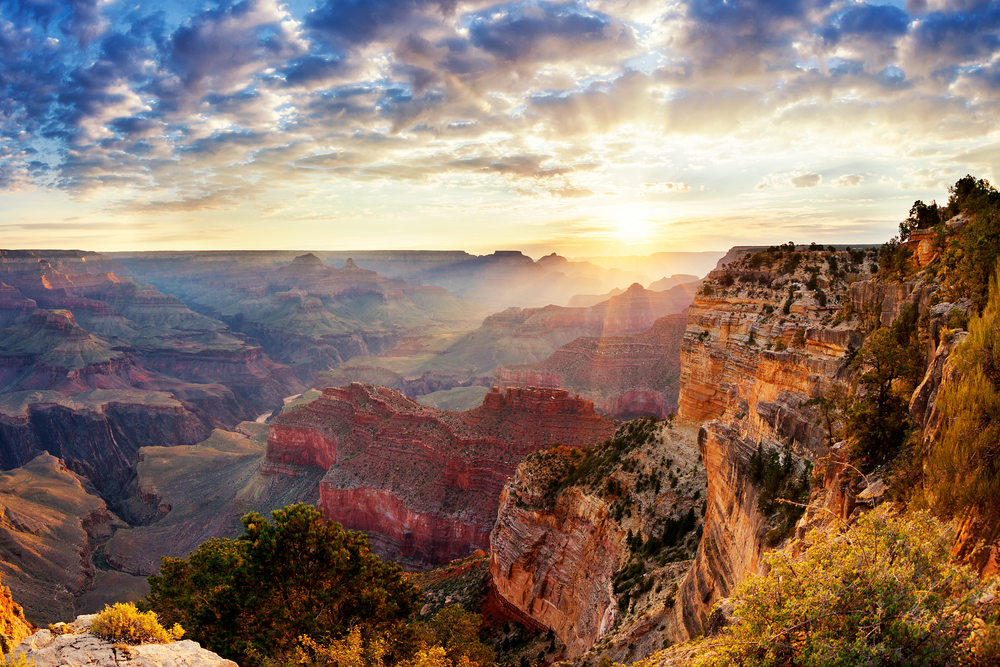 Our Favorite Grand Canyon Hikes:
If you are interested in seeing more of the Grand Canyon than a simple viewpoint can provide, you may want to check out some of the many  Grand Canyon hiking trails. Make sure to wear appropriate shoes and bring plenty of water to stay hydrated in the desert heat. Here is a list of our favorite hikes for you to enjoy on your Grand Canyon itinerary.
The Rim Trail's thirteen-mile length can turn some people off, but it is one of the easier hikes with some of the best views. Plus, it is possible to walk only portions of the trail instead of the whole thing. This trail is partially paved and stretches along the South Rim. While it does not go into the Canyon, you will receive amazing high views down below.
The Bright Angel Trail is about eight miles long roundtrip and gets harder the farther you hike. Even if you do not hike the entire trail, you should at least try to hit the four and a half mile point. Here you will find the pretty and historic Indian Garden. You can rest in the shady area before heading back up or if you plan on camping at the Grand Canyon, there is a campground here.

The South Kaibab Trail is popular and well maintained. You can find its trailhead near Yaki Point, and you will have to take a shuttle bus to get there. Along this trail, there are three main lookout points for you to hike to. The farthest, at six miles roundtrip, is Skeleton Point, which should only be visited by experienced hikers.
The Grandview Trail gives hikers the opportunity to discover history at the Last Chance Mine, whose remnants can be found down in  Horseshoe Mesa. However, completing this six-mile roundtrip hike can be strenuous and does involve some rock scrambling. If you are unsure about going the whole way, you can stop at Coconino Saddle. This point provides amazing views and is only a little over two miles roundtrip.
The North Kaibab Trail is about ten miles roundtrip and is well maintained. Though the elevation changes can make it a more difficult hike, the journey is worth it for the sight of the Roaring Springs Canyon at the end. There are also many campgrounds nearby if you plan on camping down here.
The Widforss Trail on the North Rim side of the Grand Canyon allows you to walk among trees before the sight of the Grand Canyon emerges before you. This trail is ten miles roundtrip if you hike it in its entirety. Along the trail, you will find trail markers that will educate you on the trees in the area and the Canyon itself.
The Cape Final Trail is only four miles roundtrip and is a great choice for families since it is one of the easiest hikes on the North Rim. When you reach the end of the trail, you will be rewarded with awesome views that stretch into the horizon!
Book Here:  Grand Canyon Classic Sightseeing Tour
Book Here:  Helicopter Tour from South Rim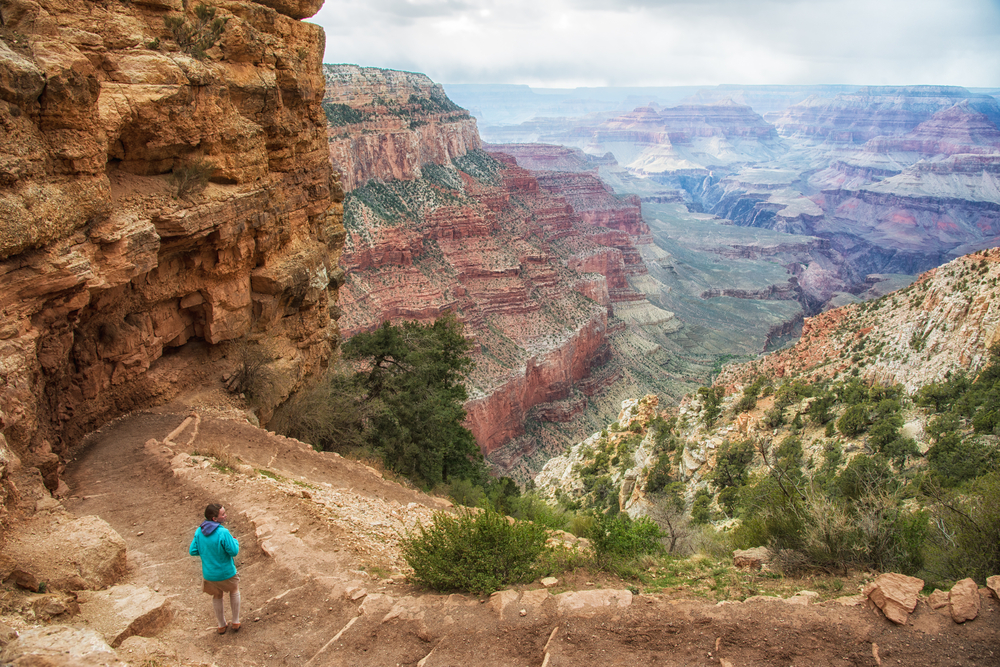 Stop 6: Fly Home From Las Vegas
As your Grand Canyon road trip winds to an end, you will want to drive back to Las Vegas in order to fly home. The drive from Flagstaff to Las Vegas is about four hours, so you can easily complete it by driving straight through. If you have time to kill before your flight, try your luck by playing some slots at the airport. Maybe you can even earn back the money you spent on the trip! Well, a person can dream, right?!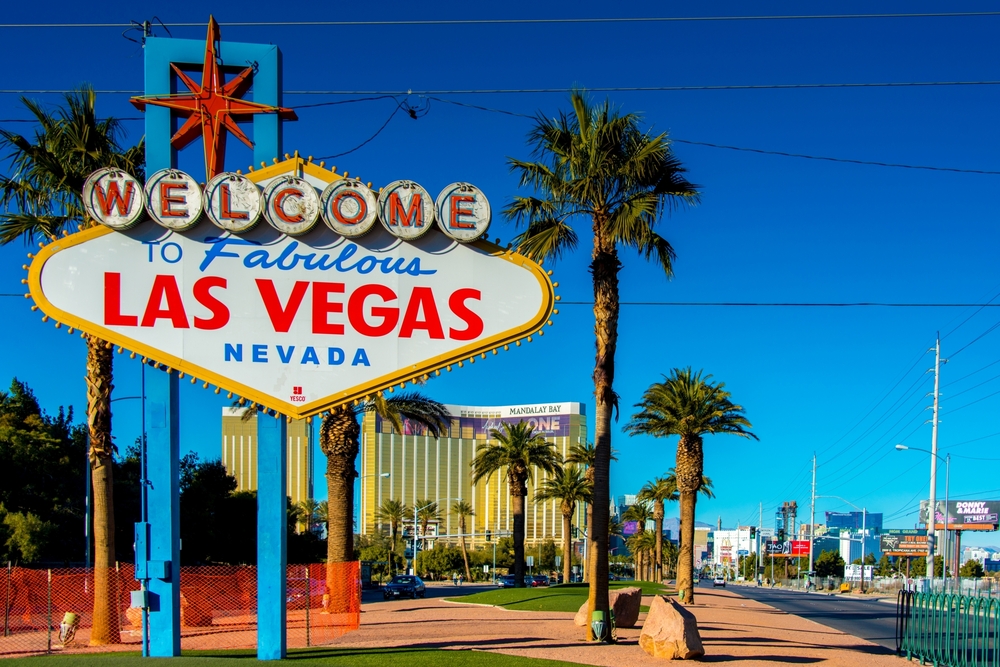 With More Time:
If you want to spend an extra day or two on your Grand Canyon road trip, there is an endless amount of sites not far from Flagstaff where you can enjoy a day trip. Here are a couple of options for you.
Page, Arizona
Page, Arizona, is two hours north of Flagstaff on the other side of the Grand Canyon and is home to two famous landscapes. The first is Antelope Canyon, a narrow slot canyon with walls streaked with gorgeous colors. Try to visit around noon, when the light is shining directly down into the canyon to create motes of light that are out of this world! Antelope Canyon is part of the Navajo Nation, and you must book a tour in advance to visit this site!
Book Here:  Antelope Canyon Full-Day Tour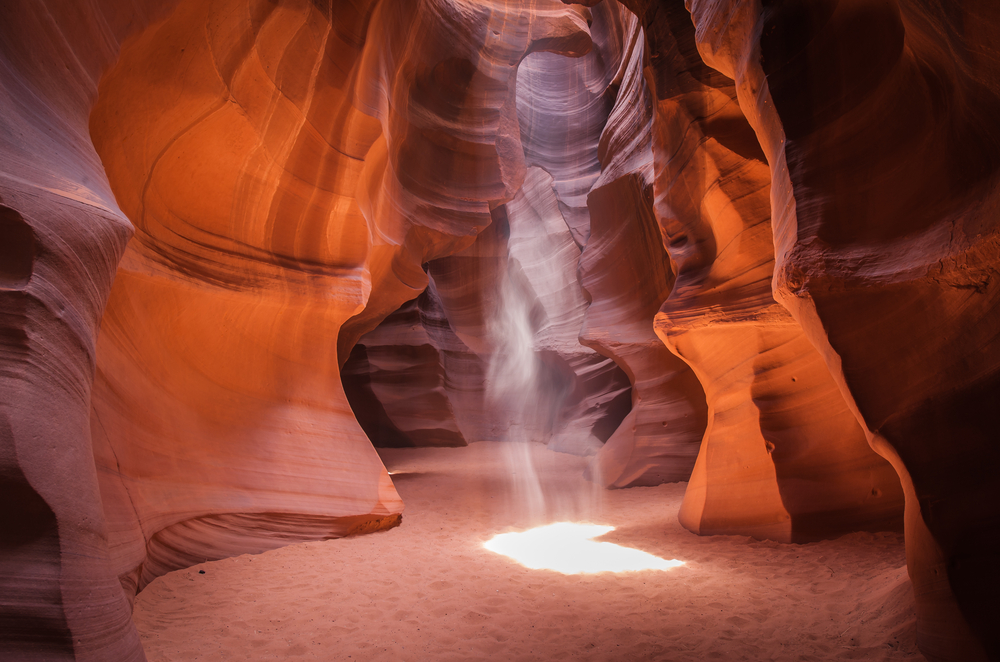 The second landscape marvel in Page is Horseshoe Bend, which you are sure to have seen in many Instagram travel photos. While it might have looked too good to be true in those photos, you will fully appreciate it as you stand near the edge of the cliff. Horseshoe Bend is aptly named after the shape the Colorado River forms at this spot.
Book Here:  Horseshoe Bend Helicopter Flight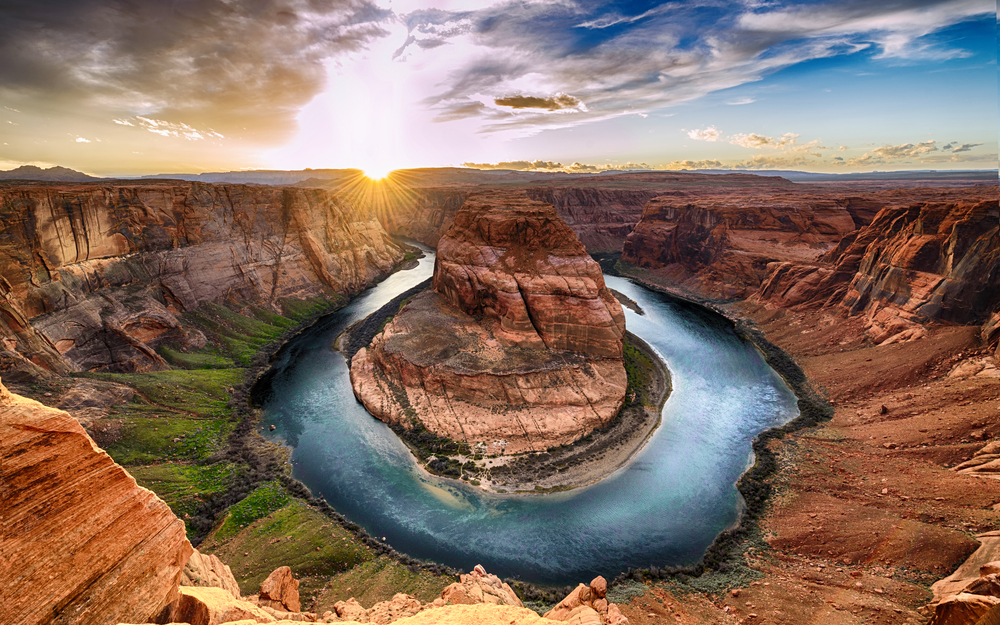 Sedona, Arizona
Sedona, Arizona, is just south of Flagstaff and offers amazing landscapes that are sure to wow you! Sedona is especially a great destination for anyone looking for a great nature hike. You will definitely need to lace up your hiking boots here to find the best views! Check out our full description of this area below, since it is one of the main stops if you are coming to the Grand Canyon from Phoenix.
Sedona is home to some of the Best Airbnbs In Arizona! There are so many cute options that are also affordable!
Grand Canyon Road Trip From Phoenix

Stop 1: Fly Into Phoenix And Explore
If you would rather start your Grand Canyon road trip in Phoenix, we have you covered! Phoenix is usually more expensive to fly into compared to Las Vegas, but if you manage to snag a good deal by using Skyscanner or are driving in from nearby, then this city may be a better option for you.
Phoenix is the capital of Arizona and there is plenty of things to do and see here if you chose to spend a day in the city before hitting the road. Nature lovers will want to check out the Desert Botanical Garden for cacti-filled landscapes or hike Camelback Mountain for sweeping views of the valley below.
Those interested in history and culture will want to visit the Heard Museum, where you will learn about Native American life and art, or the Phoenix Art Museum, which features art from many famous painters. And of course, the Phoenix Zoo or the Children's Museum of Phoenix is perfect for families with young kids!
Where to Stay in Phoenix:
Luxury: Pointe Hilton Squaw Peak Resort. Check Rates:  Booking.com
Affordable:  La Quinta Inn by Wyndham Phoenix North. Check Rates:  Booking.com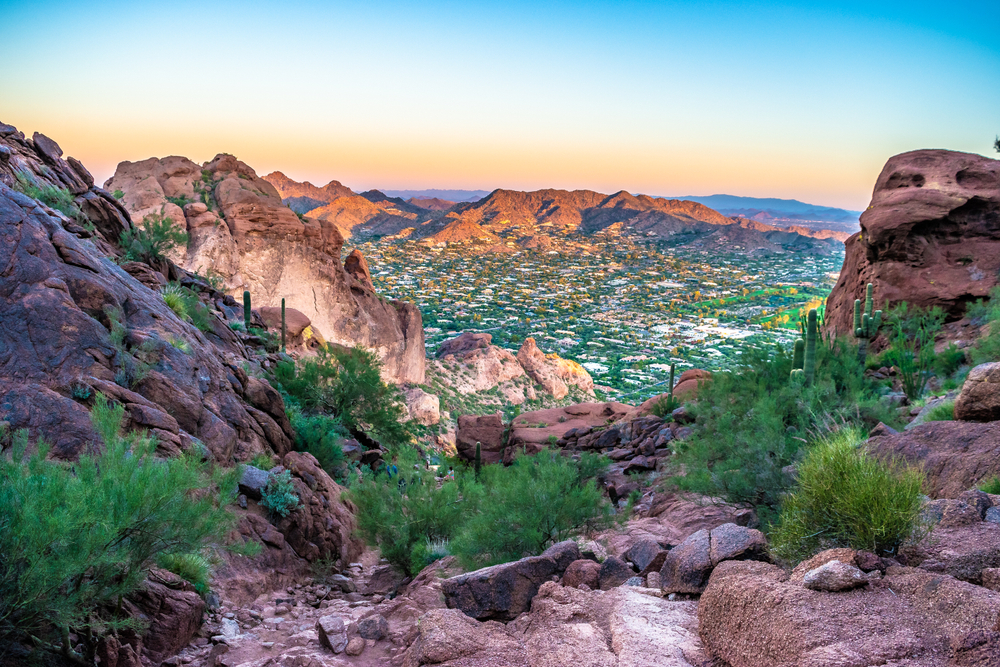 Stop 2: Montezuma Castle National Monument
Montezuma Castle National Monument is about an hour and a half north of Phoenix and makes a great pitstop on your Grand Canyon itinerary. Found within a clump of national forests and parks, this historic area features preserved cliff dwellings of the Sinagua people. These dwellings are around 800-years old and are rife with history. They are amazing to look at, like an ancient apartment building nestled high in the cliffs.
You will want to spend about an hour or two here exploring the surrounding trails and the museum. As you hike the trails, keep an eye out for wildlife, such as jackrabbits, lizards, chipmunks, and eagles. Catch a talk by a park ranger to learn more about the history of this place. If you want a little more Native American history on your trip, drive a little way up the highway to discover the Montezuma Well.
Stop 3: Sedona
Keep north to Sedona, a city surrounded by magnificent canyons and rock formations that are perfect for anyone who loves scenic hiking trails. Two or even three days will be a good amount of time to spend here if you want to fully explore the area. While the city itself is small, the landscapes that cradle it are gigantic and you could explore for days and never run out of beautiful sites.
When you first arrive, you will want to stop off in Red Rock State Park first and hike to the magnificent Cathedral Rock. This is a place where you will feel small compared to nature but in the best way. Then, snap a photo of the nearby Church of the Holy Cross, which is built into a cliff, showcasing unique architecture.
Devil's Bridge should be your next stop. The trailhead to this geological gem is north of Sedona. This is one of the best hikes in Sedona, and it ends with a rewarding view. The hike is four miles roundtrip and is relatively flat for most of it, so it will not take long. Now, if you want to enjoy more ancient ruins on your Grand Canyon road trip, head over to the Palatki Ruins, where you can follow a couple of trails and discover cave paintings and more cliff dwellings.
Book Here:  Canyons & Cowboys: 2-Hour Jeep Tour from Sedona
Where to Stay in Sedona:
You can camp in Sedona if you are feeling adventurous, or you can simply stay in a hotel.
Luxury: Hilton Sedona Resort at Bell Rock. Check Rates: Booking.com
Affordable: GreenTree Inn Sedona. Check Rates: Booking.com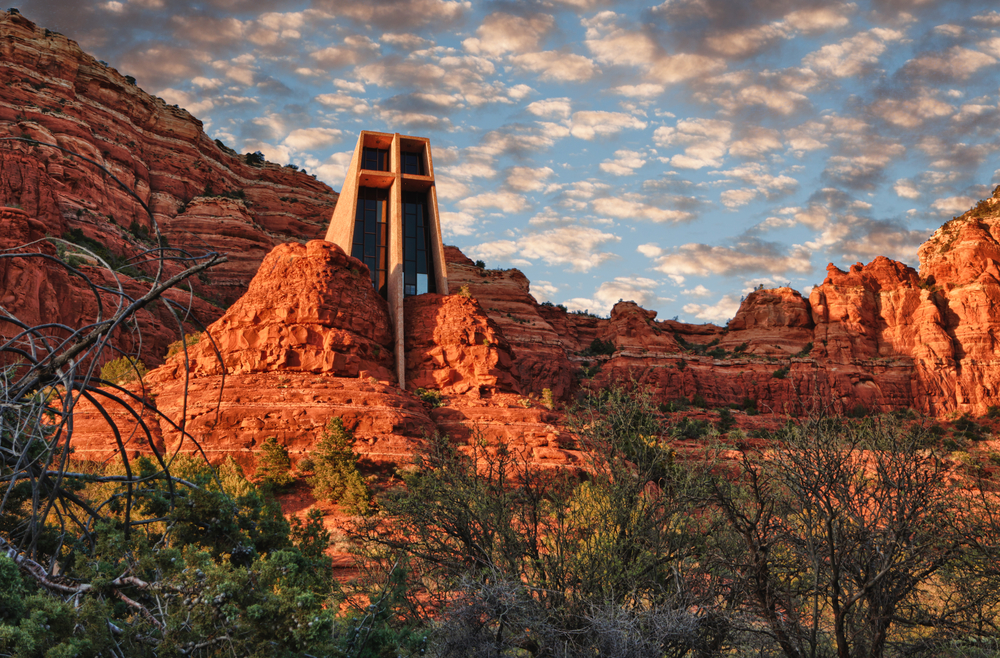 Stop 4: Flagstaff
More than anything, Flagstaff is a jumping-off point for the Grand Canyon! Spend a day here relaxing after so many hikes and adventures in Sedona. You will also want to catch up on your sleep and prepare your body for your trip to the Grand Canyon the next day, which may also involve a lot of hiking.
If you do want to get out and explore the city some, you can take a look at the Riordan Mansion State Historic Park where you can tour a historic 1904 mansion. Or maybe play a round of golf at one of the many courses around the city. If you are taking your road trip to the Grand Canyon in November or December, then take the kids over to the North Pole Experience.
Where To Stay In Flagstaff:
Budget Option: Travelodge Flagstaff. Check Rates: Booking.com
Affordable: Hampton Inn Flagstaff. Check Rates: Booking.com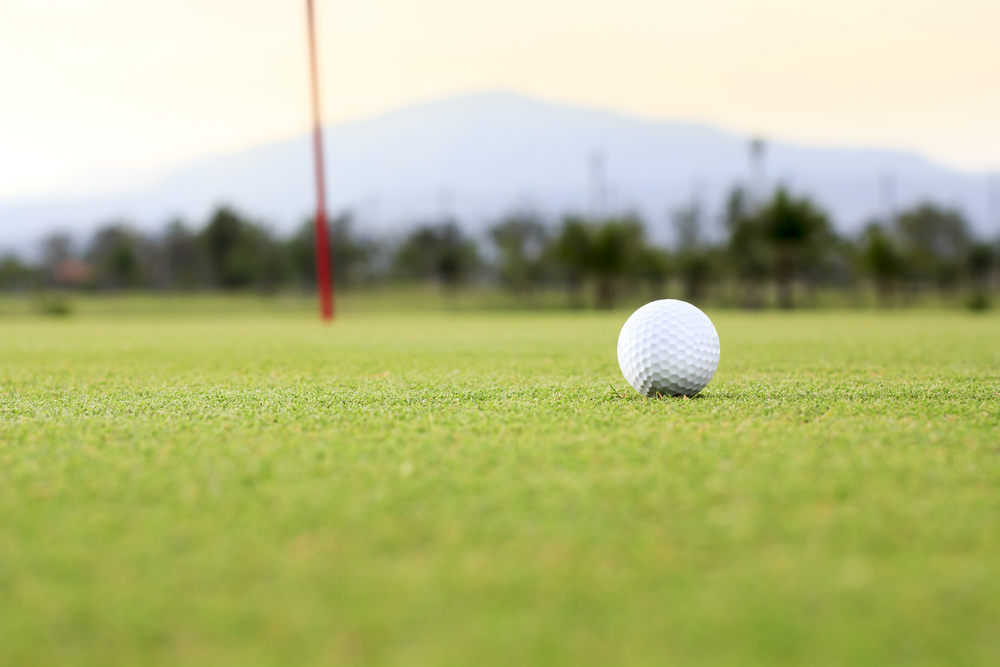 Stop 5: Grand Canyon

You have made it to the best part of the trip! The Grand Canyon is spectacular and will not disappoint. You will have a whole new appreciation for the power of erosion! If you want our tips for visiting this National Park, go ahead and scroll back to the section dedicated to it above where you will find our favorite viewpoints and hiking trails.
The Grand Canyon National Park was founded in 1919 and welcomes nearly 6 million visitors from around the world each year. The only other U.S. National Park visited more is the Great Smoky Mountains National Park. It is time you see what makes the Grand Canyon so dang popular! Maybe it is touristy, but you have to see it at least once in your life. Trust us!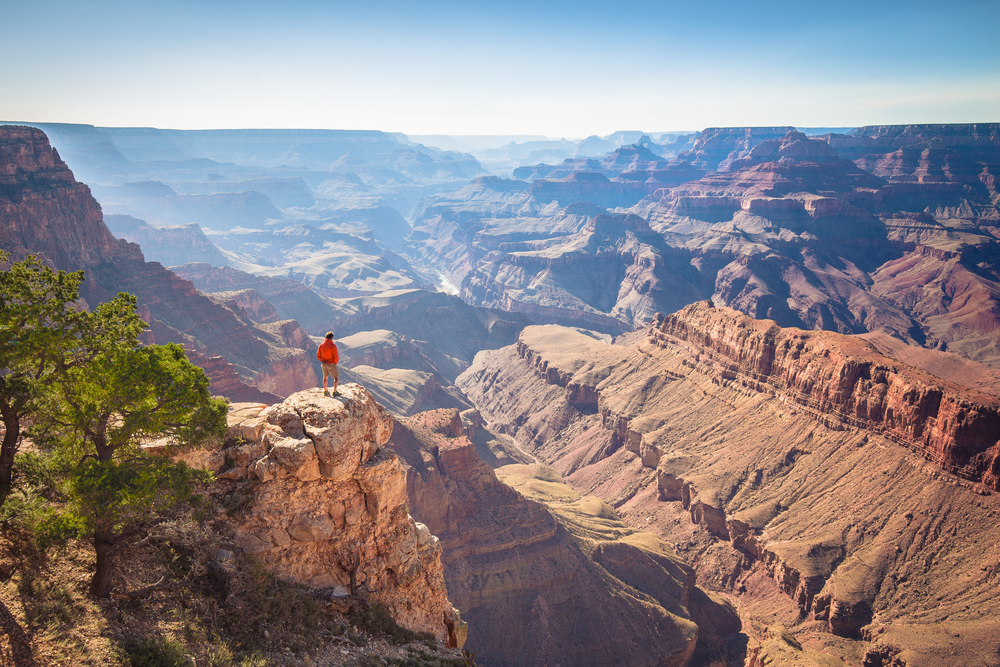 Stop 6: Wupatki National Monument

Like the Grand Canyon, the Wupatki National Monument can be visited as a day trip from Flagstaff. It is about 40 minutes northeast of the city. Here, you will find five prehistoric pueblos dotting the rocky outcrops. It is amazing to see the way ancient people lived, and you have to admire that they were able to survive in what seems like such an unforgiving landscape.
Spend a few hours here hiking some of the many trails and learning about the history of the ruins on a guided tour. You must make a reservation for the guided hikes since the number of people for each is limited to protect the area. If you have time on your way back to Flagstaff, you can swing by Sunset Crater Volcano National Monument for another fun hike.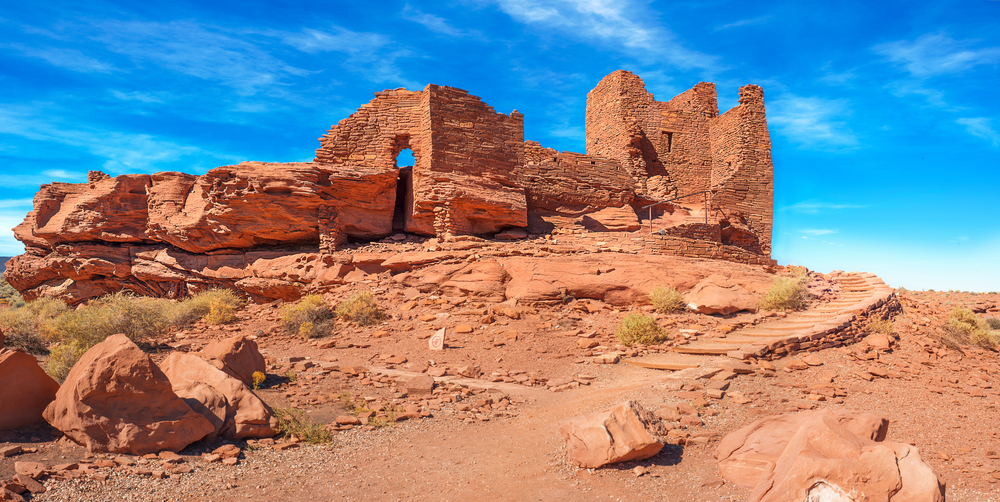 Stop 7: Return to Phoenix to Fly Home or Fly Home From Las Vegas
Your Grand Canyon road trip can come to an end with you either flying home from Phoenix or Las Vegas. While Phoenix is closer, if you chose to go to Las Vegas, you can incorporate some of the stops from the "Grand Canyon Road Trip From Las Vegas" portion of this article. You could also add a day to visit the interesting Mojave National Preserve, which you will pass on your way. This beautiful wilderness on the California side of the border is a mishmash of unique landscapes, such as sand dunes, Joshua trees, and cinder cone volcanoes. In the spring, there are a ton of wildflowers as well.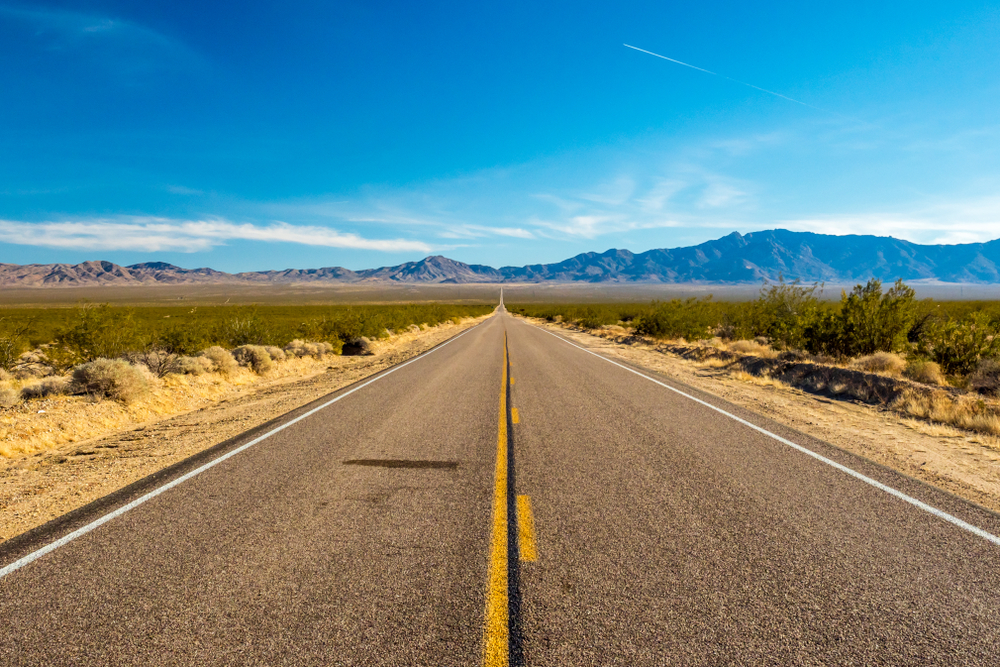 Now you are prepared to hit the road and check the Grand Canyon off your bucket list! With so many amazing things to see along the way and the main attraction so, well, grand, this road trip to the Grand Canyon is definitely one you and your family will never forget. With plunging, colorful vistas and miles of unadulterated nature, the Grand Canyon is a dream to visit. Take the time to enjoy it!
Make sure to pack reusable water bottles, hats, and plenty of sunscreen to prepare for the desert climate, especially if you are traveling in the summer. Plus, you will want to pack your camera so you can capture all the classic family road trip shots and the perfect Instagram-worthy selfies in front of one of the best landscapes North America has to offer:  The Grand Canyon!