An Idaho road trip is perfect for anyone who wants to immerse themselves in nature. This northwestern state has plenty of nature getaways that can act as a fun family vacation or a romantic couples' retreat. Use our Idaho itinerary to jump start some ideas for your road trip!
Idaho is known for its diverse landscape and this road trip will lead you to many beautiful sights! Rivers, lakes, mountains, and more await you on this very nature-focused adventure. Don't forget to pack some hiking boots!
Idaho is beautiful and fun no matter the season and can definitely be enjoyed year-round. In the spring, flowers are abundant and the melting snow creates amazing waterfalls. Summer will give you the perfect weather for your time at the lakes. In the fall, the red and orange trees alone are worth the journey. Wintertime gives you the chance to try out some exciting winter sports.
Once you have your itinerary planned, download some road trip apps and pack your bags. Then, it's time to get your unforgettable Idaho road trip started!
Save money on your trip to Idaho! Get a FREE $55 Airbnb coupon by using our code when you book!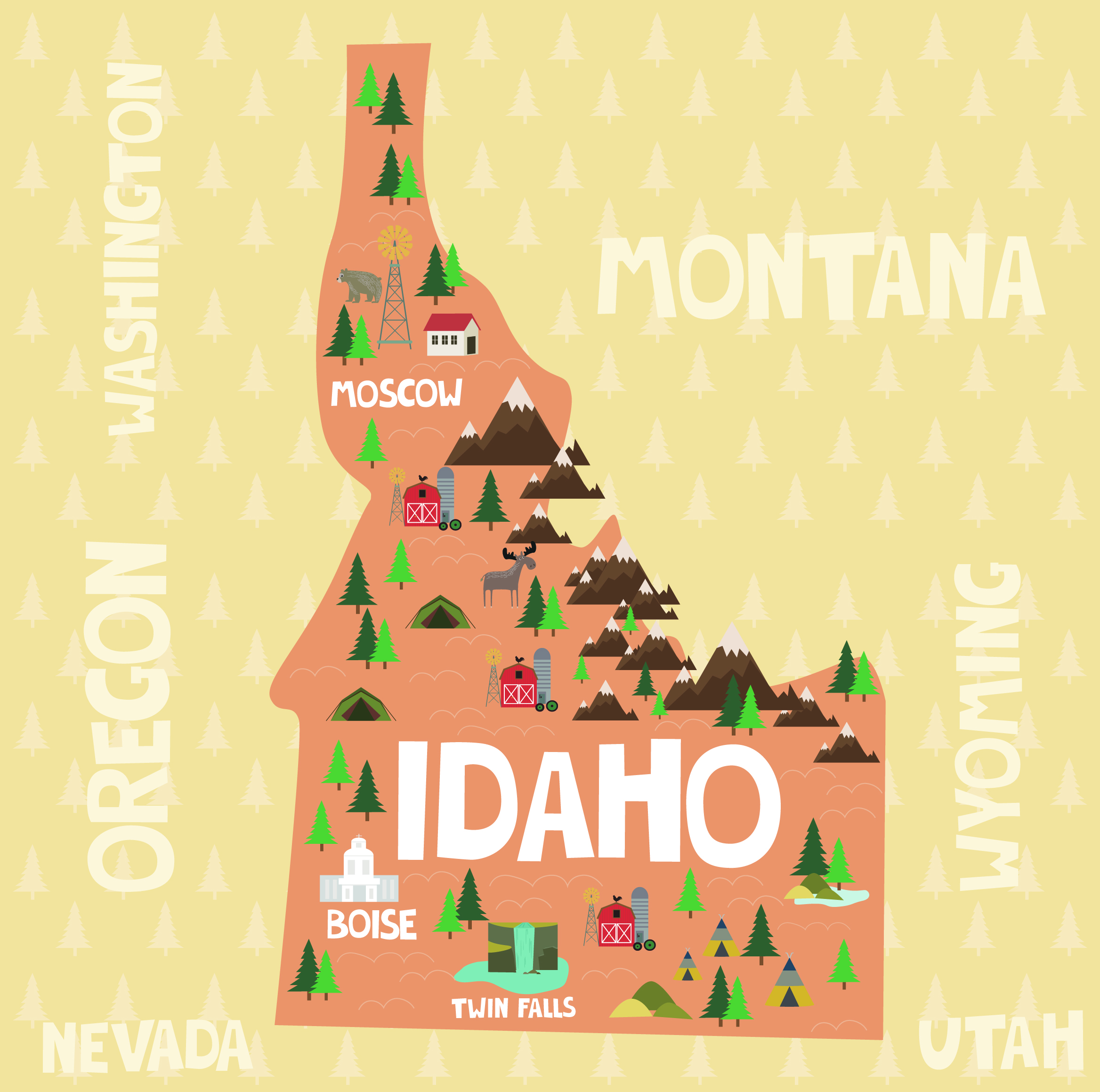 The Perfect Idaho Road Trip Itinerary You Should Steal
Start Your Idaho Road Trip by Flying into Boise
If you are flying into Idaho, you will want to choose Boise, the state's capital, as your destination city. This is the only big city you will be seeing on your vacation, and it is the best place to start your Idaho road trip. If, instead of flying, you are driving into Idaho, feel free to start your itinerary at whichever stop is closest to your home.
Getting Around Idaho
Of course, you will need to rent a car if you are flying to Idaho. It is easy to book a car in advance and pick it up at one of the car rental places at the airport. Make sure you do some research to find the best price as well as the best vehicle for your needs.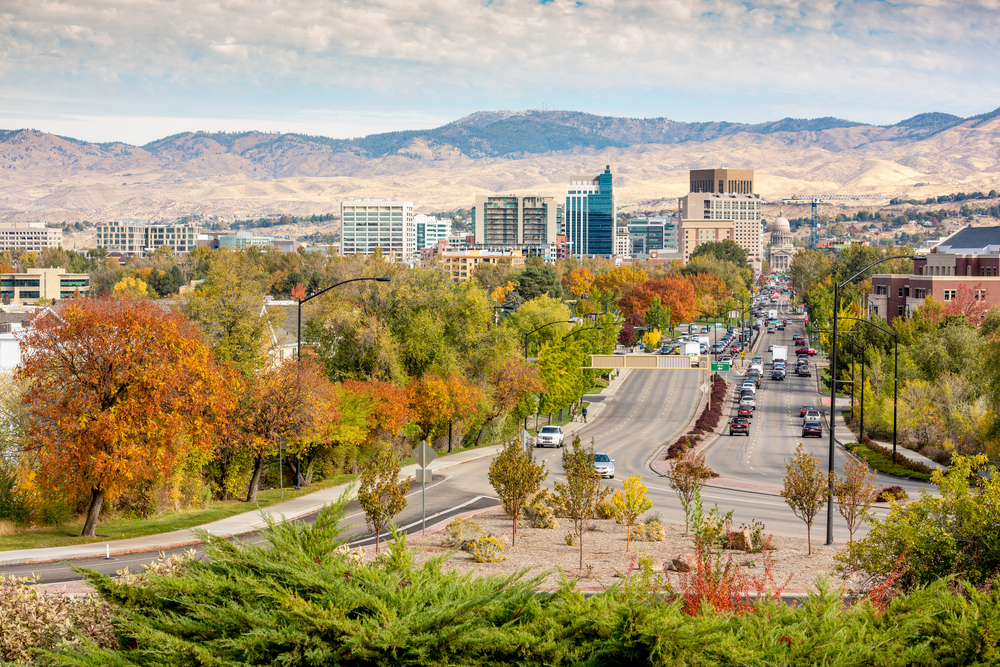 Stop 1: Boise
Along with being Idaho's capital, Boise is also the state's largest city. As a modern metropolitan area, there are plenty of things to do that will keep tourists busy and happy. You should plan on staying here at least two to three days in order to take it all in.
Boise is very much a city that takes advantage of the beautiful nature that surrounds and weaves through it. There are parks to explore, many of which are found along the banks of the Boise River. You will not have to go far to find a good hiking or biking trail.
If you want to spend some time in the city, make sure you check out the cute downtown, where you will find an array of options for eating and shopping. There is also a ton of street art throughout the city to discover.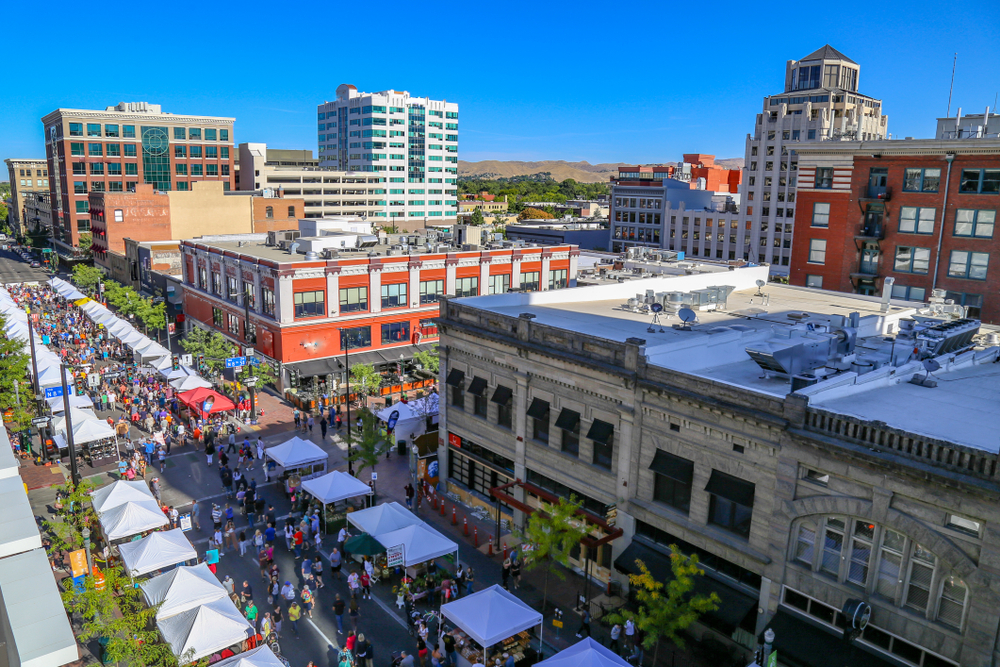 Things to Do
Find Animals at the Aquarium of Boise or Zoo Boise
If there are any animal lovers in your travel group, then Boise has a few attractions for you. First, check out the 10,000 square foot Aquarium of Boise, where you can discover many hands-on animal exhibits. Then, head over to Zoo Boise to find a ton of cool animals and interactive exhibits. There is also a pretty butterfly area.
Immerse Yourself in Culture at the Boise Art Museum
The Boise Art Museum houses rooms and rooms of modern art as well as an education center, rotating exhibits, and a sculpture garden. This museum opened in 1937 and has been drawing art lovers ever since. Come here to soak in some art!
Shop at the Capital City Public Market
The expansive Capital City Public Market has been happening since the '90s and is the perfect place to pick up some ingredients for a meal cooked at your Airbnb or to get a snack. There are over 150 vendors as well as live music to enjoy as you shop. The Market is open in the summer on Saturday from 9:30 a.m. to 1:30 p.m.
Go Skiing
If you are traveling in winter, you might want to check out the Bogus Basin Mountain Recreation Center. Here, you can hit the slopes and have a thrilling time on the downhill slopes or cross country skiing trails. Whether you are a beginner or expert, these slopes are full of fun!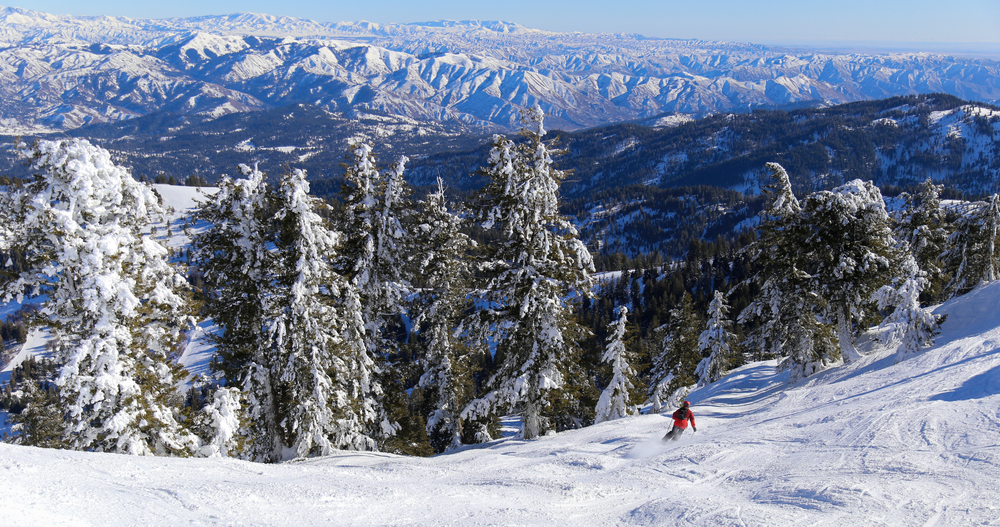 Where to Stay
Boise has plenty of modern places to stay.
Affordable: Hyde Park King Studio Suite. Check Rates: Airbnb
Mid-Range: 26th Street Studio – West Downtown Boise. Check Rates: Airbnb
Luxury: HGTV's Boise Boys Firehouse. Check Rates: Airbnb
Stop 2: Bruneau Dunes State Park
From Boise, drive for about an hour down Highway 84 until you get to Bruneau Dunes State Park. The sand dunes here are an example of Idaho's natural diversity, and you will feel as if you have been transported to a desert as you hike along the dunes' winding ridges.
Interestingly, this state park is home to the largest free-standing sand dune in the country. At about 470 feet, the peak of this landscape will offer amazing views for anyone daring enough to hike to the top. Hiking in sand is different than dirt, so be prepared for a bit of a harder trek.
Bruneau Dunes State Park is more than incredible scenes and hiking, though. If you want to add some exhilaration to your Idaho road trip, why not try sand sledding? This is the perfect activity for families with younger kids.
When night falls, be sure to check out the Bruneau Dunes Observatory for a chance to peek at the stars through a telescope. The observatory is open April through October on Fridays and Saturdays only.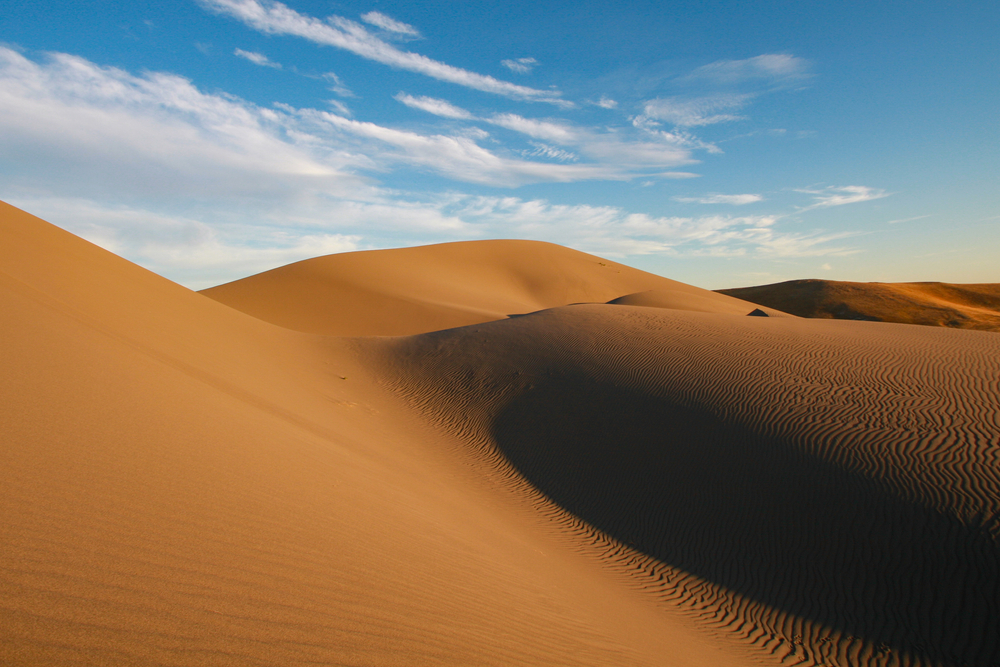 Where to Stay
You can camp at the park or stay in a nearby town.
Affordable: Thunder Bird Motel. Check Rates: Booking.com
Luxury: Hampton Inn & Suites. Check Rates: Booking.com
Stop 3: Shoshone Falls Park
From Bruneau Dunes State Park, keep south on Highway 84 for another hour and a half until you reach Shoshone Falls Park on the Snake River. This waterfall is referred to as the "Niagara of the West", and it is in fact taller than the famous Niagara Falls at 212-feet. It is not nearly as wide though!
The best time to see Shoshone Falls is during the spring when the winter snow runoff heightens the flow. In summer, some water is diverted for irrigation so there is a little less. But the falls are still amazing to see at any time! There are a few different viewpoints where you can watch the tumbling water, so make sure to check out each.
The park here is one of the best places to visit in Idaho for families. Along with the falls, you will find areas perfect for a picnic lunch and fun playgrounds for kids to burn off some energy.
Check out Dierkes Lake Park next door to cool off in the water or maybe go hiking. If you are up for a longer hike, the 7.6-mile Canyon Rim Trail takes you along the scenic Snake River Canyon. As a bonus, the path is paved and well maintained!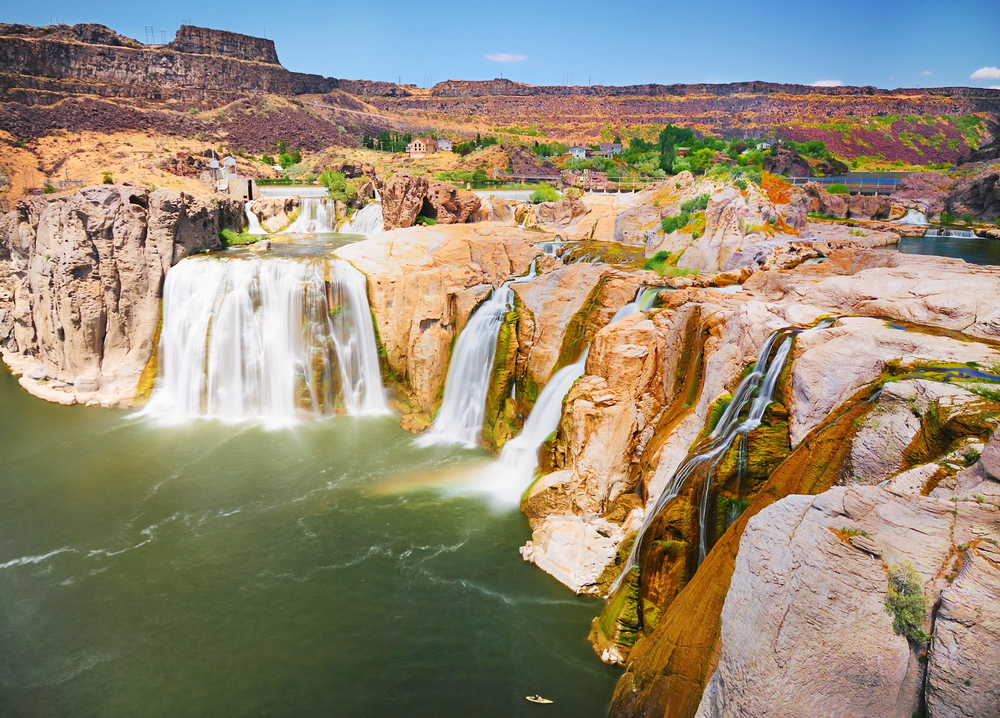 Where to Stay
Book a place in Twin Falls.
Affordable: Gorgeous 2 Bed/2Bath Home with Garage. Check Rates: Airbnb
Mid-Range: Cozy Brick Cottage. Check Rates: Airbnb
Mid-Range: Twin Falls Top Town House. Check Rates: Airbnb
Stop 4: Craters of the Moon National Monument
In just under two hours from Shoshone Falls Park, you will find yourself in another unique landscape. Craters of the Moon National Monument is so named because of the rugged, barren land leftover from ancient lava flows. It is a desolate place perfect for the setting of an apocalyptic movie–or a stop on your Idaho road trip! When you post some snaps on Instagram, people are bound to ask where on earth you are!
The park is about the size of the state of Rhode Island so there is plenty to explore, including cool rock formations, cinder cones, fissures, and lava tubes. Nature enthusiasts might want to seek out the occasional plant life, which is specially adapted to this area.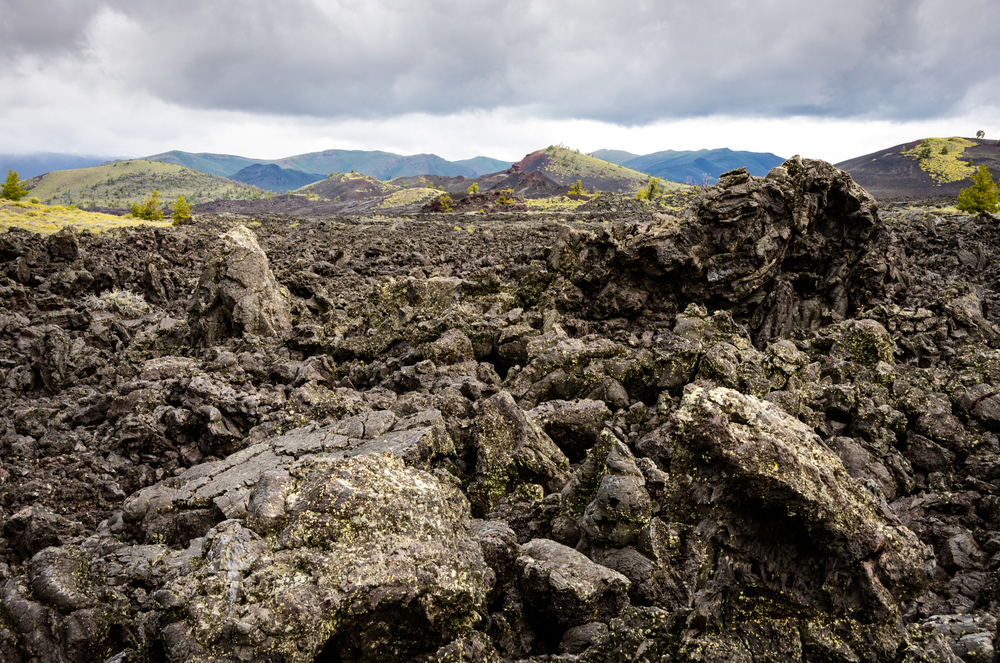 Things to Do
Drive the Scenic Loop
The quickest and easiest way to see the Craters of the Moon is by driving the 7-mile scenic loop road. This will take you through the park at a leisurely, air-conditioned pace. When you come to a site you want to see better, you can pull over and explore.
Discover Lava Tubes
One of the main things to do at Craters of the Moon National Monument is exploring lava caves. The otherworldly caves provide a once in a lifetime experience. Make sure to plan your trip later than mid-May to assure the snow blocking the caves has melted. There are five caves to choose from, each with a different level of difficulty. Head underground to walk where lava once flowed!
Hike Amazing Trails
There are also a few hiking trails here with such cool scenes they can't be passed up. Like the cave trails, they vary in difficulty and length. The shortest trail is under half a mile while the longest is eight miles. Whichever trail you choose, make sure to stay on the designated path to avoid harming the fragile lava formations.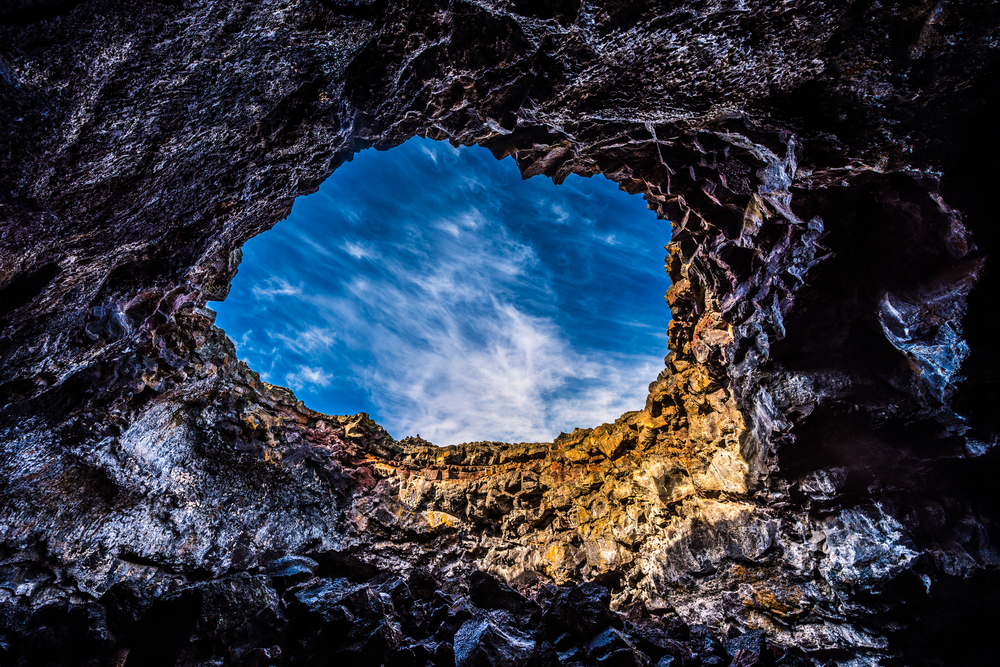 Where to Stay
There are some campsites along the edge of the park or you can stay in an Airbnb nearby.
Affordable: Long Horse Ranch Cabin. Check Rates: Airbnb
Mid-Range: River Street Roost. Check Rates: Airbnb
Stop 5: Mesa Falls
The next stop on your Idaho road trip is two and a half hours away at Mesa Falls, near the border with Wyoming. In fact, Mesa Falls is so close to Yellowstone National Park that you could easily make a day trip there if you have the time. And you should make time for it! Yellowstone is one of the most popular U.S. travel destinations for a reason! But, it is not in Idaho, so we are glossing over it for now.
Mesa Falls is located in the Caribou-Targhee National Forest and is made up of an upper and lower falls. Surrounded by trees and a beautiful river canyon, this waterfall is worth a visit. Many photo opportunities await you!
Start off at the Mesa Falls Visitor Center, which is found in a historic 1915 inn and features natural and cultural exhibits. Around the corner from the building is a boardwalk and stairway, which will lead you to views of the gorgeous Upper Mesa Falls. If you are lucky, you may see a rainbow stretching across the canyon on sunny mornings.
Then, set out on the mile-long Mesa Falls Nature Trail, which ends with an overlook of the Lower Mesa Falls. Though not as big as its brother, this waterfall is still incredible.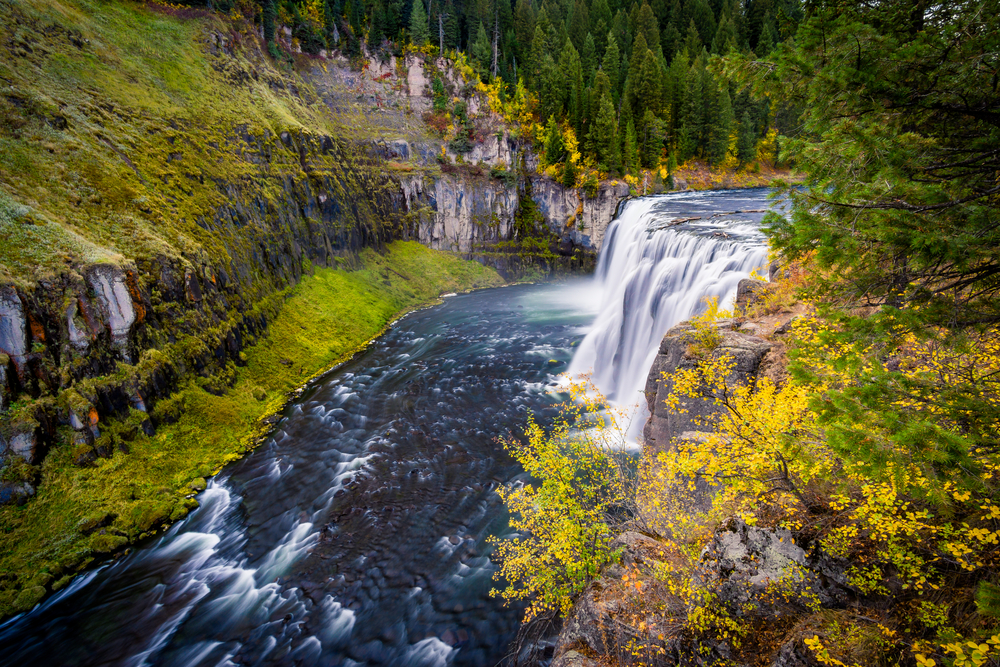 Where to Stay
There is camping available in the park or you can stay in one of the small towns in the area.
Mid-Range: Osprey Landing. Check Rates: Airbnb
Mid-Range: Beautiful Home Near Yellowstone. Check Rates: Airbnb
Luxury: Targhee Ski Resort. Check Rates: Airbnb
Stop 6: Sawtooth National Forest
A four and a half-hour drive through the mountains will bring you to Sawtooth National Forest. This one of the major tourist destinations in Idaho, and it will quickly become clear why. This forest is over two million acres and there is so much to do and see, you may want to stay for at least two to three days.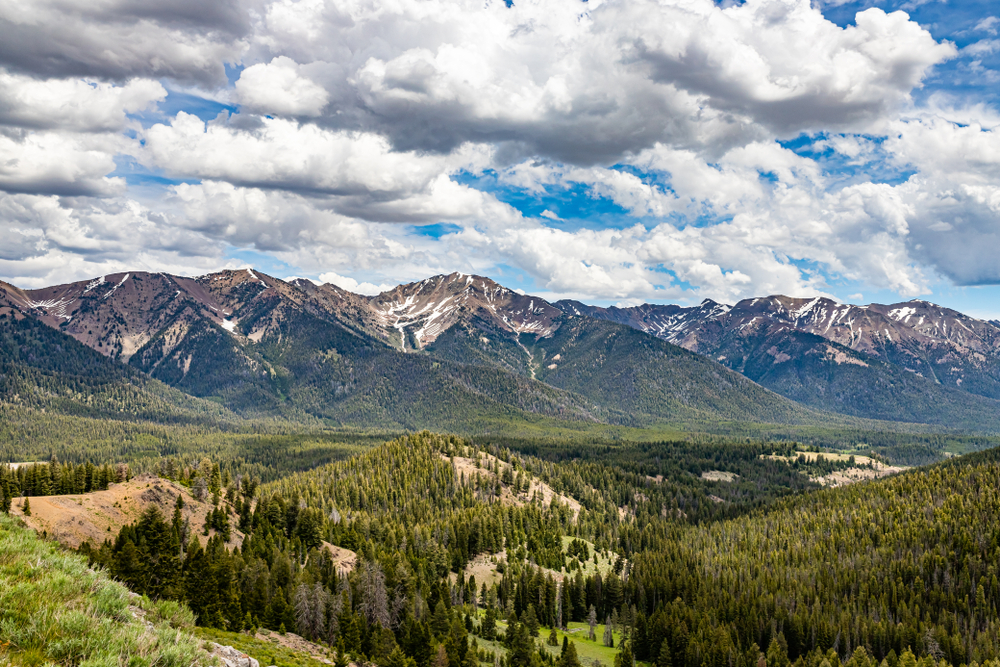 Things to Do
Relax at Redfish Lake
Redfish Lake is the largest lake in the area and is worth a visit if you want to swim, kayak, or just chill and work on your tan. Check out the sandy Orval Hansen Point Beach to find picture perfect boat docks that will make a great place to pose for an Instagram shot.
Go Horseback Riding
There are a few places within the Sawtooth National Forest where you can book a trail ride. Is there a better way to experience nature than from the back of a horse? This is the perfect activity for families with kids, and it is sure to create lasting memories.
Soak in a Hot Spring
You will find Sunbeam Hot Springs right off Highway 75 so you will not have far to walk before you can settle into the relaxing water. This natural thermal hot spring is part of the Salmon River and is surrounded by evergreen trees. The spring is open year-round with water at about 110 degrees Fahrenheit.
Hit the Slopes
If you are doing your Idaho road trip in the winter, then you have to plan for some skiing or snowboarding while in the mountains. There are a few ski resorts to chose from, so you will not have to look far. It might be cold, by the adrenaline will warm you up!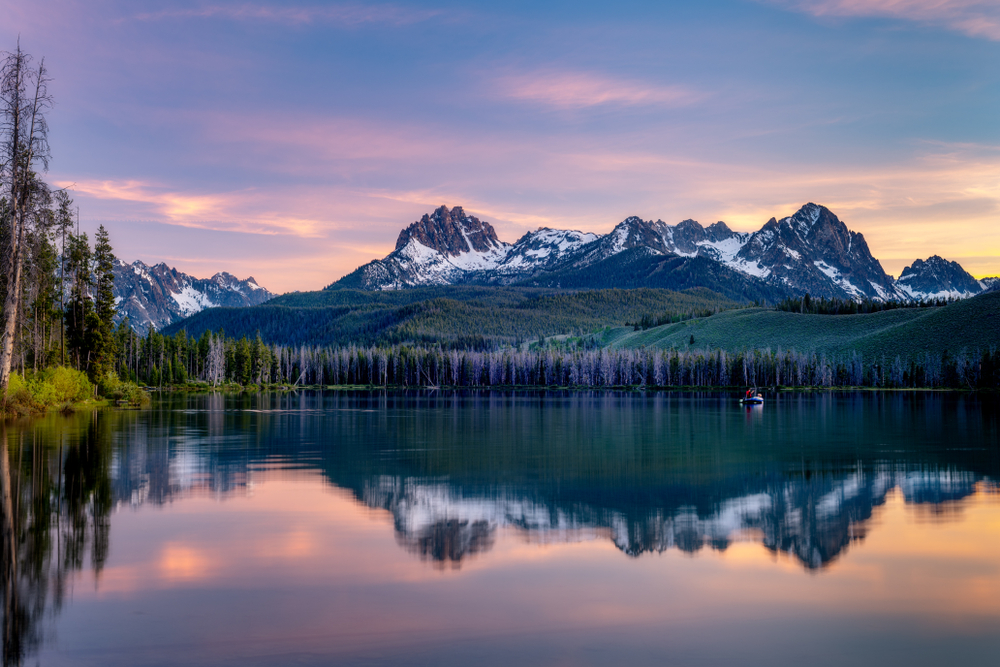 Where to Stay
There are a ton a beautiful campsites in the Sawtooth National Forest. If you don't want to rough it, there are some Airbnbs nearby.
Affordable: Modern Elkhorn Studio in the Heart of Sun Valley. Check Rates: Airbnb
Mid-Range: Downtown Ketchum Condo. Check Rates: Airbnb
Luxury: Creekfront Luxury. Check Rates: Airbnb
Stop 7: Payette National Forest
You will come to another beautiful national forest after a two and a half-hour drive north. Payette National Forest is also over 2 million acres and features a variety of ecology and landscapes. From grasslands to canyons to mountains, this area has it all!
If you are looking for a place to become one with nature on your road trip of Idaho, look no farther! This national forest allows you to hike scenic trails, fish in pure rivers, and swim in natural, mountain lakes. The forest turns fiery in fall but is still gorgeous year-round.
Things to Do
Hike to Goose Creek Falls
The hike to Goose Creek Falls is about three miles in and out, but the change in elevation makes the climb a bit harder than the short distance would suggest. The hike is worth it for the sight of the calming waterfall nestled among the trees.
Discover Hells Canyon
Hells Canyon was formed by the Snake River and is found on the border between Idaho and Oregon. This gorge is the deepest of its kind in North America and is 100% worth a visit! There are plenty of hiking opportunities here. Or take a boat tour of the river!
Book Here: Hells Canyon: Yellow Boat Adventure
Take a Dip in the Burgdorf Hot Springs
The Burgdorf Hot Springs are open to the public all year and are found at a rustic resort in the small town of Burgdorf. The water is an average of 113 degrees Fahrenheit, so you are guaranteed to enjoy some relaxing, muscle-melting water.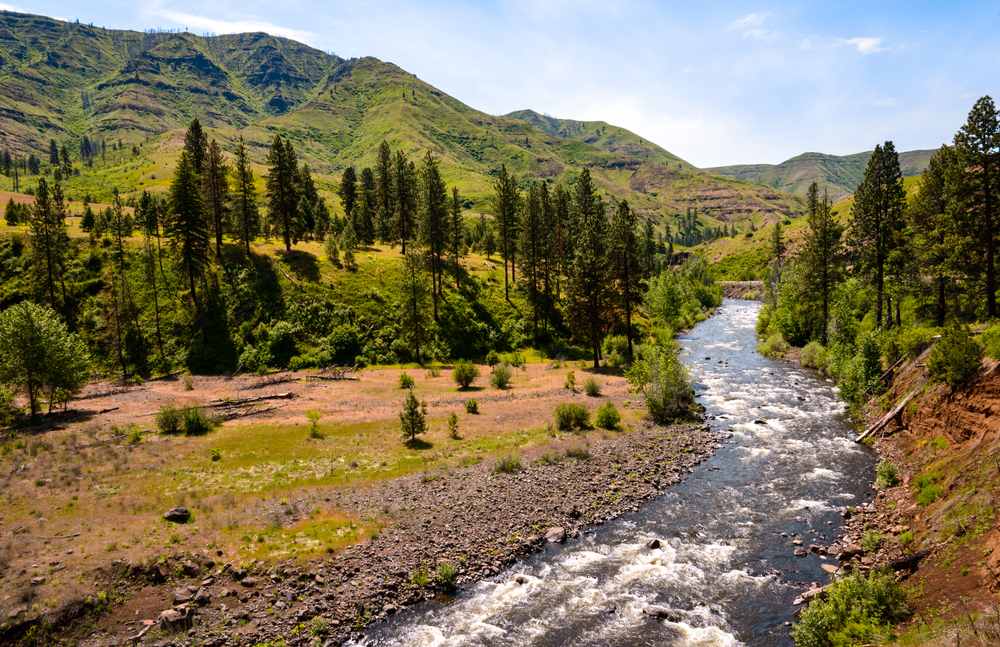 Where to Stay
Camp in the forest or stay in the city of McCall.
Affordable: Studio Retreat. Check Rates: Airbnb
Mid-Range: Lovely Cabin w/Fireplace. Check Rates: Airbnb
Luxury: Large, Modern, Luxurious Cabin. Check Rates: Airbnb
Stop 8: Coeur d'Alene
A five-hour drive from Payette National Forest will land you at Coeur d'Alene, the last stop on your Idaho itinerary and one of the most popular vacation spots in the state. Here you will find Lake Coeur d'Alene, a pretty, bright blue lake which boasts 135 miles of shoreline. At almost 50 square miles, the lake provides a place to water ski, sail, or stand-up paddleboard.
While the lake is the main draw, this small town has plenty of other activities to enjoy! Plan on spending a couple days here exploring and unwinding from your trip before you head home.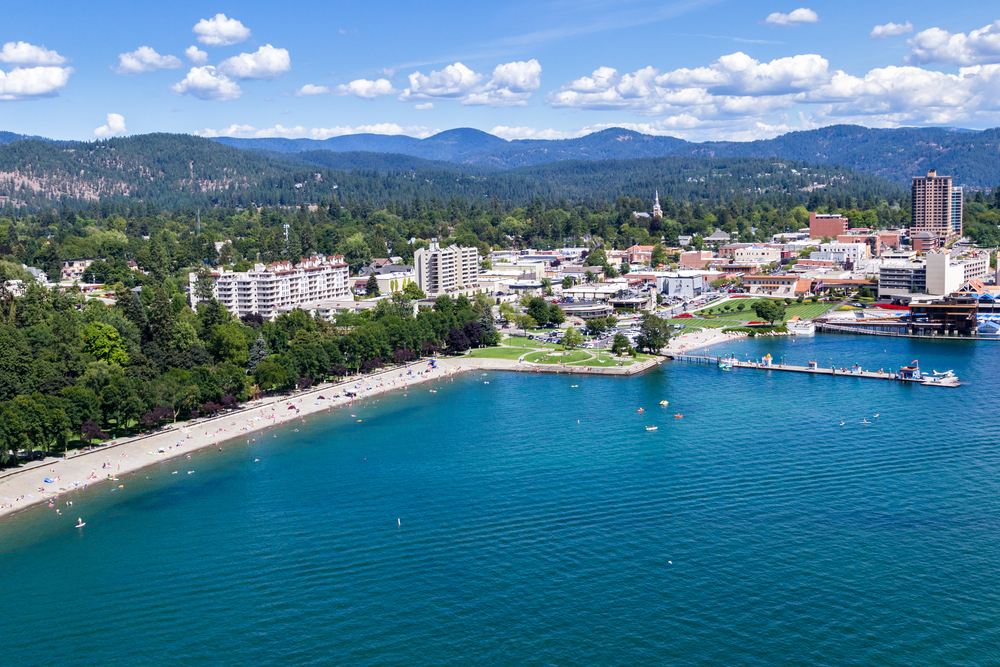 Things to Do
Enjoy a Beach Day
Claim a little piece of the beach for yourself and your family for the perfect beach day. You could easily spend hours just relaxing at the beach. Take a dip in the water or lay out a towel for sunbathing. When you get hungry, check out the boardwalk or bring a picnic to enjoy.
Bring the Kids to McEuen Park
If you are traveling with kids, you must go to McEuen Park. This is a great park with a large playground and splash pad that will entertain kids for hours. There is also an off-leash dog park here if you have a four-legged travel buddy.
Go Shopping Downtown
Coeur d'Alene has a cute downtown shopping district perfect for walking around and taking in the charm of the city. Head to Sherman Avenue to find a variety of unique shops and eateries. Maybe pick up a souvenir to remember ou Idaho road trip.
Take a Boat Tour
There are a bunch of cruise companies at Lake Coeur d'Alene to chose from with a variety of cruise types and lengths. This is a relaxing and hassle free way to see the area. If you want to enjoy a meal at the same time, look into booking a brunch or dinner cruise.
Get Your Heart Pumping by Parasailing
If you have had enough relaxation, it is time to try parasailing over Lake Coeur d'Alene. This is a surefire way to get your heart pumping with excitement! With views from 600-feet up, this is an experience you will not soon forget!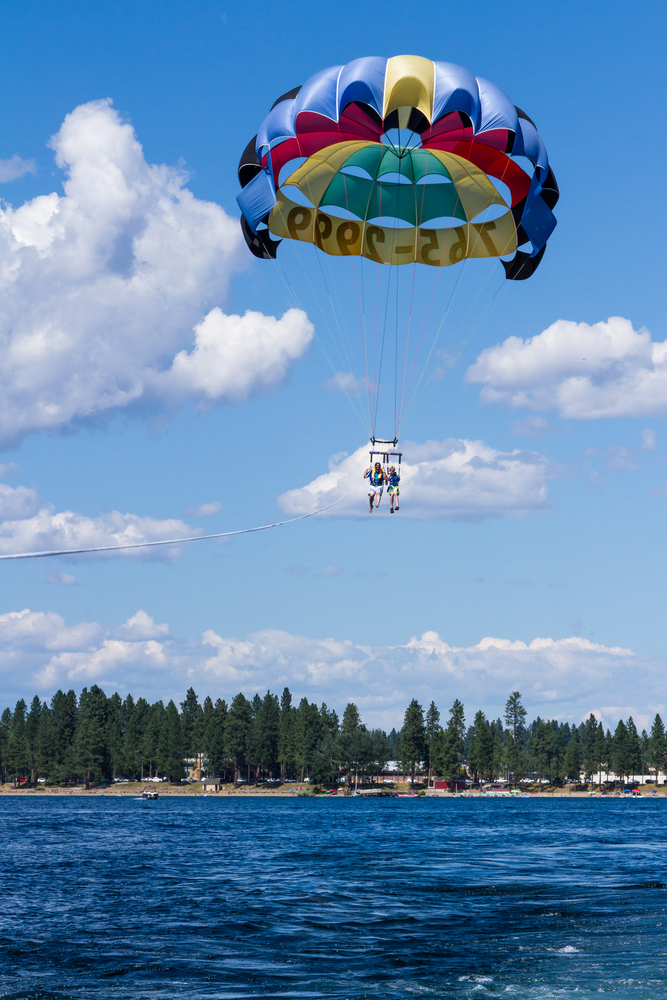 Where to Stay
Coeur d'Alene has a ton of cute and modern accommodations.
Affordable: Downtown Studio. Check Rates: Airbnb
Mid-Range: The Fairway Loft. Check Rates: Airbnb
Luxury: Designer Bungalow. Check Rates: Airbnb
End Your Idaho Road Trip by Flying out of Spokane, Washington
When it is time for your Idaho road trip to come to a close, you will have to return your rental car and fly home. From Coeur d'Alene drive over the state border to Spokane, Washington. It is only about a forty-minute drive to Spokane International Airport so it is a convenient way to end your Idaho trip.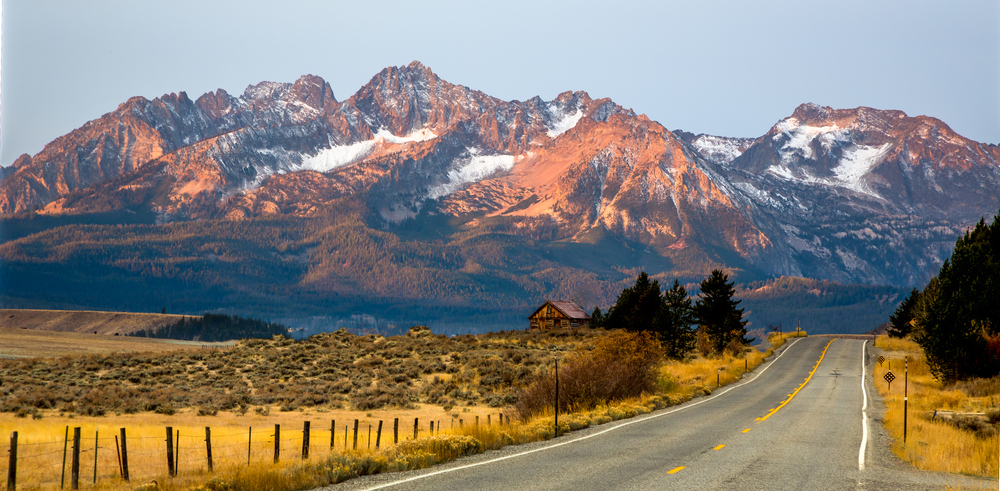 If Idaho wasn't on your travel bucket list before, it should be now! Idaho is basically just miles upon miles of beautiful, natural landscapes begging for a road trip. From expansive mountain ranges to gushing waterfalls to otherworldly lava craters, Idaho has it all and will not disappoint!
It is time to hit the road!