We are here to provide you with the template for planning your Colorado road trip and make your job a little less stressful.
Our stops feature Colorado's finest, from stunning landscapes and bucket-list hikes to delicious food and city vibes. You can pick and choose from the stops and activities depending on how much time you have to spend in each place.
Colorado is a true playground for adventurers, hikers, and lovers of the great outdoors. The landscape will continue to change throughout your drive taking you from one spectacular scene to the next.
It has a little bit of everything including cities full of life, mountains, lakes, snowshoeing, backpacking, skiing, fishing, sand sledding, ruins and rock art. It's hard to go wrong exploring this wonderful state and this is one of the best Road Trips in The USA!
Don't forget to check out our Detailed Road Trip Packing List so you don't forget any essentials for your trip!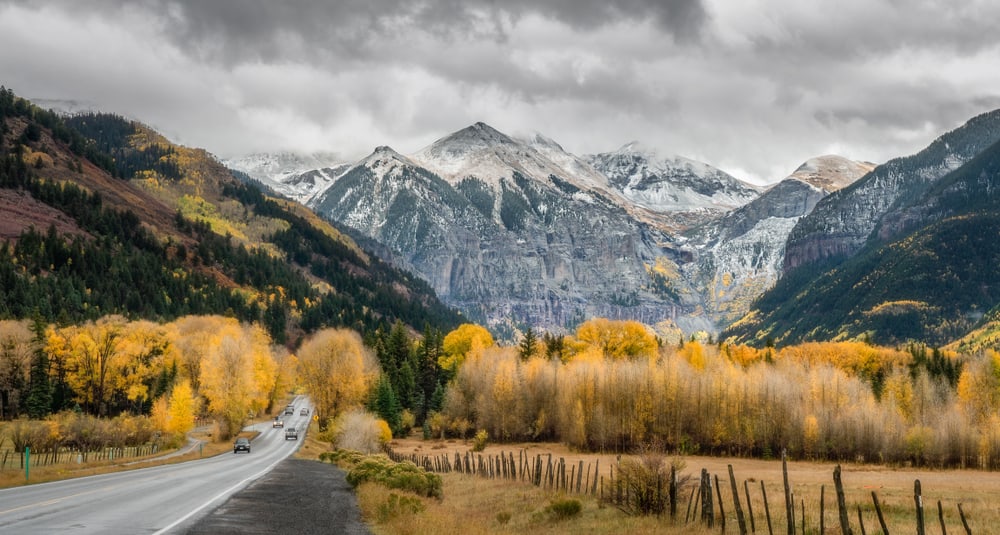 Getting To Colorado
We highly recommend flying into Denver to begin your Colorado road trip! Flights into Denver are quite affordable from all over the country, and they even have international flights if you are coming from out of the USA!
Denver also has fairly affordable car rentals as it is a large city! So if you don't live within driving distance of Colorado to take your own car, Denver is a great place to fly into and rent an affordable vehicle! Of course, the cheapest way would be to road trip to Colorado and use your own car, but this is the next best option!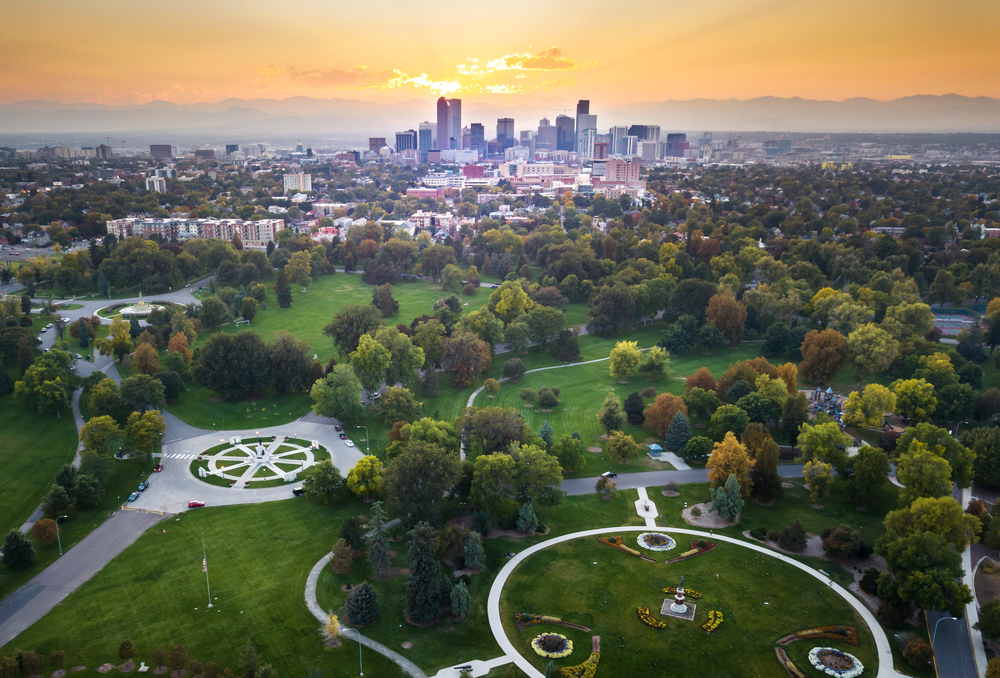 Colorado Road Trip Map:
If you're more of a visual person, we've provided this Colorado road trip map below so it's easier for you to see where everything is located within the state. For exact times between locations, check the link to the map.
We recommend downloading this map offline so that you can have it in the event you don't have any Wifi or phone service while driving. This way, you aren't lost on your trip!
Click Here For Colorado Road Trip Map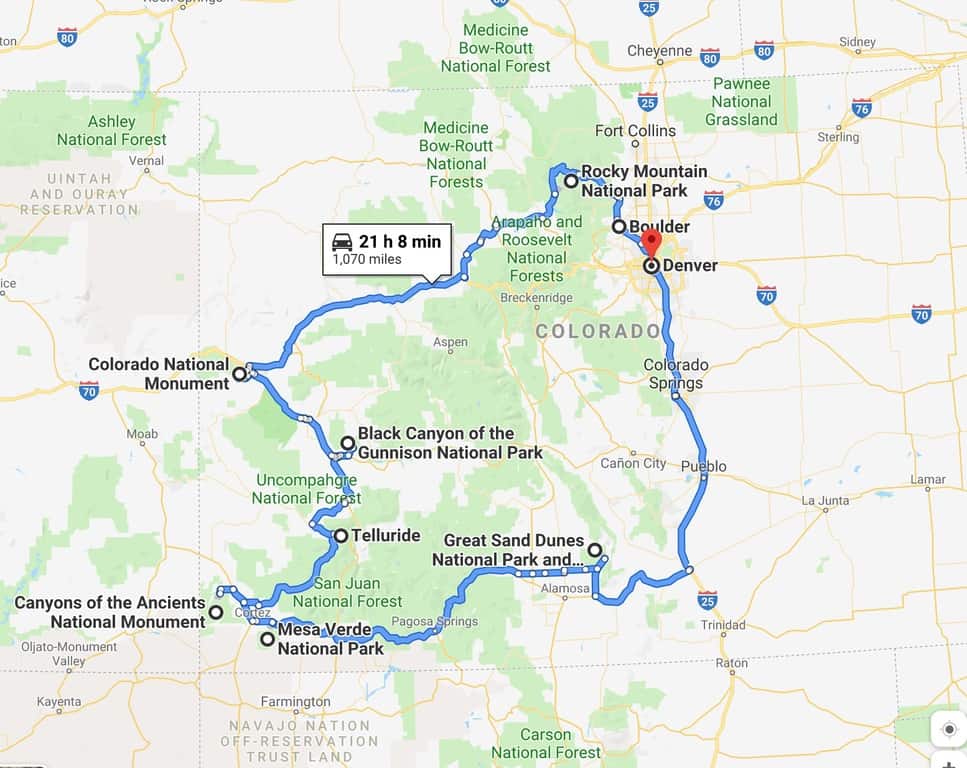 Stop 1: Explore Denver
You'll begin your Colorado road trip in Denver, the mile high city and capital of Colorado. Denver is a happening city with exceptional food, unusual street art, concerts, and plenty of wonderful adventure spots just a short drive away.
It's a hot spot for avid hikers and ski enthusiasts, and sports fans flock to the Mile High Stadium for a chance to see the Denver Broncos. The city is hip, full of life and constantly evolving.
Denver's most famous concert venue is the Red Rocks Amphitheatre. Whether you're attending a concert or hiking around the area, you're in for a treat. Red Rocks has a packed lineup of concerts featuring a wide variety of performers from Snoop Dog to Josh Groban. Check out the schedule of their concert and events.
Chances are pretty high there will be something going on while you're in town. The amphitheater also occasionally shows movies at night such as the Oscar-winning documentary "Free Solo."
The steep steps of the venue and stunning location make it a hot spot for fitness enthusiasts as well. Feel free to come and work out on your own or join a scheduled Yoga on the Rocks class. There are plenty of hiking and biking trails as well. Take a look at the trail map to assess all your different options.
When you're not eating or belting out songs at the Red Rocks, you might take a stroll over to the new and improved Union Station. Union Station is a historic landmark that continues to transform to match the hip, urban Denver scene. There are so many fun things to do in Denver!
Besides its obvious function as the hub that gets you from one place to the next, the station has a whole host of dining options, boutiques and a quality bookstore. You can even spend the night at the luxury Crawford Hotel. Union Station is the perfect place to hang out and enjoy a little taste of the magic of Denver.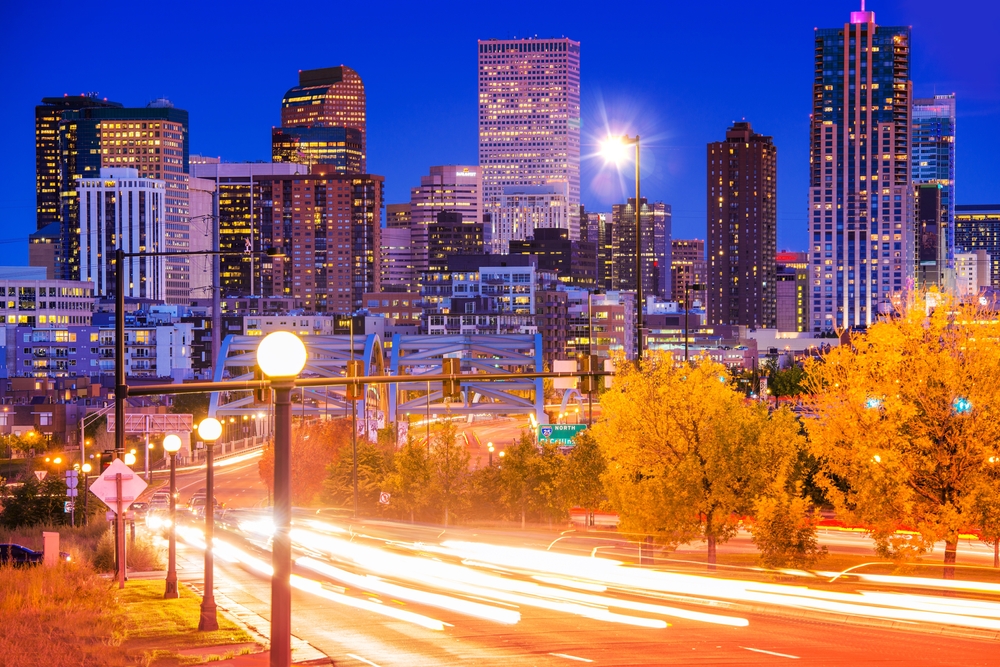 Best Food In Denver
Denver has no shortage of delicious food options. If you're looking for breakfast options, the Urban Egg has an extensive menu. The highlight of the menu might just be their pancake flight.
Think 3 overwhelmingly large dessert pancakes you could never hope to finish, but enjoy tremendously nonetheless. For lunch, check out Avanti in the Lower Highlands or The Source in the RiNo district. The choices are endless in these indoor food truck style locations.
If you find yourself willing to try a little taste of Venezuelan cuisine, head over to Avanti's Quiero Arepas and try their Reina Pepiada arepa. There's a good chance you'll be reminiscing on the taste long after your Colorado road trip is over.
If you've got a sweet tooth, wrap up your day with any of the top-notch flavors from Sweet Cow Ice cream. There are so many things to see and do on your Denver itinerary you really can't go wrong! Make sure to grab some road trip food here to stock up before you leave too!
Best Denver Hotels:
Mid-range: Grand Hyatt Denver. Check rates: Booking.com
Luxury: Crowne Plaza Denver. Check rates: Booking.com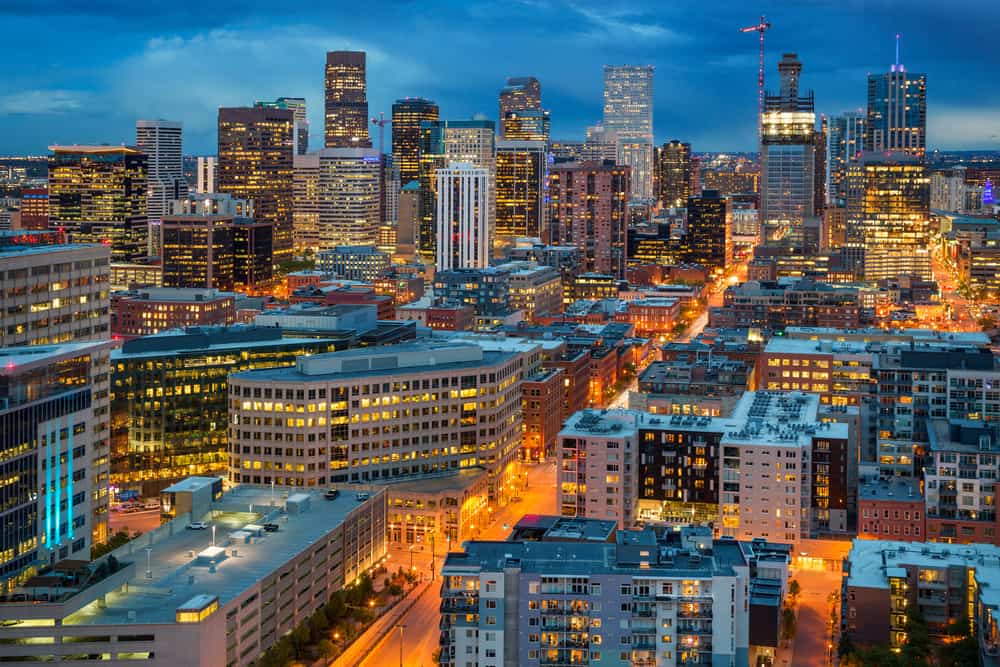 Stop 2: Great Sand Dunes National Park
Don't miss your chance to see the tallest sand dune in North America. The next stop on your Colorado road trip will take you to the Great Sand Dunes National Park with a total of 30 square miles of dunes to explore.
Lucky for you, this park is open day and night all year round making it an extremely convenient stop on your Colorado road trip.
Despite its name, High Dune is not actually the tallest dune in the park. Star Dune is the one you're looking for. It is the tallest sand dune in North America at 750 feet.
What a cool accomplishment to say you hiked this goliath of a dune. It's a roughly 5 hour round trip hike though so be prepared to work. It is one of the coolest Hikes In Colorado!
If 5 hours of dune hiking seems like a lot, then hike to the highest dune you wish! There are plenty of other options that will leave you reeling with joy.
If you're looking for a bit of a thrill ride we suggest sandboarding or sledding down the dunes. It's a great activity for both kids and adults all year round.
Though the park itself doesn't rent sleds or boards, you can rent them from a number of nearby places including the Oasis Store, Kristi Mountain Sports, Sand Dunes Swimming Pool and Recreation, and Spin Drift Sand Board Rentals.
Or if you already have your own, be sure to include it on your packing list for your Colorado road trip and bring it along!
Playing in Medano Creek is the perfect summer activity. This time of year the water flow is higher and attracts droves of tourists eager to relax on the "beaches" or go tubing. Not only is it the perfect recipe for summer fun, the creek is surrounded by the spectacular sand dunes the park is known for and provides you with great landscapes to hang out among. So bring your bathing suit and umbrella and enjoy a beach day at this sand-filled National Park!
If you have access to a high clearance, 4WD vehicle, you can continue your adventure through the park beyond the sand dunes to the mountain region. To reach the mountains you'll drive along the 22-mile Medano Pass.
Though it is a spectacular scenic drive you'll be navigating tricky terrain (thick, deep sand and creek crossings) the entire time and should be extremely careful and read up on the road conditions ahead of time. If you make this drive in the fall you'll be greeted with vibrant colored leaves on the aspens. With enough caution, driving this road through the National Park might just be the experience of a lifetime for you.
If you're looking for a short hike to a beautiful hidden gem of a waterfall, you'll want to consider hiking to Zapata Falls. Though it's technically outside of Great Sand Dunes National Park, it's right next-door and well worth the visit. The hike is only .8 miles round trip, but requires wading through the creek for the best views.
Along the way you'll see the impressive landscape of the great sand dunes and Colorado's San Luis Valley. This is a relatively popular hike so if you'd prefer to avoid the crowds, plan on getting an early morning start. Sunrise and sunset can also be a particularly spectacular time to try this hike as the sky lights up with color.
Best Hotels near Great Sand Dunes National Park:
Mid-range: Best Western Alamosa Inn. Check rates: Booking.com
Mid-range: Comfort Inn Alamosa. Check rates: Booking.com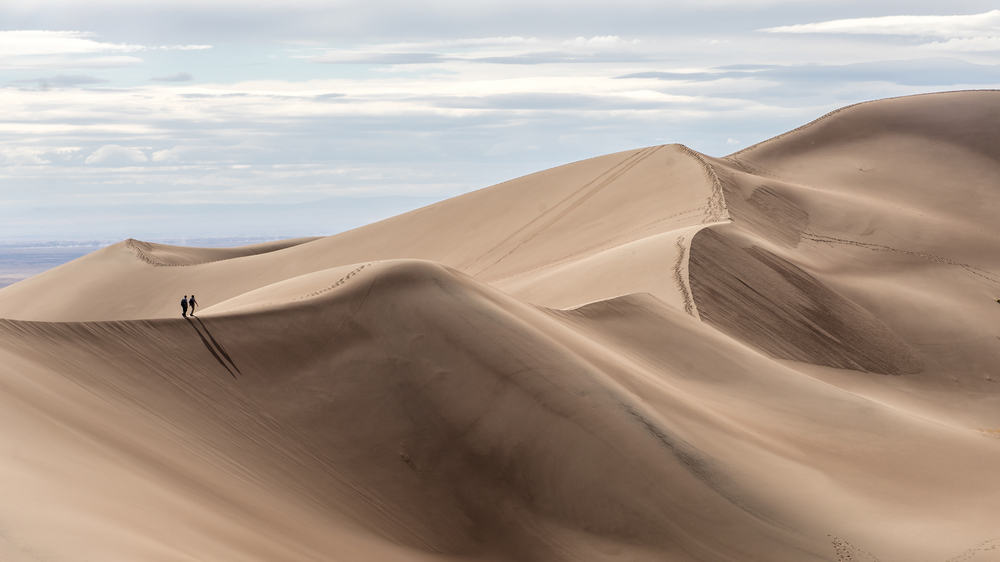 Stop 3: Mesa Verde National Park
Mesa Verde is one of a few spectacular National Parks you'll be visiting on your Colorado road trip. It is also a UNESCO Heritage Site. It's known for its preservation of the dwellings and history of the Ancestral Pueblo People once referred to as the Anasazi. The park is currently home to roughly 600 cliff dwellings and an impressive 5,000 total archeological sites.
These are some of the best-preserved sites in the United States. The dwellings are built into the cliff sides, tucked away into naturally carved alcoves. As you walk among and appreciate the dwellings, please don't touch the fragile structures, as it could cause irreversible damage. It is truly one of the best stops on your American Southwest Road Trip Itinerary!
Best Tours In Mesa Verde
Tickets for the Cliff Palace Tour, the Balcony House Tour, and the Long House Tour are all $5 a person. You can purchase the tickets at the Mesa Verde Visitor and Research Center, the Chapin Mesa Archeological Museum, or the Durango Welcome Center.
These are extremely popular tours and tend to sell out, so it might be a good idea to purchase tickets in advance. They can be purchased up to two days ahead of time but must be purchased in person.
You'll have the opportunity to see the largest cliff dwelling in Mesa Verde National Park on the tour of Cliff Palace. Cliff Palace is arguably the most remarkable of the three sites and is impressively preserved. The Cliff Palace and Balcony Tours are 1 hour each.
Though the distance covered on the tour is relatively short, prepare for vertical climbs and ladders. The Long House Tour is more extensive and lasts 90 minutes.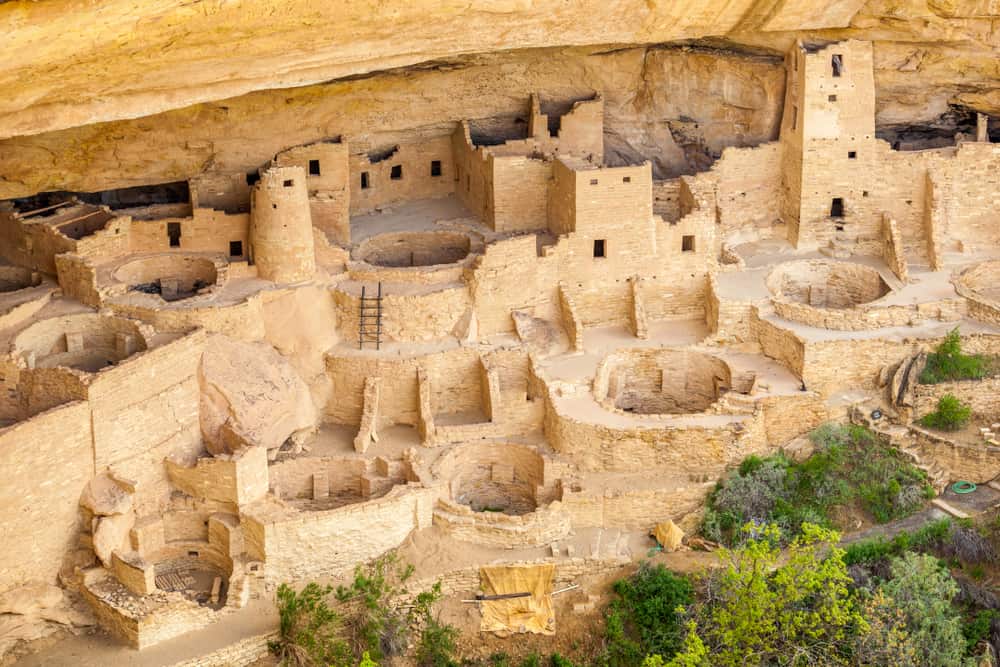 Mesa Verde Hikes
There aren't a lot of extensive hikes in Mesa Verde National Park, but there are a handful of easy to moderate paths worth your time. The first is the Petroglyph Point Trail, a 2.8-mile loop offering the only views of petroglyphs in the park that don't involve taking a guided tour.
If you're looking for a less-trafficked option, Spruce Canyon Trail might be the ideal choice. This 2.4-mile hike is moderately difficult. Though it does not take you to any ruins or rock art, the views are worth taking this road less traveled.
Hiking The Far View Sites should definitely make your Mesa Verde National Park itinerary. This hike is easy and flat and only .75 miles. It's great for kids and adults and has the ultimate appeal of providing you access to a whole host of ruins, some of which you can walk around and through.
If you're looking for another brief, easy hike then the Farming Terrace Trail should be considered. It's only .5 miles long and takes you through the terraces that will give you a glimpse into the farming techniques of the Ancestral Pueblo People. You might consider adding on the short walk to Cedar Tree Tower. Though the site isn't quite as impressive as the cliff dwellings, it's still worth a visit.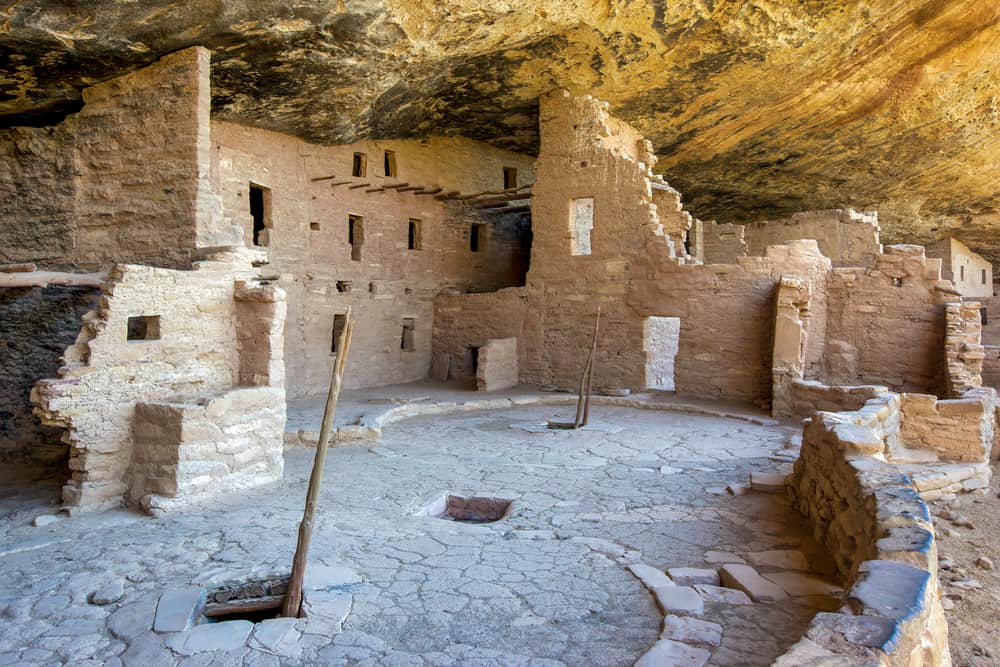 Driving Mesa Verde
The Mesa Top loop is a great way to see viewpoints of many of the park's prominent attractions. It also allows you to view the wildlife from the comfort of your car. Some of the most noteworthy viewpoints include Square Tower House and Sunset Point Overlook. If you weren't able to be a part of the Cliff Palace Tour or would just like to see it from another vantage point, Sun Point and Sun Temple will give you great views of the palace.
Best Hotels near Mesa Verde National Park:
Guest Ranch: Canyon of the Ancients Guest Ranch. Check rates: Booking.com
Mid-range: Far View Lodge. Check rates: Booking.com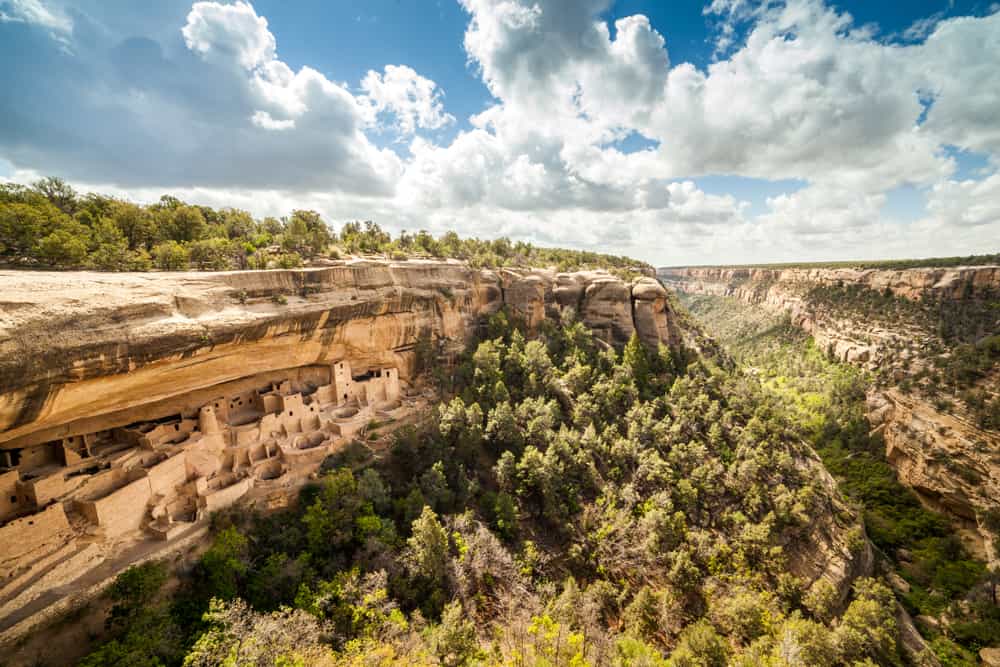 Stop 4: Canyons Of The Ancients National Monument
Once you get your fix of cliff dwellings at Mesa Verde you'll be ready to take in the impressive dwellings of Canyons of the Ancients.
Located just a short drive from Mesa Verde, this National Monument is a worthwhile and easy stop on your Colorado itinerary.
Canyons of the Ancients became a National Monument in 2000 and boasts over 6,350 documented ancient sites. When you arrive, we suggest heading to the visitor's center to pick up a map so it's easier for you to find all the archeological sites.
Begin your experience at the Canyons of the Ancients Visitor Center and Museum. It's full of wonderful exhibits and offers interesting films and is a great stop on your Colorado itinerary!
This museum can be great for kids, because many of the exhibits are interactive such as weaving on a loom or grinding cornmeal. You'll learn about the Ancestral Pueblo People and get a feel of the history of the area before exploring the National Monument yourself.
Next head over to Lowry Pueblo, a National Historic Landmark made up of a remarkable 40 rooms, 8 kivas and 1 great kiva. There's a .2 mile interpretive loop trail, and you're even allowed to enter part of the structure.
As you make your way around this site, you might come across pottery shards. Make sure you leave them where they are and don't take anything with you. If you're staying at the monument through lunchtime, consider bringing a picnic lunch along to utilize the tables at the entrance to the trail.
If you're looking for a real hike through ruins, try the 13 mile Sand Canyon hike. There are two trailheads. One lower one is in McElmo Canyon and an upper one is by Sand Canyon Pueblo. You can begin at the upper one and hike 6.5 miles one way as long as you have a car to pick you up on the other end. The other option is to start at the lower trailhead and hike the full 13 miles out and back.
The first ruin you'll spot is close to the trailhead by Castle Rock. You'll continue to pass a large number of ancient ruins on your hike including the cliff dwelling, Saddlehorn Pueblo. Don't try climbing on them or disturbing them. They're there to be appreciated at a respectful distance. The hike is not too strenuous except for a half-mile stretch of difficult switchbacks. This hike is worth the effort though if you're interested in seeing a high density of ruins in one place.
Where to stay near Canyons of the Ancients National Monument:
Guest Ranch: Canyon of the Ancients Guest Ranch. Check rates: Booking.com or Airbnb.com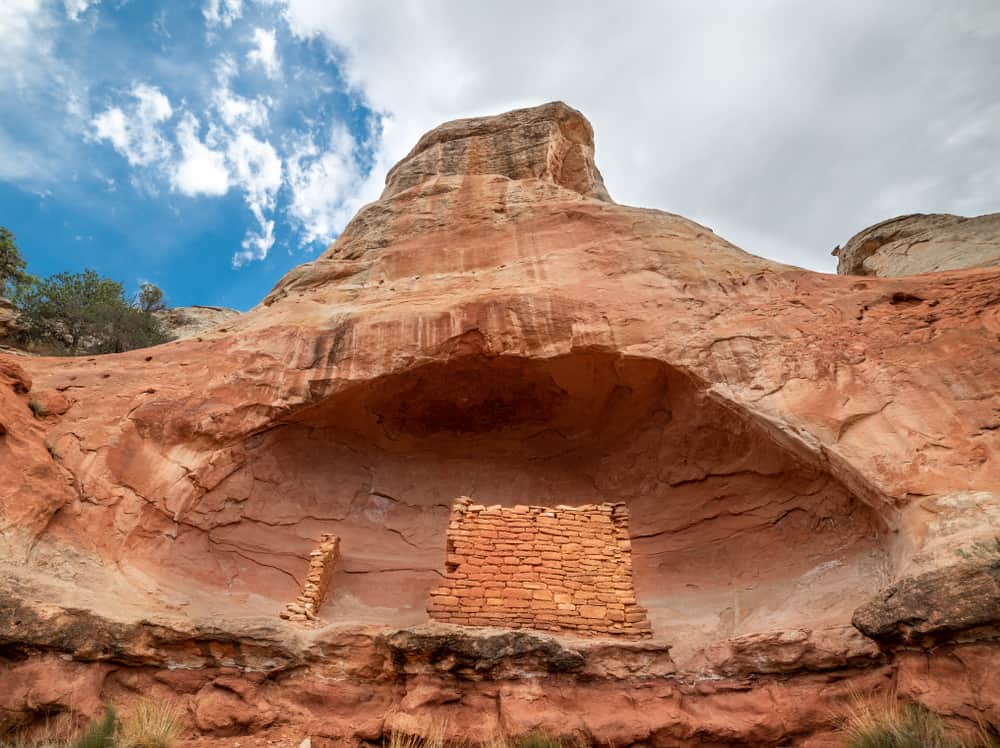 Stop 5: Telluride
Famous for its skiing and summer festivals, Telluride is a tourist hot spot and the next stop on your Colorado road trip. Nestled in a spectacular box canyon in the San Juan Mountains, it was a former mining town and is full of fascinating history.
The town is incredibly picturesque with cliff walls, waterfalls and forested areas. Whether you're casually strolling through town, observing it all from a gondola up above, or immersing yourself in the heart of it all with thrilling outdoor activities, you're sure to appreciate this stop when road tripping Colorado.
Drive to Telluride's Historic Downtown District for boutique shopping, great food and the Telluride Historical Museum. Located just off the main Colorado Avenue, the museum offers a fascinating glimpse into Telluride's history.
The museum is located in what once was the miner's hospital. You'll learn all about the town's mining days, its ski history, and the Ute tribe among other things. This is definitely worth a stop to get a feel for the town before you set out exploring everything else it has to offer.
Bridal Veil Falls is a must-see Telluride attraction as the highest free-falling waterfall in Colorado at 365 feet. There are a number of ways to see the falls. One option is biking to the base of the falls. Another option is to drive to the base or top of the falls in a 4×4. But for the most up close and personal experience with the falls, the best option is hiking to the top.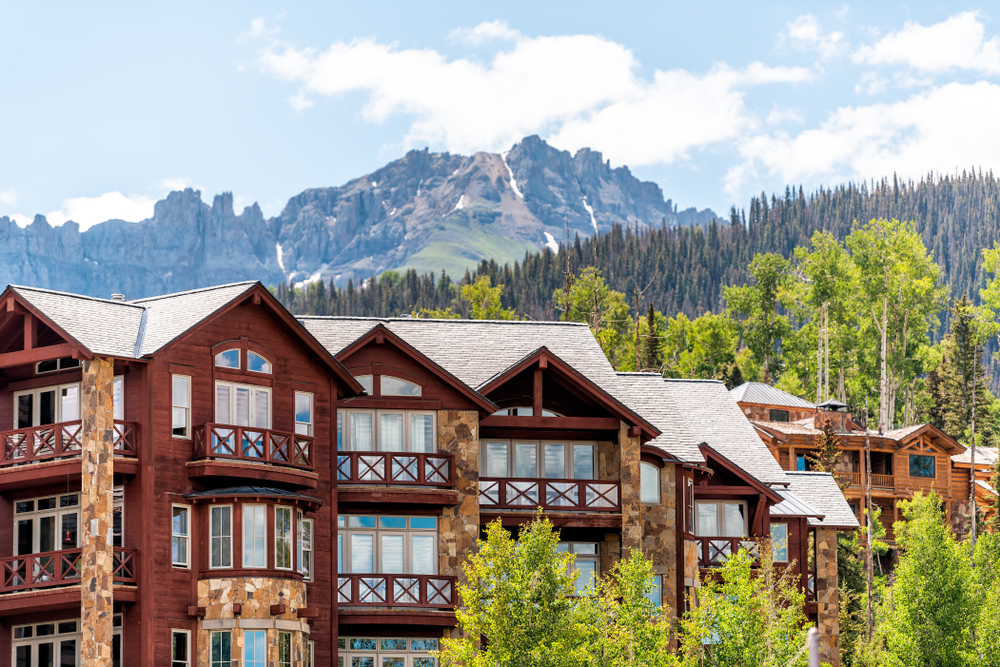 The hike is just under 4 miles round trip and is moderate in difficulty. Spend a minute taking in all the spectacular views on your way up. If you want to avoid competing with the 4×4's for road space, we suggest starting this hike in the morning when the car traffic is lighter.
If Bridal Veil Falls wasn't enough to quench your waterfall viewing thirst, Bear Creek Falls is another great hike to a beautiful set of waterfalls. This is an incredibly popular trail in Telluride. The hike is moderately difficult and takes you 4.5 miles round trip.
As with most of our Colorado road trip hike suggestions, the altitude can be tricky if you're not used to it, so take it slow if you have to. You'll get incredible views along the way of cliffs and of Telluride, and of course, you're rewarded with the best view of them all in the waterfall at the top. This is an out and back trail, so when you're finished admiring the scenery, head back the way you came.
Telluride also offers free gondola rides over the San Sophia Ridge, with unbelievable views of the San Juan Mountains. This is a great way to see everything from a unique bird's eye view.
The ride covers a total of 8 miles and lasts 13 minutes. You can use the gondola to get to specific locations (you have to take the gondola to the mountaintop to get to Allred's Restaurant), get off at different stations, or just stay on for the full ride to take in the complete experience. Check the website for operating hours and dates.
If you're looking for a premier skiing experience, skiing at the Telluride Ski Resort is a must. This is not only one of the best ski resorts in Colorado but in the country. The Telluride Ski Resort boasts 2,000 skiable acres, 300 days of sunshine, and over 300 inches of snow a year, making it an ideal skiing location. When you couple this with excellent food and other outdoor activities that Telluride has to offer, this is an all-around perfect vacation experience for avid skiers.
If you're looking for a unique culinary experience, book a spot on the Tasting Telluride food tour for a 3-hour walking and tasting experience.
You will experience Telluride's food scene and hear entertaining stories from the locals who run the tour. When looking for specific restaurants, Allred's Restaurant is a great option that we mentioned earlier.
You'll take the gondola to the top of the mountain and dine at 10,551 feet with spectacular views. 221 South Oak is another great option located in a historic home. There is both meat and vegetarian menu with intriguing options on both. You're in for a wonderful time at this cozy, upscale restaurant.
Best Hotels in Telluride:
Luxury: Madeline Hotel and Residences. Check rates: Booking.com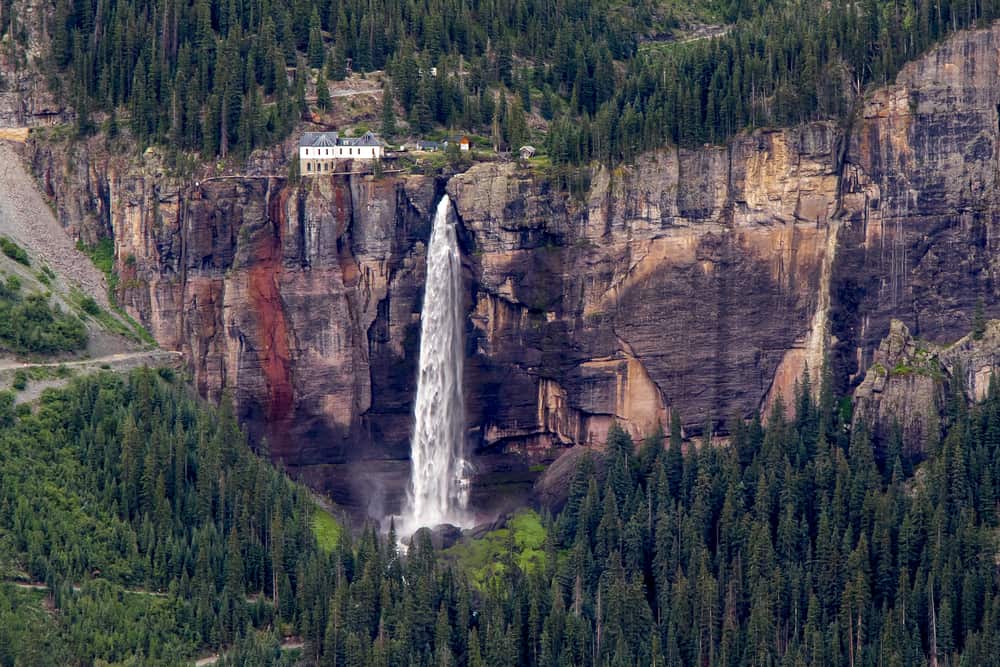 Stop 6: Black Canyon Of The Gunnison National Park
For this next stop on your Colorado itinerary, you'll be heading to the steep black cliffs of Black Canyon of the Gunnison National Park. The canyon is deeper and darker than you can imagine. And the shadows and size of it all make it remarkably impressive to view.
Make sure you plan ahead of time which rim you'd like to explore. It's an almost 3-hour drive from rim to rim so if you don't have ample amounts of time you'll need to pick one. We suggest starting at the South Rim, particularly if this is your first time at the park. Like at The Grand Canyon, the South Rim is open year round, has a visitor's center and is the more popular of the two. Either way, you're in for a real treat at this unique National Park.
Hiking the inner canyon is spectacular and a great way to explore the park, but it should only be attempted by fit, experienced hikers. There are no marked or maintained trails into the canyon, but there are routes you can attempt to follow.
For any hike into the inner canyon, you're required to get a Wilderness Use Permit. These are free, but there's a limited number each day, so try to obtain yours early. Exercise caution on your hikes and pay attention to the route you're taking in so you can more easily find it on your return trip back up.
The most popular South Rim Route is the Gunnison Route. All of the available routes are steep and strenuous, but this is the kindest of the routes down. You will need a lot of water on this hike, so come prepared. About 1/3 of the way through your hike you'll find a sturdy chain.
This is an intense workout the whole way, but the views are wonderful and the sense of accomplishment is great. It's a 1 mile one-way hike and can be done in a day, or you can camp at the bottom overnight and hike back the next day.
If you choose to visit the less frequented North Rim, our suggested route there is the S.O.B. Draw. Like the South Rim routes, there's no particularly clear path down, so often times you're left paving your own way and finding the scramble down that seems safest to you. It's roughly 1.75 miles one way. This trail is also known for its abundance of poison ivy, so be sure to wear pants to avoid any mishaps. There is also the option here of camping overnight if you choose.
South Rim Road is a great paved scenic drive. It's 7 miles long with 12 spectacular viewpoints. Be sure to stop at Gunnison Point along the way for stunning views at the most popular viewpoint in the park.
You'll get a good idea of the dramatic steepness of the canyon walls. For a great view downriver, check out Sunset's point and gaze out at the river winding its way into the distance. If you're visiting the North Rim, the North Rim also has a scenic drive with 6 overlooks. The road here is not paved but should be relatively easy to navigate anyway as part of your road trip in Colorado.
If you've looked deep down into the canyon and decided that scrambling down an aggressively steep canyon wall is not in the cards for you, we've got the perfect hike alternative. The Warner Point Nature Trail is a great hike option for all visitors, including families with small children.
The hike is 1.5 miles out and back, and you'll even find shaded benches along the way where you can rest among the beauty of the trees. Be sure to pick up a trail guide for this hike at the visitor's center. The guide corresponds to various markers along the trail to provide you with interesting information along the way.
Best Hotels near Black Canyon of the Gunnison National Park:
Affordable: Stay Wise Inns of Montrose. Check rates: Booking.com
Affordable/Mid-range: Red Arrow Inn & Suites. Check rates: Booking.com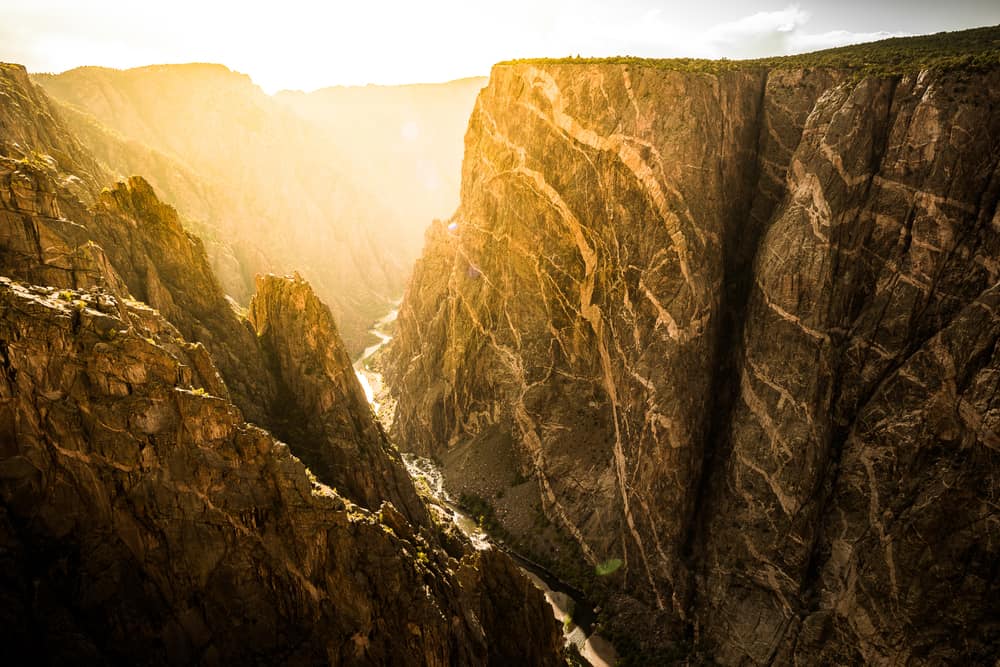 Stop 7: Colorado National Monument
Located near Grand Junction, the Colorado National Monument is a 31 square mile red rock beauty that should not be missed. There are a number of different ways to enjoy the monument including hiking, biking, running and camping.
The monument is graced with impressive monoliths, canyons, plateaus, and pine and juniper trees. It often takes a backseat to Colorado's other more famous National Parks, but we guarantee you it's worth a stop on your next Colorado road trip.
The easiest way to take in the sights of the National Monument is from the comfort of your car on the spectacular 23 mile scenic Rim Rock Drive. We've included a lot of exceptional scenic drives on this Colorado road trip guide, and Rim Rock Drive is no less impressive.
If you drive the road straight through it will take roughly an hour, but to maximize your experience, stop at the overlooks and take pictures, soak up the expansive views, and marvel at the remarkable ways in which the canyon has been shaped.
The road along the rim winds significantly, so drive carefully and also watch for wildlife and rocks. It is truly an incredible stop on any Colorado itinerary!
Hiking can be another great way to experience the landscape of the monument. There are 40 miles of designated trails for you to explore. If you're looking for short hikes, we suggest Devil's Kitchen or Otto's Trail. Devil's Kitchen is 1.2 miles round trip to a natural opening created by a circle of tall, massive boulders.
This is a moderate hike with some steep incline. Pay attention to the large cemented rock cairns to help guide your way as you climb higher. Otto's Trail is much shorter at just under 1-mile round trip (out and back hike). It's an easy hike with a gradual slope to an overlook with expansive views.
For a longer backcountry hike, consider tackling the Monument Canyon Trail. This is one of the most popular activities for visitors of the National Monument. There are a couple of options for this hike. You can hike the whole trail one way which is roughly 6 miles long, but that will require having two cars, one on each end of the hike.
Another option that many people choose is to complete a 7 mile out and back hike starting on Rim Rock Drive to Independence Monument. The trailhead begins just south of the Coke Ovens Overlook.
Hiking in and out of the canyon is strenuous, but there are a number of easier, flatter sections of the hike as well. In addition to Independence Monument, you'll pass other impressive rock formations such as the Kissing Couple. If you have the chance, this hike is well worth your time and effort.
If you plan to stay the night, camping in the National Monument is always a great option to add to your Colorado road trip itinerary. You can enjoy a peaceful night among the towering red rock at the Saddlehorn Campground.
There is a $22 camping fee. If you're a runner looking to register for your next marathon, consider timing this section of your Colorado road trip to coincide with the Rim Rock Run.
There's a full marathon, half marathon, and relay 2 person team marathon. The strain of running a marathon might just be lifted a little by the fact that you are running through the heart of the Colorado National Monument.
For cyclists looking to complete a ride for the books, the 23-mile Rim Rock Drive is yours for the taking. The ride is challenging with roughly 2,300 feet of climbing but will give you extraordinary views and possible wildlife encounters with bighorn sheep, deer, etc.
Be careful particularly as you ride through tunnels. It's easy to pay attention to car traffic on the main roads, but the tunnels with their light contrast can prove trickier to navigate. Stop at the viewpoints to enjoy the scenery along the way, and make the most of this rare opportunity to bike alongside such a spectacular landscape.
Best hotels near Colorado National Monument:
Affordable: Candlewood Suites Grand Junction. Check rates: Booking.com
Affordable: Holiday Inn Express Hotel & Suites Grand Junction. Check rates. Booking.com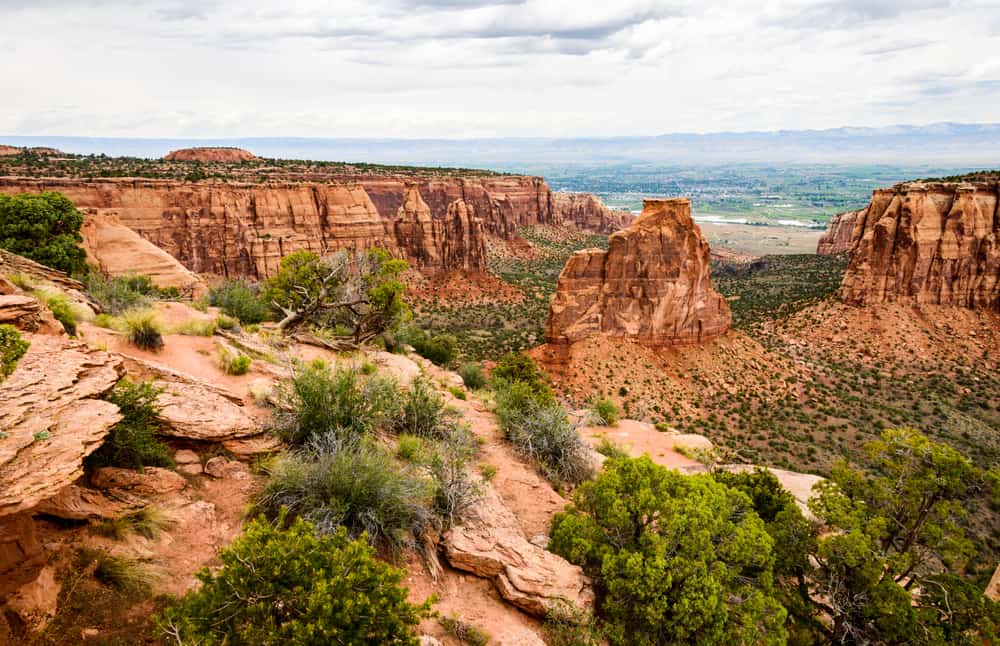 Stop 8: Rocky Mountain National Park
Experience the stunning alpine beauty of Rocky Mountain National Park. This park is the postcard image of natural beauty and is for good reason one of the most popular National Parks in the country. Just your luck, it's on our suggested itinerary for your next Colorado road trip.
The mountains are regal and the lakes reflect the stunning scenery that surrounds them. There are few moments as special as the ones spent among a pristine natural landscape such as this.
Rocky Mountain National Park is also home to some of the Best Airbnbs In Colorado!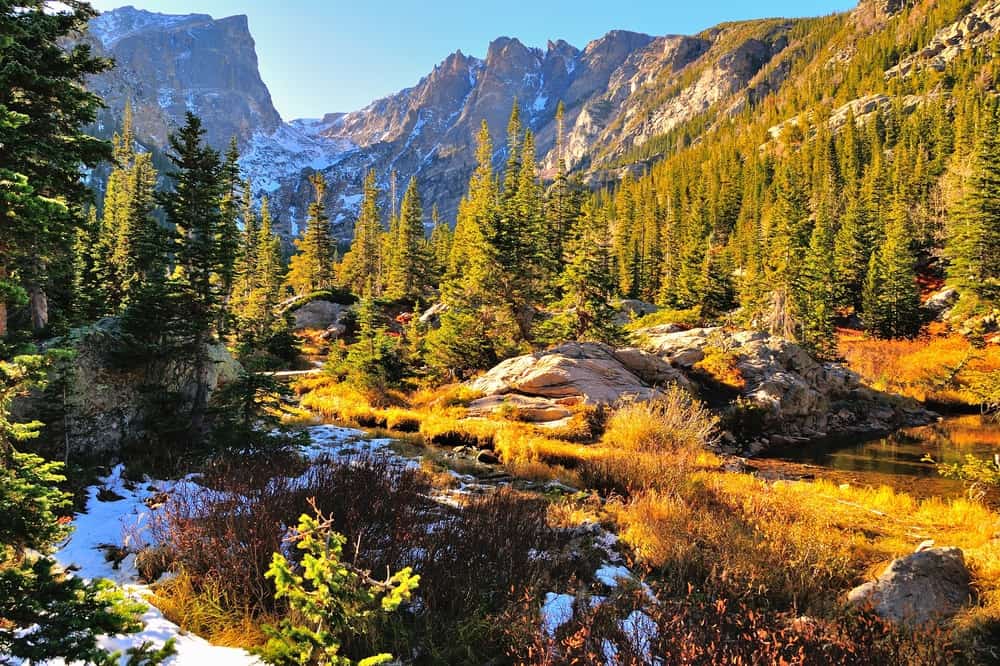 A Few Of The Best Hikes In Rocky Mountain National Park
The hike to Bluebird Lake is a 12.6 mile strenuous hike with an elevation gain of 2,400 feet. Plan to arrive early at the trailhead to ensure you get parking as the lot fills up quickly. You'll be surrounded by Wild Basin, with exceptional lake and waterfall views all along the way.
This hike can be done all year round but requires snowshoes in the winter. Take note that there's a separate winter parking lot that's further away if the highway isn't fully plowed. Prepare to add on another 3 miles of hiking if you have to park there. Either way, this is one of the best hikes to add to your Colorado itinerary!
You'll be spoiled for beautiful sights along this trail, and can choose to stop and turn around at any of them if you don't wish to complete the full 12.6 miles. Just .4 miles into the hike you'll find the Lower Copeland Falls.
You can veer off on a side trail for .1 miles to see the Upper Falls and backtrack to rejoin the main path to continue on your hike. At 1.8 miles you'll be graced with the site of the Calypso Cascades, a 200 foot waterfall named after the beautiful purple orchids you'll find along the creek. The waterfall exhibition continues at the 40 foot Ouzel Falls, 2.7 miles into the hike.
Just under half a mile after passing Ouzel Falls you'll hike through an area severely affected by a 1978 fire resulting from a lightning strike. The landscape continues to rebuild and is coming back to life with beautiful trees and spectacular wildflowers.
You'll more or less be hiking along Ouzel Creek for the rest of this hike. 4.6 miles into the hike you'll come across Ouzel Lake where the hike starts to get trickier and more challenging. Ultimately you'll reach your destination of Bluebird Lake resting at an elevation of 10,978 feet. If you choose to make this a multi-day hike, you can reserve a spot at either of the two backcountry camping sites along this trail.
If you're looking for spectacular views of Estes Park with limited crowds, then Gem Lake Trail might just be the hike for you. This is a moderately difficult hike, but the trail is well maintained. The complete hike is 3.5 miles round trip and roughly 1,000 feet of elevation gain.
Though the parking lot is small you shouldn't have to fight people for a spot. The trail up to the lake is steep in many parts and will get your heart racing, but the payoff is great. In addition to the lake, the views of Estes Park, Longs Peak, and the surrounding aspens in the fall make the hike to the destination incredibly enjoyable.
As you reach the top of the hike there's a sign for a privy (toilet) should you need it. Gem Lake is a relatively small lake, but beautiful none-the-less. You might try taking a picnic lunch and a towel with you on the hike so you can spend some time enjoying the lake views and the beach-like area when you reach your destination.
If you plan to hike in the winter, we suggest wearing crampons over your hiking boots for the best traction. Also be aware that the lake itself might be frozen over.
The 3.5 mile round trip hike from the Bear Lake Trailhead to Emerald Lake is an easy to moderate trail and allows you to view not one, but three (possibly four) beautiful lakes, a small waterfall, and navigate in and out of pine forests. It is arguably the busiest parking lot in the park, so arrive early or take the free park shuttle to the trailhead. The first possible lake sighting is Bear Lake.
You'll reach the Bear Lake Loop shortly after starting your hike. It veers in the opposite direction from the Emerald Lake trail, but many hikers find it's worth the short detour to see Bear Lake. Back on the Emerald Lake Trail, you'll climb upwards to the next of the lakes, Nymph Lake.
If you're lucky, on this next stretch of trail, you'll see wildflowers in the summer. Next comes Dream Lake before you hit the ultimate lake you've been waiting for, Emerald Lake! The reward is great because Emerald Lake is remarkably beautiful.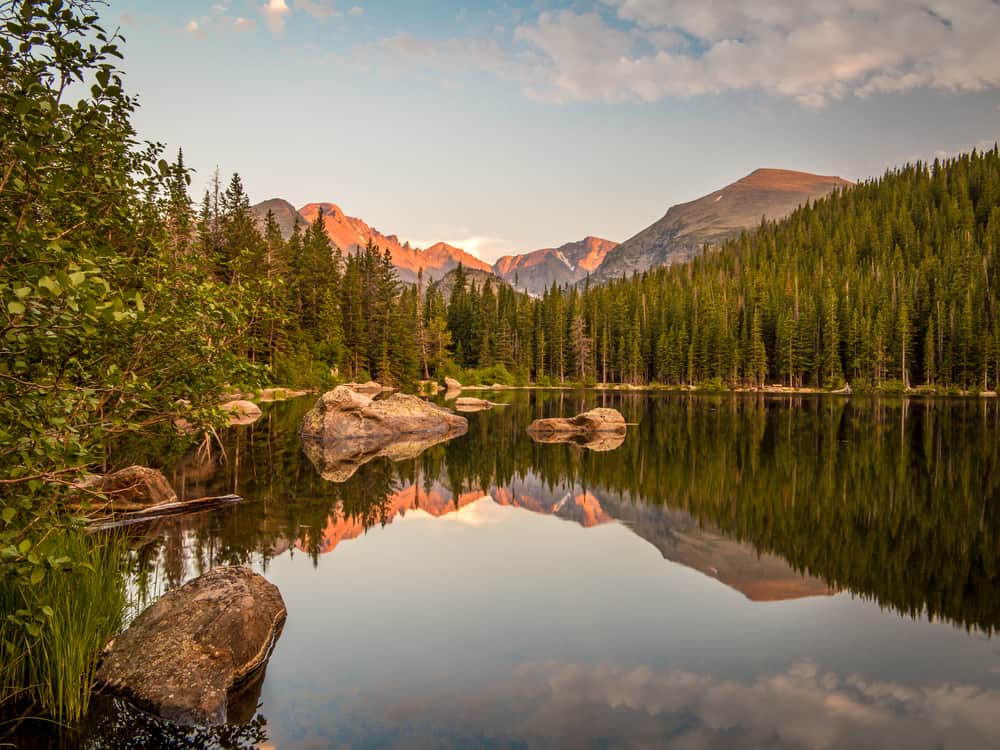 Other Activities In Rocky Mountain National Park
We left summiting Longs Peak off of our best hikes list because it has become overcrowded these days, and so many of those who try never manage to reach the top.
For those of you who are not only avid hikers, but who have prior experience with 14'ers and strenuous hiking in high elevations, this is one of Colorado's top summits and easily makes the bucket list of many serious hikers.
With extreme caution, attention to ranger reports and weather conditions, and the stamina to tackle such a hike, this could end up being the hike of your lifetime. But if you're not up to the task, please refrain from hiking this peak. There are so many other worthy activities in Rocky Mountain National Park that you won't feel like you've missed out.
Overlooks can be a great way to see the wonders of Rocky Mountain National Park without the strain of having to hike to the location. Along the 45 mile Trail Ridge Road are a whole host of great overlook points that you should consider stopping at.
Perhaps the chief viewpoint of them all is the Forest Canyon Overlook. This overlook gives you a glimpse into just about every feature that makes the park so stunning from Long's and Stones Peak, to Hayden Gorge, and the blue of Gorge Lakes. Other overlooks include Many Parks Curve Overlook, Rainbow Curve Overlook, Rock Cut Overlook, Gorge Range Overlook and Farview Curve Overlook.
The Alpine Visitor Center is a place of note within the park, because it has the highest elevation of any National Park Service Visitor's Center at 11,796 feet above sea level.
This is a fairly typical visitors center in many ways with a gift shop, restrooms, and informational exhibits, but it's closed from roughly mid-October through Memorial Day because of extreme weather conditions. The views are great from here, and it's worth a quick stop en route to other activities.
Wildlife viewing is a popular activity for Rocky Mountain National Park visitors. Some of the animals that people enjoy looking for the most are elk, bighorn sheep and moose.
If you're lucky to see any of the wonderful animals in the park, make sure you keep your distance for their safety as well as your own. You don't want the animals to become too accustomed to human interaction. But by all means, get out your cameras, use that zoom to full effect, and take as many striking photographs as you can of the remarkable Rocky Mountain National Park wildlife.
Best hotels near Rocky Mountain National Park:
Affordable: Alpine Trail Ridge Inn. Check rates: Booking.com
Mid-range: Boulder Brook on Fall River. Check rates: Booking.com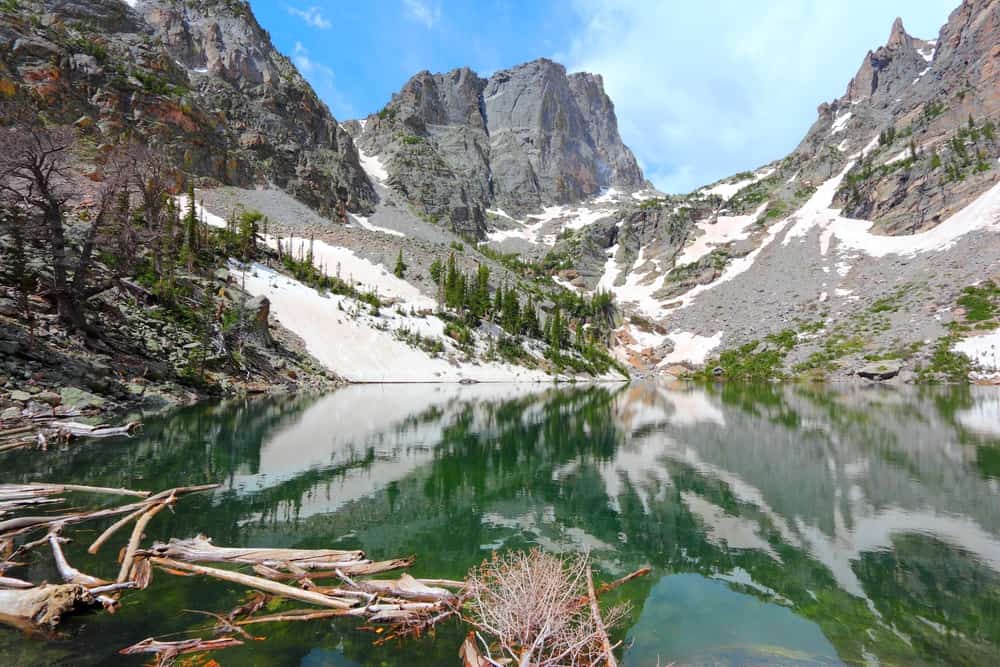 Stop 9: Boulder
Before heading back to Denver, make sure you spend time in Boulder on the final stop of your Colorado road trip.
Boulder is an outdoor enthusiast's dream and has a lot going on for a city of its size. Thanks to the University of Colorado Boulder, the city has many parts to it that feel like a hip college town.
You'll start to see a trend among our suggestions for most of these cities on our Colorado road trip itinerary … eating a lot of good food and immersing yourself in the outdoors is always included.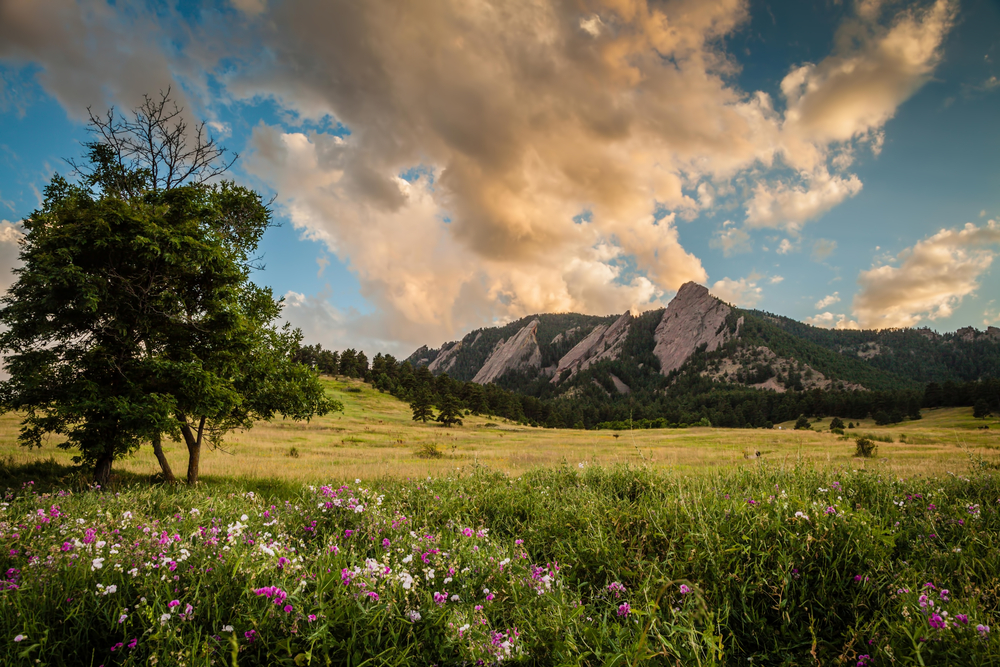 Best Hikes In Boulder
If you're a hiking enthusiast, head over to Chautauqua Park and hike the Flat Irons or Royal Arch. The parking lot for the park is known for being very busy, particularly on weekends, so don't be surprised if you end up having to wait for a parking spot.
You can also park along Baseline road if the lot is full. As you approach Chautauqua Park, you'll immediately notice the prominent slanted formations that make up the Flat Irons emerging from the surrounding trees.
The Flat Irons are iconic, and if you ever find yourself in a tourist shop in Boulder, you'll likely see its image plastered on all the merchandise. We highly recommend a stop here on your Colorado itinerary.
The Flat Irons hike is a great hike any time of year, though if you hike in the winter you might want to consider wearing crampons. Whether it's snow-covered or green and flowered, the scenery is spectacular, and the views of the Rocky Mountains are always stunning.
The roughly 2.5-mile round trip hike will take you to the 1st and 2nd Flat Irons (the 3rd is open to rock climbers if you're interested). The hike is moderate to difficult with some minor scrambles at the top. But after all your effort, the views from the top are incredibly rewarding.
If you're looking for even more of a challenge, try hiking the Bluebell Road Trail to the Royal Arch Trail up to Royal Arch. This is a 3.5-mile round trip hike with plenty of ups and downs and some rocky terrain.
This hike also begins from Chautauqua Park and is very crowded, so try to get an early start to your hike. At the top, you're greeted with a wonderful arch and great views of Boulder. When you're all tuckered out from either of these hikes, you might head over to the Chautauqua Dining Hall for some tasty food before heading out.
Mount Sanitas is another area great for hiking in Boulder. There is a wide range of trail options varying in difficulty level. The trails are well maintained and most, though not particularly long in length, are guaranteed to give you a workout. If you choose the signature Mount Sanitas Loop hike you'll travel 3.0 miles round trip on a moderate to difficult route taking you to the peak of Mount Sanitas.
The Dakota Ridge trail is great for runners. The Hawthorne and East Ridge Trails are both difficult with steep inclines. If you take a look at the trail map you'll find a whole host of other options including the easiest option which is to hike the Mt. Sanitas Valley trail which is great for families or casual hikers looking to take more of a stroll by the creek.
If you're looking for a longer hike, the Walker Ranch Loop will take you 7.7 miles round trip. Though this trail is slightly less trafficked than the previously mentioned hikes, you should still be prepared to share this area with other hikers, runners, mountain bikers, equestrians, and fishermen. Dogs on a leash are allowed on the trail as well.
Though this trail can be hiked either direction, we suggest taking it counter-clockwise to avoid hiking up the stairs section. Unlike your typical hike, this loop actually begins with a descent and then flat terrain before you begin the challenging incline. You'll continue hiking in and out of the canyon experiencing great views with changing landscape from creeks and meadows to mountains and dams.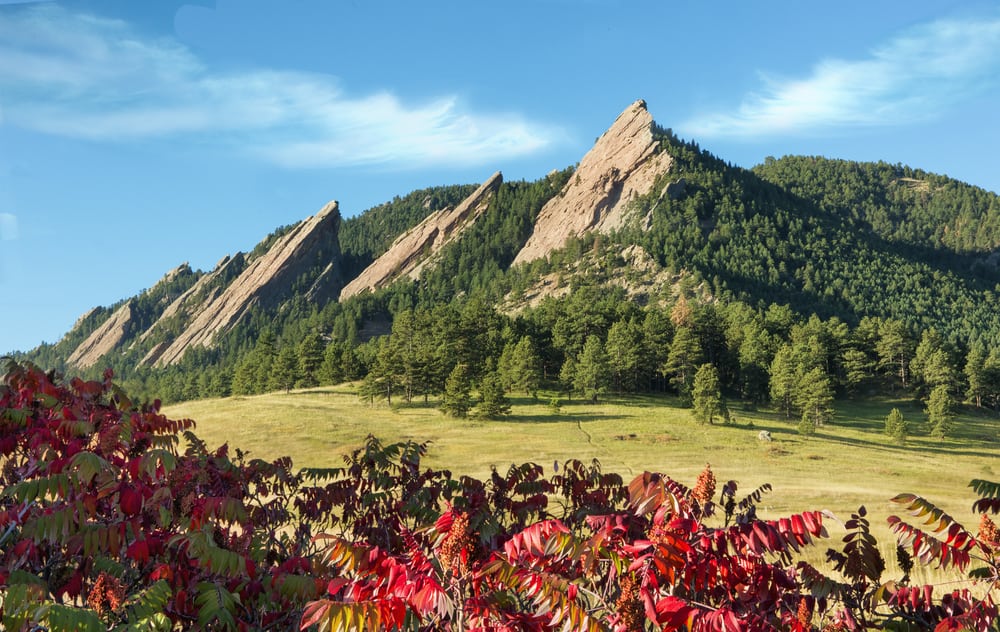 Food And Drink
Colorado is known for its beer production, and Boulder houses some of the best breweries. The first brewery we suggest is actually 30 minutes away in Golden, Colorado, but for those fascinated by beer production, it's worth the short drive.
This tour of the Coors Light Brewery is $5 for Colorado residents, $10 for others, and includes three 8 oz samples of MillerCoors beer and a commemorative glass. If you'd rather just stick around Boulder, Upslope and Avery Brewing Companies are great options. Avery also gives public tours and these are free!
If you're a lover of breakfast, Boulder has got you covered. Snooze is our first suggestion. It was started in Denver, Colorado in 2006 and has absolutely taken off opening restaurants all across the country. You are in for a real treat at Snooze.
The pancakes are pure dessert and ridiculously delicious. They have benedicts, scrambles, sandwiches, you name it. Add some crispy hash browns or sausages on the side for a great compliment to your meal.
Lucile's Creole Café is another great breakfast option in a cozy little house. They have fresh-squeezed juice, beignets, New Orleans style eggs, Shrimp and Grits, and Blackened Salmon among other things. Our third suggestion is Brasserie Ten Ten, a French-inspired restaurant. It is also open for lunch and dinner but has a great brunch menu including crèpes, waffles, benedicts, omelets and other delicious entrées.
If you're looking for a great burger and beer after exhausting yourself on one of Boulder's spectacular hikes, then Mountain Sun or Southern Sun Pub and Brewery is your place to go. Both restaurants are the same, just located in different places throughout Boulder.
Both spots only take cash, but there's an ATM inside. You can get free beer samples at the bar while you wait for your table so you know exactly what beer to go for when you're seated. They have a great selection of really tasty burgers and sandwiches, and you'll no doubt leave there full and satisfied.
The Bohemian Biergarten is a gastro-pub with a menu and atmosphere inspired by the Czech Republic. There's plenty of beer, sausage, and schnitzel and an events calendar with dance nights, live music, and of course Das Boot Tuesdays.
The Med is another great lunch or dinner option with a regular menu with pizza, pasta, paella, and other entrees, as well as a tapas menu. We highly suggest picking and choosing from the tapas menu.
They're delicious! Rounding out our food suggestions is street food (dim sum, noodle and rice dishes) at Zoe Ma Ma, fancy ramen at Chimera and sushi at Sushi Zan Mai. Any suggestion from this list is a great addition to your Colorado itinerary!
Best hotels in Boulder:
Affordable/Mid-range: Boulder Twin Lakes Inn. Check rates. Booking.com
Bed and Breakfast: Briar Rose Bed & Breakfast. Check rates: Booking.com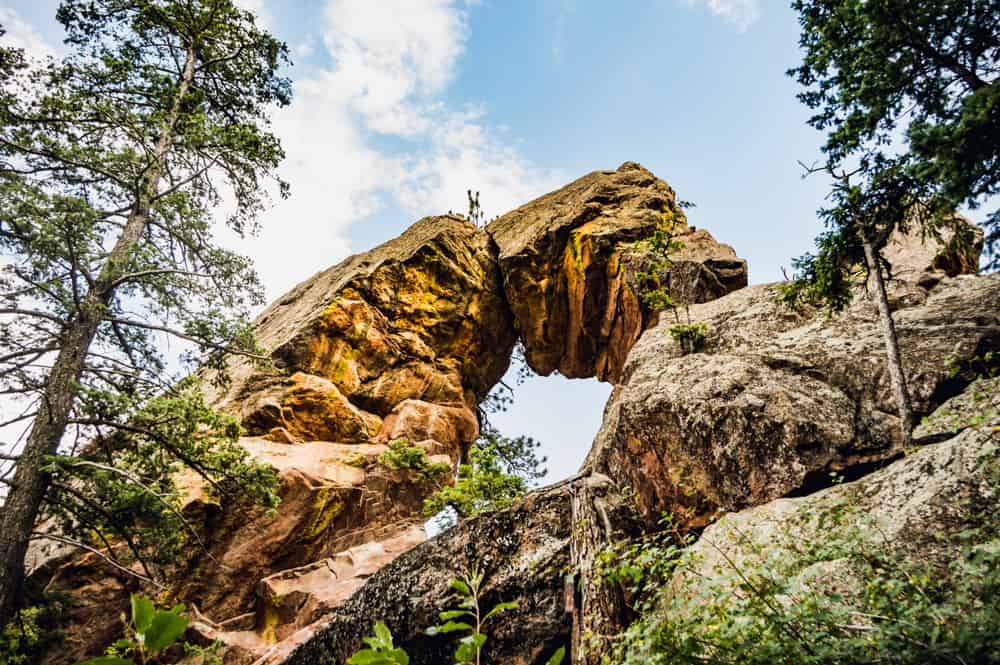 When you're finished in Boulder you'll return to Denver and fly home from there to complete your Colorado road trip. We know you'll have a wonderful time exploring this beautiful state. If you have any questions about planning your Colorado road trip, feel free to ask us in the comments section!