We are here to provide you with the perfect template for planning a Montana road trip, that way your job is a little less stressful, and you can just sit back and enjoy your travel time!
Our stops feature some of Montana's finest. From iconic landscapes, breathtaking views, nature-musts sees, and more activities in between, you can pick and choose what stops to stop at depending on how much time you intend to spend in each place.
Montana is well known for it's rolling wilderness, national parks, and wildlife. This state is a true playground for those who love the outdoors, hiking, and other similar adventures.
The landscape alone will continue to change throughout your drive as you move from one spectacular spot to the next. Montana truly has a little bit of everything including fun cities, great hiking trails, and fantastic places to eat, stay and relax.
It's hard to go wrong exploring this wonderful state, so begin your Montana itinerary today by packing a bag, getting some road trip snacks, and downloading a podcast playlist for your travels!
This is truly one of the Best Road Trips In The USA so you are in for a real treat!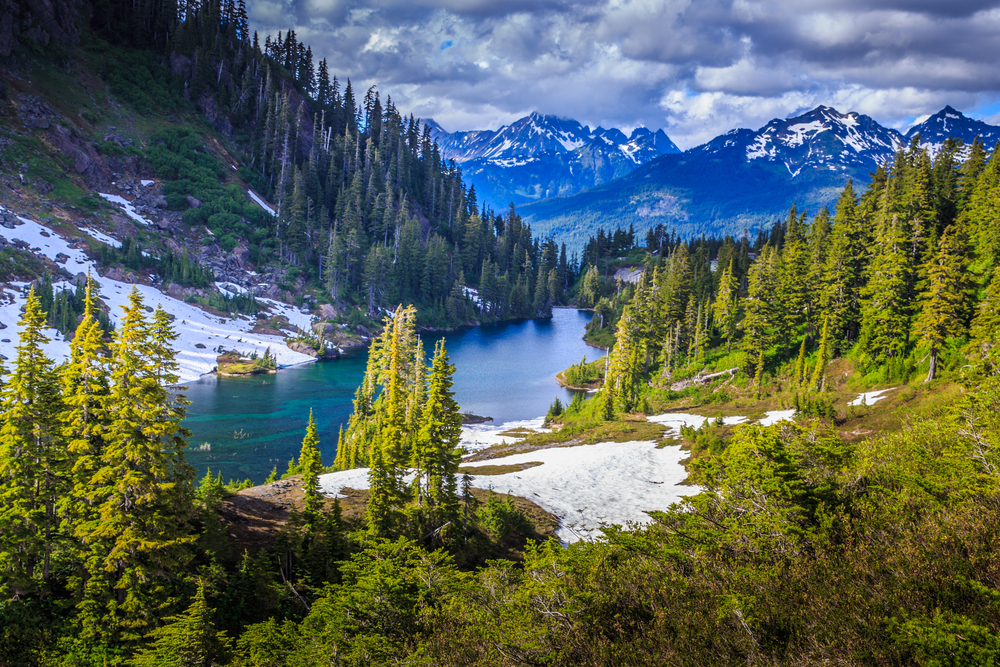 The Perfect Montana Road Trip Itinerary You Should Steal
Getting to Glacier Park International Airport
Since we will have you start at Glacier National Park for your Montana Road Trip, it only makes sense to fly into Glacier Park International Airport (FCA!).
FCA is the closest airport to Glacier National Park, and many lodgings are located around this airport. It is only 12 miles from a popular town called Whitefish (which we will later list as a spot to stop at!), and a mere 30 miles from the West Entrance of the National Park itself.
This airport is served by most major airlines (with Delta and United being the most popular) AND has daily flights from both Seattle and Denver. Most travelers can fly from most USA cities with the only layover.

Getting Around Montana
As the fourth largest state, there is no doubtfully any shortage of sights or miles for your Montana itinerary. Thankfully, Montana also has super smooth roads, even by the Rocky Mountains, and their speed limits tend to gravitate toward the higher side of the spectrum for faster travels.
When navigating these roads at a near 80 mph, we recommend renting a car that is comfortable but also has good gas mileage. Don't splurge on a Porsche here, but rent a car that is large enough to navigate roads and miles well.
At the Glacier National Park Airport, you can rent cars in the terminal through businesses such as Avis, Budget, Hertz, and International.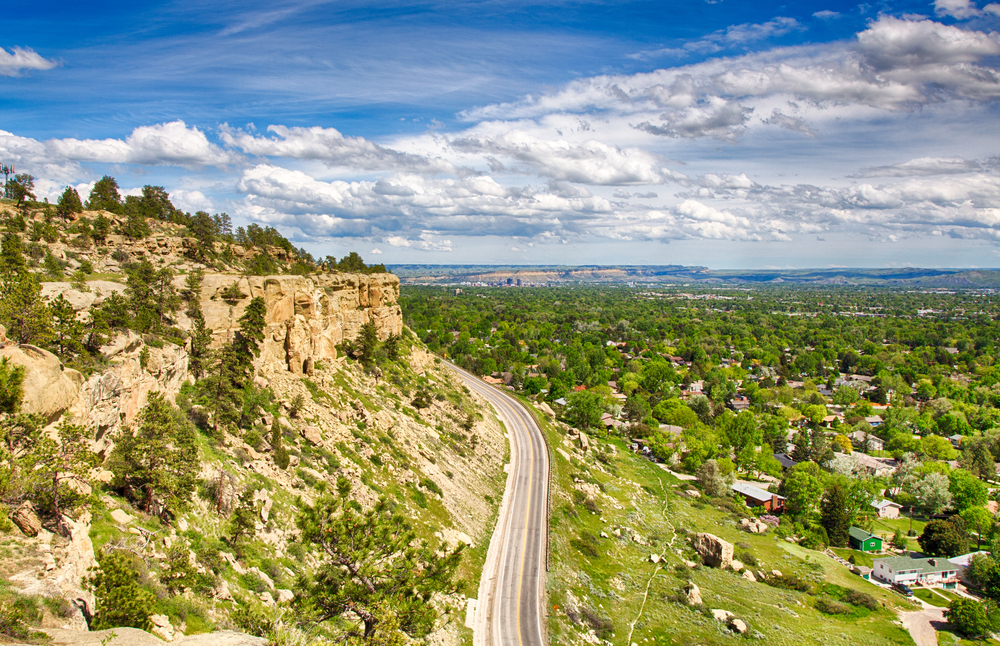 Stop 1: Start your Montana Road Trip with the Iconic Glacier National Park
We figured you should start your Montana road trip out of the car! Glacier National Park is 1,583 miles of wilderness in the Rocky Mountains and features over 700 miles of hiking trails, making it a MUST stop, see, and explore the location.
The Trail of Cedars is probably one of the easiest hikes here, with Grinnell Glacier being the most difficult. Despite what trail you pick to travel, you'll definitely see the scenery with the jagged peaks of the Rocky's and ice-blue lakes contrasted by green meadows.
Lake McDonald is also a great place to check out, especially on a guided Glacier Park Boat Company Tour, or you can head north of the park to explore the Waterton Lakes National Park!
Then Apgar Nature Center is the official park visitor center and is fun and interactive for families and all travelers. And if you're really interested, you can always check out guided tours that usually base themselves out of the center, such as Private Wildlife Tours!
And don't forget to drive the Going-to-the-Sun Road: this paved, two-way highway snakes through the park and is known as being one of the most scenic drives in America!
Where to Stay in Glacier National Park:
Low Range: Timber Wolf Resort. Check Rates: Booking.com
Mid Range: Silverwolf Log Chalets. Check Rates: Booking.com
High Range: Glacier Outdoor Center. Check Rates: Booking.com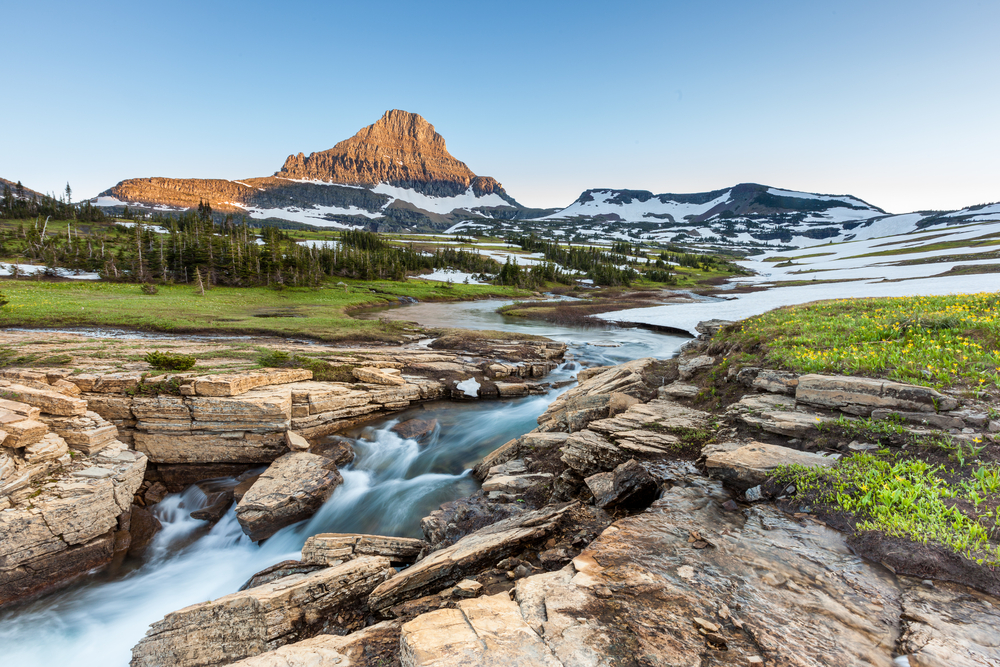 Stop 2: Whitefish is a Wonderful Town to add to Your Montana Itinerary
The next stop on your Montana road trip is Whitefish. Here you will trade in vast, sweeping views for a classic, small-town USA experience.
Full of bed and breakfasts, local shops, and fantastic restaurants, these quaint adventures line the streets of this town. We recommend visiting the Marina for some activities like jet skilling and swimming– especially if you're visiting during this summer!
There is also a local Spa at The Lodge at Whitefish that we well-reviewed if you want to relax with massages and facials.
But better yet, true to this small-town vibe, the Whitefish Downtown Farmer's Market is quaint and quiet with lots to explore. It is one of the best places to purchase your travel trinkets!
Although it is a small town, Whitefish is close to Glacier National Park (only 30 minutes), and so this can be a quick day trip or just a fantastic spot to enjoy the locals of Montana!
Where to stay in Whitefish:
Low Range: Stumptown Inn of Whitefish Check Rates: Booking.com
Mid Range: Inn at Whitefish. Check Rates: Booking.com
High Range: Baymont by Wyndham Whitefish Baymont by Wyndham Whitefish. Check Rates: Booking.com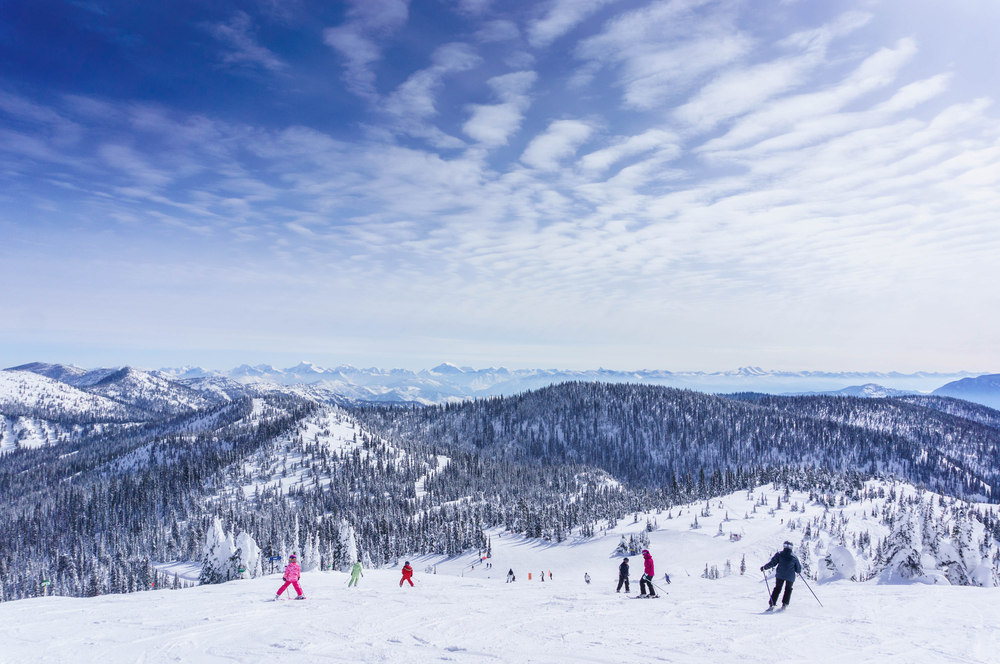 Stop 3: Stay and Bask in Yellowstone National Park's Beauty
Would you really be on a Montana road trip without stopping at another national park? Yellowstone National Park is arguably one of the most famous national parks and there is so much to do here, even if a good portion of the park is located in Wyoming! We even have a Yellowstone Road Trip if you want to spend more time here!
Start at the iconic Old Faithful. This legendary geyser erupts on schedule, spraying mist through the air while also spouting water straight up. It is a truly beautiful part of nature.
Grand Prismatic Spring is also a geyser, but this geyser is also a hot spring and a volcano! This is the largest hot spring in the US and has striking coloration: reds, oranges, yellows, and blues will catch your eye!
Some hikes you may want to check out include Mt. Washburn, which runs up an old road and past meadows and gnarled rocks throughout Yellowstone.
Or you may want to check out the Storm Point Natural Trail which is a varied loop trail that is close to a pond and frequently visited by bison. Here you can walk through dense forests and finish your walk/hike at the shore of Yellowstone Lake.
Home to dramatic features and a vast array of animals, the stops of Yellowstone in Montana are something you must add to your Montana itinerary. And after you enjoy this natural scenery, do make sure to check out nearby communities, such as Livingston and Cooke City!
Where to Stay in Yellowstone National Park
Low Range: Al's Westward Ho Motel. Check Rates: Booking.com
Mid Range: Crosswinds Inn. Check Rates: Booking.com
High Range: Moose Creek Cabins. Check Rates: Booking.com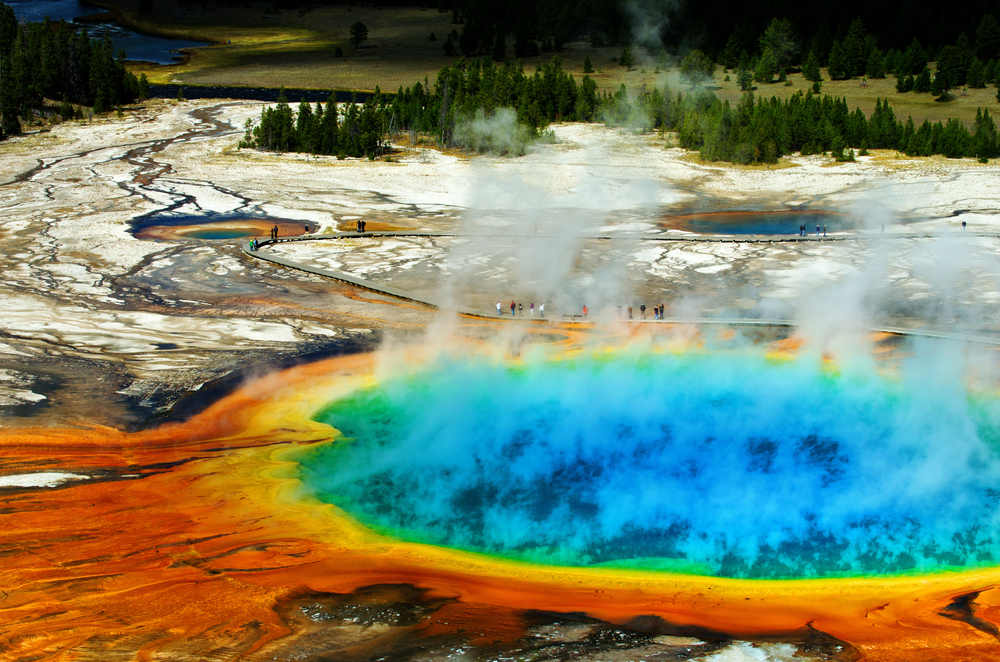 Stop 4: Billings Offers a Perfect Blend of City and Nature During For Your Montana Itinerary
Billings is the perfect stop on your Montana Road Trip for those who enjoy the outdoors and urban attractions.
We recommend starting at the Pictograph Cave State Park. The three caves here (Pictograph, Ghost, and Middle) dawn rock paintings that date back to prehistoric times and guided tours can help you navigate this rocky region.
Yellowstone River is also a great presence in Billings. Near the top of the river, at Riverfront Park, you can rent a tube and float down Yellowstone River while stopping at a variety of parks that are on the coasts– make sure to look at Josephine Park in particular for a landing spot!
The Yellowstone Wildlife Sanctuary houses many indigenous animals from the Montana region. All of these animals have been injured and cannot survive in the real world, so here you can get up-close to see mouton lions, buffalo and more!
Speaking of Yellowstone, Yellowstone Cellars and Winery offer fantastic tours of the local grounds and cellars, where you can do a tasting experience as well. The samples of red and white wine and live music call to many tourists!
For a night in, Billings also has a great drive-in: Billings Amusement Park Drive-In! This old-fashioned, large-screen theatre shows two movies at once while camping under the Montana sky: warning! You may be distracted from the movie by the stars!
Lastly, you can be adventures and visit the Madison River, which is a part of the Missouri River. Many tourists come here for adventures in white water rafting, but even the stunning views are enough to stop and stare if you're not interested in getting in the water!
Where to Stay in Billings
Low Range: Baymont by Wyndham Billings. Check Rates: Booking.com
Mid Range: Northern Hotel. Check Rates: Booking.com
High Range: Boothill Inn and Suites. Check Rates: Booking.com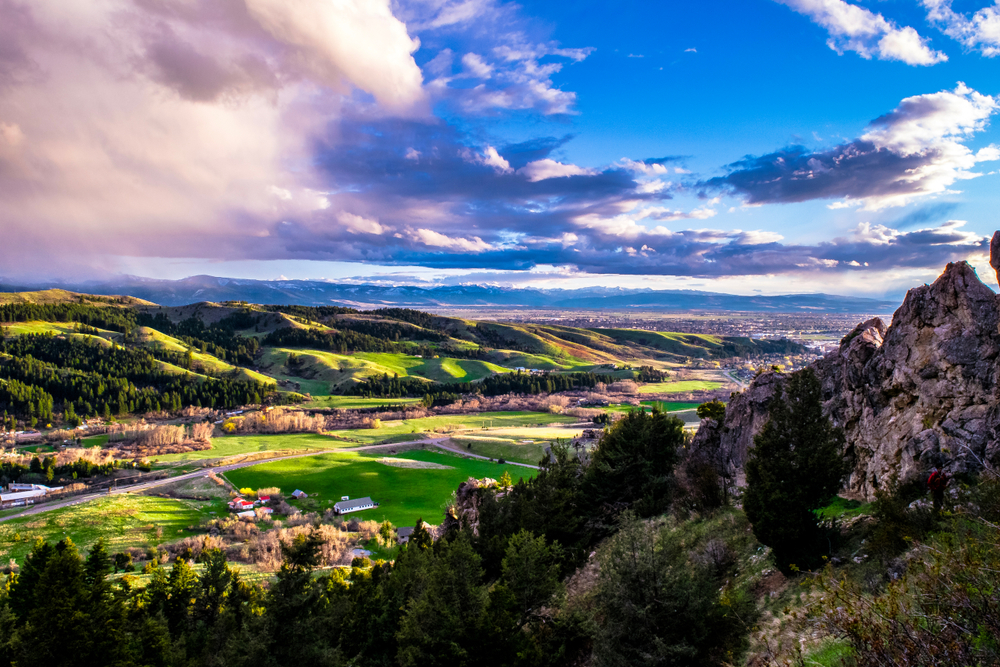 Stop 5: Big Sky Mountain and Bozeman are Great Communities for your Montana Road Trip
As we mentioned earlier, there are many communities nearby Yellowstone, and two you CANNOT miss and need to add to your Montana road trip itinerary is Big Sky and Bozeman.
Tucked away in the Rocky Mountains of Montana, Big Sky is well-known for its downhill trails that offer hiking in the summers, and skiing in the winters.
In the heart of Big Sky you must check out Ousel Falls Park, which features waterfalls, picnic areas, and fantastic views because it is fairly close to Yellowstone.
The Gallatin River cuts through the Gallatin Canyon just a few miles from the town of Big Sky on the northeast side, offering even more places to view, and some stunning scenery to witness wildlife in the natural habitats.
Bozeman, which is located at the foot of Bridger Mountains, is just a short drive from Big Sky. This town is more suburban-based but features must-sees such as the Montana State University's Museum of the Rockies.
This museum features a Siebel Dinosaur Complex and a planetarium, and just on the outskirts of Bozeman itself, are the Spanish Peaks, which offer more trails for skiing, biking and hiking!
Where to Stay in Bozeman
Low Range: Microtel Inn & Suites. Check Rates: Booking.com
Mid Range: Travelodge by Wyndham Bozeman. Check Rates: Booking.com
High Range: The LARK. Check Rates: Booking.com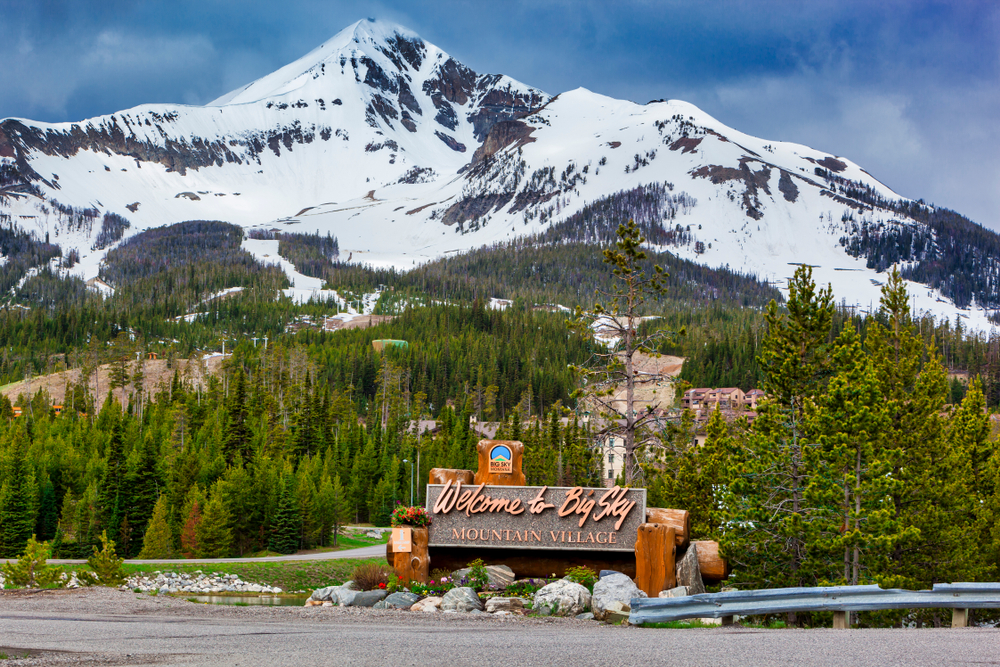 Stop 6: Montana's Capital, Helena, Must be added to your Itinerary
Helena, Montana has it all: nature, museums, sights, landmarks, and local food and drinks. This city is a must-see during your Montana road trip and we recommend starting with the Gates of the Mountains.
The Gates of the Mountains were made famous by Lewis and Clark, and the river that runs through the foothill of the Rocky mountains is easily explored, especially through boat tours!
After returning from the Gates of the Mountains, you should spend some time exploring the city of Helena and it's landmarks and museums! You can visit the Montana Historical Society Museum, the Montana State Capital, and the Cathedral of St. Helena, all of which are fairly close to one another!
If you're looking for something interactive and fun, we recommend the Montana Blue Jewel Mine! If you're lucky, in between learning about the history of mining, you may be able to find and take home a few sapphires!
Lastly, make sure to warp up your time in Helena with Mount Helena. The hike up to Mount Helena's peak offers sweeping views of the city and town, and after you finish up, these hiking and biking trails lead to downtown restaurants for some relaxation after an active time!
Where to Stay in Helena
Low Range: Jorgenson's Inn & Suites Jorgenson's Inn & Suites. Check Rates: Booking.com
Mid Range: Days Inn by Wyndham Helena. Check Rates: Booking.com
High Range: Hampton Inn Helena Check Rates: Booking.com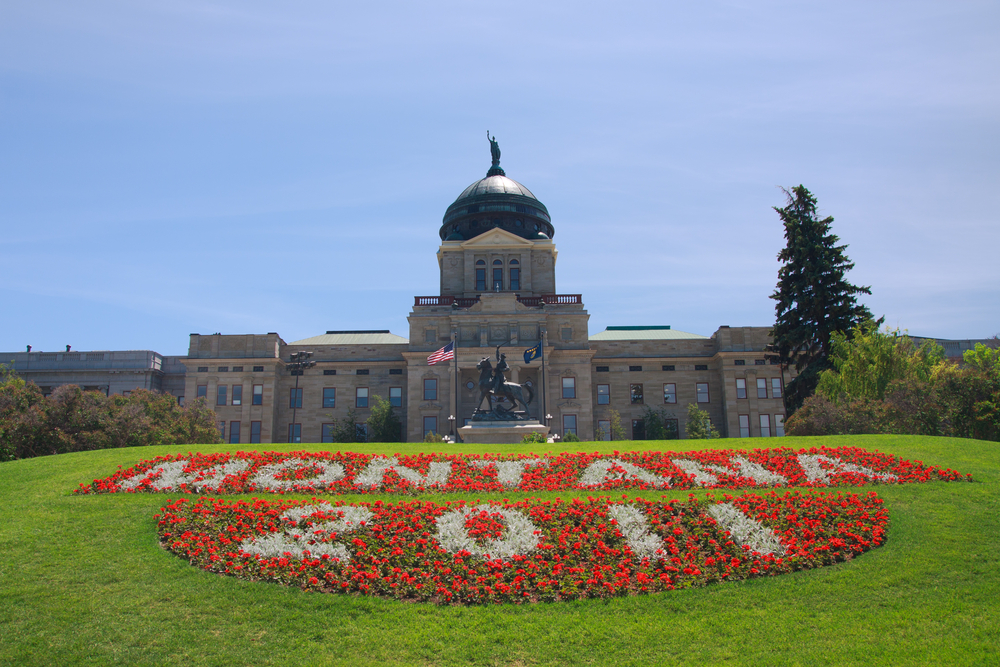 Stop 7: Step Into Helena-Lewis and Clark National Forest for Encompassing Views
Although we've already talked about Helena, we need to emphasize a very important spot near that wonderful city: Helena-Lewis and Clark National Forest.
This national forest must be on your Montana road trip, as it spans over 2,900 miles in two separate zones: the eastern section has a lot of grass and shrub-lands, while west is designated as environmental preservation wilderness.
At the park, you must see the Giant Springs State Park: this is one of the top sights in the forest, as it is a huge freshwater spring that is over 200 acres and features activities such as boating, swimming, and more.
While there aren't many "stops" within this "stop" to make, this forest spreads across mountain ranges and counties. It is well known for its coniferous streets and tall mountain peaks and grassy meadows.
The park itself offers vast opportunities for recreation: from scene drives, hikes, horseback riding, camping and even skiing in the winter, this is such a beautiful, natural place to explore.
Where to Stay in Helena Lewis and Clark National Forest
Low Range: Commodore Astoria. Check Rates: Booking.com
Mid Range: Hampton Inn & Suites Astoria. Check Rates: Booking.com
High Range: Astoria Riverwalk Inn. Check Rates: Booking.com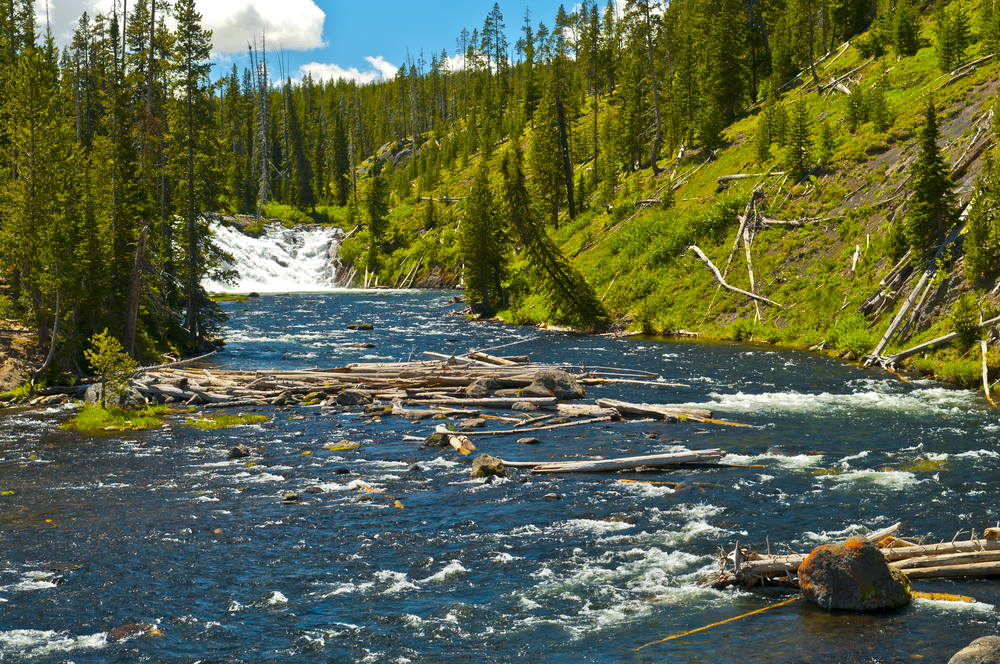 Stop 8: Finish your Montana Road Trip in Missoula
The last stop on your Montana road trip is Missoula. Although it once started as a small trading post, this city is now HUGE and is surrounded by the stunning scenery of the Rockies.
The Clark Fork River runs through the center of the city and connects many attractions along its Riverfront Trail, meaning you can walk it and hit all of your mini-adventure stops!
We recommend checking out Mount Sentinel, a 1,958 foot-tall mountain that looks over the city, close to the University of Montana. This is a popular hiking destination but has trails suited from easy to difficult!
Caras Park hosts hundreds of events every year. It's two large pavilions help contain crowds during celebrations and festivities, such as the annual Pray for Snow Party.
The Clark Fork Market is also hosted at Caras Park every Sunday, and adjacent to the park is the famous and historic Wilma Theatre!
Lastly we think you should check out Rattlesnake National Recreation Area. Although this is 4 miles north of Missoula and part of a larger forest, this is a popular area to explore the wild outskirts of the city. Many people come here to hike, fish, and ride (both horses and bikes!)
Where to Stay in Missoula
Low Range: La Quinta Inn. Check Rates: Booking.com
Mid Range: Staybridge Suites. Check Rates: Booking.com
High Range: StoneCreek Lodge. Check Rates: Booking.com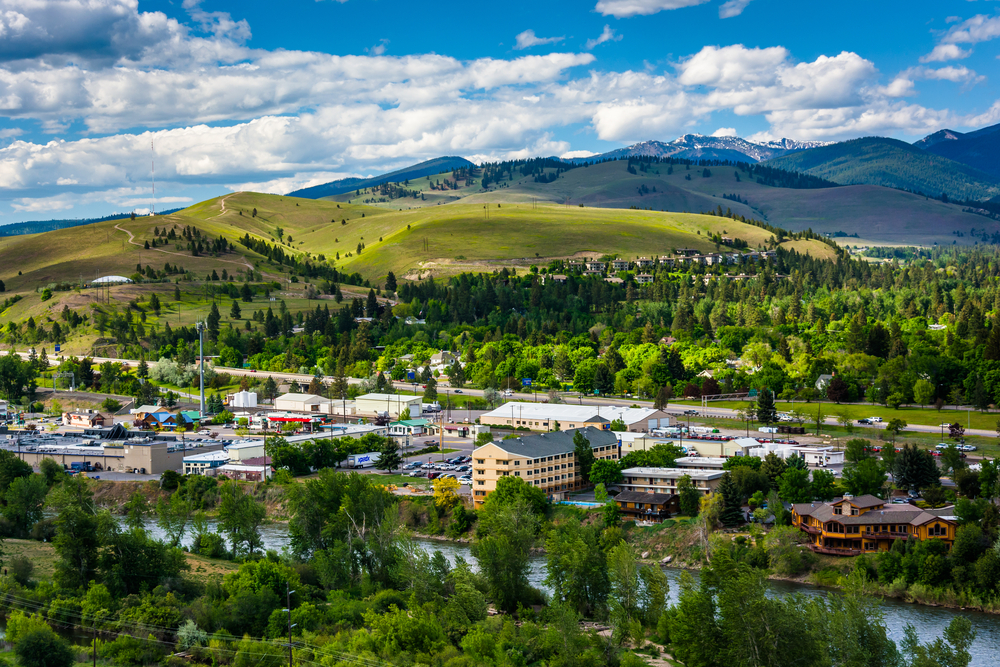 When you're finished in Missoula, you'll return to the FCA airport and then fly home t0 officially complete your Montana road trip!
We know you'll have a wonderful time exploring this beautiful state and all it's natural wonders, as well as it's fun town. Enjoy your trip and safe travels!