If you are planning a Yellowstone road trip, you probably fall into one of two categories. Either you have been dreaming of going to Yellowstone your whole life and cannot wait to see if it fulfills all of your hopes and dreams, or you just know it is a place a lot of people go.
So which is it? Lifelong dream or lingering curiosity? Either way, we have got the perfect Yellowstone road trip itinerary for you!
Yellowstone has no end of amazing sights, and we have all the best ones. If you have heard of Yellowstone you have heard of Old Faithful, and we have that on our itinerary! But there are so many other great stops too that you might not have heard about.
That is why we are here–for the great stops of legend, and the obscure spots that are little known gems. Yellowstone has them all! That is what makes it such a great road trip!
So buckle in and sit tight, because here we go!
This is truly one of the Best Road Trips In The USA so you are in for a real treat!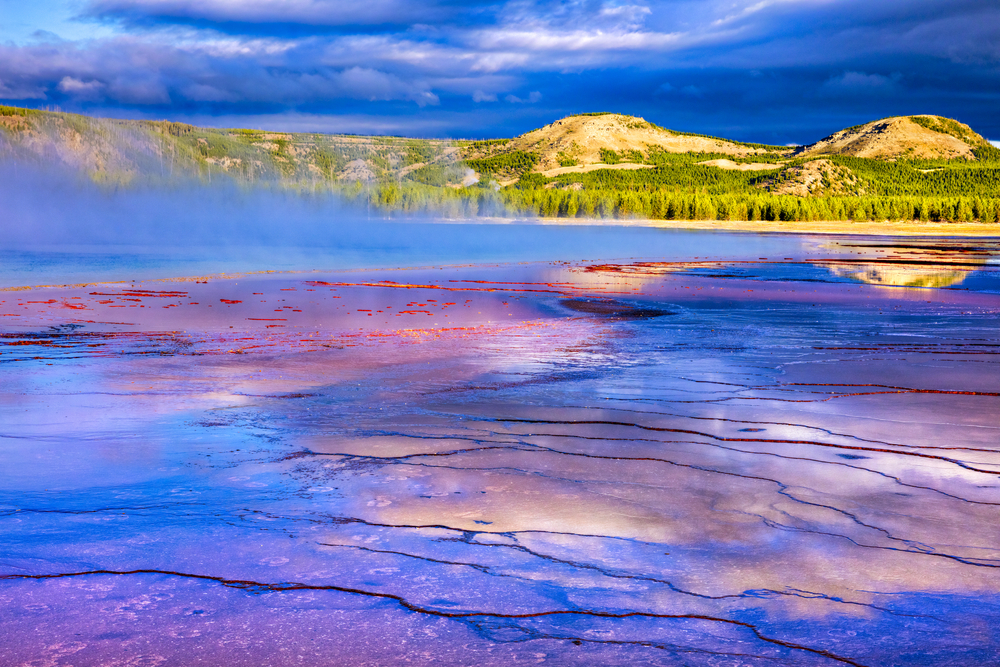 The Perfect Yellowstone Road Trip Itinerary
Getting to Yellowstone
Considering the fact that you clicked on a "Yellowstone Road Trip Itinerary" article, we are assuming you are, you know, looking for a Yellowstone road trip itinerary. Not a cross country tour of the midwest. Therefore we recommend flying into the Salt Lake City airport in Utah.
Many road trip guides recommend flying into Chicago or Denver, but if you do this you are in for 10+ hours of driving just to get to Yellowstone. And we know, we know, this is a road trip. But it is the stops along the way that make road trips great, not the hours of driving through unchanging scenery.
Even gorgeous Colorado scenery gets a little old after ten hours, you know? Maybe you do not. But we do, okay?
So do yourself a favor and fly into the Salt Lake City airport. This way you can spend most of your Yellowstone road trip in…drum roll, please…Yellowstone.
Keep in mind that this area of the world gets cold and snowy in the winter–enough so that they close roads. Pick a different season for visiting Yellowstone.
Don't forget to check out our Detailed Road Trip Packing List so you don't forget any essentials for your trip!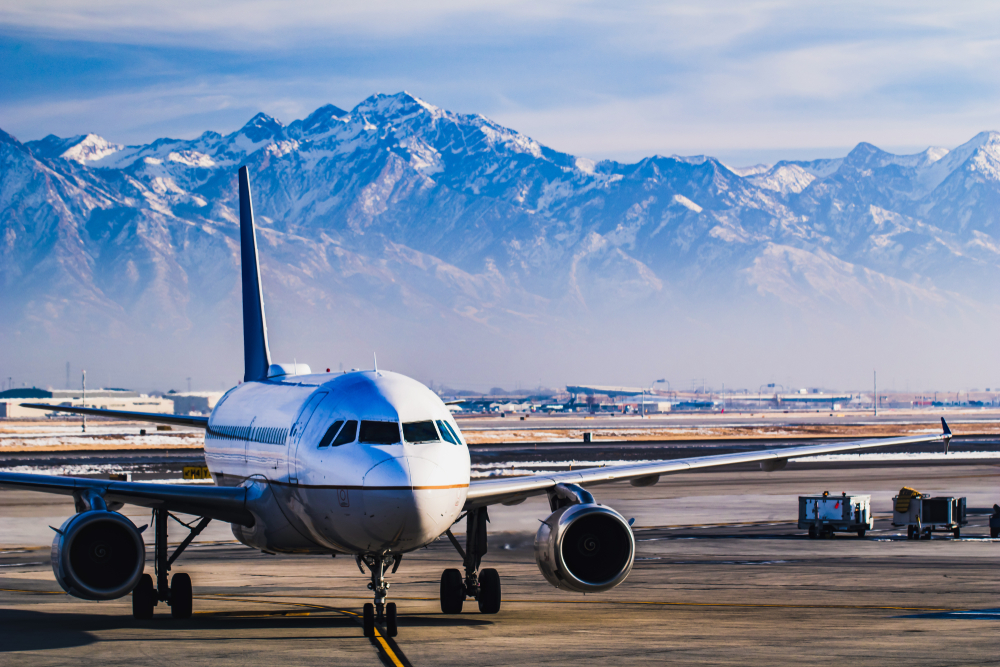 Getting Around Yellowstone
We whole-heartedly recommend renting a vehicle for this road-trip. You can rent a car directly from the ground floor of the parking garage at Salt Lake City Airport. If you have read any of our other itineraries though, you know that we recommend doing so beforehand.
As with all travel planning, the sooner you take care of things, the less they will cost you. There are a number of rental car agencies that will shuttle you from the airport to their office.
You have the most control over timing and destinations if you rent a car. Granted, the five hours it takes to get from Salt Lake City to Yellowstone is a bit of a doozy. However, you can make some great stops along the way to make it worth your time.
We have all the best stops from Salt Lake to Yellowstone and back. If you are all about Yellowstone then skip a few stops and drive straight there. Choose the ones you like the best to make your perfect Yellowstone Itinerary!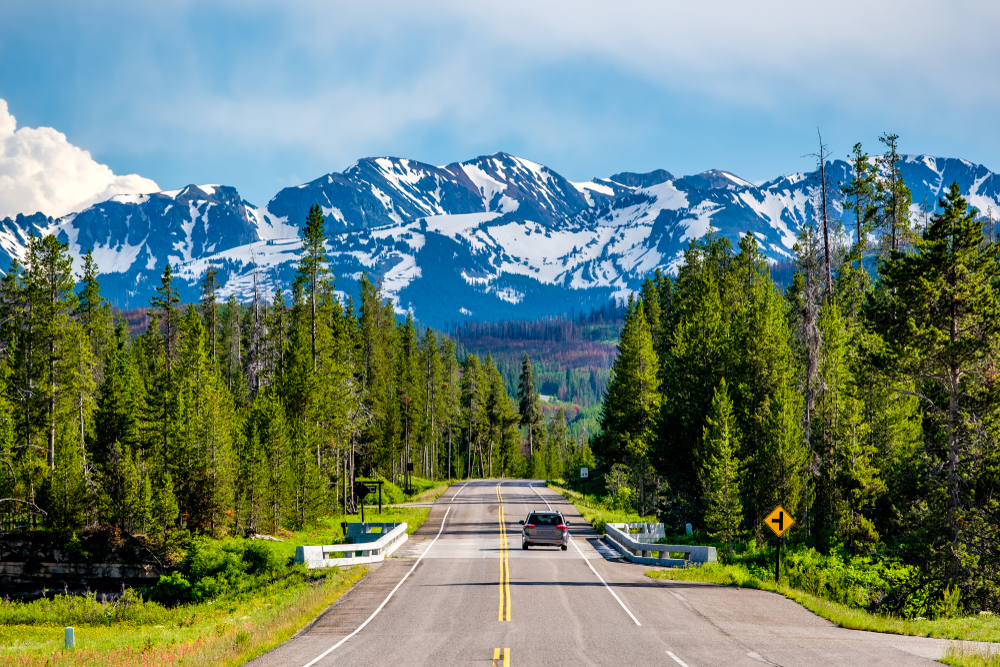 Stop 1: Begin Your Yellowstone Road Trip in Salt Lake City
If you are looking for stops specific to Yellowstone, skip down to Stop 4. However, if you do not live in the vicinity and are flying into Salt Lake to begin your Yellowstone road trip, you might as well check some of the surrounding areas out.
After all, the point of a road trip is to explore and find new experiences. If you are open to new experiences in Salt Lake City, you might be surprised what you might find.
While this is easily Utah's biggest city, it is surrounded by majestic mountains and is only a short drive away from the rugged wilderness. If you choose to spend some time here, you will find a lot more variety in the activities you can do than you might expect.
Take a look at our recommended activities below and you will get an idea of what we are talking about. Don't forget to check out some additional tips for your first Yellowstone trip too!
Things to Do in Salt Lake City
Check Out Sundance Mountain Resort
A short ride away from Salt Lake City exists the famous Sundance Mountain Resort. Here you will find all kinds of outdoor activities.
While this place is North America's top ski resort, there are still plenty of fun things to do in the summer. (Which is good, because Yellowstone is closed in the winter–do NOT do your Yellowstone road trip in the winter!)
Hiking abounds in this region, but that is not all this mountain retreat has to offer. You can also do a zip tour–yeah a zip tour, not a zip line. The ski lifts give you an excellent view of the mountain landscape and greenery in the warmer months.
If you like a slower pace, try out the mountaintop yoga or the art studio classes. You can even go to the spa!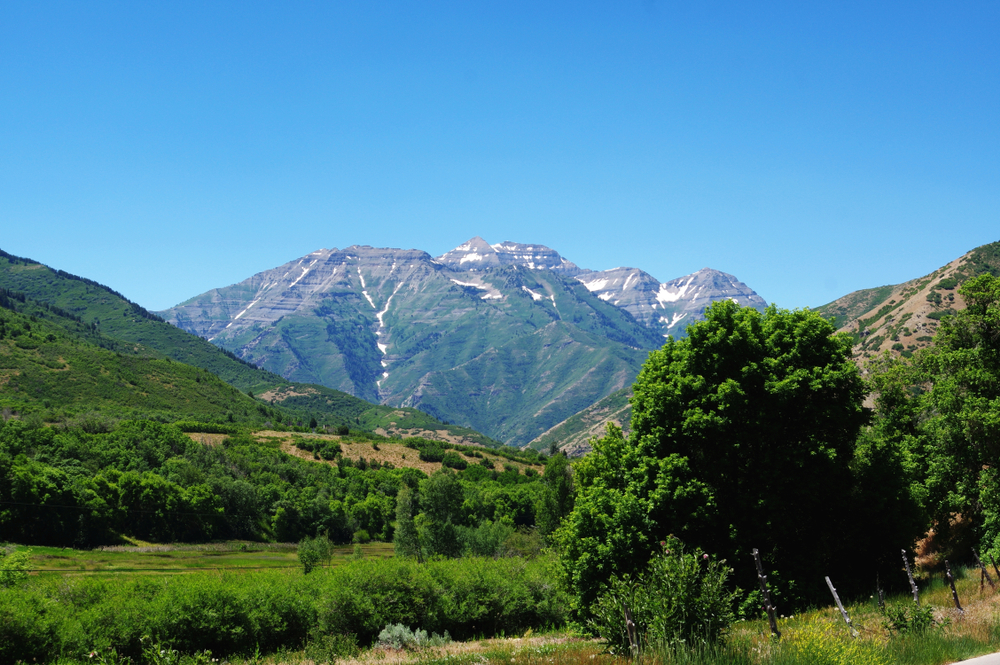 Go Axe Throwing
Want to do something really different that just might help you be better prepared for some of Yellowstone's wildlife? Go axe throwing! Social Axe Throwing takes walk-ins, or you can book your unique experience in advance.
This makes it a great activity to check out if you happen into some extra time. It typically takes a couple of hours, so it is not a quick-minute thing, but it is a ton of fun.
Do not worry if you have never thrown an axe in your life before, this place has coaches to teach you. They will also show you different games–no simple target practice here.
Keep in mind that this is not an activity for little kids. The age limit is 13+. You have to have a party of 6 to reserve in advance but can walk in with a smaller group, you just might have to wait for a bit.
Hike Grandeur Peak
To get an early taste of the hikes you will be doing in Yellowstone, check out Grandeur Peak. It is a six and a half miles round-trip, and it will highly reward you for the effort you put in with astounding views.
Mountains in Utah are no joke, and Grandeur Peak is steep. What we are trying to say is, wear serious shoes for this one and bring water.
However, the entire trail is beautiful in every way. You will love the wildflowers and the way you can see the entire valley along the trek.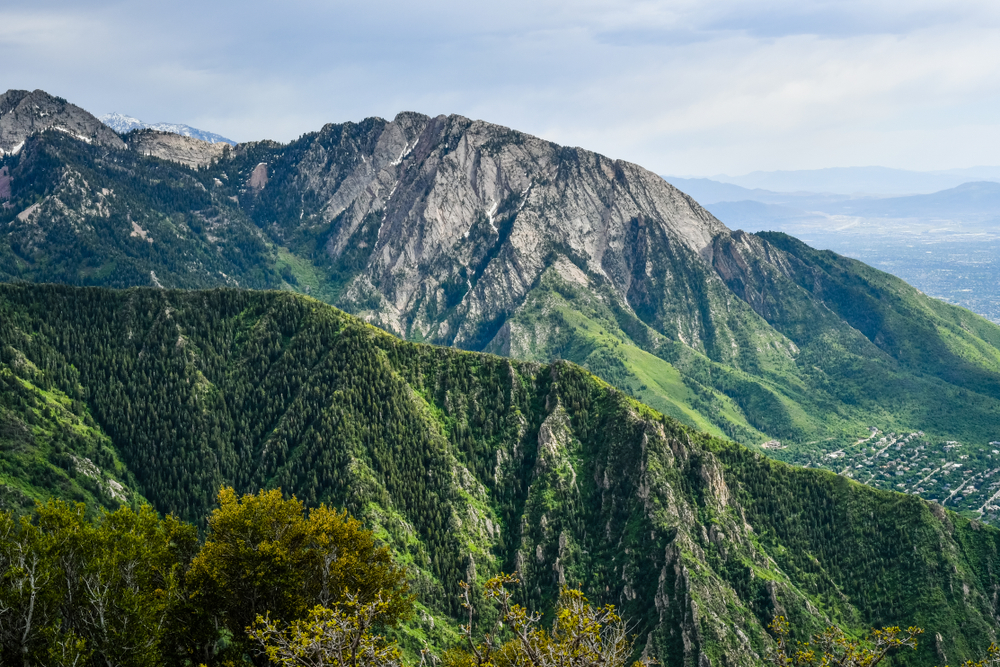 Campgrounds and Hotels Near Salt Lake City
Spruces Campground
If you just cannot wait until Yellowstone to start camping, Spruces Campground is a great place to stay. Located in Big Cottonwood Canyon, it is right outside of the city. The setting is serene, with a multitude of aspens and spruce to keep you company.
While there are no showers here, there are flush toilets and drinking water. Picnic tables and grills are provided, making for easy outdoor cooking. You can also use the fire rings–smores, anyone?
All of the roads are paved, making this an excellent ADA friendly location to stay the night.
Grand America
If you would like to start your Yellowstone road trip off in a ritzy way, you pretty much have to stay at The Grand America. Located right in the heart of the city, you will have great access to all the city activities you could want. Or you could just as easily stay in for the night and enjoy all the great amenities this hotel has to offer.
One of those amenities is a Parisian style bakery–if you were not planning to get a little taste of Paris on your way to Yellowstone, it is time to amend your plans. You do not have to stay at the hotel to check out the bakery!
Everything about this hotel is pure luxury, from the marvelous art to the carefully cultivated gardens.
Check Rates: booking.com | hotels.com
The Little America Hotel
If you are not quite ready to start camping, but also are not quite ready to drain your bank account, check out The Little America Hotel. It is actually right across the street from The Grand America, so you can still go get that taste of Paris from here.
You can also swim in the largest indoor/outdoor pool in Salt Lake City, which just so happens to be inside this hotel. While the Little America Hotel does not have its own spa, it does have a sauna and a coffee shop.
You do not have to break the bank to stay in a nice place with plenty of its own perks!
Check Rates: booking.com | hotels.com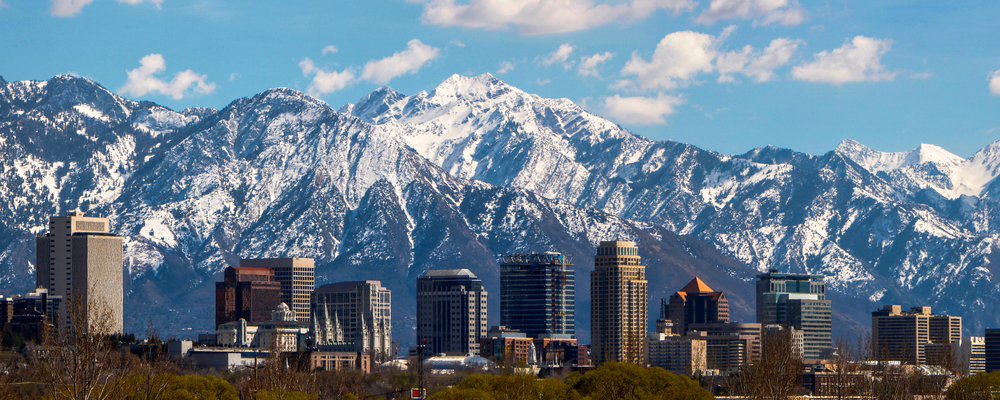 Stop 2: Drive from Salt Lake City to Jackson Hole
Jackson Hole is one of the closest cities to Yellowstone. It actually has its own airport too, but flights tend to be more expensive. Still, if you would rather skip Salt Lake City and get started on your road trip in Yellowstone sooner, you might want to just fly to Jackson Hole.
If you drive, however, there are some great stops along the way. On your way from Salt Lake City there are some interesting places to see and experience. It all depends on how much time you have as to how long you will want to take.
Learn about some of the best stops along the way below. You might even find a paradise you never would have considered before!
Places to Stop Along the Way
Bear Lake
Okay, when we mentioned paradise, this is the place we were talking about. Bear Lake is a gorgeous freshwater lake at the top of Utah and the bottom of Idaho. It is where all the locals (meaning basically everyone in Utah and Idaho with a boat) like to spend their summer weekends.
The lake is, of course, the main attraction, but there are lots of other things to do here as well. Hikes ranging from easy to moderate abound, and you can go golfing too! You can stop here for the afternoon or for the day.
You might love it enough to come back just for Bear Lake!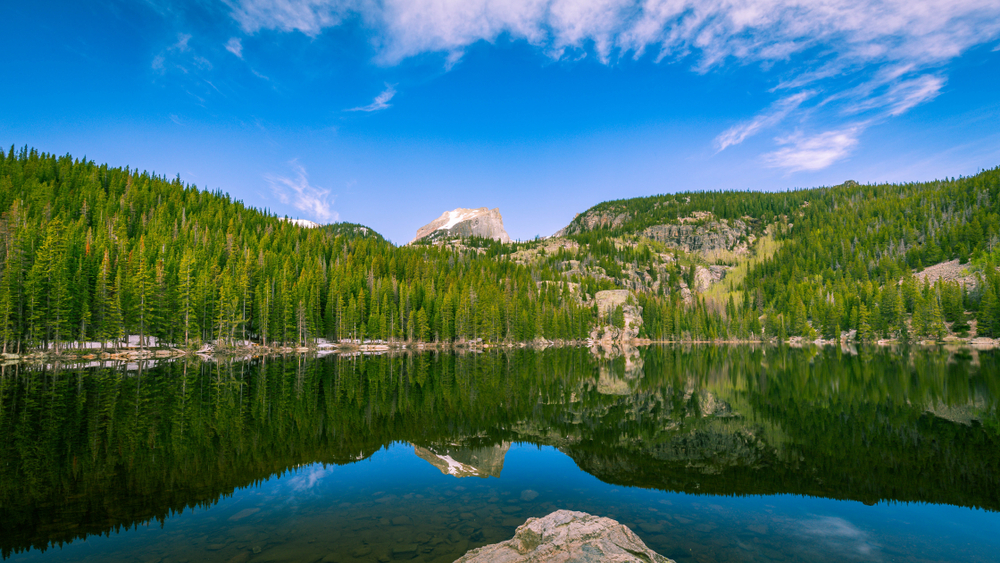 Afton, WY
Getting a little closer to your Yellowstone goal, you will find Afton Wyoming. There is not much to this little town of 2000 people, but what there is, is pretty impressive.
Even if you just drive through, you cannot miss the elk antler arch. You seriously can't. It arches over the entire four lanes of the highway!
As is common with every other stop on this Yellowstone itinerary, Afton also has its own hikes. You can also go fishing and camping here. And you just cannot go wrong with small home town cooking, which is one of Afton's specialties.
As your introduction to Wyoming, it makes a pretty good presentation!
Snake River
The Snake River rushes along not far from Jackson Hole. You know that song from Disney's Pocahontas, Just Around the Riverbend? We know it is not about this river, but it could be.
People come from all around the world to raft down this pristine river. Depending on where you raft and what time of the year it is, you will have an easy go of it or an intense adventure.
If you have never rafted before or do not really like leaving things up to chance, get a guide. You can find guides for canoes, kayaks, and rafts. If you do not want a guide that is fine too–you can just rent whatever watercraft you want to use.
You can also ride the river on a surfboard or paddleboard if you would like!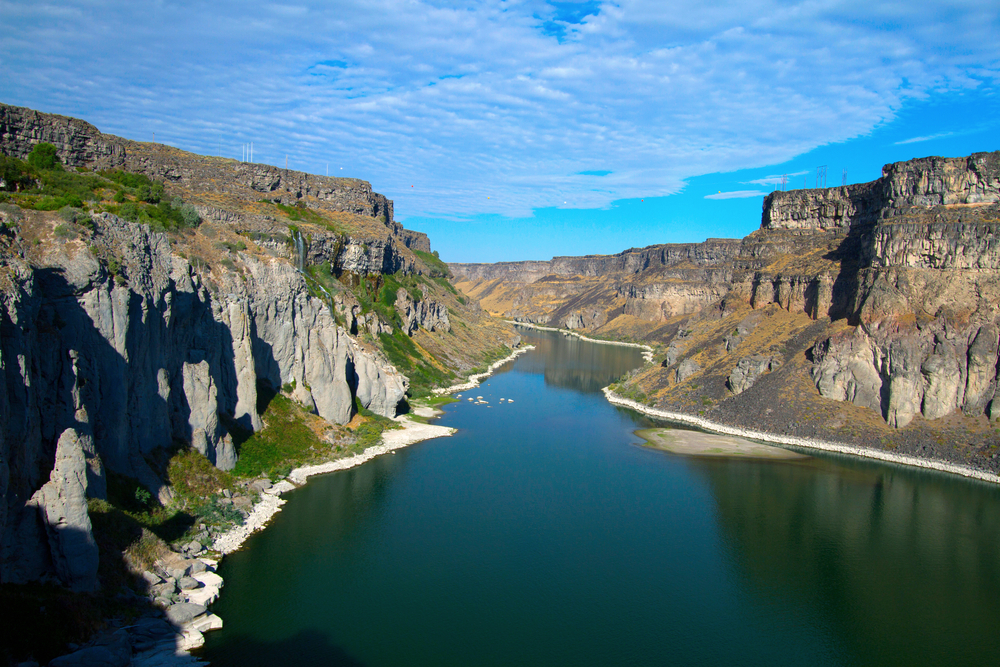 Jackson Hole
So technically "Jackson Hole" is the valley, and the city is just "Jackson" but you will hear the city referred to as both. The valley offers three different ski resorts, giving it some similar capabilities as Sundance Resort in Salt Lake.
Even though you will be visiting in the summer and therefore unable to ski, you will love all the mountain activities.
If you are not quite ready for the outdoor scene that will be your entire Yellowstone road trip, take some time to peruse the shops and restaurants Jackson has to offer. The town has some beautiful boardwalks and a historic town square.
Places to Stay Near Jackson Hole
Curtis Canyon Campground
Curtis Canyon Campground is right outside of Jackson, but you will feel like you have found the wilderness you are coming to Yellowstone looking for. It is also right next to the National Elk Refuge, which means you are probably going to see some exciting wildlife.
This place has fantastic views and will give you a taste of our next stop (Hello Grand Teton).
Amenities include a food storage box, toilets, drinking water, and picnic tables. It is set up for tent camping and RVs. Sometimes there are fire restrictions based on the fire risk in the area, so you will want to check before building a roaring campfire.
The Lodge at Jackson Hole
For a lovely, (surprisingly affordable) hotel option in Jackson, we recommend considering The Lodge at Jackson Hole. It is very reasonably priced and beloved for its friendly staff and fabulous amenities.
Along with an indoor and outdoor pool, The Lodge also offers a soaking pool and sauna. You will love the included breakfast too!
Keep in mind that this option is more affordable the more you are able to book it in advance. If you are trying to book it in high tourist season, the rates will be much higher.
Check Rates: booking.com | hotels.com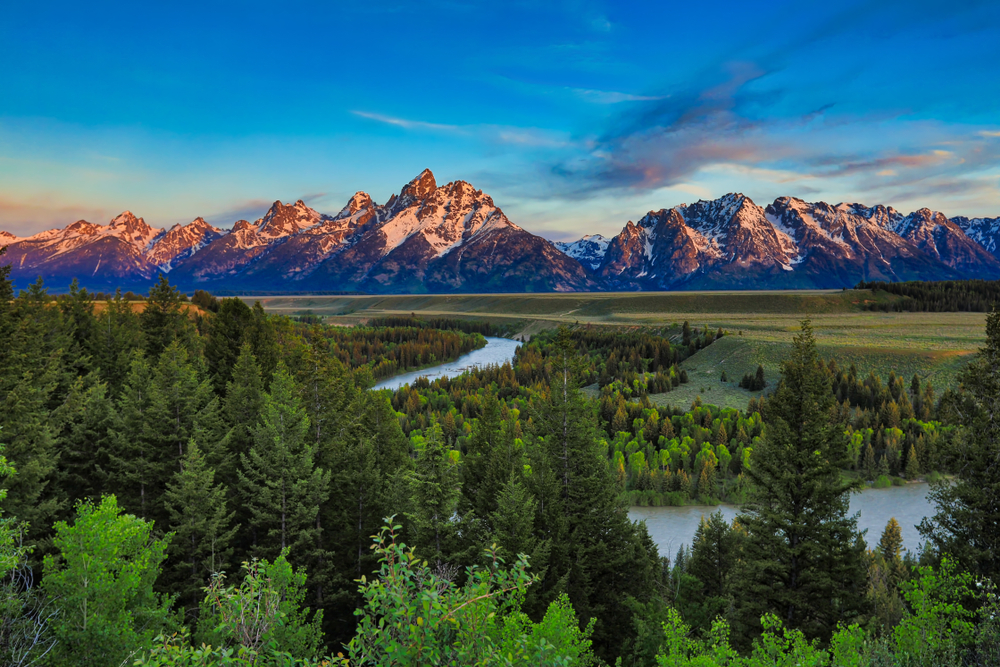 Stop 3: Visit Grand Teton National Park On Your Yellowstone Road Trip
If you are going to go to all the effort of visiting Yellowstone, it would be a shame not to spend at least a little time checking out the Grand Teton National Park. It is right next to Yellowstone, and it is fantastic.
Like many national parks, Grand Teton National Park really does a lot to get kids involved with their Junior Ranger program. Any little ones on your trip will love the chance to learn about the park, and you will love having someone else entertaining them for a minute.
Visiting the Grand Teton National Park gives you the opportunity to experience the majestic beauty of Yellowstone from above. This majestic mountain range is filled with awe-inspiring peaks, tree-filled forests, green meadows, and some of the purest air you will breathe.
Grand Teton National Park is worth spending a few hours or a couple of days in, whatever you can spare!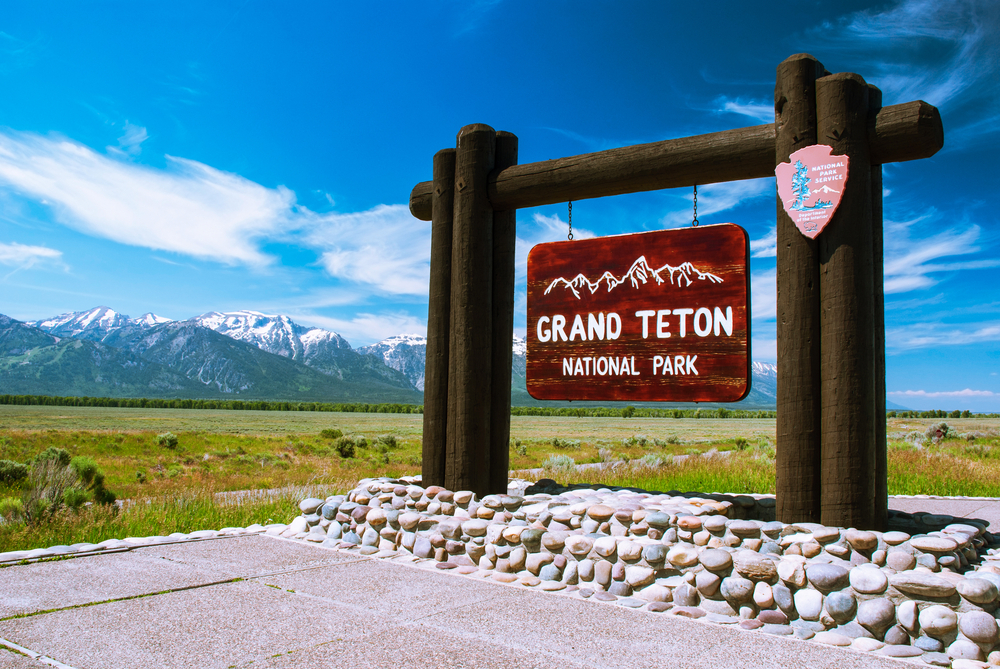 Adventures to Enjoy in Grand Teton
Do the Jenny Lake Scenic Drive
For a quick Grand Teton Adventure that will not distract from your Yellowstone goals for too long, try out the Jenny Lake Scenic Drive! It only takes 15-30 minutes, and will give you views of Jenny Lake as well as some of Grand Teton's peaks!
This is also a great little drive because there are plenty of amazing photo opportunities. Whether you are looking for an epic selfie or want to take a killer reflection picture with the lake and the mountain, this scenic drive has your back.
There are also conveniently located pull-offs in case you want to spend a little more time taking in the view. Keep in mind that this is the wilderness, and just because there are paved roads going through it, there are also tons of wildlife around. Keep an eye out for your safety and theirs!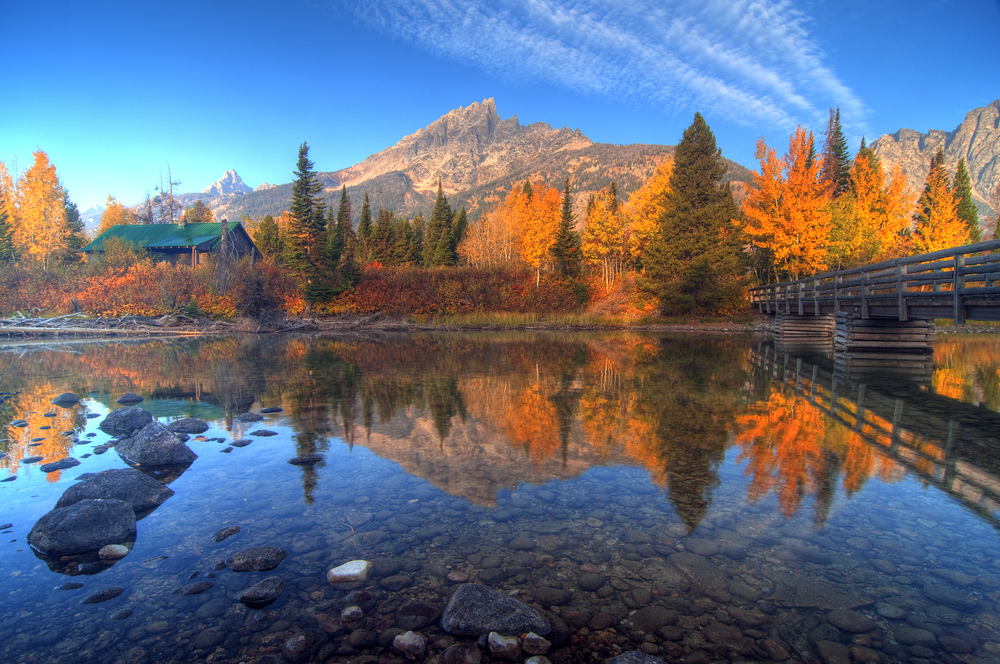 Inspiration Point
The hike to Inspiration Point pretty much has a cult following. It has more than earned its place as one of Grand Teton's highest-trafficked trails.
Along the way, you will have panoramic views of Jenny Lake and there is also a 100 ft waterfall!
There are a couple of ways to do this hike. If you are doing the Jenny Lake Scenic Drive, it will set you up nicely for this hike because the trail begins at the south end of the lake. However, there is also the option to really shorten the hike by taking a shuttle across the lake.
Keep in mind that if you take the shuttle you will have to pay for a ticket. Doing so will shorten the overall 5.8-mile hike down to 3.8 miles.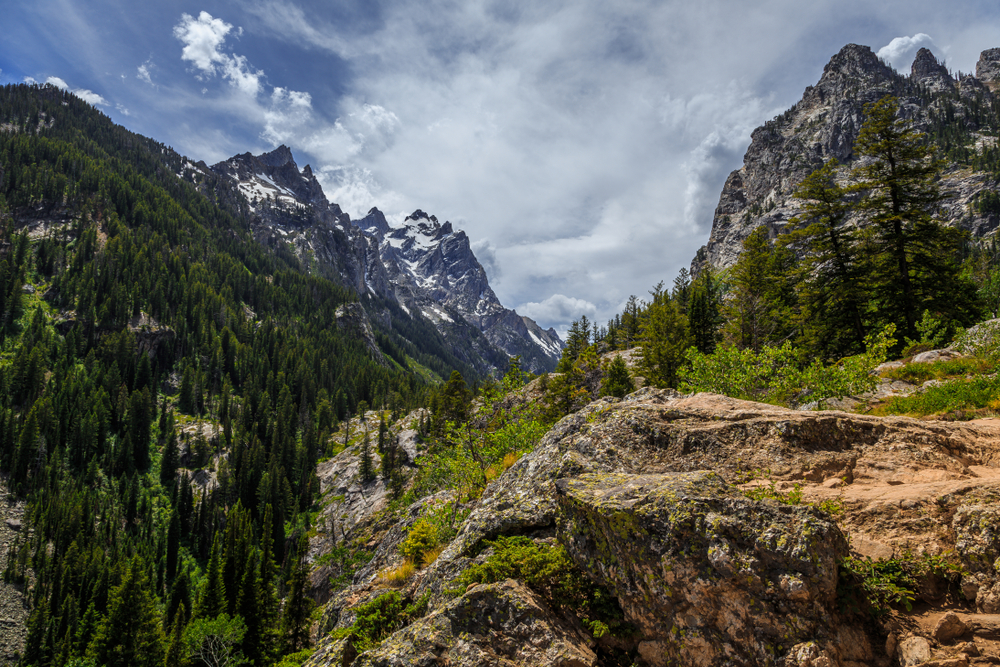 Swan Lake Loop Trail
If you are interested in seeing some nature but do not want to spend hours hiking before you even get to Yellowstone, give the Swan Lake Loop Trail a try. You will see two ponds along this trail, and it will only take you about an hour–two at most!
Swan Lake Loop Trail is about 3 miles round trip, and there is not a big increase or decrease in elevation, making it a relatively do-able hike.
Not only that, but you will also be able to see the gorgeous wetlands and the way the forest edges them. This trail is proof that you do not have to exhaust yourself with ginormous strenuous hikes to get a truly marvelous experience.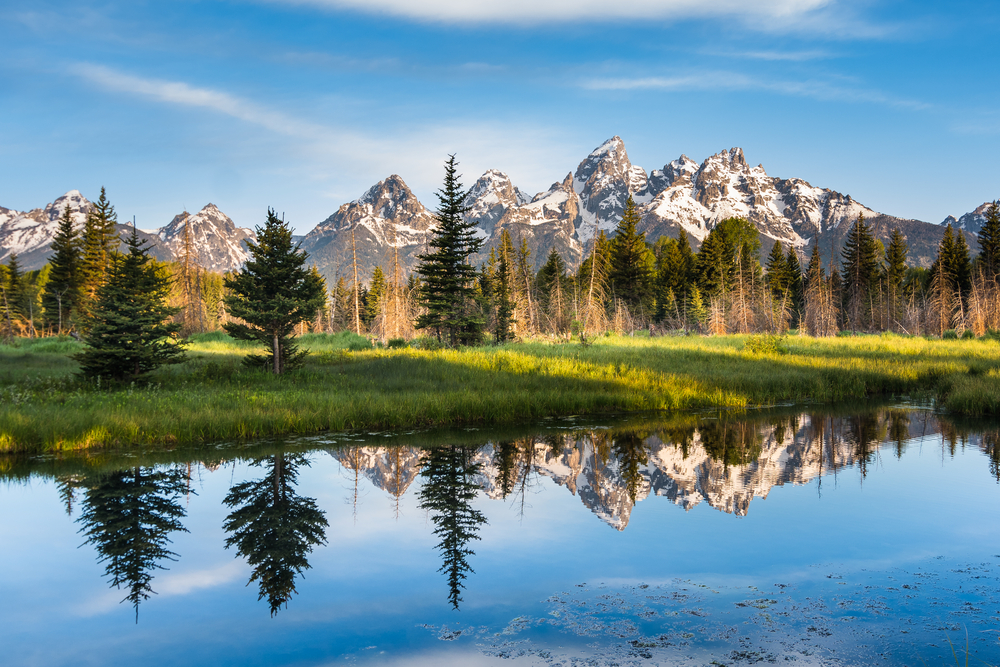 Where to Stay Near Grand Teton National Park
Signal Mountain Lodge
Signal Mountain Lodge is a Grand Teton classic. It is not far from Jackson and is actually right next to Jackson Lake. The lodge takes full advantage of its location and has a marina where you can rent a boat or sign up for a guided fishing trip.
Besides all the exciting adventures the lodge offers, the sleeping accommodations are not too shabby! You can stay in a room in the lodge itself or in a log cabin. You also have the option of booking a lake facing room!
Even in hotels, air conditioning is not guaranteed in most places in Yellowstone. Staying at Signal Mountain Lodge is a good opportunity to take advantage of air conditioning before you fully embrace the wilderness.
Signal Mountain Lodge is also pet friendly, although some of the rooms do not allow pets. If you are bringing a pet, just make sure you let them know when you book your room so that they can set you up with the right accommodations.
Jenny Lake Campground
After driving by and hiking around Jenny Lake, you just might think to yourself, "wow, I would love to spend more time here." Well good news! You can!
The Jenny Lake Campground is set up for tents–there are not any electric or RV hookups. Trailers and campers are not allowed. But what it lacks in RV amenities, it more than makes up for with its wildly beautiful aesthetic.
Nearby, a short five-minute walk away, the Jenny Lake Store has you covered with firewood and snacks. Keep the wildlife in mind, and store your food responsibly. Jenny Lake does not have food storage lockers as many other campsites do.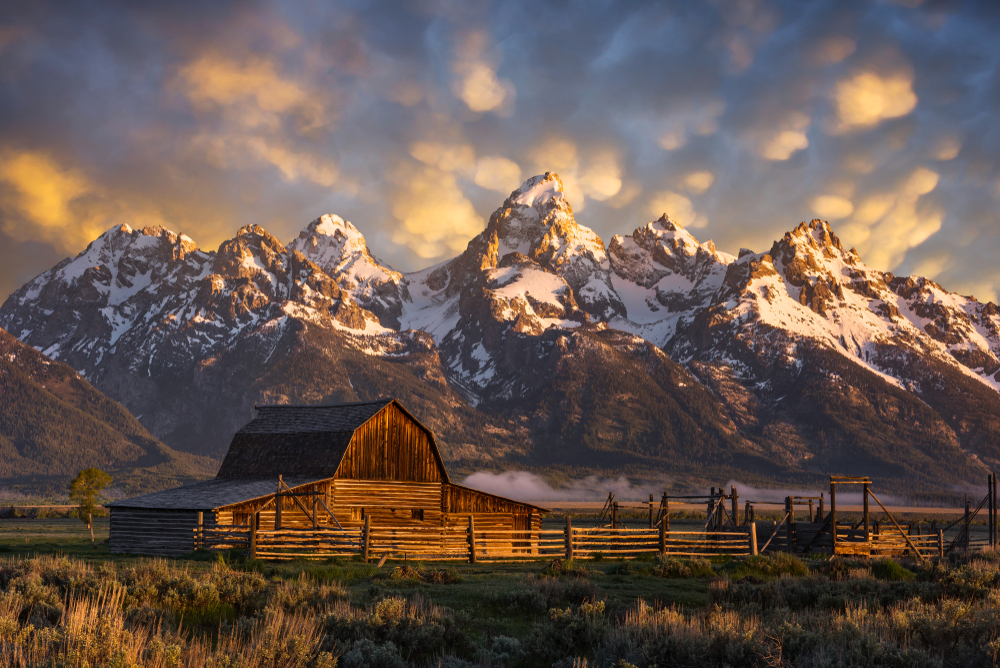 Stop 4: YELLOWSTONE!!!
Alright folks, we made it to Yellowstone!!!!!! (You might think that six exclamation points are excessive here, but once you have been to Yellowstone you will not feel that way anymore!) YAY Yellowstone!
Some of the stops in Yellowstone might seem cheesy or over-done (we are looking at you, Old Faithful), but there are reasons why they are famous. We are so excited for you to visit Yellowstone and experience them for yourself!
And of course, along with the super mega popular stops, we have thrown in some equally breathtaking but less well-known stops. For this first Yellowstone stop you will see a lot of the classics. But stay tuned, because we have all the best stops in this Yellowstone itinerary!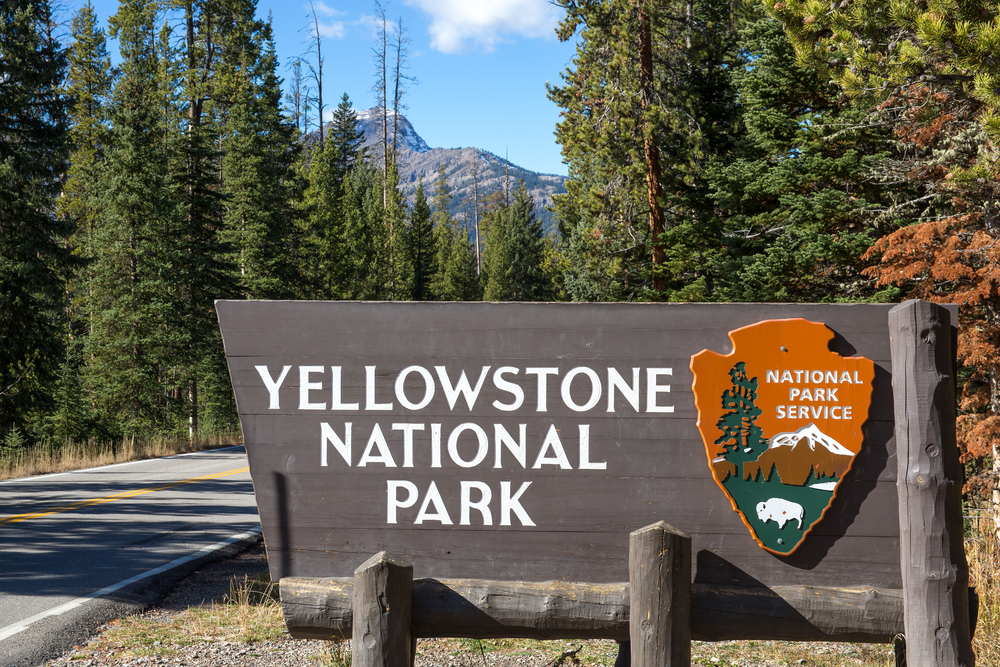 What to Do First When Visiting Yellowstone
Grant Village Visitor Center
Visitors centers are a great way to get the things you need to be successful, like maps, water, and that preliminary bathroom break that makes sure you are prepared to go adventuring. Stop by Grant Village Visitor Center and you will get that all done, plus have a great opportunity to get familiar with this fantastic area you are going to explore!
Grant Village Visitor Center will educate you on all kinds of things if you let it. This is one of the best things to do in Yellowstone because it educates you on the history. The exhibit hall has a ton of information about the different ecosystems that make up Yellowstone.
You can also learn about the history of the park and how it came to be. It is named for President Ulysses S. Grant, who is the president who signed Yellowstone into National Park-hood. The visitor center is nicely maintained and a nice start to your Yellowstone road trip experience.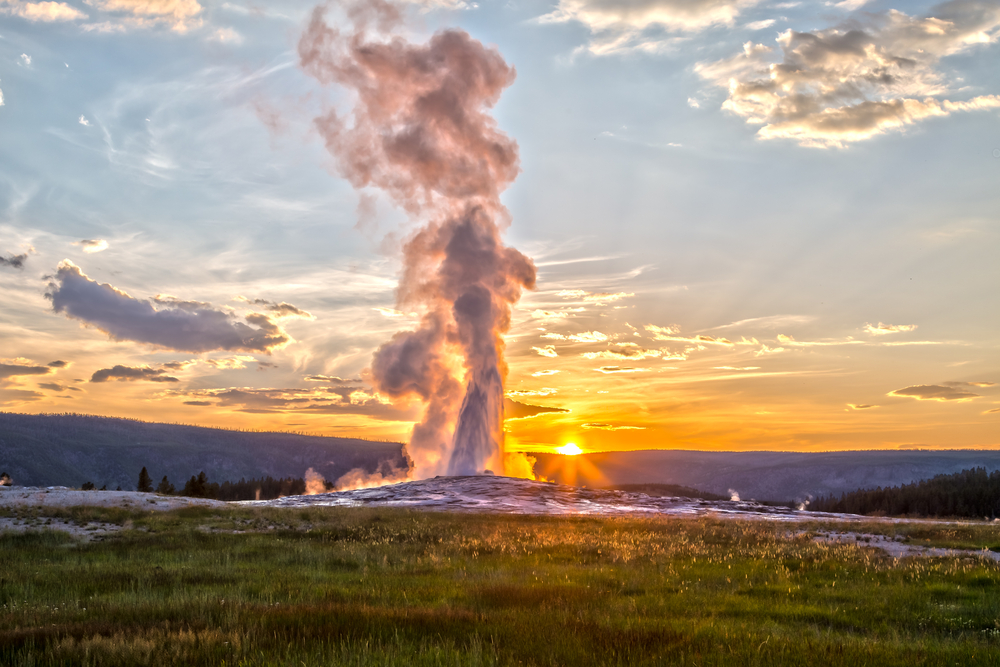 Old Faithful
You know that saying, "When in Rome do as the Romans do?" Well, when in Yellowstone, do as the tourists do. At least some of the time, anyway.
When planning a trip to Yellowstone, you simply cannot skip Old Faithful. It is touristy, it gets crowded, everyone does it, and you, our friend, must also do it.
Okay, you do not have to, but there is a reason why it is a crowd pleaser! This geyser is truly magnificent, and there are not many experiences in the world like watching this thing erupt. It is a force of nature that you will not forget.
Just keep in mind that people love this place. Plan on getting there early if you want a good seat/view. You do not have to go crazy early, about 15 minutes will do, but plan that 15 minutes into your schedule.
If you are going to go to the effort of seeing the place, you are going to want to be able to actually see it. And trust us, you will want to see it.
Old Faithful Inn Tour
For an inn that was built in 1904, you might not think that the Old Faithful Inn was revolutionary, but it was. At the time the inn was built Yellowstone was even more of a wilderness than it is now.
Rather than building an inn that separated its guests from the wilderness, Robert Chambers Reamer designed the Old Faithful Inn to embrace the wilderness. You will feel perfectly comfortable and safe when you visit, but you will also be able to feel the ambiance of the location rather than being separated from it.
The inn's lovely tour is free, making it a no-brainer. You will get the chance to see and learn about a century-old building that was revolutionary for its time.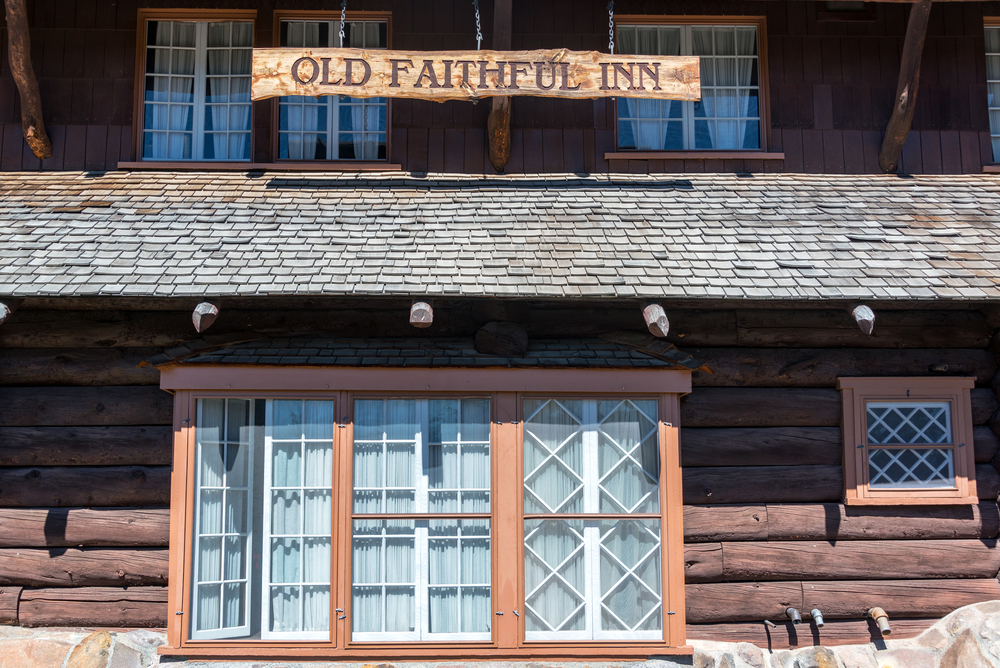 Where to Stay Near Old Faithful
Old Faithful Inn
Do the tour, and then stay the night at Old Faithful Inn! Why not? The historic inn has a ton to offer to guests that you will not get from the tour alone!
Not to mention that if you stay at the inn, you are only a 5-minute walk from Old Faithful! It is so much easier to get there a little early if you are sleeping 5 minutes away!
Along with its stellar location, the Old Faithful Inn also offers a great breakfast. It has not one, but two restaurants, making dining a cinch.
The rooms are immaculate, and the staff are friendly and helpful. This is a great place to stay!
Check Rates: hotels.com
Grant Village Campground
Located close to the Grant Visitor Center lies the Grant Village Campground. Conveniently located for your early Yellowstone adventures, it is equipped for RVs and Trailers. Even though it is barely inside the park, you will definitely feel like you have found the Yellowstone camping experience you are looking for.
Nestled in the Yellowstone woods, this campground still has three ADA accessible sites. The main road is also paved.
This is one of Yellowstone's largest campgrounds, but it still fills up. Get here early to get your spot (hint: this is going to be a theme with Yellowstone campgrounds).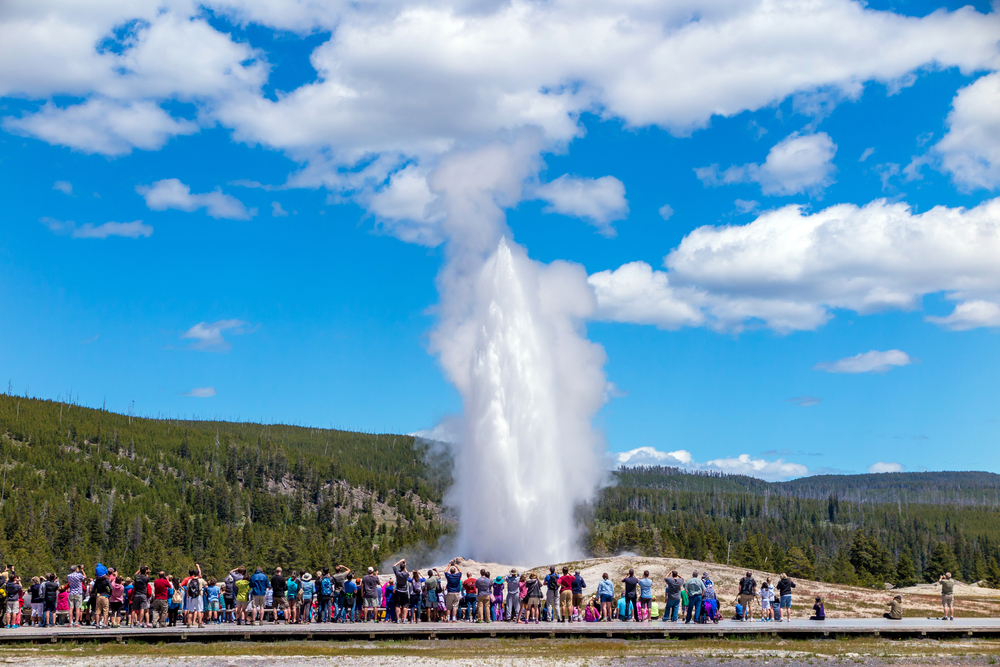 Stop 5: Upper & Midway Geyser Basins Will Not Disappoint
This is the point in the itinerary where, if you have not been dreaming of Yellowstone for a long time, you might not recognize any more of the stops. After Old Faithful, what does Yellowstone have to offer?
So, so much. As your Yellowstone road trip continues on from the Old Faithful you will enter the Upper Basin. The Upper Basin is actually home to Old Faithful, but it has a lot more than that to keep you around.
Did you know that Yellowstone actually has a ton of geysers? The different basins are basically different areas of geyser territory. Old Faithful is the Upper Basin's most famous geyser, but the area has way more.
Where there are geysers there are geothermal pools, which is why people explore the different basins. The geysers are cool, but the geothermal pools…They are spectacular.
The region is famous for its very colorful natural pools, as well as for the overall beauty and mysticism of the area. With so much to explore, it is hard to narrow down where to really spend your time. We have our three favorite basin locations below!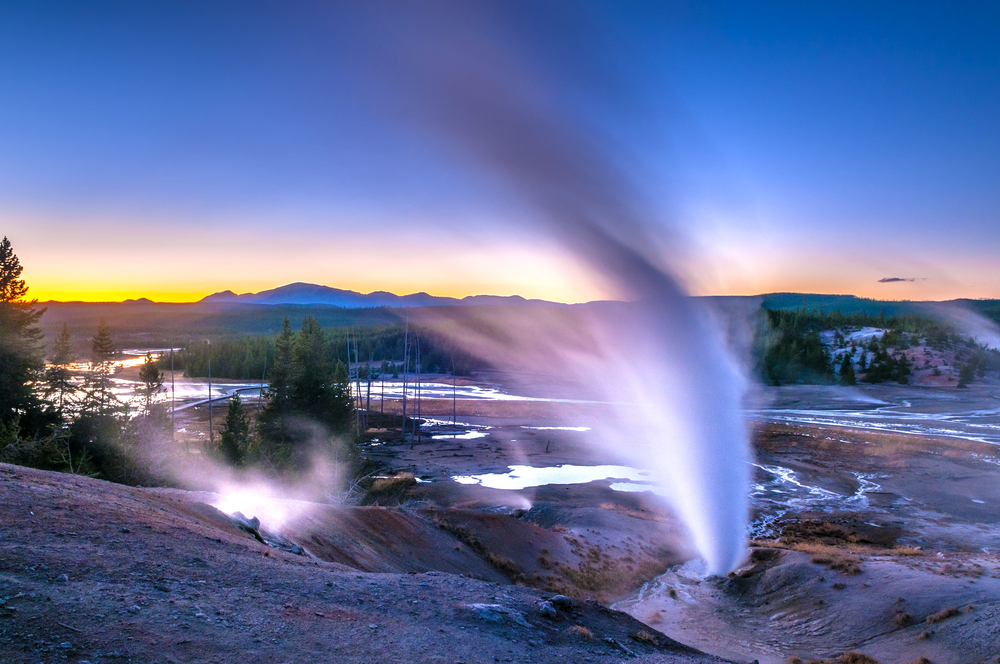 Where to Go in the Upper & Midway Basins
Castle-Grand Group
The Castle Geyser is like the powerful matriarch geyser of Yellowstone. Quite possibly Yellowstone's oldest geyser, it represents the adage "age before beauty" quite well. It erupts every ten hours or so, and its geyser is quite tall at nearly 200 feet.
Close by, Grand Geyser is equally impressive and regular. A few other geysers are worth checking out in the area, and if you just so happen to catch Spasmodic Geyser's eruption count yourself lucky. This one is very irregular, both in height and eruption times.
You will also love the two hot springs in the Castle-Grand group, Twilight Spring and Crested Pool. As is a theme for many Yellowstone hot springs, these are much too hot to bathe in, but still fun to see!
Fairy Falls
Fairy Falls will NOT disappoint! It is a great hike to a stupendous waterfall. Coming in at about 7 miles round trip if you do the whole hike, you can also do the short version which is about 5 miles.
The hike takes you through a scrubby pine forest, and if you do the long version you will also be able to see some of Yellowstone's other geysers!
Keep in mind that this hike has two trailheads–do whichever one is more convenient for you! One begins at Fountain Flat Drive, or there is another one a mile away from Midway Geyser Basin. The second is the more traditional one and the parking lot is actually named for the falls, but either works just fine!
Pets are not allowed on this hike, so keep that in mind if you are bringing along a furry friend.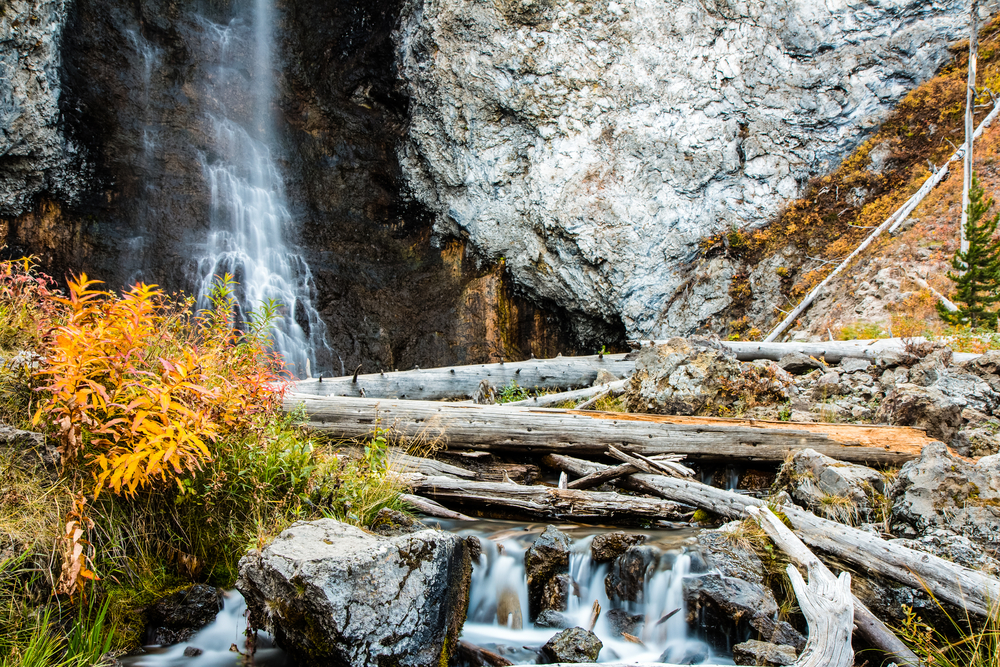 Grand Prismatic Spring
If you want to know what the biggest hot spring in Yellowstone looks like, or if you are just into unusual bits of nature, you are going to want to check out Grand Prismatic Spring. It is amazing. As if it is not cool enough by itself, you get to pass by Excelsior Geyser on your way!
The trail to Grand Prismatic Spring take you across the Firehole River to an unearthly landscape. Hydrothermal pools higher up release boiling runoff which finds its way to the river below, and when they combine it creates something astounding.
While the Excelsior Geyser is not one that regularly erupts, that is actually a good thing. When it does, it is extraordinarily violent. Its eruption in the 1800s was so powerful that it destroyed the geyser system beneath it and it didn't erupt again for almost another century.
Even though it is not constantly erupting though, it is putting out a regular 5 million gallons of boiling water into the river every day. Yeah, this is another hot spring you do not want to bathe in.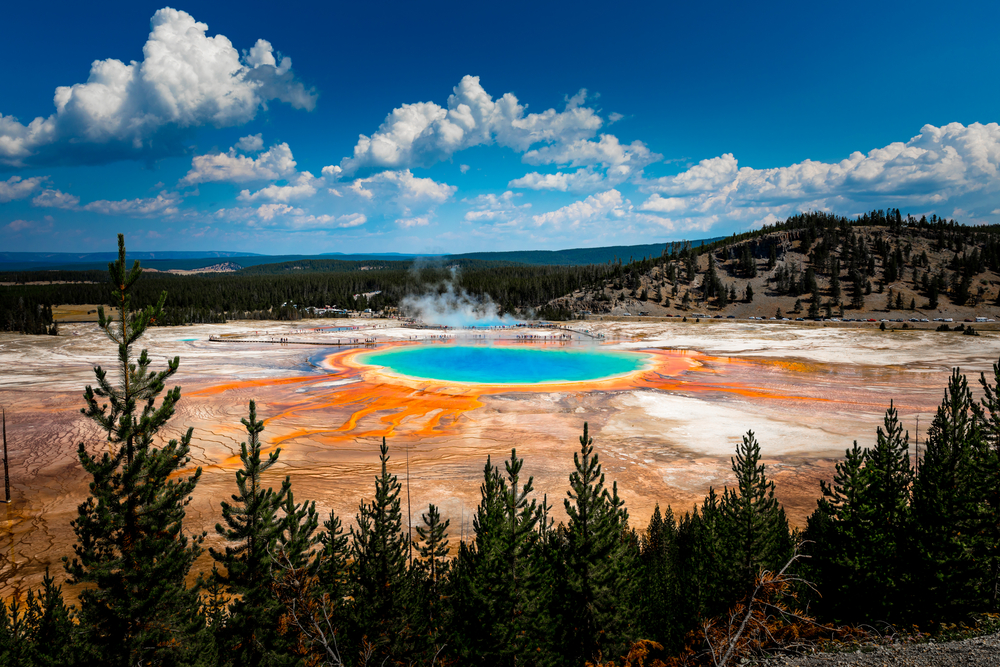 Where to Stay in the Basins
Madison Campground
You are in the heart of Yellowstone at this point, so for hotel lodging at this point in your Yellowstone road trip, you will either want to trackback toward Old Faithful or head forward toward Mammoth. However, if you are camping, we highly recommend Madison Campground!
Madison Campground is pretty popular, but it is right by the basins, making it easy to go get your spot at the beginning of the day before you explore the basins.
Along with having a great location, Madison Campground also has a spectacular setting. It is right next to the Madison River, and the wildflowers in this area are breathtaking. So is the wildlife!
This campground is RV and trailer friendly. It also has three ADA accessible campsites, as well as an accessible vault toilet and designated accessible parking.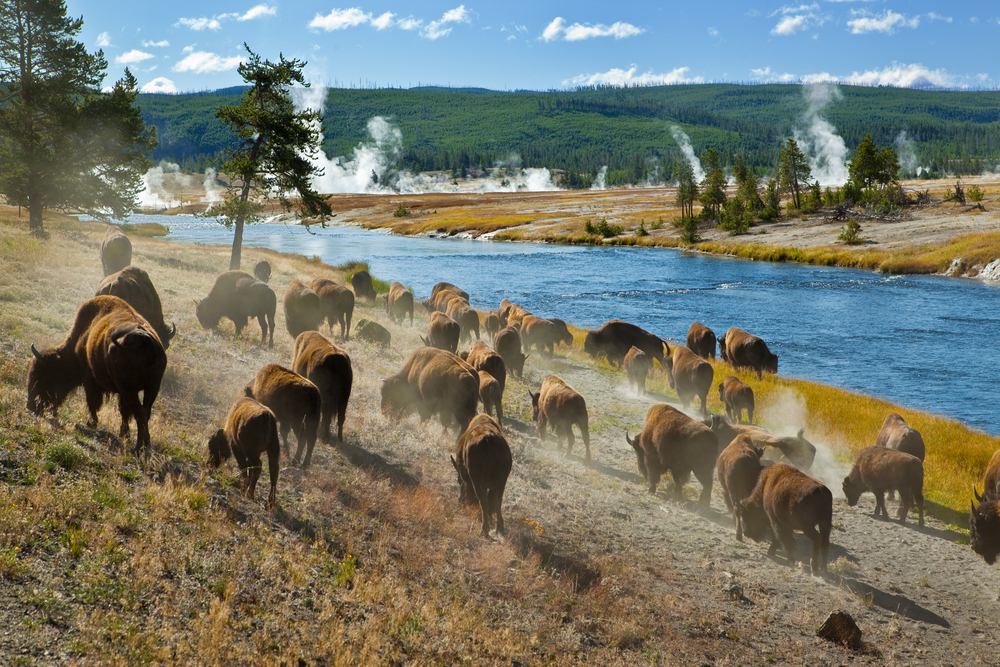 Stop 6: Mammoth is a Major Yellowstone Road Trip Must
Welcome to Northern Yellowstone, a beautiful place of meadows, hot springs, and geysers. If that sounds like the rest of Yellowstone, well, that is because this is a Yellowstone road trip itinerary. But the north has its own charms that you are going to want to see.
Mammoth was once an area that was populated by the army. In the early 1900s, the national park was actually protected by cavalry troops, and the leftover buildings from that time are the housing units that the soldiers stayed in.
Plus, there is a hot spring just under 3 miles north of the Mammoth hot springs that you can actually get into without boiling alive!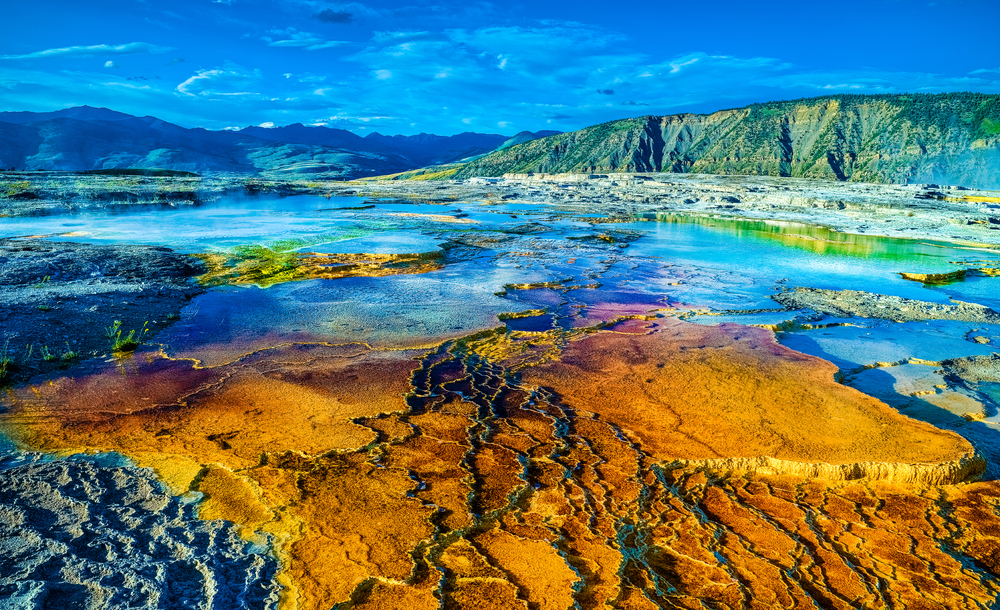 Places Around Mammoth to Check out
Park Ranger Museum
You know the soldier housing we mentioned above? Some of it was converted into Mammoth's Park Ranger Museum. This museum has tons of exhibits to help you understand how Yellowstone came to be and continues to function.
Park Rangers give some great tours that you can access through the Park Ranger Museum. They make it their business to know everything there is to know about the area, and are great sources of information!
In addition to all that, you can get permits for all of your camping, boating, and fishing needs right downstairs!
Norris Geyser Basin
One of the coolest things in the Mammoth Hot Springs area is the Norris Geyser Basin boardwalk system. You can trek all over this place with the boardwalks that go directly over the hydrothermal areas.
Without the boardwalks, this area would be much more difficult to explore. Very little of the water here is less than boiling, and it is also mostly acidic. That means there are acid geysers here, which are extremely rare.
The boardwalk trail is about 1.5 miles, with some bare ground areas where you can walk as well. It is a very easy walk that you will never forget.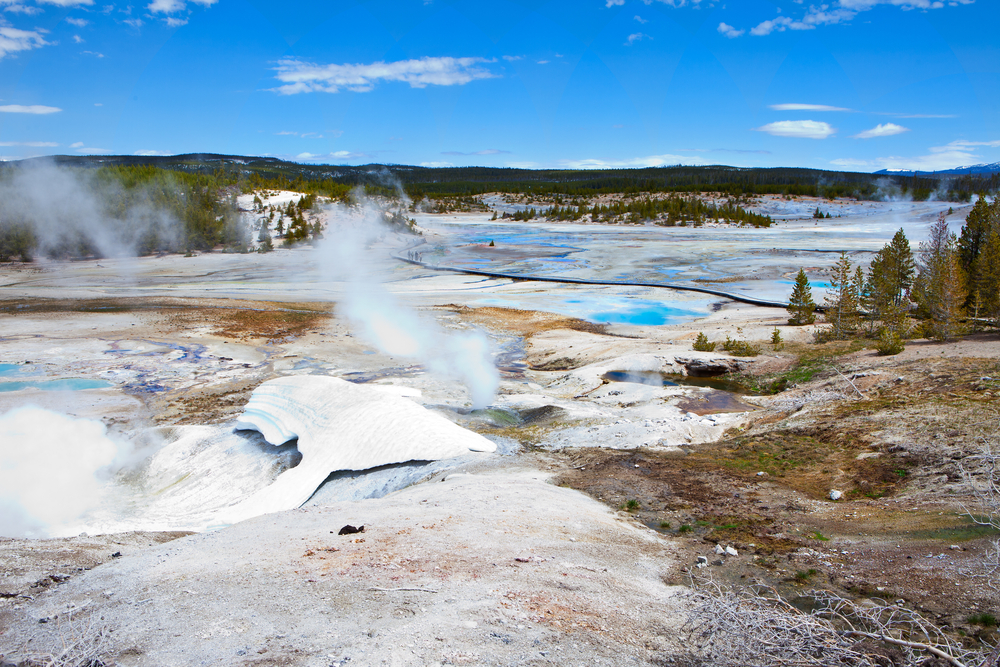 Mammoth Hot Springs
Let's talk about the hot springs themselves, shall we? The Mammoth Hot Springs is a sight unlike any other. These are not your everyday Yellowstone hot springs (if you could ever really use the phrase "every day" to describe anything about Yellowstone).
Fun fact: underneath Mammoth is a chamber still partially made up of molten magma. Heat radiates up from the magma to melt the frozen water that has collected in the earth. As the two combine with a few other elements, it becomes an acidic solution that dissolves the limestone in the area.
However, when this mixture reaches the surface the limestone resolidifies, which is what has created the awesome formations in the area. This place is truly a wondrous work of nature.
Where to Stay Near Mammoth
Mammoth Hot Springs Hotel
While the original Mammoth Hot Springs Hotel was built in 1911, only one wing of the hotel is from that time. The rest was built in 1936. Any way you look at it, the hotel is historic and a pleasant place to stay the night.
And even though it is historic, it has undergone very recent renovations to increase its comfort levels.
A live pianist plays in the bar every evening, and the hotel offers many different accommodations. Mammoth Hot Springs Hotel has rooms in the hotel as well as cabins. And folks, four of those cabins have a hot tub!!!
Check Rates: hotels.com
Mammoth Campground
If you ignore our recommendations to come to Yellowstone during any season other than Winter, good news. There is a campground that is actually open year-round: Mammoth Campground! Located right by Yellowstone's North Entrance, it is in a great location for general exploring and adventuring.
While it does not have some of the water features of other campgrounds we have recommended, the setting has its own charms. One of those is that it is very close to hiking and fishing. Plus it is right by the Mammoth Hot Springs Terraces!
Mammoth also has five ADA accessible campsites, and an accessible shower and bathroom. Yeah, this campground has showers people.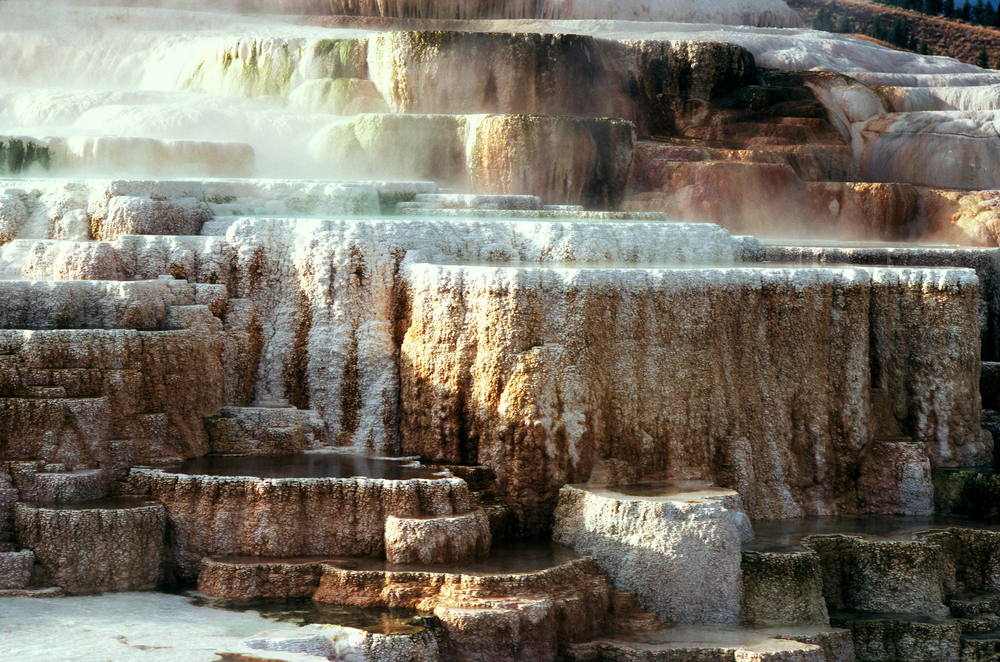 Stop 7: Soak up
Boiling River Hot Springs

and Lamar Valley

We only have a few more stops to go folks. Stop 7 has got to be one of our favorites. Any Yellowstone itinerary is incomplete without some mention of Boiling River Hot Springs, or Lamar Valley.

While this area of Yellowstone is not as high adventure or mystical as some other spots, it has a rustic laid-back charm. After all the excitement of the last few stops, laid-back is exactly what you will want and need.

Just outside of Mammoth, Boiling River Hot Springs are some that you can actually sit and soak in. And when you are done with that, a scenic drive down Lamar Valley is the perfect way to finish out the day.

Welcome to the most relaxed stop on our Yellowstone road trip!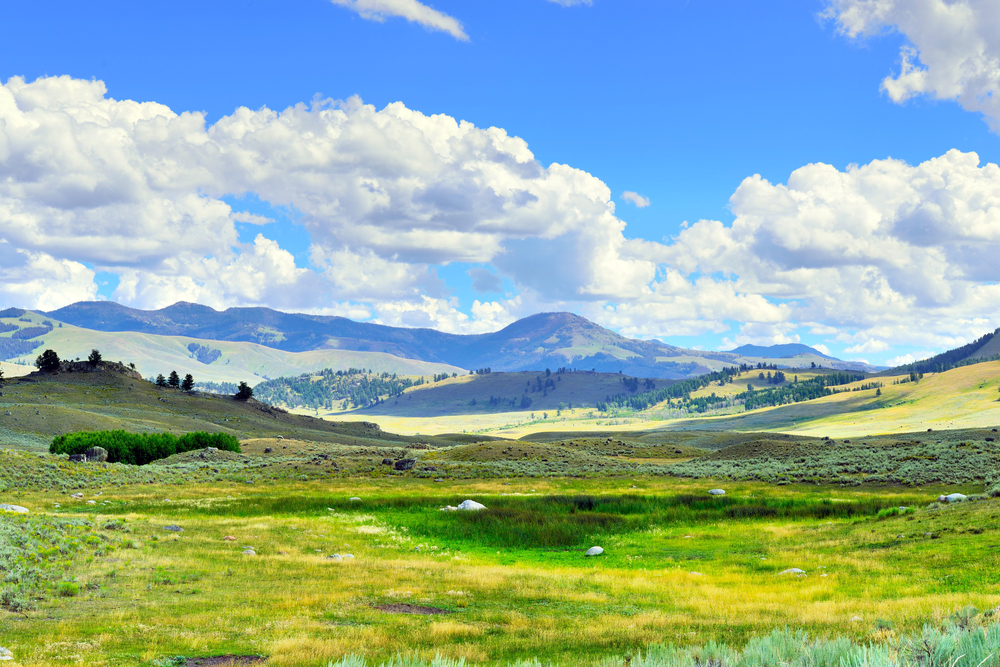 Boiling River Hot Springs
Like Fire River above, the Boiling River is created by a hot spring entering a river–Gardner River, to be precise. The combination of the two is just right so that you can enter the water without burning yourself.
You should absolutely follow the rules of Yellowstone and only enter hot springs that are safe. That is part of why we made sure to include Boiling River–with so many hot springs around how can you not take the opportunity to soak? Soak here folks, soak here.
You will need to walk about half a mile from the parking area for the hot springs. It is a very flat trail and easy to navigate. Even though you are going to hot springs, bring warm clothing because it is usually cold in this area.
The Boiling River does close once dark hits, so please keep that in mind when fitting this stop into your day. Also keep in mind that this spot does not open until mid-summer because the water is too high and dangerous during the spring. Finally, be sure to bring a swimsuit!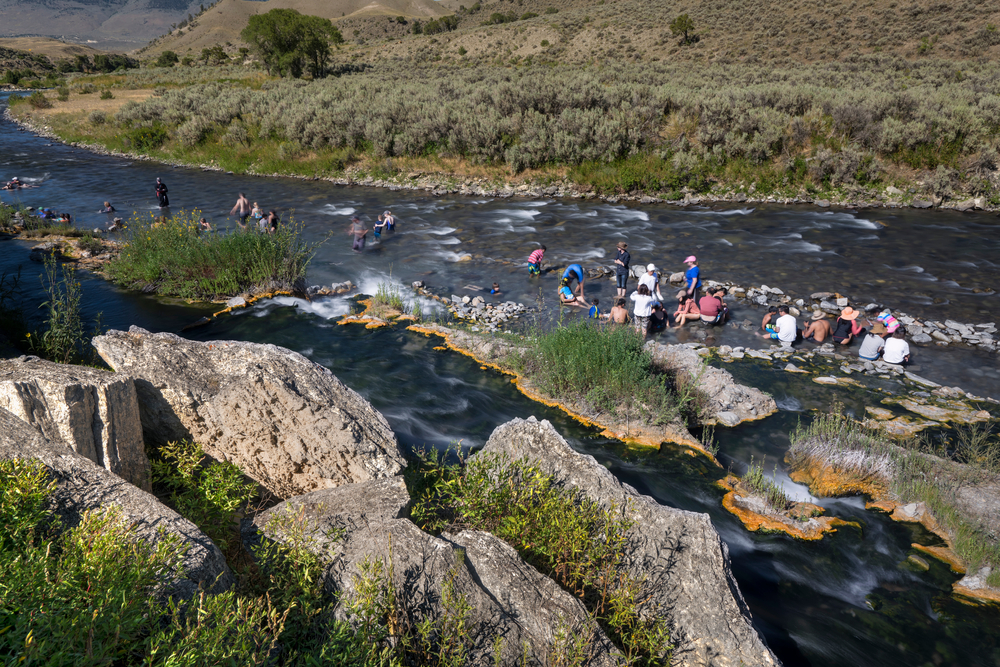 Lamar Valley Drive
Lamar Valley is one of the most pleasant parts of Yellowstone, with meadows that go on for miles. Some might call them fields, but meadows just sounds more lyrical, you know? Lamar Valley is gorgeous year-round, but especially so during wildflower season.
Take a leisurely drive through this valley and you will be able to make as many stops as you want to check out the wildlife, scenery, and beauty. If you are particularly interested in seeing the local flora and fauna, check out the Mary Mountain Trail. It is 21 miles long, but you do not have to go the full 21 miles–just hike as long as you want to in order to see what you want to see!
Some of the local wildlife includes coyotes, wolves, and grizzly bears. Keep your distance (seriously, please do–people are injured by wildlife every year at Yellowstone because they get too close) and enjoy the opportunity to see creatures you might never otherwise see!
Our best advice is to find a good lookout point where you can park your vehicle and wait for the wildlife to make an appearance.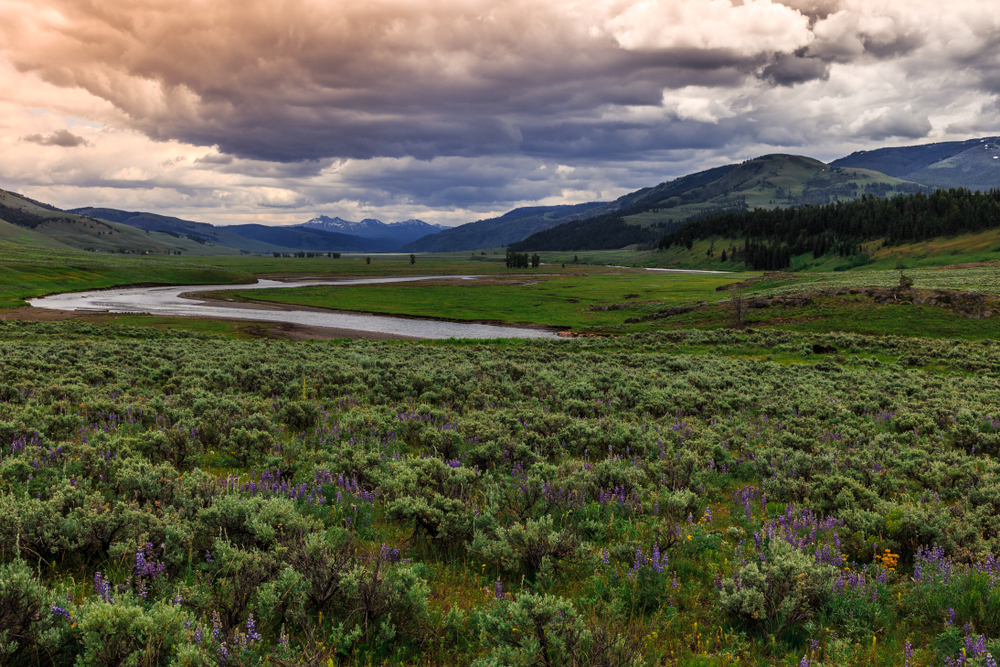 Places to Stay Near Lamar Valley
Pebble Creek Campground
Pebble Creek is pretty standard as far as Yellowstone campgrounds go. It is equipped for tents, RVs, and trailers, although there are no hookups for the RVs and trailers. You will also find the usual food lockers for keeping you and your food safe from the wildlife.
This Campground is located right in the heart of Lamar Valley, making it a great place to stay the night if camping is an option. People like it because it is less crowded than some of the more popular campgrounds in Yellowstone.
You cannot make a reservation here, it is first come first serve. As with many of our other recommended campgrounds, it would be wise to come here early in the day to secure a stop before going adventuring. People show up as early as 6 AM to get a spot by the creek.
Pebble Creek does have one ADA accessible campsite, and the road through the campground is paved.
Roosevelt Lodge
Alright, as far as hotels go, the Roosevelt Lodge is, well, not really a hotel. It is more a collection of cabins. It is our 'hotel' recommendation for this stop because it has running water and bathrooms.
Not all the cabins have running water and bathrooms, but some do. Those that do not do have access to communal bathrooms and showers, and still have beds.
Plus (and this is the kicker) these cabins are heated by wood-burning stoves! We do not know about you, but for us, there are few things speak to adventures like wood-burning stoves in rustic cabins do.
You will not find televisions or air conditioning around these parts. That is just one of the perks (or caveats, if you will) of roughing it in the wilderness of Wyoming.
For an actual hotel, you will want to head back toward Mammoth. For a few more options, head north to Gardiner, which offers a few different hotels with electricity, running water, and airconditioning. Just keep in mind that it will take you at least an hour to get there from Lamar Valley, depending on how far you go exploring.
Check Rates: hotels.com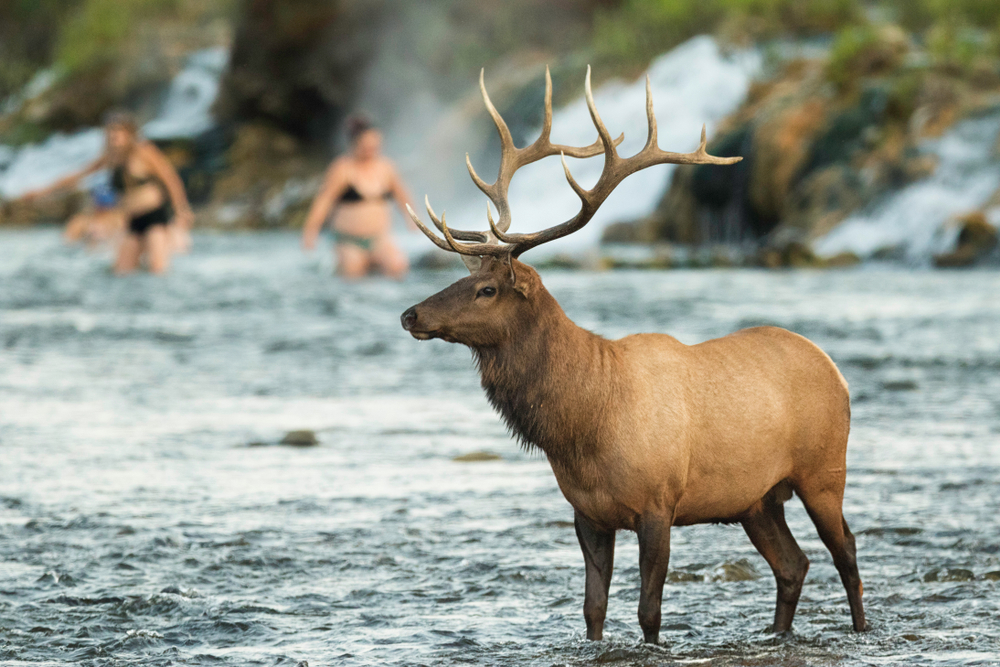 Stop 8: Hike Tower Fall and Dunraven Pass
Our eight stop reflects the absolutely spectacular beauty available in the Yellowstone countryside. Here we have two different hikes to showcase Yellowstone's wonder.
First is Tower Fall, which is relatively short and simple. Anyone can do this one, and it has an awesome payoff for the effort you put in.
Second, and certainly much more difficult, is Dunraven Pass. It is a lot longer and will be a lot more physically taxing, but this means it is also less crowded. And it is amazing.
Places You Have to See
Tower Fall
Old Faithful may be the hallmark of Yellowstone in our age, but in Yellowstone's early days Tower Fall claimed that title. Framed by volcanic rock, this iconic attraction cascades down 132 feet. Painted by many famous artists, it was just one such painting by Thomas Moran that inspired the transition of Yellowstone into becoming the world's first national park.
You might be happy to hear that the hike to this water fall's viewpoint is an easy one. Only 1-mile round-trip, the trail starts right next to the Yellowstone General Store in the area. That is right, you have your trail mix and eat it too while you hike!
The trail does go on past the lookout point, but parts of it were damaged and closed due to a mudslide and the parts that remain are difficult with little payoff. We recommend sticking with the 1-mile lookout point trail.
Dunraven Pass
For a heftier trail experience, try out Dunraven Pass! It is 6 miles round-trip, and it can be a challenge. Due to the area being a popular spot for grizzly bears, you should not hike this trail in September or October.
However, it is a great trail for the summer! Dunraven has some spectacular views, and the forested landscape is absolutely breathtaking. Bighorn sheep also frequent this area, and they are such fun creatures to watch!
Bring your water with you, wear your good hiking shoes, and pack snacks for this one. It is a serious hike, and it is not for everyone. But if you are up to it, it is an amazing experience.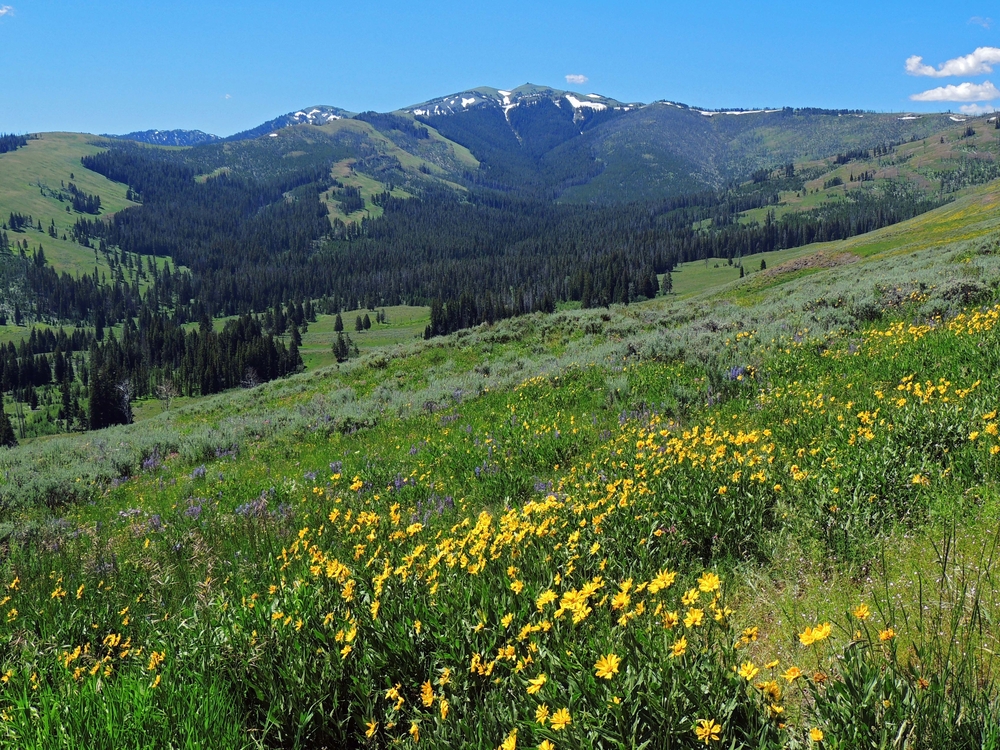 Where to Stay Nearby
Tower Fall Campground
For your more traditional camping experience, we recommend Tower Fall Campground. Traditional meaning the toilets are seasonal and there are no showers. If you are into roughing it, this is the place.
Located very close to the Tower General Store, you might also guess from the name that it is close to Tower Fall. However, there are not many amenities here, which might be just how you like it!
This campground does allow RVs and trailers, but does not have hookups. It also does not have any ADA accessible campsites.
Norris Campground
Norris Campground has a few more creature comforts when compared with Tower Fall Campground. While its flush toilets are still seasonal and it does not have showers, it does have a couple of ADA accessible campsites.
Closer to Mammoth than to Dunraven Pass, this one is pretty popular due to its stellar location and fills up quickly. Is this news getting old yet? Show up as early as 6 in the morning to reserve your spot.
It is beloved for the constant shade from the plentiful trees, and its proximity to the Norris Geyser Basin Boardwalk. However, it does get crowded and the spaces can be a little close together. We recommend Tower Fall over this one unless you need the ADA accessible spaces or do not want to be as removed from everything.
Canyon Lodge & Cabins
If you really want some comfort (read: showers) try Canyon Lodge & Cabins. In fact, they offer a whole lot more than just showers. For one thing, this place actually has wi-fi.
Now, that wi-fi is just in the main lodge, but they still have it, which might be a new experience for you after the last few stops. Meals are not included with your room, but the lodge has 2 restaurants and 2 coffee shops, as well as a bar and lounge.
You can also book horse riding at the lodge, for something a little different.
This one is a little more on the expensive side, so keep that in mind if you are visiting Yellowstone on a budget. If you decide not to stay here, you should still absolutely check out the Grand Canyon of Yellowstone located close by.
Check Rates: hotels.com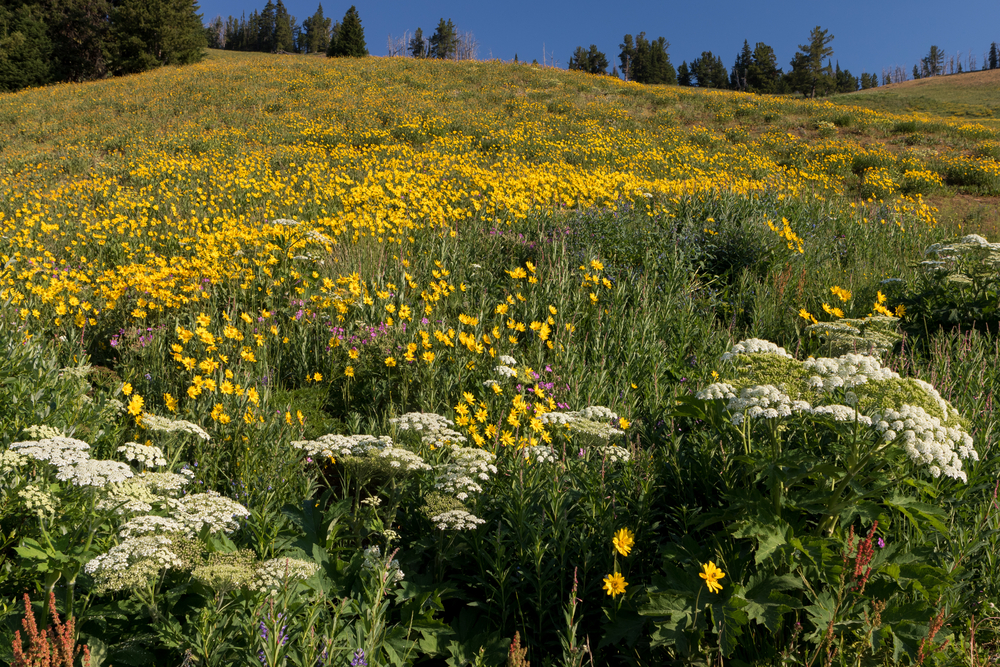 Stop 9: Winding Down Your Yellowstone Road Trip
At this point in your Yellowstone road trip, you will not have much further to go and might be feeling a little nostalgic about this rugged place you have come to love. It is hard to visit Yellowstone without falling in love with the place.
Our recommended spots for this last stop are ones that will leave you with fond memories for the beauty and wildness of this magical place. Even if you do not take any souvenirs home with you, your time here will stay with you.
You will find beauty, power, and the beauty that results from chaos in these last stops.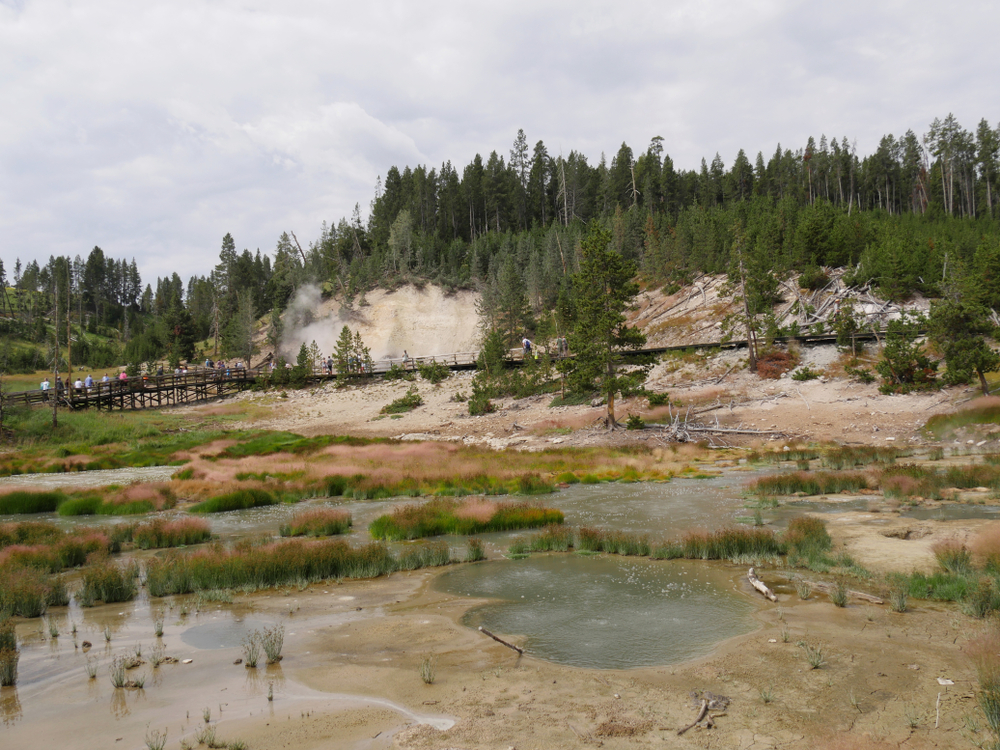 Check These Ones Out Before You Go
Artist Point
Folks, there is a reason for this place's name. Artist Point is an overlook for Yellowstone's Grand Canyon, and it is an exceptional piece of nature. Between the canyon, the Yellowstone River that courses through it, and the Lower Falls waterfall–this place will bring every wilderness loving bit of your imagination to life.
Pine trees guide you along the very short 0.1 mile paved trail until you reach the Artist Point lookout. If you are up for a longer hike just stay on the path pst the trail and you will reach Point Sublime.
It is totally fine to just stop at Artist Point though. The view from there is hard to top, and we get it if you are a little hiked out at this point in your Yellowstone road trip.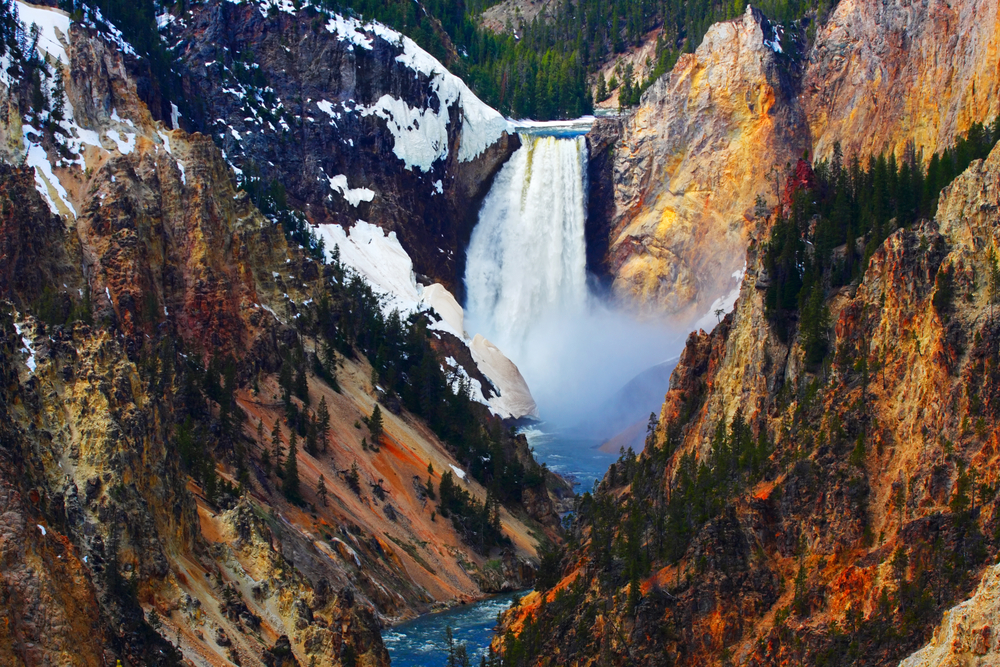 Sulfur Caldron
Sulphur Caldron is another acid hot spring, and earned its name because of its constantly bubbling waters. Fun fact: batter acid is only a little more acidic than the water in this place. Due to the bacteria that thrives in it, the water has a yellow hue to it.
This site is a quick one–there is not much more to do than to just check it out. However, it is still a fun sight to see and worth stopping by to remember it. Sulphur Caldron is less popular than some other places, which means you can escape the tourist crowds for a bit.
It also means you do not have to get here super early in order to get a good view! Another fun fact is that this area was once a parking lot, which just goes to show the truly dynamic nature of this national park.
Mud Volcano
Another aptly named spot, Mud Volcano requires a bit of a steep descent to access. Initially, this was a mud geyser powerful enough to coat the nearby trees in its mud. However, it has settled down in the last century and a half, and now is a bubbling mud crater.
Geysers like Mud Volcano form due to the shifting magma chambers that still flow beneath the park. Yellowstone is actually a volcano, which is why there is so much thermal activity going on. The majority of the park is a volcanic plateau.
Mud Volcano is a bubbling reminder of the power and heat that stirs below the surface of Yellowstone.
Nearby Places to Stay
Lake Yellowstone Hotel
This charming lakeside hotel is sure to steal your heart the second you set eyes on it. Lake Yellowstone Hotel has a pretty yellow exterior with white banisters–it is the epitome of a countryside retreat.
It is about as bougie as Yellowstone gets, with a late 19th century aesthetic. Even if you do not stay the night at the hotel, it is worth a visit to bask in the ambiance of the old-timey bar and restaurant.
Right next to the lake, it is hard to beat the atmosphere of this cozy location. You will be able to watch the wildlife from the comfort of your hotel room. Some of the hotel rooms even face the lake!
If you want to get a little closer to the beautiful lake, you can also rent a boat directly from the hotel.
Keep in mind that the internet here is slow and that there are not a ton of creature comforts for it being a hotel. For some, the historic feel and aesthetic is well worth not being able to utilize technology. It is up to you whether that is a deal-breaker or not.
Check Rates: hotels.com
Lake Lodge
Lake Lodge offers an alternative to Lake Yellowstone Hotel if Lake Yellowstone is already filled up. The location is just as nice, although the prices are about the same if not more expensive.
As Yellowstone's oldest functioning hotel, Lake Lodge offers its own historic atmosphere. It also comes with wi-fi and laundry facilities, which can be a must if you have been camping prior to this stop and need a refresh.
You also have the choice between a hotel room and a cabin, if you make reservations early enough! As will everything Yellowstone, the sooner you can make your reservations the more likely you will be able to get a room, let alone a nice one.
In general Lake Yellowstone Hotel has better reviews and we recommend checking it out first. But if Lake Yellowstone is already full, Lake Lodge makes a good alternative!
Check Rates: hotels.com
Bridge Bay Campground
If you are not shy about having wildlife at your door (or tent flap) you will love Bridge Bay Campground. Right next to Yellowstone Lake, you just might wake up to find bison grazing within your view.
Yellowstone Lake makes a majestic backdrop as one of North America's largest fresh-water lakes. A forest of trees reaches for the sky, with mountains visible beyond.
Bridge Bay comes with food storage lockers, and campfires are usually permitted. You will want to check before you make a fire in case there are any seasonal restrictions in place, just to be safe.
This campground also has three ADA accessible campsites, making it one of the more disability-friendly locations in Yellowstone.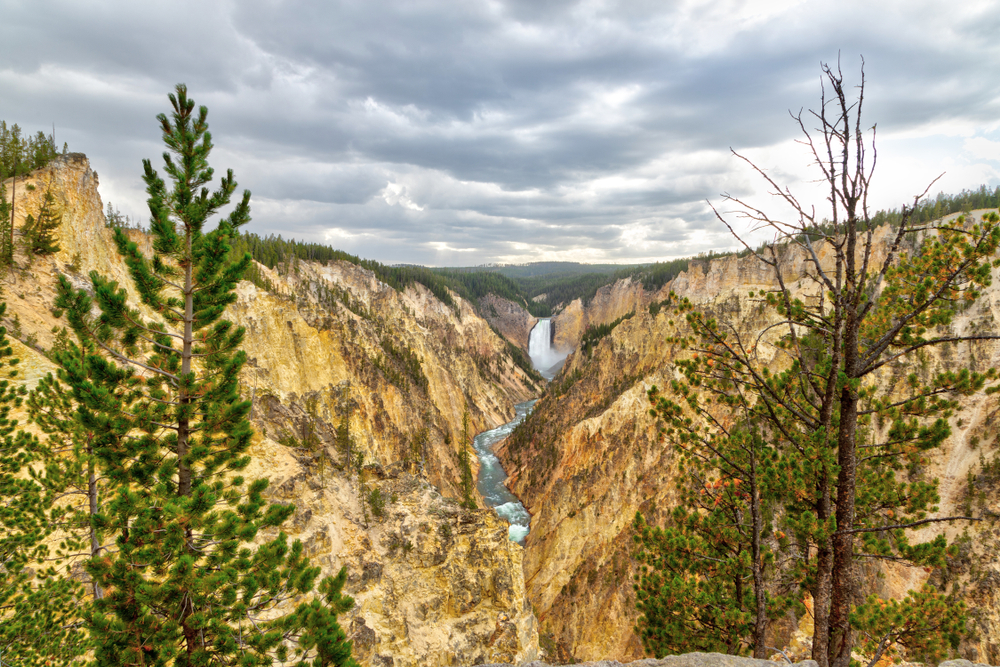 Stop 10: Fly Home From Jackson, WY, or Salt Lake City, UT
If you are done with driving at this point in your Yellowstone road trip, check out return flights from Jackson, Wyoming. It just might be worth some extra cash to take it easy at the end of your visit to Yellowstone.
Jackson is also a great place to wind down and spend a little time reintroducing yourself to civilization. You can check out the Grand Teton National Park a little more, or just relax in the comfort of the town.
Another option is to drive back to Salt Lake City, UT, so that your flight can be round-trip. The decision is ultimately yours as to which city you want to end your road trip in Yellowstone in. Either way, this is your last stop. You can officially check Yellowstone off your bucket list!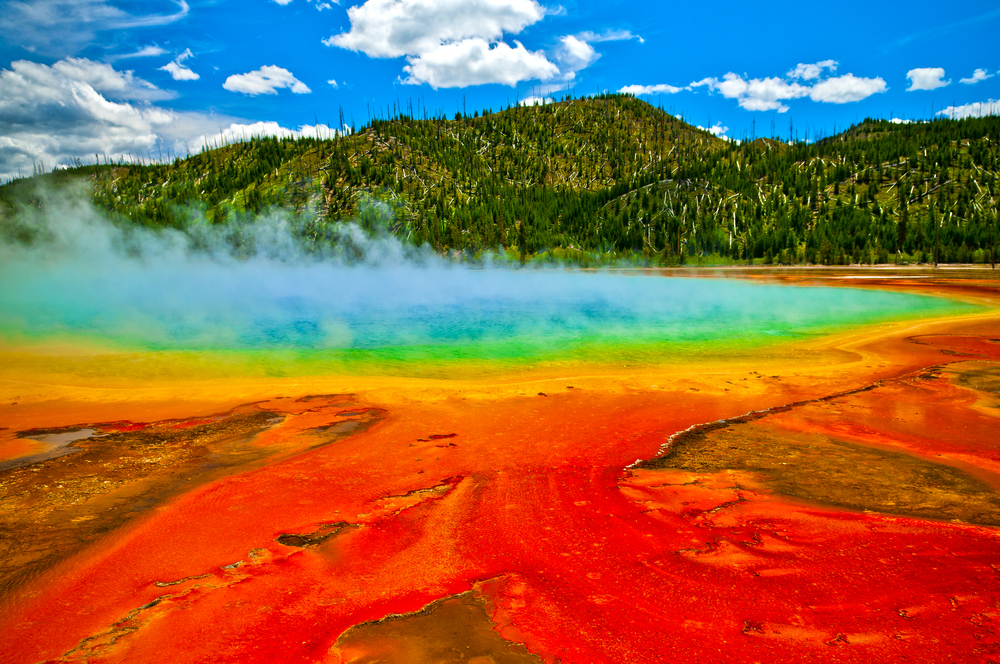 We hope that this Yellowstone itinerary helps you plan your perfect Yellowstone road trip. Let us know which stops you choose, and if there is anywhere else you go in Yellowstone that we should add to our list! Safe travels and happy trails!