Are you looking for places in Utah to visit? You are in the right place. In this article we will walk you through things to do in Utah, attractions in Utah, and the best places to visit in Utah. From forests to the canyons there are lots of fun things to do in Utah. This guide will help you discover the best places to go in Utah for you and help you make a decision about what to put on your list.
Utah is a place with a lot to offer from beautiful mountains to incredible canyons, vast forests, and lively cities this State really has something to offer every traveler.
A landlocked state Utah is a state for the adventurous with stunning landscapes and incredible views. For the more solitary traveler, it offers the forests and deserts. And if you like your traveling a little more vibrant then Salt Lake City and Park City will provide everything you need.
When thinking of places in Utah to visit there is so much to see it's really hard to decide what to leave out.
No matter when you visit this State will always surprise. Spring and Autumn are perfect for hiking and road trips. Winter is perfect for skiing. Summer hiking in the Wasatch Range and watching the storms roll in over the epic skies is one of our favorites things to do in Utah.
So, sit back. let your imagination run wild and prepare to be amazed by these places in Utah.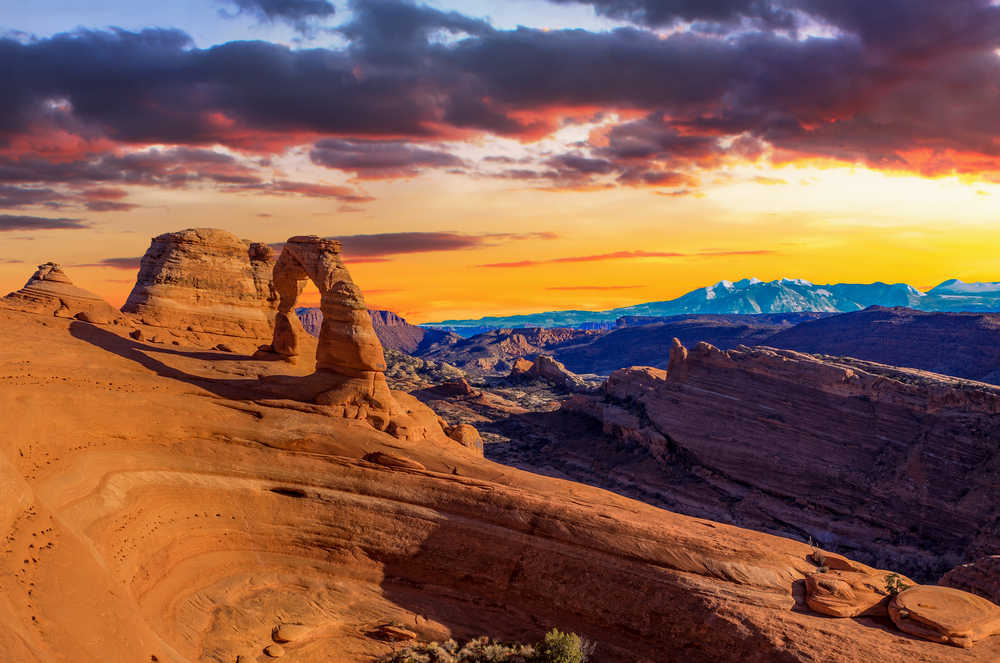 15 Breathtaking Places In Utah You Must Visit
Bryce Canyon
Of all the things to see in Utah Bryce Canyon should definitely be on your list. It's one of the smaller parks in Utah but has a lot to offer
Bryce Canyon is known for its hoodoos, which are spires of eroded rock that form strange shapes. In Bryce Canyon, they are brightly colored and tightly packed forming an eerie out of the world landscape.
The canyon is located at an elevation of 8,000 to over 9,000 so expect cold temperatures even in Summer.
You can drive to the park and stop at the lookouts but nothing beats seeing these unique rocks from one of the hiking trails. From these trails, you can really appreciate the scale of them.
Before you go take a look at our Guide to Bryce Canyon.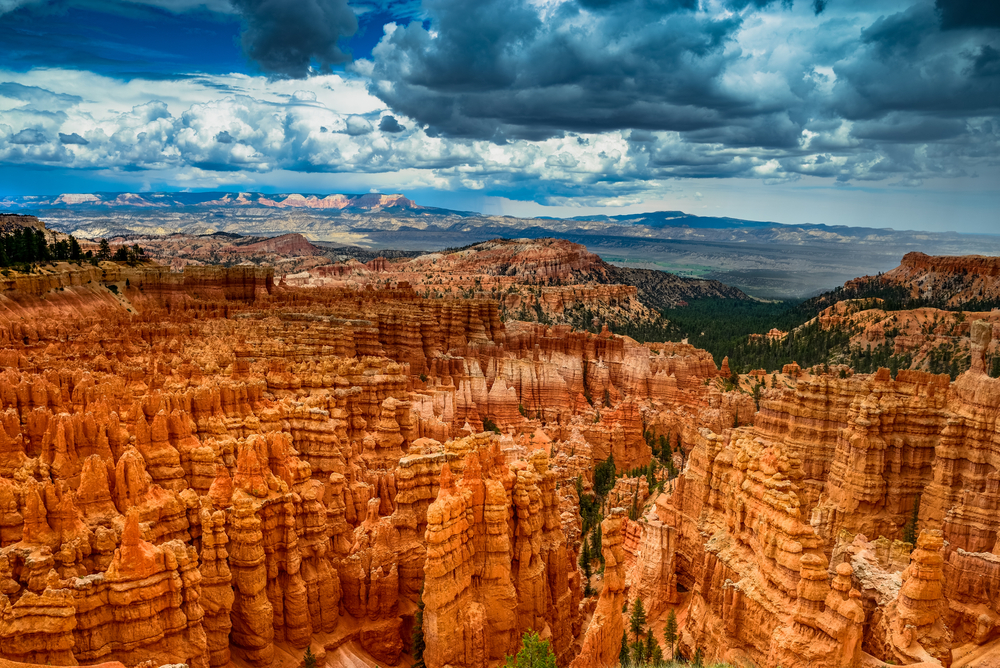 Diamond Fork Hot Springs
Tucked away in a canyon you will find Diamond Fork Springs. The waters are warm and inviting and the surrounding nature is marvelous. One of the places in Utah worth taking the time out for.
The location also boasts a beautiful waterfall and a scenic hike of approx 2.5 miles each way to get to the spot.
You will probably need to allow at least half a day for a visit maybe more in the winter as the hike can be longer.
It's free to visit and well worth it in our opinion.
For more springs in Utah see our article on the 5 Natural Hot Springs In Utah You Must See.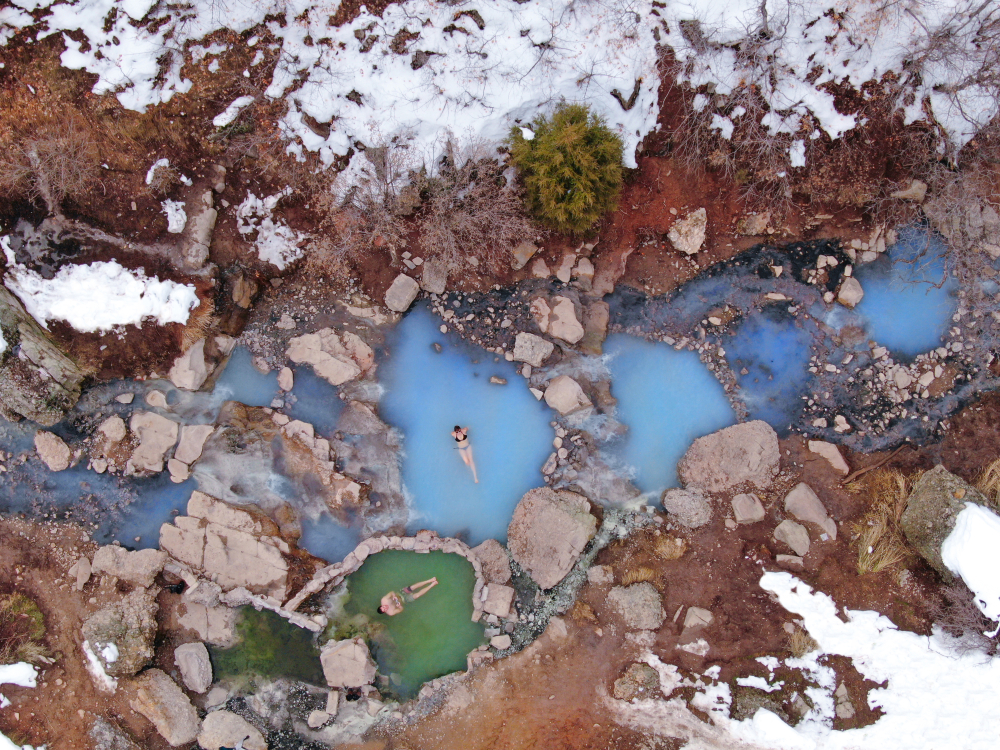 Snow Canyon State Park
Very close to Zion National Park, Snow Canyon Park is often overlooked which we feel is a travesty.
With towering sandstone cliffs, petrified sandstone dunes the canyon is great for not only sightseeing but hiking, biking, and climbing.
The day-use per vehicle is $10 and honestly, it's worth it to see the lava-sculpted geology.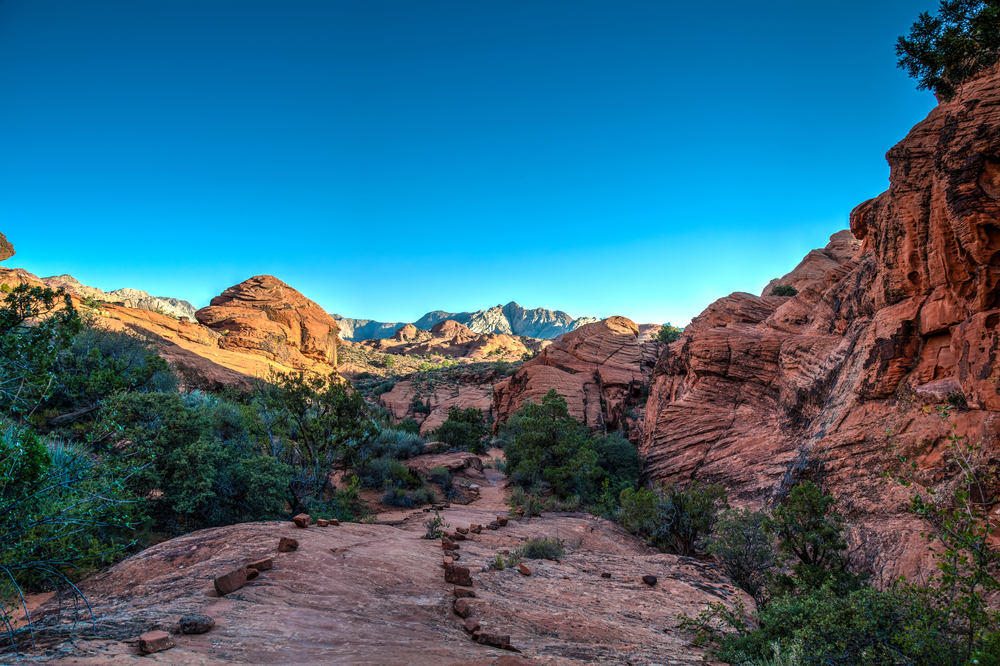 Zion National Park
Very close to Bryce Canyon you can easily visit both in a day so add Zion National Park to your places in Utah list.
If you are visiting here during any other time than in winter, you are going to need to take the Zion National Park Shuttle within the park! So make sure to do your research.
The park is absolutely breath-taking. It's a place where waterfalls meet rose-colored cliffs. With places to visit with names such as Angles Landing and the Reflecting Pools, you get an idea of what this park has to offer.
It's one of those places that catches your breath and makes you feel invincible. If you love Zion and the Mighty 5 National Parks, you may love these National Park Gifts as souvenirs of your trip!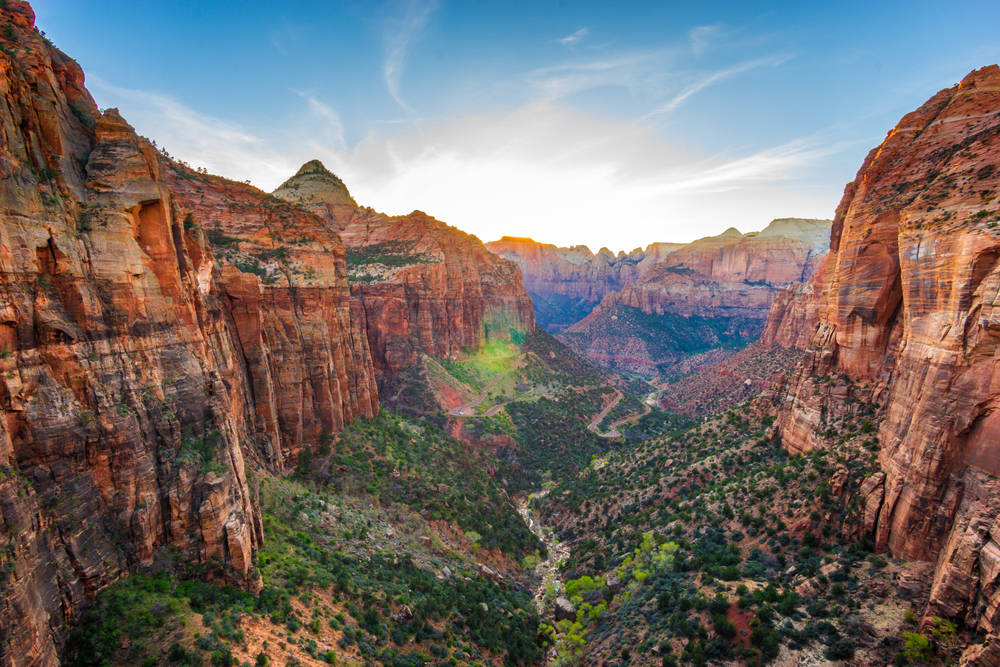 Bonneville Salt Flats
90 minutes away from Salt Lake City is the famous Bonneville Salt Flats. These salt flats are devoid of all vegetation, go on as far as the eye can see and most of the time have a hard surface.
This makes them perfect for high speed racing and in August and September land speed records are broken here.
The rest of the time the area is completely empty and well worth a visit . Drive on the flats at your own risk, get the perfect salt flat photo or just marvel and the vast expanse.
On of the unique places in Utah that everyone needs to see once.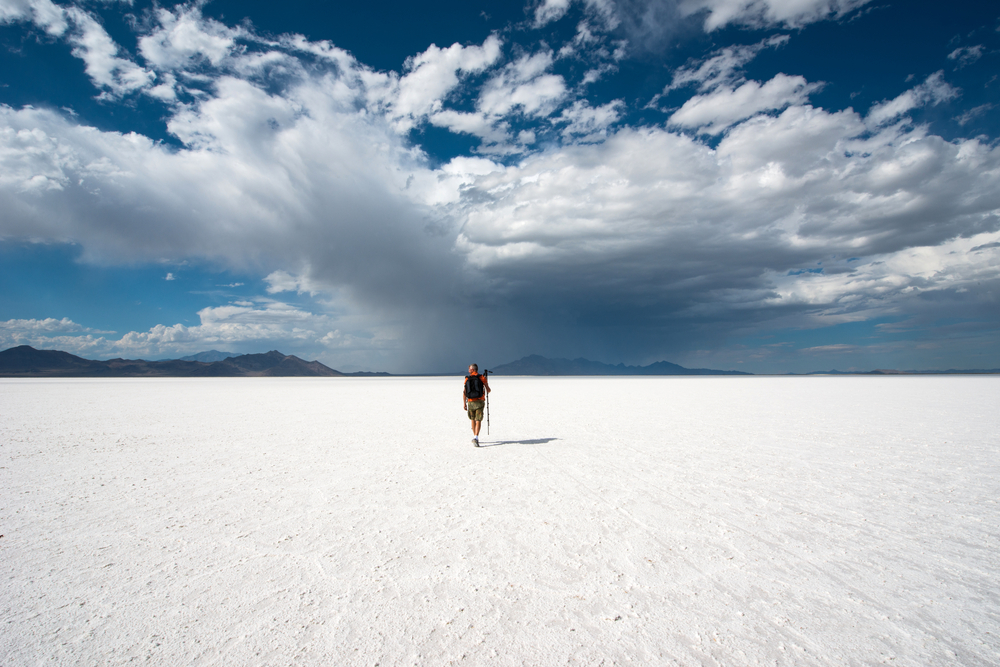 Grand Staircase Escalante
Grand Staircase Escalante offers a real sense of remoteness rarely found elsewhere. It's a huge expanse, 1.9 million acres, of rugged landscape, canyons, hills waterfalls, forest and stone arches.
It's the largest national park in the United States and you can drive on the dirt roads without often seeing another soul. Hiking is also a great option and Lower Calf Creek Falls Trail is a must.
Peek-A-Boo and Spooky Canyons are also well worth a visit. On the southern part is the town of Paria abandoned by 1920 and well worth checking out.
One of the must see places in Utah.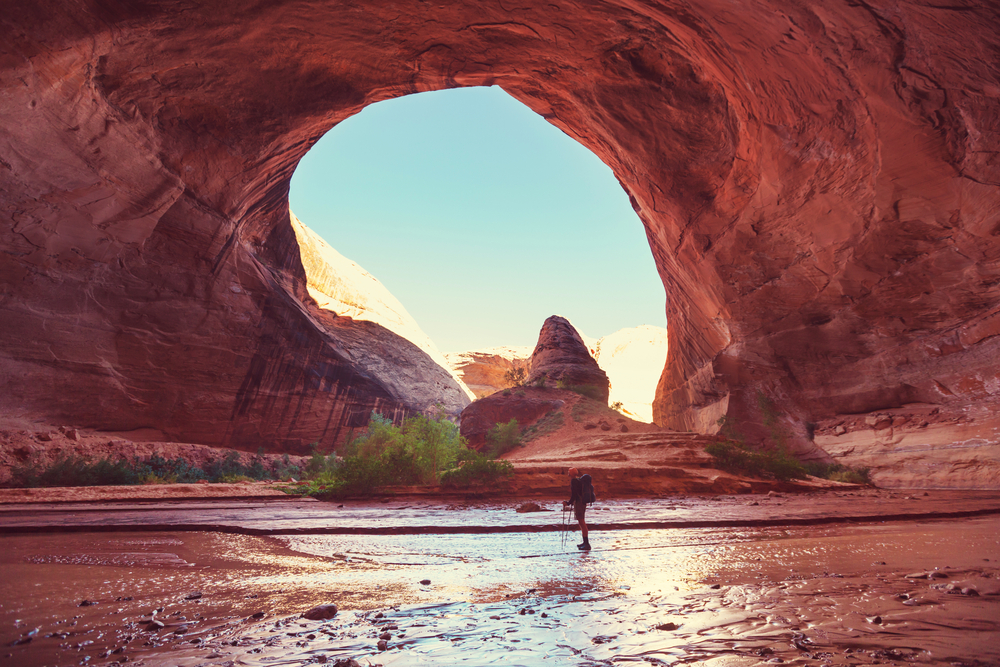 Monument Valley
Located on the Navajo Indian Reservation on the Utah-Arizona border Monument Valley Navajo Tribal Park is like the scene from an old western movie.
Many films and TV commercials have been filmed here. The stone pinnacles and red rocks rising from the desert floor create a unique landscape. Monument Valley Navajo Tribal Park is definitely one of those places in Utah that must be experienced.
The Valley has a one-way 17-mile dirt road that you can drive down or hire yourself a guide and explore more fully. The view from the visitors center is incredible too.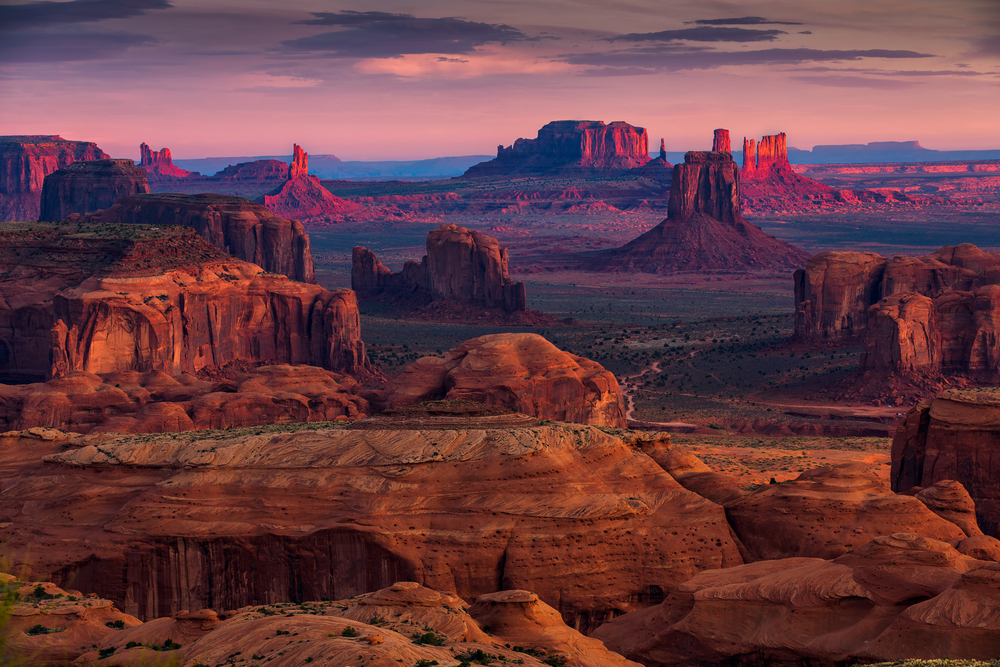 Goblin Valley State Park
Goblin Valley State Park is one of a kind. Here unlike Bryce Canyon, the hoodoos seem to have formed shapes of creatures, goblins, in fact.
These mushroom shaped goblin like rocks can stand up to 150 feet.
So if you want to spend some time feeling like you are a fantasy novel or an episode of Star Wars this place is for you.
One of those places in Utah that you can't quite believe exists.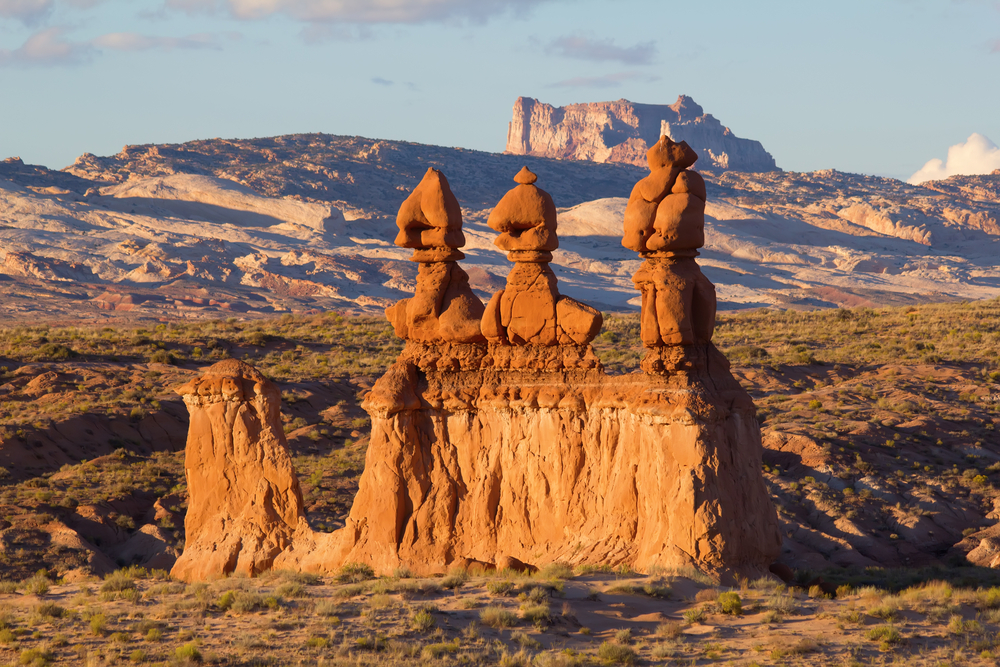 Canyonlands National Park
A dramatic landscape carved by The Colorado River, Canyonlands National Park is well worth a few hours of your time.
This park has it all from narrow footpaths carved between rocks to sheer drops and huge canyons. The geology creates what are known as islands in the sky that have incredible views.
Also make sure you see the Needles, the Maze, and the Native American rock paintings in Horseshoe Canyon.
You can drive through the park and most of the sights are a short hike so this is one of the places in Utah which is great for familes.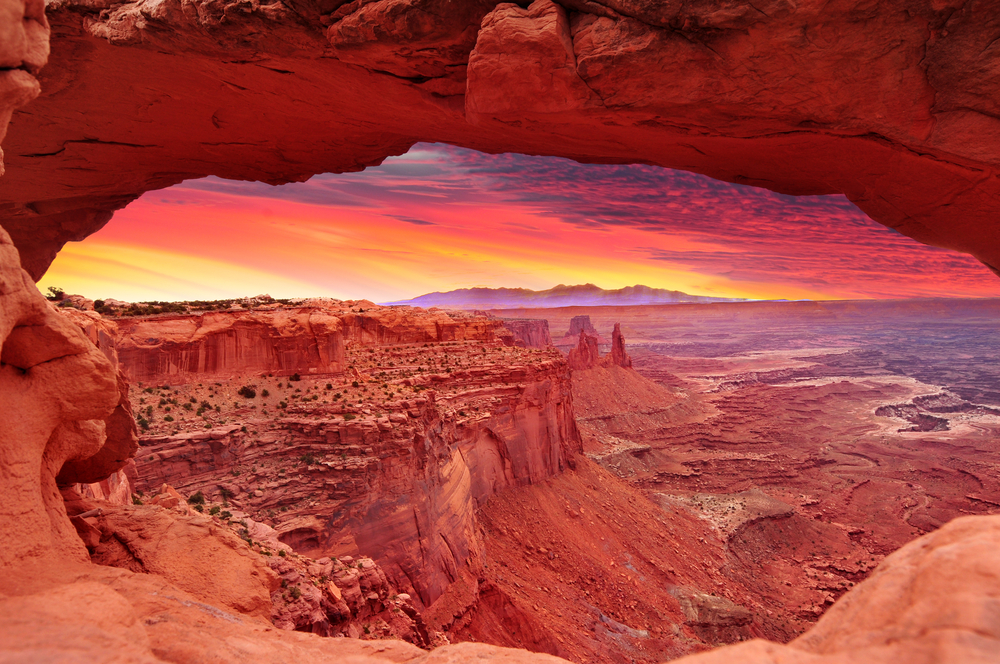 Meadow Hot Springs
In the desert lies three hot springs to welcome weary travelers. With crystal clear waters and beautiful warm waters, there is nothing like lounging around at Meadow Hot springs.
All the pools are quite deep making them also great for free-diving or scuba diving. The first pool is the warmest and the third pool the cooler allowing it to contain fish.
The springs are on private property with the owner allowing access as long as you respect the area and keep it clean so please bear that in mind.
Arches National Park
One of the most scenic parks to visit in Utah. Home to more than 2,000 natural stone arches. The most famous of these being Delicate Arch which frames the landscape behind it beautifully.
The best places to visit are Devil's Garden, Delicate Arch, Fiery Furnace, Double Arch, Park Avenue, Balanced Rock, the Windows, Broken Arch, and Sandstone Arch. These can all be hiked to one of the many trails.
One of those places in Utah you have to see to believe.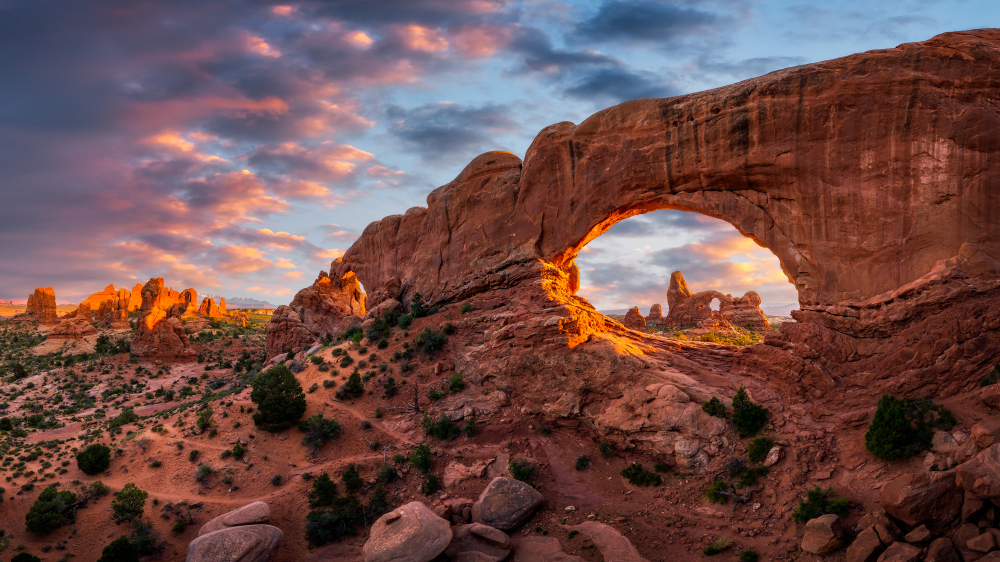 Capitol Reef National Park
In the heart of red rock country sits Capitol Reef National Park. It surrounds a geologic monocline basically a wrinkle in the earth and extends almost 100 miles.
It's a geological phenonoum with striking rock formations and white sandstone domes. Make sure you see the Chimney Rock pillar, the Hickman Bridge arch, Capitol Reef and Cathedral Valley.
A real hidden treasure.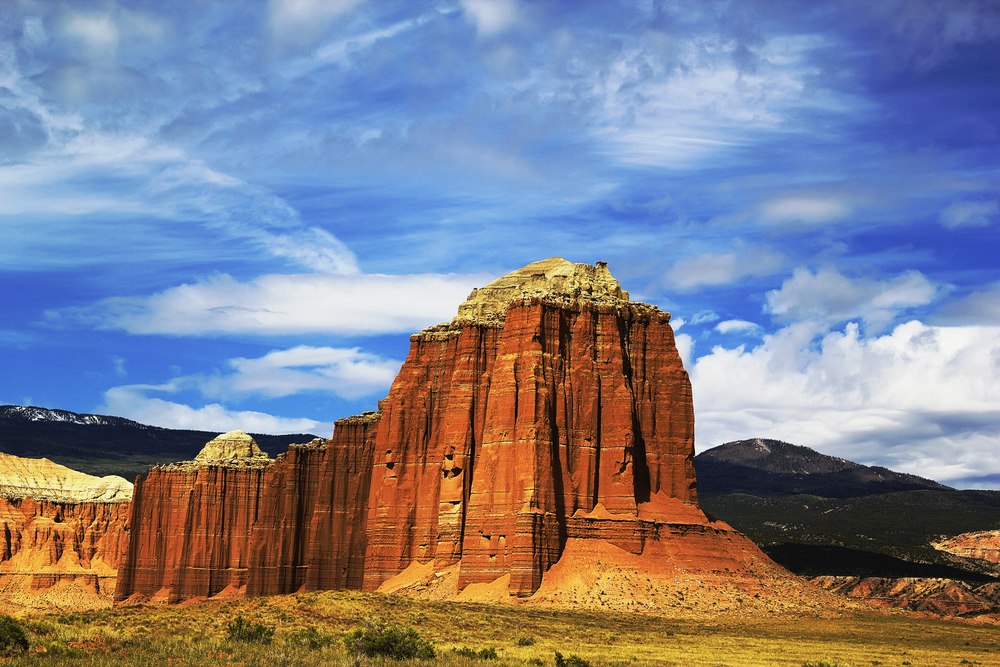 Lake Powell
A man-made reservoir on the Colorado River Lake Powell gets over two million visitors every year. It's the second-largest man-made lake in the States.
You can do everything here you would expect at a lake even waterski. Just laze on the beach, swim in the water, or take shade in a cove.
One of the places in Utah where you can relax, take it easy, and watch the world go by.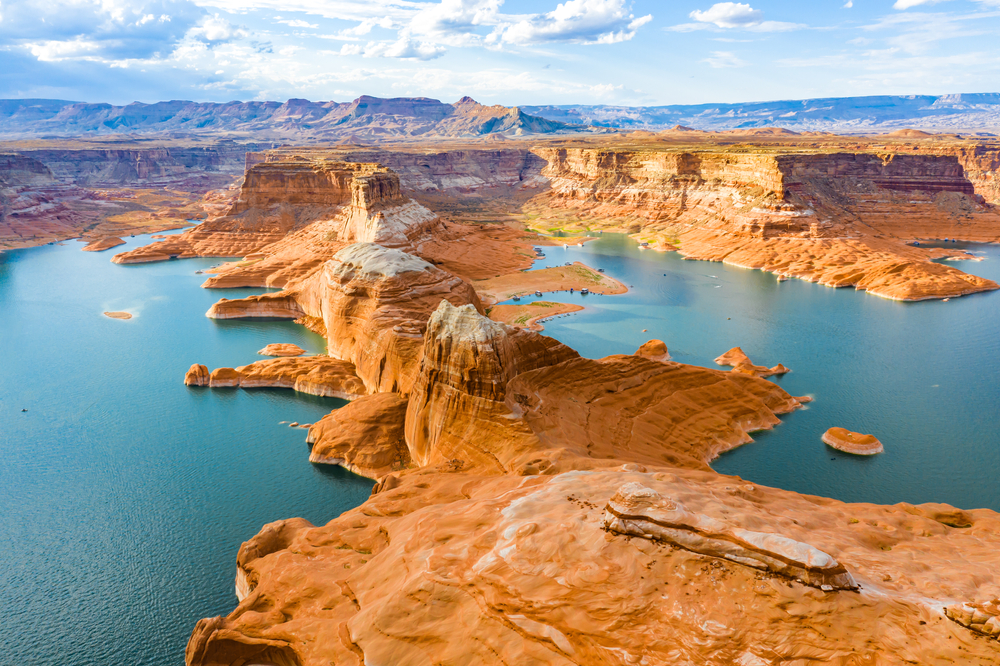 Dinosaur National Monument
If you have children or Dinasuars are your thing then Dinosaur National Monument is one of those places in Utah you need to visit.
Located on the southeast flank of the Uinta Mountains on the border between Colorado and Utah the park comprises 210,844 acres. This is a place where the conditions have eroded the earth's crust to reveal a treasure trove of fossils.
There are lots to do here other than searching for fossils. You can go on driving tours, hike the trails and the children will love dinosaur quarry.
A great place in Utah for families. The entrance Fee is 425 per vehicle.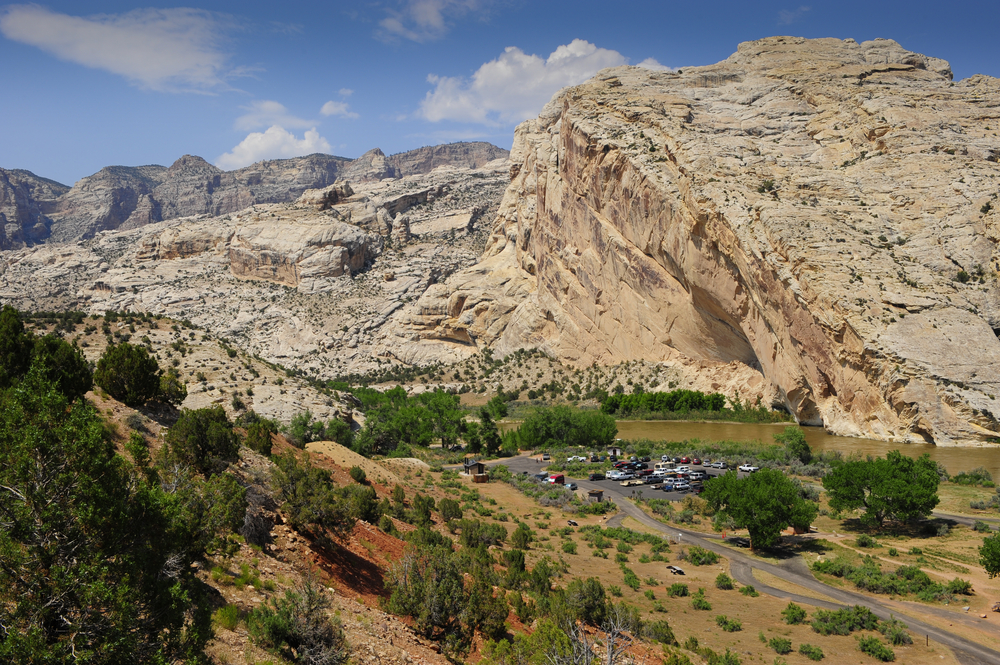 The Alpine Loop
A 20-mile drive through the Wasatch Range with a breathtaking view. The Alpine Loop takes you from American Fork Canyon to Provo Canyon. You get tremendous views of Mount Timpanogos, Uinta National Forest and other glacier-carved peaks
In the autumn months the foilage burst into colour making this drive even more stunning.
Open from approximately late May to late October the drive with no stops will take about 45 minutes.
If you are in the area when The Alpine Loop is open please take a drive. The greenery is a welcome relief from all the desert and red rock.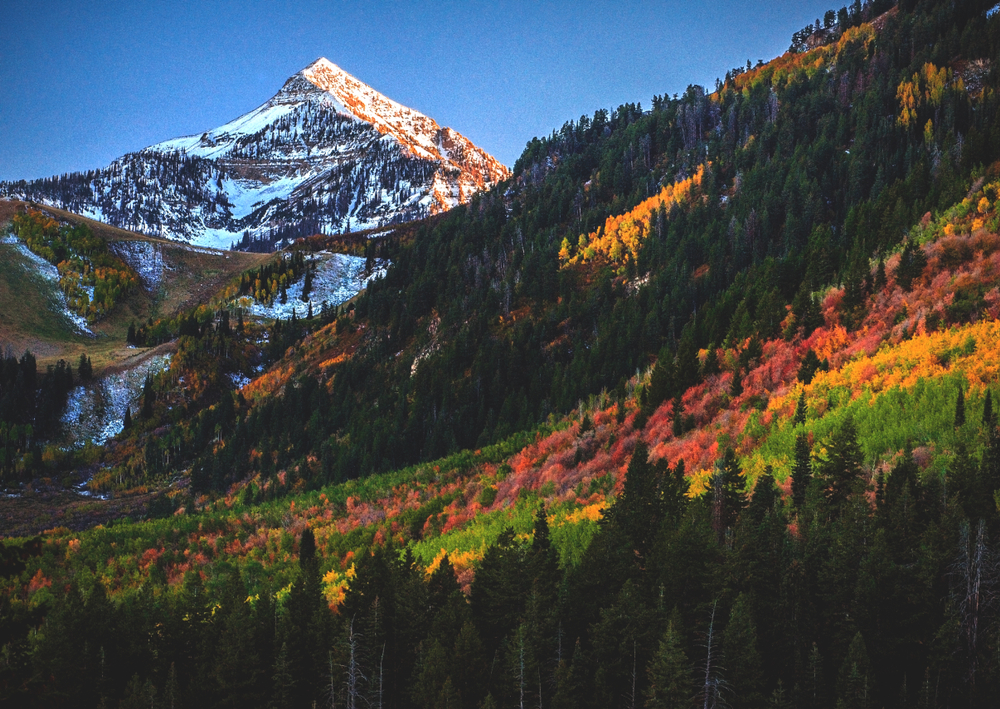 We know you will have an incredible time in Utah. There are so many places in Utah that are breathtaking and we have included what we feel are the best places to go In Utah. We know we have missed out on lots of others. If you have any other fun things to do in Utah or things to see in Utah let us know in the comments, that way others can see them too.
Whatever you do in Utah we hope you have an amazing time.