If you are on the hunt for the perfect Northern California road trip itinerary, we have got you covered. Northern California is hugely diverse and offers a variety of stunning natural landscapes to visit. If you are planning a California road trip, consider heading to Northern California to beat the crowds and heat often found in the southern part of the state. A Northern California road trip along Highway 101 and then down through the Cascades is the perfect way to see some of the best landscapes California has to offer while making memories that last a lifetime.
For this California road trip itinerary, we are not specifying an amount of time so that you can make the drive as time allows for you. If you have 5 days for your Northern California road trip then modify this itinerary to fit that length of time. If you have two weeks, consider spending a few days in each spot to really take in what Northern California has to offer! Whatever amount of time you choose to explore the state, California will not disappoint!
Looking to save money on your trip to California? Get a FREE $55 Airbnb coupon by using our code when you book!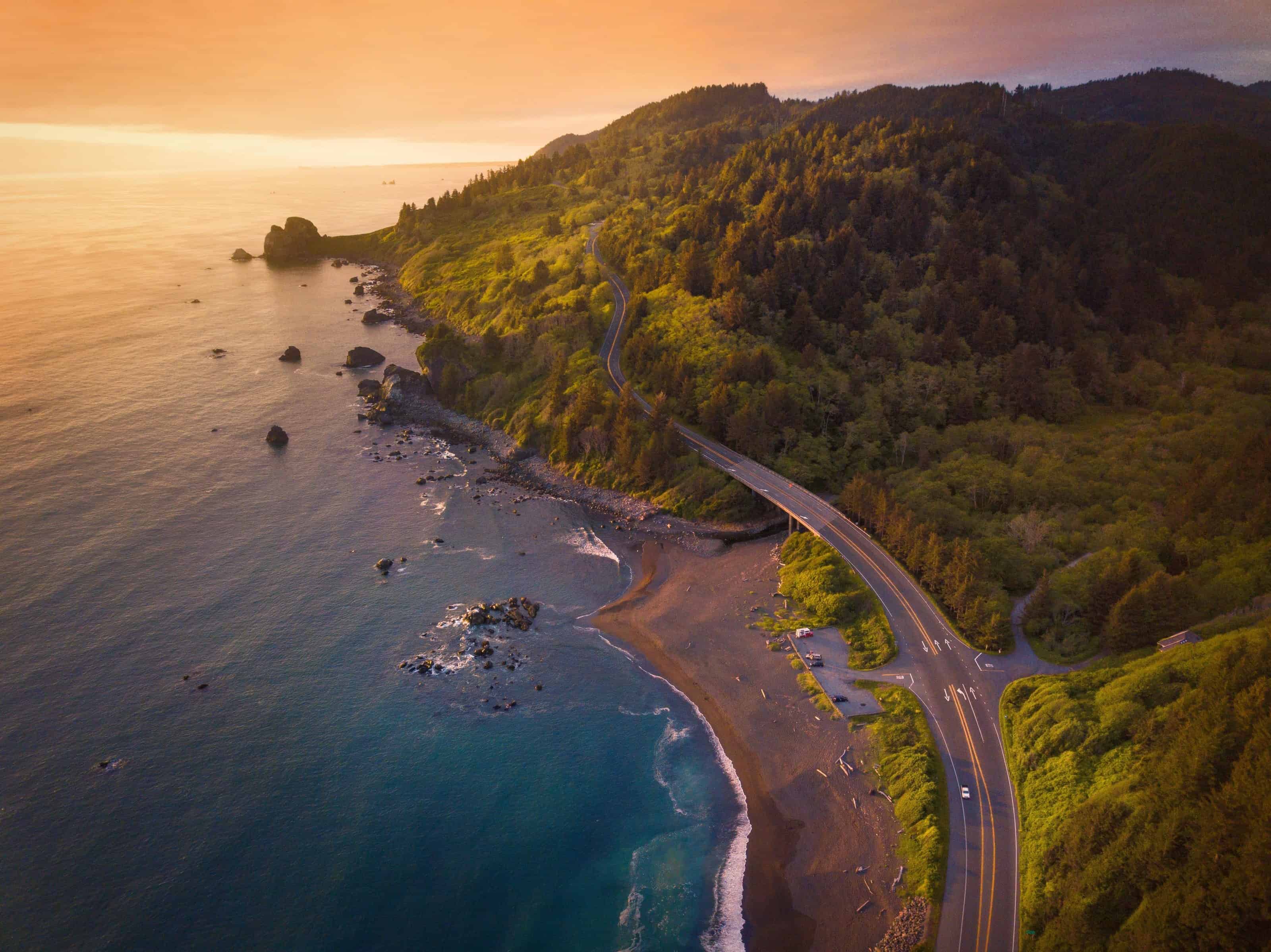 The Perfect Northern California Road Trip Itinerary
Begin Your California Road Trip By Flying Into San Francisco Or Oakland
The easiest way to begin your Northern California road trip is to fly into either Oakland or San Francisco Airport. Believe it or not, flying into the Bay Area is actually quite affordable. We recommend checking out Skyscanner to find the best and most affordable flights into California. We use this tool to discover the best flights for our trip because you can easily compare rates.
Depending on where you are coming from one airport may be more affordable than the other. This is totally okay as they are relatively close to each other so it won't be a hassle to get into either city. We flew Spirit Airlines from Tampa to Oakland as it was the most affordable fare and everything worked out great and was very convenient. Simply choose the airport that works best for you and you will be golden.
This is truly one of the Best Road Trips In The USA so you are in for a real treat!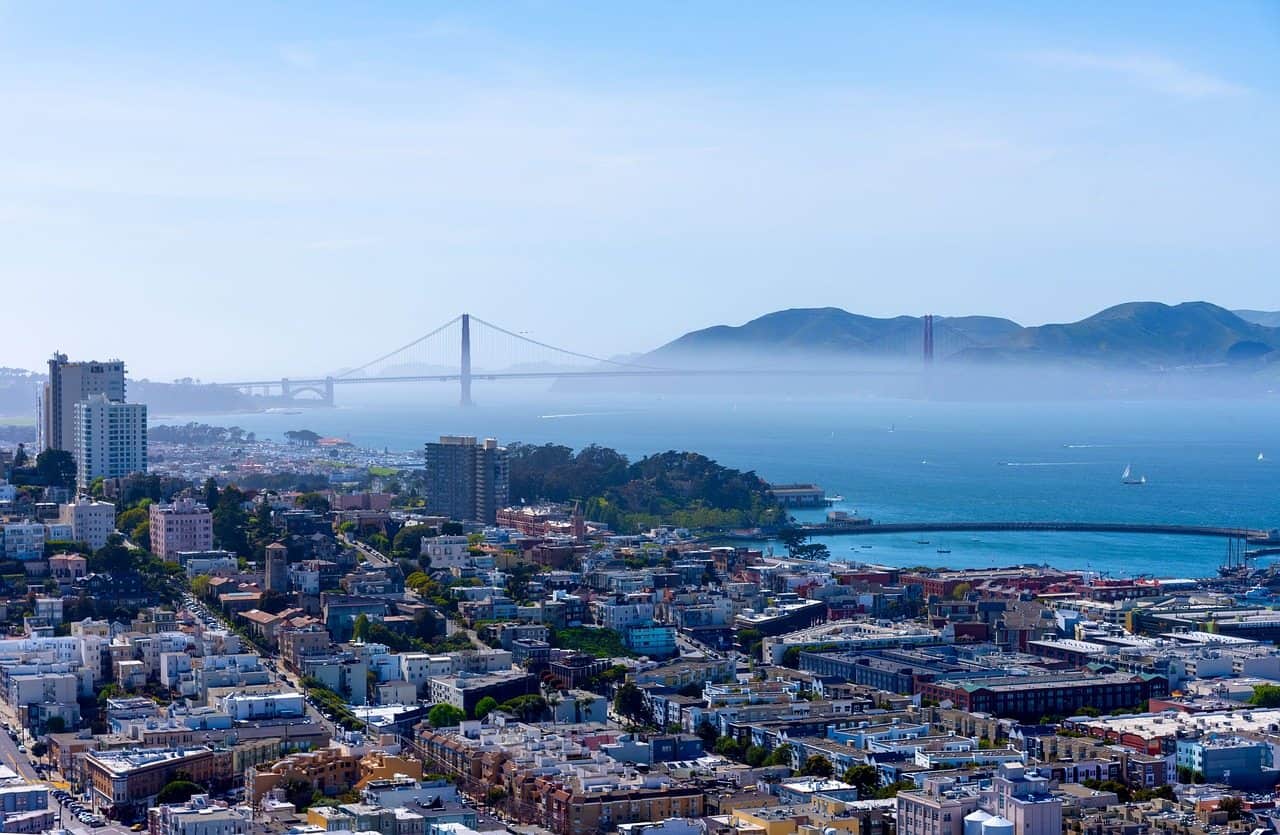 Where To Rent Your Vehicle For Your California Road Trip
When planning your Northern California road trip, you have a few options about what sort of vehicle you can rent. If you want to go the most popular and most affordable option, rent a car that is good on gas from anywhere near the Oakland or San Francisco Airports. This way, you are able to either stay at a hotel or camp in the State and National Parks if you want to get close with nature. An alternative to full-on camping is renting a camper van which will allow you to save on hotel costs.
If you are looking to go the more luxurious route, consider renting a RV. Victoria grew up RV-ing so this was the perfect opportunity to try it out as adults. We rented from Mighway in Oakland and the experience was fantastic! Mighway allows you to rent RV's directly from owners in both the USA and in New Zeland. We picked up our rental from a local RV shop in Oakland which was just minutes away from the Oakland Airport. Mighway also offers 24/7 roadside assistance which we actually needed to use once when we had an issue. This peace of mind was helpful when traveling the more remote roads in Northern California. Overall, the luxury of being in an RV was fantastic and having your own home on wheels, where you can cook, eat, sleep, and shower is the ultimate way to experience Northern California.
If an RV isn't in your future at the moment, a car or SUV will suffice just fine! If you really want to get adventurous, you could even rent a motorcycle and bring only what you can wear on your back!
Don't forget to check out our Detailed Road Trip Packing List so you don't forget any essentials for your trip!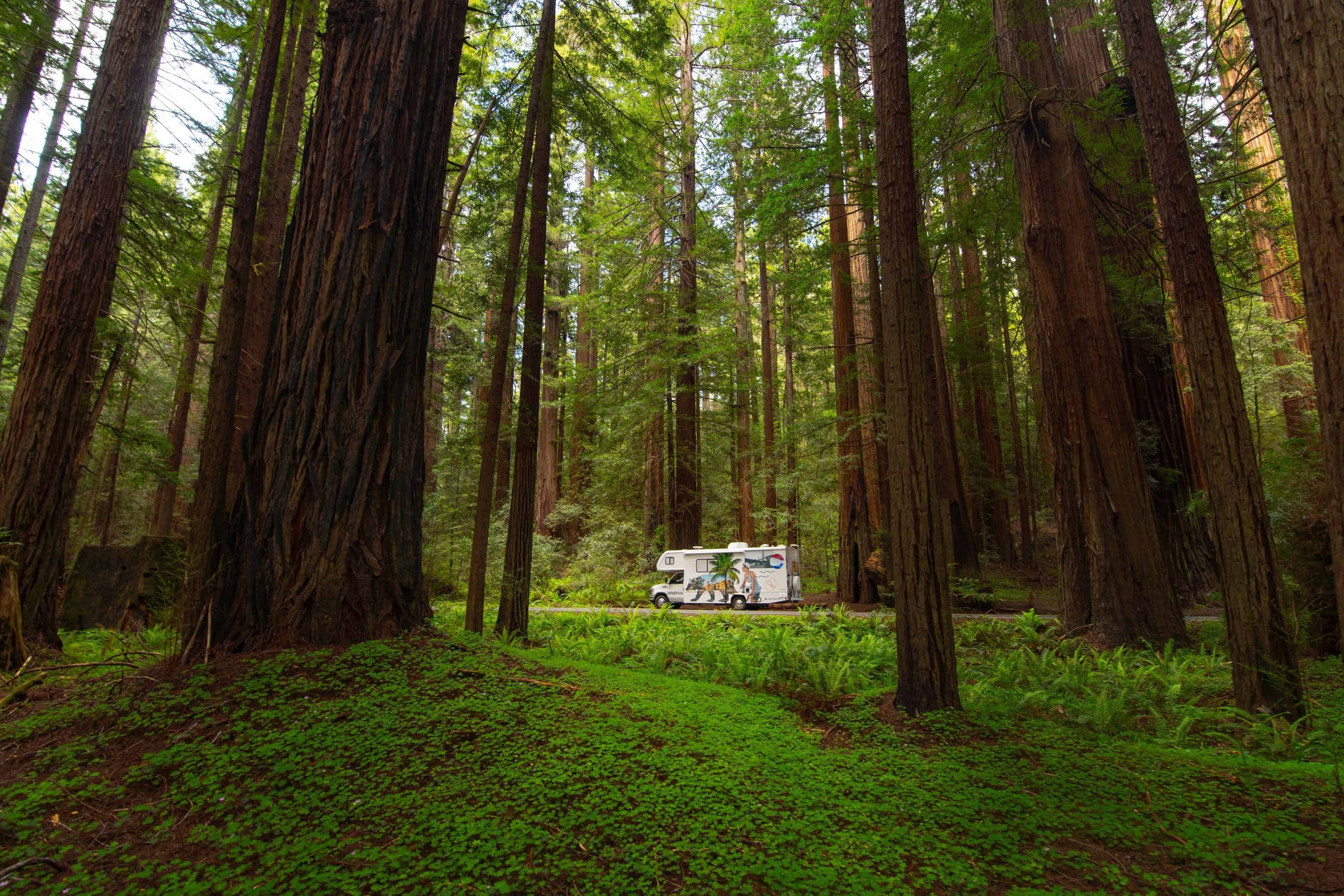 Stop 1: Spend Time Exploring San Francisco To Start Your California Road Trip
Your first stop on your California road trip is to explore the quintessential Northern California city: San Francisco! Since you will be flying into either San Francisco or Oakland, make San Francisco your first stop! If you are renting an RV like we did, we do NOT recommend taking the vehicle into the city.
Instead, take the DART train or another form of public transit downtown. If you are driving a car, you should be perfectly fine and there is plenty of parking in Downtown San Francisco. Spend anywhere from an afternoon to a few days exploring San Francisco, depending on how much time you allow for your Northern California road trip!
Make sure to drive across the Golden Gate Bridge and explore one of the many Golden Gate Bridge overlook points. We love the view from Marin Headlands as you get a view of the bridge and the city, but the waterfront near the Golden Gate Bridge Welcome Center makes for wonderful views as well!
While you are in San Francisco, head to Fisherman's Wharf to Pier 39 to see hundreds of cute and crazy sea lions barking and sunbathing on the docks. This is truly a highlight of visiting San Francisco! You can also eat at one of the many yummy restaurants at Fisherman's Wharf or take the boat to Alcatraz.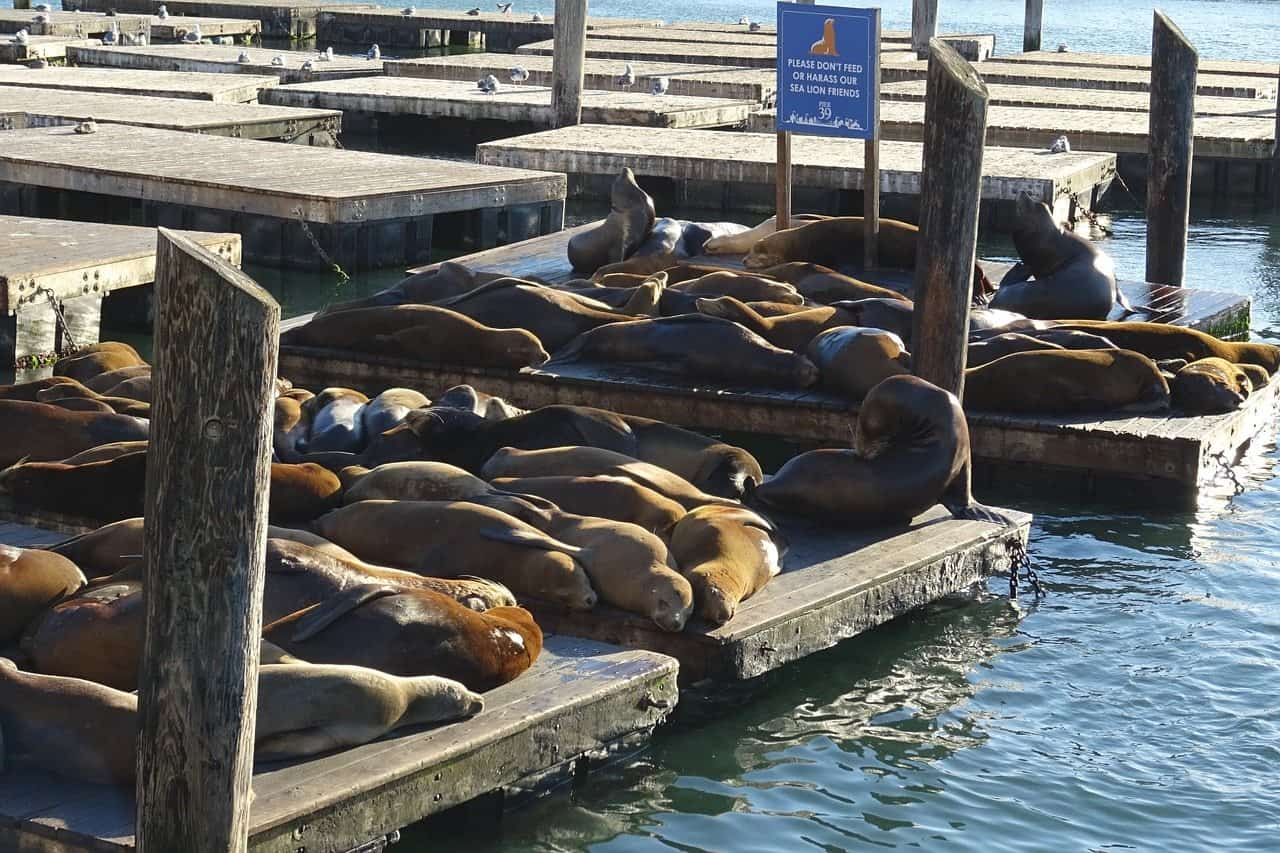 You must take time for a retro cable car ride up and down the steep streets of San Francisco. Make sure to buy a ticket and try and start at either end if you want to hang from the outside of the cable car [the most fun!] Finally, make sure to pop over to Chinatown, one of the best in the world, to experience authentic Chinese cuisine and shopping.
Book Your San Francisco Hop-On-Hop-Off Big Bus Tour!
Book Your Golden Gate Bridge Cruise Tour!
Book Your Sunset San Francisco Bay Cruise!
Book Your Full Day Trip To Yosemite National Park!
Stop 2: Drive And Hike To The Top Of Mount Tamalpais
On your way out of San Francisco, be sure to stop at Mount Tamalpais which is located on Highway 1 just north of the Bay Area. You can drive almost all the way to the top of Mount Tamalpais and we found easy driving directions here.
Once you drive as far as you can, you will have a half-mile hike to the top which, all things considered, is pretty short to get to the top of a mountain! Once you hike to the top, you will be rewarded with epic vistas and, if you are lucky, a ton of fog below you!
Mount Tamalpais is a favorite for photographers and nature lovers because you are actually above the clouds that blanket the San Francisco Bay Area. The view from above makes you feel like you are in another world and it is a magical place to capture a sunrise or sunset!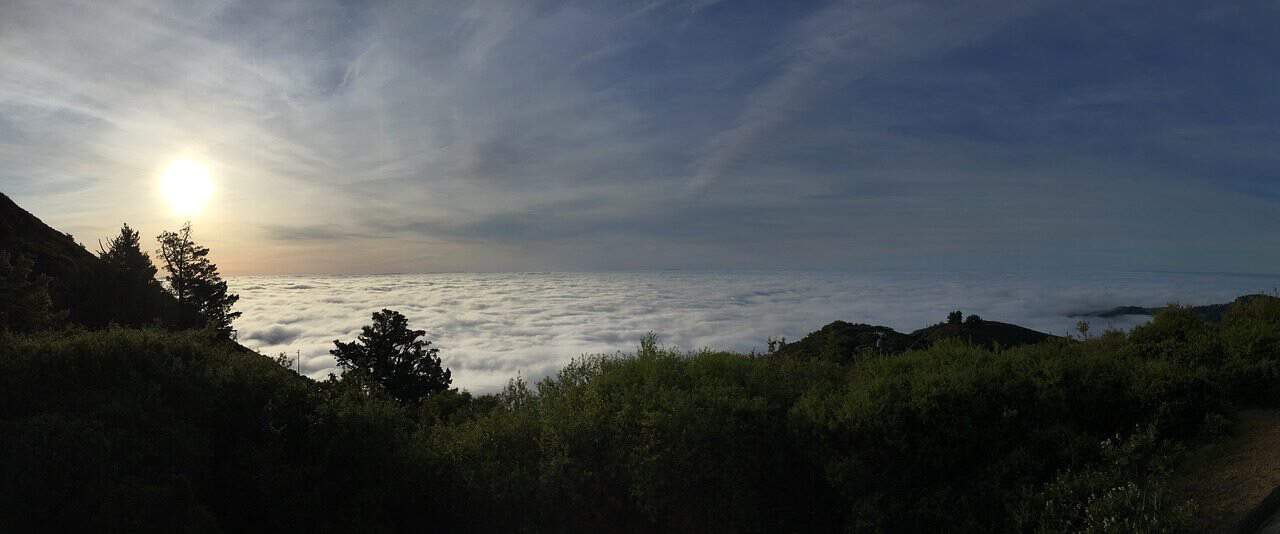 Stop 3: Explore Every Inch Of Point Reyes National Seashore
Located less than an hour and a half north of San Francisco, Point Reyes National Seashore is an absolute must for your Northern California road trip itinerary! You can make it a day stop, but we highly recommend spending 1-2 full days exploring what Point Reyes has to offer. There is really so many things to do in Point Reyes!
The park is actually WAY bigger than you would think from reading on the map and the roads are in poor condition which means you must drive slower than usual. Most people who road trip Northern California spend the day at Point Reyes before moving on, but we spent two full nights right outside of the park and we think it is well worth it.
There is so much to see and do in Point Reyes National Seashore that we could write a whole post on what to do there but we will keep it short and sweet for this California road trip itinerary. Your first stop in Point Reyes is to visit the S.S. Point Reyes Shipwreck. The shipwreck is easily visible from the road and is behind a shop in the small town of Inverness. There is a parking lot which allows you to easily walk to see the shipwreck up close and personal. It is such a cool little spot and great for photography and long exposures if you are into that sort of thing!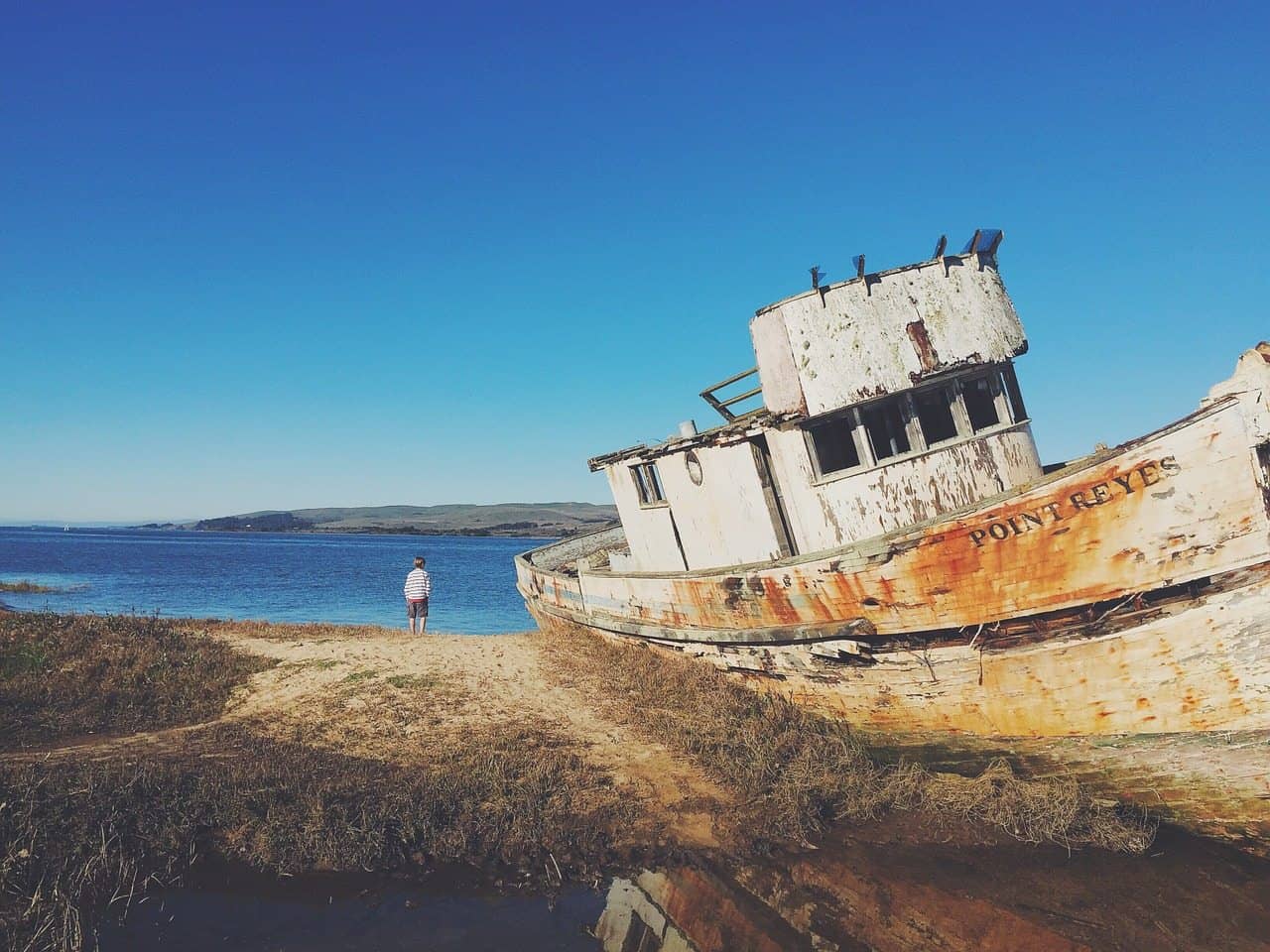 Next, head to the spooky Cypress Tree Tunnel. The tunnel has been popularized on Instagram, but is really just a road leading to the historic RCA building in the National Seashore. No matter what time of day you visit the Cypress Tree Tunnel, you will be amazed at the beauty it has to offer. Park your car in the designated parking lot at the RCA building and walk to each end of the driveway. The gate closes at 5pm, but we found that it was open later.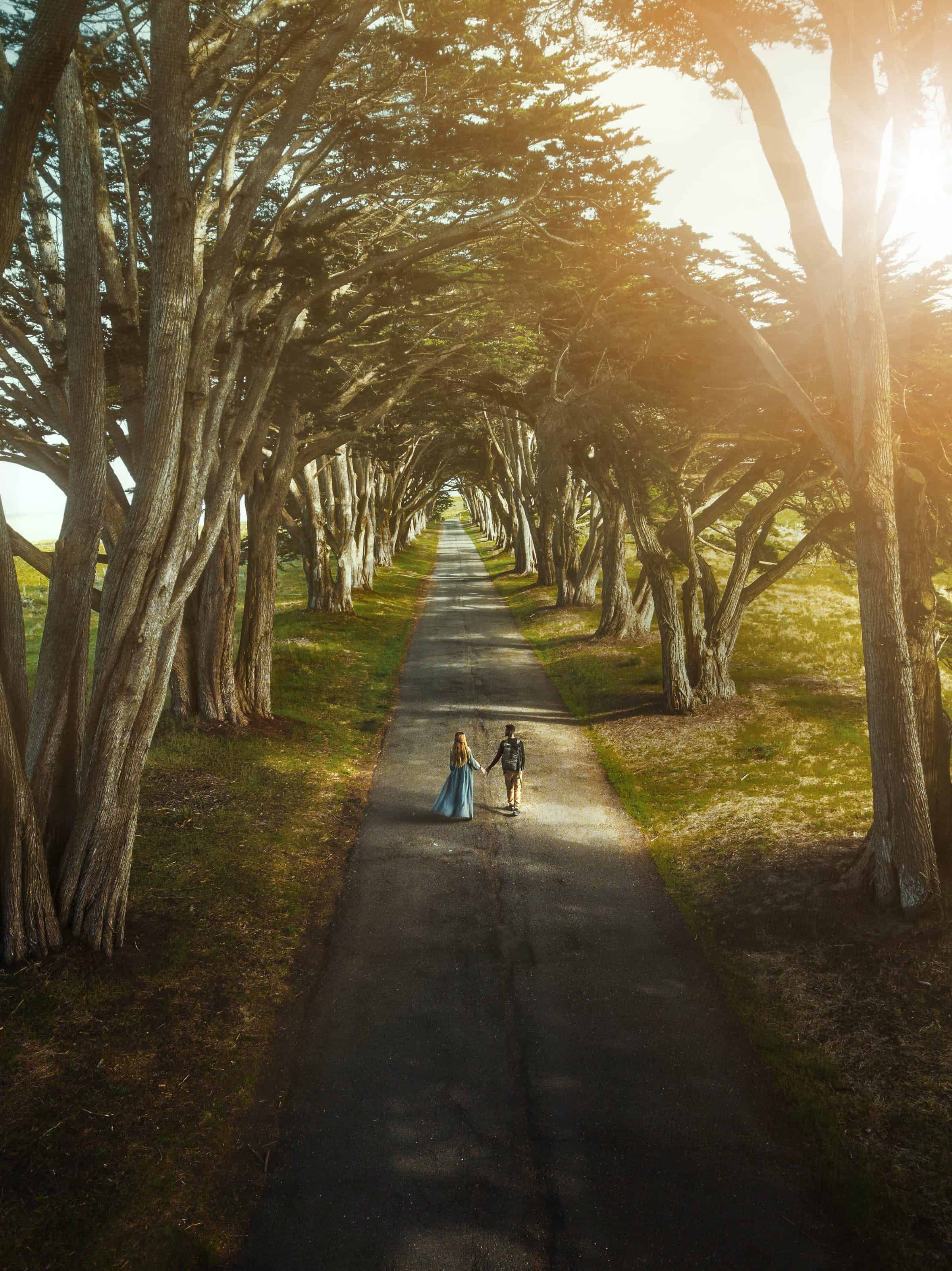 Continue driving until you come to a fork in the road and head RIGHT. Drive all the way to the end and you will come to "the" Point Reyes lookout spot. You will arrive at a big parking lot and will park your car and walk to the lookout point. Here, you will receive a stunning view of pretty grass overlooking a beach as far as the eye can see with cliffs on one side! It is a memorable view and a photography favorite.
While you are at this parking lot, you have the opportunity to walk past a gate and visit the photography famous "Leaning Tree" and finally, the Point Reyes Lighthouse. The lighthouse is only open certain days of the week, so make sure to check in advance if you want to visit. That being said, you can walk past the gate and visit the leaning tree at any time. This area gets particularly moody and foggy too!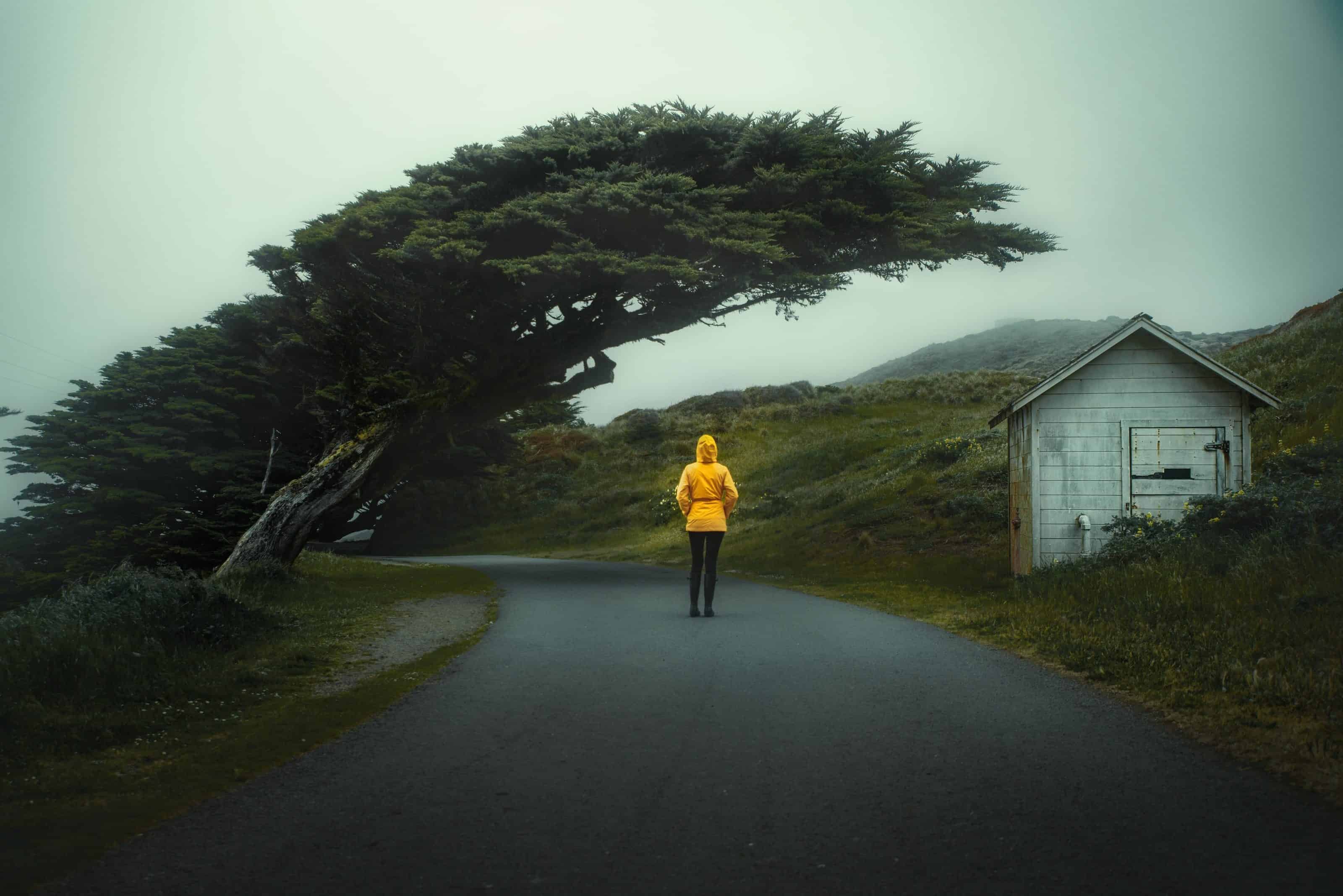 If you haven't had enough of Sea Lions in San Francisco, head back to the fork in the road and take the other direction to visit the Point Reyes Sea Lion overlook. Sea Lions flock to this area of the park and you can even spot adorable Sea Lion pups!
There are also many hikes and walks in Point Reyes which is why we recommend making it a multi-day stop on your Northern California road trip. If you can't, we still suggest a visit because the park is stunning and memorable.
Stop 4: Visit The Wineries In Santa Rosa 
Santa Rosa and the entirety of Sonoma County are famous for wineries and the production of wine. If you have never been to a vineyard, now is your time to make the stop! The area surrounding Santa Rosa is stunning and wineries are picturesque. The wine drinking is a bonus too!
If you are a Charlie Brown or Snoopy fan, visit the Charles M. Schulz Museum. This museum is the largest collection of original Peanuts comics in the world and pays homage to the work of Charles M. Schulz.
The city is the urban center of Sonoma County and offers many delicious places to eat featuring locally sourced ingredients and, of course, wine!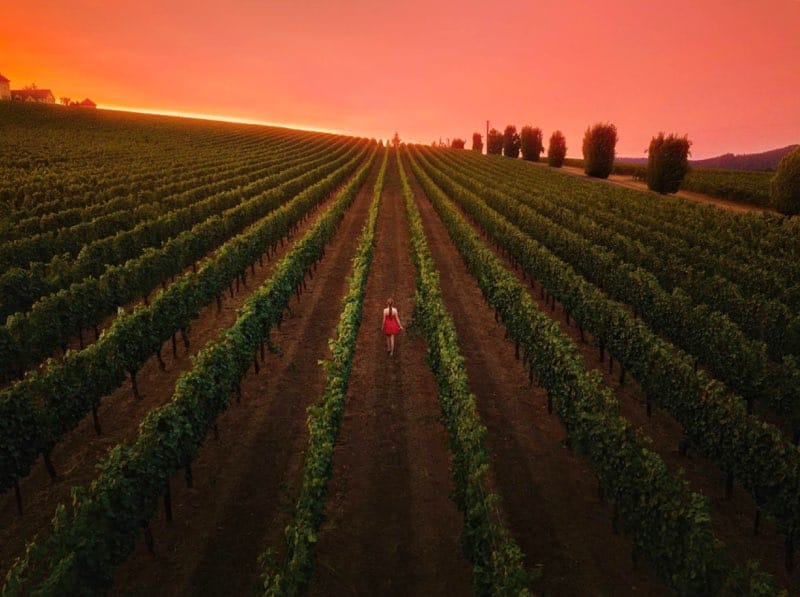 Stop 5: Drive The World-Famous Avenue Of The Giants
The Avenue Of The Giants is a 31 mile stretch of road that runs adjacent to Highway 101 in Northern California. It is officially known as State Road 254 but more popularly called the Avenue Of The Giants. During your California road trip, you won't be able to miss the Avenue Of The Giants as there are signs pointing you in the direction of where to start the drive.
Although the drive is 31 miles long, you don't have to do the whole thing if you don't want to or if you are on a time restriction. There are plenty of options to just drive 5 miles or so and then get back on Highway 101. We chose to drive the whole thing because the Avenue Of The Giants is spectacular, but we appreciated that there were options in the event someone had a shorter amount of time than we did.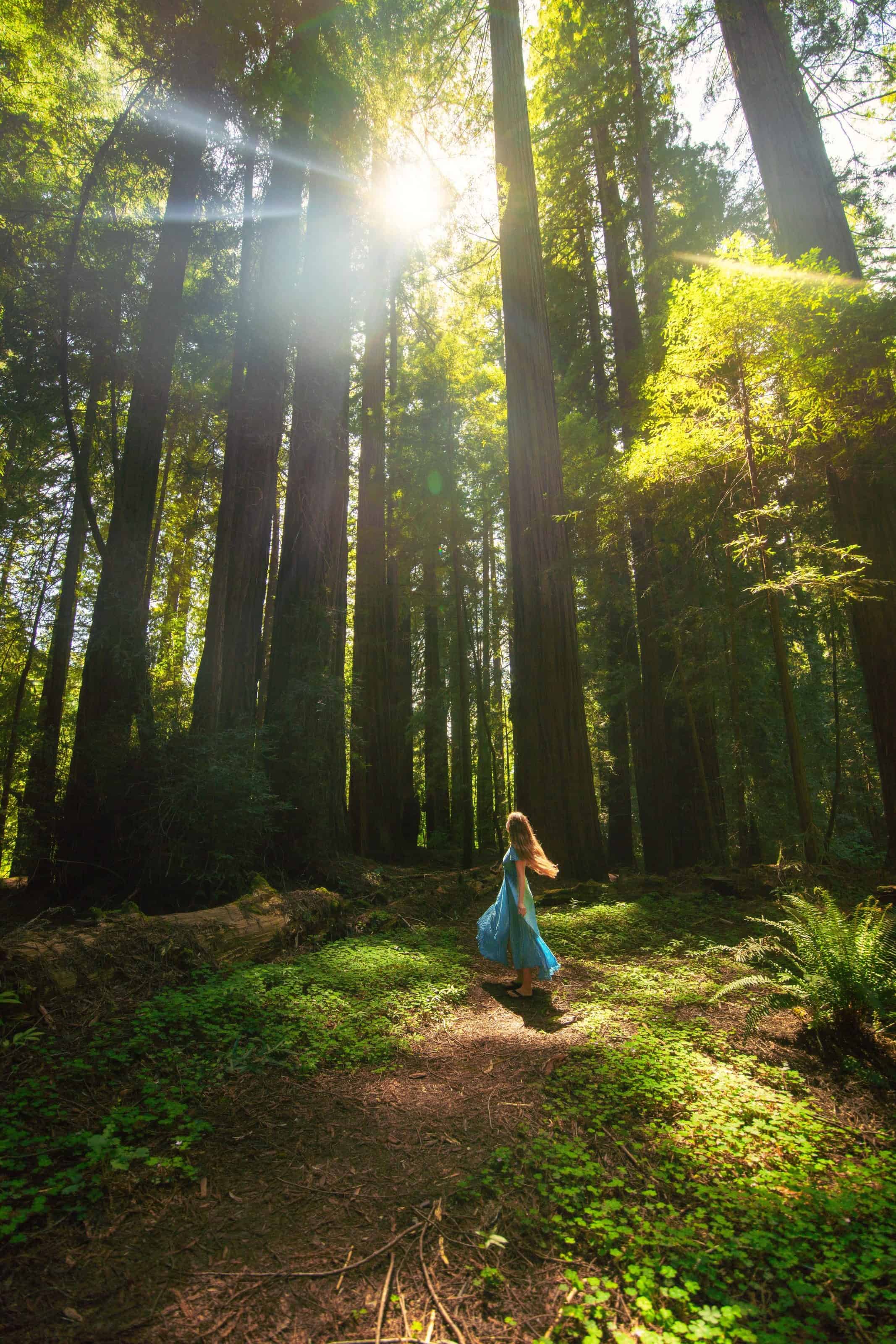 The Avenue Of The Giants is located in and around Humboldt Redwoods State Park and winds through the State Park and on both sides of Highway 101. We originally thought that the drive ended after just a few miles, but it actually crossed under Highway 101 and continued on the other side! Don't make the same mistake when making this drive on your Northern California Road Trip.
In addition to driving Avenue Of The Giants, Humboldt Redwoods State Park is a wonderful day stop or overnight spot to camp if that is what you are into. There are so many hiking trails to wander, backroads to drive, and there is even a nearby tree you can even drive through! If you keep your eyes open, you may even spot Bigfoot 😉 If you don't, don't worry, there is plenty of Bigfoot memorabilia to cheer you up all around Northern California.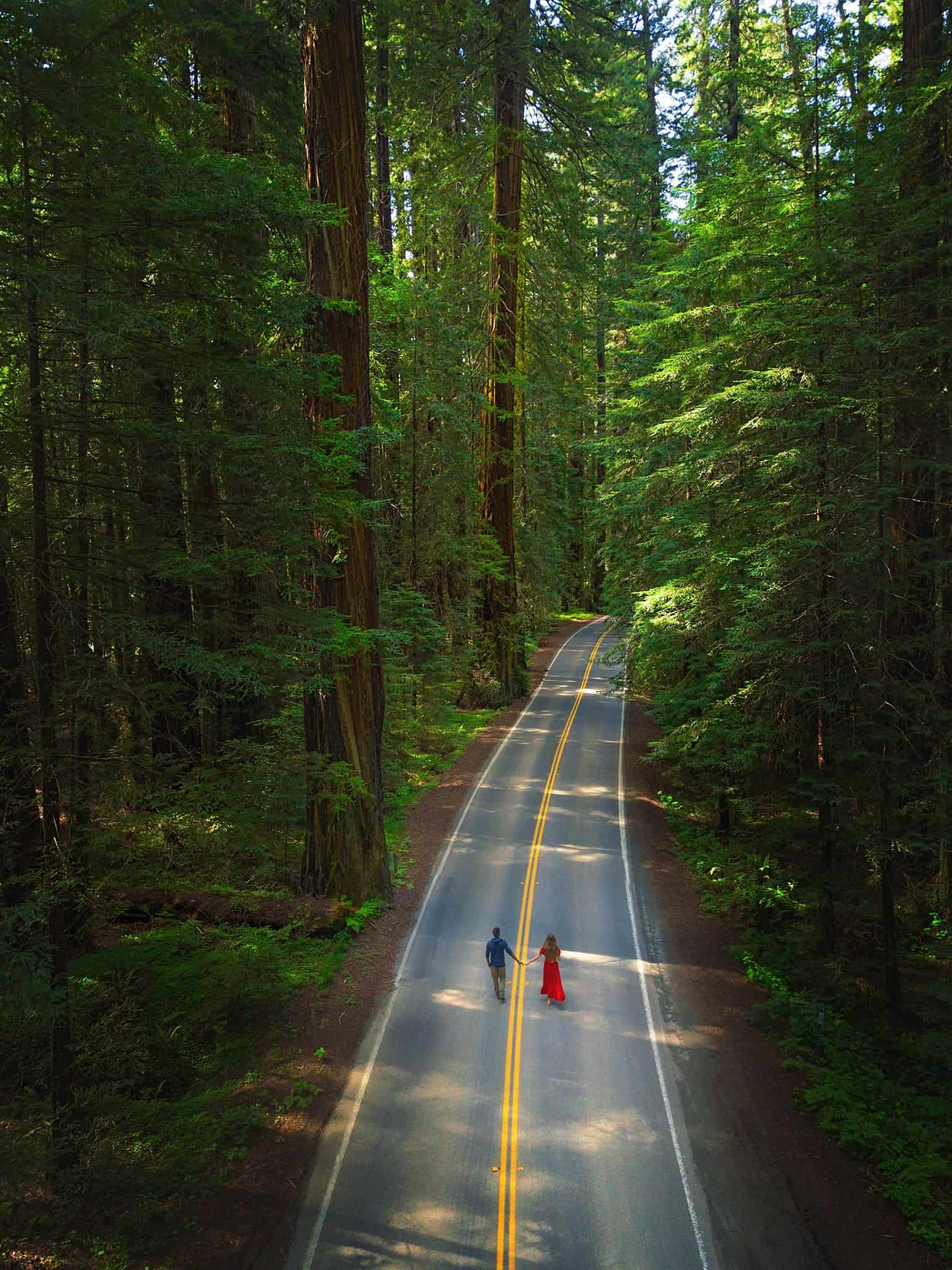 Book Your Red Woods & Wine Country Tour!
Stop 6: Visit Real World Jurassic Park At Fern Canyon In Redwoods National Park
Fern Canyon will easily be one of the most magical places you will ever visit and a must-see stop on any Northern California road trip. It is located in Redwoods National And State Parks on the coast of Northern California. The entire canyon is dripping with dreamy ferns and was actually a Jurassic Park filming location!
Please note that the drive from Highway 101 to Fern Canyon is quite difficult and although we did it with a camper, we do not recommend doing it with a large vehicle! There are rivers to drive through, massive potholes to drive slowly over, and very narrow and winding mountain roads.
Once you arrive after the crazy drive, the hike to Fern Canyon is just 0.1 miles long which is pretty epic. You will be transported from a dusty parking lot to a fern covered wonderland in just moments! We highly recommend wearing waterproof shoes or boots or taking off your shoes all together as your feet WILL get wet, no matter how hard you try to keep them dry!
Part of the fun of visiting Fern Canyon is forging the shallow rivers [less than ankle deep] and spending time with all the Ferns and fallen logs. Make sure to toss in a towel in the back of your car for your Northern California road trip so you can dry off your feet and dust off the dirt once you arrive back at the vehicle.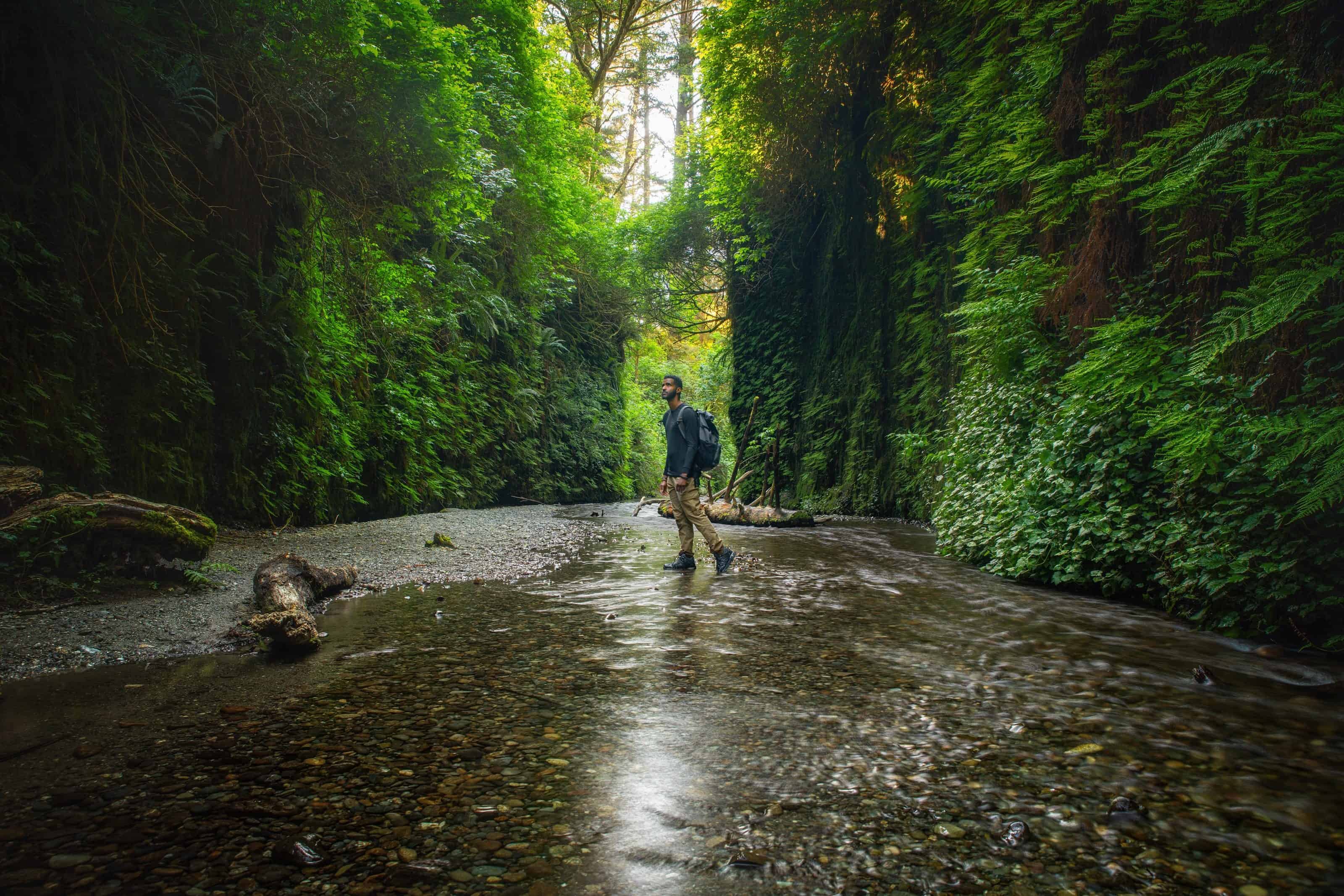 Stop 7: Experience The Pacific Coast At The Northwest Corner Of California
During your Nothern California road trip, make sure to drive all the way up through Del Norte Coast Redwoods State Park and through Crescent City to visit the far north California coast. The coast will be a good change from all the green forests and wineries you have been seeing and the sea stacks are beyond impressive.
Make sure to take some time to walk around the sea stacks and rocks, especially when the tide is low. This will allow you to find tidepools where a variety of marine animals are living. Watch carefully for them to move and try and spot ones that are stuck to the rocks. This is a serene activity, but make sure to never touch or step in tide pools to protect the wildlife.
This is also the perfect time in your California road trip itinerary to stop and take a breather and enjoy the ocean breezes and the stunning Pacific sunsets before continuing on tomorrow.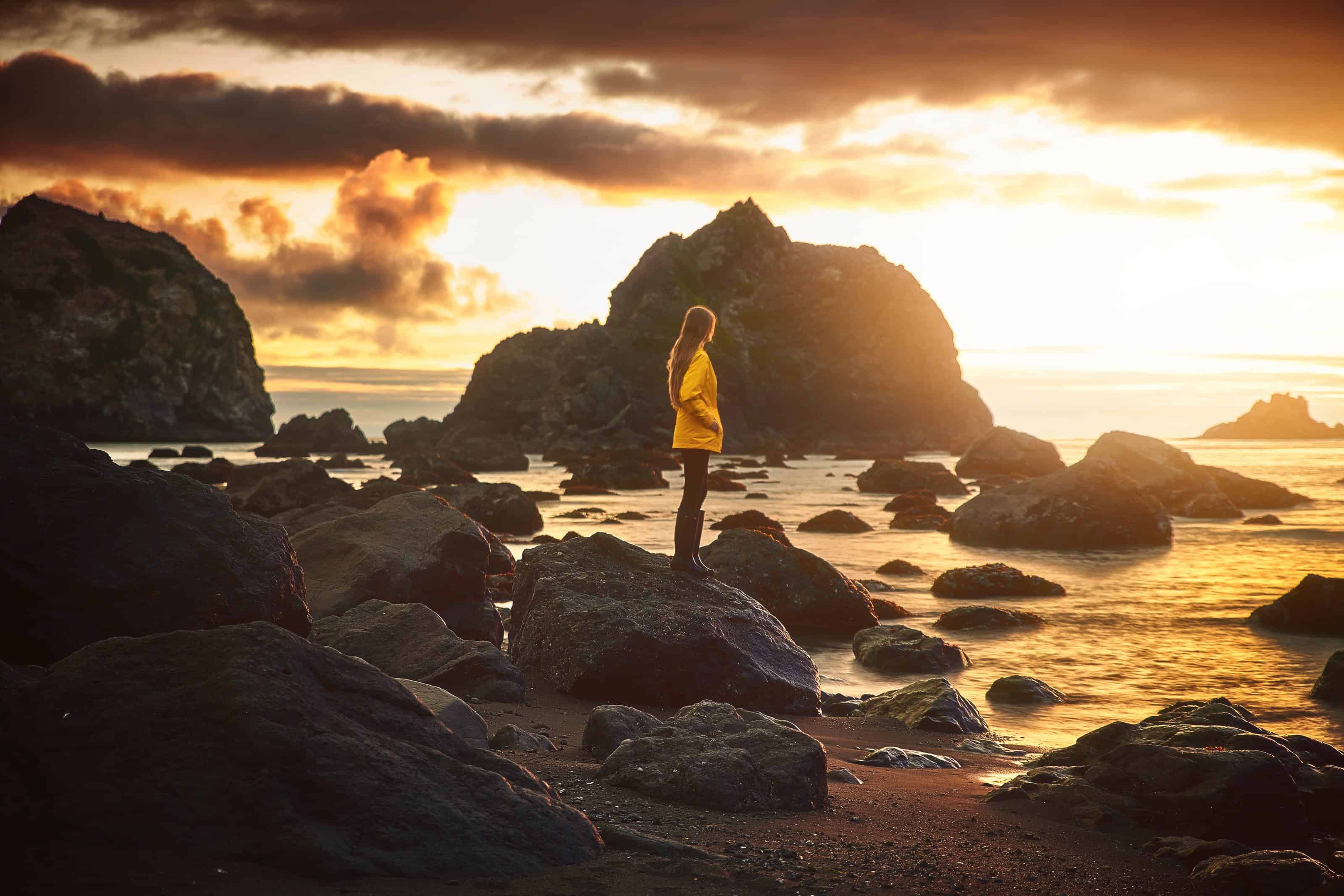 Stop 8: Get Up Close With Volcanos At Mount Shasta
For this stop on your Northern California road trip, it is time to head inland to Mount Shasta. You will need to head up through Grant's Pass, Oregon first, and then down I5 to land in Mount Shasta. Mount Shasta is a real-life volcano, surrounded by multiple mini volcanoes, located in the southern Cascade Mountain range.
When we arrived at Mount Shasta, we had no idea what to expect and hadn't even heard of the place until researching for our own California road trip. Once we got there, we were blown away how massive and impressive Mount Shasta really is! It can be seen from many miles away and only gets more majestic as you get closer! The two towns to stay in to best explore Mount Shasta are either Weed or the town of Mount Shasta.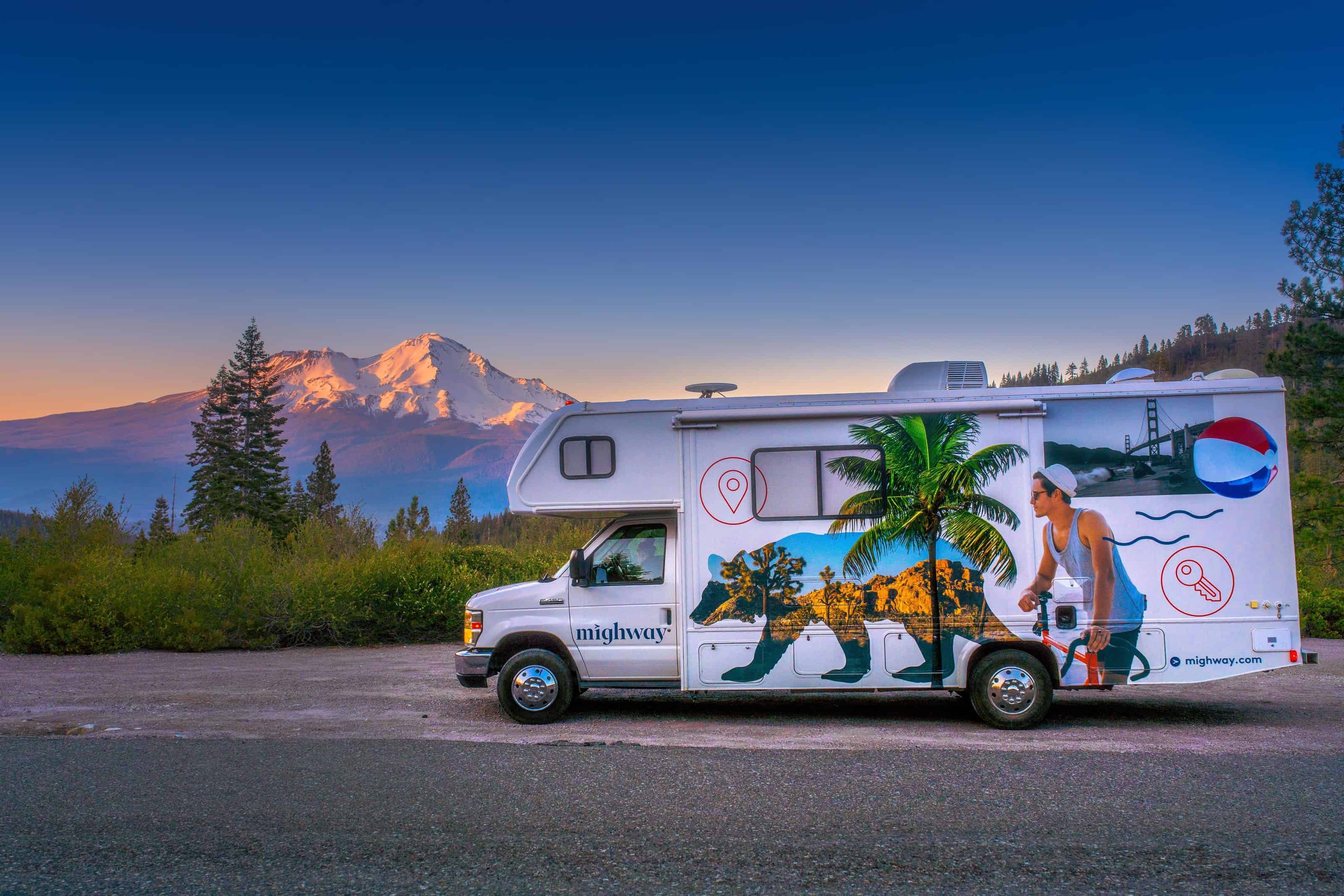 There are plenty of campgrounds around the area and camping is quite popular when exploring Mount Shasta. Coming from the coast, there will be a massive elevation change, so make sure to bring appropriate clothing for this part of your Northern California road trip as the weather will be chilly or even downright cold.
While you are at Mount Shasta, take the hike up to Heart Lake for stunning alpine views! Drive your car to Castle Lake and then take the Heart Lake trail which loops clockwise around Castle Lake from the parking lot. The hike is roughly 1 mile and is uphill the whole time so make sure to take lots of rests. We barely ever hike, so we took it slow and it was doable and certainly not impossible.
The view from Heart Lake will show you the lake itself and also a bird's eye view of Castle Lake below with Mount Shasta in the background. If you do this hike and want to take sunset photos from Heart Lake, be sure to practice safe hiking procedures and tell someone where you are and make sure to leave before it gets dark for a safe hike down the mountain.
We spent two days of our Northern California road trip itinerary in the Mount Shasta area but feel free to modify how you see fit and what works for your time!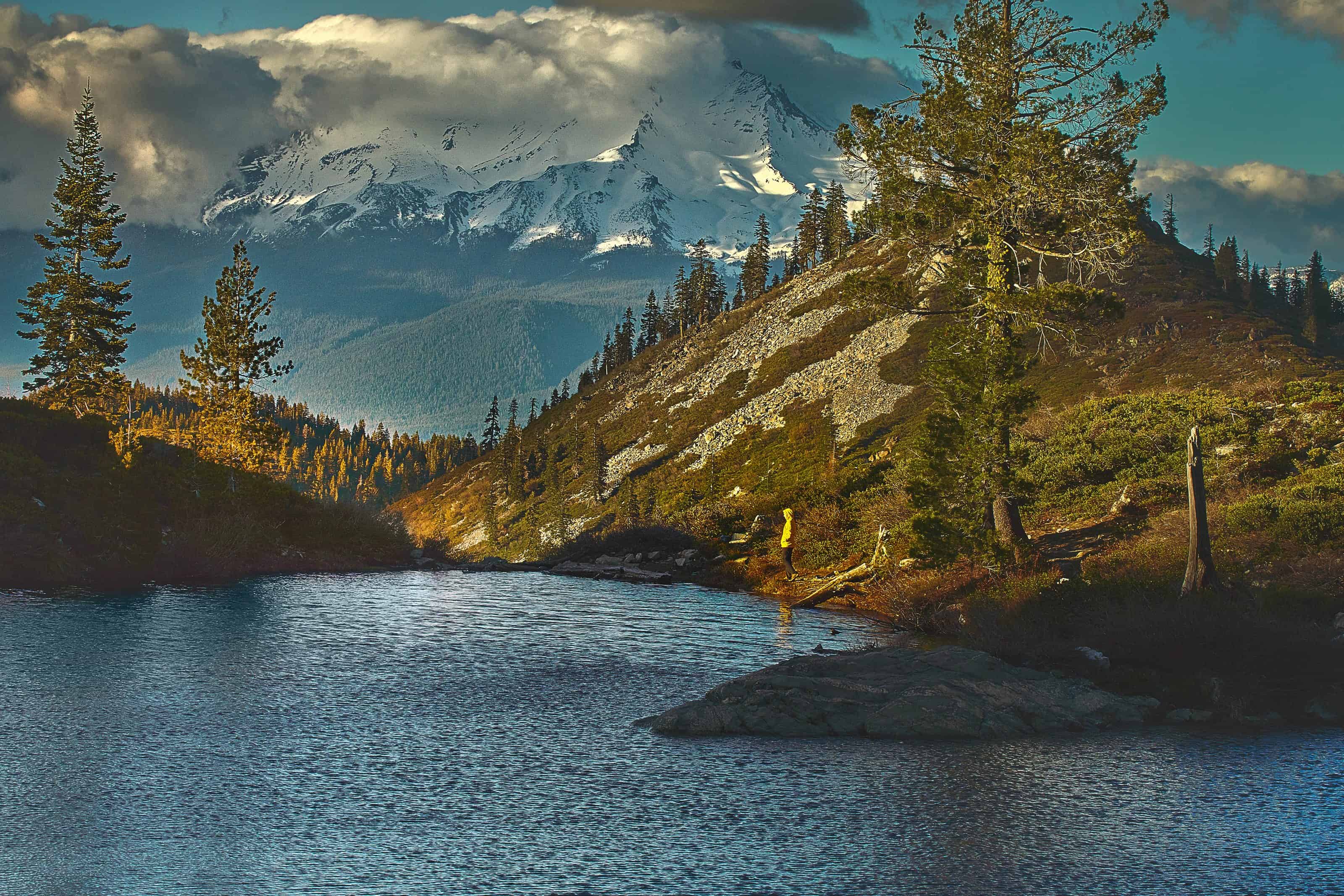 Stop 9: Cool Off At McArthur-Burney Falls
McArthur-Burney Falls, more commonly just called Burney Falls, will be one of the most spectacular waterfalls you ever visit! We have seen some of the best of the best waterfalls too, from waterfalls in Iceland to Niagara Falls to Oregon and this one truly takes the cake!
When visiting McArthur-Burney Falls on your California road trip, you will feel like you are on an island in the South Pacific instead of a remote part of Northern California! The water is so perfectly clear and blue and the waterfall cascade is a style that isn't normally found in North America.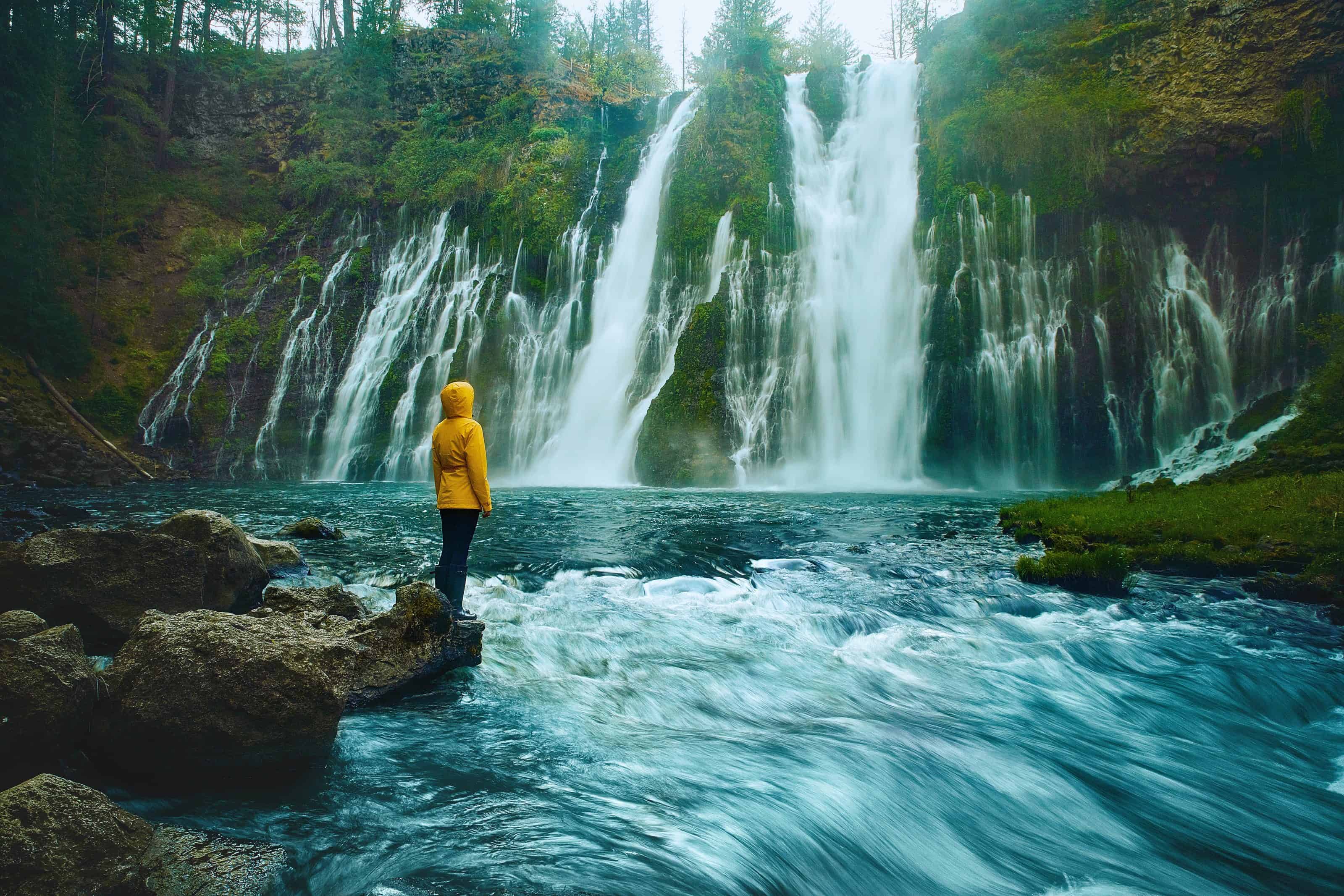 Photos truly do not do Burney Falls justice and you just have to visit to see how massive this waterfall in the Cascades really is! Burney Falls is located about 1.5 hours east of Mount Shasta so it is an easy drive to do in a day. The waterfall is located in a State Park with a massive campground, in case you want to camp on-site.
We did Burney Falls as a day trip along our Northern California road trip itinerary and did not spend the night, but we did spend almost four hours hanging out around the waterfall. Burney Falls can be viewed from above, but we recommend taking the 0.3 mile paved walk down to the base of the falls. Once you get down to the base, you will really start to see the size and scale of what Burney Falls really looks like.
As we said above, don't make any judgments about the size from our photos, pictures, and video really do not do Burney Falls justice and it really is worth the slightly-out-of-the-way drive during your Northern California road trip.
Stop 10: Finish Your California Road Trip At Lassen Volcanic National Park
If you haven't had enough of volcanoes at Mount Shasta, you are in luck! The last stop along your Northern California road trip itinerary is to visit Lassen Volcanic National Park. Luckily, it is located in the same part of California as Burney Falls, so if you visit the waterfall you are well on your way to visiting Lassen Volcanic National Park.
Lassen Volcanic National Park is one of the much lesser-known national parks in the United States but quite impressive to visit. If you are looking to get up close and personal with volcanoes, crystal clear pools, mud pots, and boiling hot water, them this national park is for you!
There are over 150 miles of trails in Lassen Volcanic National Park and you have the option to stay in a lodge, tent, or cabin in case you want to stay on site. You can also do Lassen Volcanic National Park as a day trip or choose to stay overnight if you wish.
Explore steam vents and meadows and the official National Park drive is quite a good way to experience Lassen Volcanic National Park if you don't want to hike for miles. Exploring by car is one of our favorite ways to experience National Parks. Luckily, Lassen Volcanoes offers plenty of pullouts and easy hikes and walks to experience the beauty of this remote wilderness.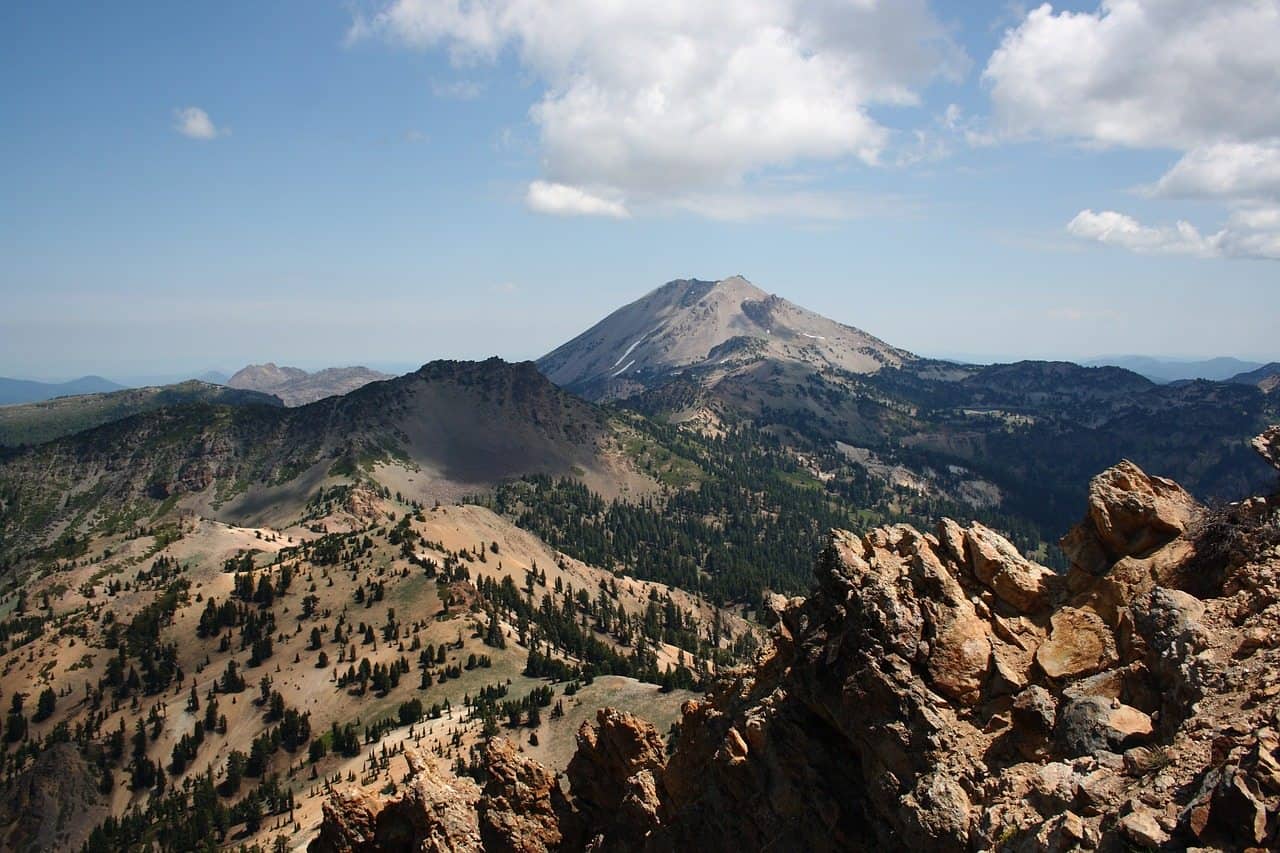 Packing Tips For Your Trip To Northern California:
Here are some of our favorite items that you should consider packing for your trip to Northern California! These are essential travel items that we use and love and you should make sure to consider for your travels.
A concealed travel pouch may be one of the most important items you bring with you! This unisex RFID blocking concealed travel pouch is lightweight and comes in several colors. It has lots of organization to give you peace of mind. You can keep your most valuable documents safe and secure next to your body.
If you have a pouch already you may not want to or need to invest in a new one. If it does not come with the RFID protection, these RFID sleeves would be handy to prevent identity theft. This configuration comes with enough passport and credit card sleeves that the entire family would be protected. They are slim too, so they will easily fit into your current pouch or wallet. These are the kind our family uses not only when traveling but at home as well.
If you have a camera on your packing list, you need to add additional memory cards on your list as well. Unless you are packing a computer for your trip, you will not be able to upload photos and clear your existing memory card. Purchasing additional memory cards cost under $20 and take up no space in your luggage. Having a backup can have the potential to save you a lot of heartaches if something goes awry! There is nothing worse than coming across that perfect moment and then finding out you don't have enough space to capture it on your camera!
Similarly, If you are planning to capture your trip on a smartphone, we beg you to bring some way to back up your memories. The best way to do this is with a portable smartphone flash drive. A flash drive is a small storage device that you can connect up to your smartphone and then safely and easily download the photos onto this device.
If you are planning on taking a lot of pictures with your phone you will definitely want to consider an external charging battery. This Anker high-speed phone charging battery is the exact one we carry with us on all of my trips. It can be used on a variety of phones, not just an iPhone like we have. And wow is it fast! We like that it holds its charging capabilities for several uses so we do not have to worry about it while out and about. And if we forget to recharge it at night, it will still be good to go the next day.
My mom was never a fan of packing cubes until she tried them out! Now she is sold. These Bagail packing cubes are the exact ones she uses whenever she travels and she travels a lot. She cannot believe how much more organized she is now! And she will never leave without them anymore.
We never leave home on a trip without our Bobble filtration bottle. The 18.5-ounce size is perfect for travel and it will fit nicely in the pocket of a backpack or your purse. Also when filled with water, it is not too heavy to carry. And the Bobble carbon filter ensures fresh clean water whenever and wherever you fill the Bobble. You can find filter replacements here. 
Perhaps you are traveling a long distance and packing space is a premium. Then this set of collapsible silicone foldable water bottles would work well for you. Would not take up much space in your suitcase at all. And you will be receiving a set of two.
You will want to bring a backpack or daypack with you to store snacks, your water bottle, phone, extra clothes, etc.. This foldable water-resistant backpack would be great. It is very affordable and is available in many color options for you to choose from. The fact that it folds down into a zippered pouch will make it easy to pack.
Perhaps you need a more substantial backpack for your international travel. This antitheft backpack has a charging port, is water-resistant and can comfortably carry up to a 15.6″ laptop. It comes in a range of colors to choose from and it is inexpensive as well.
We all need to protect our eyes from the sun's harmful UVA/UVB rays. These unisex polarized sunglasses come in a lot of lens colors and frame designs and are extremely affordable too.
If you are fond of the aviator-style of sunglasses these polarized aviators may interest you. We like polarized sunglasses because they remove the glare off the water and help you to see things more clearly.
Don't forget to bring along a universal power adapter if you are traveling abroad. This worldwide power plug is a great example and will charge your phone at the end of your busy days. And this world traveler adapter kit can charge several devices at the same time. This is what you will need when there are several people traveling in your group, or if you bring several electronic devices on your trip that require charging at the same time.
Northern California Road Trip Map
If you are looking to see exactly what this Northern California road trip looks like on paper, check out the map of our itinerary below! You may have to modify for your own road trip in California based on weather, road closures, and time!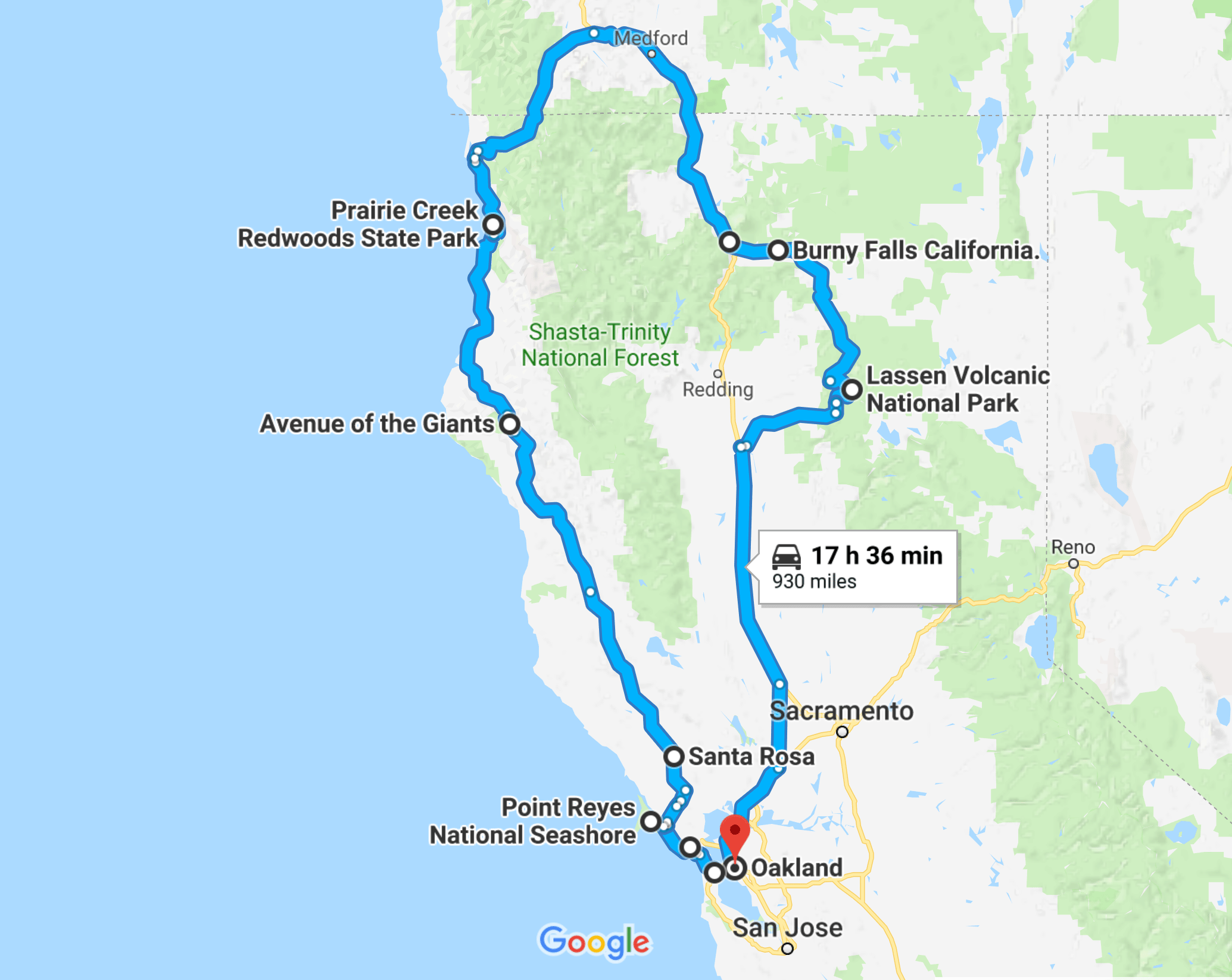 There are so many things to do and see during a Northern California road trip so we won't blame you if you want to come back to this state again! Feel free to take your time when doing a California road trip so you can really experience what the state has to offer or just do bits and pieces on day trips or weekend trips if you live nearby!
Please note: This post was written in partnership with the Visit California tourism board and with Mighway. All opinions are our own and do not reflect those of Visit California or Mighway. 
Pin this post: