If you're looking for an epic beach vacation in Hawaii, this list of Airbnbs in Oahu is for you. Oahu is one of Hawaii's main islands and home to the capital, Honolulu. It's loaded with gorgeous beaches, exciting nightlife, and historic sites like Pearl Harbor and Iolani Palace.
If you're wondering where to stay in Oahu, we've gathered up all of the best Airbnbs in Oahu including the most popular spots like Honolulu, North Shore, and Waikiki. Naturally, all of these locations are close to the gorgeous beaches, but some offer even more with resort-style amenities and close proximity to inland hotspots so you'll never run short on things to do.
Get ready to pack your bags with our Hawaii packing list and pick your favorite of these Airbnbs in Oahu to stay.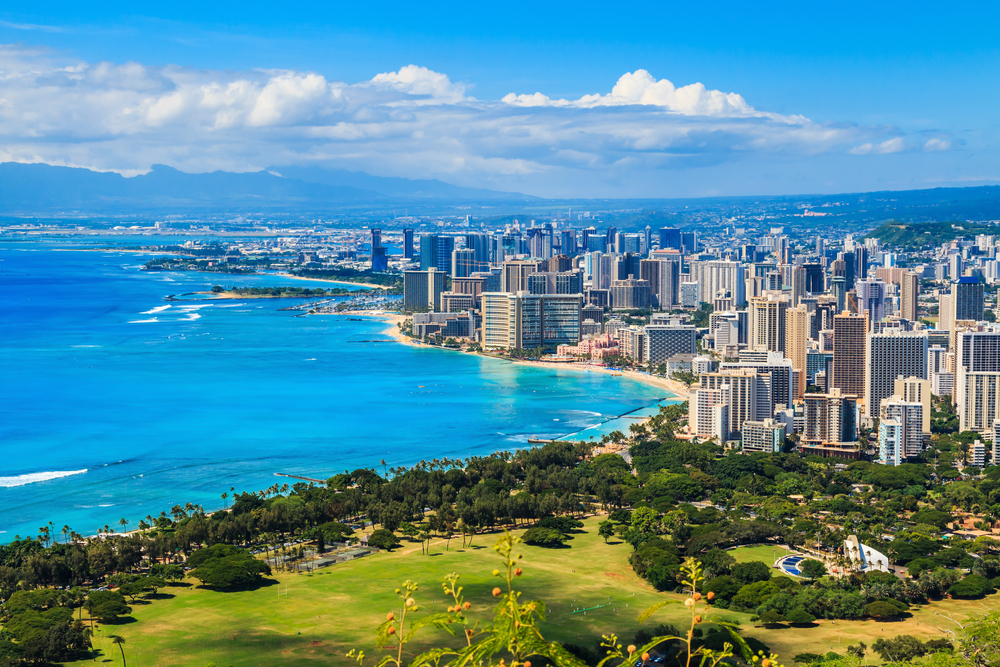 14 Best Airbnbs In Oahu (Beach Front, Condos And More!)
Maluhia ~ Peace & Tranquility
If you're looking for amazing North Shore Airbnbs in Oahu, this Maluhia home will certainly stop you in your tracks. With space for up to 10 guests, it's perfect for families or large groups.
Located on a quiet beach and at the end of a dead end road, this home offers the luxury of a resort with the privacy of home. Plus, it's only a short drive to Historic Haleiwa town so when you're not out enjoying the surf, you can explore the shops and local resturants.
This home has 4 bedrooms with 6 beds and 4.5 bathrooms. You can cook in the fully loaded kitchen and then enjoy your meals on the open deck with a panoramic view of the ocean. Each room features crisp and elegant decor for a luxury resort feel, as well as ocean views in most rooms.
Check rates at Airbnb.com.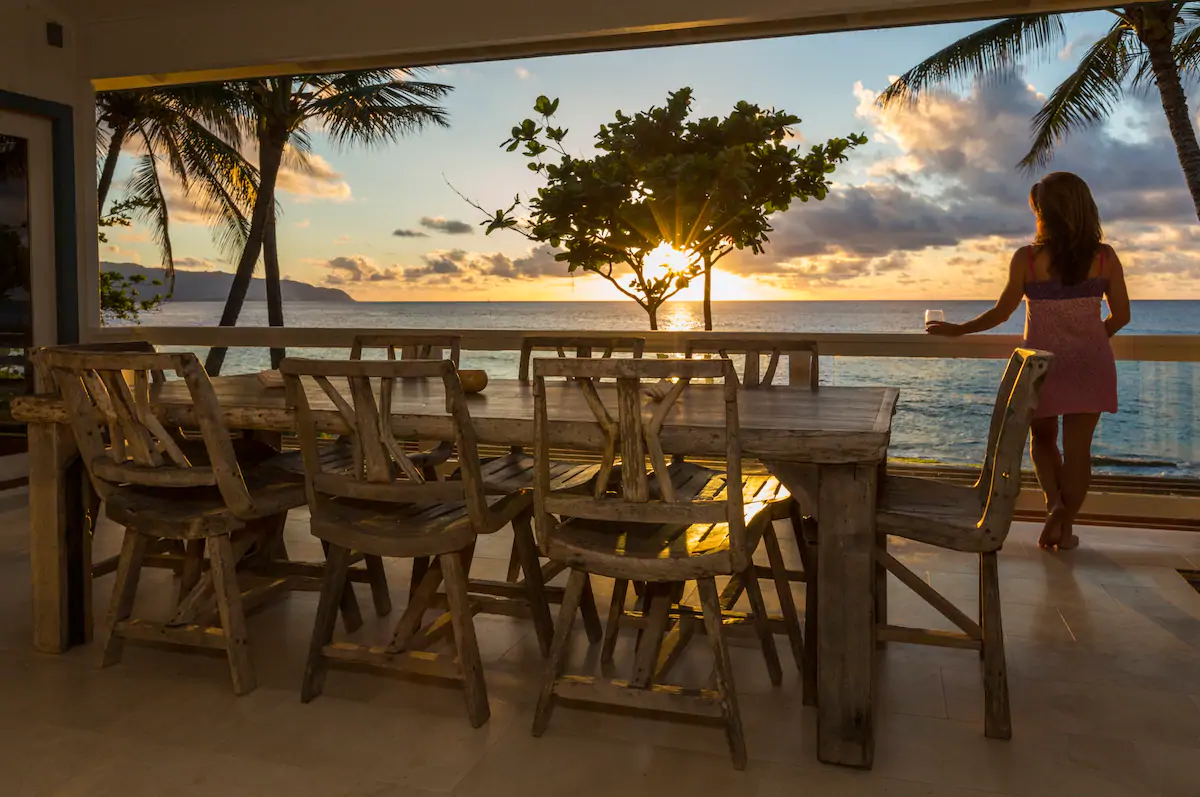 Bamboo 2: 2bdrm/2 ba at Tiki Moon Villas
At just 110 feet from the water with dazzling views of the ocean, this gorgeous Tiki Moon villa is one of the best North Shore Airbnbs. It's located along a half-mile of quiet sandy beachfront featuring shallow waters that are great for snorkeling swimming, beach walks, and fishing.
There are 2 bedrooms, each with a queen bed as well as a day bed in the living room, and the home is beautifully decorated with antiques and eye-catching wood ceilings.
Nearby you'll find scenic hiking areas with waterfalls in the neighborhood, the Polynesian Cultural Center across the street, and the Laie Temple Grounds.
Check rates at Airbnb.com.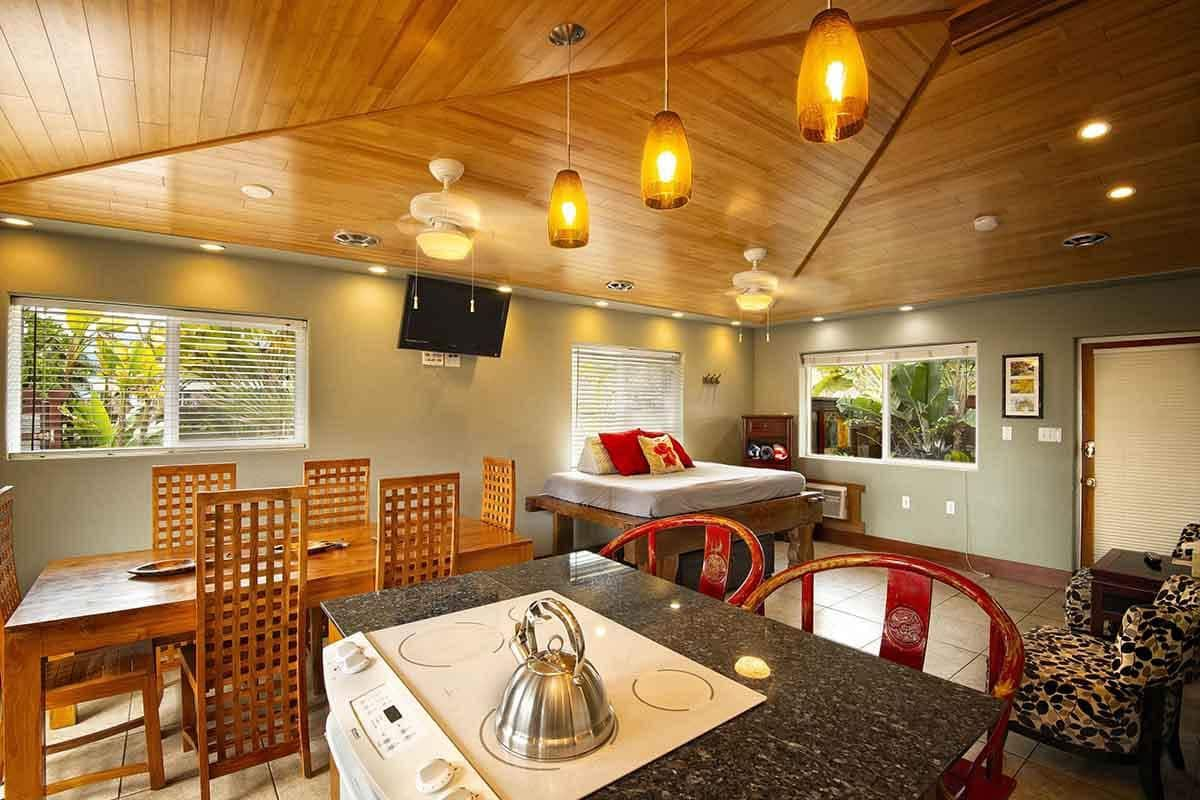 MIRACLE HOUSE! Beachfront house on PIPELINE!
North Shore Airbnbs always seem to have gorgeous beach fronts, and this one is no exception. Located on Banzai Pipeline you'll be right on the shore professional surfers love. This beach is home to surfing world championships and incredible pipe waves.
This 1970s home features eye-catching vaulted ceilings with wood beams, a spacious lanai for dining space with a view. Plus, your next-door neighbor is one of the most successful surfers of all time. Each room in this home is beautifully decorated with wood accents, modern furniture, and spacious and open living.
This home is perfect for gathering with your fellow surfing lovers, or a large family reunion with space for 14 guests in its 5 bedrooms with 9 beds.
Check rates at Airbnb.com.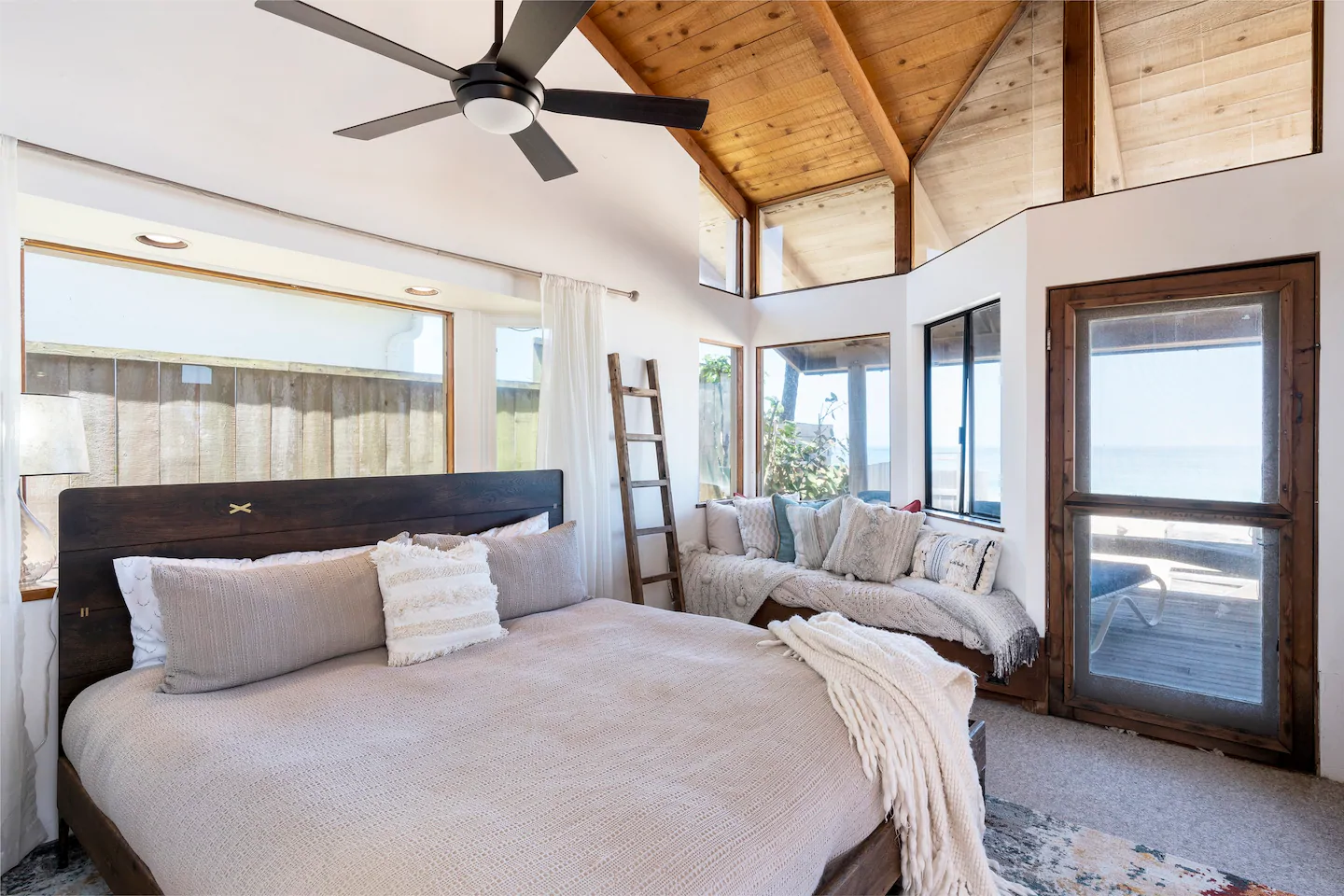 Sea Cliff House – Oceanfront – 30 Day Stays
Imagine waking up to panoramic views of the ocean as if you're standing on top of it. That's what this dreamy Sea Cliff House Airbnb in Laie Bay on the east side of North Shore has to offer. The quiet location offers everything you need for a comfortable stay and a memorable extended vacation.
Prepare your meals in the modern kitchen that opens to the dining area or open the 20 foot-wide sliding glass door for outdoor dining with an incredible view and relaxing sounds of the crashing waves.
In the 1500 square feet, you'll have 3 bedrooms that can sleep up to 10 people, so this home can comfortably host a whole family, though it does require a 30-day minimum stay.
Check rates at Airbnb.com.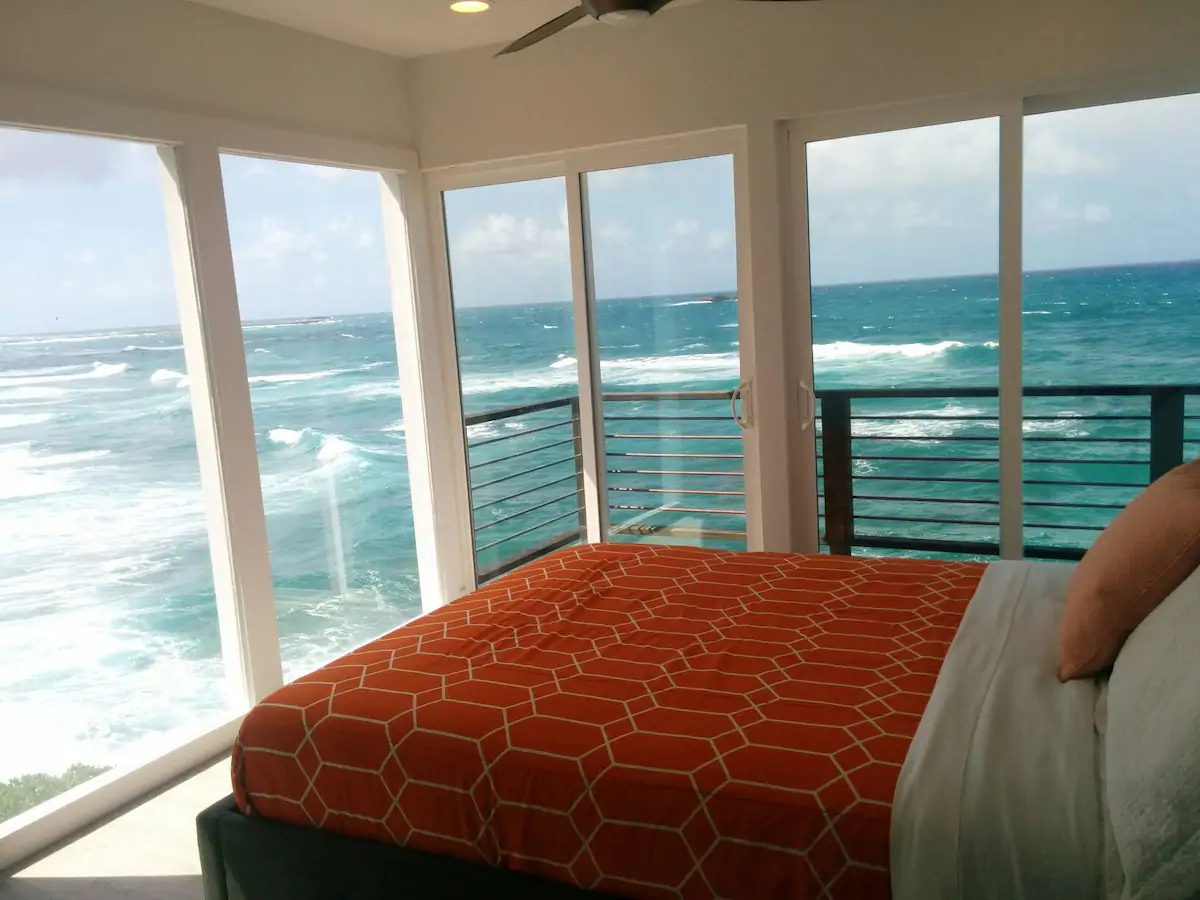 Ko Olina Resort 3 bedroom direct walk to ocean
If you're looking for where to stay on Oahu's southeast shore, then this cozy Kai Lani condo just steps from the beach in Kapolei might be just right for you.
This condo is within walking distance to great restaurants and beautiful beaches, and it offers an open concept that's perfect for relaxing with family after your adventures on the island. Plus the resort offers a gorgeous pool and spa for splashing the day away.
Typically Airbnbs in Oahu with direct ocean access come at a high price, but this 3 bed and 2 bath condo comes at a more affordable nightly rate. However, it is another 30-day minimum
Check rates at Airbnb.com.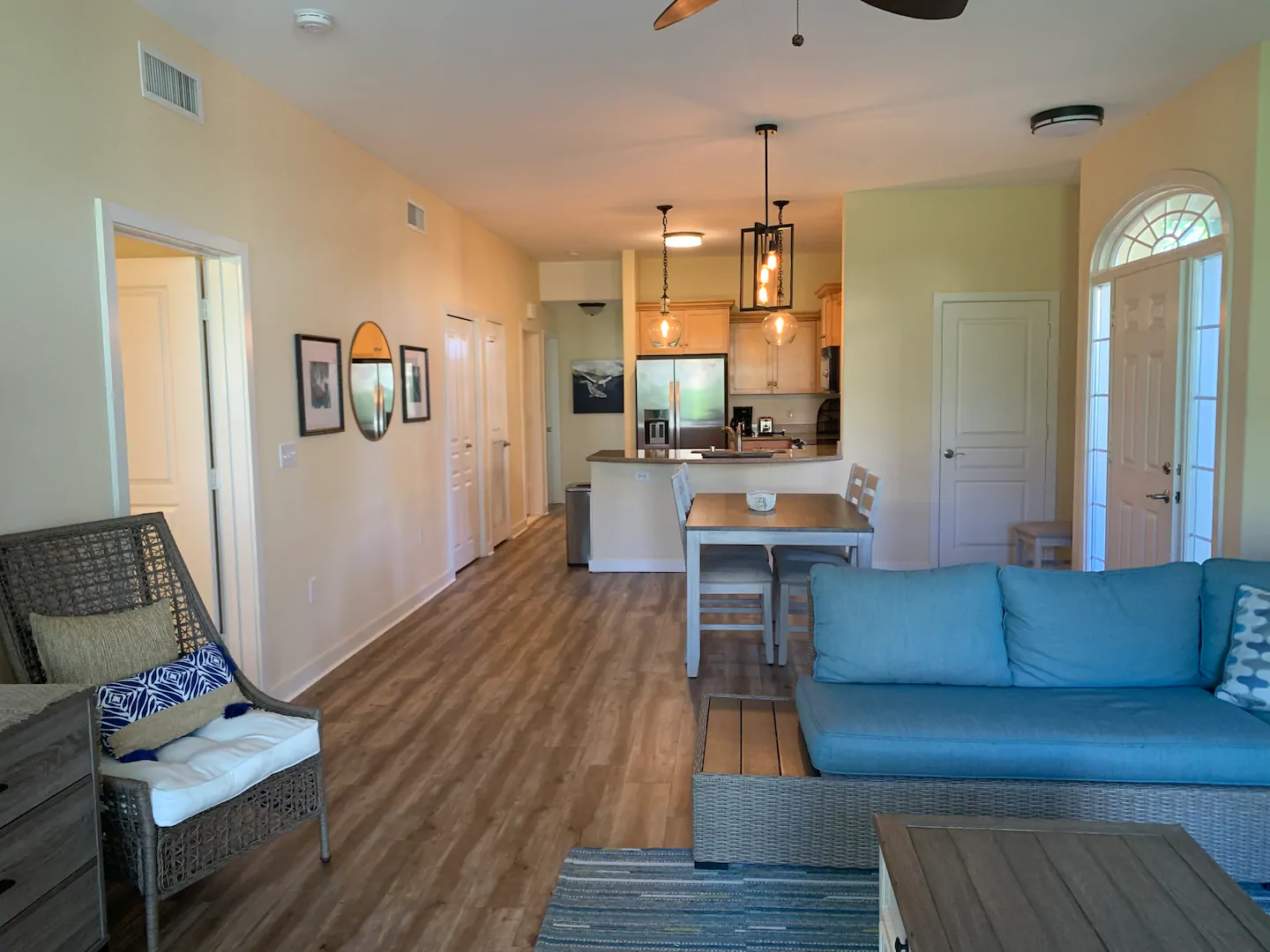 Aqua Aloha Surf Waikiki #900 Superior Studio with Lanai and Partial City Views located just 2 Blocks to Waikiki Beach
When looking for where to stay in Oahu, you might find yourself wanting to explore Airbnbs in Waikiki. This studio condo is just 2 blocks away from Waikiki beach and a block away from the International Market place in the city, so you get the best of both worlds. Plus, the resort offers a free shuttle to easily take you where you want to go.
You'll get a true vacation expirence with a gorgeous, island-inspired lobby, a free continental breakfast to start your day, an on-site spa, fitness area, pool, and barbecue grill to make the most of your vacation in Oahu.
This studio is close to all the exciting spots in Waikiki and Honolulu like the Royal Hawaiian Center, International Marketplace, Honolulu Zoo & Kapiolani Park, Hawaii Convention Center, and the Ala Moana Center. You can even enjoy city views right from your balcony.
Check rates at Airbnb.com.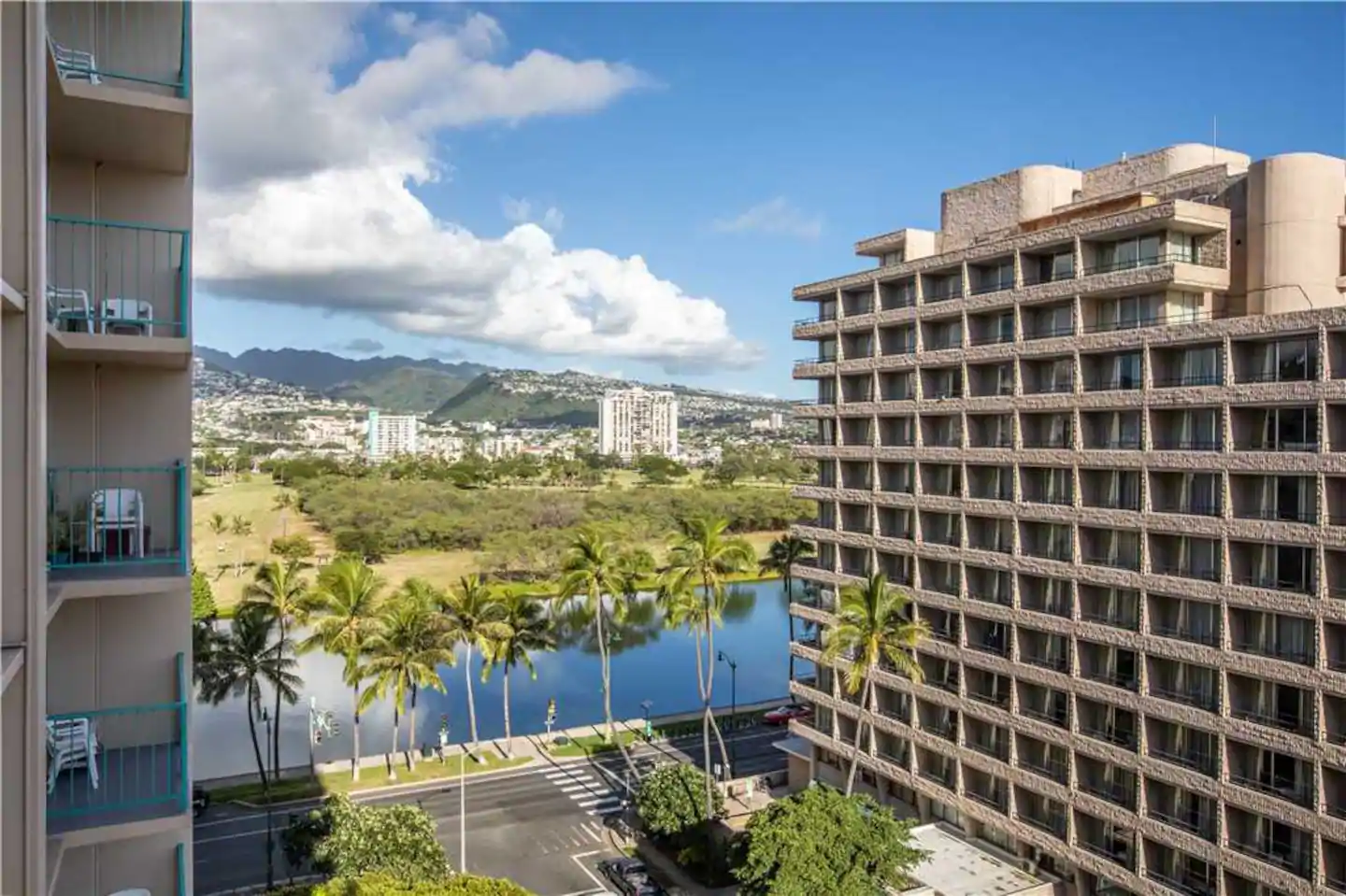 Hawaii Oceanfront Beach House | Paradise on the Beach | Family Activities
Say aloha to paradise in one of the best Airbnbs in Oahu! This dreamy oceanfront North Shore Airbnb is perfect for your relaxing getaway. Located right between the World Famous Pipeline and Sunset Beach, the location is perfect for having lots to see and do during your vacation.
After a long day at the beach, you can enjoy an outdoor shower, relax on the open lanai, and enjoy the hot tub. Inside you'll find 3 bedrooms with 6 beds and enough space to sleep up to 10 guests.
The home is fully gated for privacy and offers access to a private beach with consistent surf as well as areas that are kid-friendly for snorkeling and swimming.
Check rates at Airbnb.com.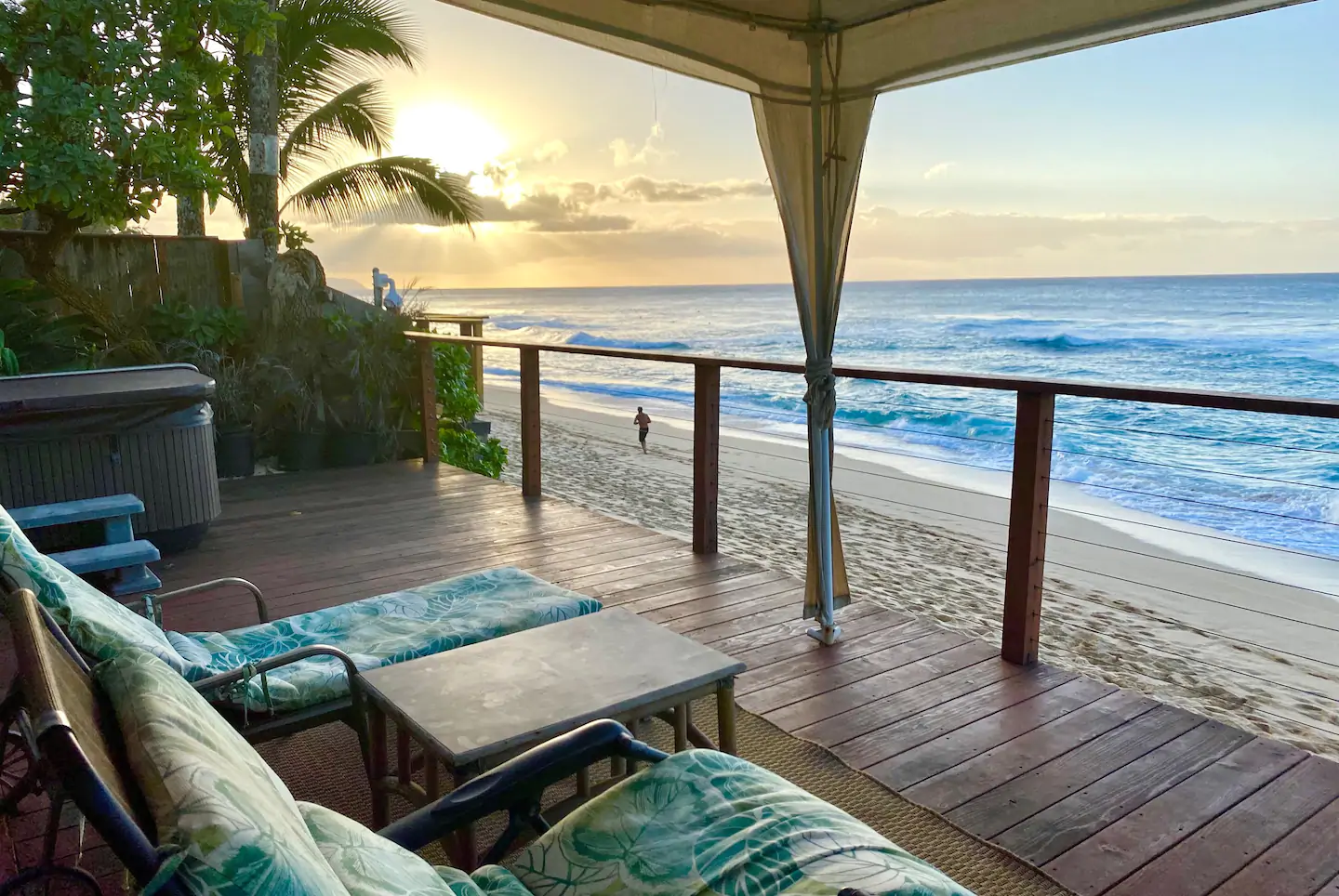 Hale Pono
When looking at the best Airbnbs in Oahu, you certainly don't want to miss the Luxe options for a 5-star experience. This Hale Pono Airbnb in Haleiwa is beachfront to Velzyland and minutes from the Bonzai Pipeline's famed breakers. This home can sleep up to 8 people with 4 bedrooms and 4.5 bathrooms.
Enjoy an upper balcony, ground-level veranda, and open-plan living areas with broad ocean views. There's also a garden path to guide you to the sand for a walk at sunset. Nearby you can also experience Turtle Bay's 2 renowned golf courses.
This home has gorgeous interior features like an updated kitchen with plenty of seating, sleek minimalistic decor, a spacious master bedroom with a huge sliding glass door for ocean views, and a luxurious spa-inspired master bathroom.
Check rates at Airbnb.com.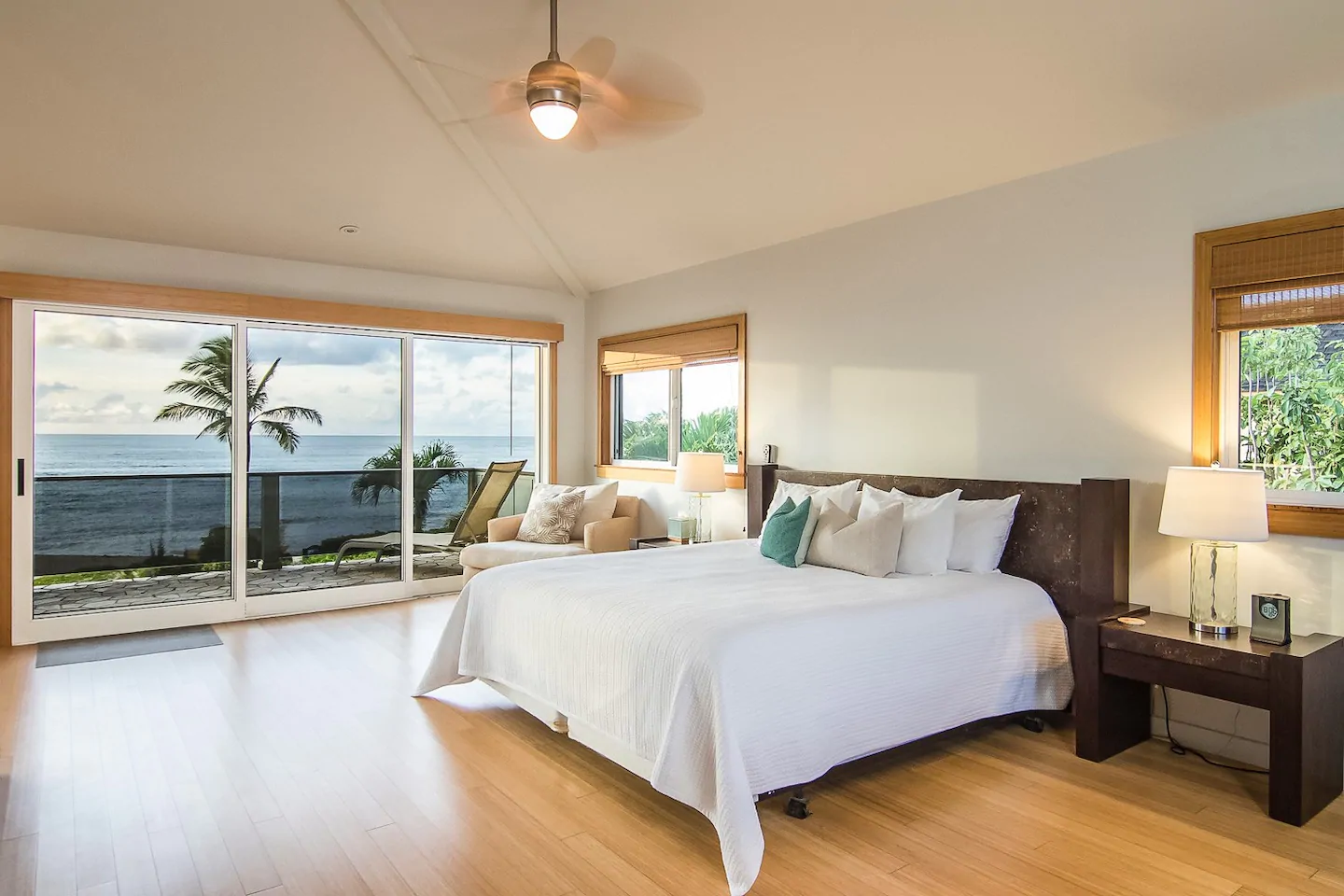 Full Ocean and Waikiki View Modern Studio
If you're looking for Airbnbs in Waikiki, this high rise studio is an absolute can't miss. It's cool and light colors throughout offer a relaxing vibe and the ocean and city views from the 34th floor are incredible.
This studio is about a 10-minute walk to the beach, a 7-10 minute walk to the main shopping areas, and a 5-minute walk to McCully Shopping center. There are also great restaurants on your way to the beach. Or if you'd rather cook for yourself you can pick up groceries at the store 2 blocks away and cook in the kitchenette.
The building also offers a pool and jacuzzi, BBQ deck area, spa, car rental, bakery, lounge, night club, pub, and some great restaurants. For an extra small fee, you can also have access to a gym, parking, and washer and dryer.
Check rates at Airbnb.com.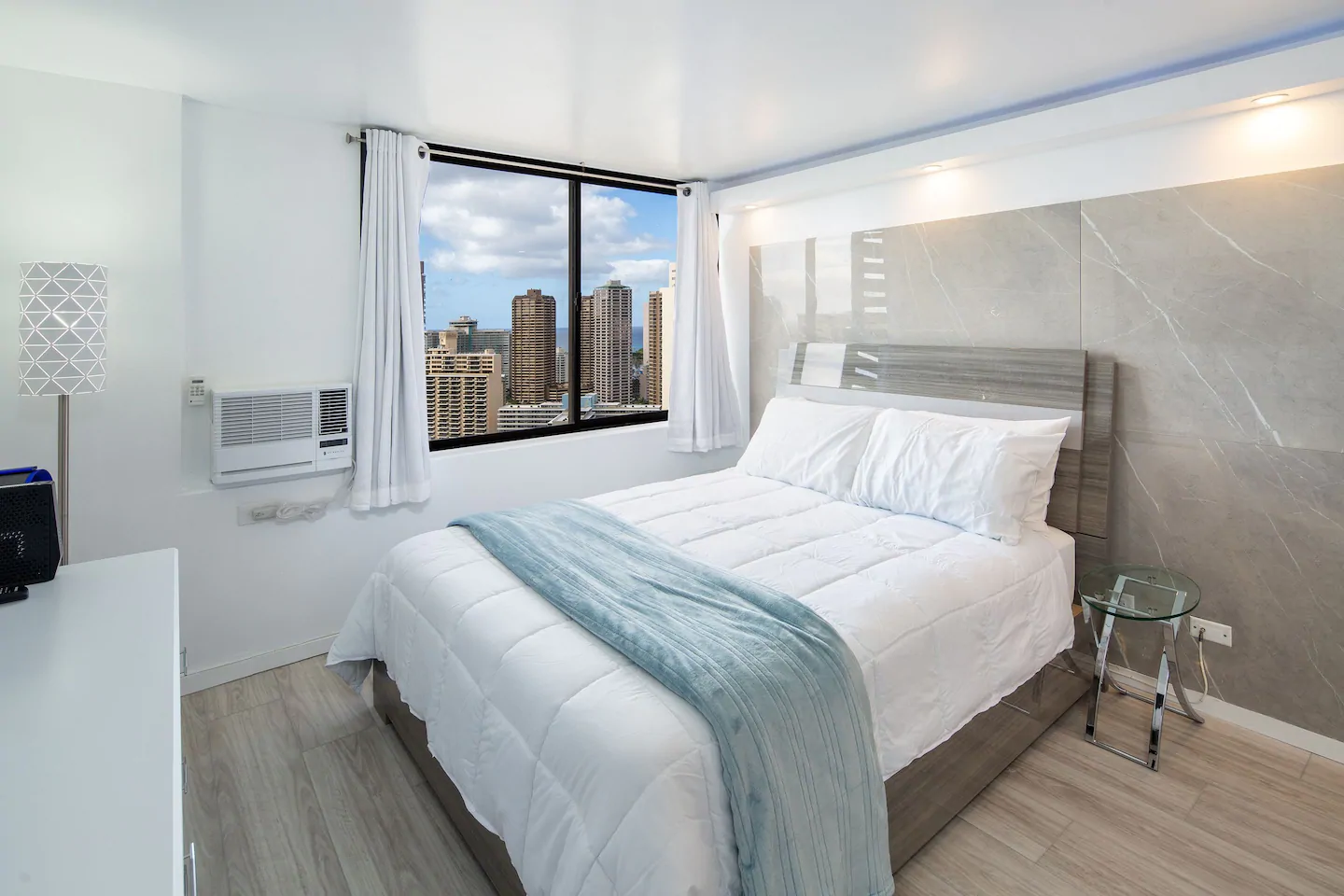 Hawaii beach house
Just steps away from the beach and golf, this is one of the best Airbnbs in Oahu for its spacious living areas, beautiful decor, and variety of amenities. In this Hawaii beach house you'll enjoy relaxing on the large deck, or unwind with the sunset in the hot tub.
Spend your days enjoying the surf, sandy beaches, food trucks, Polynesian cultural center, hikes, golf, and more all within minutes by driving or walking. The space is ideal for families with a large lot for kids to play and a total of 5 bedrooms to sleep up to 16 people.
This home offers a full kitchen with plenty of seating that opens to the living areas so you can easily still spend time with family while preparing your meals.
Check rates at Airbnb.com.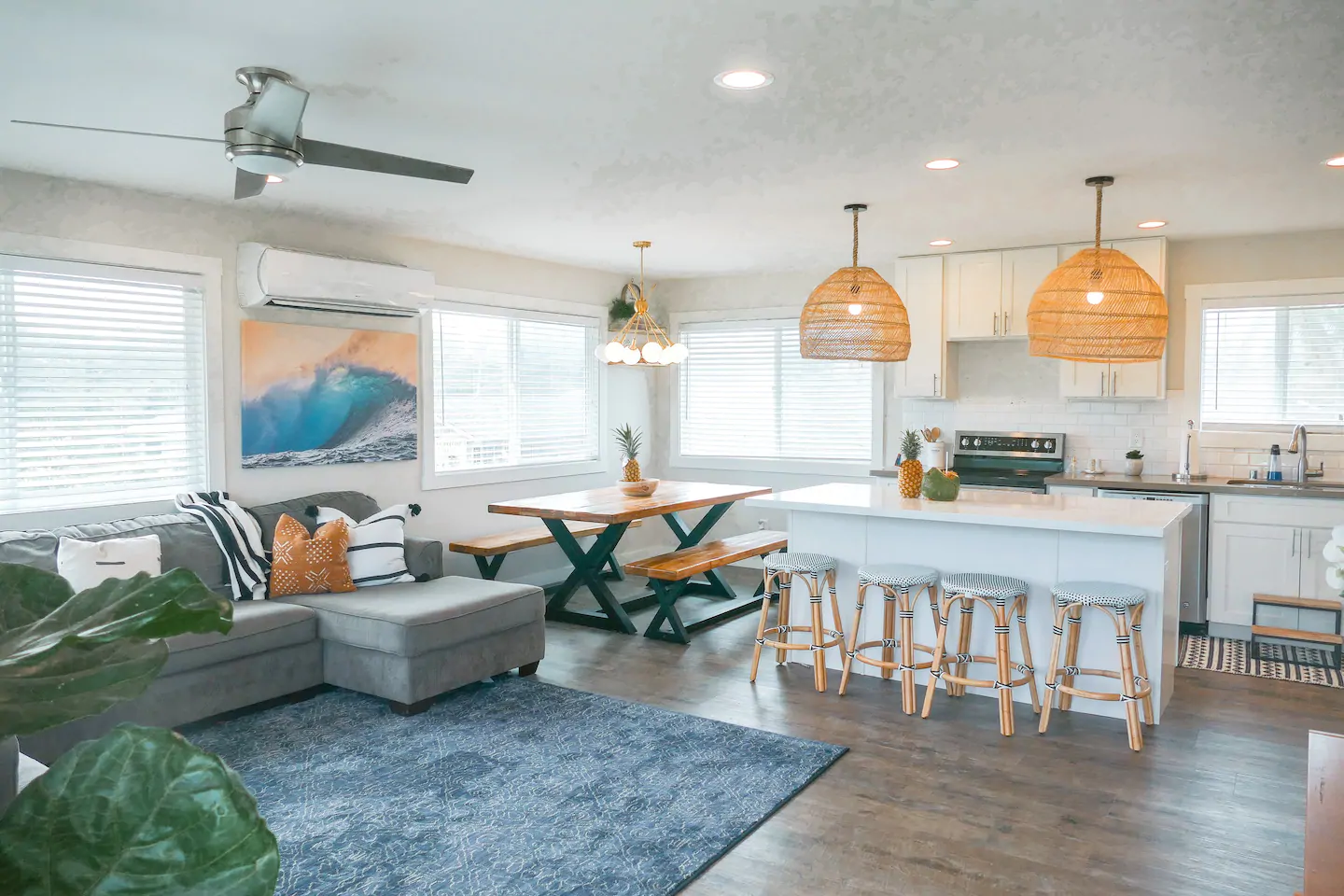 North Shore Oahu ~ Turtle Bay House of the Sun 2BR
This hidden gem in Turtle Bay is one of the best Airbnbs in Oahu. With its new renovations and gorgeous decor designed by a local artist, you'll feel like you're living in luxury.
Offering plenty of resort-style amenities, this condo includes access to the golf course, tennis courts, and 3 swimming pools. Plus being at the Turtle Bay resort means you're just a short walk away from the gorgeous North Shore waters.
The 2 bedroom, 2 bathroom condo can sleep up to 7 guests and each bedroom has an AC unit for climate control.
Check rates at Airbnb.com.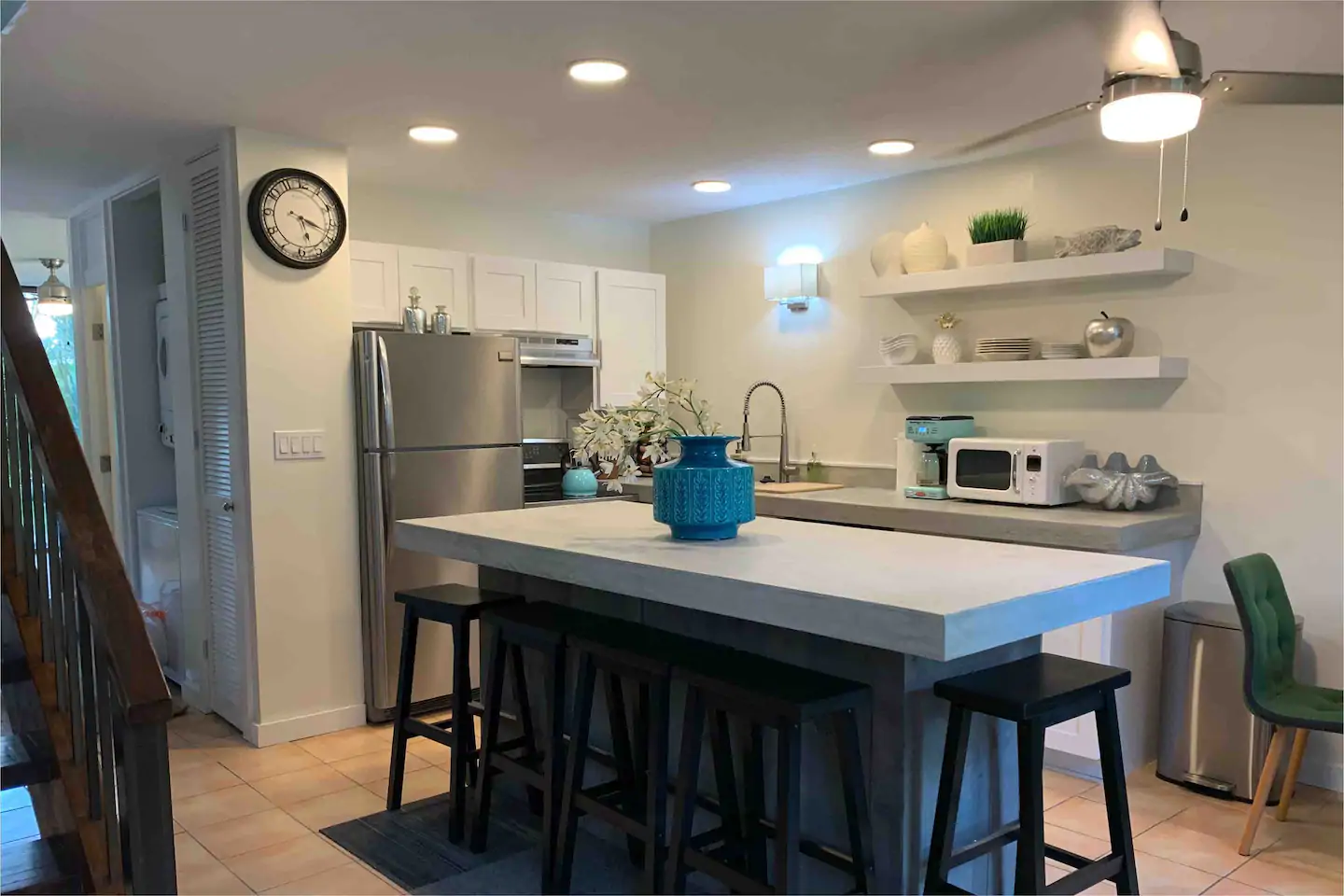 Large One Bedroom in Historical Haleiwa Town
This Airbnb in Oahu is a little different from the others. Rather than being right on the water, this large one bedroom home is in the heart of the historic town of Haleiwa. You'll enjoy views of traditional Hawaiian Kalo fields accompanied by bright starry skies at night and gorgeous sunsets in the morning.
You'll be just a mile away from the beaches and beautiful sites in North Shore, but right in the heart of shops and restaurants in Haleiwa. The host also has connections to friends in the area for surfing lessons, photographers, business owners, and more to make the most of your vacation.
This Airbnb is an "Ohana unit" meaning the roof connects to their home, but you won't be sharing any walls, so you're host is accessible but still allows for plenty of privacy. Inside the home, you'll have one bedroom, a kitchenette, and a cozy living room with island-style bamboo furniture.
Check rates at Airbnb.com.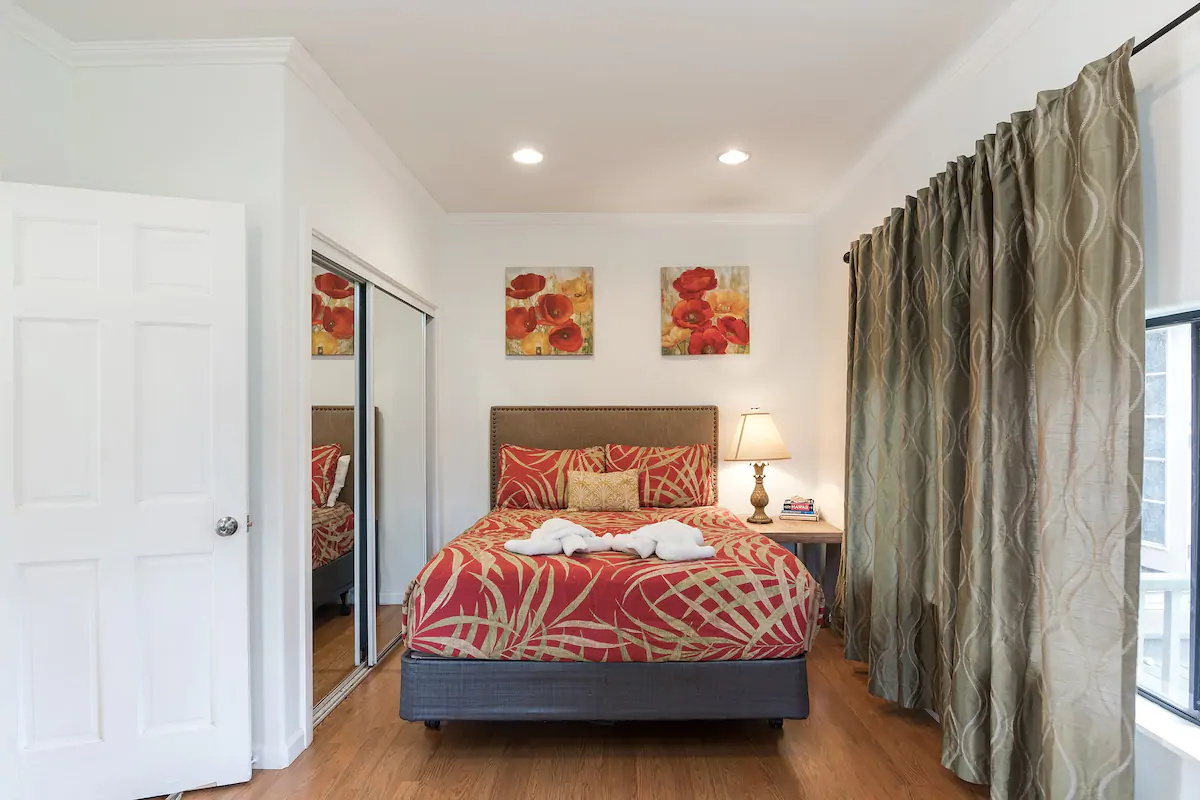 Ocean Front Beach House – North Shore
This Airbnb in Haleiwa is on the western side of North Shore in Oahu and features a beautiful oceanfront view. You'll enjoy a quiet setting just off of Shark's Cove with views all the way to Kaena Point.
This 3 bedroom home is the perfect space for a family including bunk beds and a small desk, perfect for kids' activities. The oceanfront outdoor dining area is great for dinner under the stars with the soothing sounds of crashing waves. The island-style decor is perfect for a home away from home.
Enjoy being right off the start of a bike path that runs from Shark's Cove down to Velzyland. Along the trail, you'll enjoy views of world-famous beaches including Ke Iki Beach, Pipeline & Sunset Beach. There is also a great park nearby that's perfect for kids to stop and play.
Check Rates at Airbnb.com.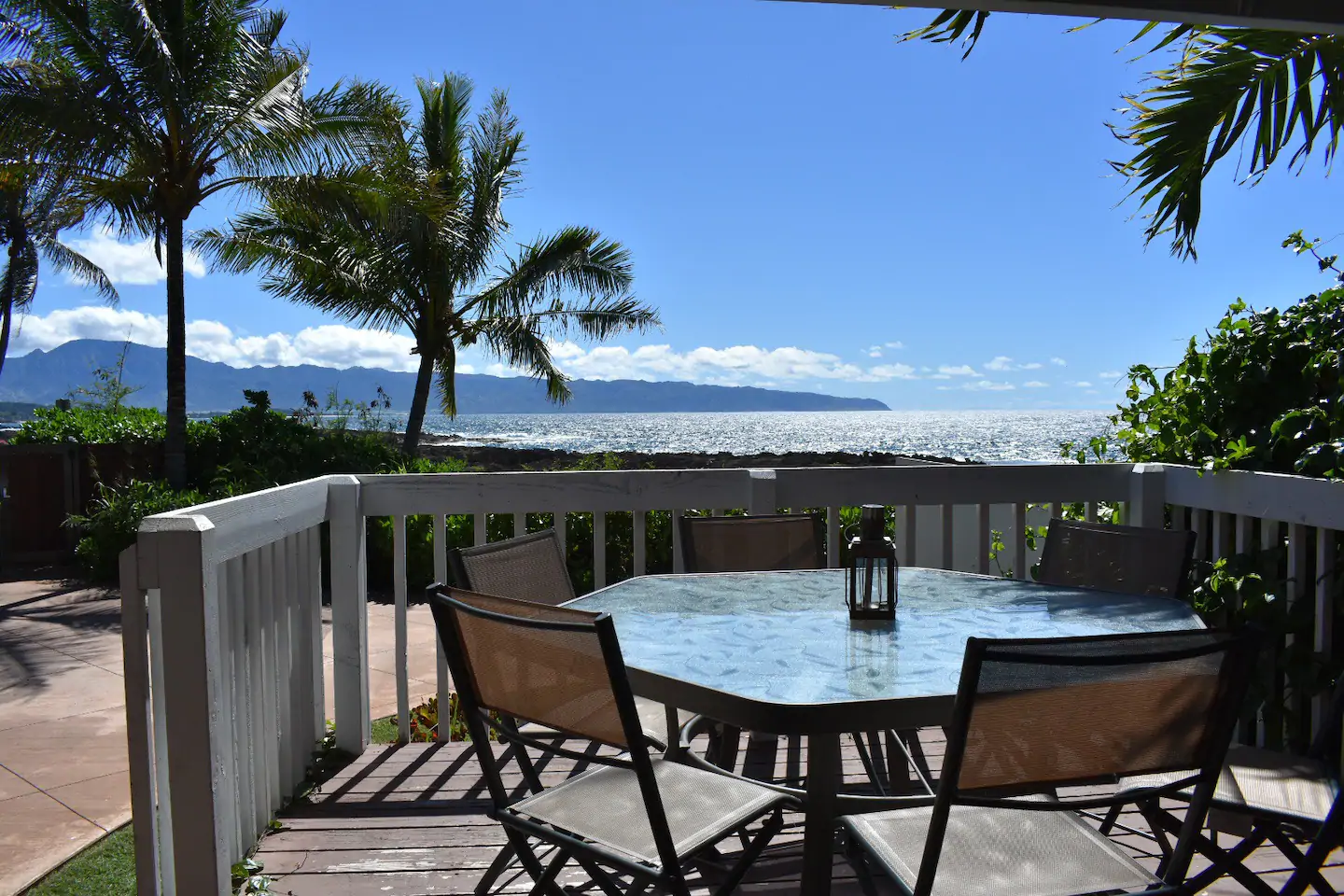 White Sand Beach Oceanfront Home
One of the best North Shore Airbnbs in this gorgeous oceanfront home in Haleiwa. Wake up to some of the best ocean views from the master bedroom and sip your morning coffee on the rear deck.
You'll have direct access to the sandy beaches from the backyard of this 2 bedroom, 2 bathroom home. The location is well known for great surfing in the winter, or if you're looking for calmer waters you may prefer to visit in the summer.
This home is known for being able to see surfers, turtles, whales and dolphins in the waters while wedge-tailed shearwaters and crabs frolic just off the back yard giving you the ultimate experience with the nature of Oahu.
Check Rates at Airbnb.com.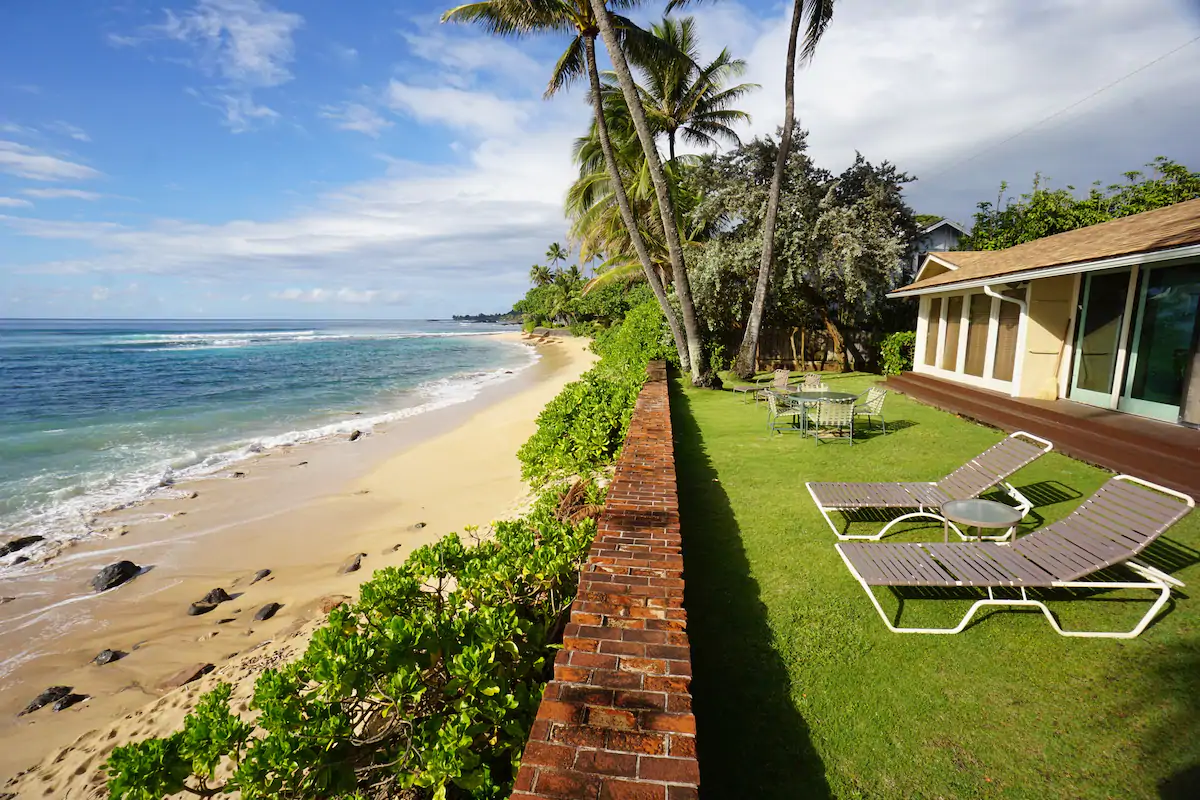 Staying in these Airbnbs in Oahu would be nothing short of a memorable vacation. The ocean views and amazing surf are unbeatable in Oahu and being able to live like the locals in these incredible homes will make memories that last a lifetime.
If you're looking for more places to stay among the islands of Hawaii, check out our list of the 20 Best Airbnbs in Hawaii. Planning this trip for your honeymoon? We also have tips for the ultimate Hawaii honeymoon.