Are you looking for things to do in Bryce Canyon? Then you have come to the right place! We have made a list of activities for you to do while you visit Bryce Canyon, so that you do not have to put in all the extra research, and you get to have more time to enjoy your trip!
Utah offers a wide array of beautiful destinations, diverse wildlife, desert landscapes, a chance to see the large pillars called hoodoos, and vantage points that cannot be beat.
The hoodoos are one of the most unique things to see in Bryce Canyon, often they are described as having an almost eerie air about them. Due to the unusual air surrounding hoodoos which are formed from years of erosion, they have also earned the nicknames "fairy chimneys" or "goblins".
Even though Bryce Canyon is one of the smaller parks in Utah, it still offers plenty of activities to make it a destination worthy of your time! In this guide we will give you ideas of what to see in Bryce Canyon, best Bryce Canyon hikes, as well as numerous activities to choose from to make your visit enjoyable!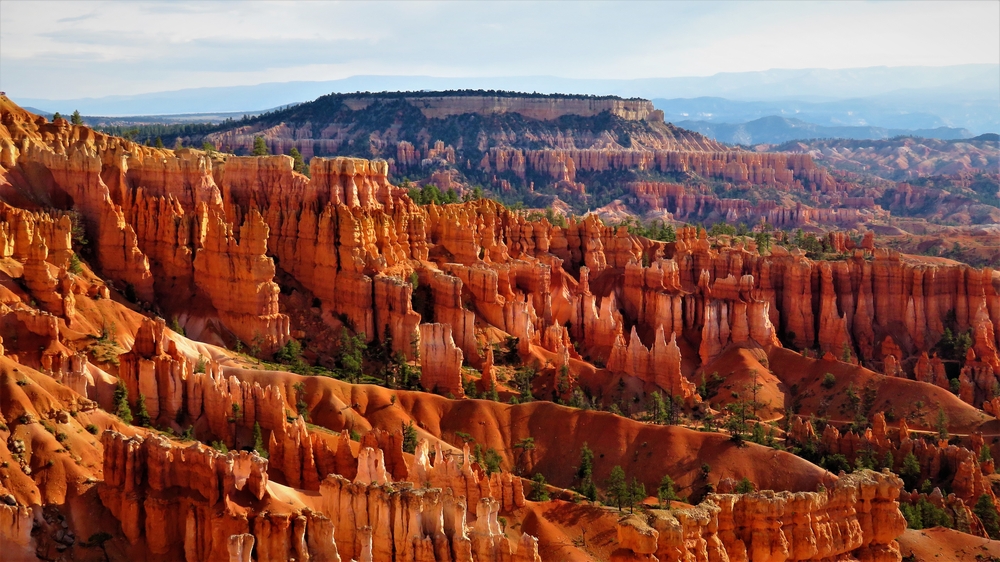 12 Epic Things To Do In Bryce Canyon National Park
Visit the Bryce Canyon Visitor Center
First and foremost, starting at the Bryce Canyon visitor center is the best place to go to set you up for things to do in Bryce Canyon. The visitor center has a wealth of information for you to have a successful and enjoyable visit to the National Park.
The Park Rangers will set you up with a free map of Bryce Canyon, which is so important as you do not want to get lost in a place that phones may not always be reliable with their signal!
The Park Rangers are also a huge wealth of information as they know the Parks extremely well. Rangers will be able to help give more detailed answers to any questions you have regarding what to see in Bryce Canyon.
The Rangers will also be able to give you important information on what the trails may look like for that specific day. This is useful information that can help you set up for a successful hike!
Along with the information you can glean from Park Rangers, there are other resources at the visitor center. For example there is a 24-minute educational film which plays on the hour and half-hour.
There is also a park museum that you may visit if you choose. If you would love to support the National Parks in their maintenance and help keeping them beautiful, you can buy some souvenirs, books, maps, and the like from the gift shop at the visitor center as well!
Not only are you helping the park be maintained for future visitors, but you get something fun also!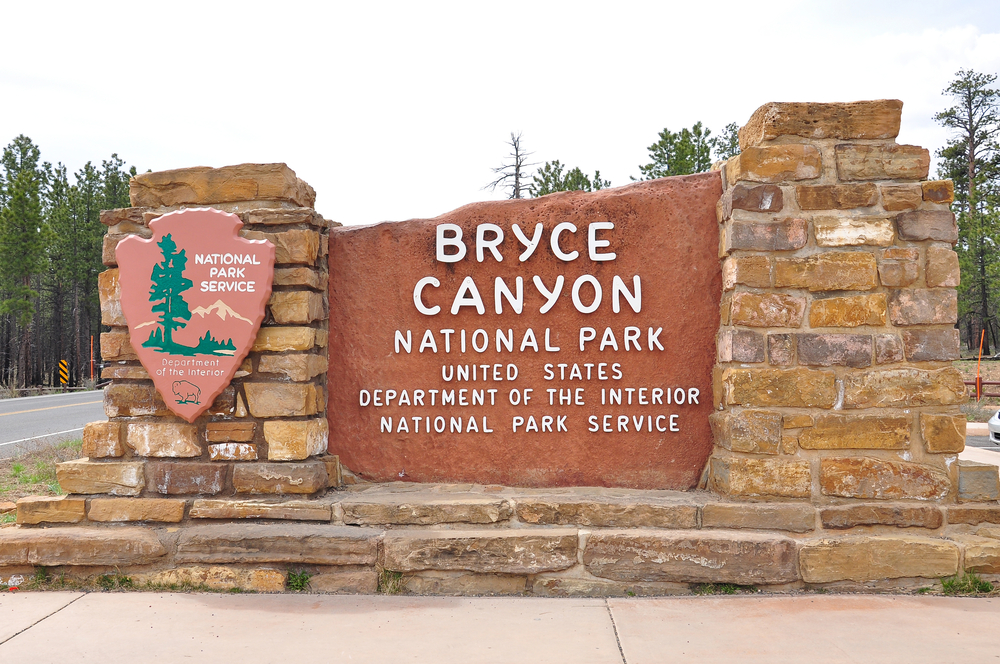 Take in the view from Inspiration Point
Inspiration Point is known for its beauty at sunrise or sunset. Because Inspiration Point is so versatile on what time of day it is beautiful, it is an amazing choice for early birds or night owls! It gives an amazing overlook of Jenny Lake and allows you to see the hoodoos light up.
Inspiration Point may be one of the best Bryce Canyon hikes to do on your Utah road trip because it gives a good view of all of the beauty in the National Park in one easy to see spot!
You will be able to view the amphitheater in all its glory, as well as see the spires and hoodoos that were created from years of erosion. There are few better things to do in Bryce Canyon National Park than to see the beauty of what our earth naturally creates.
Accessing Inspiration Point can be done in many ways. You have the option to hike along the Rim Trail, or you may bike on the shared path that leads to the overlook, there is also the option to simply drive, or even take a shuttle!
Be sure to check out times and more information on the National Park Service page here!
If you choose to hike you can plan to spend roughly two to four hours on this particular vantage point. Also, as you get ready for this hike, it is important to remember safety. Be sure to bring water, but most importantly stay on the marked trails and do not cross into fenced off areas. The cliffs along the Rim Trail are crumbly, slippery, and often have complete drop offs. Be aware of this as you walk along this trail!
With all of this in mind, as you set out on one of best Bryce Canyon hikes, remember to have fun and enjoy the natural beauty around you!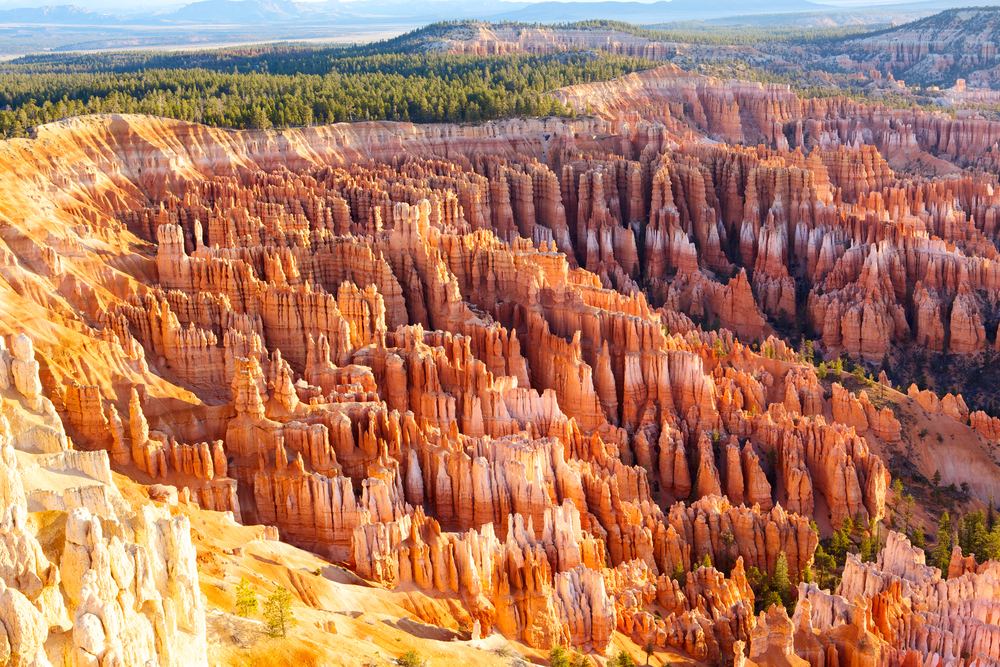 Explore The Navajo Loop Trail
Would you like to be able to see the Canyon from a totally different perspective? Then Navajo Loop Trail is a perfect hike to consider!
The Navajo Loop is a great thing to do in Bryce Canyon because it is only about 1.5 miles long with a roughly 500 level elevation gain. More importantly, it will give you the chance to see the hoodoos up close and personal, as well as the chance to visit Wall Street.
Wall Street is a wall canyon connected to the Navajo Loop Trail as well as the Queen's Garden Trail (more on that later!). However, it is worthy to note that if you want to see Wall Street, it is best to visit in the Summer due to this portion often being closed because of freezing temperatures at night throughout most of the year.
On that note, it should be noted that the Navajo Loop Trail is also subject to closing due to freezing overnight temperatures at times. So be sure to check in at the visitor center to ensure that the trail is open!
If it is, you will have the opportunity to see picturesque Thor's Hammer, a view of the "Silent City" to the west, and a view of the "Temple of Osiris" to the east.
A majority of people spend roughly one to two hours on this trail. Overall, this trail gives a good variety of things to see in Bryce Canyon!
You should note that the temperatures vary greatly from extremely hot to extremely cold. Wearing layers and making sure you have enough water are both important necessities to help make this hike more enjoyable and safe!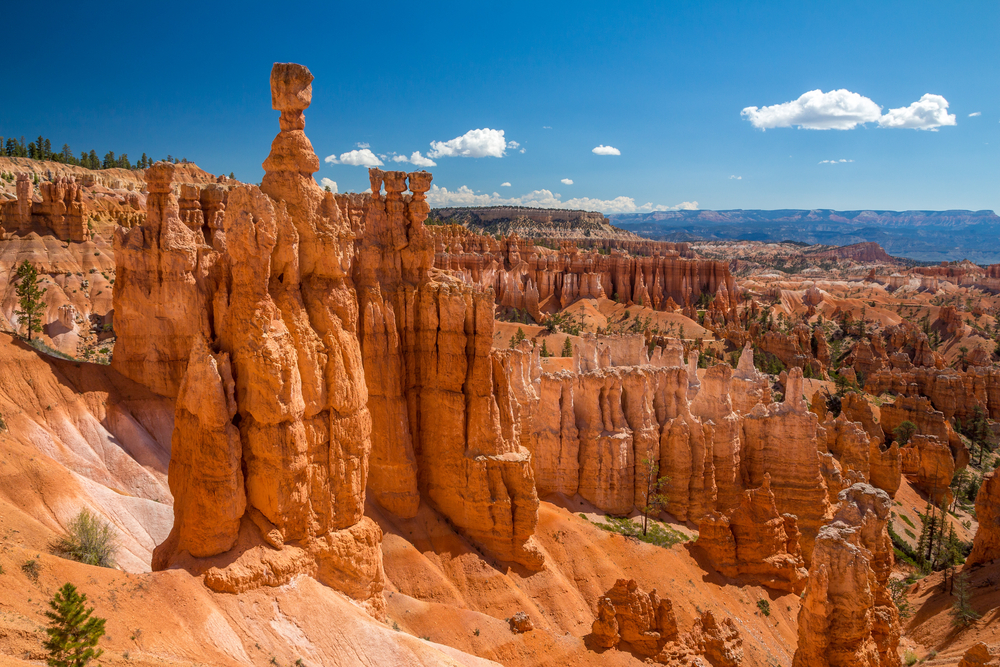 Hike To Queen's Garden
The Queen's Garden trail is one of the quickest ways to access the hoodoos up close. It is considered a moderate hike though due to how steep of a trail it is.
The Queen's Garden starts at Sunrise Point and is about 1.8 miles round trip, but has an incline/drop of roughly 320 feet down into the canyon. Considering the length and incline, you can plan to spend a little less than an hour to get down the trail, and around an hour or so to get back up due to the incline back up being a bit more slow going.
The incline is what makes this hike a bit more strenuous. So if your knees are prone to get sore, using something like hiking poles could be extremely helpful for this hike.
However the national park has stated that Queen's Garden is one of the easier trails to access the Bryce Amphitheater. While it is still a moderate trail, it is one of the better choices to take to reach the Bryce Amphitheater if you are limited in your hiking experience.
This hike is considered one of the best Bryce Canyon hikes by most people, so be prepared for crowds! It also feeds into the Navajo Loop Trail, so that adds to the likeliness of crowds. Plan accordingly if you are not a fan of crowded hikes.
Queen's Garden is just one of the many things to do in Bryce Canyon that allows you to see the hoodoos up close and experience the Wall Street trail. It also gives access to the Navajo Trail Loop. So if you pack enough water and food, you could easily make a fun day of this trip!
As far as beautiful things to see in Bryce Canyon, this is a location that cannot be beat for winter time! If the trail is open, and you have the proper winter gear and traction devices, it is a trail worth your time. If you choose to do this hike in the winter, please ensure that you are checking trail safeness before going! As always, even if it's cold, be sure to pack water as well!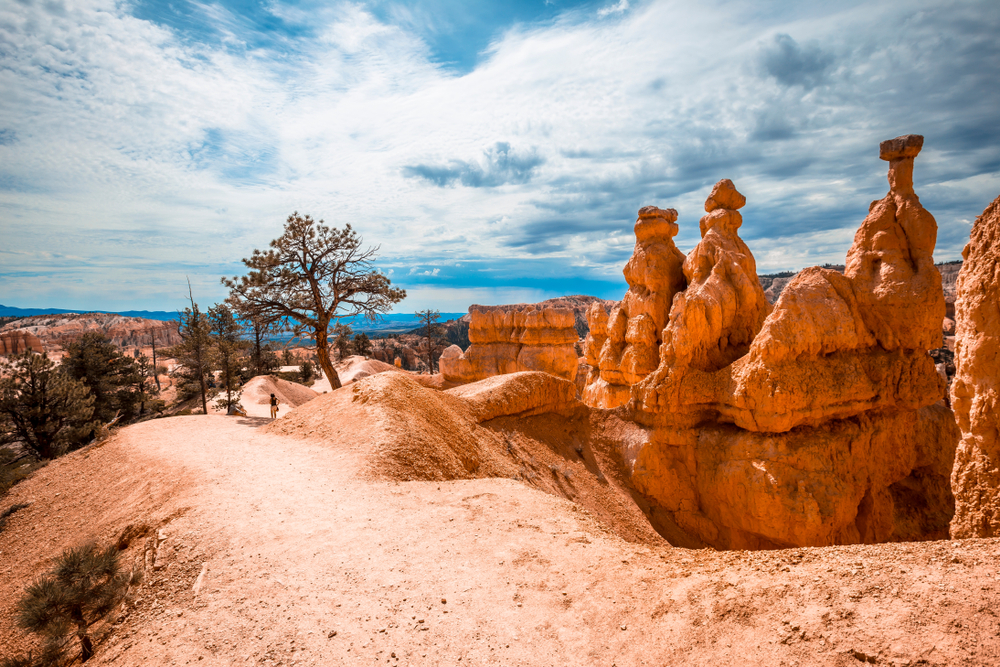 Wall Street Trail
We have mentioned the Wall Street trail a few times now, so in this section we will discuss it a little more in depth!
Wall Street hike is possibly one of the more fun things to do in Bryce Canyon National Park. You get to experience seeing the beautiful red-orange rock cliffs towering above you as well as some amazing Douglas-fir trees!
Wall Street is an easy to do slot canyon for people to experience. Slot canyons are often hard to access, so Wall Street is one of things to see in Bryce Canyon that we would recommend prioritizing!
You should take note that the National Park Service states that you should wear proper hiking boots with good grip due to how steep the trail is. Also take note that falling rocks are more common on this trail, so you should take the time to research safety should such an event happen.
There are two ways to access this trail. The quickest access point is from the Navajo Loop trail. From the Navajo Loop trail it is about 0.3 miles to reach the Wall Street Trail.
Alternatively, you can access the Wall Street Trail from the Queen's Garden trail. This is a longer route though at roughly 1.25 miles to reach your destination.
Either direction you choose will be an enjoyable experience! Just be sure to check with the Park Services that it is open, as it is subject to be closed due to weather at times.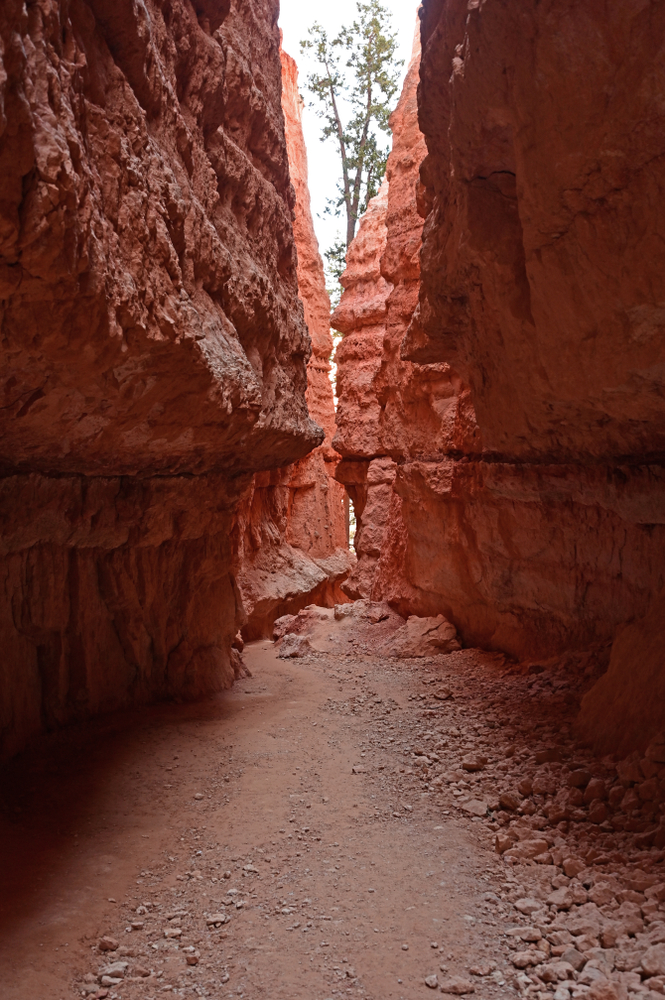 Earn A Junior Ranger Badge
If you are wanting to include your kids on the fun, you can help them in earning a Junior Ranger badge!
The National Park Services gives kids the opportunity to learn more about Bryce Canyon National Park while earning a fun reward in the form of a Junior Ranger Badge.
To start, you can take your child to the visitor center to receive a booklet with age appropriate activities. Or if you prefer you may go here to print the booklet out in advance.
You can start with activities such as attending the park movie at the visitor center, going to a Ranger program, or visiting the park museum. All of these will give you more in depth information on Bryce Canyon, and help in answering the questions in the activity booklet.
Once you have filled out the appropriate amount of activities in the booklet, you can turn it into a Park Ranger at the visitor center. It is at this point that they will bestow the honor of a Junior Park Ranger!
If you have kids this is hands down one of the best things to do in Bryce Canyon!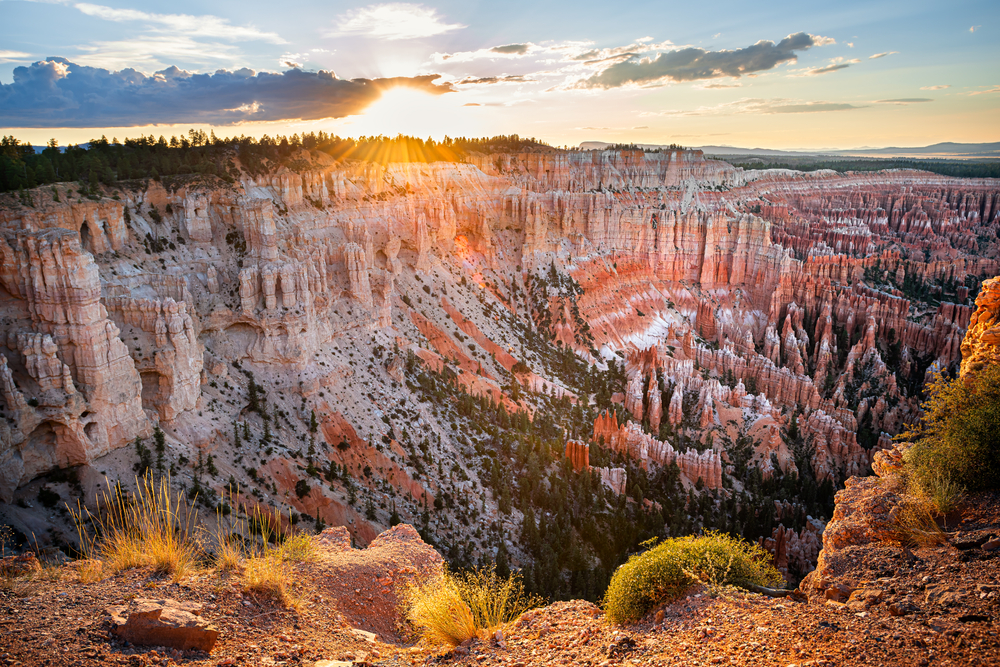 Enjoy The View From Bryce Point
Bryce Point is one of the highest overlooks in the park. It gives a beautiful view of the early morning light catching on the hoodoos. As far as things to do in Bryce Canyon, this is activity you should not miss out on!
Even if you are not a morning person, set aside some time to go see the sunrise at Bryce Point! It is one of the best Bryce Canyon hikes because it is so easy to do. It is only about 0.2 miles out and back, it is wheel chair accessible, easy for young children, and all hikers which makes it a fun family view point.
Imagine standing at a viewpoint as the sun rises, and slowly the canyon below you starts to glow. As the sun rises, it causes the canyon to seem as if ablaze with glorious warm hues of a fire. It is a sight you will never forget!
Keep in mind that due to how accessible this viewpoint is, it often gets a lot of foot traffic. Stay on marked paths, and do not cross over any barriers that are set in place for your safety. It is also important to note that the incline is sometimes at a 15% incline, so manual wheel chairs and strollers might need some extra help in getting up those inclines.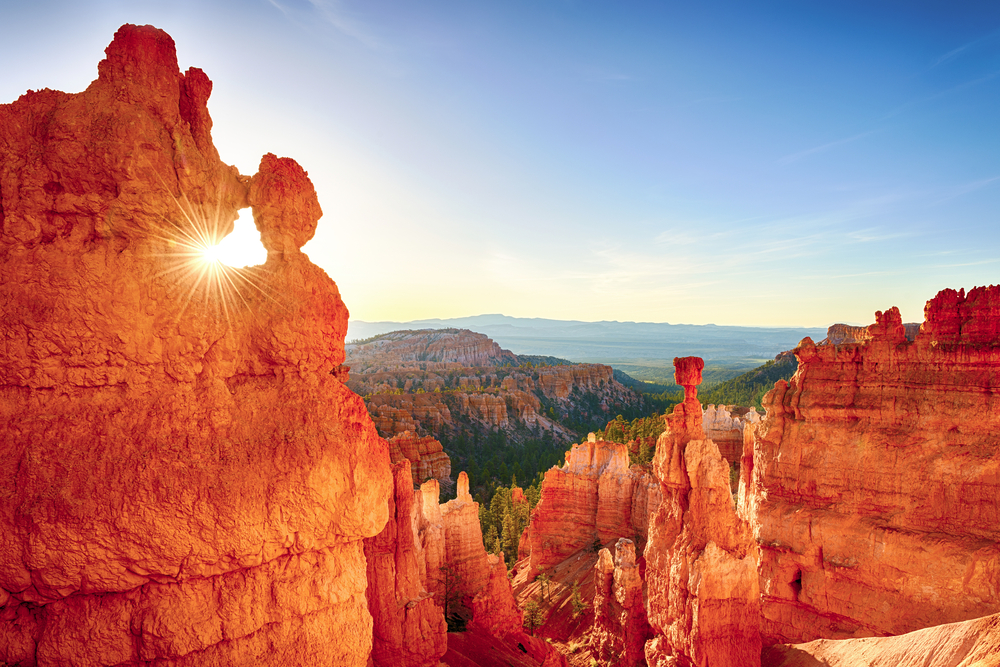 Watch A Ranger Program
If you like learning more about the places you visit, enjoying a ranger program may be a great option for you!
To help you better enjoy your visit, and know what to see in Bryce Canyon, the ranger program's can help you. They offer a wealth of information regarding specific information about Bryce Canyon.
There are many options of classes or interactive hikes to join in on! If you would like to learn more about the geological history of Bryce Canyon, then you can take a short class!
You can also do a late night lesson on star gazing with their telescope program. The ranger will walk you through the histories of the constellations, movement of the stars, and see the beautiful night skies of Bryce Canyon.
One of the funnest things to do in Bryce Canyon is the guided hikes! They offer full moon hikes, snowshoe hikes, and guided hikes along the Rim trail. While you get to enjoy these hikes, you will also be able to enjoy the wealth of information that the Park Ranger's have to offer!
For the families out there, they also offer kid specific programs. While the National Park services states that most of their programs are family friendly, this program is more geared towards family. So if you want to check out a program specifically designed to engage children, these are the ones that you want to look at!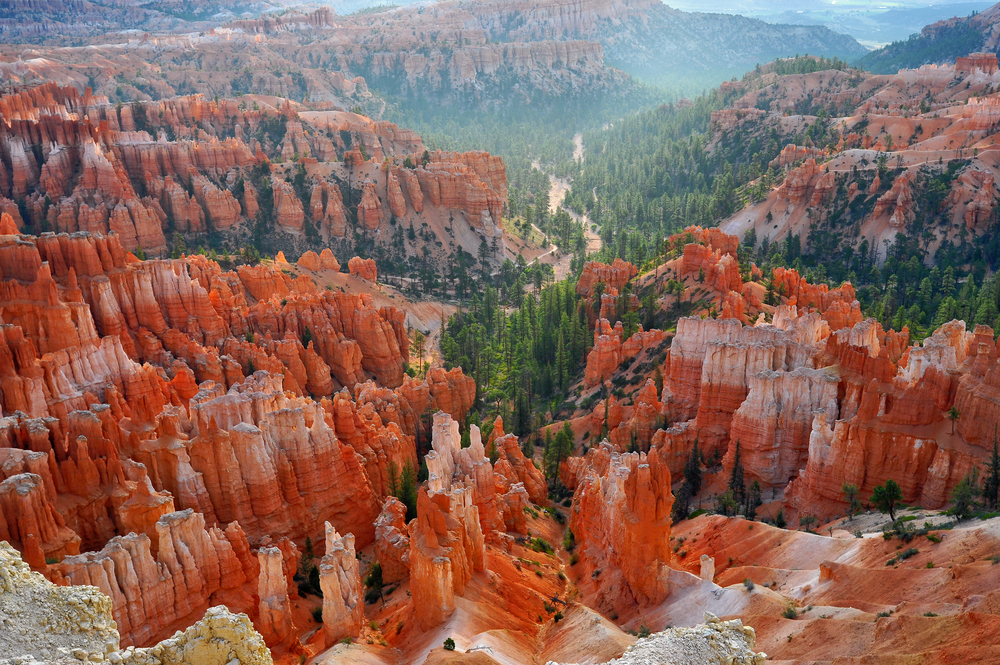 Road Trip To Rainbow Point
One option worth looking into for things to see in Bryce Canyon is Rainbow Point. There is an 18 mile drive up to the overlooking point.
Rainbow Point is at the most southern tip of the National Park, and gives a beautiful view of the park at sunset. There are also 13 viewpoints along the 18 mile road trip that you should be sure to stop and look at!
The National Park also suggests that while you are up at Rainbow Point already, be sure to stop over to Yovimpa Points. It is just a few minutes walk away from Rainbow Point. From this point you will be able to see the Grand Staircase. This is a sequence of rock formations that create layers that look like stairs.
Spending some time at these two overlooking points will give you the chance to see the layout of Bryce Canyon National Park and the surrounding areas.
On an extremely clear day, you can even see as far as Arizona! These two points are well worth the 18 mile drive up to see, so make sure to try to make time for this gorgeous vantage point of Bryce Canyon.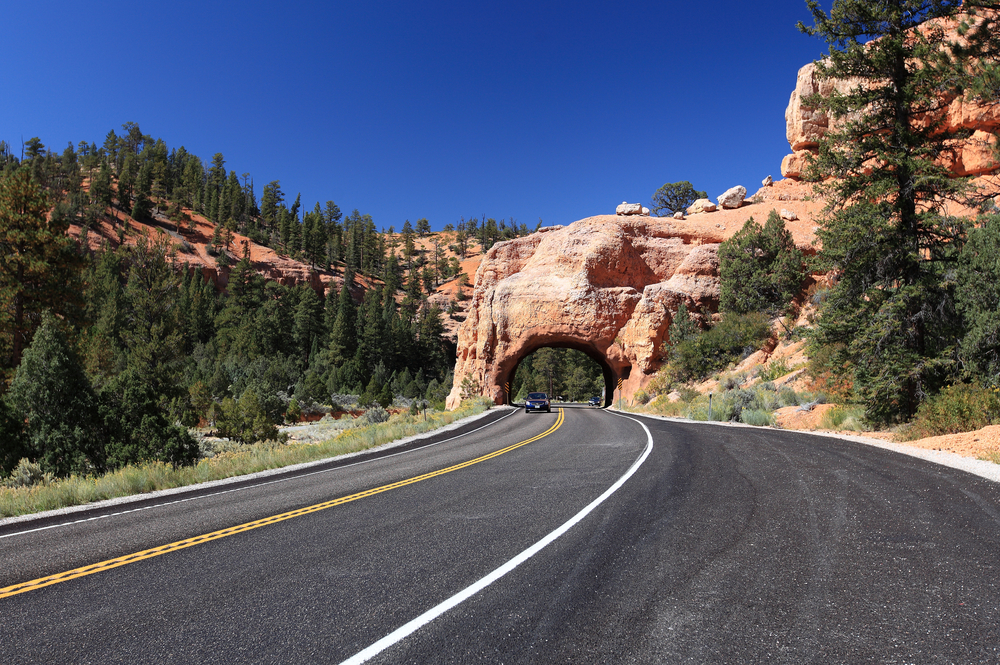 See A Waterfall On The Mossy Cave Waterfall Hike
If you want to know what to see in Bryce Canyon that is a bit more unique or obscure, then Mossy Cave hike is something you should definitely consider checking out!
To get to the trail head for Mossy Cave Trail, you actually have to leave the physical National Park. You go back to highway 12, and take a right. It is commonly less crowded due to the fact that it is outside the National Park. There is more limited parking here though, so just be aware of that!
This trail is also a great hike to consider if you have limited time or children with you. It is an out and back trail that is about 1.0 mile long.
Even though it is an easier trail, it is definitely a cool location to stop by. You will get to walk along a creek, pass by some hoodoos, and see a waterfall! You also get to see a mossy cave that has icicles in the shady spots that are cooler temperatures.
If you feel particularly adventurous, you can climb into the little hole behind the waterfall! You can also play in the water in and around the waterfall as it is not an overly large waterfall.
This is a fun family hike, or even a hike that is great if you want a more relaxing day with plenty of beauty still! Because of how easy and enjoyable it is Mossy Cave trail may be one of the best Bryce Canyon hikes that you should go see!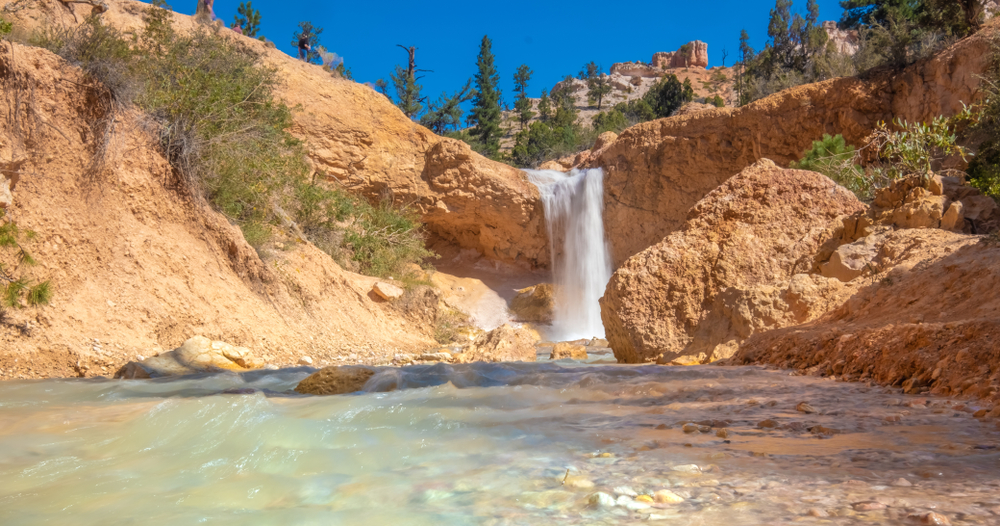 Challenge Yourself On Fairyland Loop Trail
If you want to really challenge yourself then take a look at Fairyland Loop Trail! This is an 8 mile long hike with multiple elevation changes and it often takes most people roughly four to five hours to complete.
Due to how strenuous it can be, and its length it is suggested that you take one liter of water for every two to three hours you plan to be out there. This water ration is per person, so keep that in mind! It is also highly recommended that you pack sunscreen or even use a wide brimmed hat to help give relief from the sun.
The National Park services also notes that people should be on the lookout for snakes. They request that people do not disturb wildlife!
If you are up for the challenge of this hike though, it is well worth it! You will be able to see plenty of hoodoos, as well as views of Fairyland Canyon, Tower Bridge, Boat Mesa, Sinking Ship Mesa, and China Wall.
Another reason this is one of the many fun things to do in Bryce Canyon is because it is a bit more private. Less people end up at this part of the park to hike.
Because it has less foot traffic, it is a hike that you should consider to be one of best Bryce Canyon hikes if you enjoy being more alone in nature! If you are completely exhausted after this long hike and want a place to rest, we have an easy guide with 24 of the best Airbnbs for you to check out!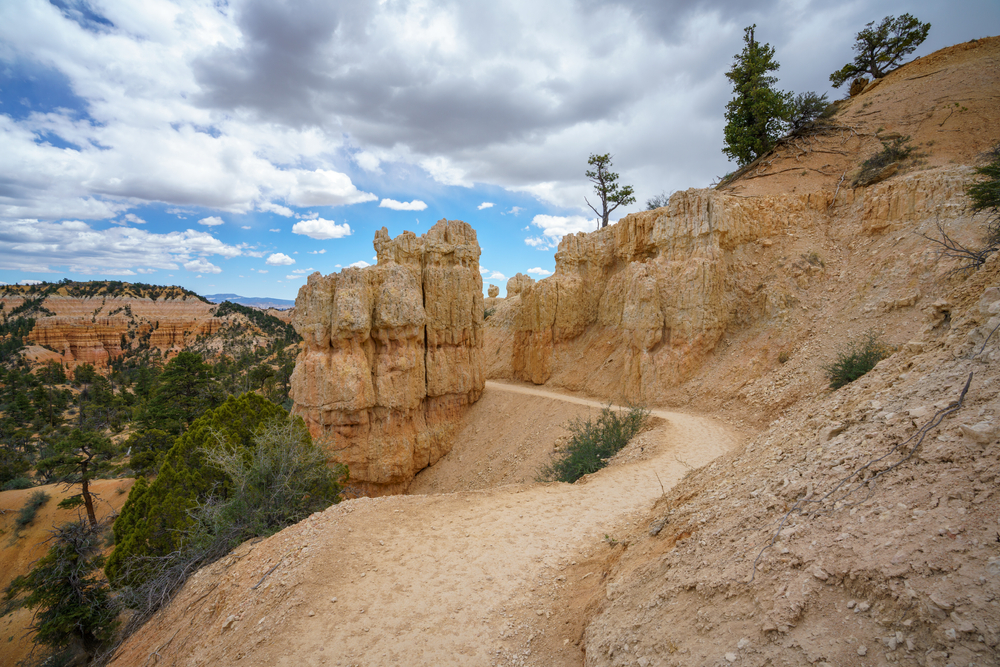 Find The Natural Bridge
This gem can be seen from a lookout point on your way up to Rainbow Point. This massive bridge is 85 feet long and 125 feet high!
This beautiful natural bridge is not a sight you want to miss out on! It is something worth taking the time to pull over and see if you decide to go to Rainbow Point.
This natural bridge is a piece of beautifully sculpted rock that has formed over many years from erosion, ice, rain, and time to create an arch like no other. It is one of the many things to see in Bryce Canyon that is worth your time!
Another reason to take the time to see this natural bridge is because it is one of the most easily accessible ones to view. Most of the other natural bridges in the area take a little bit more effort to see, but this one can be seen via a lookout as mentioned! We highly suggest you do not miss the opportunity to see such a beautifully made natural wonder.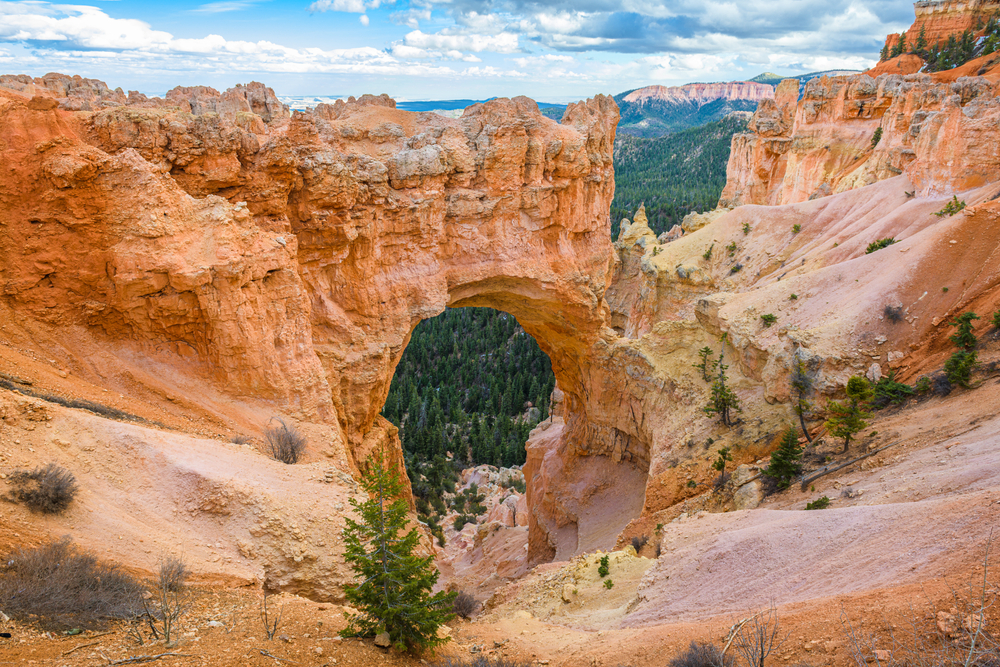 We hope that this guide has been helpful to you! At the end of the day, any hike or viewpoint that you choose will be amazing. These are some of the best Bryce Canyon hikes that you can choose from! If you have questions about planning things to do in Bryce Canyon, do not hesitate to ask us in the comments. We hope that your trip to Utah is filled with amazing adventure!