If you love waterfalls and hot springs, you've got to try out some of these beautiful hikes in Oregon. Terrance and I love Oregon because it has the dynamic beauty of Iceland, without the international plane ticket. Oregon is an epic hiking destination with mountains, beaches, and every terrain in between.
If you're collecting ideas for your upcoming trip to Oregon, you won't want to miss our article about the coolest Airbnbs and best rental cabins in the state. There is so much to see and do in Oregon. Here is our road trip itinerary to make sure you don't miss any of its hidden gems. Use this guide to make sure you get some incredible photos to remember your trip to Oregon.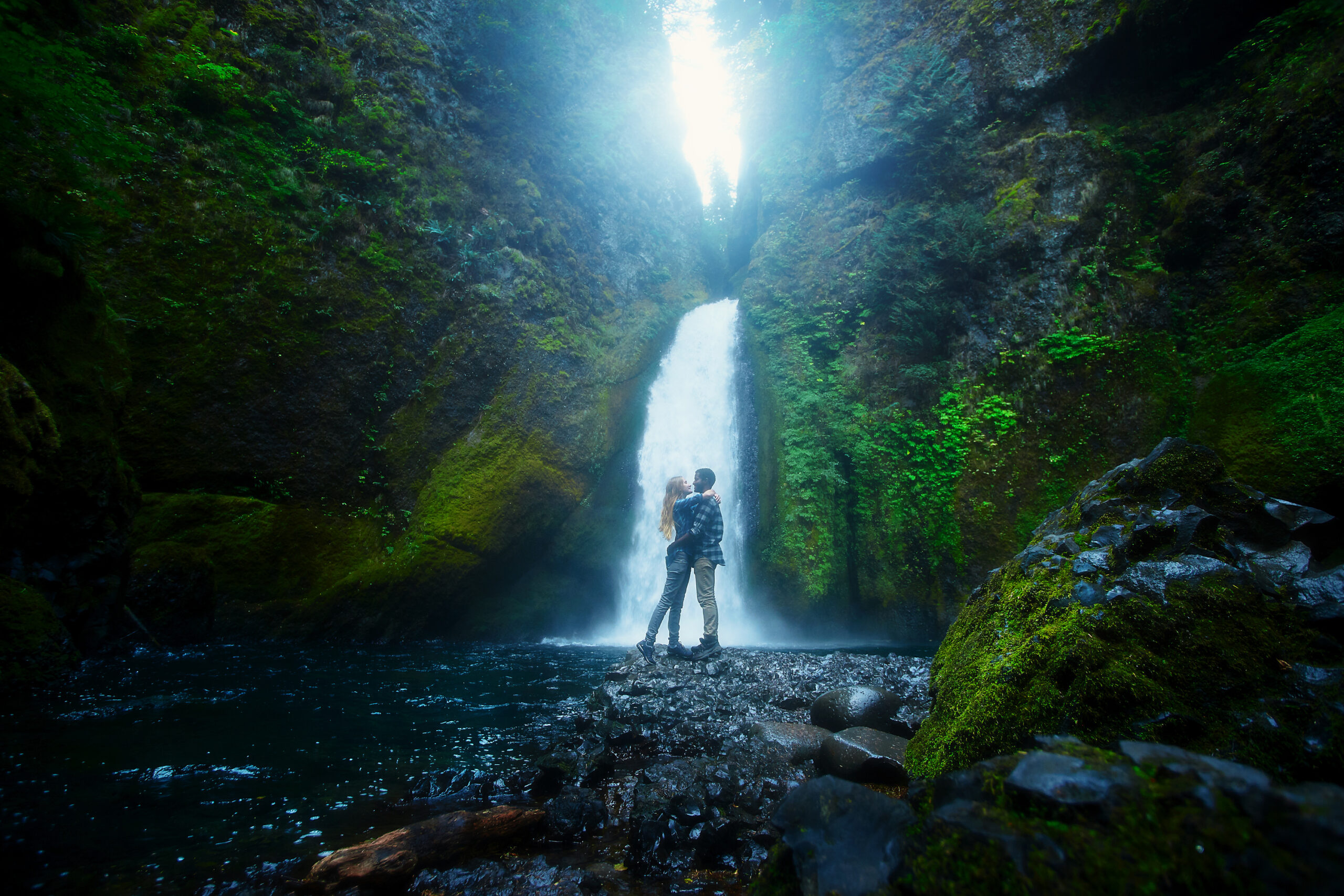 20 Beautiful Hikes In Oregon You Must Try
McKenzie River National Recreation Trail
This Oregon hiking trail has it all! Waterfalls, unbelievably blue Tamolitch forest pool, and at the end of this trail puts you near the relaxing Belknap Hot Springs Resort. The whole trail is 26.5 miles. You can split your experience into multiple days exploring the wonders near the McKenzie River. This is considered an easy hiking trail, just don't try to do it all in one day! The Mackenzie River National Recreation Trail is located approximately 56 miles from Eugene, Oregon. The breathtaking Tamolitch blue pool can be accessed in a 3.7 mile hike with only 305 ft of elevation gain.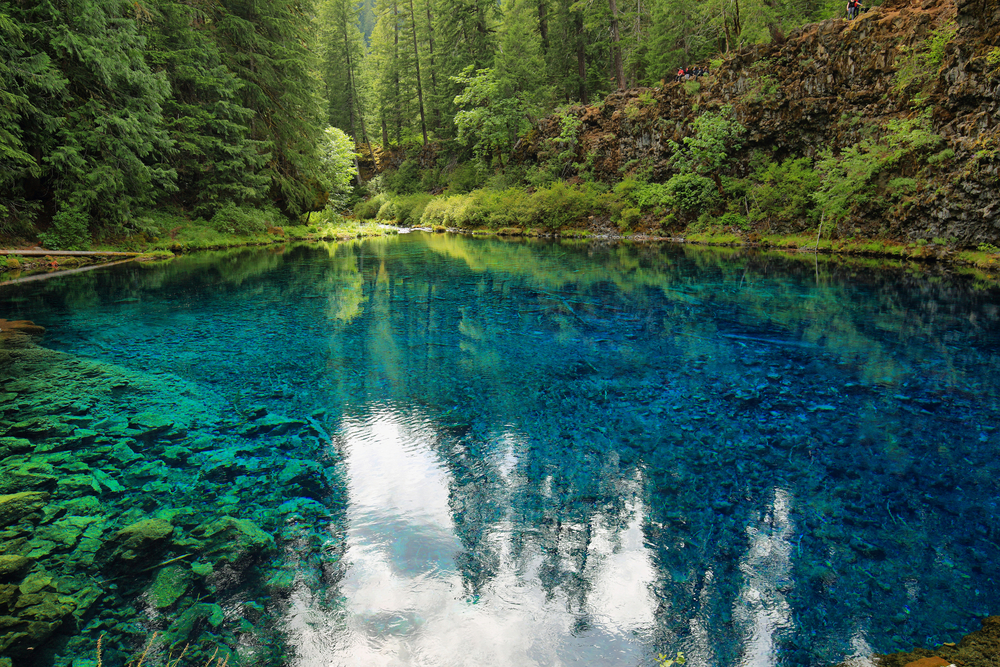 Forest Park
Can you believe that one of the best hikes in Oregon is right in the middle of its biggest city? Portlanders love to escape to nature and have preserved 5,200 acres of woodland in their fair city.
Forest Park is home to 57 different hiking trails. You'll love seeing all the native Pacific Northwest plants and wildlife. If you're looking for an easy trail, try the Wildwood Loop Trail. If you're looking for more of a challenge, try the Forest Park Ridge Trail, which rewards hikers with an amazing view of the St. John's Bridge.
Follow the signs for the Stone House if you want to see the mysterious abandoned structure the locals call "the Witches Castle." This makes a great photography location! You may even forget that you are in 26th largest city in the U.S.A. while wandering the lush green trails of Forest Park.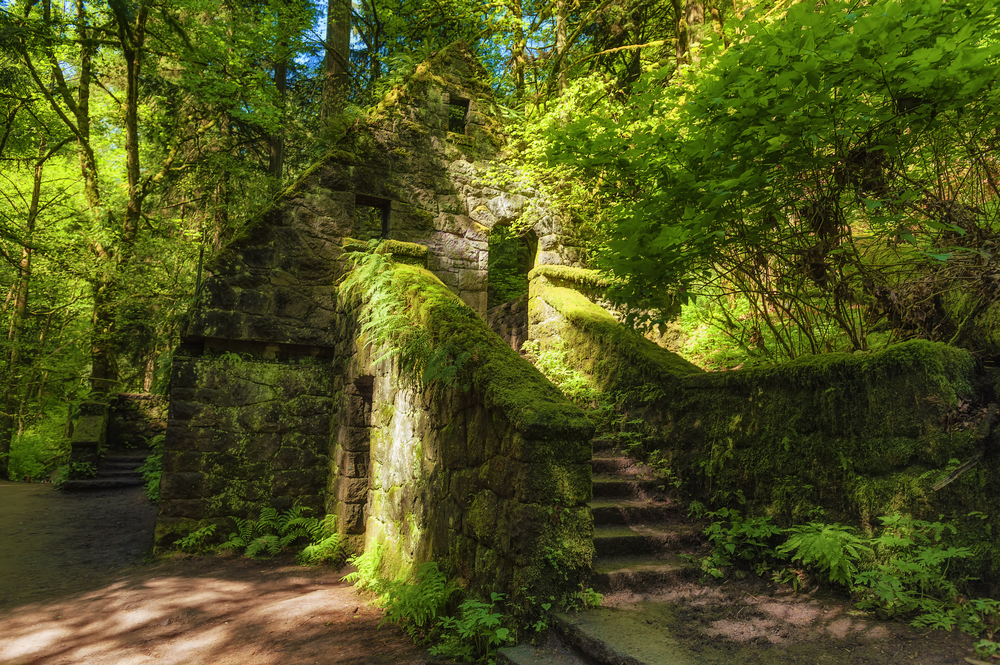 Natural Bridges Viewpoint Trail
Samuel H. Boardman State Scenic Corridor is a must see part of the sOregon Coastline. It even made our article of the most photogenic spots in Oregon! The natural rock arches and bridges along this stretch of coastline are truly amazing to behold.
For those looking for an easy hike with great views, try the Natural Bridge Viewpoint Trail. The trail is 0.7 miles long and requires 62 ft of elevation gain. This trail is dog friendly, as long as you keep your pup on a leash. It also has lovely seasonal wildflowers!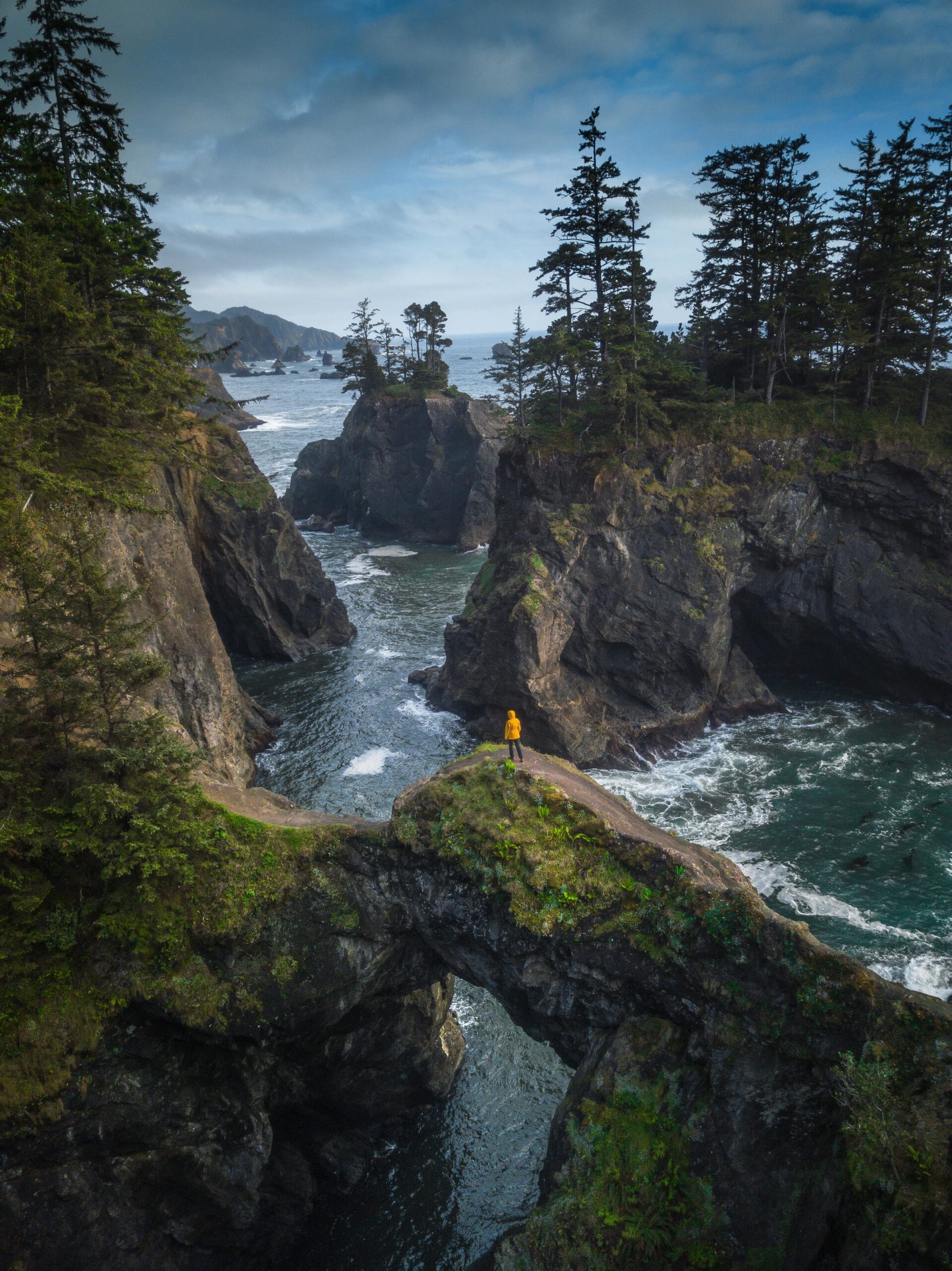 Secret Beach Trail
If you are looking for a more challenging hike to enjoy on the Samuel H. Boardman Scenic Corridor, this is a great option for you!
This trail is 1.6 miles and features 374 feet of elevation gain. Check your tide tables before you go, Secret Beach is only accessible at low tide. You'll pass a few small waterfalls on your way to the secluded beach.
Just so you know- the small parking area is a little hard to find. It is about half a mile south of Arch Rock. It's a parking area that fits about 6 cars tucked behind a guard rail.
If you have any more questions, check out our full guide to the Samuel H. Boardman Scenic Corridor by clicking here.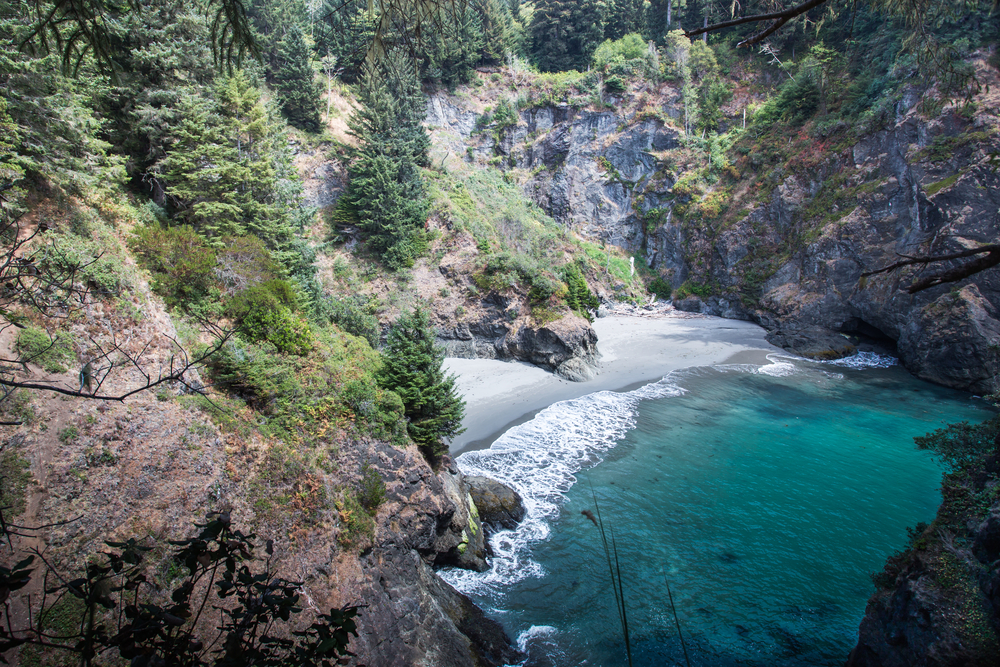 Old Salmon River Trail
If a walking a trail shaded by huge old growth trees with the sounds of a rushing river keeping you company is right up your alley, this is the Oregon hiking trail for you. Get ready to cross some adorable wooden bridges and watch for fish swimming below.
This trail is only 1.9 miles and has almost no elevation gain. Its considered one of the easiest trails in the Mt. Hood National Forest. This Oregon hiking trail is perfect for the whole family to get out, hug some big old trees, and enjoy some fresh air.
You will need a recreation pass to park at the trailhead. To get there from Sandy, OR – follow US Hwy 26 17 miles east. Then you will turn south on Salmon River Road. Follow Salmon River Road a little over two miles to the trailhead.

Proxy Falls Loop Trail
As we mentioned in our Bucket List Waterfalls in Oregon article Proxy Falls is our favorite waterfall in Oregon. This trail is 1.6 miles round trip with 147 feet of elevation gain. This is considered an easy and family friendly hike. Your dog is welcome too as long as they are on a leash!
Because the trail is easy and family friendly, this hike can get crowded. Try to come early in the day or on a weekday if you can. You'll need a recreation pass to park in the parking lot. The lot does have vault toilets.
Because this is a shorter hike you'll have plenty of time to enjoy the majestic 226 ft high Proxy Falls at the end. There is an upper falls and a lower falls, the lower is more famous and our favorite to photograph. Please note that if you want to view the bottom of the waterfall you'll have to do a bit of a steep slippery hike down to it. The views from the top are lovely and safer!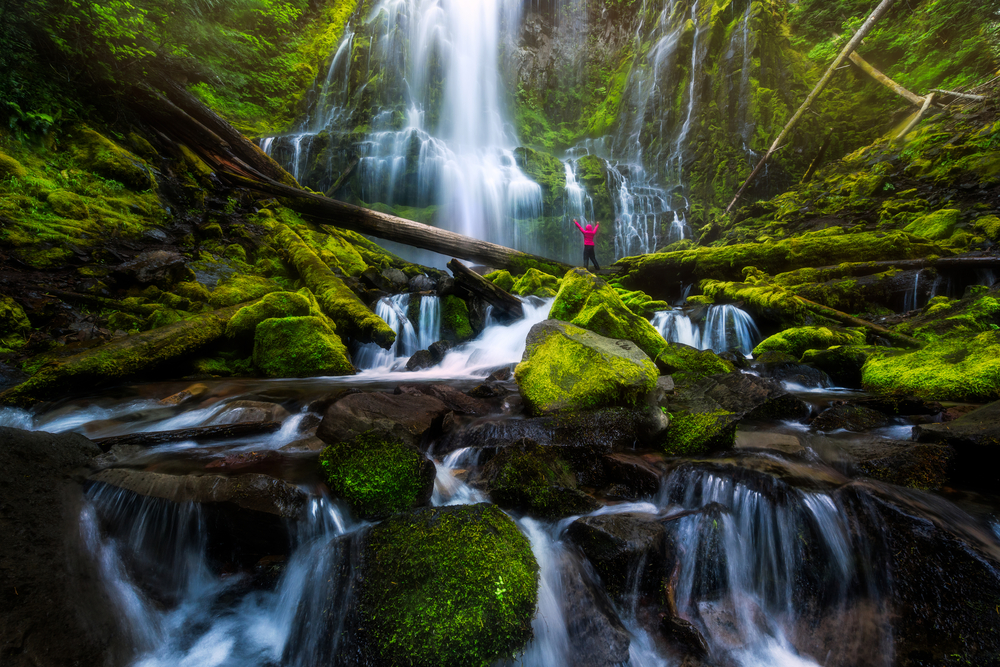 Multnomah Falls Hike
If you aren't an experienced hiker but are still longing to see one of Oregon's stunning waterfalls, Multnomah Falls is a great choice for you! This is Oregon's iconic double tiered waterfall with the bridge in the middle. It is the second tallest year round waterfall in the United States. This one easily made our list of the best waterfalls in Oregon.
This waterfall is located only 30 minutes outside of Portland. It's a great beginner hike. To get there, take I-84 southbound to exit 31. When you take the exit there will be lots of signs for this waterfall, as it is one of the state's most famous.
From the parking area it is a 5 minute walk to the falls viewing area. If you want to cross the beautiful mid-falls Benson Bridge that is a 0.25 mile paved walk up towards the falls. If you want to see the views from the top of the falls there is a one mile trail to the top so you can admire the epic Columbia Gorge view from the top of Multnomah Falls.
It is well known that this is one of the best hikes in Oregon, so you may want to consider visiting it on a weekday or early in the morning to avoid crowds. You'll also want to be sure to bring extra layers, all the mist from the falls makes this area cold and damp even in the summer. We hope these tips help you have an amazing time at Multnomah Falls.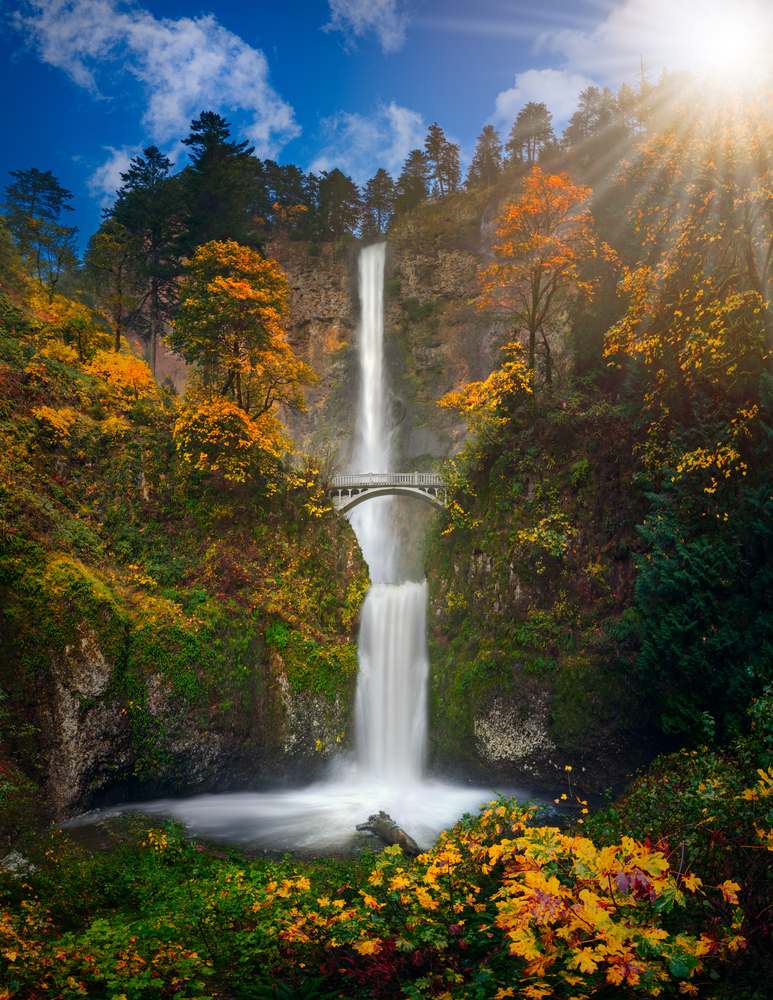 Wahkeena Falls Hike
If you drive out to Multnomah Falls and decide it is just too crowded for you, here is a great insider tip! There is a waterfall that you can access from the same parking lot that is much less well known. Wahkeena is the indigenous Yakima word for "the most beautiful" so you know this is one of the hikes in Oregon that you don't want to miss out on!
Follow the signs from the Multnomah Falls lodge that say Wahkeena Falls. These will take you half a mile to the Wahkeena Falls trailhead. Once you cross the footbridge over Wahkeena creek you will follow a 0.4 mile paved trail to get the best view of all 240 ft of Wahkeena falls.
If you'd like to visit the top of the falls, there are 11 paved switchbacks that get you up 565 ft of elevation gain to view the top.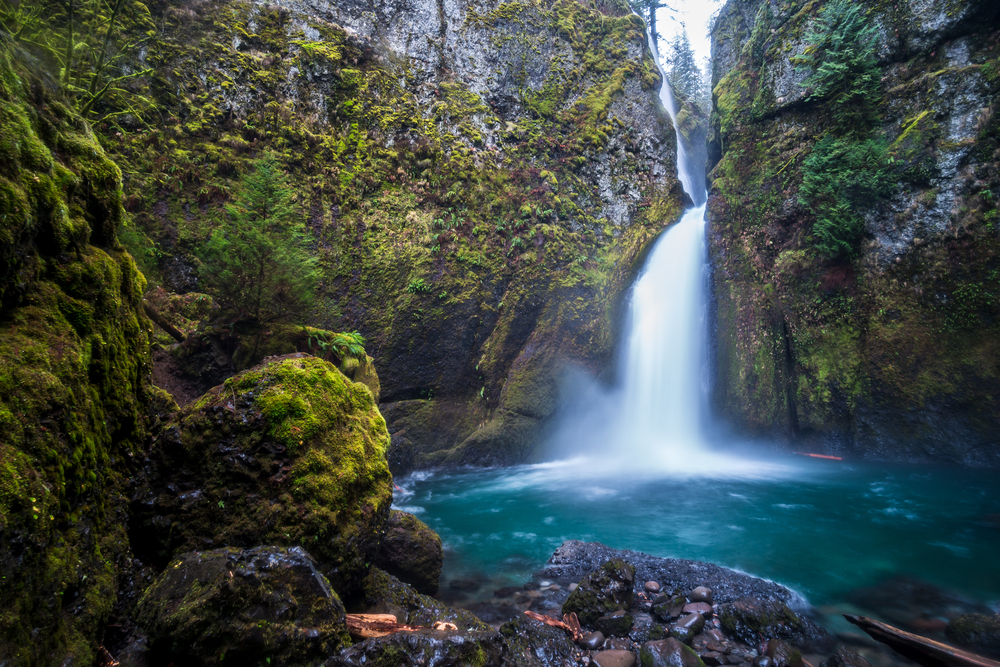 Echo Meadows Hike
If you've ever played the videogame "The Oregon Trail" or are interested in the history of the great westward wagon migrations of the 1800's, this is the hike for you! You will love hiking through the beautiful open grassland of the Columbia Plateau and seeing original Oregon Trail wagon tracks.
The site has historical markers that will show you what it was really like to travel the Oregon Trail in a covered wagon. Areas of native sagebrush grassland are rapidly disappearing in Oregon, so come take in this uniquely beautiful prairie setting. If you come to Echo Meadows the early morning or evening you will spot lots of native wildlife.
This hike is 1.4 miles and only gains 74 feet of elevation, perfect if you prefer flatter hikes. Located just a few miles south of I-84 near the towns of Echo and Wallowas, you should definitely make time to hike Echo Meadows, one of the best hikes in Oregon. This hike is in Eastern Oregon, and will be much less crowded than some of the Western Oregon hikes that are located in more populous areas of the state.
Eagle Creek to High Bridge Hike
The Oregon Hikers website calls this trail "one of the most resplendent hiking destinations in the Northwest." You won't to miss this hike in Oregon!
This hike winds through temperate rainforest in the beautiful Columbia River Gorge. You'll pass both Punchbowl and Loowit falls. You'll end up at a high bridge (120 feet in the air to be exact) that spans a beautiful and narrow canyon. That will be your turn around spot for the Eagle Creek to High Bridge Hike.
This is considered a moderate hike. It is 6.4 miles and has 480ft of elevation gain. You'll love to see all the cedar and hemlock trees as well as the stunning waterfalls on this route.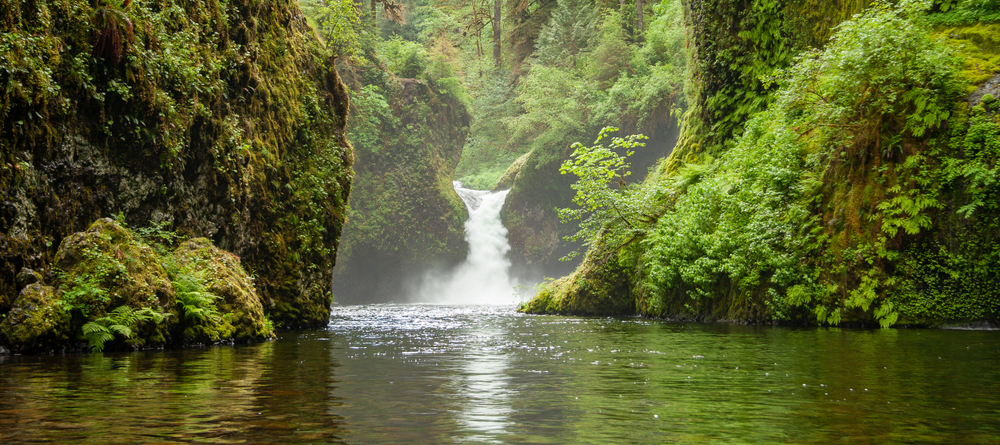 Oregon Garden Trails
Silverton, Oregon has an amazing, 80 acre botanical garden. This expertly maintained resort has over 20 speciality gardens showcasing the beauty of the Pacific Northwest. This is our most accessible entry on our best hikes in Oregon list, with over 4 miles of ADA trails.
Get lost in the botanical splendor of the Oregon Garden Resort for only a $12 entrance fee. The plants you'll see vary from native wetland to tropical. There is even a hobbit hole structure for kids to play in, and an educational bee apiary. A lovely accessible hike for the whole family!
Horsetail Falls Loop Hike
This hike starts at the incredible Horsetail falls, then after some switchbacks you'll come into a valley containing Ponytail falls. The loop will bring you back past Middle Oneonta Falls, and Lower Oneonta falls.
The Horsetail Falls Loop Hike is 2.6 miles long and has 610 feet of elevation gain. Make sure to take your time and savor the waterfall spray in this amazing Columbia River Gorge hike. This is a great option if you're trying to hike Oregon on a budget, as there is no parking or park pass fees.
Humbug Mountain State Park
Are you having trouble choosing between hiking in the mountains or hiking on the coast? If you try this entry on our list of the best hikes in Oregon, you won't have to choose!
Humbug Mountain is the tallest mountain on the Oregon Coast. You'll get a fun and different view of the Oregon coastline from its summit. This trail is a 6 mile loop with an elevation gain of 1,710 feet.
There are some fairly steep sections, so this is considered a challenging hike. Trekking poles are recommended for those who want to tackle this coastal mountain hike. This six mile hike makes up one small, scenic section of the 382 mile Oregon Coast Trail.
Bayocean Spit Loop Hike
If you like your hikes to include the sound of waves crashing and the caws of seabirds, you'll love the Bayocean Spit Loop Hike. Also if you like hiking on flatter terrain, this is the hike in Oregon for you! This loop only has 50 feet of elevation gain.
You'll love soaking up the sun and surf on this 7.6 mile hike right on the beaches and dunes of the Oregon Coast. The loop is on a peninsula so you'll walk a totally different shoreline on the way back than you did on the way there! You'll start the hike from the Bayocean Parking Area, which does require a $10 Tillamook County Day Use Access parking fee.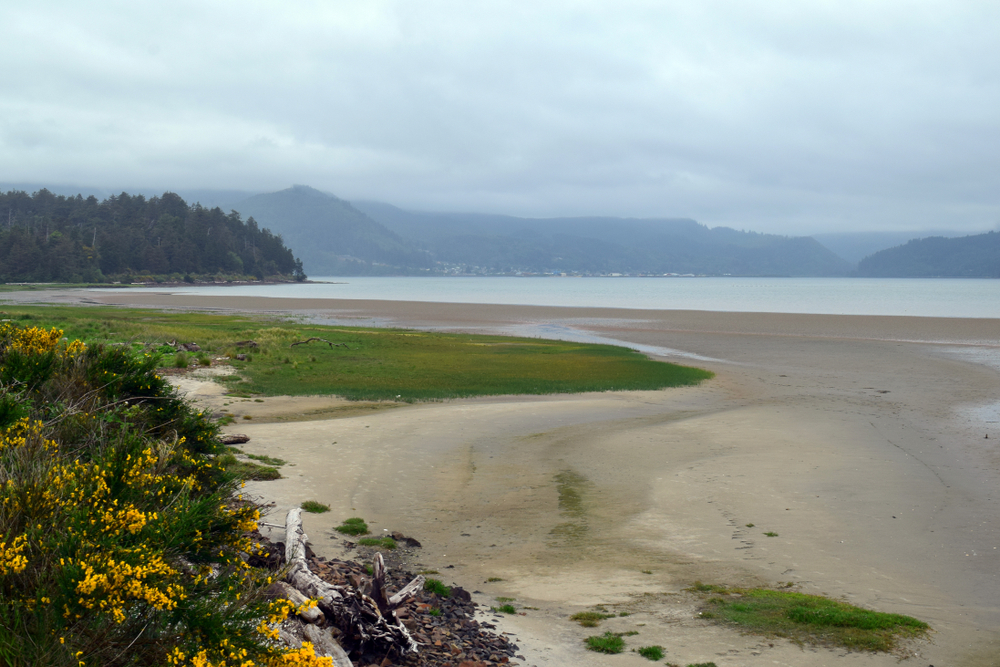 Sweet Creek Falls
This Oregon hike certainly lives up to it's sweet name! A perfect hike for kids, you'll cross charming wooden bridges and love the shade of the enormous trees lining the creek.
This site has a unique setup. There are four trailheads help make this hike accessible for everyone, the further you drive, the less you have to hike. For the full hike, start at the Homestead Trailhead – the first one you see on Sweet Creek Road. The subsequent three trailheads: Sweet Creek Falls Trailhead, Wagon Road Trailhead and Beaver Creek Falls Trailhead, each have you start closer and closer to the falls so you don't have to walk as far.
We love the unique four trailhead options, you won't want to miss this this is a hike in Oregon! To get to Sweet Creek Falls, you'll leave Highway 126 at At Siuslaw bridge in Mapleton. Drive for 11 miles on Sweet Creek Road and you'll reach the four trailheads, each with free parking. Homestead Trailhead is the only trailhead with a vault toilet.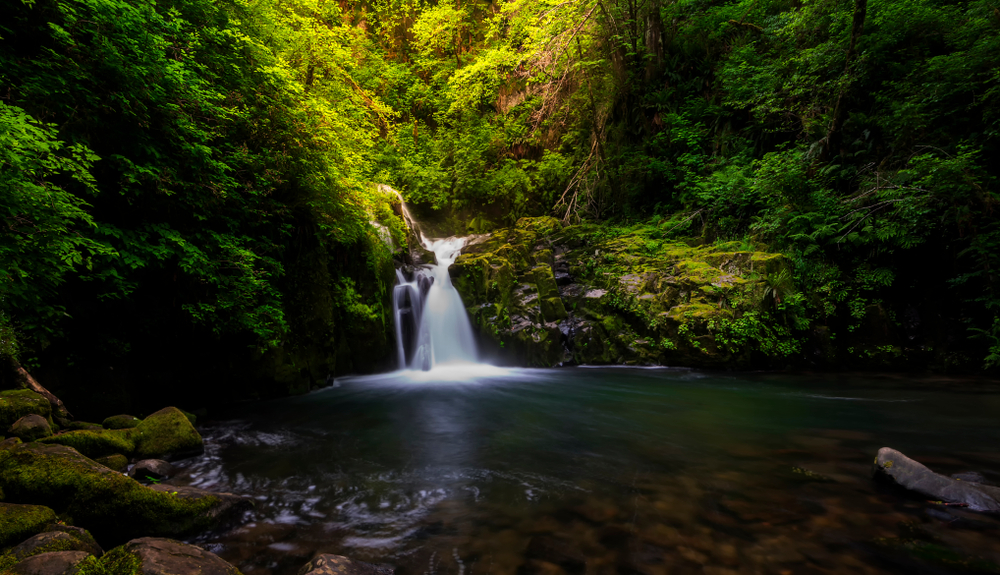 Trail of Ten Falls
See ten of Oregon's most incredible waterfalls on this one hike. Unbelievable bonus, the trail takes you behind four of those ten waterfalls. If you've been wondering where everyone in Oregon gets their amazing photos looking out from behind a curtain of water, it's likely on the Trail of Ten falls.
This trail is a 7.2 mile loop with an overall elevation change of 800 feet. The Trail of Ten Falls is considered a moderate hike. If you're not feeling up to a moderate hike, don't worry, there's lots of well marked shortcuts and trails that only lead to one or two of the falls.
The Trail of Ten Falls located in Silver Falls State Park. This is one of the , best funded and most beautiful State Parks in Oregon. The park has excellent restroom facilities, as well as very well maintained campgrounds and cottages. A day use parking permit can be purchased from one of the friendly rangers at the park gate, or an annual pass can be purchased online.
You won't want to miss this entry on our list of best hikes in Oregon. This hike even made our list of the best hikes in the USA!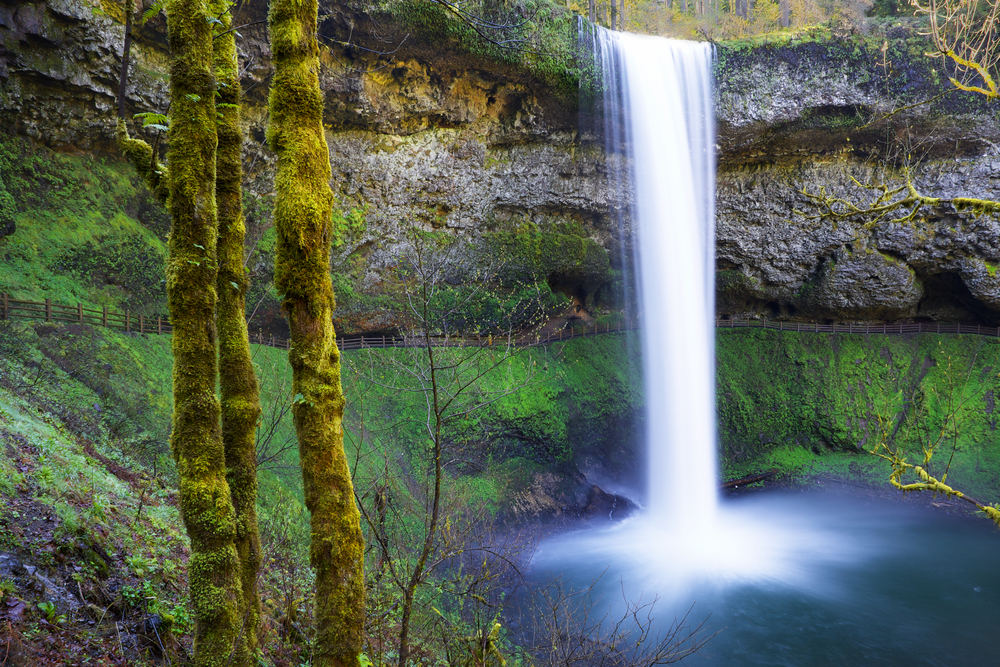 Kings Mountain Summit
For those who want their Oregon hike that really gets your blood pumping, we recommend the 5 mile round trip Kings Mountain Trail. This epic trail has s 2,500 feet of elevation gain over its final 2.5 miles. This hike is considered challenging because of it's steep elevation gain, but the views from the top are totally worth it!
On a clear day you can see all the way to the Pacific Ocean from the Kings Mountain Summit. The epic view also includes a beautiful swatch of the Cascade Coastal Range and Mt. Hood. The parking lot for the King's Mountain Trailhead fits about 20 cars and is located near milepost 25 on Highway 6.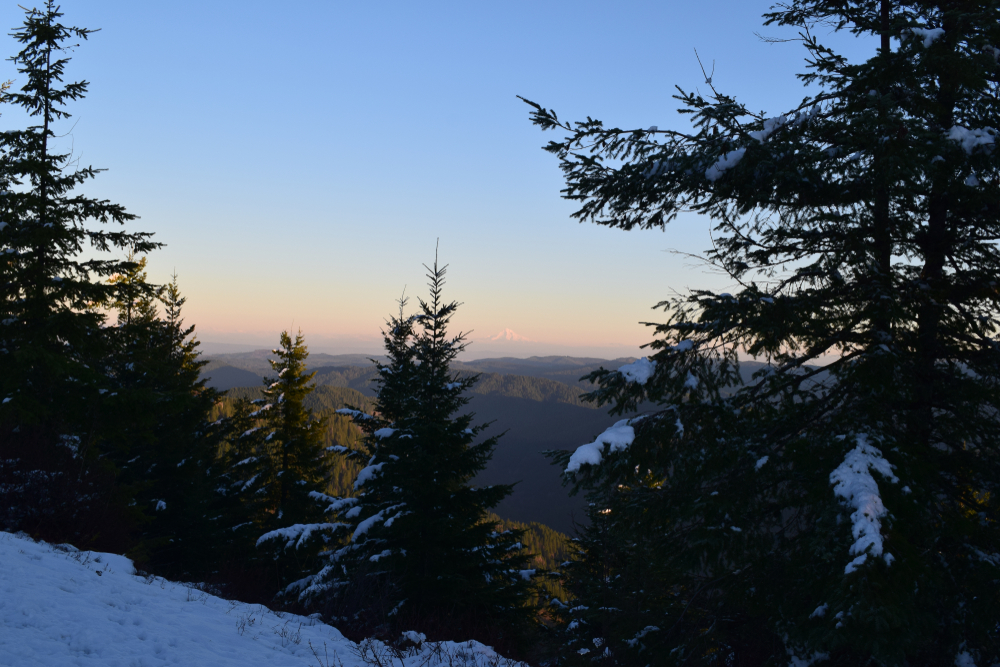 Whalen Island Loop Hike
Kids and adults alike will love the biodiversity of the Whalen Island Loop Hike. As a 1.4 mile loop with only 75 feet of elevation gain, this hike is fun and accessible for the whole family.
Located in the Sand Lake Esturay, there is so much wildlife and nature to see on this hike. This loop will take you counterclockwise around Whalen Island. The hike will take you through the many terrains of Whalen Island, from white sandy beaches to costal forests to tidal flats and beautiful dunes. Theres truly something for everyone on this gentle hike, which makes it a shoe-in for our best hikes in Oregon list. Visit during spring and early summer to see beach lupine and dune goldenrod in bloom!
Painted Hills Overlook Hike
The state of Oregon really has everything. Did you know that Oregon has its own painted hills? The artist in this case is Mother Nature. The geologic makeup of these hills makes them look like they have stripes of vibrant, warm, paint colors.
To preserve this rare geologic phenomena you are not allowed to walk directly on the hills. This overlook is the best option to get a beautiful view, and some lovely photos, of Oregon's painted hills. This hike is only one mile and gains just 140 feet of elevation. It is considered an easy hike. Keep an eye out for antelope, deer, and eagles here.
This hike is in Eastern Oregon and will probably be less crowded than a lot of its Western Oregon counterparts. The painted hills are located about 9 miles northwest of the town of Mitchell, Oregon. This amazing colorful clay easily makes the list of the best hikes in Oregon!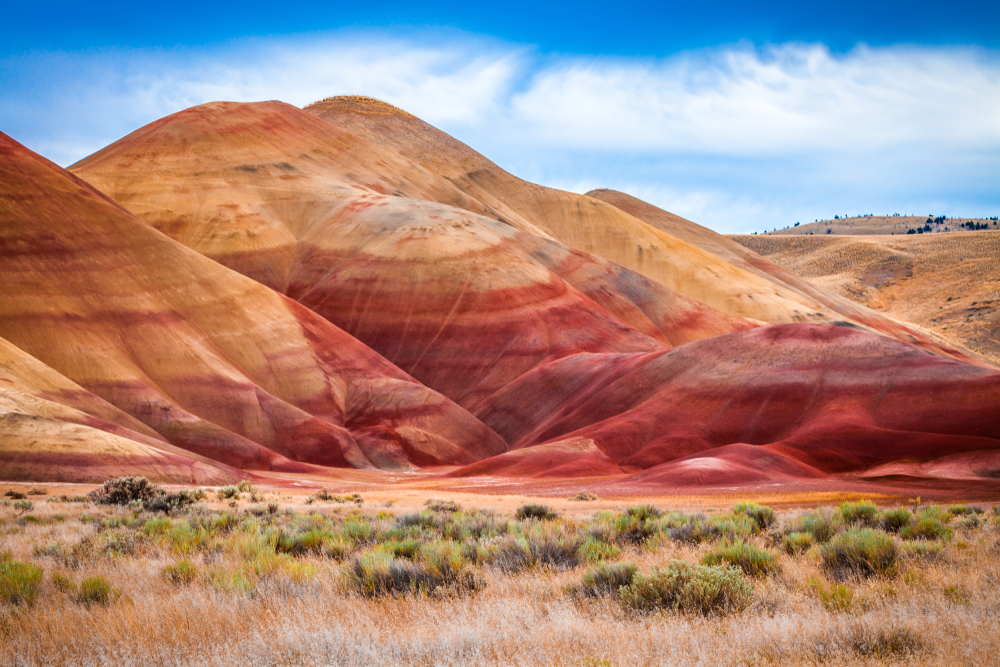 Discovery Point Trail
Of course we could not close out our list of best hikes in Oregon without recommending a trip to Crater Lake! Crater Lake a geologic feature in the caldera of an ancient volcano. It is the deepest lake in the United States and the 9th deepest lake in the entire world. You won't believe how blue the water is!
A hike with great views of Crater Lake is the Discovery Point Trail. The trail is 4 miles round trip. It does gain 915 ft of elevation, so you'll want to wear good shoes and bring water. When you're up at Crater Lake you're already over 6,000 ft above sea level. Make sure to take your time and be prepared to be more out of breath than usual if your body isn't used to high altitudes. This hike is considered moderate and is a great option to get photos of Crater Lake and Wizard Island.
Costs per person and per vehicle to enter Crater Lake National Park vary by season. Click here to check the rates for your trip. If you're looking to stay somewhere nearby, there's some great options in our cozy cabins in Oregon article. You're sure to have an amazing time at Crater Lake National Park!