A San Francisco to Los Angeles road trip is one of my favorite things to do. I grew up traveling California and the Pacific Highway and when I say this journey is breathtaking I mean it.
I have done the road trip from San Francisco to Los Angeles multiple times both as a child and an adult so I know what is worth visiting and what isn't. In this article, I will take the guesswork out of all the planning.
I remember driving the PCH [Pacific Coast Highway, for those new!] in my 40-foot RV growing up, covering my eyes with my Mom being so scared that we would go careening off the side as Dad drove the hairpin turns.
The places to stop between SF and LA have all been tried and tested and are places I feel you just MUST visit. I've just made your San Francisco to Los Angeles drive 10 times easier.
This drive is one of my favorites. The landscape at times leaves you breathless, the beaches are some of the best in the world and this road trip has a vibe that is hard to replicate elsewhere. Let's just say the San Francisco to Los Angeles road trip is iconic.
In my opinion, this is one of the must-do American road trips. It's scenic, and beautiful and takes you to some of the U.S.A.'s most well-known destinations.
So grab a chair get comfy and let me share my thoughts on how best to do a San Francisco to Los Angeles road trip.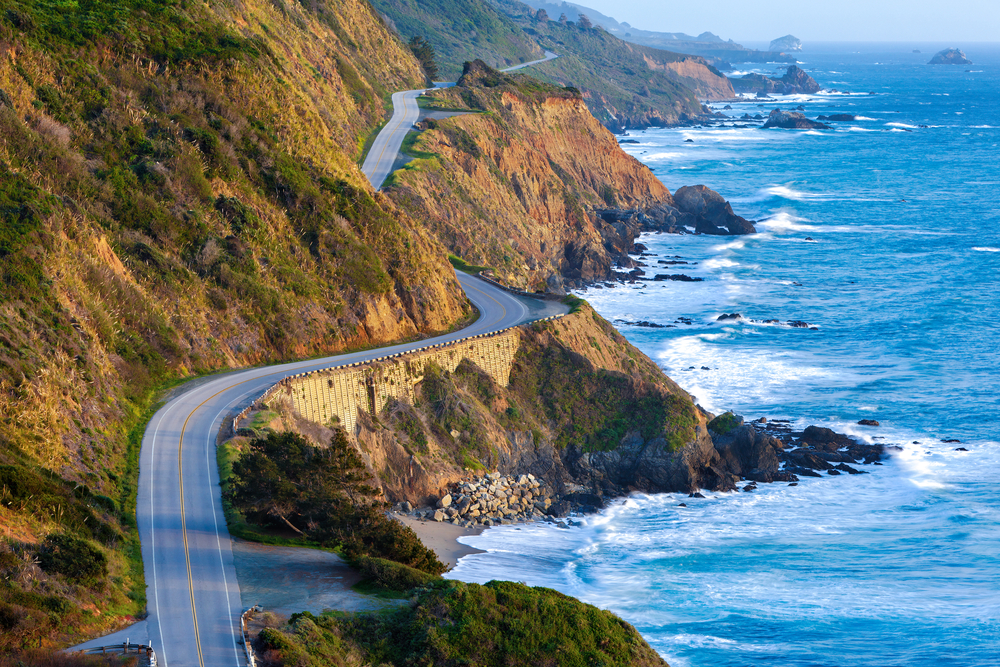 Distance from San Francisco To Los Angeles
I am assuming if you are here that you want to do the San Francisco to Los Angeles drive the scenic way. This means you will be driving down Highway 1. This route is approximately 454 miles and takes anywhere from 9 to 11 hours to drive in full.
There is a faster route along the I-5 which takes six hours and is 383 miles but you miss all the sights and it's boring.
Highway 1 starts at the northern border of California with Oregon and stretches down to San Diego. Most believe driving from San Francisco to Los Angeles is one of the best stretches of road in the world and it would make my top ten.
San Francisco To Los Angeles Drive Map
No San Francisco to Los Angeles itinerary would be complete without a map so here is one with the route I believe you should take. This route has you traveling mainly on Highway 1 from San Francisco to Los Angeles.
I would suggest downloading a map or even having a paper map to hand. There may be some areas where you find cell or satellite signals spotty and unreliable.
Enjoy your drive from SF to LA, I know you are going to love it.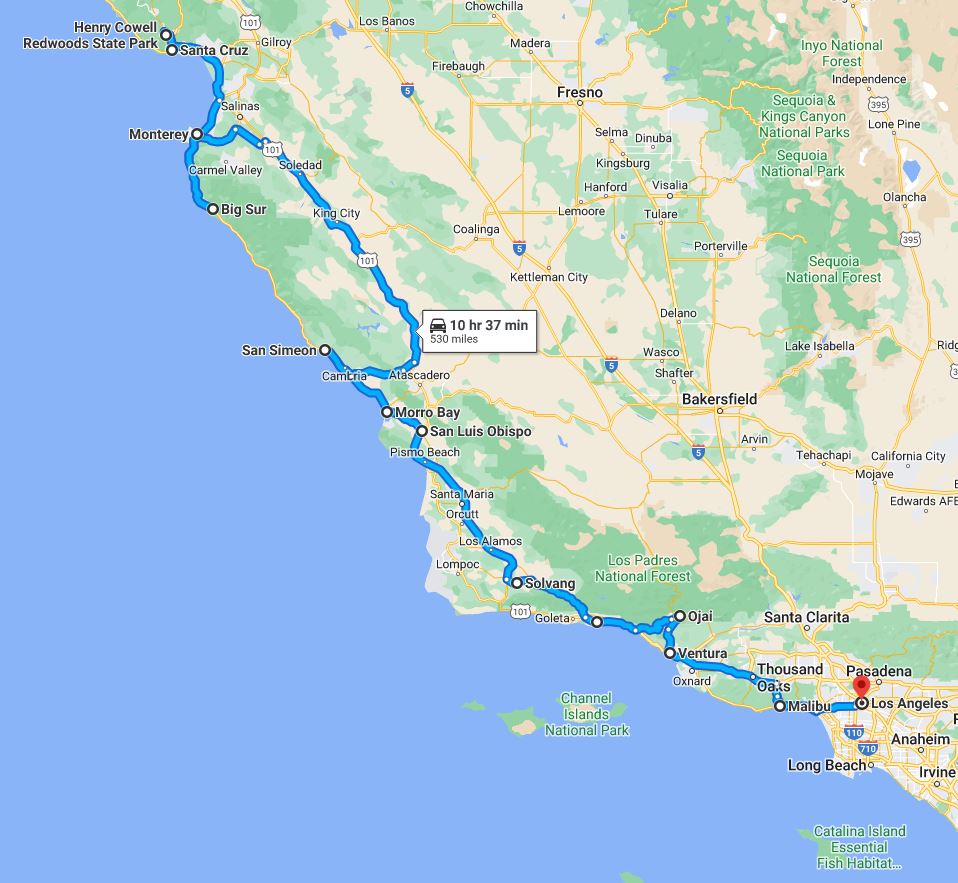 Best Stops On The Drive From San Francisco To Los Angeles
I am now going to walk you through my favorite San Francisco to Los Angeles road trip stops. You can either stretch out your journey by spending a night in each location or shorten the journey with stops along the way. The time you spend on this road trip is up to you but I would say take it as slow as you can.
And remember this San Francisco to Los Angeles itinerary can be done in reverse. I'm going to start at San Franciso and work my way down but you could start at L.A. and work your way up. You choose.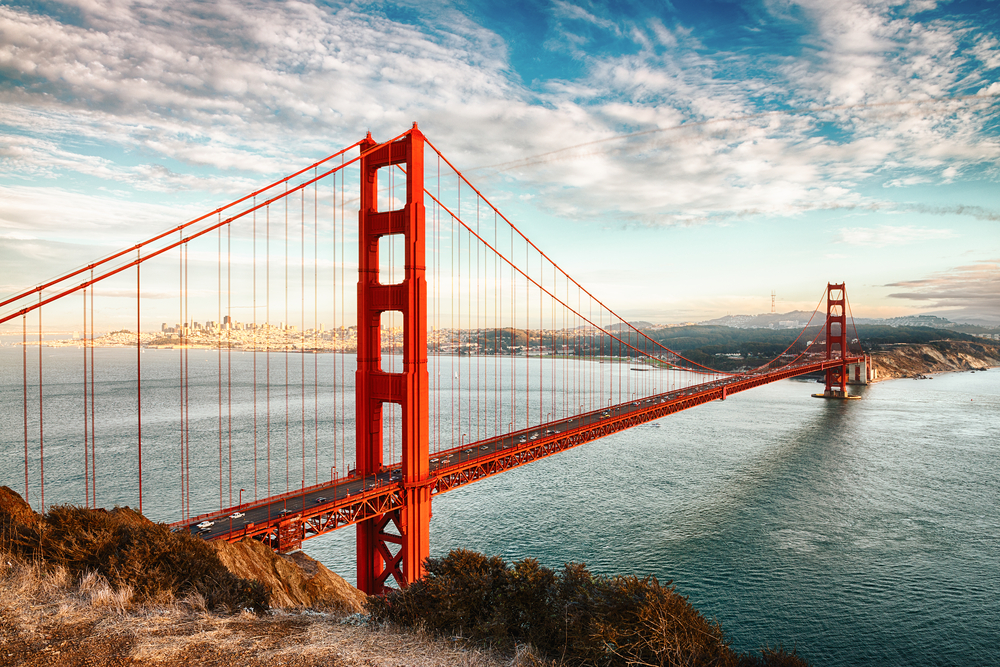 Explore San Franciso
No San Francisco to Los Angeles road trip couldn't include a stop at San Francisco. I adore this city it's a quirky mix of history, culture, charm, and cool.
If I was you I would spend at least a few days here as there is so much to see and do. My top three things you must see here are Golden Gate Park, Alcatraz Island, and Fisherman Wharf.
If you have more time San Francisco has many museums to explore and Union Square and Chinatown are also great to see. The thrift stores here are amazing as is the nightlife and food with so much variety.
And of course, a trip on the San Francisco Tram, a walk down Lombard Street, and a drive over the Golden Gate Bridge are things you absolutely must do in San Francisco.
Stay At Hotel Zephyr San Francisco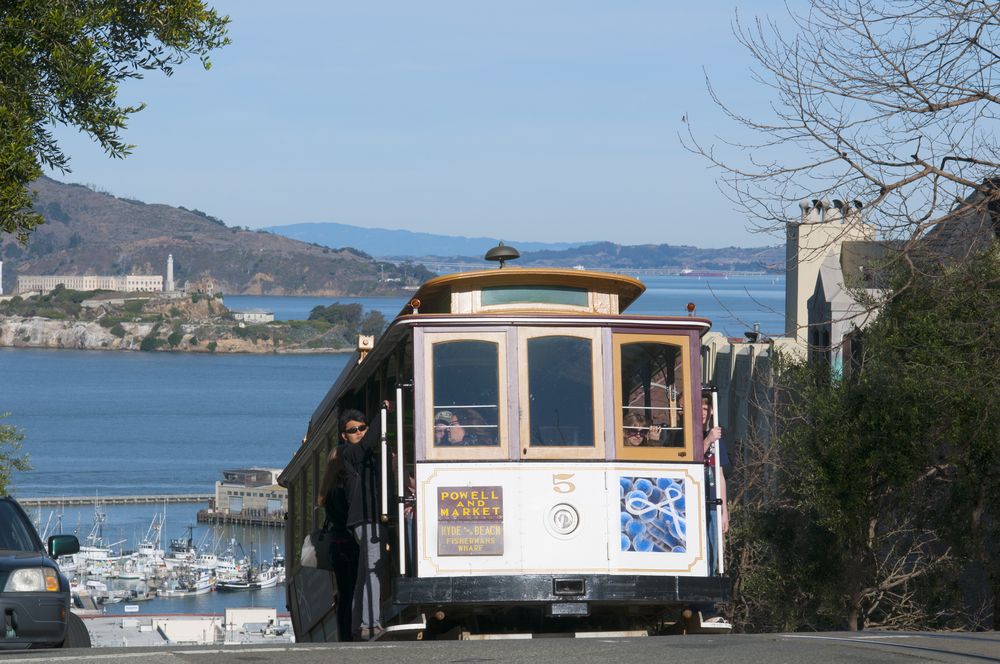 Have Fun In Santa Cruz
About two hours 98 miles away from San Franciso you will reach Santa Cruz. There is plenty to see here if you want to stay a while. This hip, fun beach town has a lot to offer.
The big draw here is Santa Cruz Beach Boardwalk. It has that old-school Americana vibe and I just love it. Not only does it look picture-perfect but it also has an amusement park, mini golf, a casino, and much more. The Broadwalk is a destination all in itself.
If the boardwalk isn't your thing there is much more on offer. Pacific Avenue is the place to go for vintage finds, Wilder Ranch State Park for hiking and The Wharf for whale watching.
One of the places I feel is a must-see is Ano Nuevo State Park, which is home to many Elephant Seals. I have never seen so many seals in one place.
After your visit to Santa Cruz, your Pacific Coast Highway road trip between San Francisco and Los Angeles continues to Henry Cowell Redwoods State Park.
Oh, one last thing as you are driving to Santa Cruz when you pass San Jose make sure you stop to view Half Moon Bay if you can. You will get some incredible pictures of the bay from the road.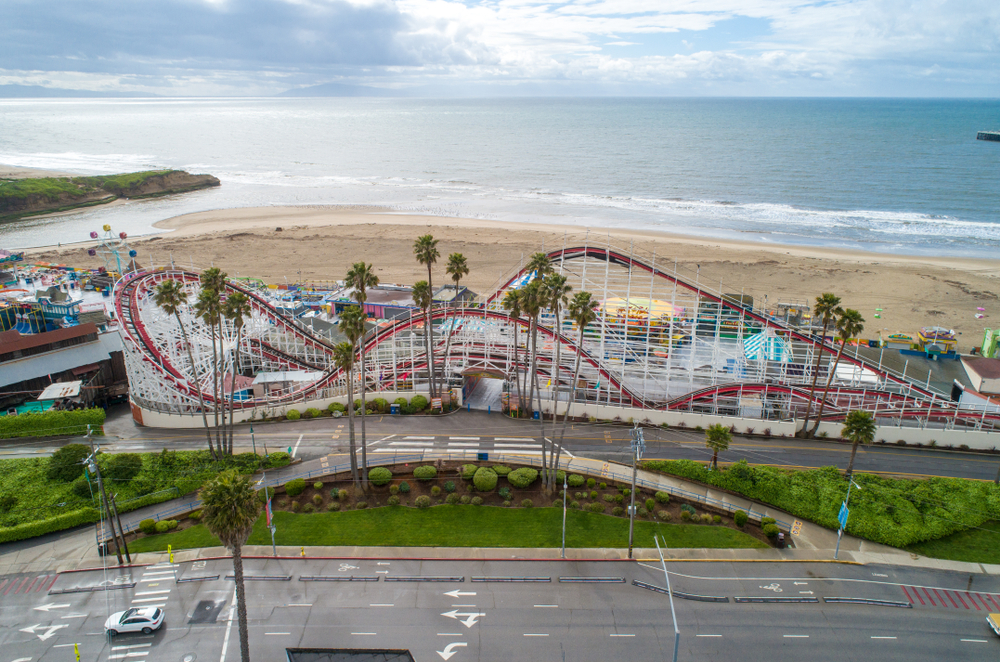 Hug A Tree At Henry Cowell Redwoods State Park
This is a little detour from Highway 1, about 14 minutes to be exact but I think it is worth it. Most mention this place in passing but I think it deserves more than a mere mention.
You can drive here or get a vintage train from Santa Cruz Broadwalk that takes you through the mountains into the park. Henry Cowell Redwoods State Park is most famous for its 40 acres of huge redwood trees, believe me, they are like nothing you have ever seen.
The tallest tree here is approximately 277 feet tall, about 16 feet wide, and around 1,500 years old. The park is perfect for hiking, horseback riding, swimming, and camping and is perfect for a picnic.
There is a campground here if you want to stay a while and spend some time in nature. I feel this is one of those places that makes the San Francisco to Los Angeles road trip so special.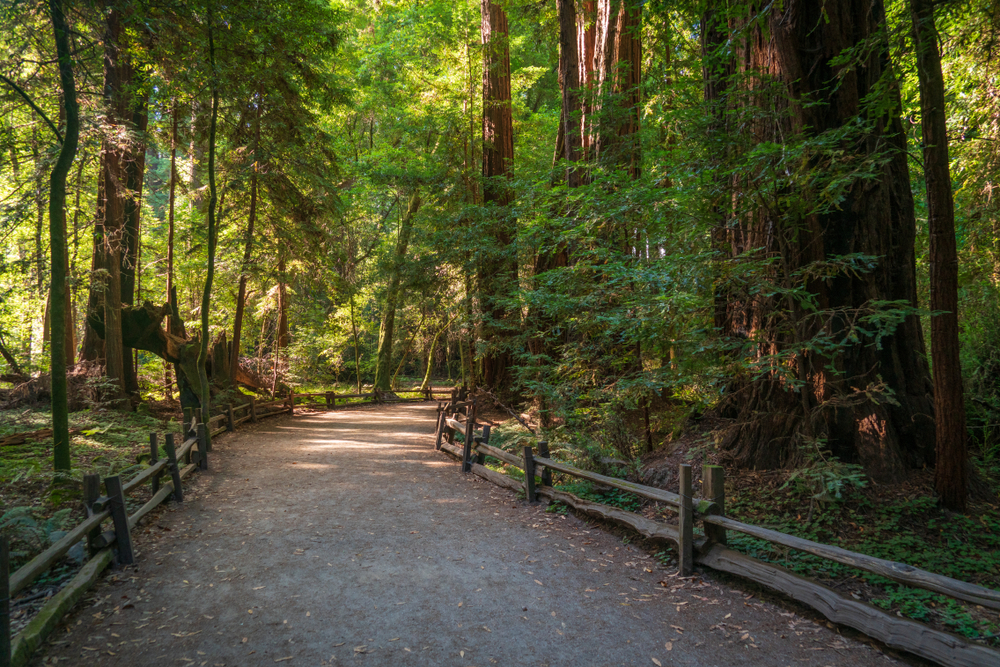 Do A Bit Of Everything At Monterey
This is one of the places to stop between SF and LA where you will find a lot happening. Whether you drive here from the State Park or Santa Cruz it will take you about an hour.
Highlights in Monterey include the Monterey Bay Aquarium, Old Fisherman's Wharf, and Cannery Row. These places are all quintessential Monterey and what makes this area so special.
If you have more time whale watching here is fantastic, Point Lobos State Natural Reserve is beautiful and the nearby Pacific Grove Monarch Butterfly Sanctuary is well worth a visit particularly if you are traveling between October and February.
And if you fancy a bit more driving the scenic 17 Mile Drive through Pebble Beach and Pacific Grove on the Monterey Peninsula is something you won't want to miss. If you can do this drive as early as possible as it gets very busy.
We are now moving on to my favorite part of the San Francisco to Los Angeles road trip the journey to Big Sur. The scenery is about to get a whole lot more dramatic.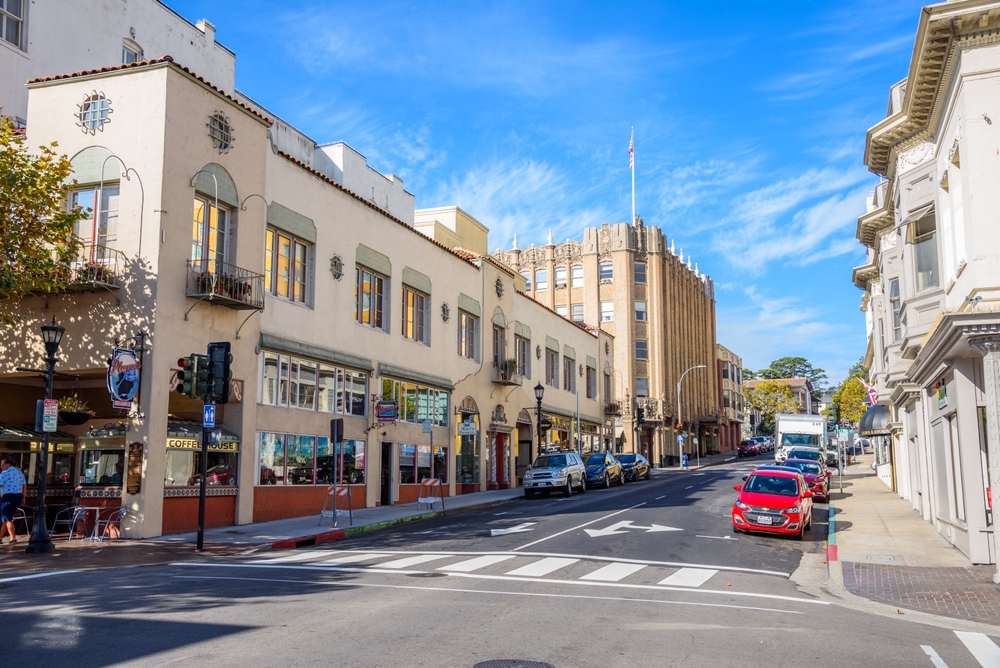 Marvel At Big Sur
Most agree the most impressive part of the Pacific Coast highway between LA and San Francisco is Big Sur. The route is by The Bixby Bridge which is one of the tallest single-span concrete bridges in the world it is one of the most photographed bridges on the West Coast. At 714 feet long and 280 feet high It's an awesome sight.
The drive here from Monterey should take just under an hour.
If you were going to take your time anywhere I would make it here. Sights that you must see include Ragged Point, Pfeiffer Beach, Point Sur State Historic Park, and McWay Falls. Here is our guide to Big Sur.
Be prepared for beautiful waterfalls, dramatic coastlines, trees as far as your eyes can see, and incredible views. Oh, and a simple must-do is to see the sun setting through a natural archway at Pfeiffer Beach.
When I say you are going to fall in love with this area I'm not joking. Be prepared as it's simply stunning you might not want to leave, but you must. Onto San Simeon we go.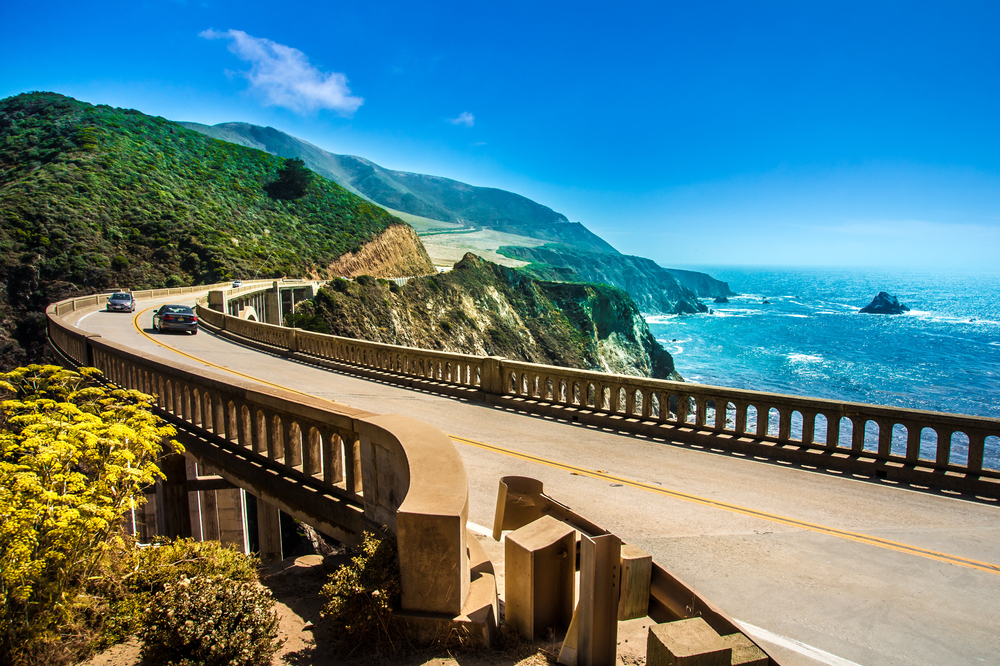 Explore The Castle At San Simeon
Of all the San Francisco to Los Angeles road trip stops I love this one. I'm a girl who loves castles and Hearst Castle high up on The Enchanted Hill is just as magical as it sounds. This castle is the main reason people stop here.
This historic estate was conceived by William Randolph Hearst, the publishing tycoon, and brought to life by his architect Julia Morgan. It was built between 1919 and 1947 and honestly, it's spectacular. There are 250,000 acres to explore and book a guided tour before you go, it's worth it.
Oh and a bit of trivia for you Lady Gaga filmed a video here.
Other popular places in San Simeon include Piedras Blancas Elephant Seal Rookery, Moonstone Beach, and Cambria Village.
Stay At Quality Inn near Hearst Castle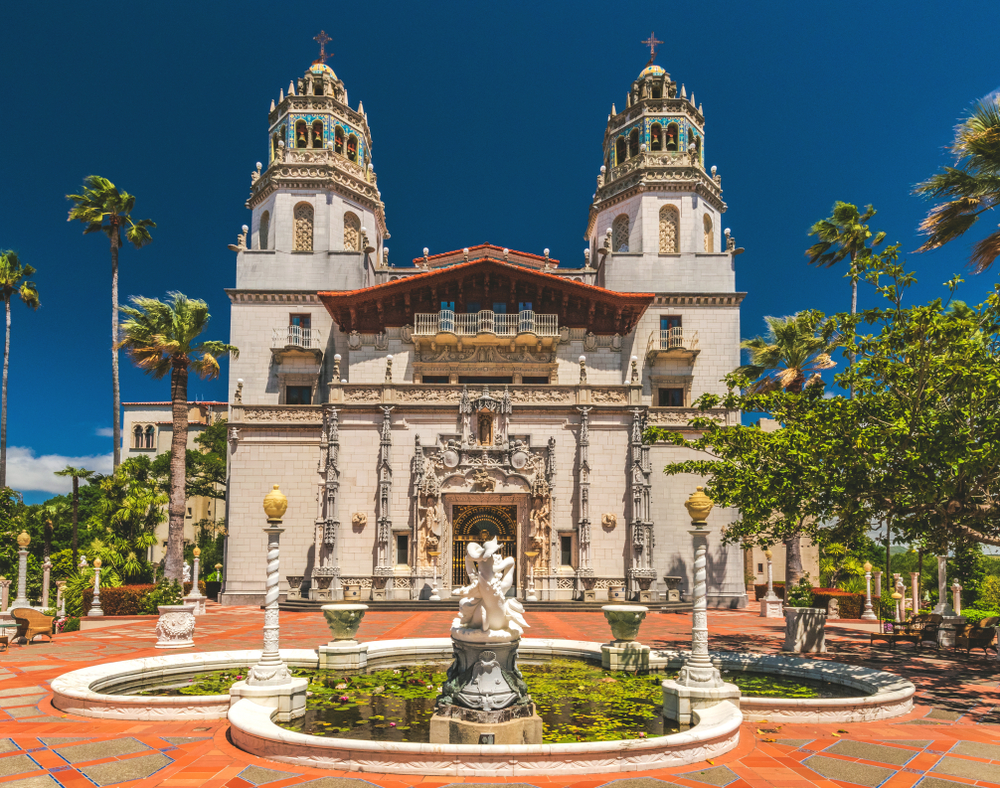 Spend A Day At The Beach In Morro Bay and Cayucos
On a San Francisco to Los Angeles road trip, most people will suggest a trip to Pismo Beach, and while it's worth a visit I'm going to recommend someone else for you. Morro Bay and Cayucos are lesser known but in my opinion much better.
These two beach towns are close neighbors and both offer something different. Morro Bay has more of a sleepy fishing village vibe and in terms of facilities has a little more to offer Cayucos has more of a California Beach town vibe.
I prefer Cayucos as I find it a little more unique and they also have the Brown Butter Cookie Company which is divine. This place has a slow, laid-back, chill vibe which I love.
Morro Bay is a great place to see sea life. Morro Rock and Morro Strand State Beach are perfect places to enjoy as a family.
These two beach towns are a place I feel you must stop at and are about a 30-minute drive from San Simeon.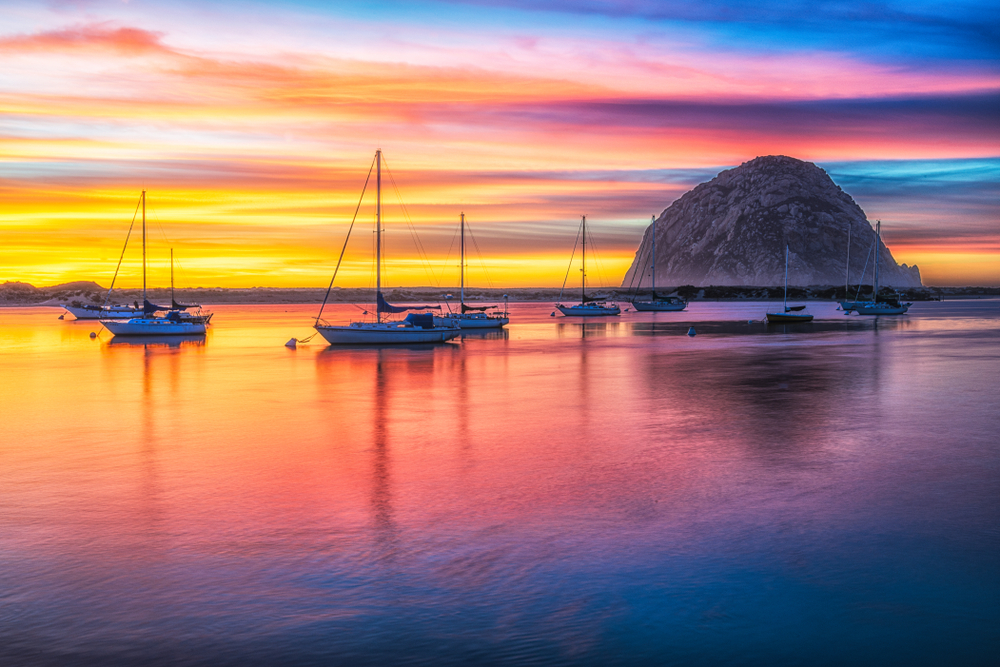 Admire Archetiture At San Luis Obispo
Just a 16-minute drive from Morro Bay is San Luis Obispo. This city is known for its historic architecture, incredible scenery, and the 1700s Spanish mission Mission San Luis Obispo de Tolosawith with a museum.
Perhaps one of the more unique things is an alley lined with bubblegum. This 7-foot-long alley is lined with bubblegum and you can add your own 'artwork' if you choose to.
If you are here for a while the hiking around here is very impressive. Black Hill, Islay Hill, and Bishop Peak are all incredible places, and the San Luis Obispo Botanical Garden provides some easier walking.
Pismo Beach is great for all the adventurous out there offering all kinds of outdoor activities including ATV rentals, skydiving, and sand buggies.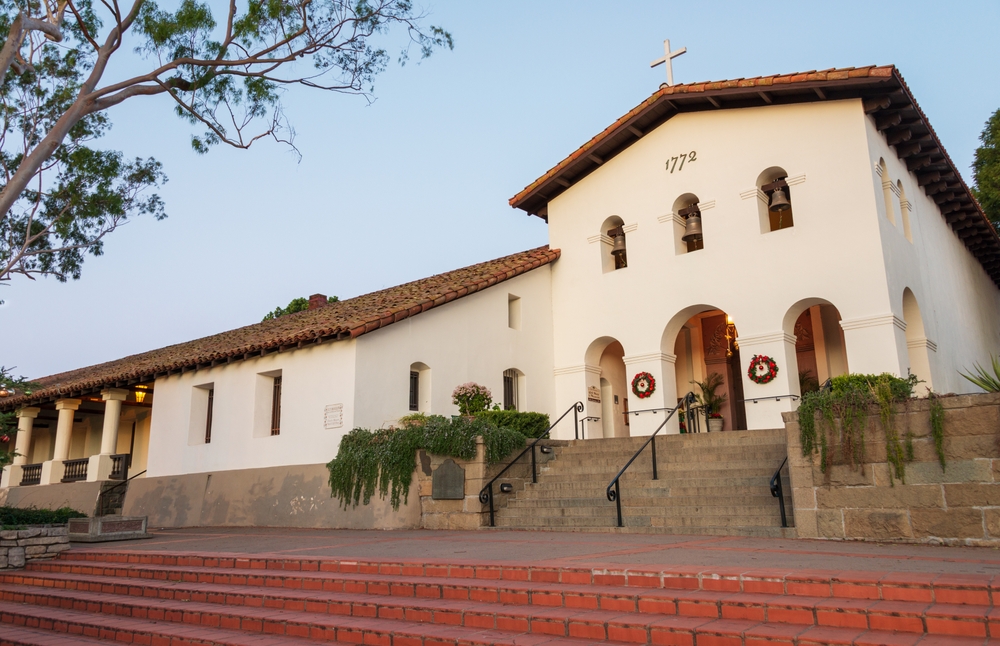 Get A Taste Of Europe At Solvang
Just over an hour from San Luis Obispo is Solvang. This town looks like it has been transported from Switzerland, Germany, or the Netherlands. If you love European architecture you will love this place.
Founded by Danish immigrants they created a town that reminded them of home. They even created replicas of Copenhagen spots, yes, the Littel Mermaid Statue is there. There is even a Hans Christian Anderson Museum here.
I love this place it's so cute and unique. It's also small so you won't need a long stay here unless you want to stay longer. It's the perfect spot on the way to Santa Barbara.
If you want to spend a little longer here the vineyards in the Santa Ynez Valley will keep you busy for hours.
Stay At Vinland Hotel and Lounge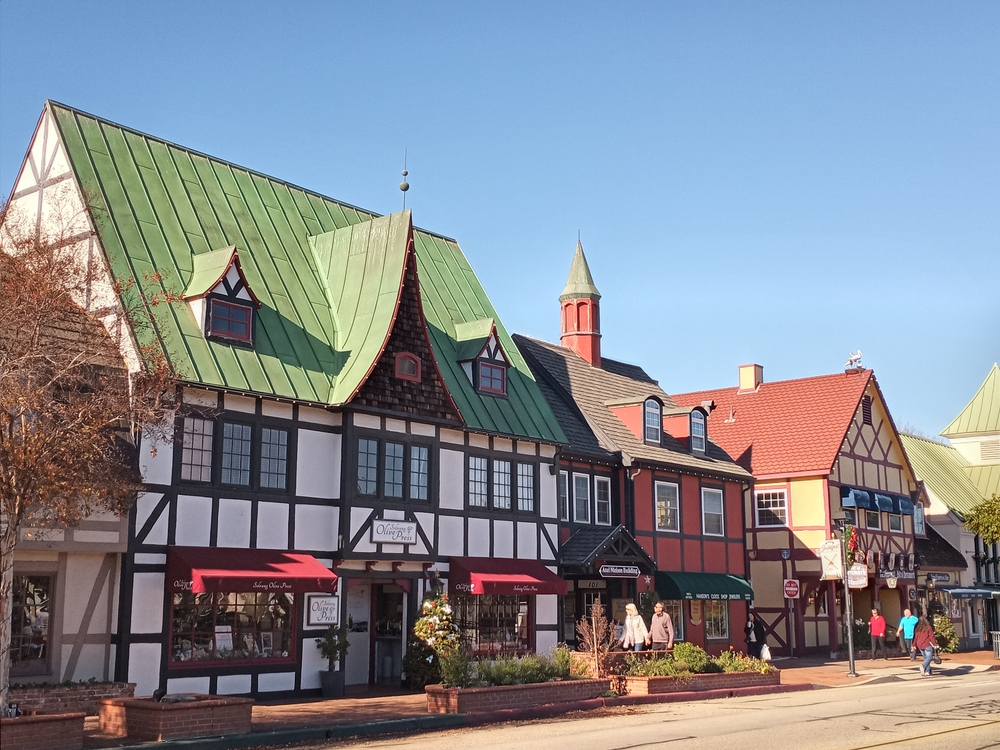 Relax A While At Santa Barbara
About 40 minutes from Solvang you will get to Santa Barbara. It's the perfect place to stop for a few days before you hit L.A.
The coastline here is beautiful and Santa Barabar has a lot to offer. Highlights include the Santa Barbara Botanic Garden, the Santa Barbara Zoo, and the Old Mission Santa Barbara. The Santa Barbara Historical Museum is also worth visiting.
If you are a little more laid back the harbour and Stearns Wharf are great areas to explore. If you are staying a bit longer the Urban Wine Trail is a lot of fun. And of course, you have the white sand beaches to enjoy.
I think the journey from Ventura to here is one of the prettiest parts of the Pacific Coast highway between LA and San Francisco so make sure you are looking out the window.
Stay At Best Western Plus Santa Barbara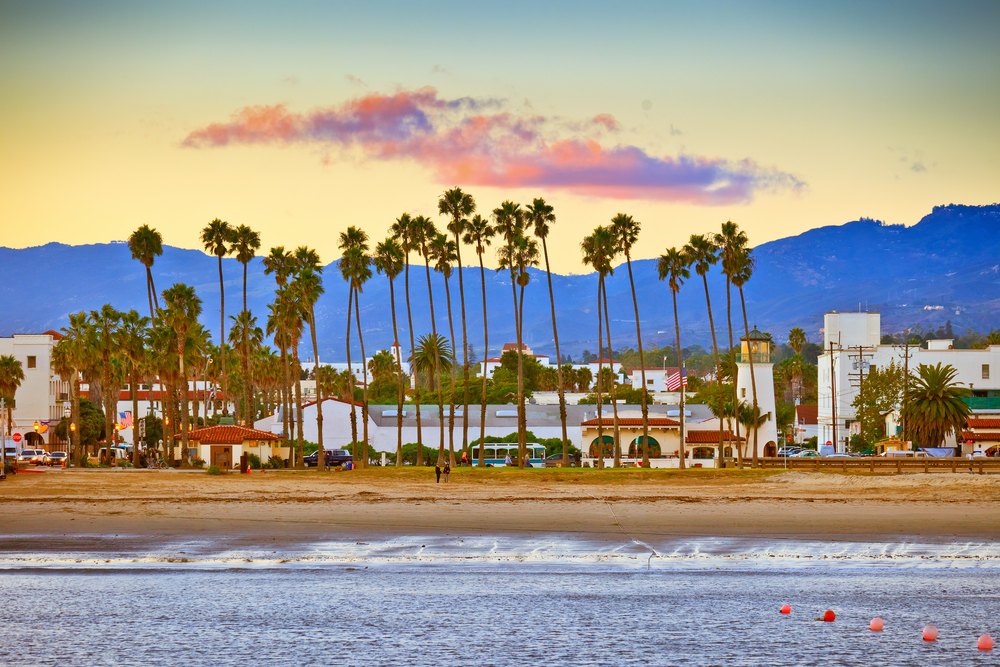 A World Famous Sunset At Ojai
I feel any San Francisco to Los Angeles road trip should include a stop at Ojai. It is 45 minutes from Santa Barbara and feels like it's in a different world.
Ojai is a small city set in a valley in the Topatopa Mountains. The city has a distinctive new age, spiritual vibe with many boutique shops catering to this clientele.
But it's nature here that is the. It's the sunsets here that steal the show. There is a certain point where the fading light hits the Topatopa Mountains turning the valley pink and it's a phenomenal sight to see.
The best place to see this sunset Is Meditation Mount a 32-acre garden perched above Ojai. It's a hike up there but well worth it.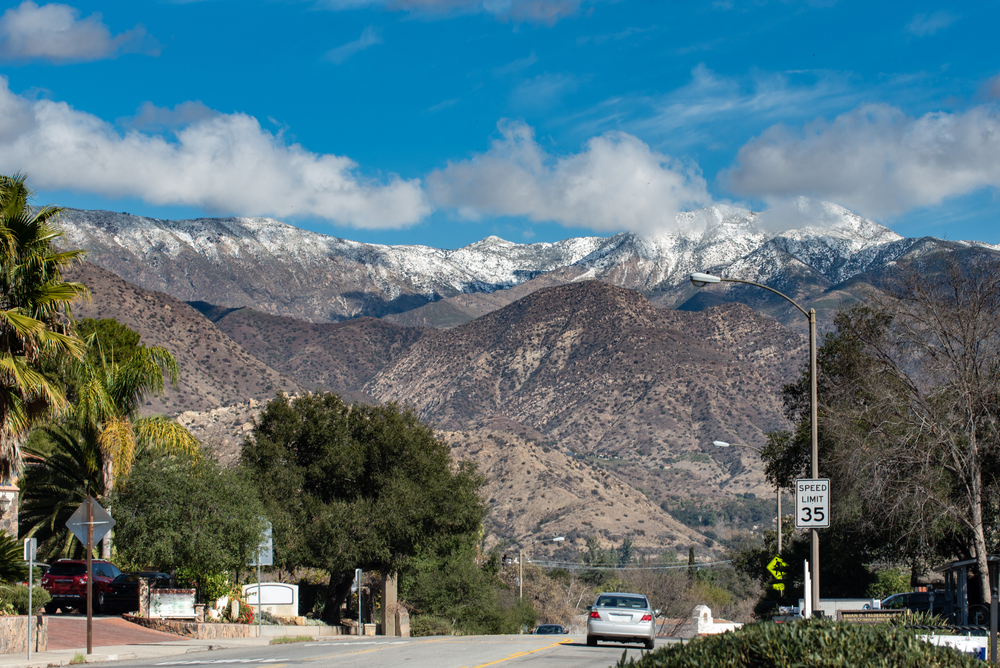 Enjoy Nature At Ventura and the Channel Islands
About 20 minutes away from Ojai on your drive from SF to LA, highway 1 from San Francisco to Los Angeles, you will find Ventura Beach. If you are a surfer you are going to love this place.
Surfers Point, Ventura Harbor, and the downtown area are the must-see here. If you love shopping this place will also make you happy as there are vintage boutiques and second-hand stores galore.
The city also has a great park system with 32 parks and 800 acres of green space. You will also find many historic sites to enjoy.
While here I highly recommend taking a trip to The Channel Islands National Park. Known as The American Galapagos these five islands are off the Ventura Coast and are stunning. Anacapa and Santa Cruz islands are the closest to Ventura and an hour's ferry trip away.
Stay At La Quinta Inn by Wyndham Ventura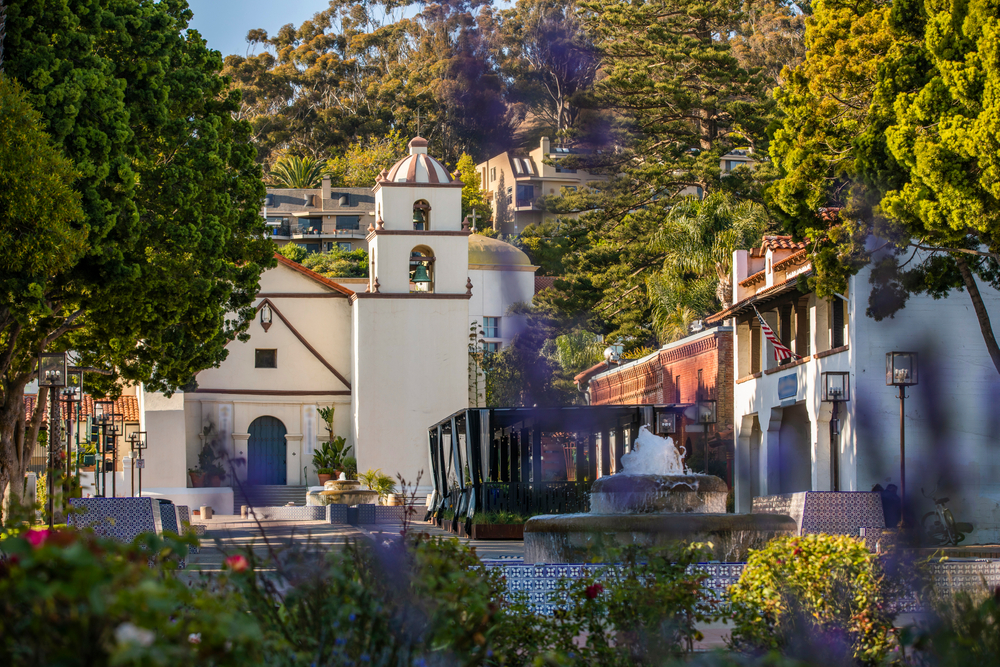 Live Like A Millionaire In Malibu
As your San Francisco to Los Angeles road trip comes to an end let's end it in style with a stop at Malibu. 50 minutes from Ventura the drive here is beautiful and the multi-million pound houses that line the beach are even more so.
Zuma Beach is well worth visiting and if you drive towards Point Dume you will find the sea and beach in all her glory. Other areas on your must-see list are the abandoned M*A*S*H set at Malibu Creek State Park and Topanga Overlook where you get a great view of the San Fernando Valley.
What's so beautiful about this area is that it mixes beaches, mountains, and canyons to create something rather special.
Stay At Calamigos Guest Ranch and Beach Club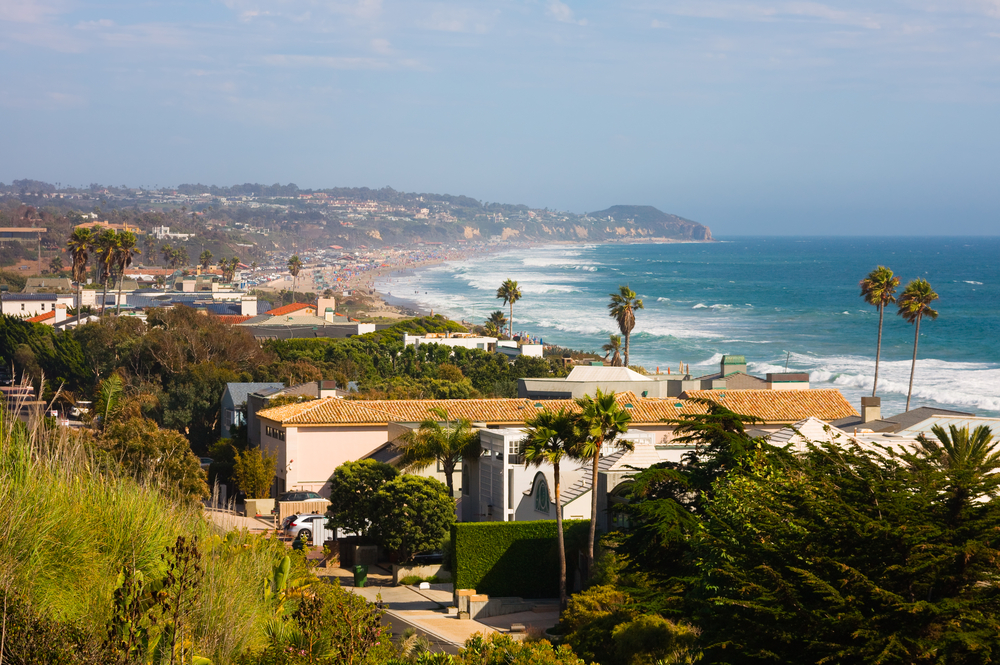 Let Go In LA
34 minutes from Malibu you finally reach the end of your road trip from San Francisco to Los Angeles. And now you are in LA you get to live it up.
There is so much to do here so pick what's most important to you. Some of my recommendations are Disneyland, Warner Bros Studio, the Hollywood Walk of Fame, Santa Monica Pier, Sunset Boulevard, and Rodeo Drive. I could go on and on.
A hike to the Hollywood sign is always fun and I suggest taking one of the tours to make the most of your trip.
LA is a city like no other it is bustling, glamorous, unique, and exciting. It's one of those places that everyone needs to see once.
Take a look at our The Ultimate 2 Days In Los Angeles Itinerary
Where To Stay Along The SF To LA Drive
There are so many accommodation options for your San Francisco to Los Angeles road trip it's hard to know where to start. So I have picked an option at the start and finish and one halfway. I have chosen places that I feel will add something extra special to your vacation.
I have also included accommodation options under each suggestion.
The Fairmont Heritage Place Ghirardelli Square – San Francisco
If you want to make your trip to San Franciso even more special then a stay at The Fairmont Heritage Place Ghirardelli Square. With incredible San Francisco Bay views and luxurious interiors, this hotel will delight you.
Rooms contain a high-end entertainment system, and an enclosed glass shower and some have bay views. Coupled with the terraces and fire pits throughout the property and a 2-minute walk away from some of the main attractions this hotel is a great option.
Check Prices At The Fairmont Heritage Place Ghirardelli Square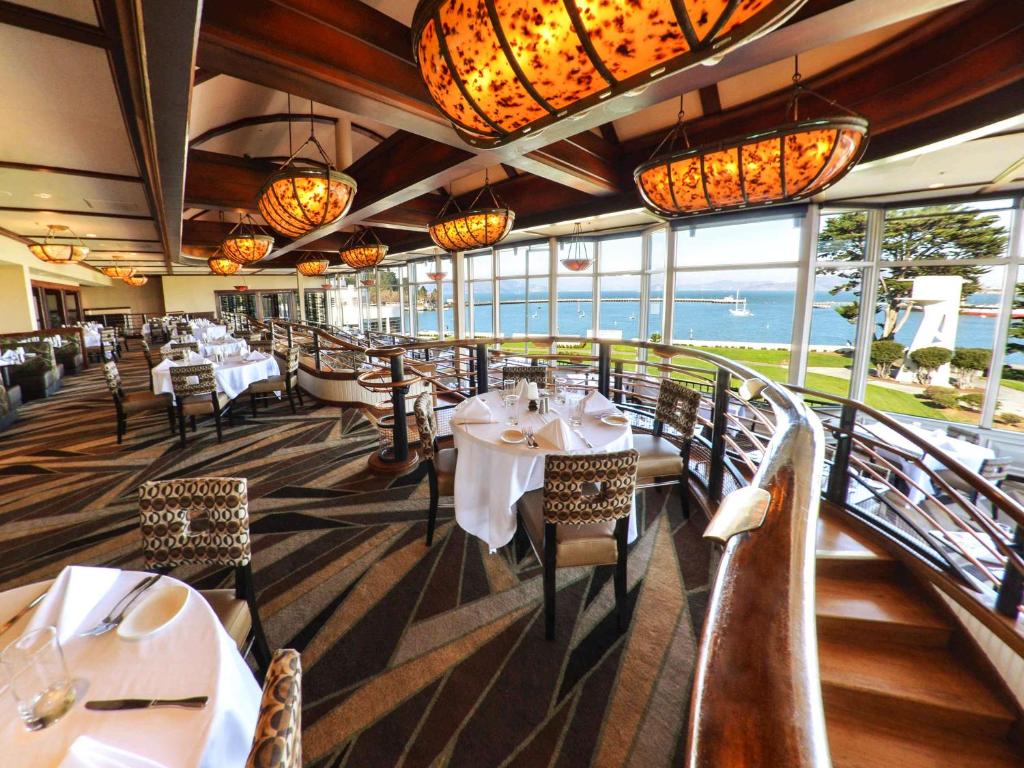 Alila Ventana Big Sur
This adult-only hotel will make a perfect destination for a romantic layover in Big Sur. Alila Ventana Inn & Spa is situated on a hillside overlooking the Pacific coastline and it's beautiful.
Set on 160 acres the resort has 2 swimming pools and a Japanese hot bath. The guest rooms are spacious well-appointed and come with a view of the forest, ocean, meadow, or canyon and all have a window seat, balcony, or patio from which to enjoy it.
This hotel will make your stay extra special. It's the perfect stop on The Pacific Coast Highway road trip between San Francisco to Los Angeles.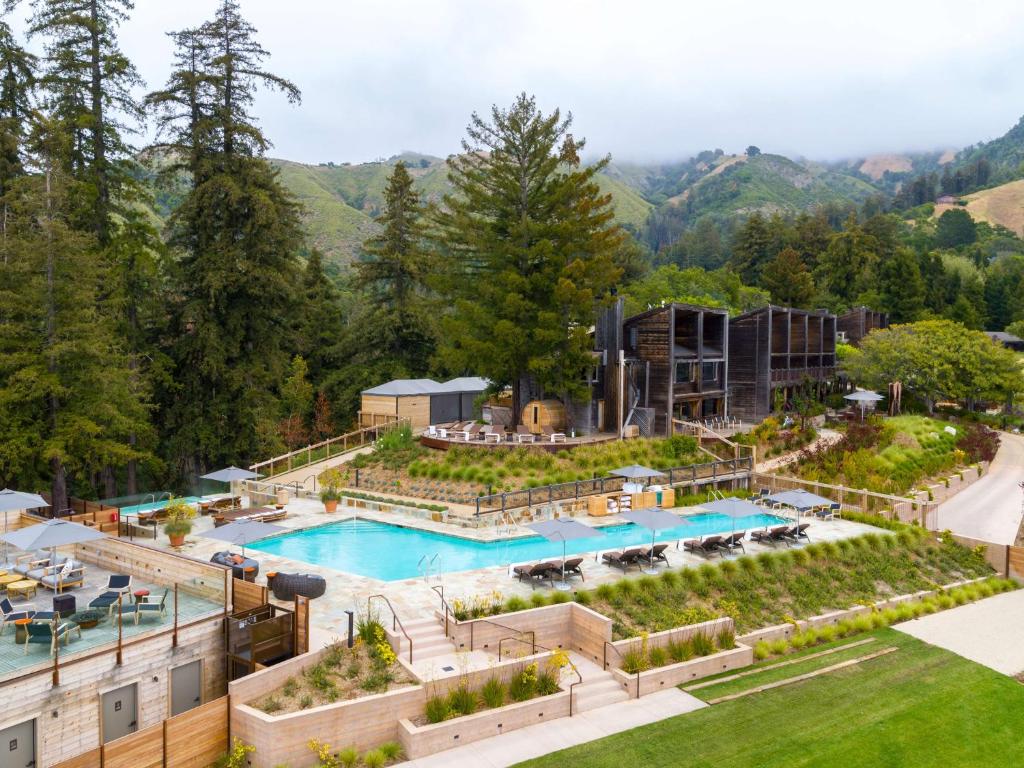 The Beverly Hills Hotel – L.A.
For a stay at a truly Iconic hotel, it has to be The Beverly Hills Hotel. On Sunset Boulevard this hotel offers a full-service spa, an incredible pool, and bragging rights.
If you are not familiar with this hotel it is a bright, light quirky playground loved by many celebrities. Rooms on offer start from superior rooms up to bungalow suites.
The coffee shop is 1950s style the pool plays underwater music and free fruit and juices are available in the fitness center. `
If you want to top your California road trip off this is the place to stay.
Get Prices For The Beverly Hills Hotel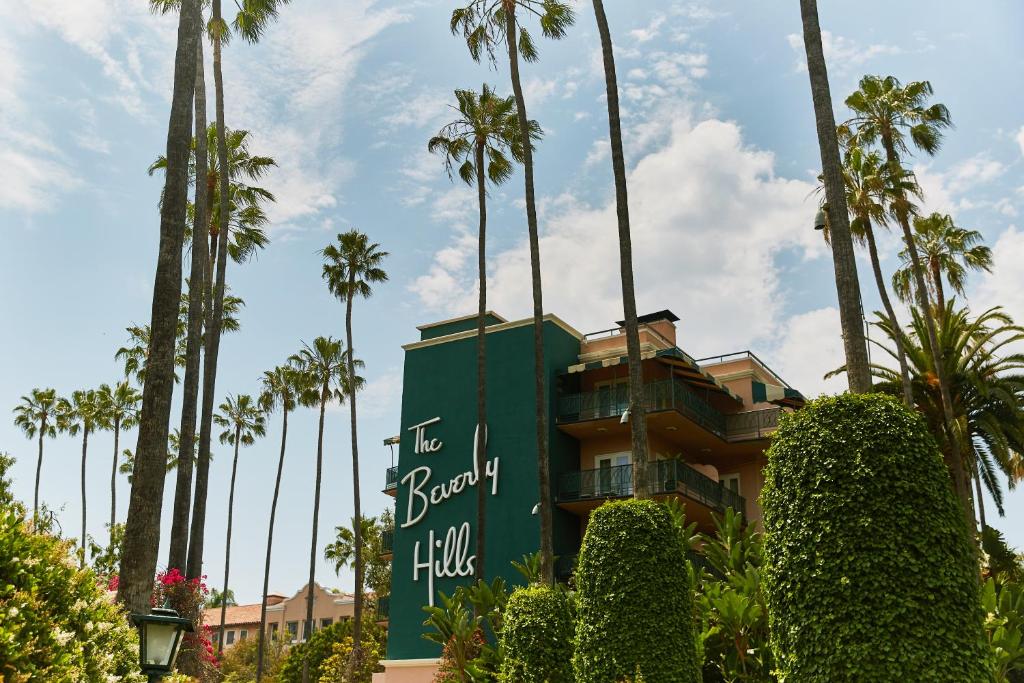 What To Pack For Driving Between San Francisco To Los Angeles
You might be wondering what should I pack for my road trip from San Francisco to Los Angeles. I have you covered. When I say I plan and organize all my trips believe me. I'm someone who is prepared for everything.
Things I think you need on your San Francisco to Los Angeles road trip.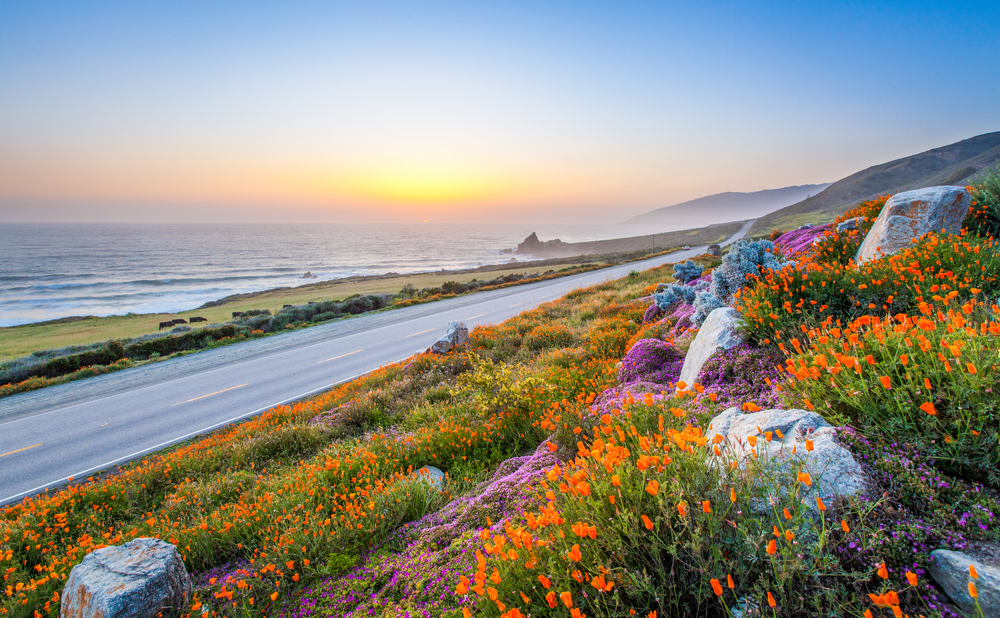 Where To Fly Into And Out Of
If you are thinking of driving from San Francisco to Los Angeles where to fly depends on which way you are going to the trip and which city is nearest to you.
San Francisco International Airport (SFO) or Oakland International Airport (OAK) will work if you are nearer San Francisco and both have car hire. Los Angeles International Airport (LAX) is also perfect particularly if you are flying internationally.
There are a few smaller regional airports like Burbank (BUR) and John Wayne (SNA). These are great if you can find a flight and want a less stressful experience.
Wherever you fly from it doesn't change the places to stop between SF and LA. It just means you might not do them in the order I have listed here, and that is fine.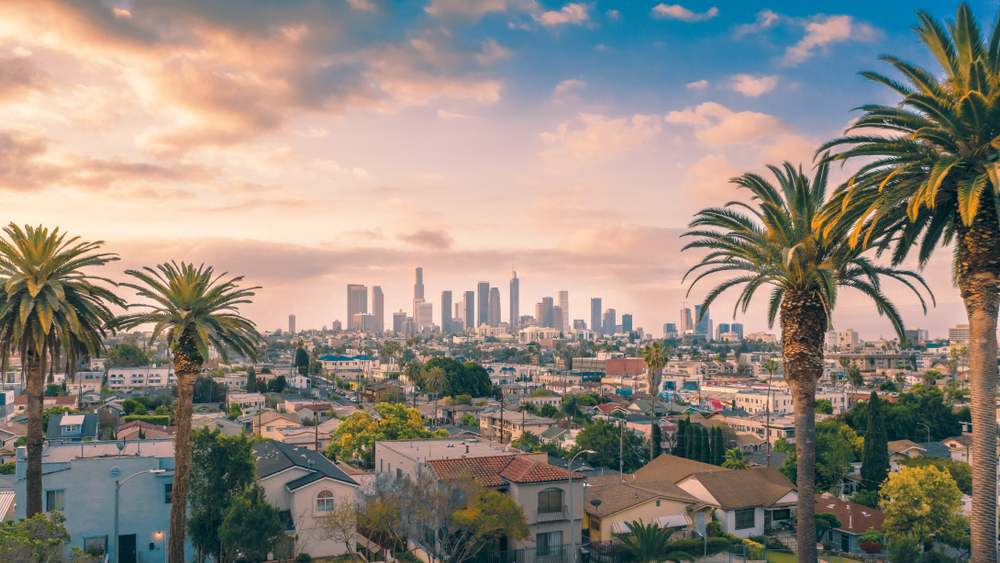 The Pacific Coast Highway road trip between San Francisco to Los Angeles is like no other and I hope this article helps you plan a little more. You really can't go wrong on this road trip as everywhere you go you will find something interesting.
This itinerary is the thing I like the best but there are so many different stops so please do your research and stop at the places you want to see. I hope you have an incredible time and please come back and tell me all about your adventures.