Are you interested in planning a Big Sur road trip? Then look no further! We've come up with the best Big Sur itinerary that is full of all the best stops. Big Sur is one of the most beautiful spots on the West Coast and is perfect for a West Coast road trip.
Driving Big Sur is a great way to relax and unplug. The area is full of fairly untouched land that is beautiful. Because of all that untouched land, you won't find a lot of cell service or WIFI hotspots. So if you are looking for an unplugged vacation, this is perfect.
Big Sur also has plenty of unique places to stop and stretch your legs, which is a great perk to any road trip. On this Big Sur itinerary, we'll go over the best stopping places along the highway. Not only do we cover the best spots, but we'll also go over how to get there, what exactly Big Sur is, and more.
There is a lot to keep in mind when planning your Big Sur trip, so, with all that in mind, let's get into the Ultimate Big Sur Road Trip Itinerary.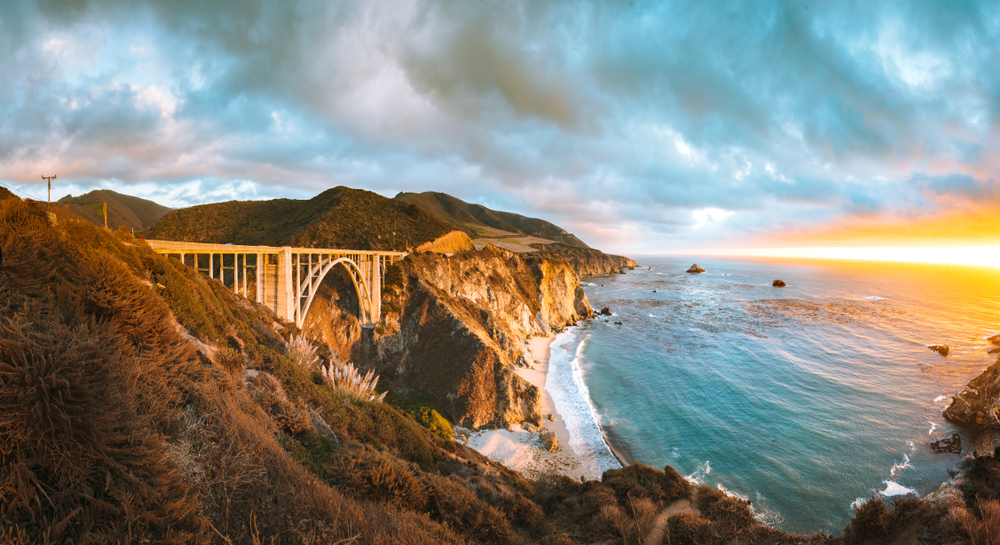 The Ultimate Big Sur Road Trip Itinerary (All The Best Stops!)
What Is Big Sur?
If you've never heard of Big Sur, it is a popular strip of California highway on the coast. It's frequently been described as one of the most scenic stretches of coastline. Many places even consider Big Sur one of the top 35 tourist destinations in the world.
The entire strip of coastline is about 90 miles and runs from the Central Coast of California near Carmel-by-the-Sea to the San Simeon area. Big Sur's actual name on maps is usually California Highway 1. It is mostly undeveloped land and the highway was completed in 1937.
Since then, it has become an iconic piece of the California coast. Along the 90 mile drive, you'll hug the coastline and see fields of flowers, beautiful views of the ocean, and State Parks. You'll find plenty of places to stop along the drive, so feel free to take your time.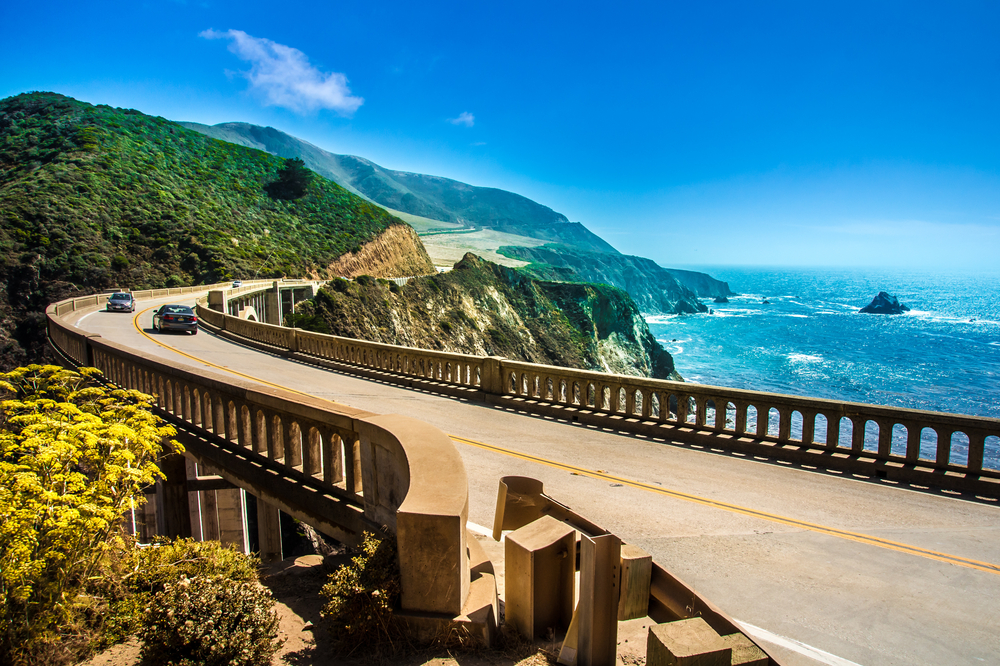 How To Get To Big Sur
There are a few ways to get to Big Sur. If you are flying into the area, consider flying into San Jose, San Francisco, or Los Angeles. Los Angeles will be a little out of the way, but you can always make a fun road trip out of it.
The closest airport is San Jose, but there is plenty of things to do and see in San Francisco. So, if you have the time, consider adding any of these cities to your road trip. If you are more local, you can always drive to Big Sur. Big Sure is known as California Highway 1, so when you're planning your trip, keep that in mind.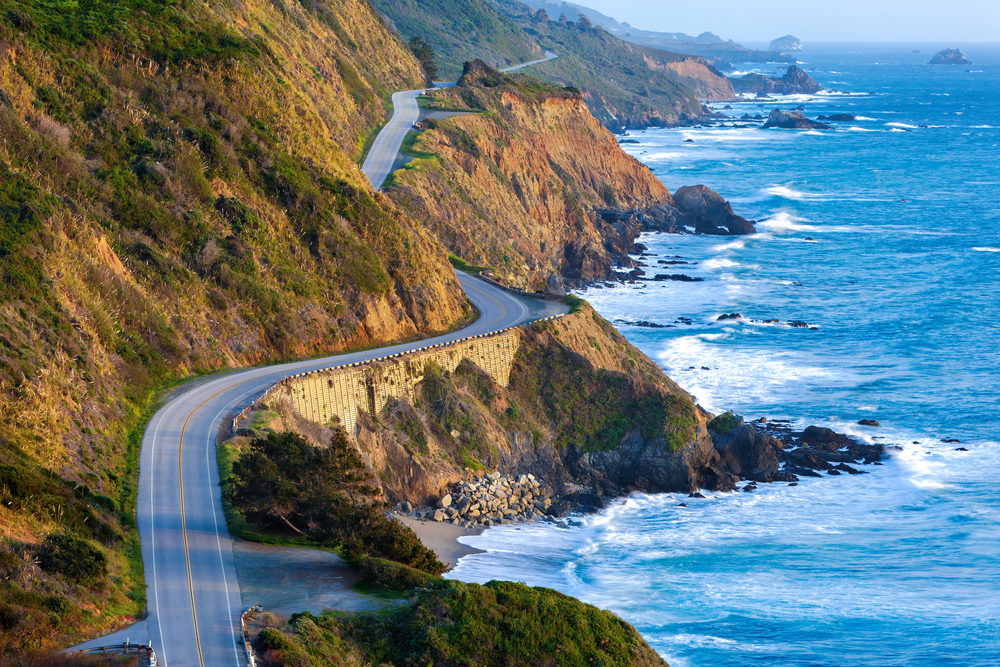 What To Pack For Driving Big Sur
Most of the area does not have cell phone reception. So, it is very important to either have a paper map of download your map to your phone before heading out onto the road. If you want to have music for your drive, make sure you download that too.
The area is incredibly scenic, so you'll be wanting to take lots and lots of pictures. If you take all of your pictures on your phone, make sure to bring a phone charger, just in case. For those who take all their photos on a camera, make sure you pack a spare battery.
A lot of the stops on Big Sur aren't necessarily places you'll be able to do any shopping. A good chunk of the drive is pristine coastline and even State Parks. So you'll want to pack some good snacks, a refillable water bottle, and any other necessities like that you'll think you'll need.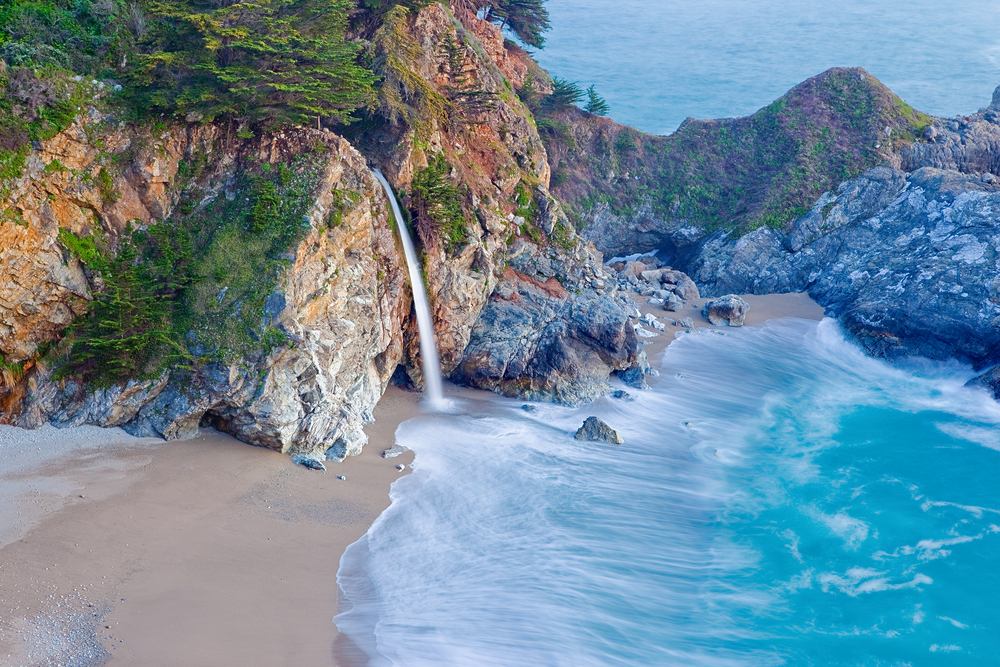 Big Sur Road Trip Itinerary
Carmel-by-the-Sea
Start your Big Sur Road Trip in the charming small town of Carmel-by-the-Sea. There is so much you can do and see while you are in Carmel. The town is truly tiny at only one square mile, but it is absolutely packed with amazing things.
You can stroll the main street where you'll find unique boutiques, art galleries, and restaurants. One of the biggest attractions in Carmel is the historic Mission San Carlos Borromeo de Carmelo. The Mission was built in 1797 by Spanish immigrants. It is now one of the most authentically restored Roman Catholic missions in the state of California.
Before heading out on your Big Sur scenic drive, take some time to explore the beautiful city of Carmel-by-the-Sea.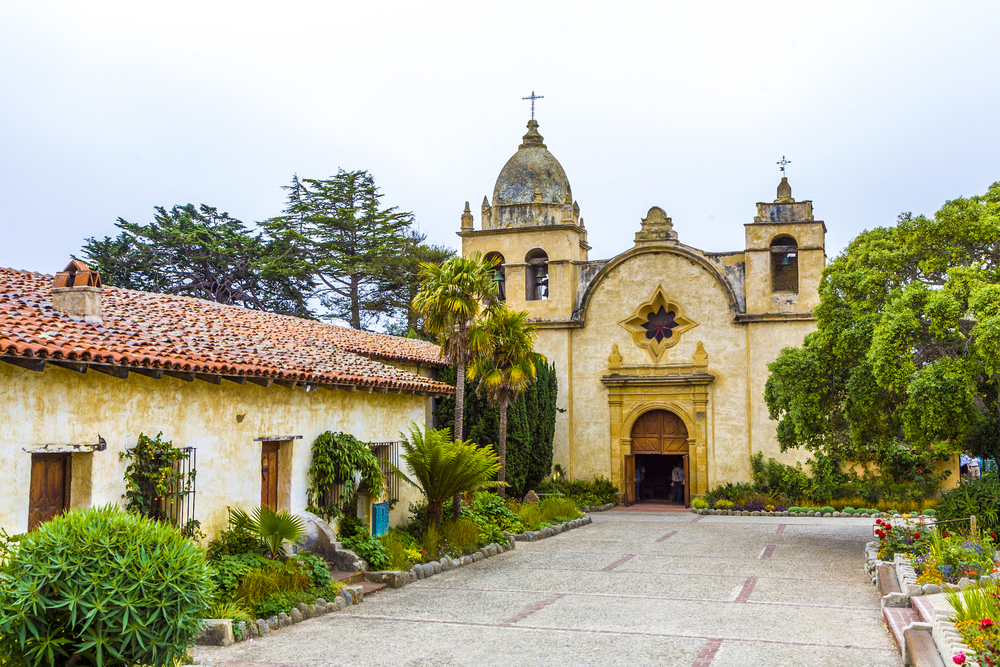 Point Lobos State Natural Reserve
Not far along your Big Sur drive from Carmel-by-the-Sea, you'll find your next stop. Point Lobos State Natural Reserve is one of the best places for a photo stop. The entire area is full of amazing scenic views. You can go hiking, enjoy a picnic, or even go Scuba diving. It is home to some of the best things to do in Big Sur.
While there, you'll probably get a chance to see some of the sea lions, sea otters, and seals that call the Natural Reserve home. There is also a lot of natural flora that you can admire, and learn a bit about. It is definitely a must-see Big Sur road trip stop.
One thing to keep in mind when going to Point Lobos is that dogs are not allowed anywhere on the Natural Reserve. If you are doing the Big Sur drive with a dog, you'll have to skip Point Lobos. The area does not even allow them to be kept in the car while you explore the park.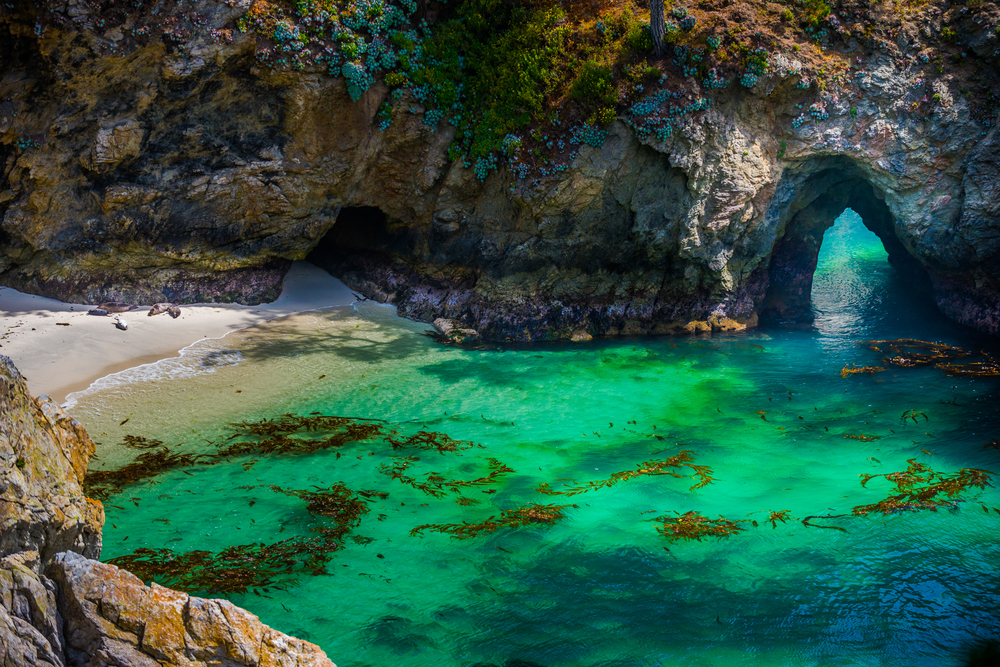 Garrapata State Park
Your next stop is the Garrapata State Park. It features two miles of beautiful beachfront. The park has a nice Big Sur hiking trail that features a 50-foot climb to an epic view of the Pacific Ocean. There are also trails that take you from the beautiful sandy beaches to the thick groves of redwoods.
While exploring the park, you'll also get a chance to see sea lions, sea otters, and seals. During certain times of the year you may even be able to see California grey whales swimming off the coast for their yearly migration. There is plenty to do and see at Garrapata State Park that makes it worth a stop on your Big Sur itinerary.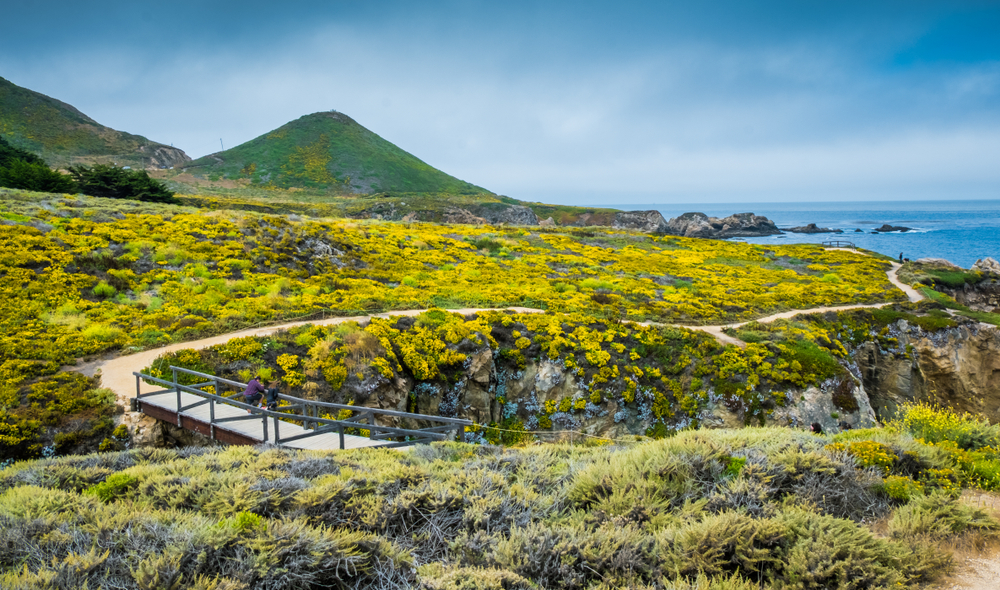 Bixby Creek Bridge
Bixby Creek Bridge is easily the most iconic stop on your Big Sur drive. It is often called just 'Bixby Bridge' or 'Bixby Canyon Bridge', but its all the same bridge. Bixby Bridge is the most photographed bridge in California, and it is easy to see why.
Connect two rocky cliffsides, the Bixby Bridge is a beautiful open spandrel arch bridge. It was originally built in 1932, and since then it has been a staple on any Big Sur itinerary.
Near the bridge, before you cross it on either end, there are a few places you can park to get a good picture of it. You will easily see why this is one of the most scenic drives in California!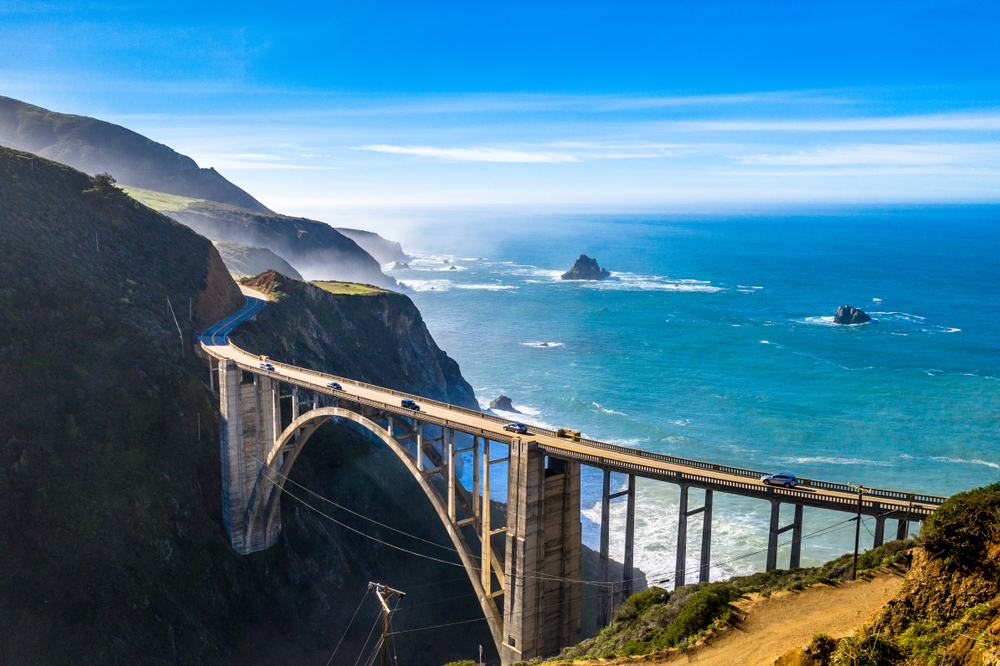 Pfeiffer Beach
After admiring Bixby Bridge, head to Pfeiffer Beach. It is easy to miss the turn-off to get to the beach, so make sure to look for a turn-off on the coastal side. It is partially hidden by trees and there are no signs that tell you what the turn-off is for, but it is how you access Pfeiffer Beach.
Pfeiffer Beach is most known for it's Purple Sand Beach and a unique rock formation with a keyhole in the middle of it. The sand isn't pure purple, but you'll find there are lots of purple flecks in the sand that give it a purple tint. The large rock formation sits out a little from the shore and features a large door shaped keyhole, almost exactly in the middle.
You can easily spend hours exploring Pfeiffer Beach. You will need to pay a $10 entry fee per car to get to the beach, and it has steep winding road. But if neither of those things bother you, you'll definitely want to stop at Pfeiffer Beach.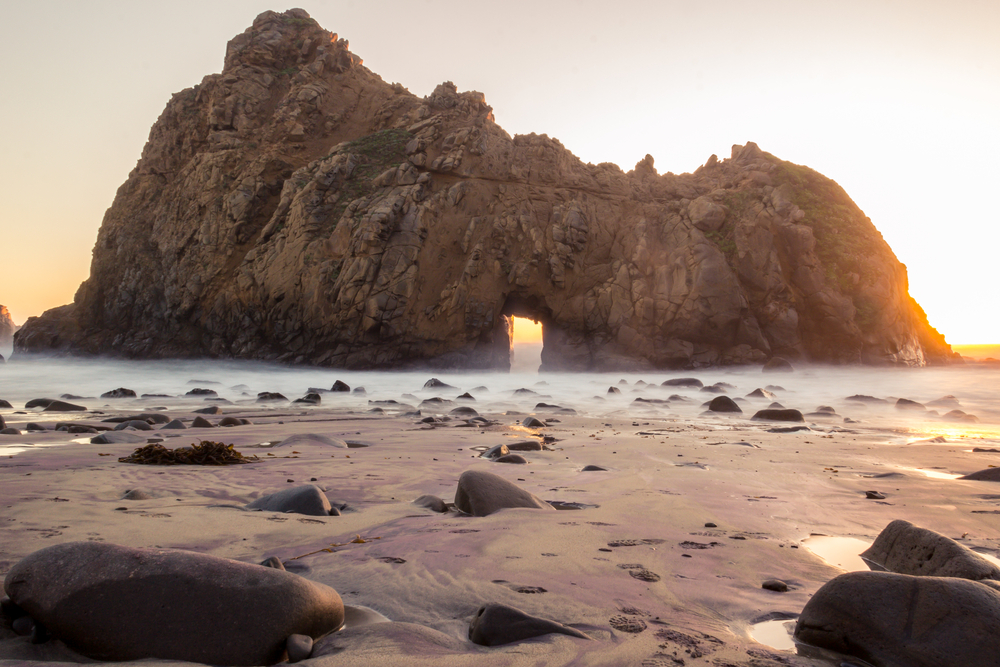 Julia Pfeiffer Burns State Park And McWay Falls
Pfeiffer Beach is different from Julia Pfeiffer Burns State Park. So don't skip the State Park thinking you've already seen it. The State Park costs another $10 fee to enter, but like Pfeiffer Beach, it is worth it. If you want a place to stretch, you'll love all the hiking trails that can be found at the State Park.
The most popular attraction at Julia Pfeiffer Burns State Park is the McWay Falls. You can not hike directly down to the falls as they are part of a protected ecosystem, but there is a great overlook with a beautiful view.
The overlook hike is very easy. The hike itself is only 0.6 miles long, and is wheel chair accessible. It is also pretty popular, so be prepared to deal with some crowds.
Sand Dollar Beach
You'll make one more stop before heading back to Carmel-by-the-Sea or continuing to the city you flew in from. That last stop is Sand Dollar Beach. Sand Dollar Beach is Big Sur's biggest beach, and definitely worth a stop. The best time to visit Sand Dollar Beach is during low tide. That is when you'll be able to have plenty of sandy beach space.
If you go during high tide you'll have a hard time finding space to stretch out on the beach. So make sure you keep an eye on the tide schedules before planning your stop. While it is called Sand Dollar Beach, you might have a hard time finding sand dollar's to take home. But there is plenty of other ocean life to admire on the shore.
One of the reasons Sand Dollar Beach is a great stop to finish your Big Sur drive is the sunset views. During sunset the rock formations and beach are absolutely beautiful. It is the perfect way to finish your Big Sur scenic drive.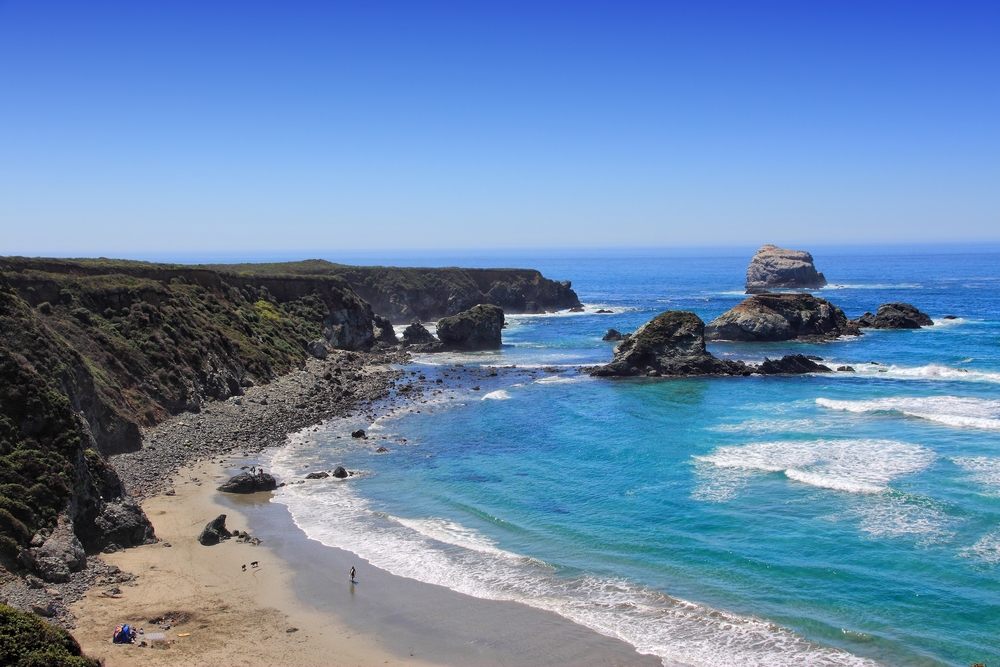 Where To Stay In Big Sur
Big Sur isn't full of hotels like some other areas of California are. That is part of why it remains such a beautiful untouched piece of California coast. That also means the accommodations that are in the area can be kind of pricey.
You could easily do the whole road trip in a day if you started early enough in the morning. However, if you want to take your time on the drive, consider staying at one of these places.
Charming Coastal Cottage
One of the best options for more affordable accommodations is to rent a VRBO. One of the best VRBO's for couples in the Big Sur area is the Charming Coastal Cottage. With one bedroom, a full kitchen, living room, and patio, it is a great option. It is also very close to the Carmel area.
Check Rates on VRBO: VRBO.com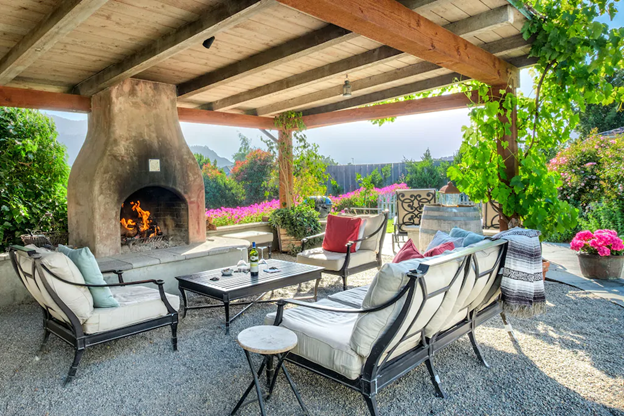 The Post Ranch Inn
The Post Ranch Inn is perfect if you are looking to add a little luxury to your Big Sur drive. Each room has its own private walk-out deck and some even have stunning views of the Pacific Ocean. The property also has an infinity hot tub, three pools, and tons of unique resort amenities.
Check Rates Here: postranchinn.com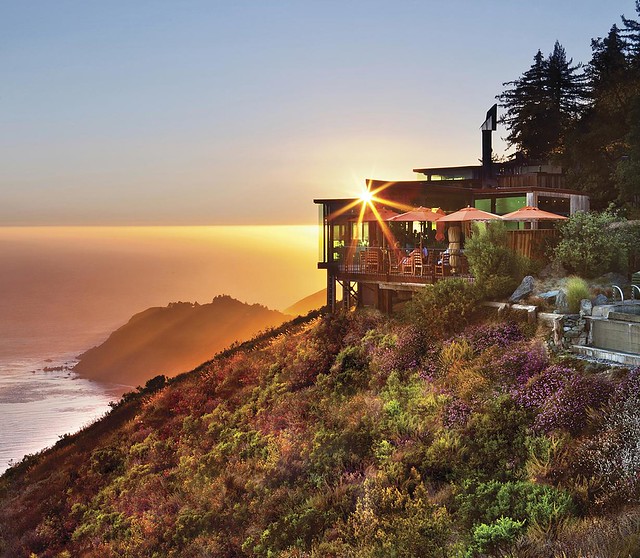 Carmel Lodge
The best budget option for Big Sur accommodations is the Carmel Lodge. It is a cozy and simple hotel less than a mile from Carmel Beach. It has free WIFI, a continental breakfast, and close to pretty much everything in Carmel-by-the-Sea.
Check Rates Here: booking.com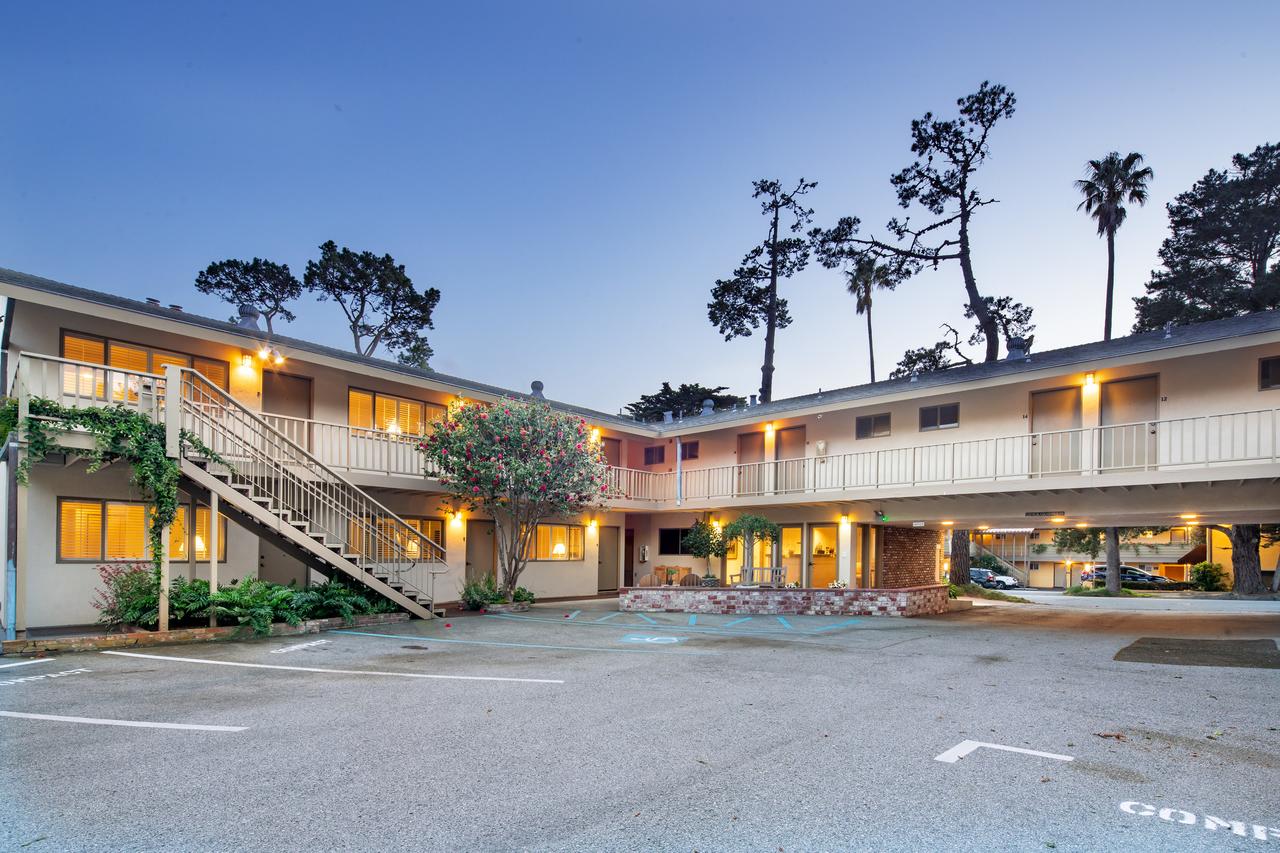 Best Time Of Year To Drive Big Sur
There is no bad time to visit Big Sur, it just depends on what you want to see. If you want to see the fields along the road full of flowers, then you'll want to make sure to visit sometime in the Spring.
For the most part, the weather in California is consistent year-round. That means you can really do your Big Sur Road Trip any time of the year if the spring blooms aren't a must-see for you. However, you shouldn't expect beautiful sunny skies during your trip.
The area is known for being foggy and even cloudy throughout the year. If you get lucky, you'll get a beautiful sunny day, but don't count on it. Even enshrouded in fog, Big Sur is absolutely beautiful and worth the potential for less than ideal weather.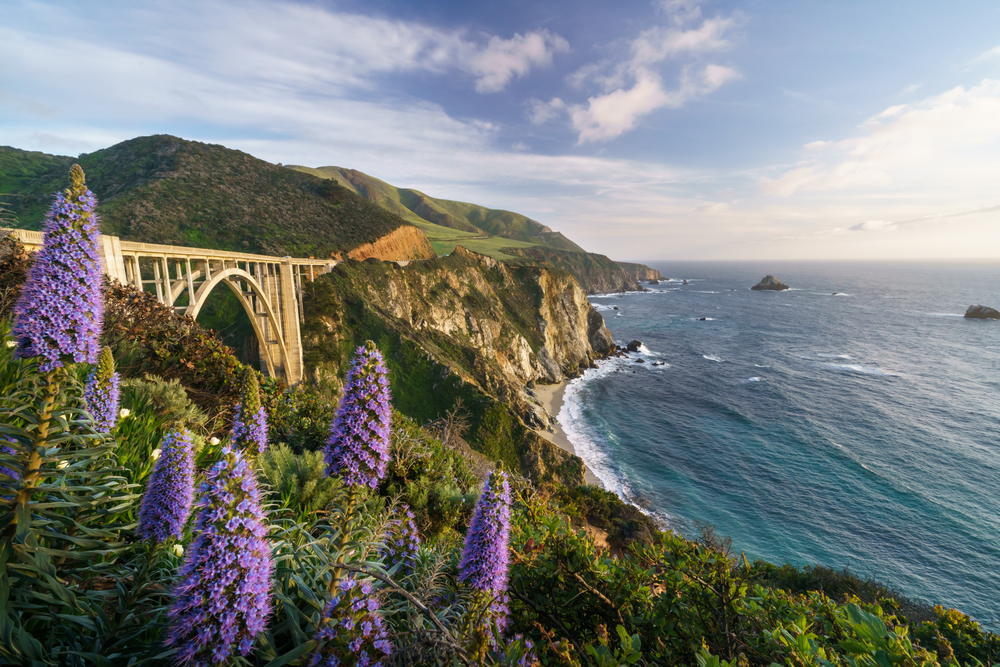 Driving Big Sur is one of the best ways to see the California Coast. With so much to do and see in just 90 miles, it is also a road trip that packs a big punch. The stops on this Big Sur road trip itinerary are the most popular and the best ones.
However, you can always customize your road trip even more with some of the smaller stops along the way that interests you. No matter how you choose to enjoy it, a Big Sur road trip is one you won't forget.