It's never too early to start thinking about your festive celebrations and this holiday season, Washington, DC is packed with things to do and explore! When considering spending your Christmas in Washington, DC, you're never wanting for activities and holiday cheer!
When looking into the best ways to spend Christmas in the USA, the weekend at the country's capitol is a fantastic option! While there are plenty of quaint Christmas towns in the USA and some awesome Winter Vacations to consider, a Washington DC Christmas really doesn't compare because they put out all the stops!
If you're hoping to take a break from your regular ski slopes this holiday season or shake up your usual weekend getaways on the East Coast during your time off, nothing can beat fantastic Christmas Lights and big trees and hot chocolate with loved ones!
I've been to Washington, DC so many times and I've never had a bad experience in this awesome city! It's only natural to combine a fabulous holiday with a fantastic city! I think it's a great place to visit for the holidays and can only be made better by traveling with loved ones, furry or human, and seeing more of what Christmas in DC looks like!
So sit back with a cup of hot chocolate, turn up the Christmas music and get ready for some great ideas for Christmas in Washington, DC!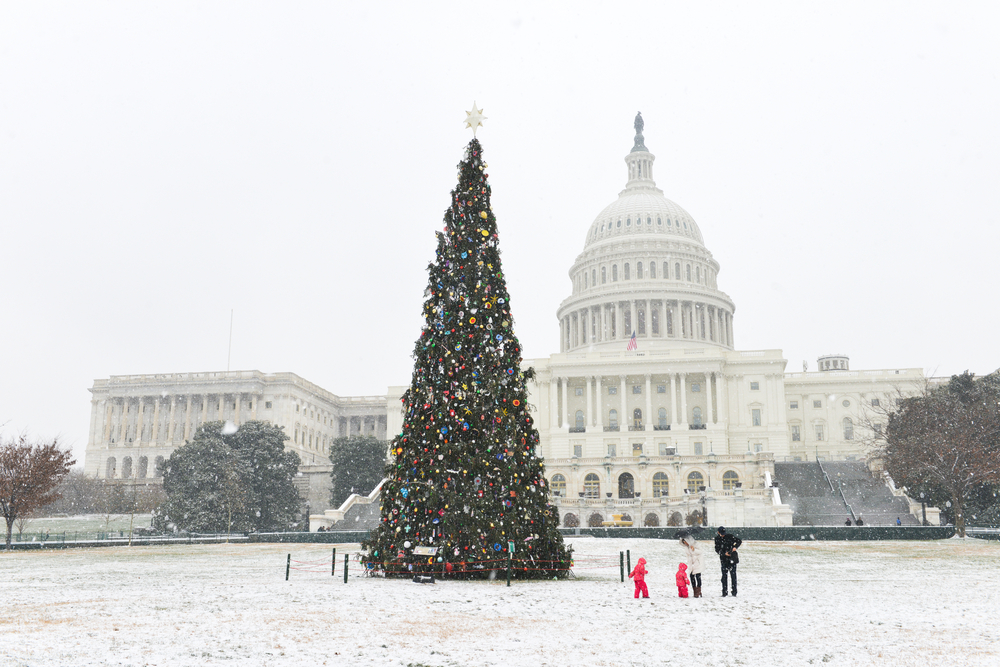 Is Christmas a Good Time to Visit Washington, DC?
Visiting Washington, DC is always a fantastic idea and making the trip during Christmas? Even better. This capital city goes all out for Christmas! With fantastic lights displays, cool parades and plenty of holiday-themed shows and experiences to be had, Christmas events in Washington, DC are never a disappointment!
Christmas in DC definitely gives NYC's allure a run for its money! So whether you're looking for something majestic and magical, or something a little more laid back and nostalgic, Washington DC during Christmas delivers on all levels! Many even consider this the best time to plan your Washington DC itinerary!
Washington Weather in December
Weather in Washington strives to give you a picturesque winter wonderland as much as it can! It gets as low as 50 degrees during the day and dropping to even 30 degrees during the night!
December in Washington, DC is not the coldest month of the year, that award goes to January, so you're getting there at a great time to enjoy the area while still experiencing some moderately cold temperatures!
Not only this but it snows! And while they do get an amazing amount of snow during the year, weirdly enough, they have a study revealing that only NINE days since the 80's have had snow on Christmas Day! A weird fact to know, but that's how serious a Washington DC Christmas is.
Best Ways to Celebrate Christmas in Washington, DC!
ICE at Gaylord National Resort
First on our list of the best ways to spend Christmas in Washington, DC is definitely exploring ICE at Gaylord National!
Complete with the work of ice sculptors from Harbin, China, ICE boasts amazing sculptures of plain ice and colored ice with incredible detail! This is in incredible immersive experience that makes it one of the unmissable Christmas things to do in Washington, DC!
The display is always at a cool 48.2 degrees so you always need a big coat, and if you don't have anything you can borrow one of their parkas! It has two million pounds of ice on display, and is around 17,000 square feet filled with three-dimensional scenes from your favorite Christmas shows! Winter in Washington, DC would not be complete without viewing some awesome ice sculptures!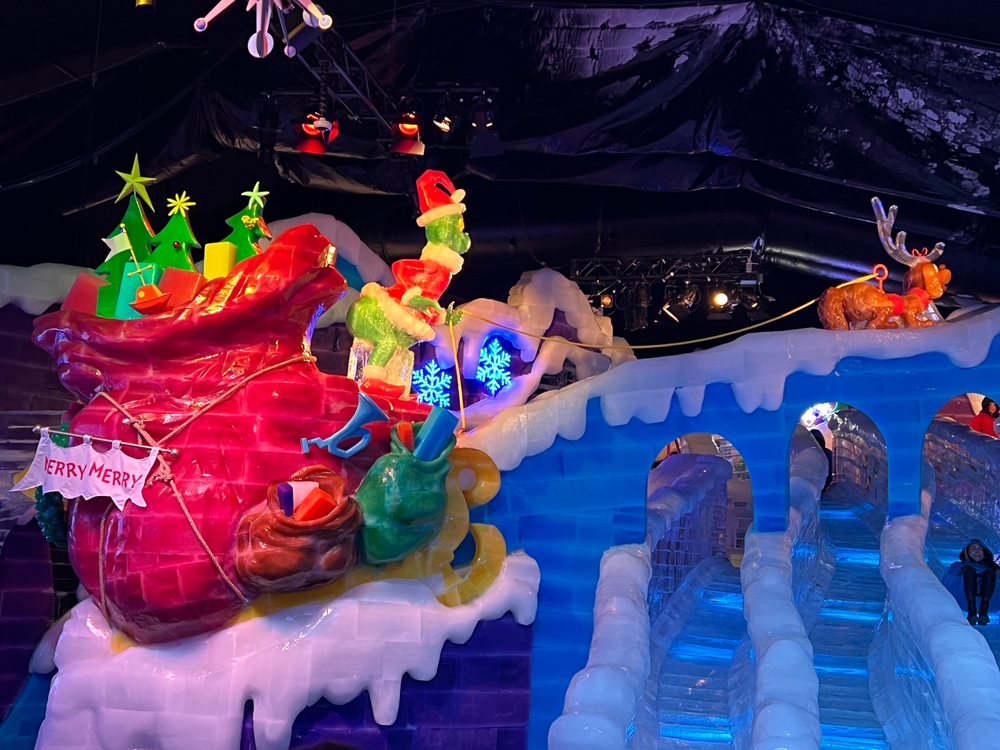 Experience the Lighting of the National Menorah
A benefit of visiting Washington, DC in December is that it's diversity means a lot of holidays celebrated over December are highlighted on a grander scale! The Lighting of the National Menorah is another fantastic example of holiday celebrations!
With amazing musical performances, special guests and readings from winners of an Essay Contest, the Lighting of the National Menorah is an awesome thing to do in an evening in December in Washington, DC!
If it gets too chilly and you don't want to miss it, you can watch it online from the comfort of your hotel room and still enjoy the festivities! Visit throughout Hanukkah and enjoy the decorations for the holiday!
Enjoy a Christmas Concert at the National Cathedral
The National Cathedral in Washington has some amazing holiday festivities to enjoy!
Throughout December and close to the holidays, the National Cathedral puts on some cool concerts over the first few weekends of the month! The special programs are a mixture of medieval and modern music to get you into the holiday spirit!
Washington, DC in winter would not be complete without a gorgeous display of musical talent and some cool architectural wonders, so definitely take some time and explore the National Cathedral while taking in one of their holiday programs. And keep an eye out for the Darth Vader gargoyle!
Downtown Holiday Market
Another classic option for Christmas things to do in Washington DC is to visit a Christmas Market.
With local artisans and homemade goods, not only are Christmas markets the ideal spot to get locally sourced gifts for loved ones, you have a chance to taste local cuisine and unique dishes themed around the holidays.
Downtown Holiday Village is a Washington, DC market that's perfect for people who are looking for an activity to keep them busy for either a few hours or enjoy it for a little bit! With food, live entertainment, and artisans, one can't go wrong with exploring around this Washington, DC Christmas market!
Open from November 18th to December 23rd, you'll have plenty of time to get something for all your loved ones when visiting this market during its open hours of 12 pm to 8pm!
Don't miss this cool option for things to do in Washington DC at Christmas!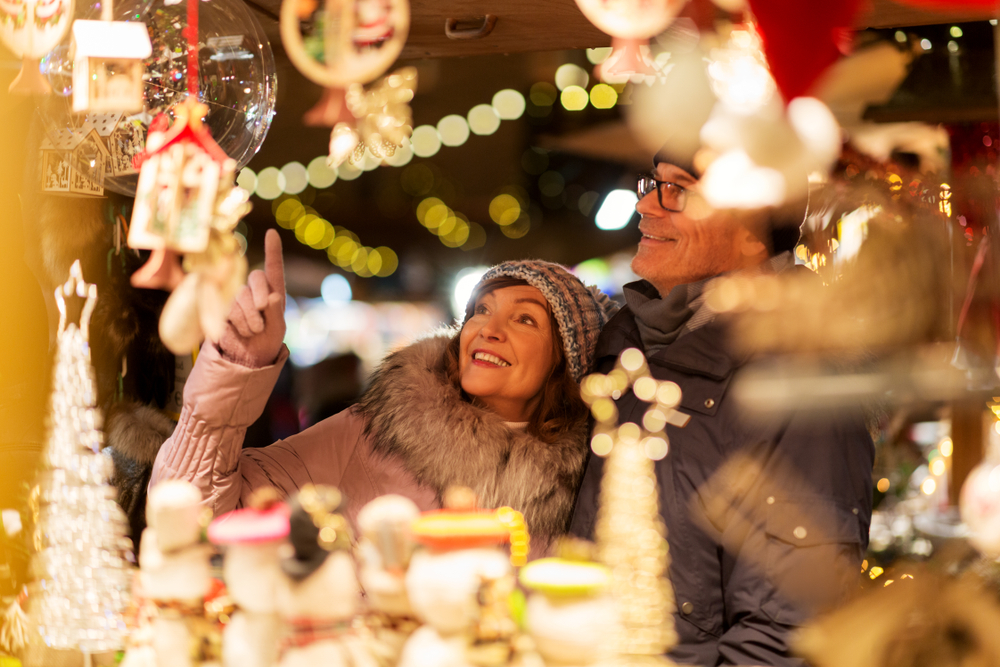 View Holiday Movies Across Washington
In the month leading up to Christmas, the theatres across Washington release a schedule to get the hype up for the Holidays!
From family friendly Christmas movies to adult-focused holiday films, with multiple screenings over the day, there is a great schedule of screenings leading up to Christmas to get you ready for the holiday! You could plan an amazing movie hop across the city if you wanted to see a little bit of everything!
Their different showtimes are great for families with littles who need to be in bed earlier, and also good for couples who are out all day and want an evening screening of a lovely, heartwarming Christmas film before bed!
Don't miss out on some classic Christmas movies!
Christmas at Mount Vernon
If you're a history buff and you're looking to explore some of the history present in Washington, DC during the holiday season, then getting tickets to enjoy Christmas festivities at Mount Vernon is a can't miss activity!
Tour George Washington's estate and see where the very first, first family lived! With history lessons and holiday-themed activities, you can enjoy some eighteenth-century focused things and truly enjoy Washington DC in winter!
Their event boasts live music, cider, cookies and holiday fireworks as well as eighteenth-century dancing and chocolate-making! Tickets for this Christmas festivity need to be purchased ahead of time and the event will take place the week before Christmas, so definitely check in advance if this is something that interests you!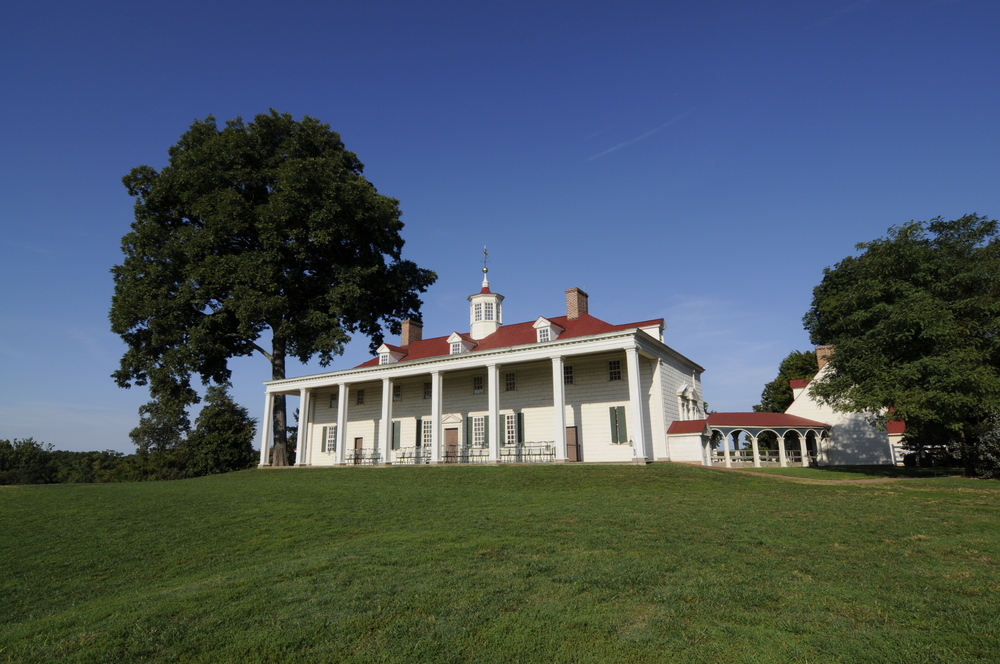 Explore Enchant Christmas
Enchant Christmas runs from November 25th to January 1st and is another cool option to enjoy Washington DC at Christmas!
Hosted by the National Parks, Enchant Christmas is the perfect winter wonderland to be explored! With ice skating, shopping and a light display maze, there's some lovely activities to spend the day! Complete with local vendors around the area makes this a great time to have and get some Christmas shopping done while enjoying the atmosphere!
This is the perfect time for family, couples and large groups to explore the grounds and all the display! There's also Santa's Landing with the amazing opportunity to visit Santa!
Check Out the National Christmas Tree
When it comes to Christmas lights in DC, the lights of all lights are on the National Christmas Tree!
This massive tree is located in Presidents Park and is a free Christmas activity in Washington, DC to enjoy! It's surrounded by other beautiful trees that are decorated with homemade and original ornaments from the other states and territories of the USA. Visiting the National Christmas Tree is a great evening to spend walking around with a cup of hot cocoa and enjoying the weather!
There are nightly performances around the tree, and it is on display from the first of December from 10 am to 10 pm and absolutely free! It is lit at 4:30, so if you're looking to catch the first twinkle of lights get there early with your warm drink to enjoy these awesome Christmas lights in Washington, DC!
Experience the Holidays Through History Open House
Another great option for history buffs is to enjoy the Holidays Through History Open House!
Hosted at the Woodrow Wilson House, which is now a museum for the 28th president, involves a walk-through of the house as well as holiday displays!
You can enjoy a tour or a self-guided tour, you can witness the amazing and beautiful festive decorations around the house and activities for the holidays! With music and historic cocktails, Holidays Through History is a lovely treat for historians who are looking to enjoy a unique experience and learn more about the past presidents of the United States!
Don't miss out on this great option for Christmas things to do in Washington, DC and get your tickets ahead of time!
Explore Washington's Many Light Displays
DC has some amazing light displays that you can take advantage of during your stay!
The DC Holiday Lights are set up in the different boroughs and neighborhoods of Washington and they have very detailed maps so you can take advantage of both the areas by foot or during cute car rides with hot chocolate!
With dazzling light displays and decorative figure scenes, DC Holiday lights are a great option to explore! In areas like Mt Pleasant, Logan Circle, Dupont Circle, U Street, Woodley Park and Columbia Heights, they have amazing displays that you shouldn't miss out on! Georgetown also has Georgetown GLOW which runs through to January 26!
Don't skip these beautiful Christmas lights in DC!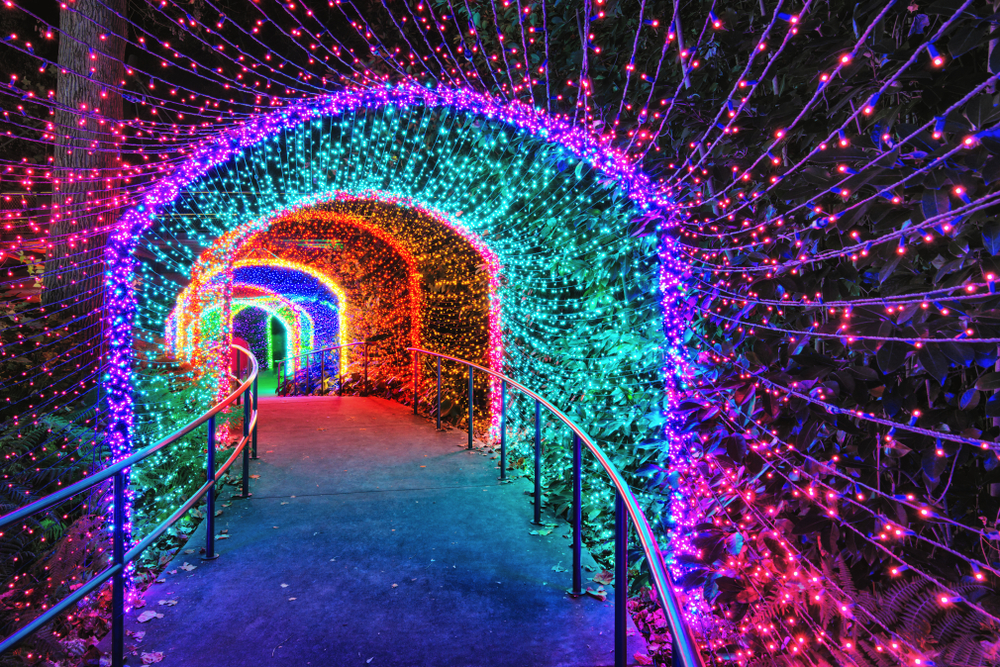 Wander the US Botanic Garden Holiday Display
Another fabulous display of Christmas cheer is at the US Botanic Garden's Holiday displays!
Complete with model trains, miles of poinsettias, pine and mistletoe arrangements, the US Botanic Garden display is a unique spot for botany enthusiasts and even train lovers! This location has garden replicas of landmark DC buildings, as well as model trains that explore throughout the displays running from 10 am to 5 pm!
This option is fabulous for families with kids! There's plenty to explore at this location and it runs from November 24th to January 2nd, so there's tons of time during your Christmas in DC to see the Holiday Display!
Watch the Holiday Boat Parade at the Wharf
The Holiday Boat Parade is a family-friendly event and such cool thing to enjoy during your time experiencing Washington DC during Christmas!
On Old Town's Alexandria's waterfront you can witness boats with amazing light displays float by! If you're planning on watching the parade, go a little earlier and enjoy a free walking tour around Old Town Alexandria to get some perspective on the cool history of the area!
You'll get a chance to see sixty boats covered from bow to stern in phenomenal lights, making this one of the most unique displays of Christmas lights in Washington, DC! And if you stay long enough, there is an amazing fireworks show at the end! If you're looking to take advantage of some adult beverages during your watching experience, there are two places at two of the watch points to be able to get something you'd like and still enjoy everything!
Don't miss out on this cute opportunity to enjoy Christmas lights in DC!
Visit the Smithsonian National Zoo ZooLights! Experience
ZooLights is an amazing experience organized by the Smithsonian National Zoo and is another amazing demonstration of Christmas lights in DC!
This is another free but ticketed event in Washington, all you need to do is go online and reserve your time in order to take advantage of this free experience!
With lights displays of environmentally friendly LED lights, holiday shopping and tasty winter treats, the performances during this event will keep you entertained for hours and is a perfect option for family Christmas activities in Washington DC!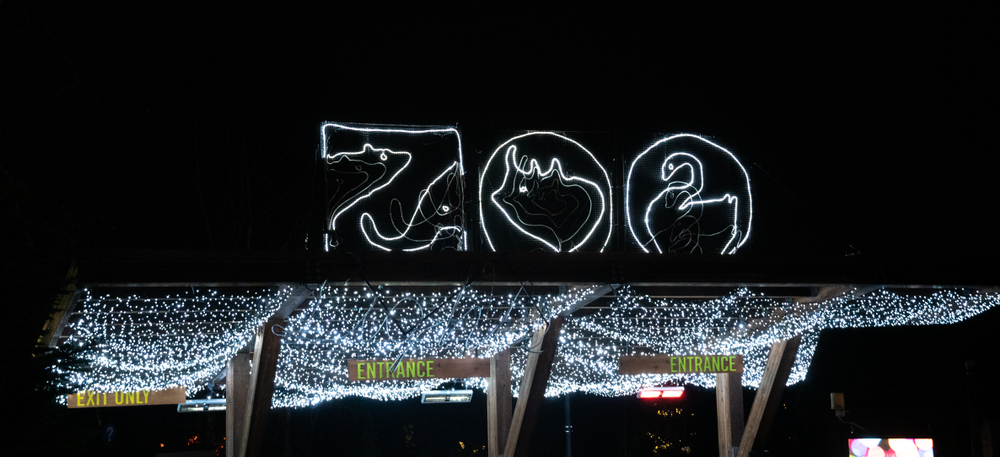 See A Christmas Carol at Ford's Theatre
A classic Christmas activity is enjoying one of the most quintessential Christmas stories of all time; A Christmas Carol.
At the legendary Ford's Theatre, yes the very same, you're able to enjoy not only the historical background of the Theatre but also see a cool live show! From November 17th to December 31st, this phenomenal play with definitely get you in the Christmas spirit and give you the chance to see a live performance during your time in Washington!
This is the very theatre which Lincoln was assassinated in, making this a great location for both historians and theatre enthusiasts! Ford's Theatre is doing its best to keep Lincoln's legacy alive and it's recurring show of A Christmas Carol is a lovely way of bringing people into this historic spot and sharing in the history!
Please consider this as an awesome way to spend your evening enjoying Washington, DC at Christmas!
Enjoy a Hot Chocolate at L.A. Burdick Chocolates
An absolutely classic Christmas activity is hopping around cafes and restaurants to find the best hot beverage, and a delicious hot chocolate is the best drink to search for!
Hot Chocolate featured at L.A. Burdick Chocolates is known as drinking chocolate, meaning it is rich and different from powdered cocoa. This is an amazing option to get you out of the cold of Washington, DC in winter, and enjoy some warm drinks and a lovely ambiance.
All drinks at this location are customizable, meaning you can choose from a selection of different kinds of chocolates and milks in order to make your beverage the best possible! This is a lovely option for taking a break from walking and wandering and indulging in a tasty winter treat is the perfect thing to do!
Christmas time in DC is made perfect by the presence of those you love, or doing things that you truly enjoy! The holidays are not always easy for everyone and whether you're looking for a chance to get some alone time, or looking for a more private getaway, Washington, DC in December is never a bad idea!
And now that you've seen our list of the best Christmas activities in Washington, DC which will you do first?