Are you interested in finding ten festive Christmas markets in Italy for your 2019 holiday trip? Christmas in Italy is one of the most magical times of the year, and considering the tons of celebrations, decorations and festivities that go on throughout the month of December, it can be hard to narrow down your options. But don't stress! We are here to recommend the top ten Christmas markets in Italy.
When planning your Christmas in Italy itinerary, stopping by Italy Christmas markets are a must. No matter how small, large, busy or quaint, these Christmas markets are sure to be a highlight of your European trip, as they offer great insight to the Italian culture, as well as the perfect shopping experience! Below are some of our favorite and the most festive European Christmas markets in Italy. They are listed in no particular order, but we highly suggest stopping by at least one (if not all of them!) in order to take advantage of those magical, Holiday times!
Whether you are planning your
10 days in Italy
, have a bit more time and are spending
2 weeks in Italy
, or renting a car and doing an
Italy road trip
, our customized and free planning itineraries will help you choose the best that Italy has to offer!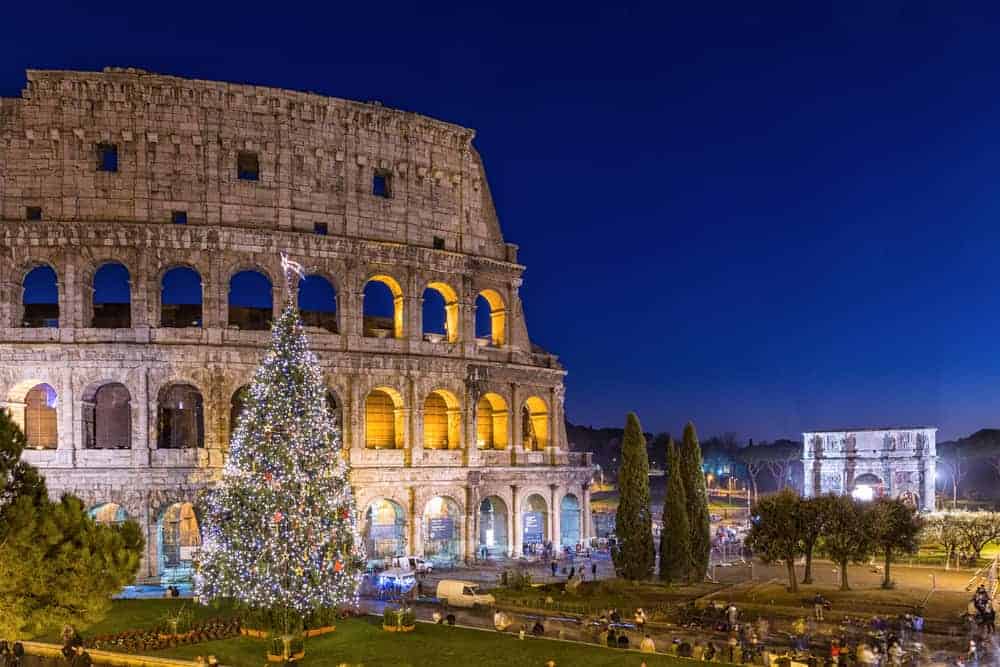 10 Festive Christmas Markets in Italy To See In 2020
Visit The Bolzano Christmas Market For Tributes To Traditional Italian Holidays
The Bolzano Christmas Market is one of our favorite Christmas markets in Italy, due to it's strong ties with family traditions. Each year this market revisits traditions of the past, celebrating it's country's history by decorating a white tree, setting up and presenting the Nativity, selling scented and confectionary cakes that are made fresh week after week, along with so many other traditions. Bolzano is one of the most beautiful places in Northern Italy and is even prettier at Christmas.
Behind the scenes of these activities, locals exchange gifts amongst one another. The young and the old take adore this tradition, as it offers them the chance to focus on the details in decorating their homes and presenting a festive table.
Arguably, the best part about the Bolzano Christmas market is the classic Nativity scene that sits under a large tree in the center of the market. This Nativity pays tribute to a rustic alpine style, featuring the Holy family, donkeys, and cows all inside a miniature stable. And around the tree are the stalls that make this market one of the best Christmas markets in Italy! These stalls sell locally produced objects, such as slippers, hats, confectionery cakes, stationery, musical instruments, candles and hand-crafted Christmas balls. There is even an indoor designated space in which craftsmen make their art, letting visitors watch the design and process. It is truly the perfect place to really feel the spirit of the holiday: it makes Christmas in Italy feel magical!
The Bolzano Christmas Market opens November 29th this year, and it is definitely a must see of all the Italy Christmas markets out there!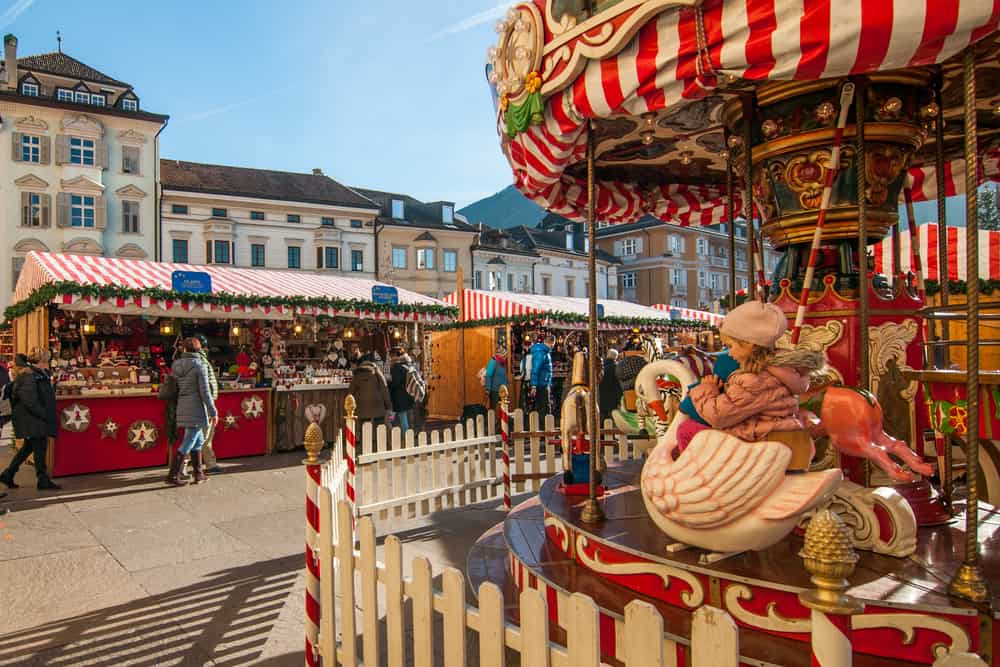 The Endless Options of Rome Christmas Markets Will Have You Saying: I Must See Them All!
Because of Rome's large population, and considering it is the heart of Italy, it may be unsurprising to know that Rome has not one, not two, but multiple Christmas markets you can visit. From the Natale all'Aditorium to the Natalino Lanificio, the Christmas markets in Italy are truly represented in all of the options Rome has and it is one of the best things to do in the country!
However, we highly recommend stopping by the Pizza Novana Christmas Market! Not only is this the capital's best known Christmas market, but it is arguably one of Italy's most famous Christmas markets. Here you can find locals selling sweet treats, traditional decorations such as advent calendars and wreaths, children books, wooden toys and even cribs!
The Pizza Novana Christmas Market in Italy is also well known for it's vast amount of musicians and artists, as well as its amusement park rides, providing endless fun for families and travelers of any age! The nativity scenes light up the front of the Bernini's Fountain of the Four Rivers, and this market is easily accessible, as serval bus lines stop at this market. This makes it in the top ten must see Christmas markets in Italy– it will make your trip even more festive! The Pizza Novana normally runs from December 8th until early January.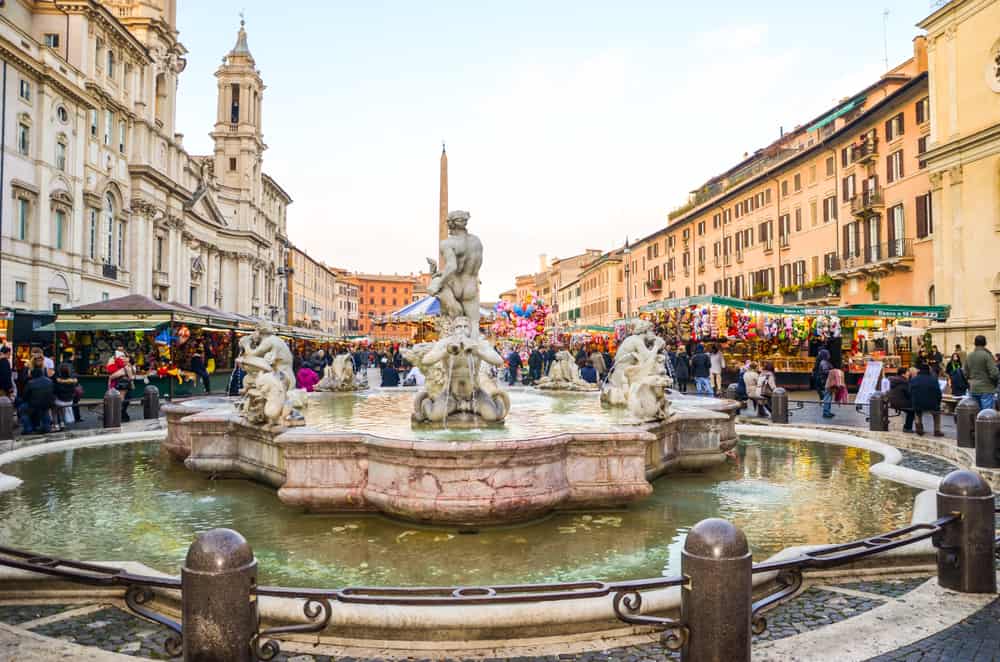 Visit The Beautiful Backdrop Of The Verona Christmas Markets
To find the Verona Christmas Markets, it is typically easiest to walk through the Mazzini, coming to a stop at the Piazza delle Ebre, and then cross under the arch of the Lamberti Tower. This quick travel time is great for taking photos and is only a short trip to the Piazza Dei Singori, which is the heart of Christmas markets in Italy. Truly. The Piazza Dei Signori has a warm and comforting atmosphere, with its kiosks selling traditional warm slippers, heart-shaped chocolate snacks, Christmas tree decorations, mulled wine, soaps and jolly old St. Nicks.
The location of this Christmas market alone makes it a must see. First, because it is enclosed in the Piazza, this Christmas market in Italy is one of the few Christmas markets in Italy that is easy to conquer, as it is all contained and located in one, small area. The holiday spirit really does surround you, and you get to admire all of the gorgeous architecture while shopping. The buildings of Palazzo della Region, Loggia del Consiglio, Palazzo del Podesta and Arche Scaligere are beautiful to admire while eating some cheese from the kiosks and wrapping a newly-bought scarf around your chilly neck! This market encapsulates Christmas in Italy and is a must see: make sure to check out the kiosks that sell traditional teddy bears in Christmas clothes and those crystal blown ornaments when you stop by!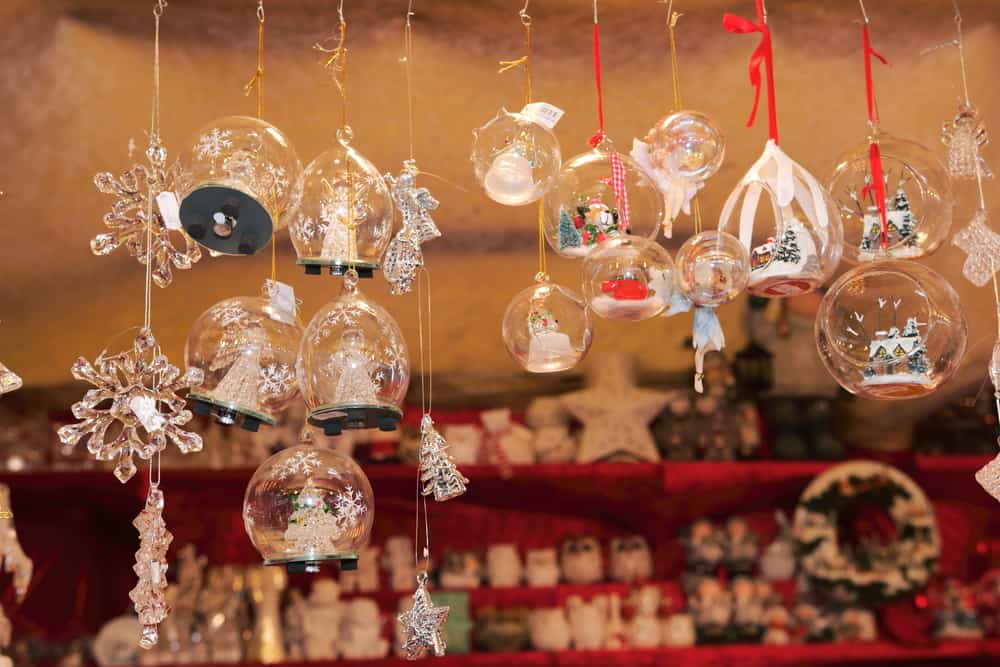 Don't Miss Visiting The Venice Christmas Market
Traditionally, Christmas markets in Italy run from the end of November until early January, but the Venice Christmas Market does not– so make sure to get there! This market usually opens three weeks before Christmas Eve and closes on December 24th. However, despite this short time frame, this market is one of the best Christmas markets in Italy.
During the season, the Campo Santo Stefano is transformed into a Christmas Village. Kiosks surround the area, filled with craftsmen and locals who sell food. Behind them: the traditional and famous backdrop of Venetian palaces. Talk about feeling festive for Christmas in Italy!
This market is well known for it's a dedication to selling Murano glass, which is used in jewelry, ornaments, and worked into designs that are accented with silver and gold. The Venice Christmas Market is also well known for it's traditional cuisine: from sweets to balsamic vinigerttes, these gourmet products are locally made and sold for a steal of a price. You must try the white truffles from Abla!
On top of all these wonderful facets of the Venice Christmas Market, concerts, other entertainment, and speciality programs designed for children make this market fun for all and is close to the famous Grand Canal, making it a must see.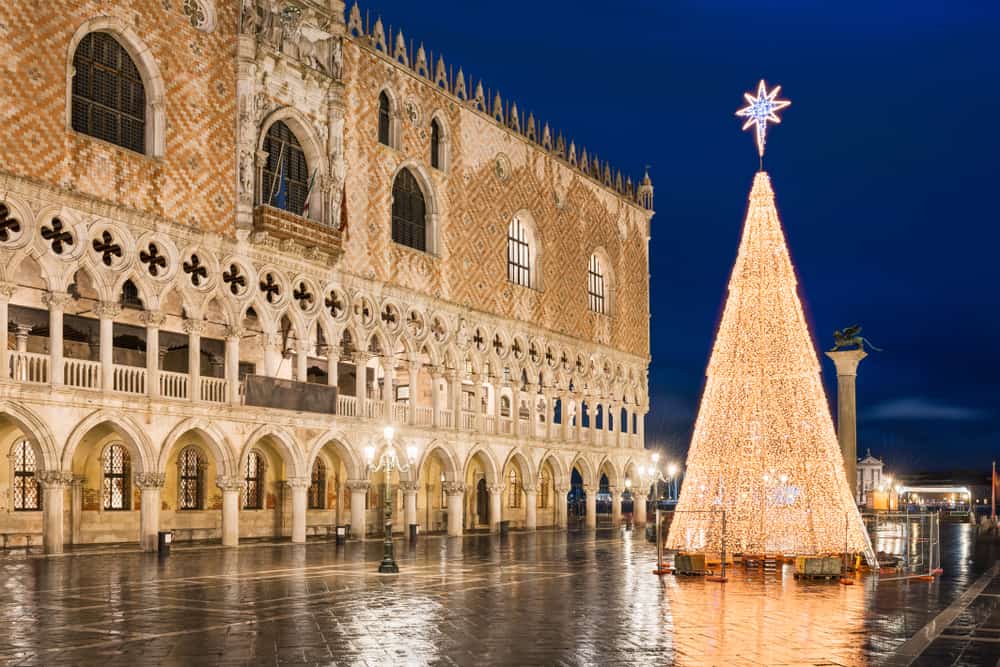 Make Sure To Swing By The Trento Christmas Market
There is nothing more festive than Christmas lights. Thankfully, many of the Christmas markets in Italy know this– especially the Trento Christmas Market! The Trento Christmas Market strings lights and another traditional decor between the Piazza Fiera and Piazza Cesare Battisti, filling the space with warmth and a quiet glow.
Wooden huts are then placed between the two locations, and these huts become the stalls that sell then famous Trento charms and local products. Local craftsmen sell their handicraft, Christmas decorations and famous Trentino delicacies, which has helped deem Trento as "The Christmas Town."
However, what distinguishes this market from any other of the Christmas markets in Italy is not that it's characterized by the local handicraft, or the lights and special atmosphere, but that it is known as being a green market. Sustainability is of the utmost importance to this market, and thus many measures are taken to avoid negative impacts that this market may have on the environment. Some of the ways Trento goes about this is by selling solely local products and by using paper (not plastic!) bags with certification Dolomiti Engeria. Who doesn't want to support one of the only green Christmas markets in Italy?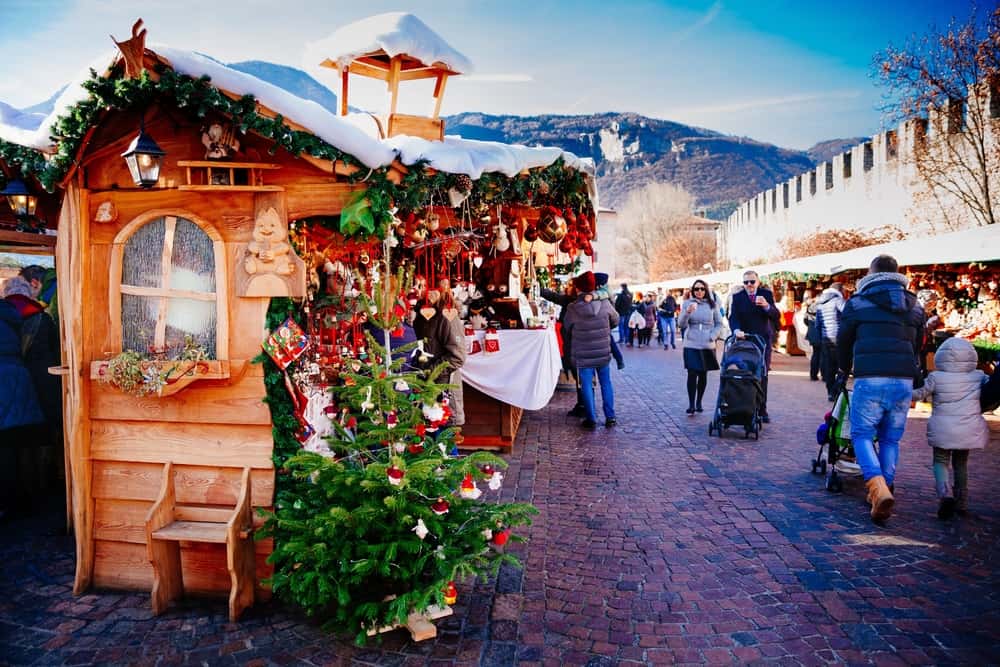 Take A Shopping Spree And Stroll Through The Santa Maria Maggiore
Earlier we mentioned that the Venice market is one of the shortest Christmas markets in Italy, but the Santa Maria Maggiore definitely has it beat! Only open from December 9th to December 11th, this is the shortest market in Italy, and therefore must be seen if you are going to experience a true Christmas in Italy!
Filling the space of the Vigezzo Valley, the traditional market of the Santa Maria Maggiore welcomes visitors with ease, as special races of the Vigezzina Railway are schedule to drop off at the edge of the valley, and bus trips are organized by Becoming Ossola to ensure that anyone who wants to attend this market can make it.
During the market, local craftsmen actually open the doors of their workshops, which allows everyone to get intouch with the craft traditions and process of Vigezzo Valley area art and culture. On top of this, decorations lines the workshops, giving the market a festive feeling, and traditional food as well as Christmas carols help enrich the overall feeling of Christmas in Italy. But better yet? Stilt-walking, bagpipes, and chainsaw carvings are also there for your viewing pleasure. Talk about entertainment! You must not miss it– especially considering there are only three day in which you can make it to this wonderful market!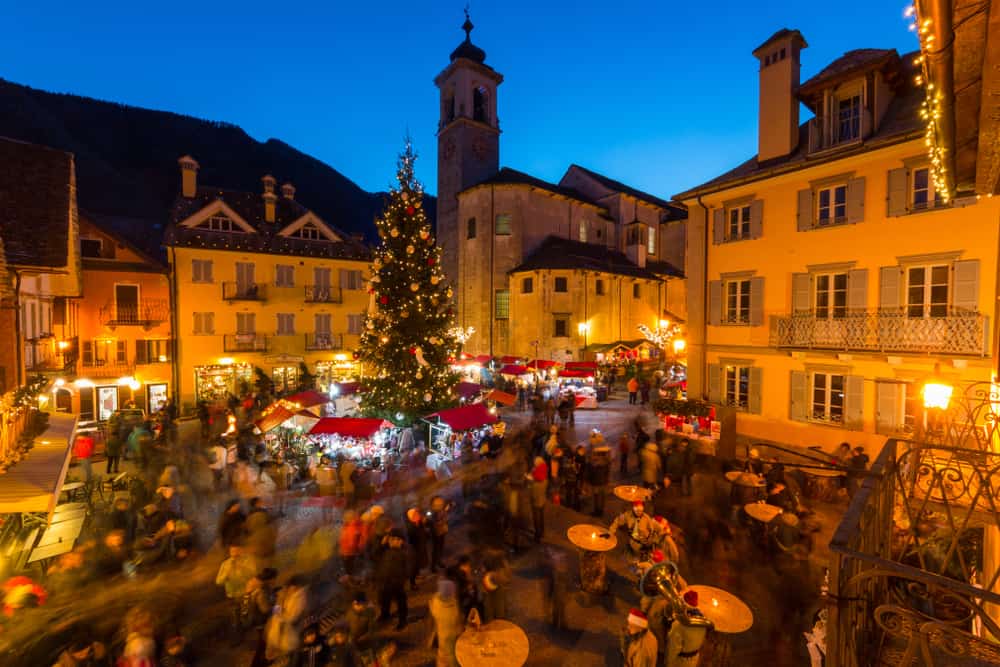 The Vipiteno Christmas Market in South Tyrol Must Be Explored
Looking for one of the Christmas markets in Italy that makes you feel as if you have been transported into a genuine winter fairytale? Look no further! The Vipiteno Christmas Mark is a classic market that you must see during your Christmas in Italy.
Here, the town of Alta Valle Isarco, which is located 1,000 meters about sea level, giving the market some of the most breathtaking view, puts on one of the country's most well-received Christmas Markets. In front of the Torre Delle Dodici, which is an imposing tower that sits in the front of the square of this old mining town, is a Nativity scene, which is composed of entirely hand made figures. This is the backdrop of your winter fairytale and is worth the trip to this Christmas market alone!
In addition to the charm of the backdrop, you can enjoy local food and drinks such as warm apple juice and fruit cakes all while listening to Christmas songs, resting in a relaxation room, taking a carriage city tour, and participating in Christmas cooking lessons! You are also invited to ring in the new year at this Christmas market by celebrating with some wine!
This market runs from November 23rd and runs until January 6th!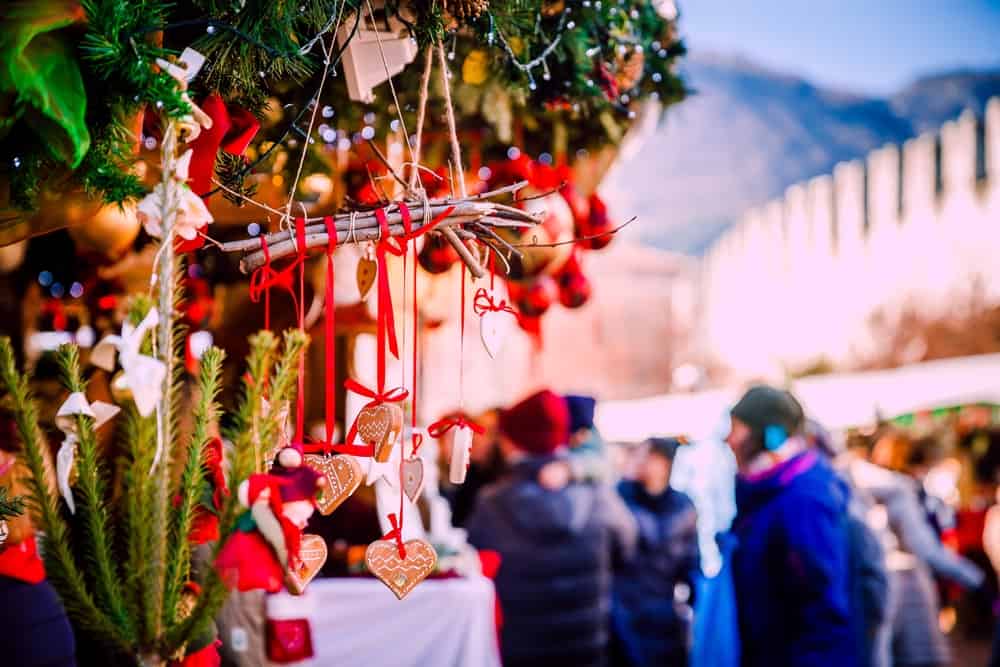 Enjoy Some Beautiful Lighting At The Candles in Candelaria
Located atop an hill in the Le Marche region, the Candle Market in Candelaria is the first (and only!) of Christmas markets in Italy that is dedicated to candles. It is also well received due to its dedication to shows, other forms of entertainment and specialties of local cuisine.
Candelaria is obviously named after candles, and as such, it only seems fitting that the Borgo pays tribute to their roots and history, selling candles of any color and shape at their Christmas market. But, the most exciting part about this market is the lack of artificial lighting. Every day the town cuts its lights and is lit solely by candles. This occurs twice a night and lasts for fifteen minutes, and is definitely a highlight (no pun intended) of the Christmas markets in Italy.
Aside from the natural and calming beauty of a town lit by candles, this market also offers a variety of activities for everyone. From puppet carts to elves playing street music and the Street of the Nativity, which is iron sculptures of the classic Nativity scene adorned by candles, and even a recreated section of Santa's workshop, this market offers fun for everyone who visits. But be warned, this market is ticketed, costing euro 2,50, but children under 12 are free to enter. As one of the unique Christmas markets in Italy, this is a must see for your 2019 visit!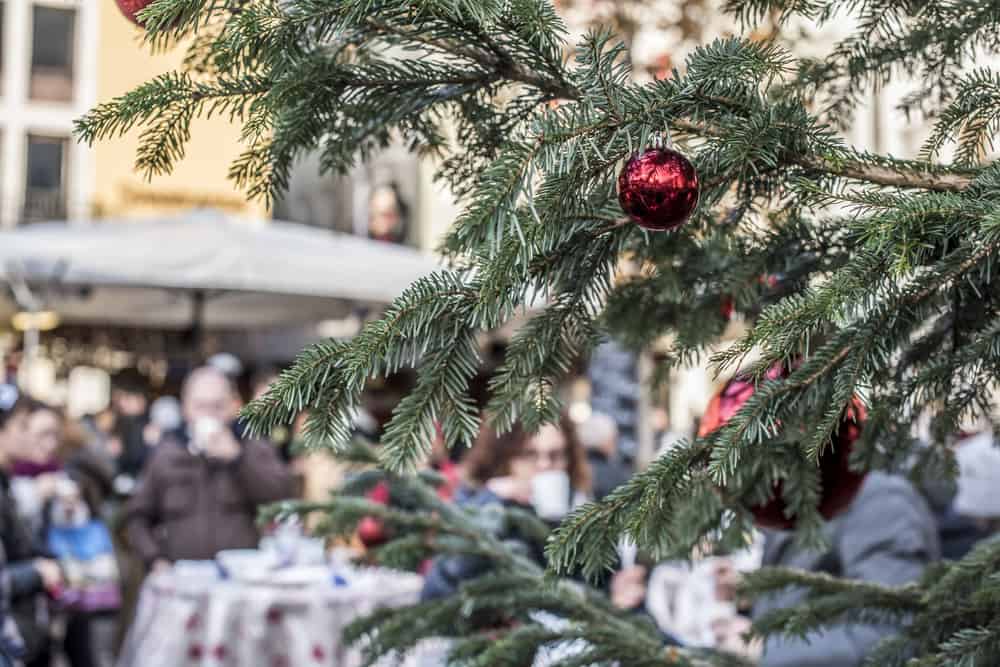 Make A Trip To The Oh Bej Oh Bej Market in Milan
Also known as the Oh Bej! Oh Bej! Fair, this Milan Christmas market is arguably one of the most important Christmas markets in Italy. It is held around the same time as Saint Ambrose's Day, who just so happens to be the patron Saint of Milan.
Every year this fair takes place in front of the Sforza Castle and attracts many tourists, making it a must see during your Christmas in Italy. Many of the kiosks and stands sell antiques, clothes, toys, bric-a-brac, which are essentially trinkets and ornaments, as well as winter delicacies. This fair is one of the oldest traditions in Milan, dating back to 1288, when it first arose as a celebration to honor the Patron Saint.
The name of the fair is accredited to Giannetto Castilgion, a delegate of Pope Pius, who visited Milan in 1510. He walked into the city carrying boxes of sweets and toys for the local children, who cried "Oh Bej!" in response, which roughly translates to how wonderful. And how wonderful this market is: it is full of rich history, culture, and a cheerful atmosphere– making it a must see!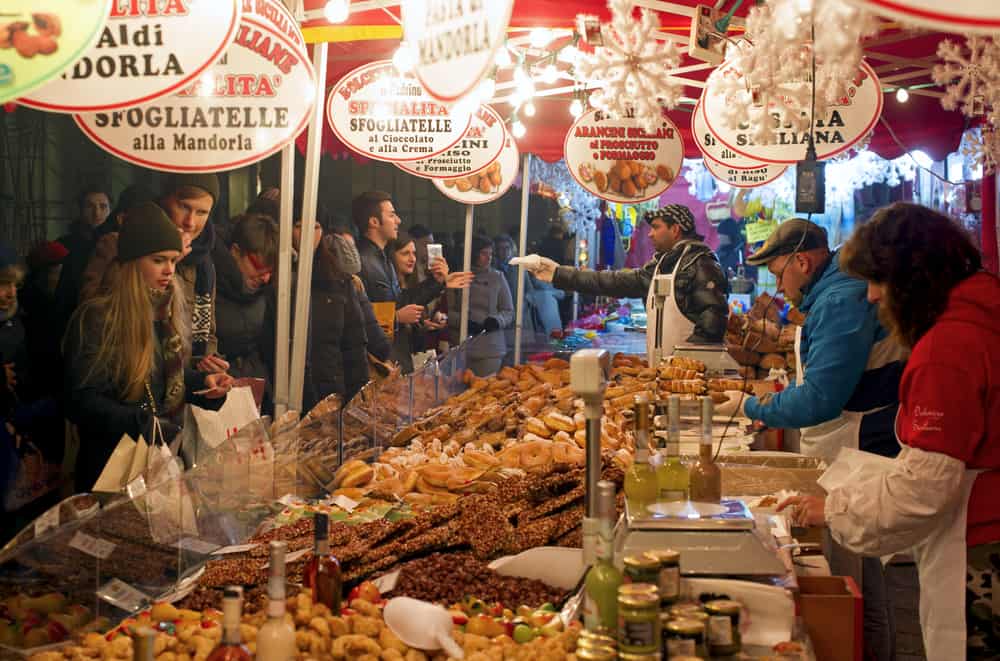 Rejoice With Art And Music At The Christmas In Turin Market
It is said that the best way to enjoy Turin is to stroll through the city. Often, this city is deemed as being cold or industrial, but that is far from the truth! This city offers a vast amount of beautiful sighs, including gorgeous Baroque architecture. During Christmas in Italy, however, Turin is even more magical.
Turin kicks off it's holiday season by putting on an outdoor exhibit of contemporary art in the streets and piazzas. This is called the Luci d'artistic, and Turin illuminates the art with striking illuminations. Many of these illuminations are located in meaningful places throughout the city and allow for you to really enjoy a stroll throughout it's entirety. In addition to the art, Turin also enriches it's lights and art with A Great Symphony for Turin, which is features nine pieces of electronic music, which is typically composed by young, local musicians. You can make sure to see and hear it all with the special Light on the Bus tour that is offered during this time.
And if surrounding yourself by art and music isn't enough, Turin offers market stalls which present the Nativity Scene Museum, as well as gifts for the entire family. Better yet? Many of the stands here are associated with the Association of Italian Umbilical Cord Blood Donors and proceeds from sales are donated to the Isola Margherita project, which is a project that is dedicated to helping children who suffer from rare and incurable diseases. This is truly one of the most feel good Christmas Markets in Italy.
Packing Tips For Your Trip To Italy:
Here are some of our favorite items that you should consider packing for your trip to Italy! These are essential travel items that we use and love and you should make sure to consider for your travels.
A concealed travel pouch may be one of the most important items you bring with you! This unisex RFID blocking concealed travel pouch is lightweight and comes in several colors. It has lots of organization to give you peace of mind. You can keep your most valuable documents safe and secure next to your body.
If you have a pouch already you may not want to or need to invest in a new one. If it does not come with the RFID protection, these RFID sleeves would be handy to prevent identity theft. This configuration comes with enough passport and credit card sleeves that the entire family would be protected. They are slim too, so they will easily fit into your current pouch or wallet. These are the kind our family uses not only when traveling but at home as well.
If you have a camera on your packing list, you need to add additional memory cards on your list as well. Unless you are packing a computer for your trip, you will not be able to upload photos and clear your existing memory card. Purchasing additional memory cards cost under $20 and take up no space in your luggage. Having a backup can have the potential to save you a lot of heartaches if something goes awry! There is nothing worse than coming across that perfect moment and then finding out you don't have enough space to capture it on your camera!
Similarly, If you are planning to capture your trip on a smartphone, we beg you to bring some way to back up your memories. The best way to do this is with a portable smartphone flash drive. A flash drive is a small storage device that you can connect up to your smartphone and then safely and easily download the photos onto this device.
If you are planning on taking a lot of pictures with your phone you will definitely want to consider an external charging battery. This Anker high-speed phone charging battery is the exact one we carry with us on all of my trips. It can be used on a variety of phones, not just an iPhone like we have. And wow is it fast! We like that it holds its charging capabilities for several uses so we do not have to worry about it while out and about. And if we forget to recharge it at night, it will still be good to go the next day.
My mom was never a fan of packing cubes until she tried them out! Now she am sold. These Bagail packing cubes are the exact ones she use whenever she travels and she travels a lot. She cannot believe how much more organized she is now! And she will never leave without them anymore.
We never leave home on a trip without our Bobble filtration bottle. The 18.5-ounce size is perfect for travel and it will fit nicely in the pocket of a backpack or your purse. Also when filled with water, it is not too heavy to carry. And the Bobble carbon filter ensures fresh clean water whenever and wherever you fill the Bobble. You can find filter replacements here.
Perhaps you are traveling a long distance and packing space is a premium. Then this set of collapsible silicone foldable water bottles would work well for you. Would not take up much space in your suitcase at all. And you will be receiving a set of two.
You will want to bring a backpack or daypack with you to store snacks, your water bottle, phone, extra clothes, etc.. This foldable water-resistant backpack would be great. It is very affordable and is available in many color options for you to choose from. The fact that it folds down into a zippered pouch will make it easy to pack.
Perhaps you need a more substantial backpack for your international travel. This antitheft backpack has a charging port, is water-resistant and can comfortably carry up to a 15.6″ laptop. It comes in a range of colors to choose from and it is inexpensive as well.
We all need to protect our eyes from the sun's harmful UVA/UVB rays. These unisex polarized sunglasses come in a lot of lens colors and frame designs and are extremely affordable too.
If you are fond of the aviator-style of sunglasses these polarized aviators may interest you. We like polarized sunglasses because they remove the glare off the water and help you to see things more clearly.
Don't forget to bring along a universal power adapter if you are traveling abroad. This worldwide power plug is a great example and will charge your phone at the end of your busy days. And this world traveler adapter kit can charge several devices at the same time. This is what you will need when there are several people traveling in your group, or if you bring several electronic devices on your trip that require charging at the same time.
There are so many festive Christmas markets in Italy to visit during your trip. From the largest to the most traditional, to the shortest or most contemporary— Christmas in Italy offers a variety of opportunities for you to get in the Holiday spirit, allowing for you to sightsee, shop, relax, and enjoy some great cuisine. And what better way to spend a Holiday?