If you are looking for the best and most beautiful beaches in Sicily, then you have come to the right place! Sicily for me means one thing: summer. It's the place I return to every year and screams vacation time. The second largest island in the Mediterranean has plenty of sun, sea and the best Sicily beaches in the country. With a base on the east coast of the island, Sicily has come to be my second home. This post is full of insider information about the best beaches in Sicily and where you can find them when you choose to visit. 
An island full of rugged coastline, rich history, passionate people, and a unique and colorful language, Sicily has character. And when summer arrives, there's only one place where Sicilians go. From Palermo in the northwest to the southernmost tip of Italy, beaches in Sicily are big business. This guide will help you choose which of the Sicily beaches are best for your visit and will break them down by area to make it easier for you to decide! 
This is a fabulous guest post written by www.followingtherivera.com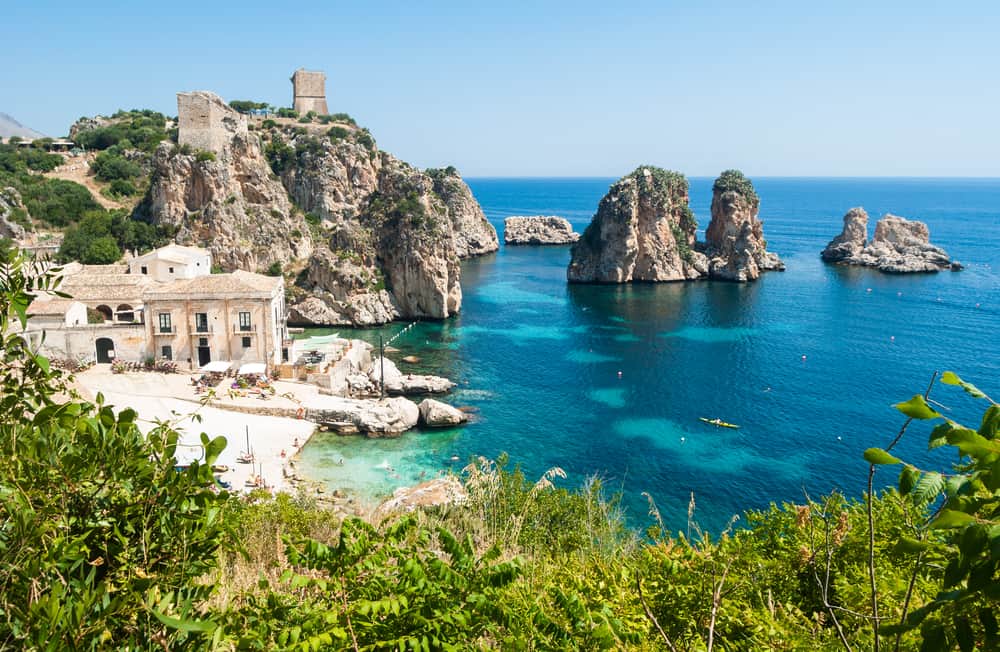 12 Best Beaches In Sicily
Best Sicily Beaches – North Sicily
San Vito Lo Capo
Around 30 minutes-drive from the capital of Palermo is the seaside town of San Vito Lo Capo. This is a great stop to add if you are spending one day in Palermo as it is so close!
It's a small town in a valley nestled between the mountains, with a sandy public beach that the locals love. However, you may prefer to instead pay for one of the private beaches in Sicily, which tend to be less crowded. It all depends on the experience you are looking to have and there is no wrong way to enjoy the beaches in San Vito Lo Capo! It is truly one of the best things to do in Italy if you are in this region! 
If you enjoy snorkeling or diving, the coastal waters are ideal for underwater exploration, with their coves and coral reefs. The stretch of the entire beach spreads out over nearly 1.8 miles, meaning there is plenty of space to find your ideal spot.  Above all, visiting San Vito Lo Capo is a chance to see, and be, where the locals are. After all, isn't that often the best part of travel? This beautiful beach in Sicily delivers views and true travel experience.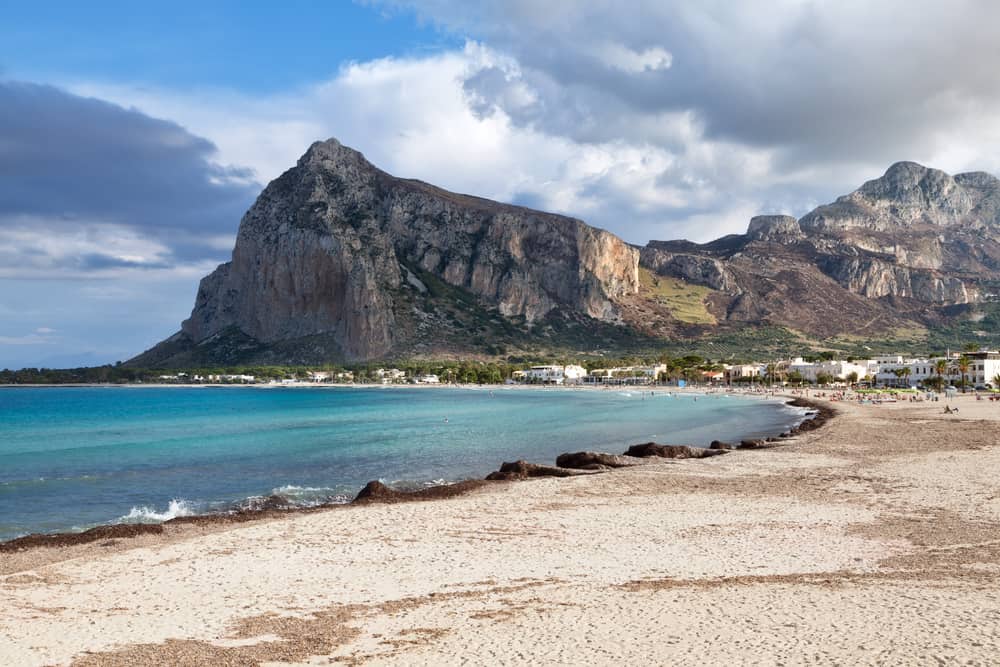 Riserva Naturale Dello Zingaro
While the literal name translates to mean a natural reserve, there is so much to see at Riserva Naturale Dello Zingaro. If you are looking for Sicily beaches and nature experiences together, this is the place for you to be! With a stretch of sea and beach of almost 7km, it's a firm favorite with vacationing Sicilians. The reserve is located within the same municipality as San Vito Lo Capo, offering rare and rich fauna. It also means you can squeeze in several beaches in Sicily all in one day.
At the reserve, it's possible to 'beach hop' between the several bays along the coastal path. There are 8 stunning coves to discover here, including Cala Tonnarella Dell'Uzzo and Cala Marinella. You can find them just outside the reserve on the side of Scopello. Seeing the coves of the reserve is an enthralling experience, and a must see if visiting the area. Along with its award-winning beaches and coves, there's plenty to enjoy in the surrounding wild environment. This is turly one of the best beaches in Sicily to visit if you are looking to see multiple things all in one day without going far! 
This is truly one of our Favorite Beaches In The World!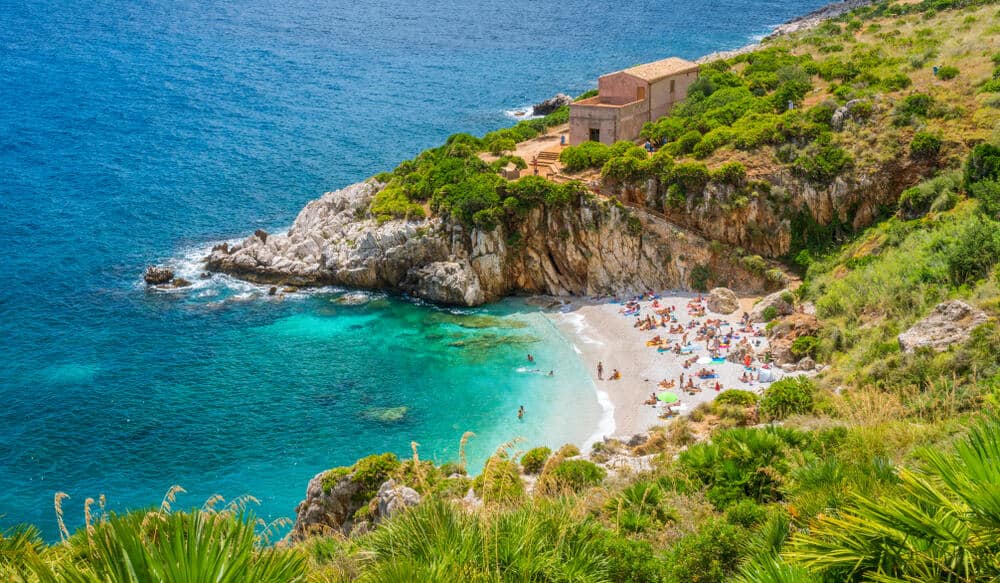 Best Sicily Beaches – South Sicily
Isola Delle Correnti
A trip to the beach at the southernmost point of Sicily is a must for any landscape lover. If you are a photographer or just love beautiful nature, then this Sicily beach is perfect for you! Isola Delle Correnti is the point where the Ionian and Mediterranean Seas meet, and a place you'll never forget. It takes a short walk to reach the sandy beach, but all you'll be focused on is the view ahead. This is truly one of the most unique beaches in Sicily due to the meeting seas and stunning blue waters. 
It's worth bringing a pair of water shoes here if you have them so you can hike around and explore the beach both in and out of the water. Once you reach the island, you'll find an abandoned lighthouse, which only adds to the feeling of remoteness. Find a quiet space for yourself, swim, bathe or snorkel — the choice is yours.
The feeling on Isola Delle Correnti is unlike any other, and you shouldn't miss it for anything. If you are looking to escape the crowds for a day by yourself, this is one of the best beaches in Sicily for you! Don't forget to one of the many Books Set In Italy for your beach read!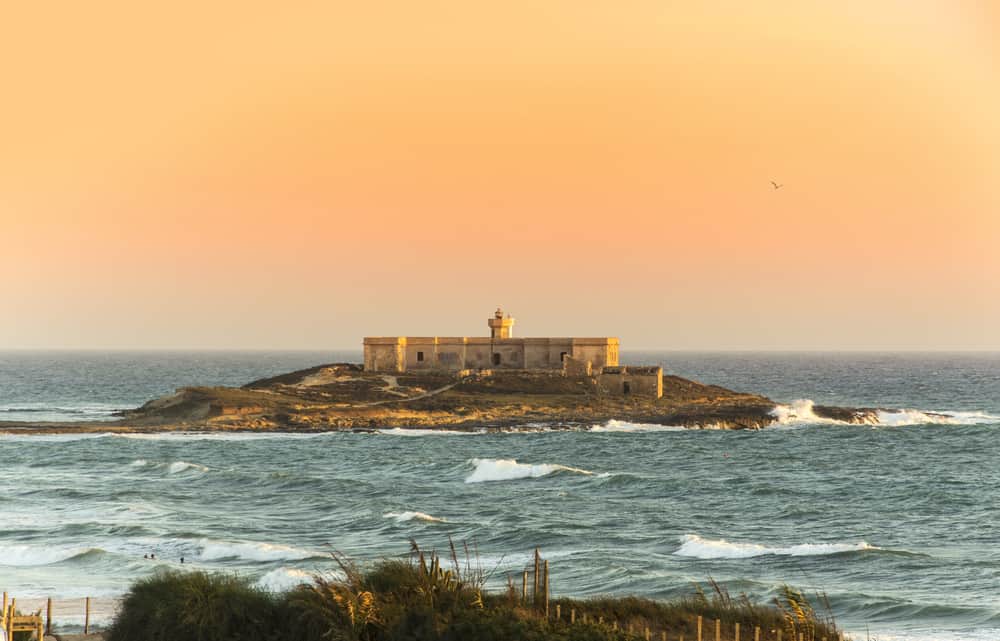 Isola Dei Conigli
Isola dei Conigli, or Rabbit Island, is located on the south-west coast of Lampedusa and is home to one of the most beautiful beaches in Sicily. In recent years, the island's been more associated with the migrant situation, than for its magnificent landscape but please do not let that deter you from visiting this slice of paradise. Despite its rocky history, Lampedusa, which sits closer to Tunisia than Sicily, is home to one of the best Sicily beaches.
What makes Isola Dei Conigli so special is its unique location. The inlet is at the center of a large cove, which is part of a protected natural reserve. Between April and September, it's possible to see migratory birds on the land, and sea turtles laying their eggs. During this time, guests can only visit the beach during the day, so as not to disturb the turtles at work!
It takes around 20 minutes to walk from the town to the beach at the inlet. Keep your suitable shoes on, as there are many stones along the dirt path. Soon enough, you'll feel the fine white sand beneath your feet, and see the dazzling blue of the Tabaccara Sea. You can fly directly to Lampedusa from larger Italian cities like Milan and Rome. Alternatively, take in the sea views and arrive by ferry from the Sicilian city of Trapani. This far-flung beach in Sicily is well worth the visit and even a special trip just to see it in all its beauty!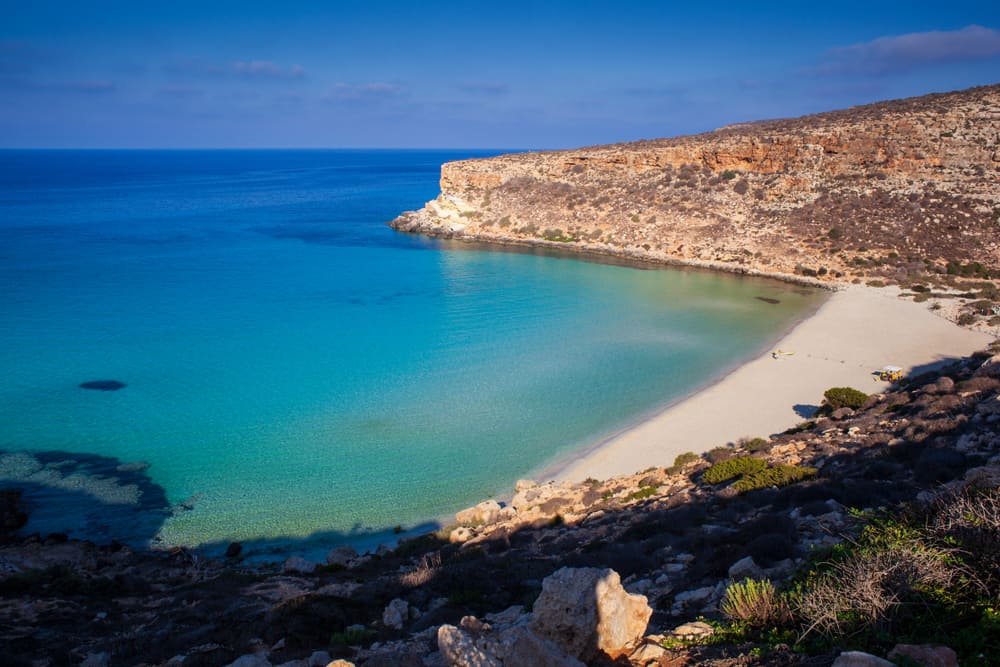 La Scala Dei Turchi
The name La Scala Dei Turchi literally translates to 'the stairs of the Turks.' It derives its name from the frequent raids carried out by the Moors which makes it even more unique and interesting to visit. This rocky cliff, made from blinding white marl, is located on the coast of Realmonte, southern Sicily, between 2 beaches.
To access these remote beaches in Sicily, you need to use the 'scala', a limestone rock formation in the shape of a staircase. The mesmerizing formation has taken shape over time, with the sea water and air helping to create its unique outline. You should be responsible during your visit, and not remove or take away any fragment of marl from the cliffs. Please keep in mind the "leave no trace" mantra and only leave your footsteps behind! 
The whiteness of the marl only further illuminates the crystalline blues of the sea below making La Scala Dei Turchi one of the most unique beaches in Sicily. That being said, La Scala Dei Turchi gets very busy during the summer season so you are going to want to get there early to claim your spot. As soon as you arrive you will find out for yourself why it's so popular and you won't want to leave!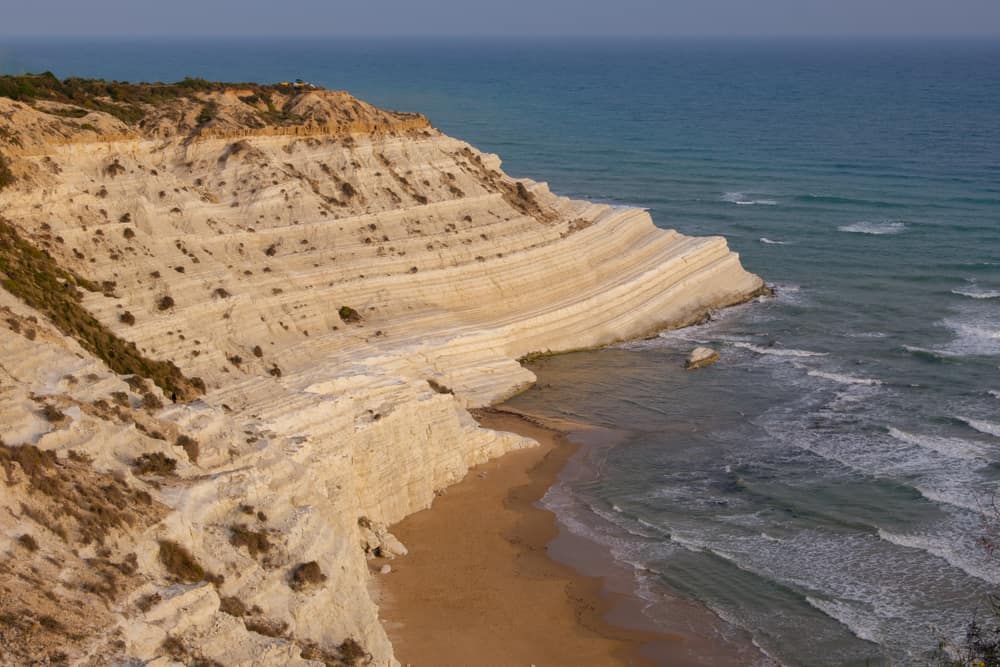 Calamosche
If you make your way to Noto in south Sicily, make time for a beach detour to Calamosche. This Sicily beach is located between Eloro and the nature reserve of Vendicari. It is here where you can find the entrance that leads to Calamosche. A haven for snorkelers, this natural swimming pool features caves, reefs and a seabed rich with marine life. If you want to find a beach in Sicily that allows you easy underwater exploration, Calamosche is the perfect choice for you. 
The sandy bay extends for about 200m, surrounded by two rocky capes that shield from the sea currents. This ensures almost always calm waters and ideal swimming conditions making this Sicily beach a perfect option to visit with your family or young children. Parking is available at the beach, but it's around a 1.2km walk to reach the sandy shore. The walk is easy and enjoyable, but make sure not to lug too much gear. If you are traveling by car, follow the provincial road 19 (Pachino-Noto) and turn right once you see the sign for 'Spiaggia Calamosche'.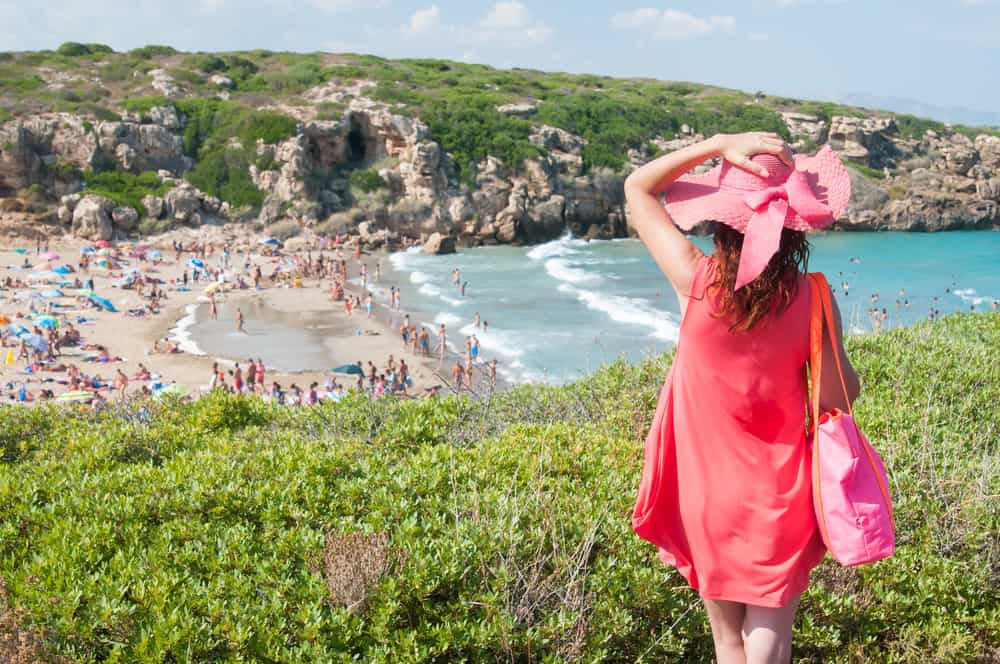 Spiaggia Delle Formiche di Portopalo di Capo Passero
'Beach of the ants' of Portopalo di Capo Passero consists of 3 gorgeous sandy coves, separated by headlands. Located in the municipality of Pachino, the cliffs of Punta Delle Formiche has a coastline that stretches along the south-eastern coast of Sicily. The 'ants' reference comes from the shape of the rocks that, from above, resemble columns of ants. Don't worry, this list wouldn't include a beach in Sicily that is full of ants as that wouldn't be any fun!
Behind Spiaggia Delle Formiche are several caves and ravines, ideal for the exploring snorkeler. Swimming conditions are also good here too, with warm and transparent sea waters. The cliffs are great for diving and enjoying the clear waters below. If you choose to cliff jump, be very careful that the water below you is safe and deep enough. Sunsets from Punta Delle Formiche are a show in itself, and something you definitely shouldn't miss. 
Despite its beauty, Spiaggia Delle Formiche isn't the easiest beach in Sicily to reach. By car, you need to take the road from Porto Palo to Maucini. From here, you then continue on a dirt road in the direction of Costa dell'Ambra where you will finally come across this unique and beautiful Sicily beach.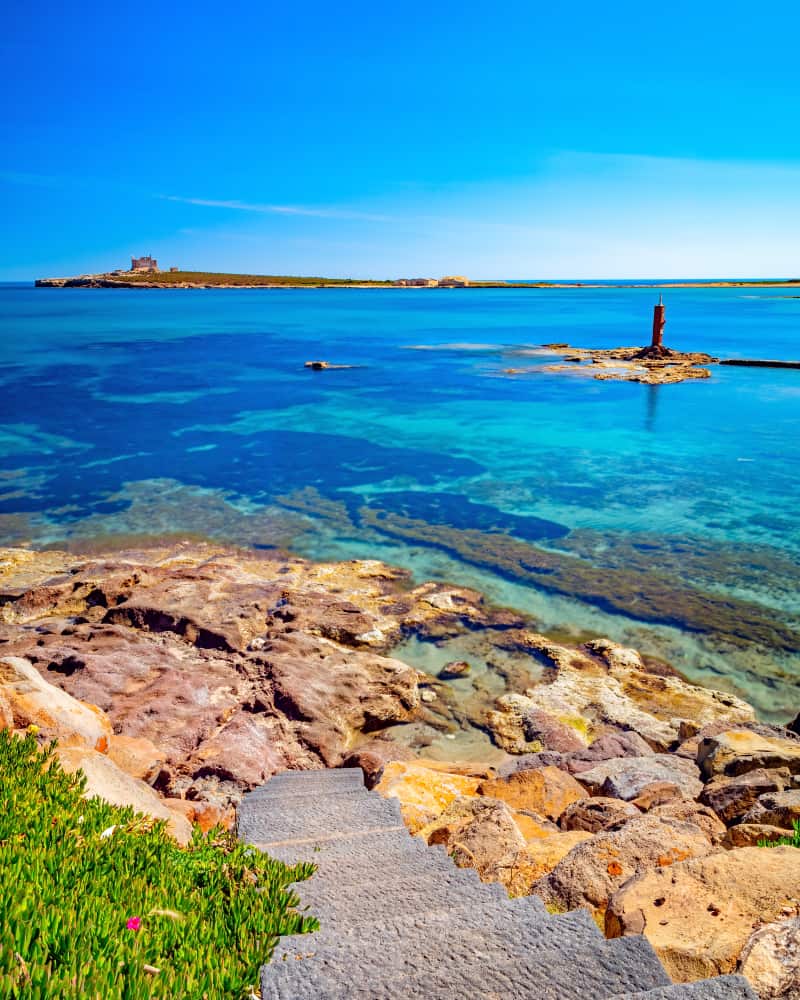 Best Sicily Beaches – East Sicily
Isola Bella
A name that perfectly matches its beauty, Isola Bella is one of the best Sicily beaches in Taormina, east Sicily. The islet is connected to the mainland by a thin strip of beach you can access when the tide's low. The island was gifted by the King of Sicily, Ferdinand I of Bourbon, to the people of Taormina in 1806. English noblewoman, Florence Trevelyan, bought the town thereafter, building a house facing the sea, and imported exotic plants. Along with the beach, Isola Bella is also a nature reserve so once again, you are able to see and do multiple things. 
You can reach Isola Bella from the town by taking the cable car on via Pirandello to Mazzaro. Upon exiting, turn right and the beach is around 200m. I myself, prefer walking along Via Pirandello and then onto the path that leads directly to the island. The pebble beach is open to the public and is free entry. That said, you may also prefer to rent a lounge chair for your time there to fully enjoy everything Isola Bella has to offer.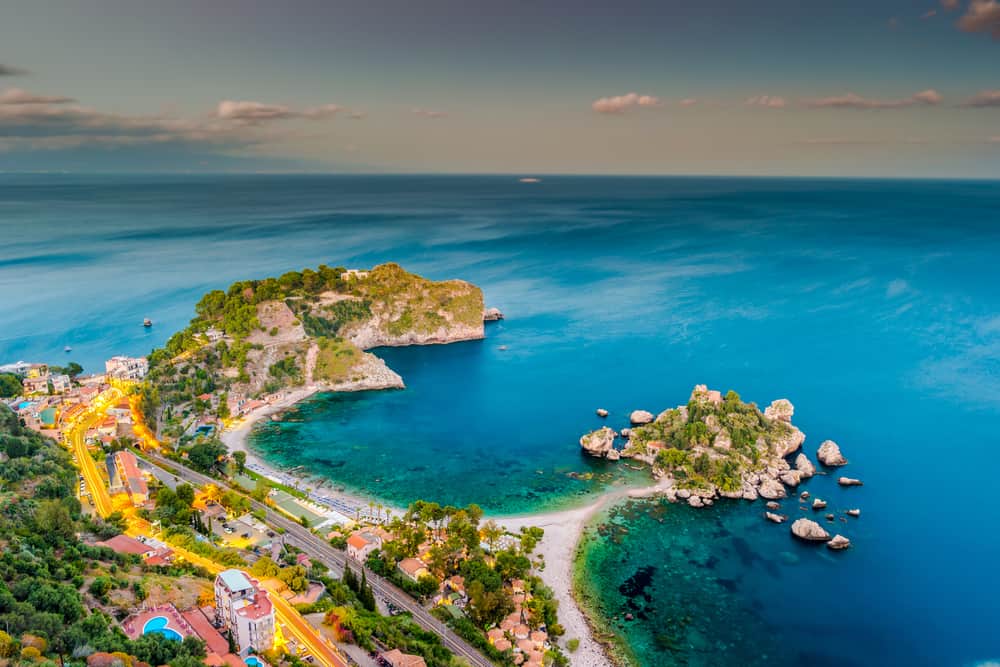 Best Sicily Beaches – West Sicily
Levanzo
Levanzo is part of the archipelago of the Egadi Islands, and home to some of the best beaches in Sicily. With a surface area of just 5km2, it's the smallest of the group. However, what it lacks in size, it more than makes up for with its beautiful beaches. Expect jagged coasts, silent bays and sheer relaxation. Renting a boat with a guide, or a water taxi service is a scenic way to explore Levanzo. There are several coves with pretty beaches such as Cala Minnola to see here. It's around 20 minutes to walk to its location on the south-east side of the island.
Take the opportunity to bathe in the crystal clear waters and cool off beneath the pine trees when the sun gets too strong. Afterward, enjoy an al fresco picnic on the outdoor tables and benches. While I prefer snorkeling to scuba diving, there are archaeological sites off of the cove that might interest keen divers. There is a wreck of a Roman ship as well as fragments of pottery located 27meters under the sea that makes for fantastic diving. These beaches in Sicily are a wonderful way to escape the city and relax along the coast.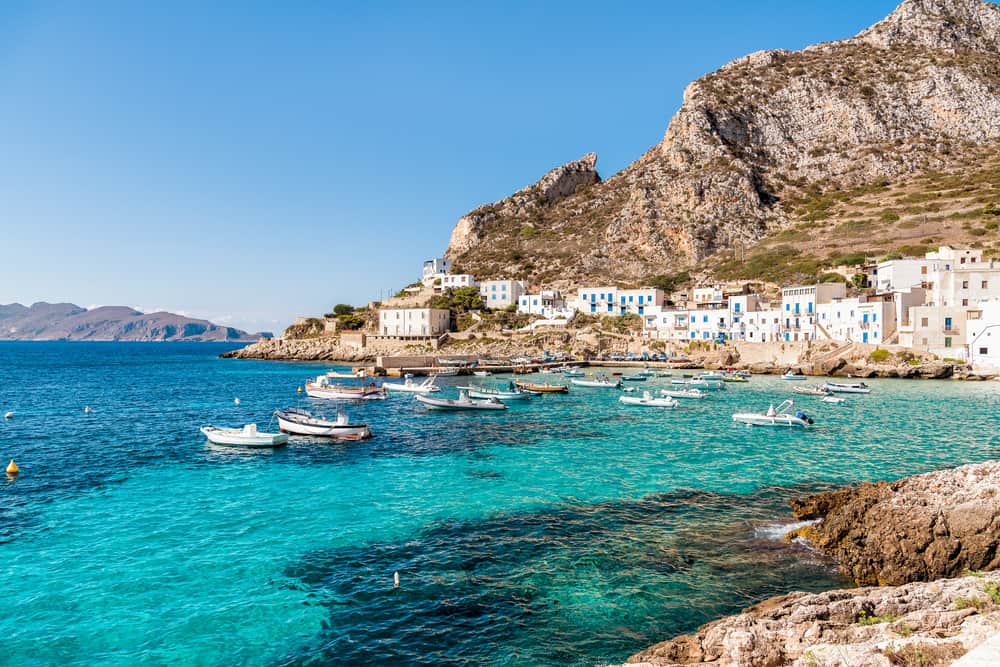 Favignana
For this lovely Sicily beach, you will head from the smallest of the Egadi Islands to the largest. Favignana Island is around 9km in length and the closest of the group to the Sicilian coast. Along with some of the most picturesque beaches in Sicily, other points of interest include the port and the town markets. There are 3 in total: Marina Square, Europe Square and Matrix Square, one of which includes a church dating back to the 18th century.
However, since we're talking about the best Sicily beaches, Favignana has several that ticks the box. Among the sandy beaches, reefs and rocky shores, you're spoiled for choice. It's possible to visit the entire island, and all of its beaches and coasts by foot or by bike. If you are looking to be more active, a fun bike ride around the beach is a great way to explore. 
Cala d'Azur, with its clear waters, is on the east side of the island, offering ideal swimming conditions. From here, you can also make a trip to the beaches of Bue Marino and Cala Rossa. The last two are also good if you are interested in diving off the rocks. Once again, make sure you choose a safe spot for this activity!  For sandy beaches in Sicily, head to Marasolo and Ravine, which are on the coast opposite to the port. Both Cala Azzurra on the south-east coast and Lido Burrone on the south offer plenty of sandy terrains.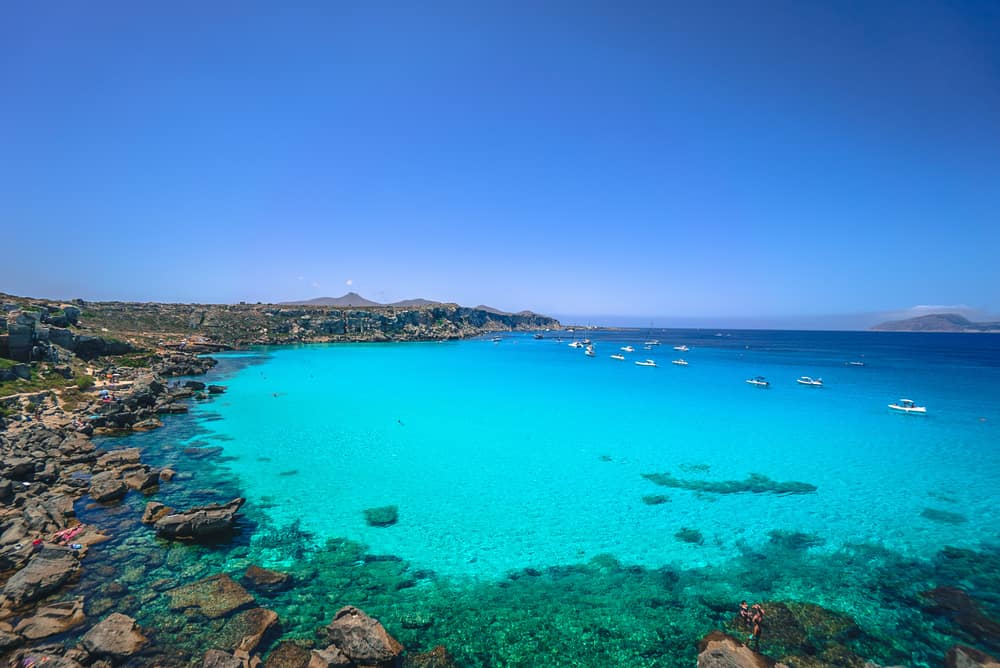 Capo Bianco
Located between the historic city of Agrigento and Sciacca is Capo Bianco. Meaning 'white cape', this spur of mesmerizing white rock forms a cliff that seemingly flows into the Mediterranean Sea. Capo Bianco extends into the town of Eraclea Minoa, which was founded by the Ancient Greeks. Look out for the ruins of the Greek settlement and theatre, as well as the auditorium facing the sea. Expect to find long stretches of sand and turquoise blue sea on one side and pine forests on the other.
You can reach the beach below the cliffs from Eraclea Minoa beach, which is around 5 minutes by foot. An alternate route is to pass through the ruins of the ancient city. Come early to avoid disappointment and make sure your batteries are charged; there's plenty of memories to capture here. This is one of the more historic beaches in Sicily due to the Greek ruins so you get a little bit of culture along with your swim!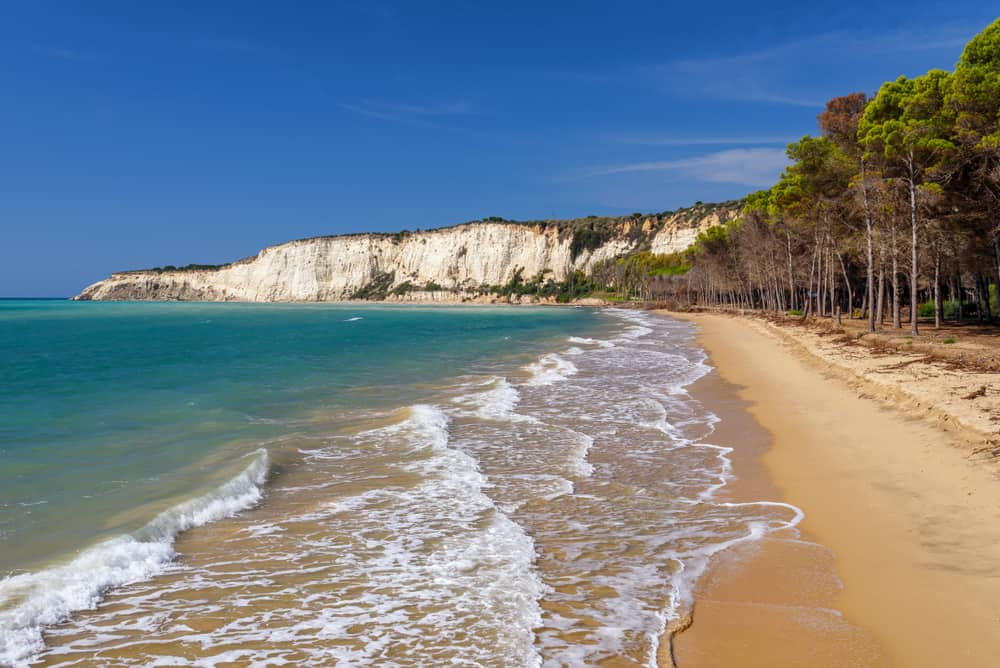 Riserva Orientata Foce Del Fiume Belice
If you are searching for beaches in Sicily surrounded by crystal clear waters and within a nature reserve, this one's for you. Riserva Orientata Foce Del Fiume Belice (Natural Reserve of the Belice River) is situated in the province of Trapani Italy. The entire reserve stretches for around 4km, with a sandy coastline and many small surrounding sand dunes. The sand dunes are a unique aspect of this Sicily beach so if you have never seen dunes, now is your chance! 
This protected natural area of Sicily encourages the conservation of dune formations, and flora and fauna typical of sandy environments. These beaches in Sicily are located within the reserve, with resorts along the coastline to cater to your needs. Swim in the clean and calm waters of the reserve between Marinella di Selinunte and Porto Palo. The water is shallow here, making it ideal for families with young children that also want to bathe. Whichever of the beaches you choose to visit, just know you'll be enjoying it under one of many unforgettable backdrops.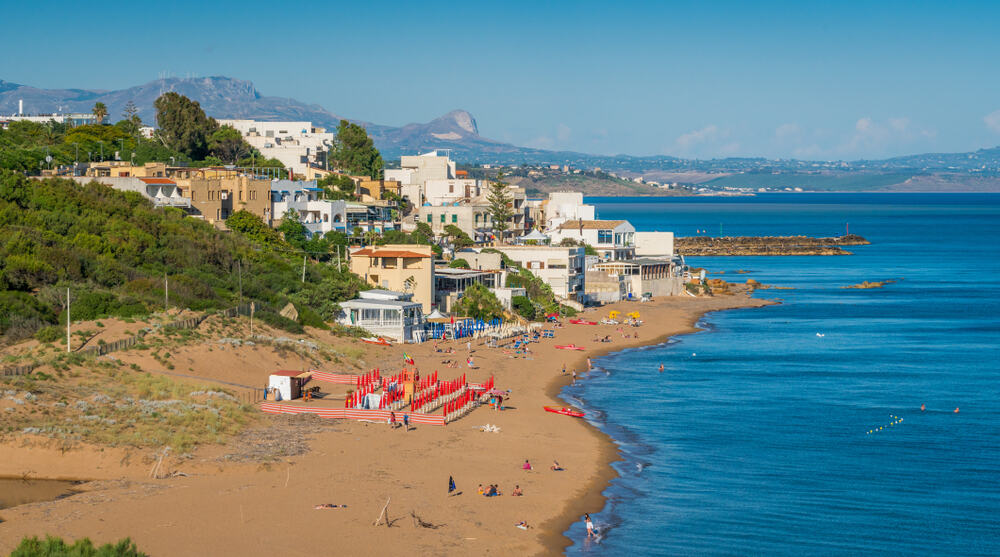 Packing Tips For Your Trip To Sicily:
Here are some of our favorite items that you should consider packing for your trip to Sicily! These are essential travel items that we use and love and you should make sure to consider for your travels.
A concealed travel pouch may be one of the most important items you bring with you! This unisex RFID blocking concealed travel pouch is lightweight and comes in several colors. It has lots of organization to give you peace of mind. You can keep your most valuable documents safe and secure next to your body.
If you have a pouch already you may not want to or need to invest in a new one. If it does not come with the RFID protection, these RFID sleeves would be handy to prevent identity theft. This configuration comes with enough passport and credit card sleeves that the entire family would be protected. They are slim too, so they will easily fit into your current pouch or wallet. These are the kind our family uses not only when traveling but at home as well.
If you have a camera on your packing list, you need to add additional memory cards on your list as well. Unless you are packing a computer for your trip, you will not be able to upload photos and clear your existing memory card. Purchasing additional memory cards cost under $20 and take up no space in your luggage. Having a backup can have the potential to save you a lot of heartaches if something goes awry! There is nothing worse than coming across that perfect moment and then finding out you don't have enough space to capture it on your camera!
Similarly, If you are planning to capture your trip on a smartphone, we beg you to bring some way to back up your memories. The best way to do this is with a portable smartphone flash drive. A flash drive is a small storage device that you can connect up to your smartphone and then safely and easily download the photos onto this device.
If you are planning on taking a lot of pictures with your phone you will definitely want to consider an external charging battery. This Anker high-speed phone charging battery is the exact one we carry with us on all of my trips. It can be used on a variety of phones, not just an iPhone like we have. And wow is it fast! We like that it holds its charging capabilities for several uses so we do not have to worry about it while out and about. And if we forget to recharge it at night, it will still be good to go the next day.
My mom was never a fan of packing cubes until she tried them out! Now she is sold. These Bagail packing cubes are the exact ones she uses whenever she travels and she travels a lot. She cannot believe how much more organized she is now! And she will never leave without them anymore.
We never leave home on a trip without our Bobble filtration bottle. The 18.5-ounce size is perfect for travel and it will fit nicely in the pocket of a backpack or your purse. Also when filled with water, it is not too heavy to carry. And the Bobble carbon filter ensures fresh clean water whenever and wherever you fill the Bobble. You can find filter replacements here. 
Perhaps you are traveling a long distance and packing space is a premium. Then this set of collapsible silicone foldable water bottles would work well for you. Would not take up much space in your suitcase at all. And you will be receiving a set of two.
You will want to bring a backpack or daypack with you to store snacks, your water bottle, phone, extra clothes, etc.. This foldable water-resistant backpack would be great. It is very affordable and is available in many color options for you to choose from. The fact that it folds down into a zippered pouch will make it easy to pack.
Perhaps you need a more substantial backpack for your international travel. This antitheft backpack has a charging port, is water-resistant and can comfortably carry up to a 15.6″ laptop. It comes in a range of colors to choose from and it is inexpensive as well.
We all need to protect our eyes from the sun's harmful UVA/UVB rays. These unisex polarized sunglasses come in a lot of lens colors and frame designs and are extremely affordable too.
If you are fond of the aviator-style of sunglasses these polarized aviators may interest you. We like polarized sunglasses because they remove the glare off the water and help you to see things more clearly.
Don't forget to bring along a universal power adapter if you are traveling abroad. This worldwide power plug is a great example and will charge your phone at the end of your busy days. And this world traveler adapter kit can charge several devices at the same time. This is what you will need when there are several people traveling in your group, or if you bring several electronic devices on your trip that require charging at the same time.
Map Of The Best Beaches In Sicily 
There are so many beautiful beaches in Sicily that it may be hard to keep track. That is why I put together this handy map for your use. You can download it on your phone in the Google Maps app to make it easier on you when you may be without wifi. Use this map of the Sicily Beaches to see where they are all located and which ones are nearby where you are currently at. Who knows, you may get to see multiple in one day as they are closer together than you may think!
Click Here For A Google Map Of The Best Beaches In Sicily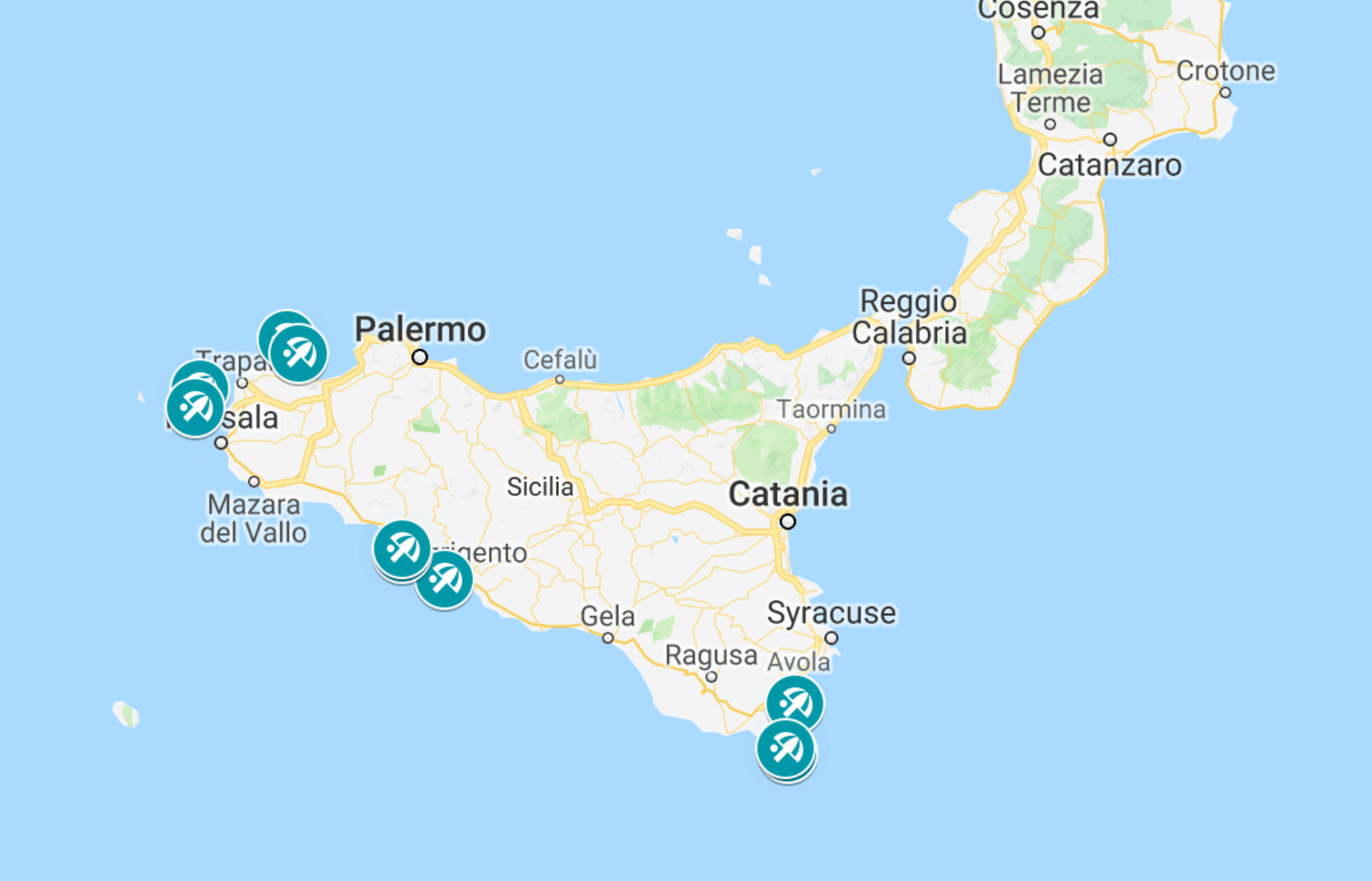 There are so many beautiful beaches in Sicily. There is truly something for everyone. No matter if you are looking for history and culture, a quiet family spot, or a place to go snorkeling and scuba diving, there is a Sicily beach that is perfect for you. Which of these beaches do you wish to visit and if you have been to one of the beaches in Sicily, which did you love the most? Feel free to share your thoughts in the comments!
Lisa Rivera is a travel writer, blogger and Sicily lover, who specializes in boutique travel and lifestyle on her website www.followingtherivera.com. She writes primarily for a 'flashpacker' audience; a demographic that enjoys staying at boutique/luxury boutique hotels, sampling the local food and wine, and indulging in a spot of wellness. You can also follow her on Instagram, Facebook, Twitter, and Pinterest! 
Pin this post: