You've just booked your flight and are now looking to uncover hidden gems in Italy. From its dramatic coastlines to the rolling hills of Tuscany, and epic mountain ranges, Italy is known for its beauty.
When planning their trips to Italy most people make sure to include the cities of Venice, Florence, and Rome. We recommend that you also include some hidden gems to your itinerary.
Knowing exactly where to find secret spots in Italy that are off the beaten path can be daunting but that is why we are here to help! We have traveled to many of these places in Italy and are here to let you in on these magical spots that we love. 
Each location has been chosen because they represent some of the best Italy has to offer. Many of these spots are a quick day trip from more well-known locations that may already be on your itinerary. For this reason, we recommend you rent a car and don't forget to read our guide to avoid making these 7 big mistakes when renting a car in Italy.
As some of these places are off the beaten path we've also recommended hotels that are nearby these hidden gems to make getting to these locations easier. We are so excited for you to start planning your tour of Italian food, culture, and natural beauty so without further ado here are the 10 magical secret spots and hidden gems in Italy!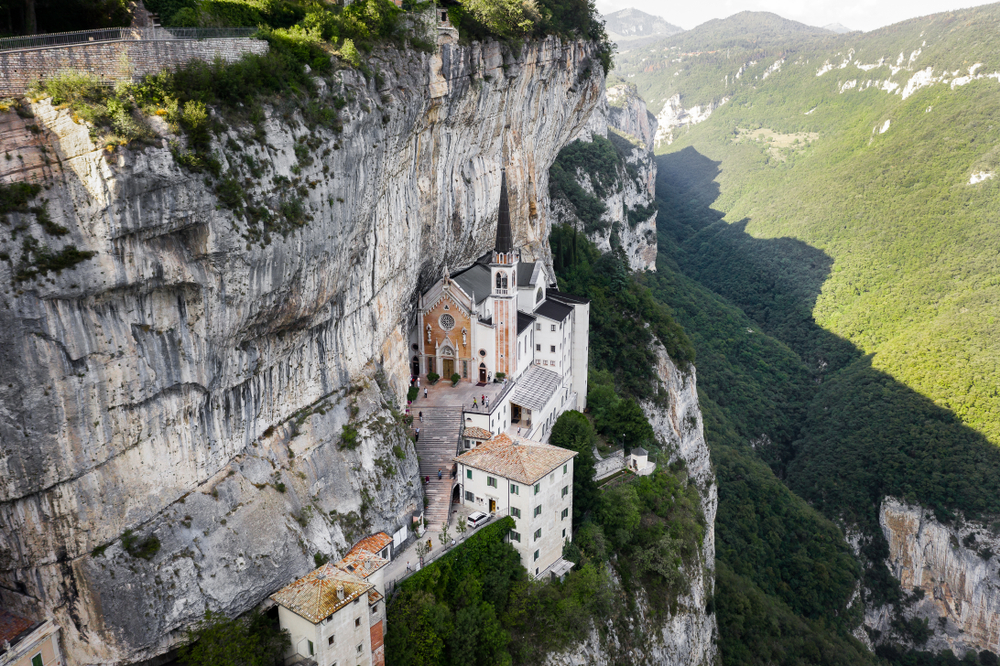 10 Magical Secret Spots and Hidden Gems in Italy
San Galgano Abbey
Our first hidden gem in Italy is San Galgano Abbey. A quick day trip from Siena this Gothic style Monastery and church were the first of their kind in Tuscany. Known today as the church with no roof and the sword in the stone church it is a magical secret spot that won't disappoint.
Built as a chapel and monastery in 1180 this hidden gem has a fascinating history when the knight Galgano Guidotti decided to give up his noble life. He ceremonially plunged his sword into a stone, which can still be seen today, and lived the life of a hermit. Today the church stands with no roof and is a whimsical backdrop for casual photos and even weddings.
If more of Tuscany is on your wish list check out our Ultimate Tuscany Road Trip Itinerary which includes some of our favorite places and more hidden gems in Italy.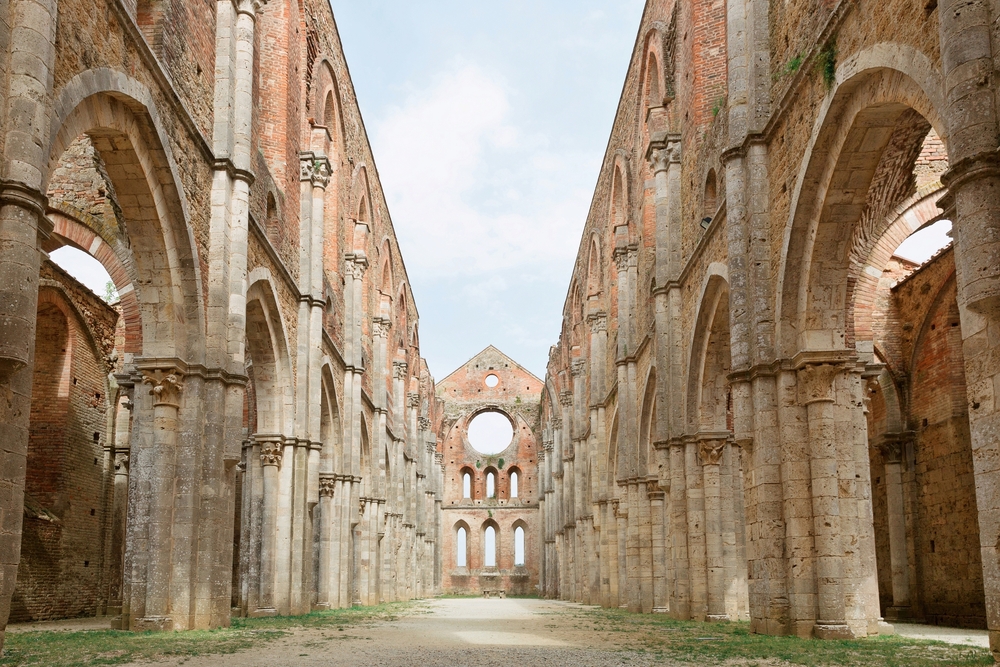 Chapel of Our Lady of Vitaleta
It would be an understatement to say this might be the most photographed chapel in all of Tuscany. That doesn't mean it isn't still a hidden gem in Italy.
Tour busses will often take you here, but many people still don't know about this gorgeous spot for photography and it is totally worth the visit!
Definitely, off the beaten path, legend says that the Virgin Mary appeared to a shepherdess in this field. The chapel was built in 1533 and redesigned in the 1800s by Giuseppe Partini. 
This quaint chapel can also be found in the Provence of Siena on the road between San Quirico d'Orcia and Pienza. Follow the signs to the parking and from there it is about a 10-15 minute walk. You will recognize it immediately as the sweet chapel flanked by cypress trees. We also love this play because it's a magic secret spot for getting Instagram worthy photos.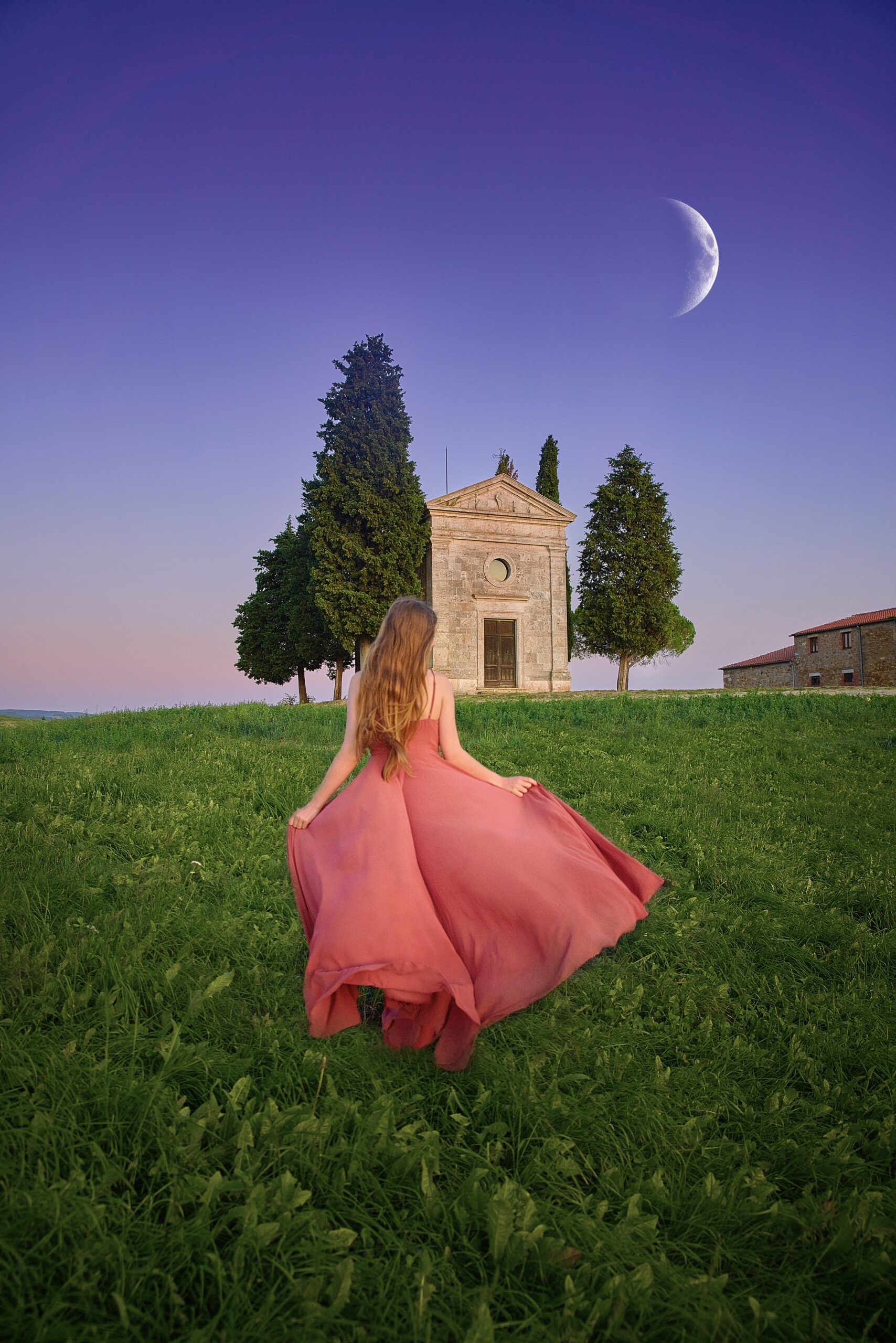 Saturina Hot Springs
Saturina is an ancient small town in Maremna. Yes, it really looks this pretty in real life. The blue water is truly amazing and what is better than relaxing in hot springs?
It has been said that Greek historians in 60 BC recognized this area as inhabited by pre-classical Greeks.
Then the Etruscians came and finally the Romans. Through it all, the hot springs have been known to have healing powers due to the high content of sulfur in the water. Today people enjoy these hot springs to cure a variety of ailments or just to relax and enjoy natures healing powers. 
This is a hidden gem in Italy because it isn't quite built up as a resort but there are some fairly new wellness spas in the area.
You can visit the waterfalls or the springs but will have to change in the car. We also recommend bringing your own snacks or planning on eating in the town. If you want to explore more hot springs in the area take a look at our guide to 4 Free and Natural Hot Springs in Tuscany.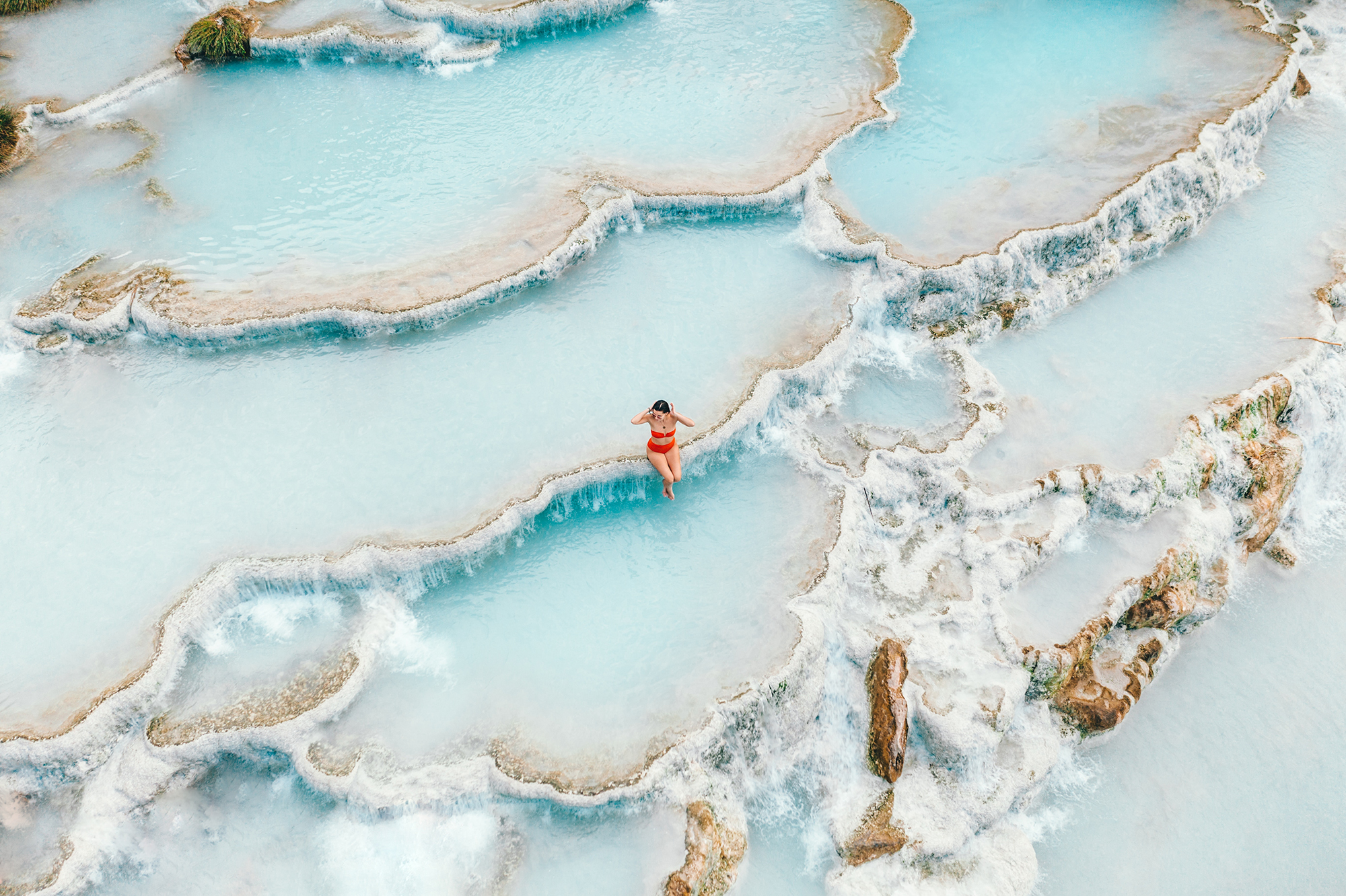 Passo Gardena
Located in the Western Dolomites the Passo Gardena or Gardena Pass is a hidden gem that shouldn't be missed. This magical spot is considered one of the most scenic drives in the Dolomites. These are mountain roads but the effort to drive the pass is well worth it once you see the majestic mountain peaks rising up toward the sky. 
We think that this is a fantastic spot to see the sunset in the Dolomites. In winter, there is skiing, and in summer, there are gorgeous fields of green.
The Passo Gardena and Dolomites are just one magical secret spot in Northern Italy. If you think Northern Italy will be the focus for your trip make sure to check out our Ultimate Northern Italy Itinerary and keep reading to discover another secret spot in Italy.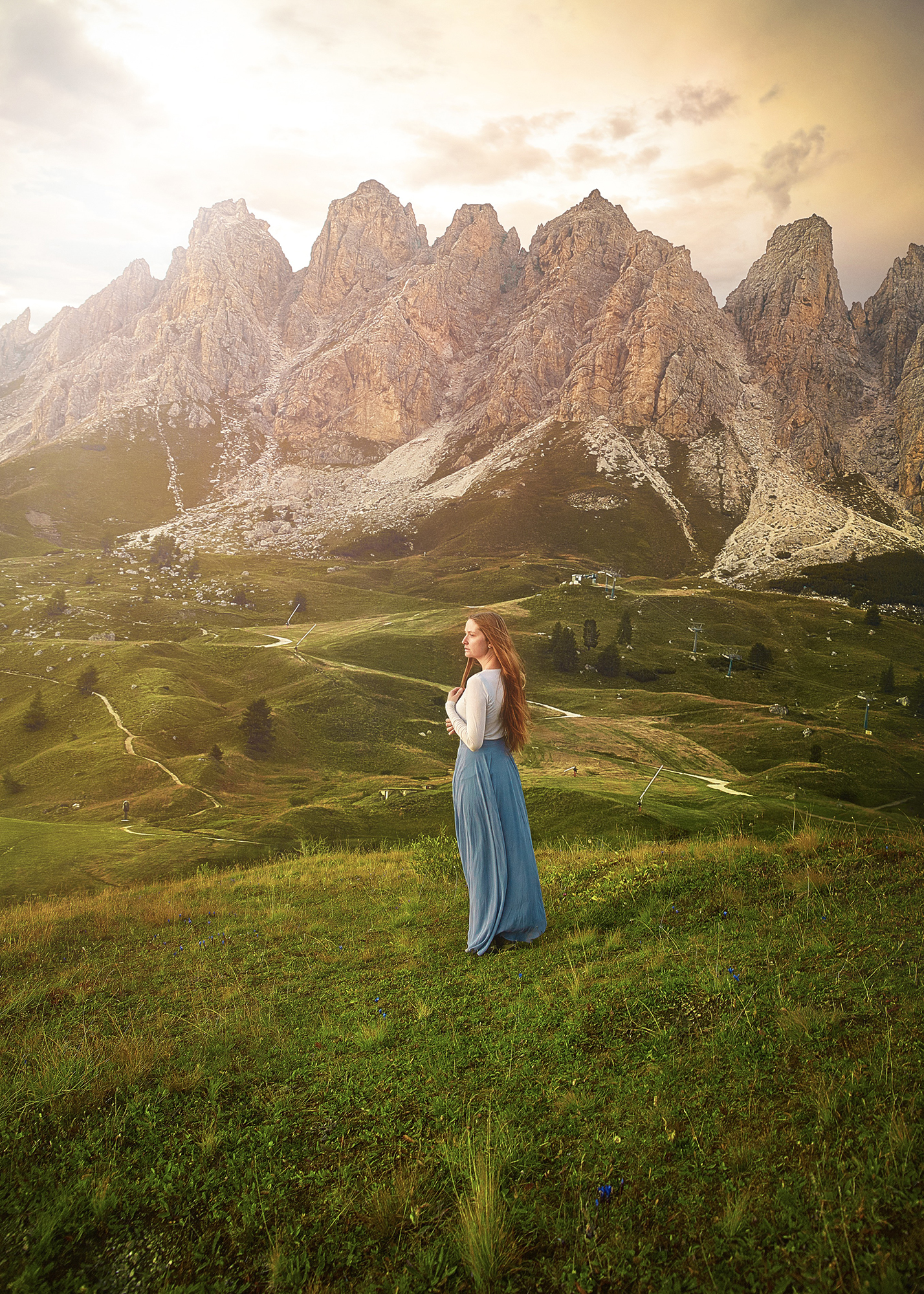 Cima Cadin
While you are in the Dolomites make sure to add Cima Cadin to your must-see list of hidden gems in Italy. While much of the Dolomites have become Instagram famous, and who can blame people, Cima Cadin is still relatively unspoiled.  The glory of this spot is seeing the dramatic spires that make up the range. 
This is truly one of the best Dolomites hiking trails with a HUGE payoff!
No matter your ability there are some great ways to see Cima Cadin. By car head to rifugio Auronzo there is a private road that takes you to one of the mountain huts that is a stopping point for hikers. This road has an entrance fee of around $30. From there it is about a 30-minute walk to one of the best lookout points to see Cima Cadin
If you'd like to do a day hike and see other magical secrets spots then we suggest taking the circuit around Tre Cime. The hike isn't too difficult and offers up some amazing views of the Dolomites, Cima Cadin and off the beaten path natural beauty. For more information about this hike check out this guide to a must do day hike in the Italian Dolomites.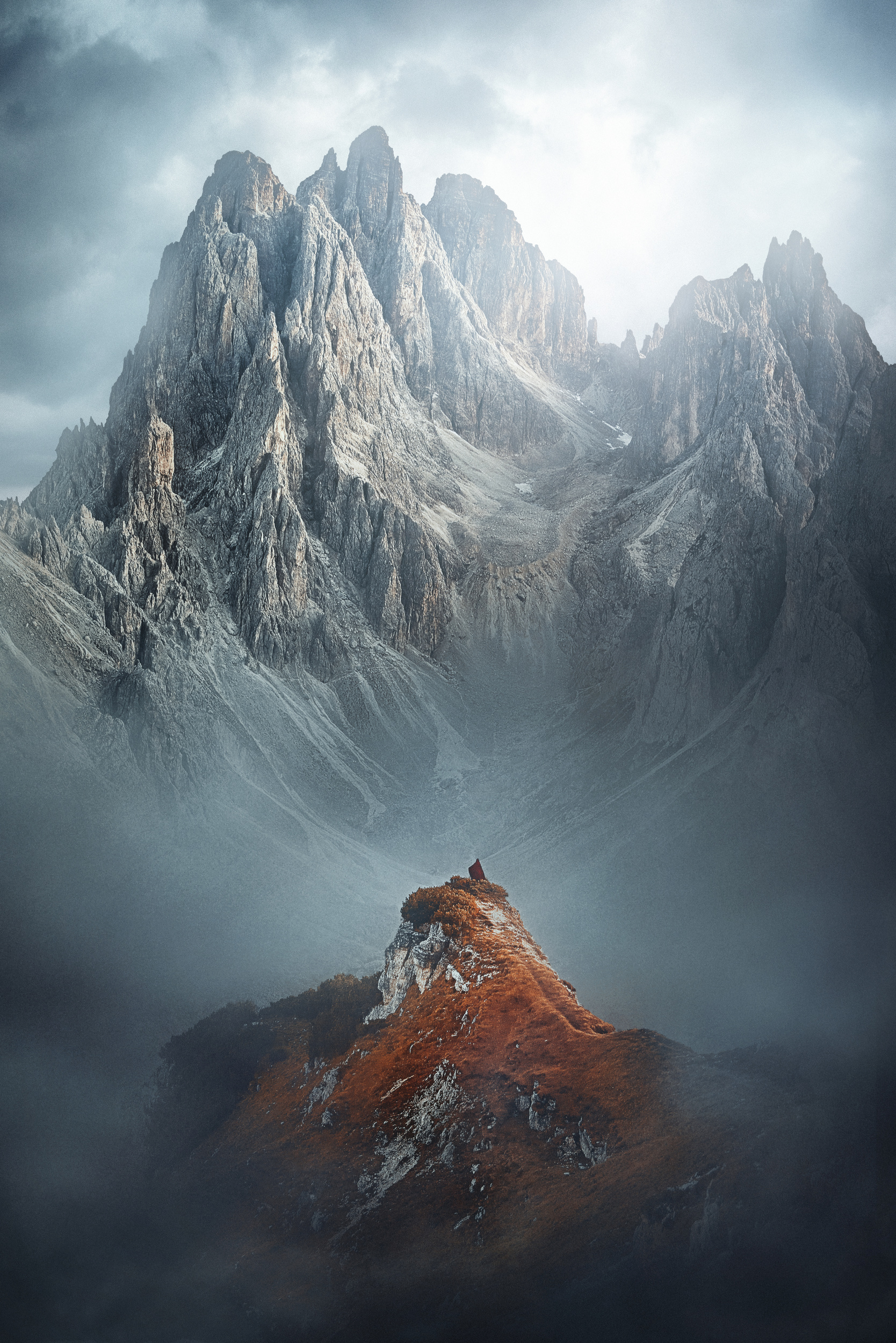 Scaligero Castle
Located on Lake Garda, the largest lake in Italy, Scaligero Castle is the perfect stop before or after your adventure in the Dolomites. Scaligero Castle is a magical secret spot and a hidden gem in Italy known because it is the best-preserved castle in Italy from medieval times.
Built in the 13th century and taken over by the Republic of Venice in 1405 this castle was also originally a Roman fortress. 
This is an epic spot for photos and just a super cool thing to see, because it isn't every day that you see a castle going in the water like this.
Walkthrough the drawbridge and climb to the top of the castle to see the series of bridges that make up the fortified harbor and moat. You will also have some amazing views of the town of Sirmione. The experience is like walking back in time where you can imagine life long ago
While Lake Garda is the largest lake in Italy it is less famous than Lake Como and off the beaten path. You can find some really great hotel deals too. Stay at the Hotel Arena where you can relax on their rooftop terrace and take in the views of Lake Garda while you enjoy one of the best hidden gems in Italy!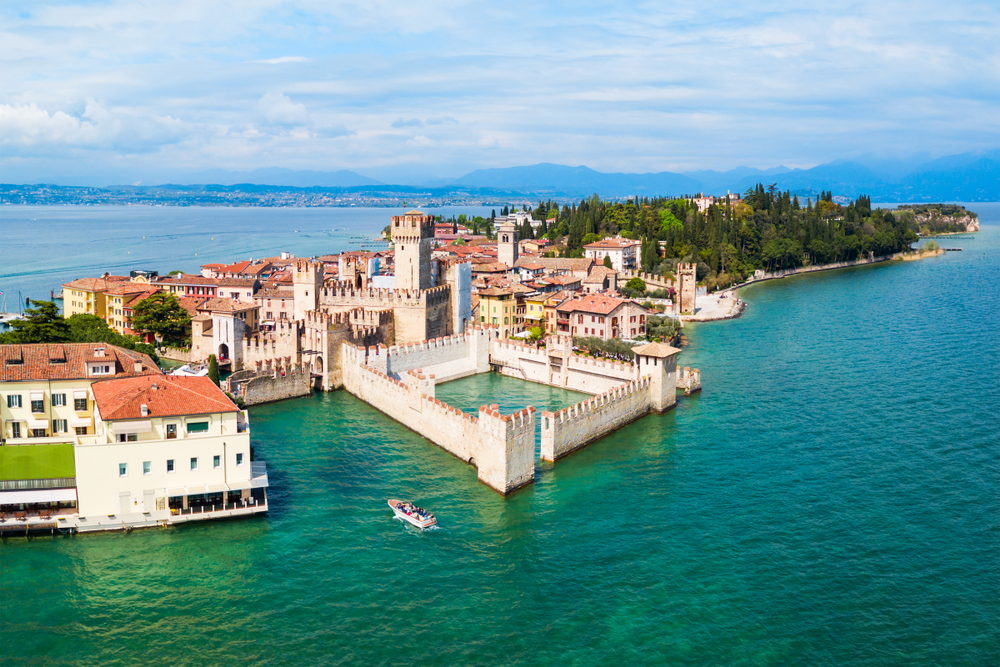 Santuario Madonna Della Corona
While still in the Lake Garda region you can continue to explore the breathtaking Italian mountains by adding the Santuario Madonna della Corona to your list of hidden gems in Italy. Hanging midway down a cliffside on Mount Baldo this chapel was once a place of quiet contemplation. The church itself was built in 1530 and then restored in the 1970s.
You can get to the church on foot either by taking the original stone steps from the town of Brentino. This way is a little more difficult but a fun way to experience a bit of history.
This is the perfect place to take some really cool and unique photos and not many people take the time to seek out this unique Italian hidden gem.
A slightly easier way to reach the church is by using the modern paved road which follows bronze statues that make up the stations of the cross. Inside the sanctuary of the church is the Scala Santa which is a reproduction of the stairs that Jesus walked the day he was crucified.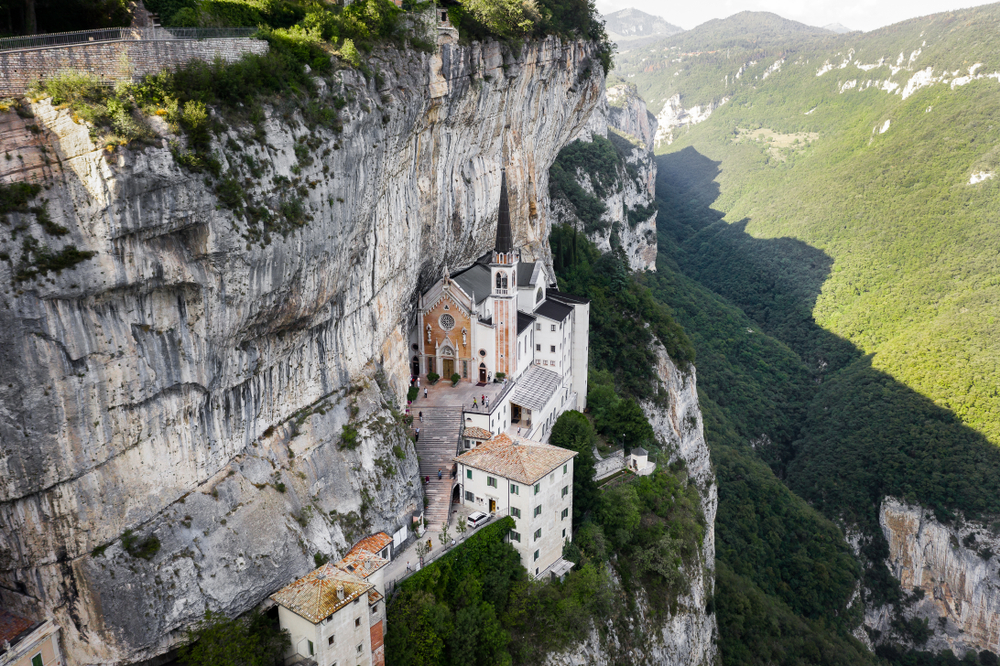 Bogliasco
If seeing the Italian coastlines is more your idea of a vacation we have a few hidden gems that you will want to check out. The first is the town of Bogliasco. Located south of Geona on the western coast of Italy Bogliasco is a magical secret spot.
We love this town and try and visit as often as we can when we come to Italy. There is just something about it that is nice and relaxed and beautiful.
You will find a town with a central piazza, walkways above the sea where you can look down on the small port with fishing boats. We recommend staying at the Hotel Villa Bonera which is located in a 15th-century building in Geona's Nervi neighborhood.
The town of Bogliasco is one of the best hidden gems in Italy because it can serve as a home base for visiting the more well known Genoa and Portofino.
The entire area has many magical secret spots where you can experience the Italian Riviera and it's colorful fishing villages. For a longer day trip, consider heading over to Cinque Terre the picturesque five fishing villages.
These centuries-old villages cling to the rugged mountainside and are well known for the colorful houses, vineyard filled terraces, and traditional Italian pesto! These five villages are connected by a series of pathways and trains and are well worth the effort to visit them.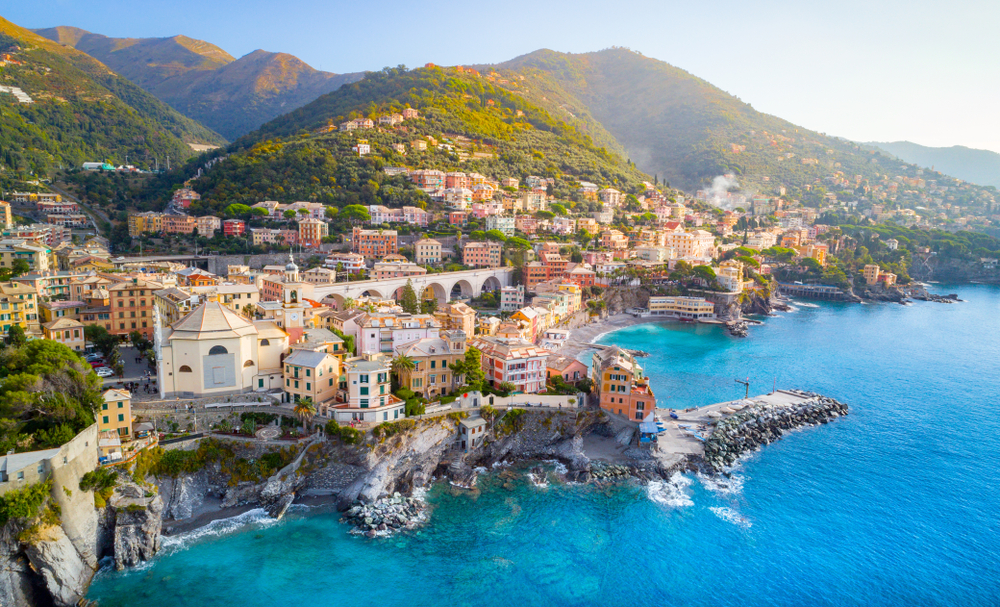 Nessun Dorma
One of the five fishing villages that make up Cinque Terre is called Manarola and the location of our next hidden gem in Italy.
Nessum Dorma is a casual outdoor restaurant where you can look out to the pastel houses of Manarola and the fishing boats tied up below. Manarola is known for its fishing and winemaking. The famous wine from the region is called Sciacchetra and is a must-try while visiting.
When visiting Nessun Dorma don't expect to order pizza or pasta. Instead, be ready for traditional local cuisines such as bruschetta, antipastos, and pesto!
We recommend getting their signature antipasto platter which includes meats, cheeses, anchovies, fruit, and olives. Eat the best foods in Italy while sharing a bottle of wine, gazing out at the sea, and people watching. This hidden gem truly is heaven on earth.
Nessun Dorma isn't only one of the best hidden gems of Italy for its atmosphere but also because it offers both a pesto experience and wine tasting experience.
Expect to pick your own basil, make pesto in the traditional way, and enjoy lunch and wine tasting. This experience along with the tasty food and gorgeous views makes Nessun Dorma one of our favorite magical secret spots.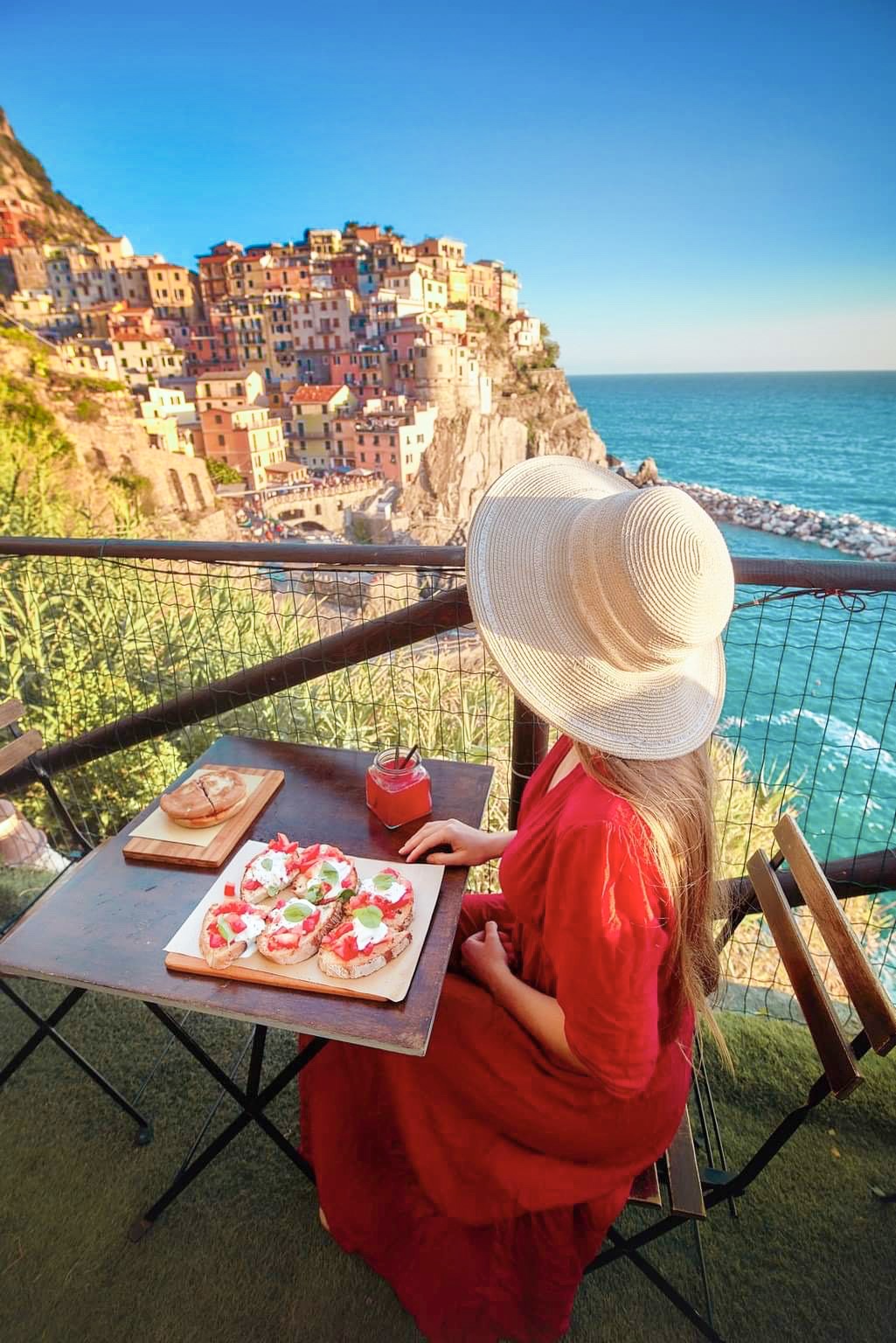 Scola Tower
Originally built by the Republic of Geona in the 16th or 17th centuries, the Scola Tower is a hidden gem that won't disappoint. It has quite an interesting history that goes beyond the question of when it was built.
During the Napoleonic Wars, this defensive site was the center of a naval engagement between the French and British. On January 23, 1800, the British Navy damaged the tower resulting in it's neglected for many years. 
By 1915 the Italian government had scheduled the tower to be demolished. Fortunately for us, it was decided to instead to preserve its history and restore it for visitors to enjoy.
The easiest way to see this hidden gem in Italy is to stay in La Spezia, which also happens to be a great town to stay in when visiting Cinque Terre.
Scola Tower is located in the Gulf of Poets just beyond the northeastern tip of Palmaria in Portovenere. It is easily reachable by boat tour or by hiring a private boat and a great addition to your tour of the Italian coast.
We just think that it is so pretty and unique. If you are in this area, it should be on your list for sure!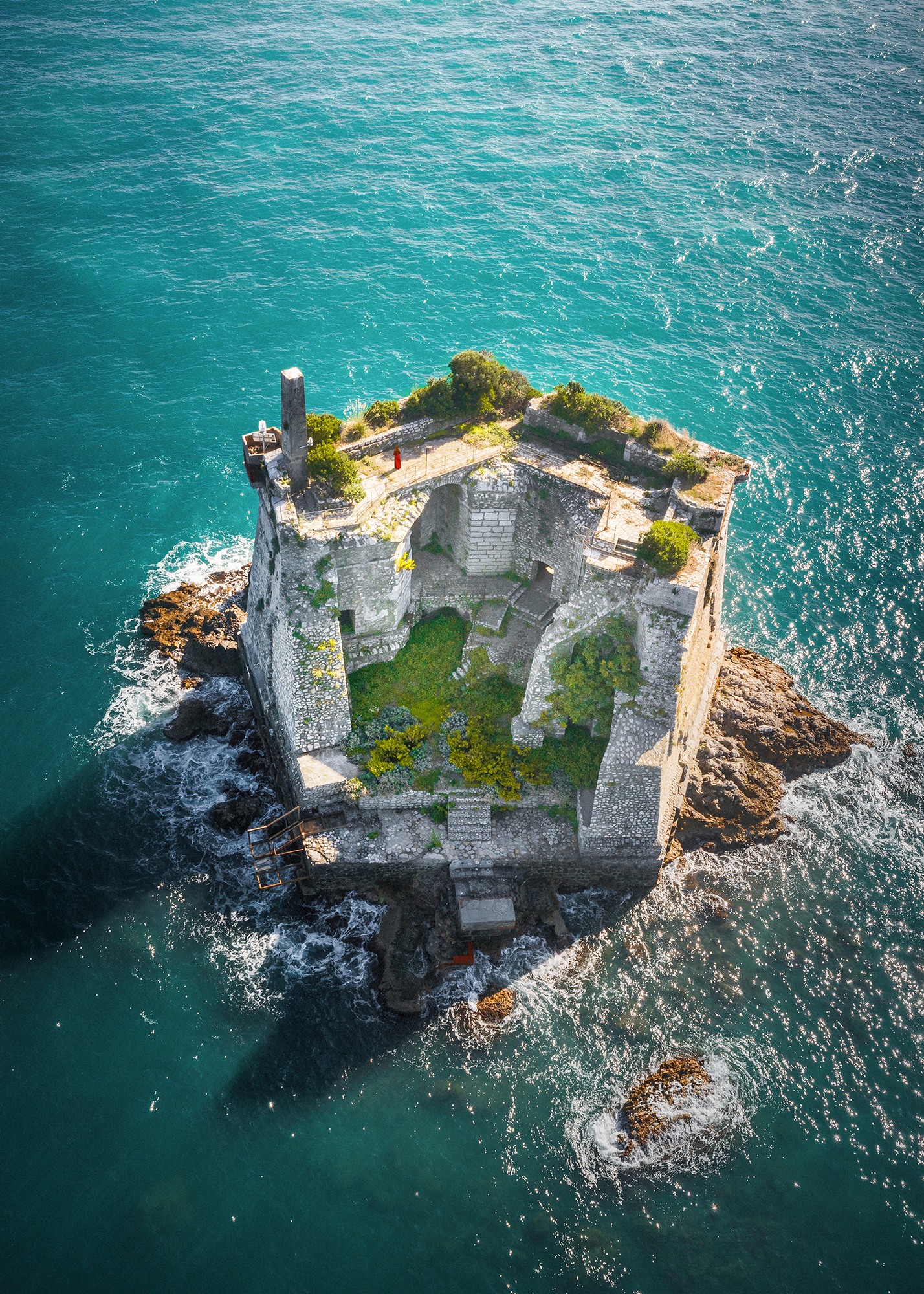 Grotta Palazzese Cave Restaurant
If you are planning on traveling to south our next secret spot in Italy is definitely worth making reservations for. Known as the cave restaurant Grotta Palazzes is not a tourist trap.
It is a terrace restaurant inside a natural cave in Puglia and the town of Polignano A Mare. People have been coming here since the 1700s to enjoy this exclusive spot. The restaurant is open for the season from March to November.
With two seating times for dinner make this stop truly special by dressing up for a romantic meal of traditional Apulian cuisine. You will have the choice of two tasting menus that are encouraged by the restaurant, but there is also an a la carte menu with certain restrictions.
Don't let that discourage you though! The tasting menus are well worth the expense. Expect to find each tasting menu to have 4-6 courses that offer delightful treats such as lobster, scallops, pork, pasta and of course dessert! 
While definitely pricy the Grotta Palazzese is a magical experience for a romantic night out. Don't expect to stroll in for dinner though, advanced reservations are required. There isn't a strict dress code but shorts and sandals are restricted for men. The Grotta Palazzese's motto is "We are dressy, fine dining restaurant, you are going big, so dress the part!" We couldn't agree more! What a fantastic way to end your Italian vacation.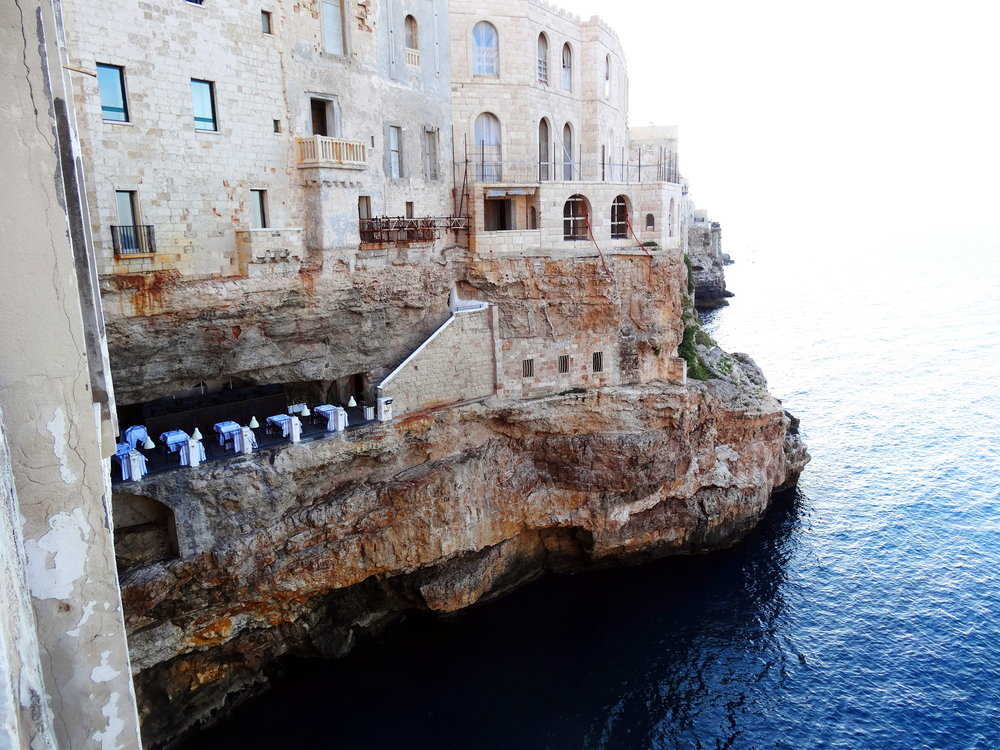 We hope that these magical secret spots and hidden gems in Italy get you excited for your trip. If even one of these locations makes it onto your itinerary then you will be sure to enjoy some off the beaten path locations. We believe it is important to take the time to explore some lesser-known locations to truly discover all that Italy has to offer!