There are many amazing towns on the Italian Riveria but Cinque Terre just might be the most enchanting of them all which is why we put together this list of things to do in Cinque Terre. Made up of five villages on the North-Western coast of Italy, Cinque Terre has a lot of history dating back to at least the 13th Century.
Planning your trip to Cinque Terre last minute?
Make sure to book your hotels and tours in Cinque Terre in advance to ensure availability! The longer you wait, the more difficult it gets. Here are our top picks for your trip:
Top Picks For Places To Stay In Cinque Terre:
Top Experiences And Tours In Cinque Terre:
The five towns are all a little bit unique and so much fun to explore. You can stay in any of the five villages or stay nearby in Laventia or La Spezia and take the train into Cinque Terre. Both options are great but if you'd prefer to stay in one of the five villages then make sure to check out our guide of exactly where to stay in Cinque Terre by village.
Each of the five villages is easily accessible to each other so for the sake of this guide we will start at the southernmost village of Riomaggiore, which is the first village you will hit on the train from La Spezia. We will work our way up to the northernmost village of Monterosso al Mare so you can discover all the things to do in Cinque Terre.
Exploring these five villages is fun and you won't be disappointed in the extraordinary views, basking in the sun, eating delicious food, and either traveling by boat, train or trail. In fact, why not do them all!
Things to Do in Riomaggiore
The most southern village, there are many things to do in Riomaggiore. It is said the town dates back to the 8th Century when locals in the Vara Valley started to grow grapevines and olive trees. This is also the town that is home to the famous Via dell 'Amore or lover's lane. This path connects Riomaggiore to Manarola and is known for its dramatic landscapes.
Book Your Guided Cinque Terre Shore Excursion Tour!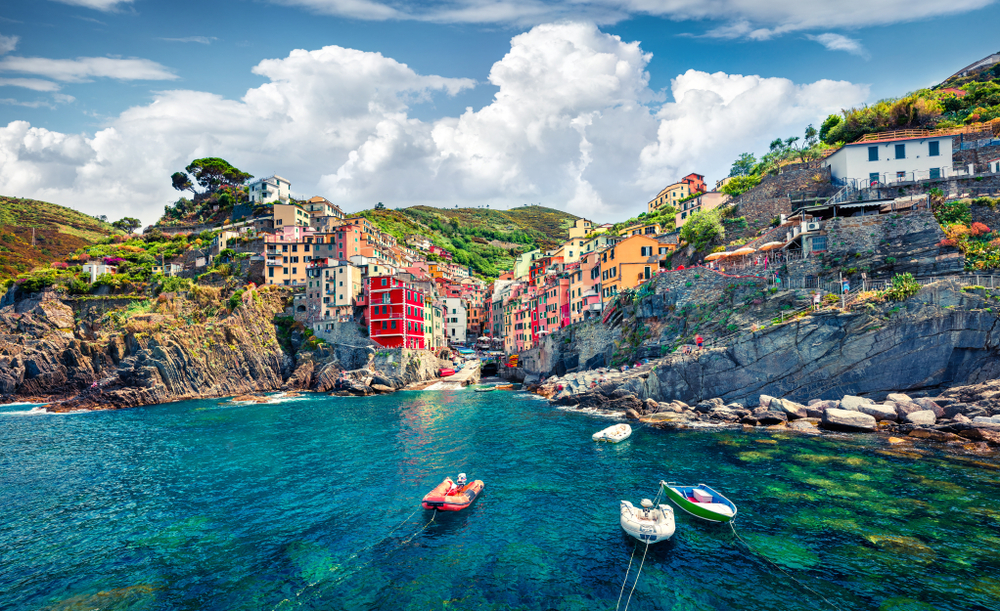 Take in the View From Santuario di Nostra Signora di Montenero
Found along the coastal road that connects La Spezia with Cinque Terre, hiking to the Santuario di Nostra is something you must do in Cinque Terre Italy. The walk up can be quite hot, especially on summer days so make sure you bring water with you. Once you read the top you will be greeted with one of the most beautiful panoramic views of the whole Cinque Terre coastline. After taking in the view walk downhill a bit and look out over the iconic red-painted buildings and view of the town.
When we were here it was VERY crowded! Be kind to others and take turns taking photos from this lovely spot! The views of the famous red building and the other buildings in the background are just beautiful and it is one of the best things to do in Cinque Terre!
Book Your Guided Cinque Terre Shore Excursion Tour!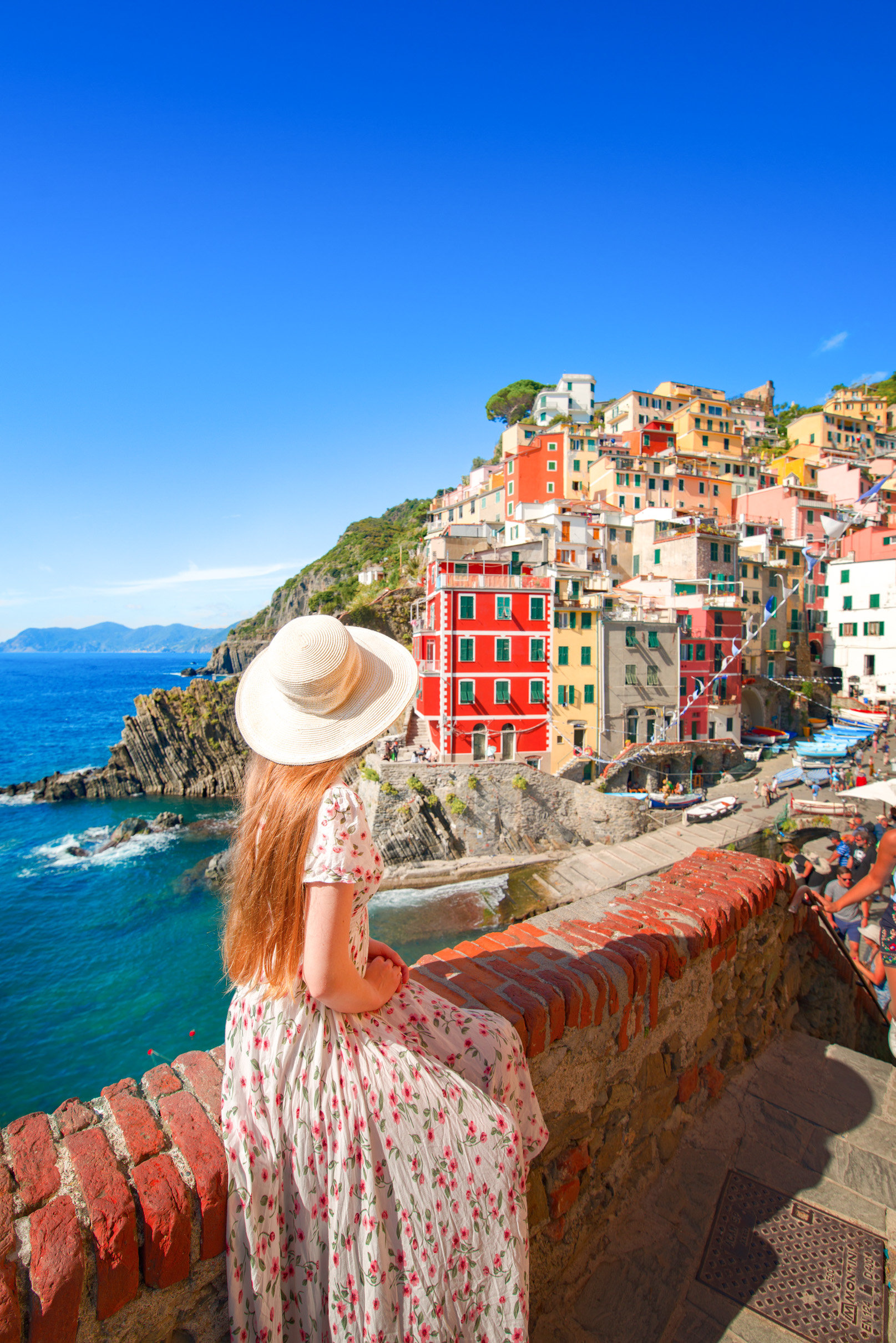 Go For a Swim Among the Rocks
Another thing to do in Cinque Terre is to swim among the rocks in Riomaggiore. Located east of the village the beach is full of rocks. These rocks help create natural swimming pools and beautiful clear water that is surprisingly warm. Riomaggiore's coastline makes for a fun time because most of the beaches have lots of natural beauty.
If you want to avoid crowds and perhaps get a little more sand experience, get on a boat to Canneto Beach. Located between Punta Castagna and Punta del Cavo this area is a little more secluded and worth the effort to get there. This beach is surrounded by natural beauty and a little more private.
Keep in mind that September in Italy is basically the last month for warmer water in the country!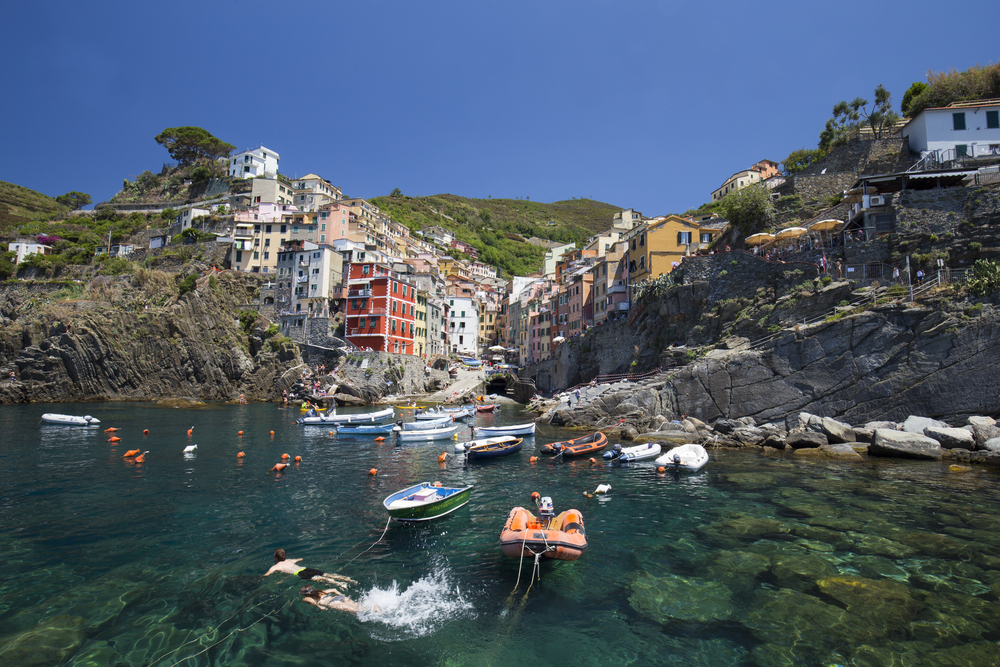 Cliff Jump, If you Dare
Another thing to do in Cinque Terre is to cliff jump in the port of Riomaggiore. Find a spot on the rocks to hang out and sunbathe. As the sun starts to warm you up, don't be afraid to take a jump off of the many rocks that make up the beaches of Riomaggiore. This is a refreshing way to enjoy the majestic coastlines of Cinque Terre while also being a little bit adventurous.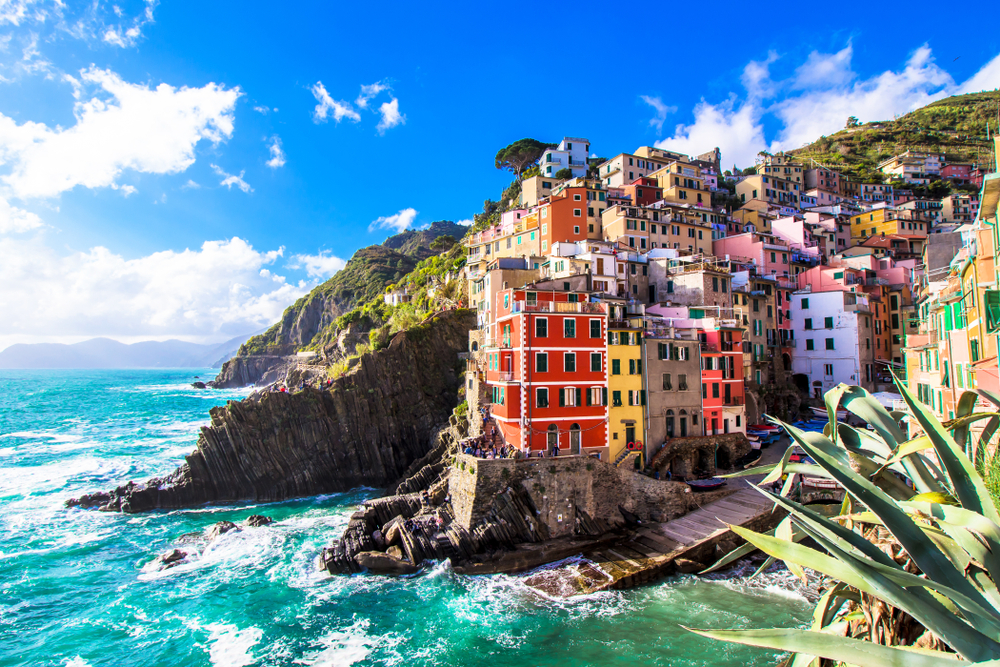 Things to Do in Manarola
This town is known for its picturesque fishing port and the terraced vineyards that rise above it. The local wine is called Sciacchetra and it's a sweet wine that complements desserts and cheeses. Of the four villages located directly on the sea, Manarola is the smallest and quietest. Perhaps this is because it was the latest to be discovered by tourists? All we know is that Manarola also happens to be the home of one of our favorite hidden gems in Italy, Nessun Dorma!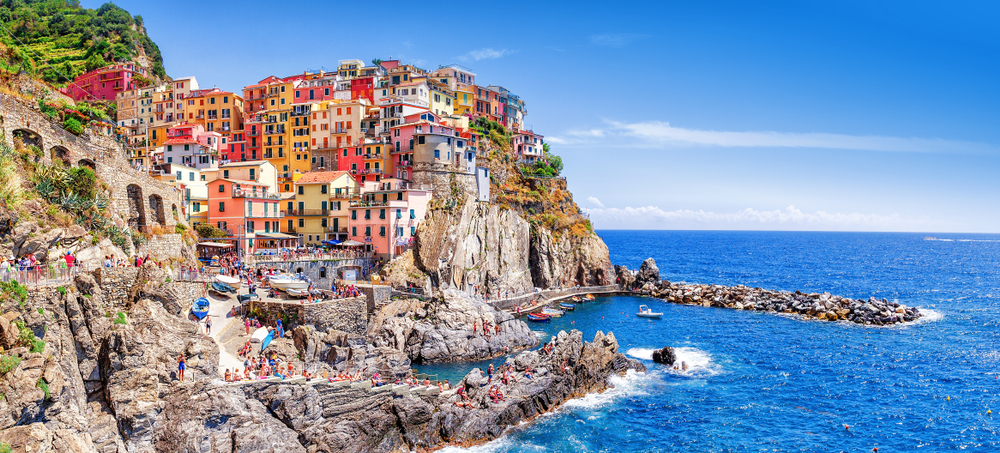 Nessun Dorma
We included this must do in Cinque Terre in our article on the 10 Magical Secret Spots and Hidden Gems in Italy and for a good reason. This casual outdoor restaurant that overlooks Manarola is a must-do while in Cinque Terre. If there is one must try restaurant in Cinque Terre it is Nessun Dorma.
Imagine sitting down to enjoy the picturesque view after a nice walk among the vineyards. All the tables here have fantastic views of the pastel houses that make up Manarola as well as the colorful fishing boats, and the brilliant blue of the Mediterranean. You won't be disappointed in the delicious antipasto and local wine. You can even take cooking classes here. Our favorite is the pesto making class!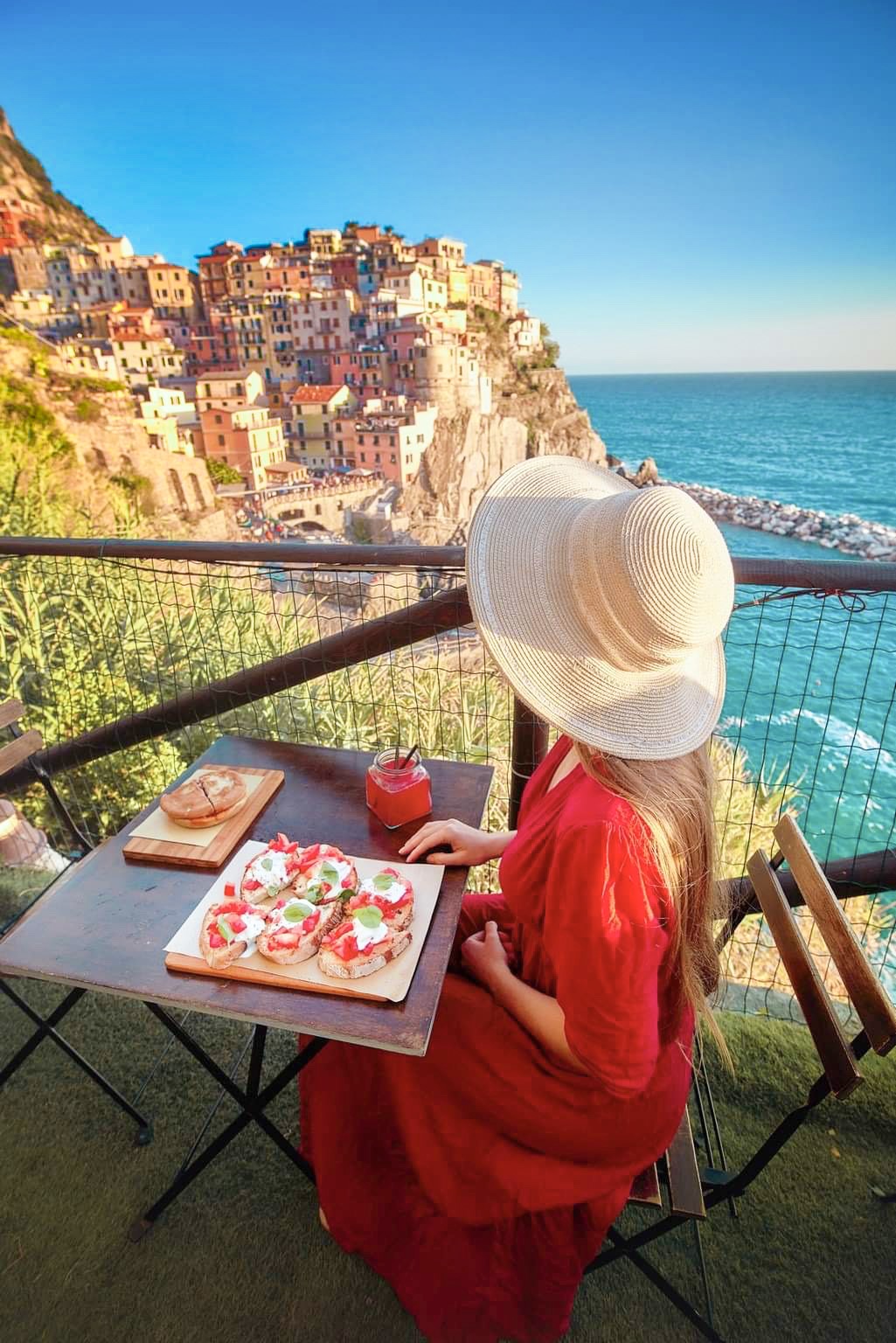 Take Photos of Manarola At Sunset
Just below Nessun Dorma is a famous lookout spot where you can take some of the best sunset photos. As sunset approaches the path from the fishing harbor below leading up to Nessun Dorma will become littered with photographers eager to take Instagram worthy shots. We had so much fun lining up with people waiting to get that perfect shot!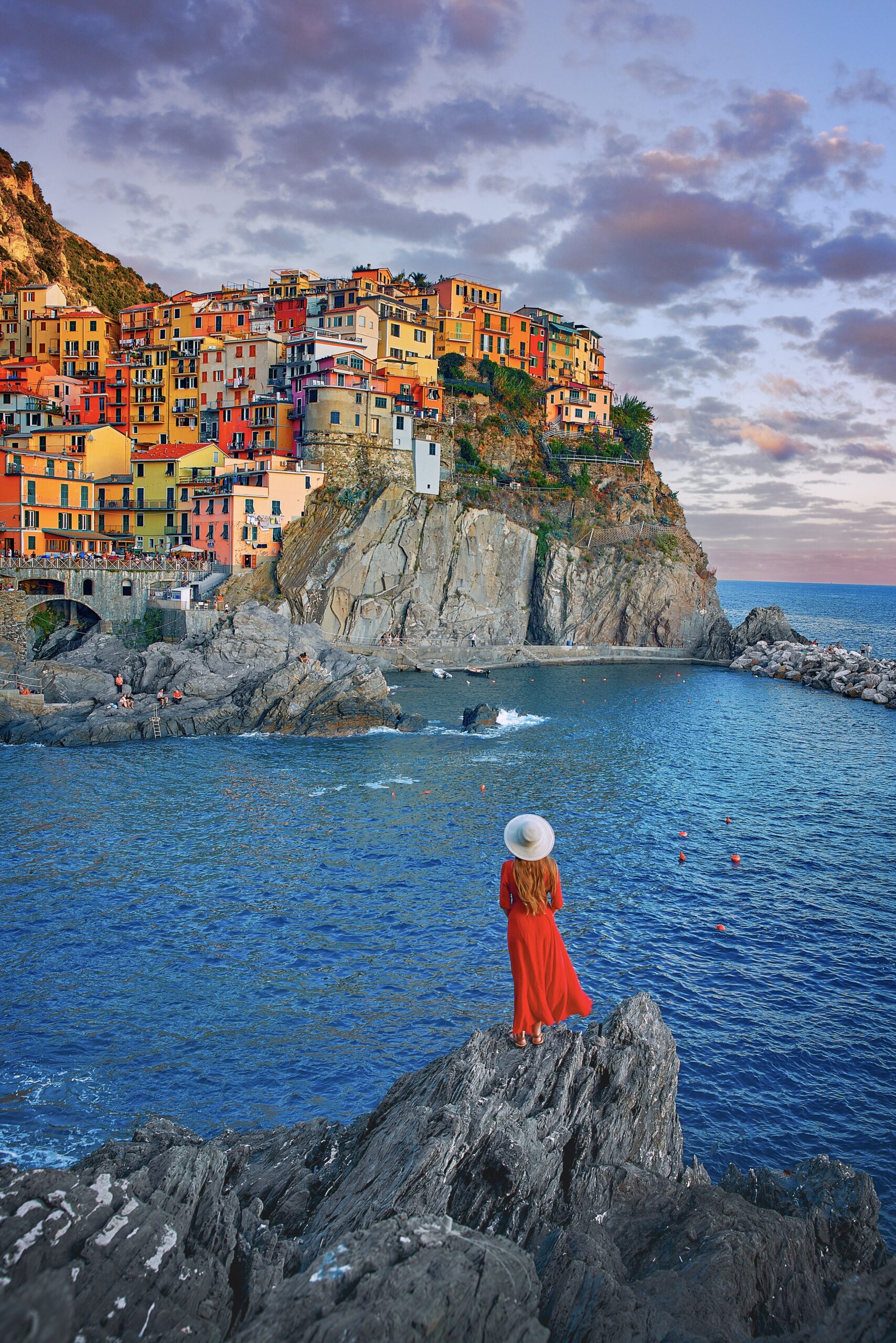 Explore the Vineyards Above the Town
Still wondering what to do in Cinque Terre, don't miss out on taking a walk among the terraced vinyards located above Manarola. Start at the gothic church Chiesa di San Lorenzo and look for the wooden railings and path that leads the way. You will soon discover that you are walking in a vineyard with gorgeous views of the village below. Expect to also see dramatic views of the Meditarania sea as well.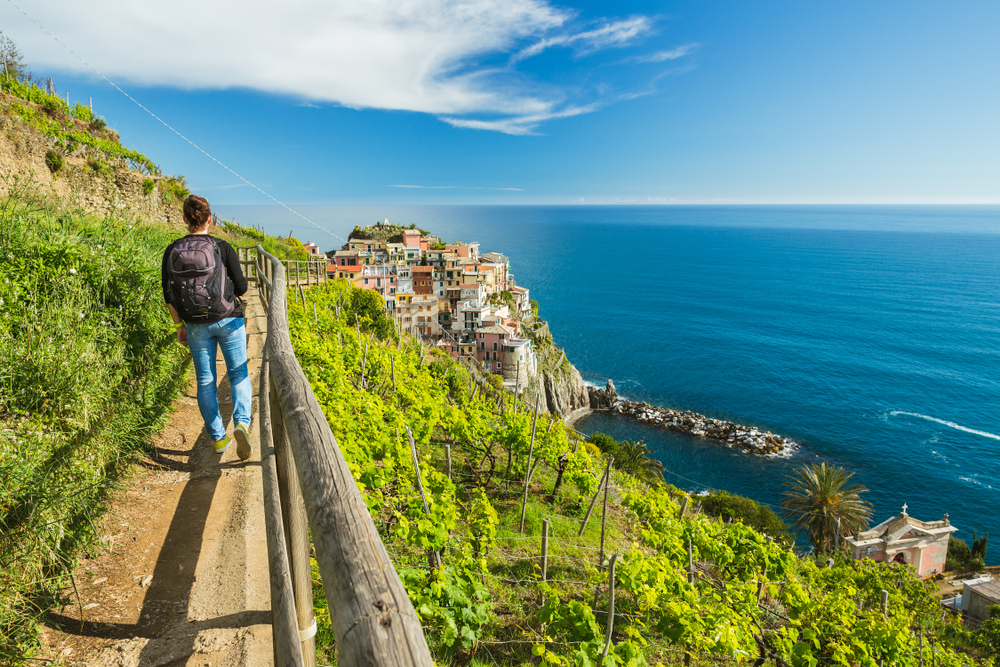 Things to Do in Corniglia
This village in Cinque Terre is different than the rest as it isn't directly on the water. Instead, it sits on a hill that overlooks terraced vinyards. It also has great views of the other four villages and of course the Mediterranean sea as well. Because the village isn't directly on the sea it can be a little quieter than the rest of the villages. Despite not being directly on the ocean, there are still plenty of things to do in Corniglia.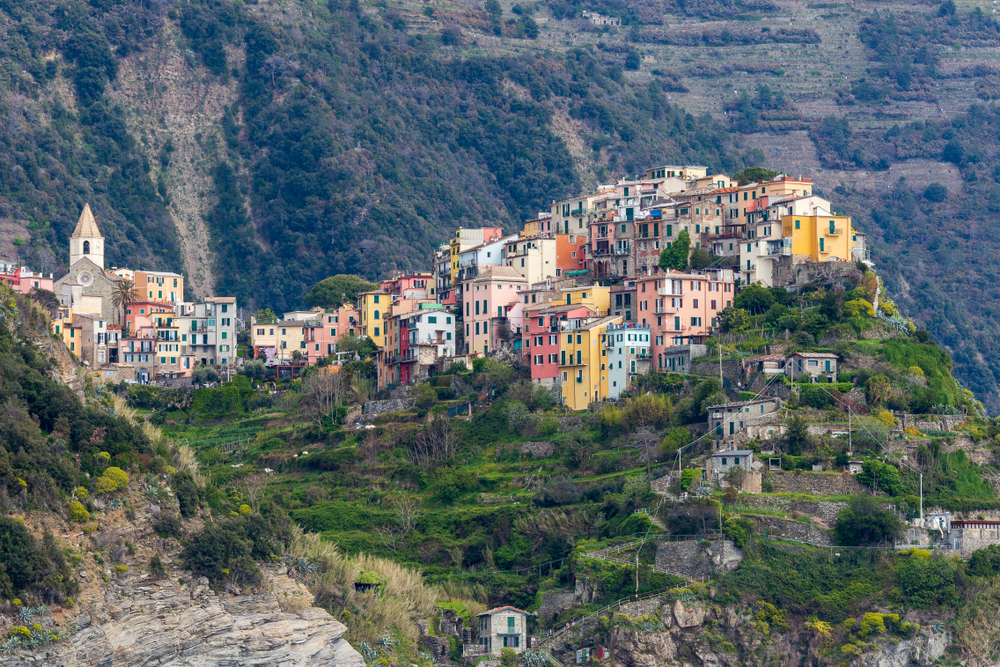 Climb the Stairs
We love Corniglia for its views but to reach the town you can either follow a small vehicle road or climb the Lardarina steps. We recommend the stairs as a fun way to get the full experience of visiting Corniglia. There are 382 steps with 33 landings. While the steps aren't difficult to climb you do want to make sure you wear appropriate shoes. Entering the town via the stairs is a fun way to experience what makes Cinque Terre so unique and fun.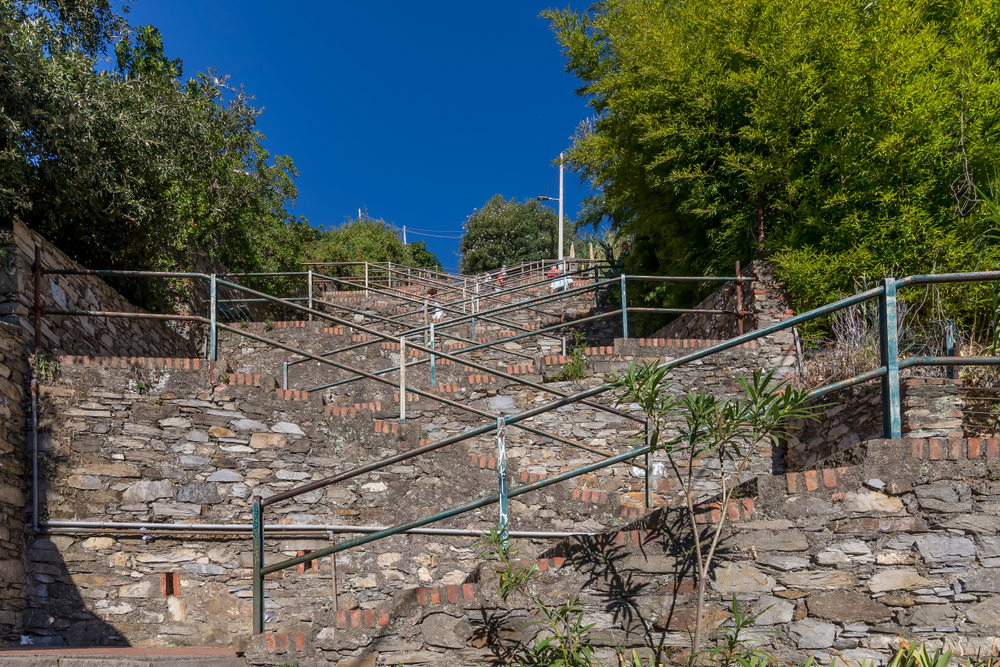 Say a Prayer in the Church of Saint Peter
Italy is full of beautiful, historic churches and the Chiesa di San Pietro is no exception. The history of this church goes back to an 11th-century chapel that was turned into the church of St. Peter sometime in the 12th-century. It is a lovely place to step inside for a quiet moment of prayer. The Church of Saint Peter also featured a white marble rose window that is a common feature among the churches of Cinque Terre.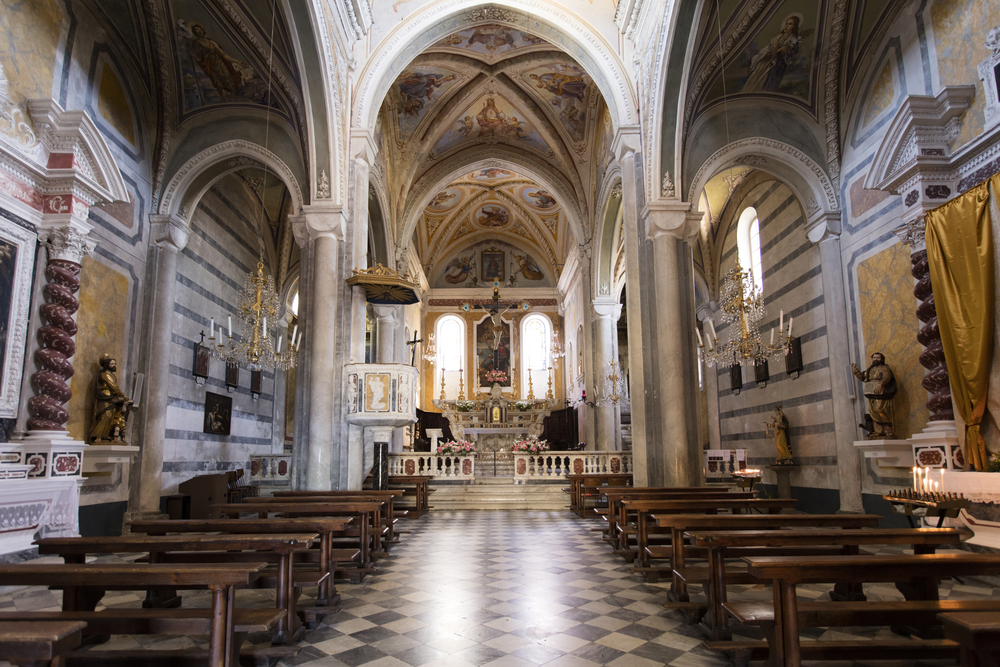 Enjoy a Quiet Afternoon
There are many things to do in Cinque Terre but since it has become quite a popular spot to visit, it can become full of people especially with day-trippers from larger towns. One of the charms of Corniglia is that is less popular than the other four villages due to it's location. If you make Corniglia your home base you can enjoy the village that is more laid back with a local feel. Day trippers start to head home in the afternoon and the town becomes more peaceful and quiet. Find one of the little restaurants and bars tucked away on cobblestone streets and get the local experience.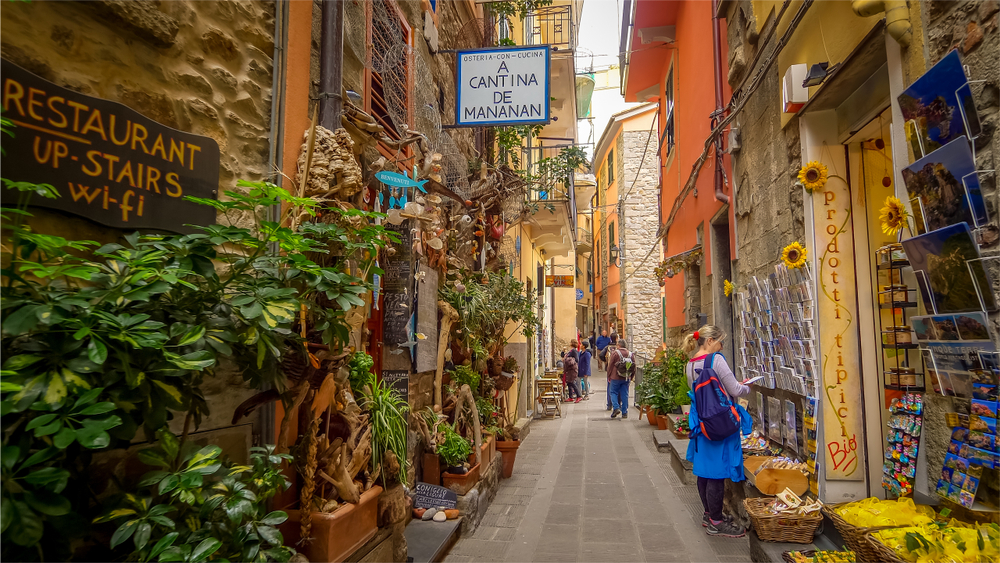 Things to Do in Vernazza
Perhaps the most authentic fishing village in Cinque Terre there are many things to do in Vernazza. This village has a natural port that historically protected the village. We recommend arriving by boat to Vernazza for this reason! Imagine floating along in the Mediterranean, the wind in your hair when you start to see Vernazza come into view. As you arrive in port you will be greeted by pastel houses and a quaint Piazza. Vernazza truly is one of the most picturesque villages in Cinque Terre.
Book Your Guided Cinque Terre Shore Excursion Tour!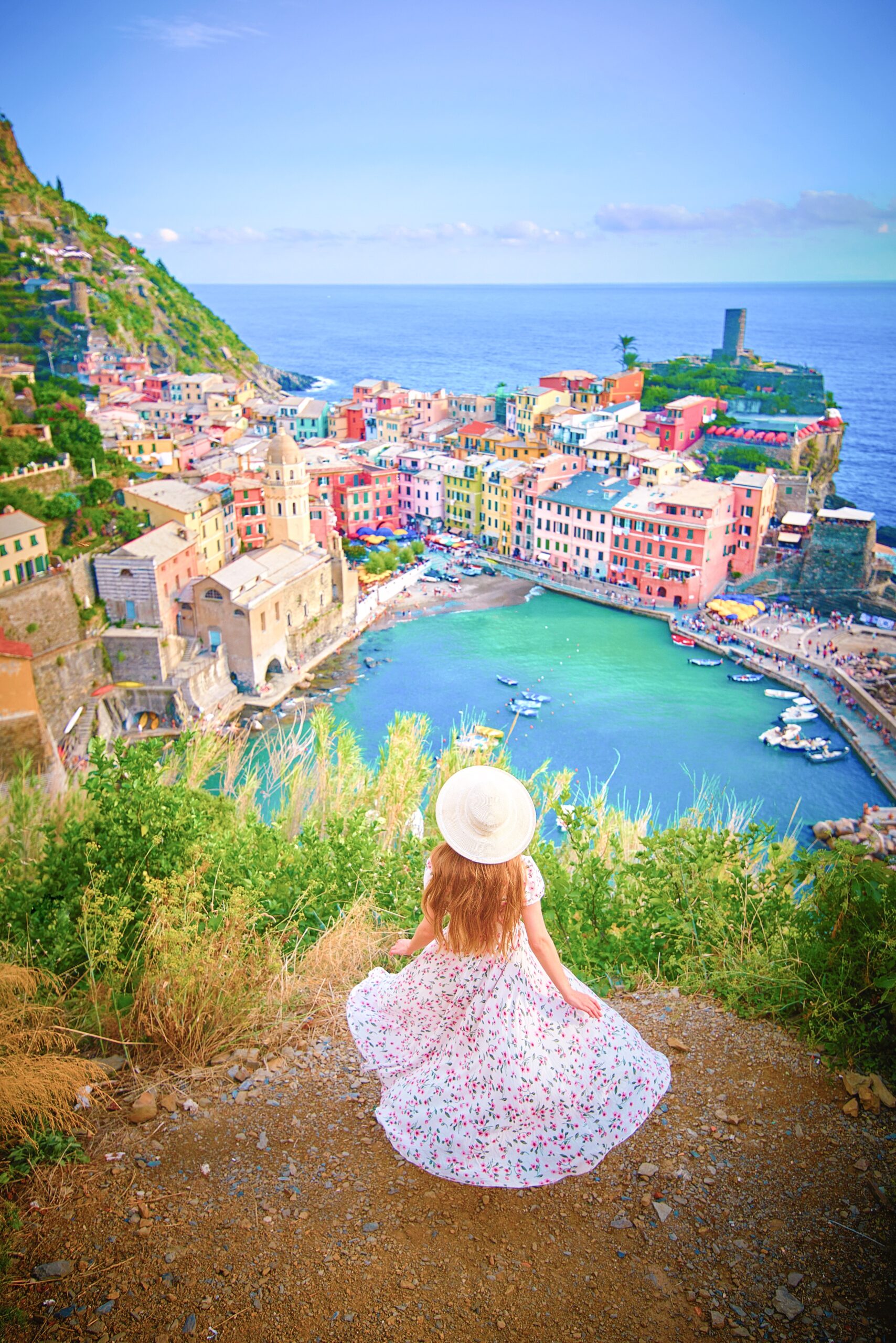 Hike Up To Monterosso al Mare for the Best Views
All the paths between the 5 villages that make up Cinque Terre offer amazing views of the ocean and surrounding villages. But if you are looking for things to do in Cinque Terre and want the best views then the hike up to Monterosso al Mare just might be what you are looking for. The views on the path between Vernazza and Monterosso are exceptionally spectacular. All you have to do is hike for about 10 minutes toward Monterossa. You will know once you've reached the spot!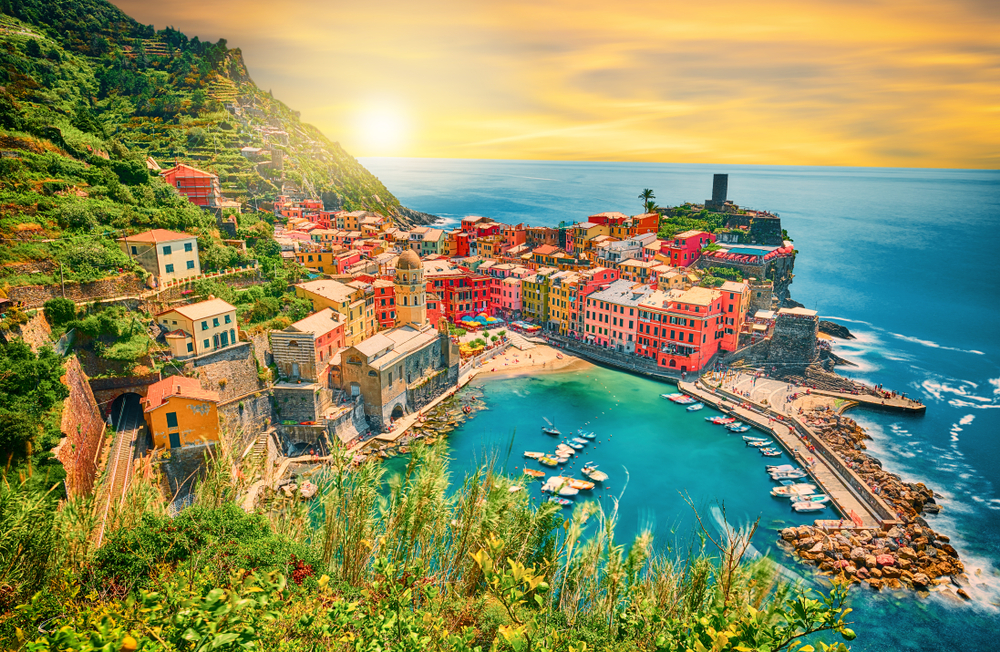 Relax On The Sandy Beach
It used to be that Vernazza had one small sandy beach in the port at the end of the square. In 2011 the area was flooded after a terrible storm. While much of the town had to be rebuilt the flood left one surprise, a large sandy beach. It is easily reached by passing through a tunnel located off of the main village road. Thanks to the storm, this new beach is one of the best sandy beaches in Cinque Terre. We recommend adding this beach to your list of things to do in Cinque Terre. If you want to read about the other wonderful Cinque Terre beaches check out our post on the 7 Best Cinque Terre Beaches to Catch Some Sun.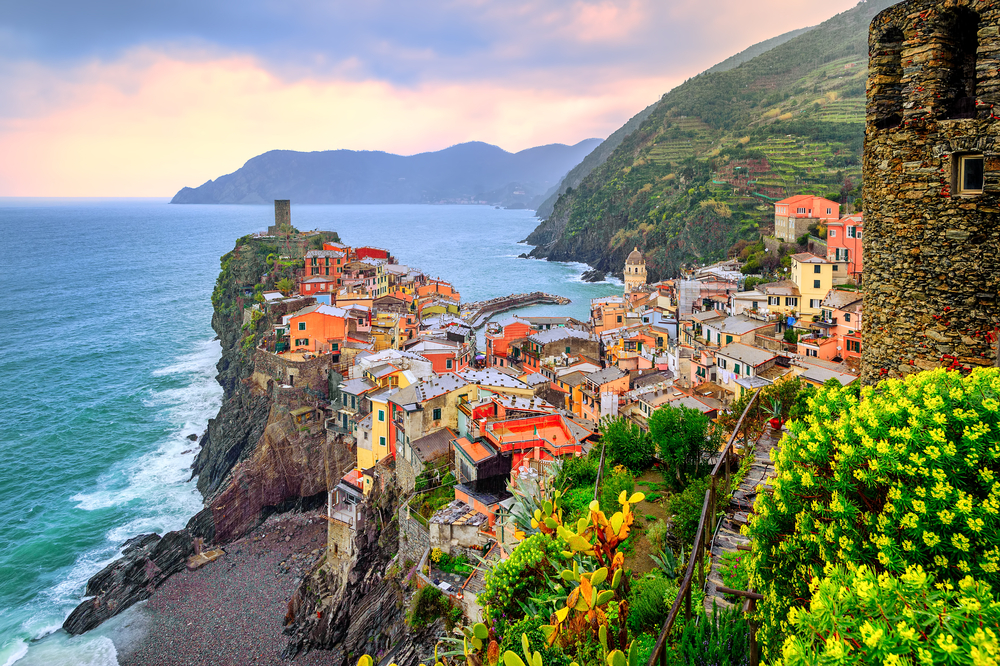 Climb the Doria Castle Tower
Built as part of a system of fortifications in the early middle ages, the tower as it is known today is a fantastic historical sight to see in Cinque Terre. The tower can also be found in historical references dating back from the 13th century. Doria Castle is visible from the entire village but to get the best views, climb the stairs and enjoy this peaceful spot.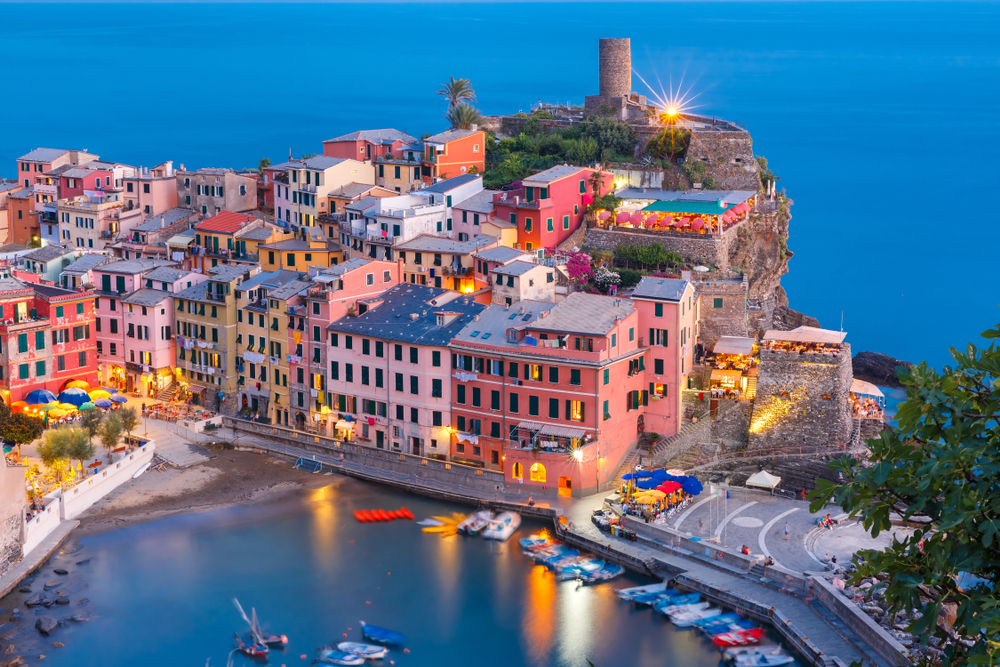 Monterosso al Mare
This is the village that almost wasn't a part of Cinque Terre. Since the town is larger than the other four there was a time where it was excluded from the group. Thankfully it has been restored among the ranks making Monterosso al Mare the largest of the Cinque Terre. There are many cool things to do while in Monterosso al Mare because it is the most resort-like of the five towns. There are two sections of Monterosso al Mare, the old and new. They are divided by a tunnel and you'll want to be sure to explore both sections of the town.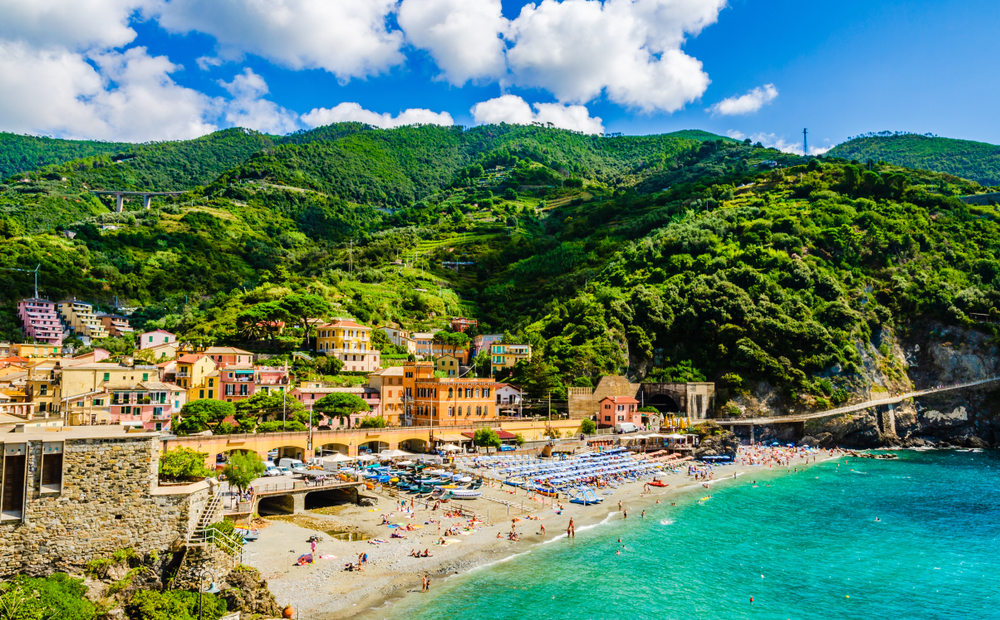 Enjoy the Beautiful Beaches
One reason people enjoy Monterosso al Mare is because of the resort-like beach. There is a pay section with chairs and umbrellas. There is also a free section but if you are there in the summer months this section can get crowded fast. The most well-known area of the beach is Fegina beach. Popular for its long sandy stretch and the famous statue of the Giant that dramatically overlooks the beach.
Make sure to check out our list of the Best Beaches In Italy to find out more epic places to visit!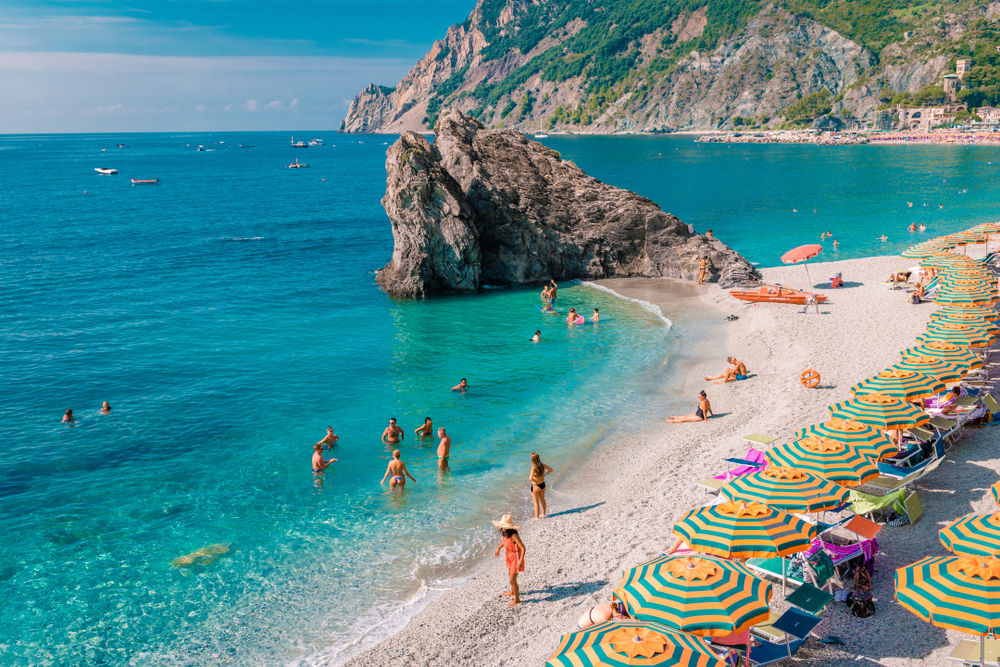 Explore the Churches
First, check out the Ligurian style facade of the Chruch of San Giovanni Battista. Next, head to nearby Oratory of Saint Maria del Porto Salvo. close to The Baroque Oratory of St. Maria del Porto Salvo is in ruins but enclosed in the Loggia Podesta and worth checking out. There is also the Church of the Capuchin Father, San Francesco which contains artwork by Luca Cambiaso and Bernardo Castello and a Crucifixion that is thought to be by the Flemish Baroque artist Van Dyck. Lastly, make sure you take the carriage road between Levanto and Pignone to visit the Sanctuary of Nostra Signora di Soviore. Inside you will find the famous wooden statue of the Madonna and can explore the sanctuary that was once a shelter for pilgrims during the Black Plague.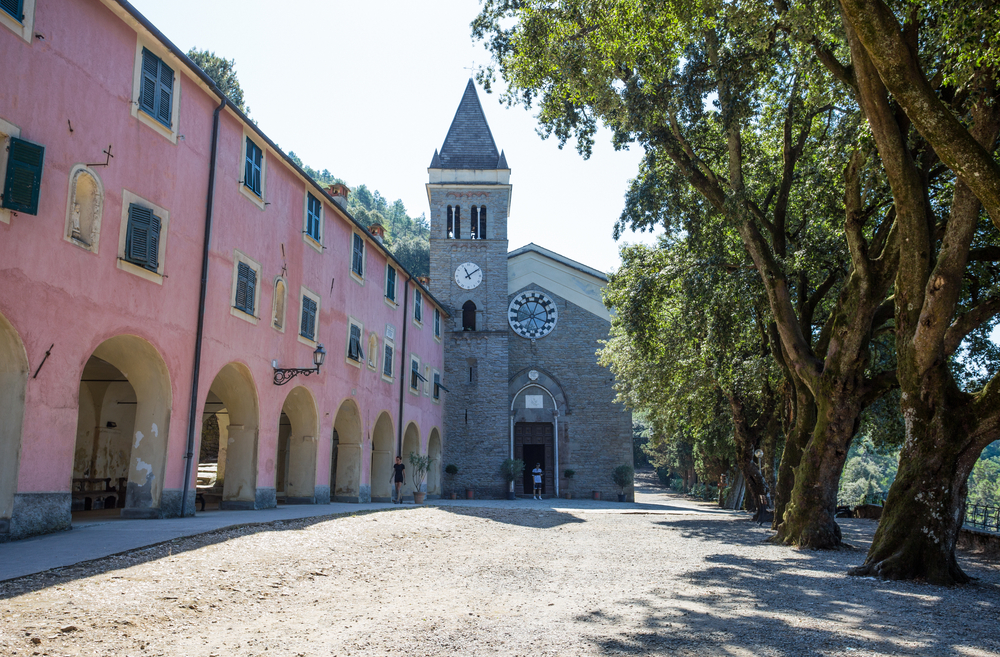 General Things to do in Cinque Terre
Take a Boat Tour
If walking isn't your thing you can also travel between the five villages by boat. Even if you do want to travel to each village by walking make sure you also make time to take a boat at least once. Seeing the five villages from the sea is a magical experience, especially if you catch a sunset tour. There are many companies that offer sunset tours and our favorite also includes antipasto and wine! No matter how you decide to see Cinque Terre, by boat should be on the top of your list!
Book Your Cinque Terre Tour! Lunch Included!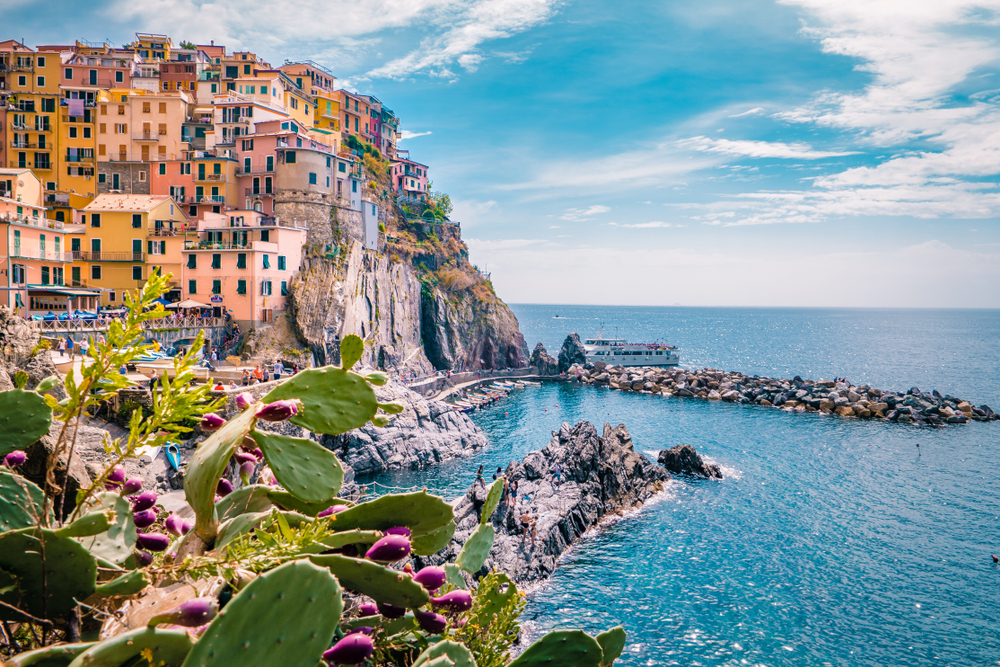 Gorge on Gelato
Its hard to imagine any town in Italy without Gelato but eating this Italian treat while strolling the streets and alleyway of Cinque Terre is especially enjoyable. Grab your gelato of choice to go, find a spot overlooking the ocean and enjoy this Italian treat while taking in breathtaking views and salty air. Gorging on gelato is especially nice after a few hours of walking and hiking the Cinque Terre.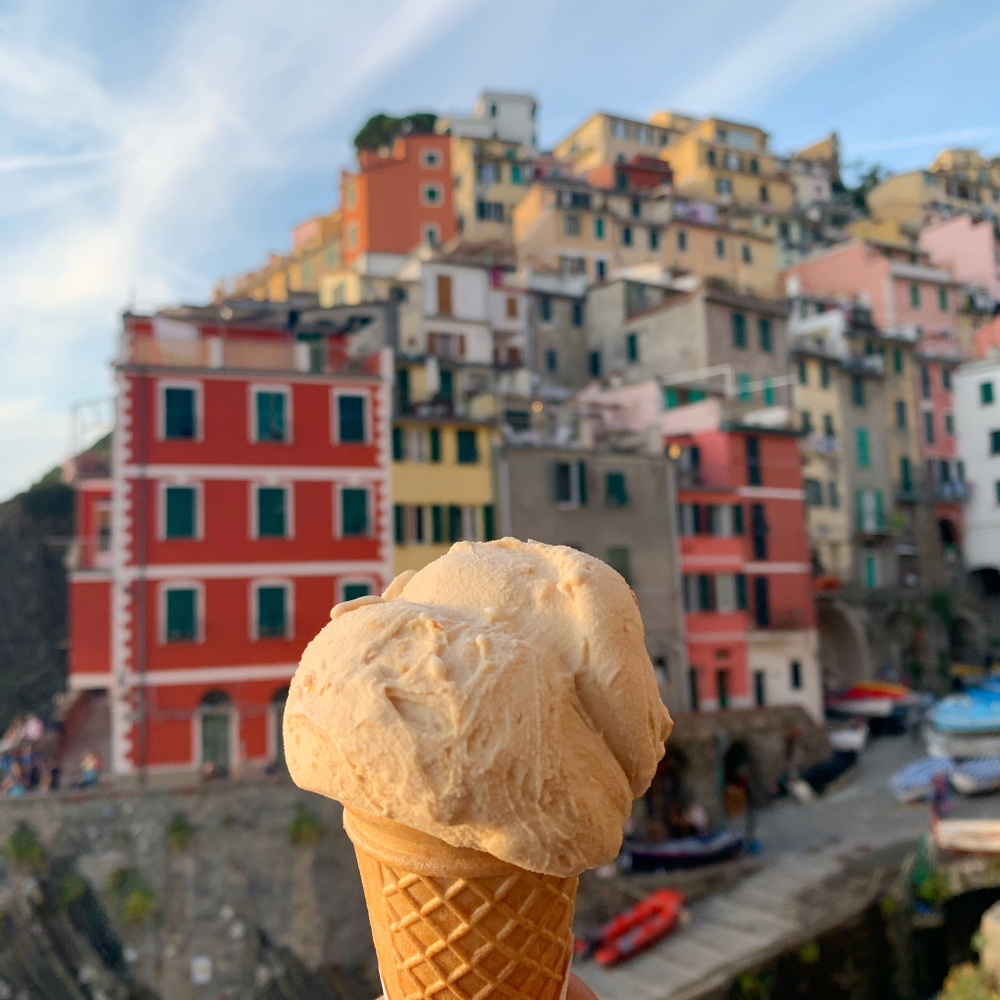 Take a Cooking Class
Pesto, pesto, pesto! Cinque Terre is known for this flavorful dish. We recommend taking the pesto making class at Nessum Dorma. You can read more about this in 10 Magical Secret Spots and Hidden Gems in Italy. You can't go wrong with one of the best views in Cinque Terre and pesto made by you. If you'd like to try your hand at other Italian dishes why not try a cooking class that celebrate the flavors of the Italian Mediterranean. Since each region of Italy has it's own unique flavors and dishes, we especially love the Italian Ligurian cooking classes offered by Cinque Terre Cooking School in Monterosso al Mare. No matter what you decide you won't go wrong by booking an Italian cooking class.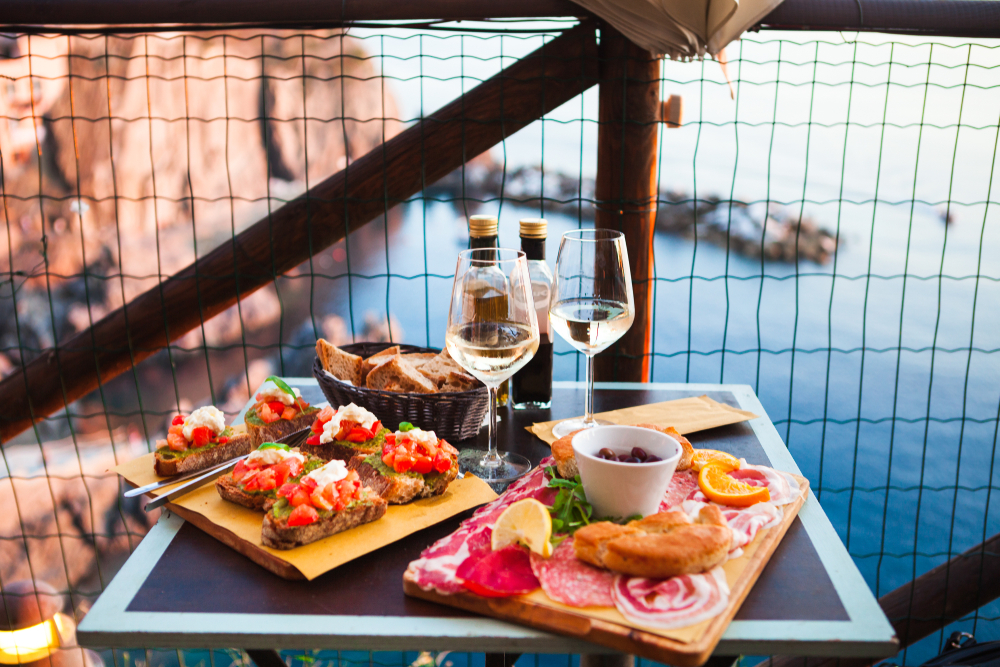 Hike Between the Villages
While you can travel to each town by train you might want to consider exploring the hiking trails that connect the five villages. It is said that the Via Dell 'Amore is the most beautiful but you can't go wrong by exploring any of the numerous trails that lead from town to town. This is a great way to see uncompromised views and experience the Cinque Terre of the past.
While you can hike between the five villages in about six hours, with small breaks, we recommend picking one or two paths to explore at a more leisurely pace. Just make sure to check ahead of time that the paths are open. You also want to make sure you a Cinque Terre trail card as some of the trails do charge an admissions fee.
Book Your Cinque Terre Guided Walking Tour!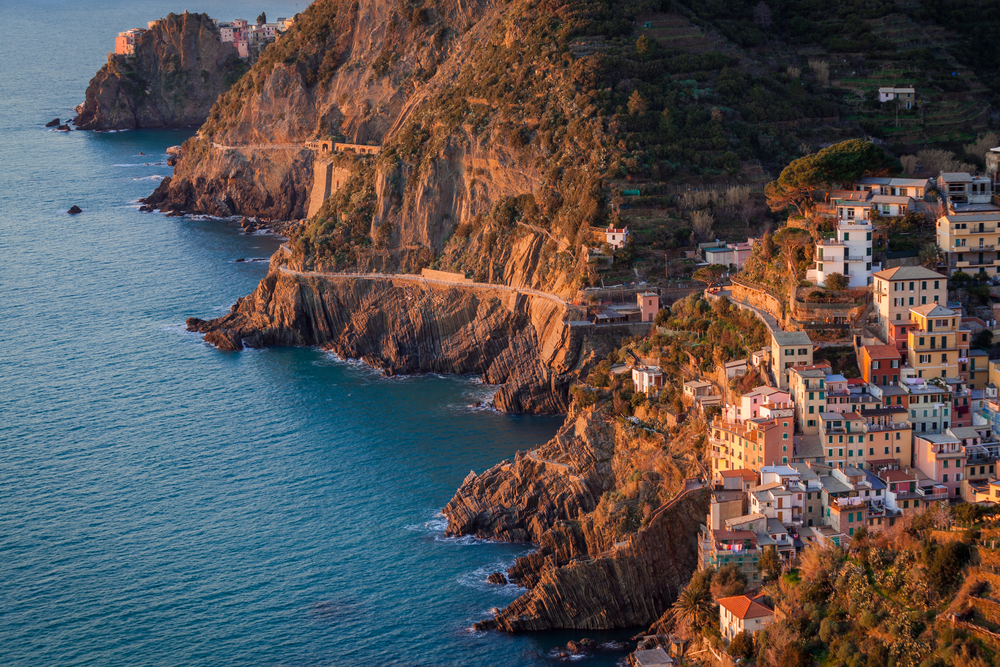 Wonder the Back Alleys of Cinque Terre
It's easy to think of Cinque Terre as only ocean views and terraced vineyards but once you start to explore each village you will soon discover they are made up of rambling alleys. These alleys invite you to learn their secrets and explore the hidden treasures of the towns. As you ramble through the towns stop and talk to the local shop and restaurant owners. We assure you that you won't be disappointed in their charms.