If you want to fall in love with Southern Italy, here are the prettiest Amalfi Coast beaches that you must see. Have you been daydreaming of a perfect vacation, but just don't know where to start? When planning a trip to Italy, it can be incredibly difficult to choose the best locations.
Planning your trip to Amalfi Coast last minute?
Make sure to book your hotels and tours in Amalfi Coast in advance to ensure availability! The longer you wait the harder it gets. Here are our top picks for your trip:
Top Amalfi Coast Hotels:
Top Tours And Experiences:
Well, we have taken the guess work out of planning your visit! This list will detail everything you can expect to see and experience in each of the prettiest Amalfi Coast beaches. Anxiety over booking a hotel? Well, we have also ensured that you will find the best place to stay while visiting the Amalfi Coast beaches.
The Amalfi Coast beaches stretch out along the northern coast of the Salerno Gulf on the Tyrrhenian Sea which is located in the Province of Salerno of southern Italy. They feature winding roads that allow you to slow down, relax, and take in all of the beautiful scenery.
Brightly colored homes and terraced gardens are scattered along the Amalfi Coast as well as lovely restaurants with the most delicious food. You will definitely want to pack your camera to capture all of the breathtaking beauty. Get ready to become enchanted with the Amalfi Coast beaches as we delve into the rich history, food, and art.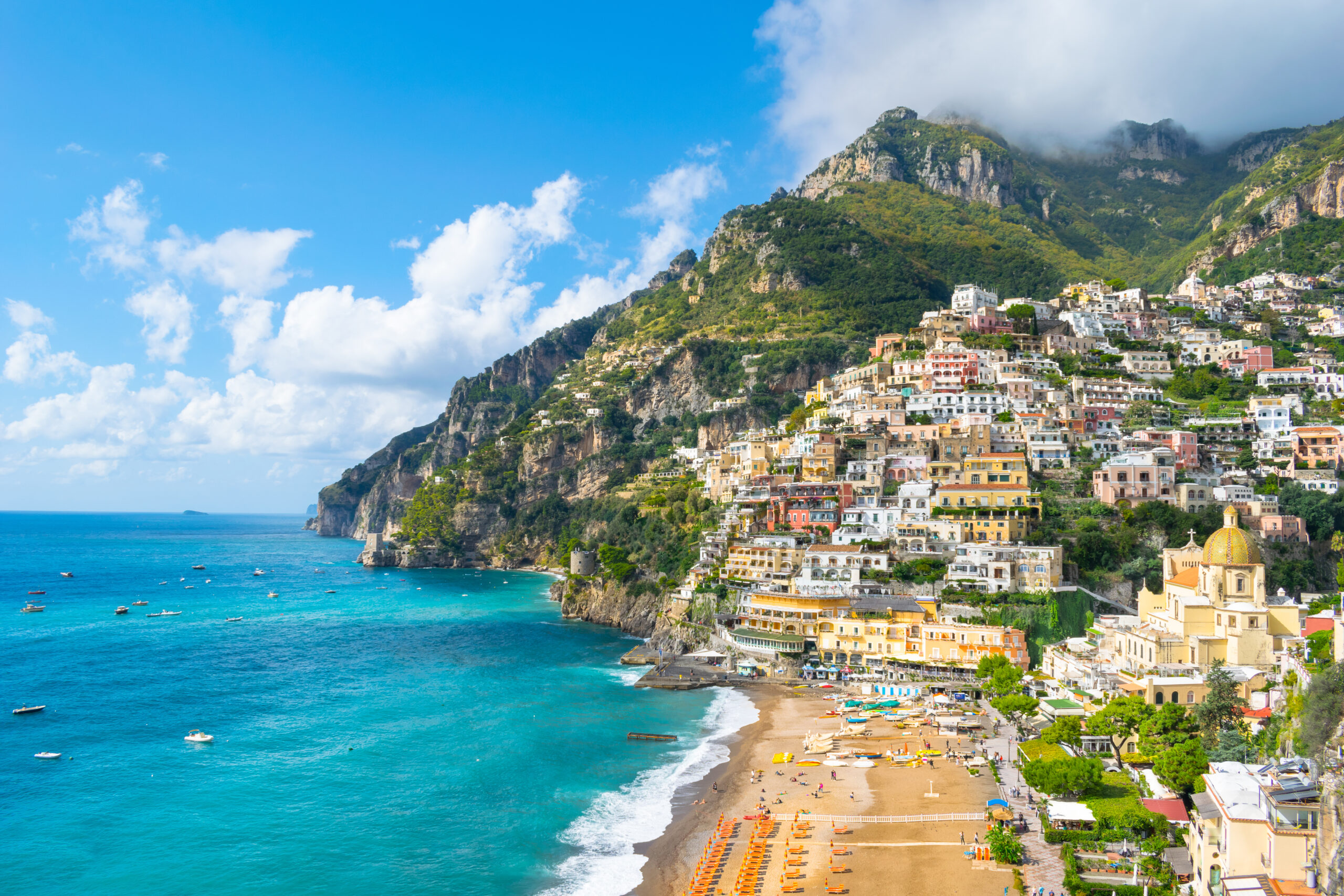 10 Prettiest Amalfi Coast beaches you must see
Vietri sul Mare Beach
Known as the "Gateway to the Amalfi Coast", Vietri sul Mare is the perfect starting point when visiting the Amalfi Coast beaches as it is easily accessible and first in line. Vietri sul Mare is one of the Amalfi Coast beaches with the highest sunbathing turnout, so we recommend arriving early in the morning. Since the 15th century, Vietri sul Mare has been a prominent producer of ceramics.
Locally-produced majolica tiles gained popularity during the 16th and 17th century due to Aristocrats finding their designs to be quite fashionable. Majolica tiles are glazed ceramic tiles with bold colors and intricate patterns.
Ceramic railings and steps can be found throughout town; which make for a gorgeous backdrop to all of your photos. Looking for a fun souvenir? Look no further! You can find almost any design or color combination on several different types of ceramics. The ceramics include pitchers, plates, bowls, cups, and mugs to just name a few.
Make sure to check out our list of the Best Beaches In Italy to find out more epic places to visit!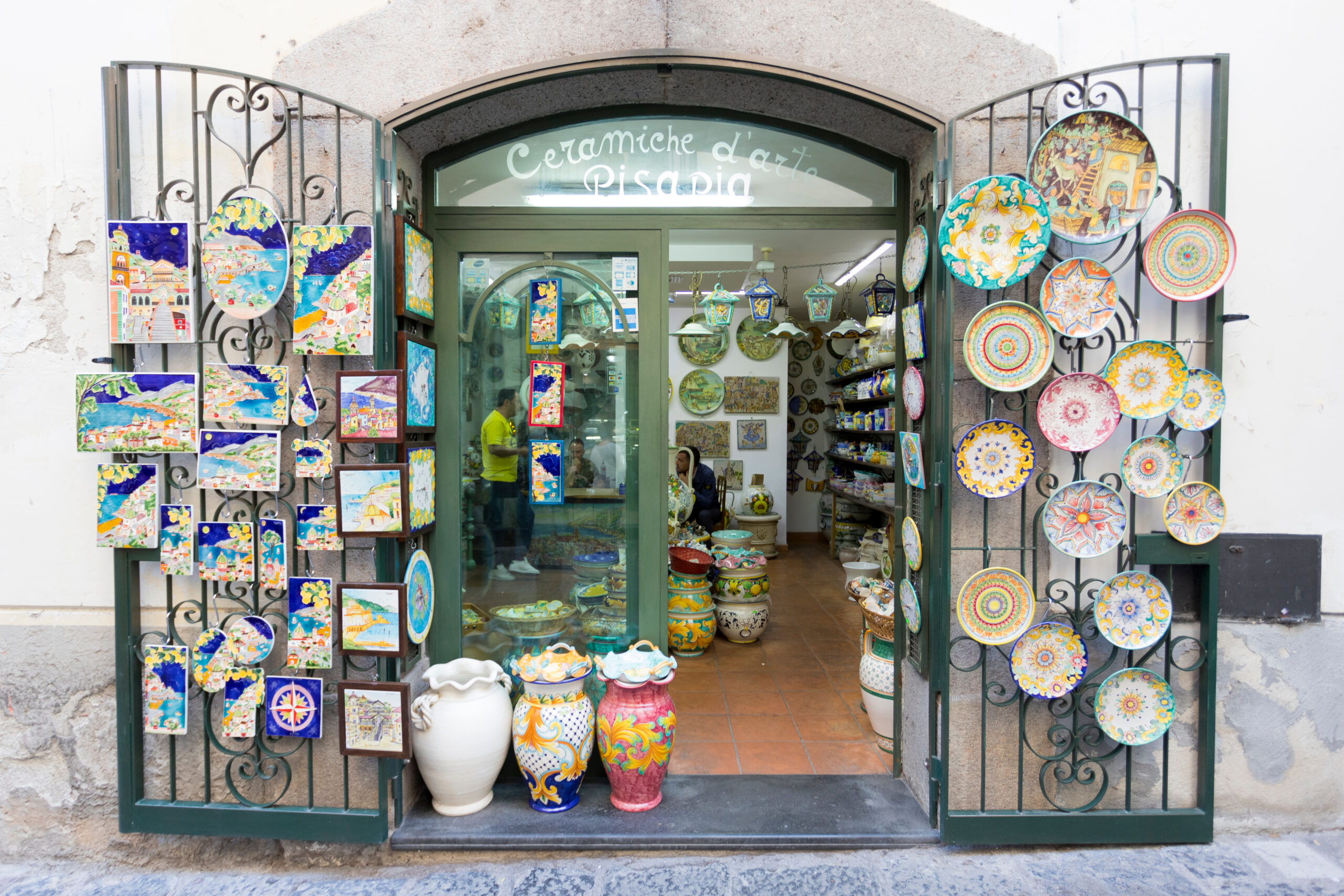 After you've had your fill of soaking up some rays and perusing ceramics, you'll definitely want to check out the local wine. Le Vigne di Raito is a family-owned farm with olive trees and fruit orchards. The lush landscape of the farm overlooks the Amalfi Coast beach and is the perfect place for some delicious wine tasting during your 2 weeks in Italy.
Le Vigne di Raito offer two vintages – red and rosato. These two wines are made from the Aglianico and Piedirosso grapes. Whether you're an expert sommelier or someone who is trying wine for the first time, you will feel warmly welcomed by the relaxed atmosphere.
Vietri sul Mare is sure to be a muse for art and creativity and before too long you will find yourself fueled by this passion filled Amalfi Coast beach. With all of its delightful exuberance, it's hard to imagine that there is more to see.
The Amalfi Coast is home to many movies set in Italy and it is no wonder! We've only just begun to unpack the treasures within the Amalfi Coast beaches, so let's continue to explore and see what our next beach has in store.

Marina Grande of Positano Beach
Marina Grande features dark sand and gray pebbles which are contrasted by the stunning azure blue water. You can't help but smile when you see the adorable multi-colored umbrellas that line the beach. Not only will you enjoy sunbathing and swimming, but there are plenty of shops to browse as well. Classic elegance can be yours with one of the timeless white cotton linen dresses that were made popular in Positano during the 1960s.
Marina Grande is a popular destination for celebrities, so you just might have a star sighting. Feeling adventurous? This Amalfi Coast beach has ancient mule paths that are perfect for hiking and if you're lucky you will experience the unique sweet fragrance of lemon orchards. Want to relax and just enjoy the water? Then, a boat rental is perfect for you! There are many vendors which provide boat excursions with views of hidden coves.
The golden tiled dome of Santa Maria Assunta church sparkles in the sun and can be seen from any vantage point. It is sure to be one of your favorite photo opportunities among these Amalfi Coast beaches. The 18th century church also features a stunning bell tower.
Many of the villas in Positano were built by ancient Romans and the town is vertically layered. Pizza, bolognese, and seafood are the most popular fares in Marina Grande of Positano beach. Restaurant L'Incanto is just one of the local favorites and it offers open air patio seating with views of the beach. To satisfy your sweet tooth, you should stop by La Zagara, the most famous pastry shop in Positano. You will remember the charm of Marina Grande of Positano beach long after you depart.
This is truly one of our Favorite Beaches In The World!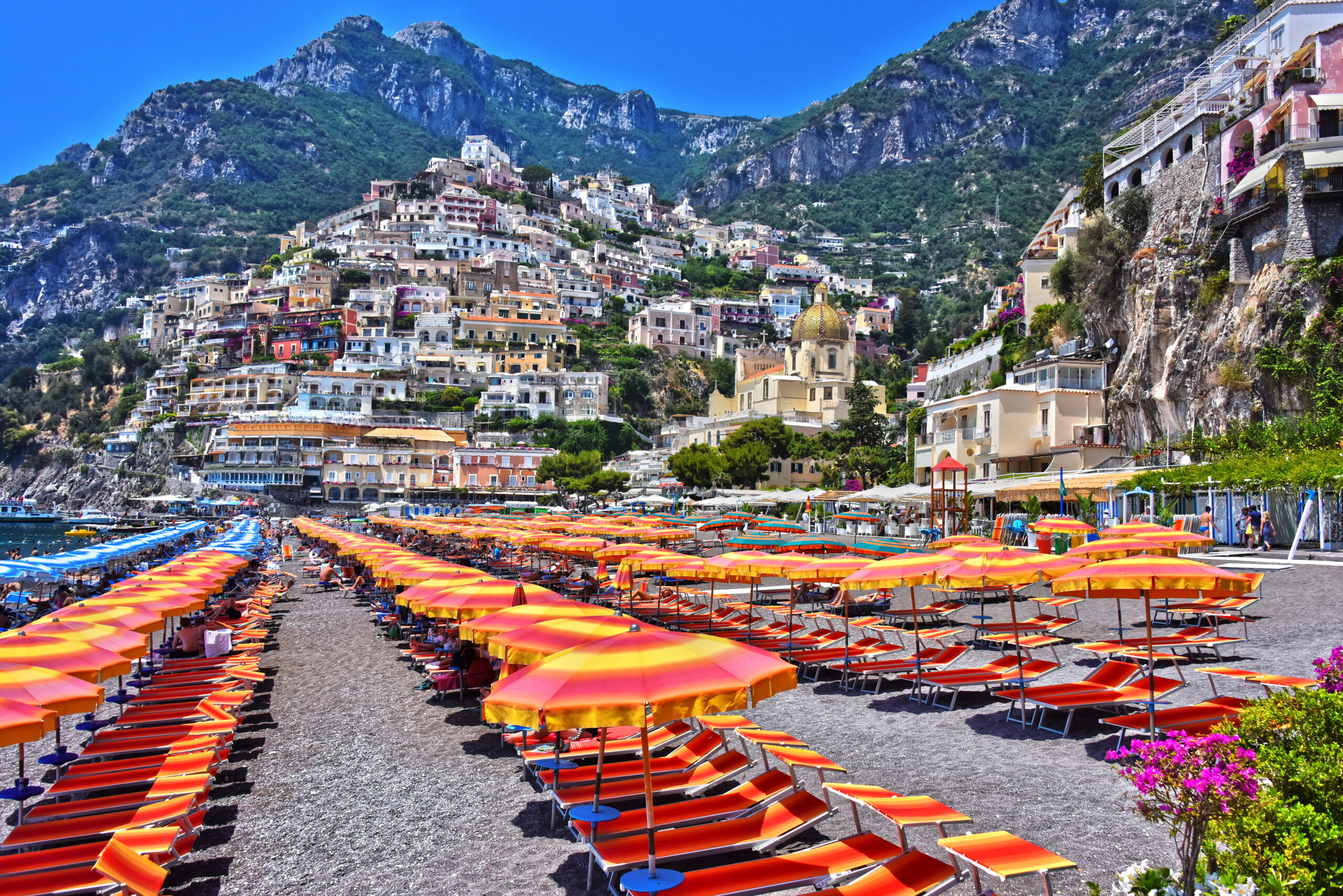 Erchie Beach
Do you desire a more secluded beach experience? If you're not a big fan of crowds, then Erchie beach will be one of your top favorite of the Amalfi Coast beaches. Erchie is a tiny fishing village that is cradled by the Lattari Mountains.
Two Saracen towers are situated on each end of the beach and were originally built to ward off pirate attacks. Are you exhausted from the hustle and bustle of city life? Well, Erchie has less than 100 full time residents which is why it is the ultimate in tranquility. With only a small amount of shops and restaurants, you will be able to focus on the serenity of nature and really absorb the beauty that envelops the town.
This Amalfi Coast beach is said to have derived its name from an old temple built in honor of Hercules. Pedal boats are available for rent and provide the perfect transportation to this incredible oasis. When your feet touch the sand, you will immediately noticed the beautiful texture of Erchie's fine white sand. As you gazed into the crystaline waters, you'll soon find yourself taking in a swim and feeling all of your troubles melt away.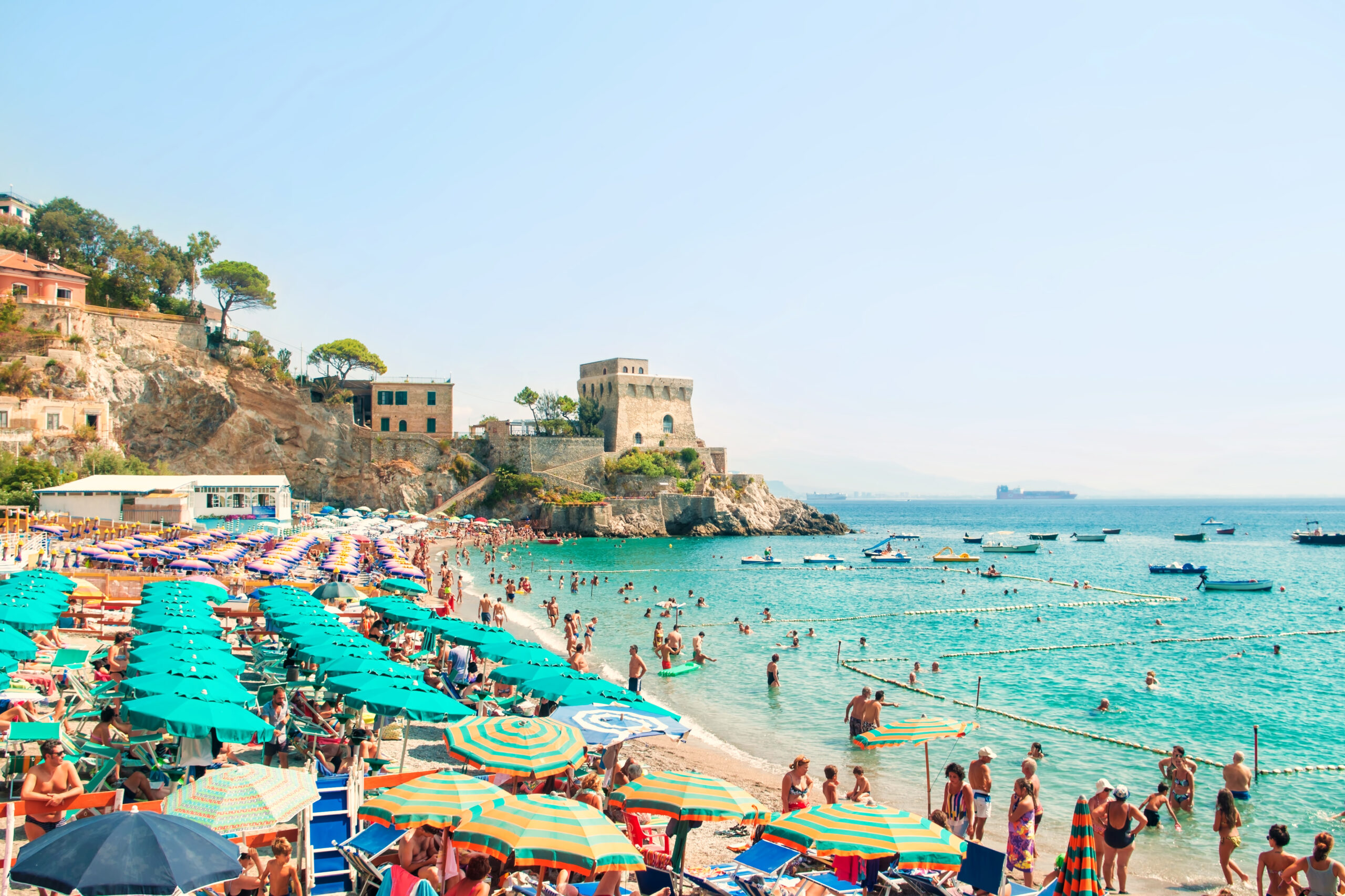 Furore Beach
Do you crave adventure and prefer something a bit more wild? Okay, let's get that blood pumping and really excite the adrenaline fiend that you've been waiting to unleash. Furore will be the Amalfi Coast beach that provides the most thrills for those courageous souls that are just daring enough to jump off of its 98 foot bridge.
There is a massive bridge that connects the two sides of Furore and it is even home to international diving competitions each summer. So, let's say that you more cautious and don't want to take the plunge…Well, don't fret because you won't want to miss capturing the stunning views from the bridge and also looking up at it from the beach.
Furore is sometimes referred to as "the beach that doesn't exist" due to its unique hidden location. The gorge cuts straight into the rock and features a small narrow channel of the most brilliant blue water. This small strip of water comes up to meet a tiny little beach with just a few boats scattered along the side.
You will be in awe of the mixture of so many textures and colors. The rugged cliffs on each end of the smooth well defined bridge will bring out the aspiring photog in you. The vibrant aqua, a touch of teal, and the hint of sea foam green will all dance before you. We wouldn't be surprised if you never want to leave this Amalfi Coast beach.

Marina Grande of Amalfi
Ready to have easy access and everything right at your fingertips? Countless restaurants, shops, and vendors can be found in this centrally located Amalfi Coast beach. Marina Grande is the main hub of Amalfi and it has endless possibilities.
Causal and fine dining? Check! Open beach front with plenty of lounging space? Check! Chair rentals and areas to just thrown down a blanket? Check! No need to fully map out your day when it comes to Marina Grande. It's variety lends itself to spontaneity.
Who doesn't want to just let their hair down and be spontaneous while on vacation? There are even places to shower and change clothes if you want to refresh yourself before dinner! Indulge in fresh pasta or keep it light with the catch of the day, either way you will be so happy that you experienced this unbelievable Amalfi Coast beach.

Gavitella Beach
Not a morning person? Want to take your time getting up and out for the day, but still get to enjoy the sun late into the evening? Due to its most perfect westward positioning, Gavitella beach is kept in the glorious rays late into dinner. Gain entry to Gavitella beach via a long staircase with approximately 400 steps.
Chances are that your profile picture could use an update, so why not take this opportunity to get a great new shot and feature this spectacular Amalfi Coast beach. Just imagine the fantastic photographs you will get on this tall and narrow set of stairs. If you have difficulty with steps, some of the hotels are equipped with elevator access to the beach.
Within walking distance, there is a "Fontana dell'Altare": a swimming pool made by nature. It is built into the grotto which makes it such a fun surprise. Boat rentals are available as well as canoe tours. Live music and watermelon slices frequently found among this Amalfi Coast beach.
Chances are your sun-kissed skin will be craving refreshments, but not to worry the Gavitella Beach Club and Bar have you covered. From unique cocktails to sorbetto al limone di Praiano, a sorbet made with local lemons and citrus fruit from Praiano. Once you've built up an appetite for a full meal, you should definitely try the seafood pasta or linguine with lemon butter sauce.

Cetara Beach
If you have ever seen a postcard featuring Amalfi Coast beaches, then you have most likely seen images from Cetera beach. Cetera beach is a fishing village that has many cute little cottages, a fishing port, and a stone tower. Do you love seafood? How about tuna? If you are enthusiastically nodding, then Cetera is your new best friend.
Cetera has the finest tuna fish out of all of the Amalfi Coast beaches. For the chefs and foodies out there, you will be fascinated by locally produced Colatrura. Colatrura is a liquid extract from anchovies that is used to enhance the flavor spectrum of many pasta and seafood dishes. It is said that just a few drops of Colatrua can completely transform a dish into delicacy.
Cetara beach is a popular destination for windsurfing as it typically has ideal weather conditions that make windsurfing a breeze. If exploring history is more your style, then you'll love to see the Viceroy Tower of the sixteenth century.
The tower was built by the Angevins and later redesigned by the Aragonese to defend the city against pirate attacks. The Church of St. Peter the Apostle(9th Century), The Church and Convent of St. Francis (17th Century), and The Church of Our Lady of Constantinople should also be added to your itinerary.

Santa Croce
Take a short boat ride west of Amalfi and you can reach Santa Croce. Most locals have a hard time picking their favorite Amalfi Coast beach, but Santa Croce is definitely one of the most beloved. It's not that far away, but it allows you to feel isolated from the busy working world.
There are two restaurants on Santa Croce and they both provide boat transportation to and from Amalfi for guests that have dined with them. Not in the mood to dine while visiting Santa Croce, no worries because there is a private boat service that you can utilize for a small fee.
Santa Croce is a very rocky beach which is great for those who like to wander and explore. If you look closely, you will spot some adorable tiny crabs clinging to the rough rocks. This rugged terrain offers an unconventional work out with breathtaking views.
If you decide to take in a snack during your visit, the calamari and parmigiana are highly recommended. The Santa Croce restaurants offer a different take on parmigiana using zucchini in place of eggplant. Santa Croce is amazing and we just know that it will find a special place in your heart.

Castiglione di Ravello Beach
Alright, this next Amalfi Coast beach is for all of the morning people out there. Yes, you, singing and dancing at 5am while you make breakfast! Castiglione di Ravello beach is lined on three sides by extremely high and steep cliffs.
Due to these impressive cliffs, the sun usually disappears in the early afternoon, so only those early risers will get the benefit of seeing this Amalfi Coast beach in its full glory. Boats are not required for this hidden treasure, visitors may gain access to the beach from the town of Ravello via a stone staircase.
There is one small resort which is open during summer and offers basic services. From the beach, you get a splendid view of the Church of St Maria Maddalena in Atrani. Castiglione di Ravello may not have all of the bells of whistles that some of the other Amalfi Coast beaches boast, but pays out it quaint charm, simplicity, and quiet relaxation.

Minori Beach
Minori beach is a sandy beach with 3 bathing resorts in the middle. Each end of Minori beach is comprised of free beach space for any visitors to occupy. Minori beach sets itself apart from other Amalfi Coast beaches with its diverse surrounding town.
Pedestrian footpaths can be found almost everywhere and can be used to visit the neighboring big sister town of Maiori. The town of Minori gives you plenty of opportunities to venture away from the beach and really take in the Italian culture and history.
First, there is Villa Romana, which is a Roman villa and archaeological site. Secondly, there is Villa Ruffalo, which is a gorgeous Arab-style villa with lush gardens that overlook the sea. Thirdly, you can traverse Sentiero dei Limoni also known as "Lemons Pathway".
You can join this walking pathway from both Minori and Maiori. You can expect to see colorful gardens, olive trees, carob tree, and of course their world famous lemon trees. The walk is long, but you will really get to know the true and authentic heart of the Amalfi Coast beaches.

We hope you've enjoyed this journey through the prettiest Amalfi Coast Beaches. Brilliant sunsets, serene waters, fresh pasta, and seafood awaits your arrival. So, what are you waiting for? Book your trip to the Amalfi Coast beaches, a vacation you will never forget.