Northern Italy is the perfect getaway you have been waiting for! See stunning views from a gondola in Venice or explore the amazing and delicious city of Parma, there is so much to experience. Get to know some of the best things to do in Italy with this article, you will love every single one! Northern Italy is truly a treat to be able to visit, so utilizing your time is very important.
Make sure when you are planning your trip to look here for the most incredible places to visit in northern Italy, it will be a dream come true! Not only does northern Italy contain staggering castles, but decadent cuisine and quaint villages. There is something for everyone in northern Italy, and hopefully, we will show you what you are looking for! If you are visiting Italy for a honeymoon, check out our 7 Big Mistakes To Avoid When Planning A Trip To Italy for the best places to visit, especially in northern Italy!
Each location in northern Italy is unique to itself, even if each place is within the same region. There are some seriously epic places that should top your list, if not for the impressive views alone. Transportation in northern Italy is pretty simple since it is all within one region. Our suggestion is to rent a car; the best way to travel around northern Italy and there are parking garages you can leave your vehicle at.
Whether you are planning your 10 days in Italy, have a bit more time and are spending 2 weeks in Italy, or renting a car and doing an Italy road trip, our customized and free planning itineraries will help you choose the best that Italy has to offer, including the best of Northern Italy!
This is crucial, especially in places like Venice, since they have no roads! If renting a car is out of your price range, then traveling by train or boat is your next best bet. This is also a really great way to explore northern Italy as you can see off-the-beaten-path views and towns you wouldn't normally get to see! Look at our Wildly Romantic Italian Honeymoon Destinations to see the best ways to visit Italy and enjoy your experience if you are visiting during your special time!
Looking to save money on your trip to Italy? Get a FREE $55 Airbnb coupon by using our code when you book!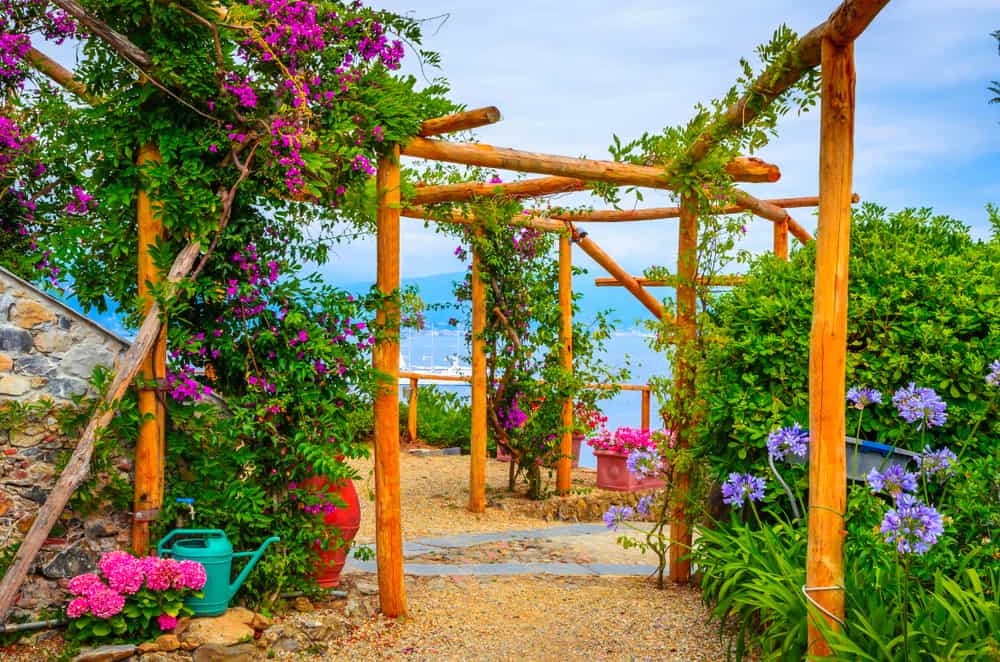 10 Stunningly Beautiful Places You Must Visit In Northern Italy
Bolzano Is The Gem Of The Dolomites In Northern Italy
Bolzano is a picturesque location in northern Italy, missing out on this beautiful town would be a disappointment! You can find this marvelous place in a valley among hilly vineyards, perfect for gorgeous photos and picnics. What is really interesting about Bolzano is that it is home to a literal ice mummy named Otzi. He is a neolithic mummy and was found in September of 1991 in the Otzal Alps; he offered an amazing look into what Copper-Age Europeans lived and looked like! You can see him at the South Tyrol Museum of Archaeology. Bolzano is also the gateway to the Dolomite's Mountain Range, so hiking and rock climbing in certain areas are encouraged! Make sure to spend time looking at the places you can go to rock climb because the experience is out of this world!
The Duomo di Bolzano Cathedral is a gorgeous church in northern Italy. The sight of it makes you want to immediately go inside to view the interior. It's Romanesque and Gothic architecture add life to the cathedral, viewing this beautiful place is something you are never going to forget! Bolzano is also home to a 13th century Mareccio Castle that is unlike anything you've ever seen! If you have traveled all over Europe you are likely to see over hundreds of castles but this one in Bolzano is such an amazing work of architecture. Opened in 1275, this castle was actually a home rather than a fortification. Previous restorations have been made on the building and between 1560 and 1570, the Romer family had it made into a renaissance castle. It is mostly used as a convention center now but tours are available to the public!
Another great thing about Bolzano is the Messner Mountain Museum in the southwestern port. In amazing condition, the museum is actually located within Firmain Castle. This northern Italy town is a great destination to start off with or end with, everything is close together and there is so much life within the town as well!
Venice Is Made Up Of Over One-Hundred Islands, And You Can Walk Them Within A Day
What's great about Venice, one of the most popular cities in northern Italy, is that no matter how big the city is, you can still walk the entirety of it within one day! These small islands are so close together that bridges and side streets connect them. It is so wondrous to be standing over a tall bridge and have multiple gondola's pass by underneath you! Venice also does not have any roads inside the city since there are waterways and canals. When you are exploring this grand city and walking is not your cup of tea, the gondolas are an amazing way to experience Venice in all its glory. These islands are part of a lagoon in the Adriatic Sea. Being in the gondola's is awe-inspiring because you can see a renaissance and Gothic palaces that line this beautiful little canals.
Venice is the capital of the Vento region in northern Italy and when you visit, you'll know why. It is such a huge beacon for tourism and shopping. This city has a life like no other and you will be so amazed at its presence. This northern Italy city is also a romantic getaway for a couple of any kind, taking a trip here will be well worth your money and your time. Gliding in a gondola at sunset? Now that is what I call romance! Make sure to check out local businesses for shopping and dining, you will find some of the best eateries just by exploring! Let your hungry stomach lead you to fine cuisine and don't hold back!
Venice is also home to some wonderful historic locations like St. Mark's Basilica. This hulking cathedral can be seen from the Piazza San Marco square, which has gorgeous mosaics and is connected to Doge's Palace. St. Mark's Basilica is seen as the most famous church in the city and rightly so. The Italo-Byzantine architecture of the church is widely recognized as one of the best examples of the aforementioned. Don't forget about Doge's Palace as well, with its Gothic style and museum held inside!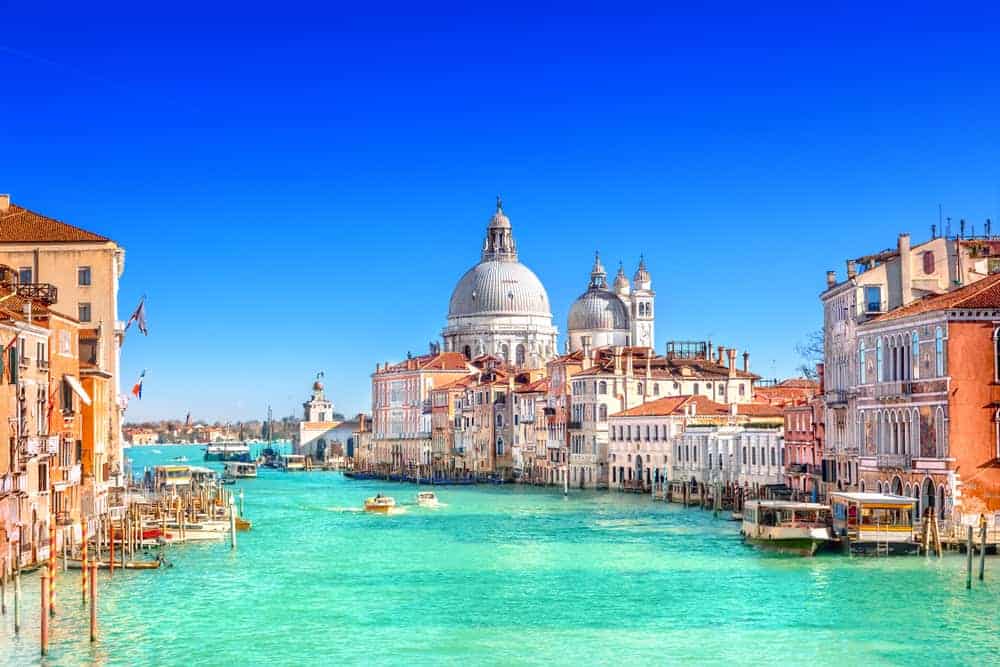 Parma Isn't Just About The Cheese, This Northern Italy City Has The Most Charming Side Streets
Parma can tell you about itself by just the name. Northern Italy is famous for many many things, but Parma is probably well known to cheese lovers all around the world. Parmesan cheese and Parma ham are what the town is most famous for, you will be sorely dismayed if you do not take at least one cheese tour in this town. Seeing as that is what Parma is known for, you can't leave without trying the delicious food!
What is also cool about this northern Italy area is that it is home to the University of Parma, one of the oldest universities in the world! So it is bustling with students and city life alike, it so fascinating to sit and people watch at a small cafe on one of the side streets. Speaking of those, you can take the most inspiring photos on Parma's many cobbled side streets. If you want to explore, put on some comfortable shoes and just start walking around! The small streets are lined with businesses and cafes, perfect places to sit and relax or enjoy the local shopping.
One of the places you'll really love about this northern Italy city is that it has a 19th century Opera House called the Teatro Regio. Classical concerts or Opera's can be heard from this magnificent theater and it is transcending. Look at the venue's website before you go to see if you are able to see a concert or play at this spectacular opera house! Another amazing part of Parma is the Galleria Nazionale, which boast works of art by the famous painters Correggio and Canaletto. The northern Italy gallery is located within the Palazzo della Pilotta, edifices that make up an entire complex. Seeing this amazing construction is unforgettable and an absolute must in Parma!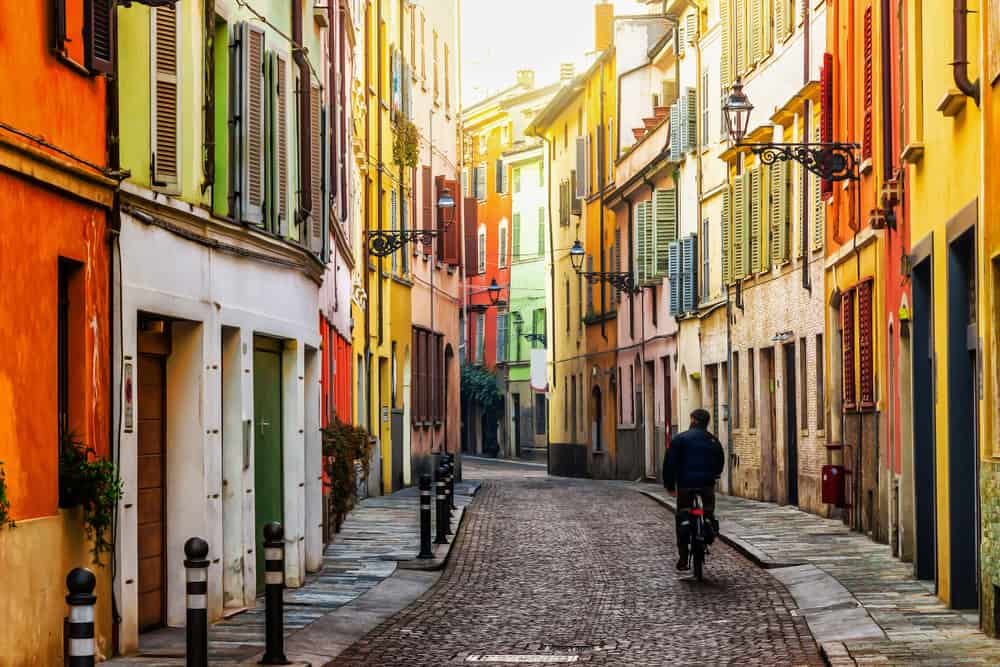 Milan Is The Shopping Hub For The Entire World
Milan is a metropolis, a global capital for fashion and design. You cannot walk more than five feet without passing by a clothing or goods store. It is mind-blowing how huge this epicenter is and all that it offers to its patrons! World-class dining experiences, high-end shopping districts, and art all located within this gorgeous northern Italy city. You can have the most exquisite food you will ever eat in this city, if you're hungry for something specific, one of the restaurants has it guaranteed. With shopping, there is so much to do and see, from name brand fashion like Prada or Chanel to local businesses that sell their trade.
If you are into shopping malls, Milan has one of the biggest in northern Italy! The Galleria Vittorio Emanuele II has more high-end shopping experiences that will knock your socks off! Built in the 19th century, this northern Italy mall is a four-story arcade. You could literally spend all day here looking at the shops and getting lost in the intricate details of the architecture. It is amazing to see how stately this building is, just looking at it will impress you!
One thing we admire about Milan is the amazing buildings located within this northern Italy metropolitan area. The Duomo di Milano is perhaps the greatest and most complex cathedral within Italy. It took almost six-hundred years to complete and is a great example of Gothic architecture, this imposing building seems like it came out of a dream.
It is absolutely stunning to walk along the top of the building, you feel like you are on top of the city! Another example of stunning architecture is the Sforzesco Castle, a medieval fortress that contains pieces of art and discovered treasure. This castle has been renovated and restored so many times, but it is still heavenly to visit. It is currently a museum, so make sure to visit and tour before leaving Milan!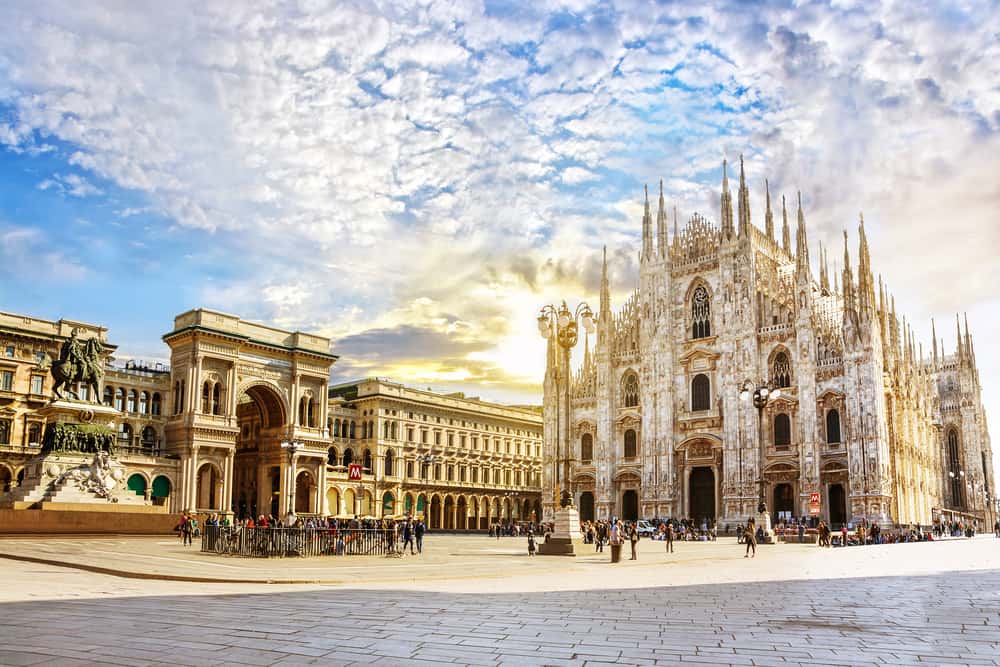 Turin Is Perfect For A Lazy Day Of Cafe Hopping And People Watching
This northern Italy town is the best place for visiting old cafes and restaurants, spending a leisure day exploring Turin. This town is really good for taking a break if you've been non-stop traveling. It has a charm to it like nothing else! Visiting Turin is a wonderful idea because although there is much to see, you can spend your day wandering around and exploring without feeling like you're missing out. Northern Italy has some wonderful cities but Turin is one of the best, it may be a large city but it feels like it's not! This northern Italy area is known for some epic places but probably the most well known is the face of Jesus in the Turin Shroud! Even if you aren't religious, this is a marvel this is a must-see!
Something really cool about the northern Italy city is the refined architecture. Exploring through this city will give you so many amazing feeling, the Baroque buildings will take you back in time. It is so gorgeous to look around and feel as if you were placed in a different time and life. While you're in Turin, make sure to visit the impressive Piazza Castello and Piazza San Carlo. These squares will blow you away with the amount of fine details and the picturesque views. Sitting in the squares for a couple of hours will be the most peaceful moments of your entire trip!
If you love cinema then this northern Italy city is the place to go because it has the National Cinema Museum! Located within the Mole Antonelliana, a 19th-century tower that has beautiful a beautiful spire, the National Cinema Museum has old artifacts and cinema relics that will be the highlight of your visit. Seeing how movies and film have progressed is absolutely amazing and you will thank yourself for the visit! While you're in Turin, make sure to visit the Egyptian Museum where you can see gorgeous ancient relics and beautiful works of art, and don't forget mummies!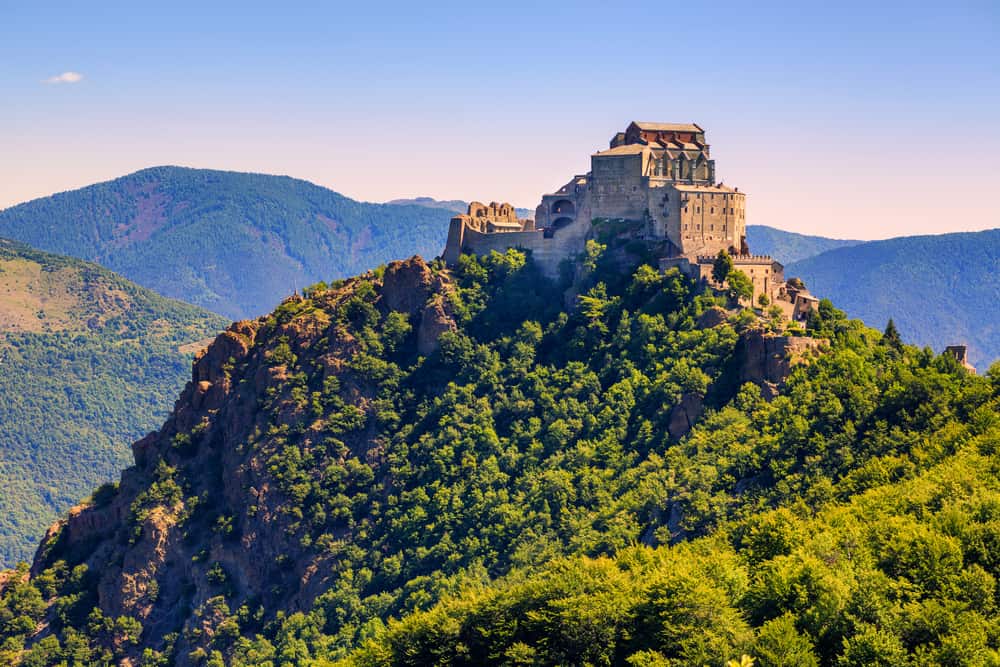 Genoa Is A Must-See Port City In Northern Italy
What is really amazing about northern Italy are the port cities you can visit and stay in! There are some truly beautiful spots in northern Italy but Genoa has to be one of the best! Genoa is the capital of Liguria and if you haven't guessed, it is a unique port city. In the past, Genoa was and is known for their central role in maritime trade, a powerhouse for ships and travelers looking to come to a new and exciting place. This northern Italy port is full of rich history and a place you should most definitely check out!
Northern Italy and Italy itself has so many cathedrals but one of my favorites is the Cathedral of San Lorenzo, a Romanesque church that has a gorgeous exterior and interior. This cathedral has intricate details that will take forever to notice or even find, all of it culminates together to create this amazing and decadent church. The interior has frescoes that will take you away to another world, it is that mesmerizing. The church also has a black and white striped facade, something you will never forget! Take many pictures because even though you won't forget, you'll want to look back on and remember how blown-away you were!
This northern Italy port city is still a working port and such a sight to see. Going to explore the docks is a great experience, feel the life of the city by the water and see the trade happening in real time! There is an Aquarium and a Maritime Museum, so check out the history of the port city while looking at marine life! Make sure to visit the Piazza de Ferrari, a central part of this northern Italy city! There are small lanes that take you anywhere you want to go but a lot of them lead you to the Piazza, which is an amazing experience when the lane opens to this large and frankly magnificent square. Located in the square is the Bronze Fountain, a dramatic sculpture that is a must-see!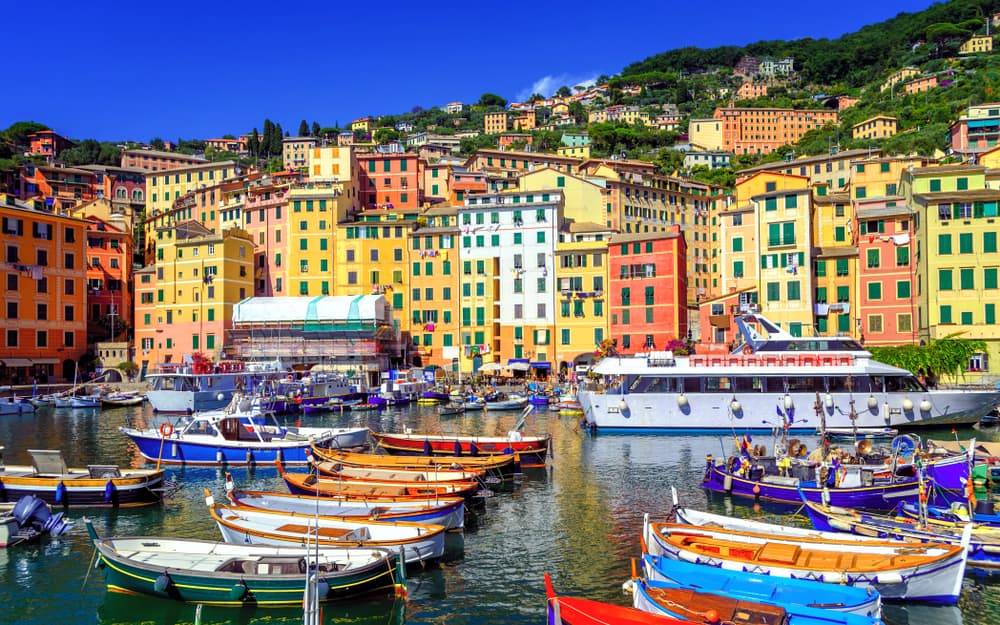 Bormio Is The Winter Wonderland You Never Knew You Needed In Northern Italy
Located within this small northern Italy town, with a population of about 4100, is a popular winter sports complex that you probably had little to no idea about! Here you can go skiing, sledding, ice skating, tubing and so much more! If you don't know how to do any of these, then you can take lessons there from professionals, they can help you know the basics so your time there is not wasted! The small northern Italy town shares a border with Switzerland, so you can say you went to northern Italy and Switzerland!
One thing about this northern Italy winter sports complex is that they have Roman baths! If you don't know what roman baths are then you definitely will after visiting Bormio! There are four major baths of Bormio, the Bagni di Bormio, the Bagni Nouva, the Bagni Vecchi, and finally the Terme di Bormio. Visiting any of these relaxing baths will be the experience of a lifetime! The temperature averages around 40 degrees Celsius which is 104 degrees Fahrenheit.
Another really amazing thing about Bormio is that the townhouses a local museum dedicated to peasant people and how they lived! The Museo Civico di Bormio has tools, machines, history and general information about the lives of peasants. There are so many eclectic artifacts that will leave you fascinated and intrigued. There are paintings, old rifles, spears, antique pianos, old furnishings and literally almost anything you can think of. Visiting this museum will be a treat and a break from the cold!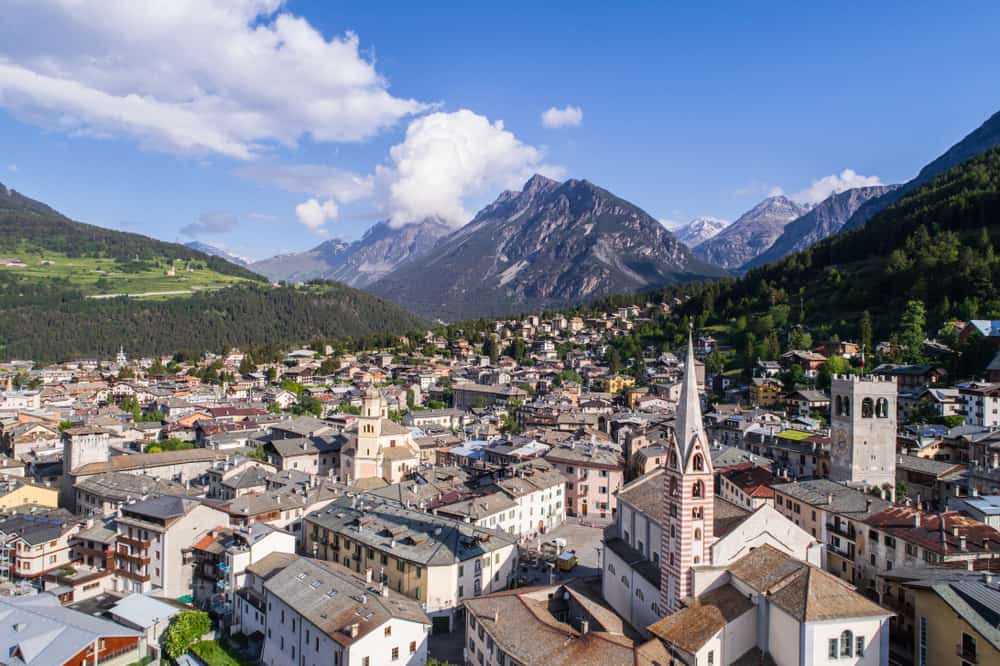 Verona Has Everything You Need In a Fairy Tale Romance
Does this northern Italy city ring a bell to you? Well if you ever took a high school English class then it might! Verona, Italy was the setting for the fictional story of "Romeo and Juliet" by the famous Shakespeare. Yes, isn't is amazing?! You can actually the 14th-century balcony that is said to have inspired the balcony in the famous play! The balcony belongs to a house that is also a museum! Go to visit, especially young lovers or couples because if you leave your names on the walls, then Juliet will cast a love spell on you and you will be together forever. Romantic, no?
Verona is also home to a 1st century Roman Amphitheater, which hosts concerts and large scale operas. This would be a once in a lifetime experience so try to collide your stay with an event at the Amphitheater or you will certainly miss out! Verona is also next to Lake Garda, a beautiful lake that is peaceful and wonderful to view. Have a picnic by the water and enjoy a romantic day with someone, or enjoy by yourself! Either way, you will not regret it.
What is also amazing about this northern Italy city is that nearby is the Grotte di Catullo. This is an archaeological site which contains an old Roman Villa. You can visit this site and explore around the area, it is huge! Bring your camera because there are some really amazing shots you can take of the Villa and the land surrounding it! For something to do on a quiet day or a relaxing day is visit the Osteria Sottocosta. A large plaza that boasts cafes, restaurants, shops, building, and art. There is so much to view here and you can spend an entire day without seeing it all!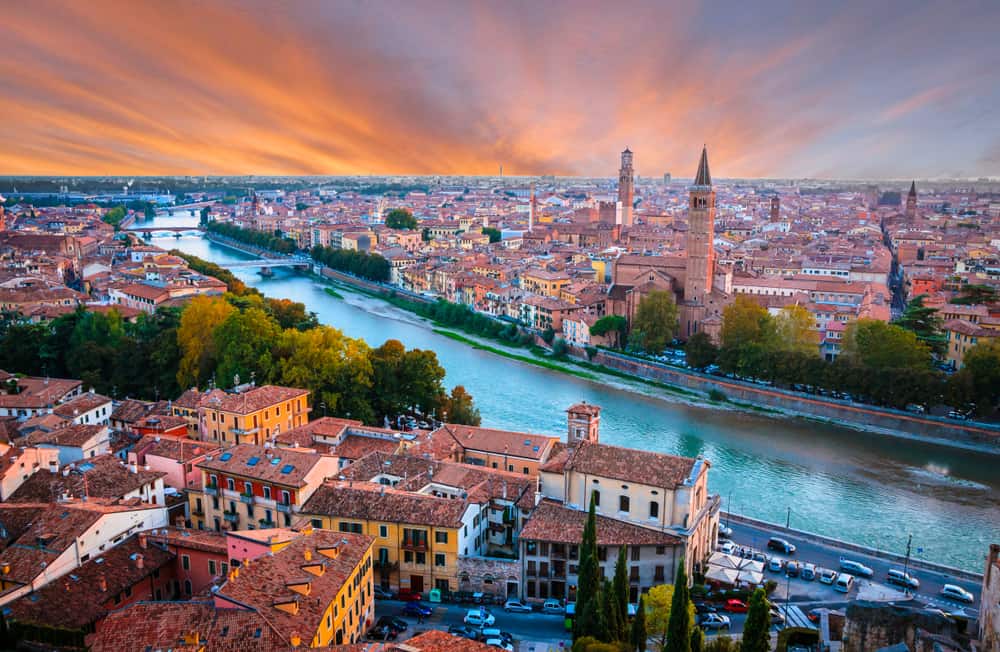 Portofino Is The Cutest Fishing Village In All Of Northern Italy
As in the title, this small fishing village with a population of about 416, has cute views and some really amazing destinations to its name. Lined along the water are pastel-colored houses that stand out. They look amazing when you are coming in from the water and they are so pretty; pose by them or from a distance to capture truly stunning pictures. Another great picture spot is a small cobbled square that looks over the Harbor, you can see anything from there! Lining the docks are expensive yachts and boats that take your breath away!
The small northern Italy village may be little but there is some serious high-end shops and boutiques! You will have a hard time picking where to go because all of the businesses have gorgeous items. But make sure to go to at least one, you won't forget it! Another something you will never forget is the Christ of the Abyss. If you don't know the name then you definitely know the pictures! In 1954, a man named Guido Galletti submerged a bronze statue of Jesus Christ. Make sure you see this feat of human amazement before you leave Portofino!
The cobbled square I talked about earlier is also cool because there is a path you can take to visit a 16th-century fortress that is now a museum! This hulking fortress has the absolute best views of the Ligurian Sea and your jaw will most-likely drop. The museum also hosts art exhibitions that are amazing and a definite must-see!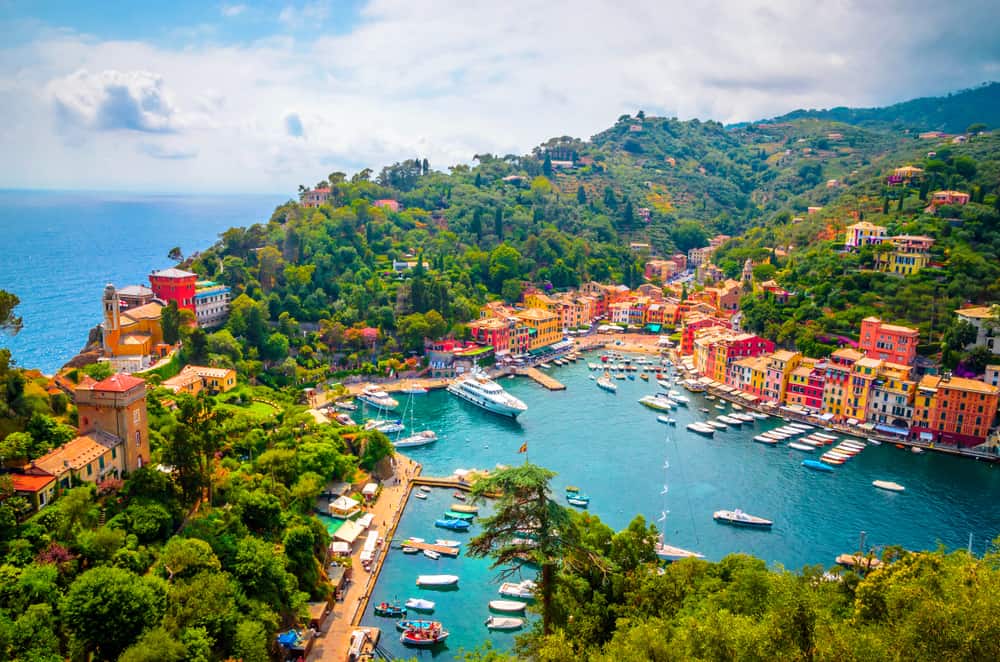 Cortina d'Ampezzo May Be Small But This Northern Italy Town Is Great For Winter Trips
Cortina d'Ampezzo is another ski resort located in northern Italy and an amazing one to boot. This was the location for the 1956 Winter Games and many of the stadiums that were used then are still used today! Ski where legends once skied and feel the history within this small northern Italy winter town. Inside the ski resorts, there are many saunas and places to warm up after a long day outside exploring!
Make sure to visit the Falzare Go Pass that you can do downhill runs on. An amazing experience and something you should check out! The Cinque Torri located in the Dolomite Mountains and one of the originals as well. There is an open air museum located within the area called the Museum of the Great War that tells of the people who lived and fought within the area. The museum contains reconstructed trenches, recollections of soldiers, snowshoeing in the barracks, and a small eatery at the end of the tour. Be sure to visit this interesting experience before you leave Cortina d'Ampezzo!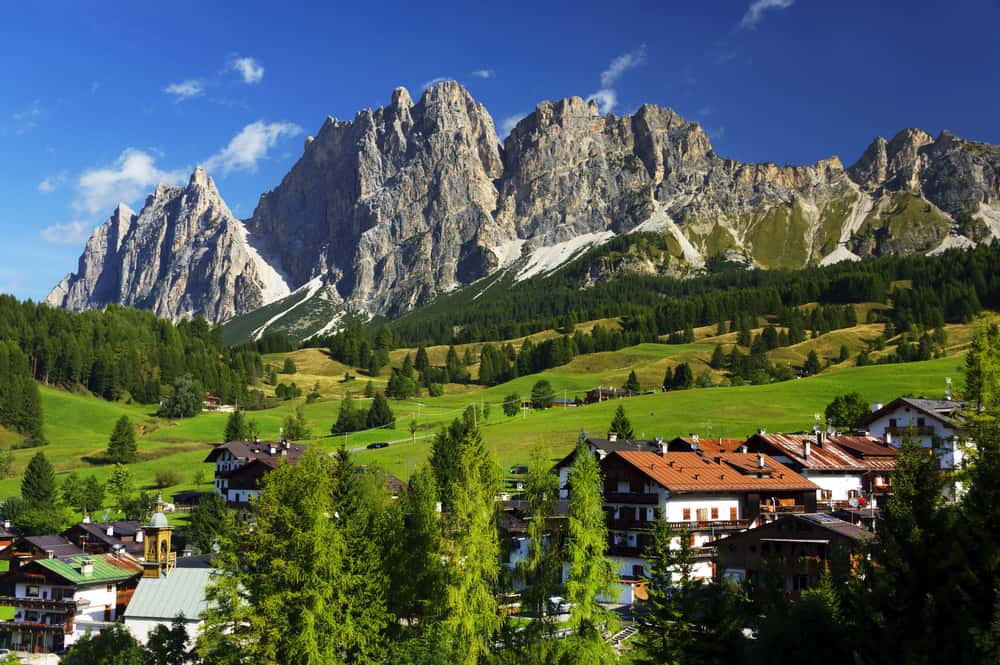 Packing Tips For Your Trip To Northern Italy:
Here are some of our favorite items that you should consider packing for your trip to Northern Italy! These are essential travel items that we use and love and you should make sure to consider for your travels.
A concealed travel pouch may be one of the most important items you bring with you! This unisex RFID blocking concealed travel pouch is lightweight and comes in several colors. It has lots of organization to give you peace of mind. You can keep your most valuable documents safe and secure next to your body.
If you have a pouch already you may not want to or need to invest in a new one. If it does not come with the RFID protection, these RFID sleeves would be handy to prevent identity theft. This configuration comes with enough passport and credit card sleeves that the entire family would be protected. They are slim too, so they will easily fit into your current pouch or wallet. These are the kind our family uses not only when traveling but at home as well.
If you have a camera on your packing list, you need to add additional memory cards on your list as well. Unless you are packing a computer for your trip, you will not be able to upload photos and clear your existing memory card. Purchasing additional memory cards cost under $20 and take up no space in your luggage. Having a backup can have the potential to save you a lot of heartaches if something goes awry! There is nothing worse than coming across that perfect moment and then finding out you don't have enough space to capture it on your camera!
Similarly, If you are planning to capture your trip on a smartphone, we beg you to bring some way to back up your memories. The best way to do this is with a portable smartphone flash drive. A flash drive is a small storage device that you can connect up to your smartphone and then safely and easily download the photos onto this device.
If you are planning on taking a lot of pictures with your phone you will definitely want to consider an external charging battery. This Anker high-speed phone charging battery is the exact one we carry with us on all of my trips. It can be used on a variety of phones, not just an iPhone like we have. And wow is it fast! We like that it holds its charging capabilities for several uses so we do not have to worry about it while out and about. And if we forget to recharge it at night, it will still be good to go the next day.
My mom was never a fan of packing cubes until she tried them out! Now she is sold. These Bagail packing cubes are the exact ones she uses whenever she travels and she travels a lot. She cannot believe how much more organized she is now! And she will never leave without them anymore.
We never leave home on a trip without our Bobble filtration bottle. The 18.5-ounce size is perfect for travel and it will fit nicely in the pocket of a backpack or your purse. Also when filled with water, it is not too heavy to carry. And the Bobble carbon filter ensures fresh clean water whenever and wherever you fill the Bobble. You can find filter replacements here.
Perhaps you are traveling a long distance and packing space is a premium. Then this set of collapsible silicone foldable water bottles would work well for you. Would not take up much space in your suitcase at all. And you will be receiving a set of two.
You will want to bring a backpack or daypack with you to store snacks, your water bottle, phone, extra clothes, etc.. This foldable water-resistant backpack would be great. It is very affordable and is available in many color options for you to choose from. The fact that it folds down into a zippered pouch will make it easy to pack.
Perhaps you need a more substantial backpack for your international travel. This antitheft backpack has a charging port, is water-resistant and can comfortably carry up to a 15.6″ laptop. It comes in a range of colors to choose from and it is inexpensive as well.
We all need to protect our eyes from the sun's harmful UVA/UVB rays. These unisex polarized sunglasses come in a lot of lens colors and frame designs and are extremely affordable too.
If you are fond of the aviator-style of sunglasses these polarized aviators may interest you. We like polarized sunglasses because they remove the glare off the water and help you to see things more clearly.
Don't forget to bring along a universal power adapter if you are traveling abroad. This worldwide power plug is a great example and will charge your phone at the end of your busy days. And this world traveler adapter kit can charge several devices at the same time. This is what you will need when there are several people traveling in your group, or if you bring several electronic devices on your trip that require charging at the same time.
Northern Italy is such a beautiful region, so we hope that this post gave you some ideas on where to go! Experience these gorgeous destinations by yourself, with friends, or your significant other because you will have the time of your life! Don't miss out on visiting northern Italy and plan your trip today, these stunning places are waiting for you! Let us know your favorite town in the comments below!
Pin this post: